Day 4, Friday 31 May

Breakfast in style…….. I've had a good nights sleep after yesterday's late arrival in Si Sa Ket but there's the question of working on my blog and more pressure. I get a couple of hours done before Katoon gets really itchy to get down for that 'breakfast included'. This turns out to be buffet style and what a selection it is. Yet unlike the breakfast at Crystal Palace in Yangon, there are no cornflakes or yogurt. Everything else is fine and it may well be enough to last until dinner in the evening. One further formality is to book the room at Prompiman Hotel for a second night.
Inevitably, I've had little time to organise a visit list for today but Katoon has a list that she keeps in her head normally without telling me. At 11.00am she sets off temple hunting again but first, a little bit of history.
Phra Nang Sri Sra Phom Monument…….. The Phra Nang Sri Sra Phom Monument is located in the middle of the roundabout on the western approach to Wat Maha Phuttaram.
During the height of the Khmer Empire, Princess Sri (Phra Nang Sri) was adept at the art of dance and often performed in various ceremonies here at the Brahmin place for worship. In part of the ceremony to worship the Hindu God Vishnu, the princess herself washed her hair in the pond. The name Phra Nang Sri Sra Phom means 'Princess Sri washing her hair'. In 1936 the municipality of Khu Khan changed its name to Si Sa Ket in memory of the princess as her picture had appeared on the local government logo for many years In 1981 the people joined together to sponsor the casting of a statue of the princess which was installed in the town as a much loved treasure and object of worship.
Wat Maha Phuttaram…….. Located in the heart of Si Sa Ket town, this Buddhist temple is home to a sacred provincial icon, a Buddhist statue named Luang Pho To. The gigantic statue, depicted in the pose of subduing Mara (defeating demons), is 6.85 metres high and 3.50 metres wide at the lap. Built during a time of Khmer rule over a thousand years ago, the statue was originally carved from stone and decorated later at an unknown date.
Legend has it that in 1779 Phaya Viset Phakdi, the second governor of Si Sa Khet, moved the town from Ban Non Sam Kha Sra Kamphaeng to its present site. During the new town construction, the statue of Luang Pho To was found abandoned in the middle of the ironwood forest (Pa Deang), from which the former names of the temple, Wat Phra To or Wat Pa Deang, were derived. Later the provincial clerical committee changed the official name to Wat Maha Buddharam. The Buddha image Luang Pho To was installed as the principal viharn (assembly hall) and remains the most significant feature of the temple.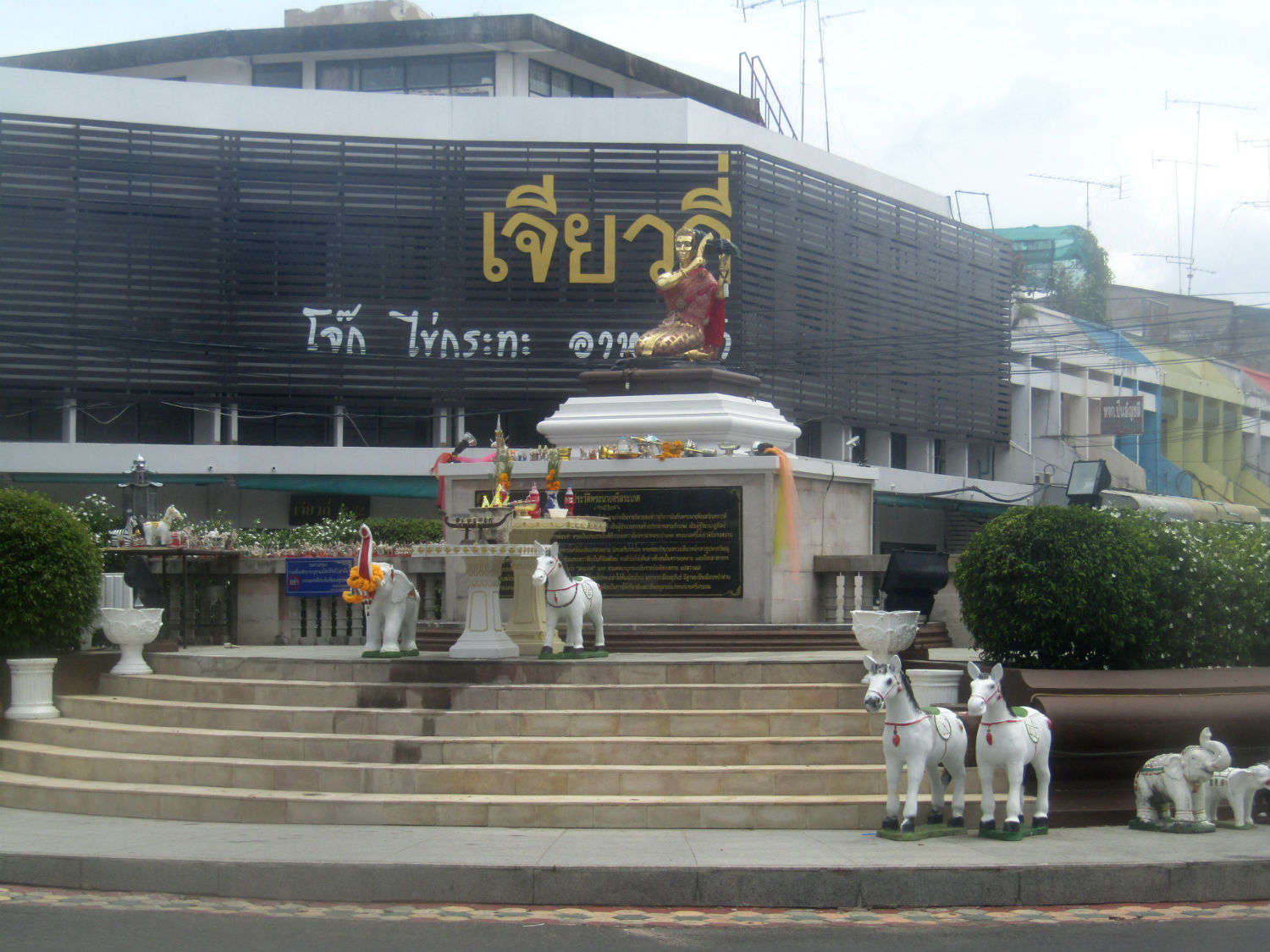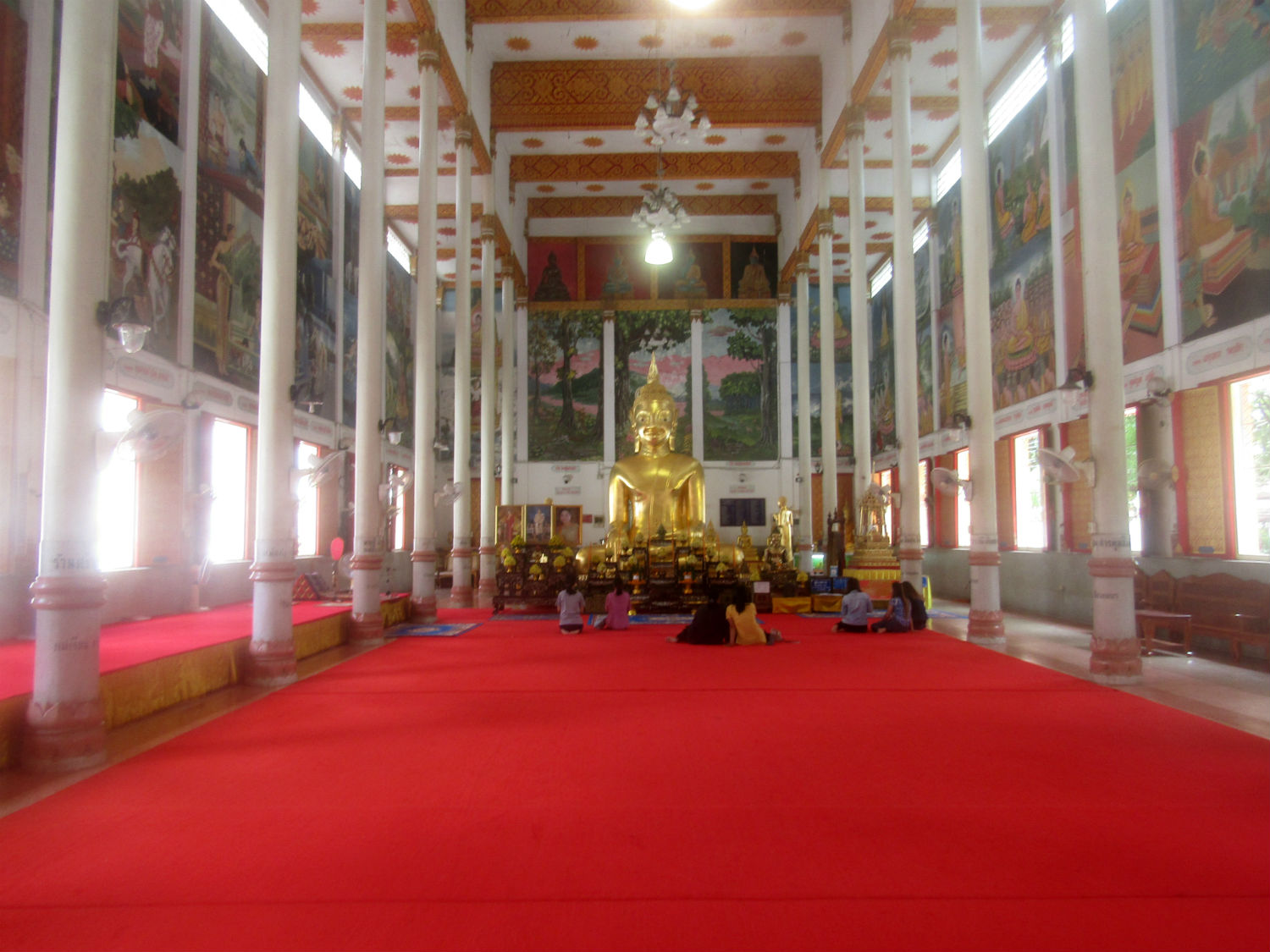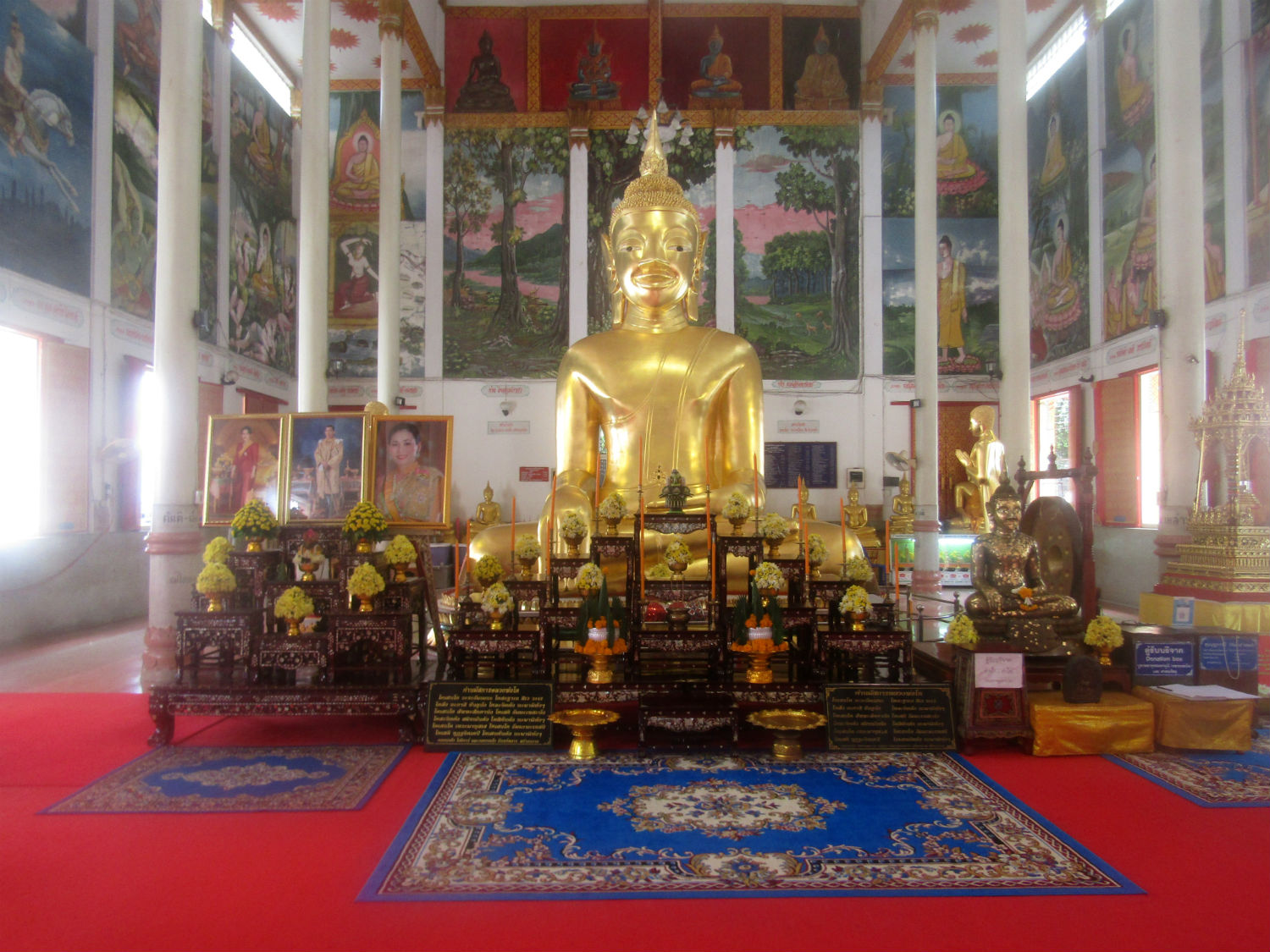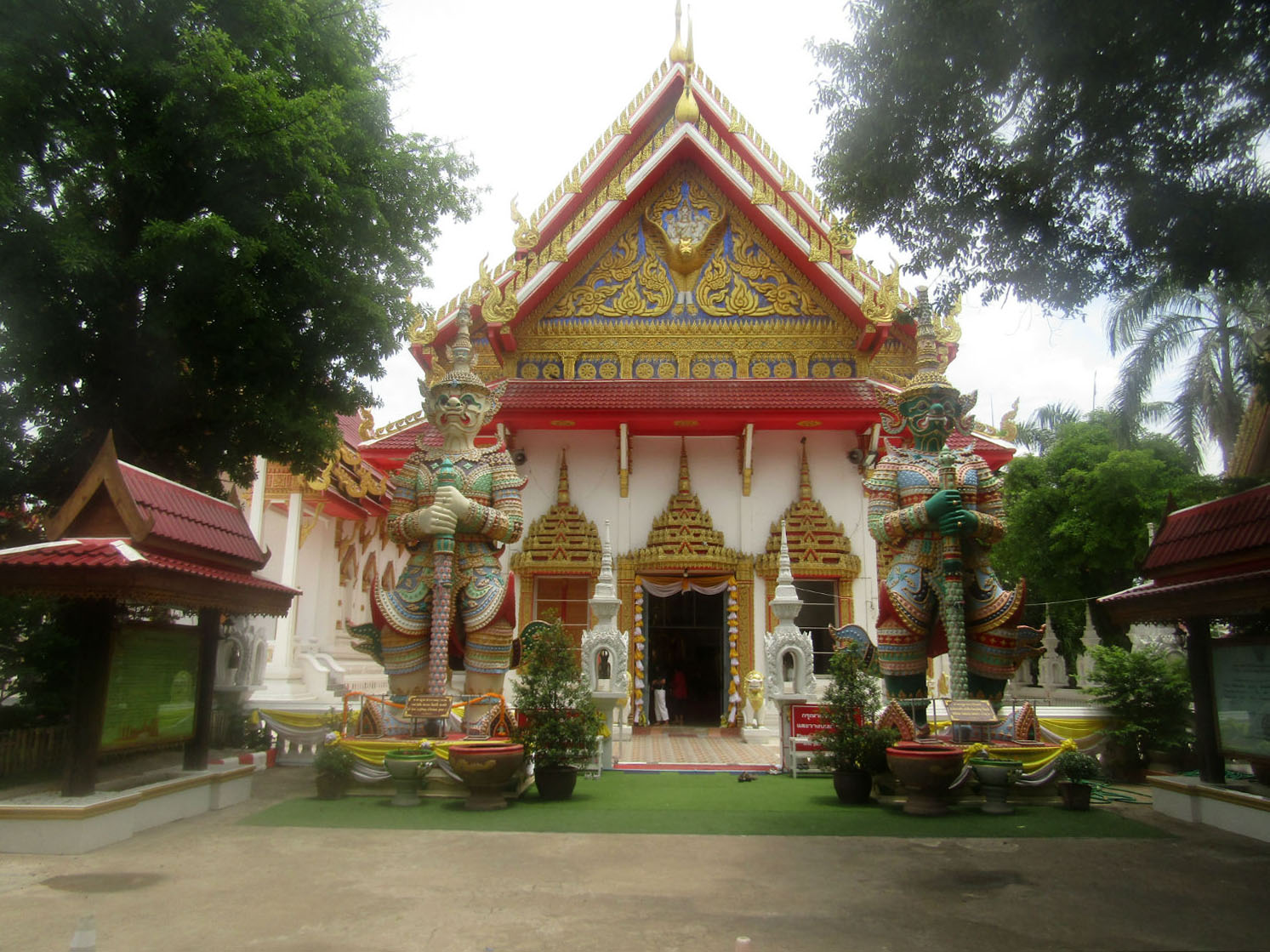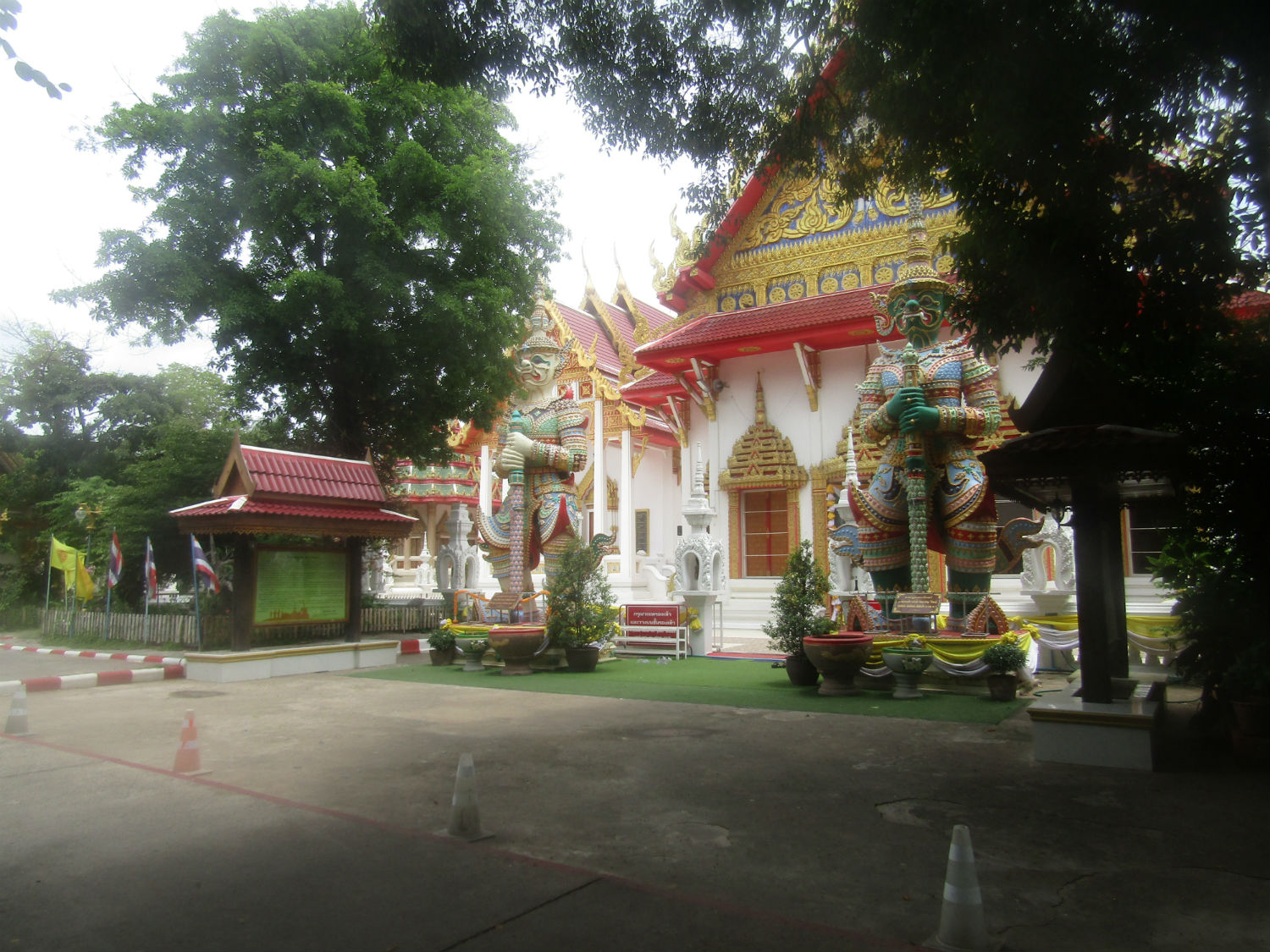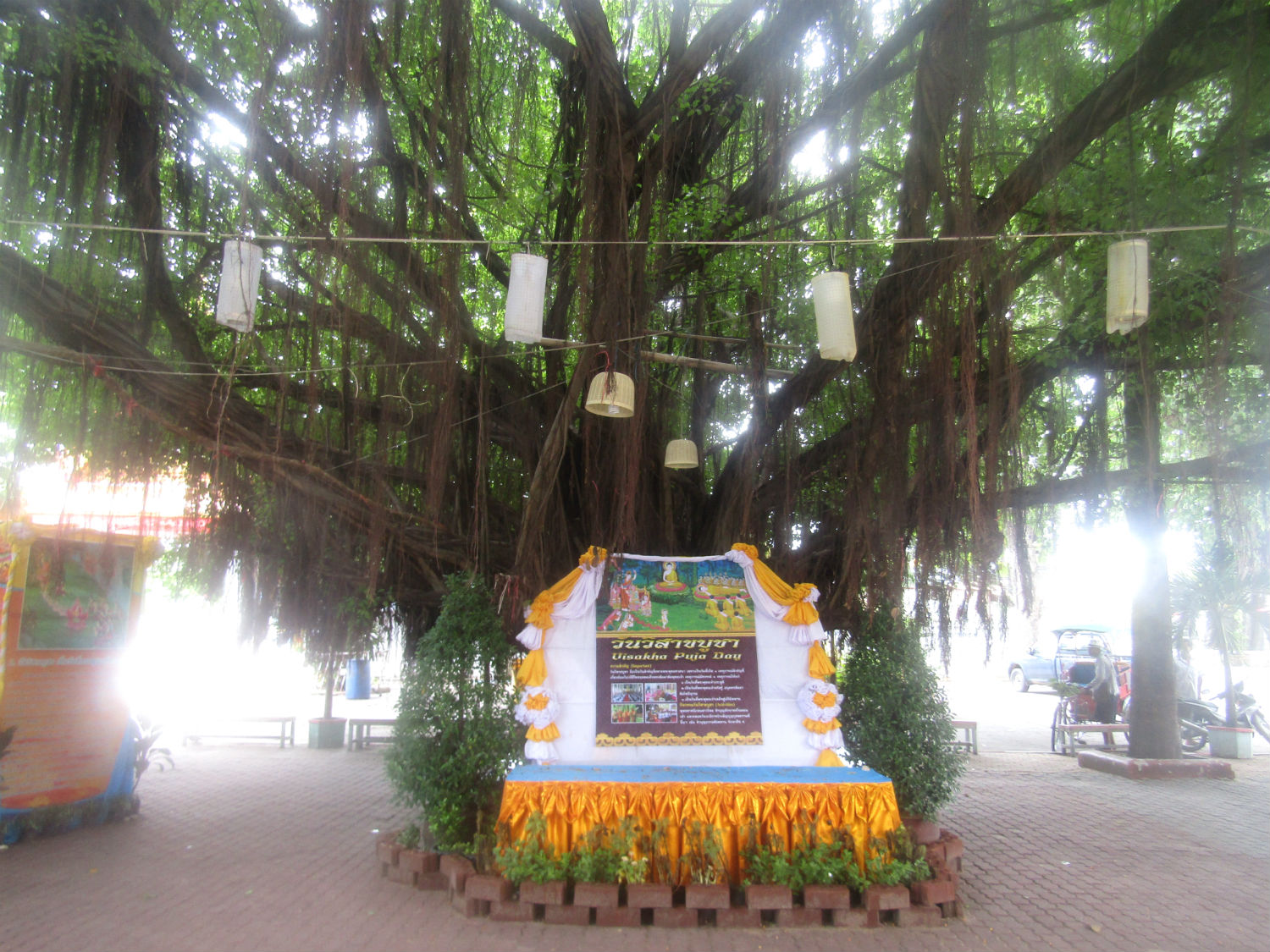 Phra Nang Sri Sra Phom Monument (top left) and Wat Maha Phuttaram, Si Sa Ket


City Pillar Shrine…….. The City Pillar Shrine in Si Sa Ket is located along highway 226 near the City Hall in the centre of town. Located in an ornate pagoda, it is the spiritual home of the people of Si Sa Ket, representing the foundation of the city.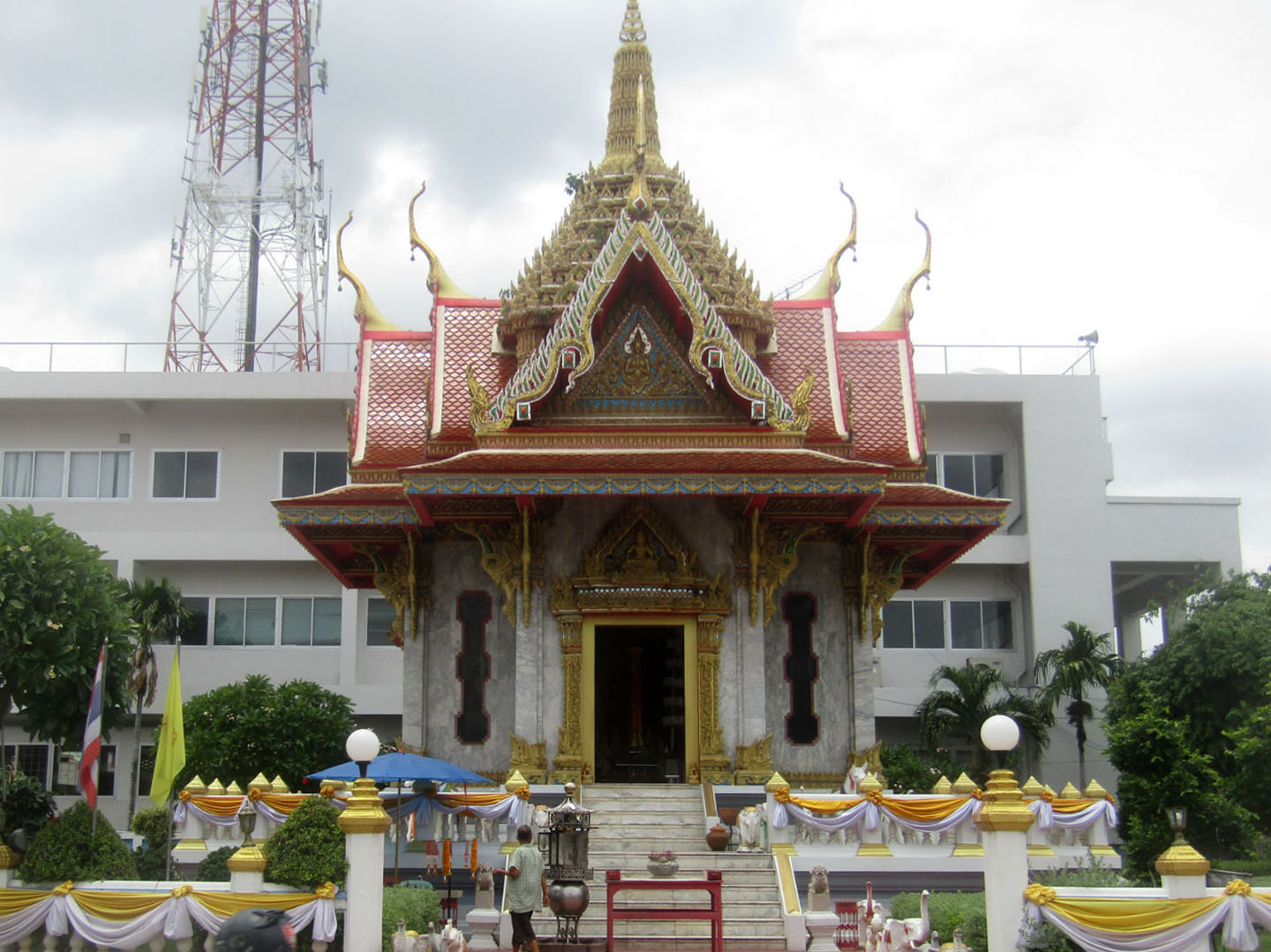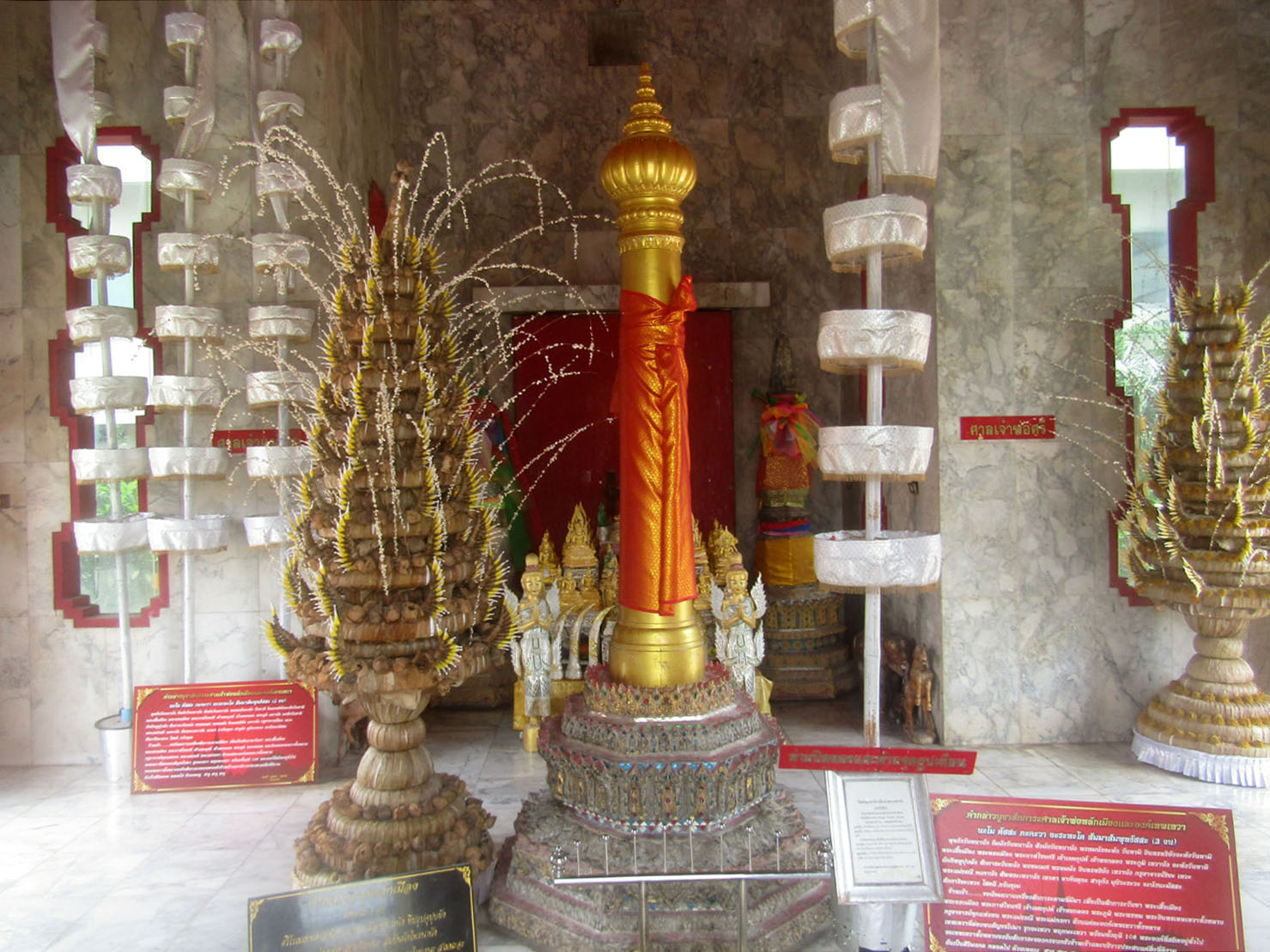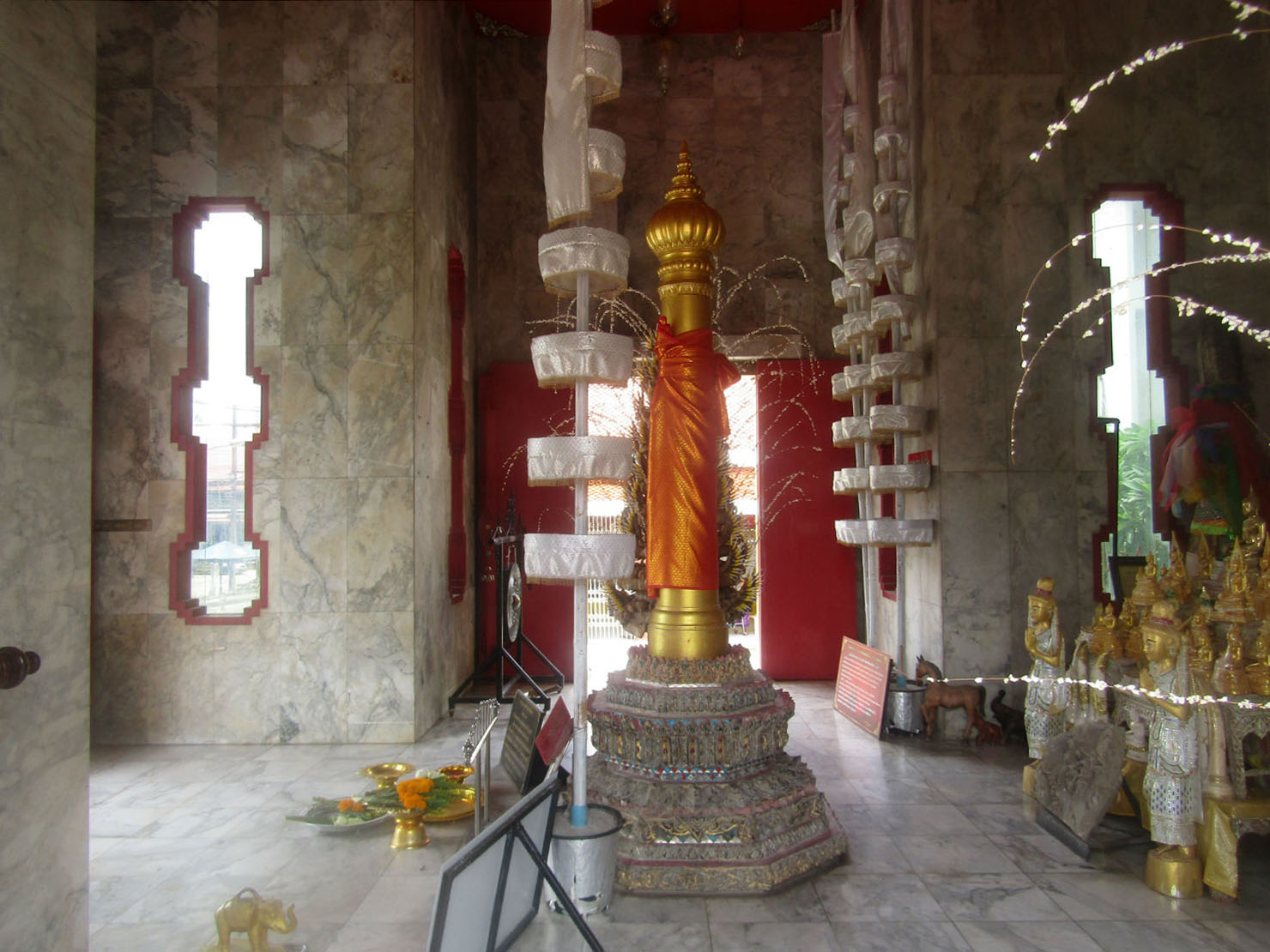 City Pillar Shrine, Si Sa Ket


Phrathat Ruang Rong…….. Situated at Ban Sang Rueang, Tambon Yaplong, this temple is a graceful blend of architectural styles from four ethnic groups in the lower Northeastern region. They include Lao, Suai, Khmer and Yoe styles.The six-storey stupa (Phra That) is 49 meters high. Its ground floor is used for religious rites, while a museum occupies the first and second floors. The third floor is an image hall while a meditation room occupies the fourth floor. Relics of the lord Buddha are housed on the top floor, which also serves as a scenic viewpoint. Wat Phra That Rueang Rong lies 8 kilometers to the north of the Si Sa Ket along Yang Chum Noi road.
This is one of those temples where I would struggle to describe it without help but at the same time I'm left with an overwhelming sense of purpose for this temple. i.e. to demand you to, 'coff up or go the hell'!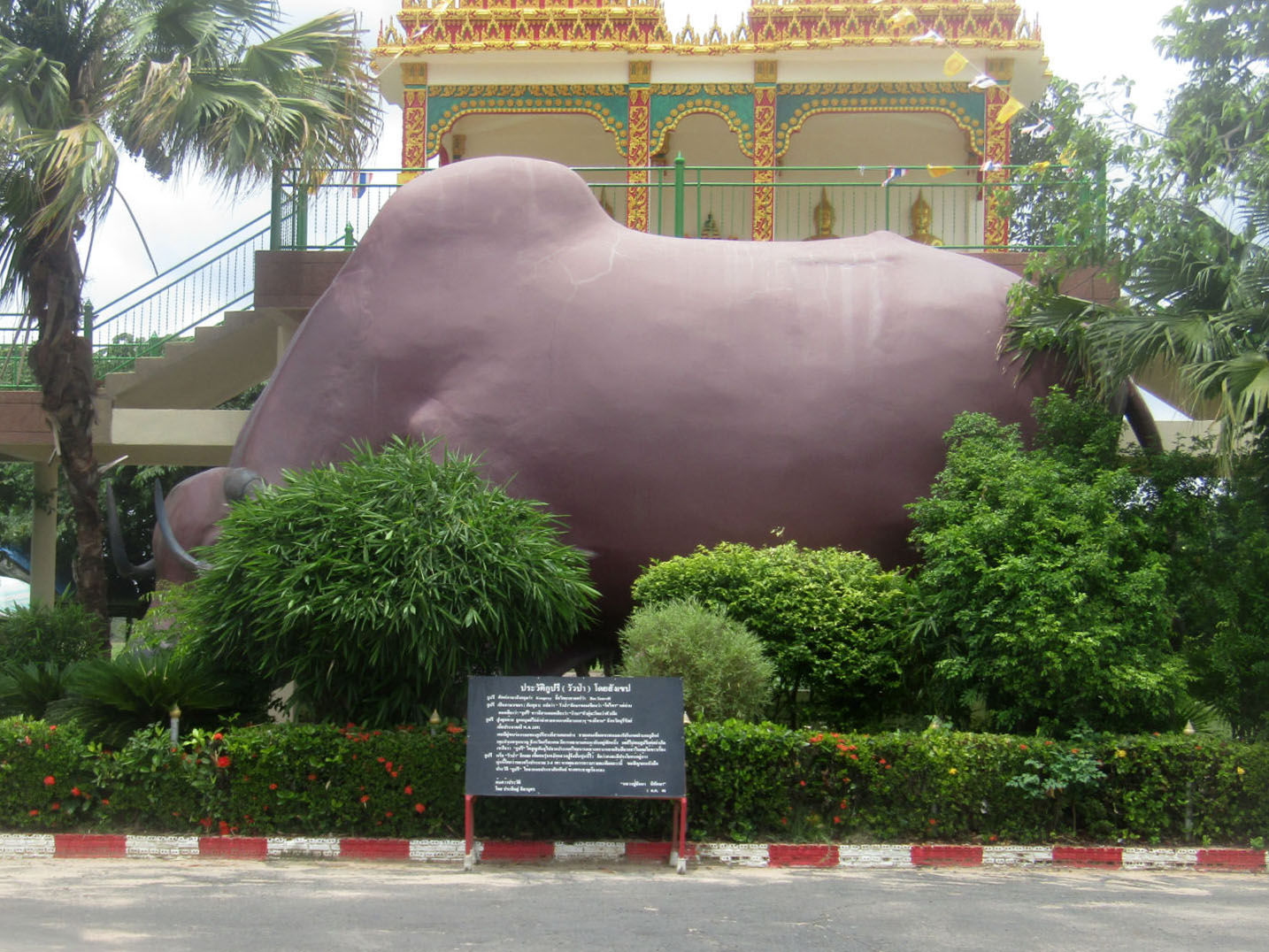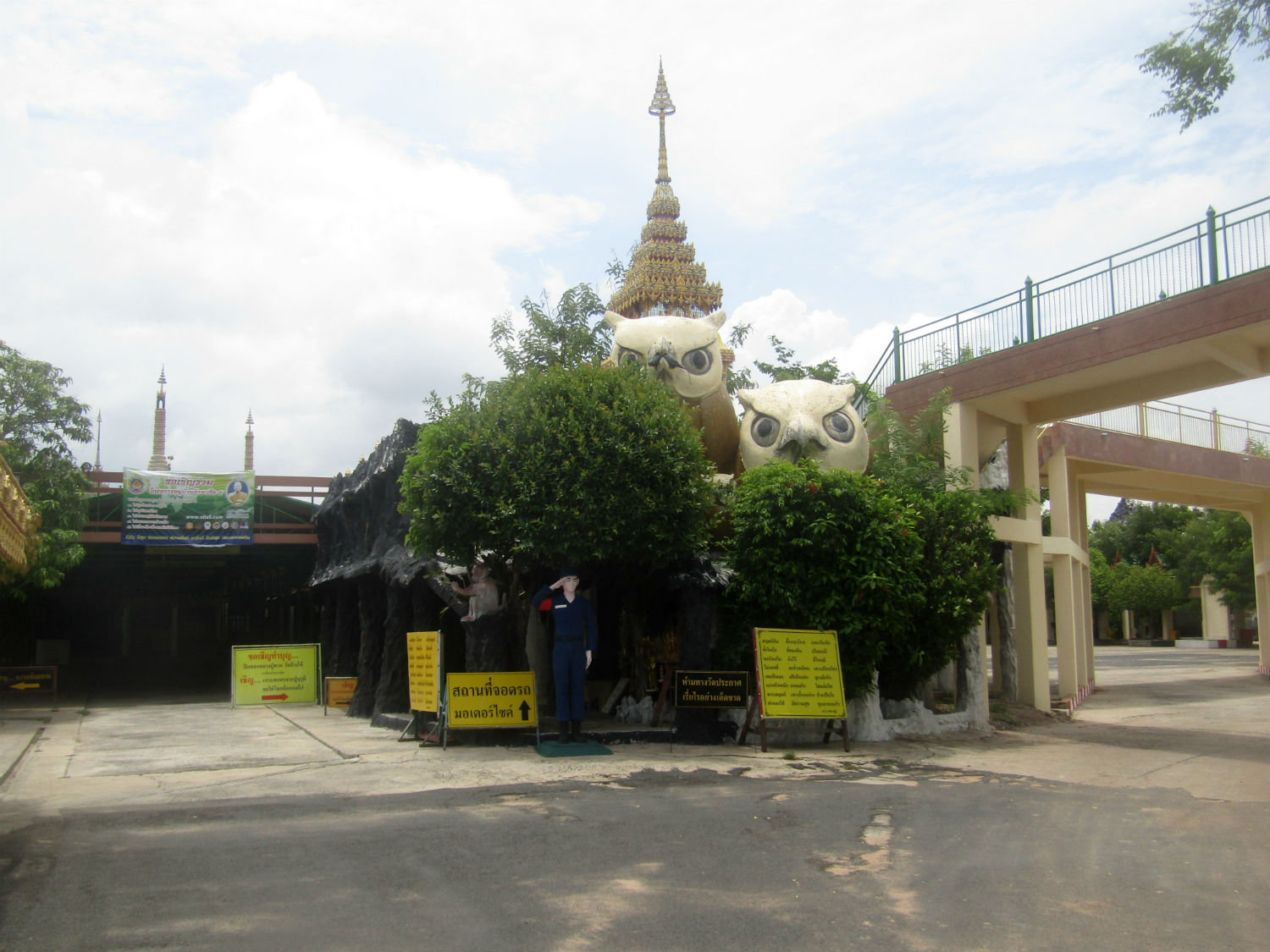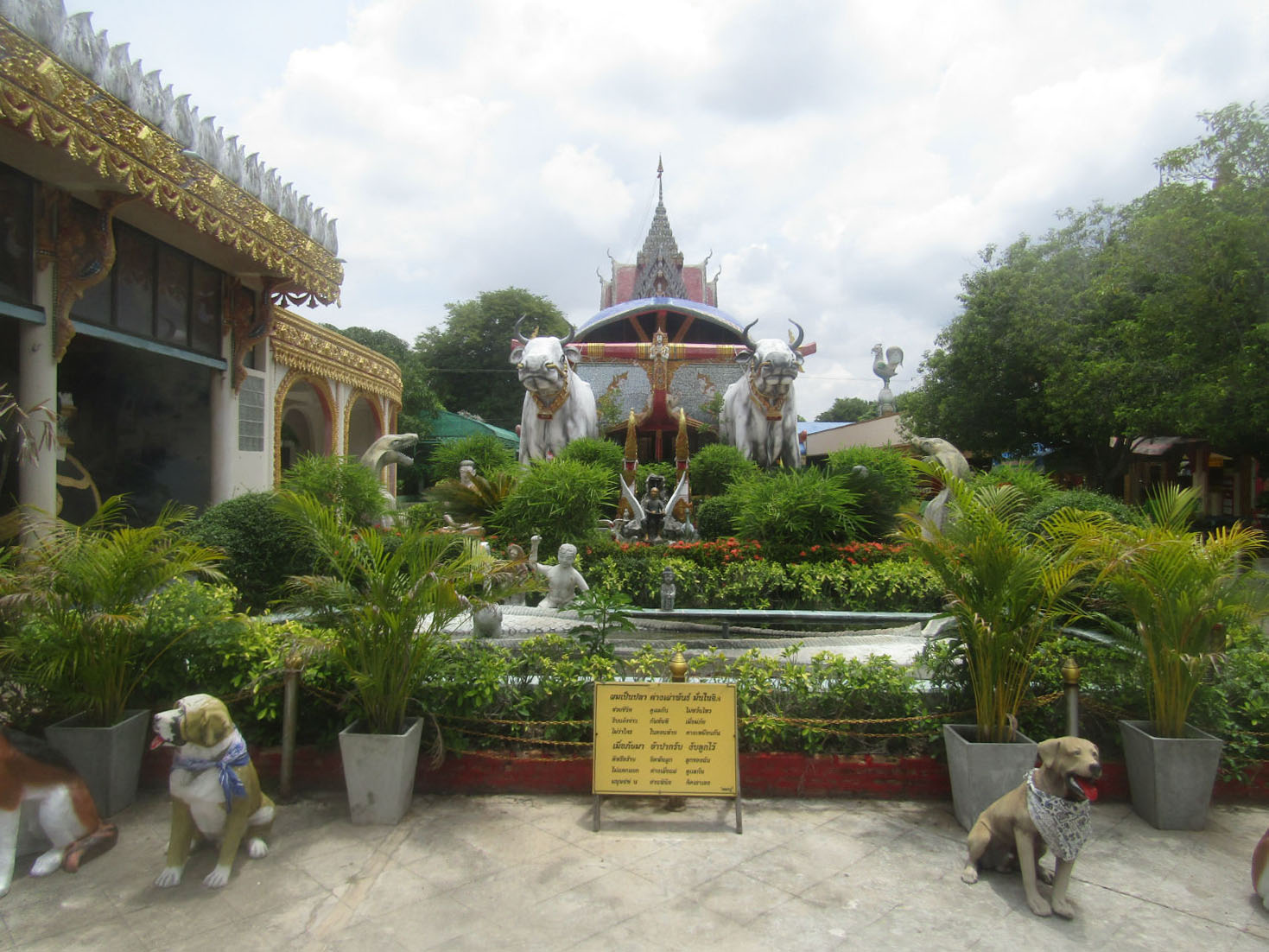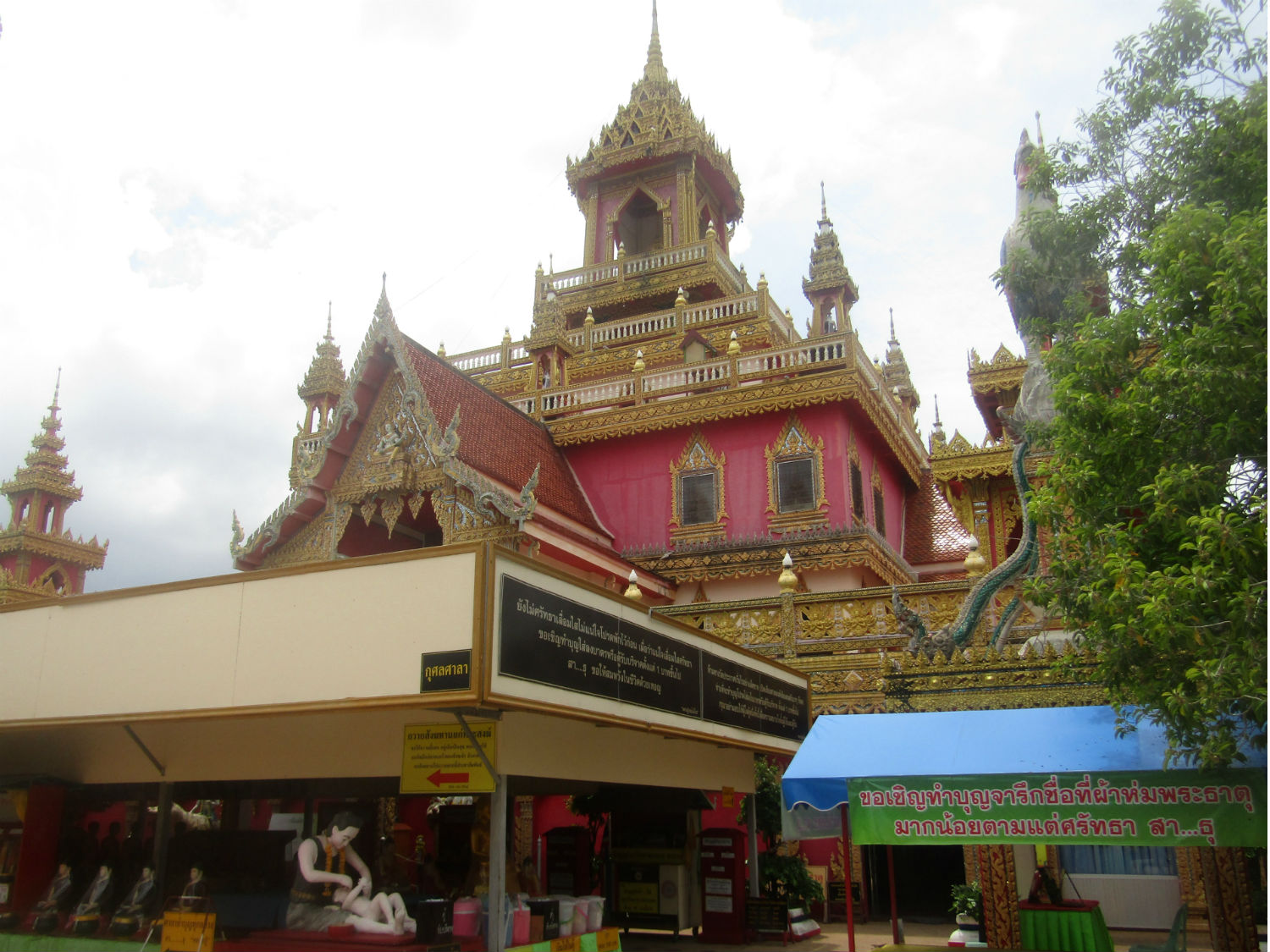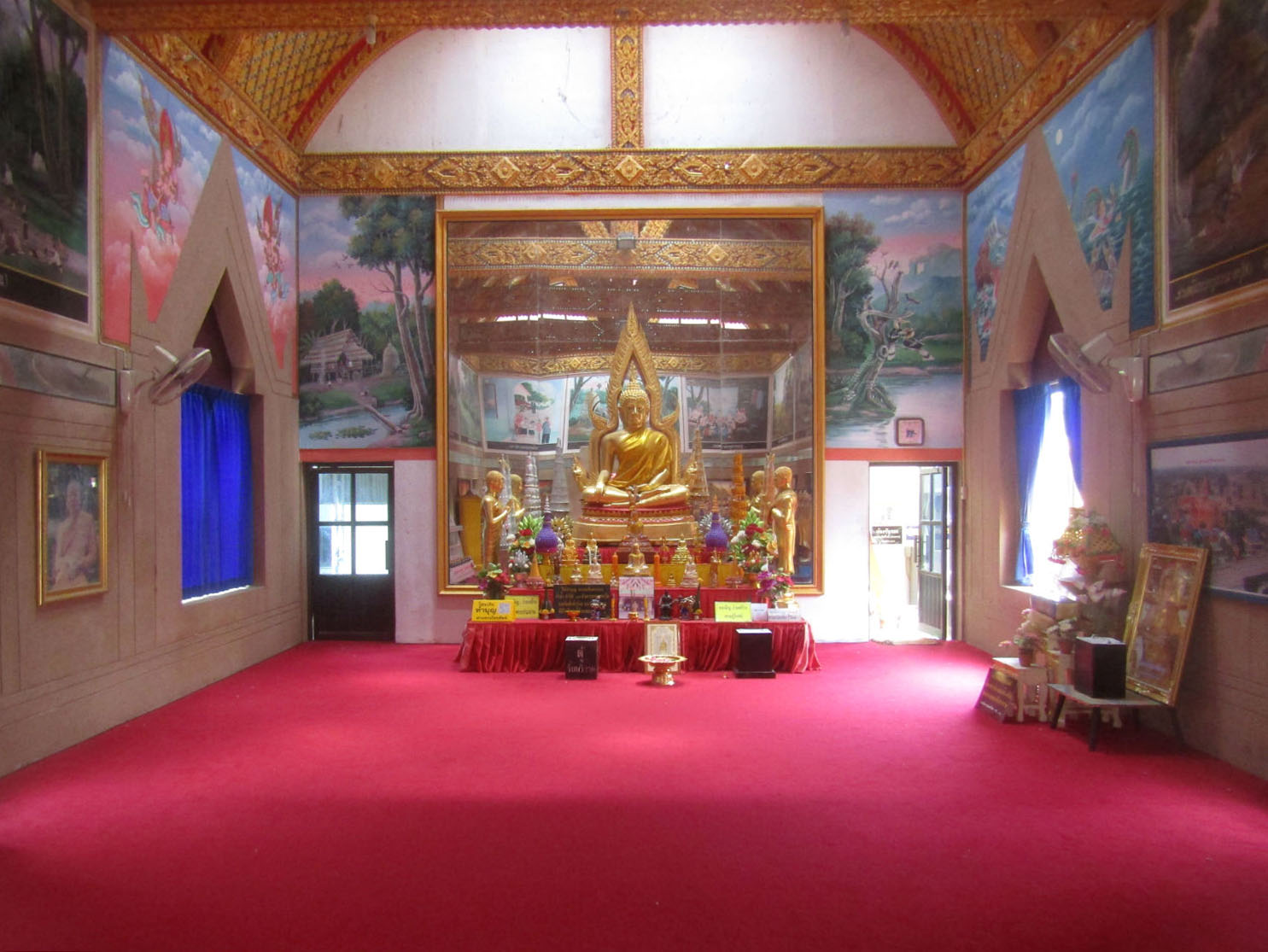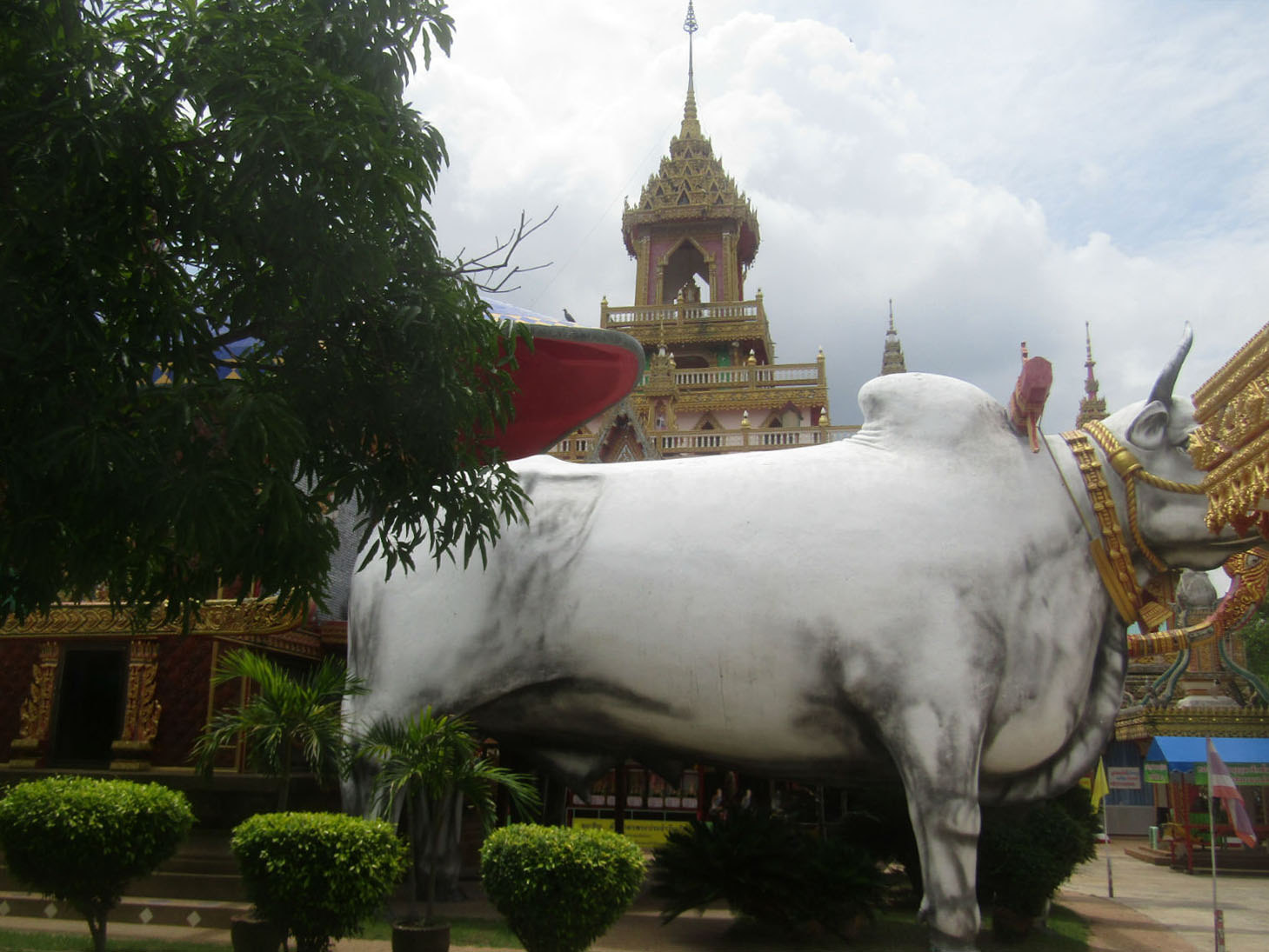 Phrathat Ruang Rong, Si Sa Ket District, Si Sa Ket Province


Wat Phra That Suphannawong…….. At Wat Phra That Suphannawong there is a prayer hall representing the royal barge Suphannahong ('Golden Swan' or the 'Phoenix'). The royal barge was built in 1911 during the reign of Rama VI with a bow resembling a mythical swan, or hong, adorned with gold lacquer and glass jewels, with a crystalline ball and tassel dangling from her mouth. This 46-meter craft was carved from a single trunk of teakwood, and was launched 13 November 1911. There is a golden pavilion on board to house the king and his immediate royal family. Suphannahong is the regular royal barge, if a royal is travelling with the procession. Its hull is painted black.
The World Ship Trust, in 1992, named the royal barge Suphannahong a Maritime World Heritage.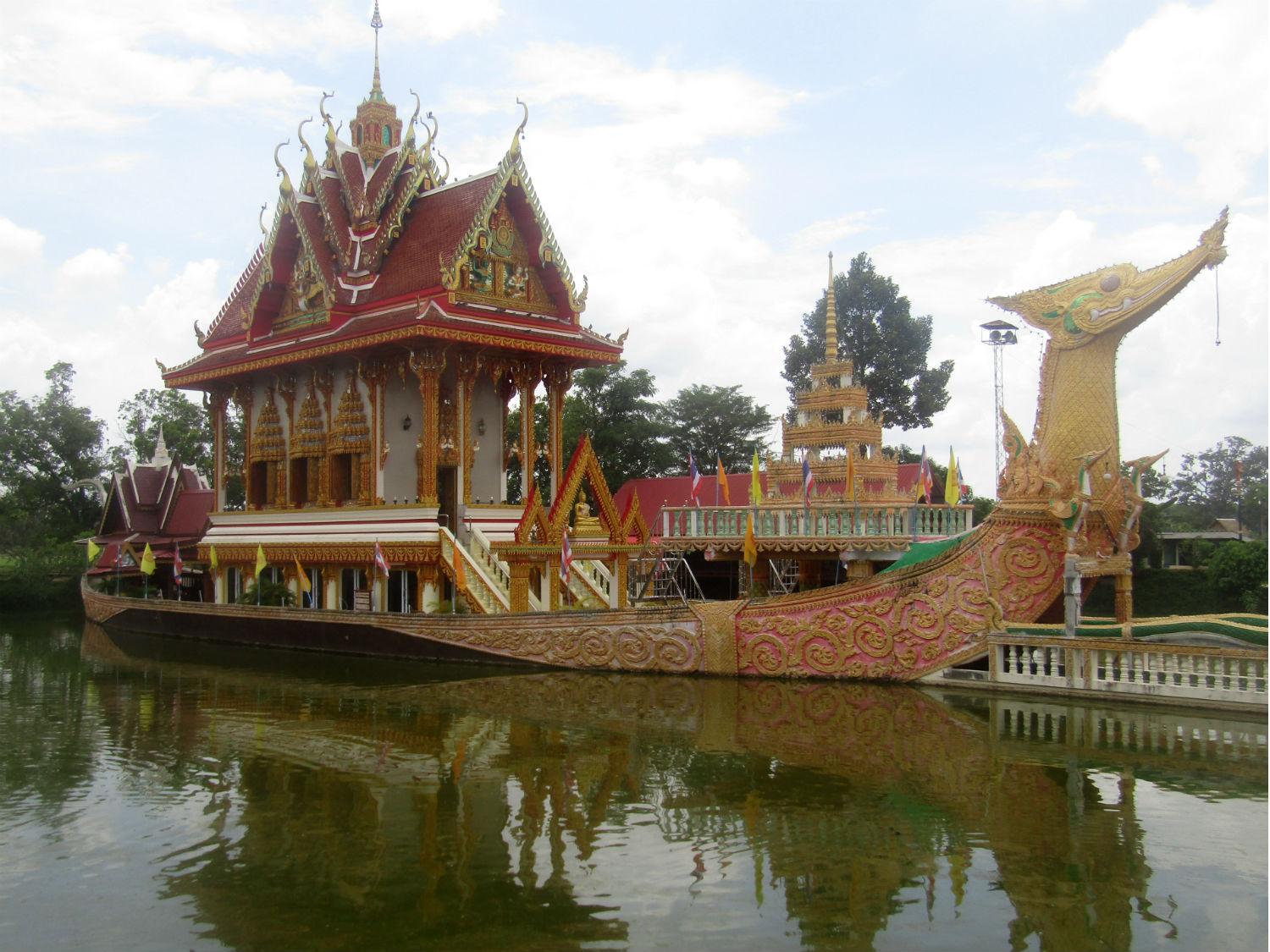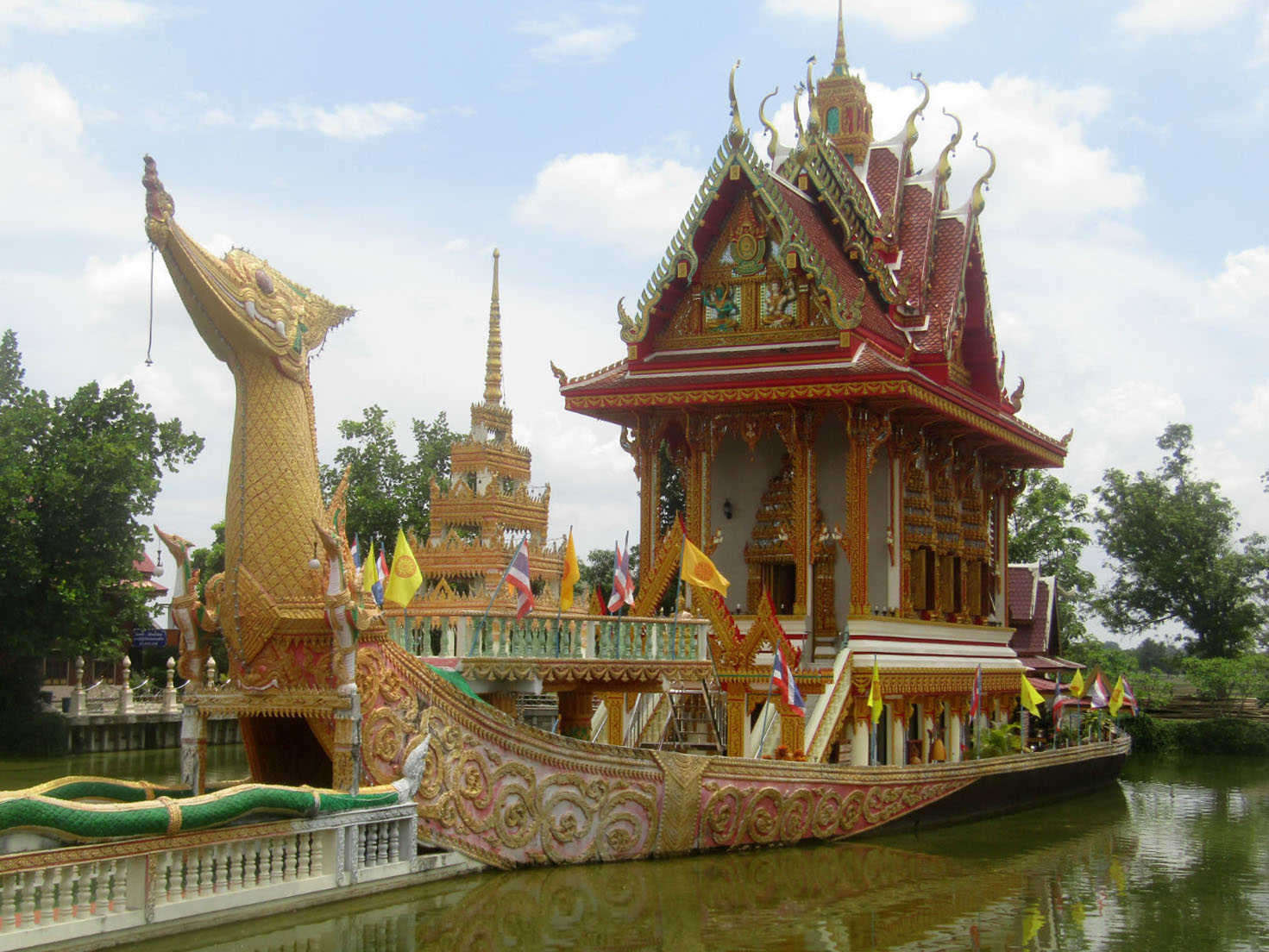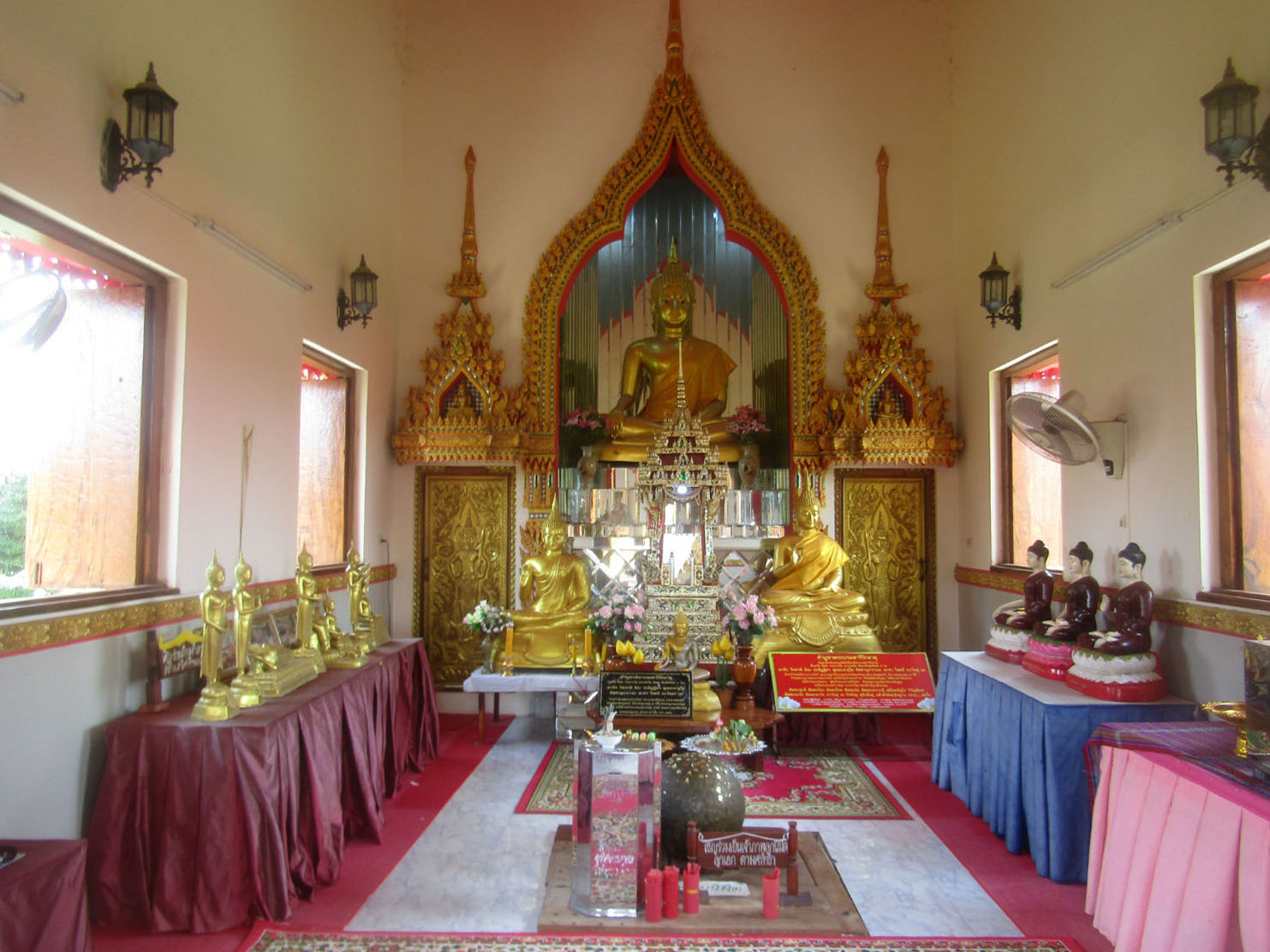 Wat Phra That Suphannawong, Si Sa Ket District, Si Sa Ket Province


The model here forms part of one side of a pond where a ritual of feeding the fish can be performed. This is also an OTOP location, where local handicraft and home grown produce can be purchased.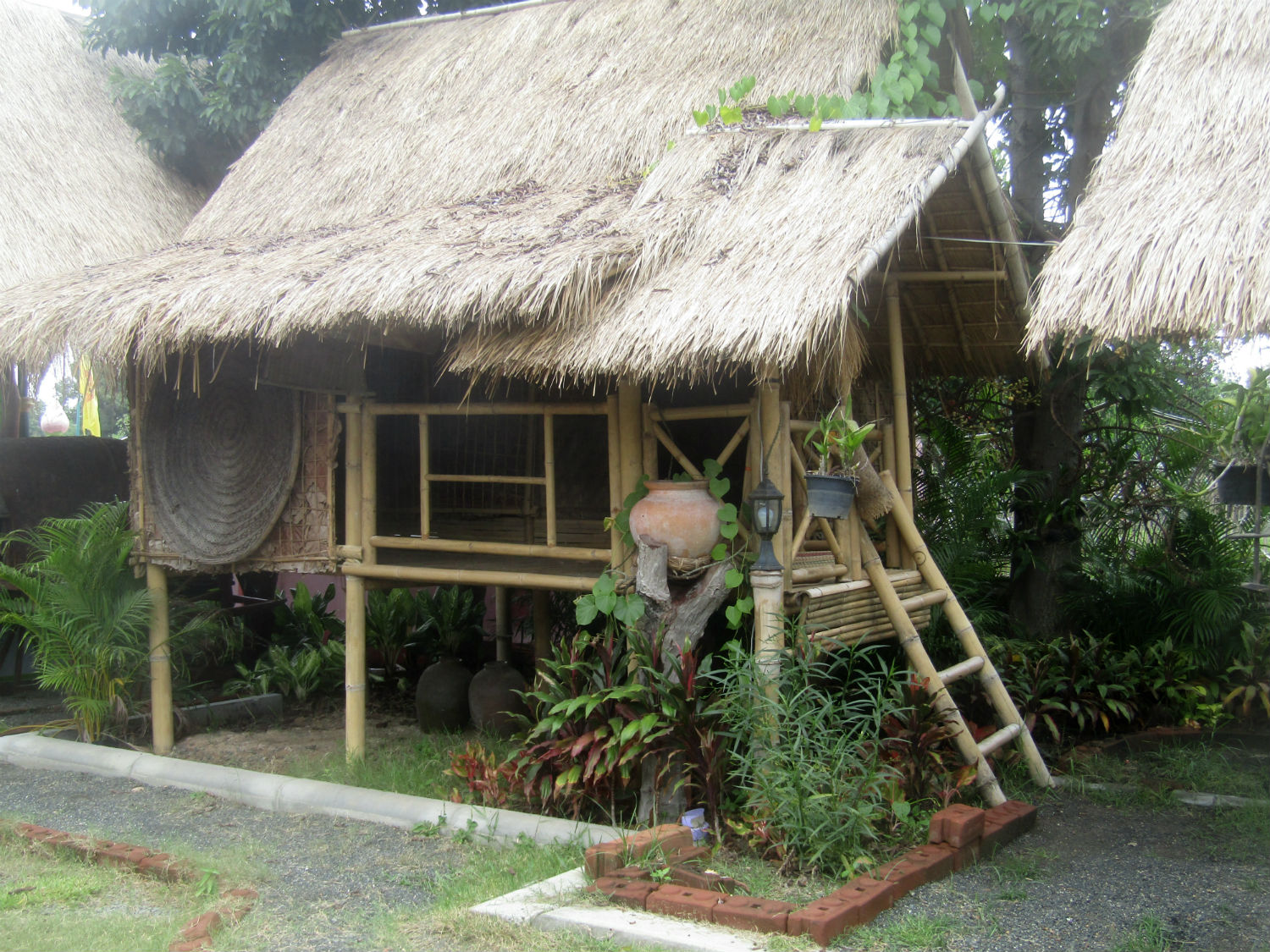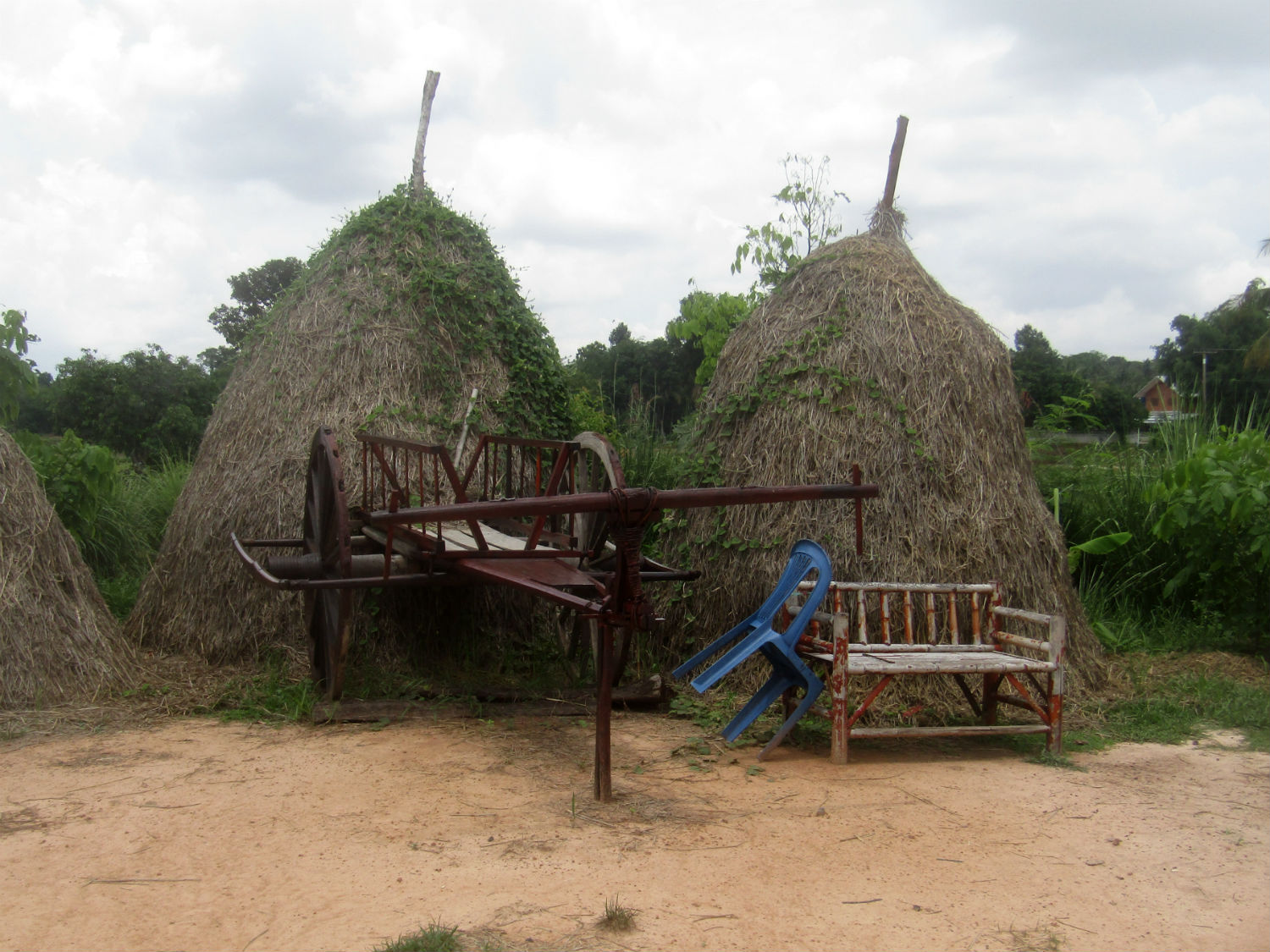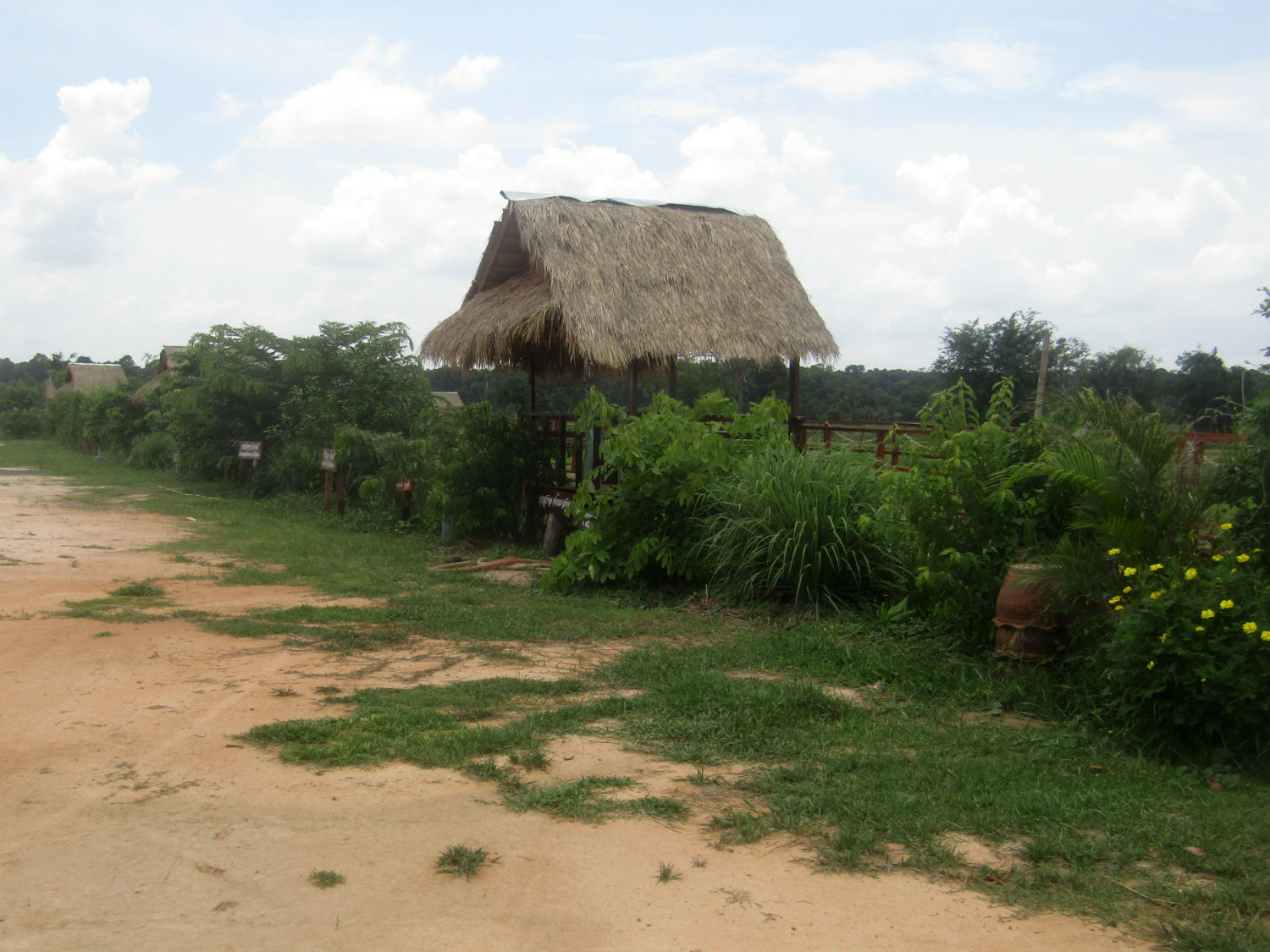 OTOP Centre at Wat Phra That Suphannawong, Si Sa Ket District, Si Sa Ket Province


Black Bridge…….. The point has come where my list takes over but I'm still not clear about orientation and decide to head east along highway 226. Soon on the left is the Black Bridge, a railway bridge on the State Railway of Thailand's Eastern Line. It is totally unremarkable, one of two in the city, spanning a small stream. I note that a similar structure I remember is in Lampang. I think that one is more impressive.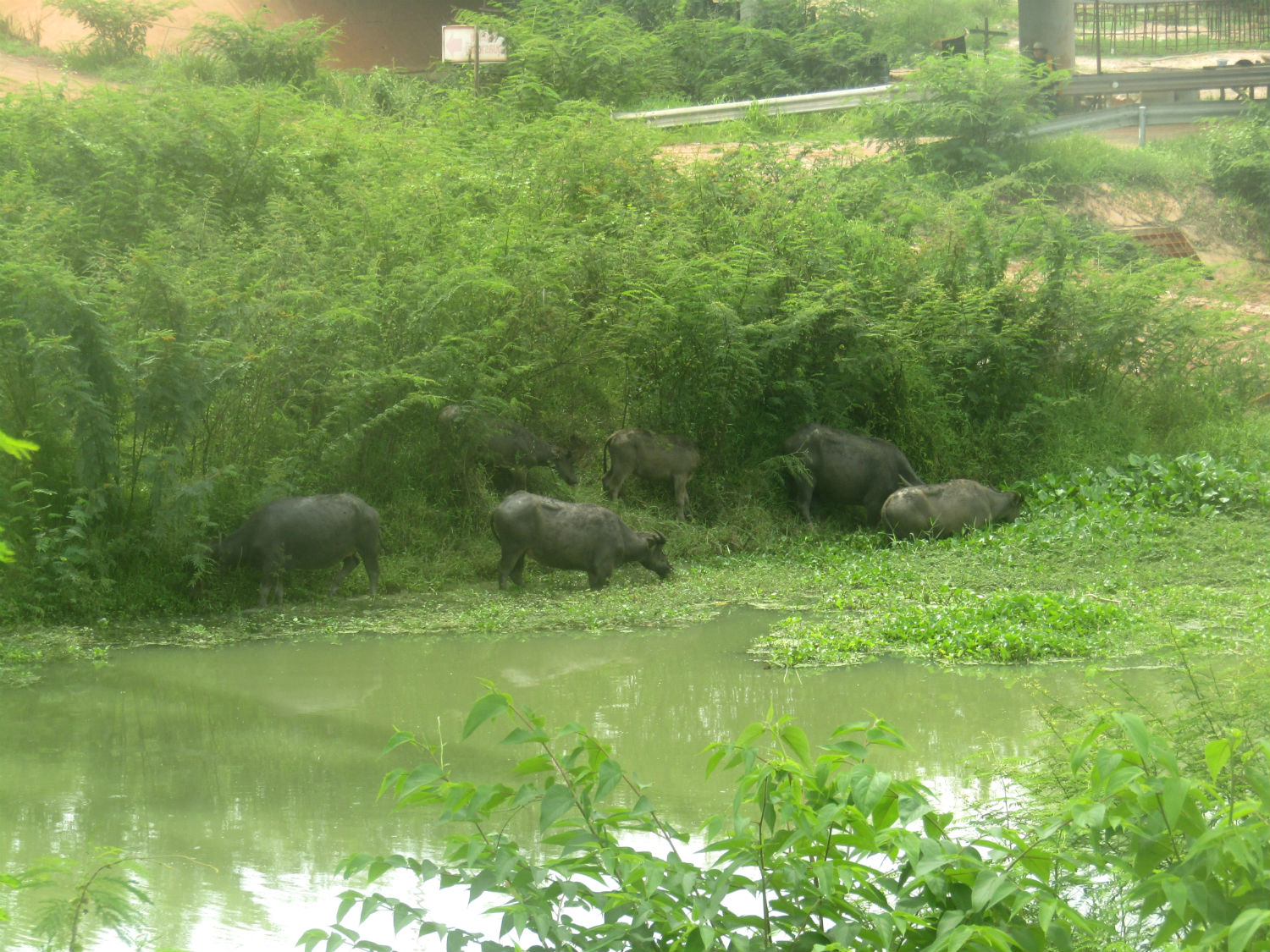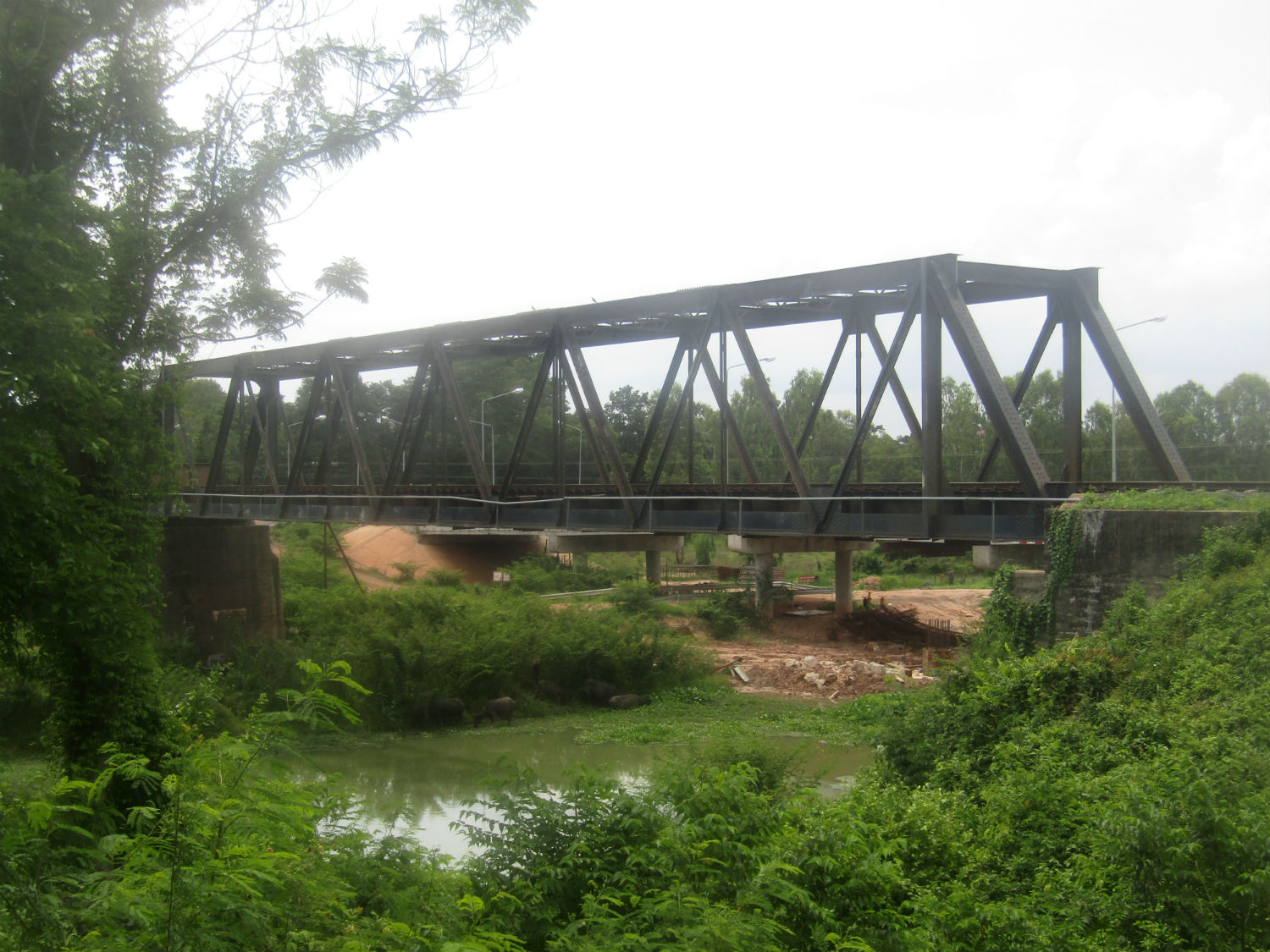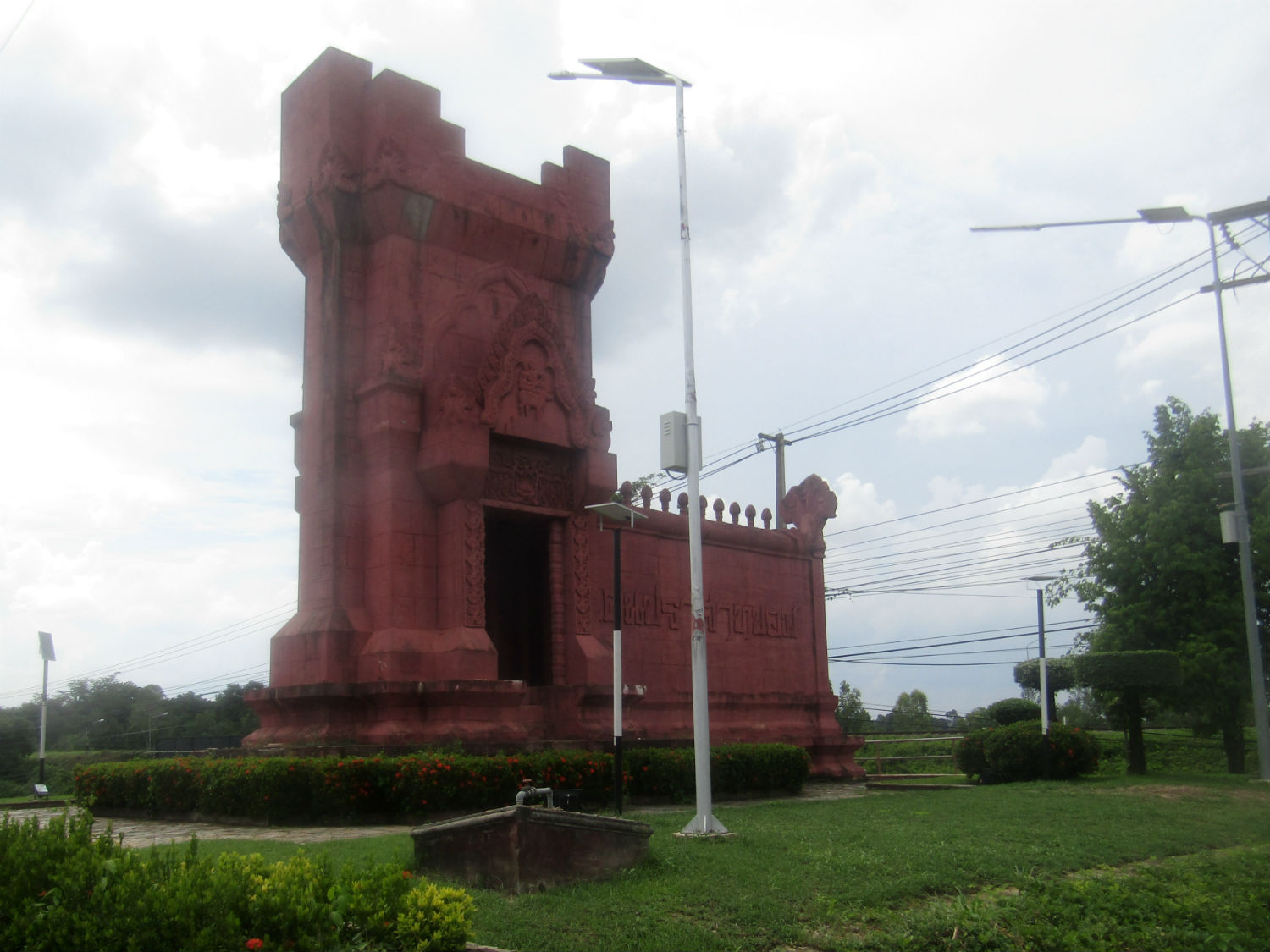 Black Bridge (centre) and Si Sa Ket Eastern Gateway (right), Si Sa Ket


Si Sa Ket Gateway (East)…….. The Si Sa Ket Gateway (East) consists of a pair of Khmer style towers (Ku), although not of ancient build. These towers stand proudly each side of highway 226 heading east.
Nong Bua Yai…….. Nong Bua Yai translates as a pond of lotus flowers. Setting the GPS for this location, it really needs to be a bit special to make it worth the effort. Sadly it's not. Where those lovely photographs have come from, I've no idea.
Si Sa Ket Aquarium…….. While I'm still struggling to get my bearings. Katoon suggest we head for Si Sa Khet Aquarium before it closes at 4pm although it's still early afternoon. Locating the aquarium there is a 30 baht fee for general admission. The model for this aquarium can be found in many other cities in Thailand. The aquarium contains a wide variety of fish, mostly freshwater varieties from the river systems in Thailand and beyond.
What I like about this one is the larger than normal tank with viewing tunnel. They've added a couple of feature of local interest; a sunken, Khmer prasat and sunken boats. However, this aquarium is a bit tired and could do with an upgrade.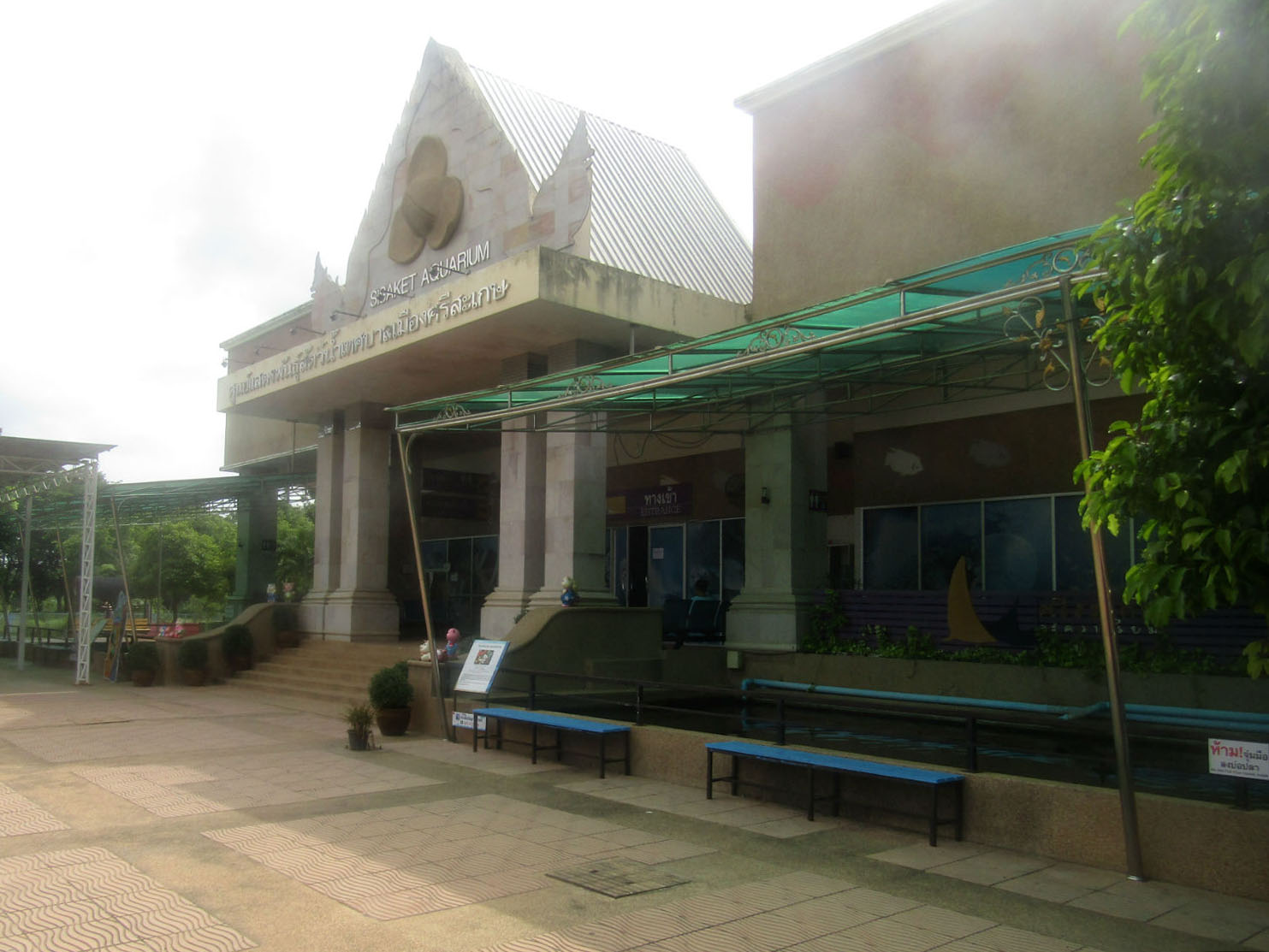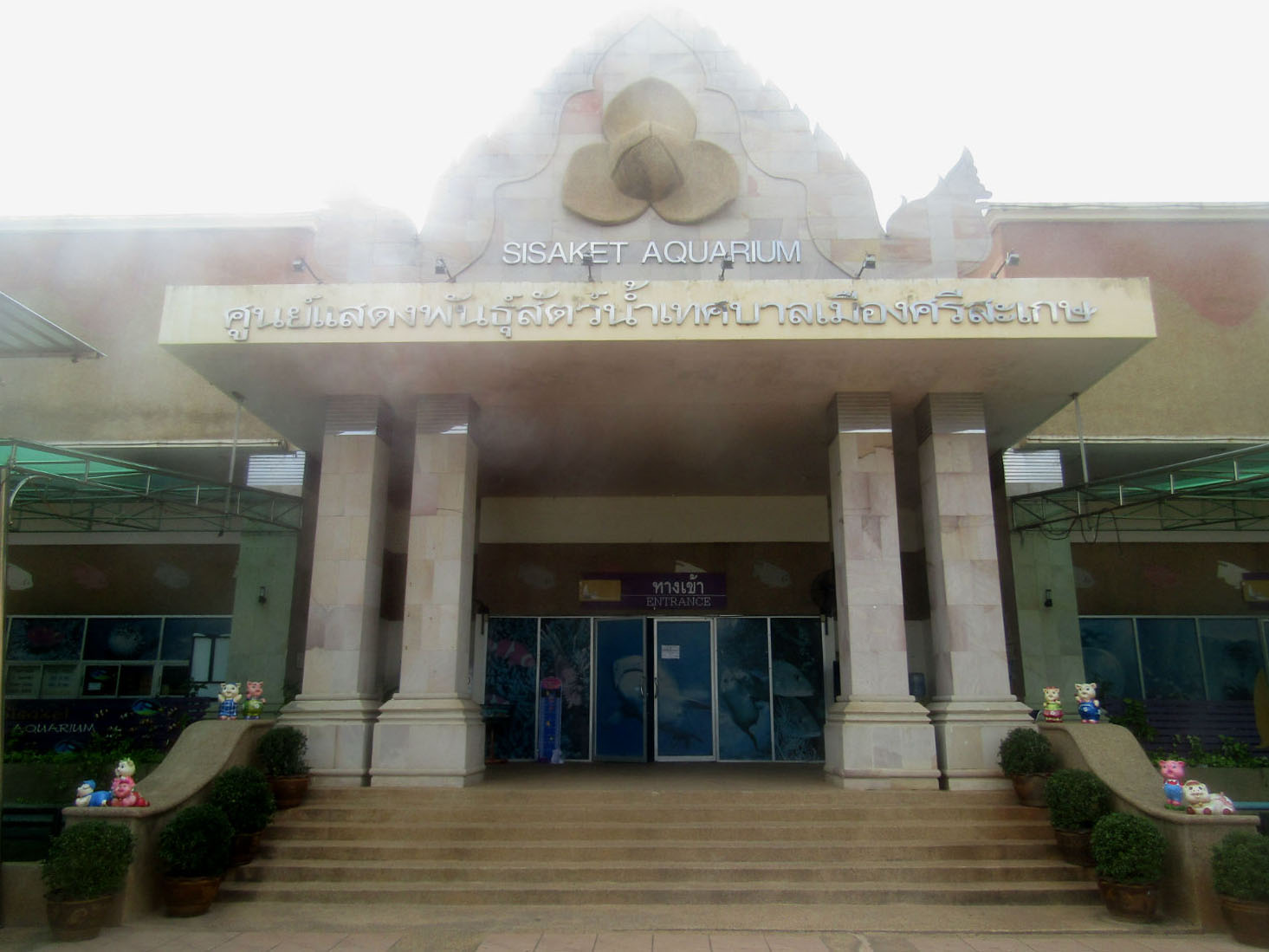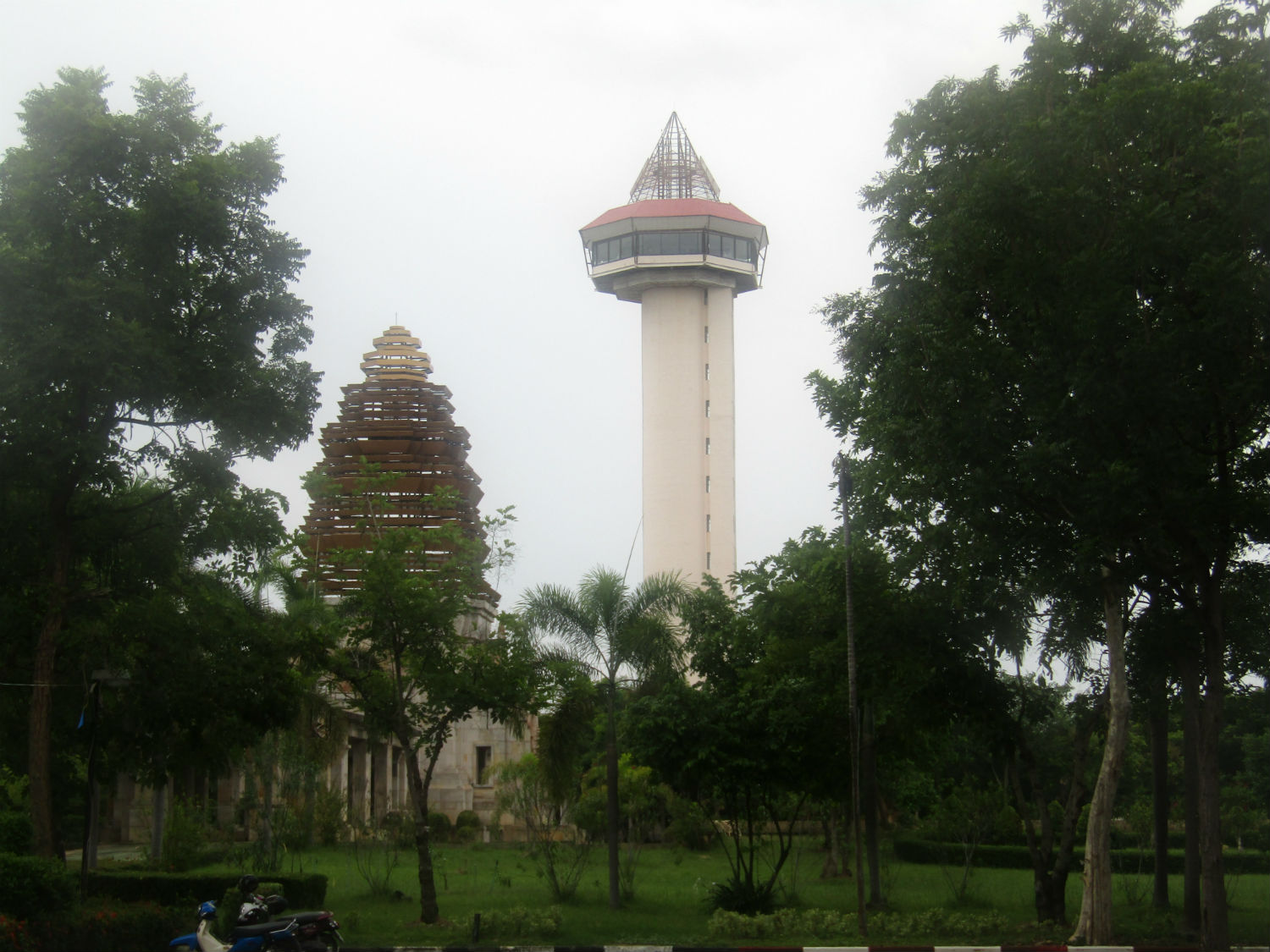 Si Sa Ket Aquarium and Tower (right), Si Sa Ket


80th Chaloem Phrakiat Park…….. The aquarium lies within the 80th Chaloem Phrakiat Park which centres around the Huai Nam Kham (lake). This is a public park for recreational purposes close to the city with some interesting buildings to the southeast of the lake. One of the structures is the Si Sa Ket Tower of similar design and function to those in other cities.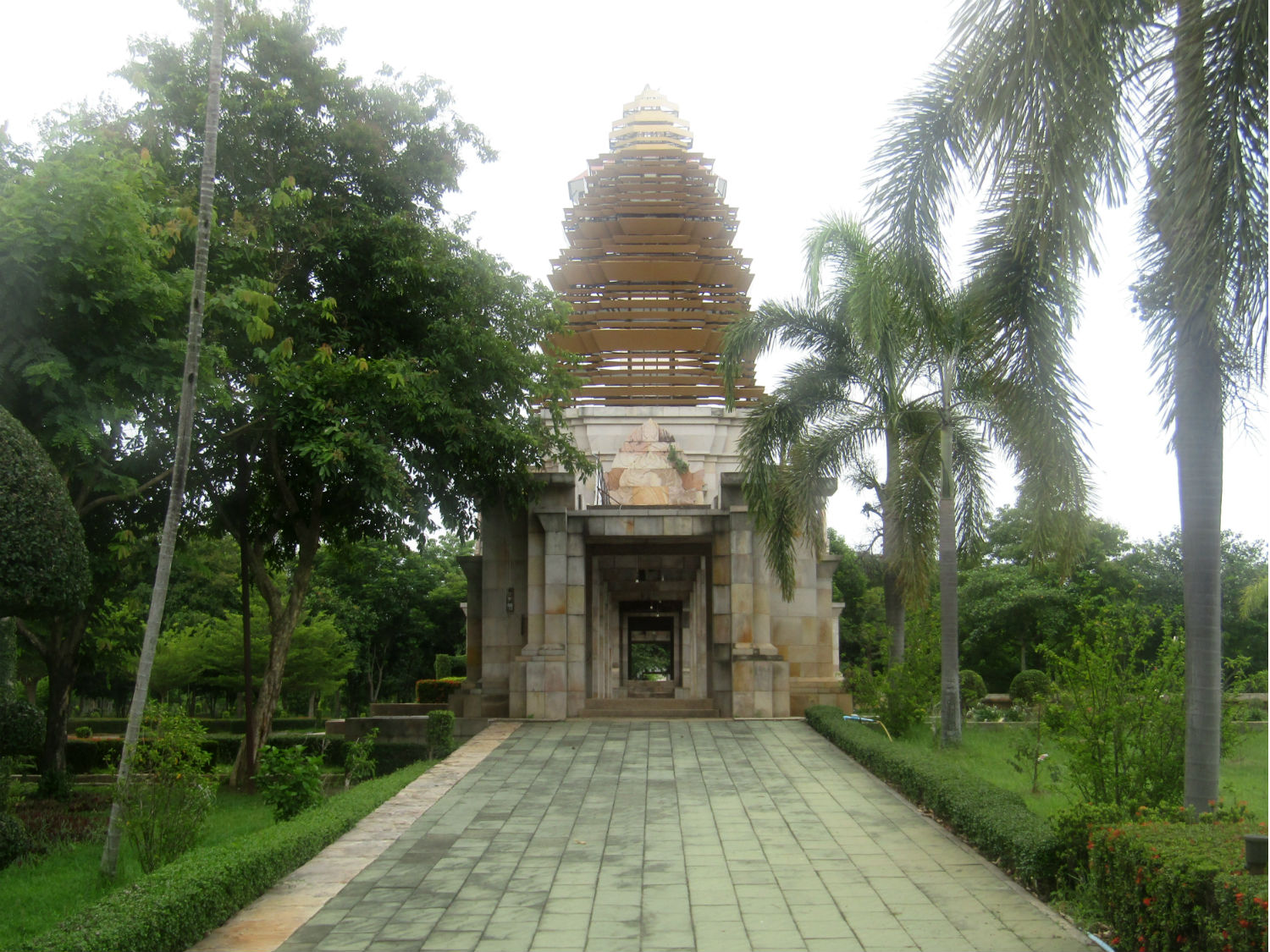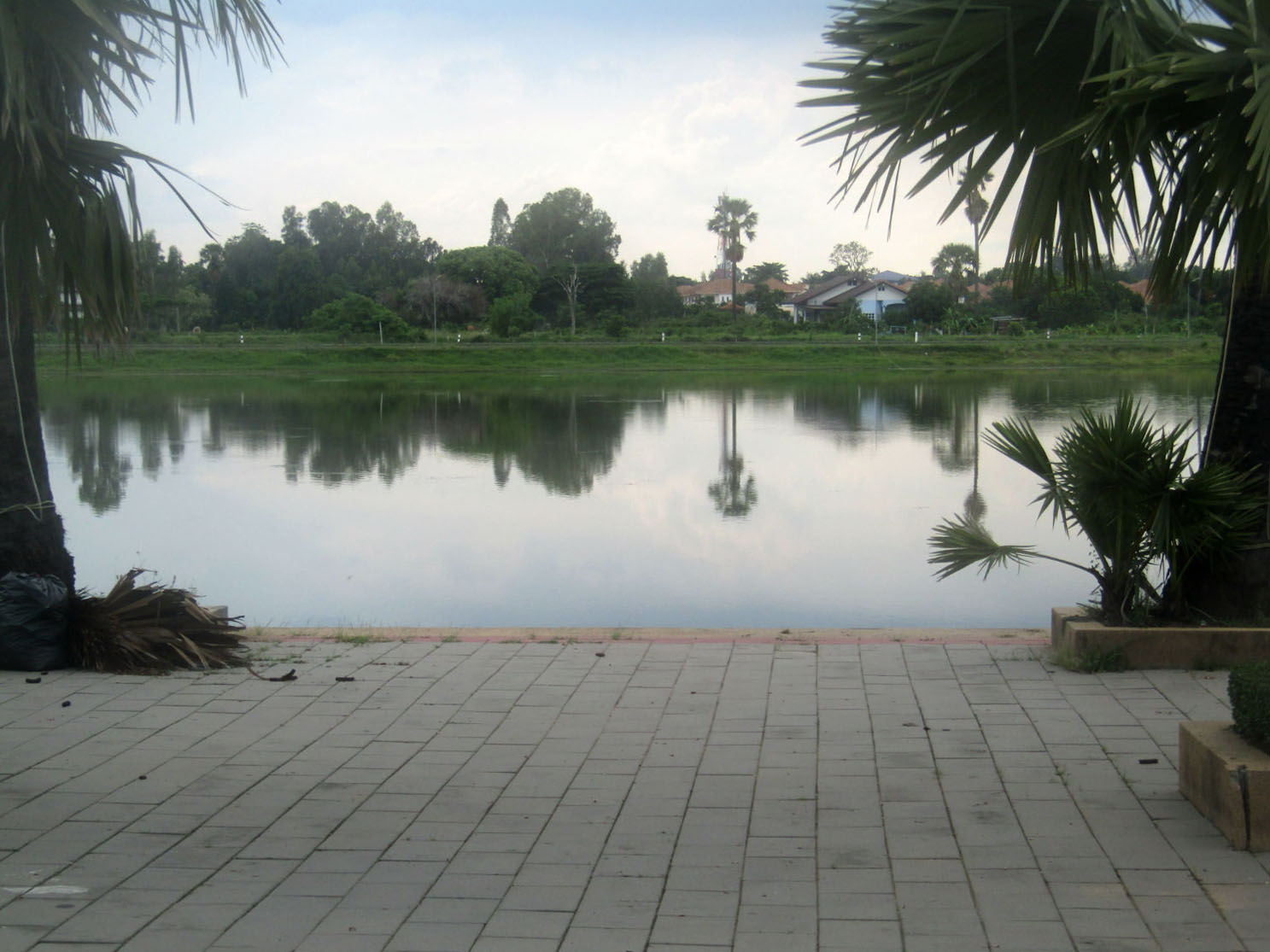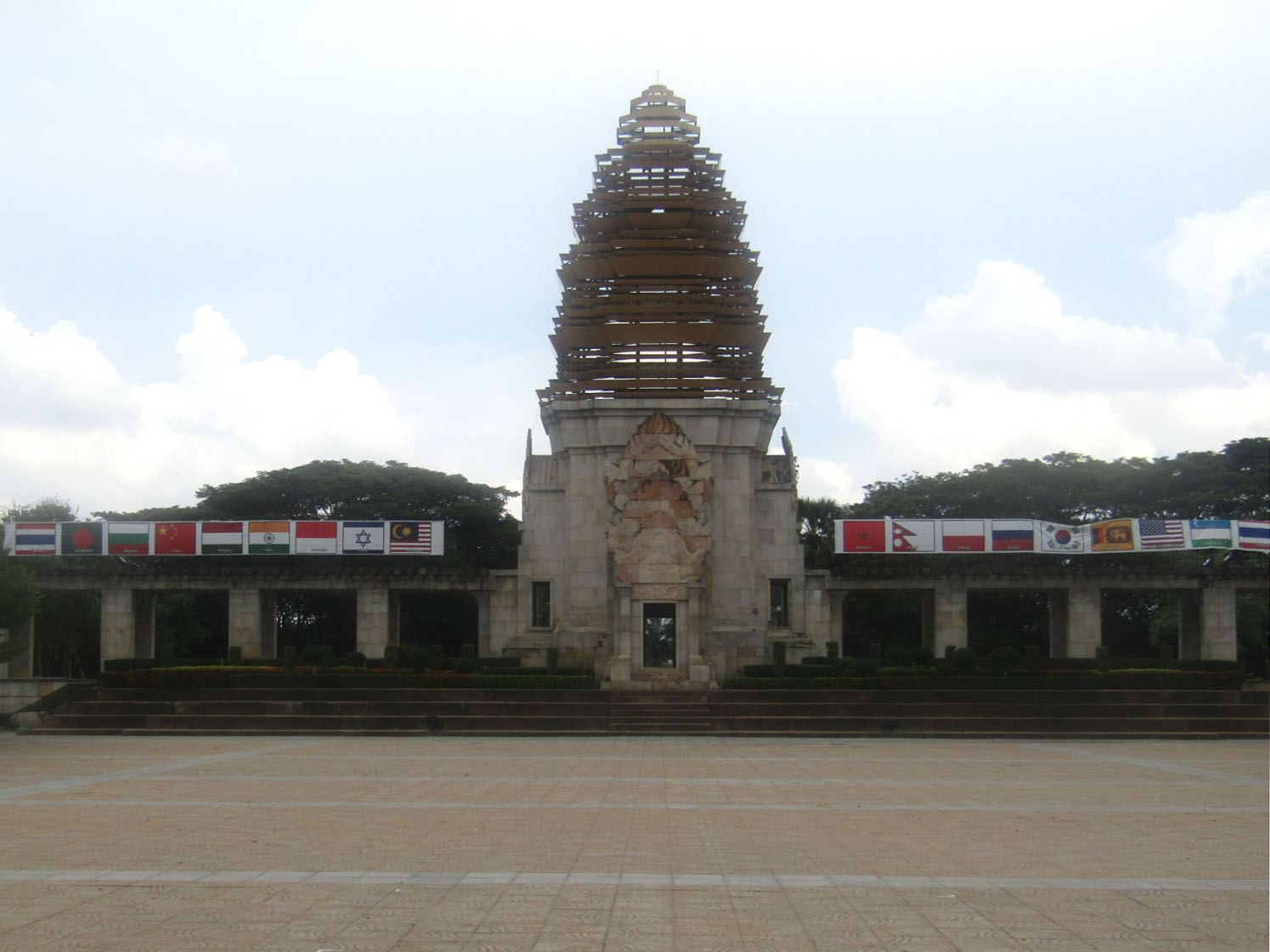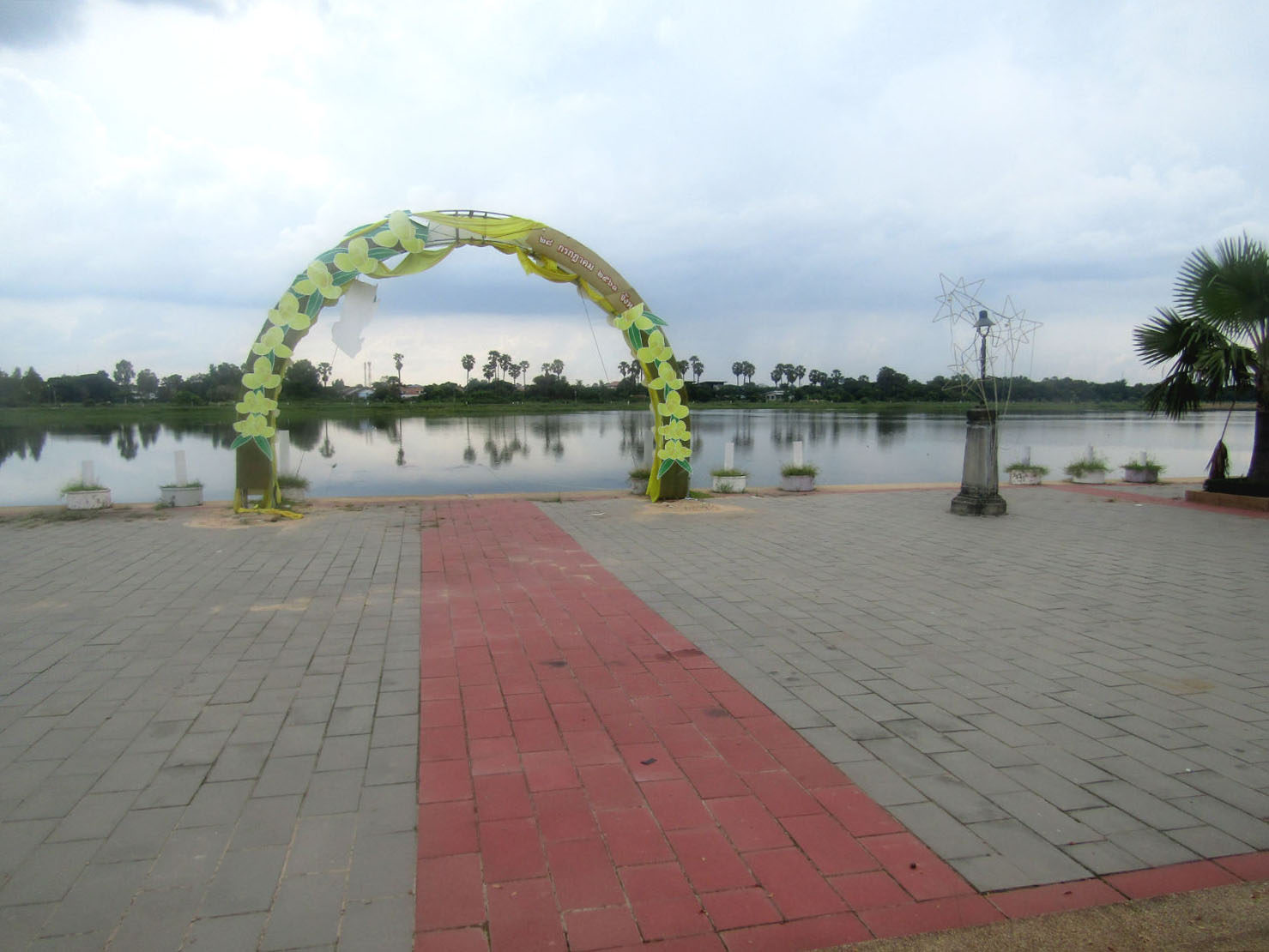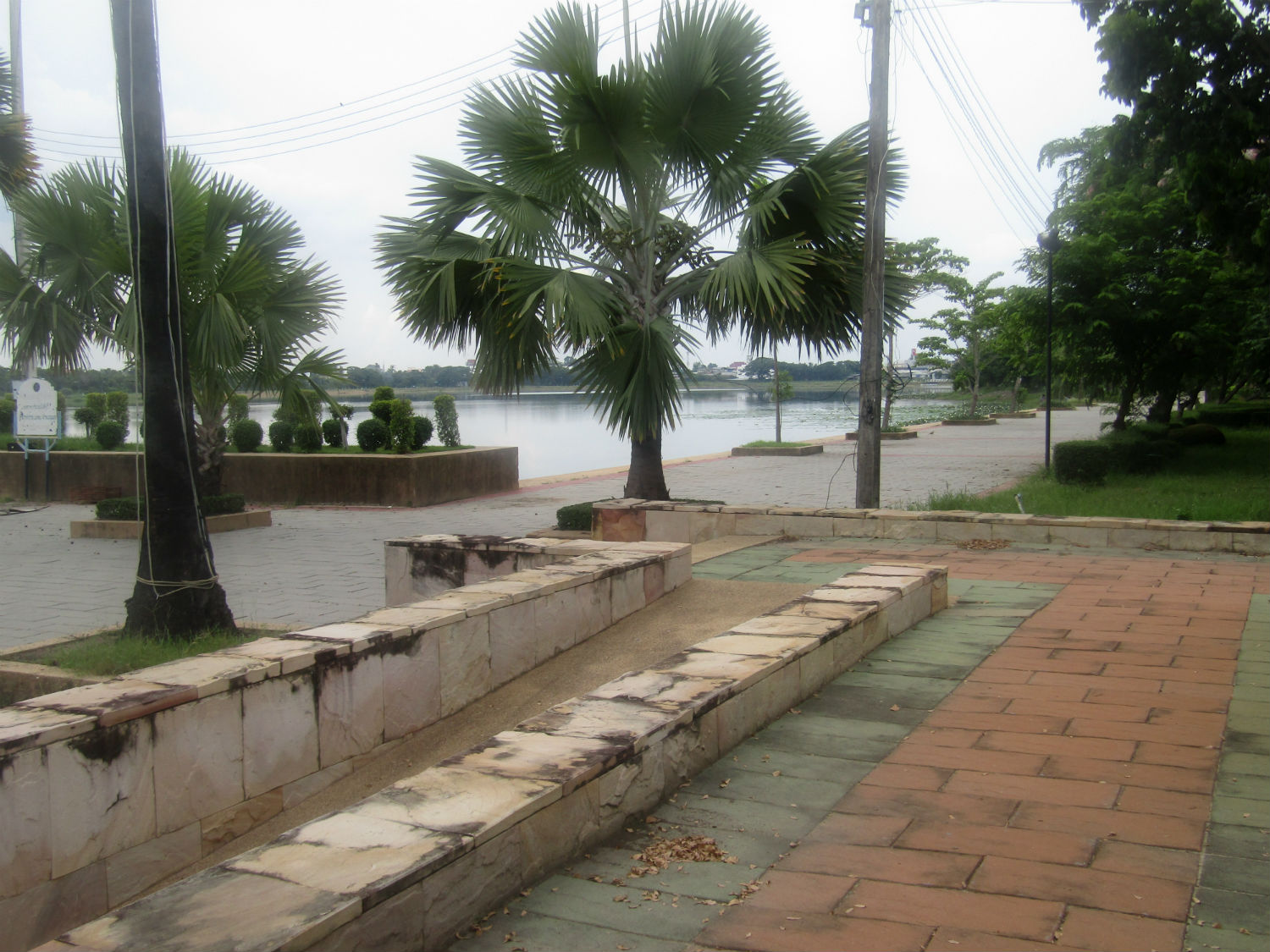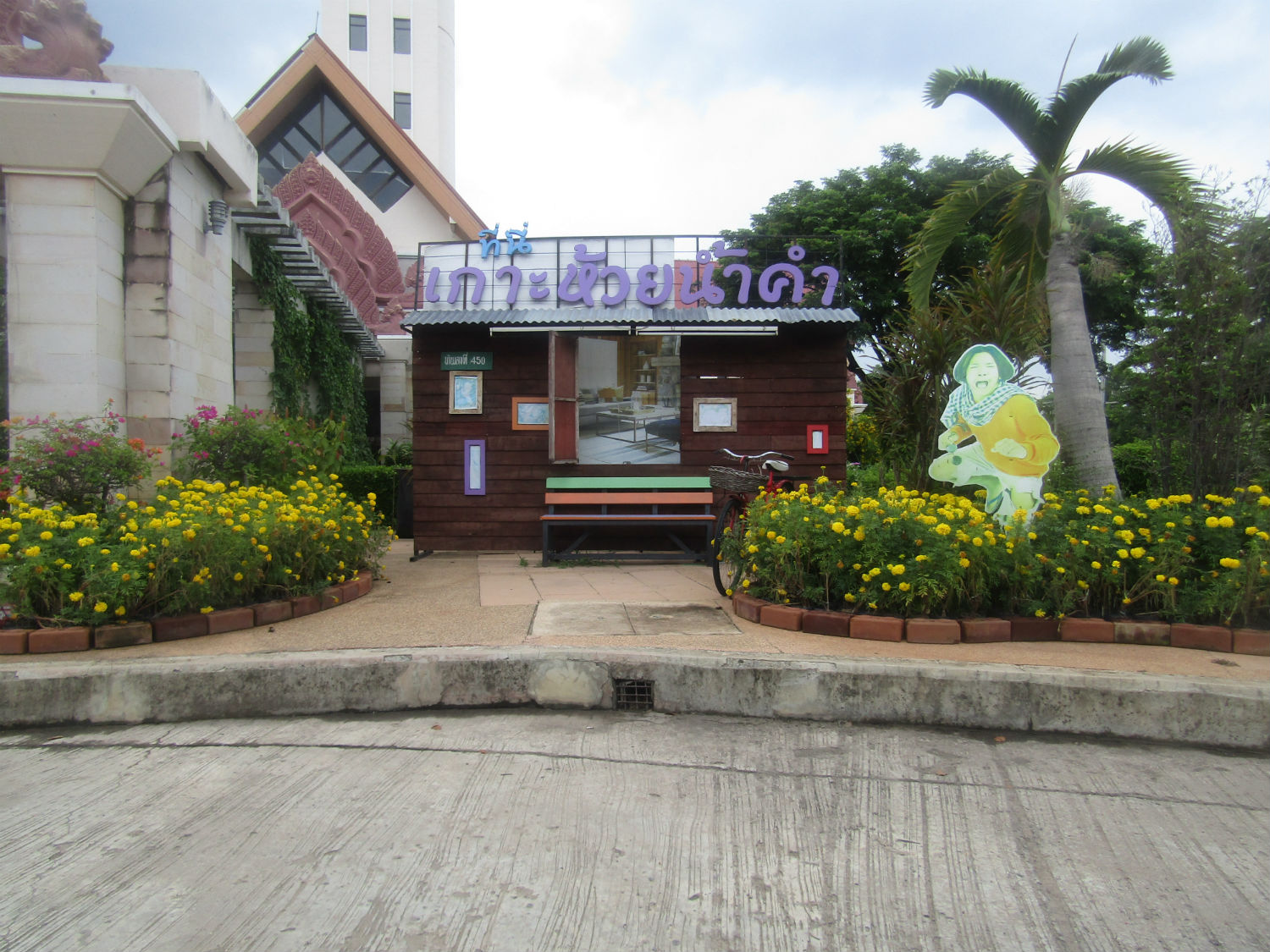 80th Chaloem Phrakiat Park, Si Sa Ket


Wat Prasat Yoe Nuea…….. The name Wat Prasat Yoe Nuea keeps cropping up on my list of ancient ruins in this province bu it lies 30 minutes away to the south. Ideally it should have been visited yesterday but we ran out of time. I really need this monument to be a bit special to make this round trip of more than an hour worthwhile. Sadly as I reach the site, it's in really poor condition and really needs attention from the Fine Arts Department. Fortunately the carved doorways and lintels still exist as dating evidence.
The composition of Prasat Yoe is a principal sanctuary on a square plan on a laterite base. The prasat was built of brick with a doorway facing east. There were two entrances with carved lintels over the doorways. One showed a figure and the Kala, the other depicting Indra riding Airavata. The sanctuary dates to the 11th/12th century constructed in Baphuan art style.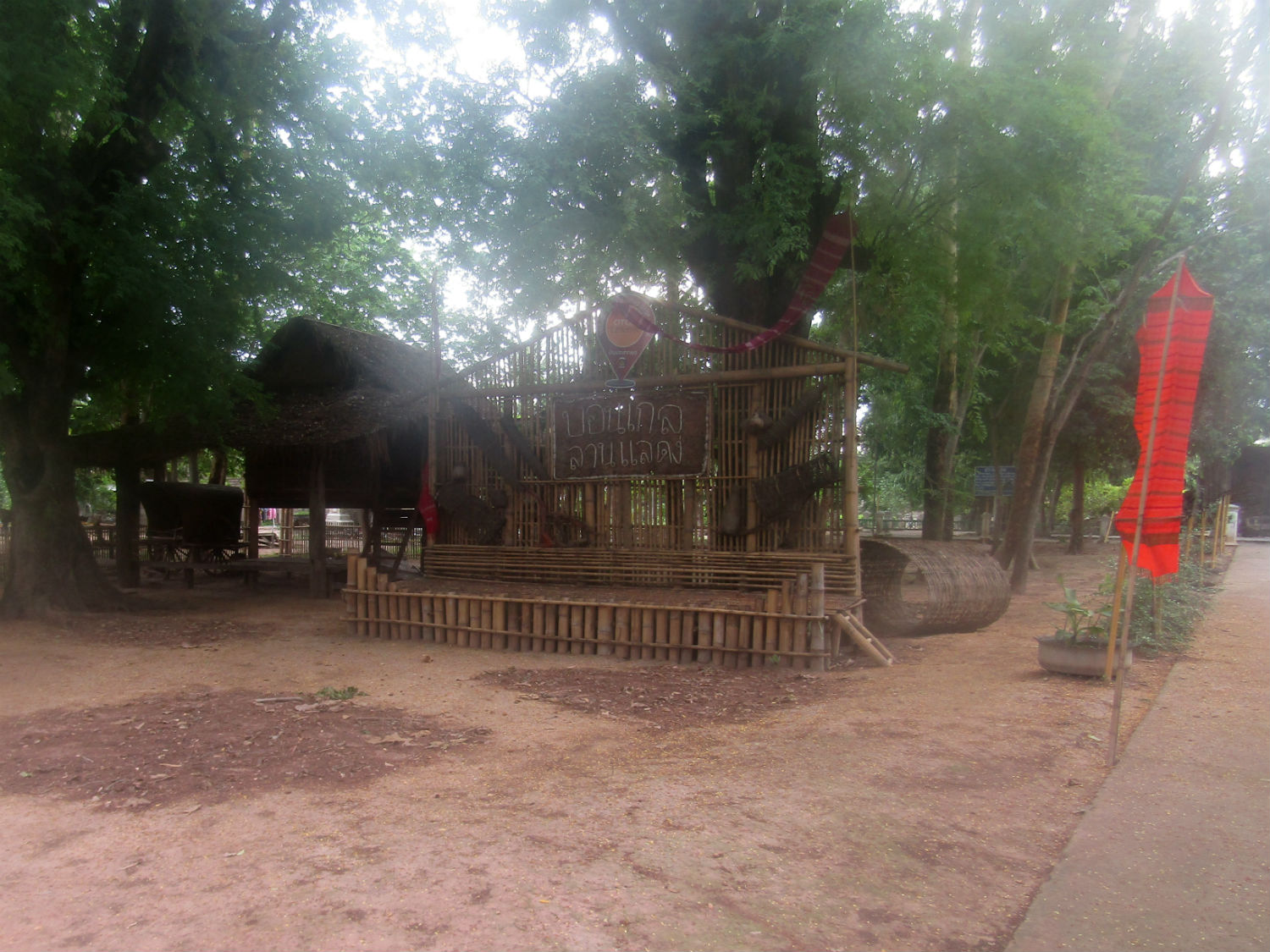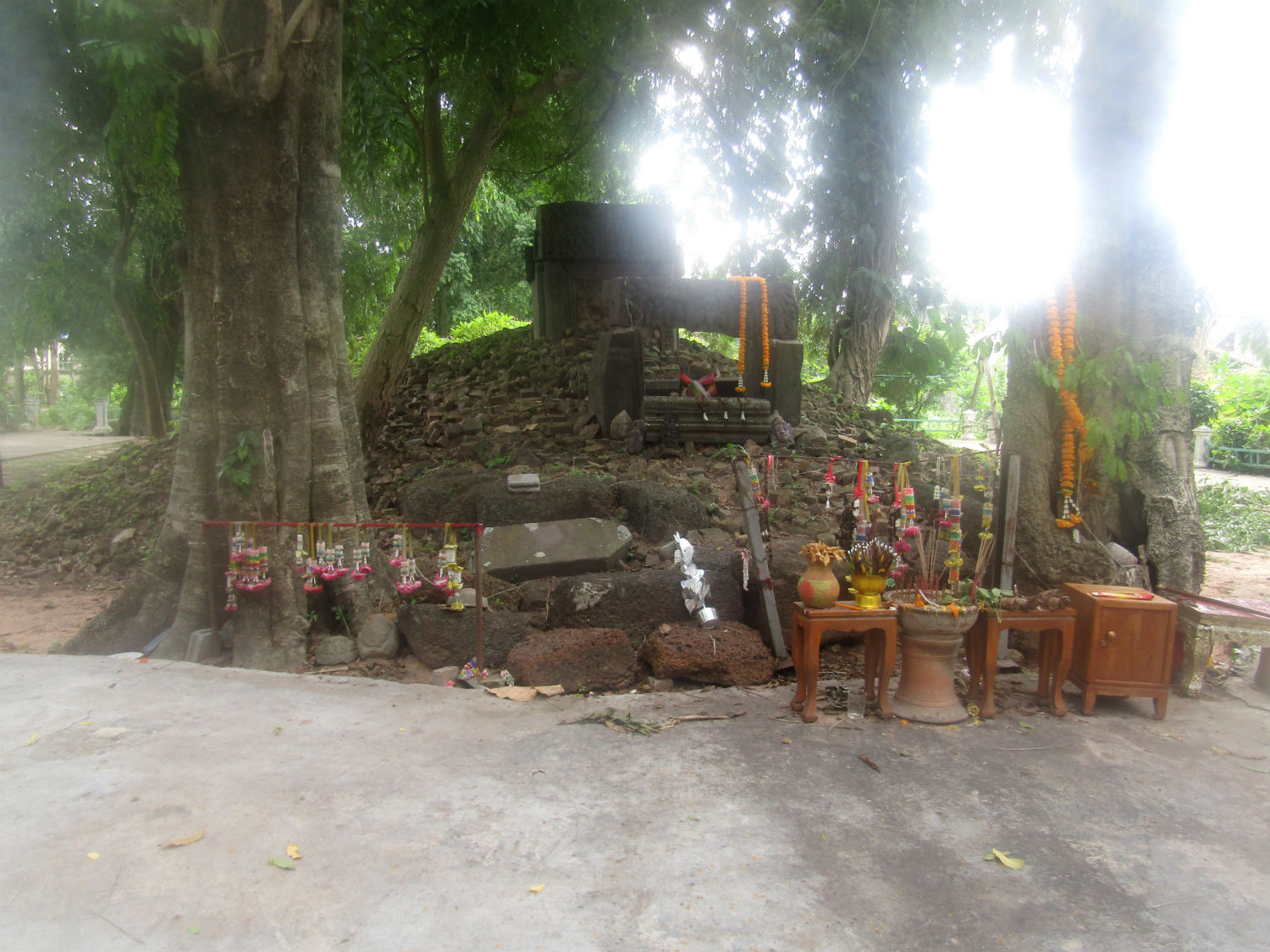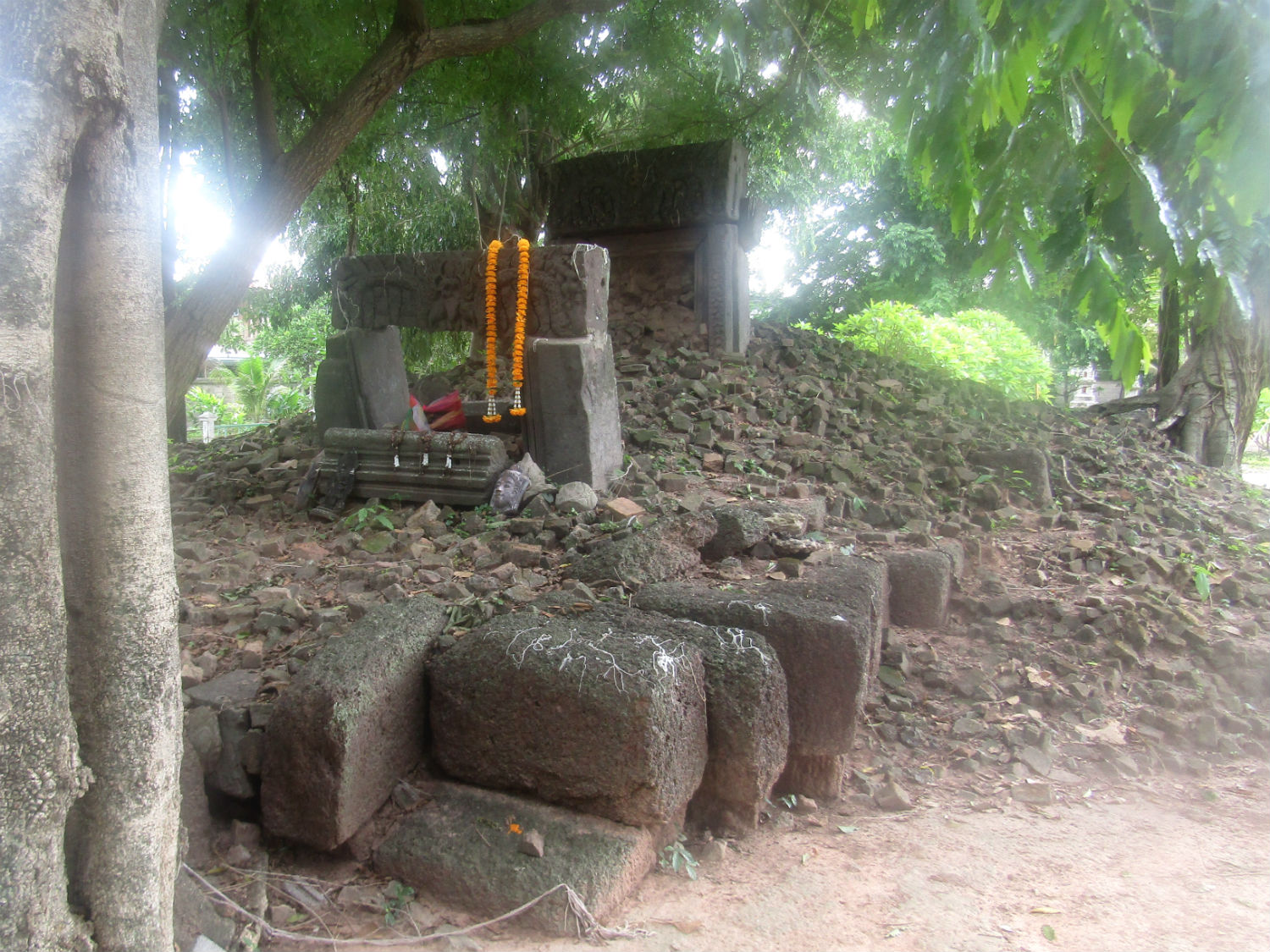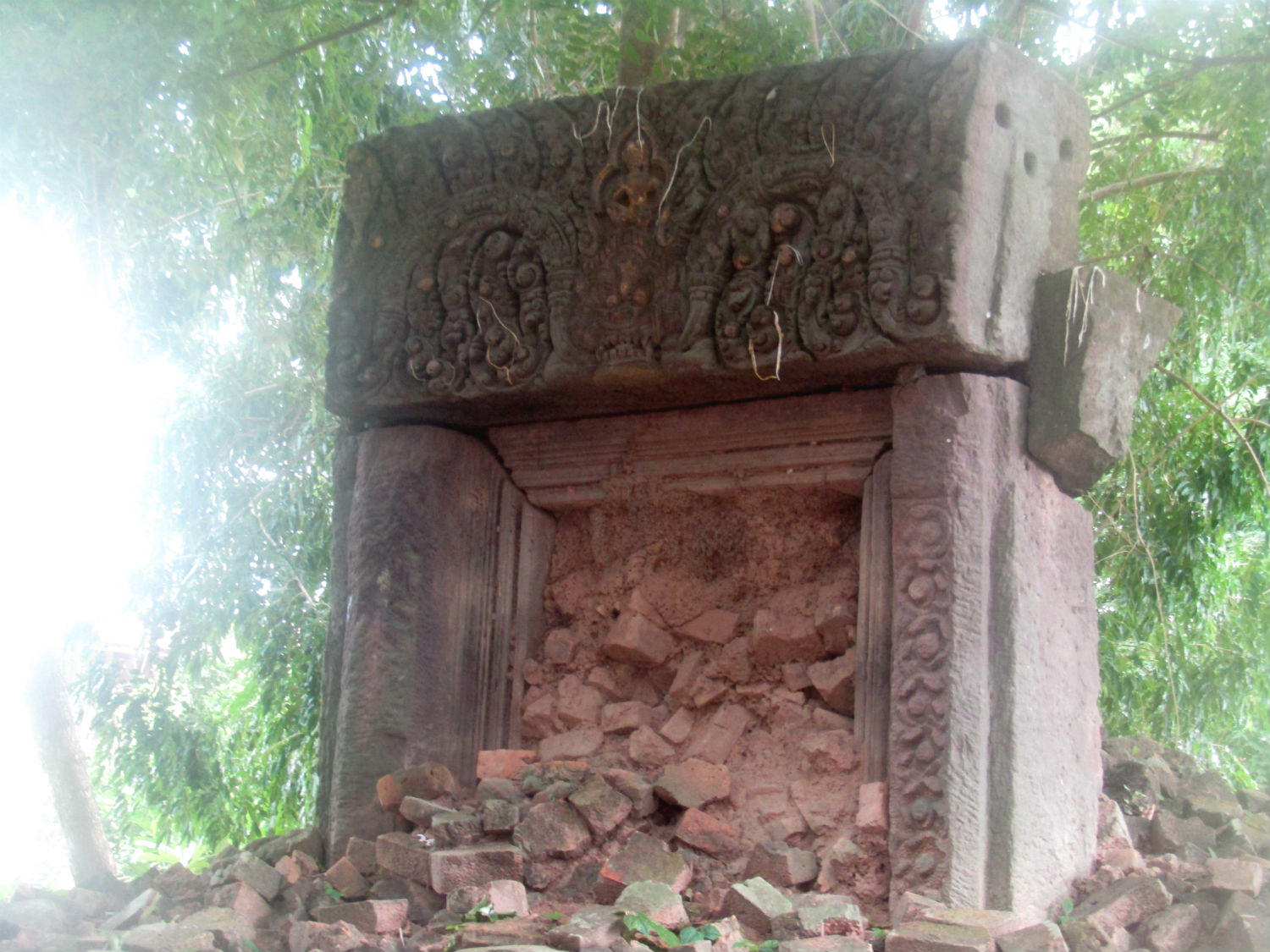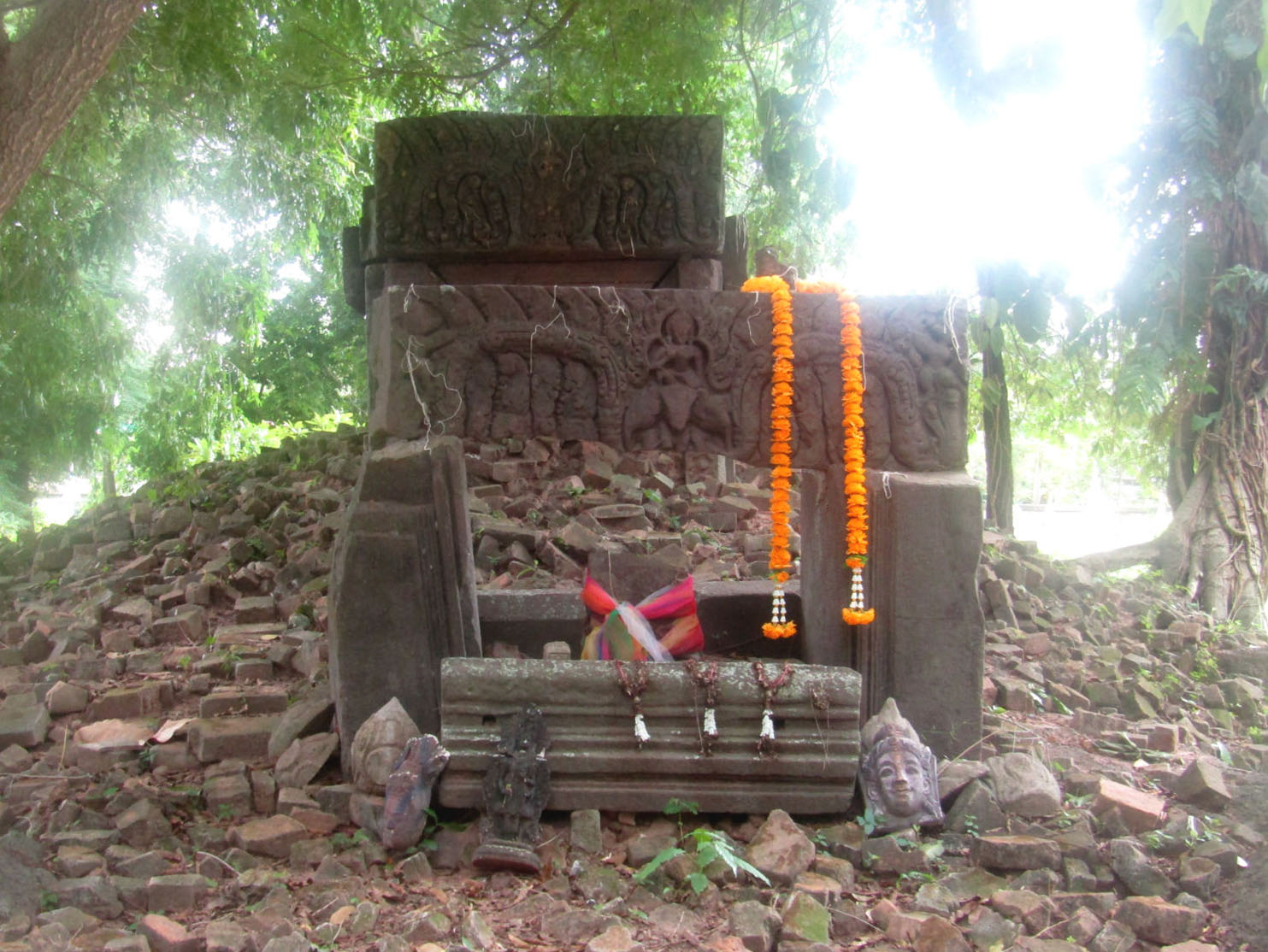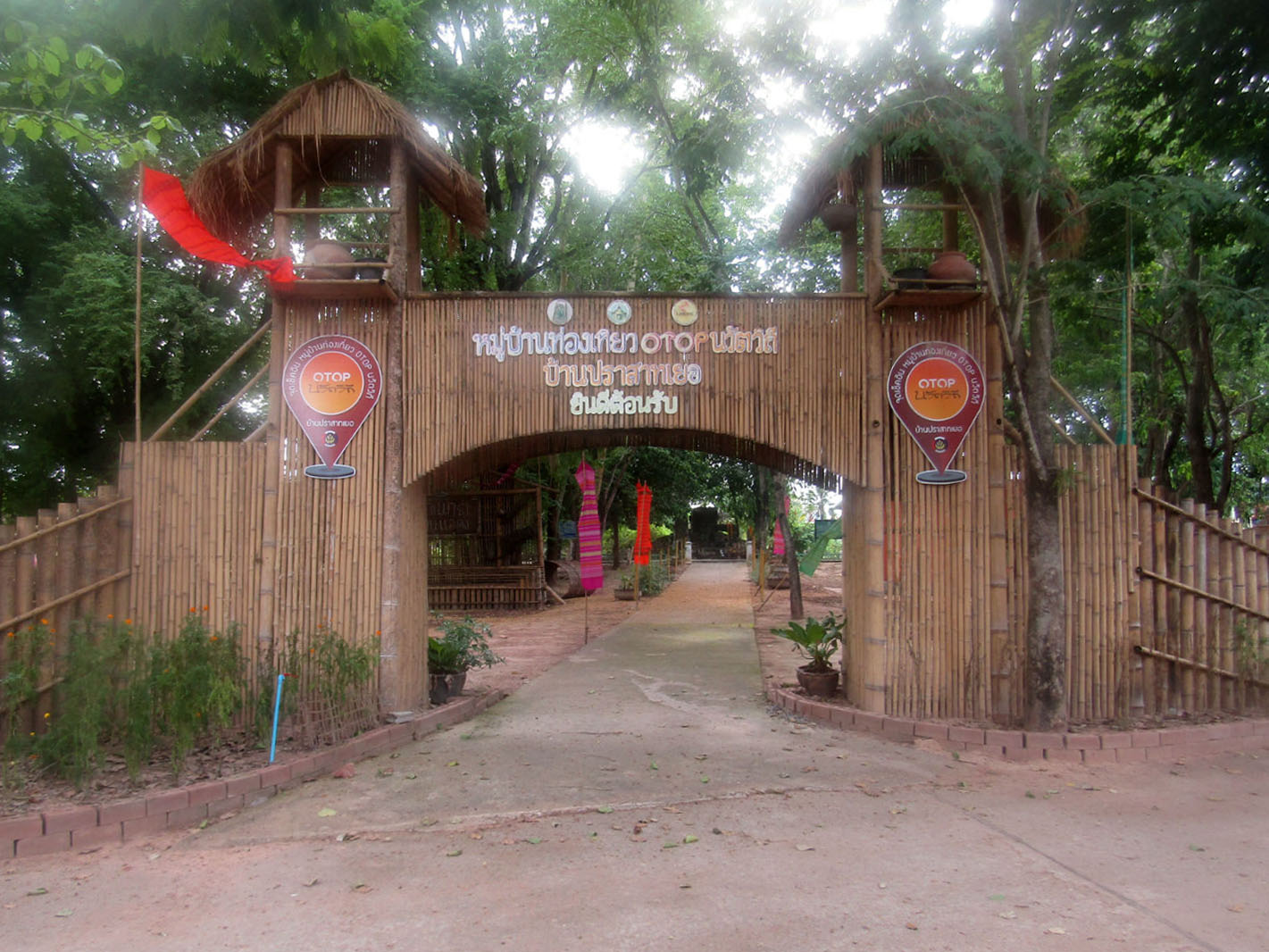 Wat Prasat Yoe Nuea, Phrai Bueng District, Si Sa Ket Province


Ang Gep Nam Huai San…….. Returning back to Si Sa Ket, there is something else we could try but are those photographs I've seen again misleading. Well not entirely! The Huai San reservoir is, as expected, short of water as we come to the end of the dry season. Now it's deserted but one can imagine it's attraction were it full but at least is one more site I can scratch off my list.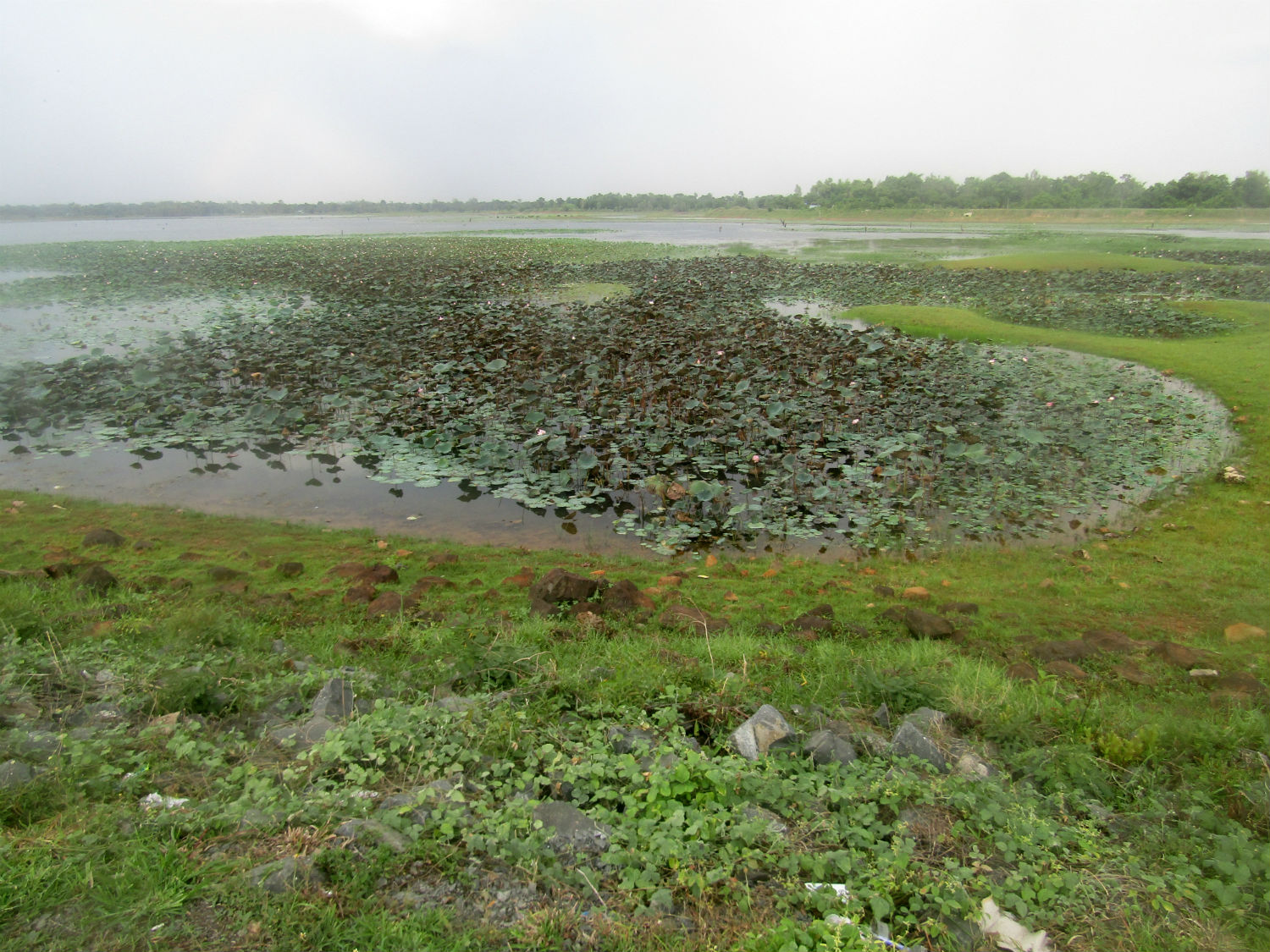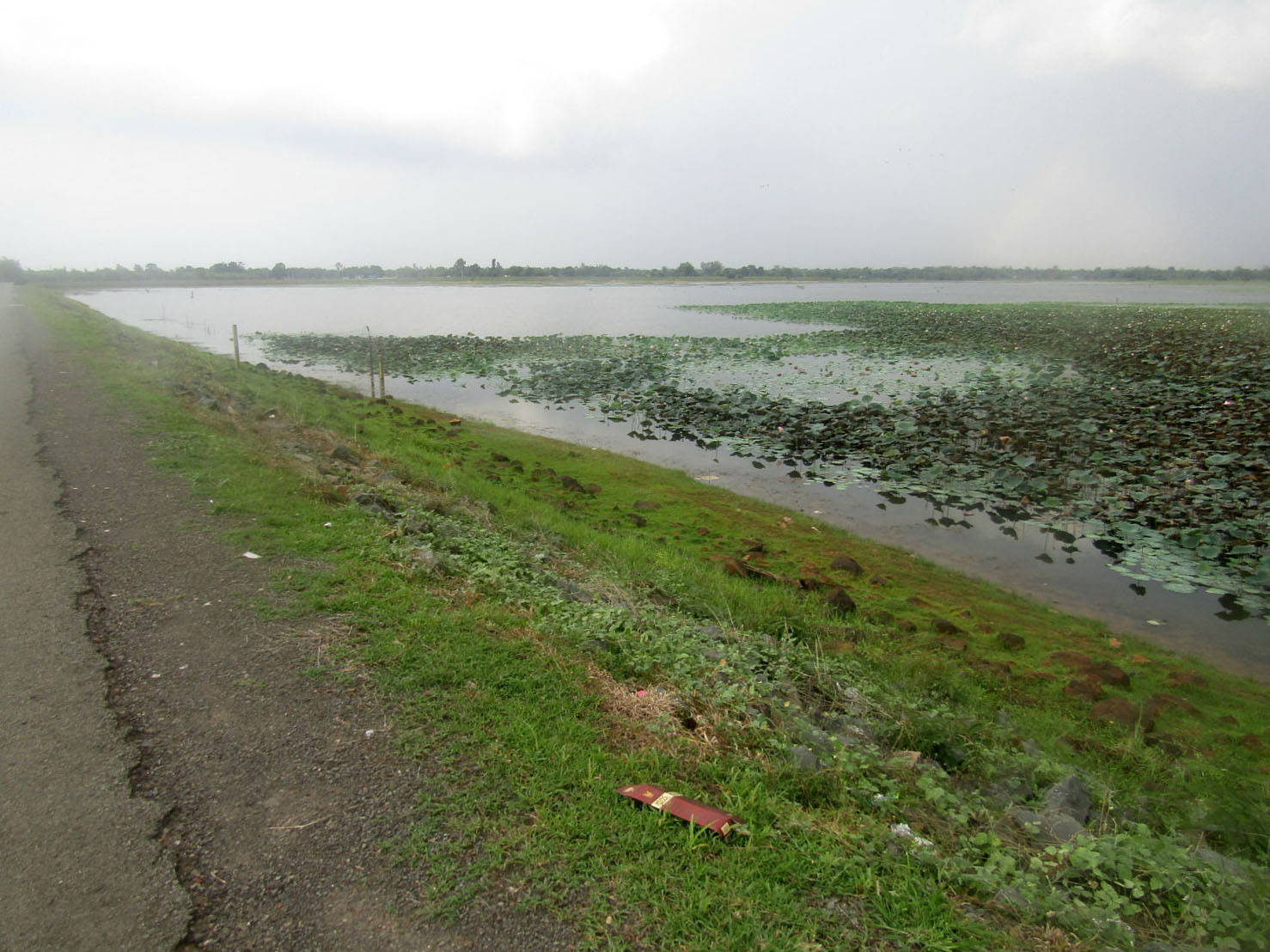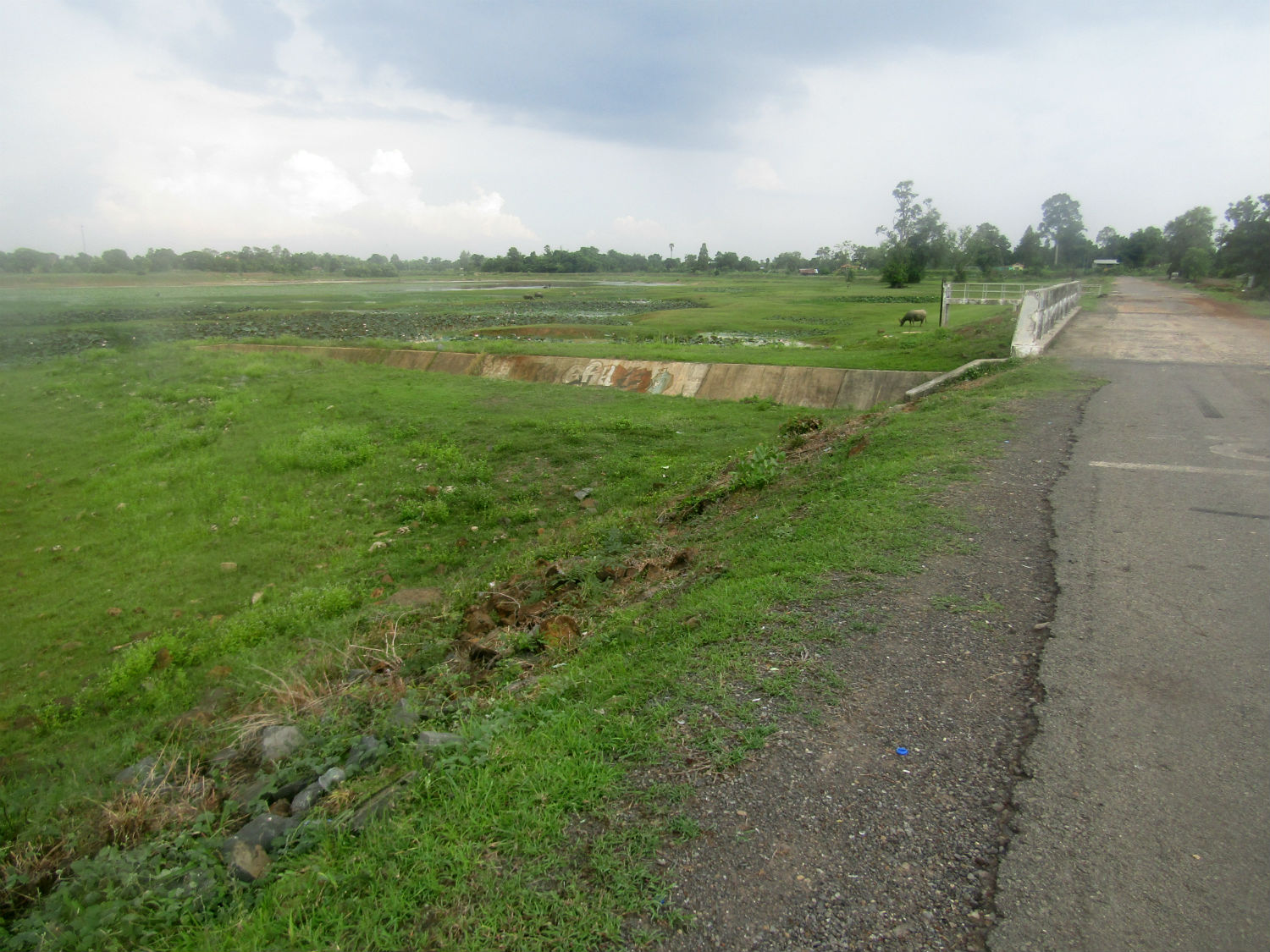 Ang Gep Nam (Reservoir) Huai San, Si Sa Khet District, Si Sa Ket Province


Time is now at the point where I should be back at the hotel. Instead I embark on another wild goose chase looking for Nong Pho which again is not the attraction it's designation as, no more than a hole in the ground. Unfortunately we end up on a small road being laid with concrete. It's not a short cut now just another delay as we have to turn back.
Park of the Duan Princess Mother Sisaket…….. It's now 5.30pm and we should be heading for dinner but I'm determined to add one more site visit today before dark. It will save time tomorrow. Thankfully I'm in better spirits today, most likely because I have a comfortable room to return to without the stress of previous days. The Park of the Duan Princess Mother Sisaket is another project instigated by the late Queen Mother. She just loved nature and here in Si Sa Ket she built a park that not only she could enjoy but generations of the public who succeeded her. Noting the one I visited at Doi Tung, this is an amazing park too with so many species of trees that provide a rich canopy for visitors to come and relax. These continue to be added to in the way that they have in the past by generations of monarchs.
Within this park is a lake with a number of fish species that are represented in the aquarium. There is also a mini zoo and aviary in the park but unfortunately this closes at 5.30pm. There is a small fee to pay of 30 baht. However I don't feel I've missed out here. It's been very comfortable today with temperatures in the high 20's and a stroll around the park has been amazing.
The park is also known as Somdet Phra Si Nakarin Park covering an area of more than 200 rai. The park is known for its beautiful landscaping with natural streams and a lake. A perfect place for a stroll, the park is full of white Cheesewood (lamduan in Thai) which is also the symbol of Si Sa Sa Ket.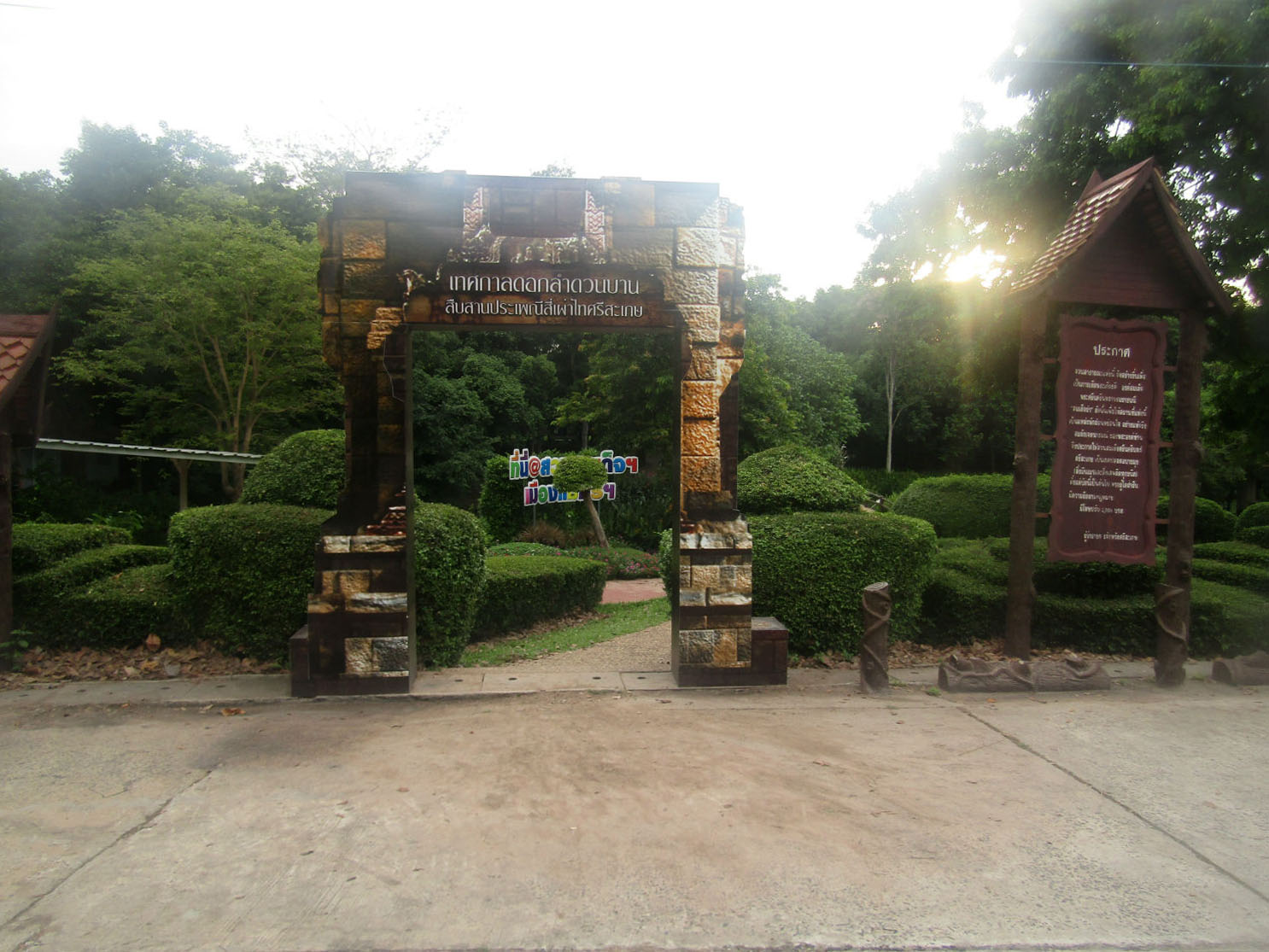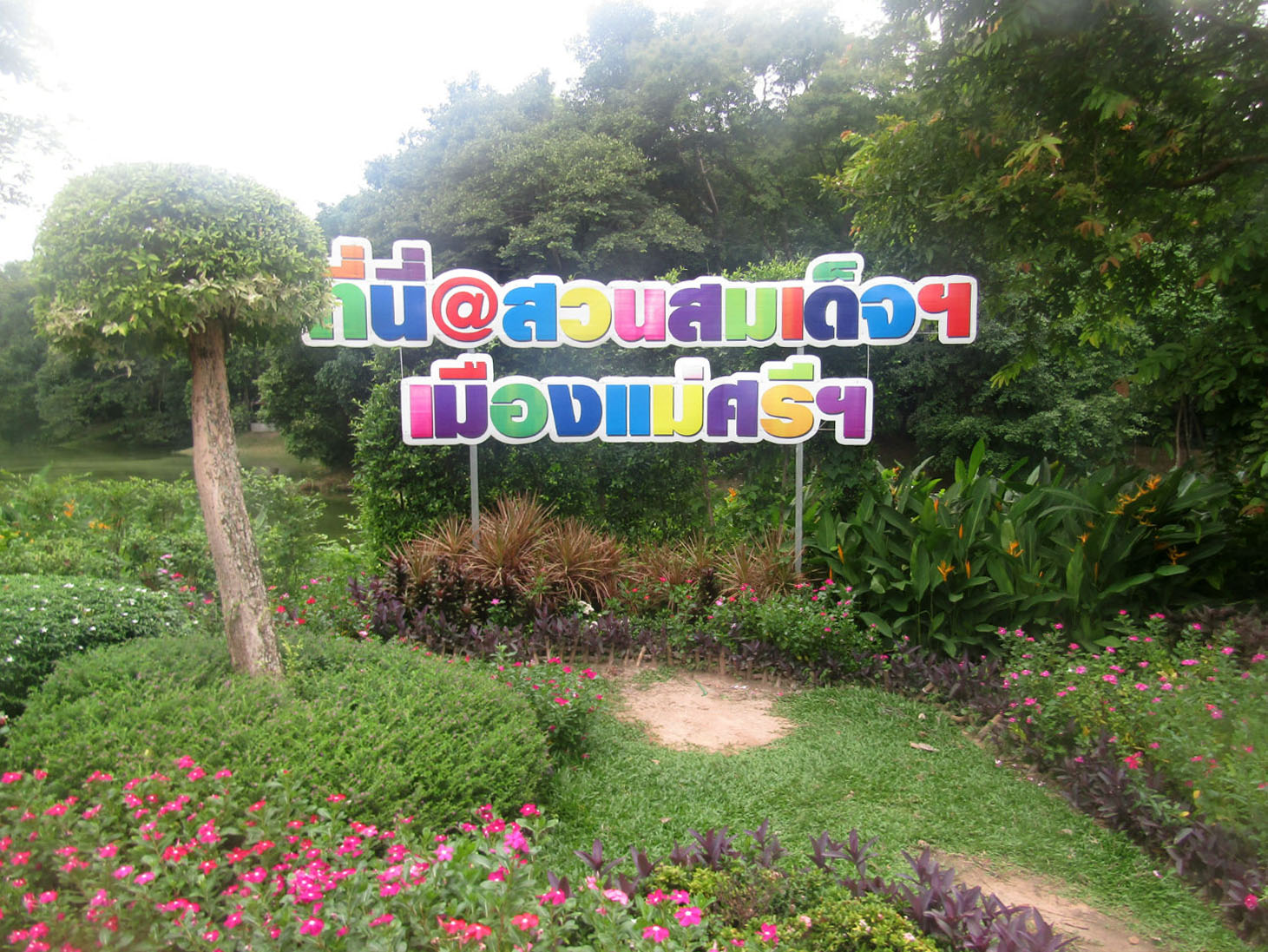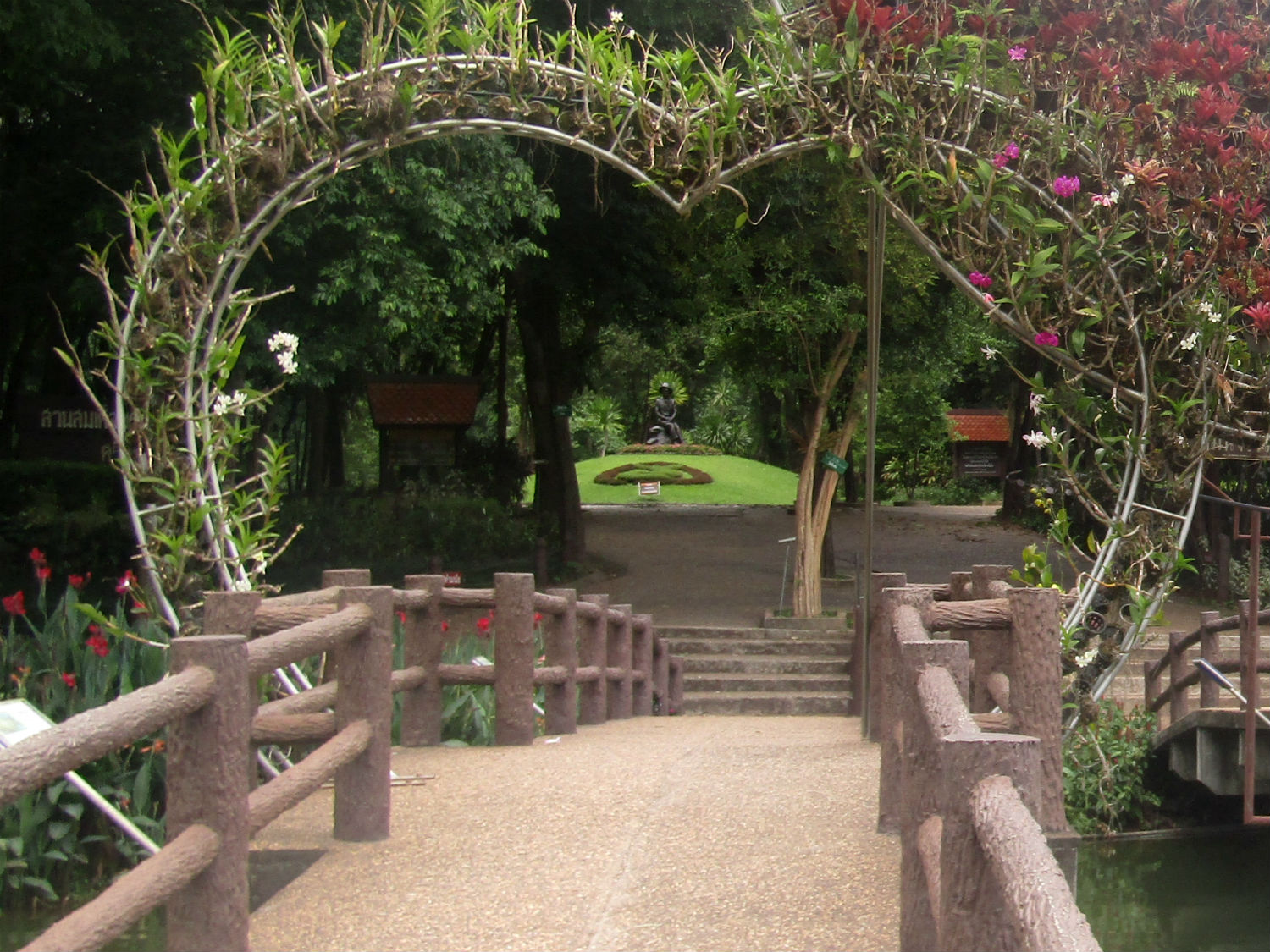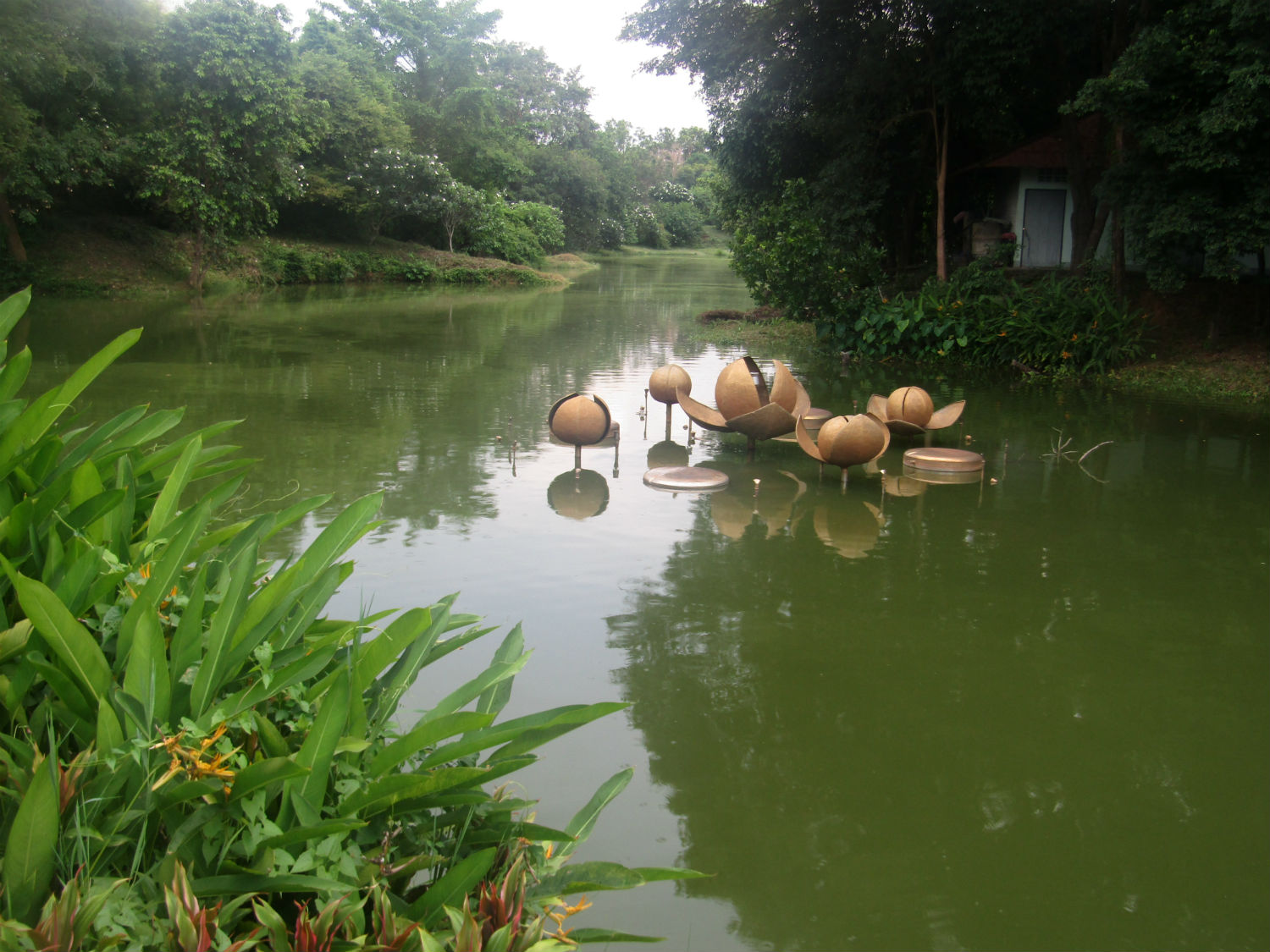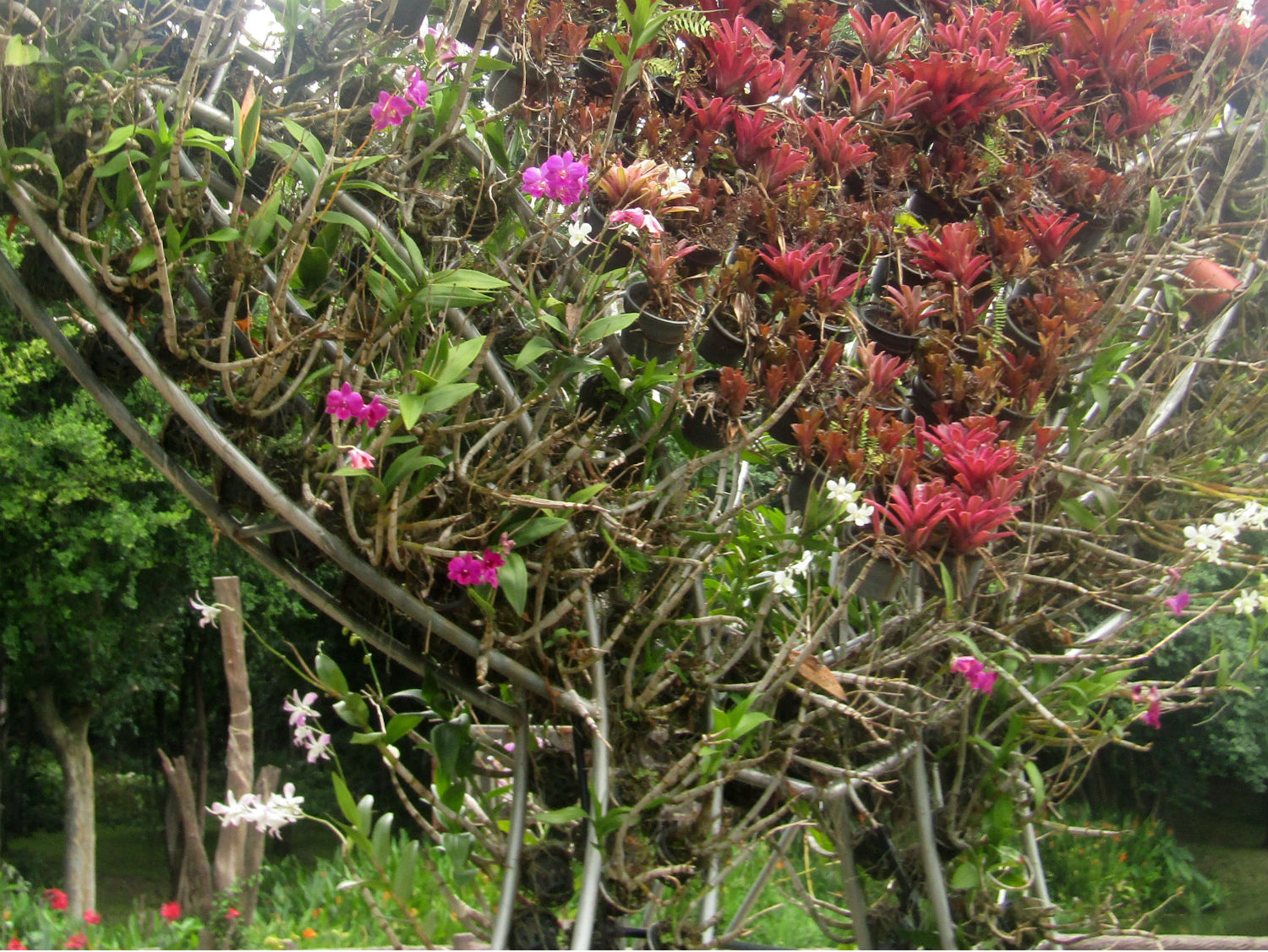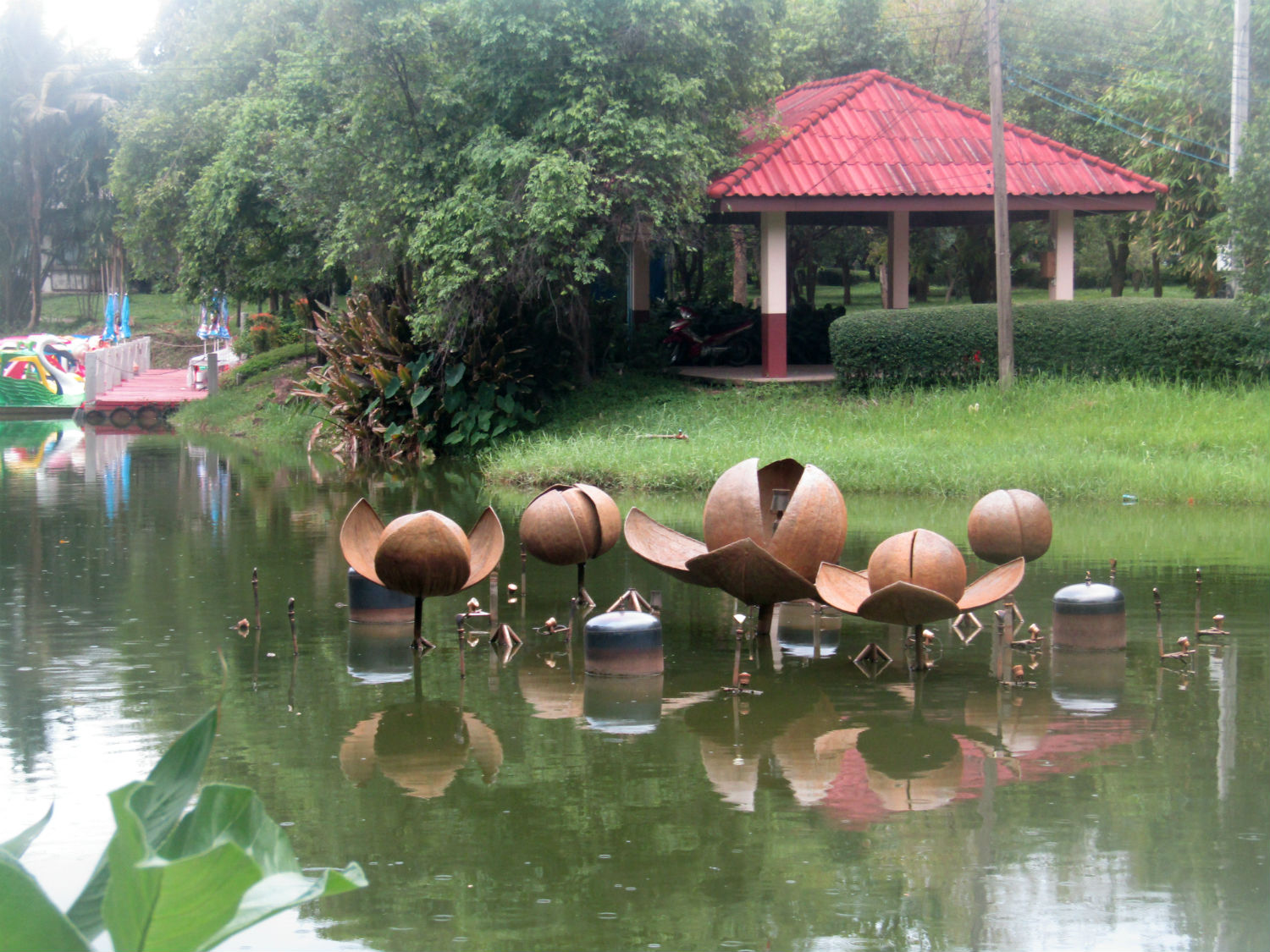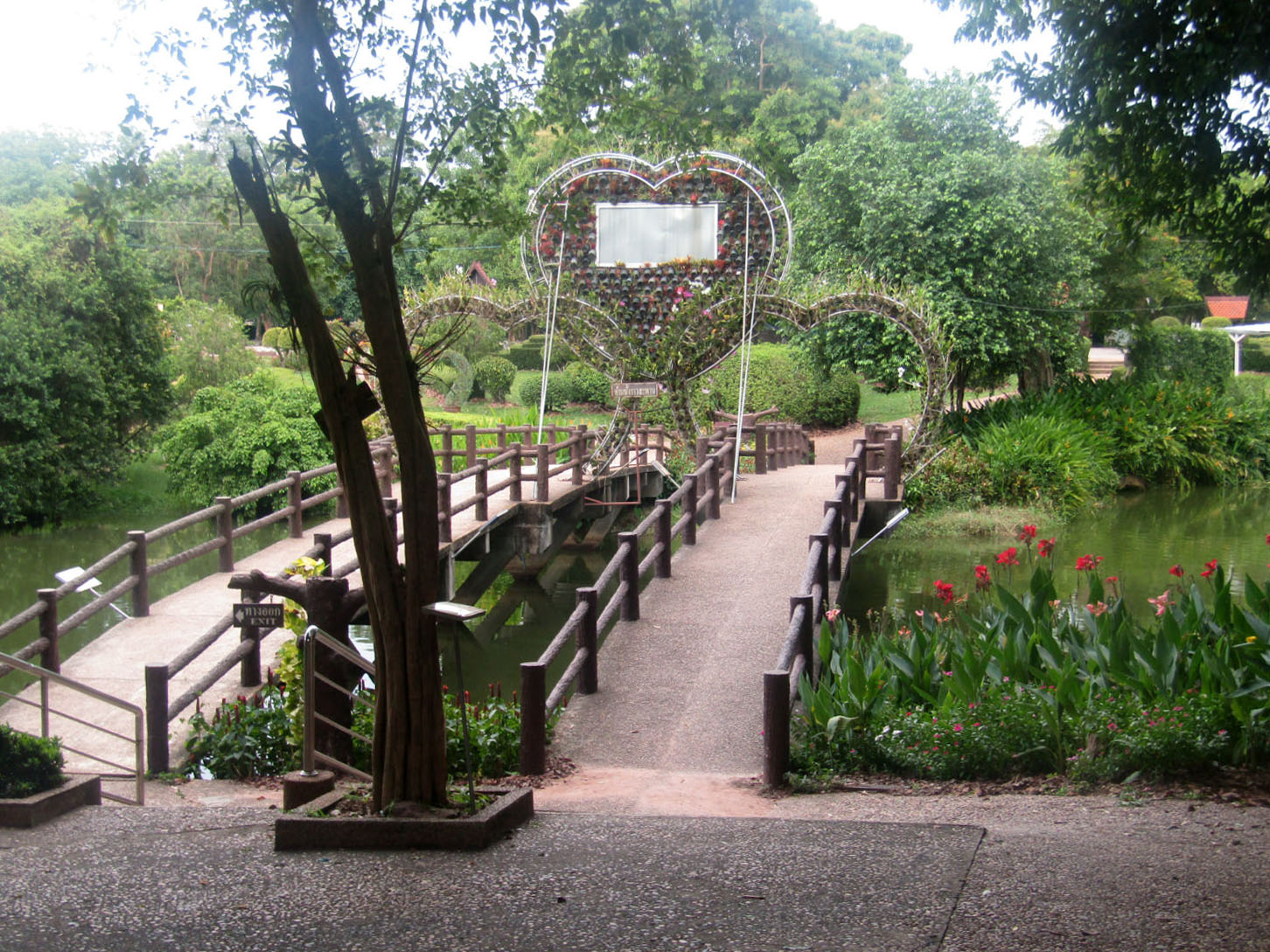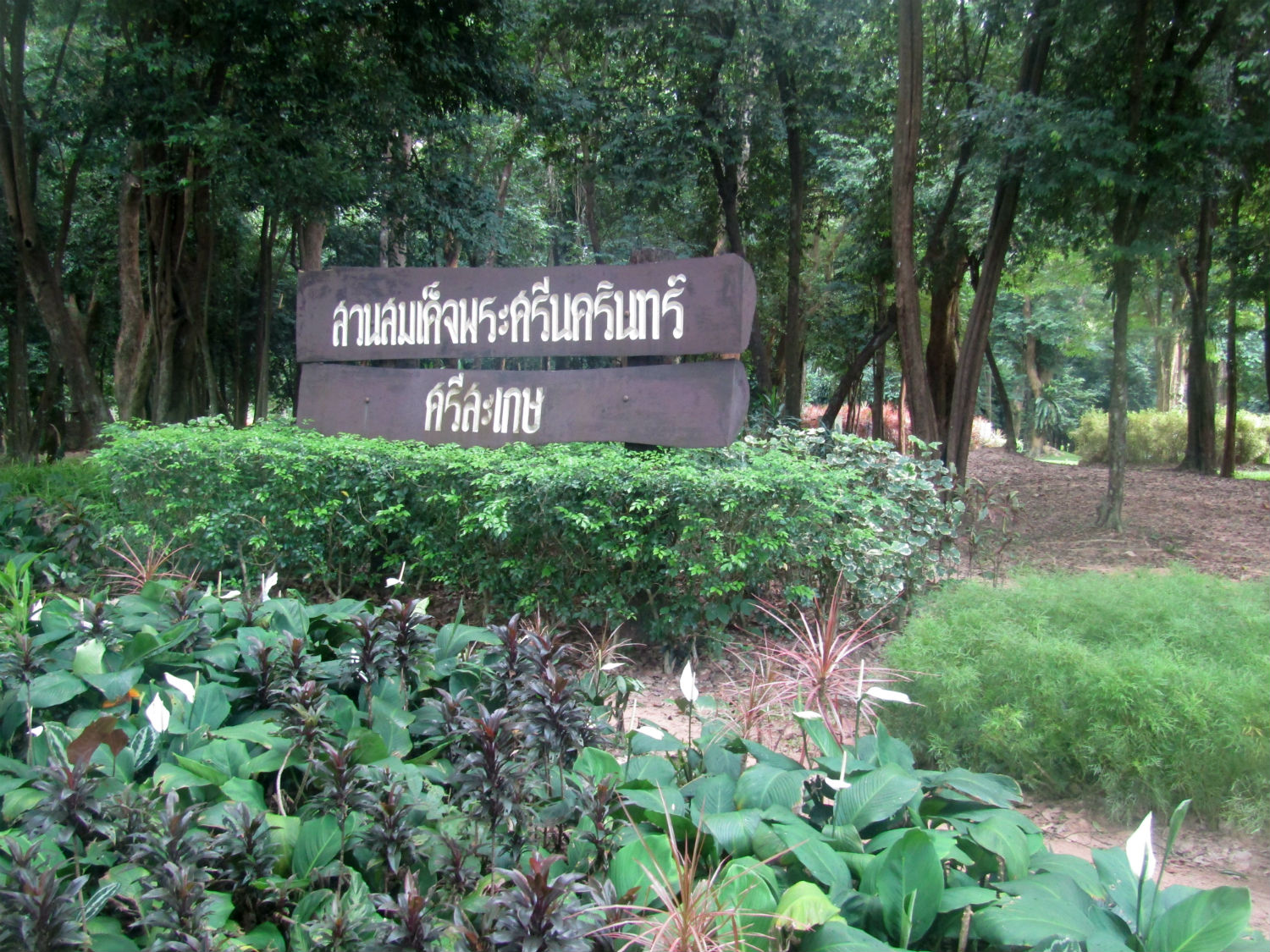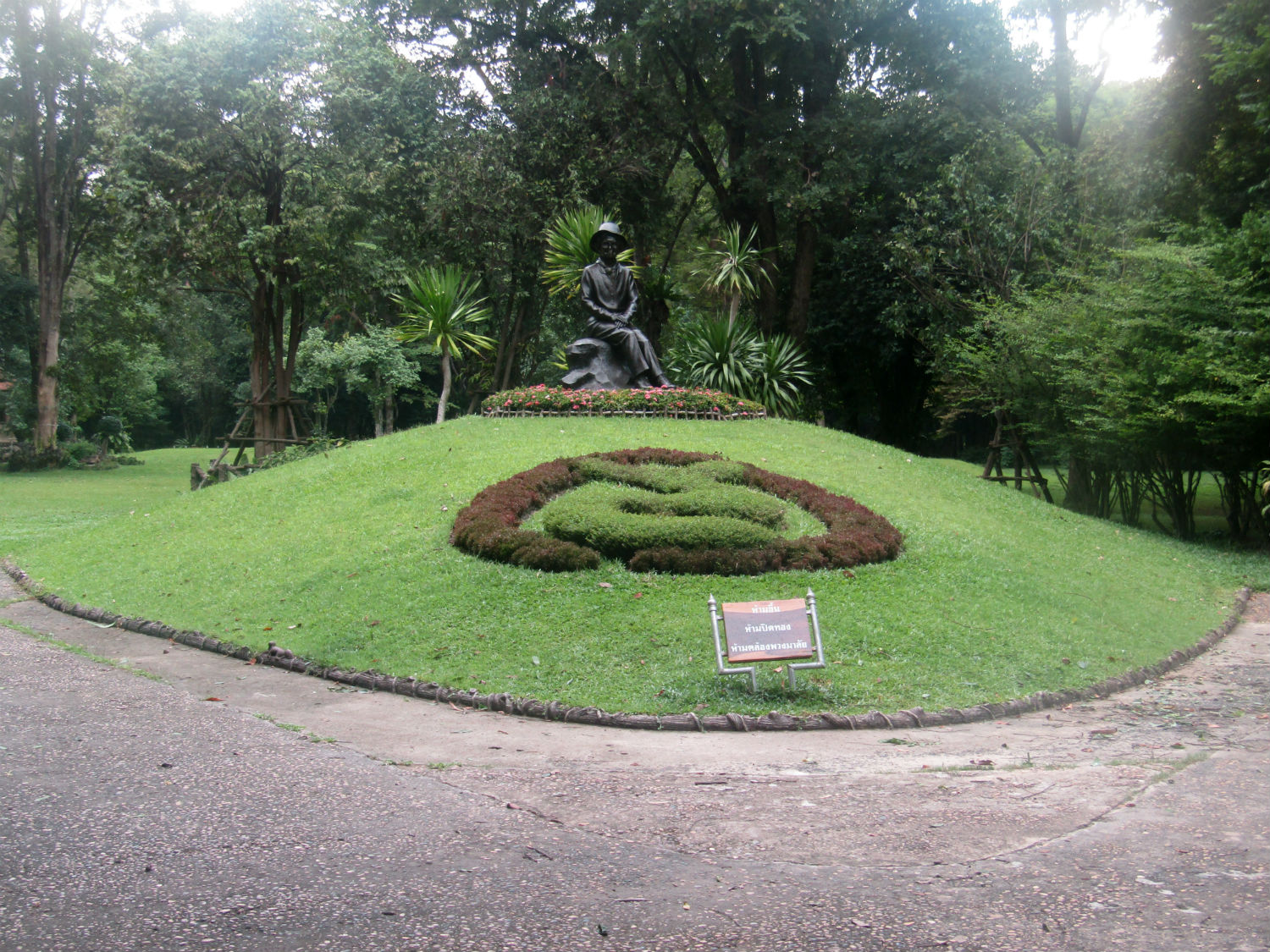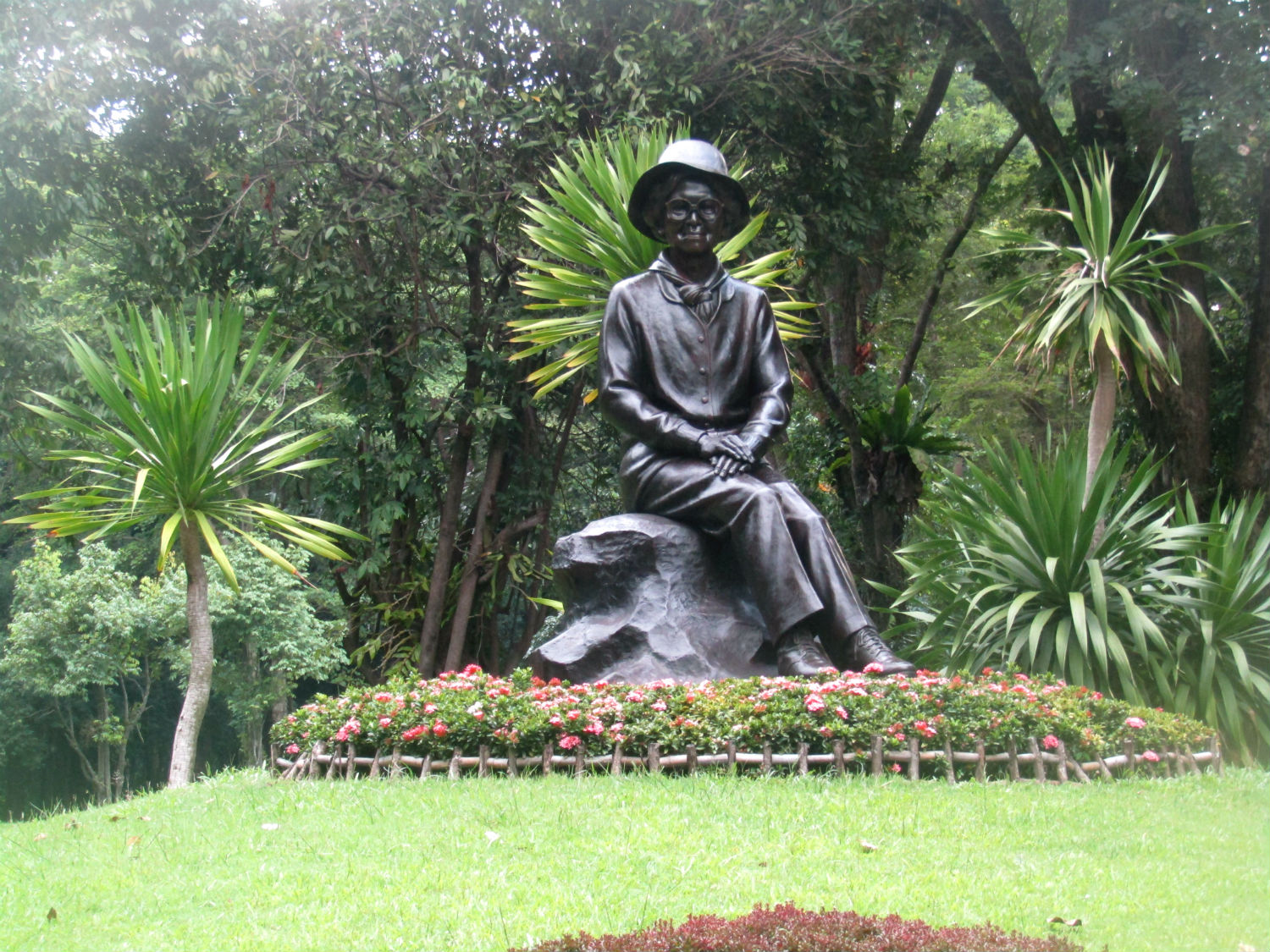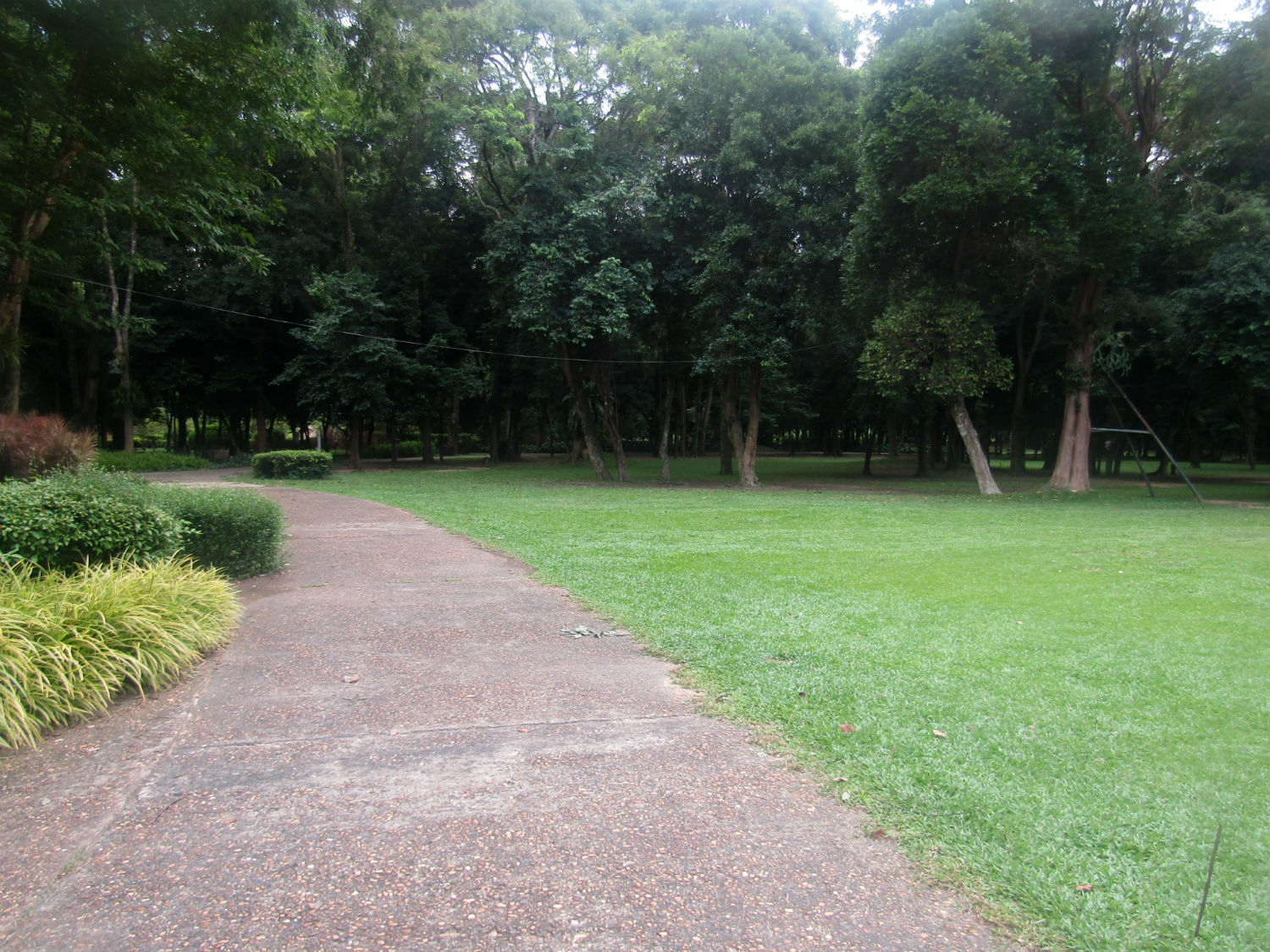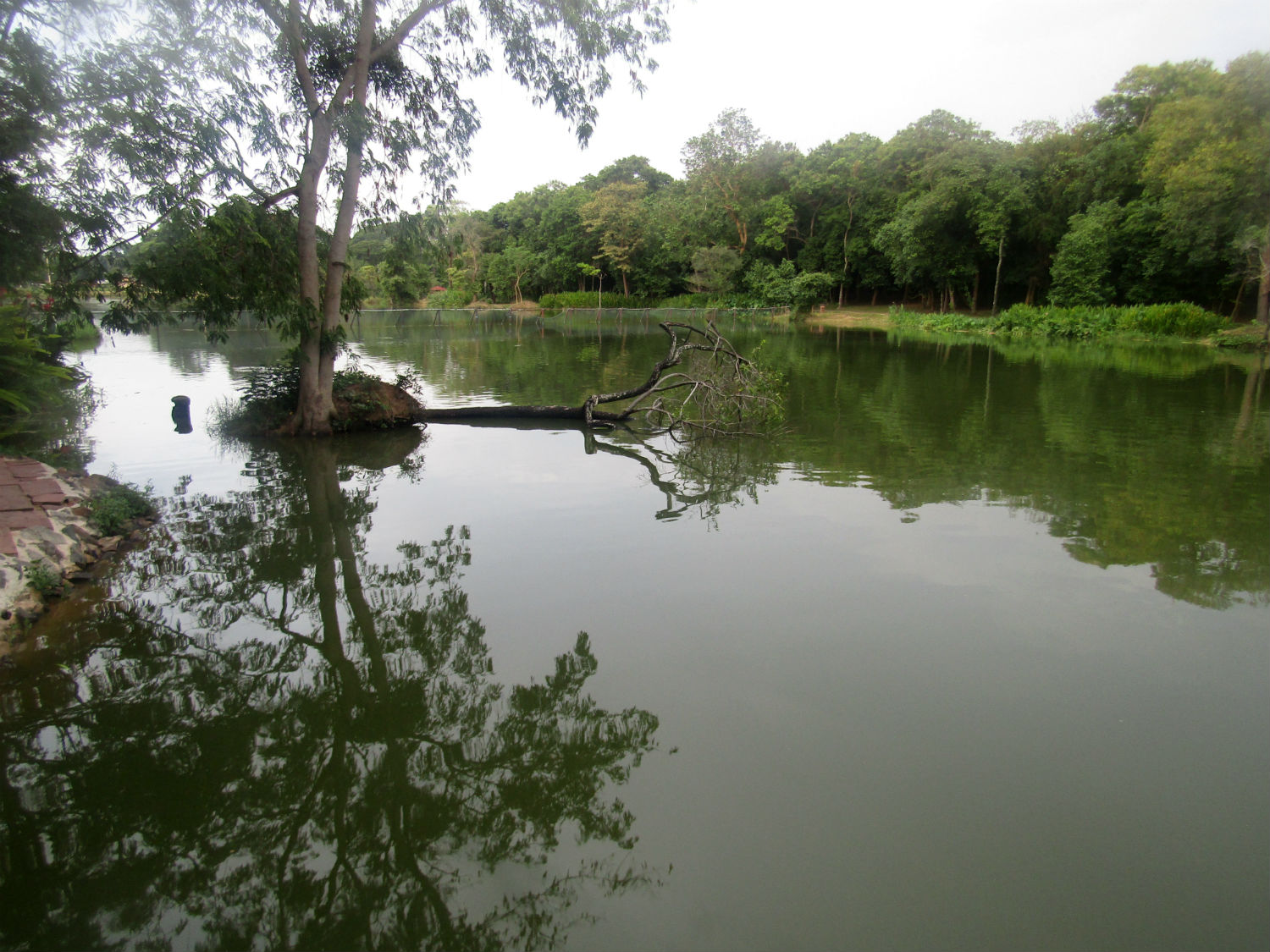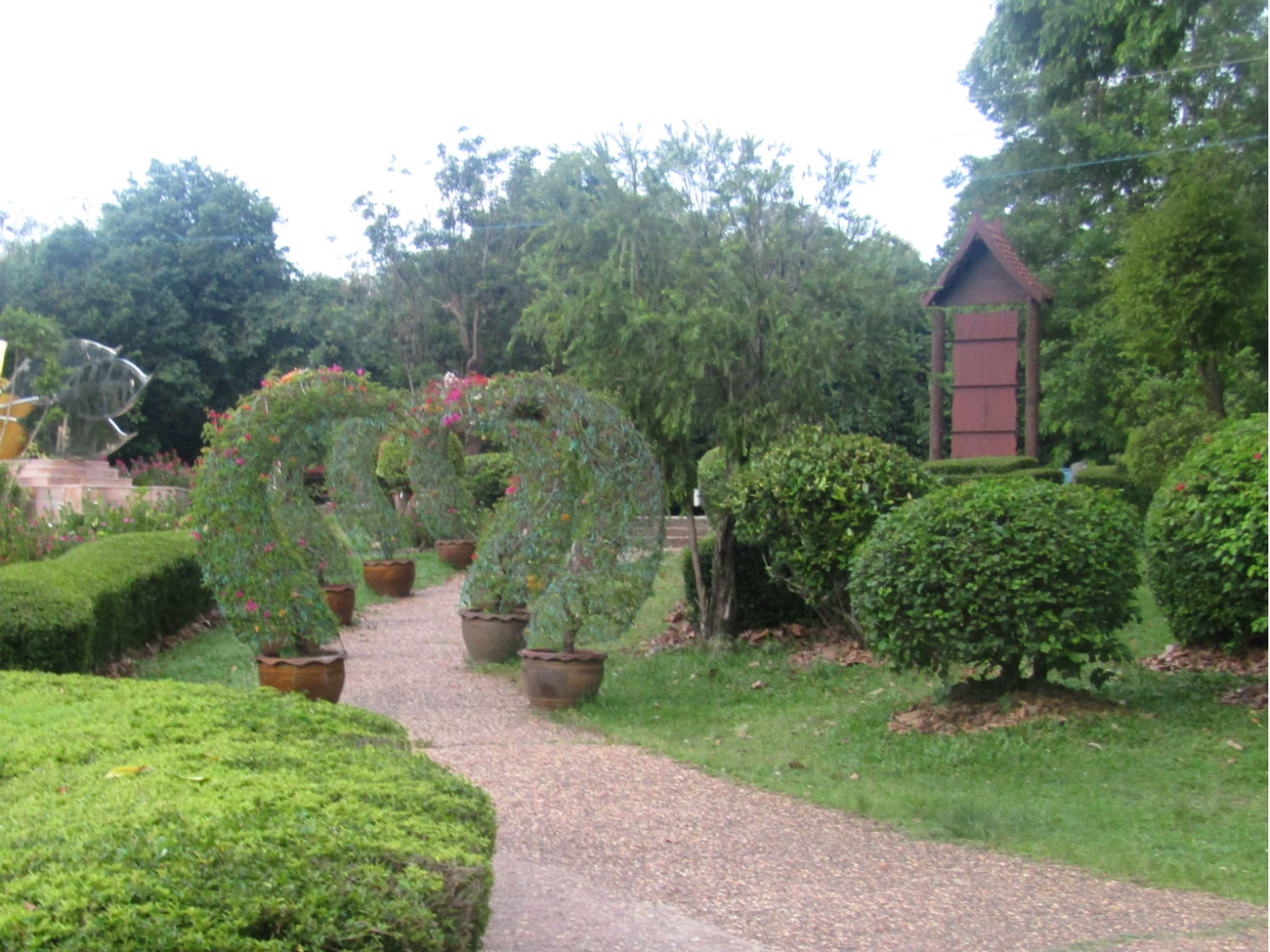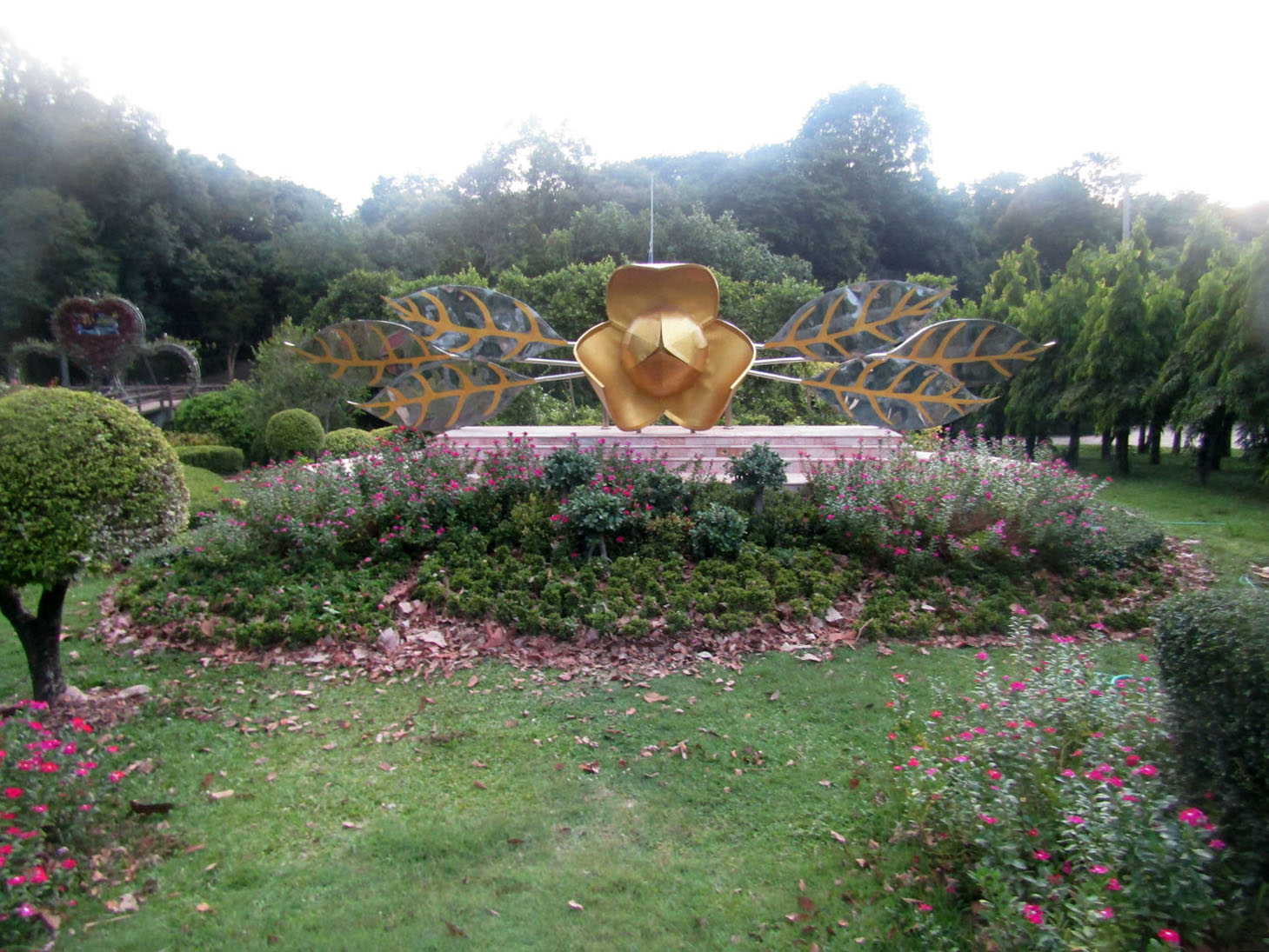 Park of the Duan Princess Mother Sisaket, Si Sa Ket


Si Sa Ket Railway Station……..
It's time for dinner and we've identified the night market next to the railway station as our source of sustenance. Katoon is happy to wander around collecting food we can eat back in the room. Meanwhile I visit the railway station spending a while watching the traffic.
Si Sa Ket railway station is a railway station located in Mueang Nuea Subdistrict, Sisaket City, Sisaket. It is a class 1 railway station located 515.09 km (320.1 mi) from Bangkok railway station. The station opened in August 1928 as part of the Northeastern Line Huai Thap Than-Si Sa Ket section. The line continued to Ubon Ratchathani in April 1930. Services from this station are:
Special Express No. 21/22 Bangkok- Ubon Ratchathani- Bangkok
Express No. 67/68 Bangkok- Ubon Ratchathani- Bangkok
Express No. 71/72 Bangkok- Si Sa Ket- Bangkok
Rapid No. 135/136 Bangkok - Ubon Ratchathani- Bangkok
Rapid No. 139/140 Bangkok- Ubon Ratchathani- Bangkok
Rapid No. 141/142 Bangkok- Ubon Ratchathani- Bangkok
Rapid No. 145/146 Bangkok- Ubon Ratchathani- Bangkok
Local No. 419/420 Nakhon Ratchasima- Ubon Ratchathani- Lam Chi
Local No. 421/422 Nakhon Ratchasima- Ubon Ratchathani- Lam Chi
Local No.425/426 Lam Chi- Ubon Ratchathani- Nakhon Ratchasima
Local No. 427/428 Nakhon Ratchasima- Ubon Ratchathani- Nakhon Ratchasima
Satisfied……..
Needless to say it's late back to the room where we have an enjoyable buffet dinner. Oddly I'm not as concerned over the fact that I'm again going to be late starting my blog. Perhaps I should be as so much has been achieved today. Just perhaps there is the feeling now that we can bring this excursion to Si Sa Ket to an end tomorrow and get some relief from the relentless amount of travel.
Next Page.