Chanthaburi Province

Chanthaburi is one of the eastern provinces (changwat) of Thailand on the border with Battambang and Pailin of Cambodia and on the shore of the Gulf of Thailand. Neighbouring provinces are Trat in the east and Rayong, Chonburi, Chachoengsao, and Sa Kaeo to the west and north.
History: Chong was the first settlement created by a Khmer community in the 13th Century. In the mid 17th Century a new town was established and 100 years later in 1767 after the fall of the Kingdom of Ayutthaya, King Taksin the Great, led a troop of some 500 soldiers to break through and head eastward to occupy Chanthaburi. He spent several months raising an army from his base in Chanthaburi and then regained control of Siam from the Burmese. After the Paknam crisis in 1893, French colonial troops occupied Chanthaburi, returning it in 1905 when Thailand gave up ownership of the western part of Cambodia. A significant minority of Chanthaburi citizens are native Vietnamese, who came there in three waves: first in the 19th century during anti-Catholic persecutions in Cochin China; a second wave in the 1920s to 1940s fleeing from French Indochina; and a third wave after the communist victory in Vietnam in 1975. The town of Chanthaburi has been the seat of a Bishop of Chanthaburi since 1944.
Geography: While the southern part of the province is on the shore of the Gulf of Thailand and thus is mostly coastal alluvial plains, the hinterlands of the province are quite mountainous. The Chanthaburi mountain range in the north has the highest elevation of the province, the 1,556 m high Soi Dao Nua Peak. The main river of the province is the Chanthaburi River.
Together with the neighboring province, Trat, Chanthaburi is a center of gemstone mining, especially rubies and sapphires. Tropical fruits are also important to the local economy. For example more than a quarter of the worlds production of durian comes from this province.
Chantaburi has three national parks within its boundries: Namtok Phlio, Khao Khitchakut and Khao Sip Ha Chan.
Tourism: Chanthaburi is relatively easy to reach, just 3 hours from Bangkok yet its three beaches of Kung Wiman, Chao Lao, and Laem Sing are quite deserted except at weekends and in high season. There is plenty to do exploring the provinces' rich history and with the national parks in the north, a week in the province is certainly not too much.
The nearest airport is in Trat, the next province, but Chanthaburi is usually reached from Bangkok's Ekkamai (eastern) bus terminal, although a handful of buses also run to/from Bangkok's Morchit (northern) terminal, and minibuses depart hourly from Bangkok's Victory Monument.





Chanthaburi Map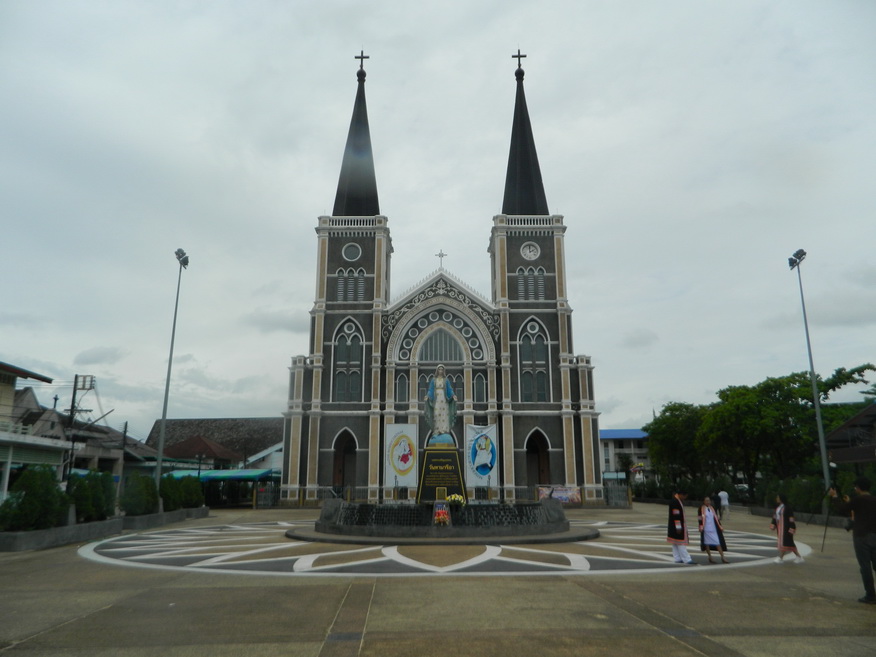 Cathedral of Mary Immaculate Conception