Day 5, Saturday 1 June

On track…….. The list of site visits yesterday was exceptional even though the sites were more densely packed that at any other time on this tour. With such a trawl, it was expected that there would be just half a dozen sites left today with completion at around 2pm. With regards by blog I have had to make changes but without altering its integrity. Basically I've started to use a referencing system for source information embedded in the blog that I can refer back to later. I'm sure this will work but for now it saves time. At 9pm I'm ready for a 'super breakfast' at Prompiman Hotel and final packing for departure. As I gaze out of the dining room window at passing trains, my only regret is that I haven't taken advantage of being so close to the railway station, although I could see the station from our room on the 7th floor, the trains looking more like Hornby train sets. Leaving at 10.30am, it's straight into action.
Wat Pa Si Samran…….. In choosing sites to visit, I use a number of sources: Maps of course, local sign boards and online sources. Unfortunately, I don't often have time to read site reviews which in any case can differ significantly from mine. In other words, it's often potluck. I've certainly been disappointed at some sites after reading an interesting review and visa versa, been most impressed with some sites that were contrary to expectations. Arriving at Wat Pa Si Samran in the city, which is it to be? Tick Box #1 - Q: is there information on site or the potential for information leading to a story? A: no.
Tick Box #2 - Q: is there anything on site that suggests its age or history? A: no.
Ticy Box #3 - Q: is there anything unusual or visually pleasing on the site that warrants a mention? A: not that I am aware.
That completes the review of this site!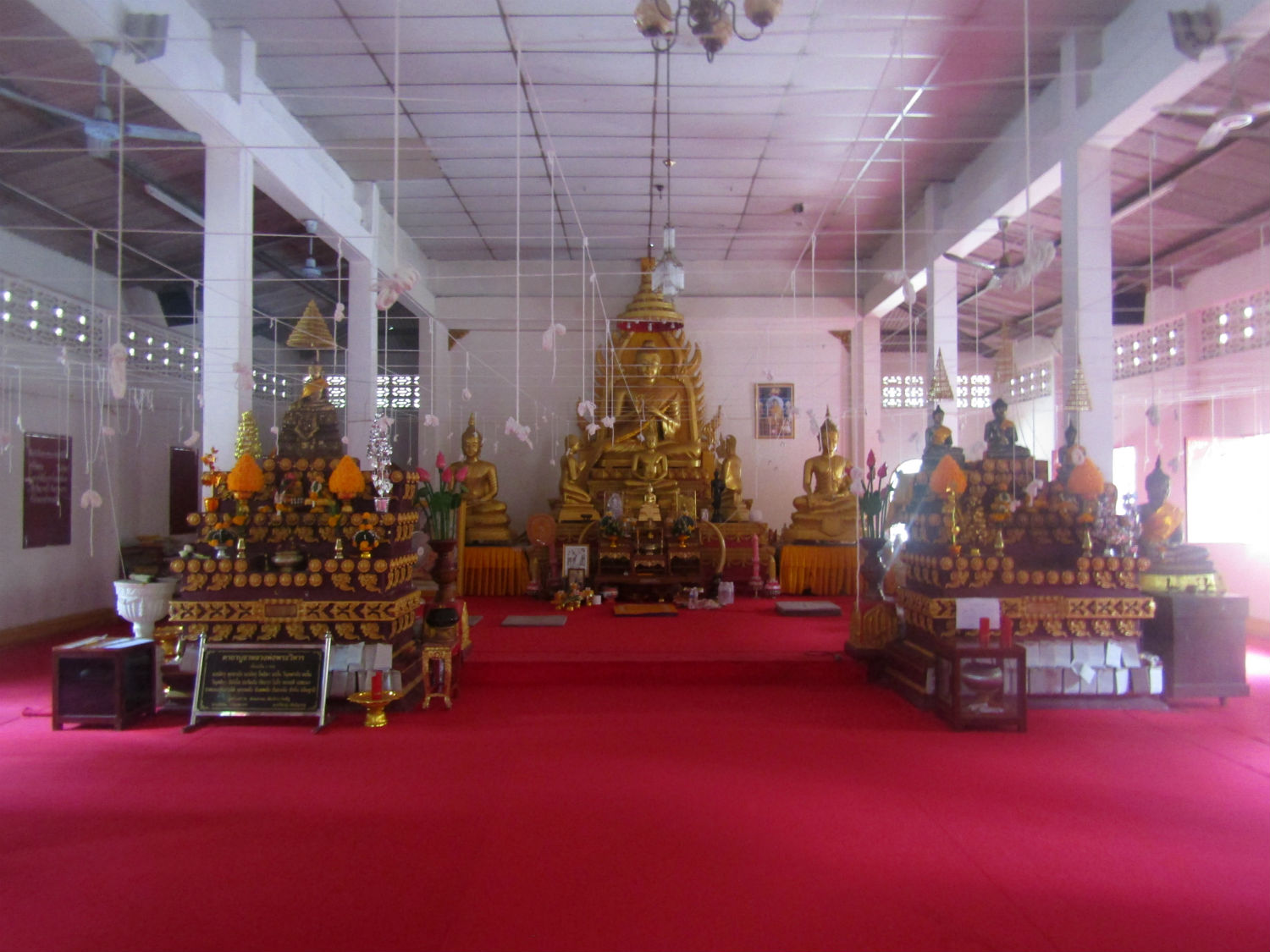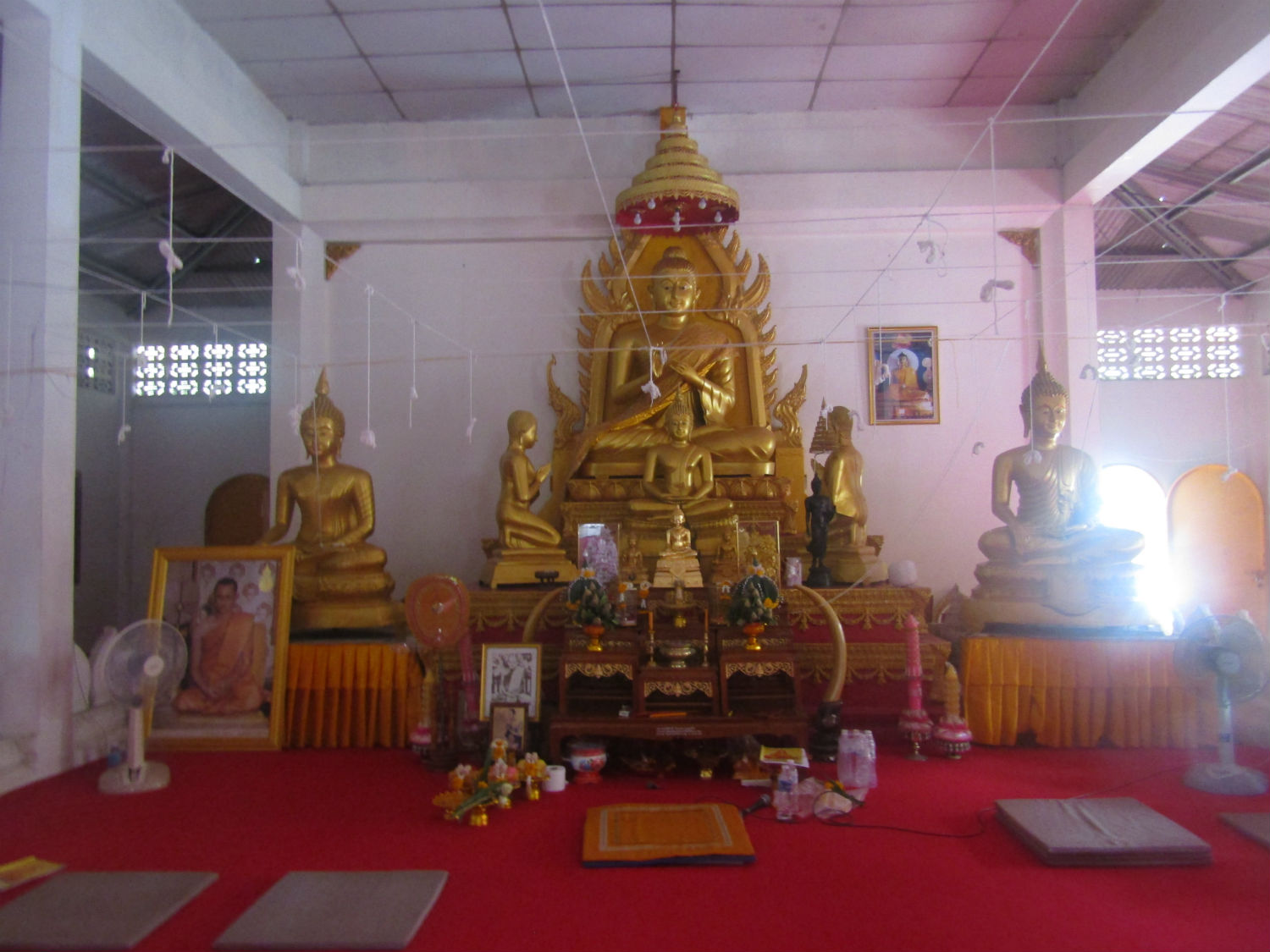 Wat Pa Si Samran, Si Sa Ket


Samran (White) Bridge…….. The White bridge is a road bridge over the river Samran, west of the city on highway 226. It's rather unusual design makes it a city attraction.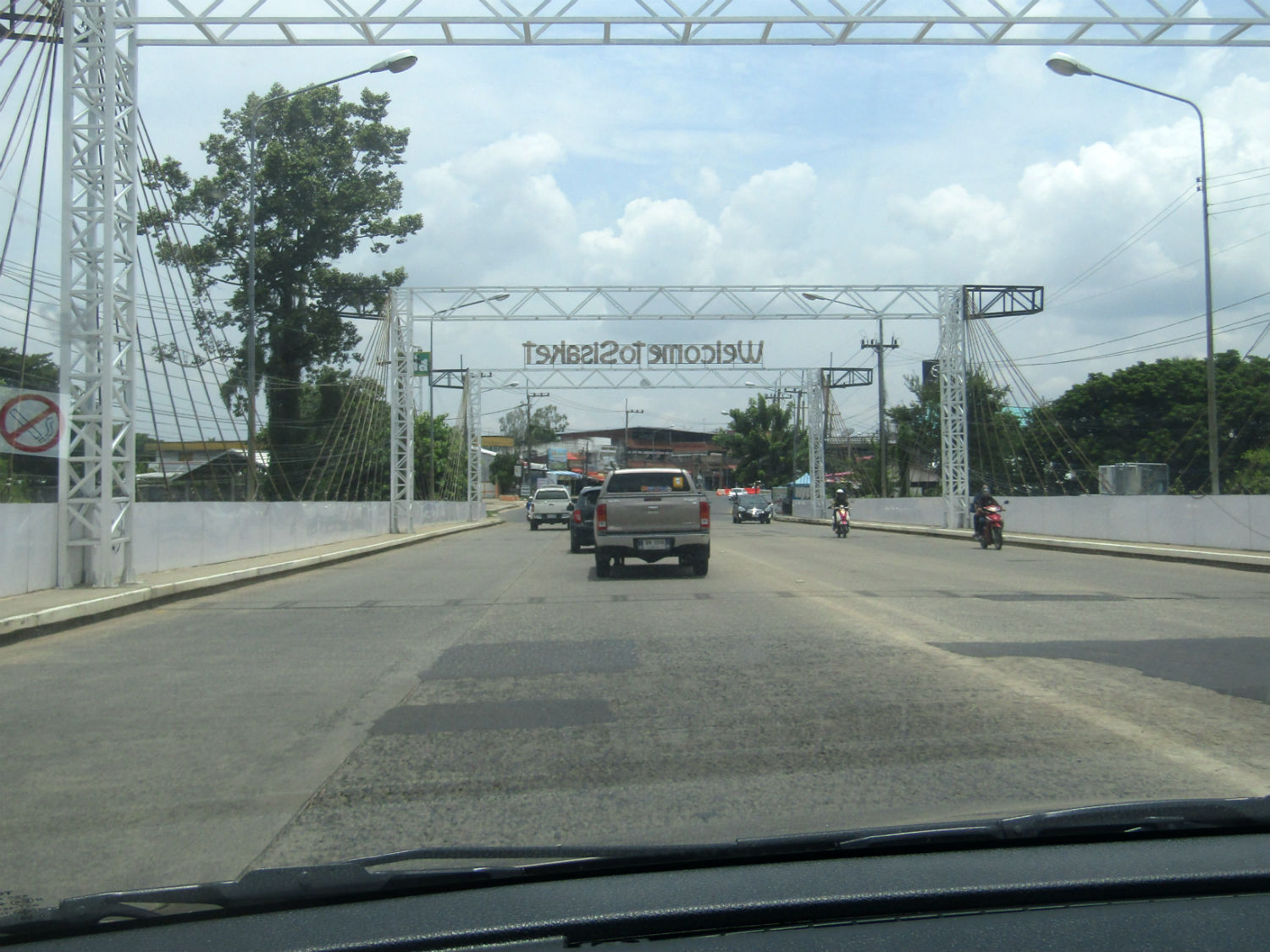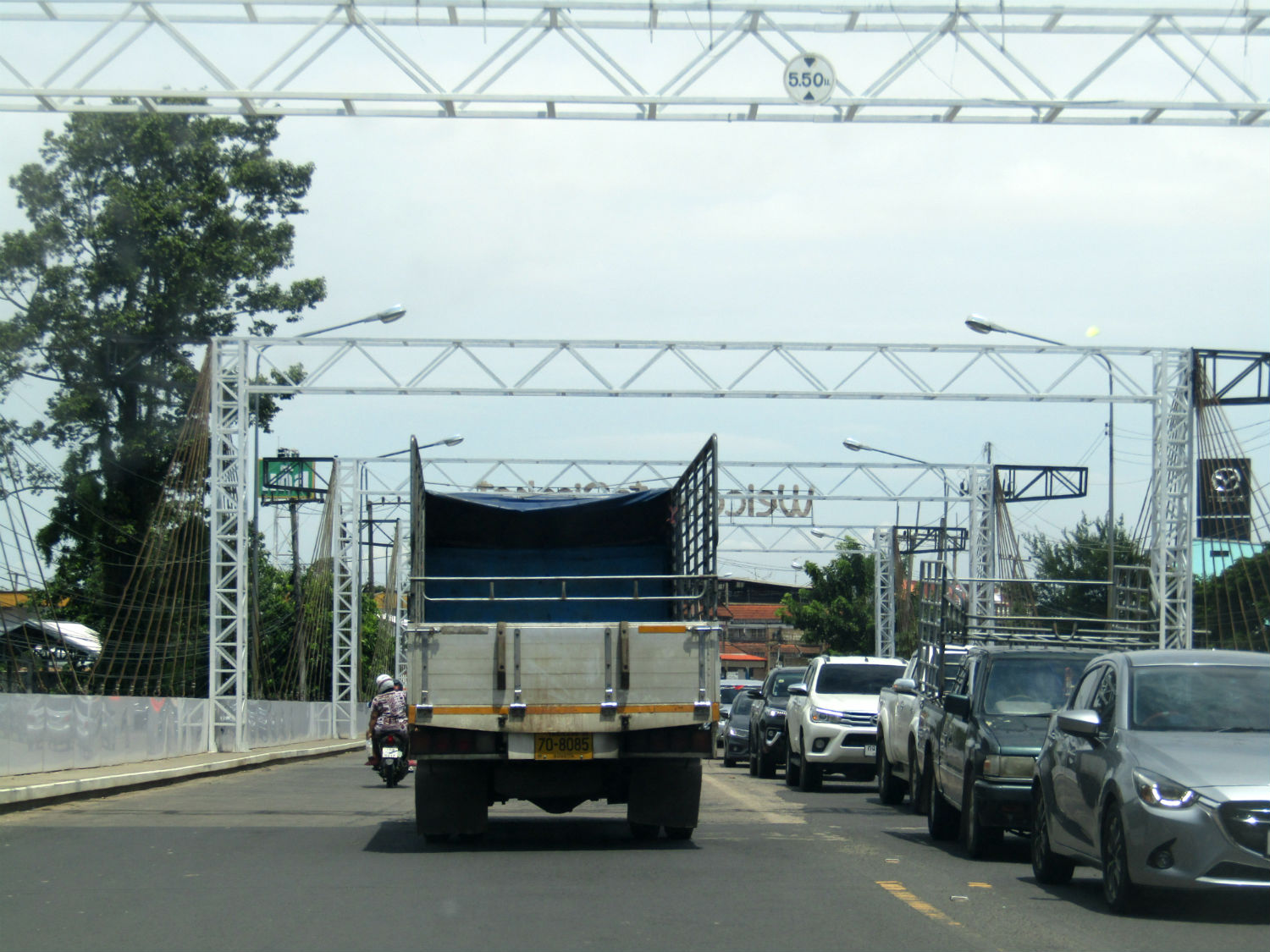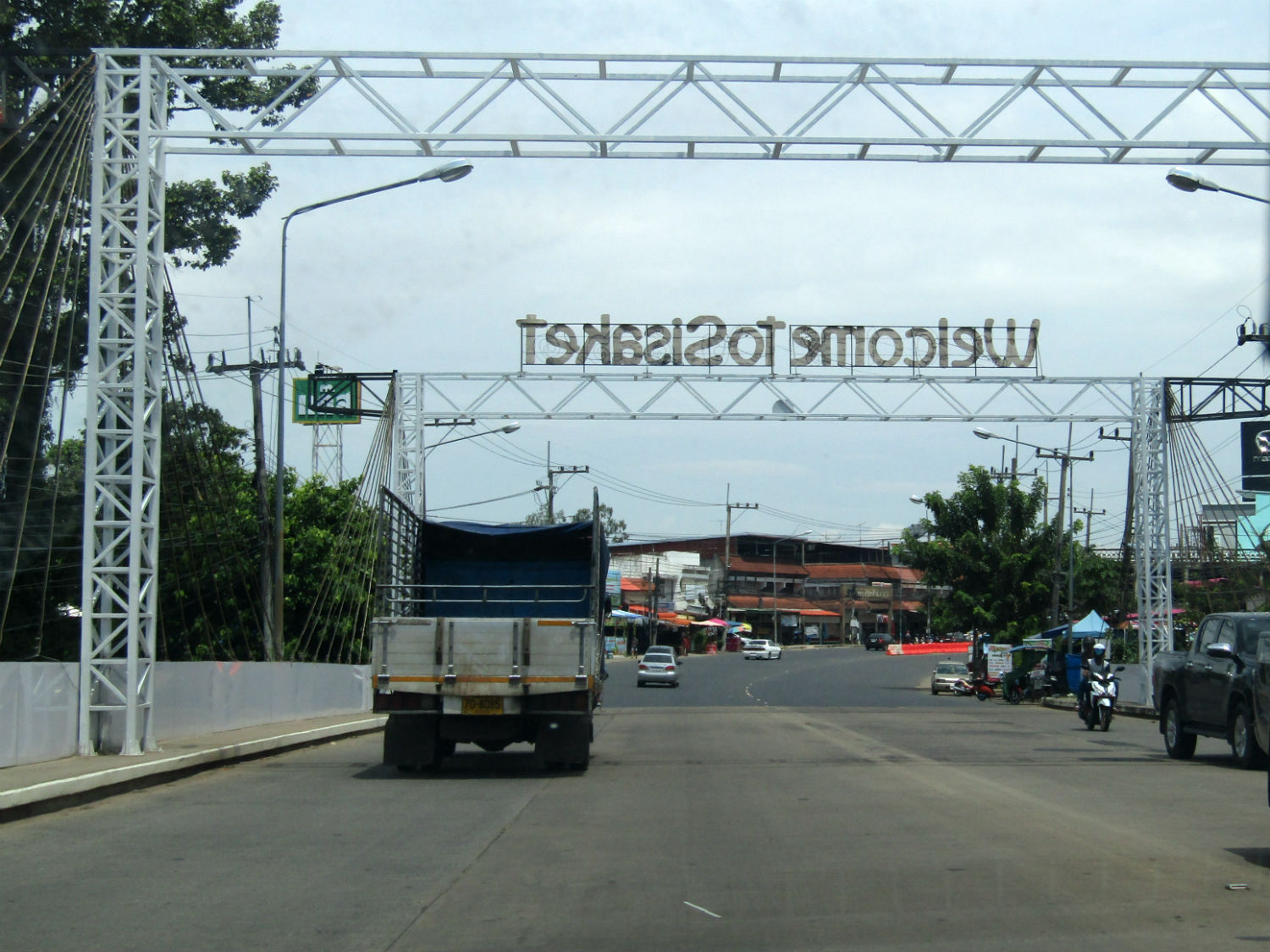 Samran (White) Bridge, Si Sa Ket


Hat Ban Kaeng…….. Arriving at Hat Ban Kaeng in the village of Khu Sot, I've only time to take a few photographs. Hat Ban Kaeng lies on the Mun River which runs though the north of Si Sa Ket Province. This river rises in Khao Yai National Park and runs east, joining the Mekong River in Ubol Ratchathani province. At this time of year the river look peaceful enough but it is still recommended that life preservers; there are plenty available locally, be used for those wishing to swim here. The other attraction are the rows of bamboo raft huts lined up along the river bank to the west of the bridge. These are floating restaurants. As it's too early for lunch or dinner we must make our way back without sampling either attraction. However there is one curiosity I witness which I'm aware of in this region. I've never made it to a rocket festival but just as I return to the car, one rocket finds its way skyward leaving a trail of smoke in its wake before disappearing into the clouds, not an uncommon sight at the moment apparently.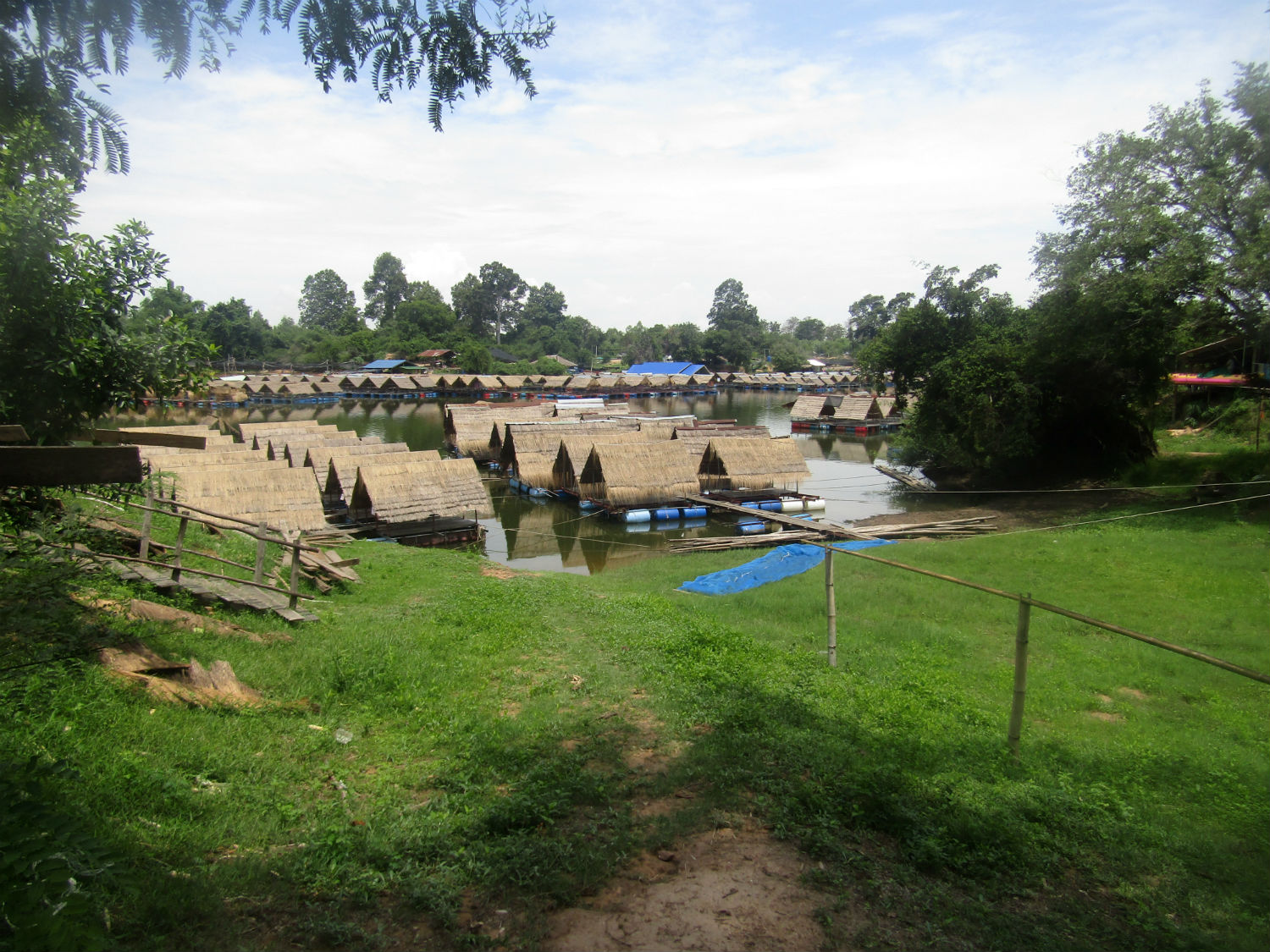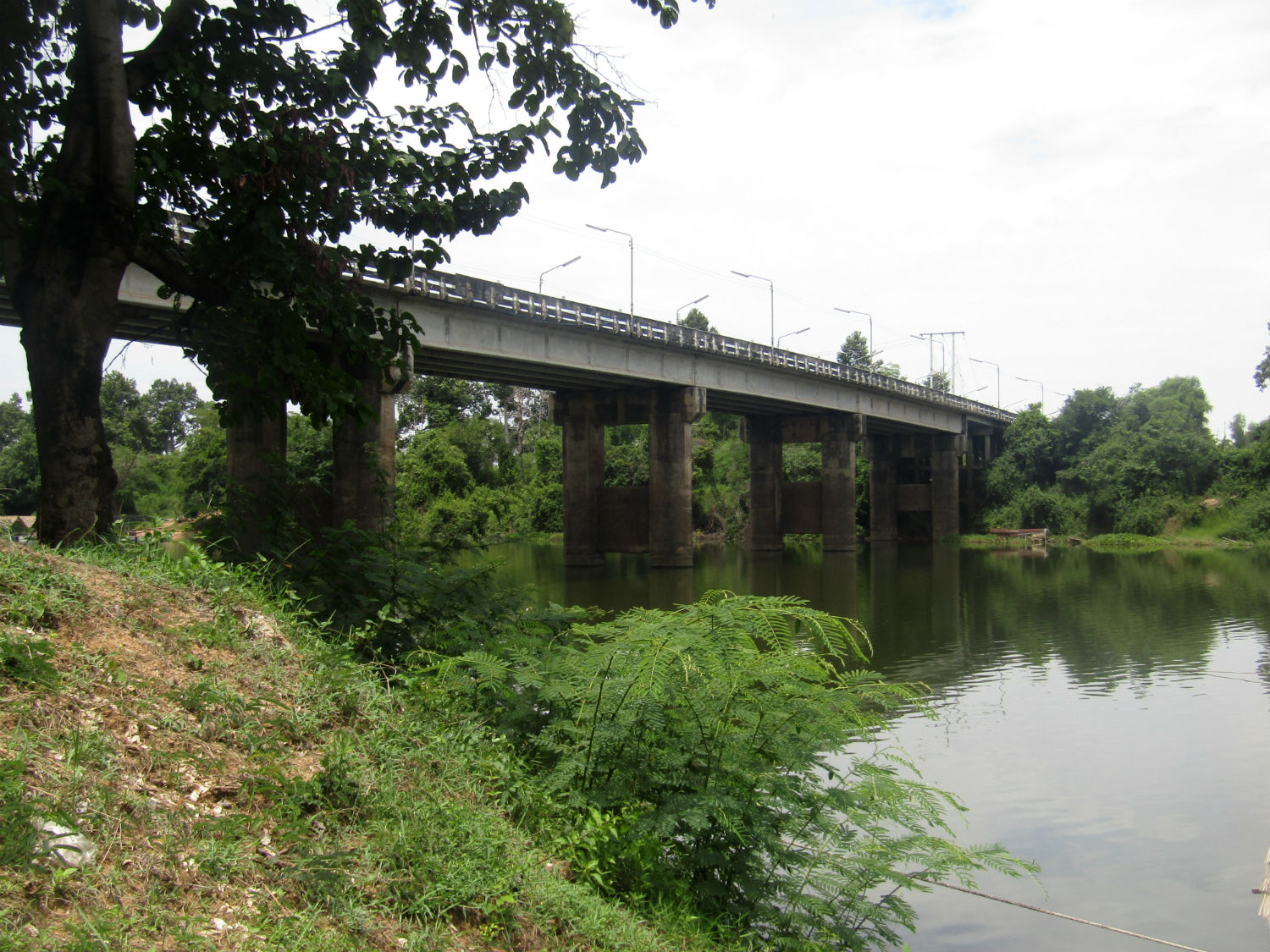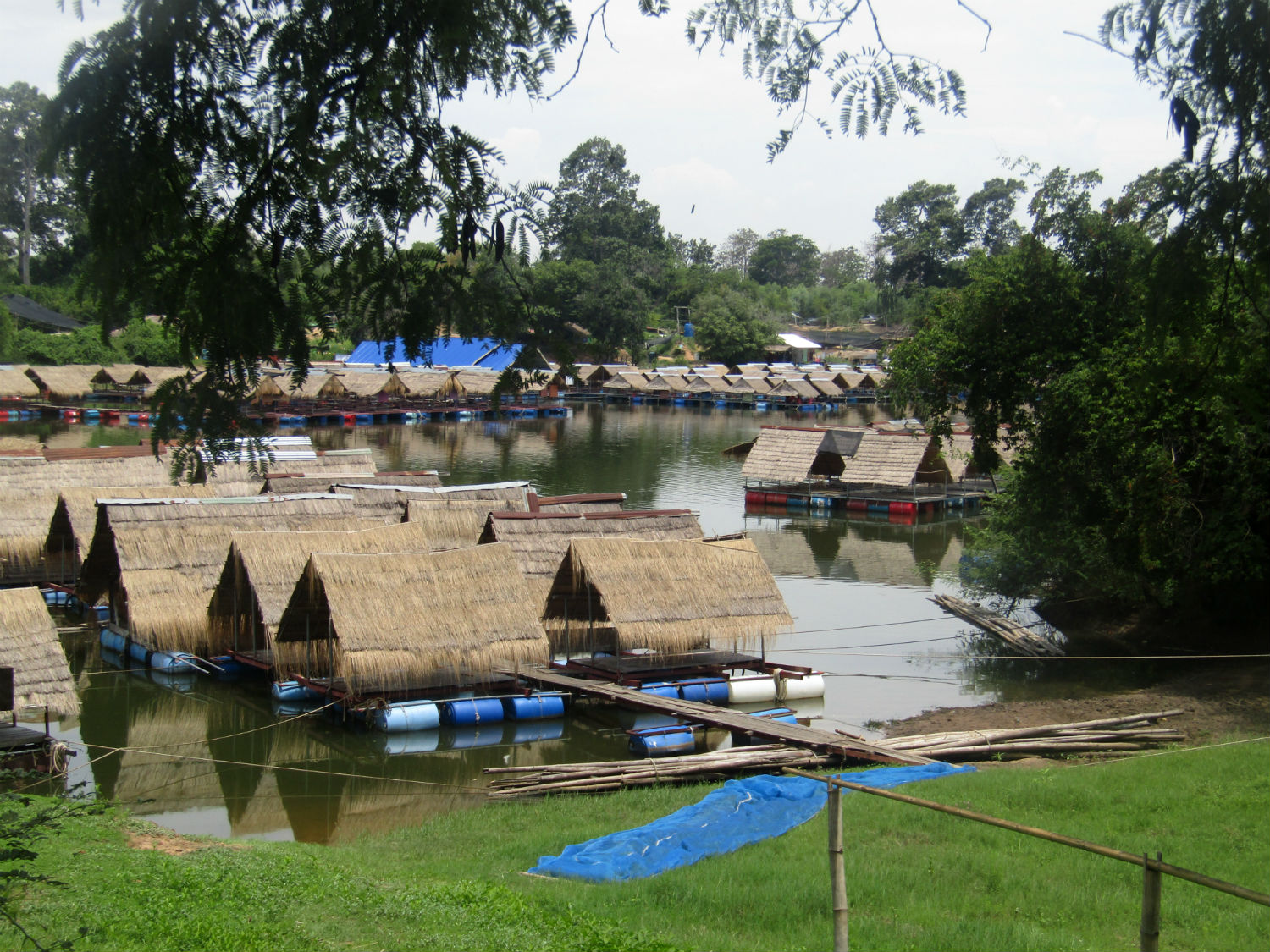 Hat Ban Kaeng, Yang Chum Noi District, Si Sa Ket Province


With this excursion to the north completed, it's time to go prasat hunting again to the districts northwest of Si Sa Ket where there are a number of sanctuaries.
Prasat Sa Kamphaeng Noi…….. Prasat Sa Kamphaeng Noi is located in Utumphon Pisai district west of Si Sa Ket. The composition of this monument is a principal prasat on a square plan, a library hall and boundary wall with Gopura (doorway). The architectural format of this monument is consistent with an 'Arokaya Sala' (community hospital), one of 102 which King Jayavaraman VII had built during his reign in the 13th century. The monument was built of laterite with sandstone doorways and lintels as were the walls and Baray (small pond) nearby.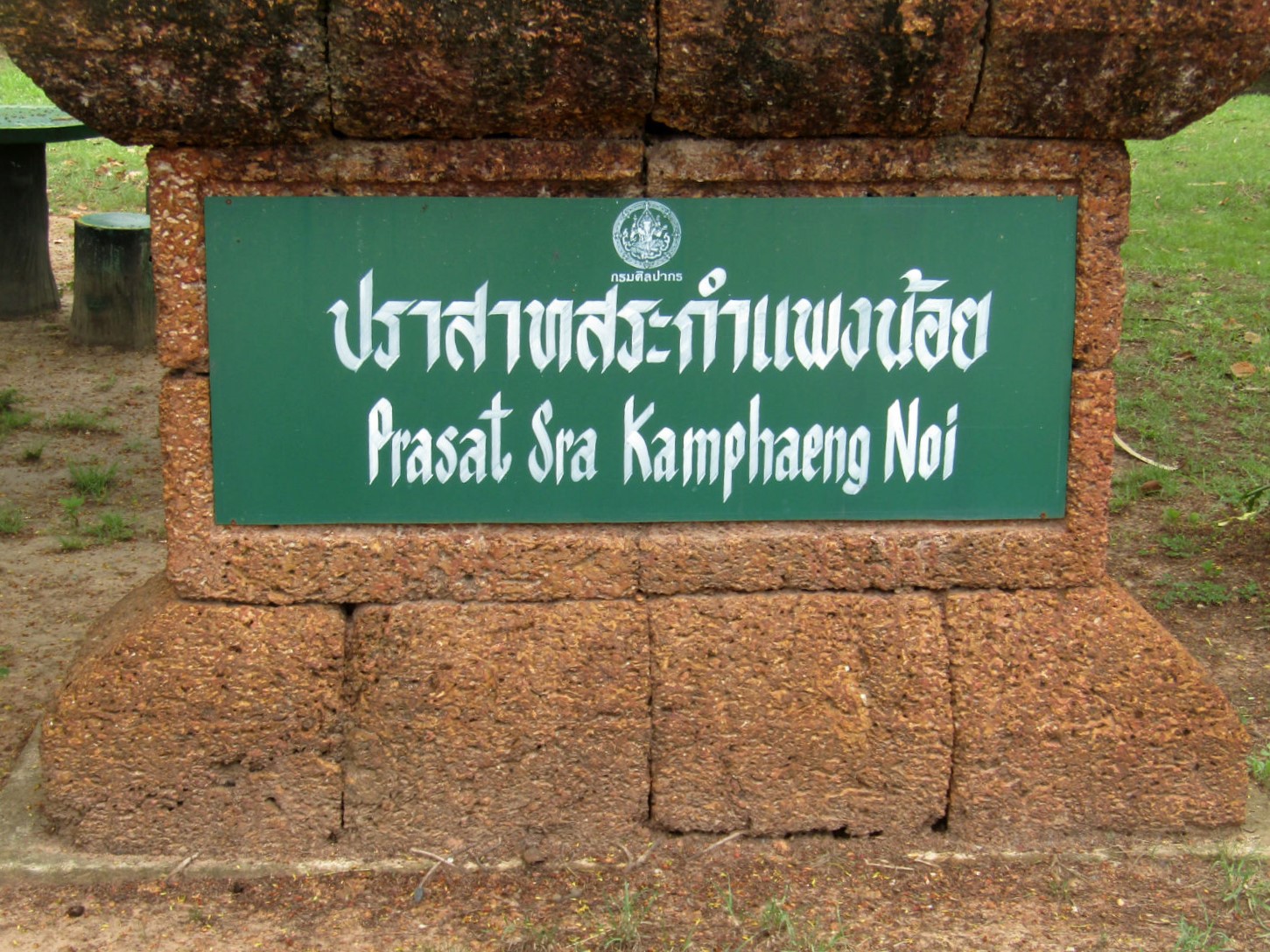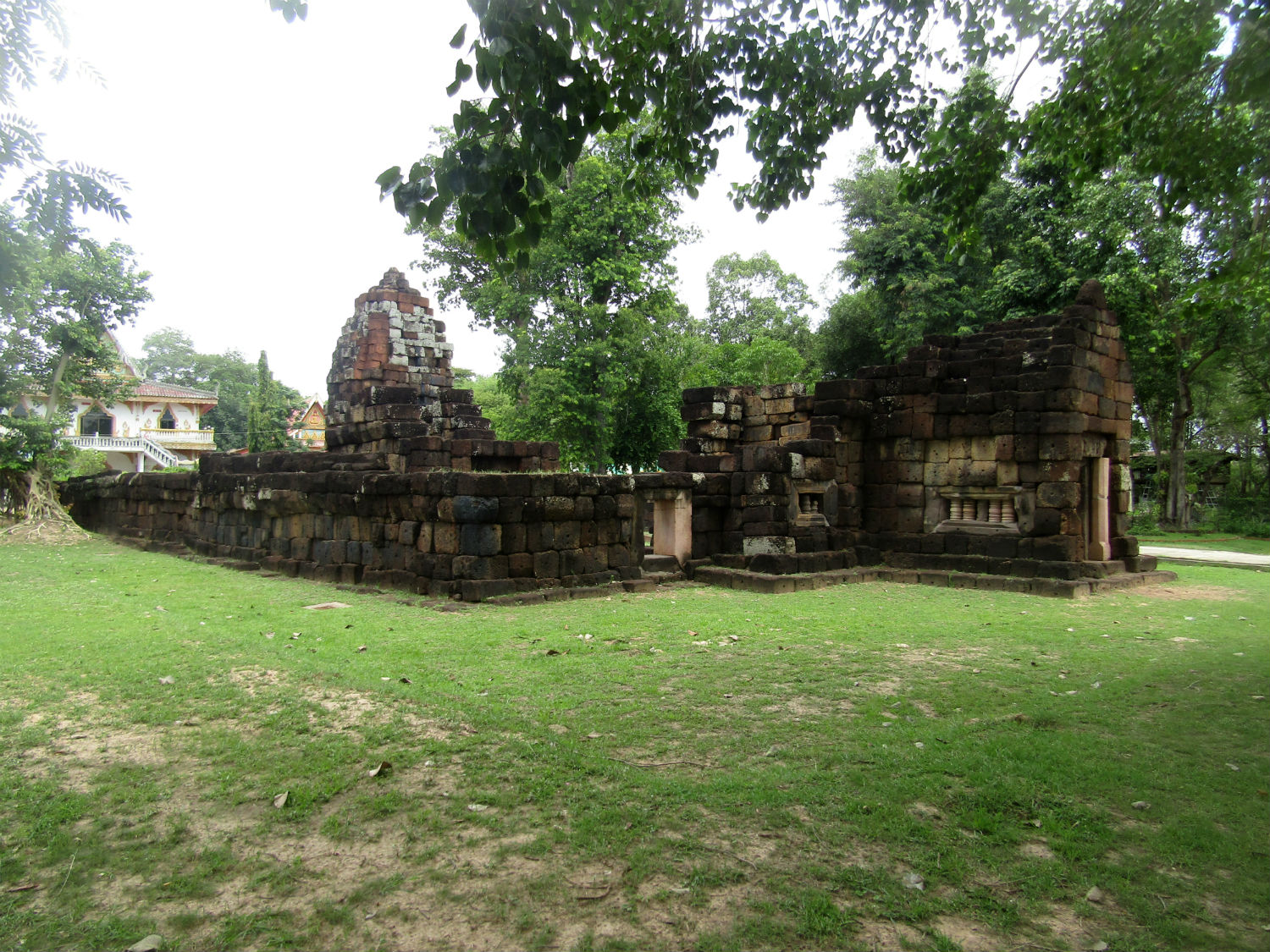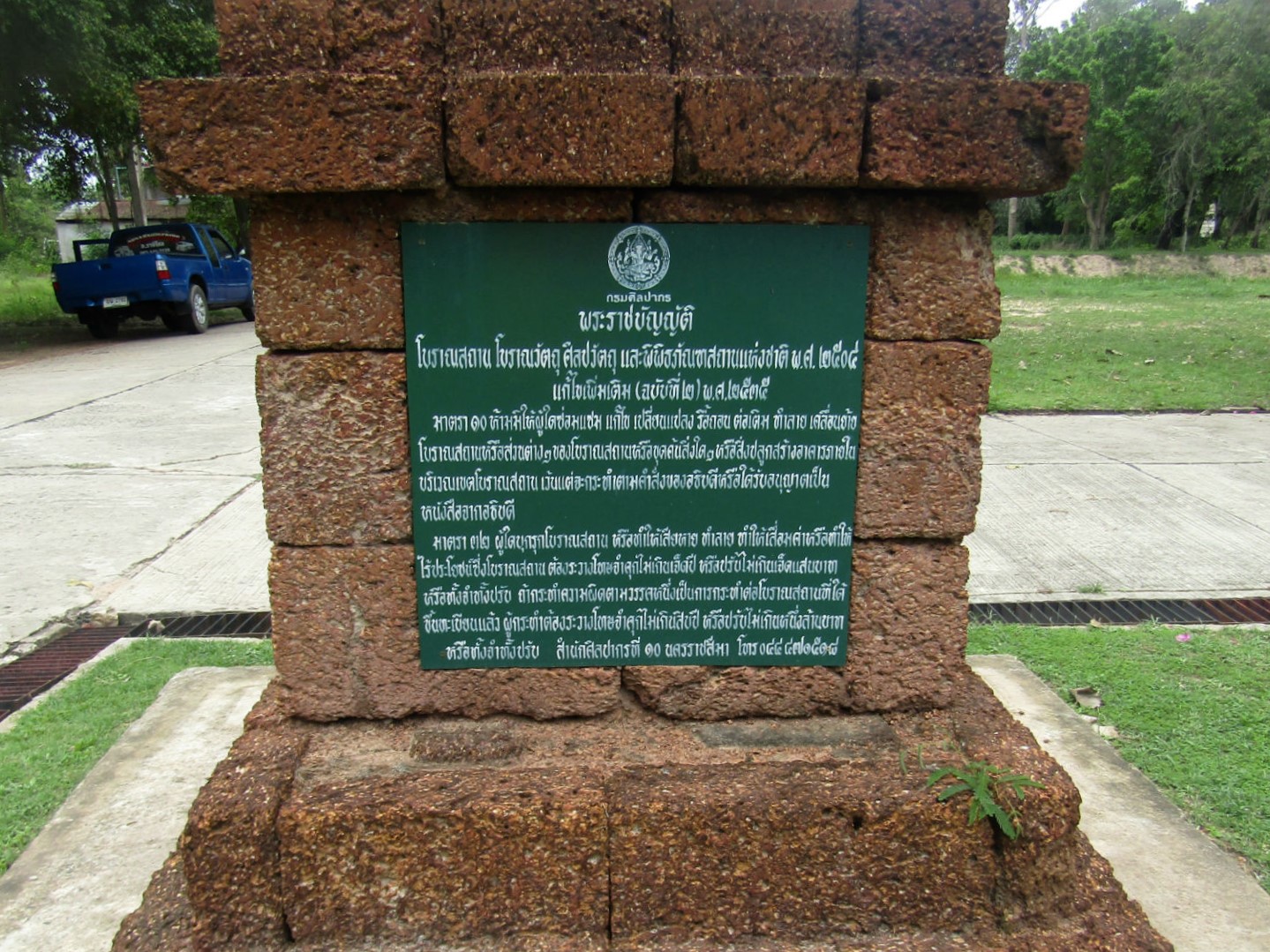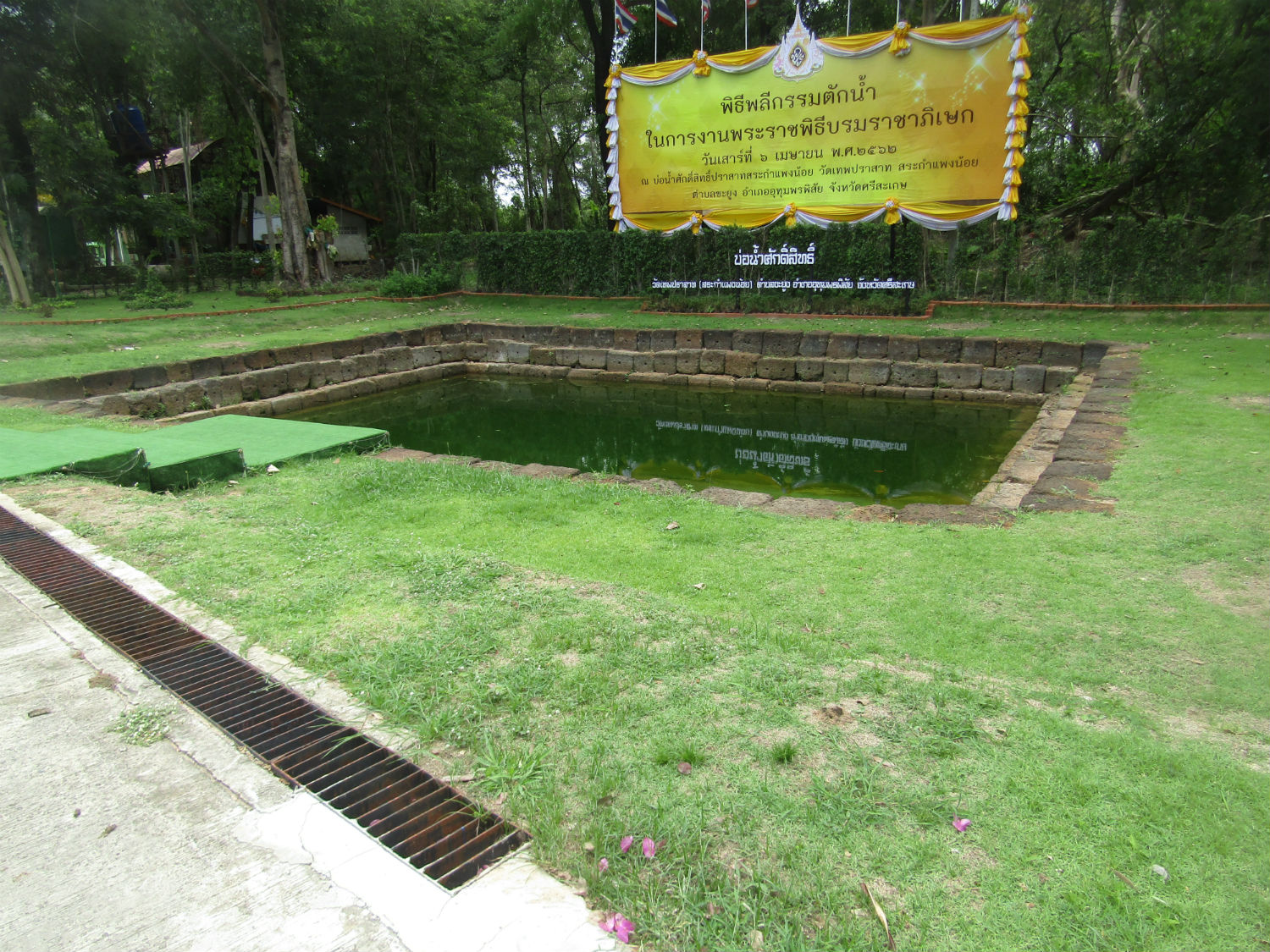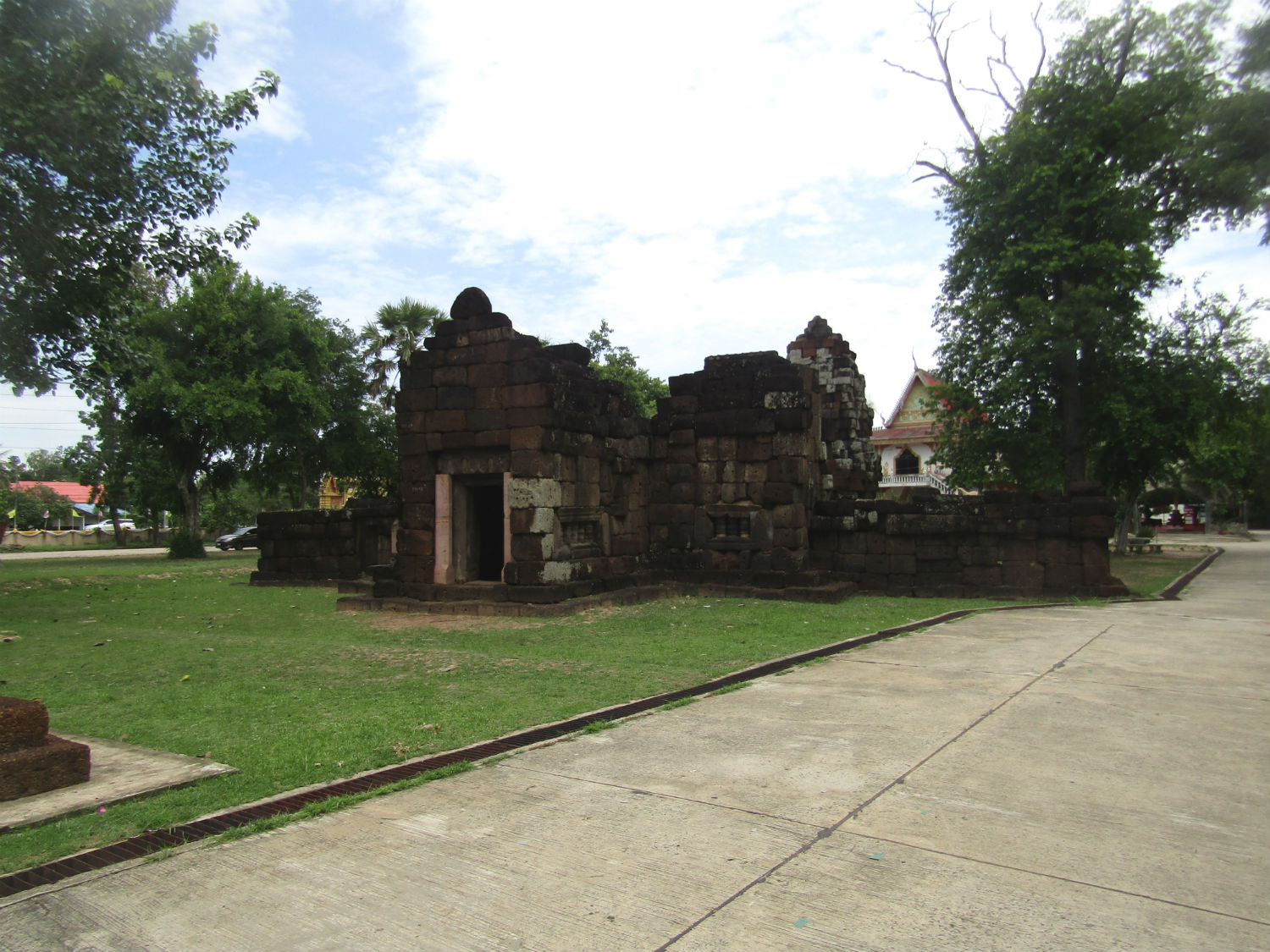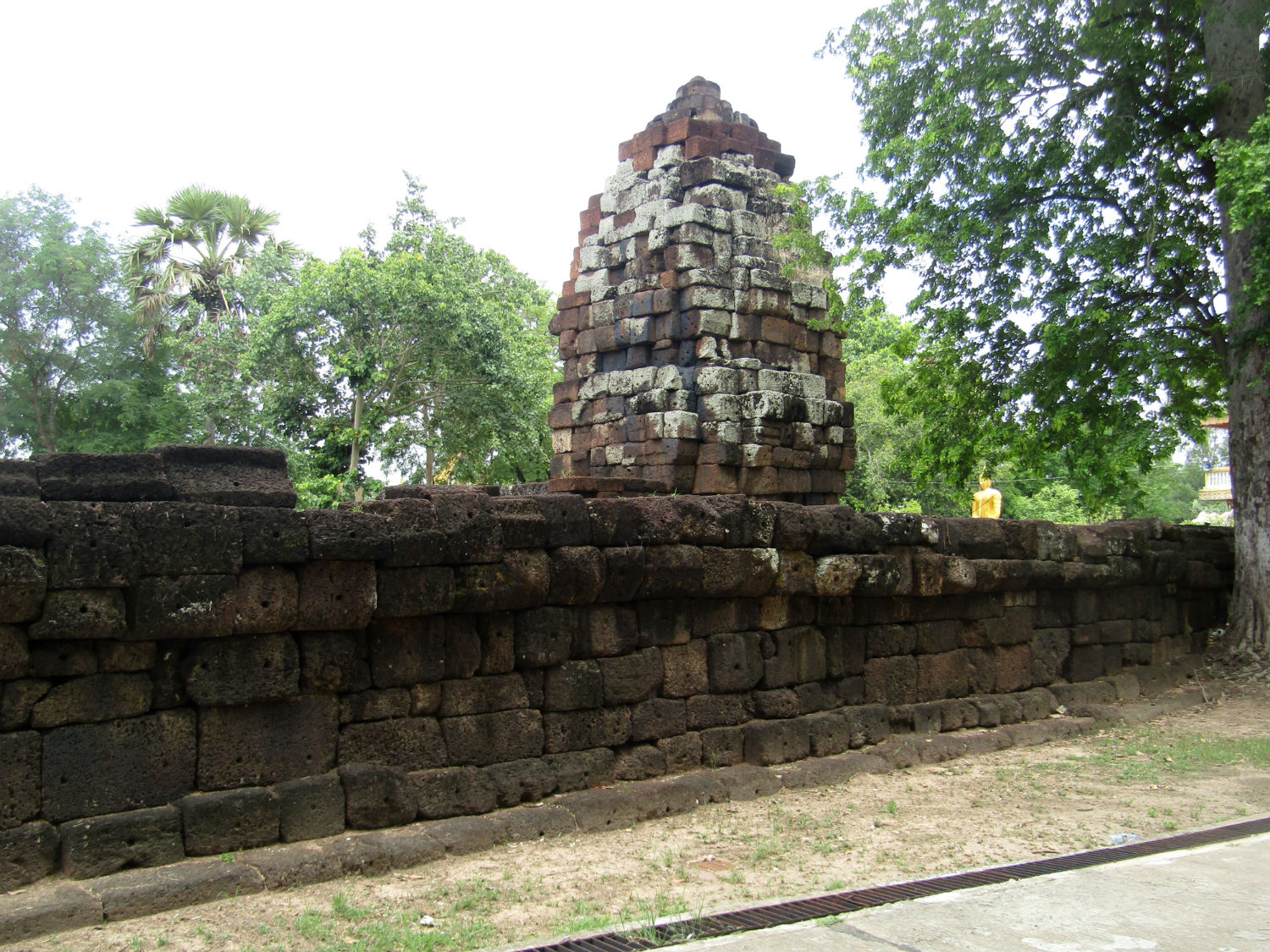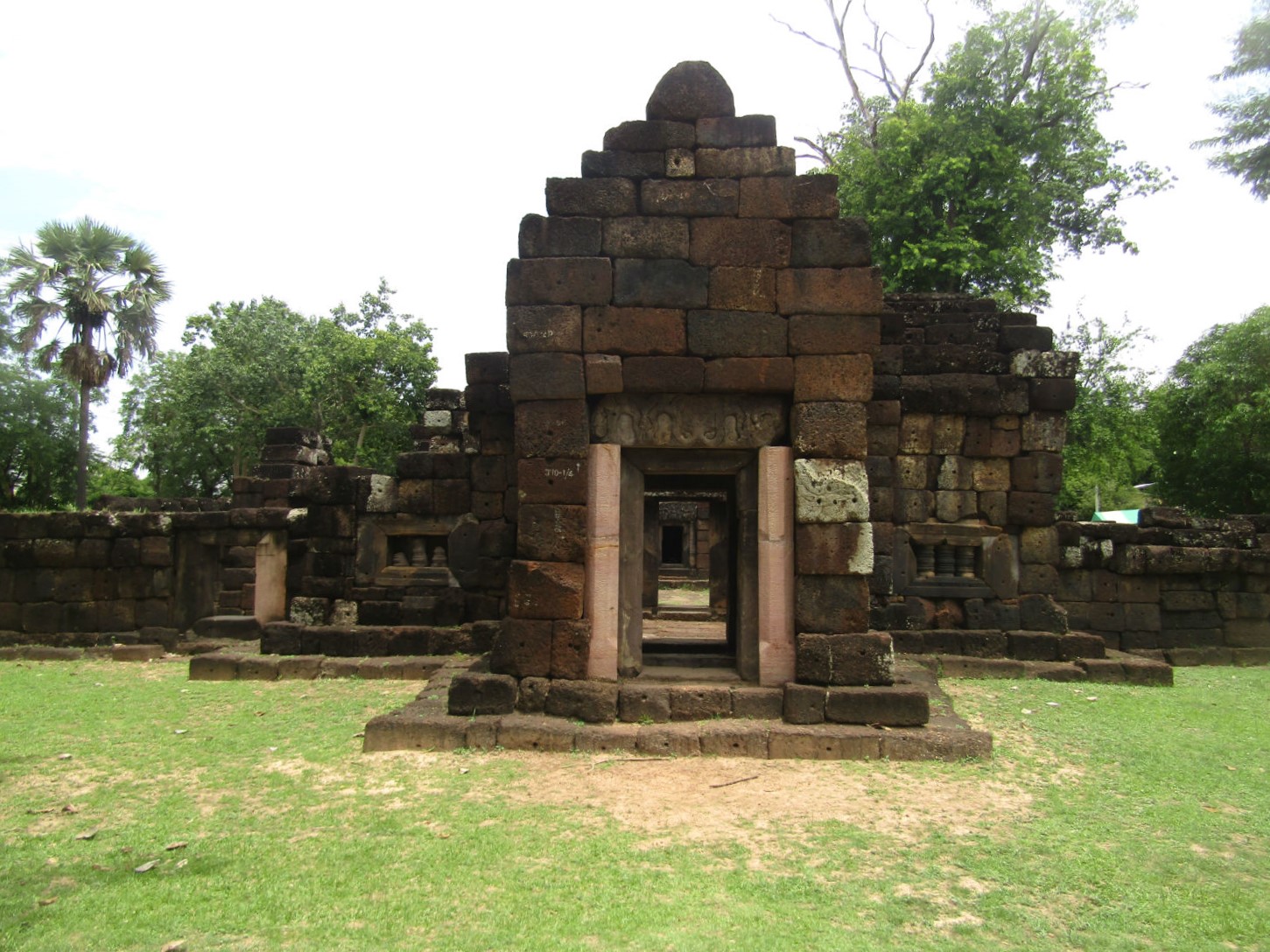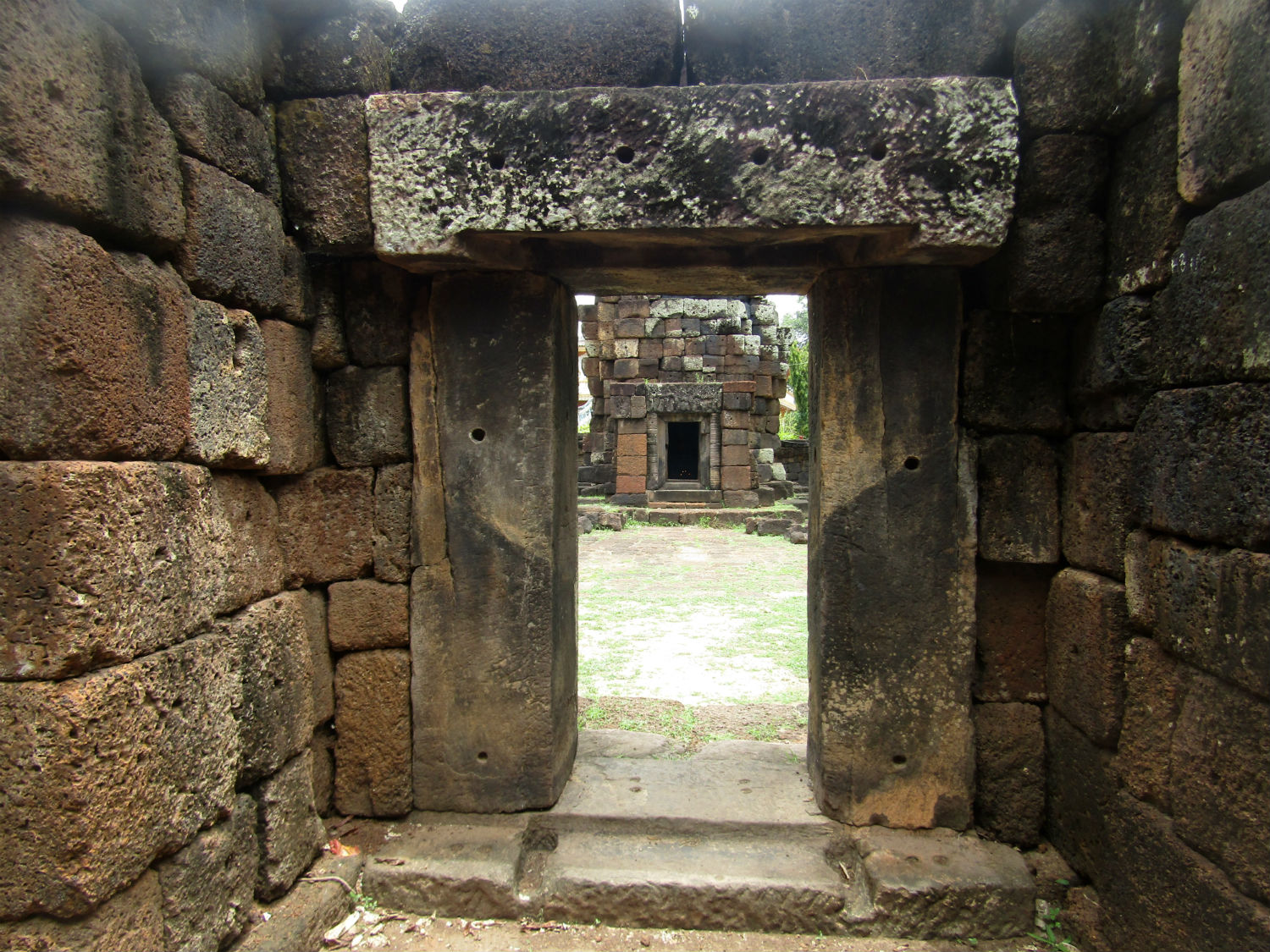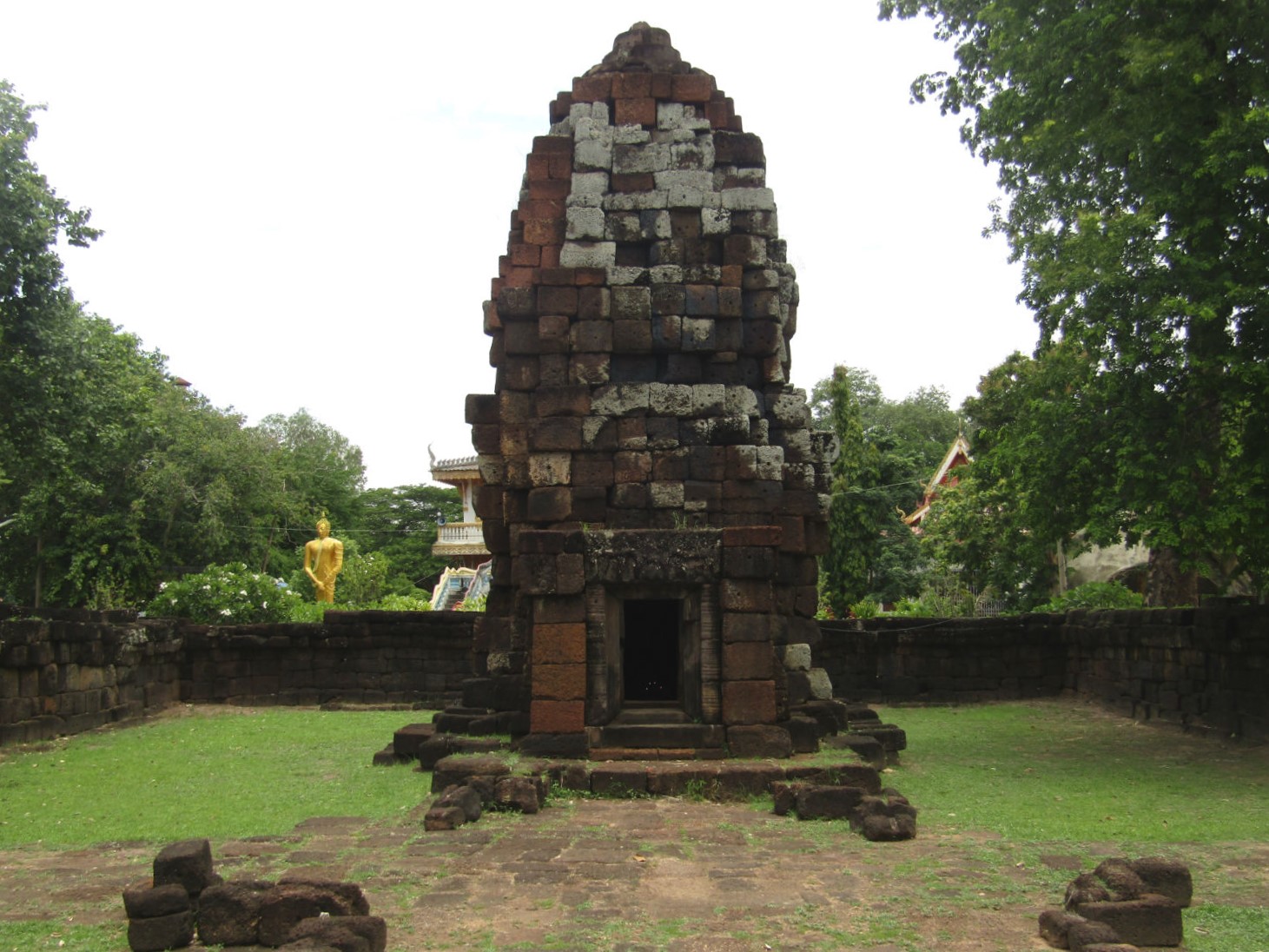 Prasat Sa Kamphaeng Noi, Utumphon Pisai District, Si Sa Ket Province


Prang Ku Samboon…….. Moving into Bueng Bun district we locate Prang Ku Samboon. The composition of this monument is a row of three sanctuaries on the same base. The principal sanctuary in the centre is mostly intact but the other two have only part of their bases remaining. They were constructed in a north-south plane facing east. The structures were built of brick with sandstone doorways and lintels, one of which depicts a figure and the singha (lion). The monument is enclosed within a horseshoe shaped moat with an entrance to the south. The architectural style of this monument suggests is was built in the 12th century.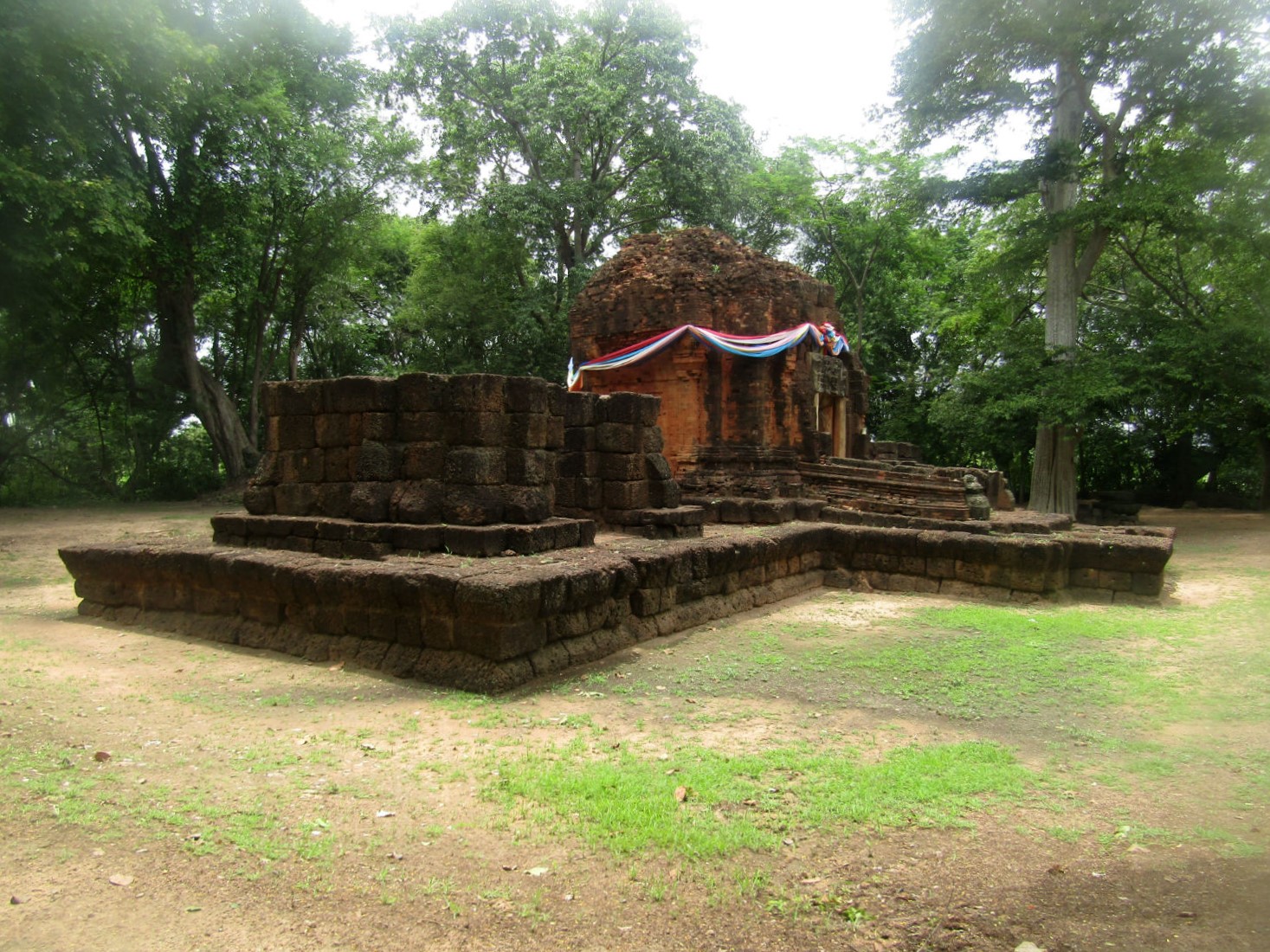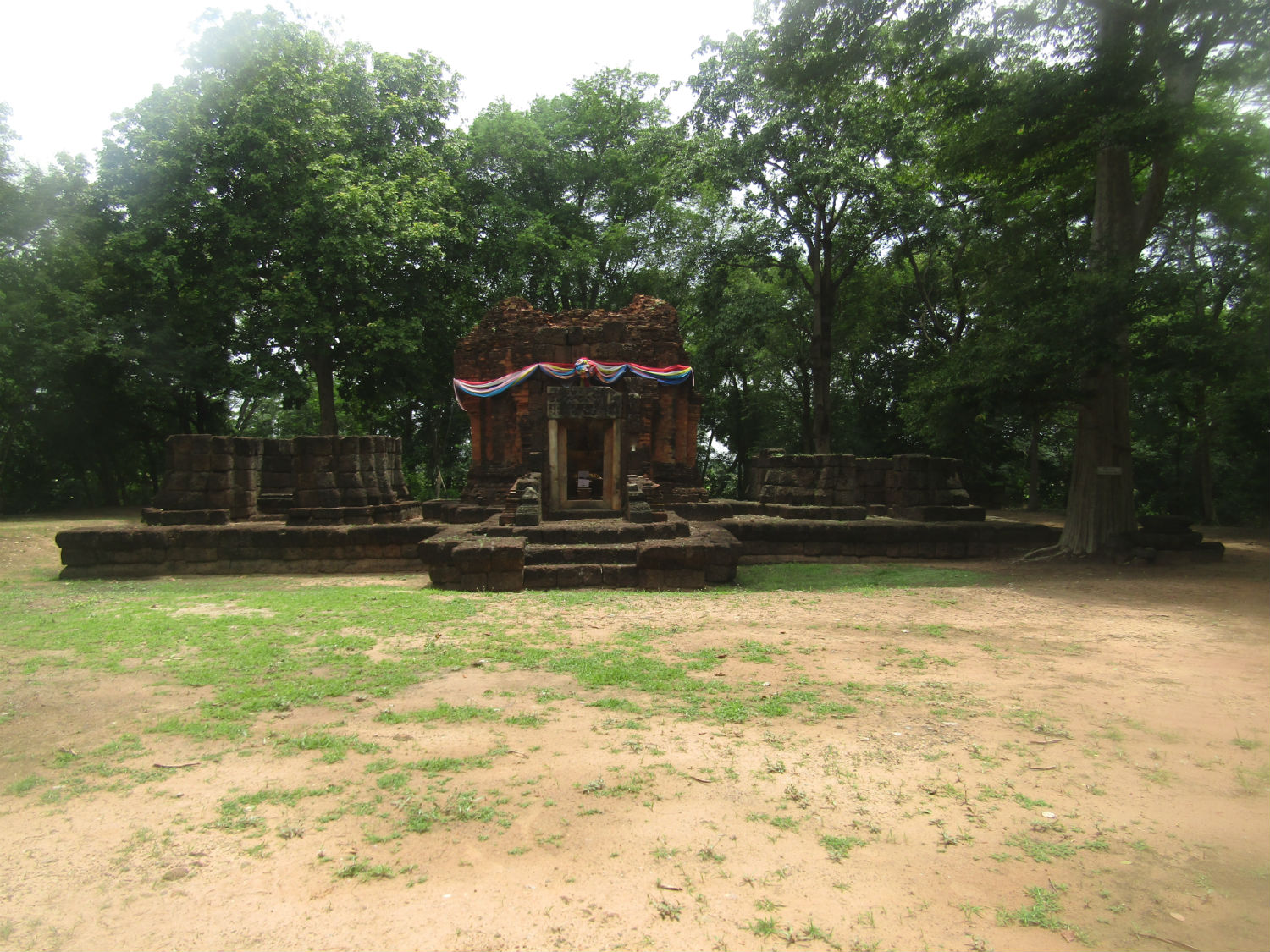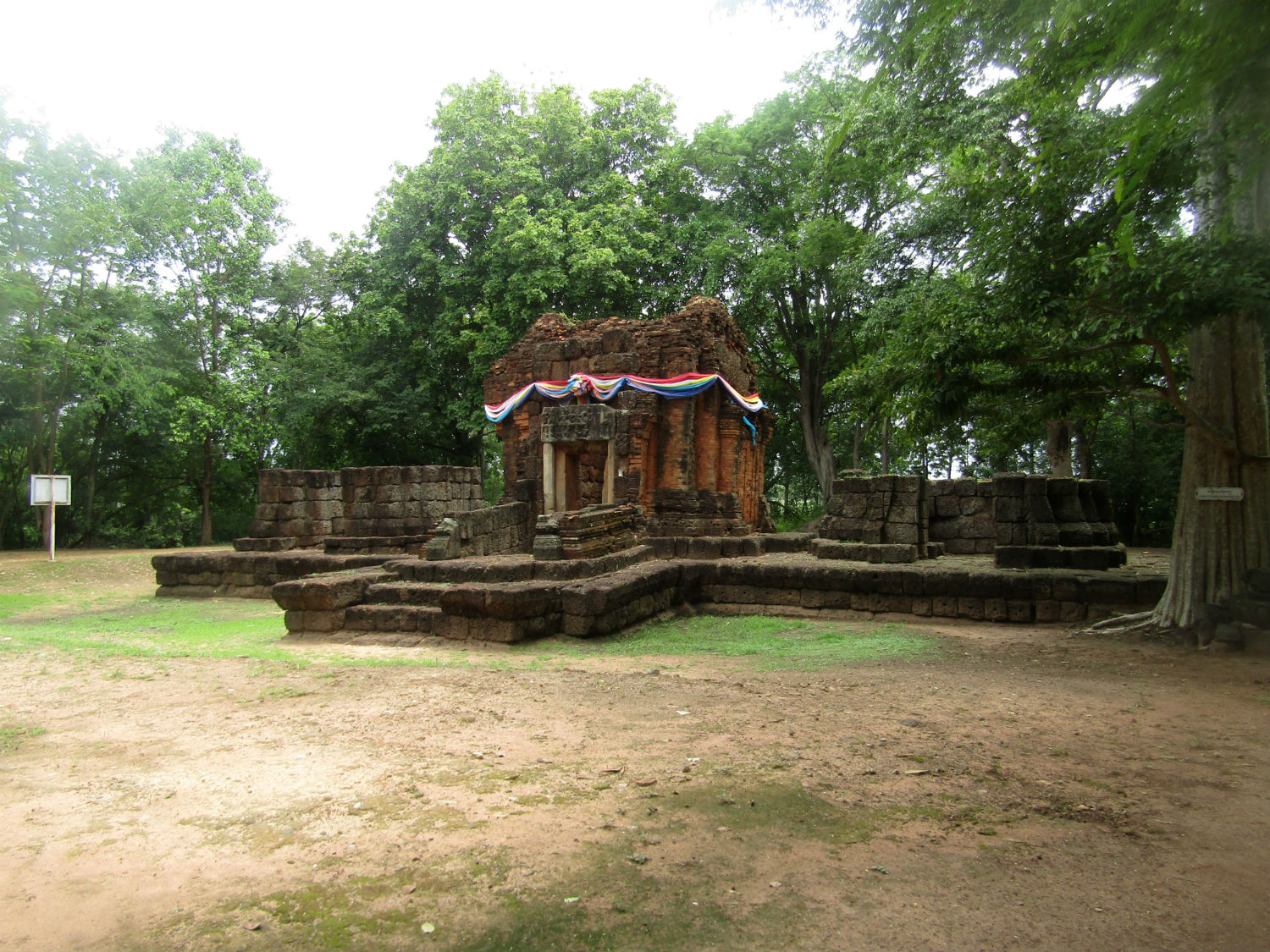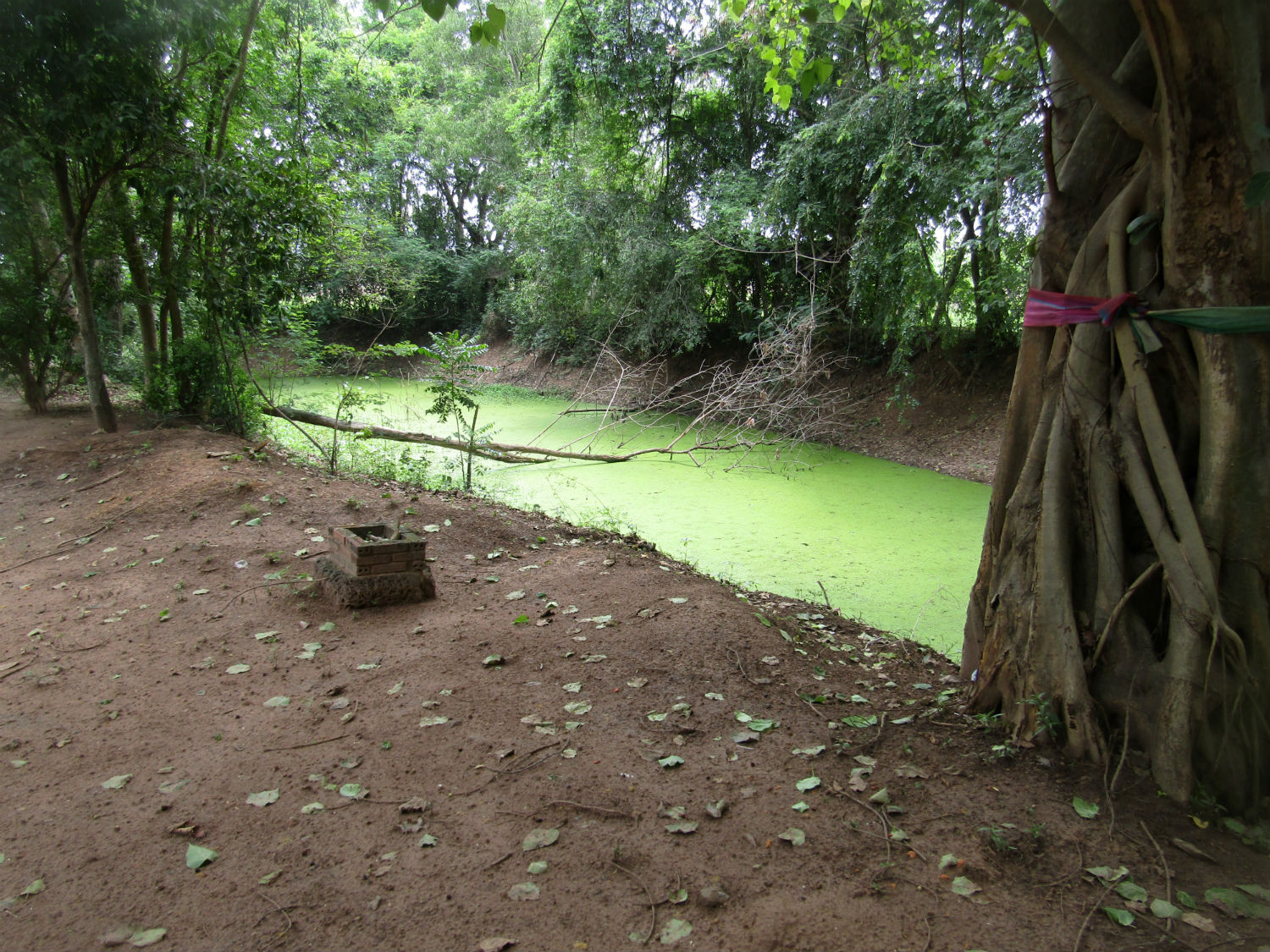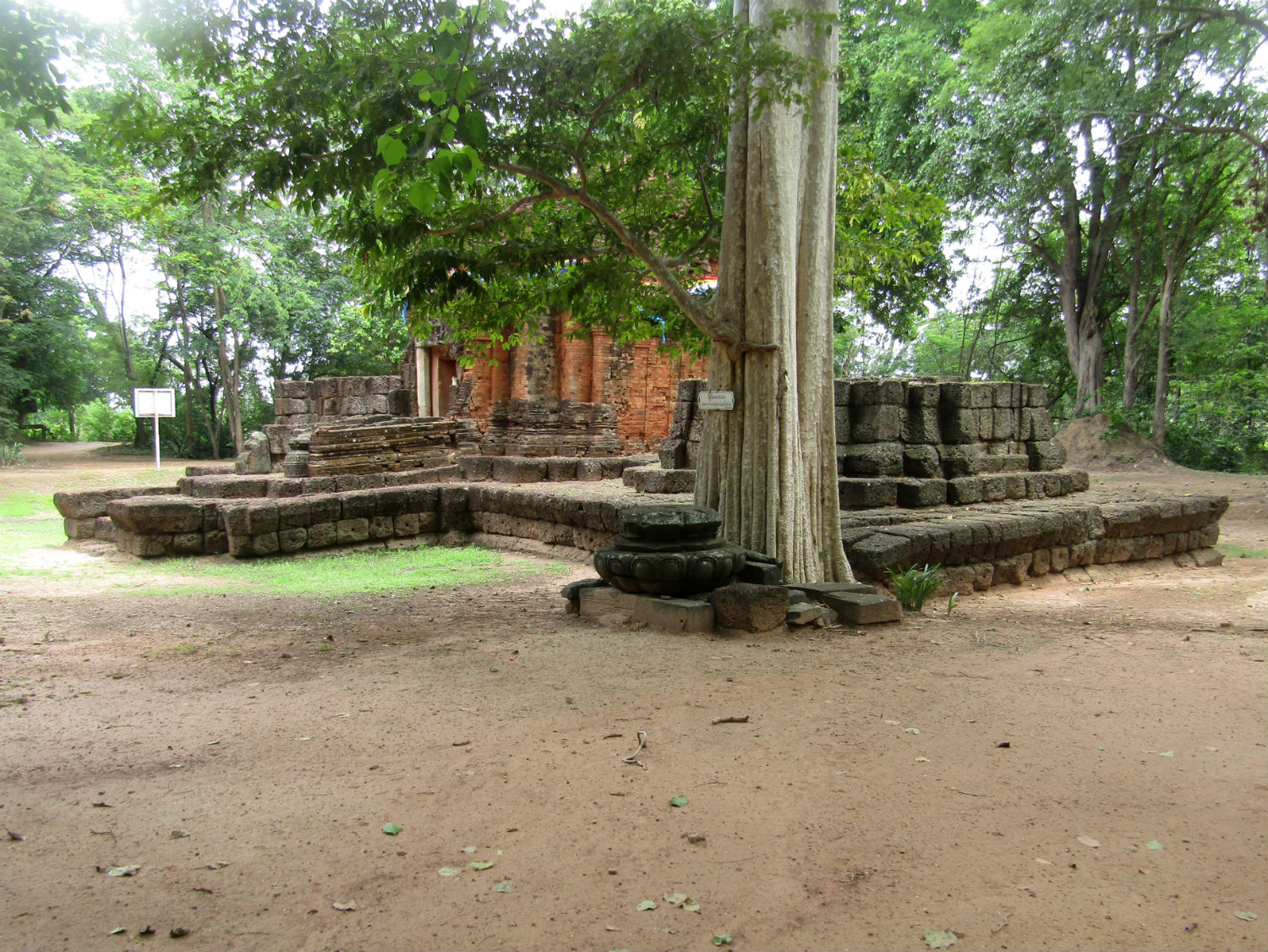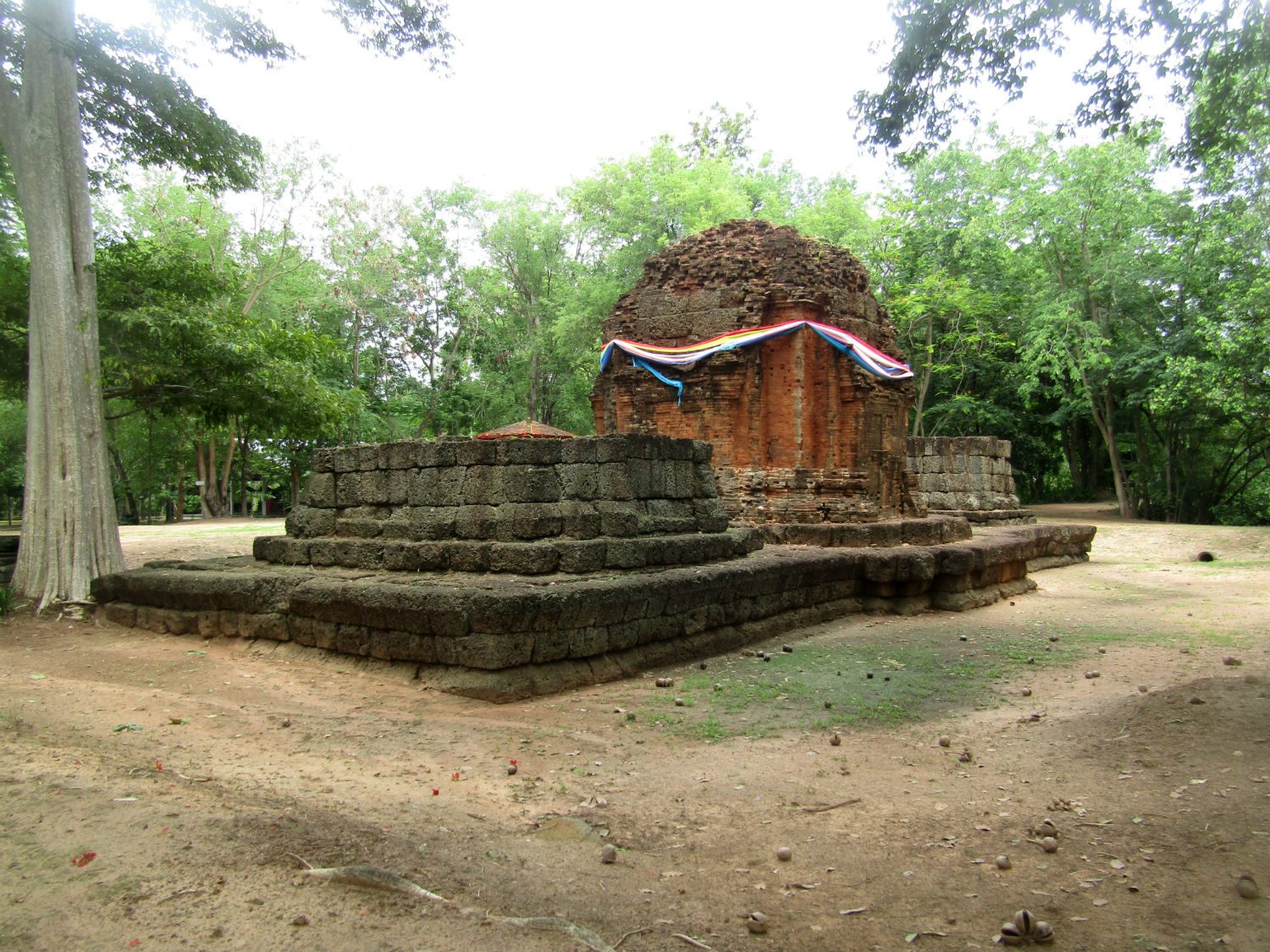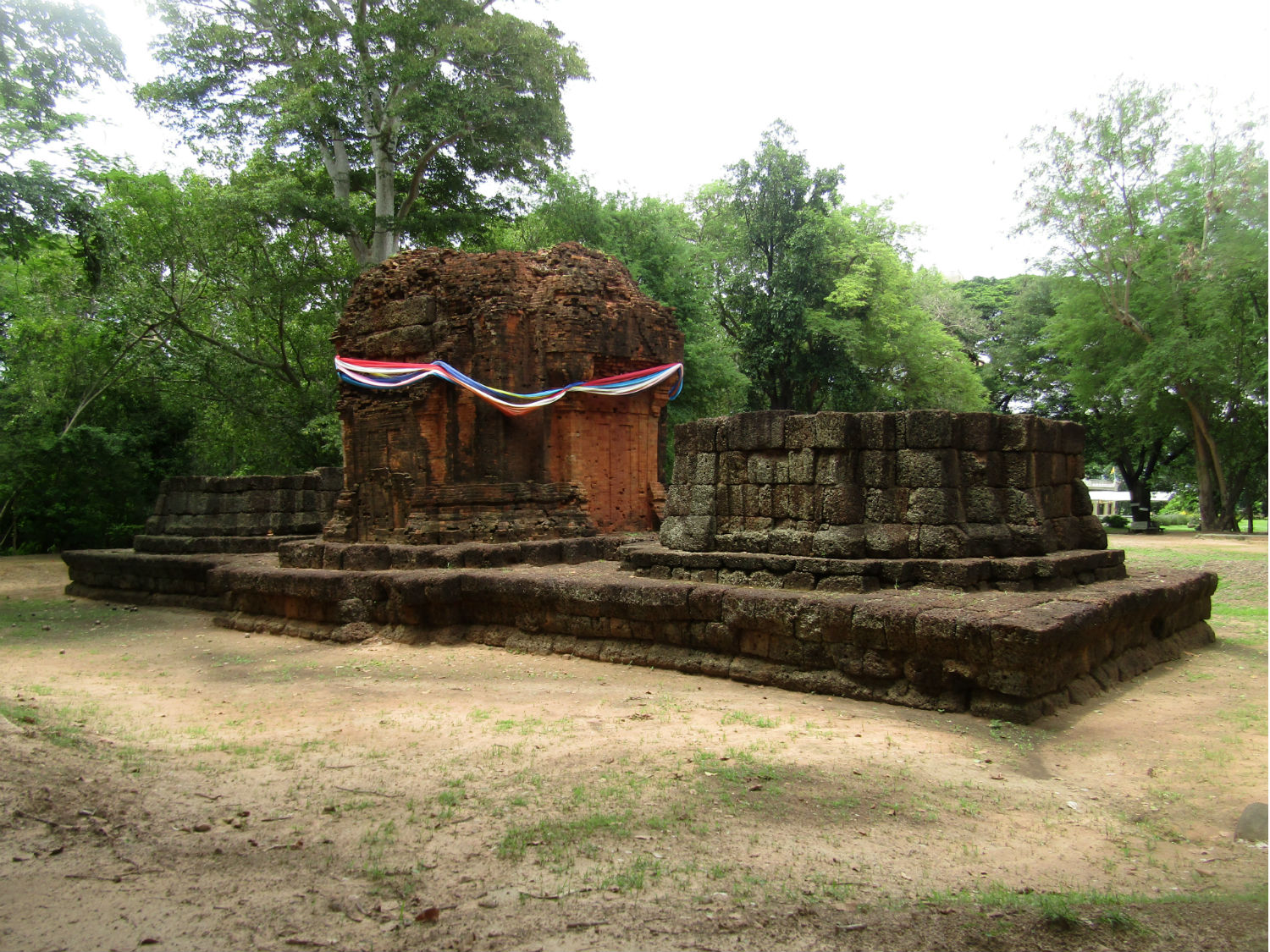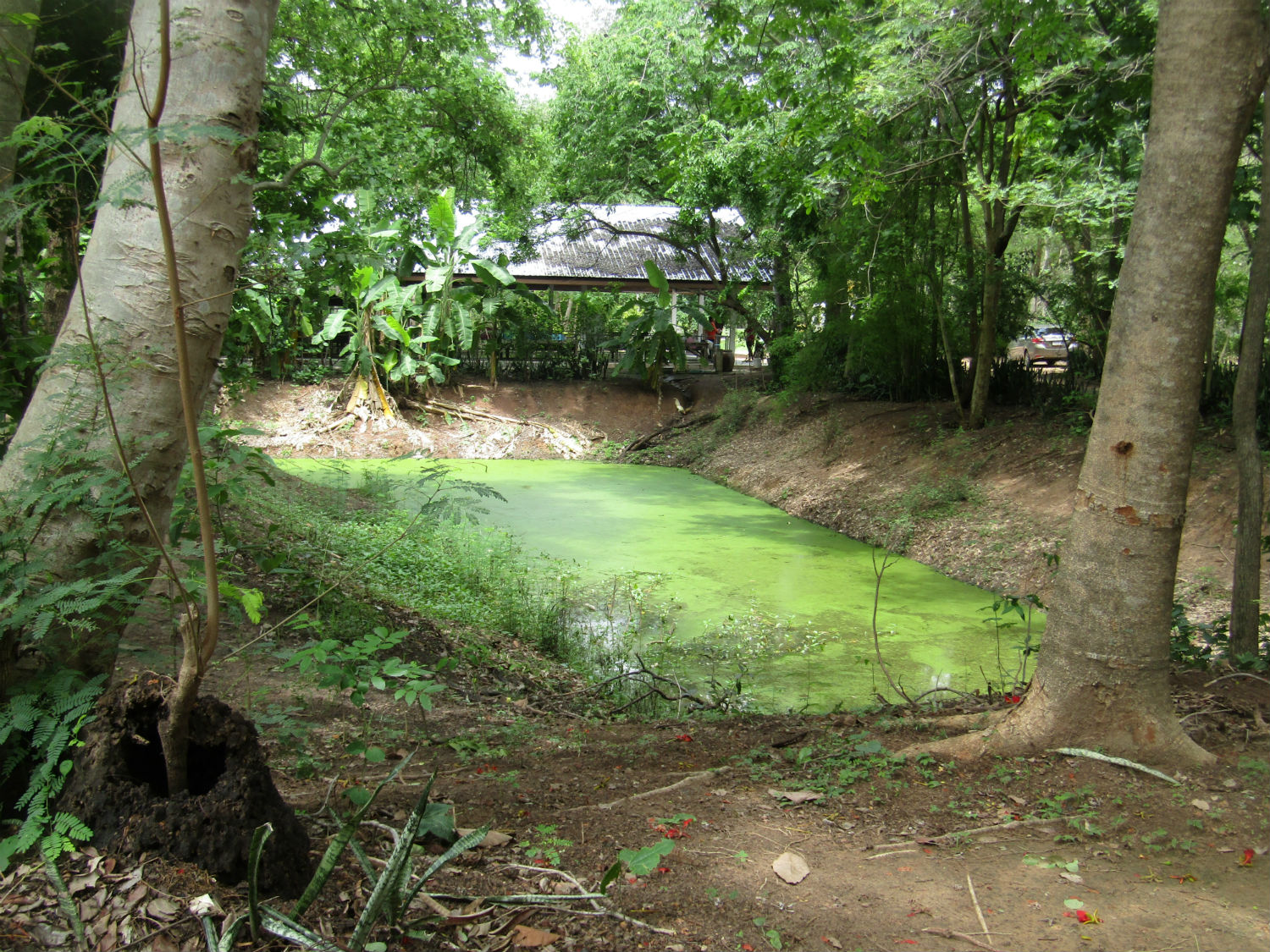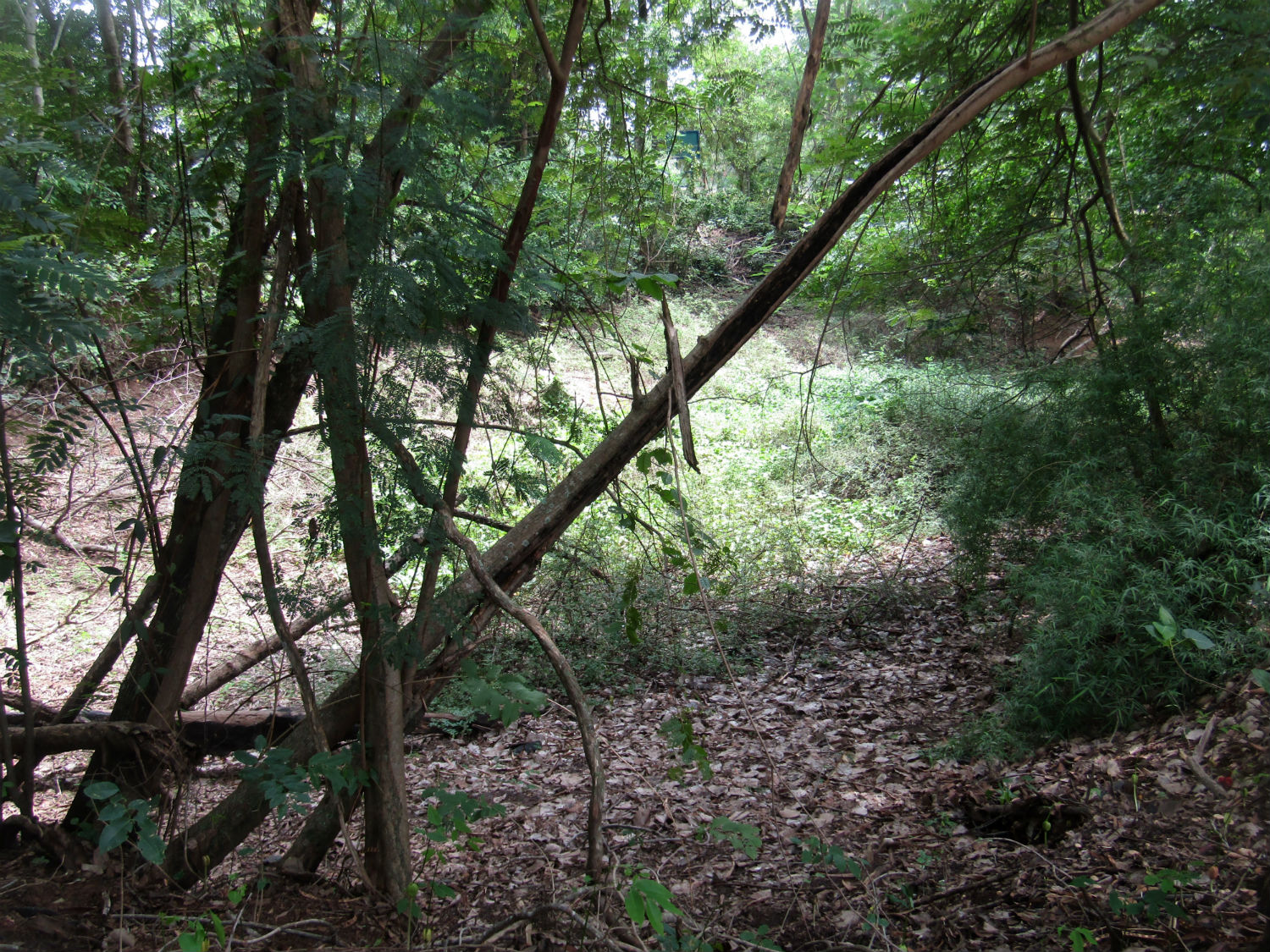 Prang Ku Samboon, Bueng Bun District, Si Sa Ket Province


Wat Phra Kamphaeng Yai Sanctuary…….. Returning to Utumphon Pisai district, we locate Wat Phra Kamphaeng Yai. This temple is home to Prasat Kamphaeng Yai, a large and perfectly intact Khmer sanctuary. It has three pagodas lined up on the same base along a north-south axis and facing east. The principal pagoda is made mainly of sandstone with some brickwork while the other two pagados are made in brick with decorative sandstone features including the lintels, pediments and doorframe. It is believed the sanctuary was built around the 11th century to worship the God Shiva but was converted in the 13th century to Mahayana Buddhism.
The ruined sanctuary lies in the grounds of Wat Sa Kamphaeng Yai, the prasat's modern successor. Here is a massive statue of the former abbot, a giant gong and some amusing statues depicting what punishments may await people in the Buddhist version of Hell as a result of various misdeeds in their life.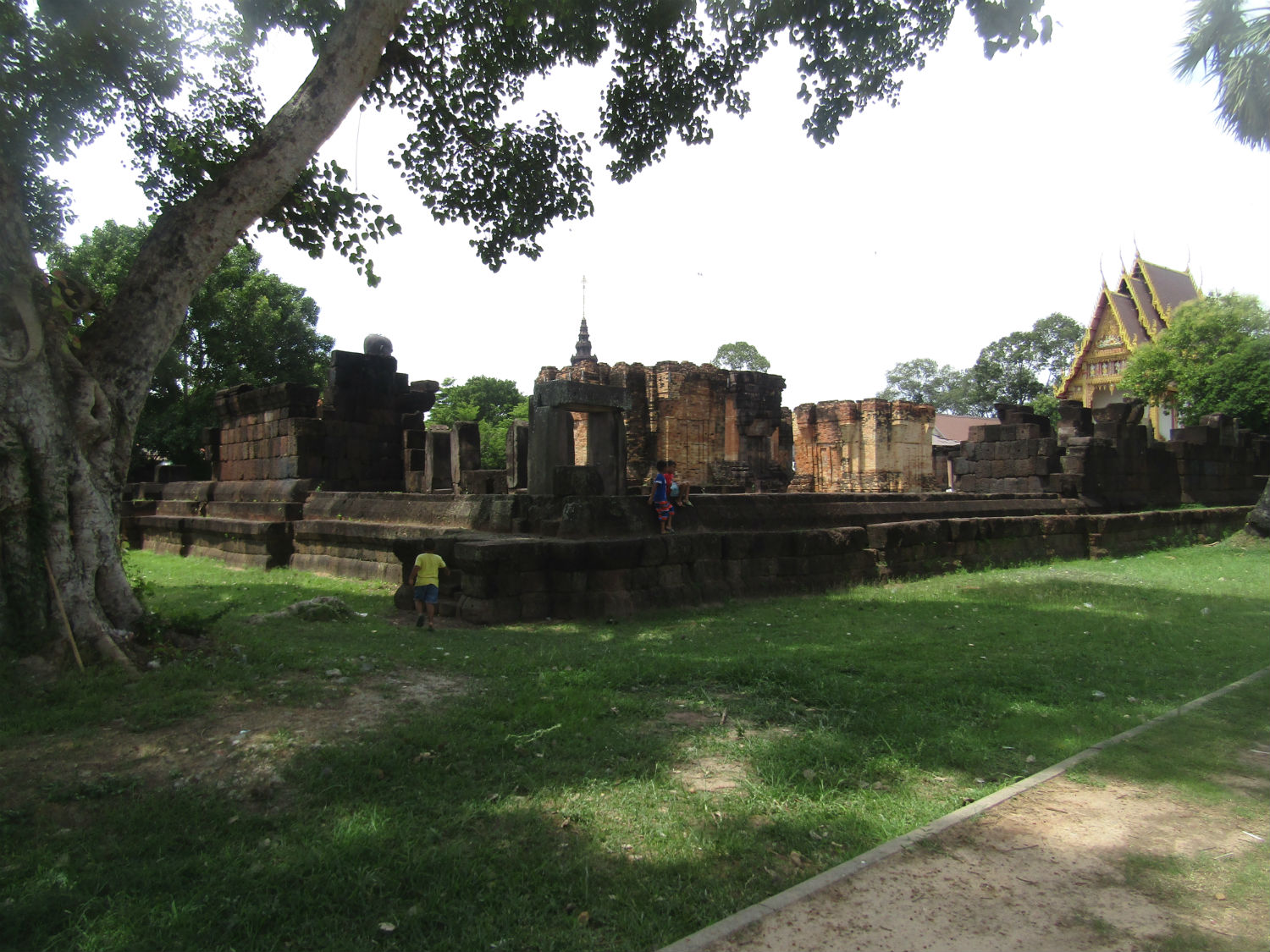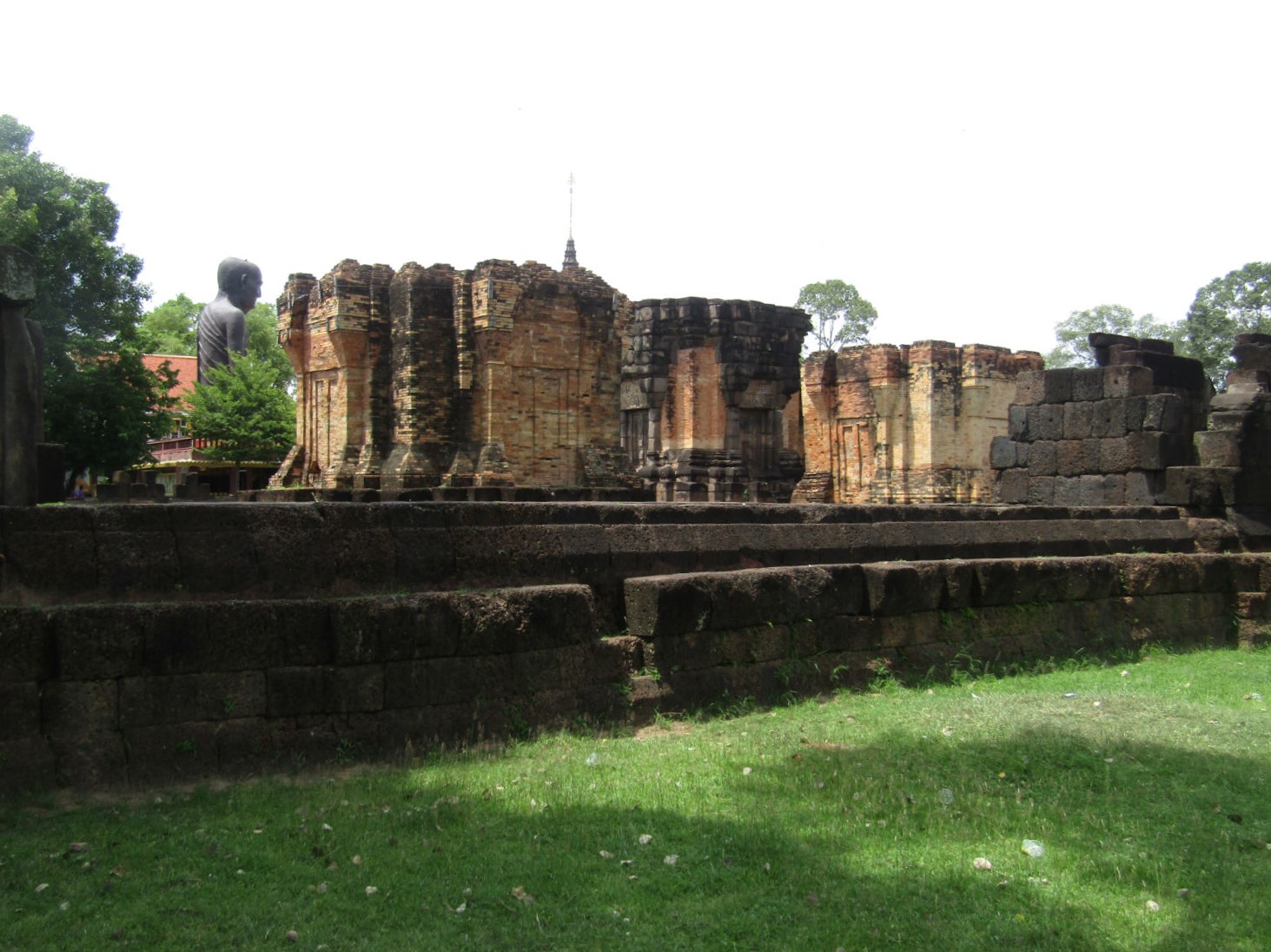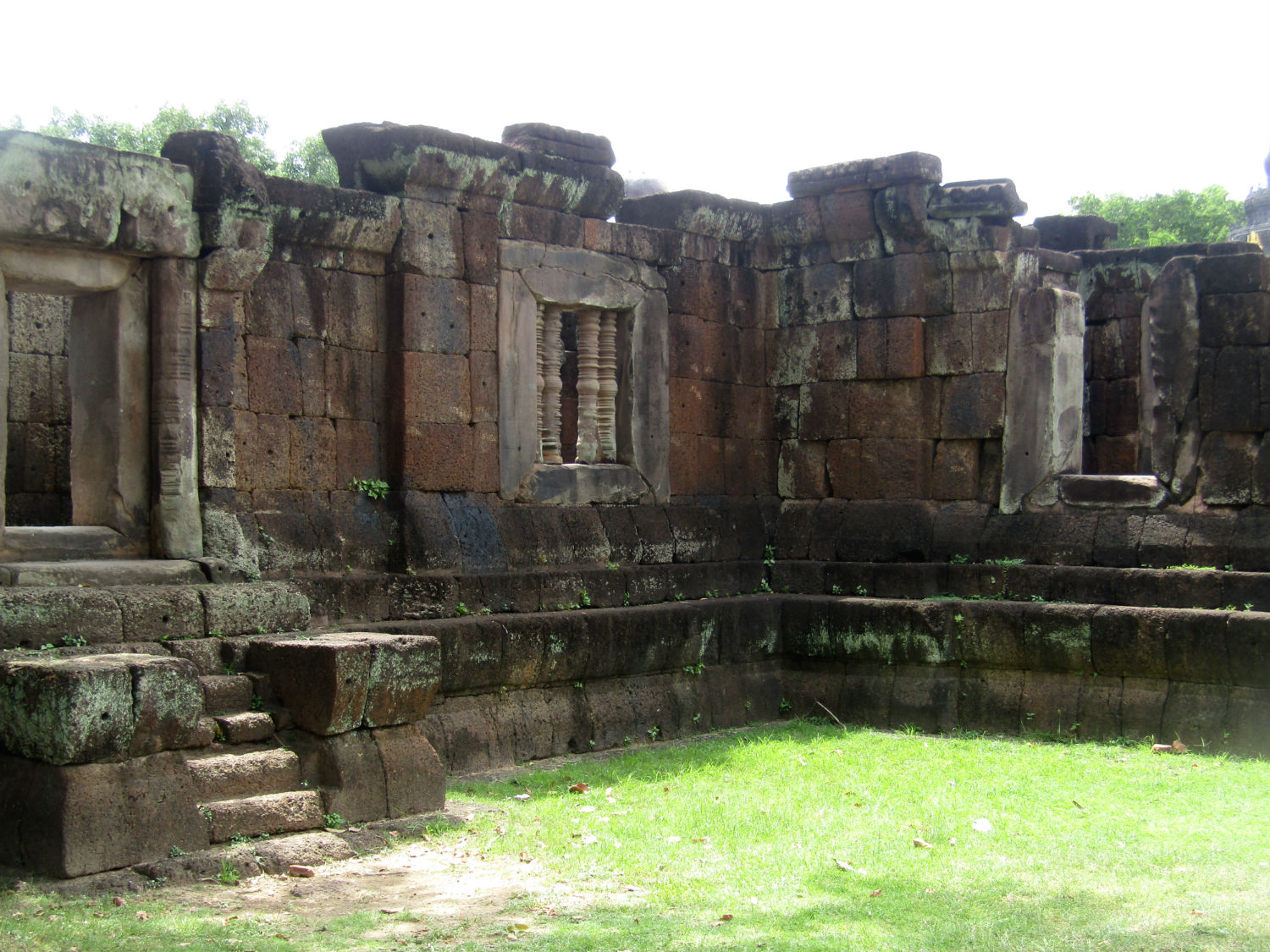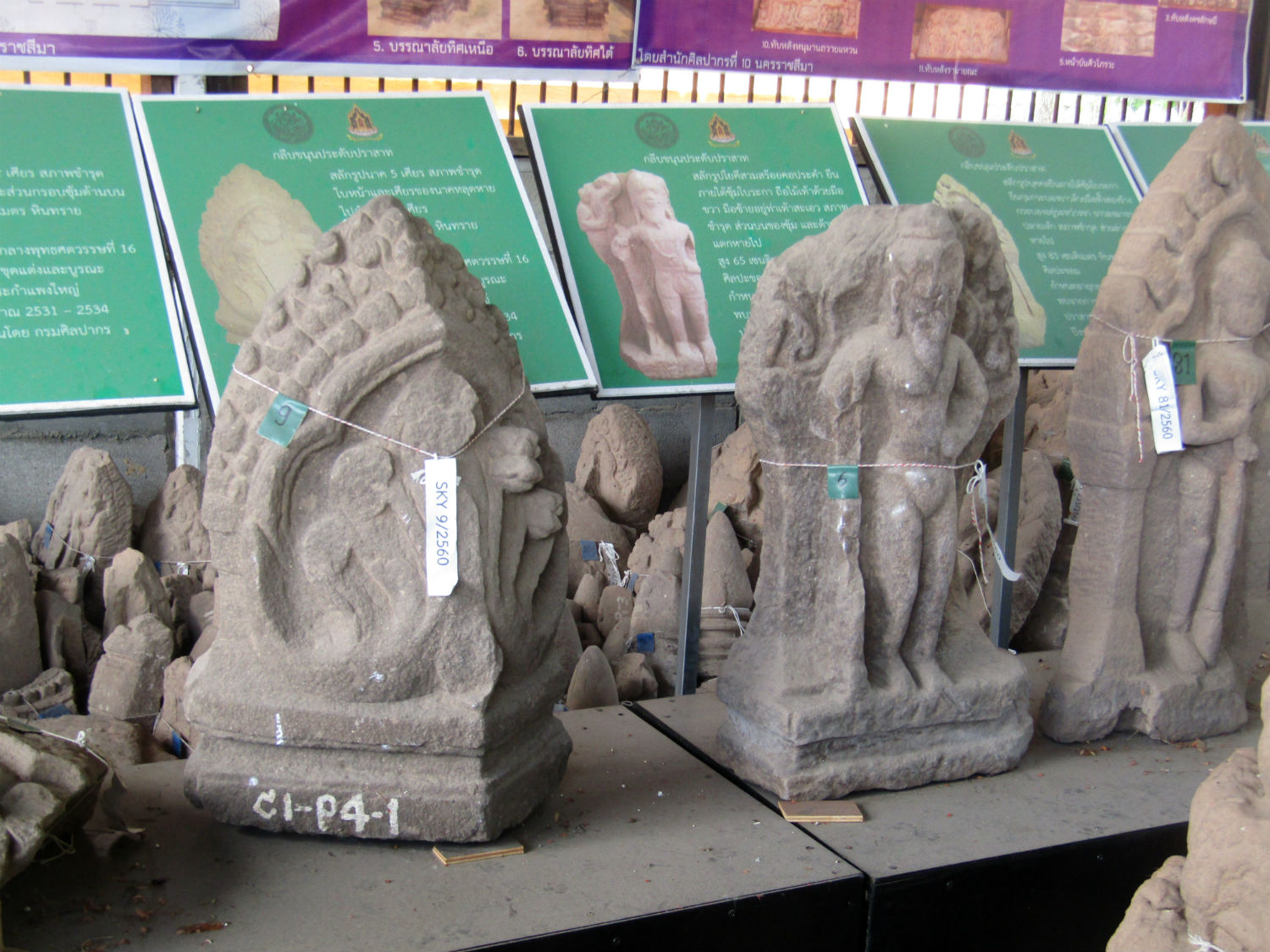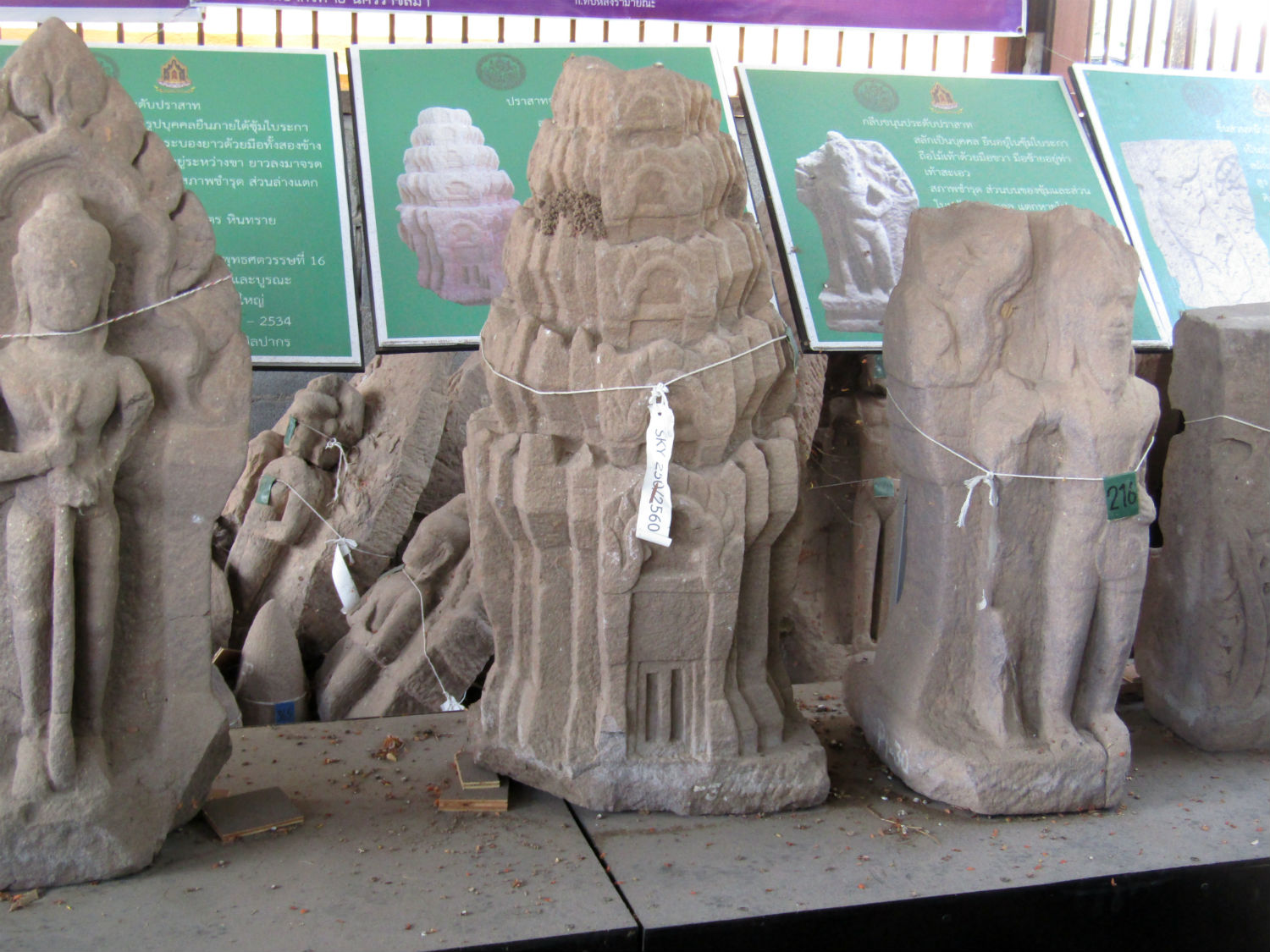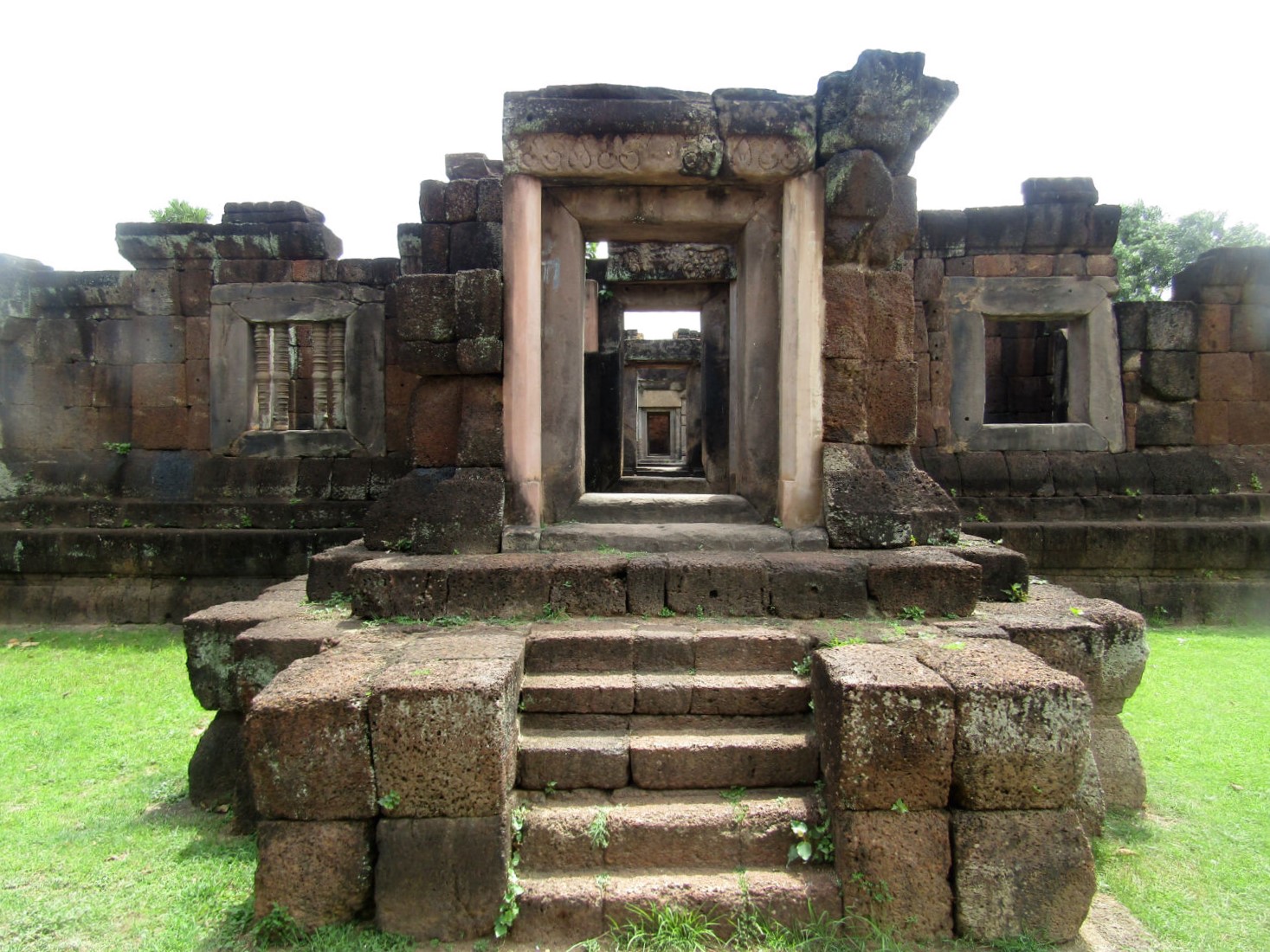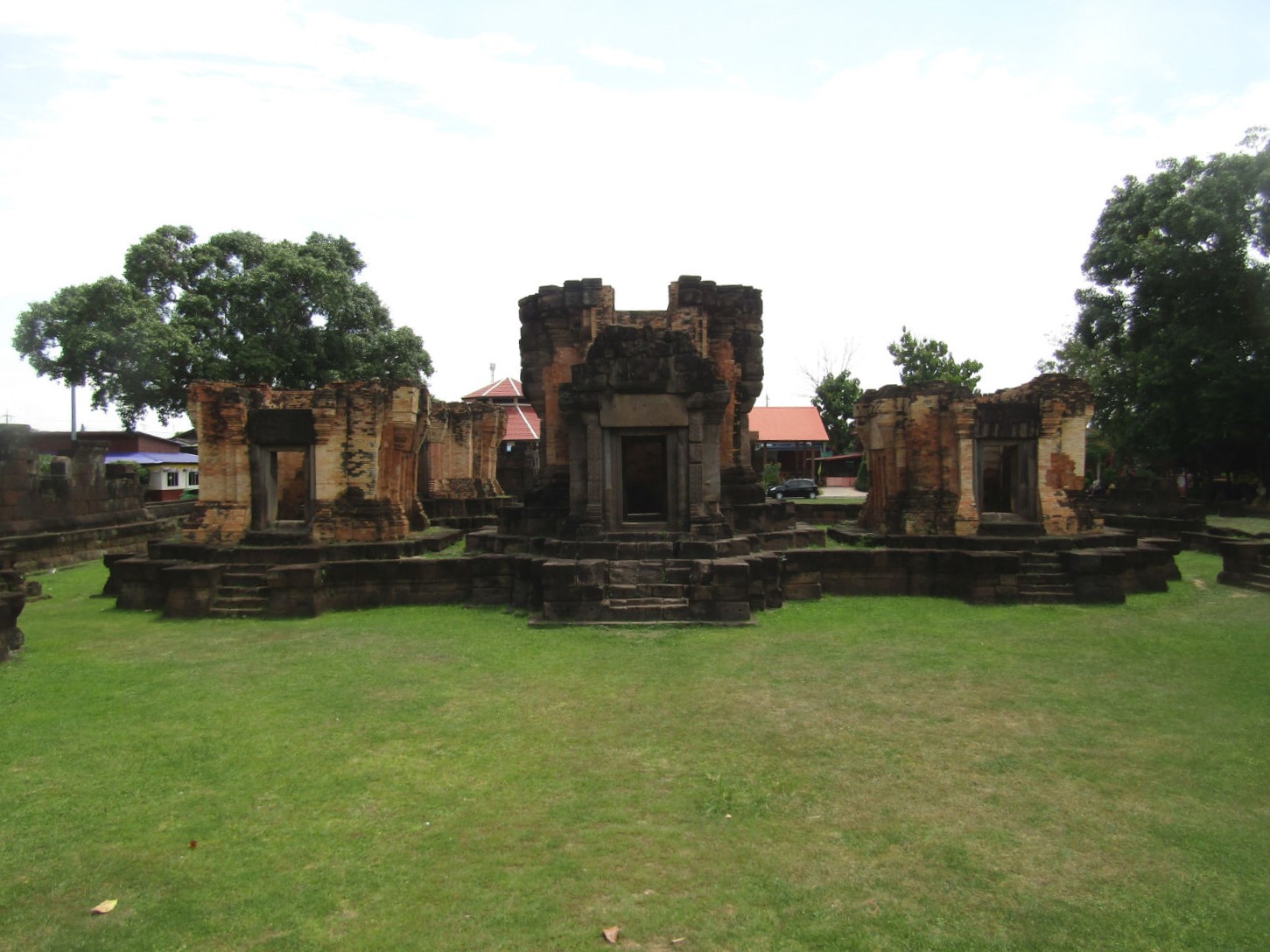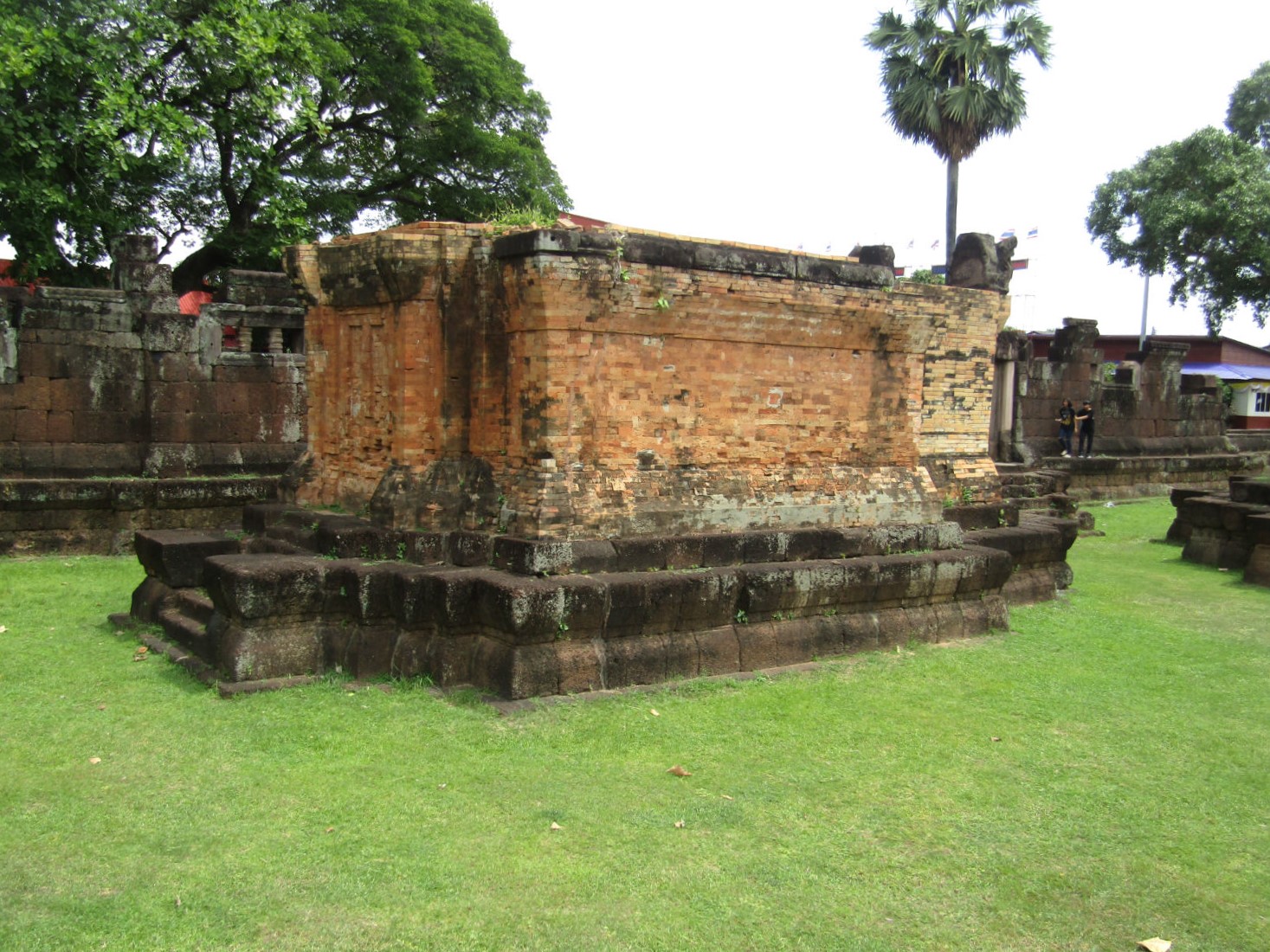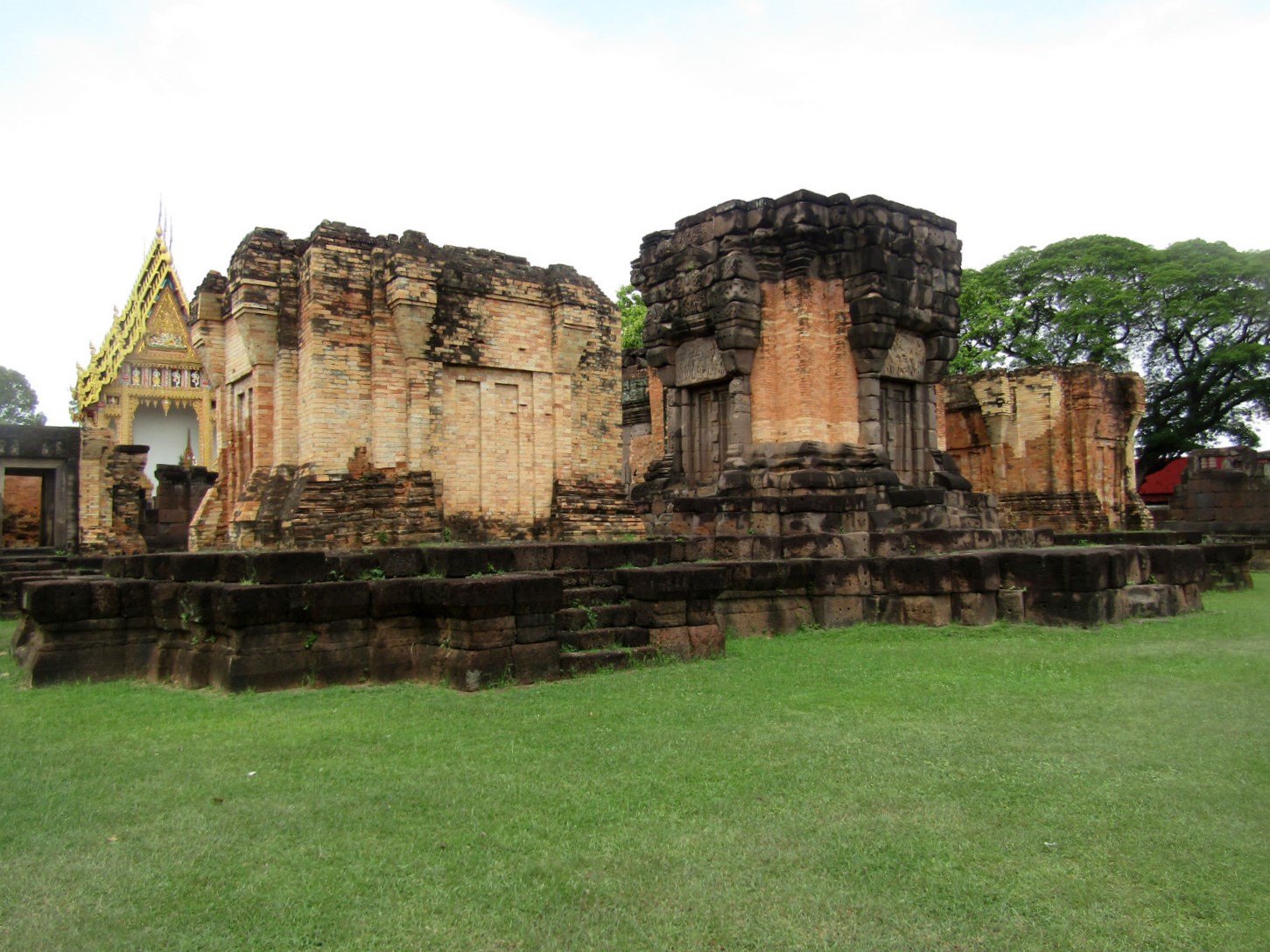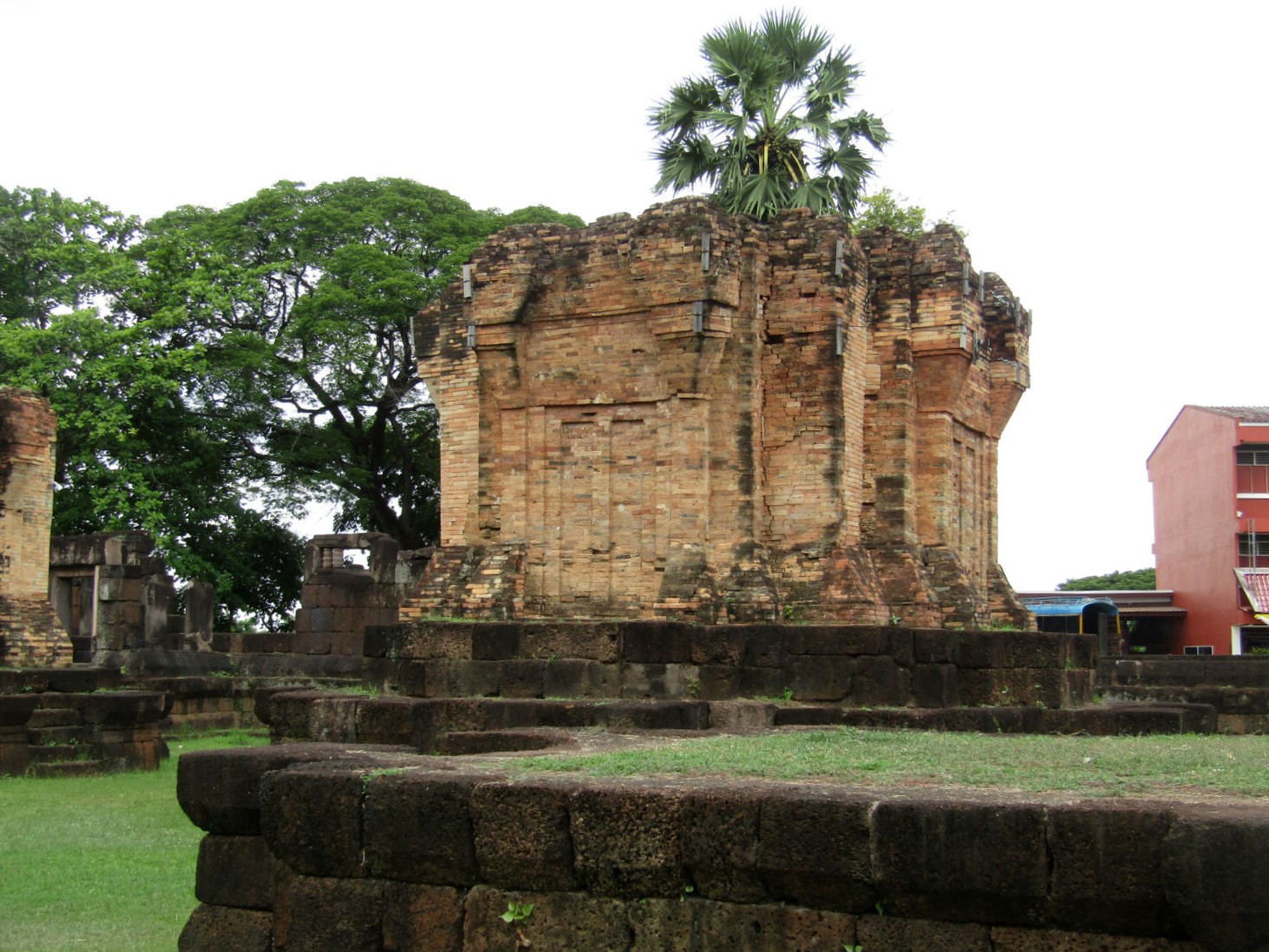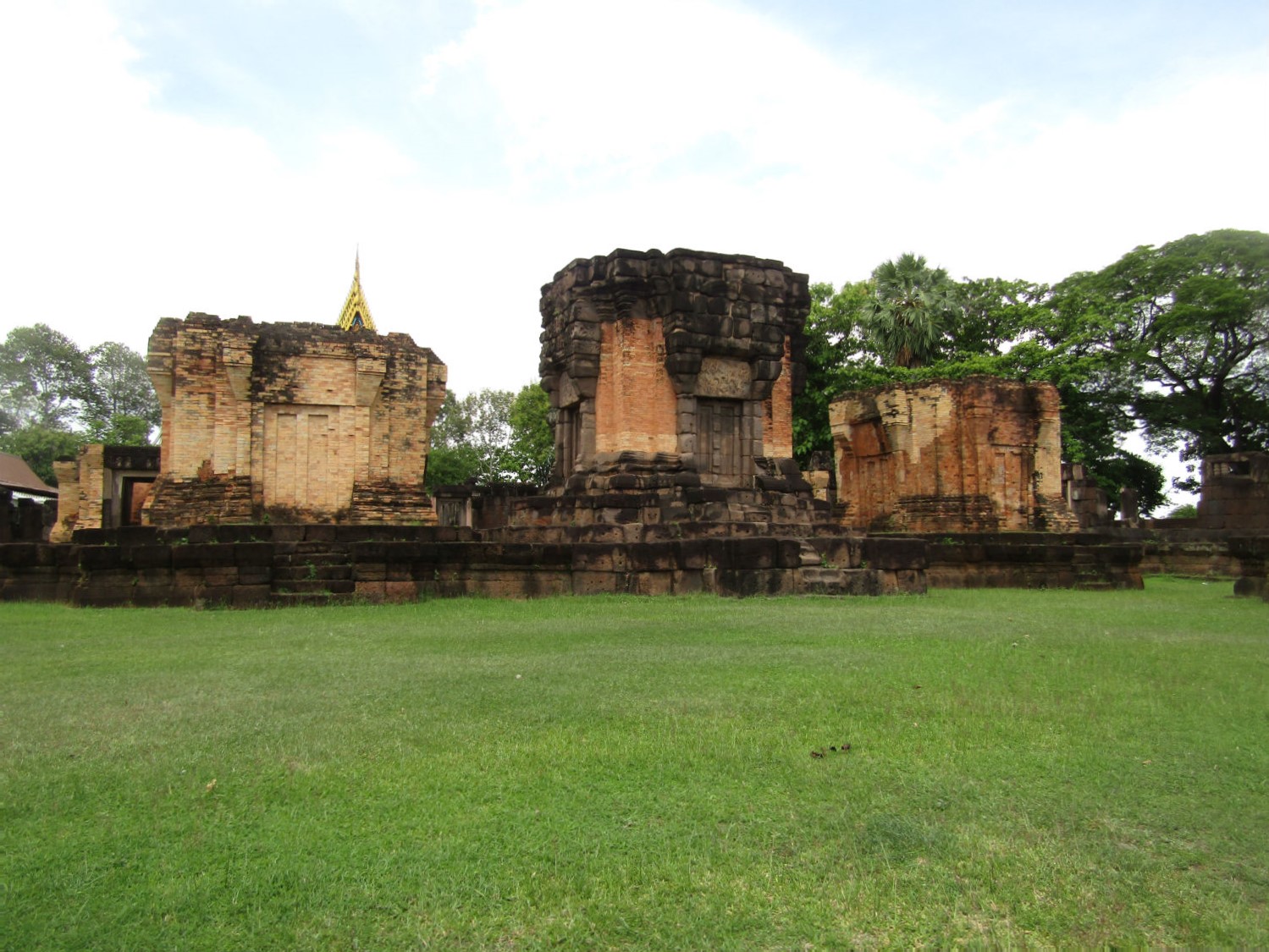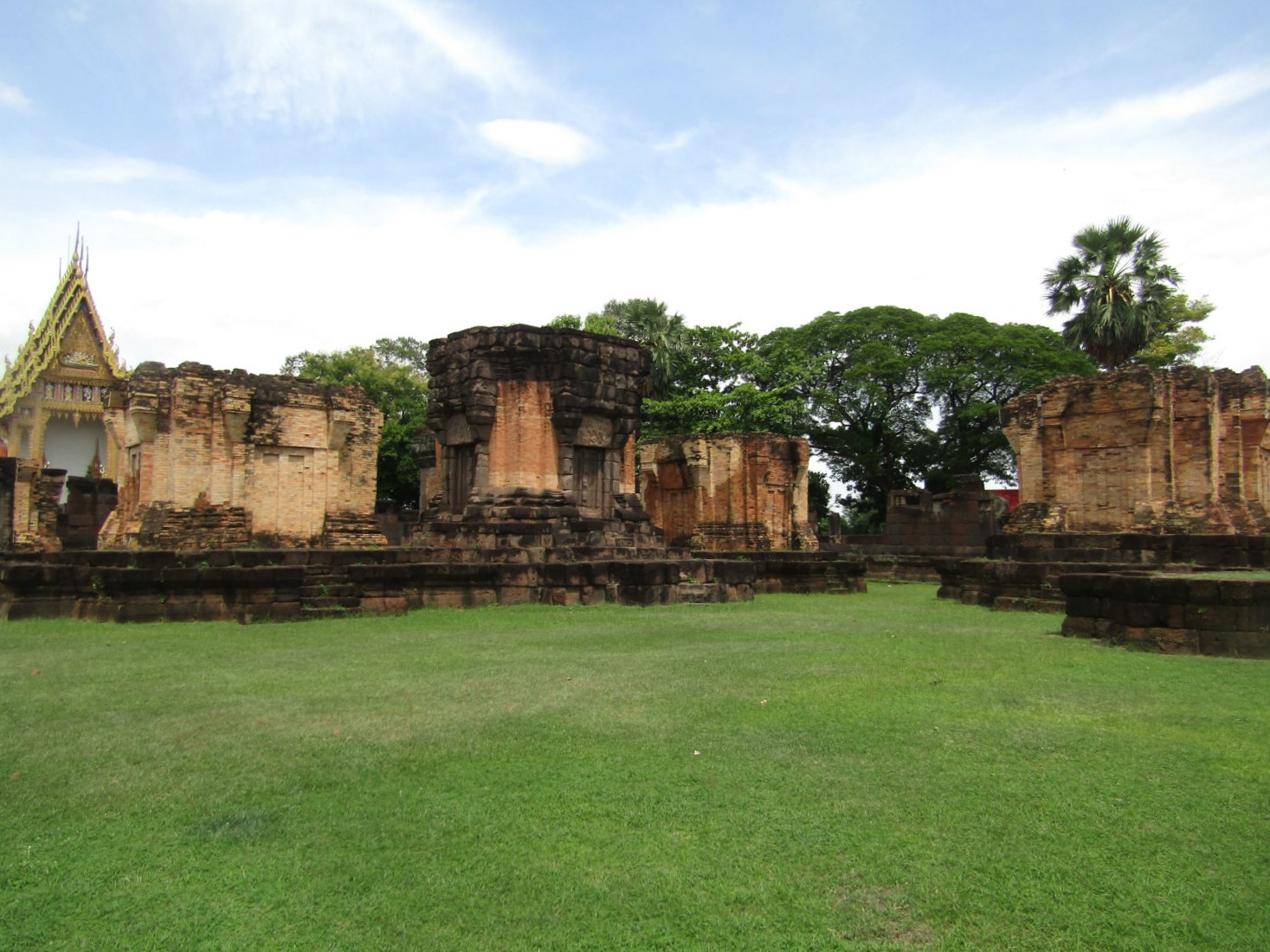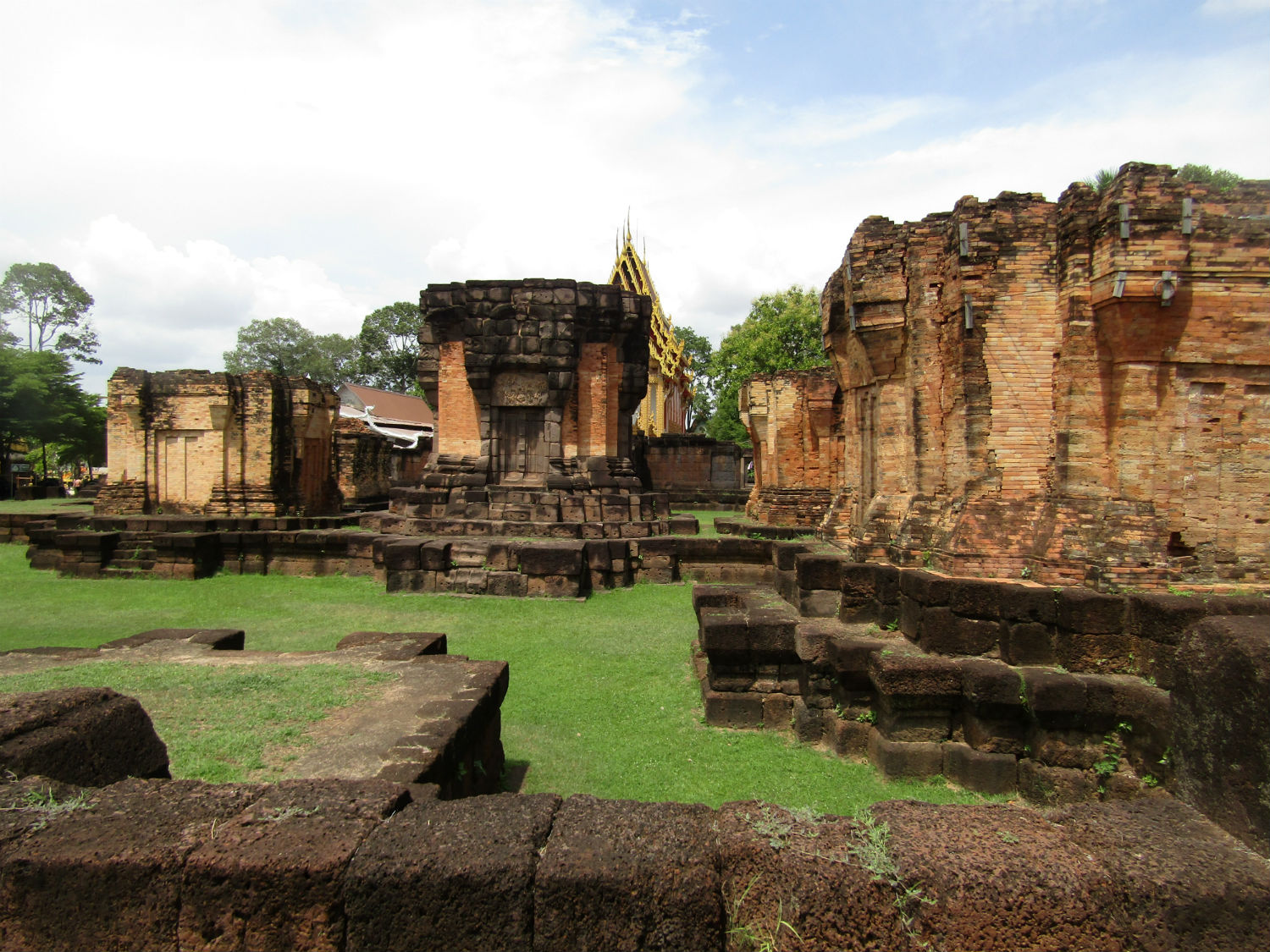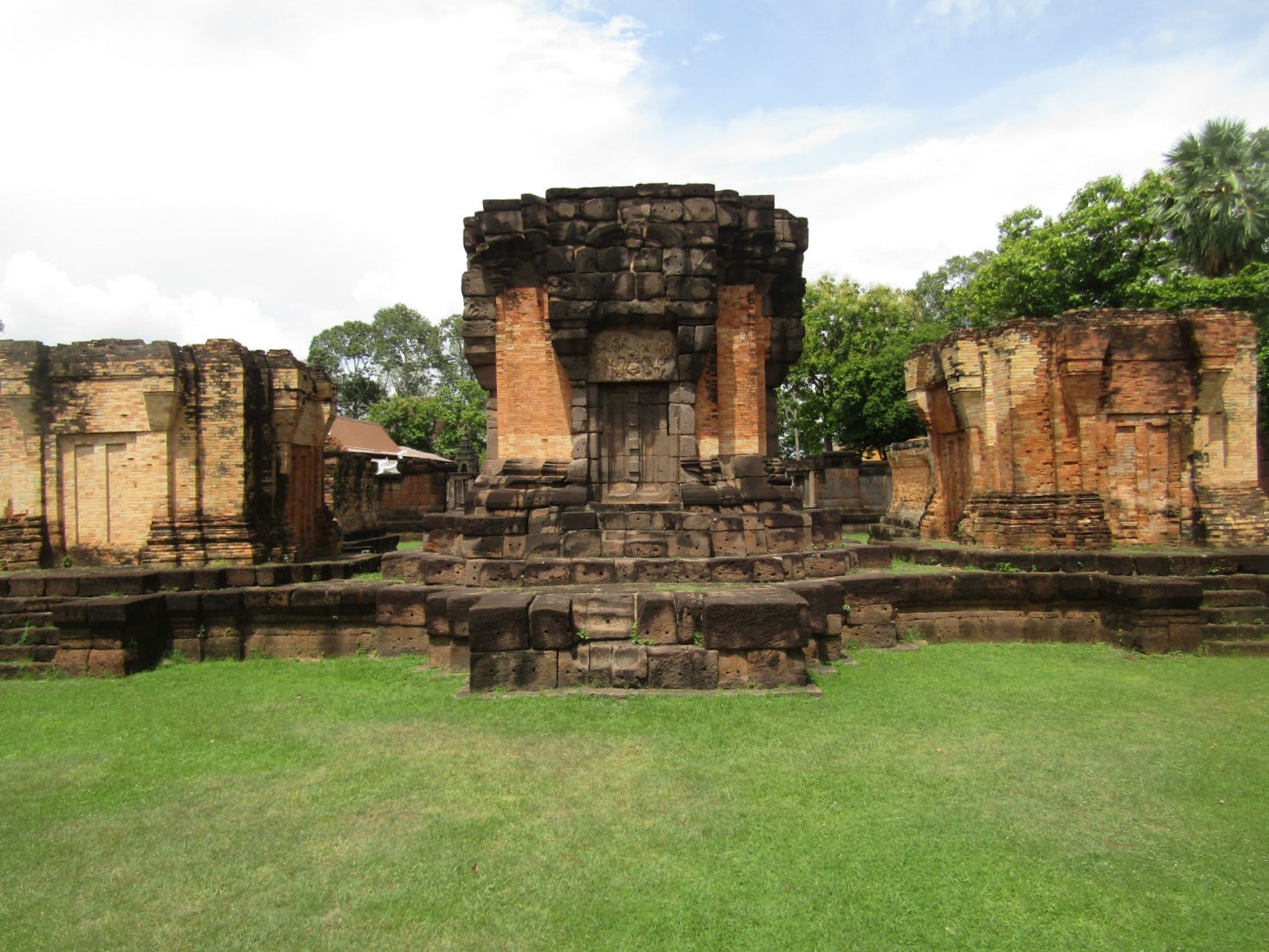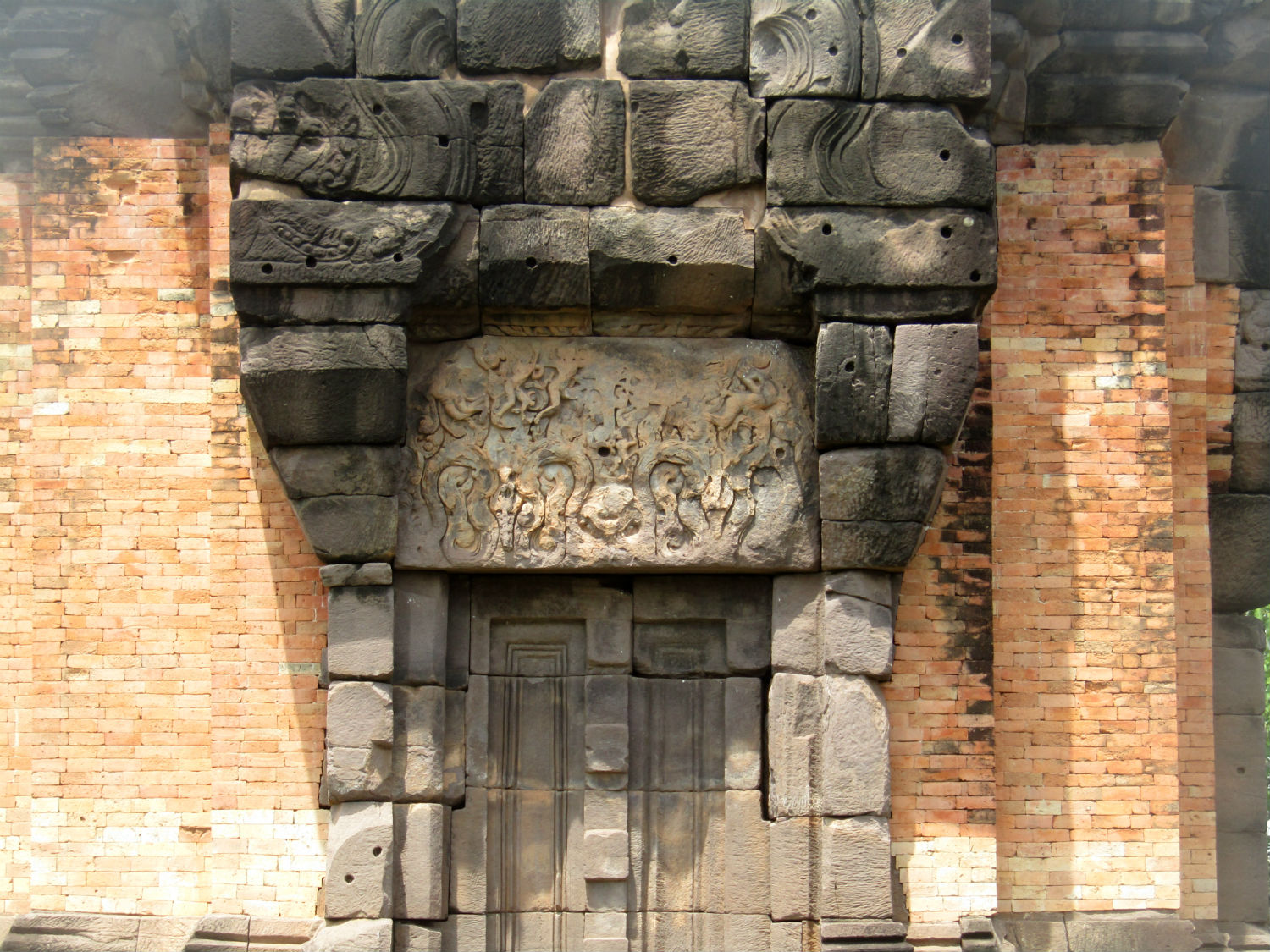 Wat Phra Kamphaeng Yai Sanctuary, Utumphon Pisai District, Si Sa Ket Province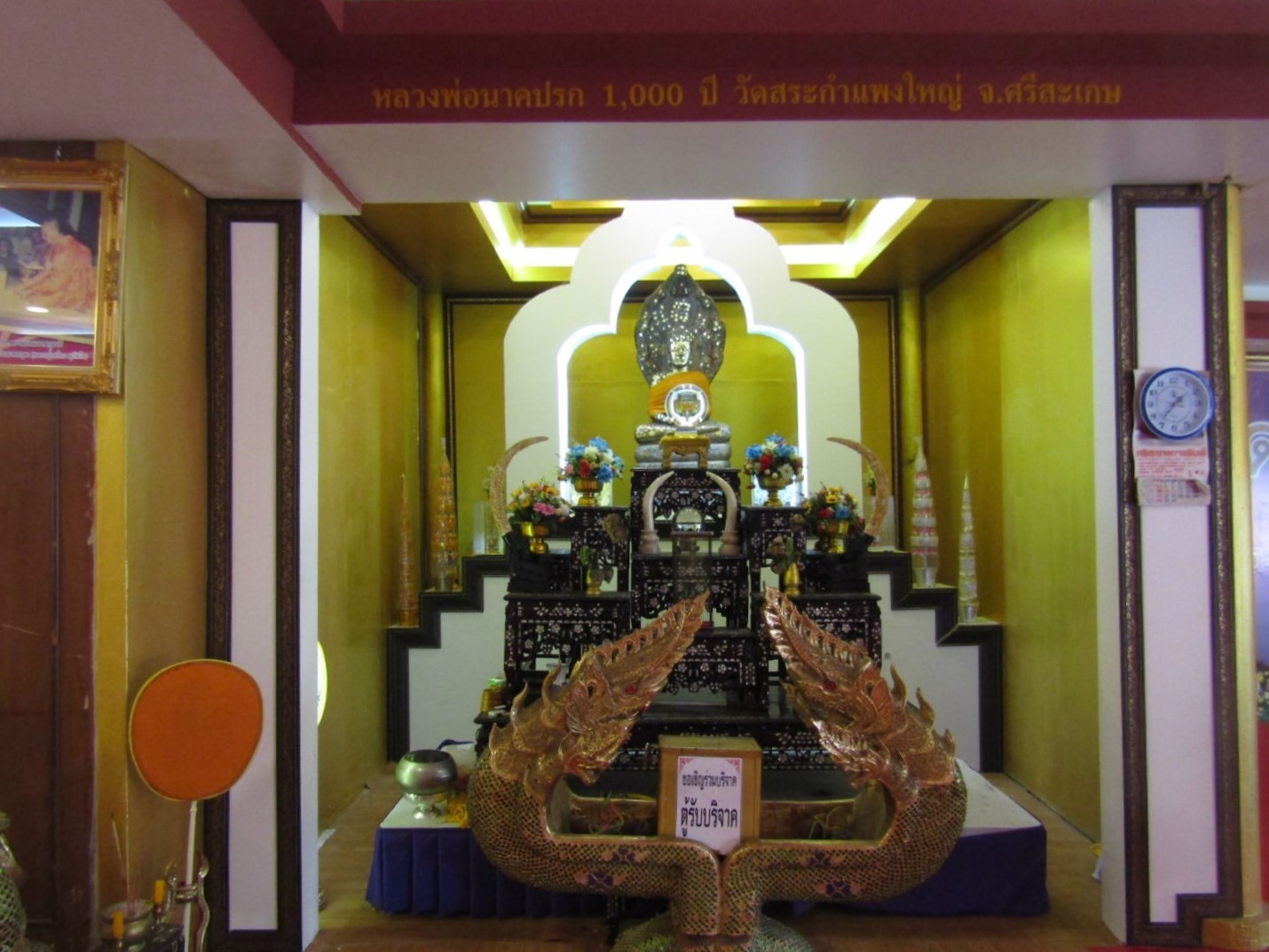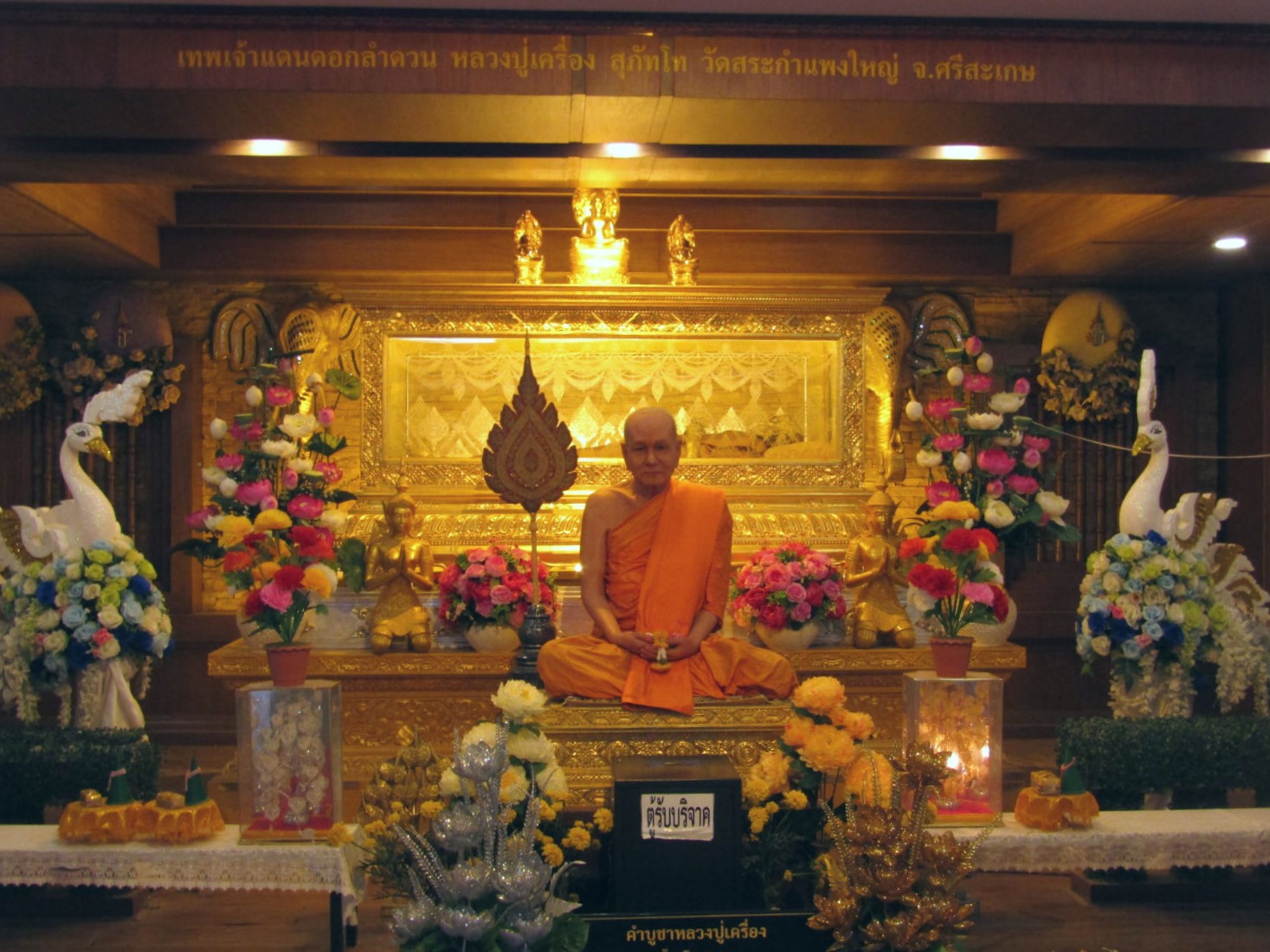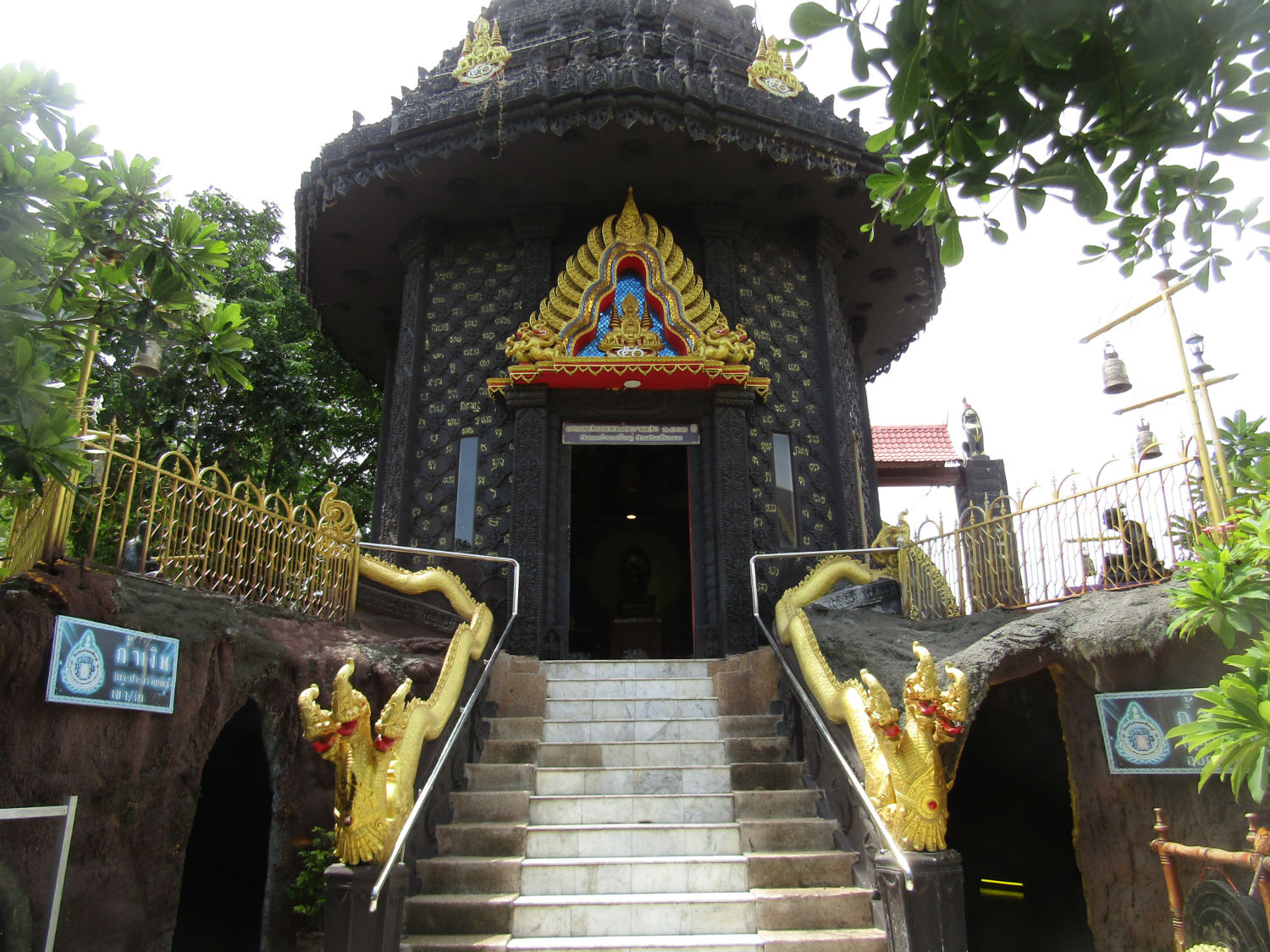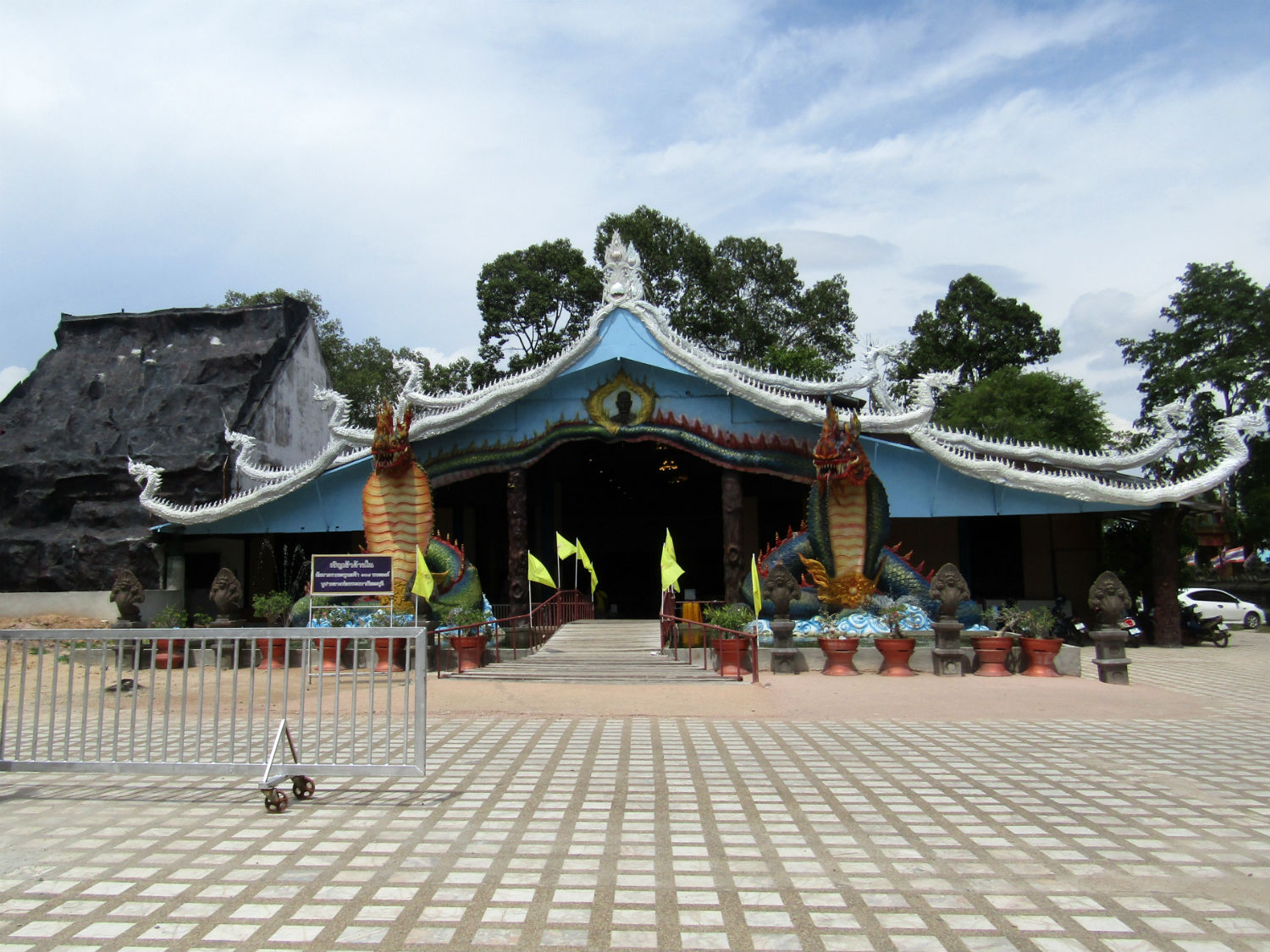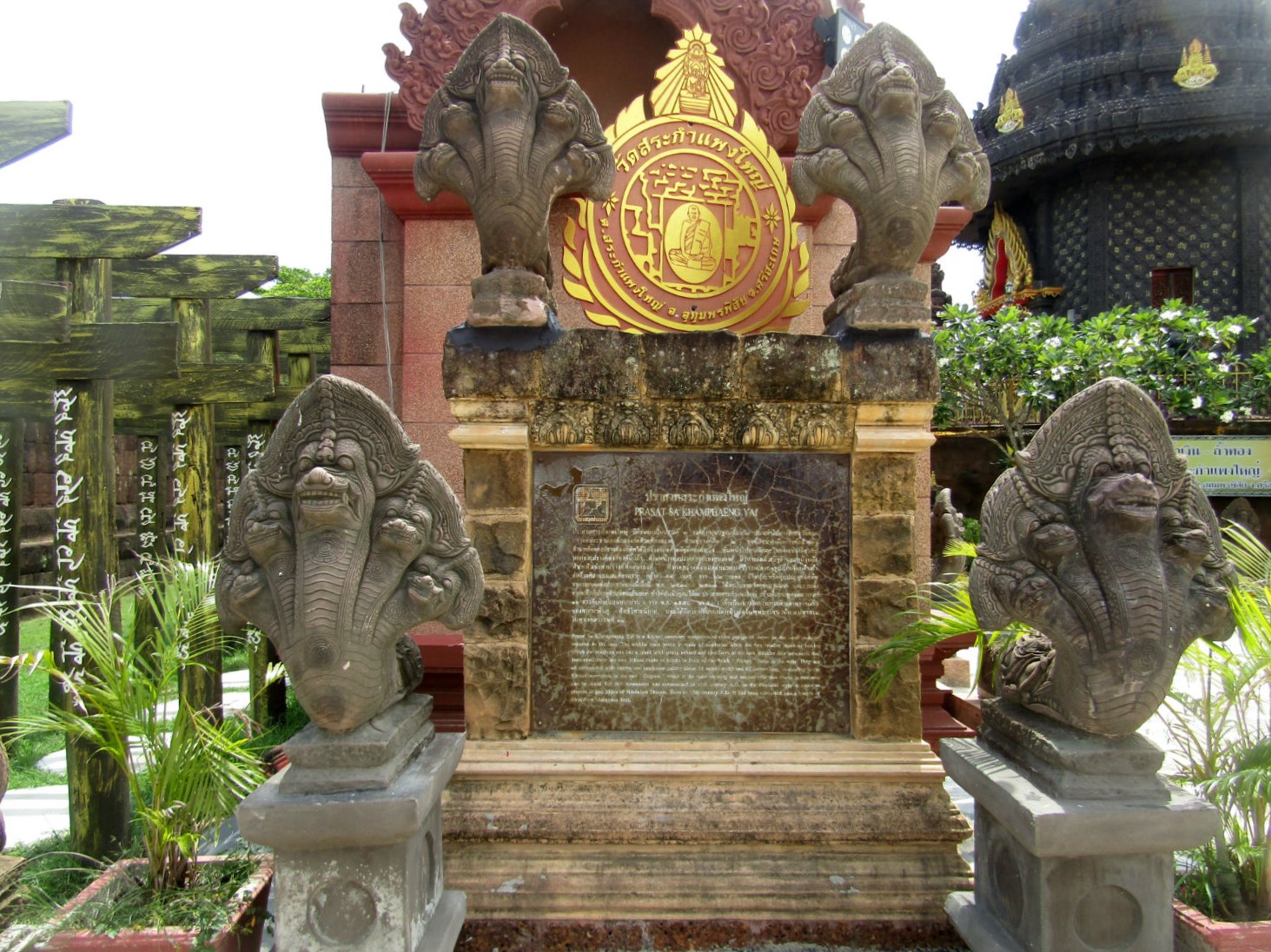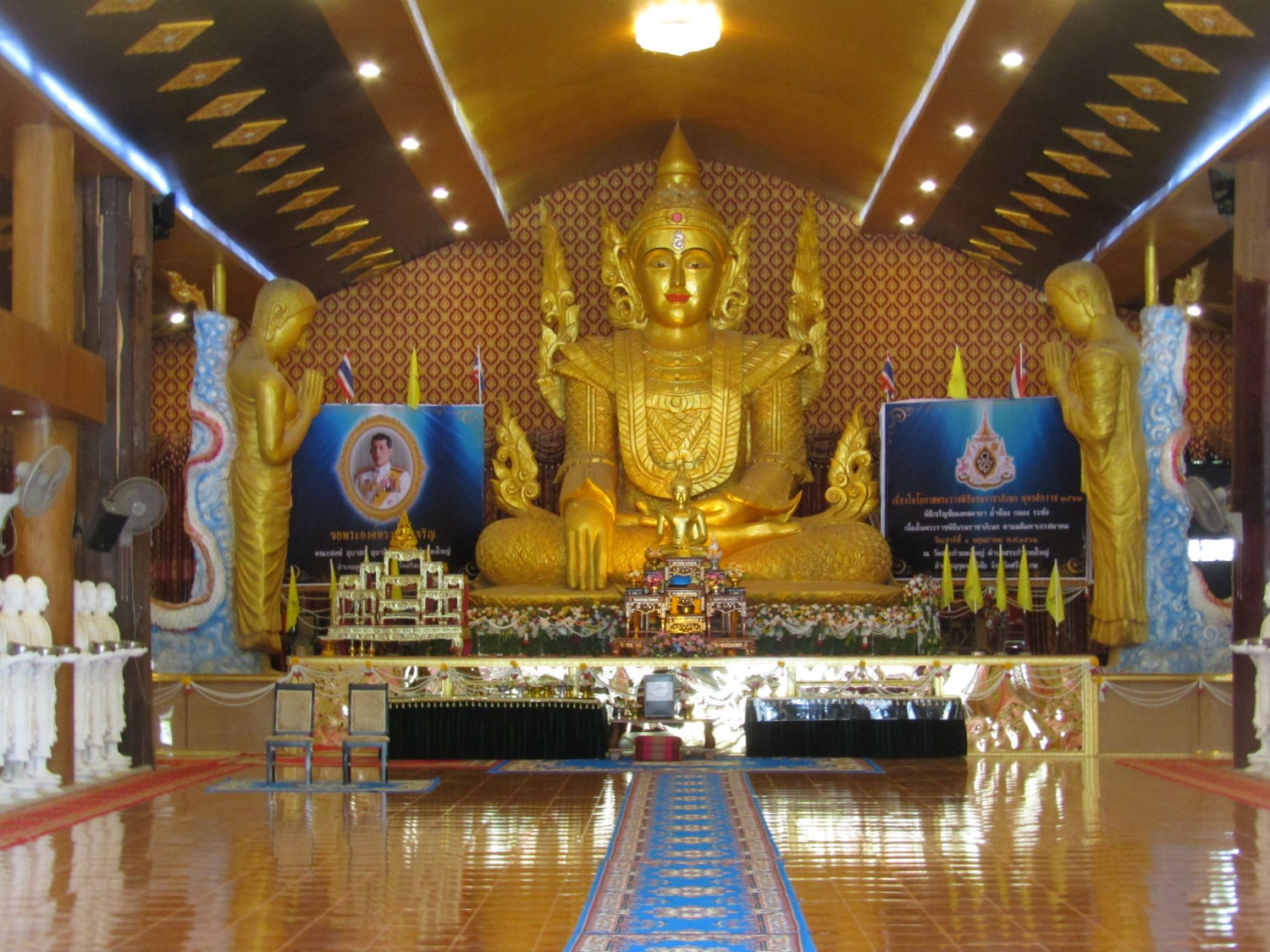 Wat Kamphaeng Yai, Utumphon Pisai District, Si Sa Ket Province


Prasat Ban Prasat…….. Prasat Ban Prasat is located in the grounds of Wat Prasat Panoram in Huai Thap Than district close to the provincial border with Surin. Not surprisingly it resembles the pagodas at Sri Khorapum not that far away over the border (covered in my tour of Surin province last year). The three pagodas are relatively intact on the same base lined up on a north-south axis facing east. The monument is dated 11th/12th century.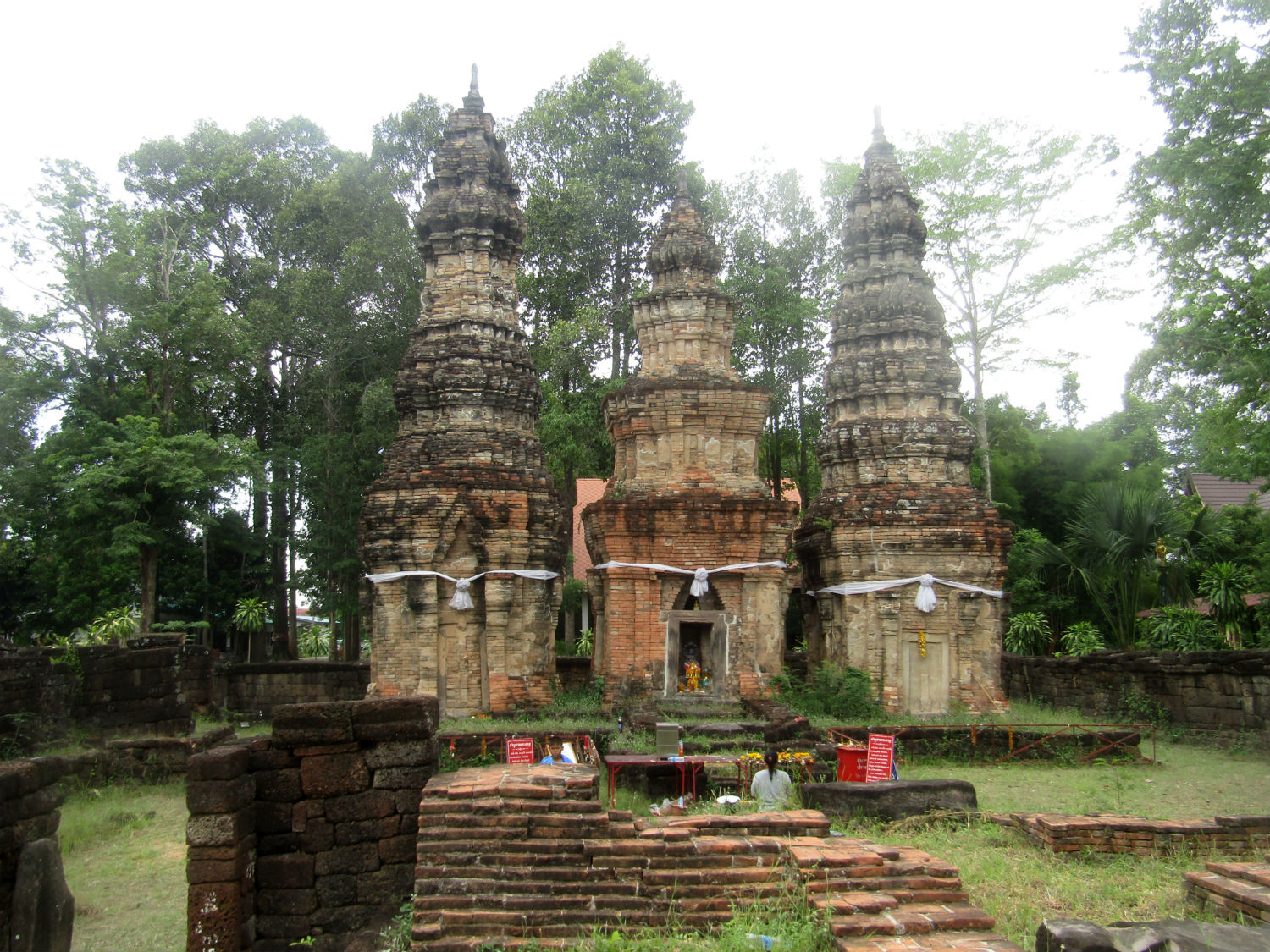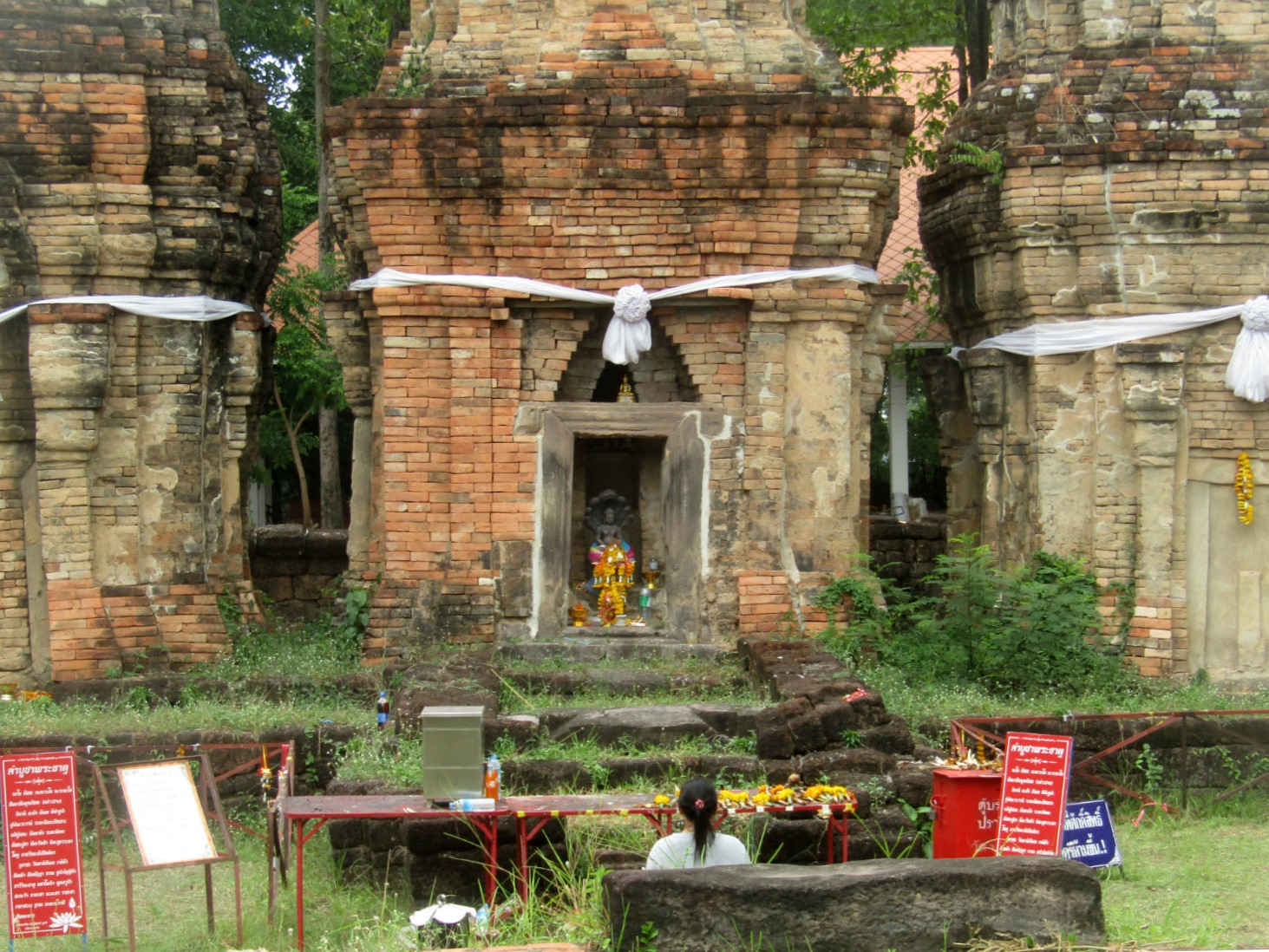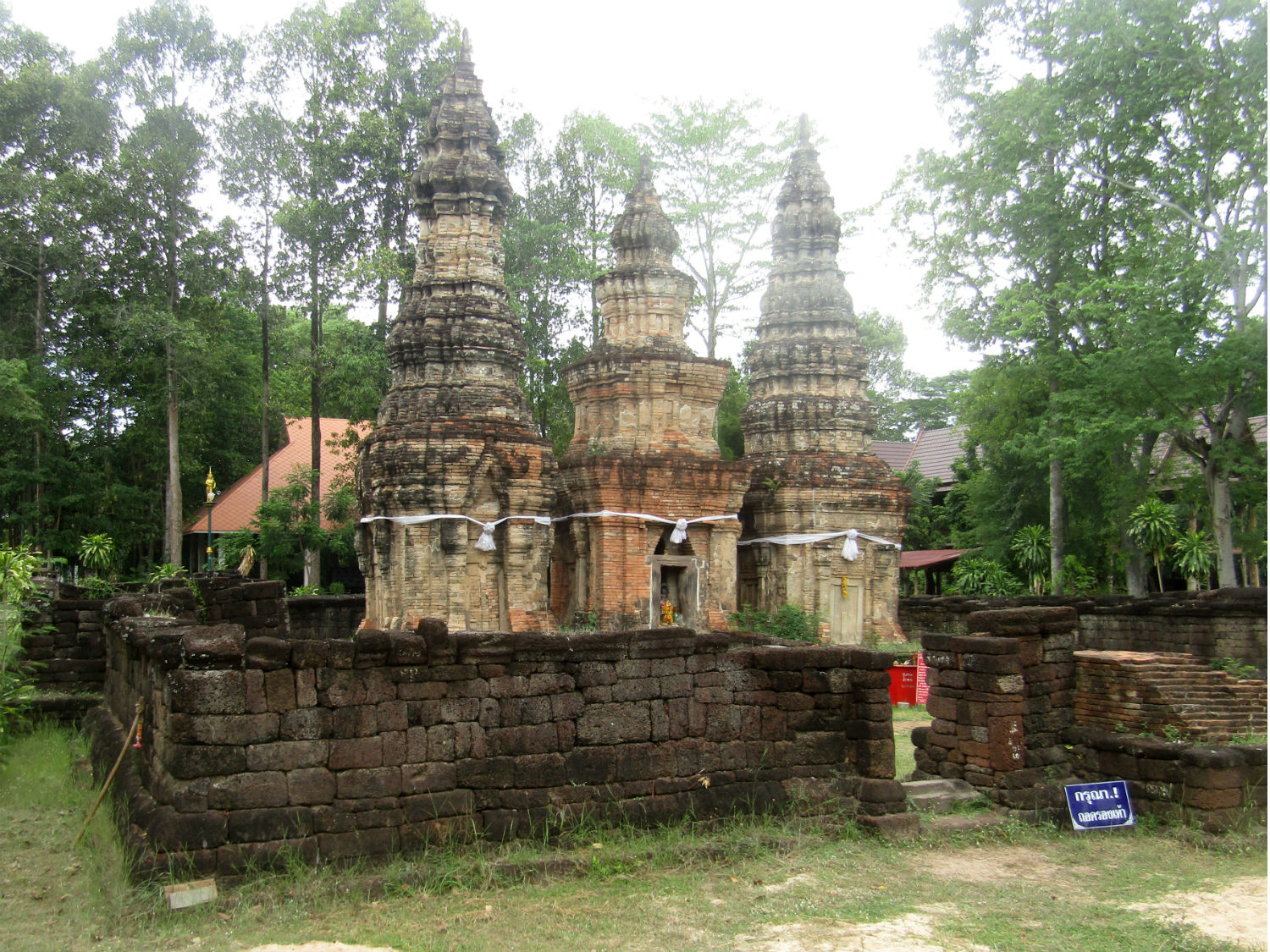 Prasat Ban Prasat, Huai Thap Than District, Si Sa Ket Province


Chedi Ban Mueang Chan…….. The pagoda Meuang Chan is located in the grounds of Wat Meuang Chan in Mueang Chan district. It consists of a single three tiered pagoda or chedi with a lotus bud spire similar to other pagodas in this area. It was built in brick and is thought to date from the 11th century.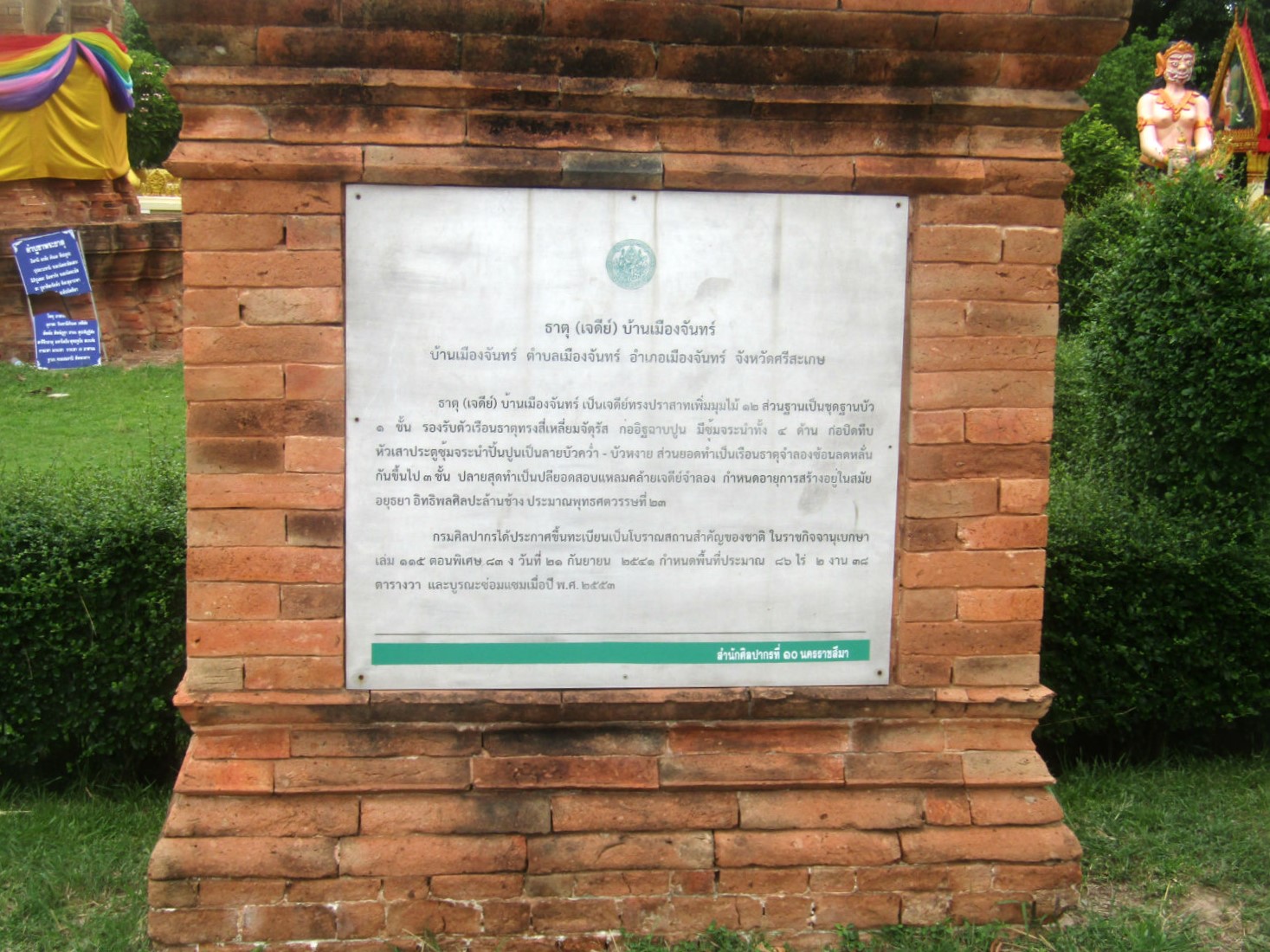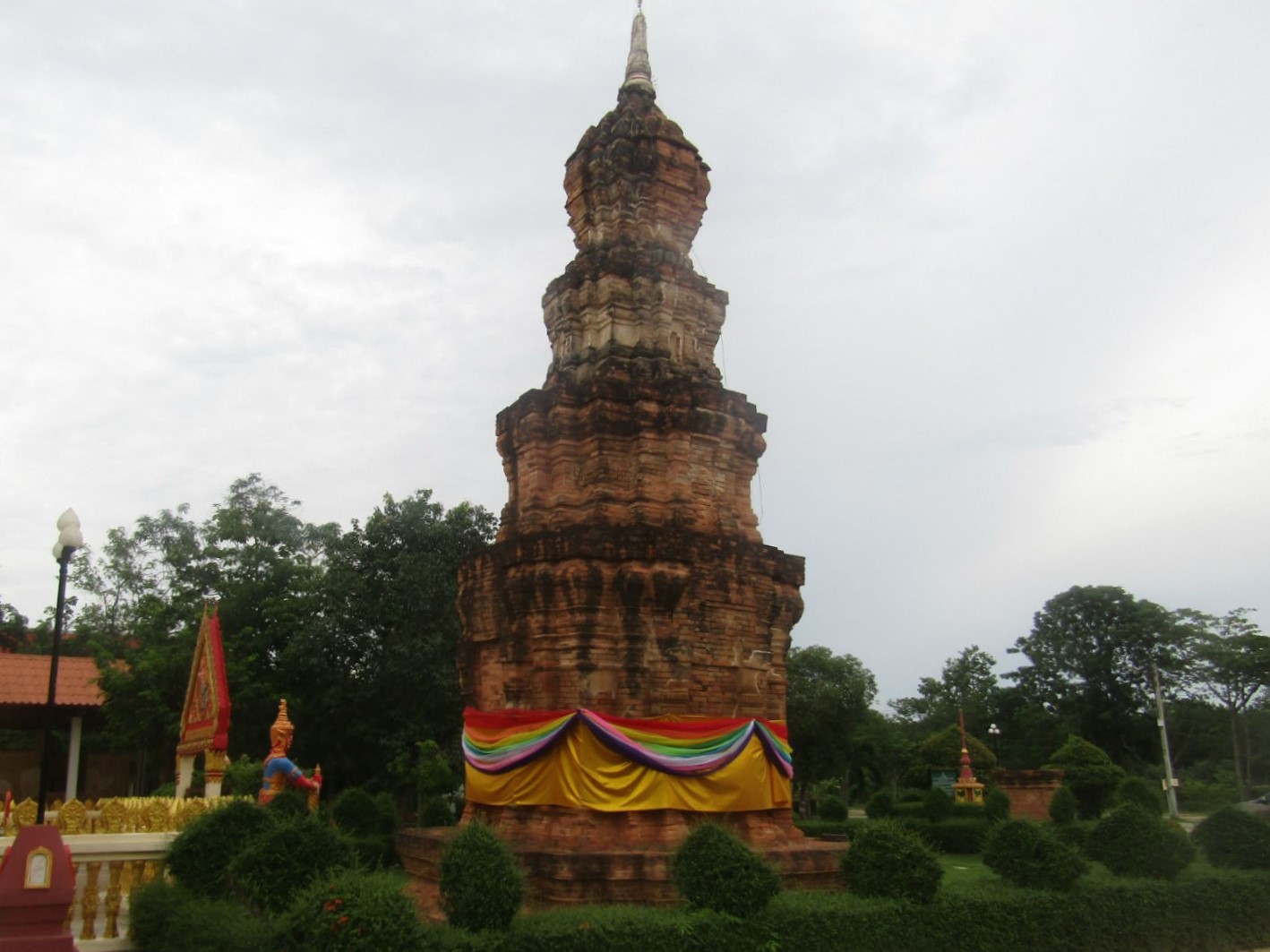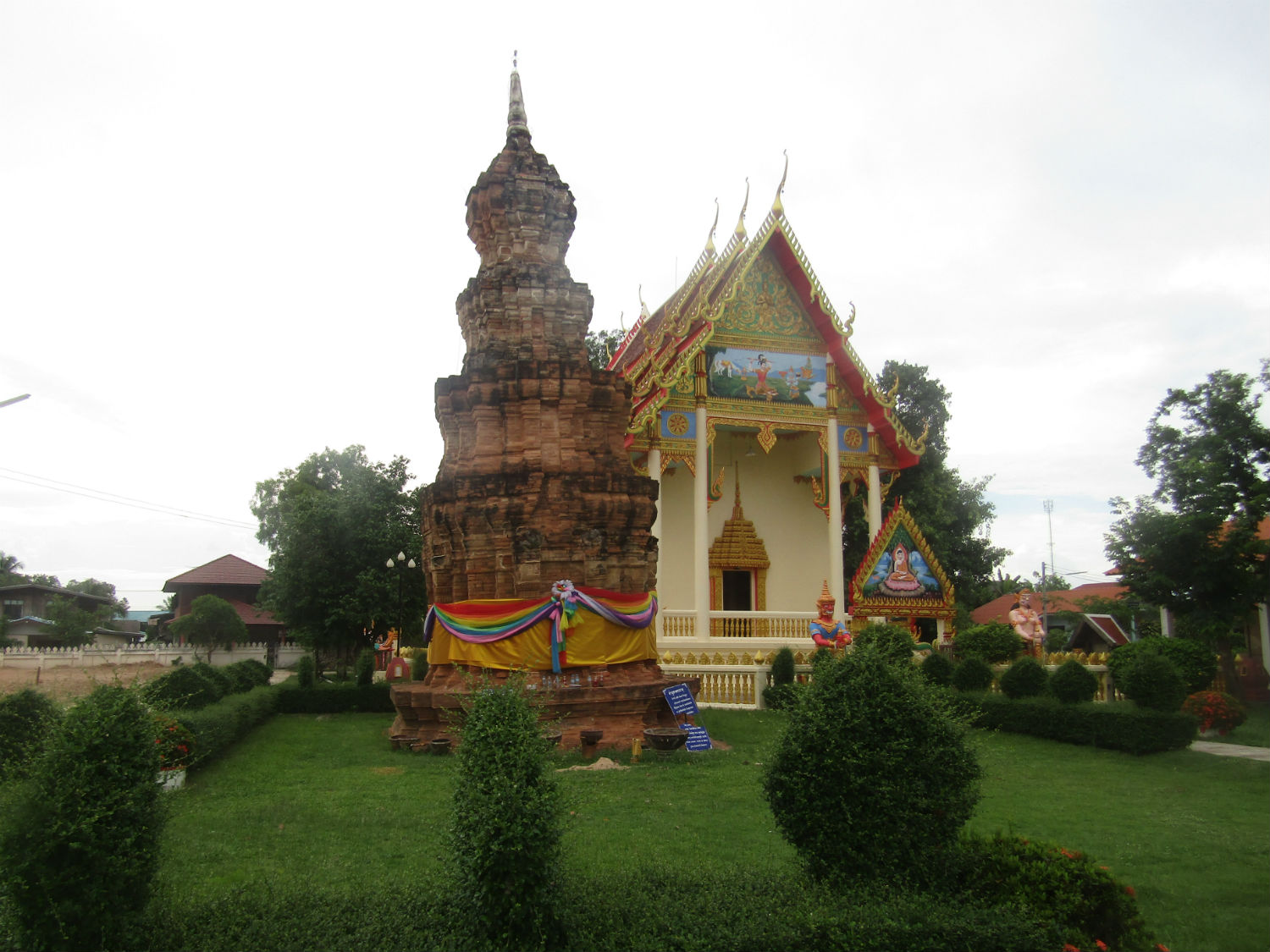 Chedi Ban Mueang Chan, Mueang Chan District, Si Sa Ket Province


Si Sa Ket tour complete…….. Realising Chedi Ban Mueng Chan is the last of our mini tour of Khmer sanctuaries, I reset for the next destination but it's not another site visit. Ideally I would have liked to be around 250 kilometres from here by evening. The estimated time for completion of the Si Sa Ket provincial tour has passed. We've missed it by a good hour. Now there's realistically only 3 hours driving possible by dusk. We'll just have to see how it goes.
Si Sa Ket Exit…….. Before long, Katoon sees a sign for another landmark, one which will alter our course of travel. Saphan Mitraphap Kui-Lao is a bridge crossing the Thap Tan River. It's insignificant except that it allows us to leave Sa Sa Ket province and enter Surin province. Picking up local road 2262 we reach national highway 226 and head west to Surin. Turning south along the 214 we reach national highway 24 and continue west to Nang Rong. Along this stretch the heavens open during the most violent storm so far on this visit to the far east. Progress slows and I have to keep a check on the time and assess where we are likely to be at around 6pm. The best option where there is a reasonable choice of accommodation is at Pakham in Buriram province. The route towards Nang Rong seems to be the easiest where we can head south along highway 348. That allows an arrival time at Pakham at 6.15pm by which time the rain has reduced to a light drizzle.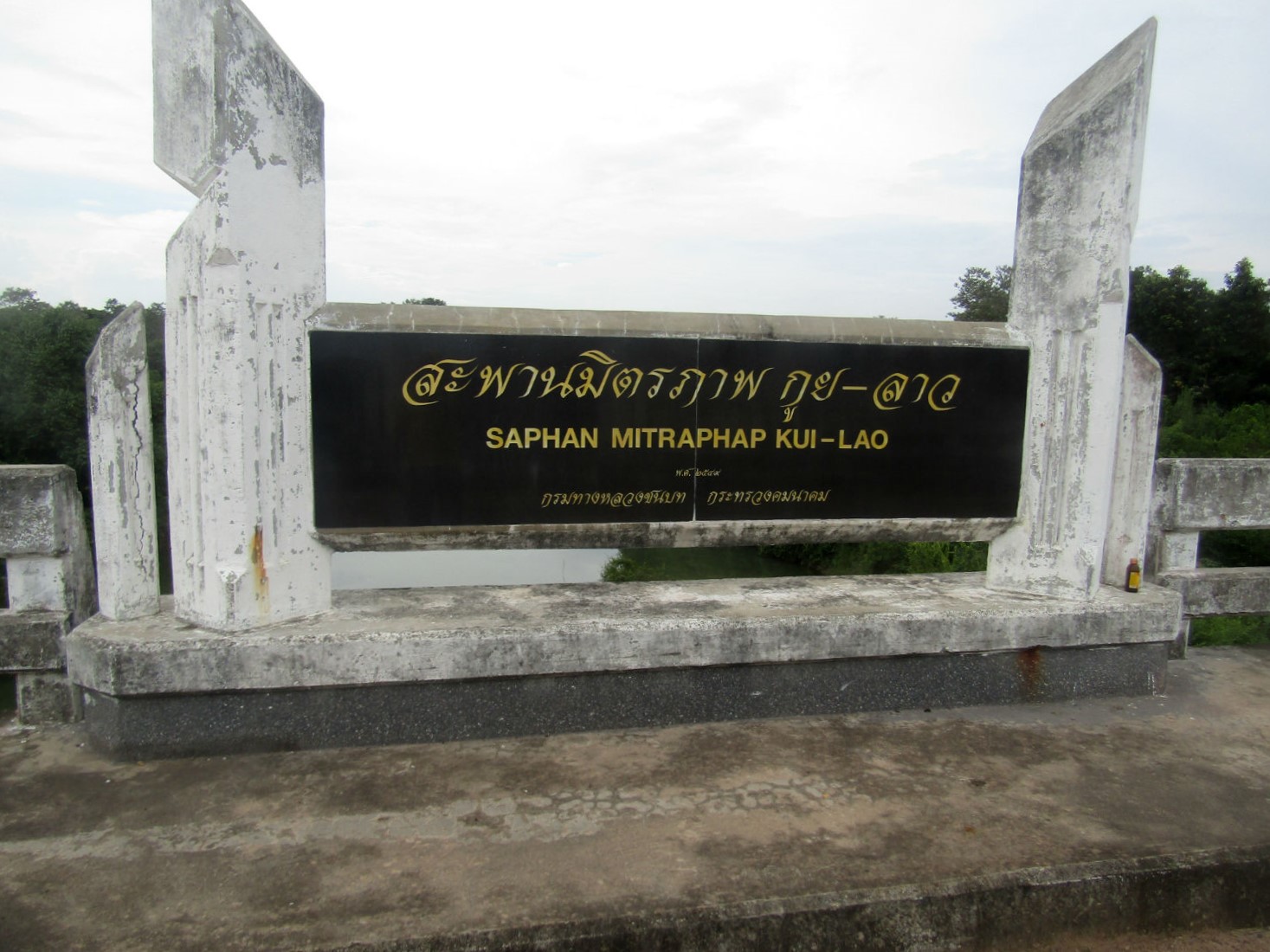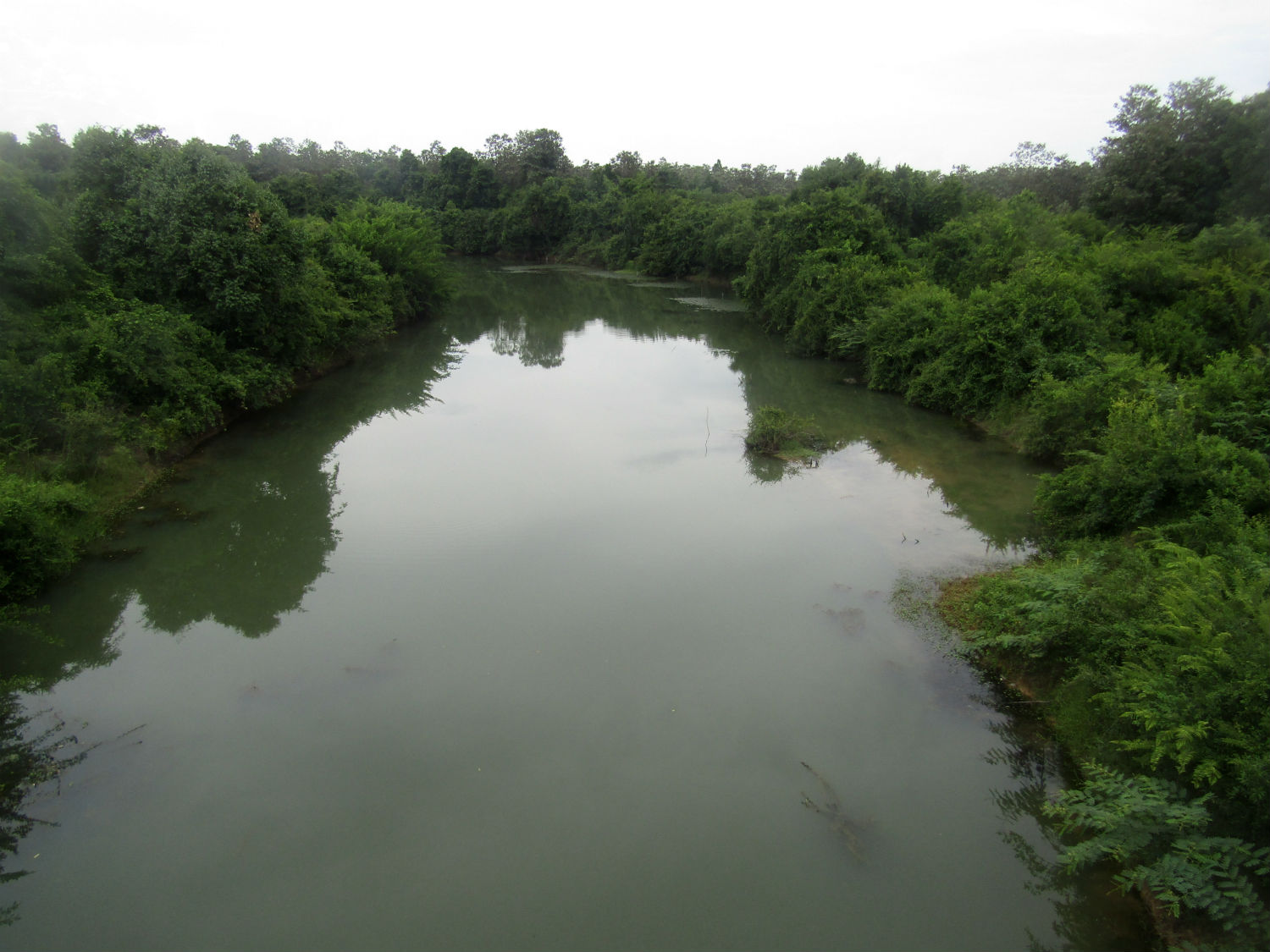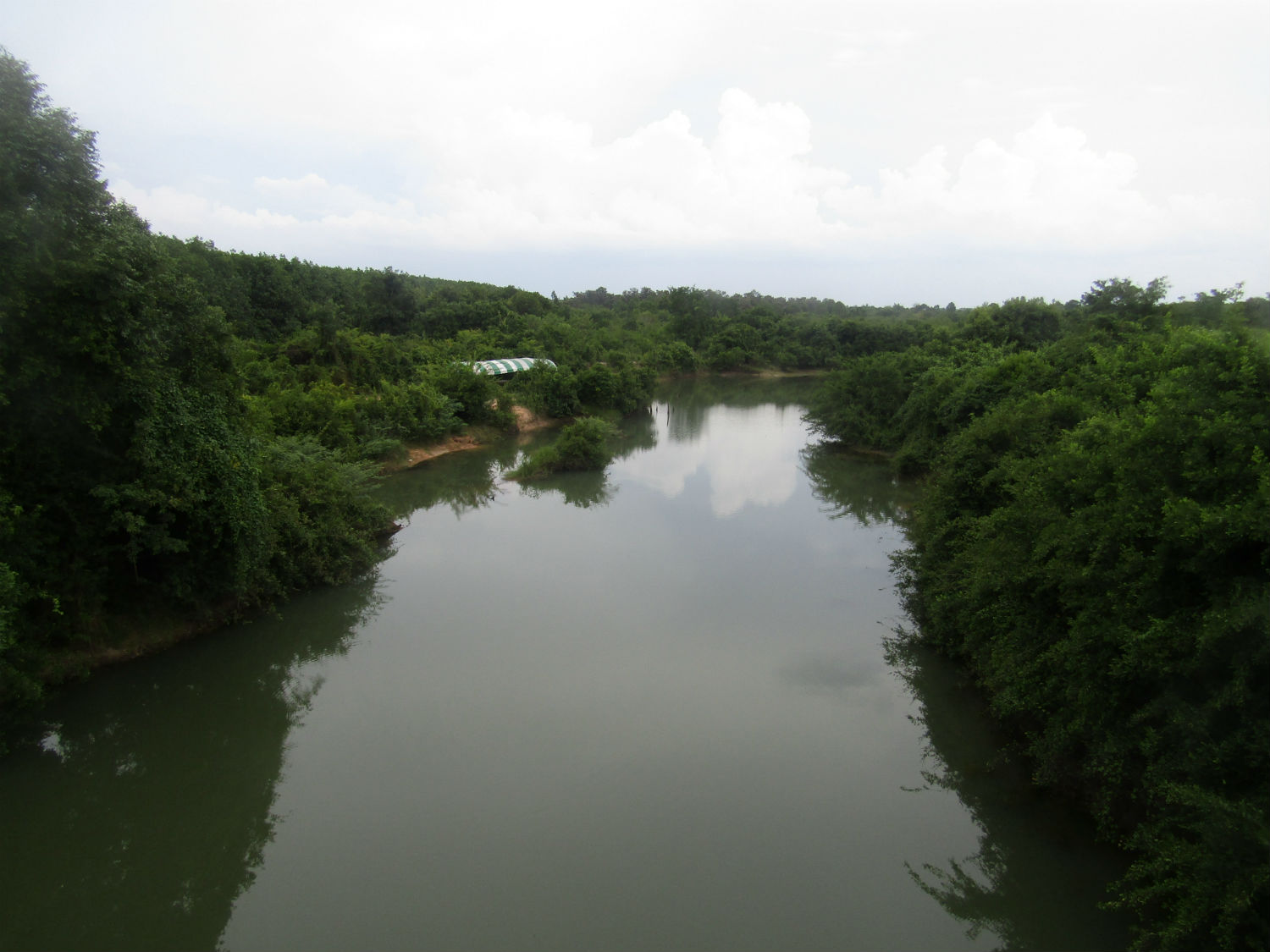 Saphan Mitraphap Kui-Lao (left) and Thap Than River, Mueang Chan District, Si Sa Ket Province


Athomepakham Hotel……..
In Pakham my selection of accommodation at Athomepakham Hotel fortunately meets with Katoon's approval and we soon settle in, popping out to get provisions for dinner in the town just a few minutes away. The establishment at Athomepakham can hardly be called a hotel. Typically it's a 2 story apartment block with no dining room but food can be ordered to eat in the room. Otherwise the block is modern, quite cheap and at least I get a stable internet connection.
However, arrival at Pakham has left us short of our intended destination by a good hour but I guess it was always ambitious.
Next Page.