Day 6, Sunday 2 June

On to Sa Kaew…….. Athomepakham Hotel has provided a good night's sleep in a quiet location compared with Si Sa Ket's busy streets. Again I've had to complete my notes without some detail that I will need to add later. That will allow an early start and surprisingly Katoon is eager to press on too, into the next province of Sa Kaew. This province is relatively small but has a number of interesting sites. We will just see how it goes for time and we do manage to get that good start.
Crossing over onto Sa Kaew province takes little time and I'm soon on the hunt for more ancient ruins.
Prasat Khao Lon…….. We reach Prasat Khao Lon not long after 10am and I discover this sanctuary is being renovated. I wondered what it took to rebuild these monuments and here I see what skills are needed to bring the ruin into some sort of resemblance of what it originally looked like but without most of the embellishments.
The temple itself is built all in brick This predates the later Khmer sanctuaries which were built mostly of laterite and sandstone blocks. This ruin probably dates from the 10th century. As yet there are no information boards erected.
Despite a climb up a stone bridge to this monument, it's a good start to the tour of Sa Kaew. It's now onto another site quite different.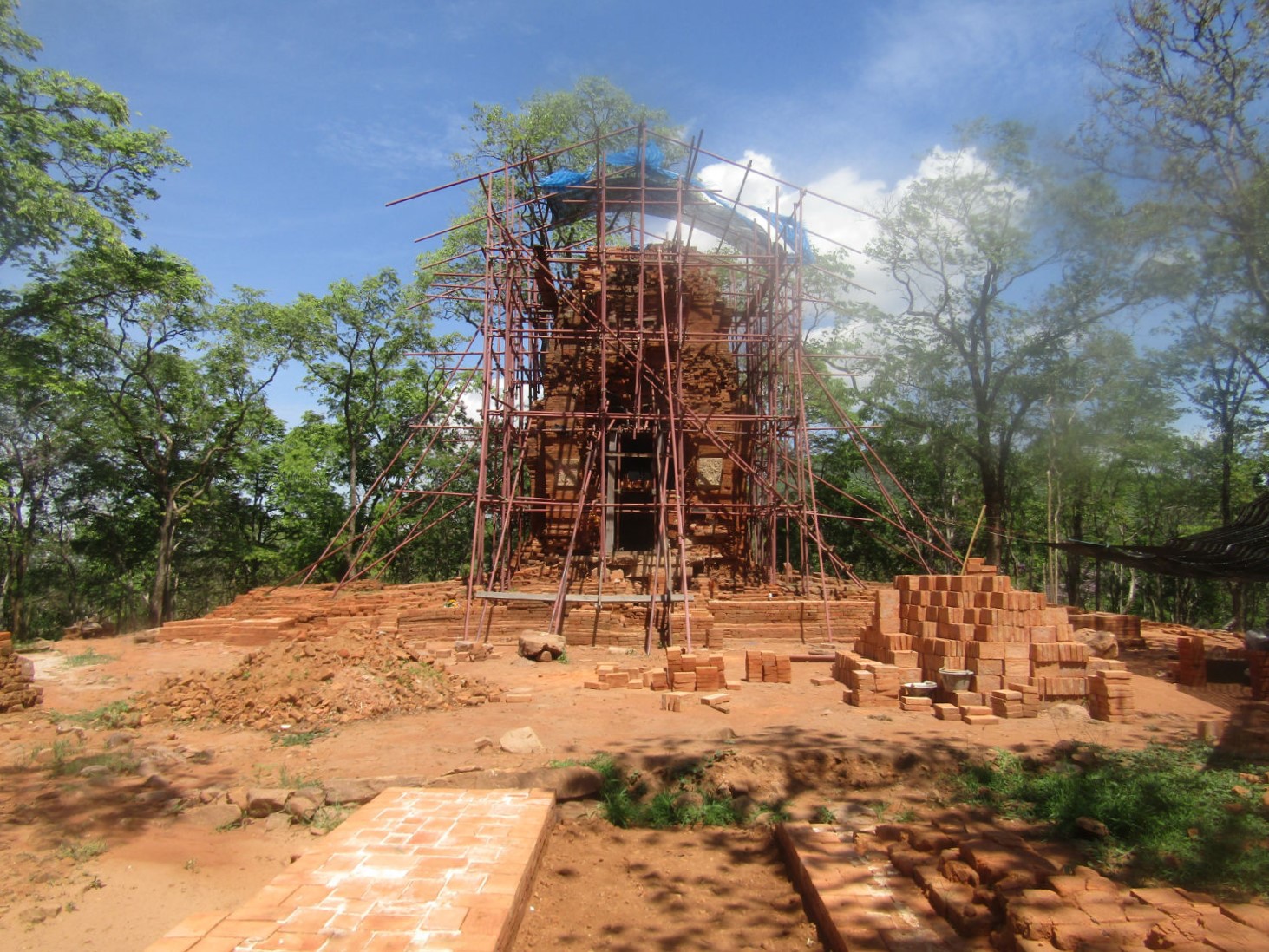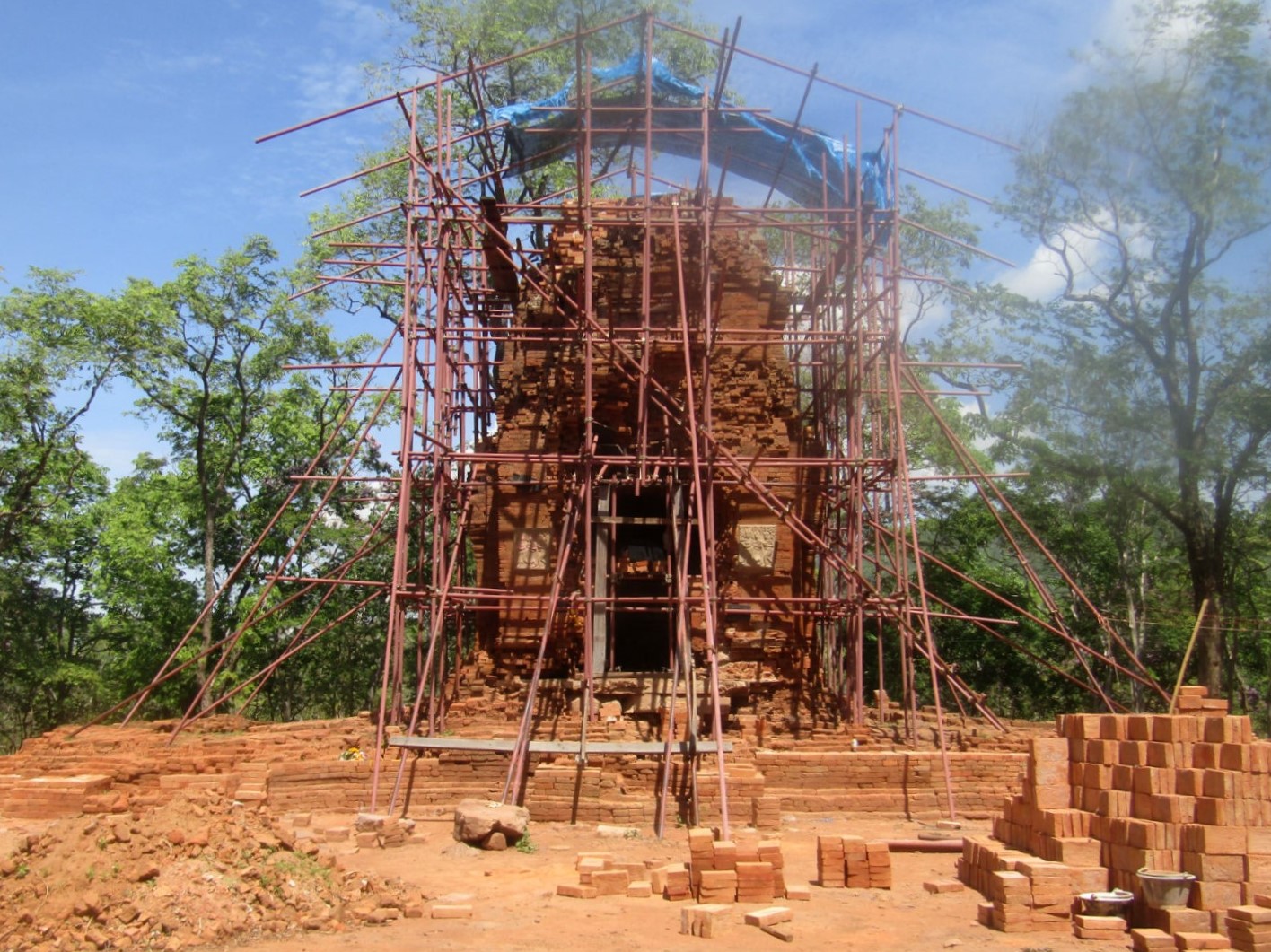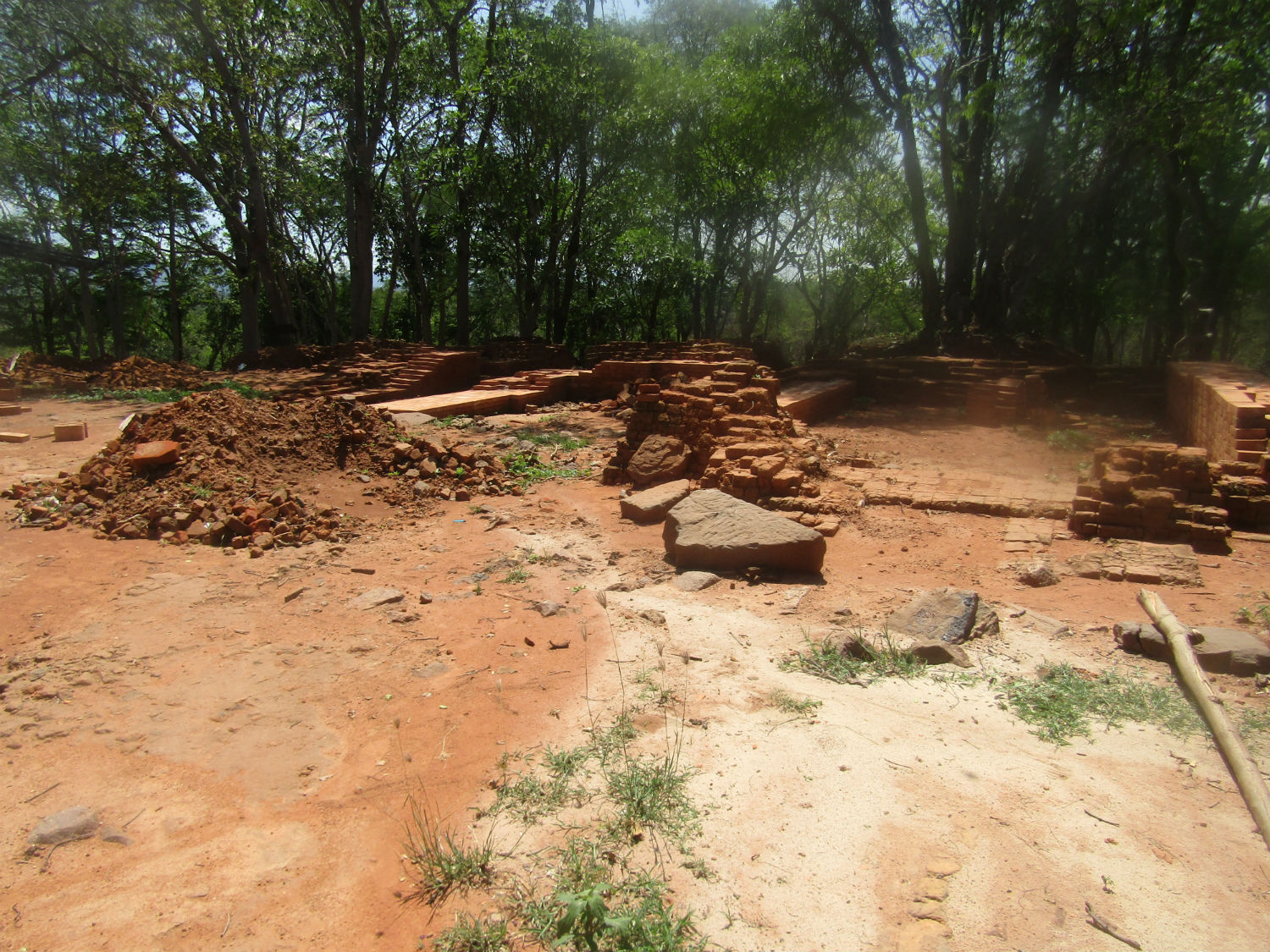 Prasat Khao Lon, Ta Phraya District, Sa Kaeo Province


Lalu Canyon…….. Lalu Canyon is a natural phenomenon in the Ta Phaya National Park. The word 'lalu' is derived from a Khmer word meaning 'pierced' or 'punctured' Since Sa Kaew was once under the control of the Khmer Empire, there are many Khmer words that have remained in use. Lalu here refers to a subsidence in the land caused by the action of wind and rain resulting in erosion of the soil.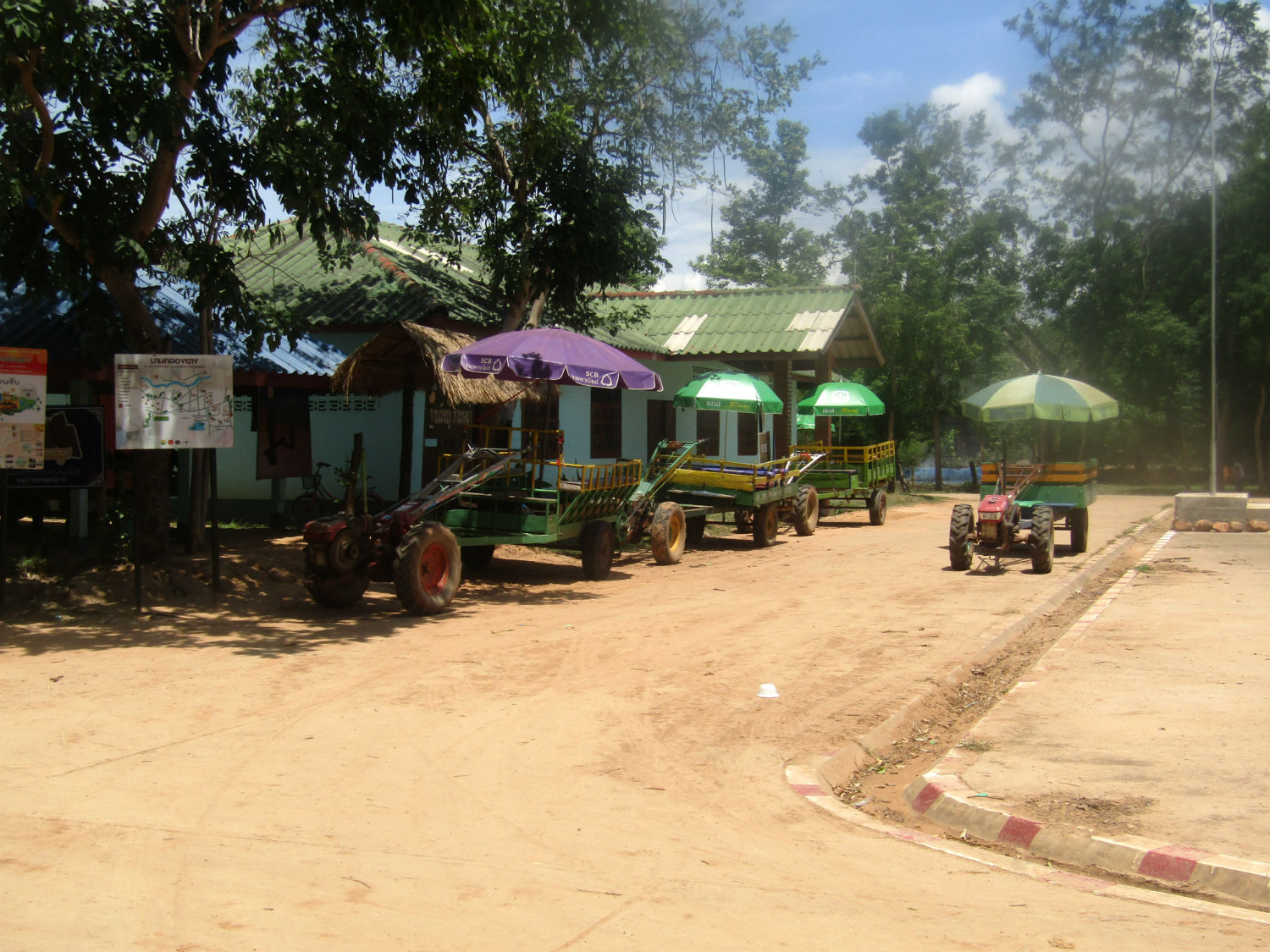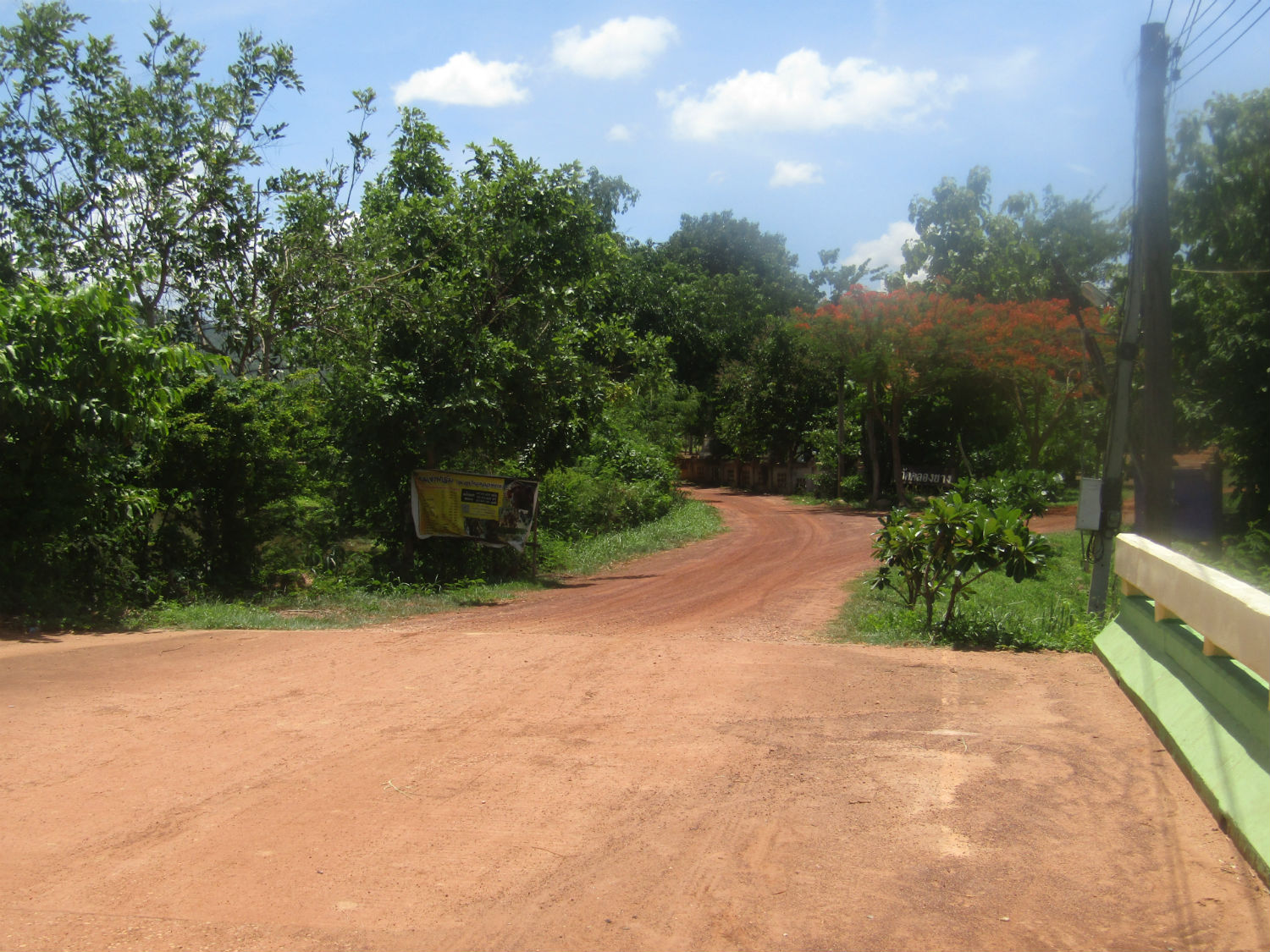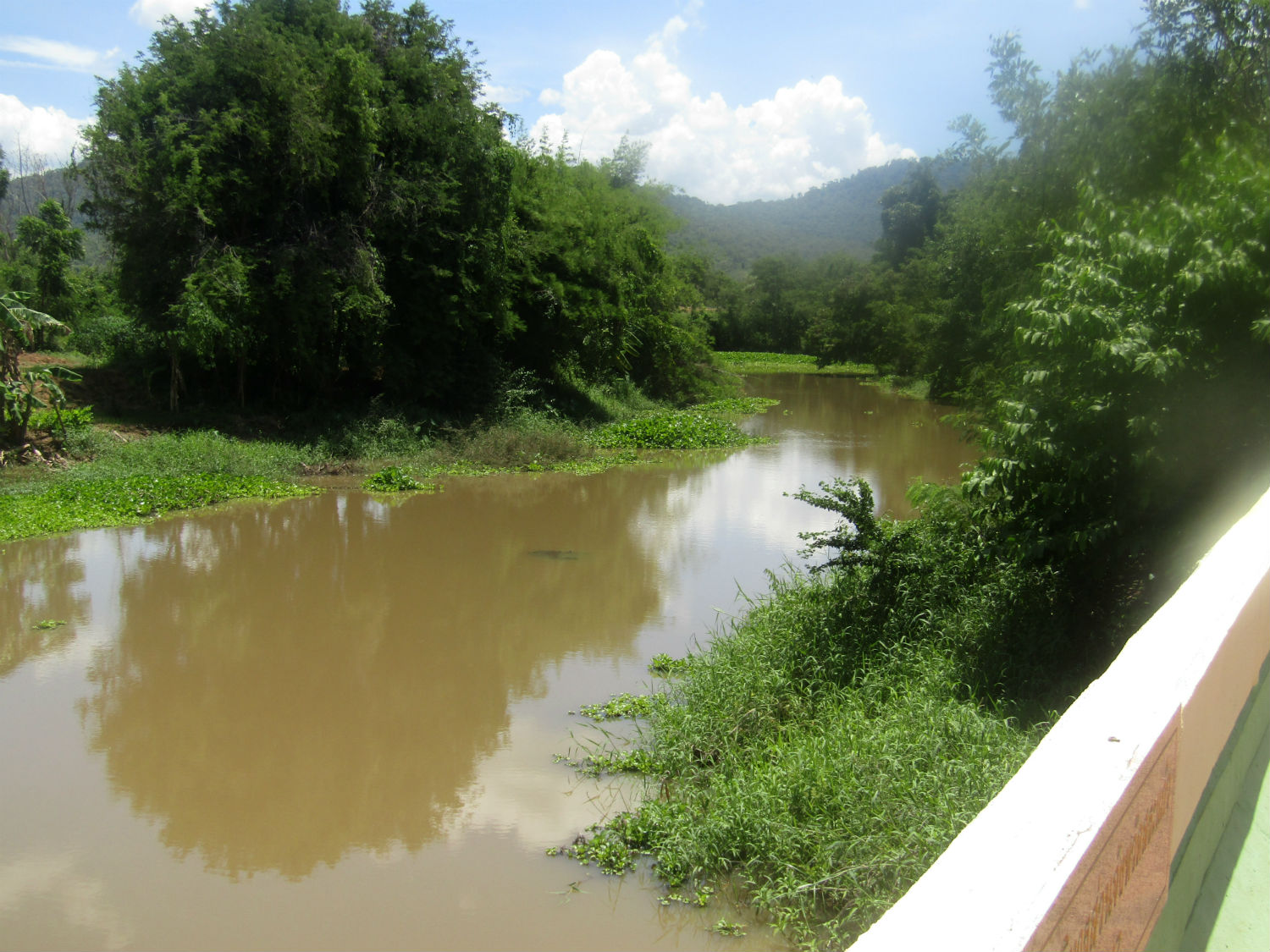 The Transport and Environs of Lalu Canyon, Ta Phraya District, Sa Kaeo Province


Reaching Lalu Canyon has taken about 30 minutes and from the photos I have seen, it is something similar to Phae Muang Phi Forest Park, near Phrae or indeed the Pha Chor on a recent visit to Chiang Mai. Before reaching the site we're directed to pull into a car park, despite there being no obvious reason not to drive straight to it, just a kilometre away. Here rather to our surprise, we're asked to pay a combined 500 baht for a tractor ride. That price seems really steep relative to those other sites I mentioned and we're not inclined to take the offer but then neither is anyone else as the tractors are parked up in a line. We both agree that the ride is only worth no more than 50 baht each based on similar journeys and when we travel on towards the site I don't see a national park entrance either, just a signboard explaining that there is a 500 baht fine for proceeding further. Well perhaps we should have taken the chance as there is nobody about but instead we head back the way we came without knowing whether the rather unexpected fee is the result of an enthusiasic local initiative or inclusive of a Ta Phraya National Park fee. I will leave it for others to review. At the next location, I hope for a better result.
Prasat Sdok Kok Thom…….. Sdok Kok Thom is an 11th-century Khmer temple in present-day Thailand, located about 34 kilometres (21 mi) northeast of the Thai border town of Aranyaprathet. The temple was dedicated to the Hindu god Shiva. Constructed by a prominent priestly family, Sdok Kok Thom is best known as the original site of one of the most illuminating inscriptions left behind by the Khmer Empire, which ruled much of Southeast Asia from the end of the 9th century to the 15th century.
Built of red sandstone and laterite, the temple is a prime example of a provincial seat of worship during the empire's golden age. It is small by the standards of the major monuments in Angkor, the empire's capital, but shares their basic design and religious symbolism. In its 11th Century heyday during the reign of King Udayādityavarman II, the temple was tended by its Brahmin patrons and supported with food and labour by the people of surrounding rice-farming villages.
Scholars disagree as to the meaning of the name, which refers in old Khmer to the temple's setting. Translations include Great Reed Lake, Large Reservoir with Herons, and Abundant Reeds in a Large Swamp.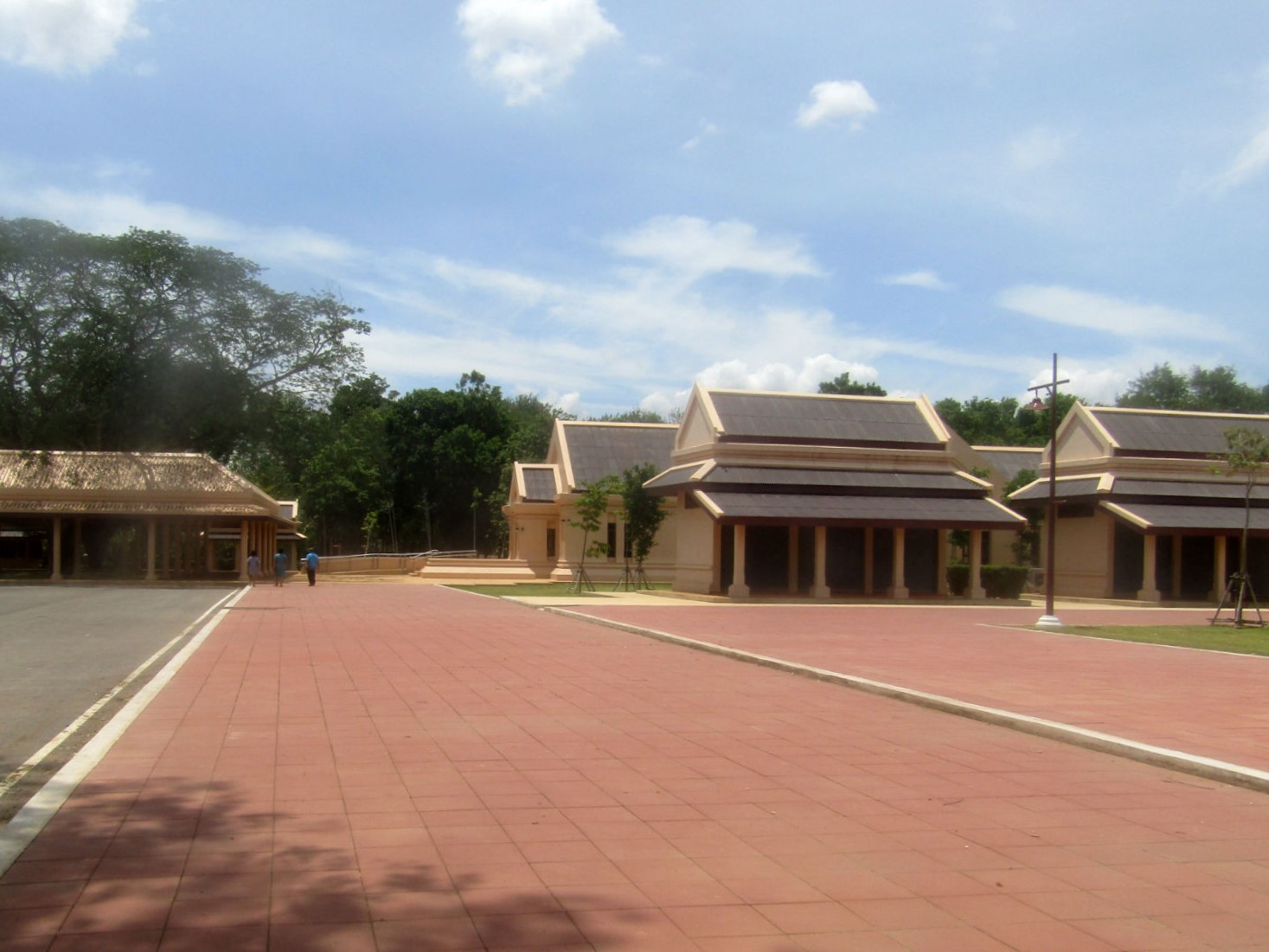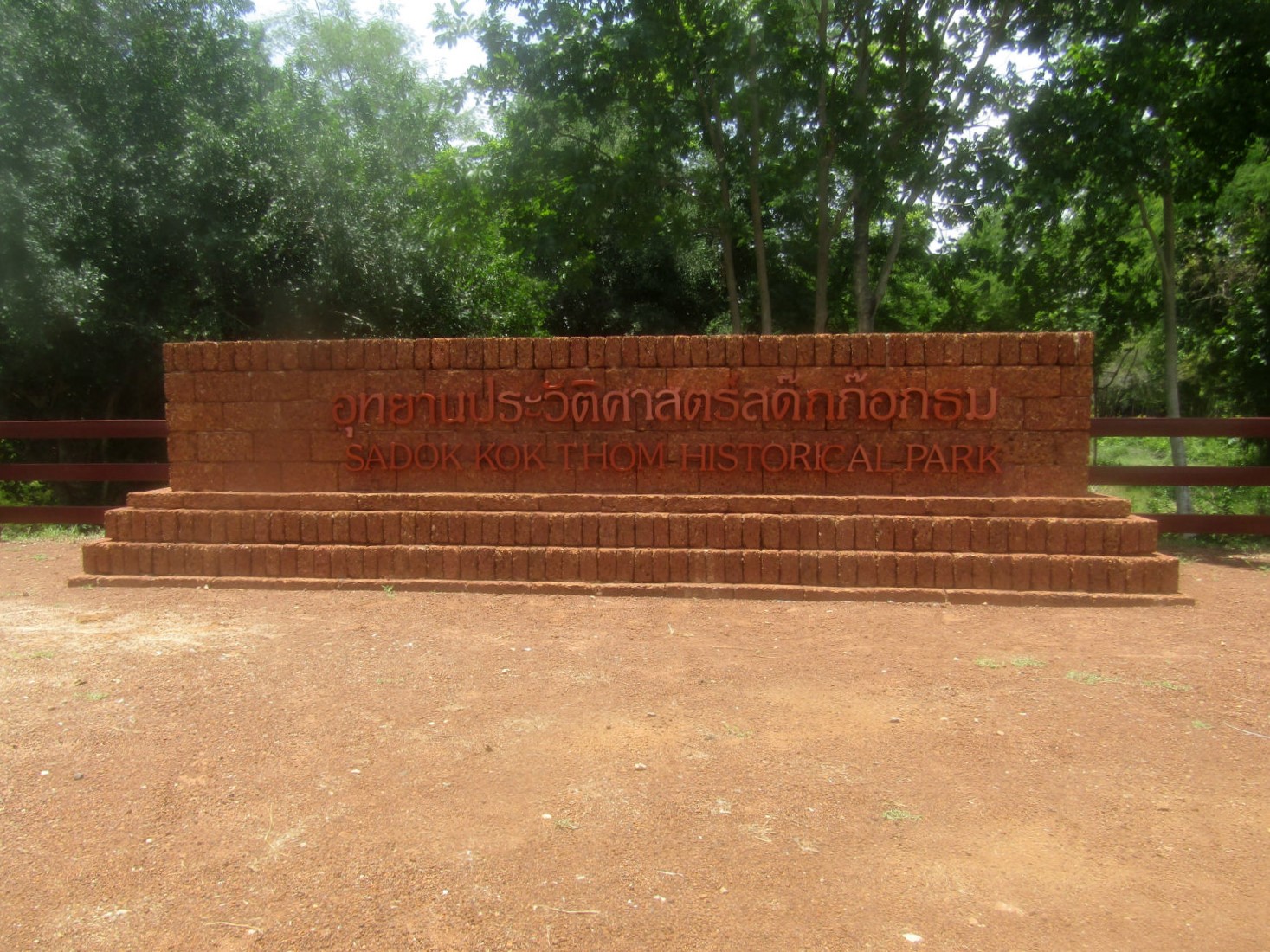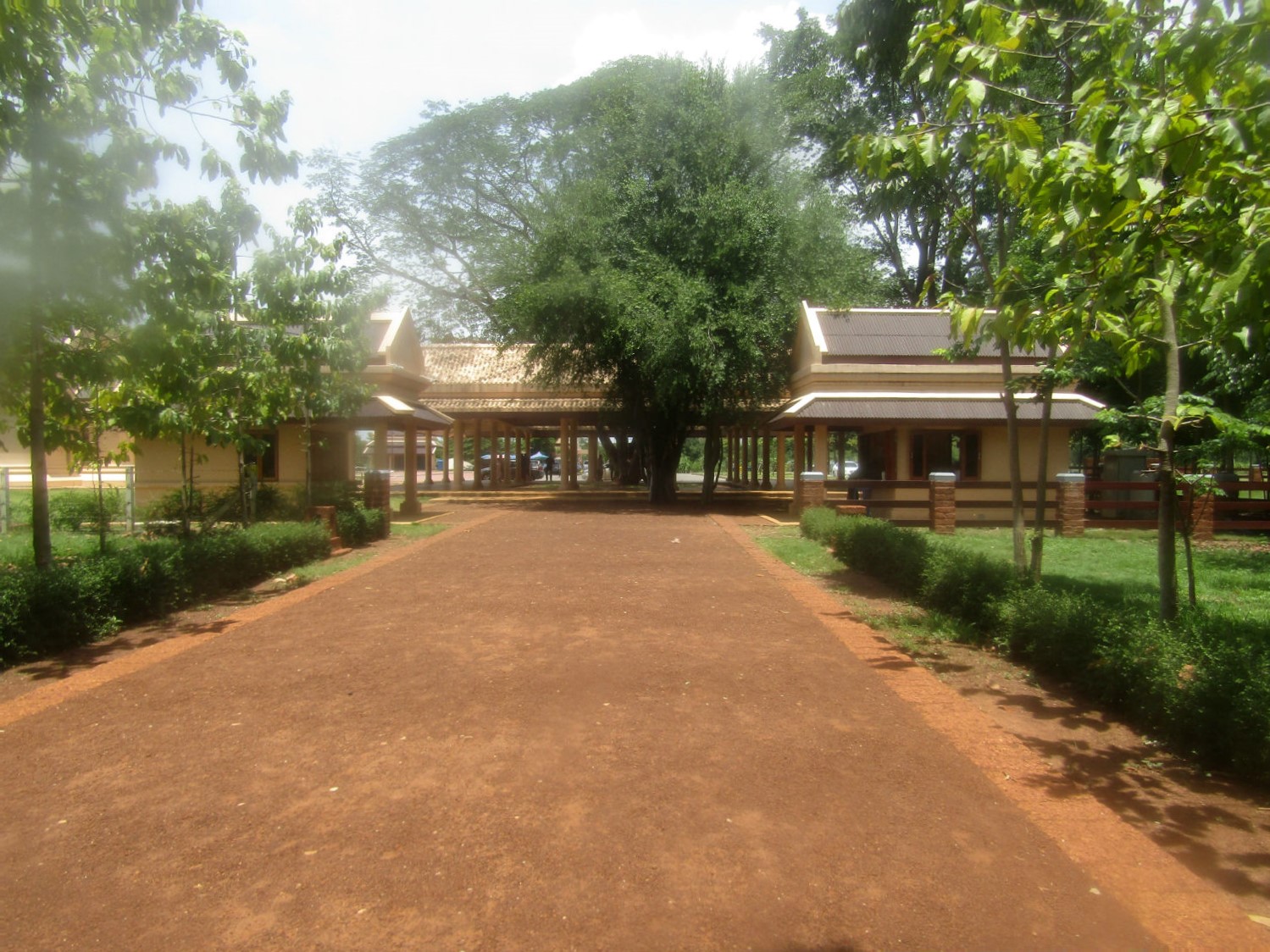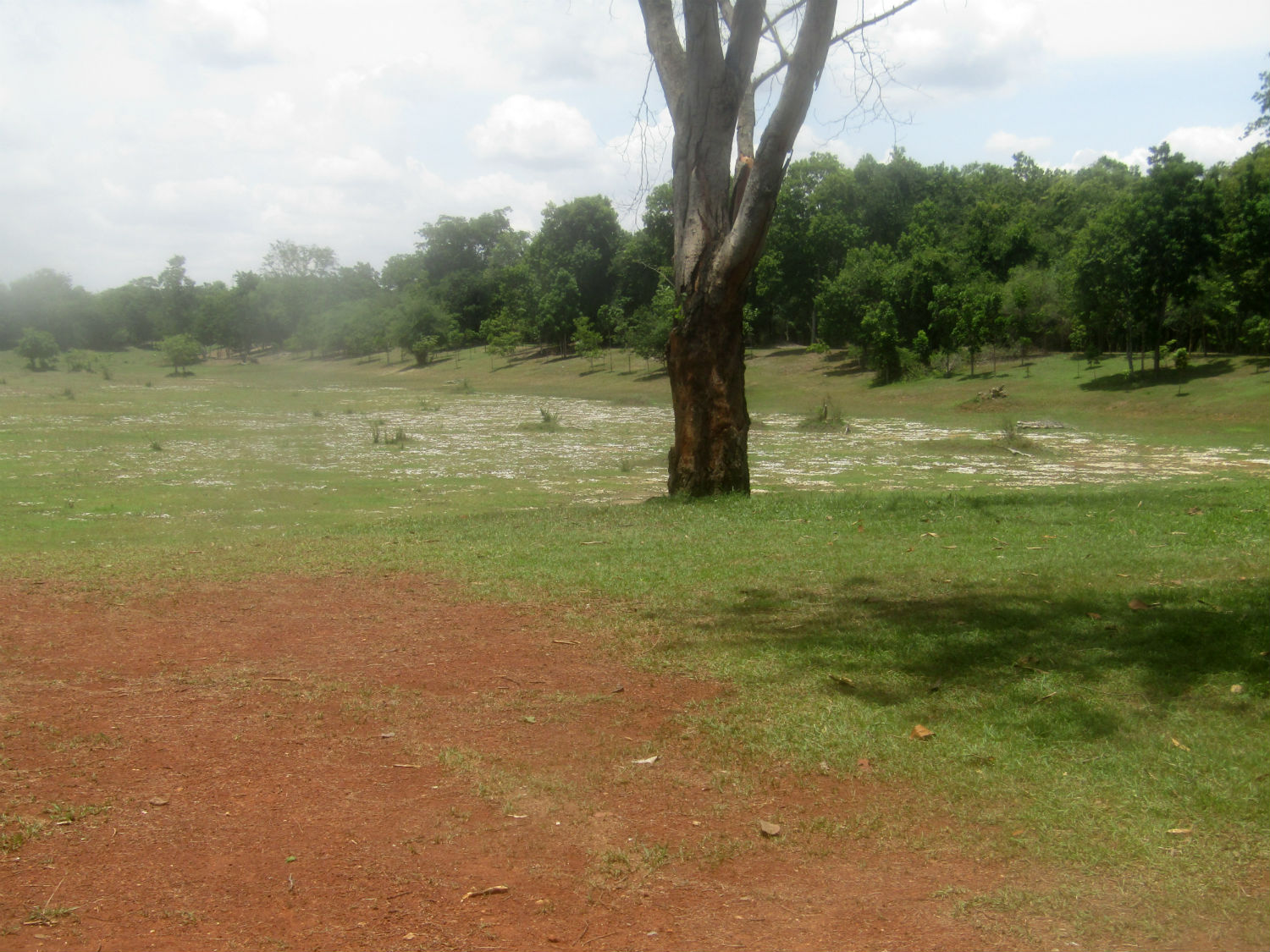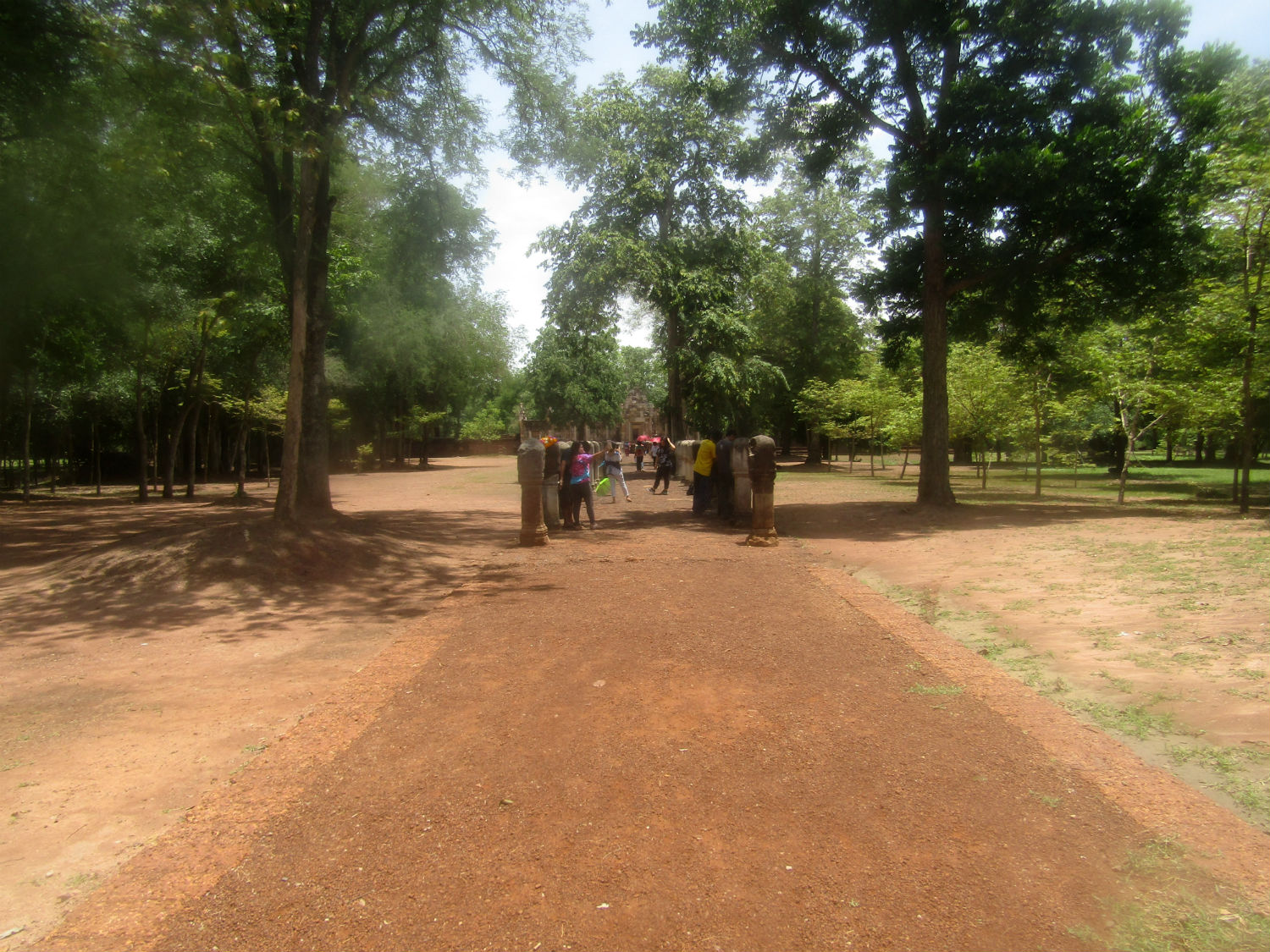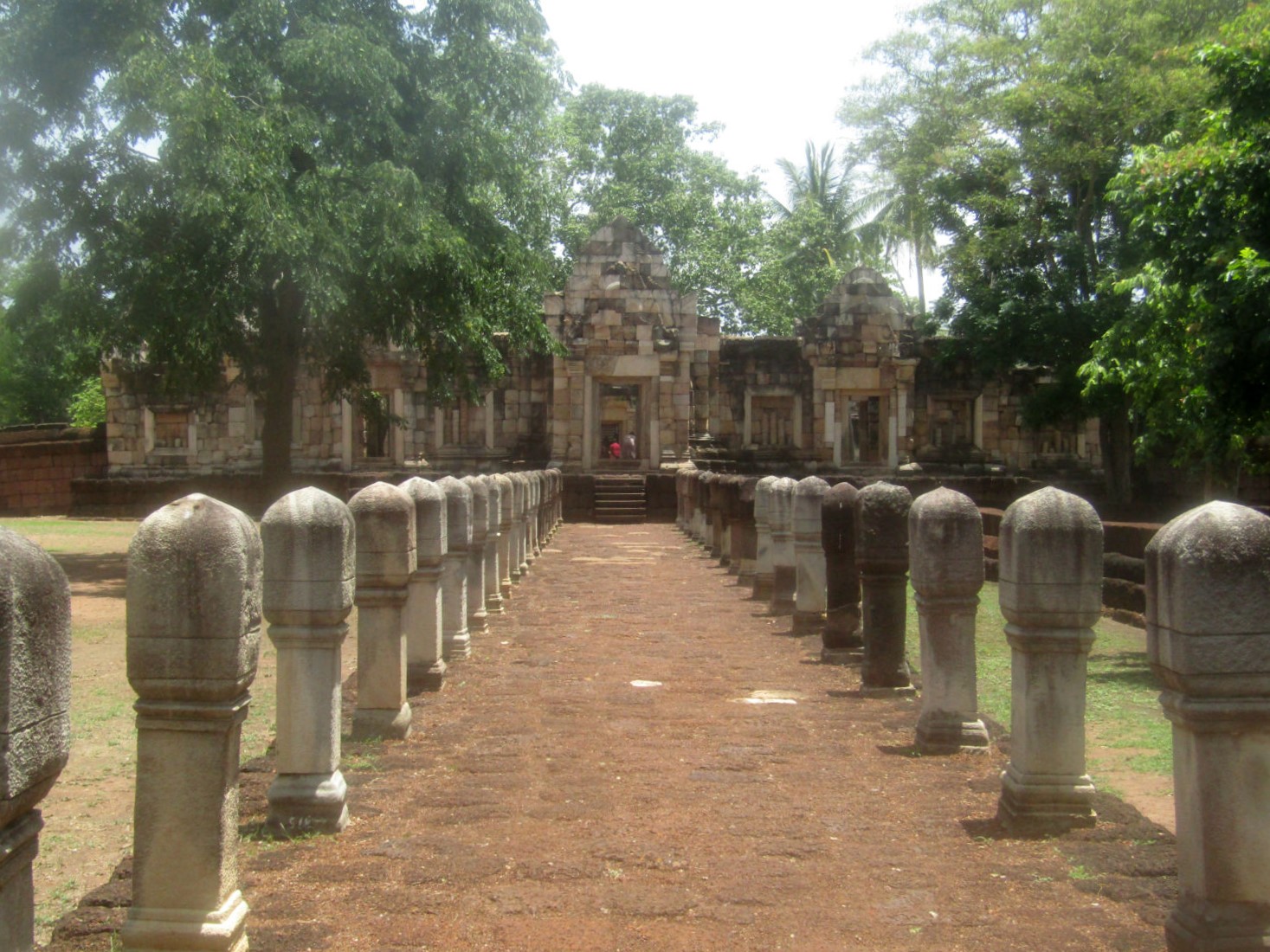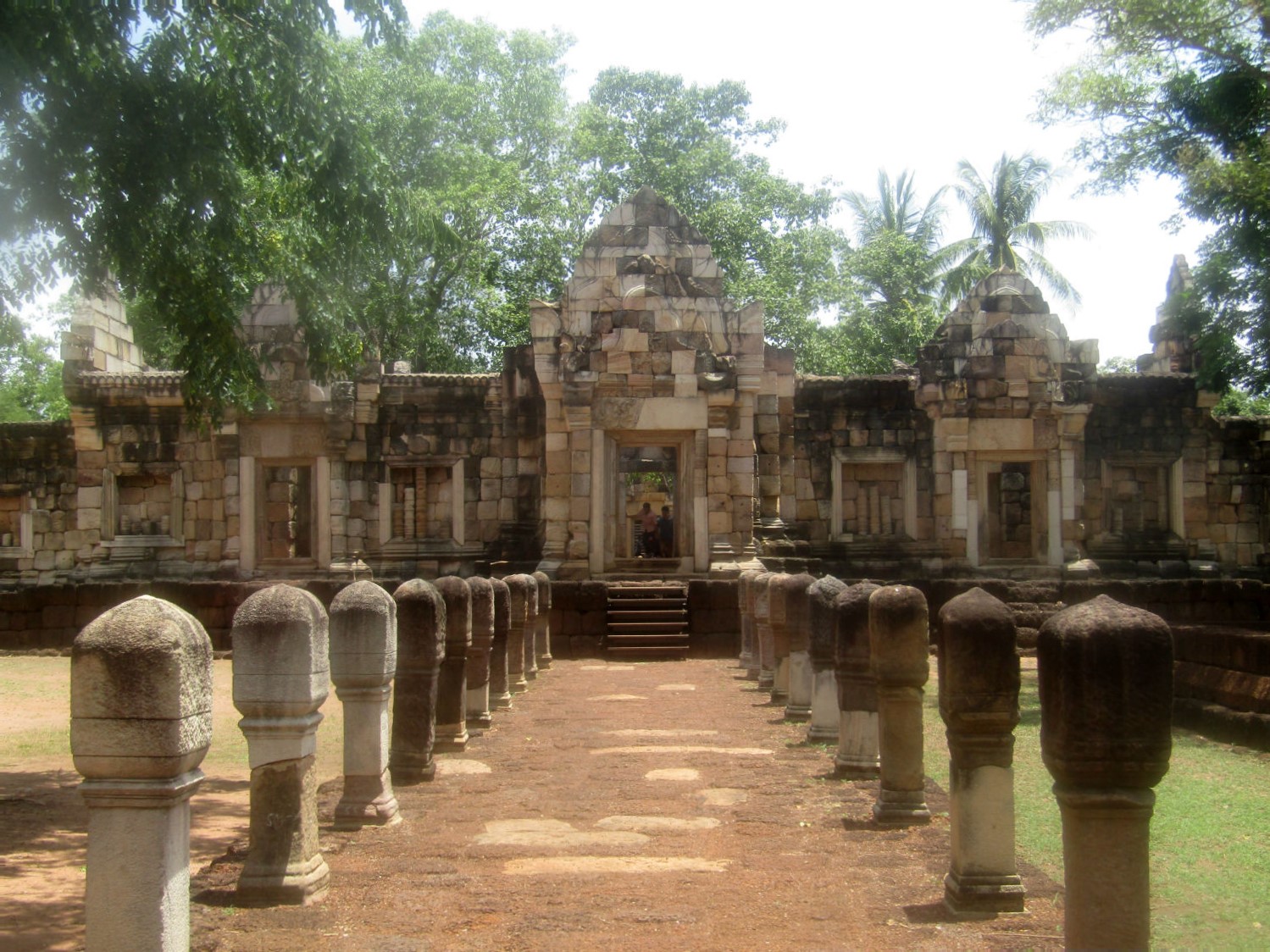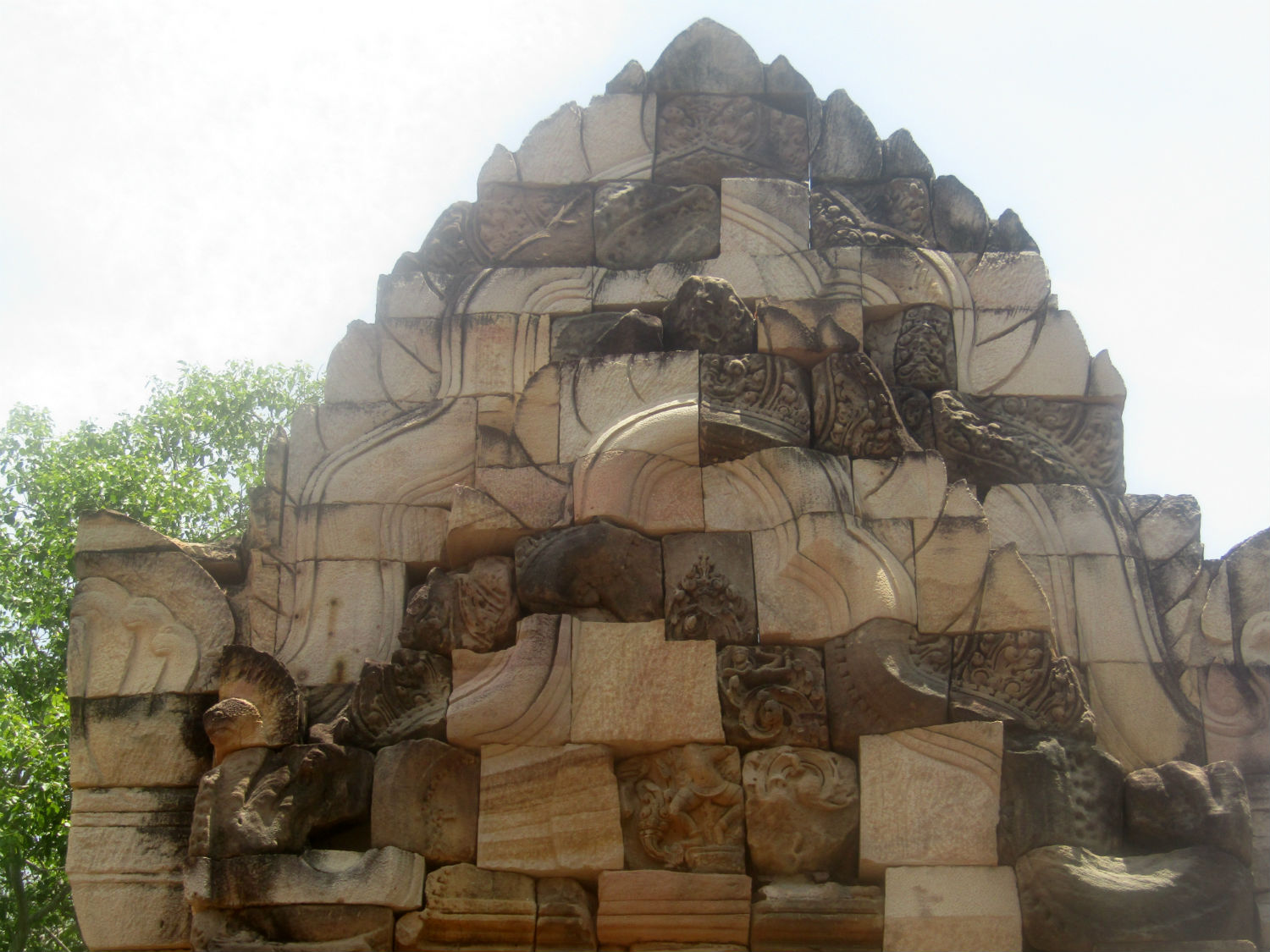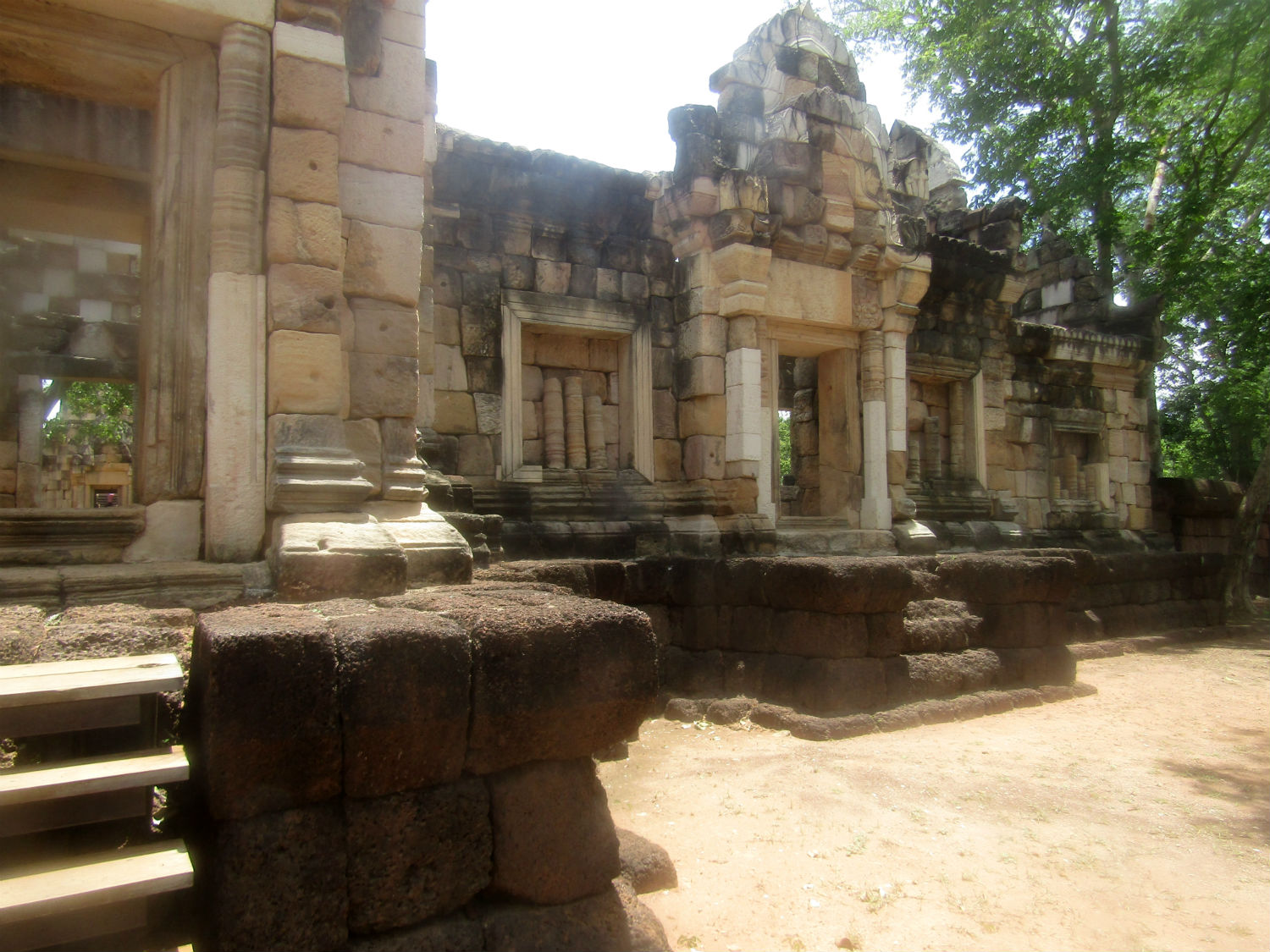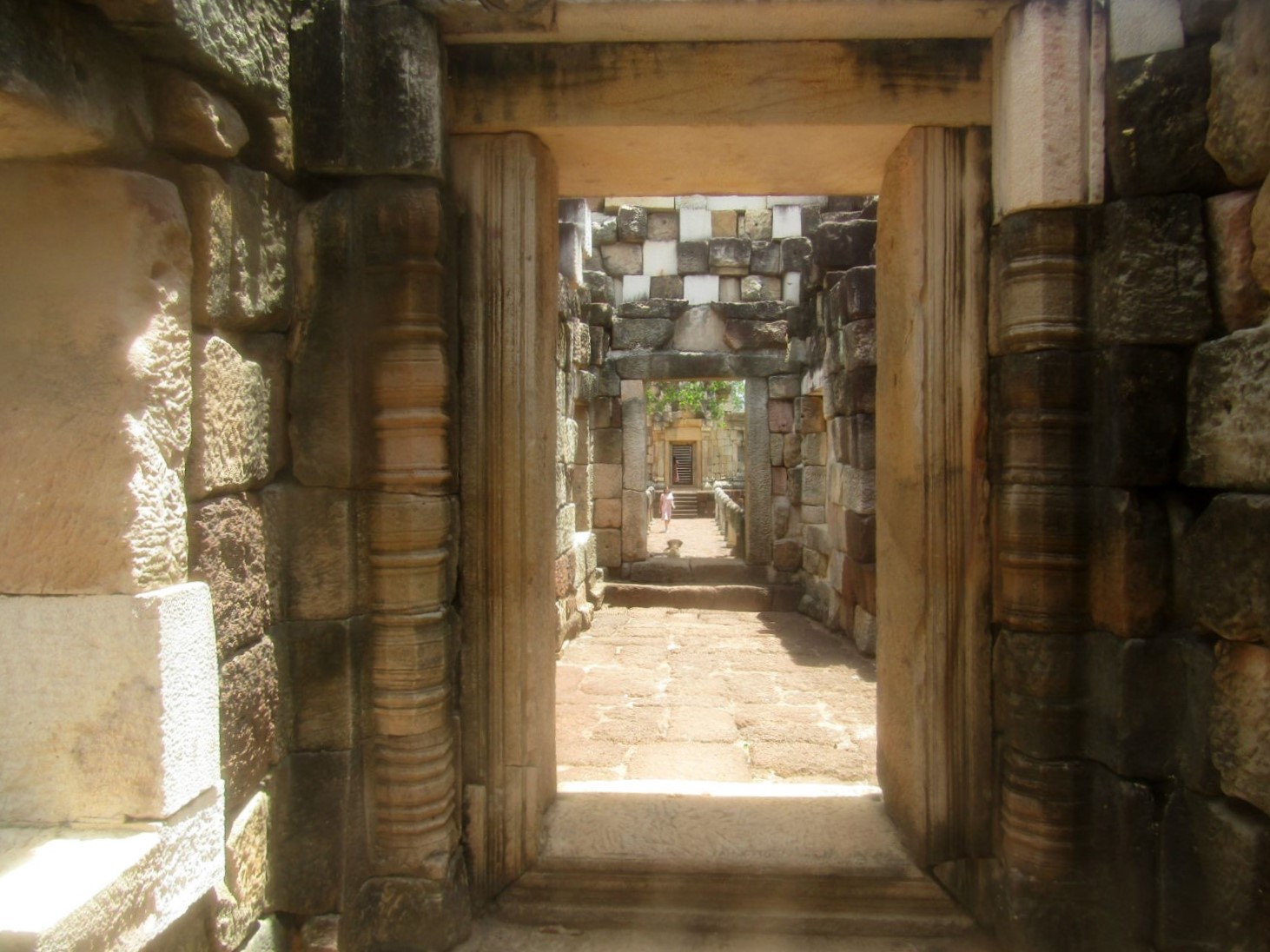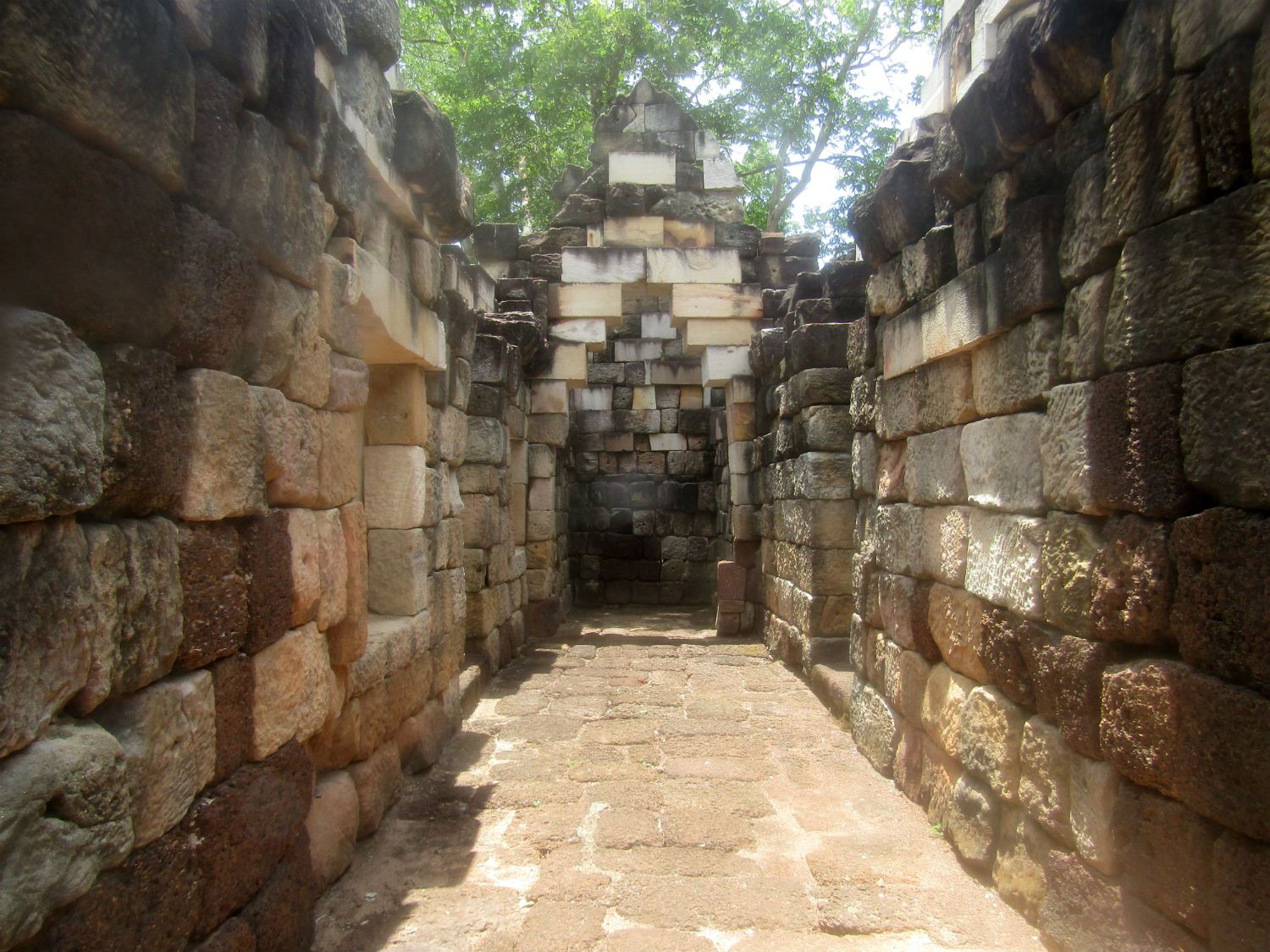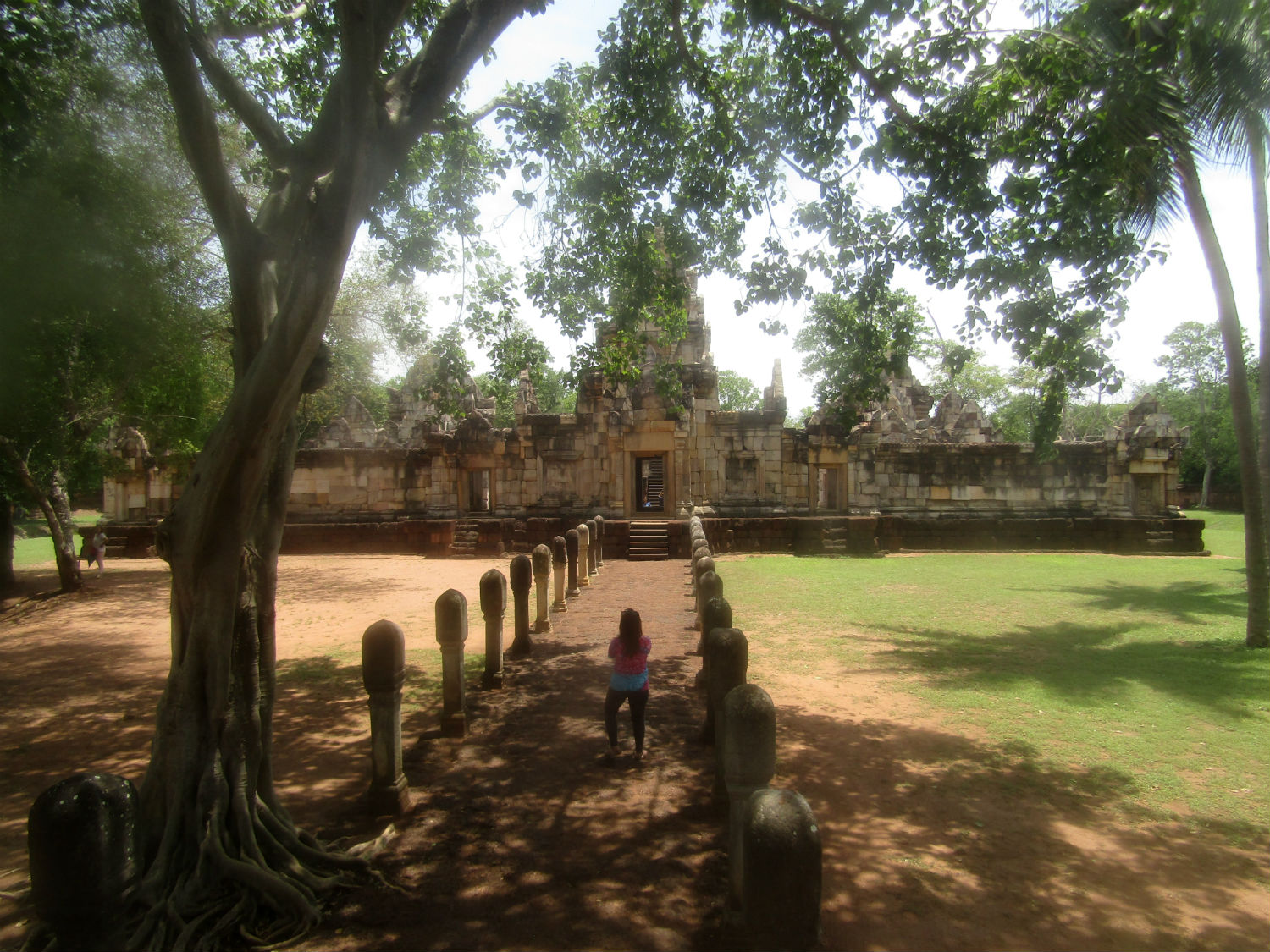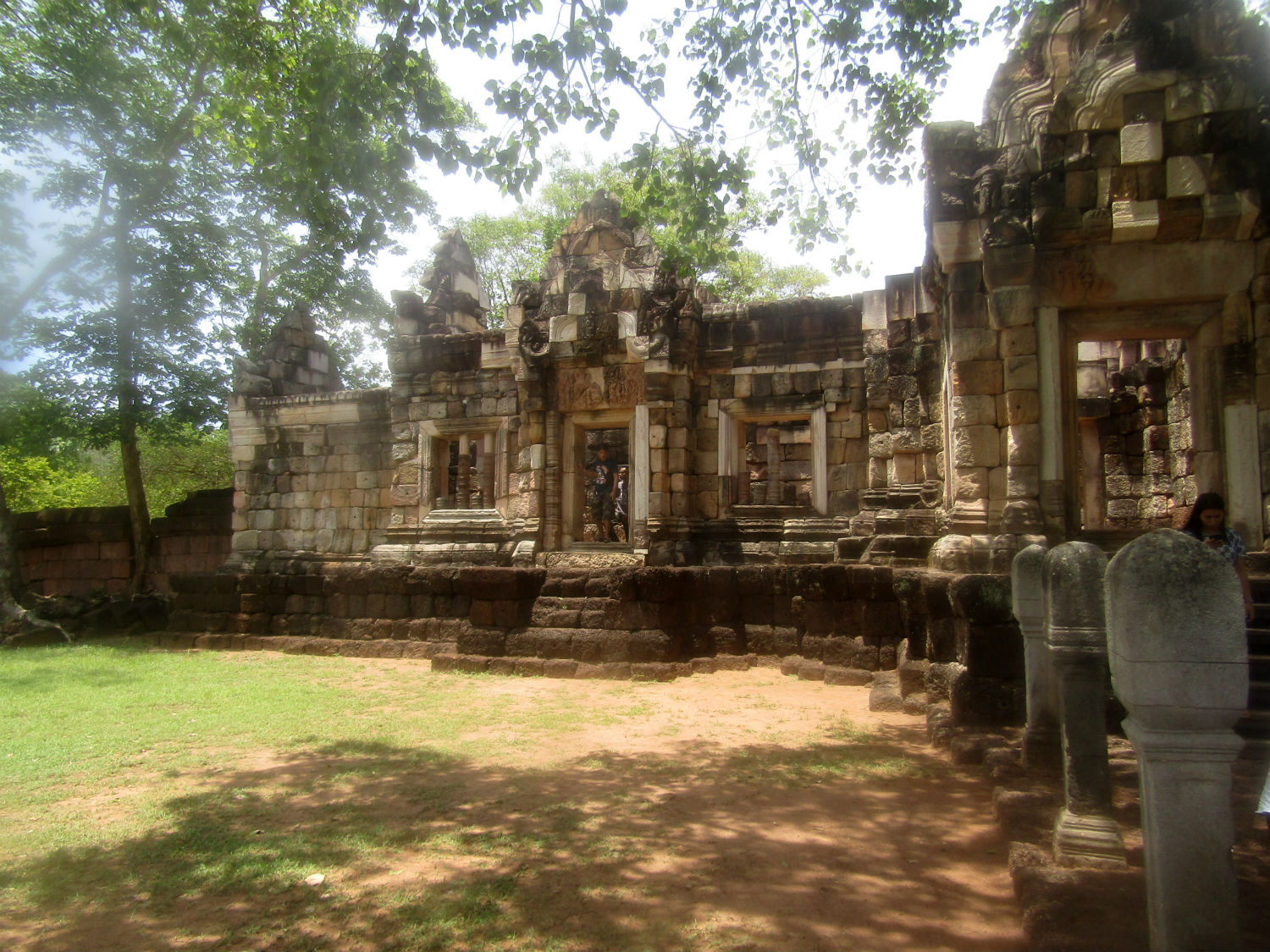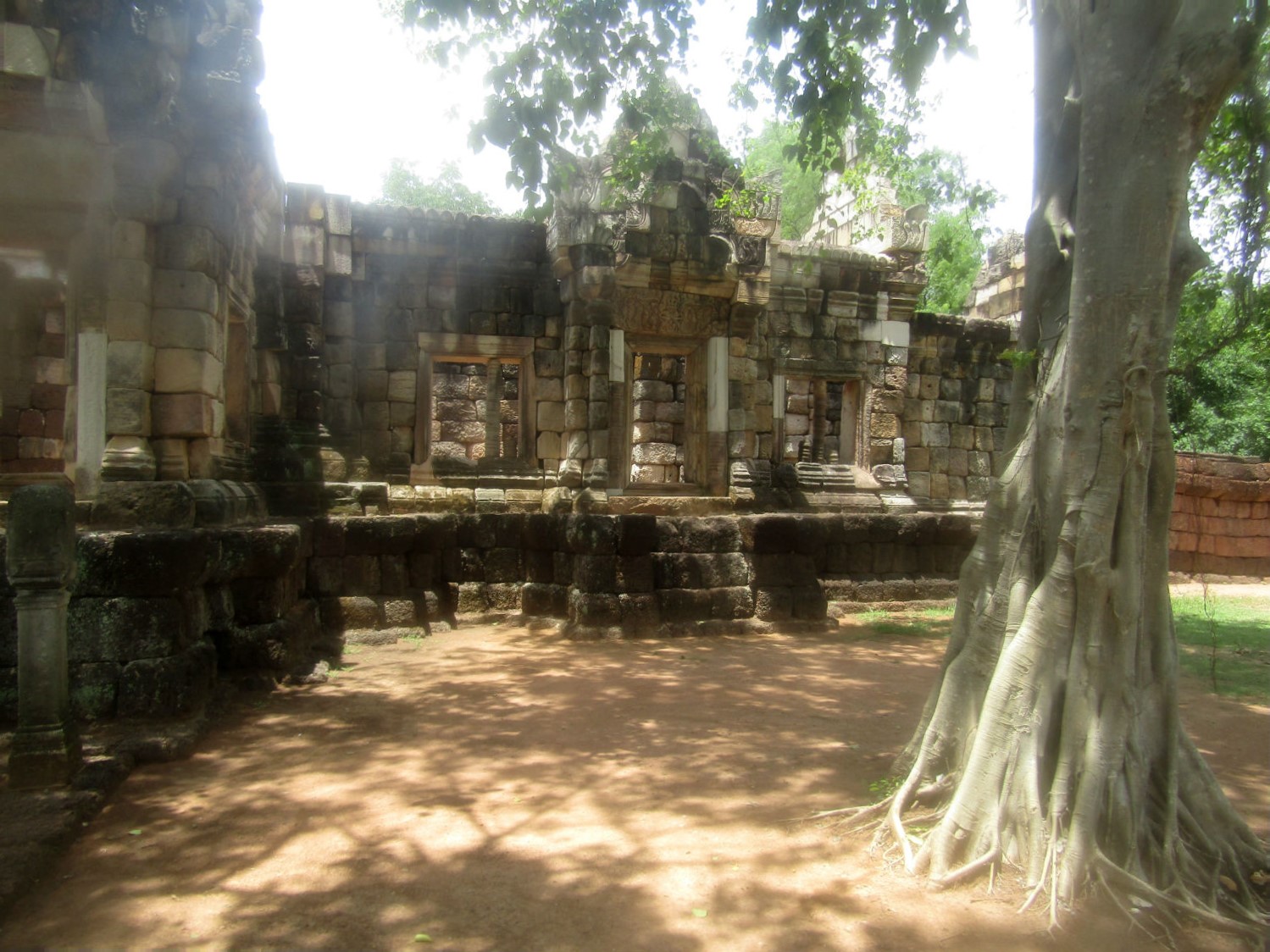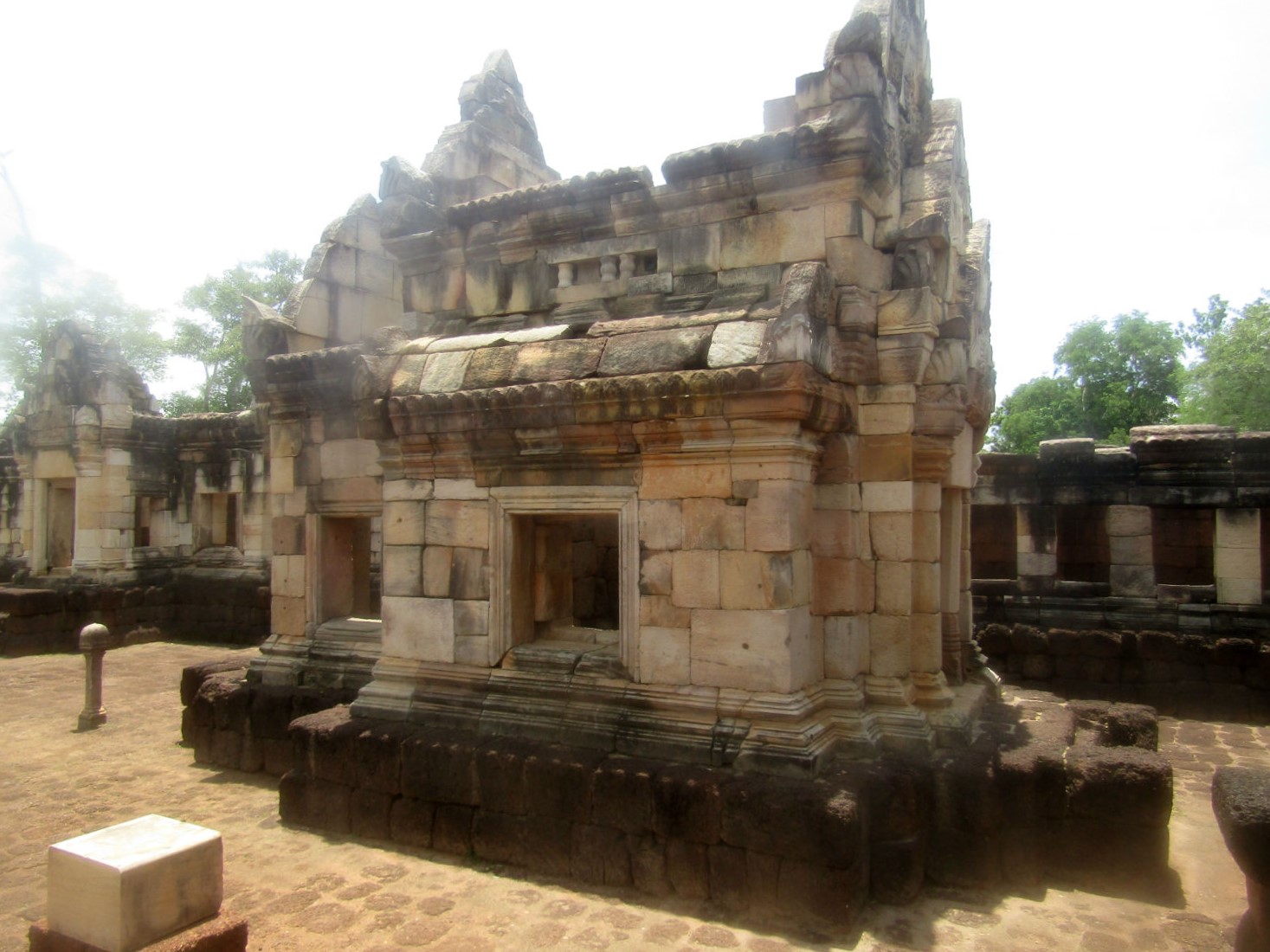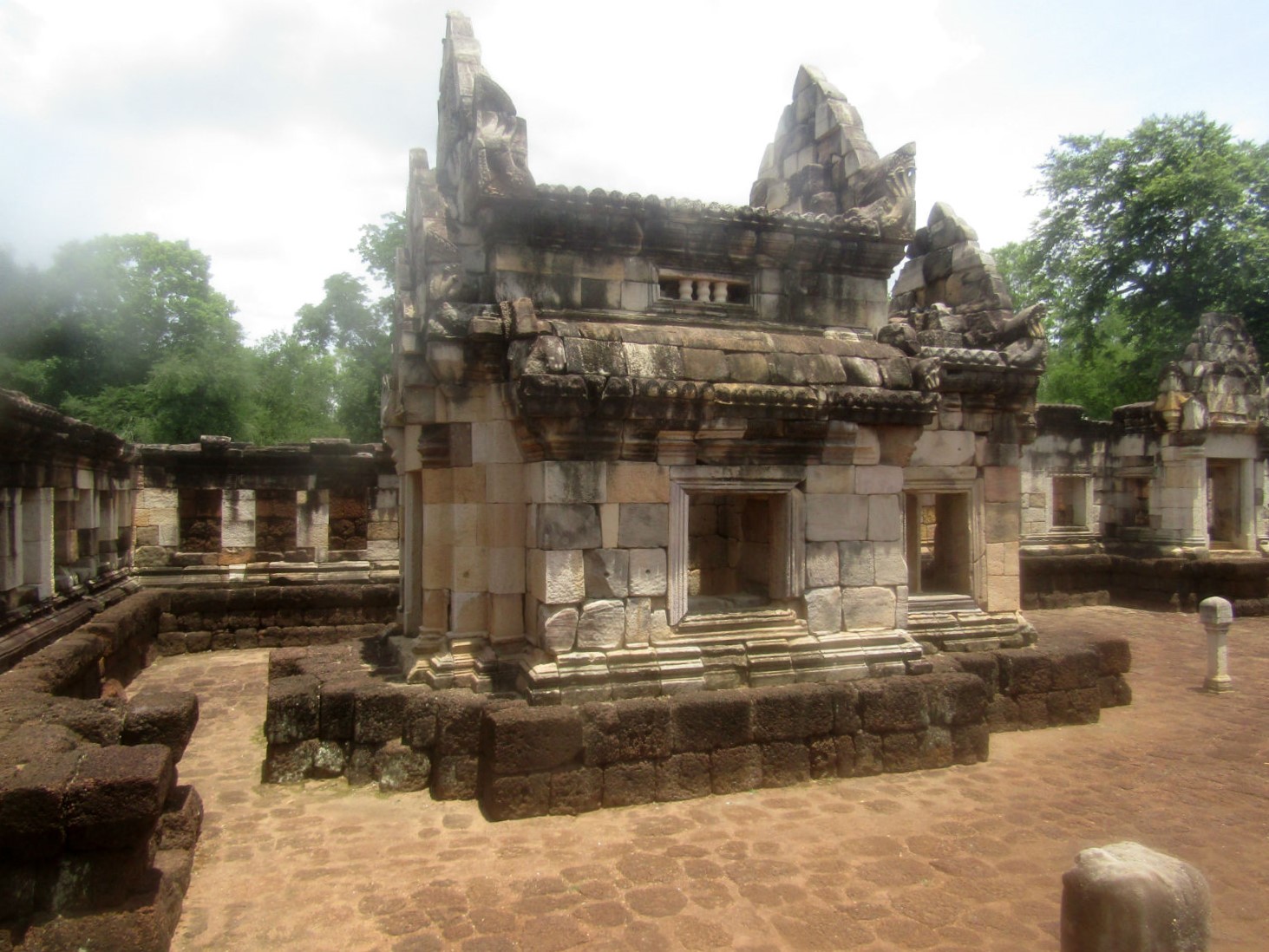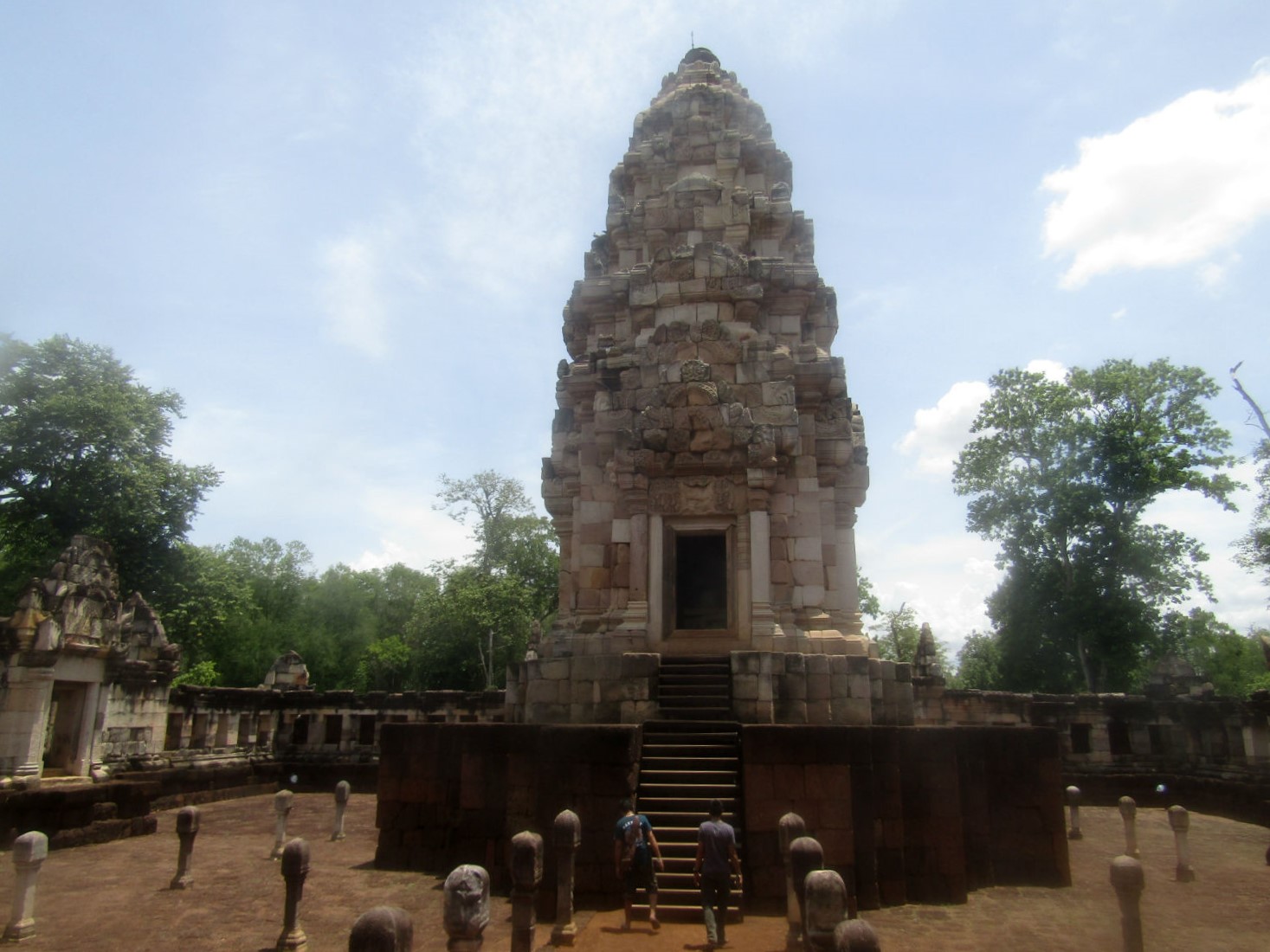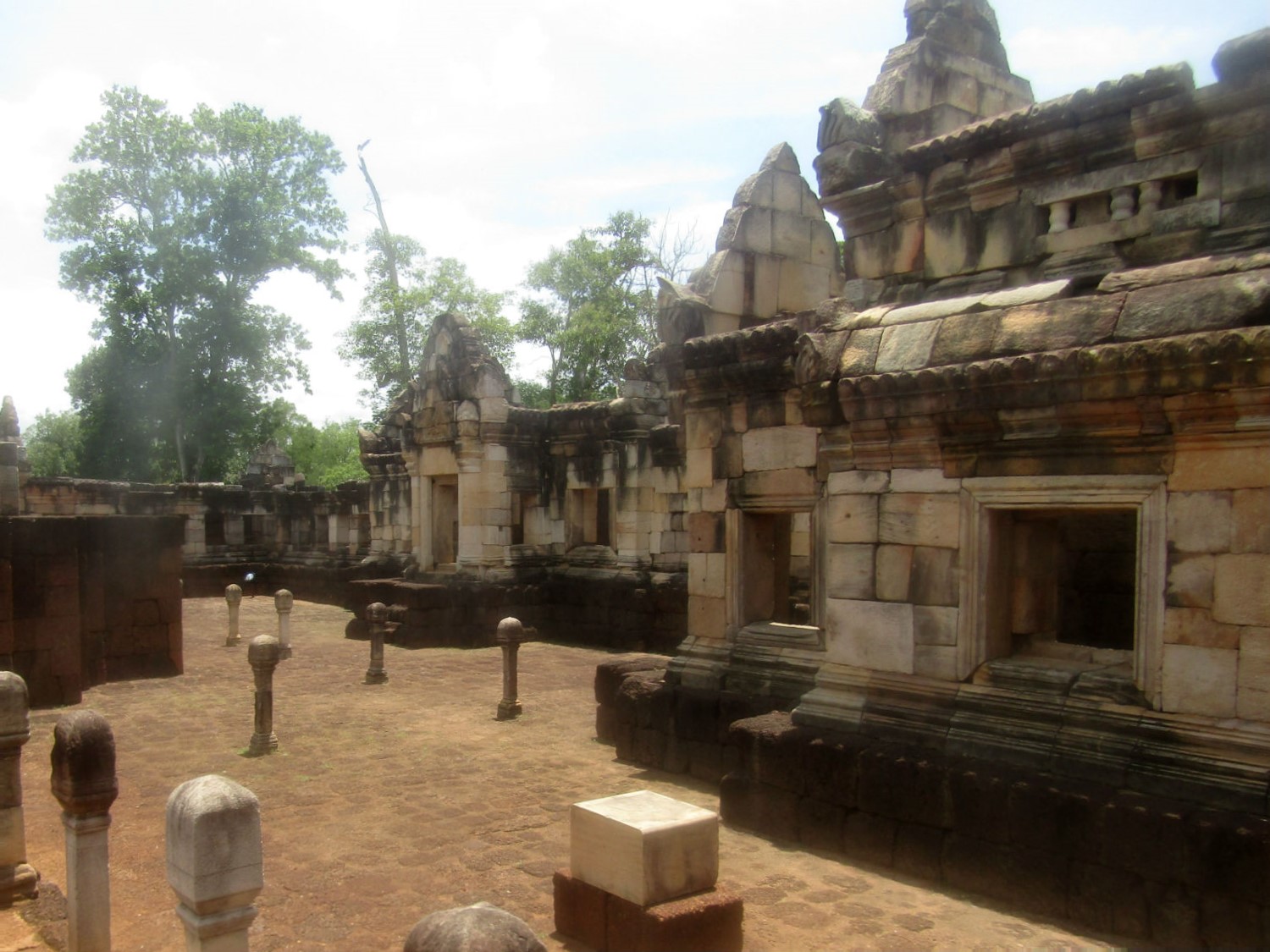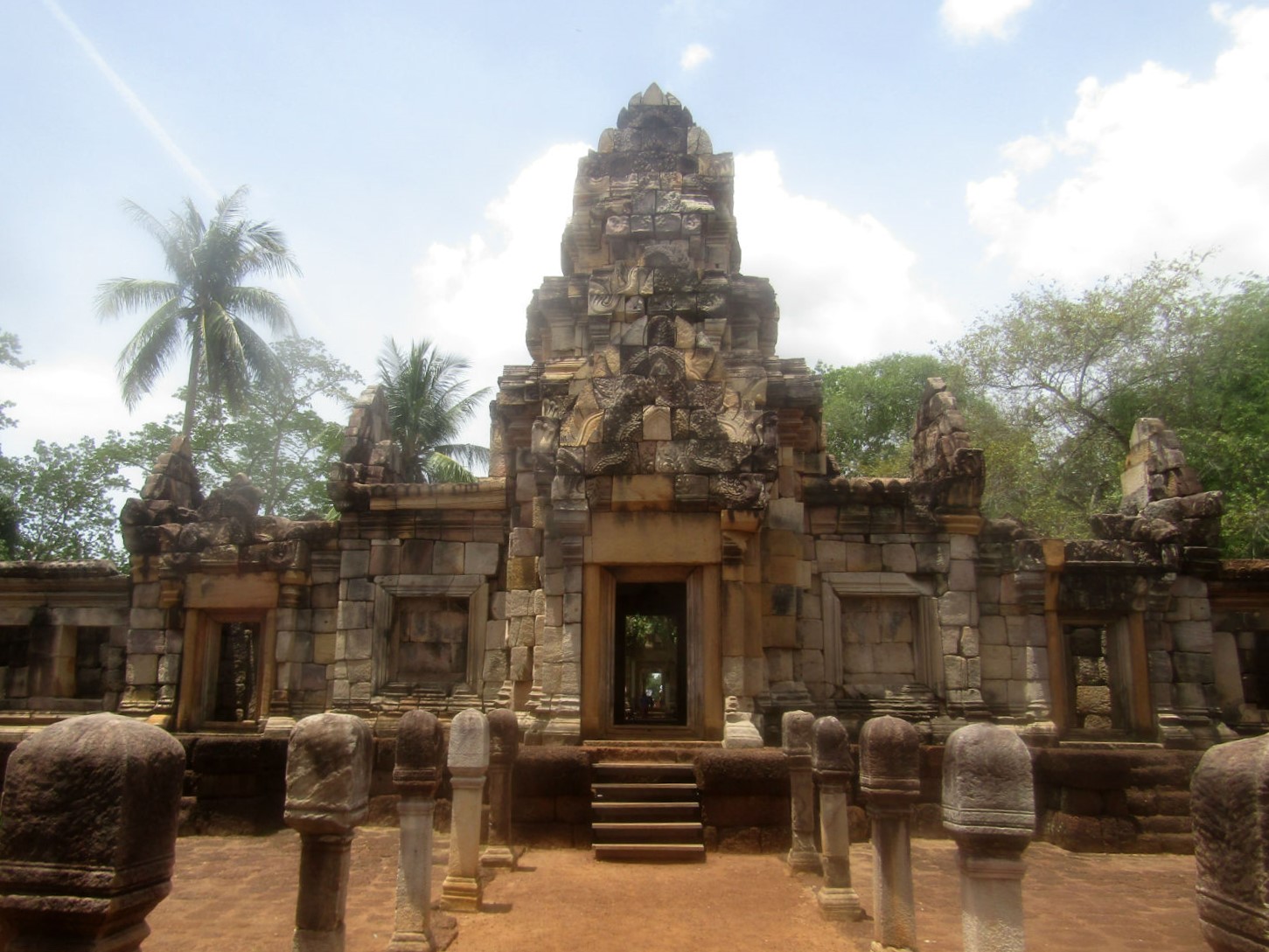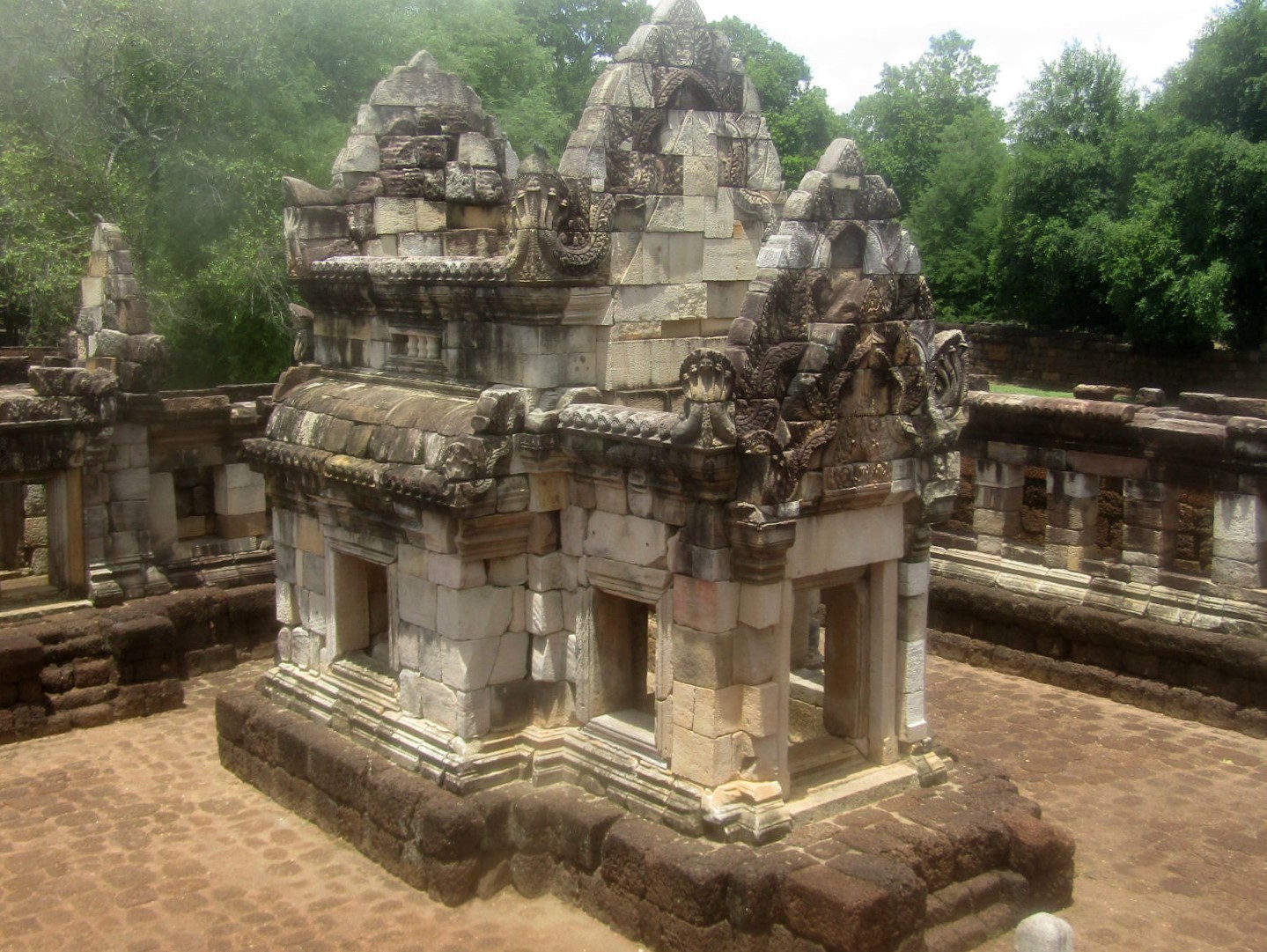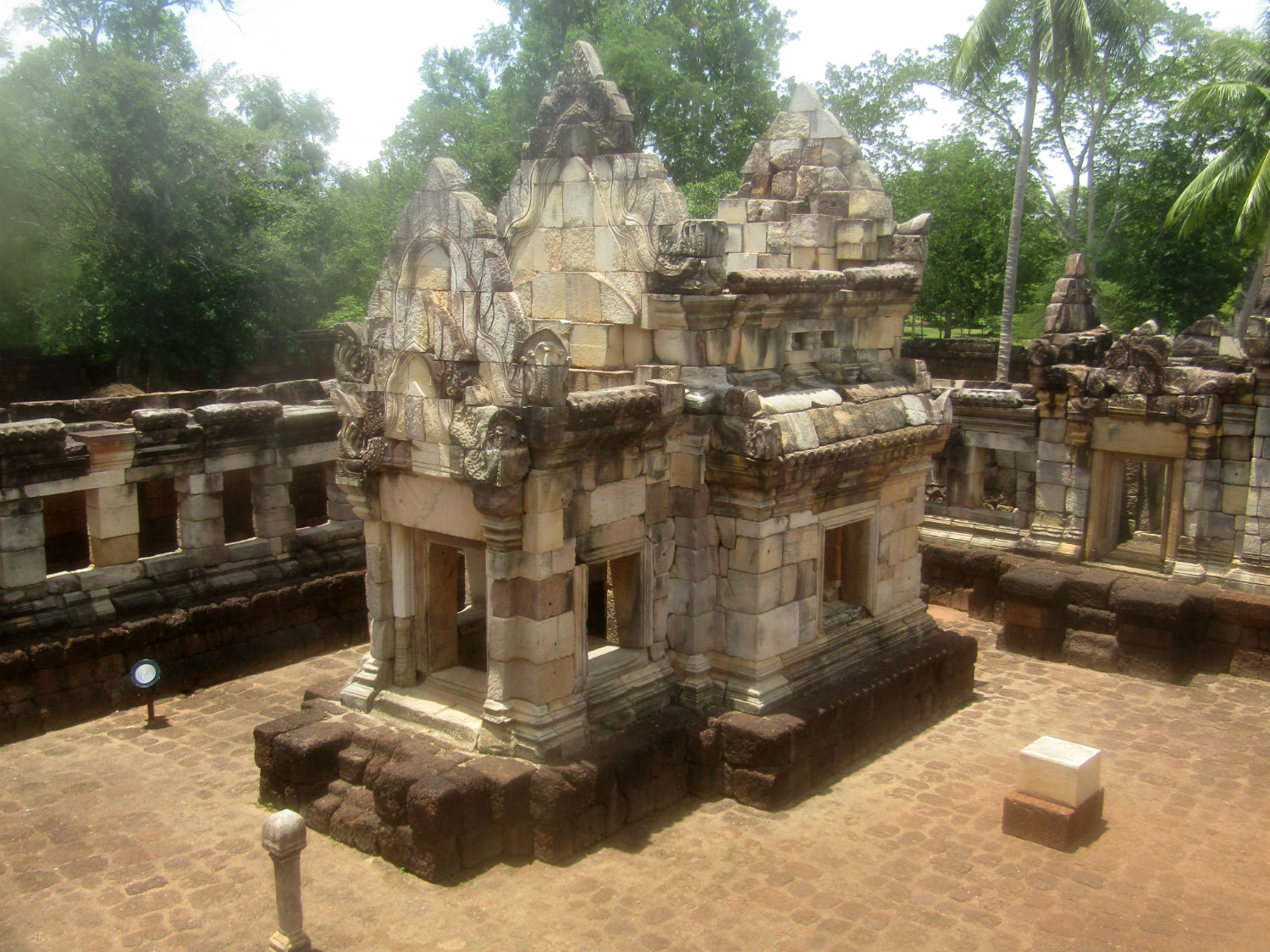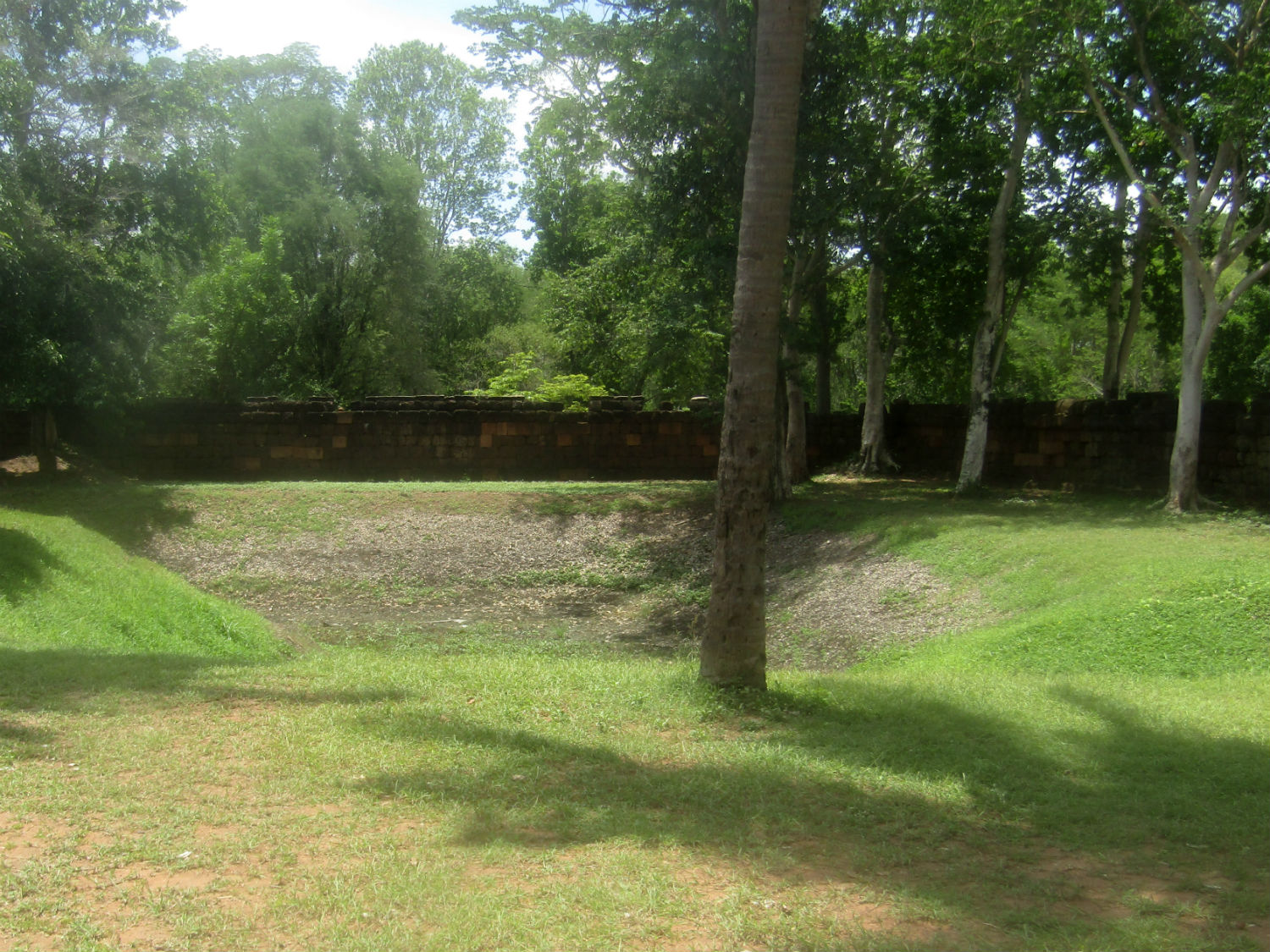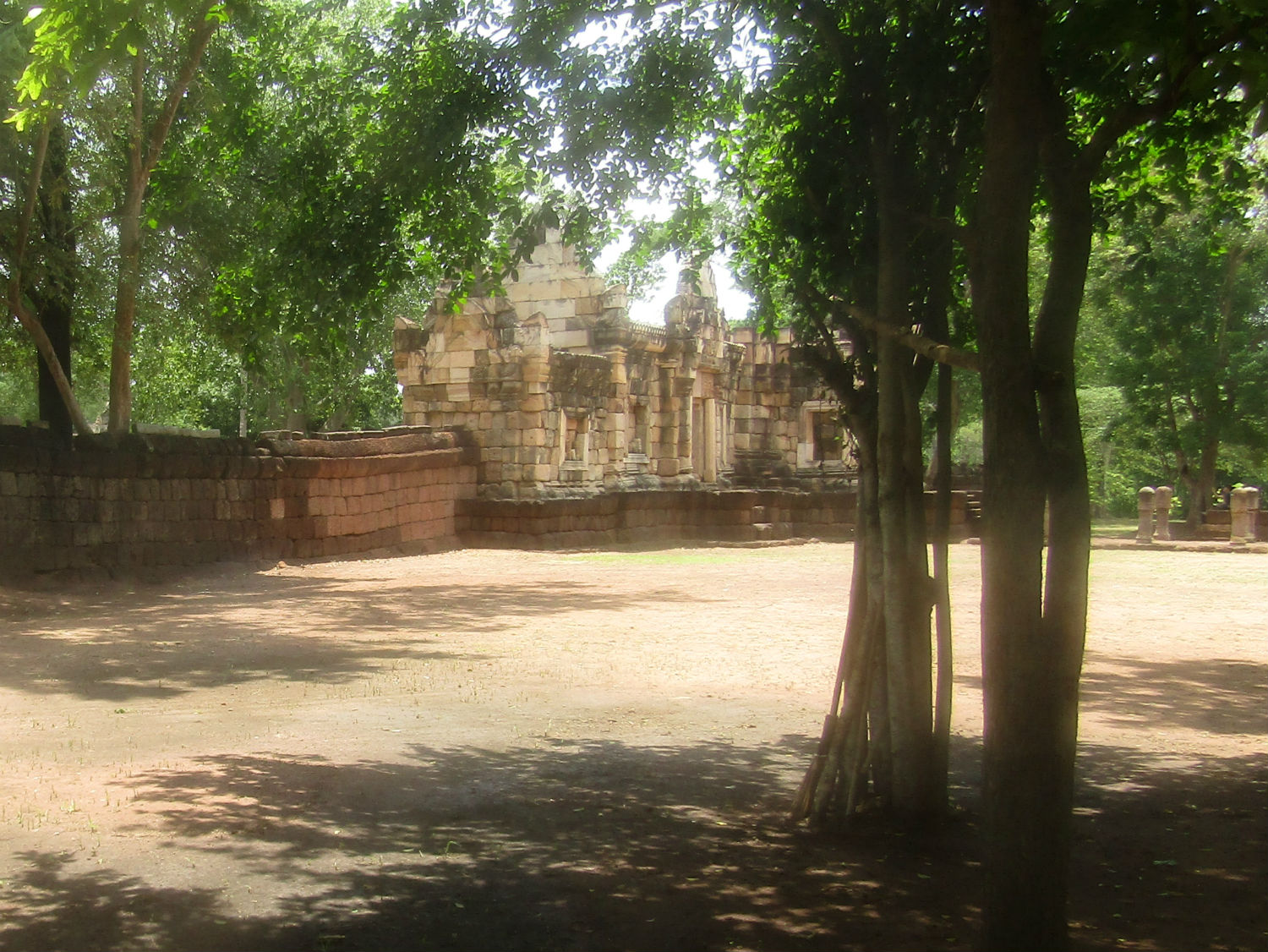 Prasat Sdok Kok Thom, Khok Sung District, Sa Kaeo Province


On arrival at Prasat Sdok Kok Thom, I'm surprised to see this site is classified as a historical park. Quite honestly I'd thought I'd visited all of Thailand's historical parks but then this one seems to be only recently classified, the visitor centre and other facilities yet to open. Presently there is no fee to pay but this is likely to change when the park is fully open. Inside the park is one of the most complete Khmer sanctuaries I've seen, a testimony to the dedication of the staff to rebuild this sanctuary. Clearly it will be a major attraction in the region in the near future.
Aranyaprathet Railway Station…….. Arriving at Aranyaprathet Railway Station, there is a service about to depart but this is not the first time I've recorded this location on one of my tours. However, the reason I've come here are the changes that have been made since I was last here. Briefly passing through the Ban Khlong Luek border market, I head for the border crossing at the newly constructed railway station.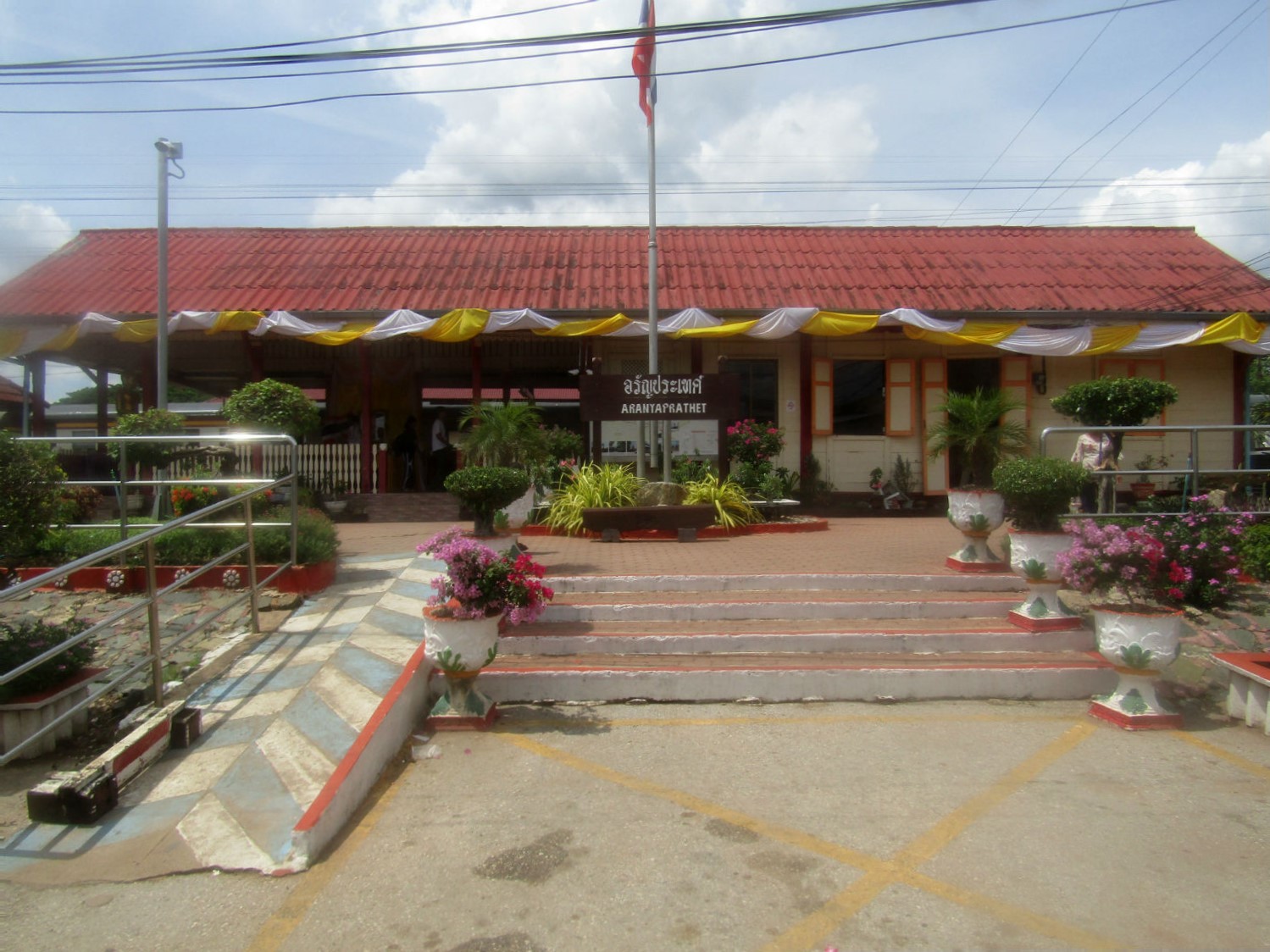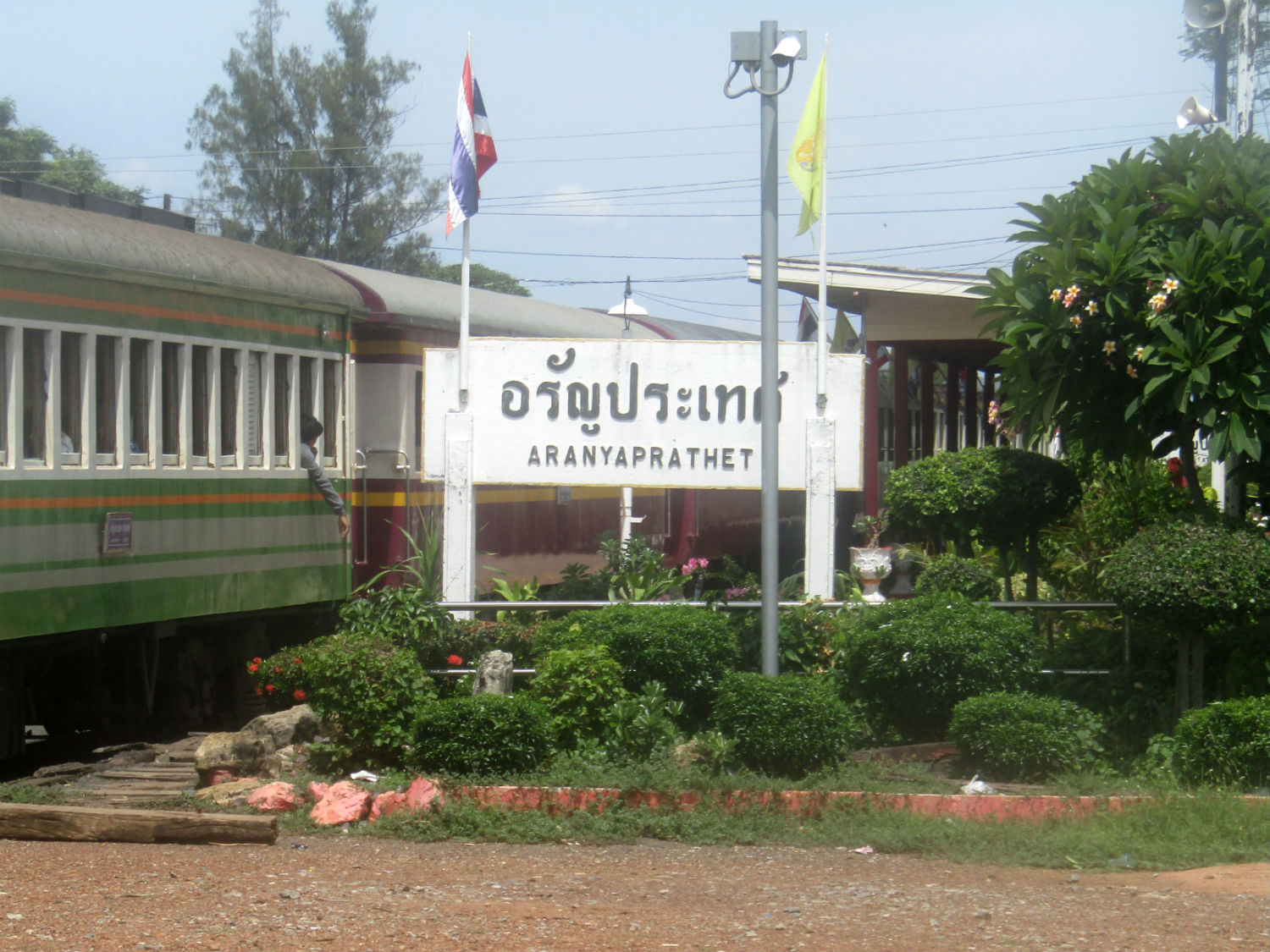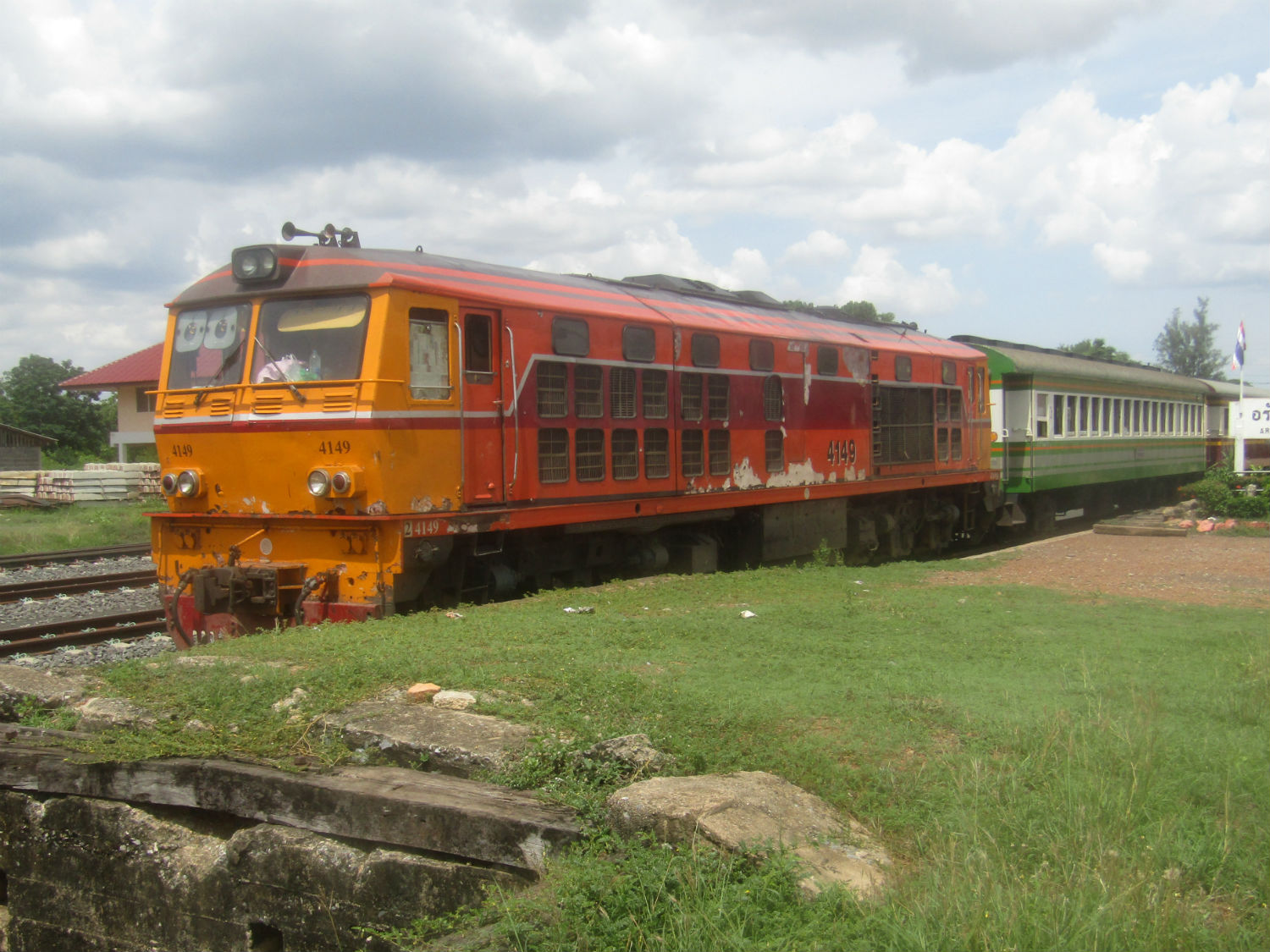 Aranyaprathet Railway Station, Aranyaprathet, Sa Kaeo Province


Extension to Ban Khlong Luek…….. The State Railway of Thailand spent about 19 million baht last year building a border train station in Ban Khlong Luek in Sa Kaeo's Aranyaprathet district. It also extended the railway network for 5.6km from the town of Aranyaprathet to the border station. The train service is expected to connect to the railway in Poipet town in the Banteay Meanchey province of Cambodia.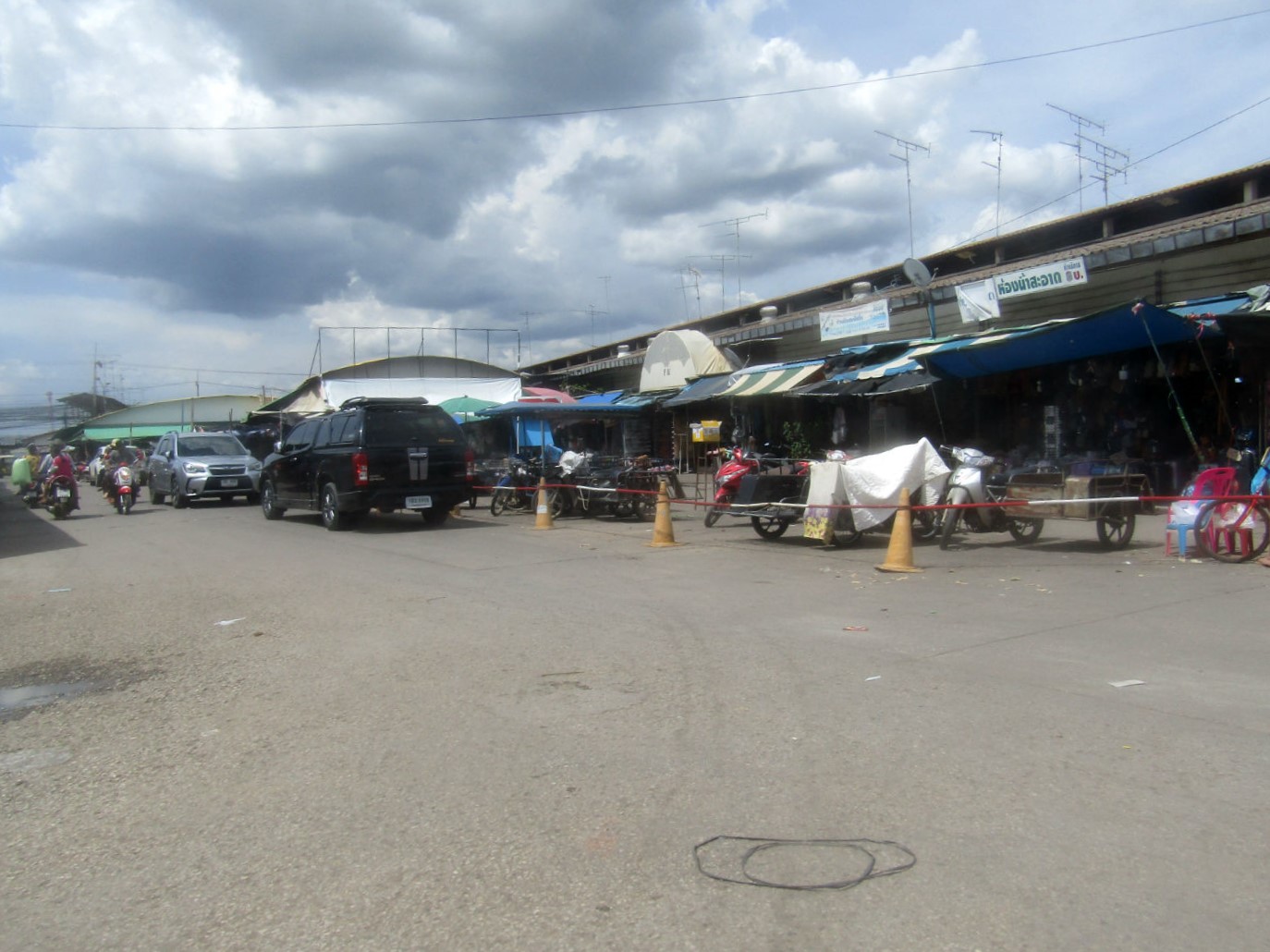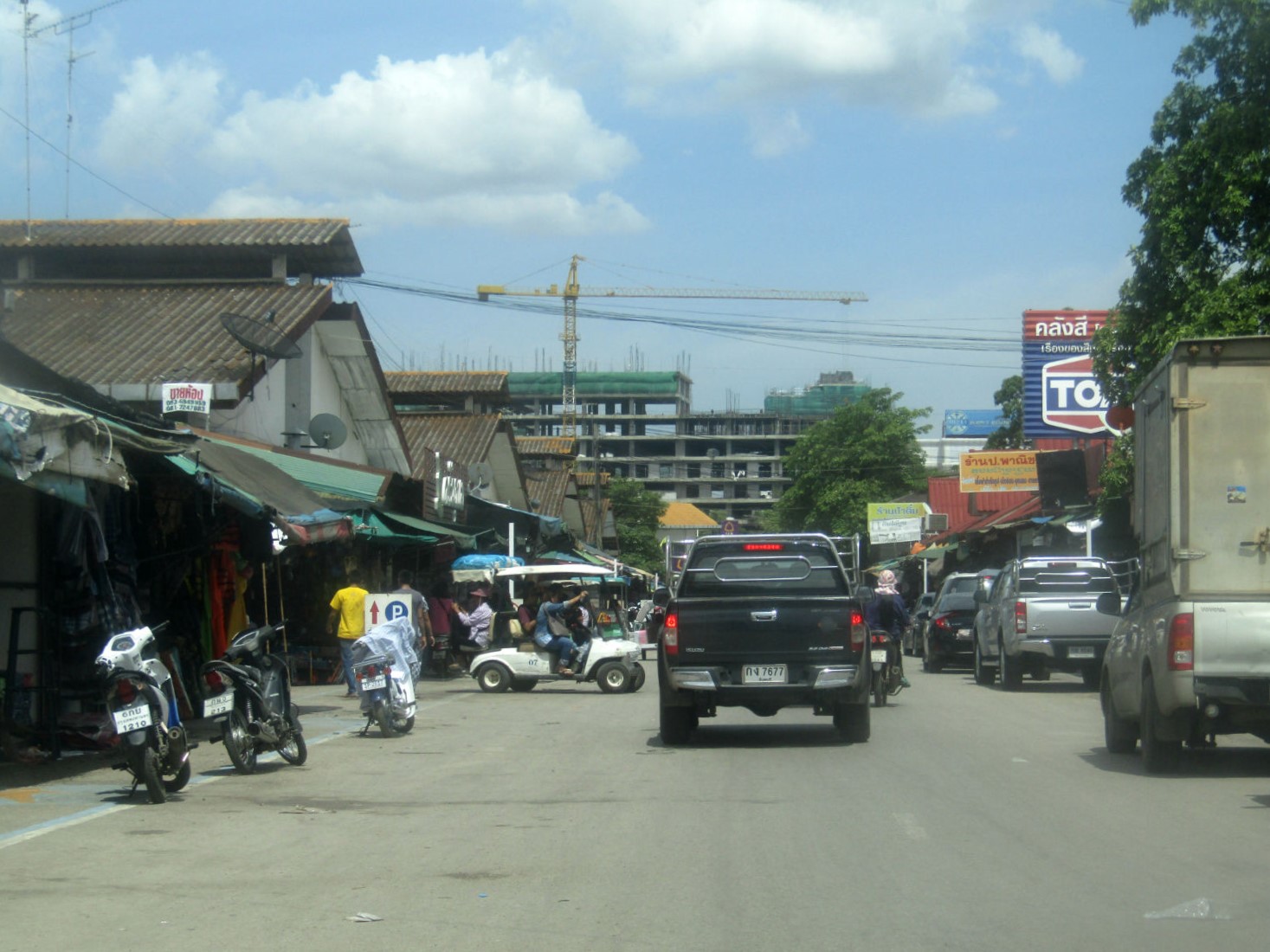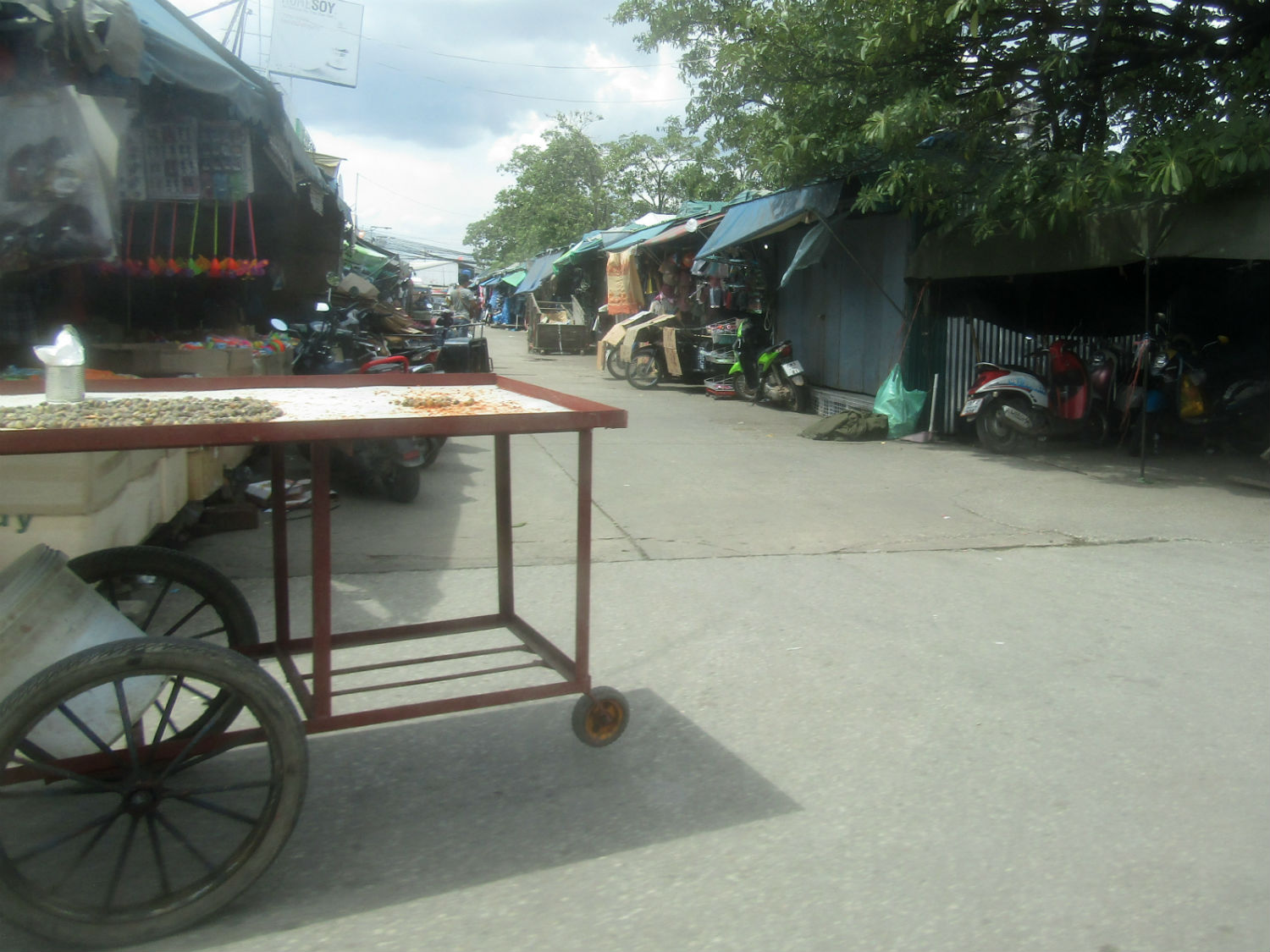 Rong Kluea Market, Aranyaprathet, Sa Kaeo Province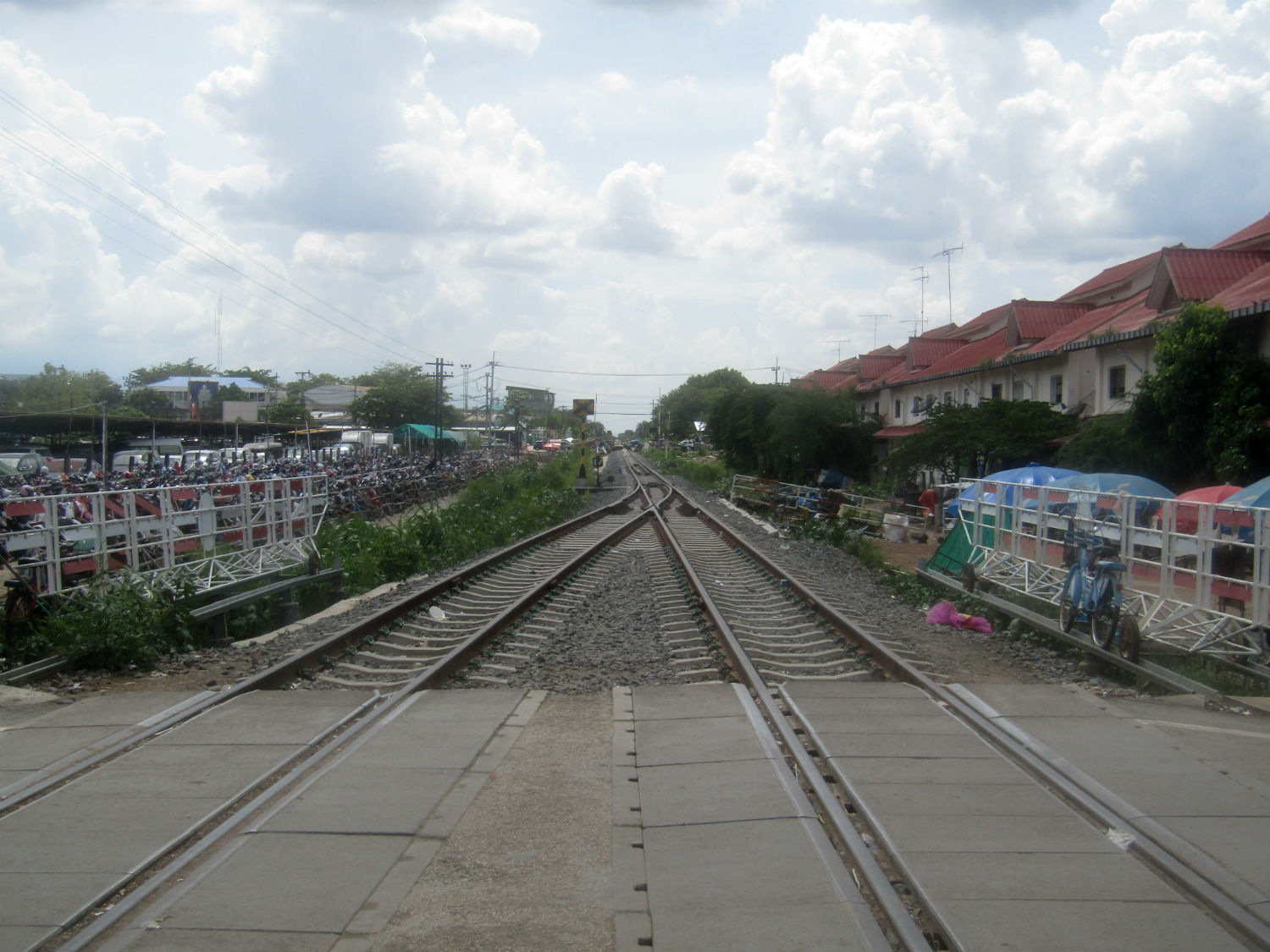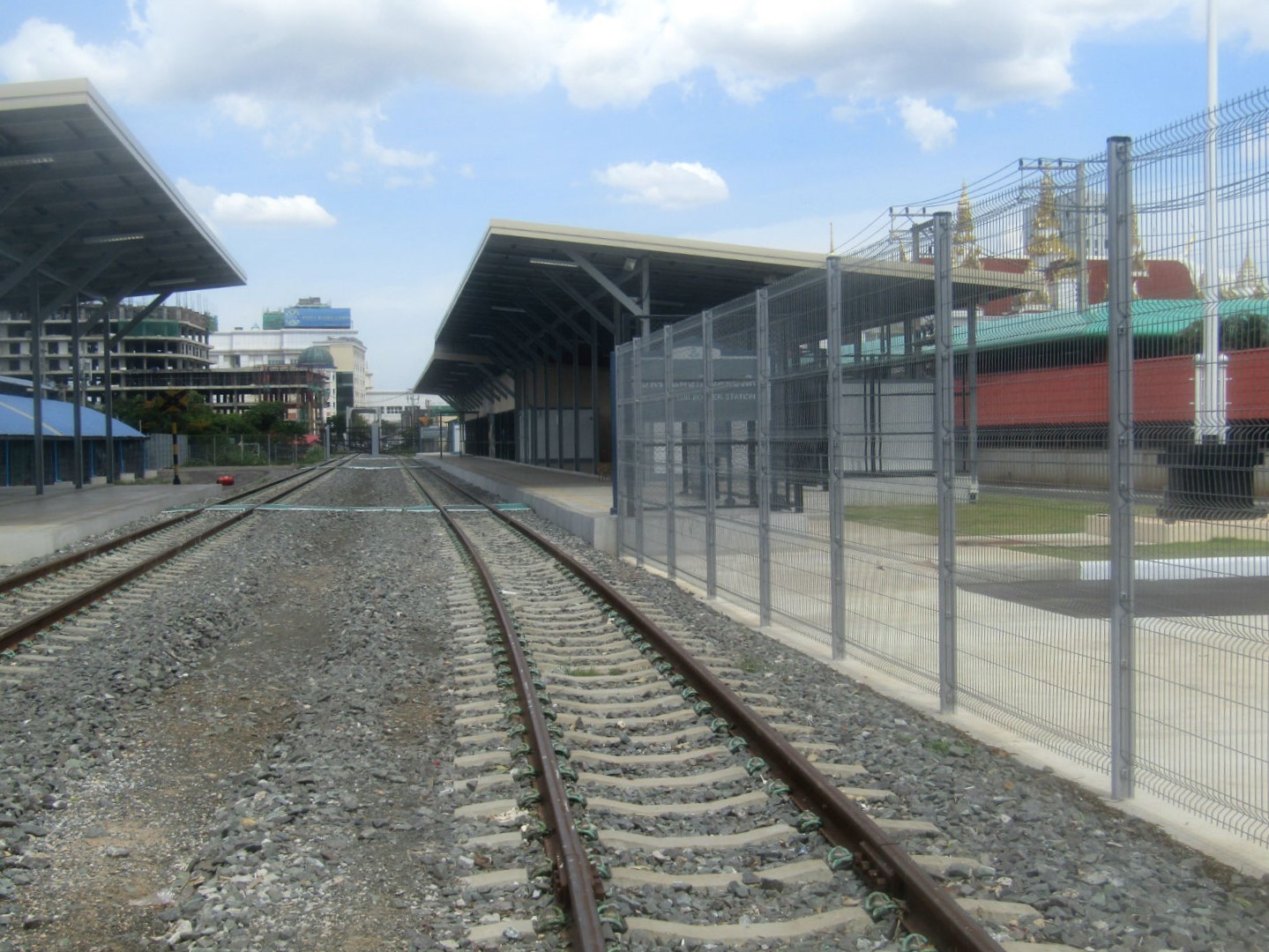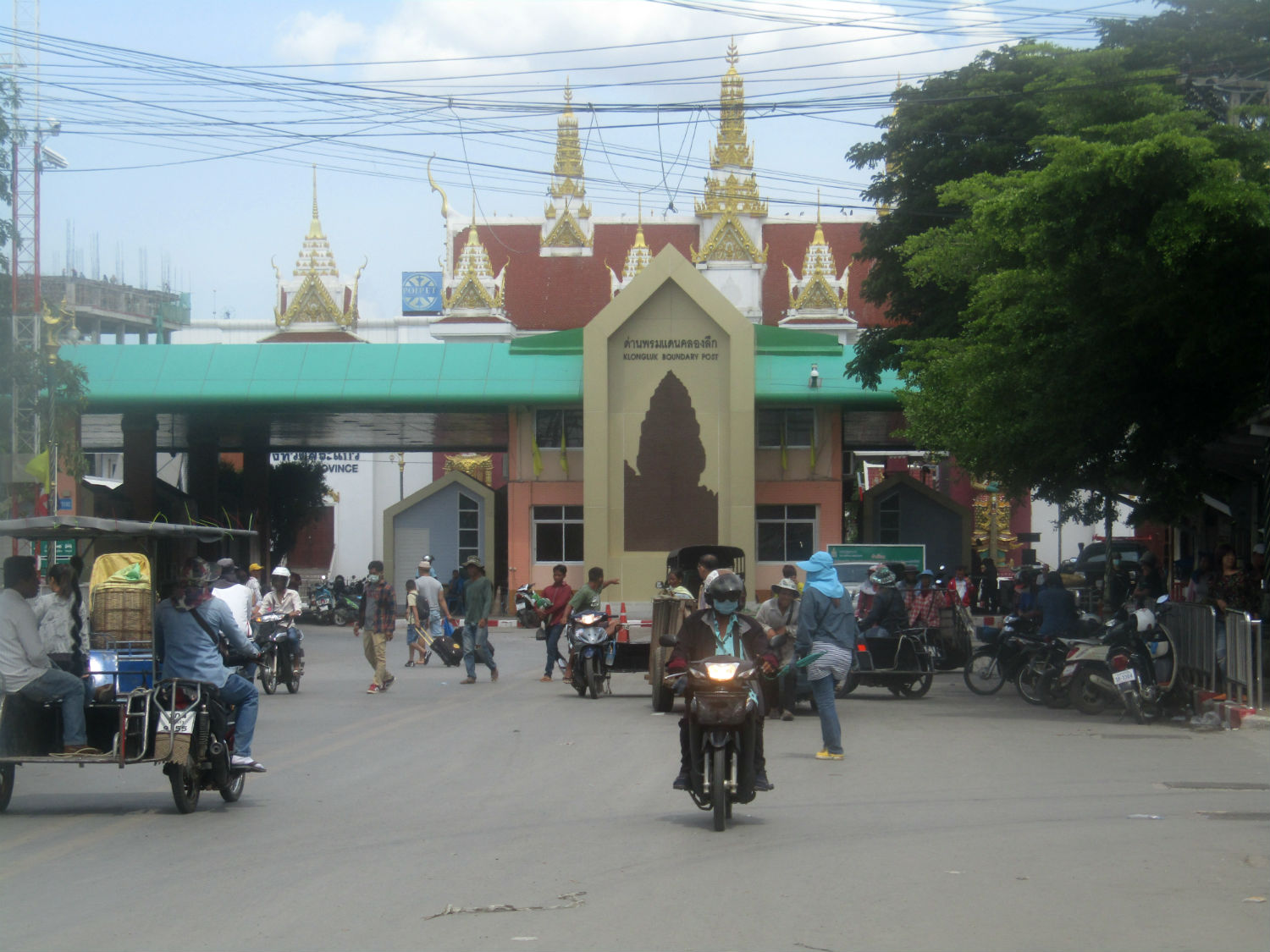 Extension to Ban Khlong Luek and the Aranyaprathet/Poipet Border Crossing (right), Sa Kaeo Province


While this is something for the future now, it's time to go back to the past.
Prasat Khao Noi Si Chompu…….. Prasat Khao Noi Si Chompu lies about 15 minutes drive south of Aranyaprathet. Arriving at the sanctuary, I note that it's on a hill with a long staircase leading to the top. Fortunately there is vehicle access around to the south of the hill but even then there are more steps but a lot fewer than the total of 254. It just has to be attempted.
Prasat Khao Noi is situated on the premises of Wat Khao Noi Si Chompu in Khlong Nam Sai Sub-district of Aranyaprathet District about 1800 meters north of the Thai-Cambodian border. The ruin is located on top of Khao Noi (literally small mountain), a limestone mountain of 147 meters above sea level.
The sanctuary is the earliest significant Khmer monument in Thailand. An inhumation burial was discovered at the site, suggesting a late prehistoric occupation prior to the construction of the temple. The Khao Noi Inscription, a sandstone rectangle bar with Pallava script found in situ, dates the brick sanctuary to 637 AD.
The Vaishnavite temple was restored in the 11th century AD and consisted of three east-oriented towers symbolizing the Hindu Trimurti or 'three forms' Brahma-Vishnu-Maheswara. Today, only the central prang, extensively restored, remains, while the other two prang have only their foundation left. Many artefacts were found such as Saivite lingas and pedestals, an 11th century - iron coated with bronze - seal with a Sanskrit inscription, as well as five sandstone lintels in the Sambor Prei Kuk and Prei Kmeng (c. 635–700 AD) styles. The lintels in situ are replicas.
The original lintels and artefacts excavated at Khao Noi are kept and exhibited at the Prachin Buri National Museum. Prasat Khao Noi was registered as a national monument by the Fine Arts Department in 1935.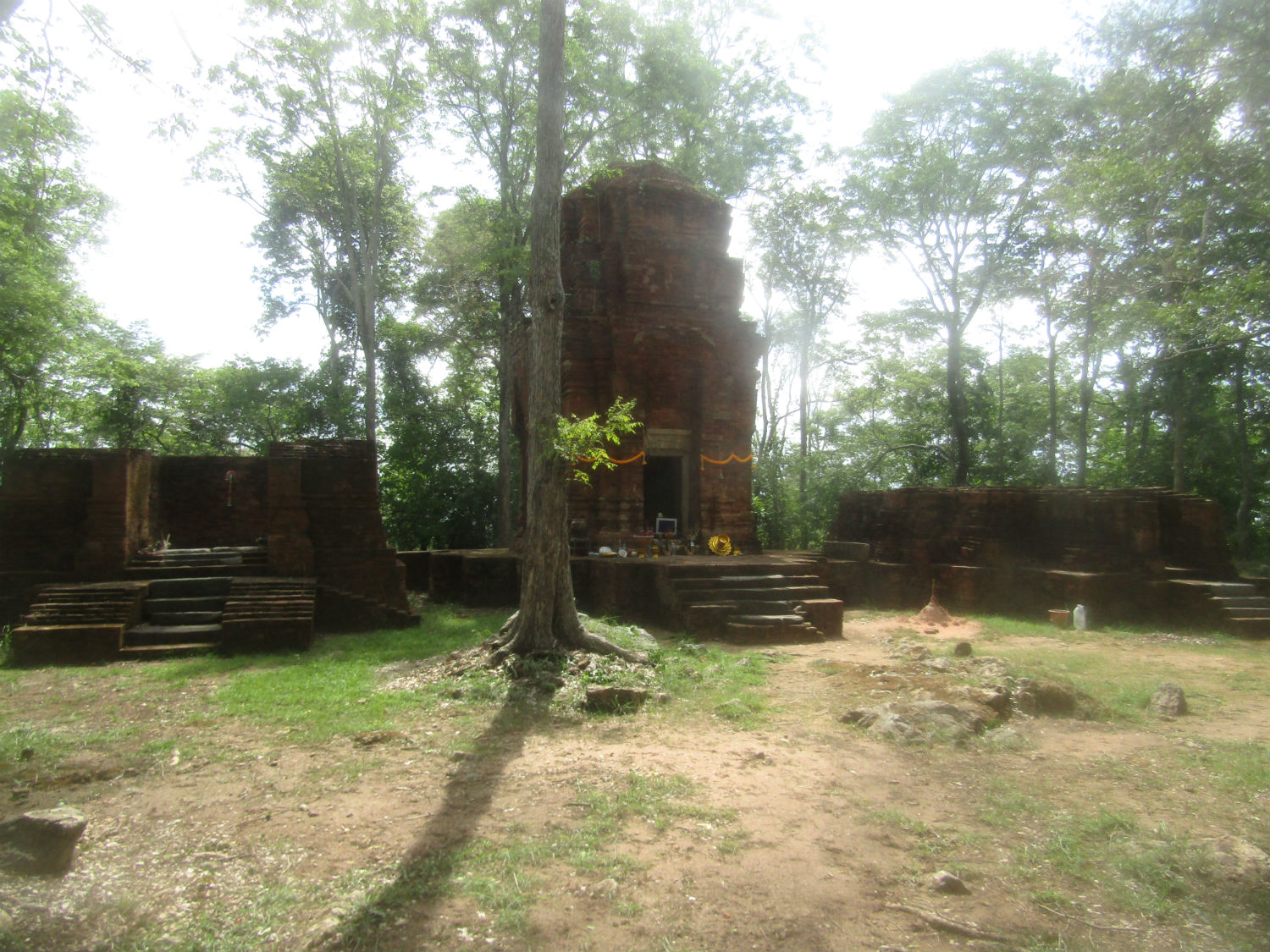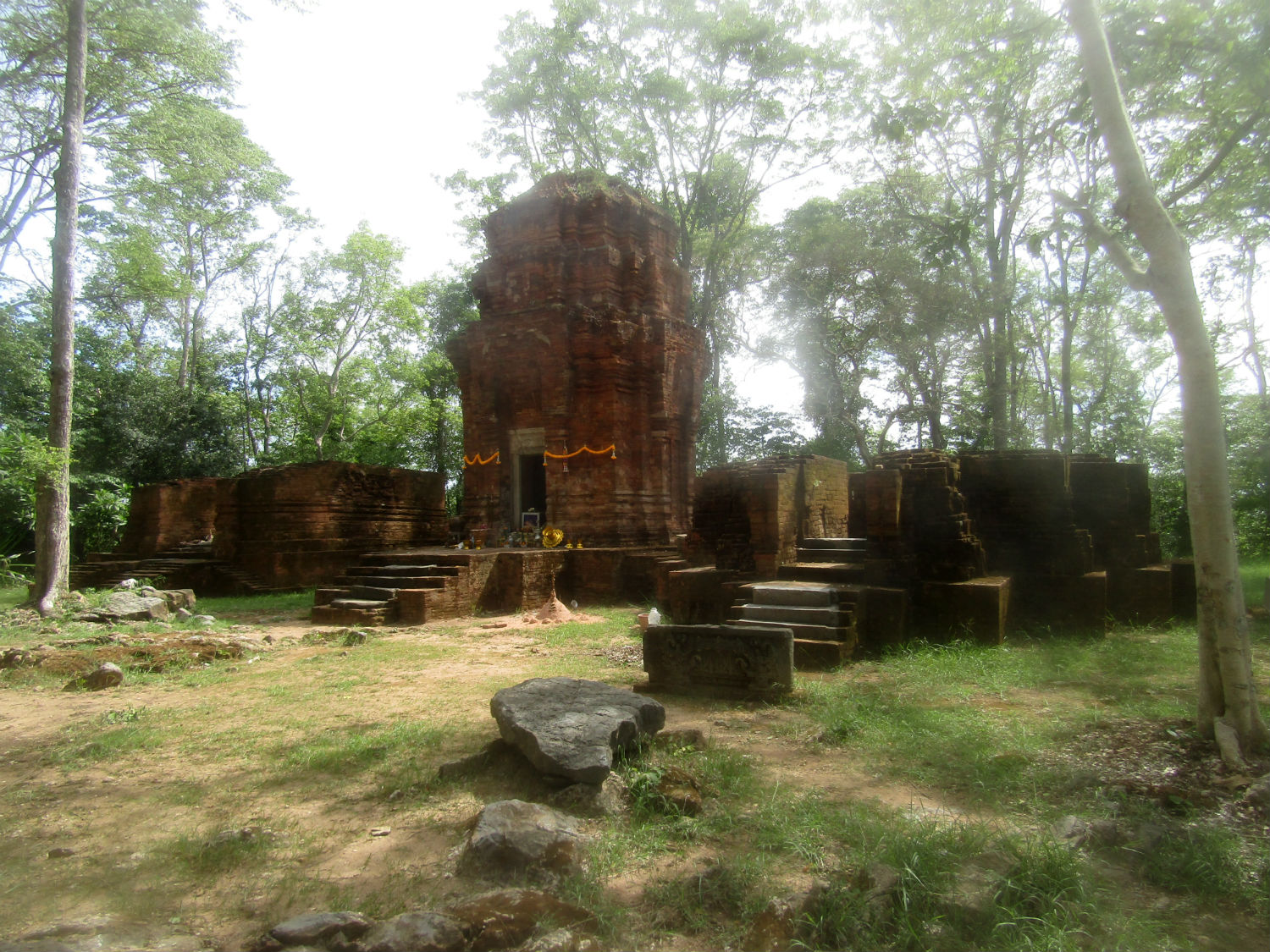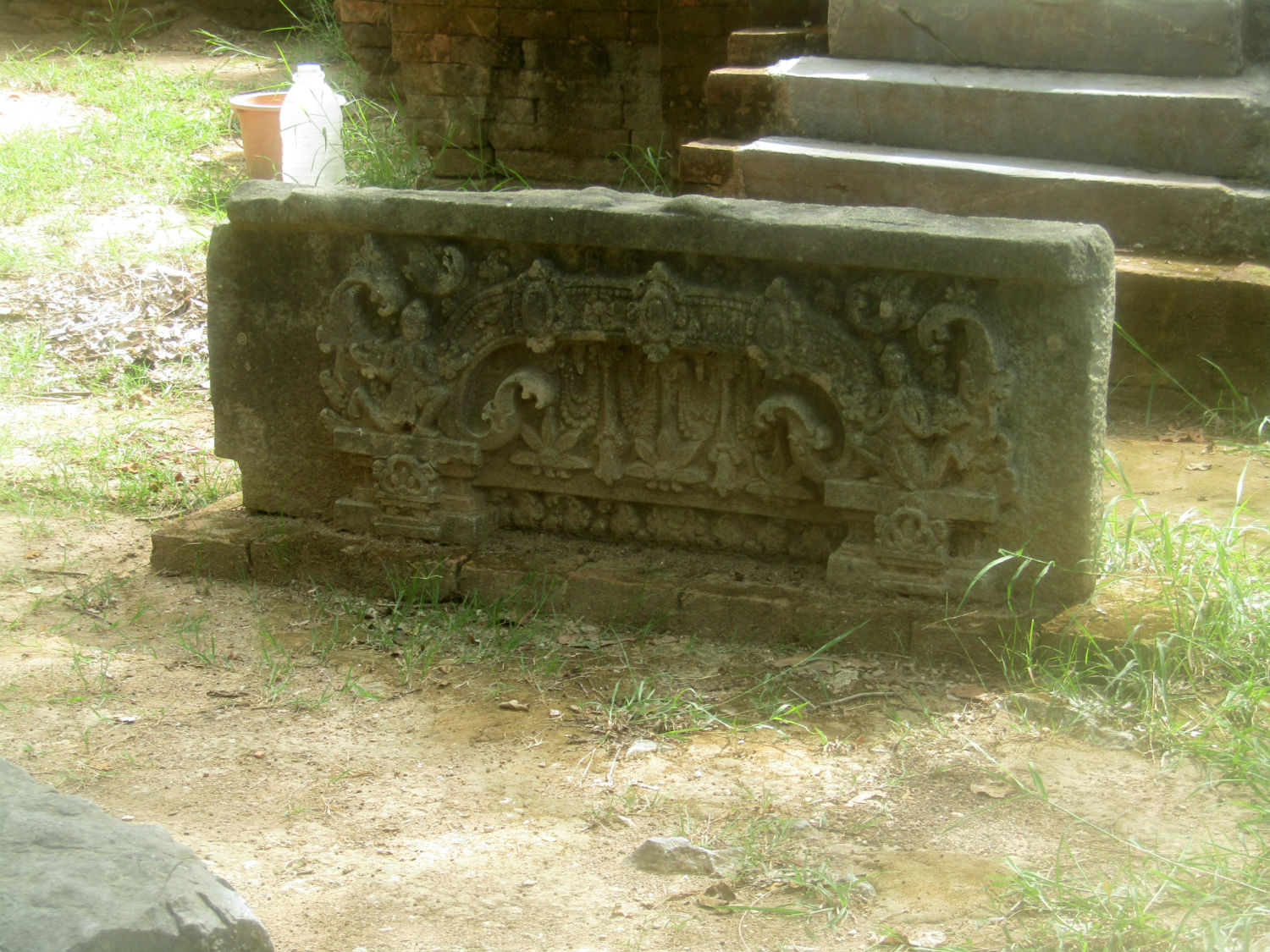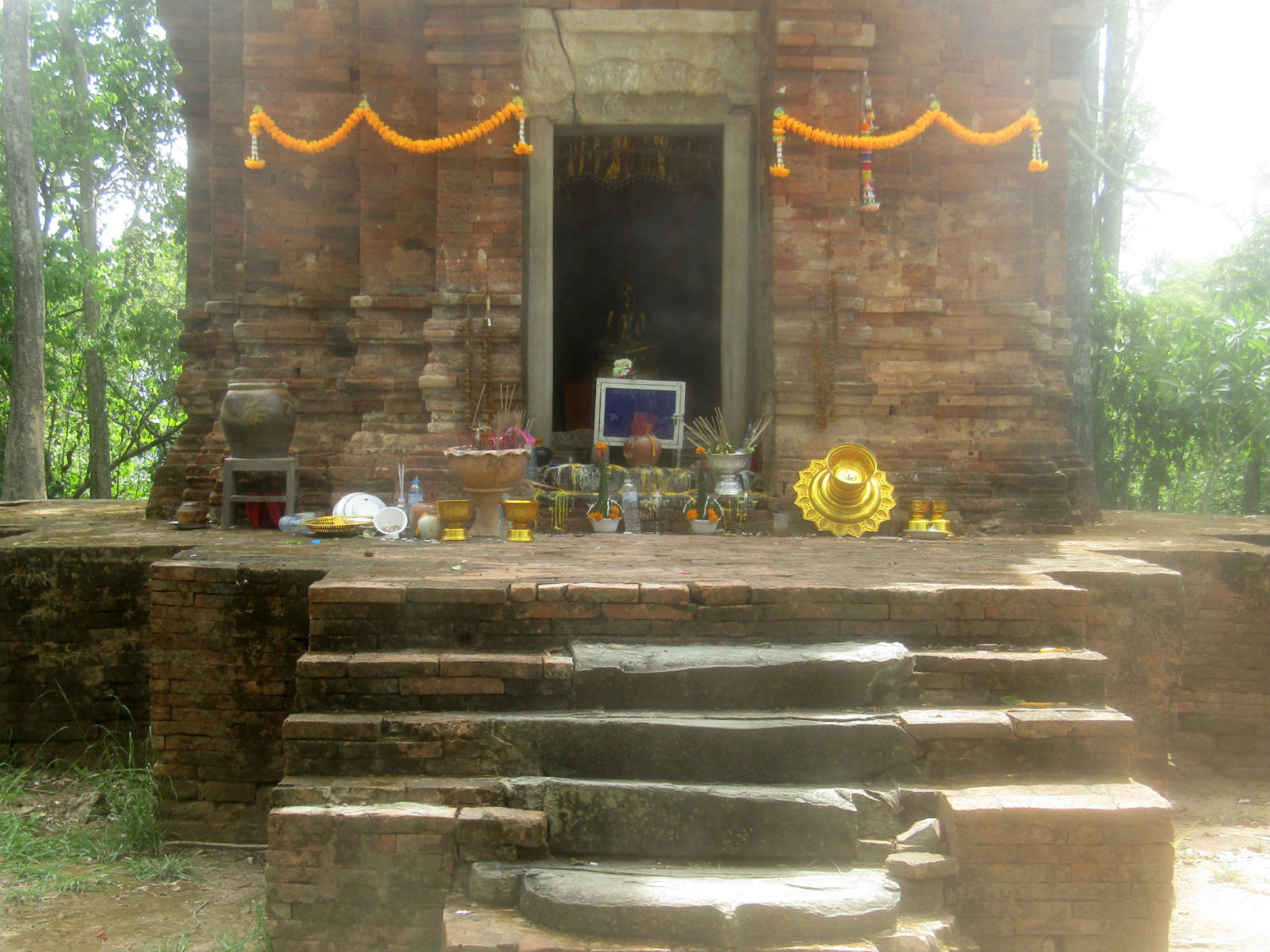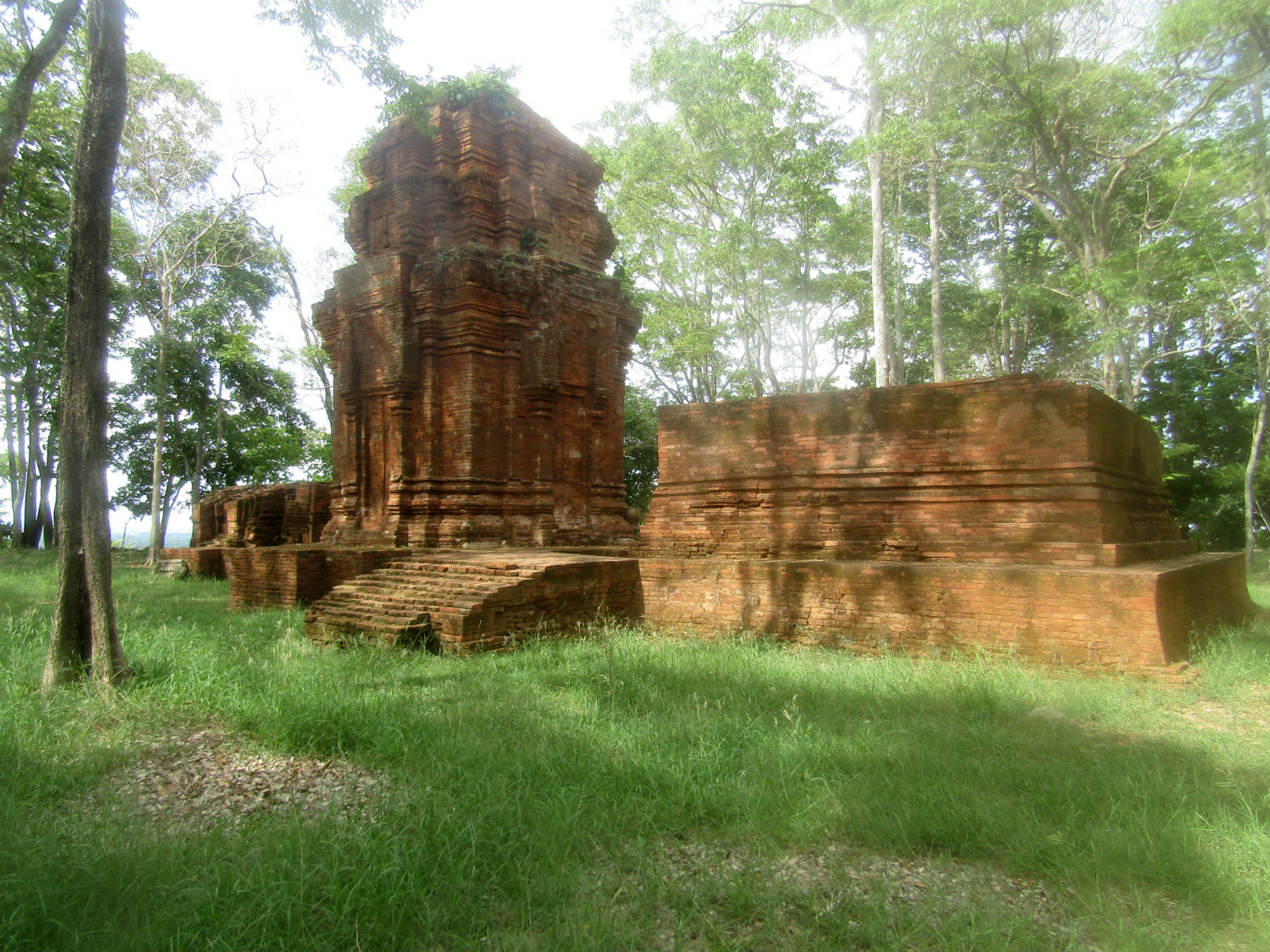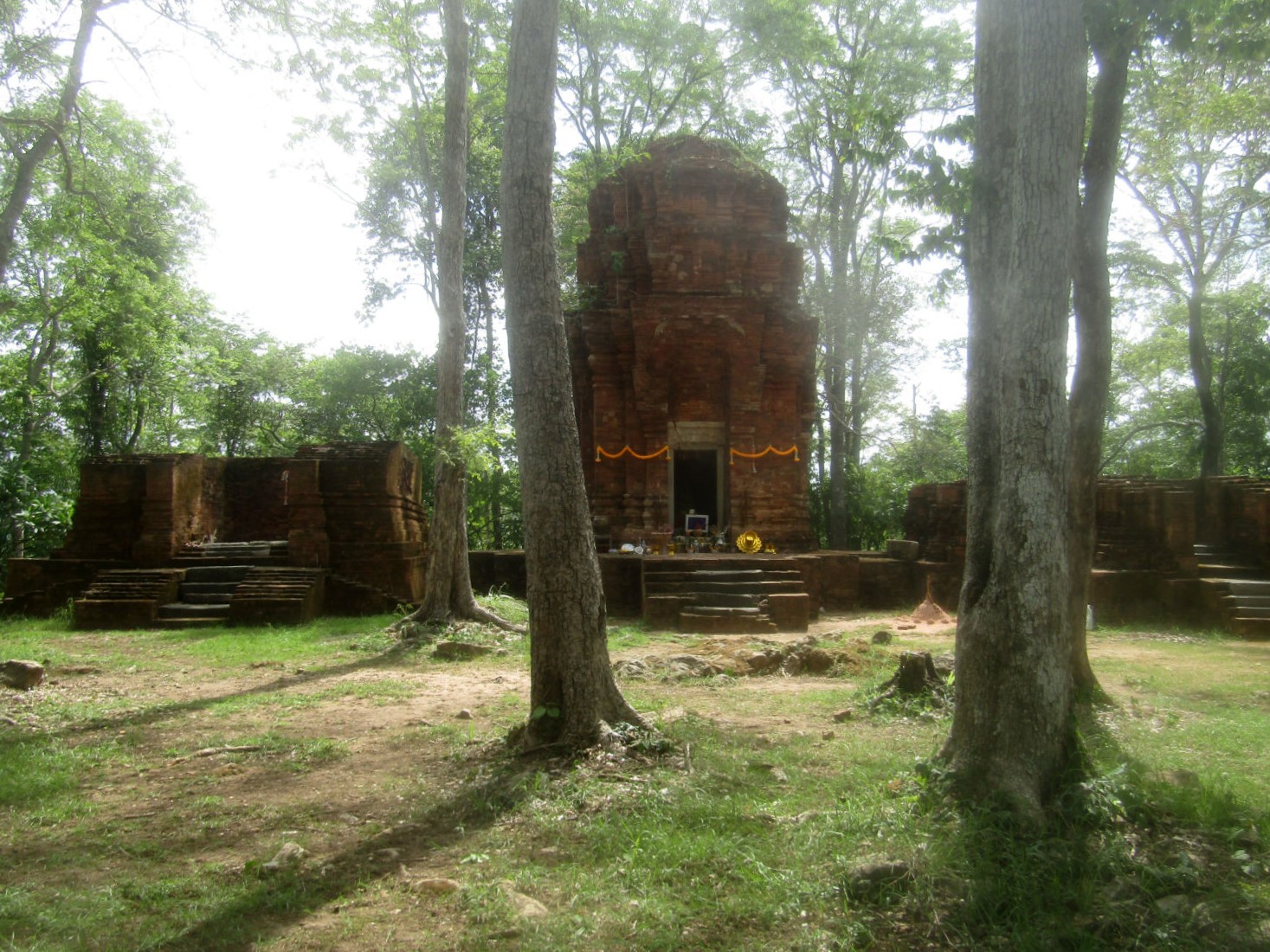 Prasat Khao Noi Si Chompu, Aranyaprathet District, Sa Kaeo Province


Finally we call it a day as far as Sa Kaew is concerned. Most of the main sites in the province have now been covered in a very short time. There are other sites to the west and many minor sites still unvisited but there was never intended to be comprehensive coverage of this province. Another time perhaps.
Chanthaburi…….. As we head south along the border with Cambodia, amidst increasingly eye catching mountain scenery, I start to think about my overnight stop. One thing is clear: I hadn't really expected to be in the position of selecting a destination that will be there or there abouts, my final one; certainly not on the coast of the Gulf of Thailand. Covering the last 200 or so kilometres in 3 hours is good going, mostly along minor roads.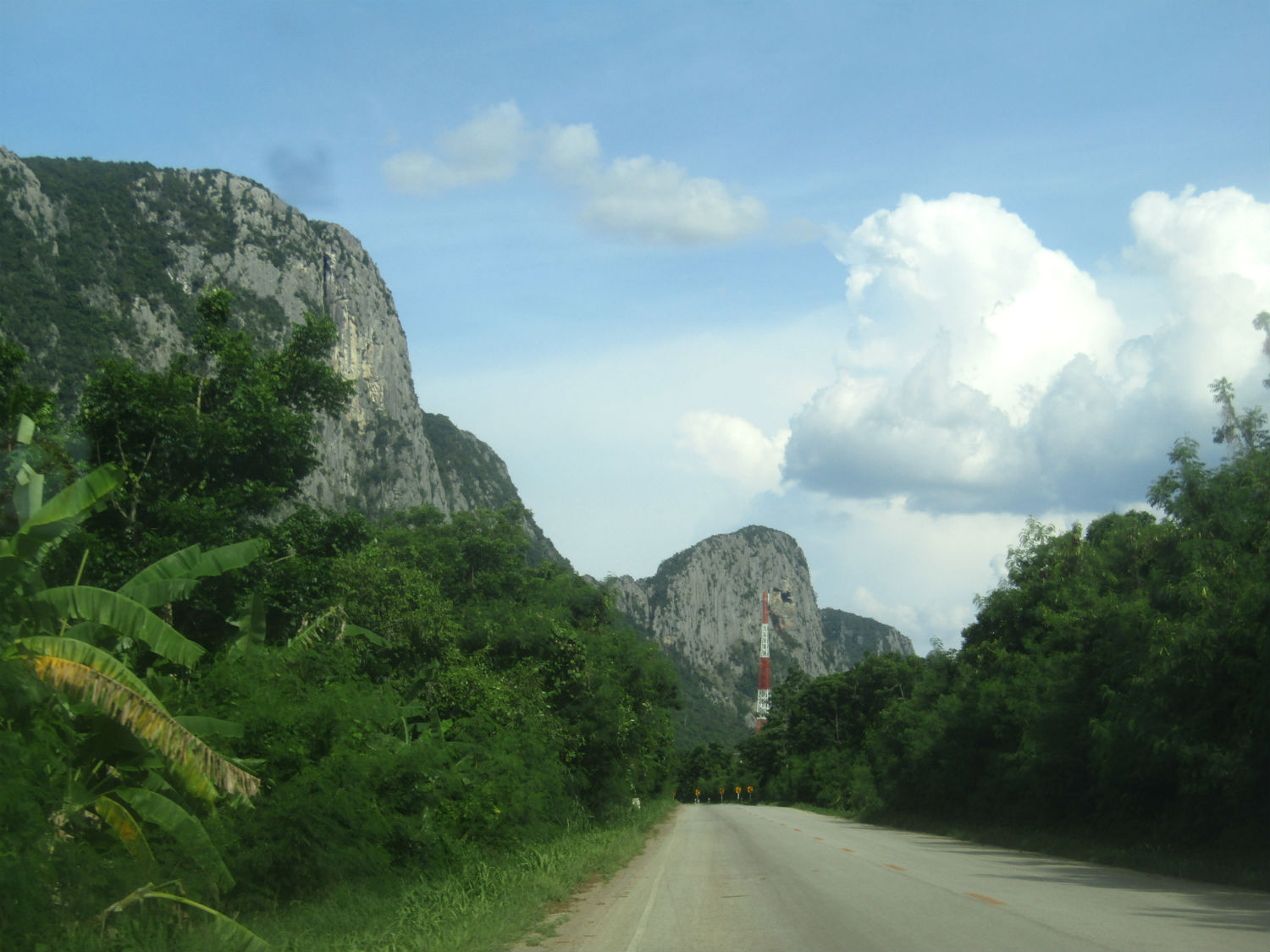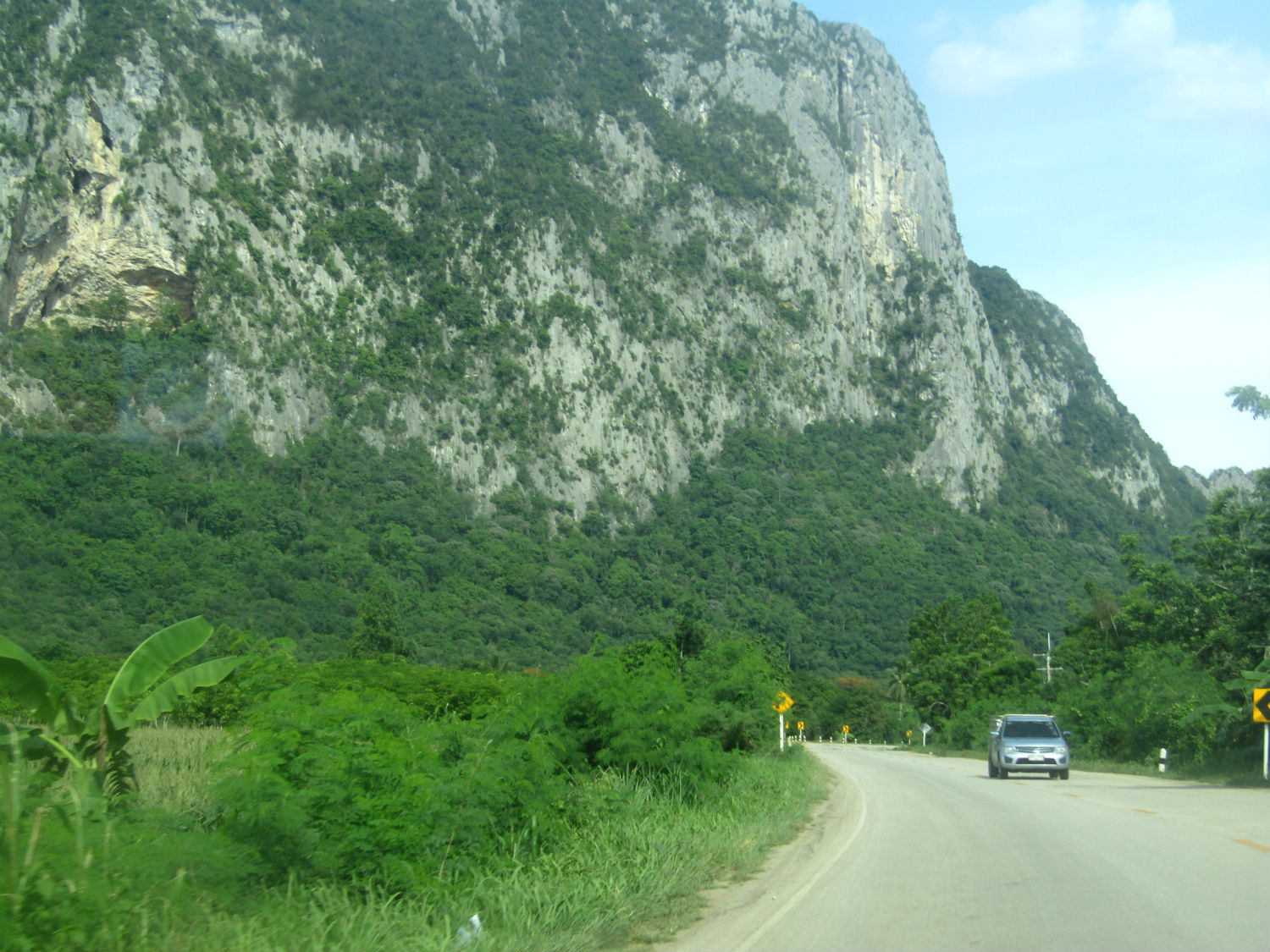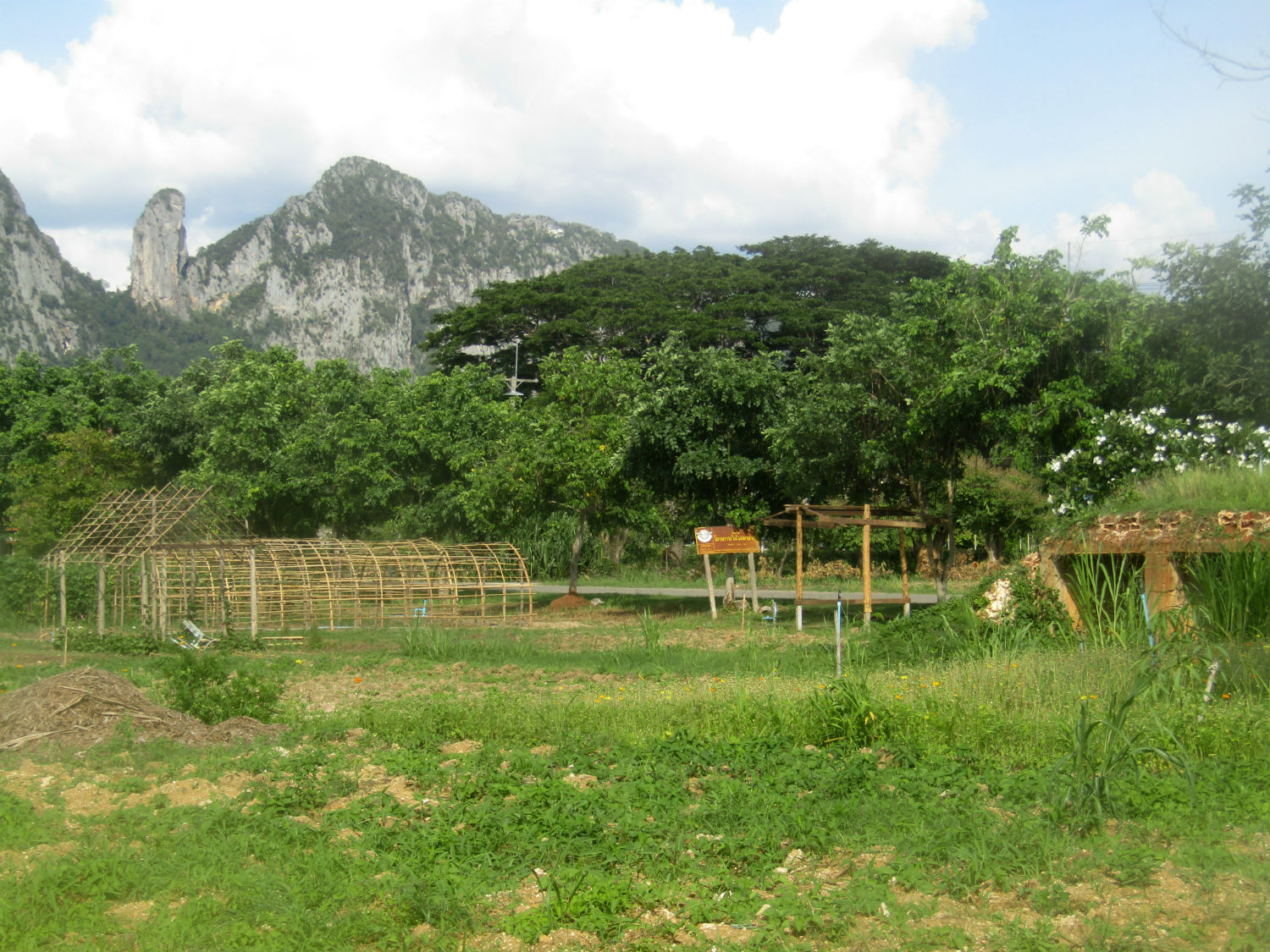 Scenery on the Provincial Border, Sa Kaeo/Chantaburi (Khlong Hat/Soi Dao Districts)


Ao Tan Beach…….. Seeing photographs of Ao Tan Beach, it looks really inviting and we reach it before 6pm, plenty of time to look for accommodation. But Ao Tan Beach lies in a small cove and being a Sunday, it's really crowded. All the accommodation is squeezed in what little space there is along the breakwater. With the focus on finding a room, I hardly notice that we've made it to the ocean that has been so rare on recent trips. Will it now provide a piece of magic after all the work I put into this tour?
As Katoon makes enquiries, she's far from impressed, concerned about the noise from so many visitors, in and out of the water. If only it were peaceful. Just where we are heading now, I've no idea.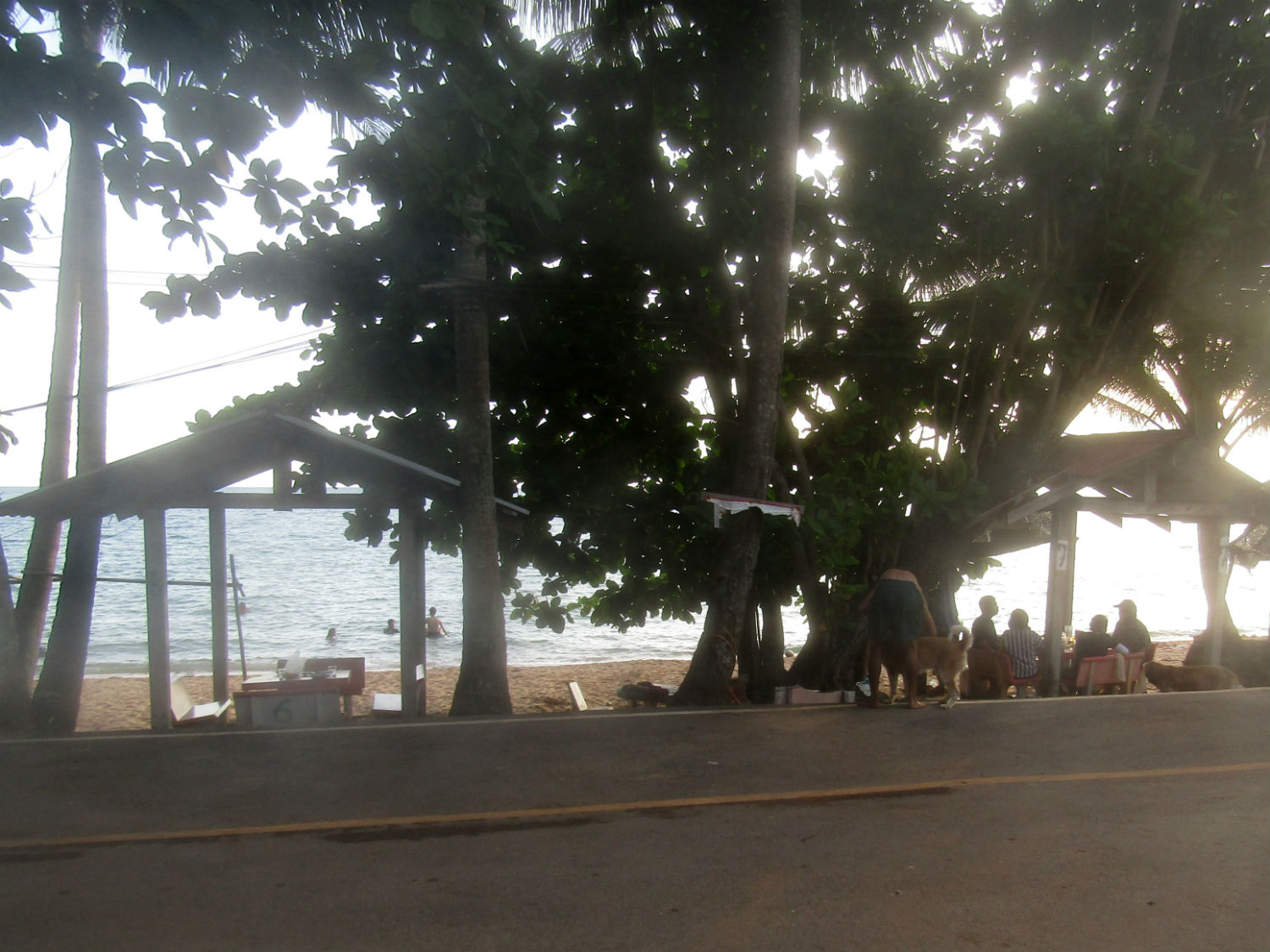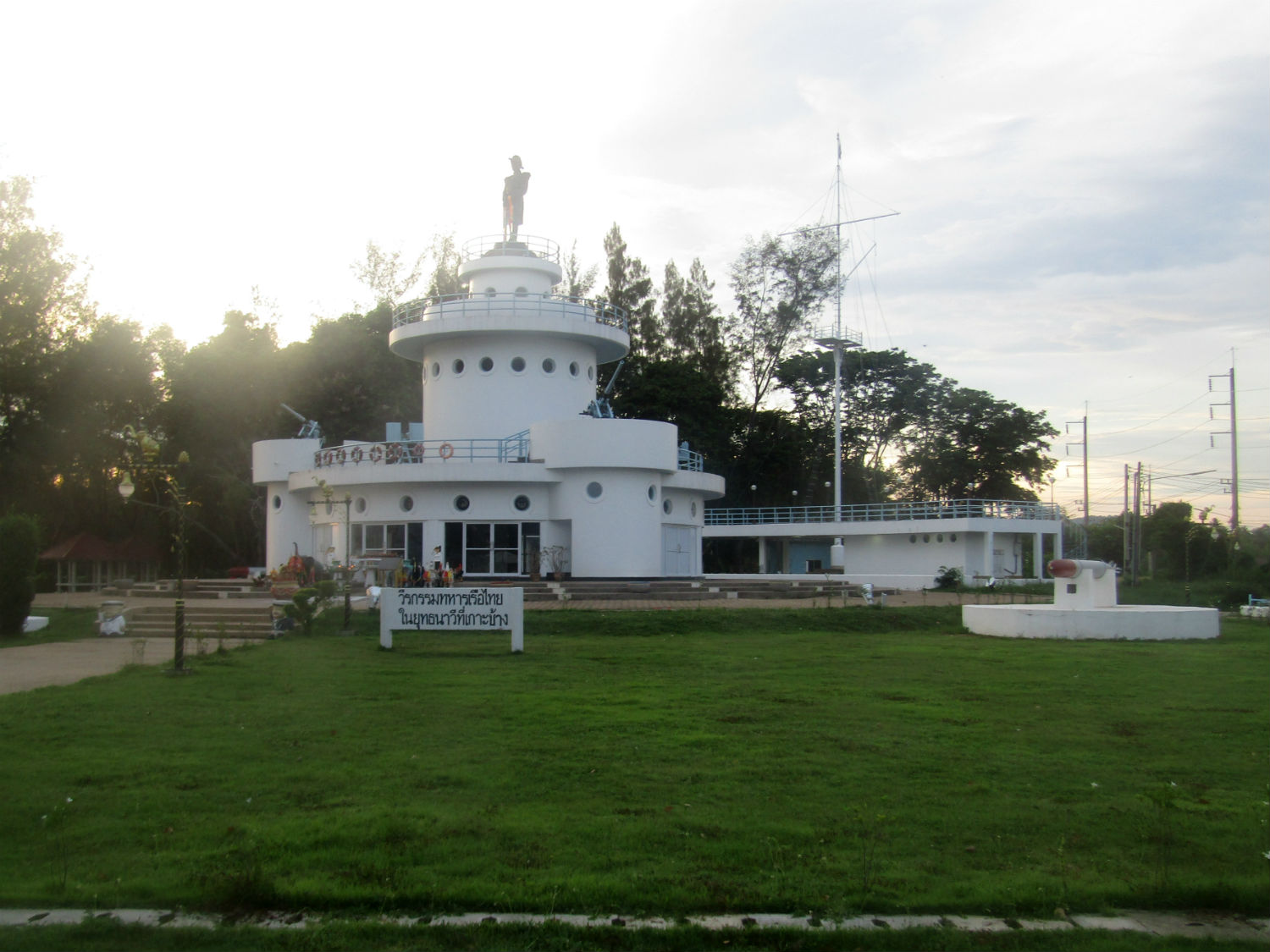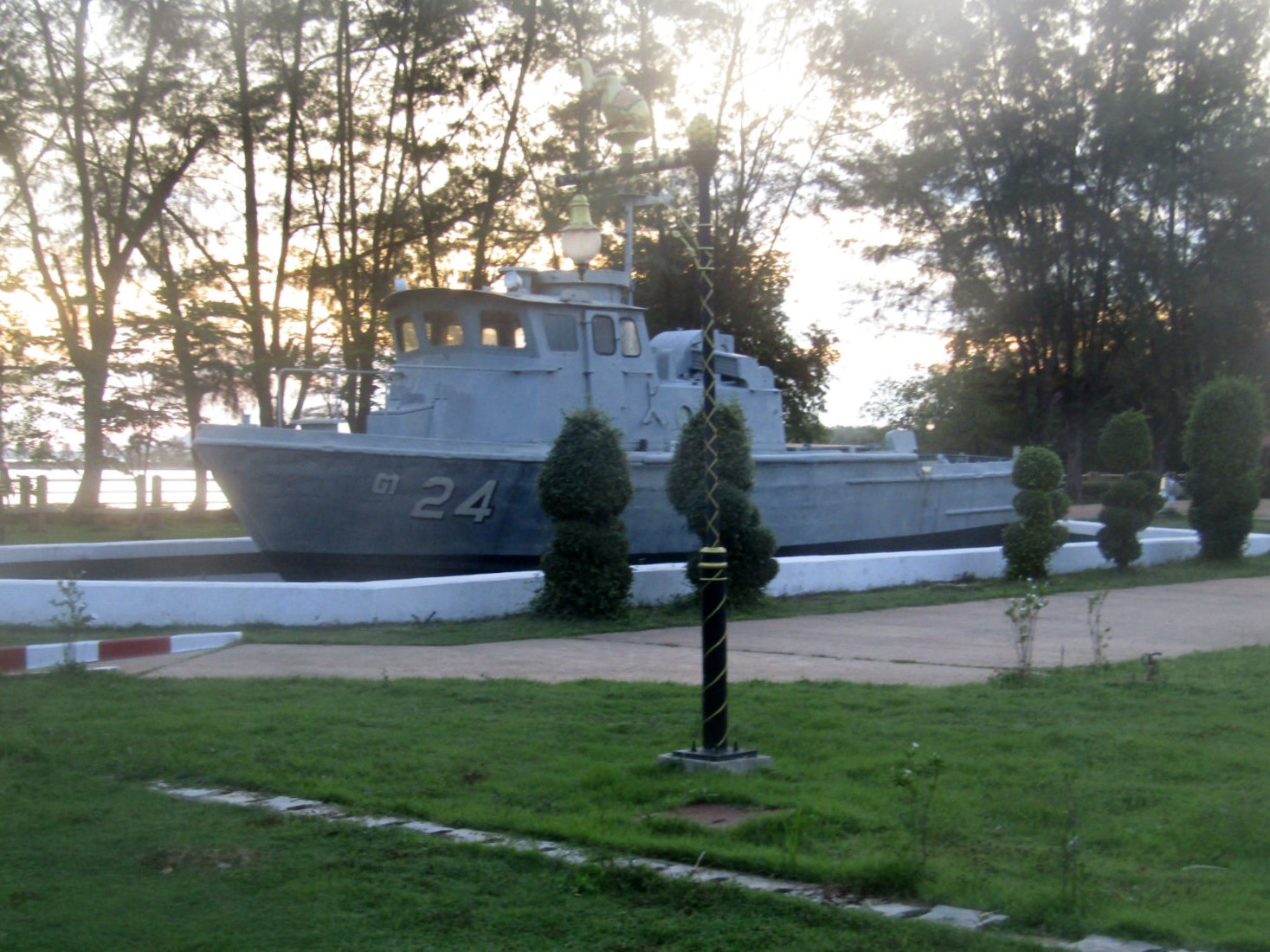 Ao Tan Beach (left) and Yuttanavi Memorial Monument, Laem Ngop District, Trat Province


Yuttanavi Memorial Monument…….. As we head east, we pass the Yuttanavi Memorial, a naval museum commemorating the sea battle fought in 1941 off the south coast of Koh Chang between the naval forces of Thailand and France.
Familiar…….. There seems to be some familiarity with Laem Ngop. After all we were last here for a visit to Koh Chang in 2011 but Katoon remembers it from a previous stay and locates Sunset@RimtalayLaemNgop, a resort and seafood restaurant. It's also very busy now with evening diners. Katoon seems happy with the room but as expected, it's more than we normally pay at 800 baht but reasonable on account of its location. Over in the distance is Koh Chang and the two ferry piers.
Dinner at sunset…….. Inevitably, I suppose the dining options include the seafood restaurant where I expect to pay the price of typical overnight accommodation. Aware that my budget is being stretched to the limit, I'm not that enthusiastic but Katoon offers to pay. I know that Katoon and food are the very best of friends. However, I know that the food will be special and the location perfect. As the sun sets over Koh Chang, the distant lights begin to twinkle in the gloom and the lapping of the water below, now at high tide, adds calm and wellbeing. It seems the perfect way to end a busy day.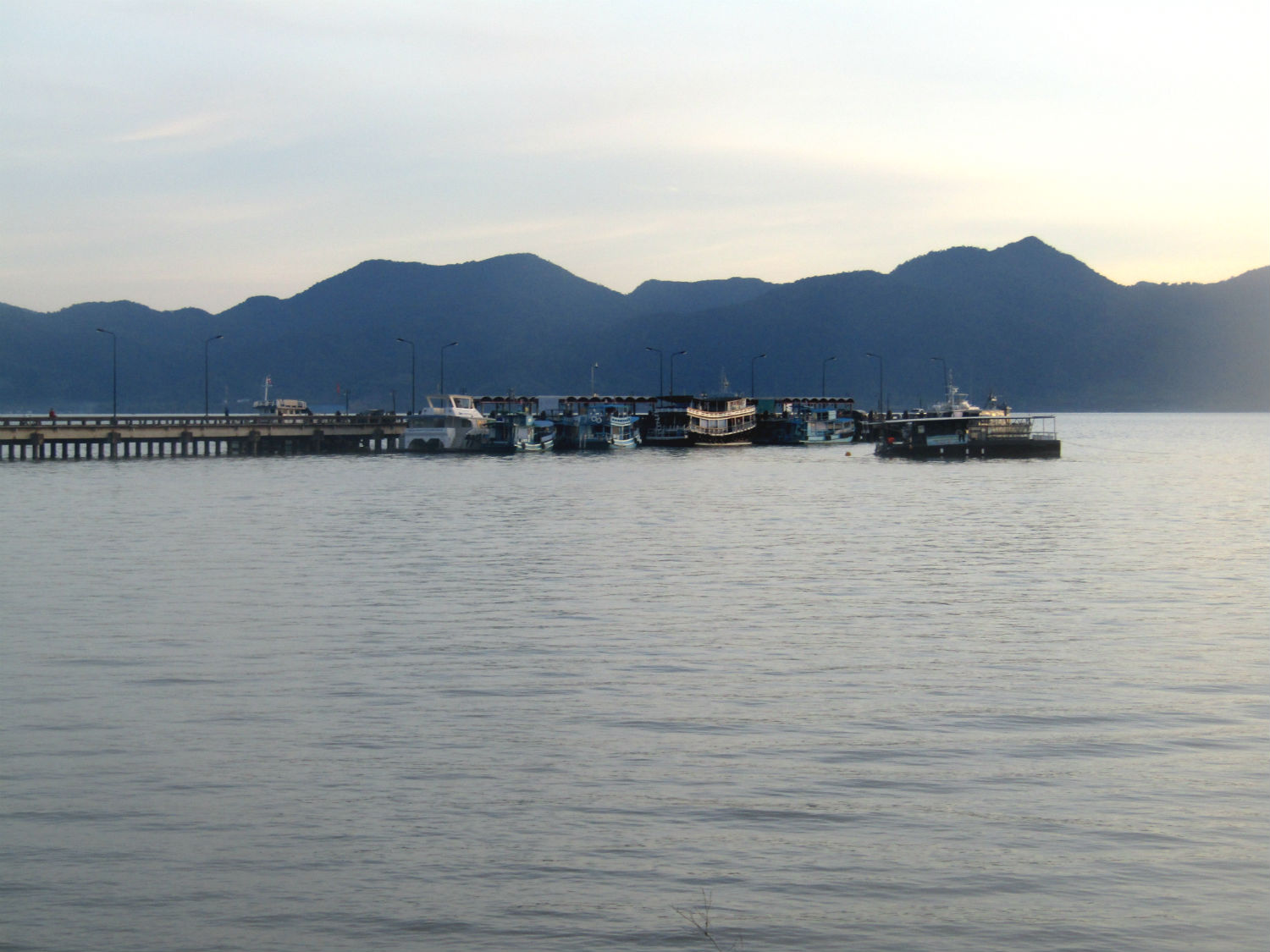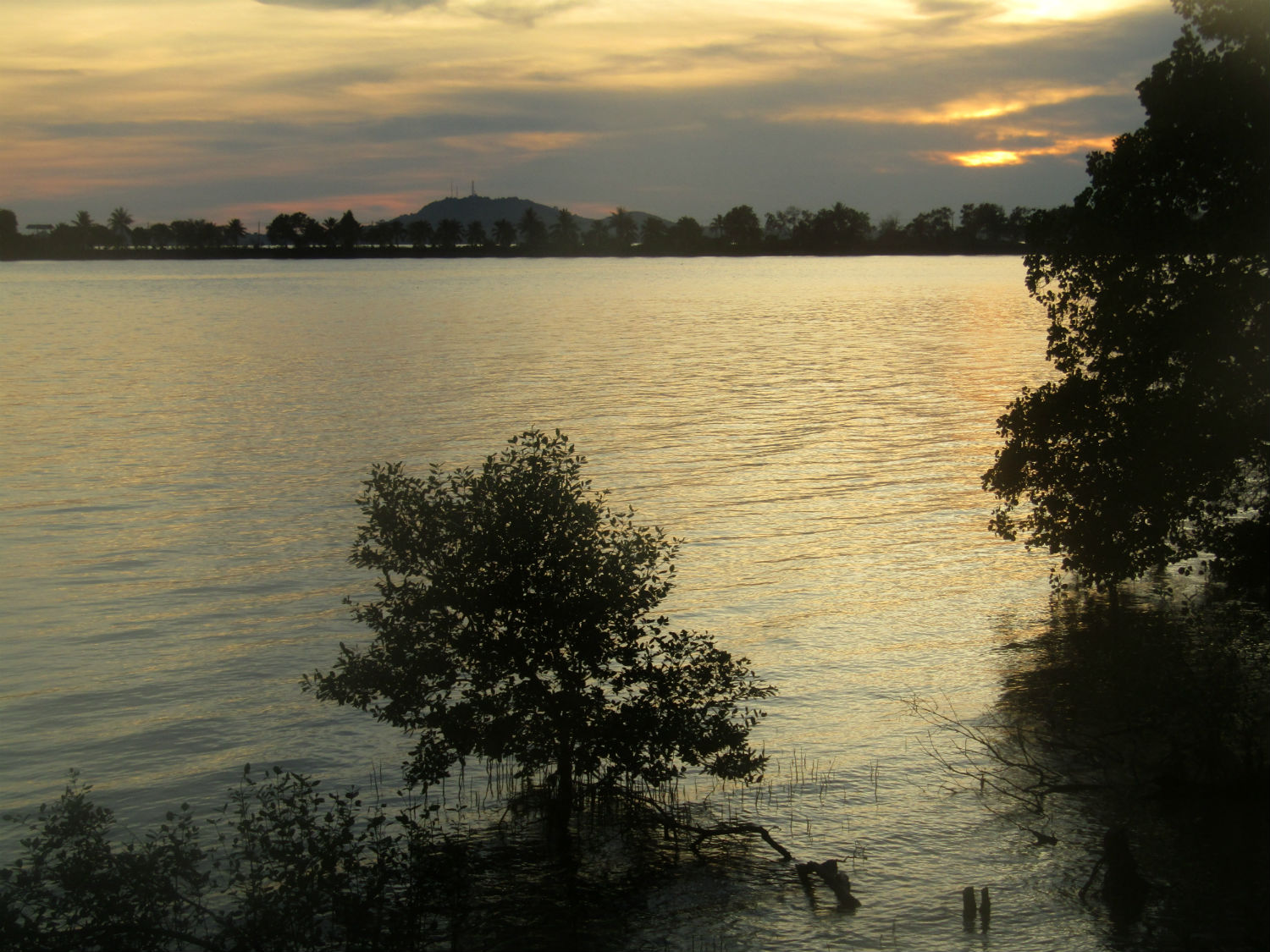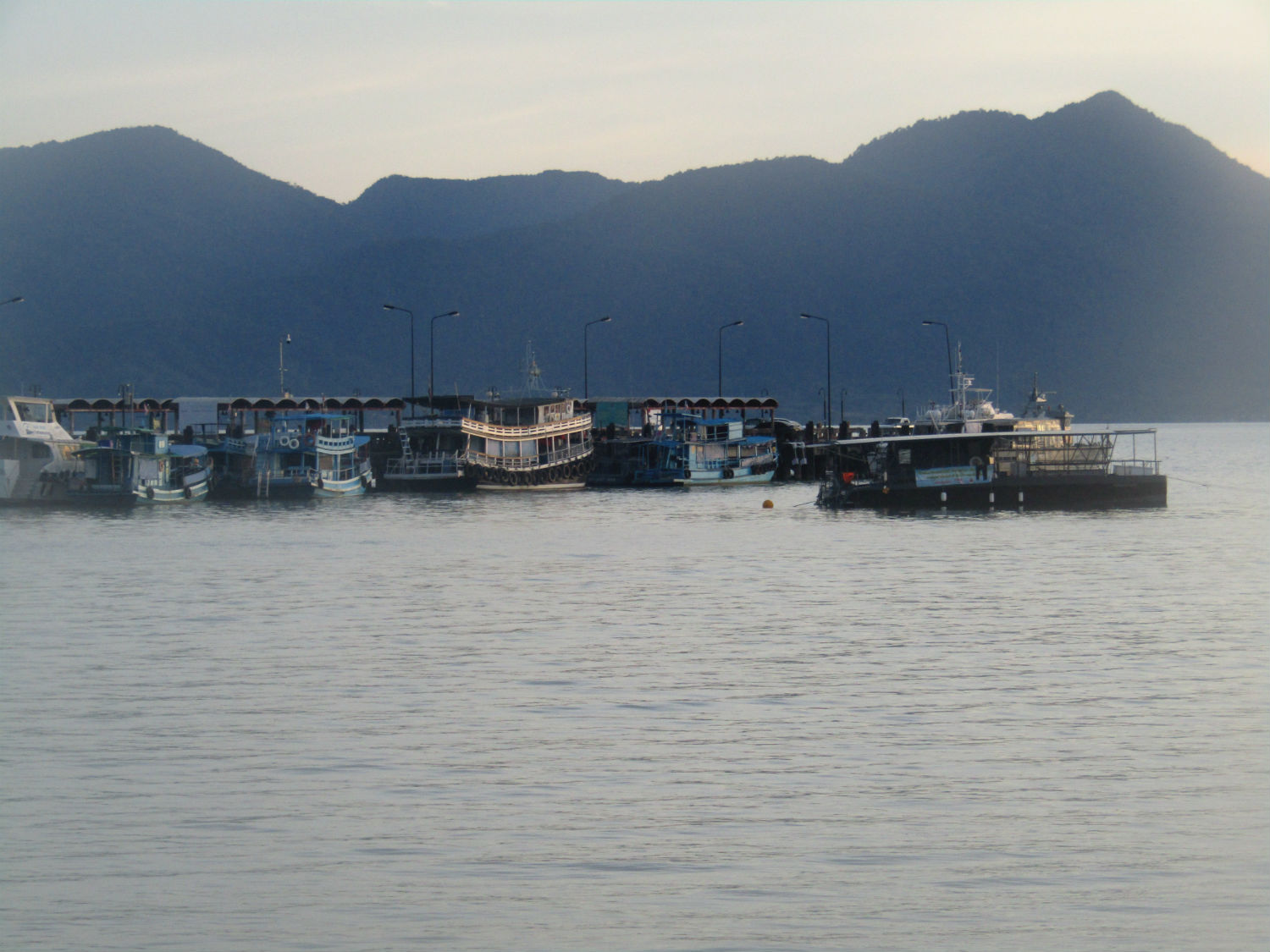 Laem Ngop, Trat Province


Gremlins 2……..
Back in the room however, things are not quite right. The toilet won't flush properly and while Katoon tries to sort that out, I can't get an internet connection, the problem compounded by the fact that the data package on my phone has now expired. While I consider what to do about this, the air-conditioning which has already cut out once, finally cuts completely. It's starting to become a disaster after all I'd hoped for is seemingly disappearing out of sight. The issue with the air-conditioning is too serious to ignore but at least that leads to a change of rooms but things need to improve or there will be premature termination of this tour. Apart from the tour to Yangon when I didn't take my laptop, now for as far back as I can remember, I write my notes up by hand. Well tomorrow is another day they say but it will take more than a couple of beers to calm me down right now.
Next Page.