Day 7, Monday 3 June

Winds of change…….. Hitting a bit of a rut yesterday evening, it's probably not surprising that after a good night's sleep thing don't seem so bad. However that does not mean I can connect to the internet at Rimtalay Resort. I manage to complete an initial handwritten version but there I have to leave it and just try and relax. After all the ocean is just 30 metres away. No breakfast is included but we're always in semi self catering mode and have enough food for now. Packing then ensues; there have been too many issues that dissuade to stay. However it's still quite early and a flavour of what I hope for just happens as I sit out on the promenade with a gentle breeze blowing, staring across to the island of Koh Chang.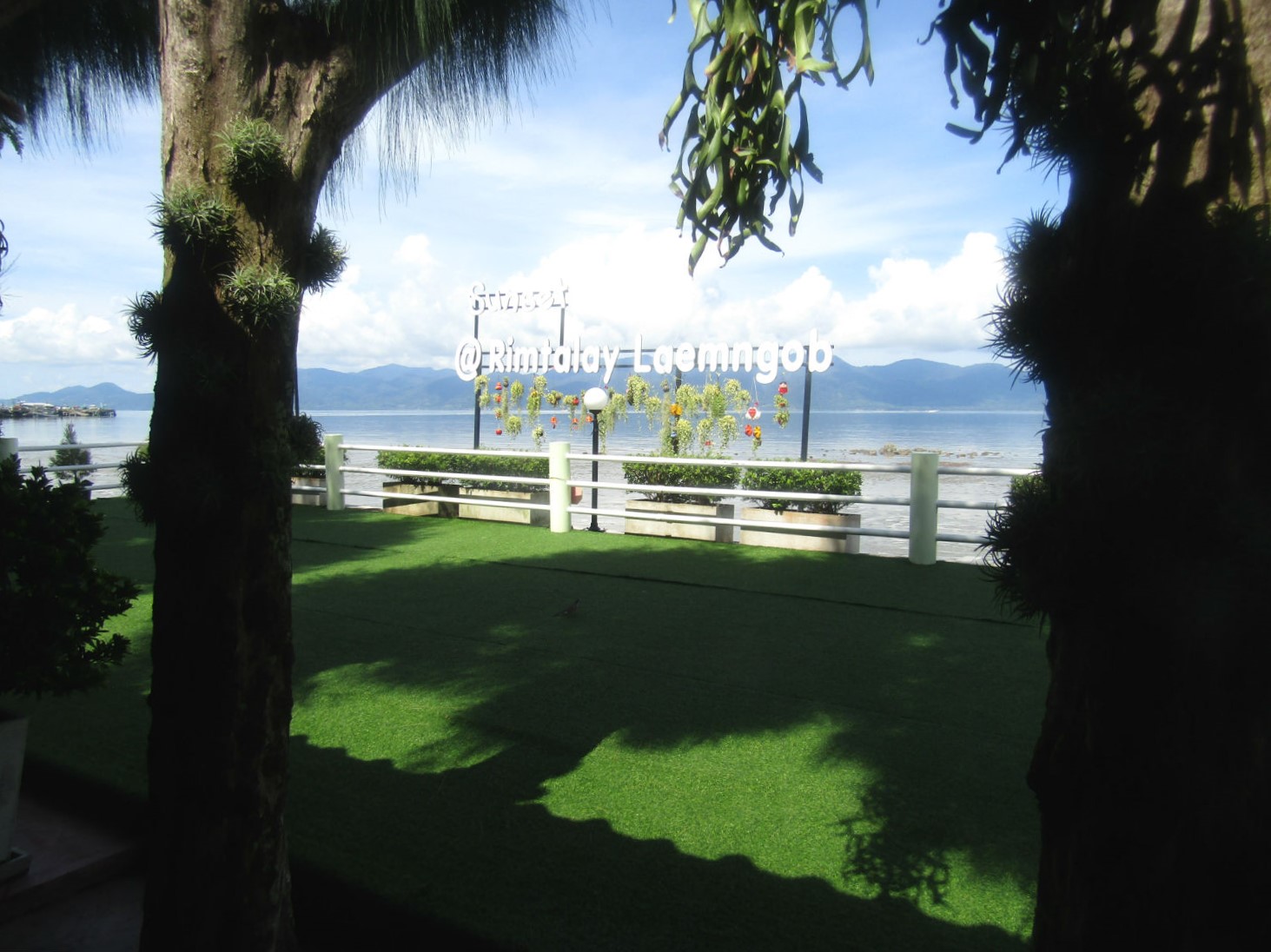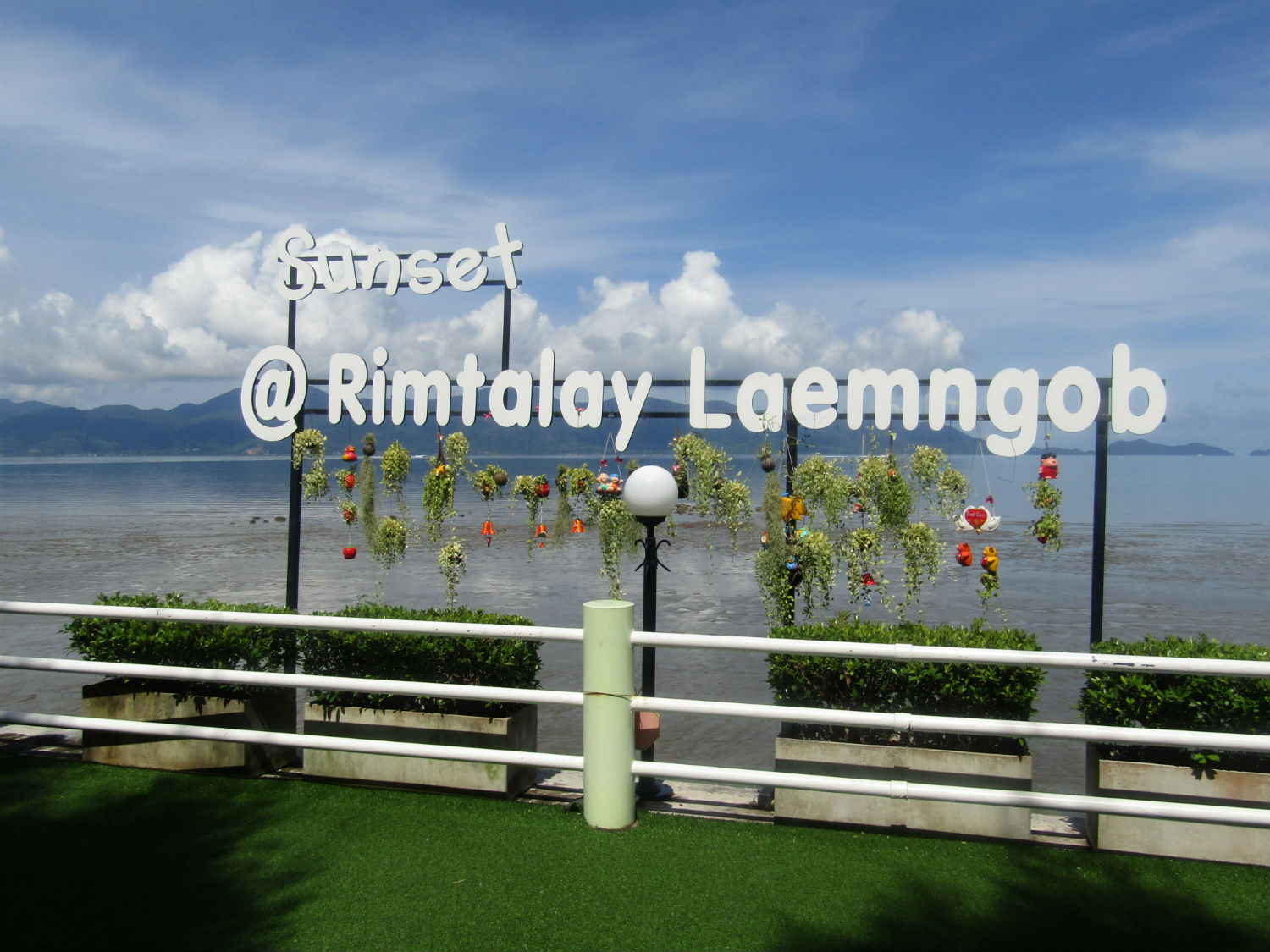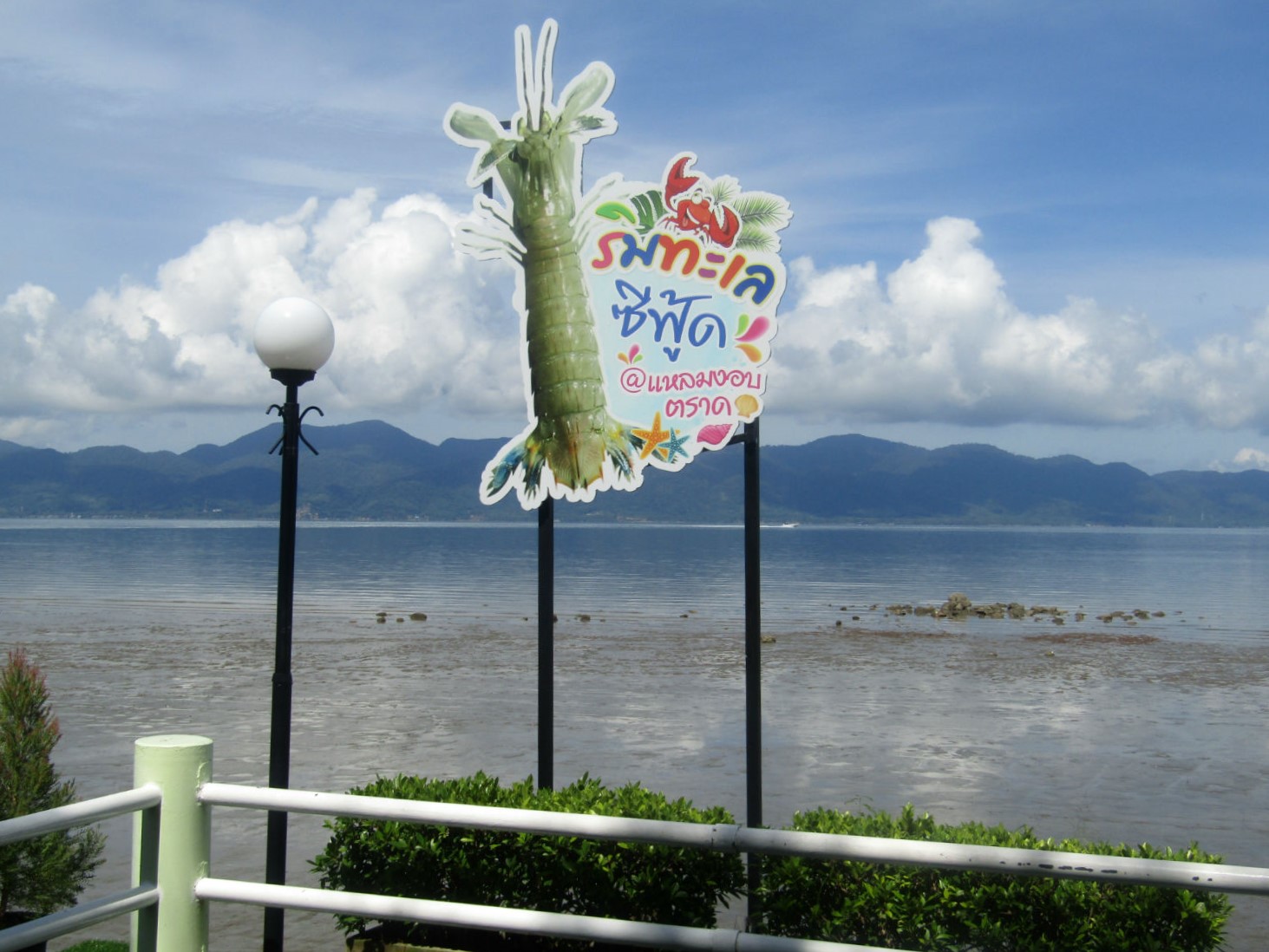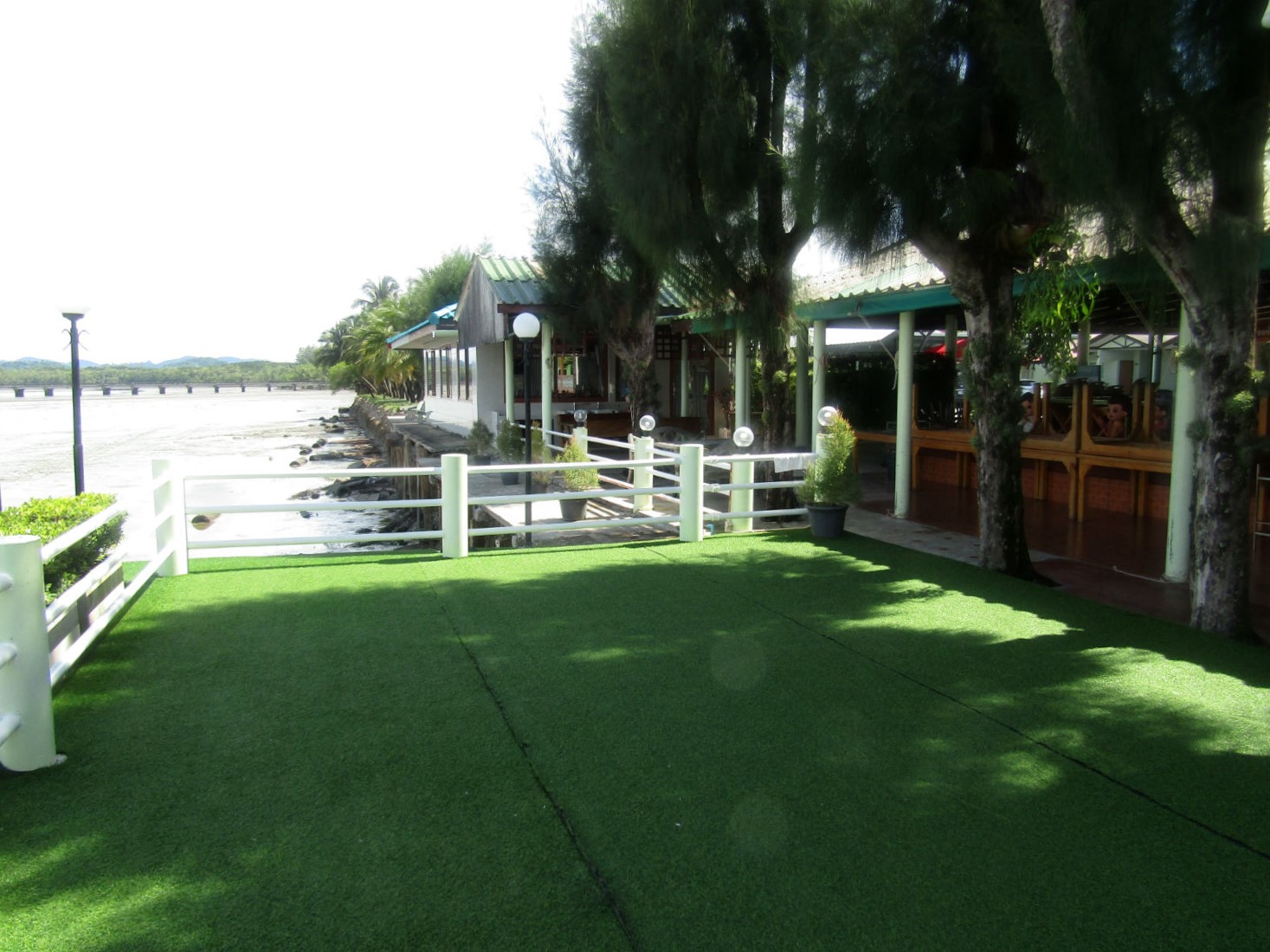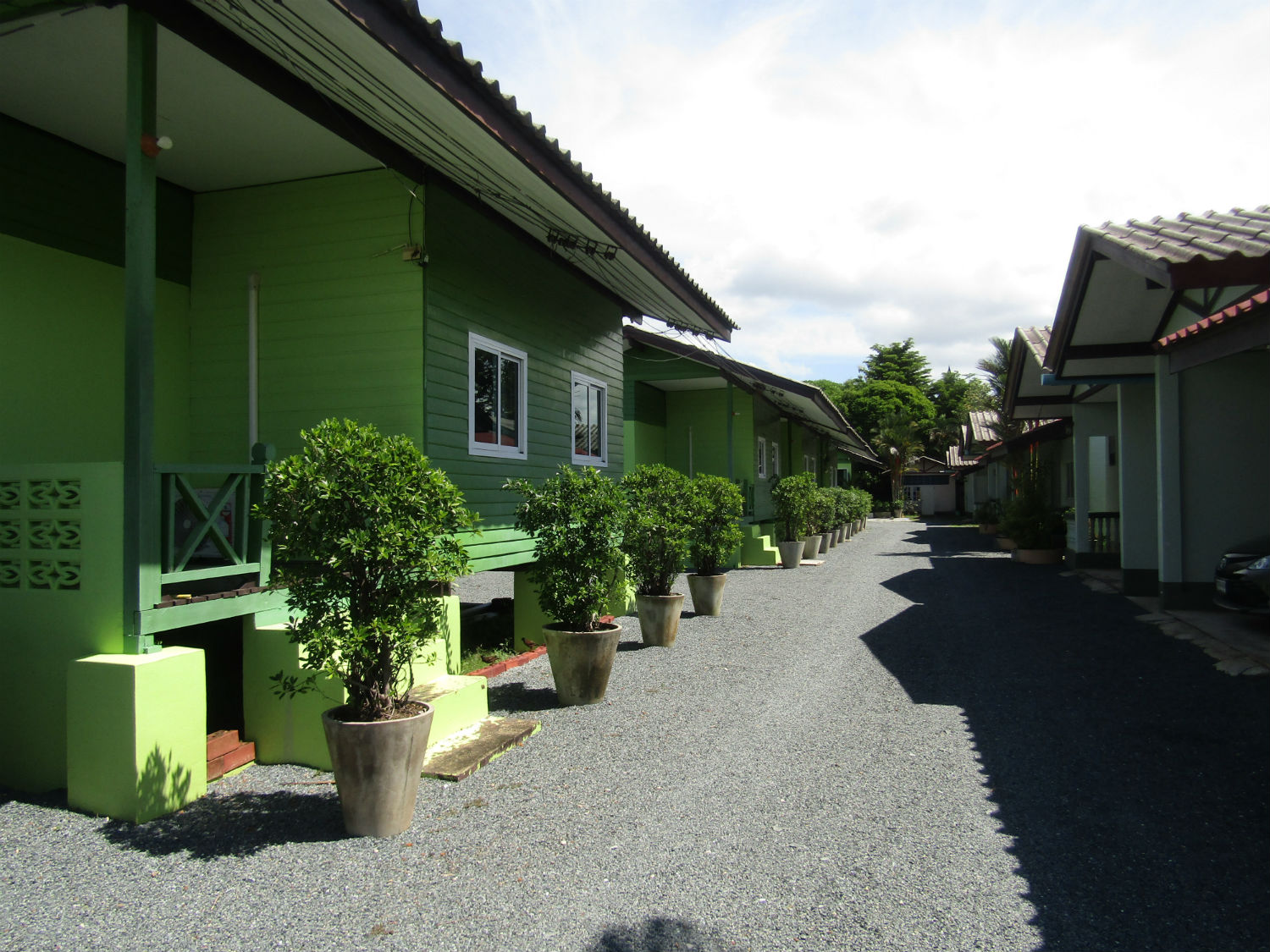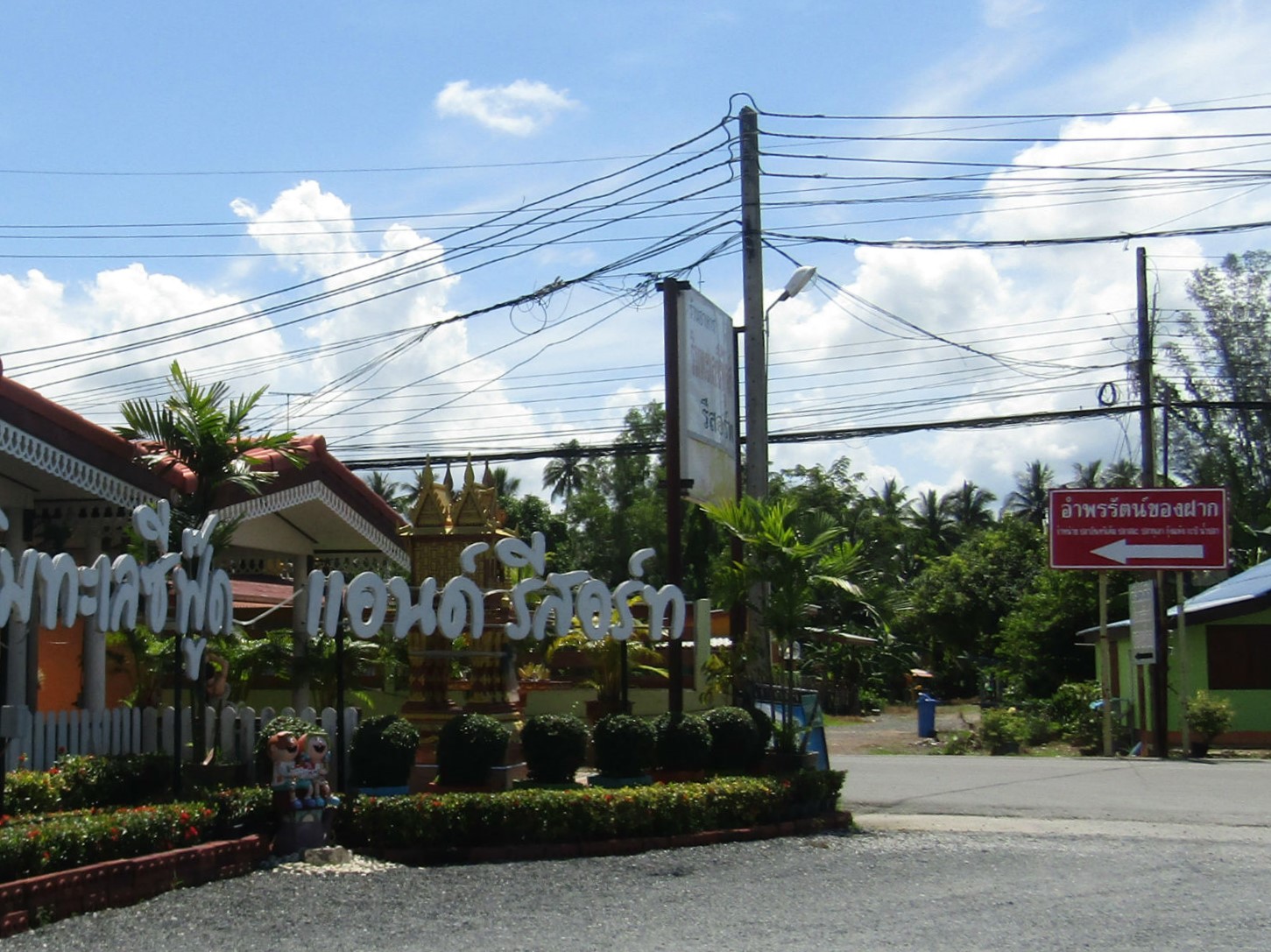 Rimtalay Resort, Laem Ngop District, Trat Province


Krom Luang Chumphon Pier…….. Just a short hop away is Laem Ngop Pier. From here you can take a ferry to Koh Mak, https://kohkoodferries.com/speedboats-koh-mak/. In front of the pier is a red and white lighthouse that commands the channel between Koh Chang and the mainland. The plan going forward now is to explore more of Trat's coastline but at the same time look for suitable accommodation in the afternoon. Now its only 11.00am.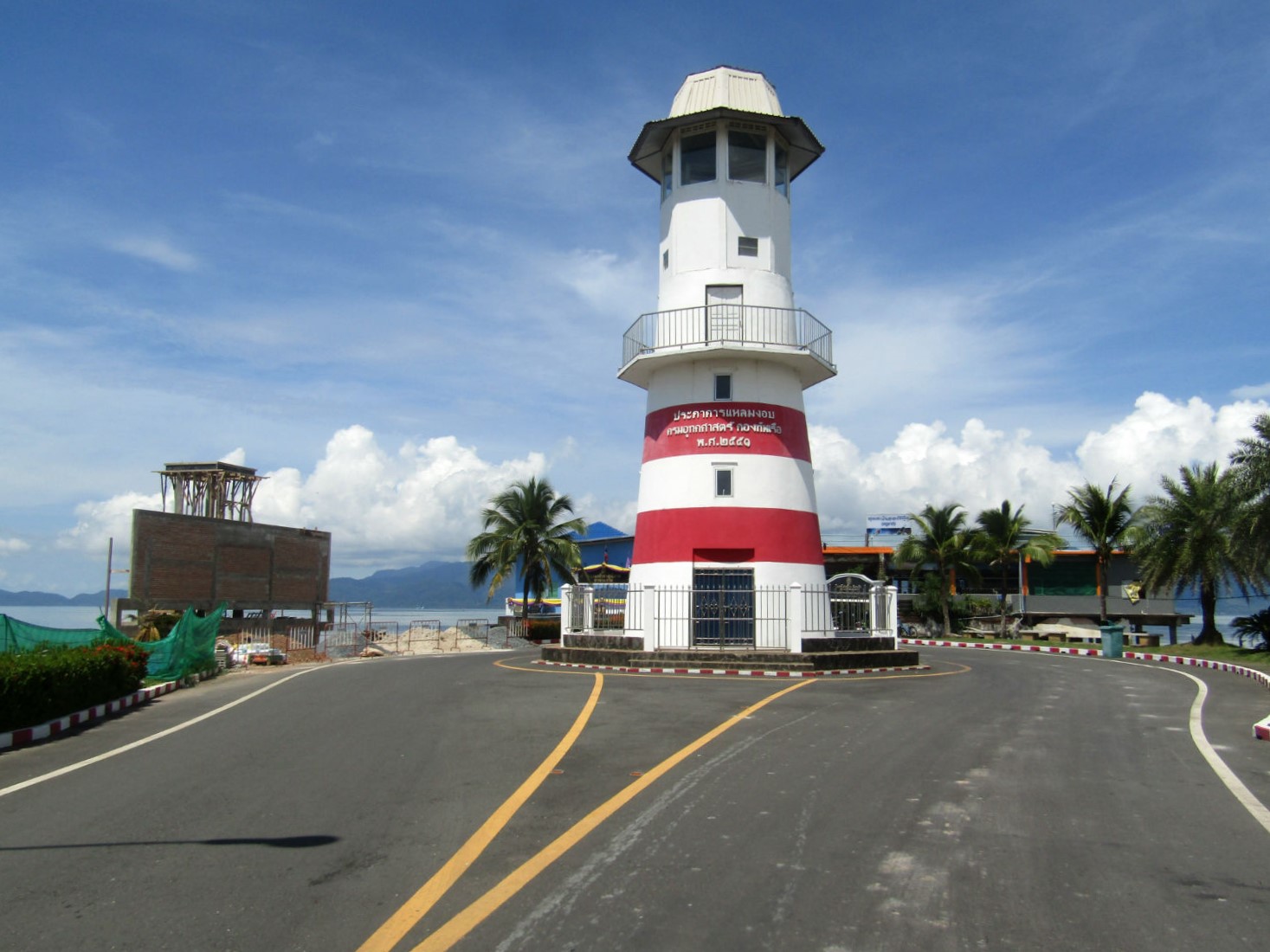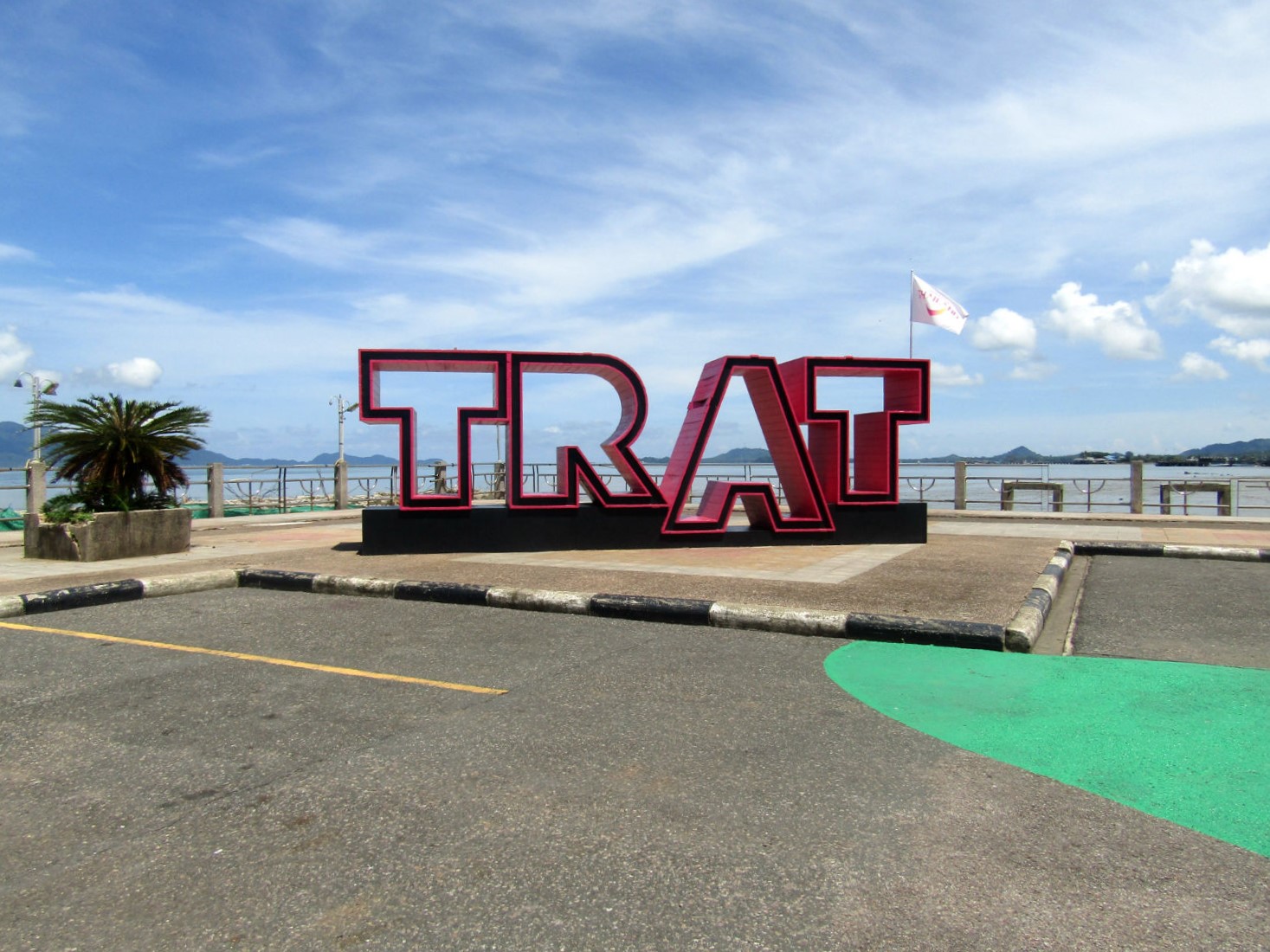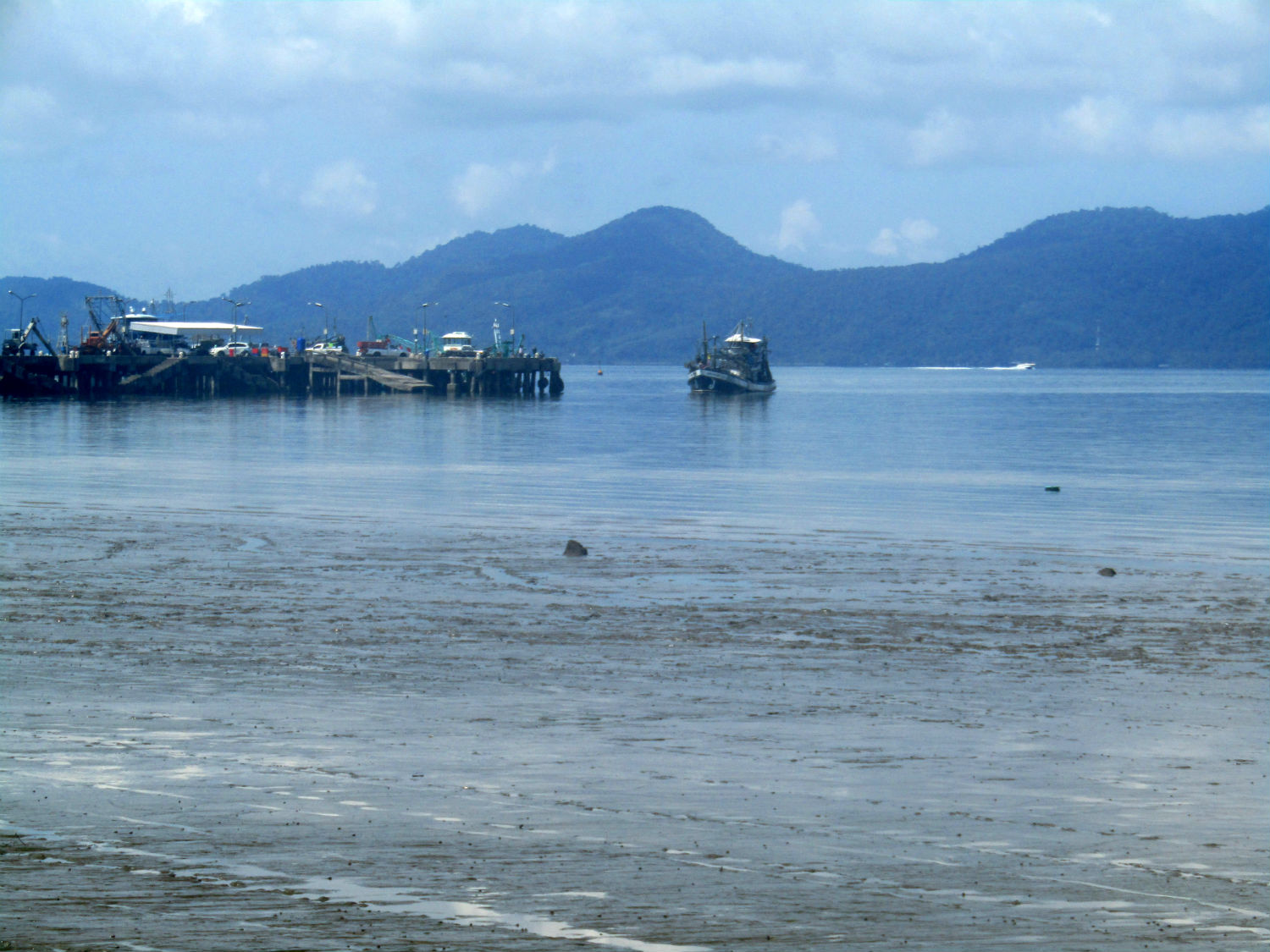 Laem Ngop Fishing Pier, Laem Ngop District, Trat Province


Black Sand Beach…….. Black Sand Beach is a familiar sounding name to me but I'm sure I've never been to this location before. Not far from Laem Ngop on the road to Trat, is a turning to the right. Without an internet connection recently, I haven't had the chance to do research so all I know is that it's a beach of black sand. When I arrive it's clearly more than that. Here there's a sustainable mangrove forest which from similar sites I've visited, I know to be an important piece of the ecology of these coastal regions.
For the visitor there is a nature trail a bird watching tower and of course black sand. The weather is warm but pleasant under the canopy of the mangrove.
The Black Sand Beach or 'Hat Sai Dam' in Thai is the only one of its kind in Thailand. There are only 5 black sand beaches around the world in Taiwan, Malaysia (Langkawi), California, Hawaii and here in Thailand. The Black Sand Beach is situated in Moo 6, Tambon Laem Ngop, Amphoe Lam-Ngaop and is part of Pa Lam Makham National Conservation Park. The Black Sand Beach is surrounded by fertile mangrove forests rich in natural resources including species of plants and marine animals. In the past, the Black Sand Beach used to be a degraded forest, but, with the reforestation campaign led by the local community, the' once-called degraded forest' has become fertile again.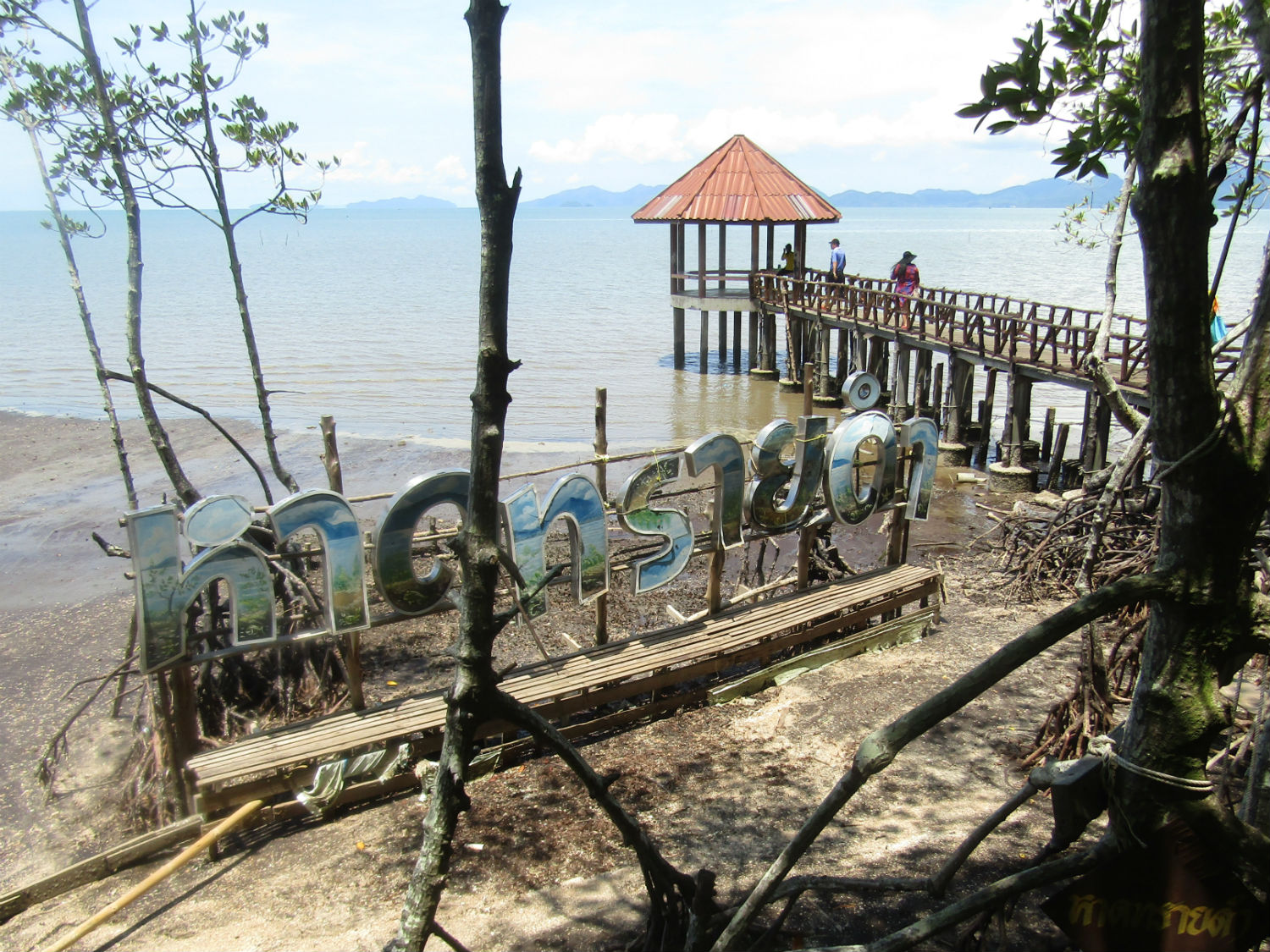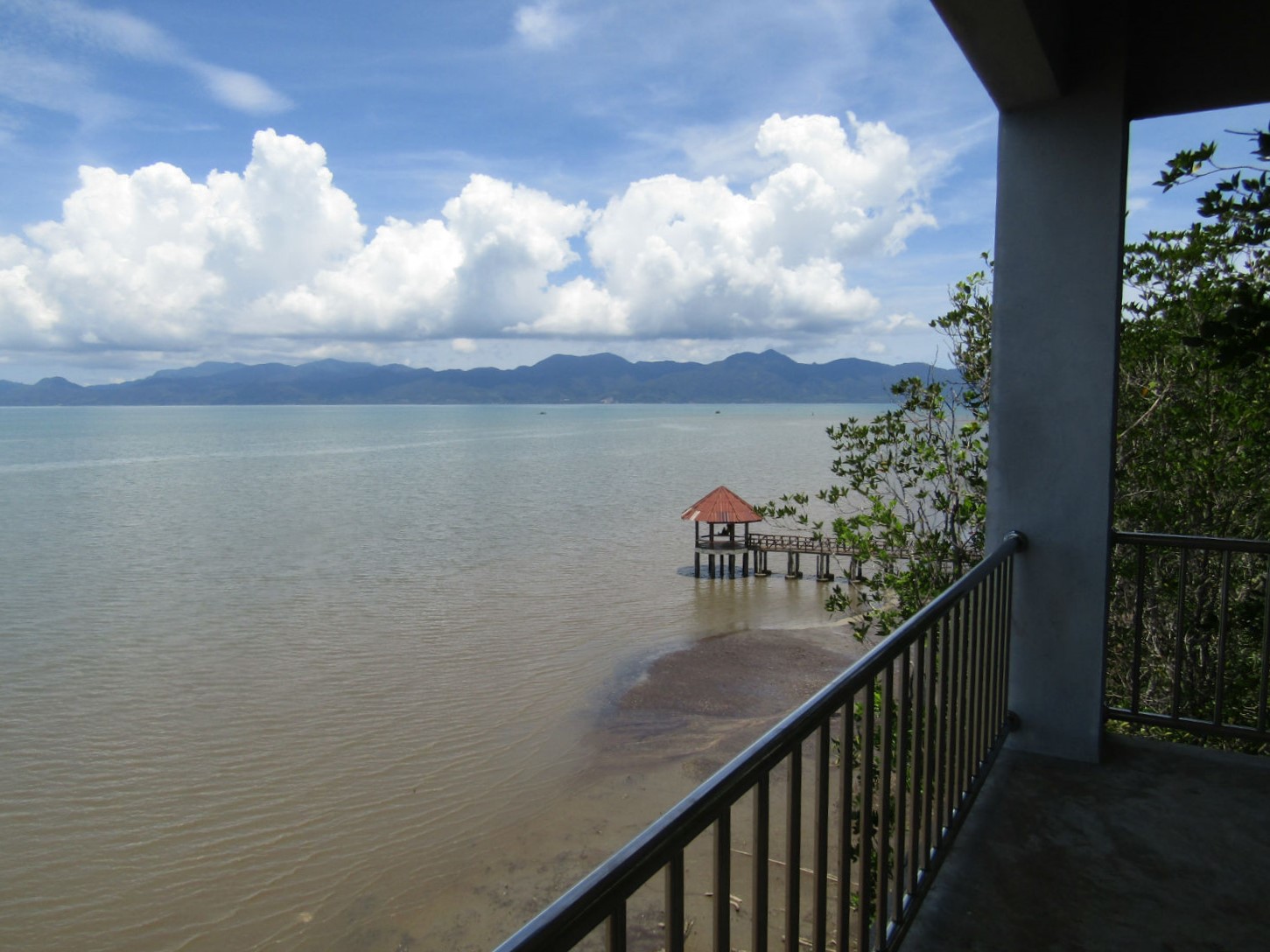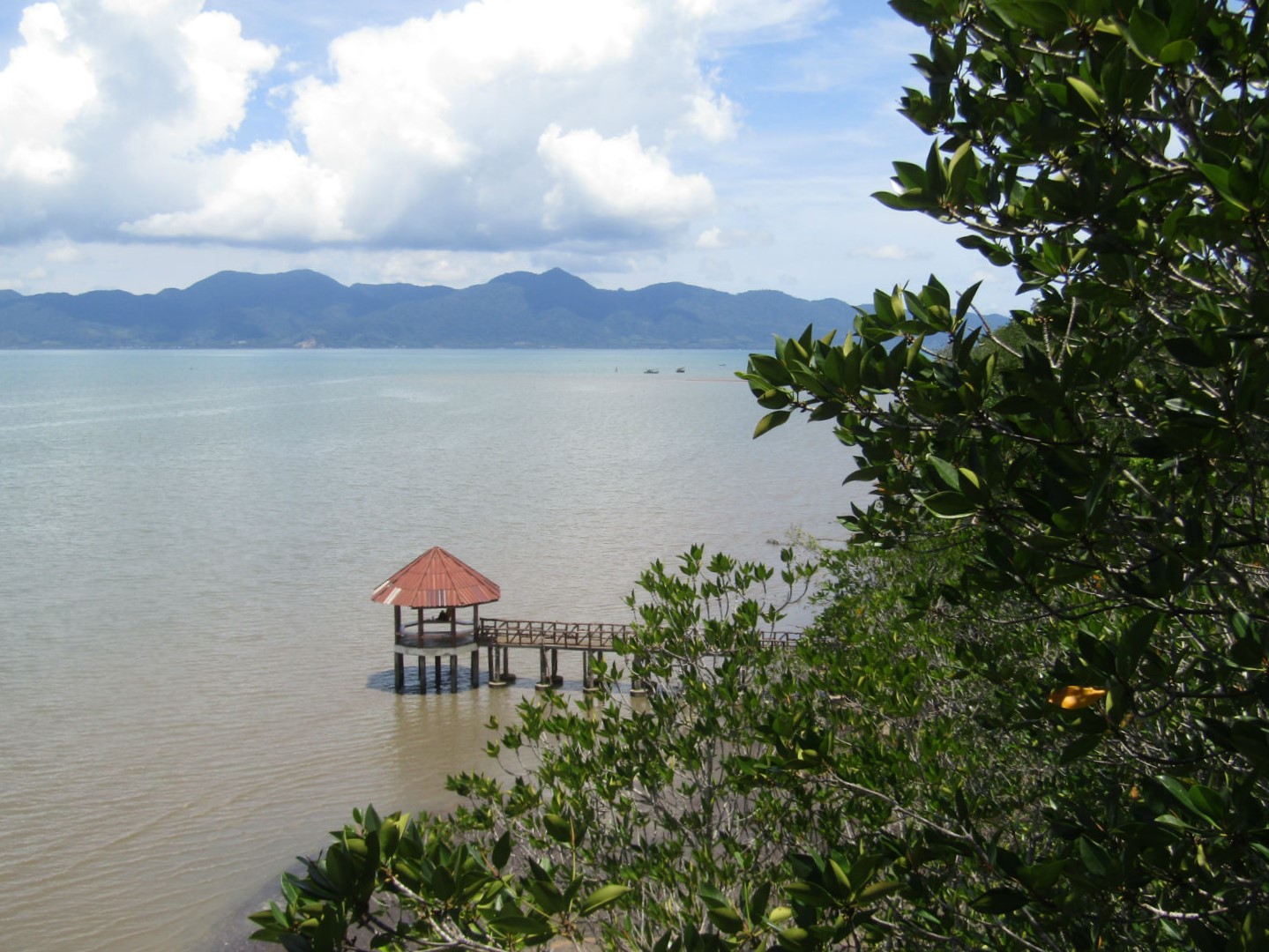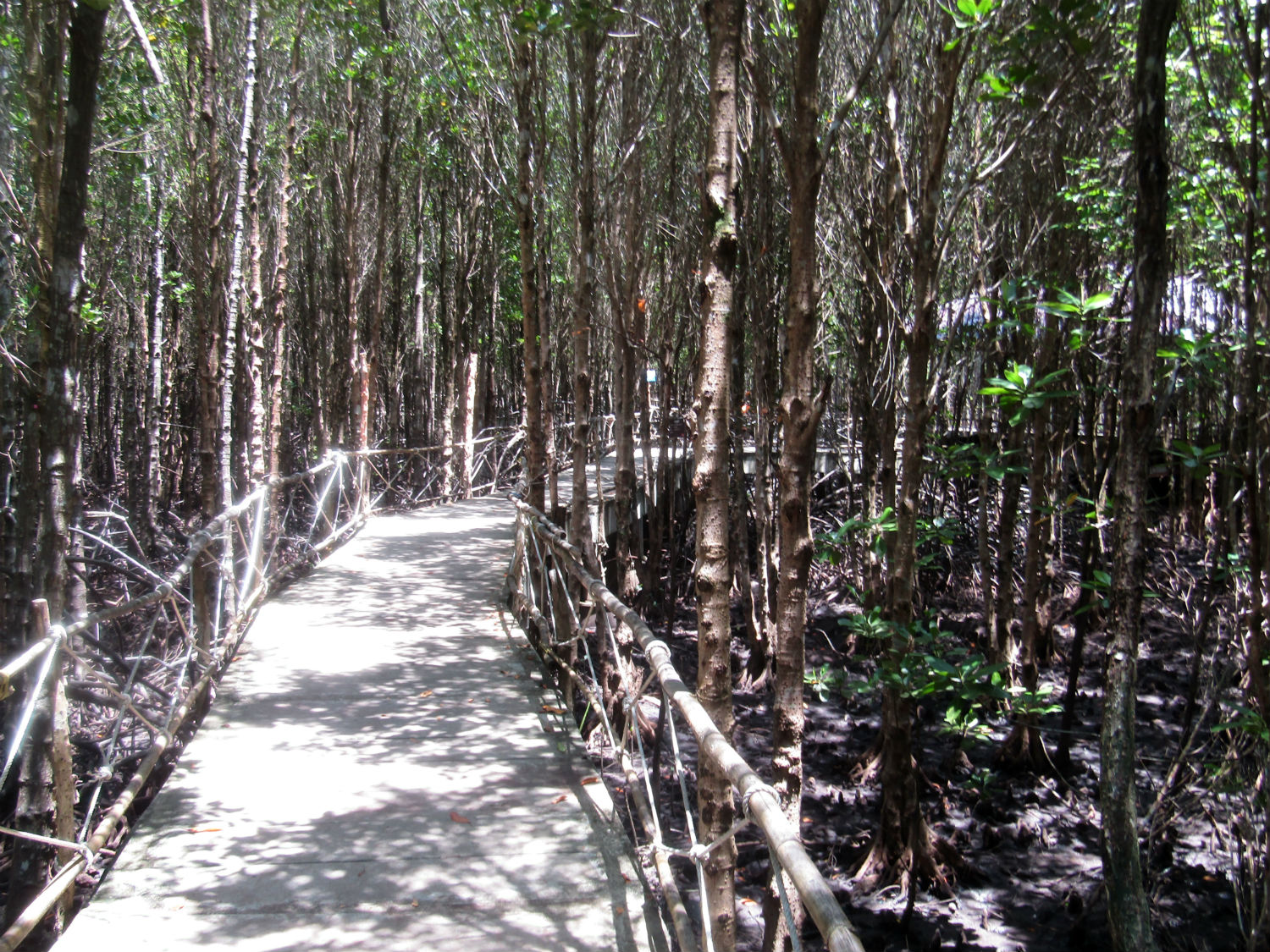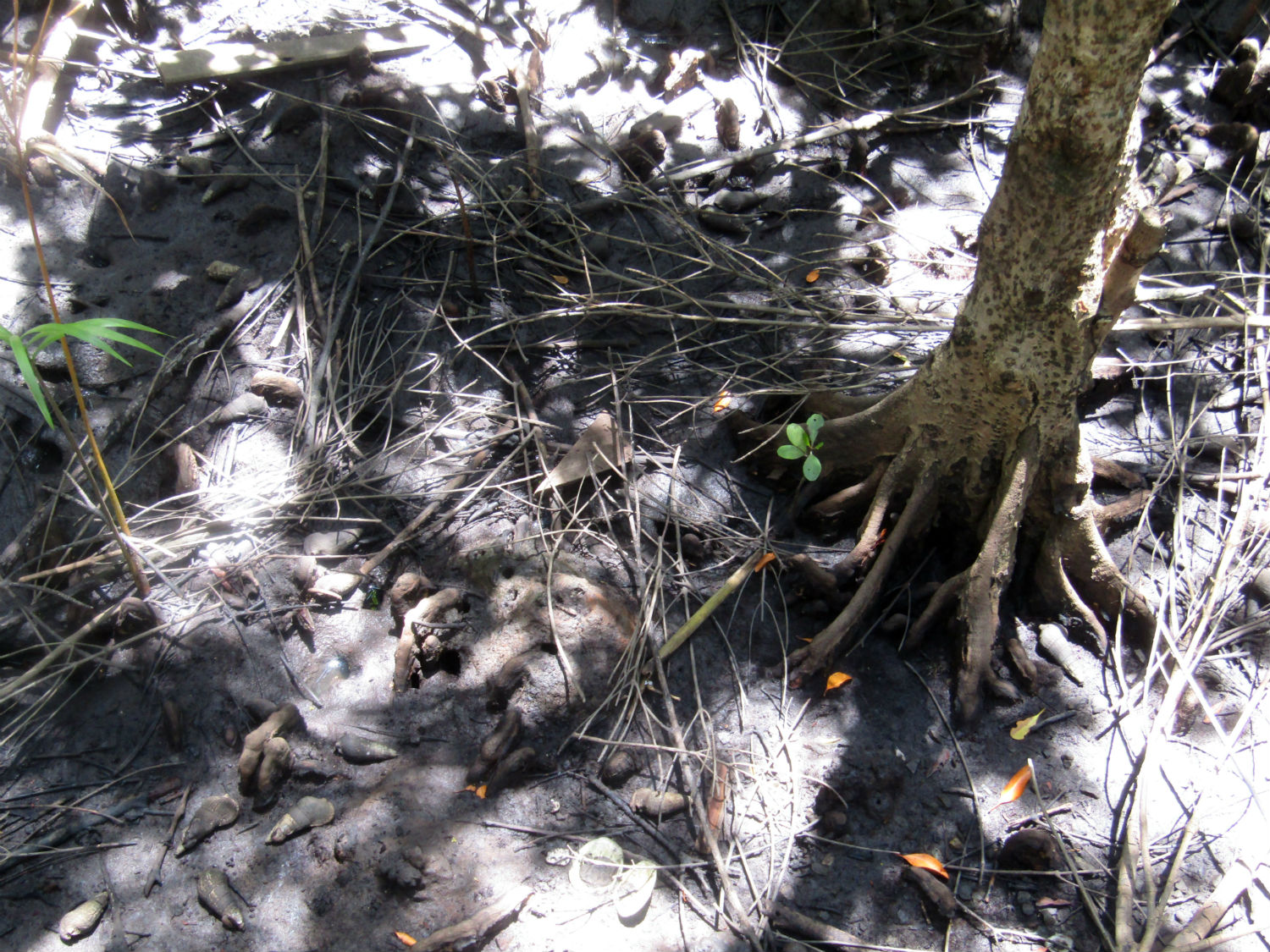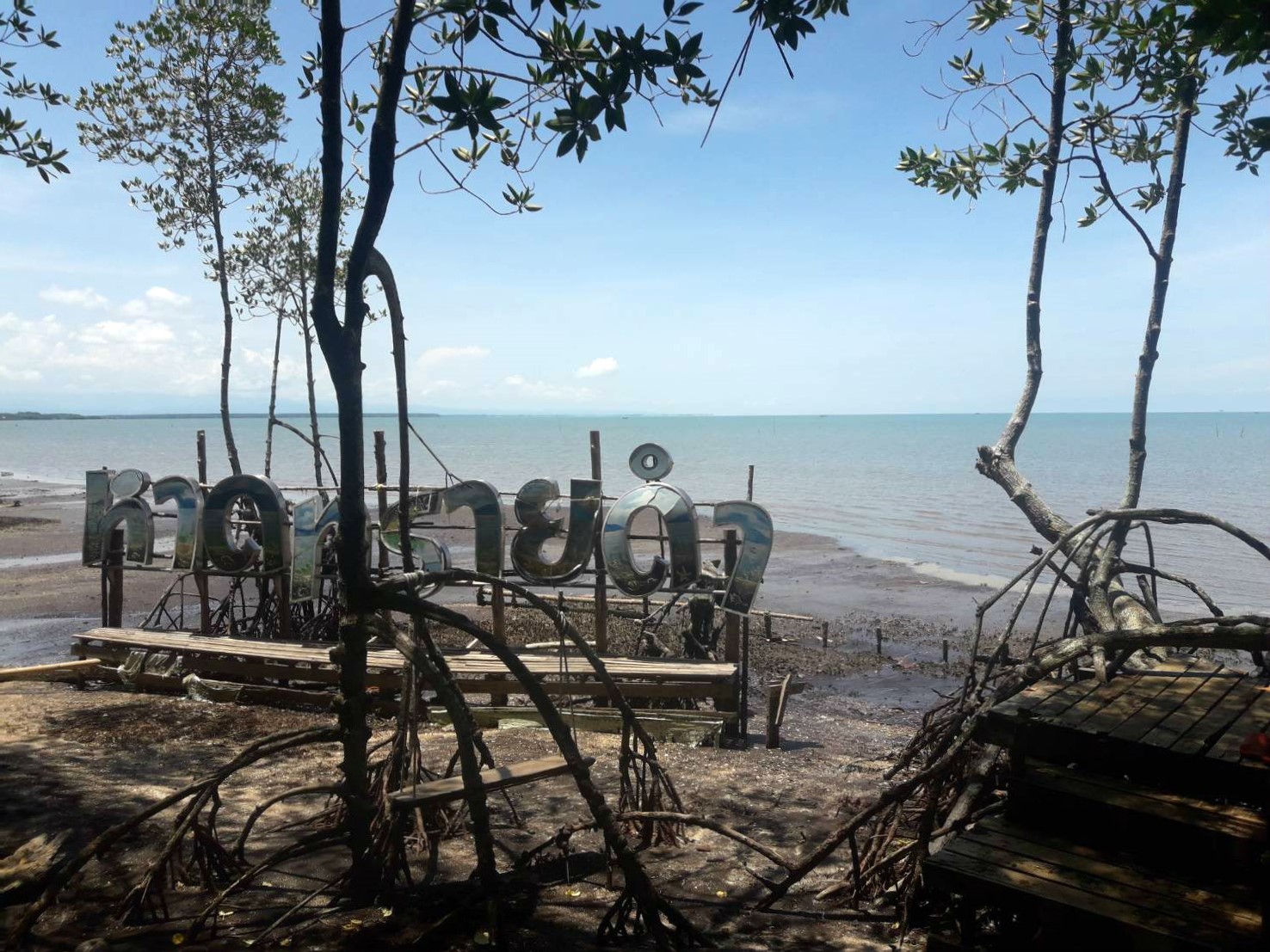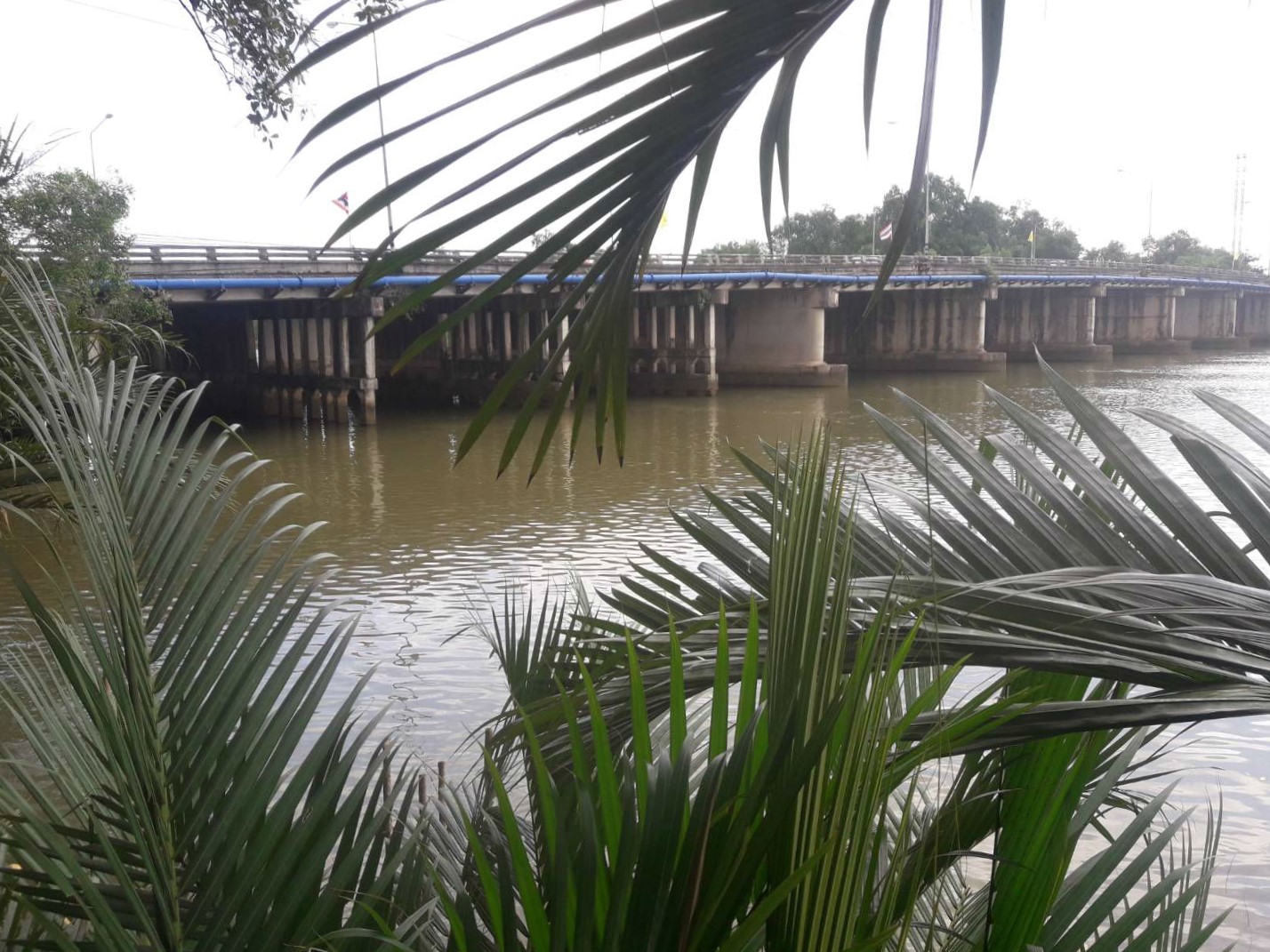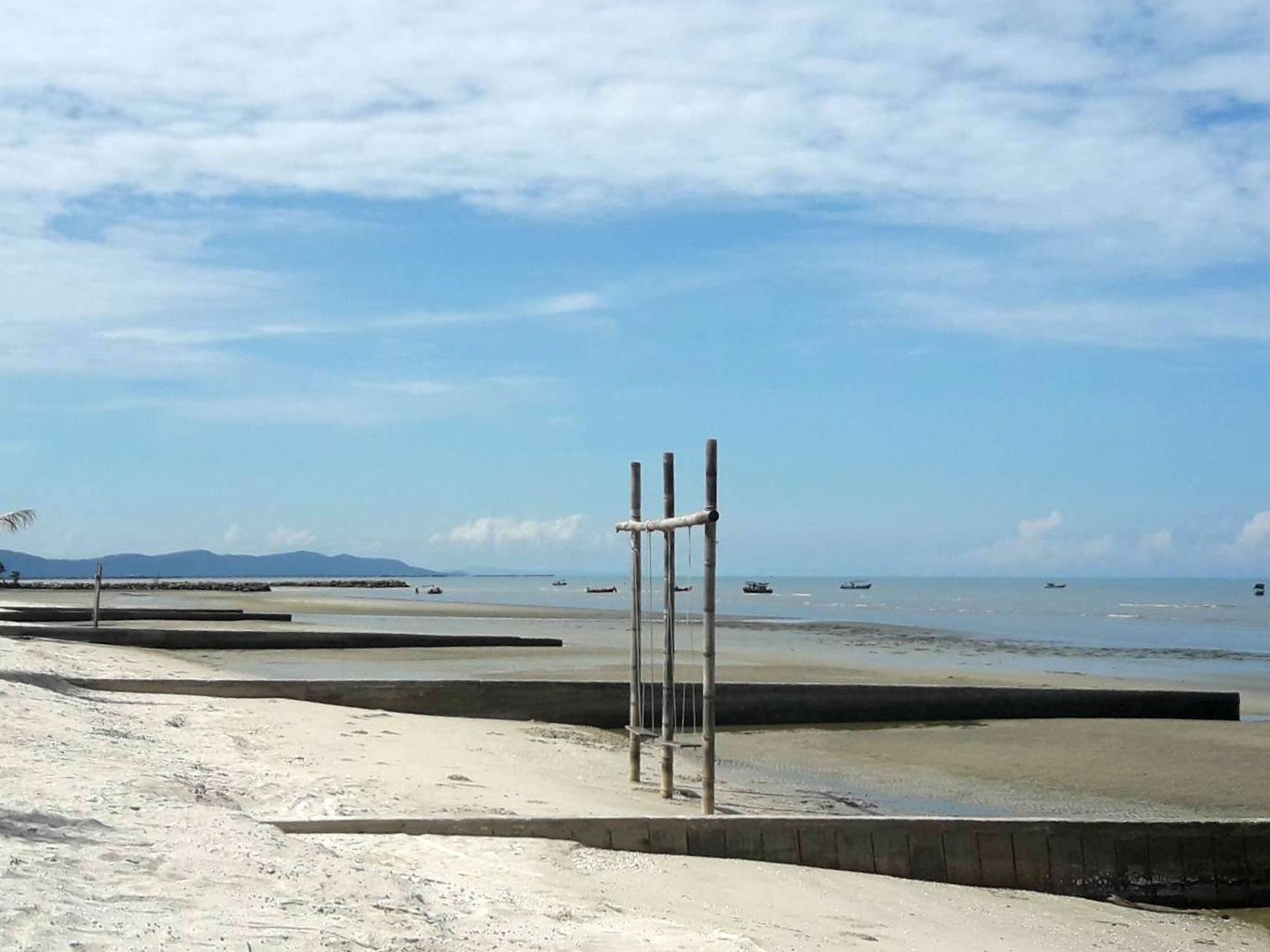 Black Sand Beach, Pa Lam Makham National Conservation Park, Laem Ngop District, Trat Province


A new world…….. Heading on into Trat we take lunch just over the road bridge traversing the Trat river. It's an arrival on spec but I wasn't quite expecting Japanese food.
Heading east from Trat, I'm now in new territory, never having ventured this far along highway 3 before. Highway 3 runs to the Cambodian border along an ever decreasing coast strip of land. It's not long before you realise you're in a bit of wilderness locked in on the one side by dense forest and on the other, the Gulf of Thailand. The highway is being upgraded presumably to allow for increased border traffic but at the present time it's all very quiet. The accommodation that exists in this area is confined to the coast. We soon choose one the the turnings off the highway and begin our search for accommodation. The first excursion leads us to a dead end in a fishing village but we soon realise most of the accommodation is near the beaches further south.
Chanchom Resort…….. The first sign of a golden sand beach appears at Hat Banchuen. This is a quiet area with a long sandy beach. Bungalows here start at 1,000 baht, but the beach location is just magic. The accommodation is very tempting but perhaps we are just too far from a major town. We continue to keep our options open until 3pm when we locate Chanchom Resort and manage to get a room for 900 baht/night. Unlike at Sunset Rimtalay, this resort is really quiet. Is ths what I've been searching for at last? As for the room, it is spacious and functional with just a 150 metre walk through the grounds to the beach, now in low season, totally deserted.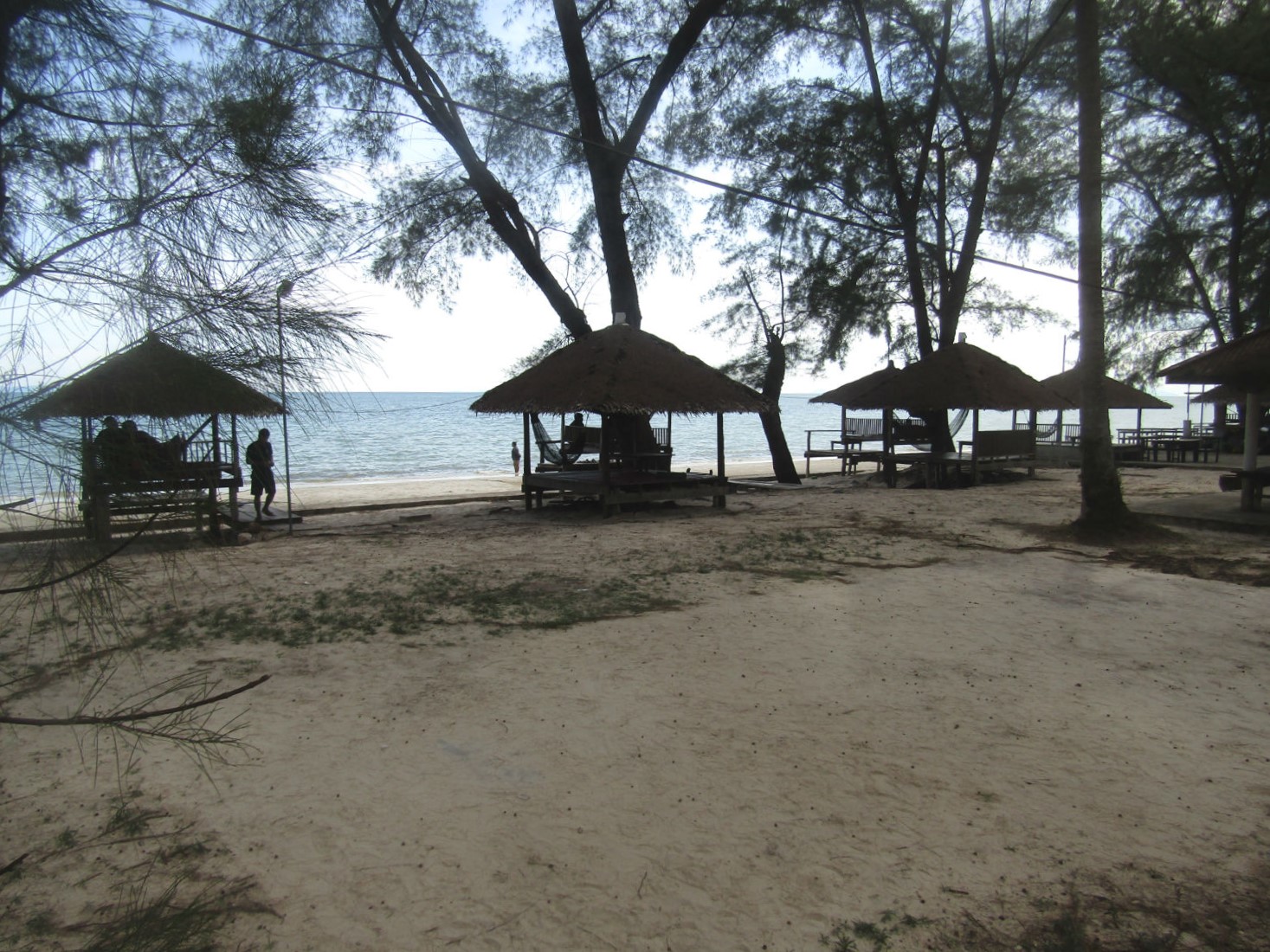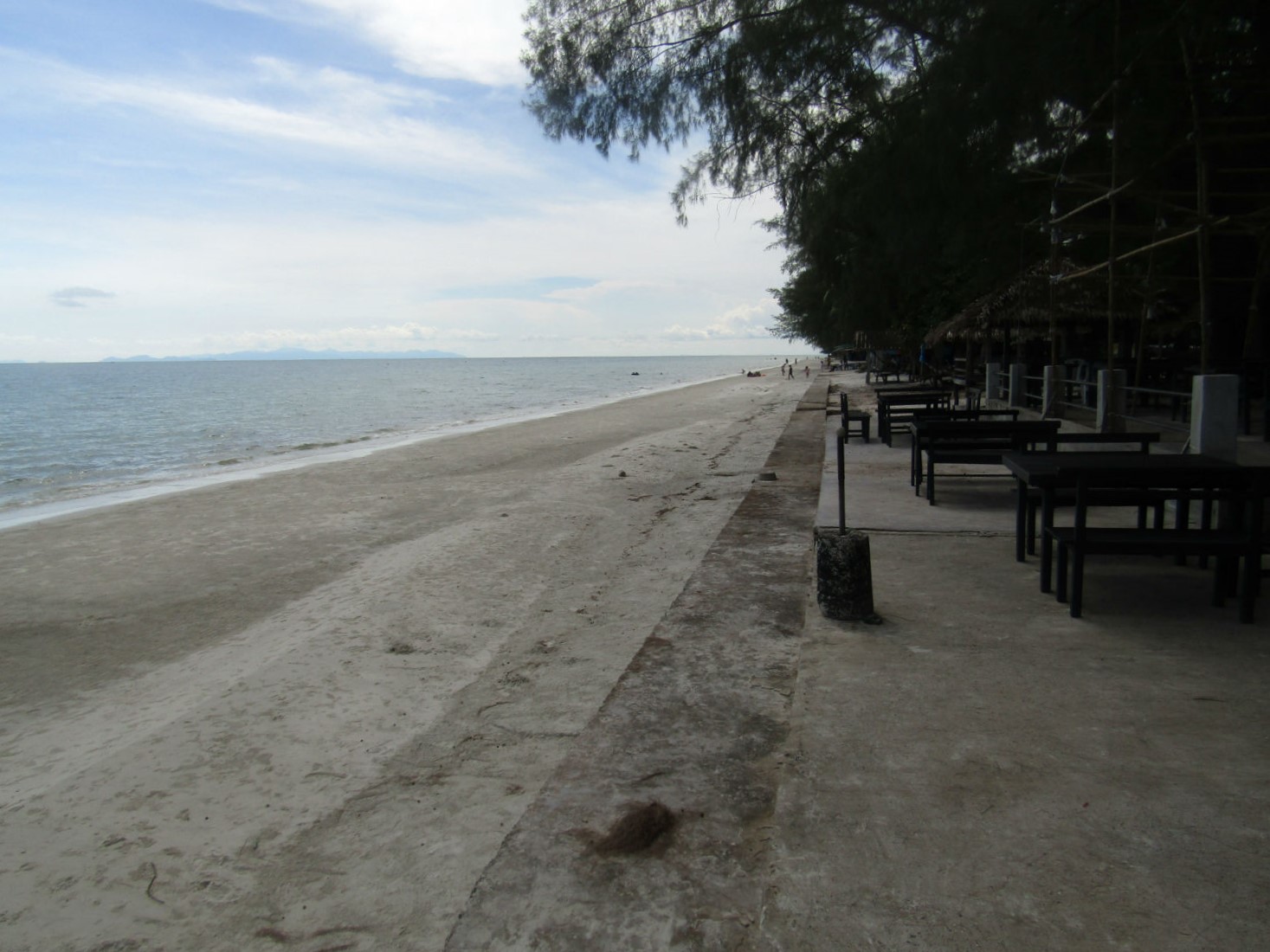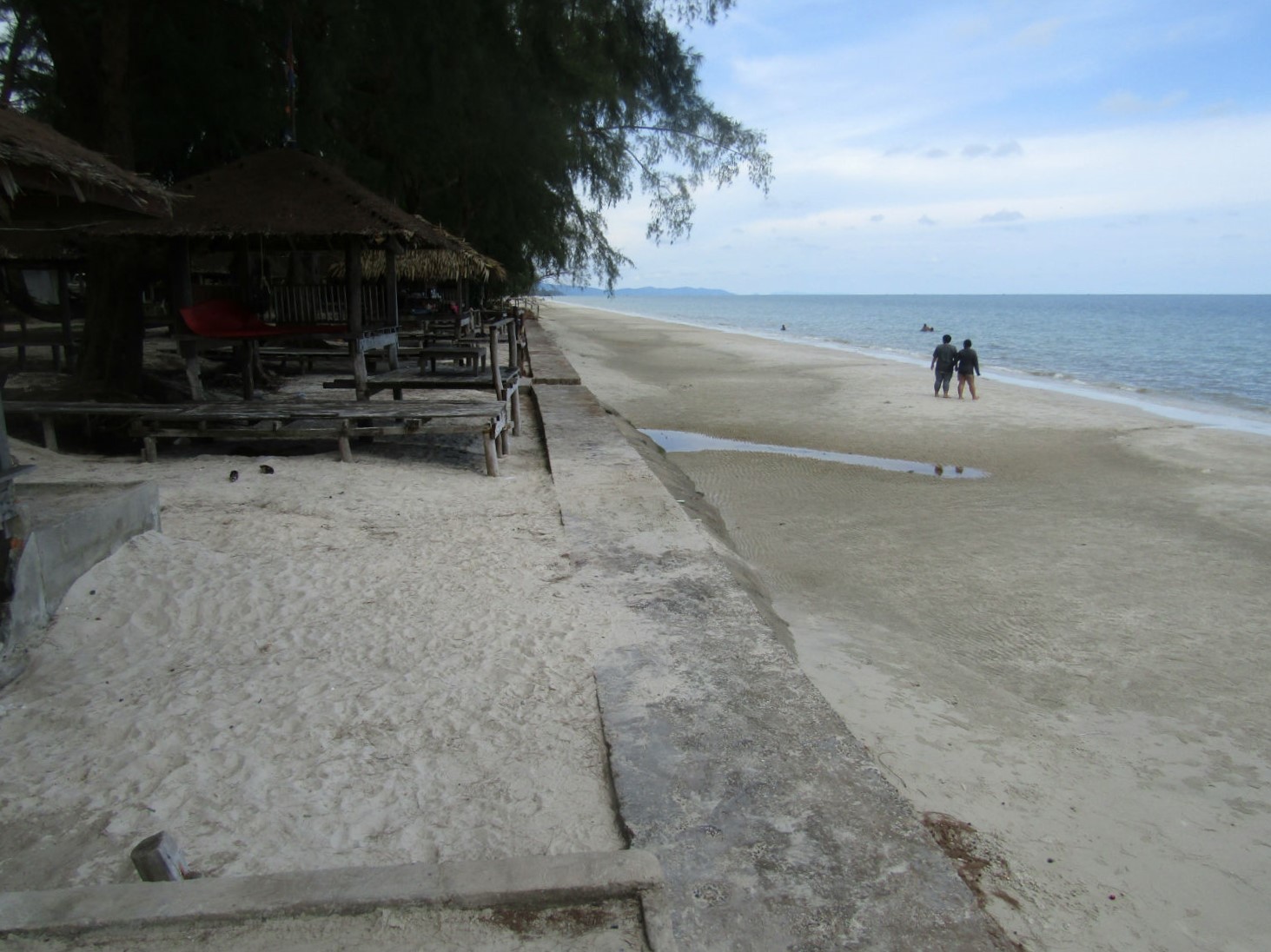 Hat Banchuen (Banchuen Beach), Khlong Yai District, Trat Province


Hat Lek……..
After a welcome afternoon rest we head off to cover the last 7 kilometres to Hat Lek to pick up provisions around the market. Hat Lek is small but it's uncharacteristic narrow streets are more like a medieval town, hard to negotiate but Katoon soon gets the hang of it and goes food hunting. With no other reason to be here, we head back to Chanchom Resort where for the second day in a row we have to change rooms. This time the whole power is off. With that fixed, there is one more concern. While there is a wifi connection, it's very slow. Well there's not much to report on today so perhaps that won't matter too much now.
Next Page.