Day 2, Wednesday 29 May

Gremlins…….. Managing to get most of my blog written last night, I just need to tie up loose ends and then concentrate on the day ahead which I expect to be busy. However, things do not get off to the best of starts as there is no running water, even to flush the loo. Then trying to use the internet, the pages are loading really slow while I'm trying to produce a site visit list for today. Unlike some other tours, I can't afford to pussy foot around and must get on the road as soon as possible.
With Kantharalak quite central for today's tours, I ask Katoon whether we should stay at Thathong House for another night but get no reply so it seems that we're leaving. She votes with her feet, I guess because of those gremlins around.
In at the deep end…….. Producing a site visit list for Si Sa Ket should not take long and I expect to find similar sites as I found in other Lower Isaan provinces late last year. These will go a long way to completing my coverage of the region. Finalising my list, I note a few other interesting sites not far from Kantharalak in the next province of Ubon Ratchathani. If the diversion to Si Sa Ket was unscheduled, then adding yet another province which I cannot hope to cover is not the most logical suggestion but the next location almost on the provincial border is the prime reason for coming to Si Sa Ket.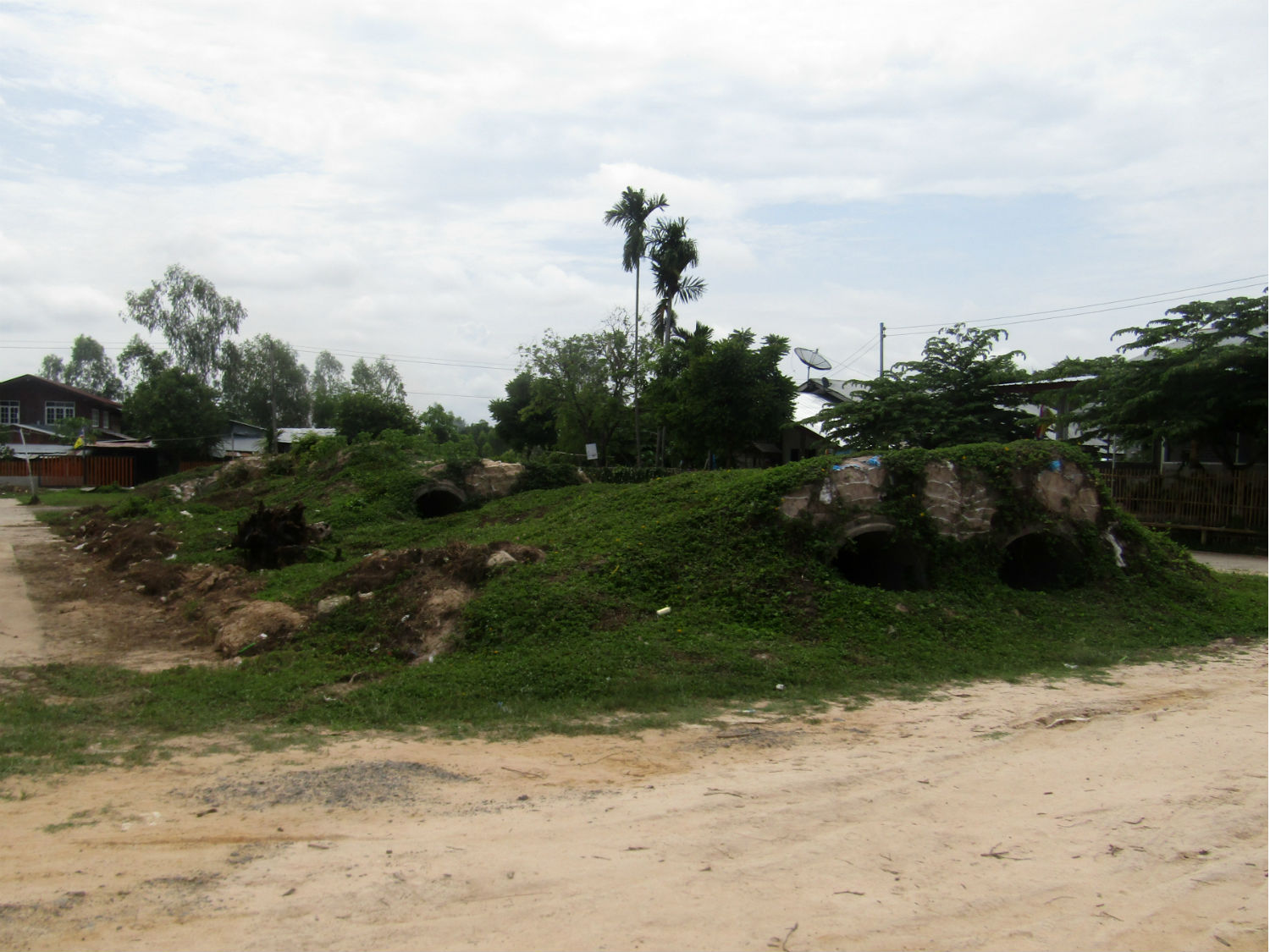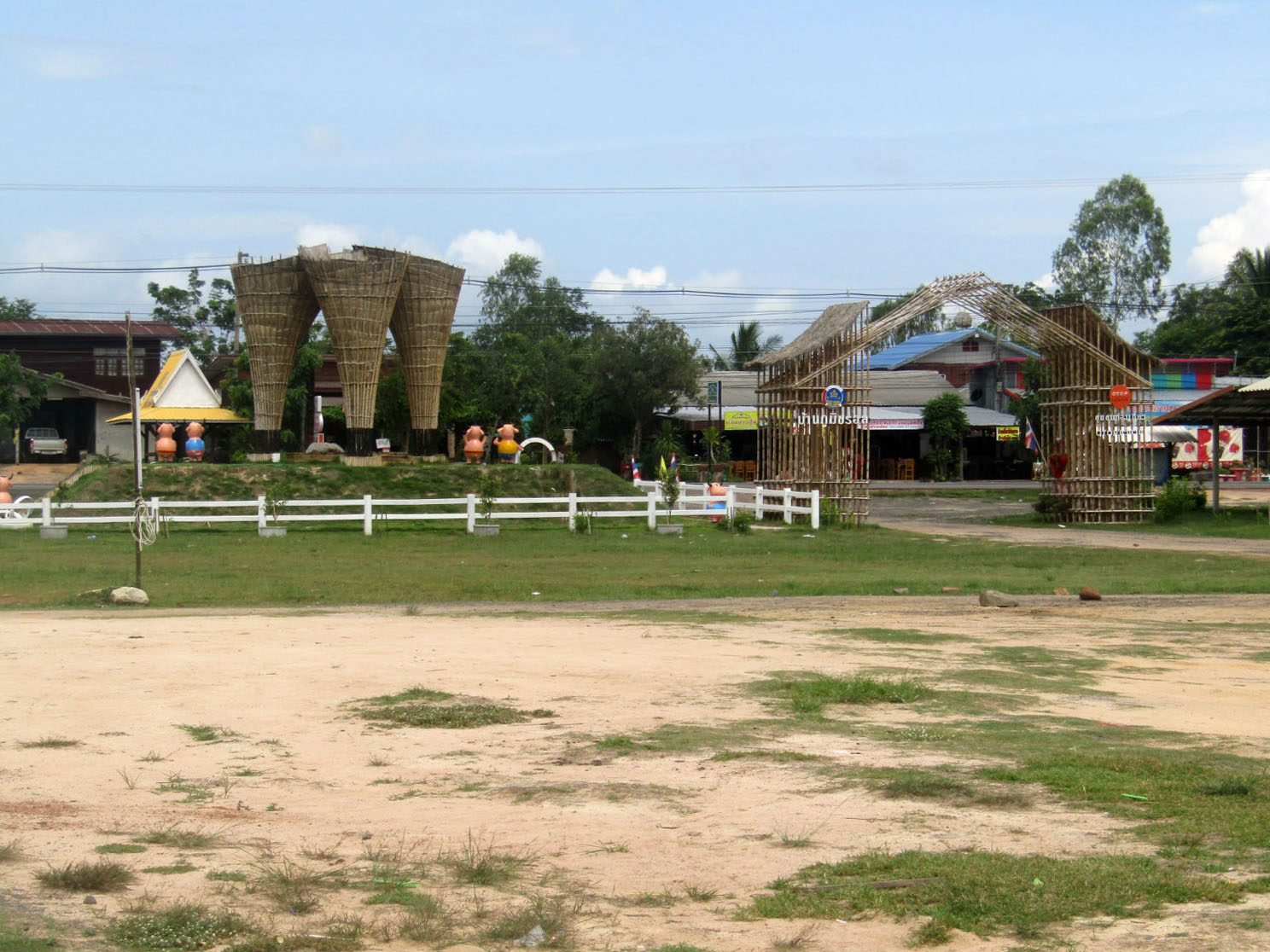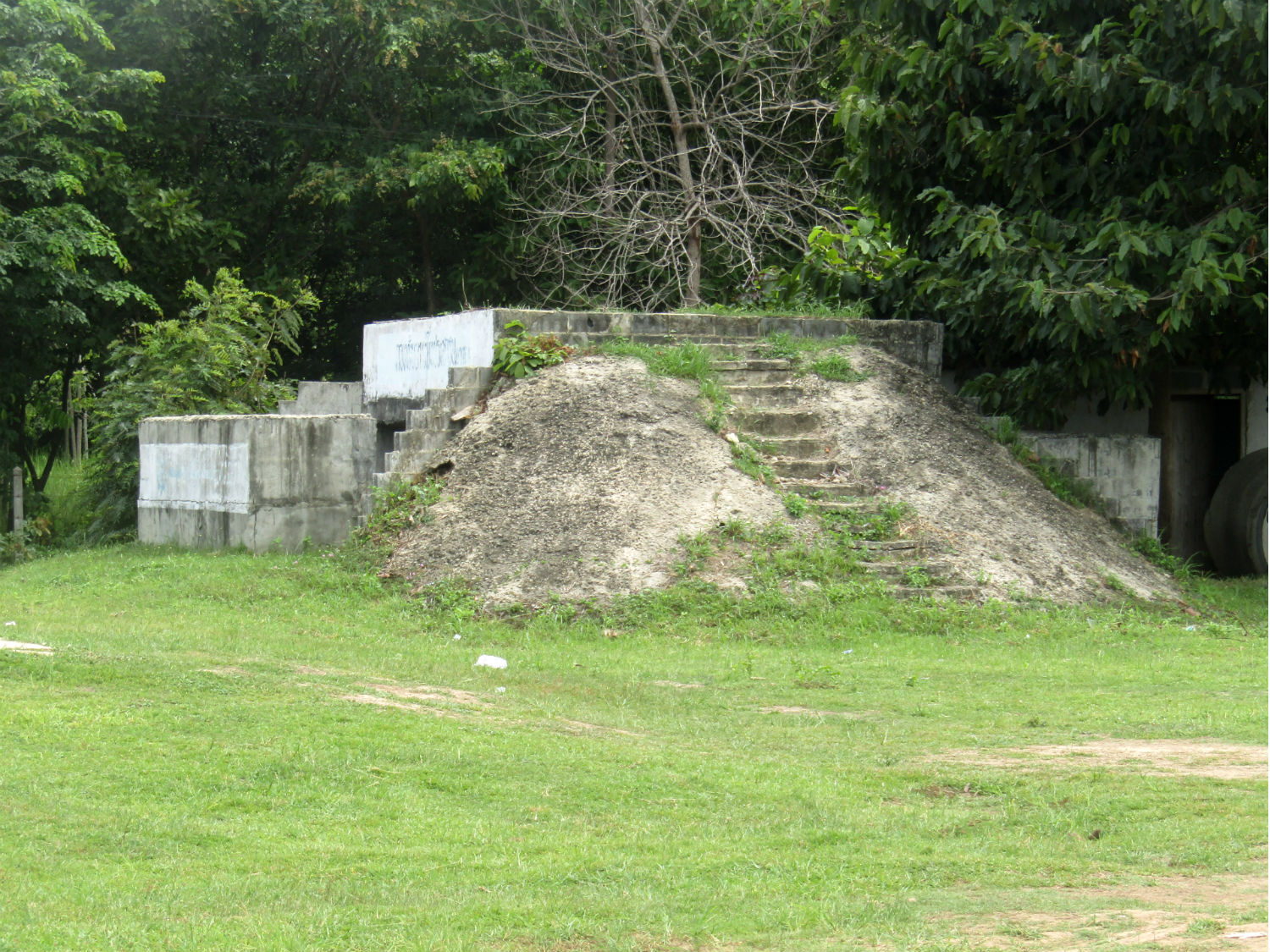 Kantharalak District, Si Sa Ket Province


Khao Pra Wihan National Park…….. Reaching Khao Pra Wihan National Park entrance takes less that 15 minutes and although I was forewarned, I'm not too impressed by paying 400 baht to enter. This will make it the most expensive park I've visited so there has to be something important inside.
Sited on a red stone cliff that is part of the Phanom Dangrek mountain range on the southern edge of the Khorat Plateau, Khao Pra Wihan National Park abuts the international border between Thailand's Sisaket Province and Cambodia's Preah Vihear Province. The name of the cliff in the Royal Thai General System of Transcription is Pha Mo I Daeng.
Once inside the park I find out that the importance of this park is not as it used to be as I will explain later but first I can run through what is here.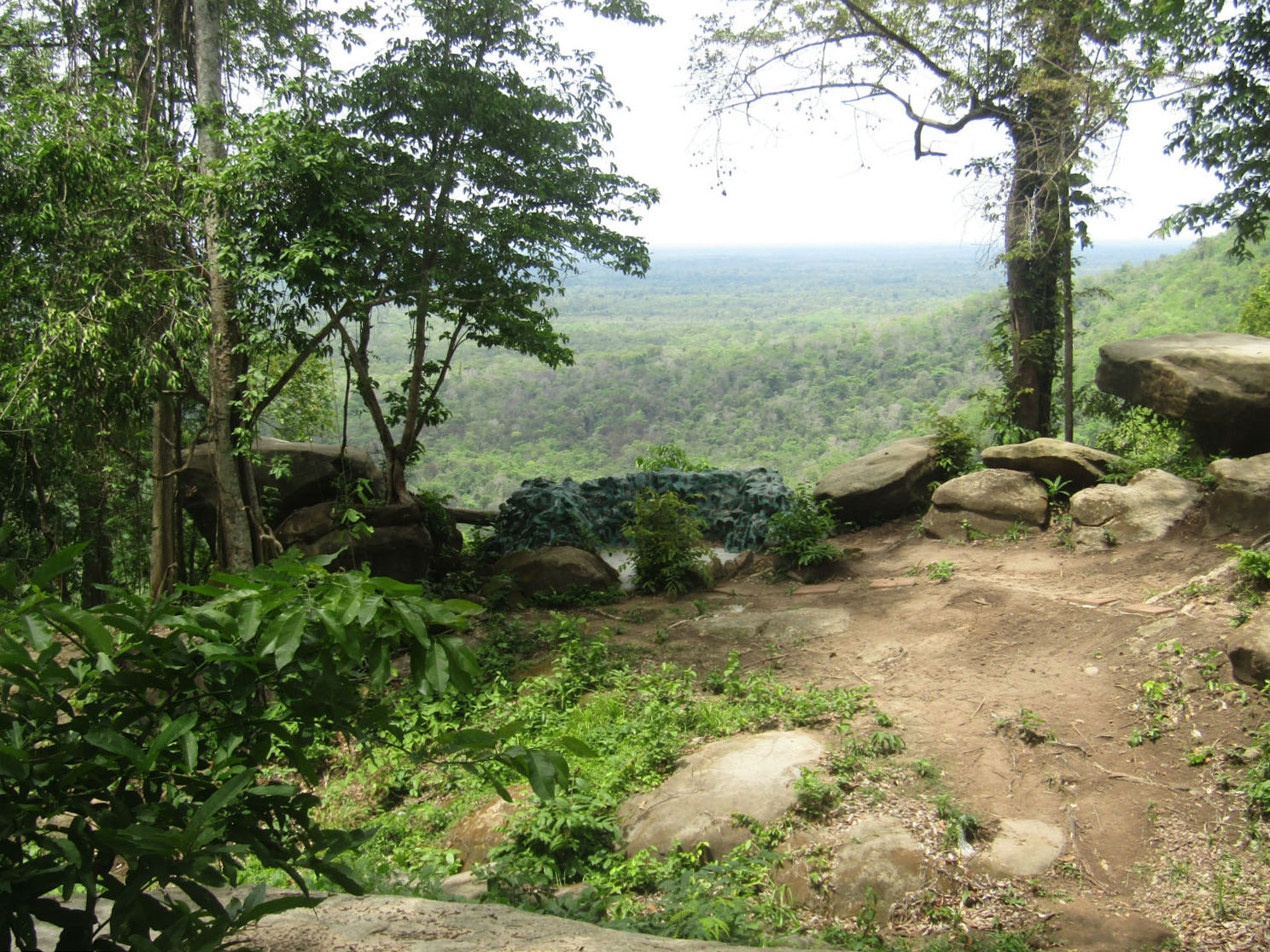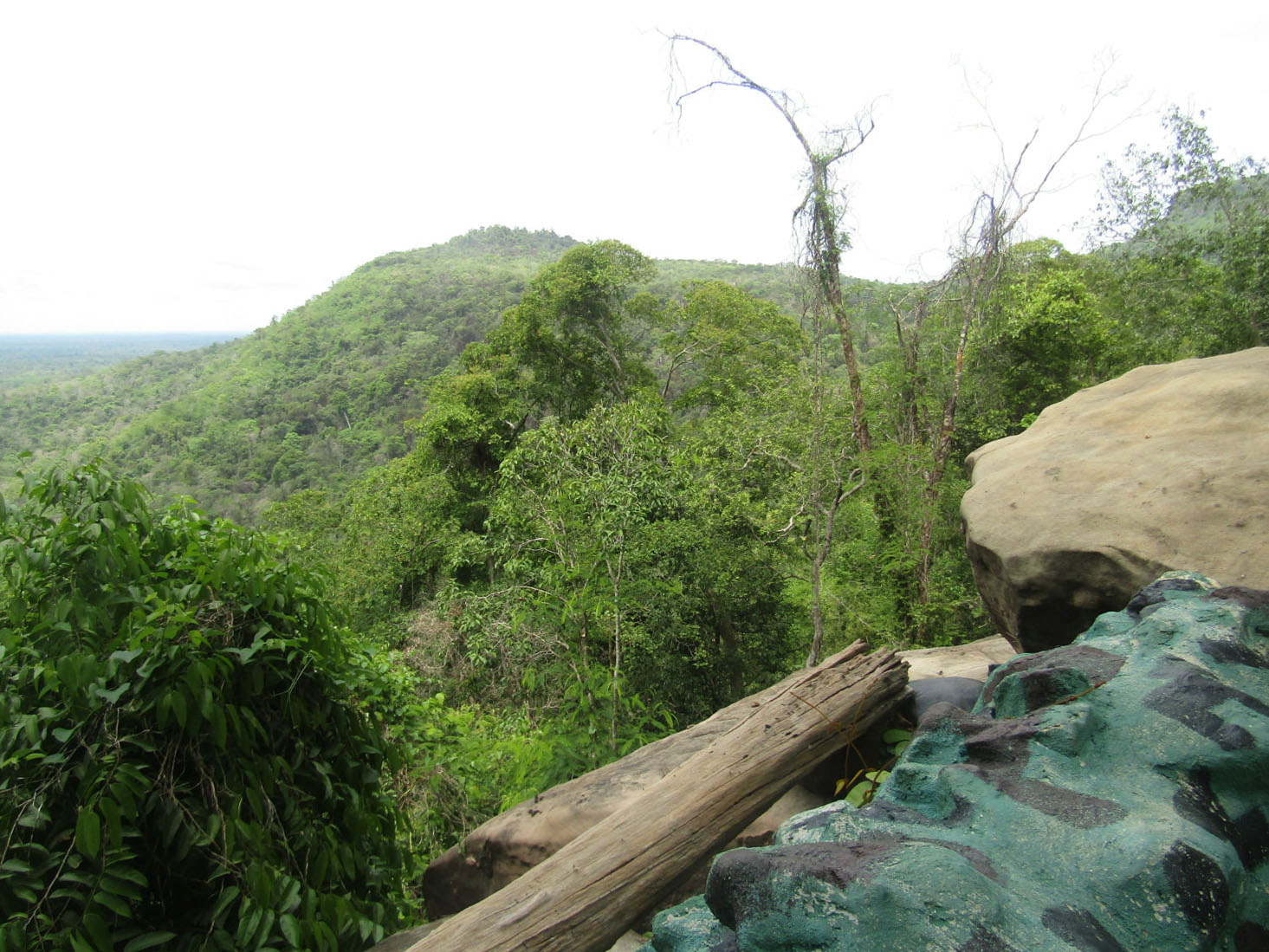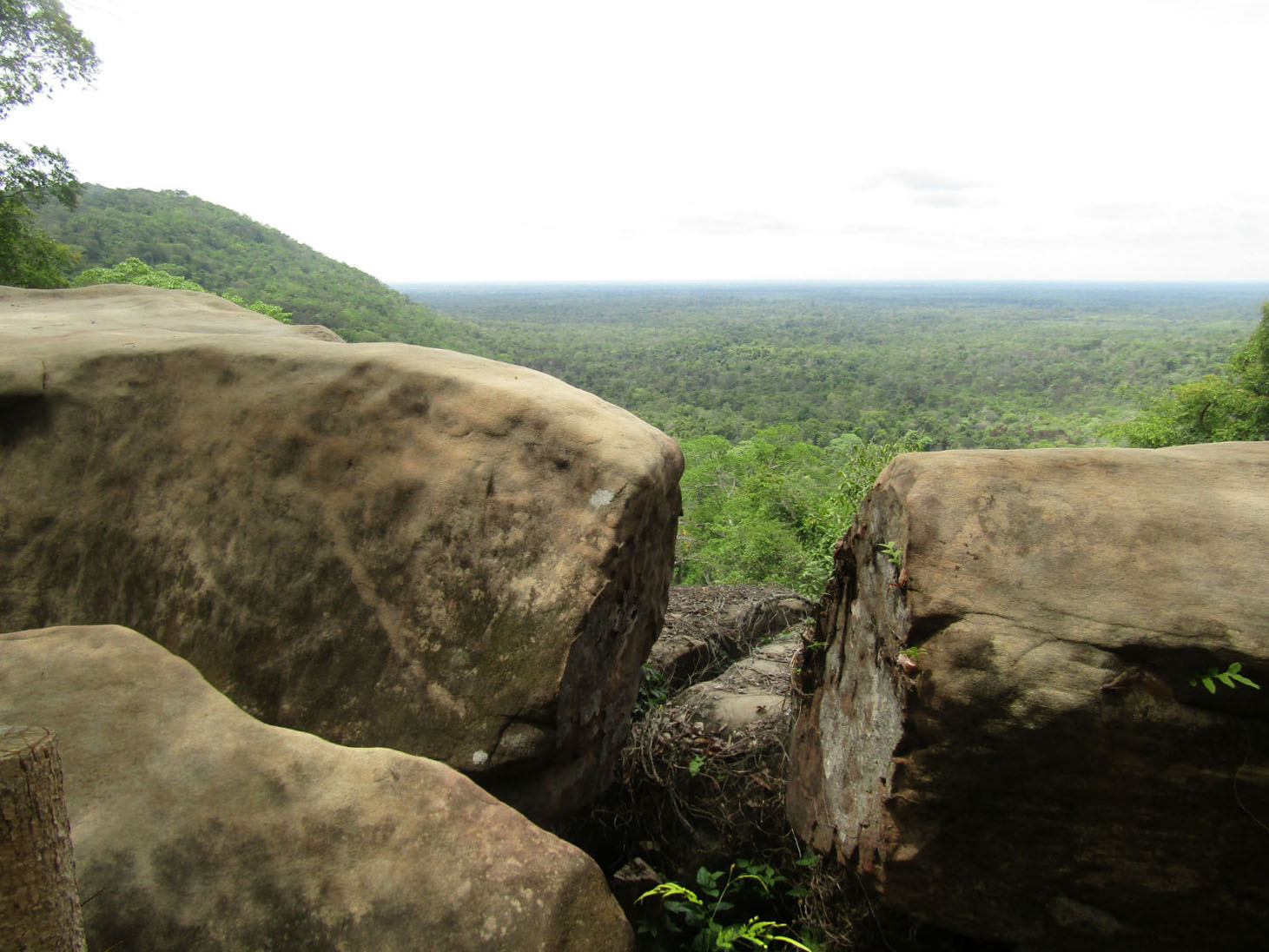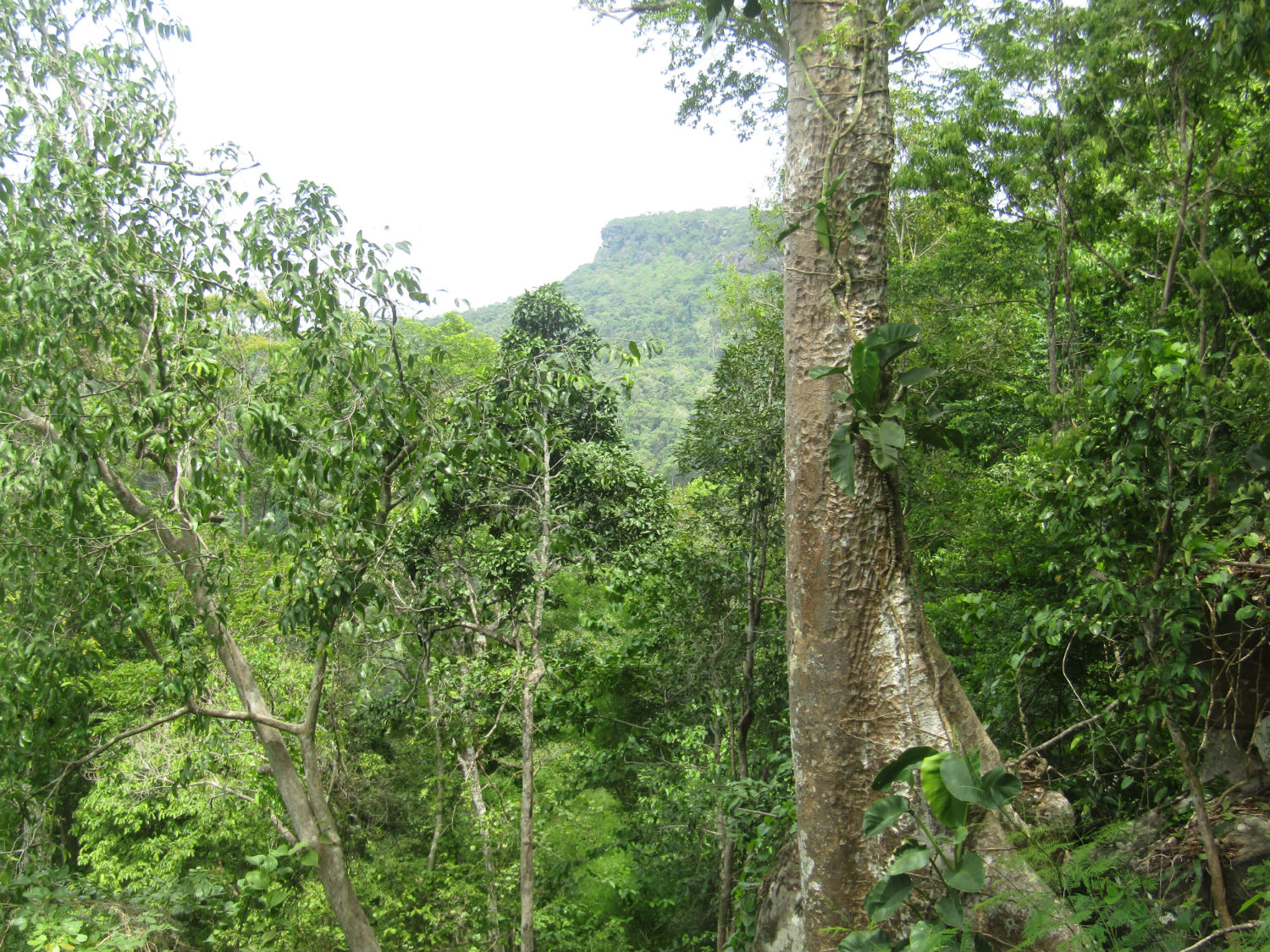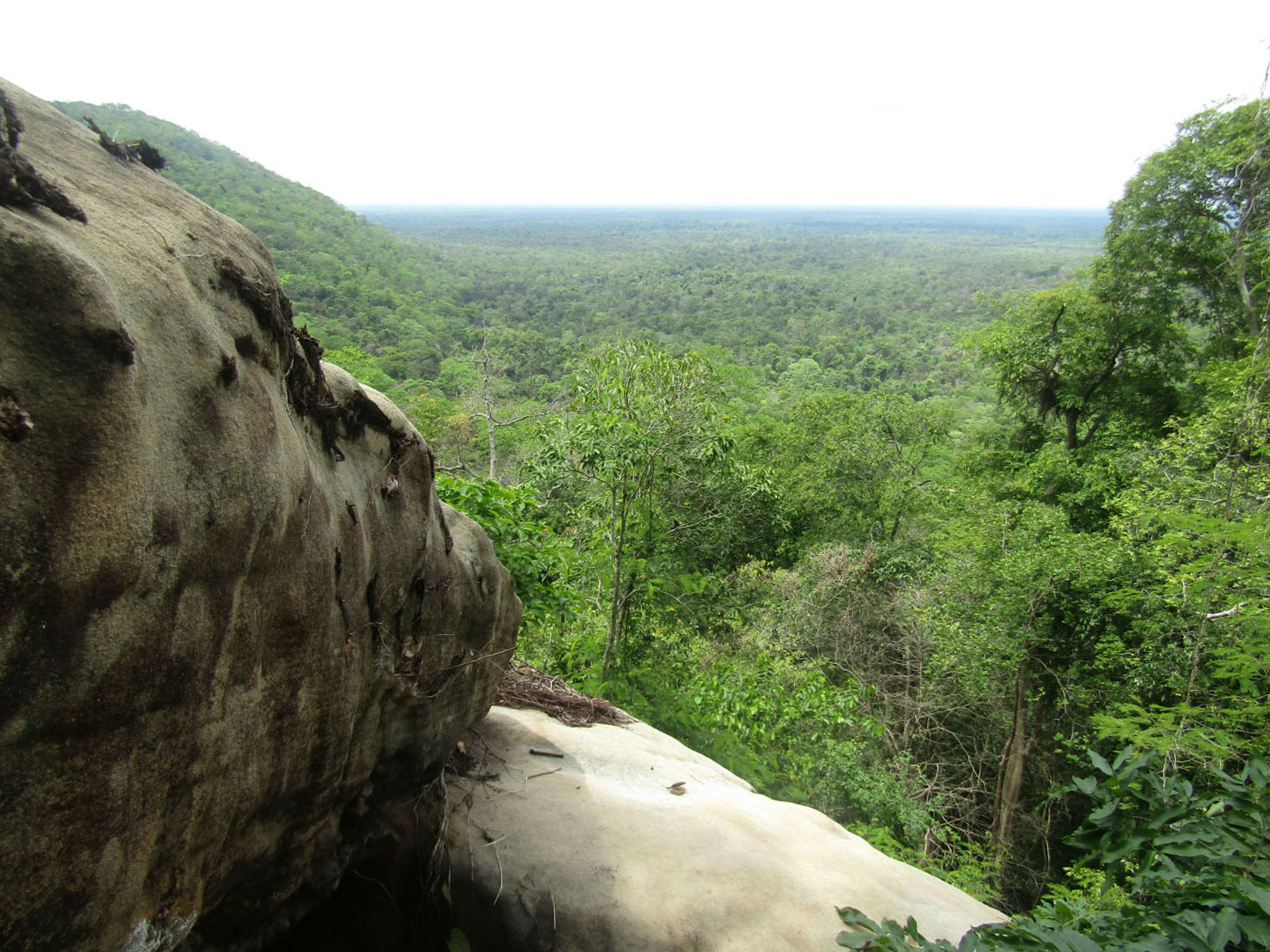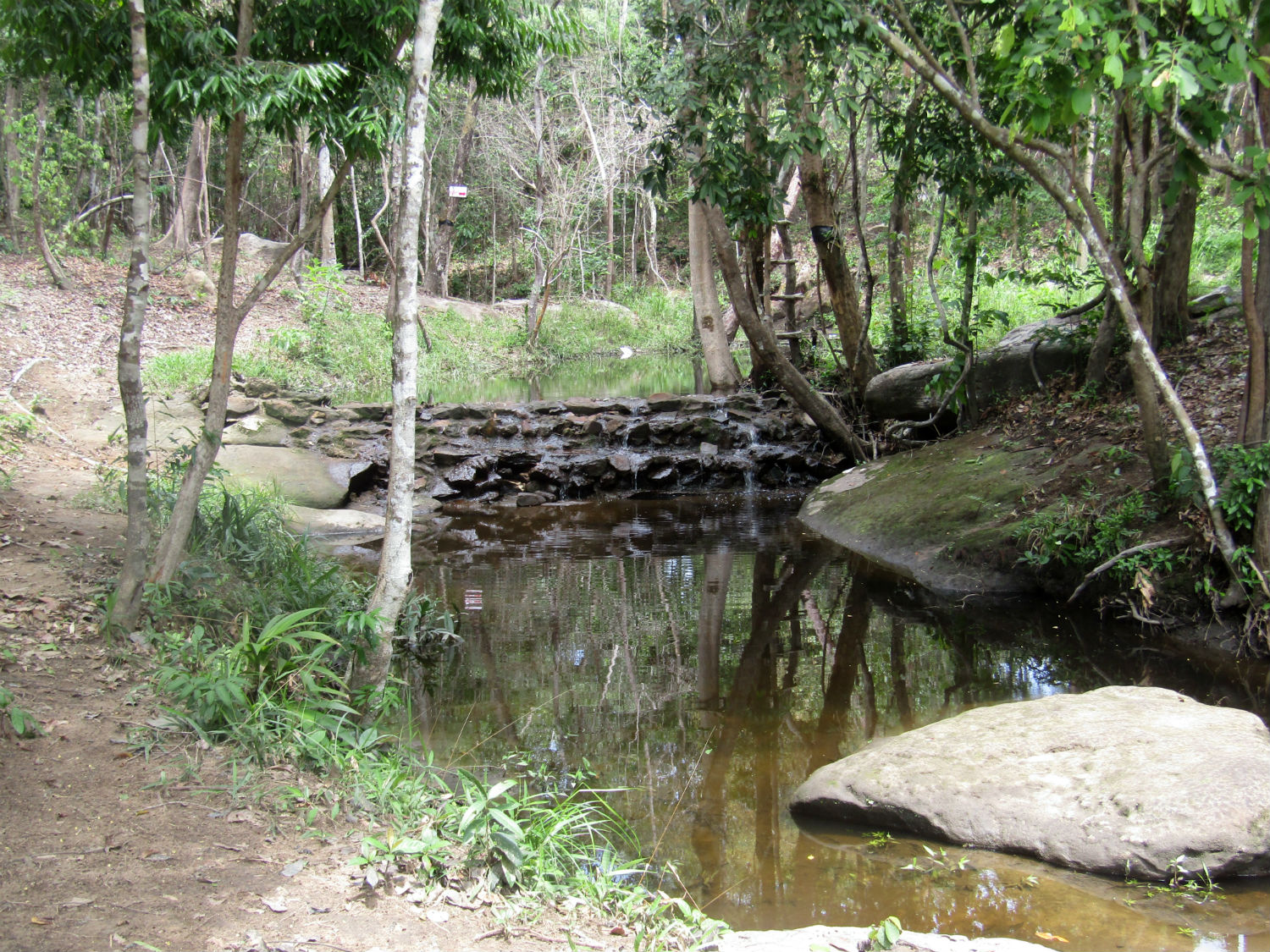 Khao Pra Wihan National Park, Si Sa Ket Province


Prasat Don Tuan…….. A short drive into the park at a junction we turn left. This takes us to Prasat Don Tuan, an ancient Khmer sanctuary where there is a car park and toilets. Unfortunately, although I've just paid substantially more than Thai people, the information boards at Prasat Don Tuan are only in Thai. I will have to get translations later but from observation, the sanctuary consists of a principal tower, the base and lower section of the tower built of laterite while the top section is made of brick. The ruin lies close to a viewpoint where there are gorgeous views of distant hills, out onto the plain in Cambodia and to the Pha Mo I Daeng cliff to the right. The presence of a Thai Army post here is witness to the tension that has existed between the two countries in recent times.
Built during the 10th -11th Century, Prasat Don Tuan near Ban Phume Sarol is actually 350 meters onto the Cambodia side of the distinct watershed border ridge. The only road access, however, is from Thailand. Legend tells that in the past a lady known as Nang Nom Yai or Nieng Non dor (in Khmer), stopped to rest here on her way to visit a king.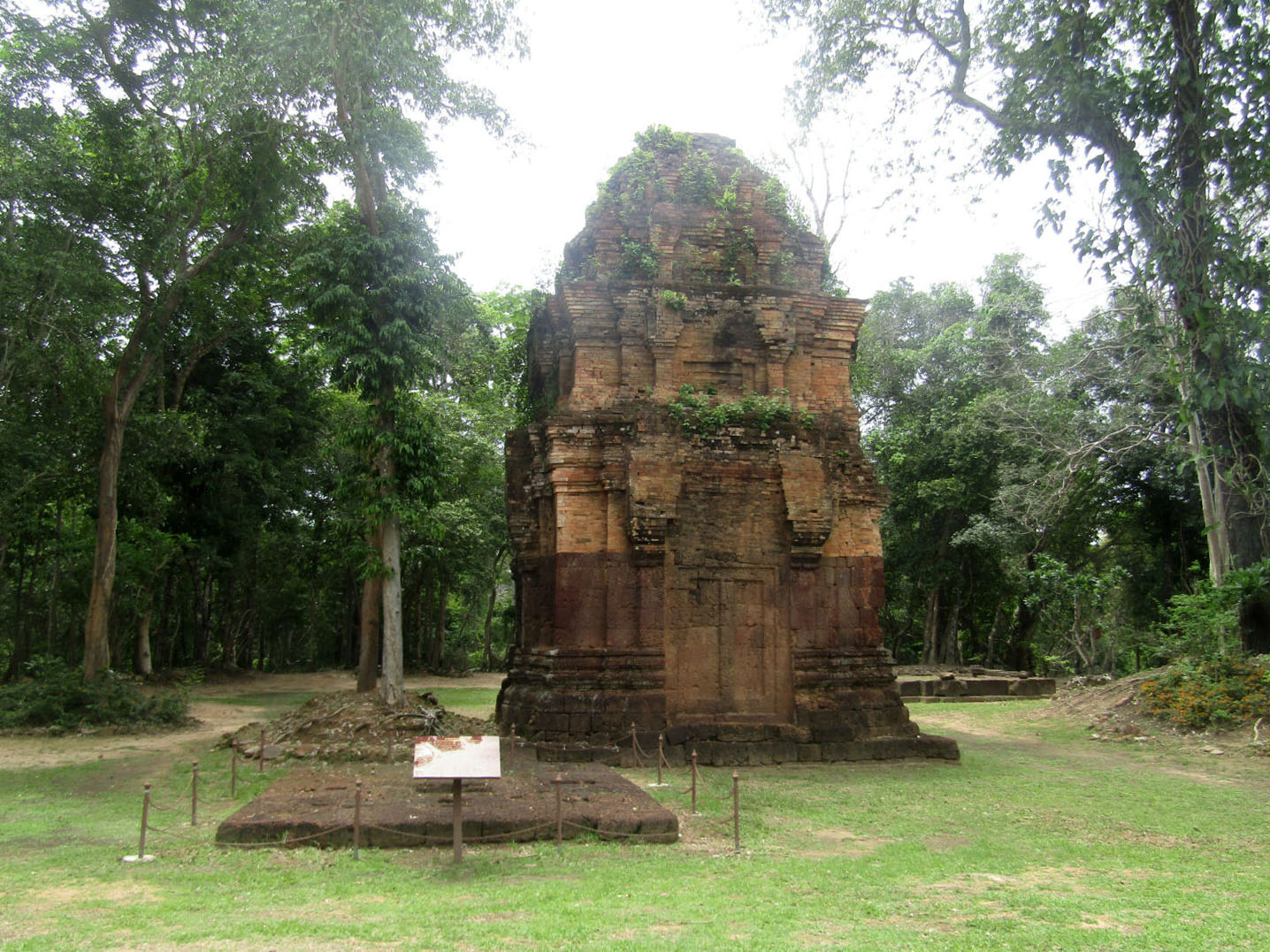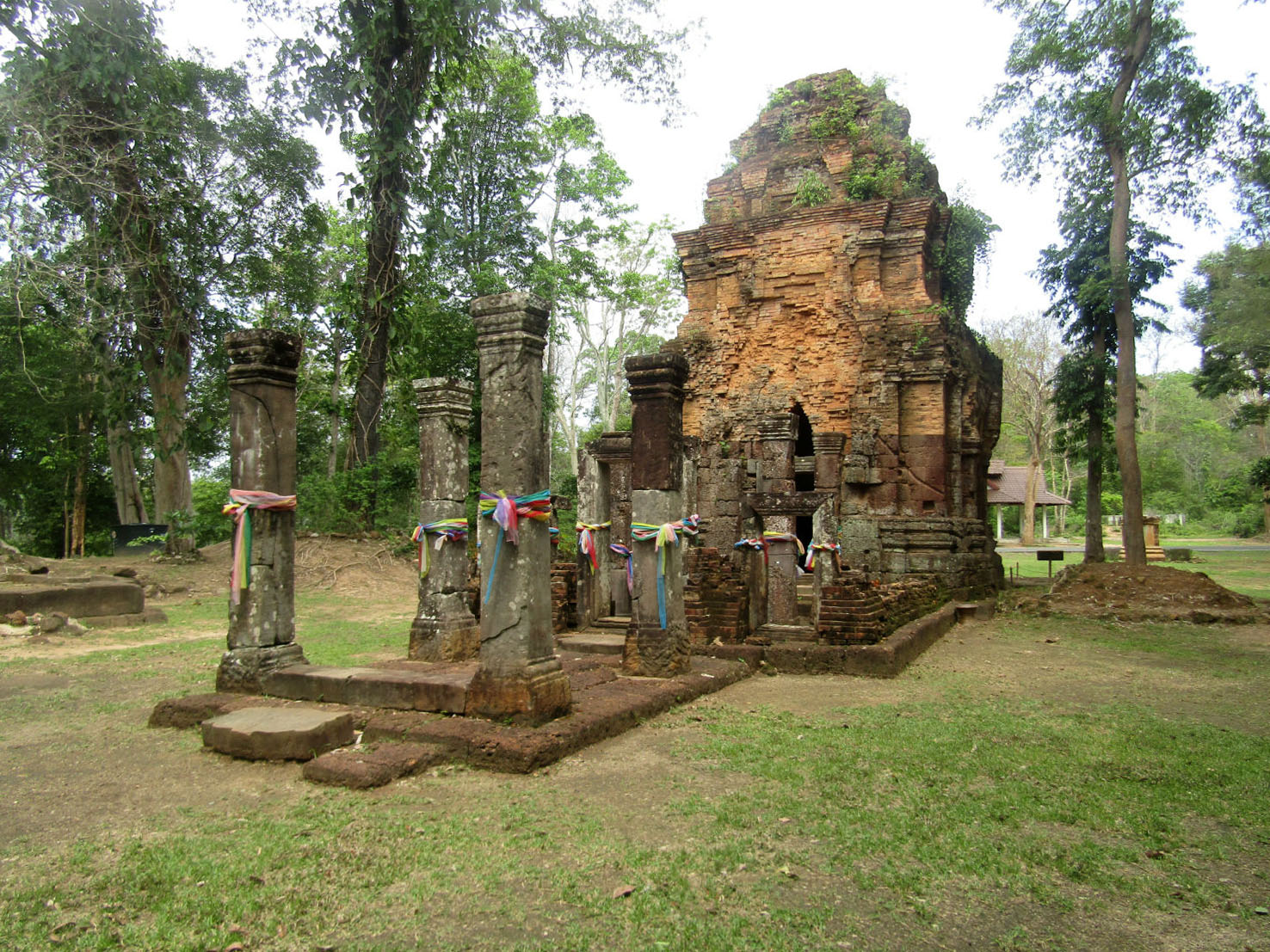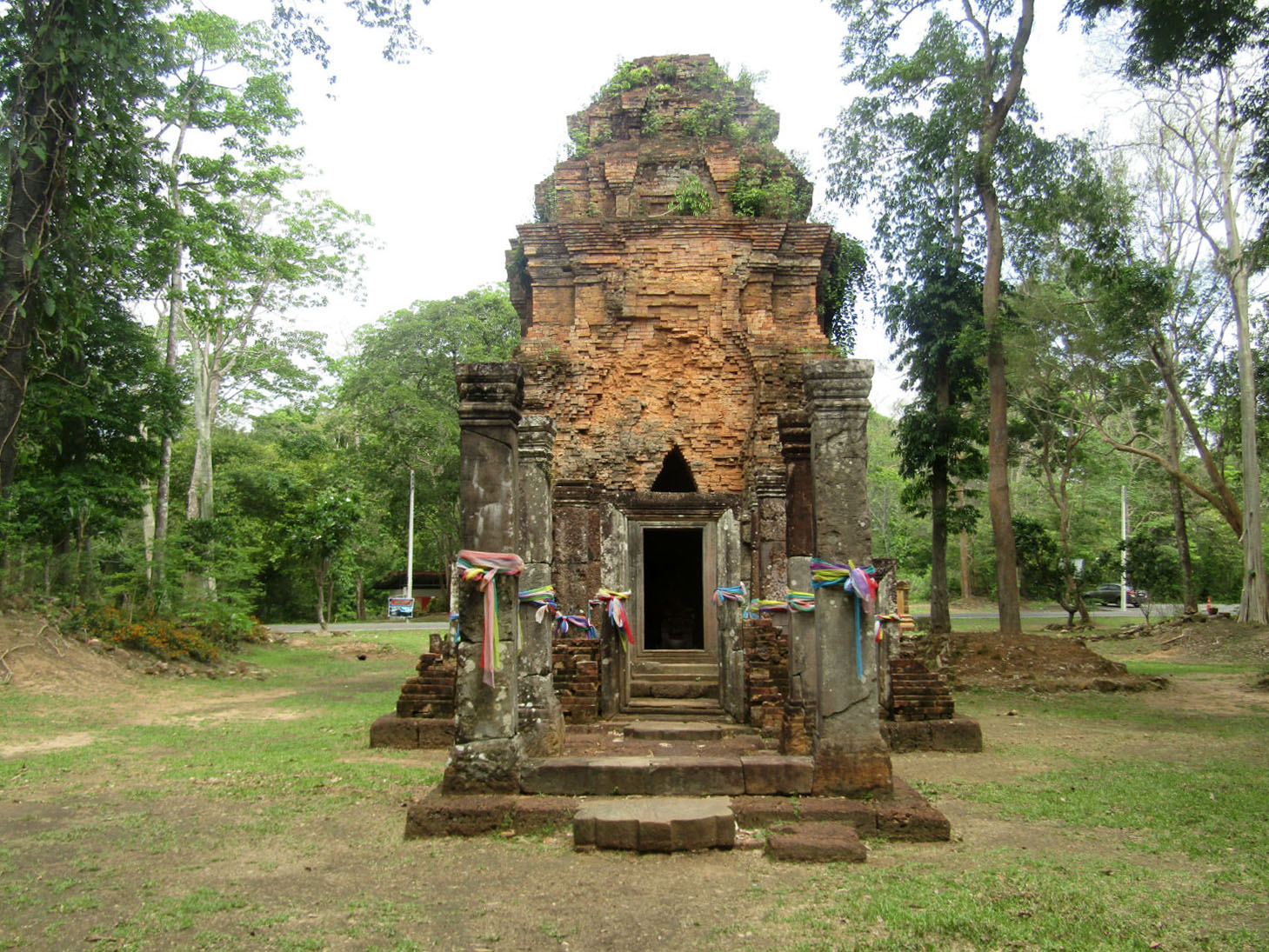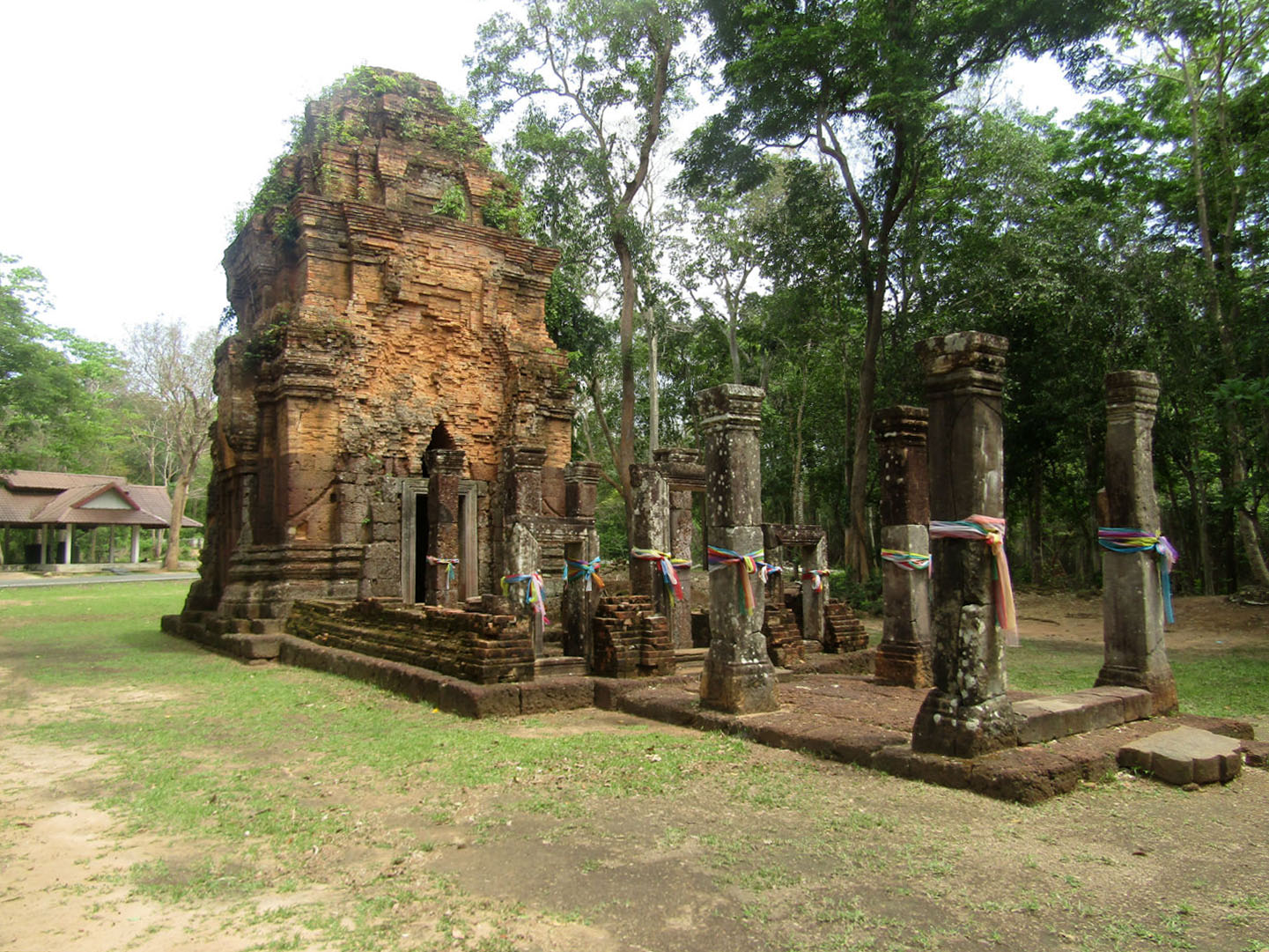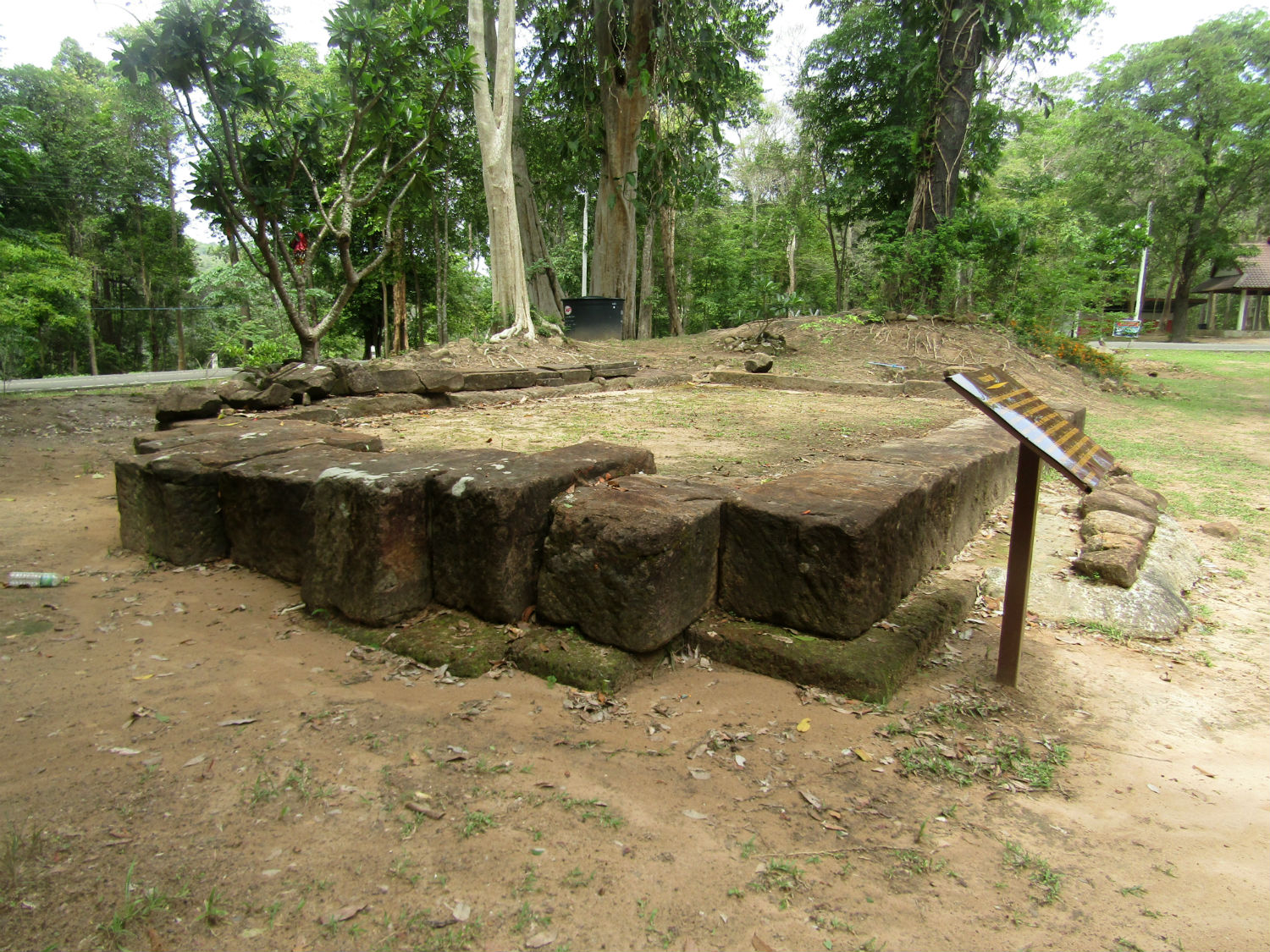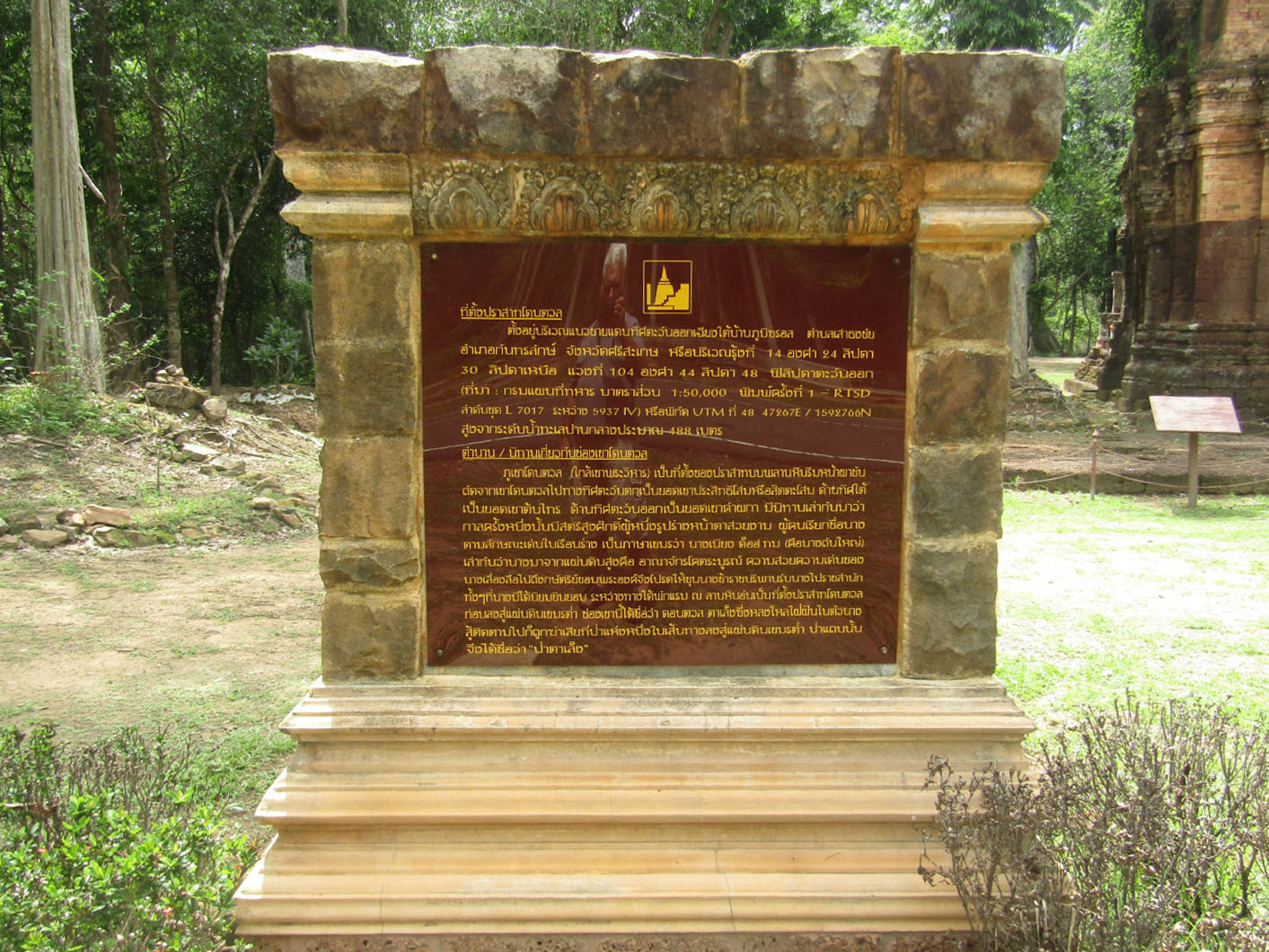 Prasat Don Tuan, Khao Pra Wihan National Park, Si Sa Ket Province


Pha Mor E Daeng…….. Returning to the car we head further into the park to the visitor centre and substantial facilities for visitors to the Pha Mor E Daeng viewpoint.
Arriving at this iconic site, I really don't know what to expect. No amount of photographs or visitors comments have helped. You just have to experience it for yourself. Regarding the views, it's hard for me to remember any other viewpoint in Thailand that trumps this. The cliff face is sheer continuing for some distance. In fact there are three viewpoints, Larn Hun Tawan, Larn Huk Lan Kod Ood Lood Sisaket and Canyon all adding a different perspective. At the furthest viewpoint to the right they've built a pagoda. This faces across a valley towards another peak, now in Cambodia.
Mor E Daeng Cliff rears over 500 metres above the Cambodian plain. In 1987, a Border Protection Ranger Unit discovered two groups of bas-relief images and engravings. The Management Plan says on p. 14, "Based on iconography, the figures are dated circa 10th century, or older than Preah Vihear Temple." The figures are now a highlight of the park. Some parts have flaked off, so the area is barred behind a gate. A staircase leads down to the gate, where the images are clearly visible.
Before we return, there is one more monument that we can visit so close to the border now isolated surrounded by razor wire as is much of the area controlled by the military.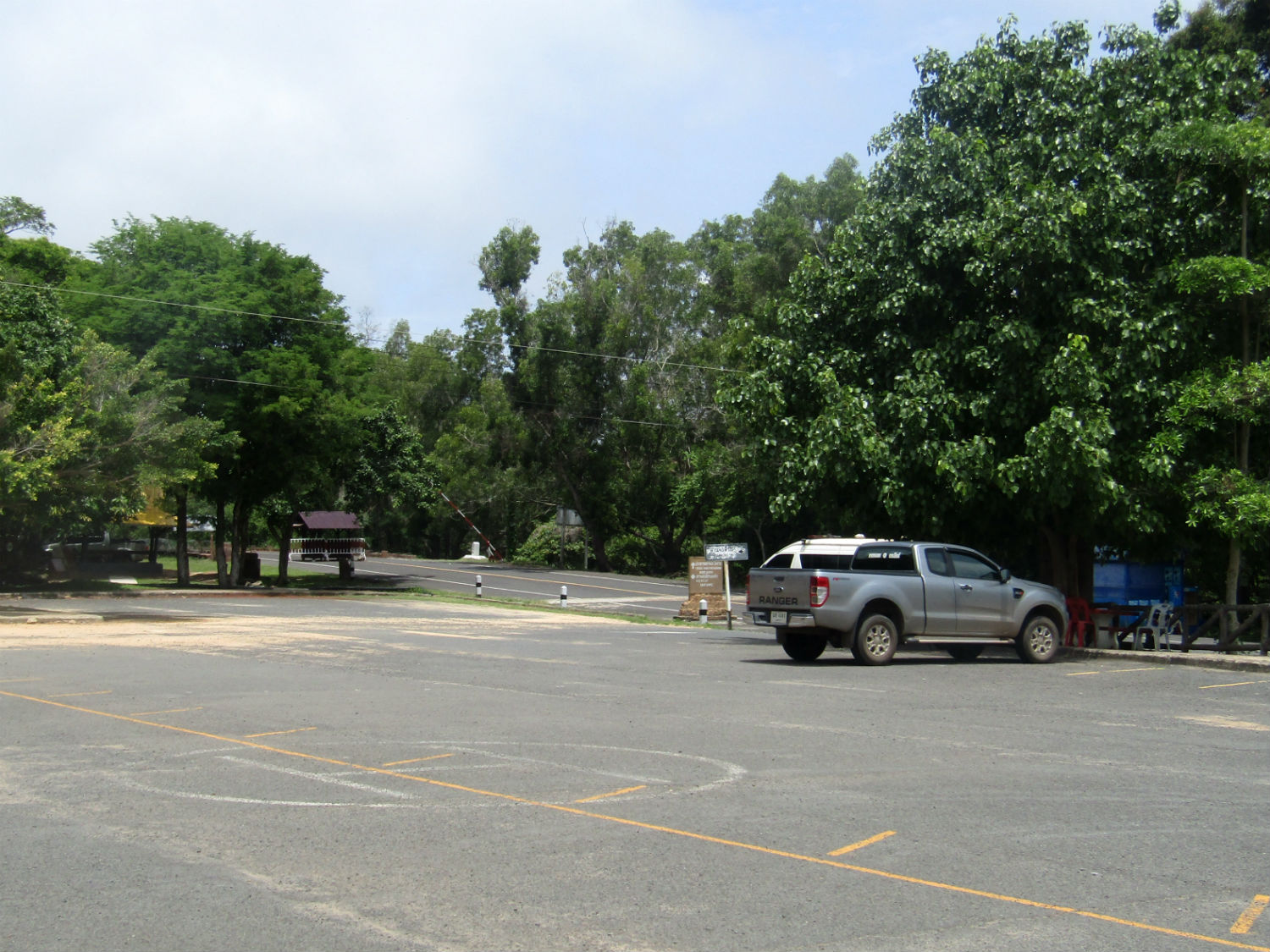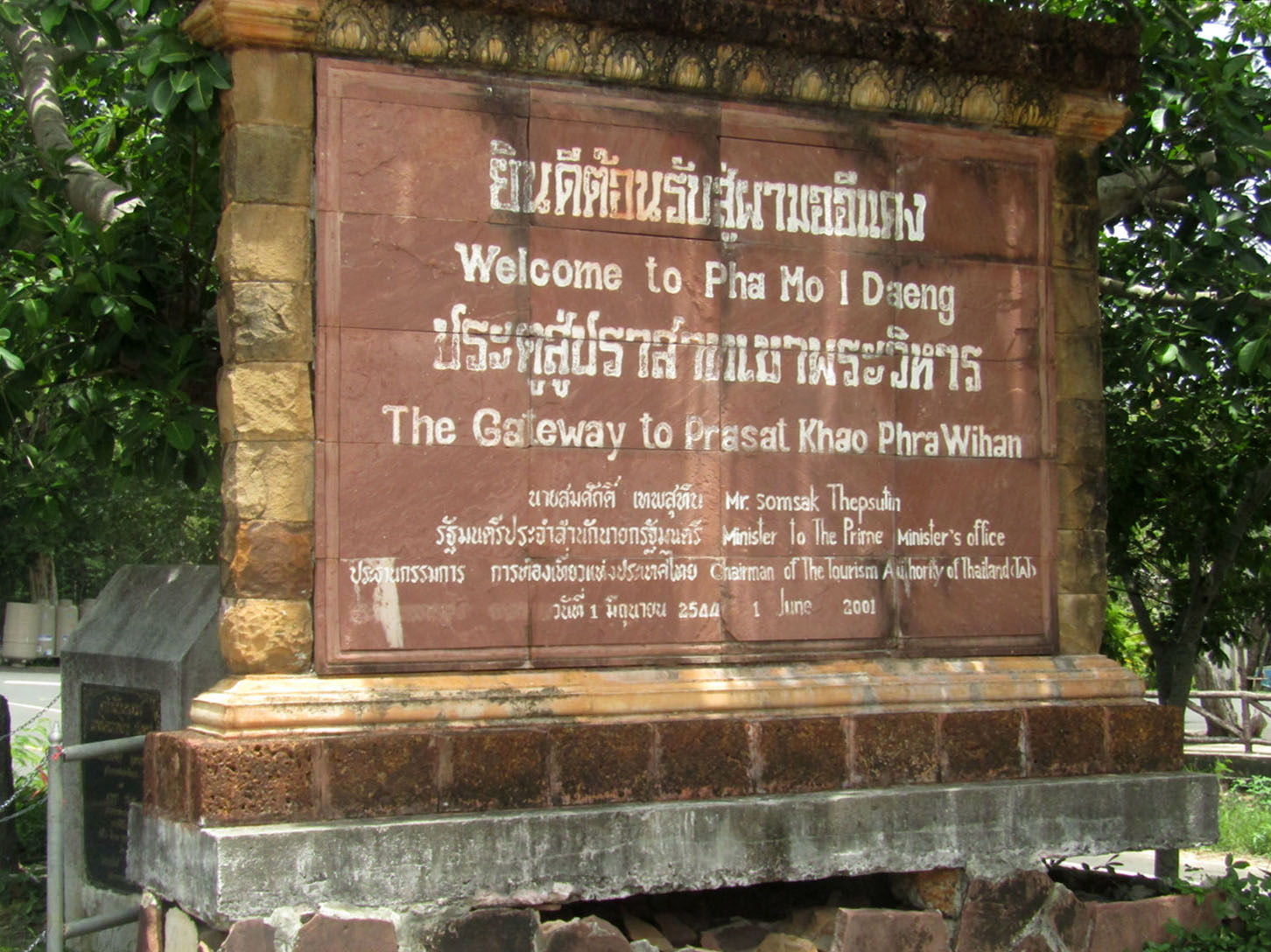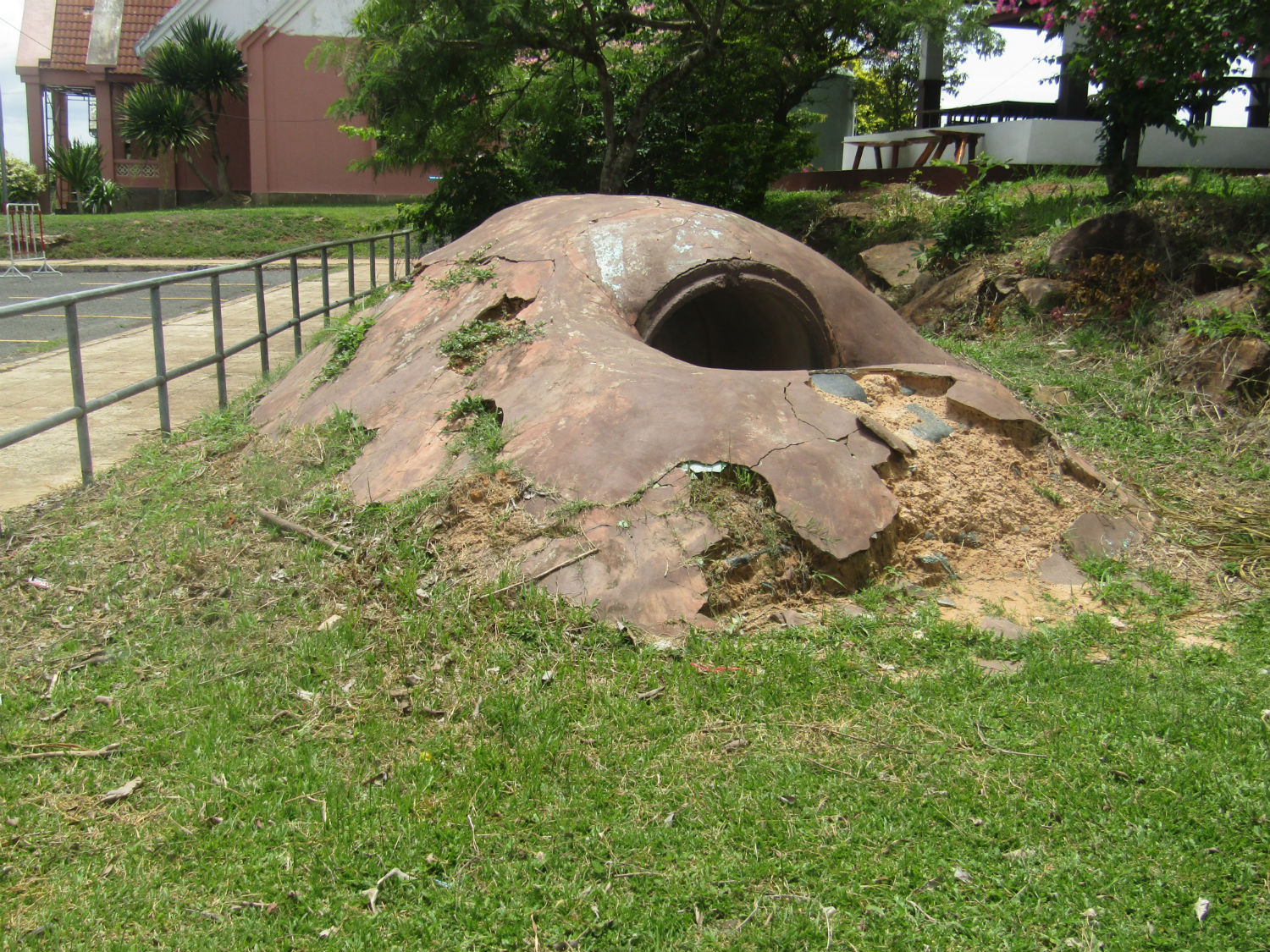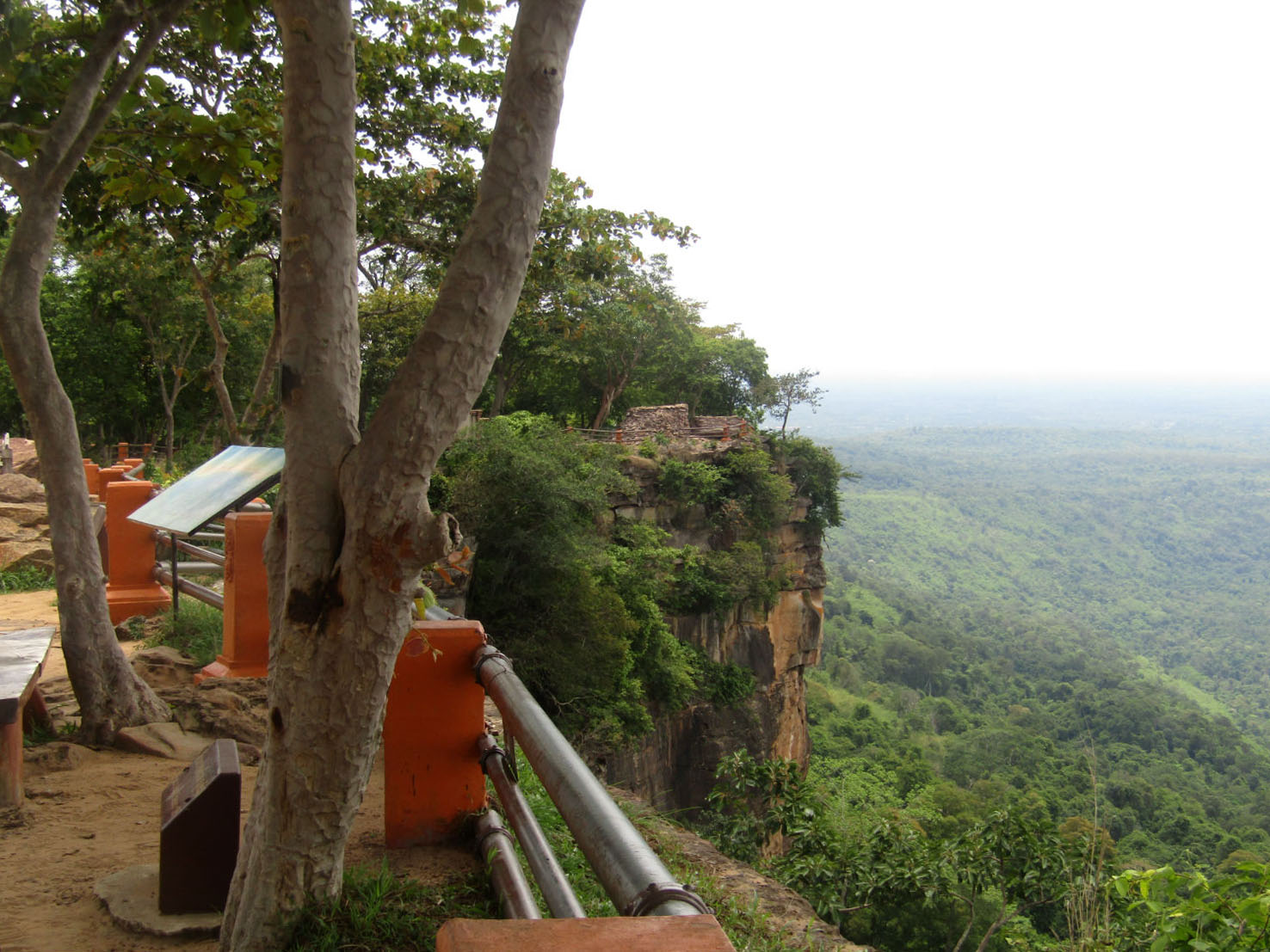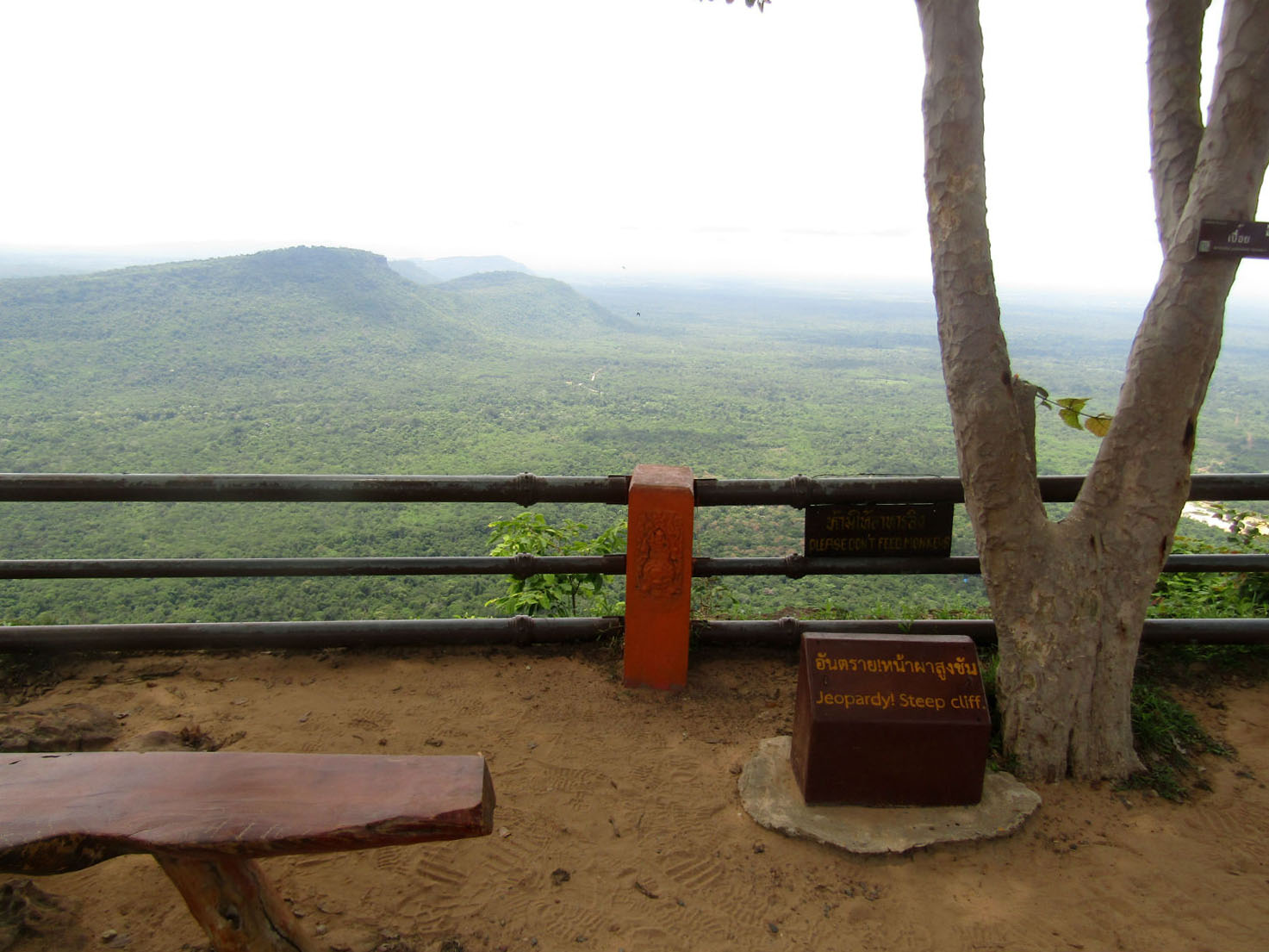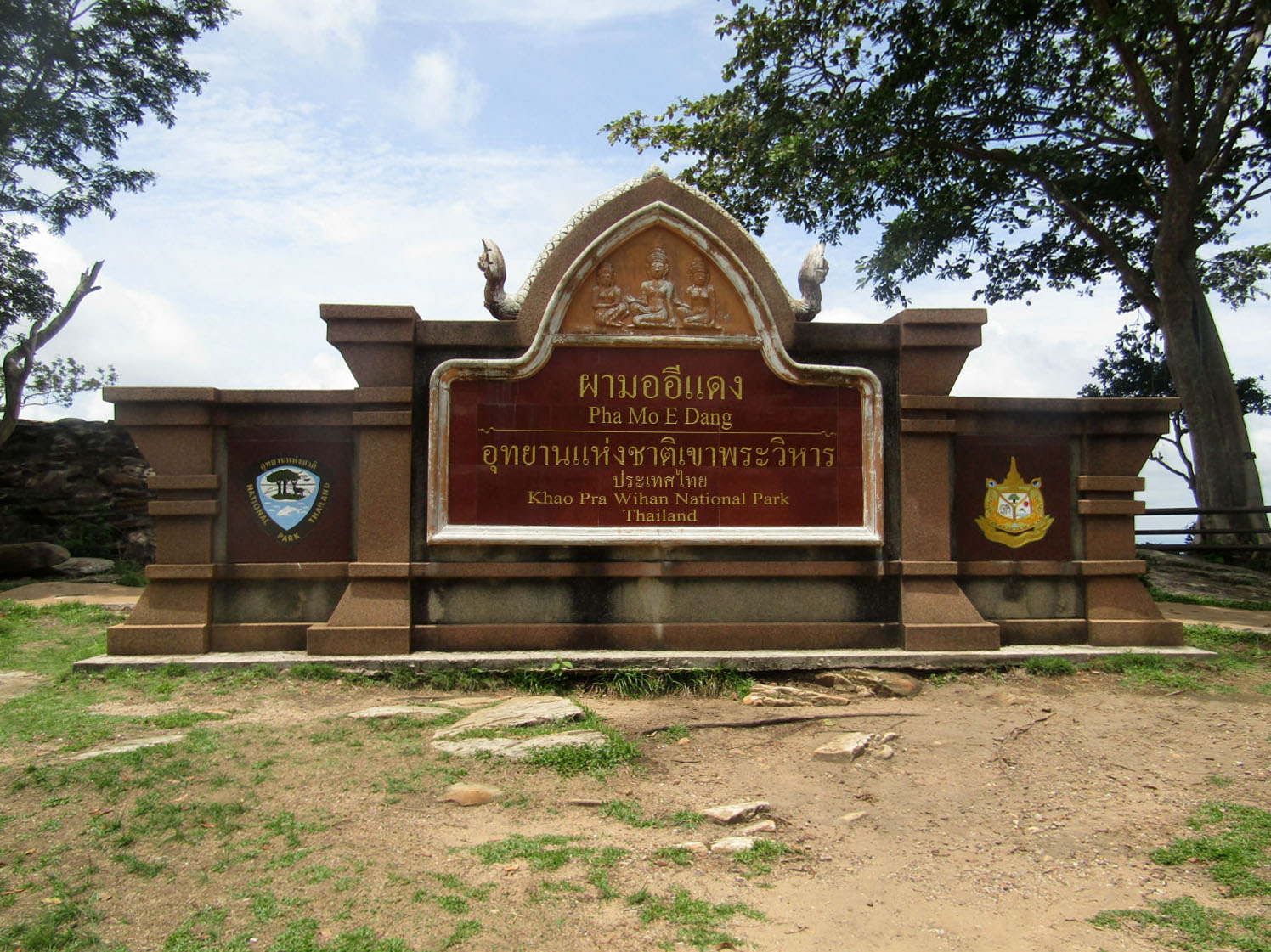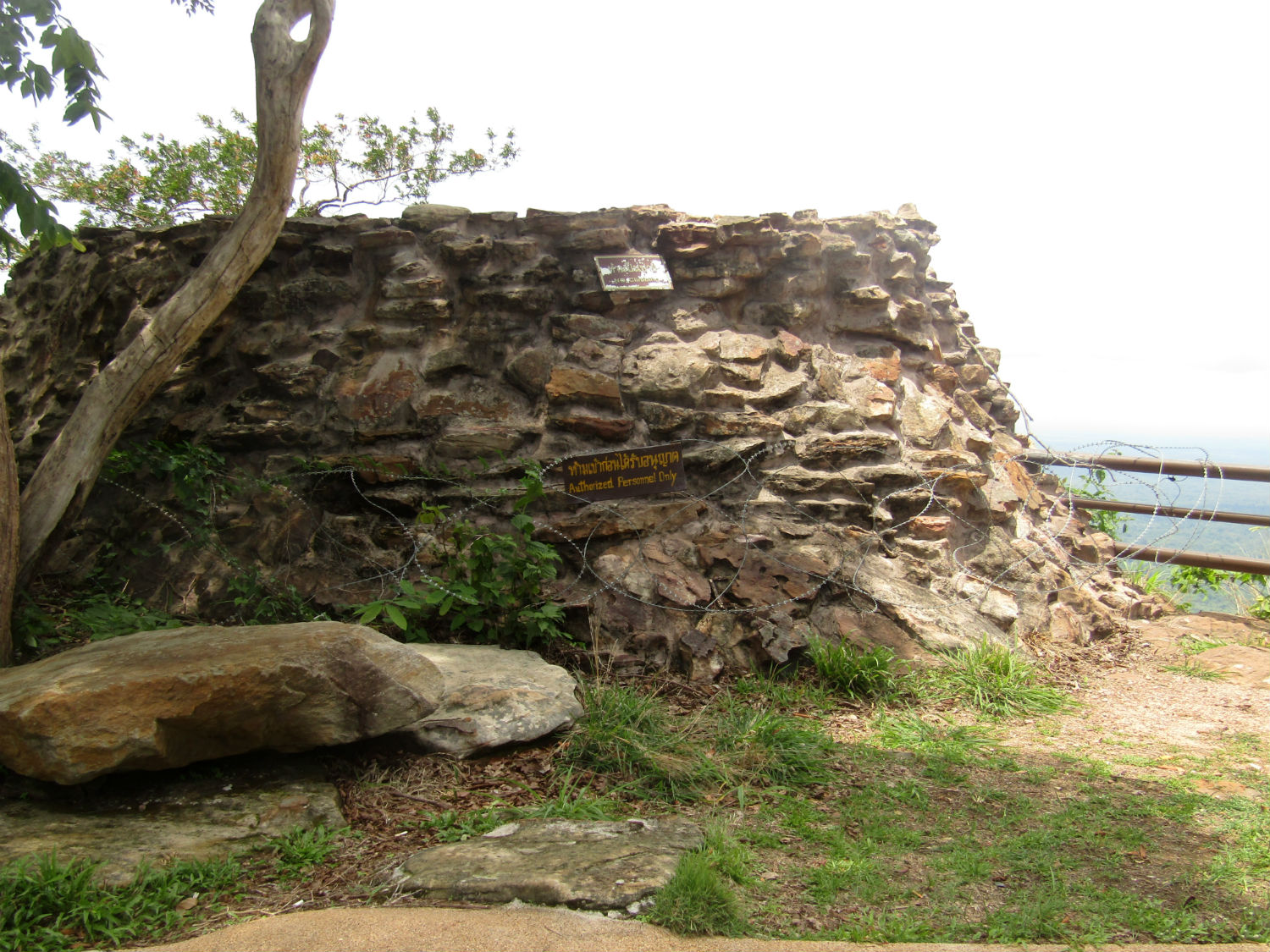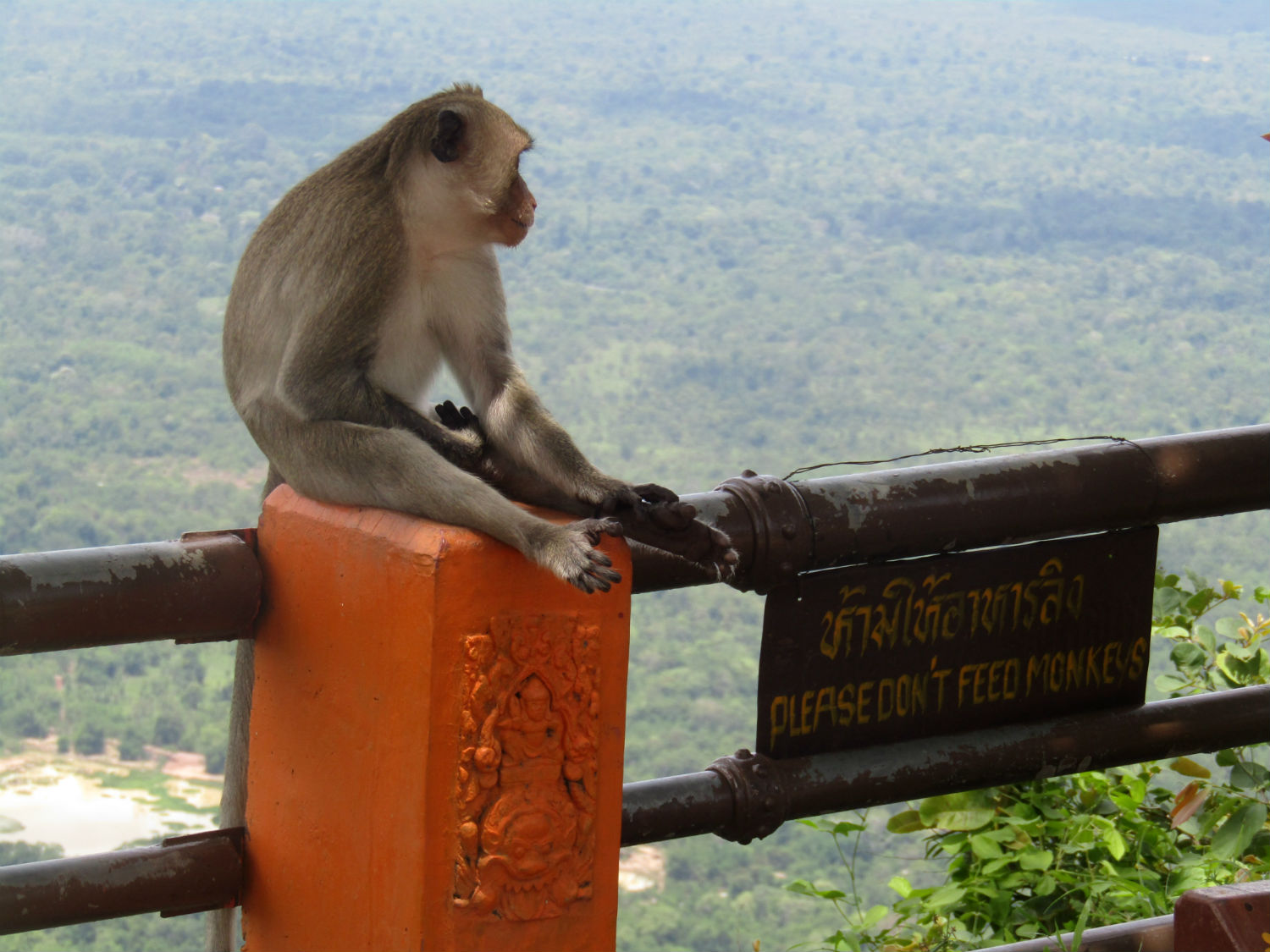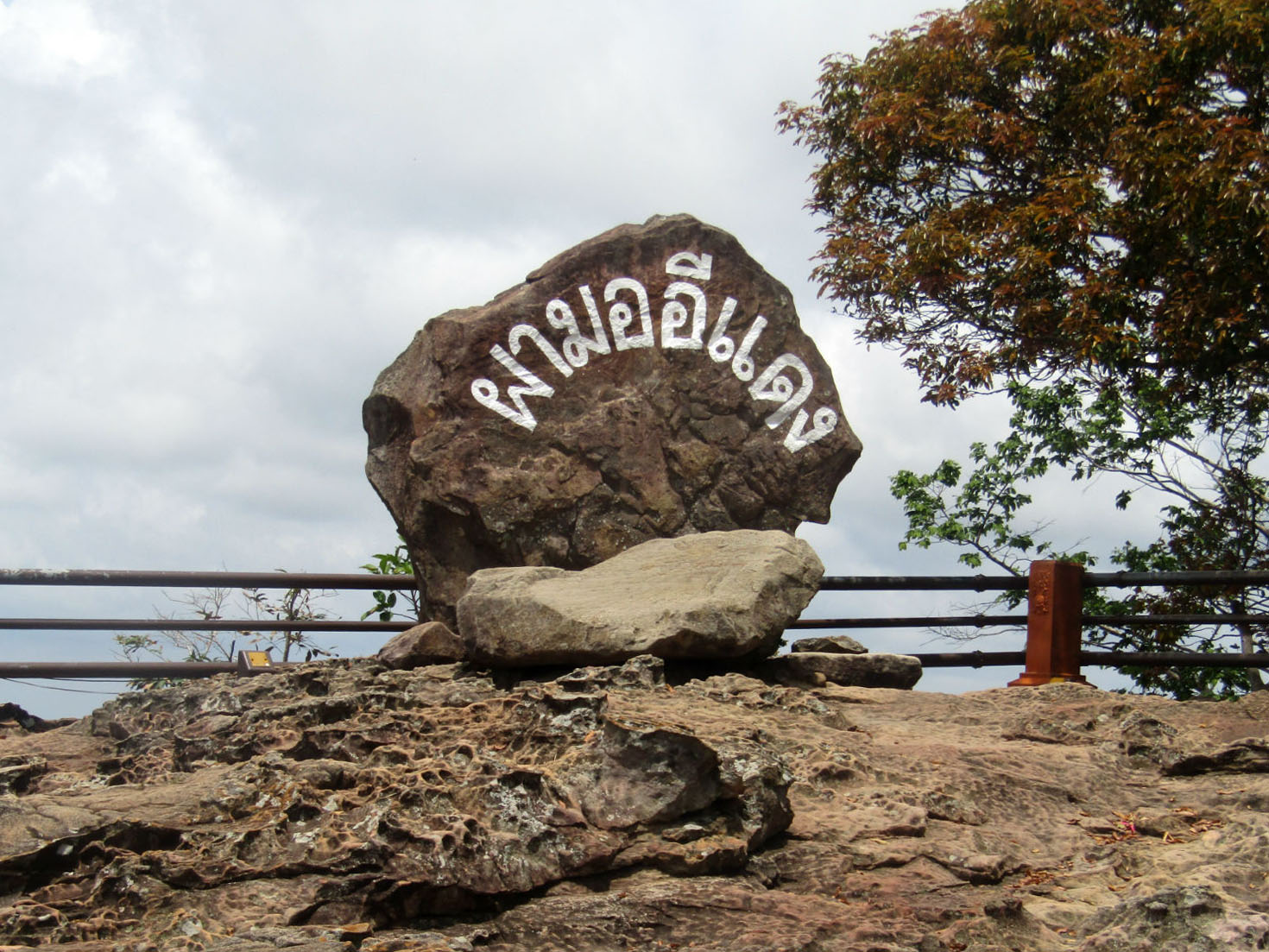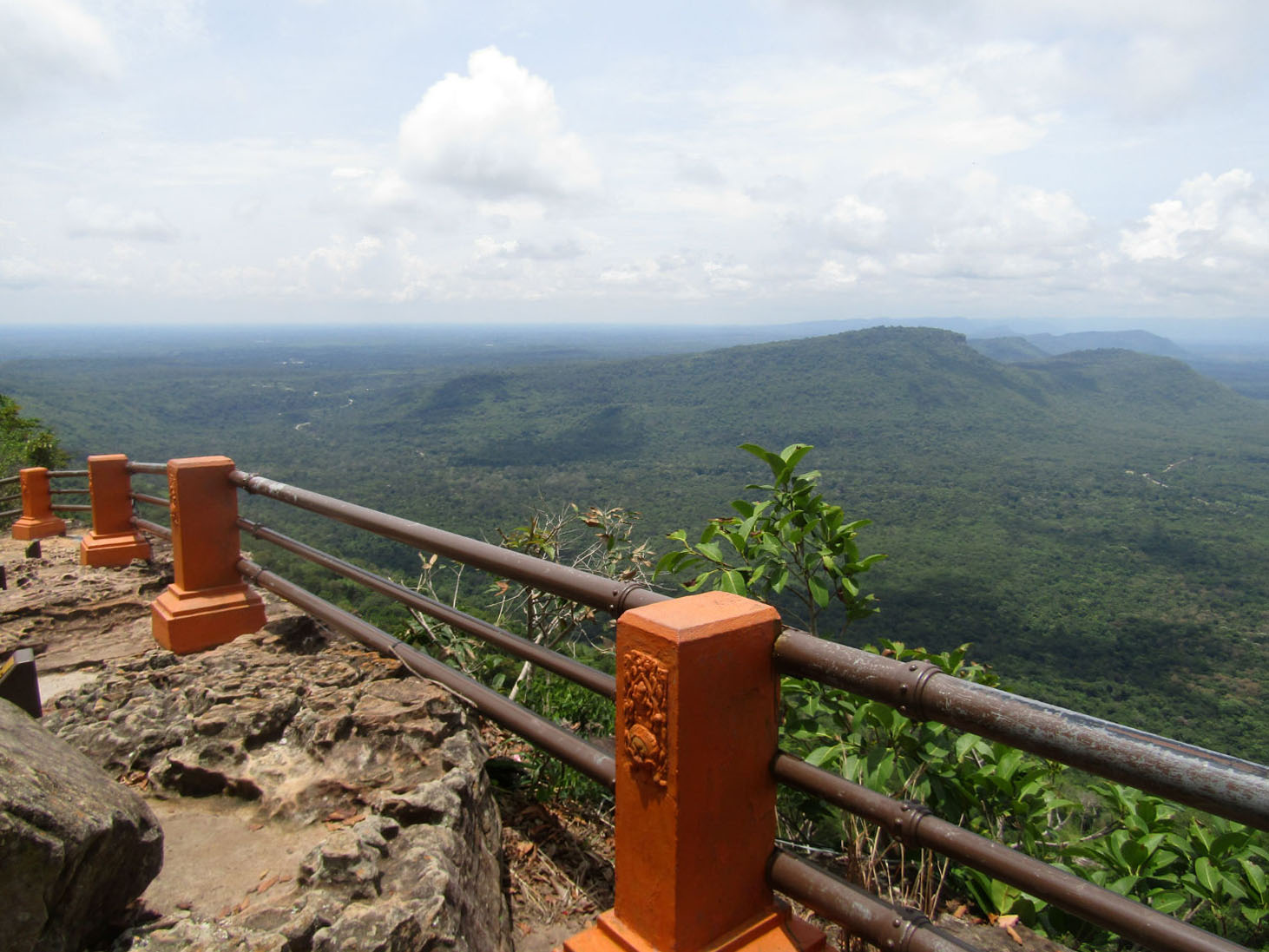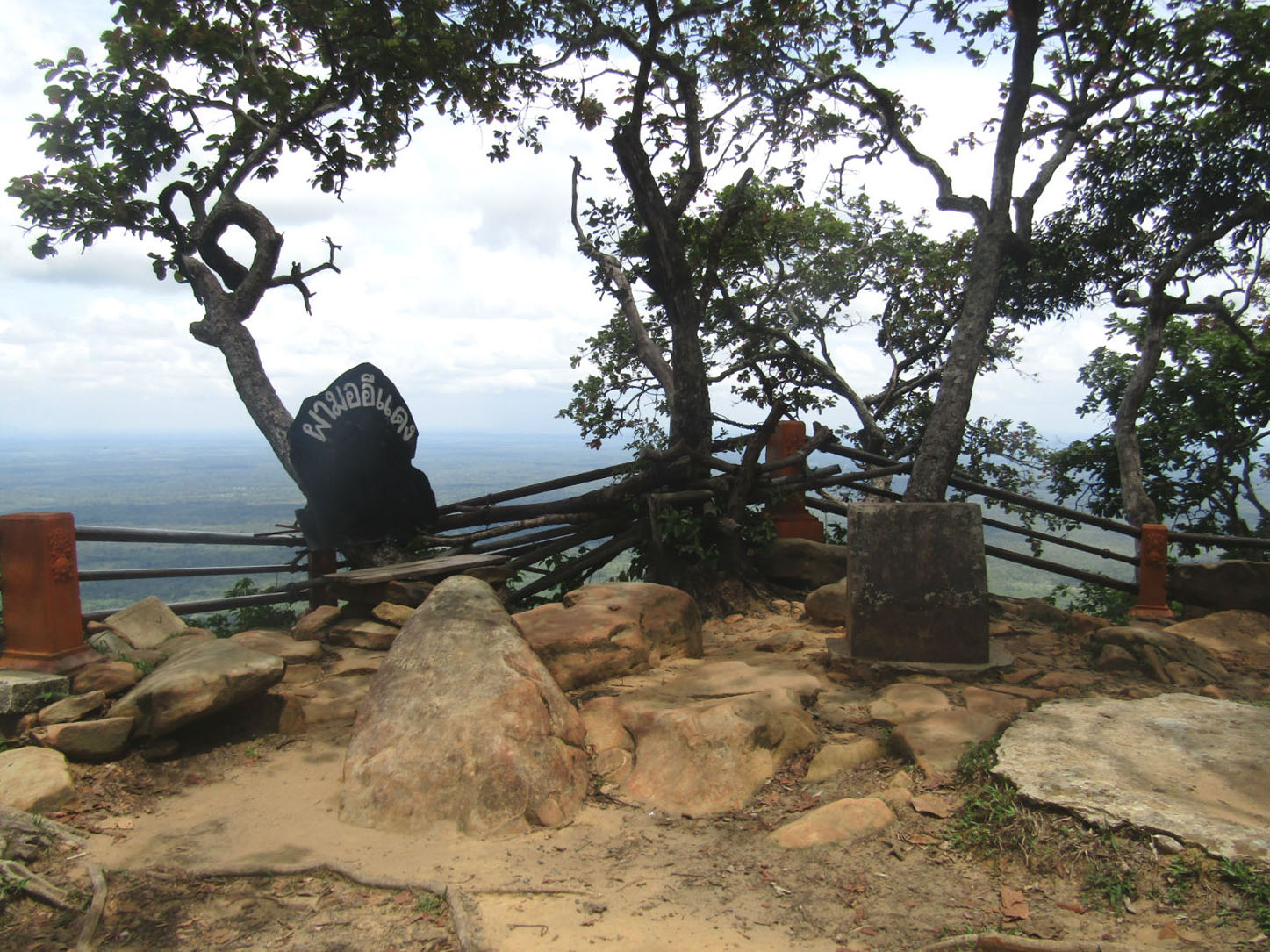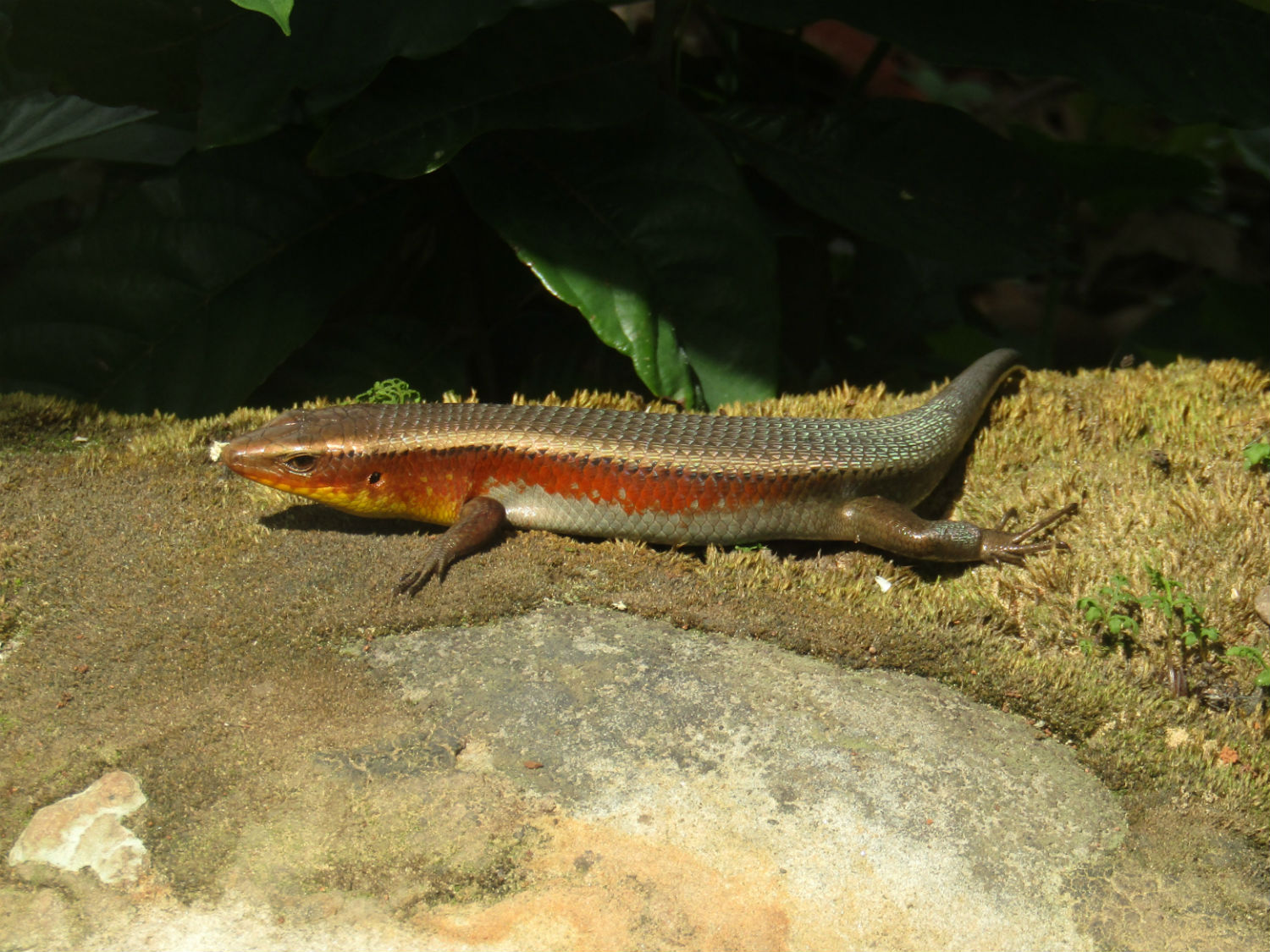 Pha Mor E Daeng, Khao Pra Wihan National Park, Si Sa Ket Province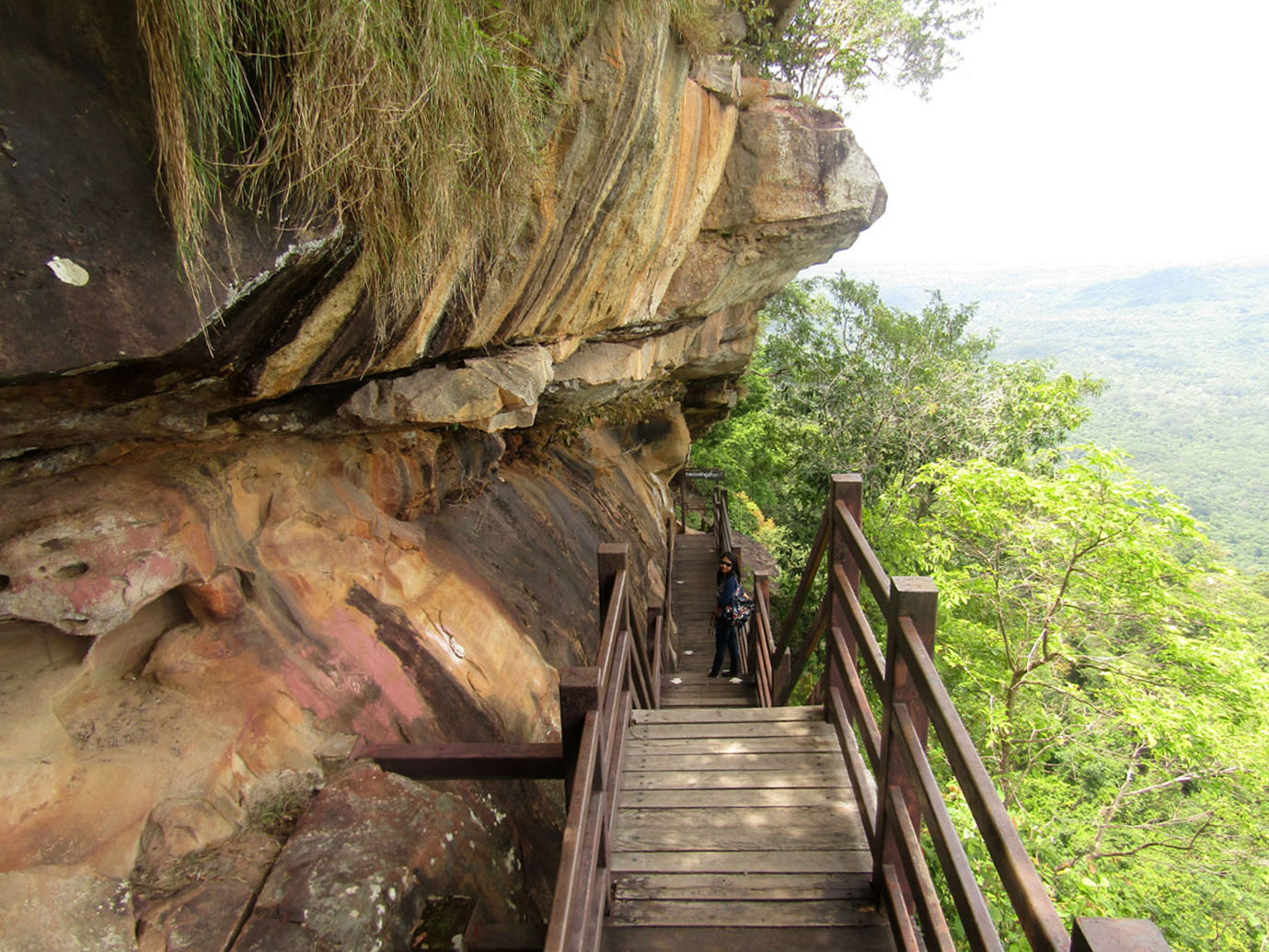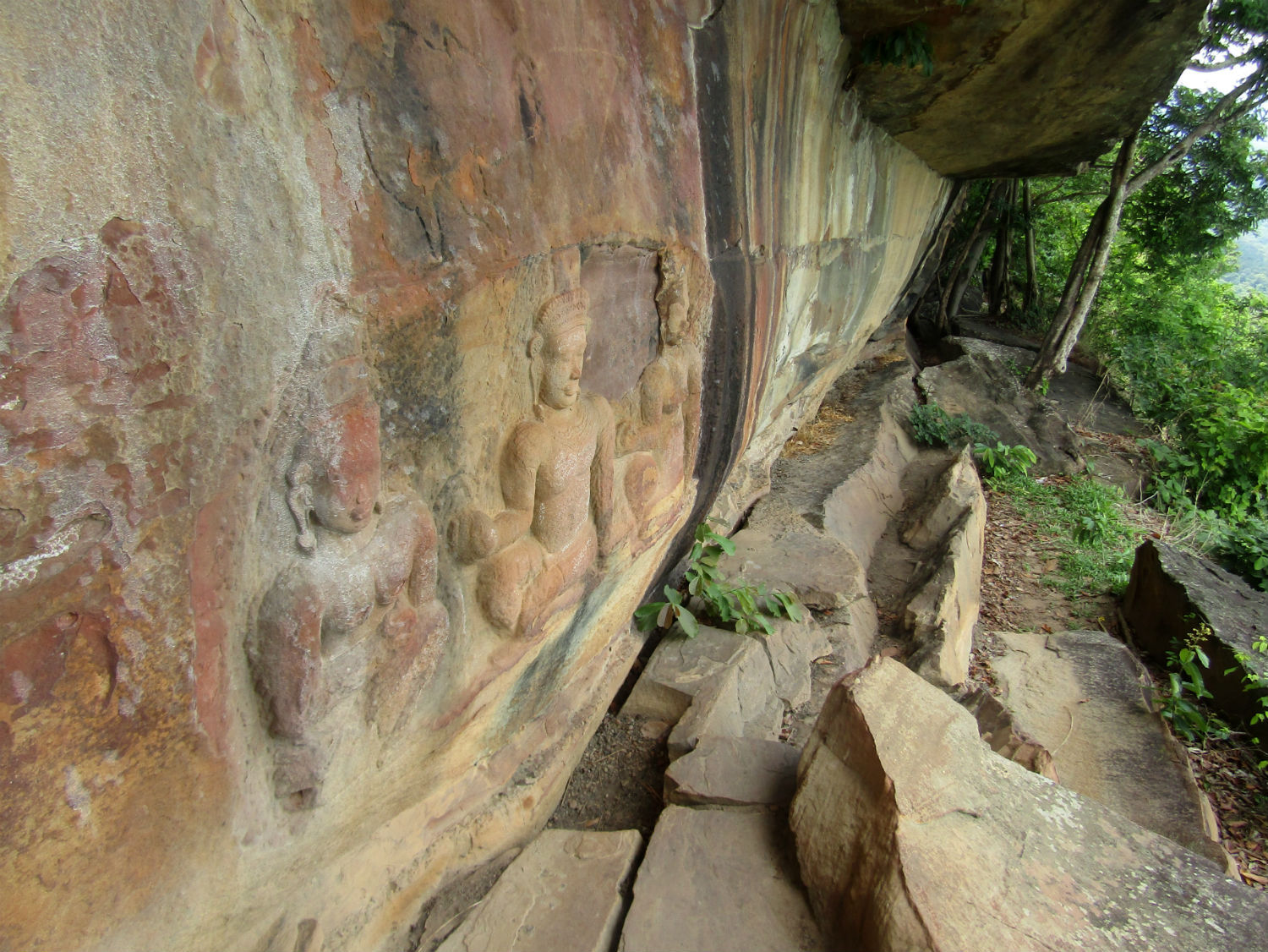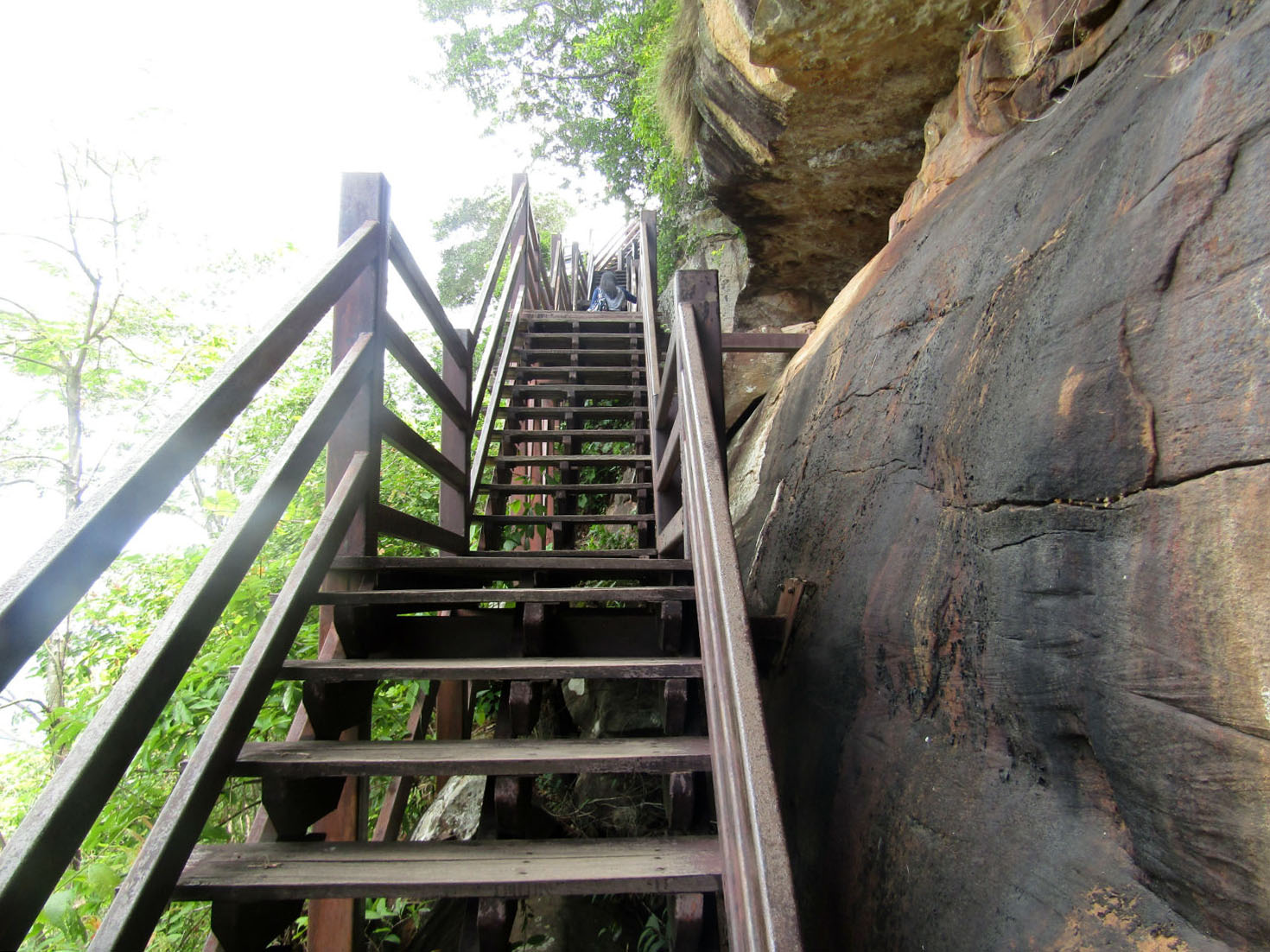 Bas Relief Buddha, Pha Mor E Daeng, Khao Pra Wihan National Park, Si Sa Ket Province


Double Stupas…….. A pathway running beyond the pagoda leads to the stupas These are made of yellow sandstone, 4.2 metres high and 1.9 metres wide and are almost identical except that they represent a male and a female as symbols of fertility.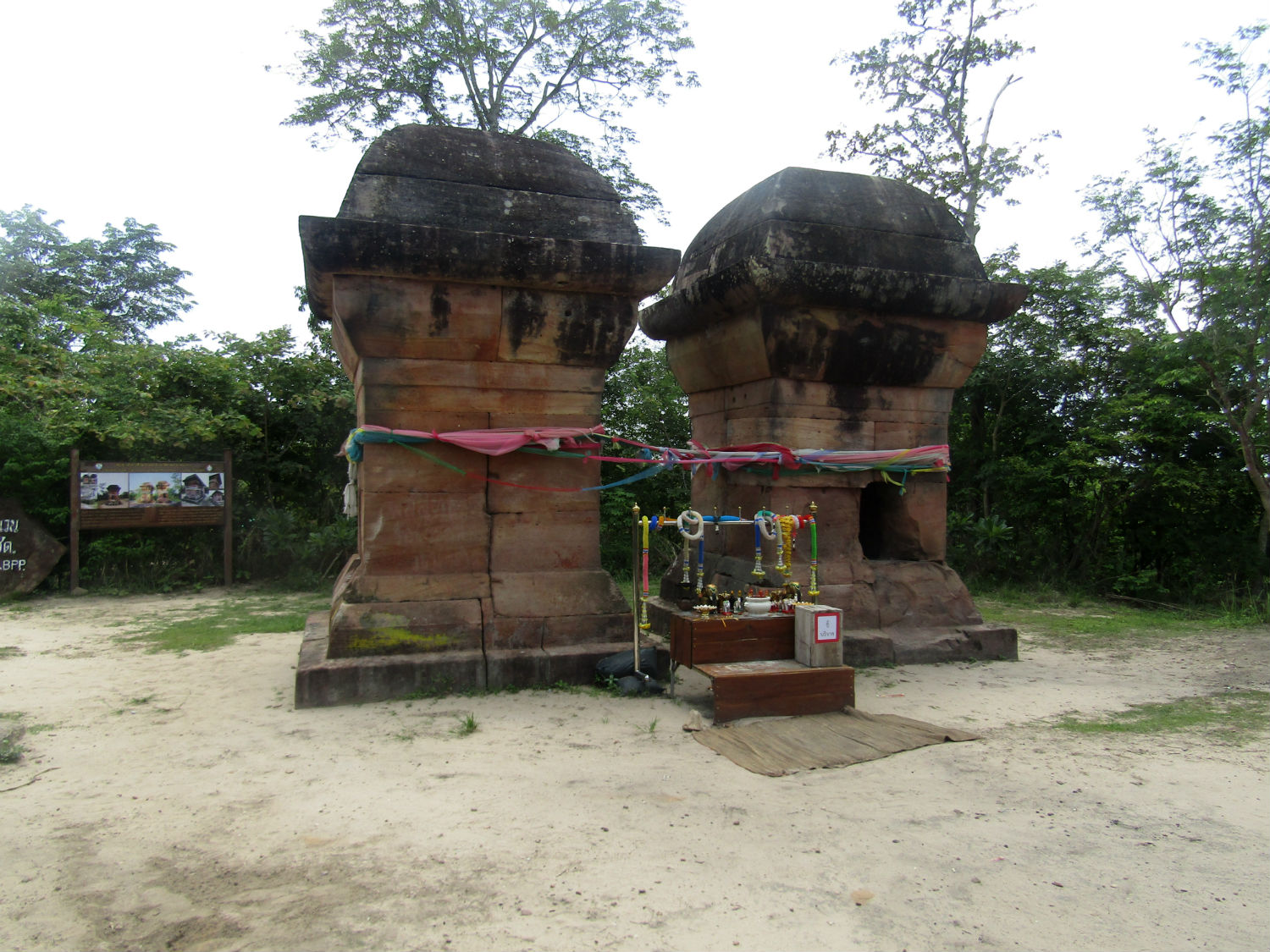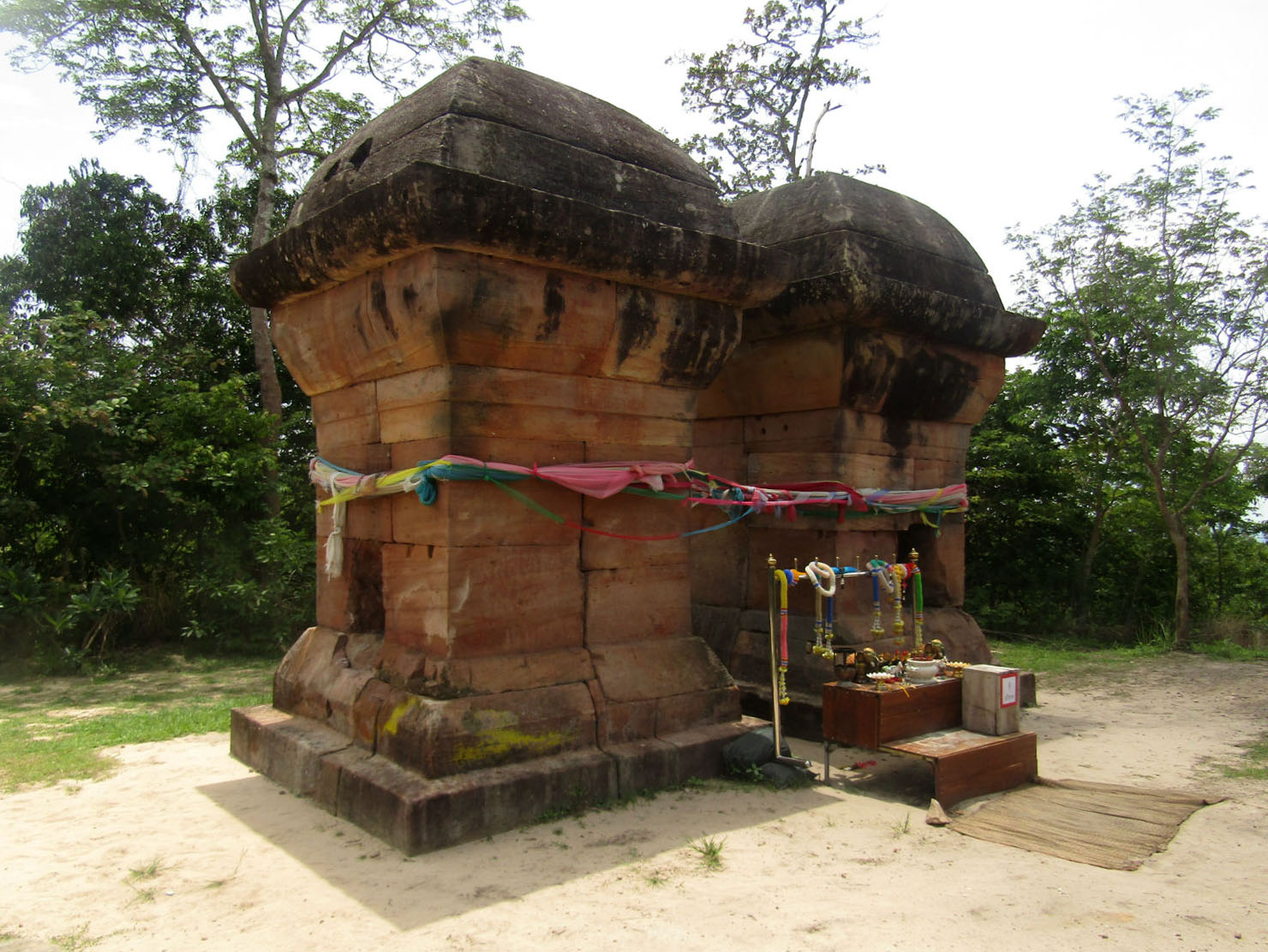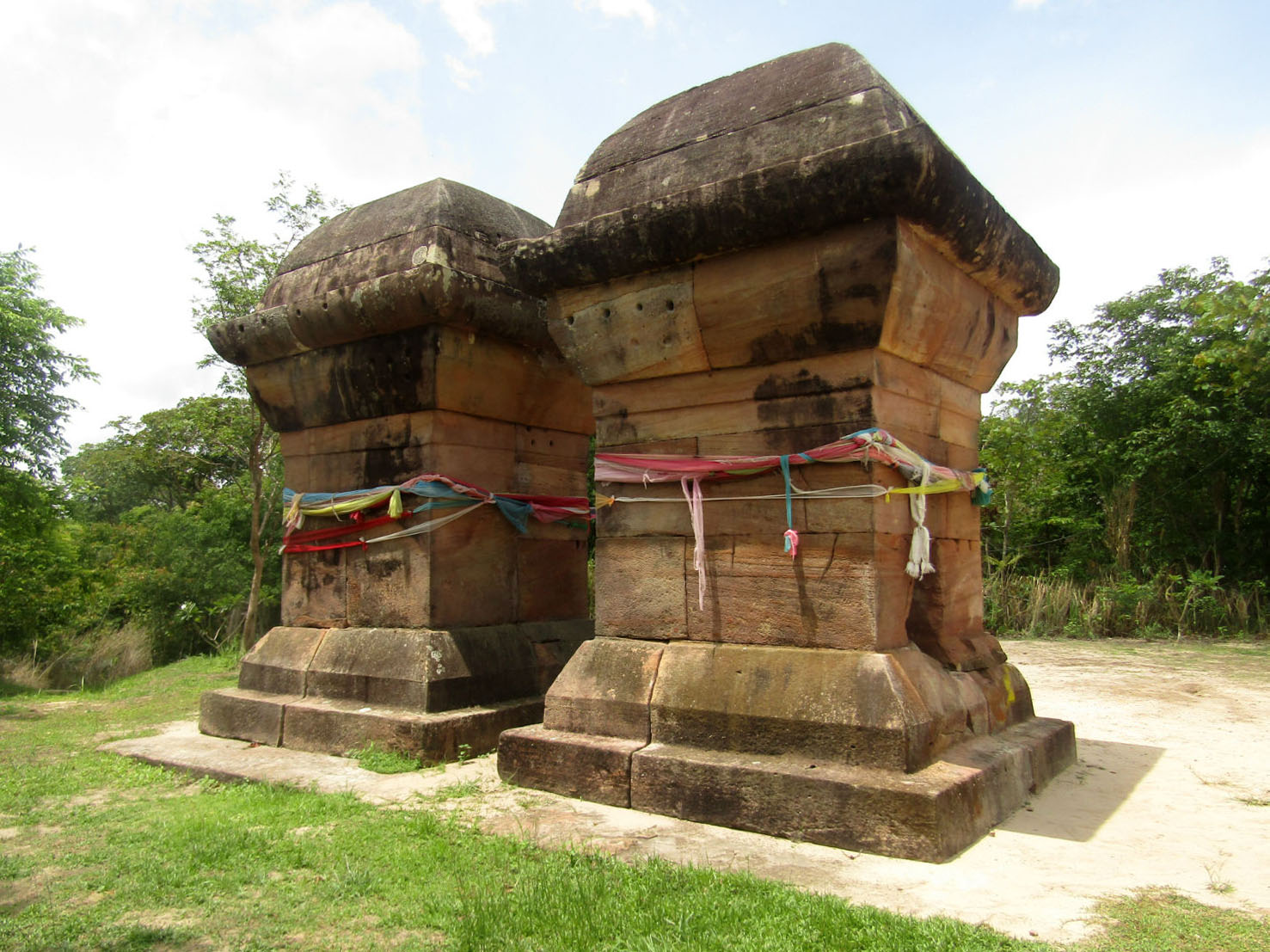 Double Stupas near Pha Mor E Daeng, Khao Pra Wihan National Park, Si Sa Ket Province


Preah Vihear Sanctuary…….. Across the valley on another hill is a Khmer sanctuary, arguably as impressive as anything found in Thailand. Until recently, the Preah Vihear Sanctuary could be visited from Pha Mo I Daeng although the International Court of Justice awarded the temple ruins to Cambodia in 1962. For some time, both countries allowed access to the sanctuary from their side of the border but things became tense after UNESCO declared the sanctuary to be a World Heritage Site in January 2008 and asked for a management plan for the temple. It's clear that Thailand had a great deal of expertise in this field and there could have been a sensible solution but instead things soured and both countries deployed their military in the area. Despite requests from the UN for demilitarisation while a solution was found, Thailand refused to withdraw its troops. So today, while things are quiet on the border, there is no access to Preah Vihear Sanctuary from the Thai side of the border. The irony is that in declaring the sanctuary an international treasure, the UN have unwittingly prevented me from visiting this important site today. It's a pity that although in view, I would have to visit it from the Cambodian side and that would mean a huge diversion. It's time to head back.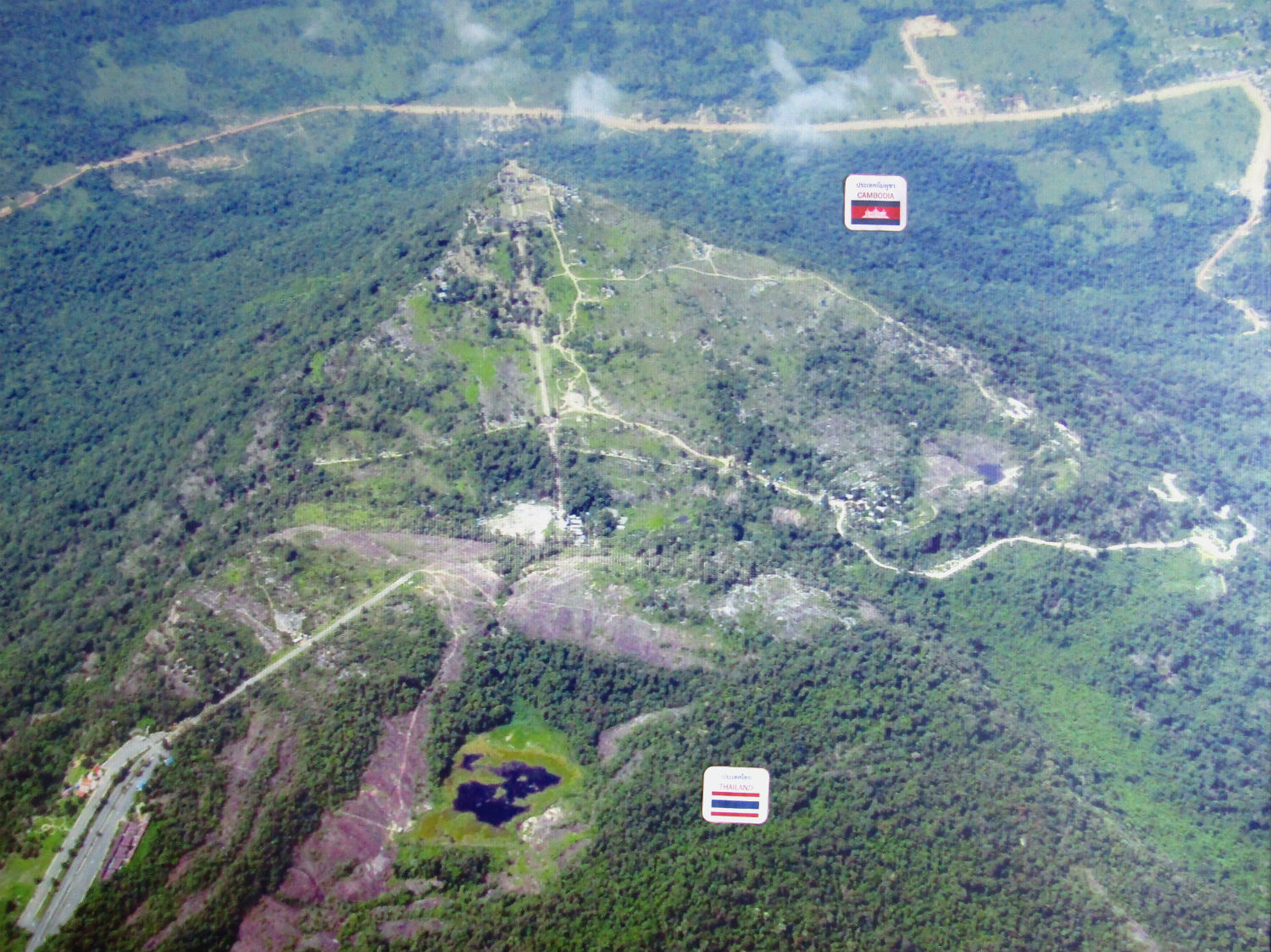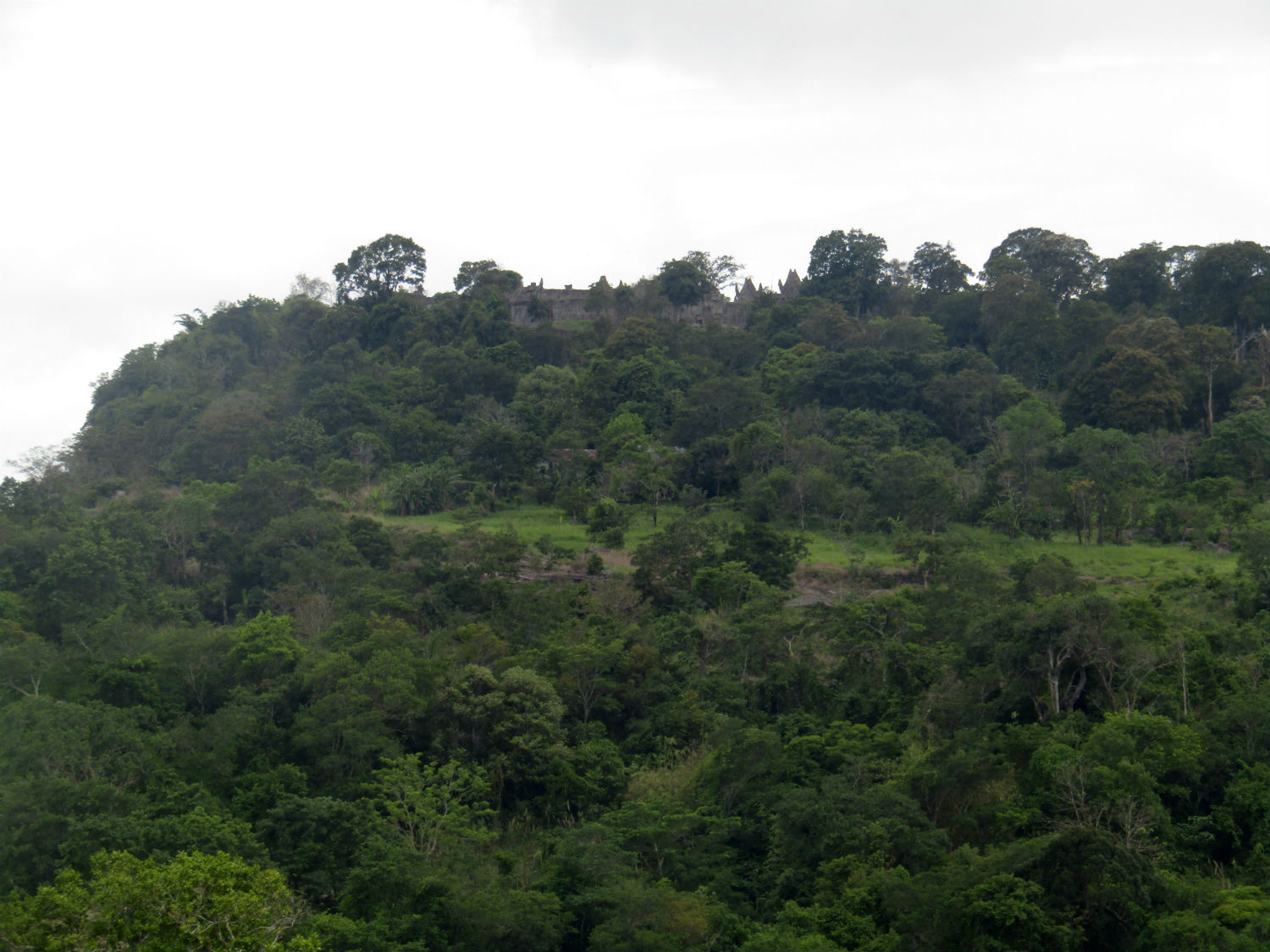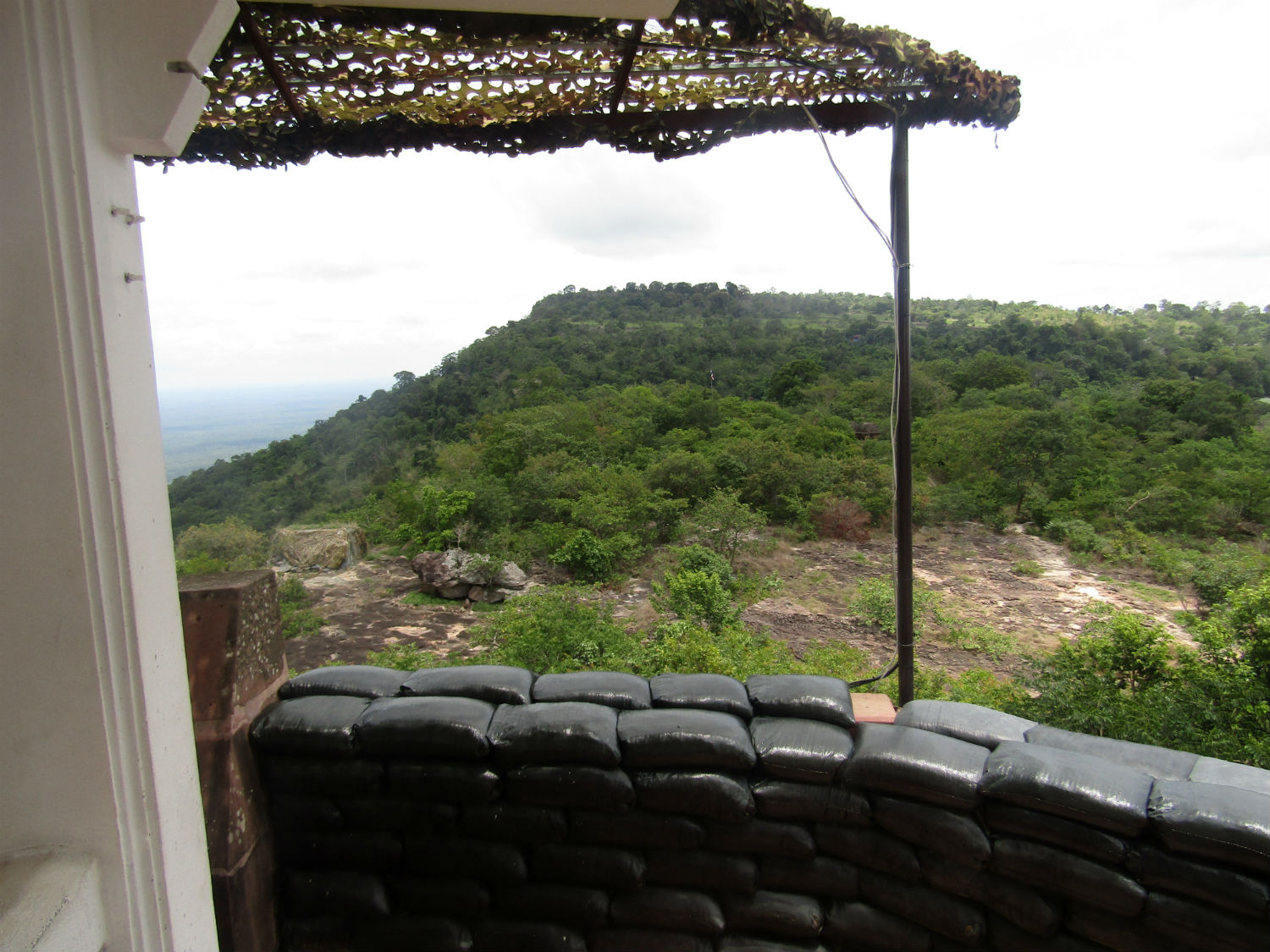 Preah Vihear Sanctuary, Sror Aem District, Cambodia


The trip into the park had absorbed 3 hours including lunch taken here. Of course it's taken a monumental effort to get here but I can't help feeling I'm a little disappointed. I've really paid 400 baht for a view and been unable to visit the Preah Vihear Sanctuary. Considering I paid nothing last year to visitthe sanctuaries of Prasat Ta Muean and Prasat Ta Krabey in Surin province which were right on the border, I just feel a little cheated. However, it's important that I made it here since it forms the backbone of the tour to Si Sa Ket province. At the next location I don't need to pay a fee.
Huai Kanun…….. Huai Kanun is an earth and rock dam enclosing a small reservoir right on the provincial border. There is nothing remarkable about it however, but it's a beautiful spot for a picnic.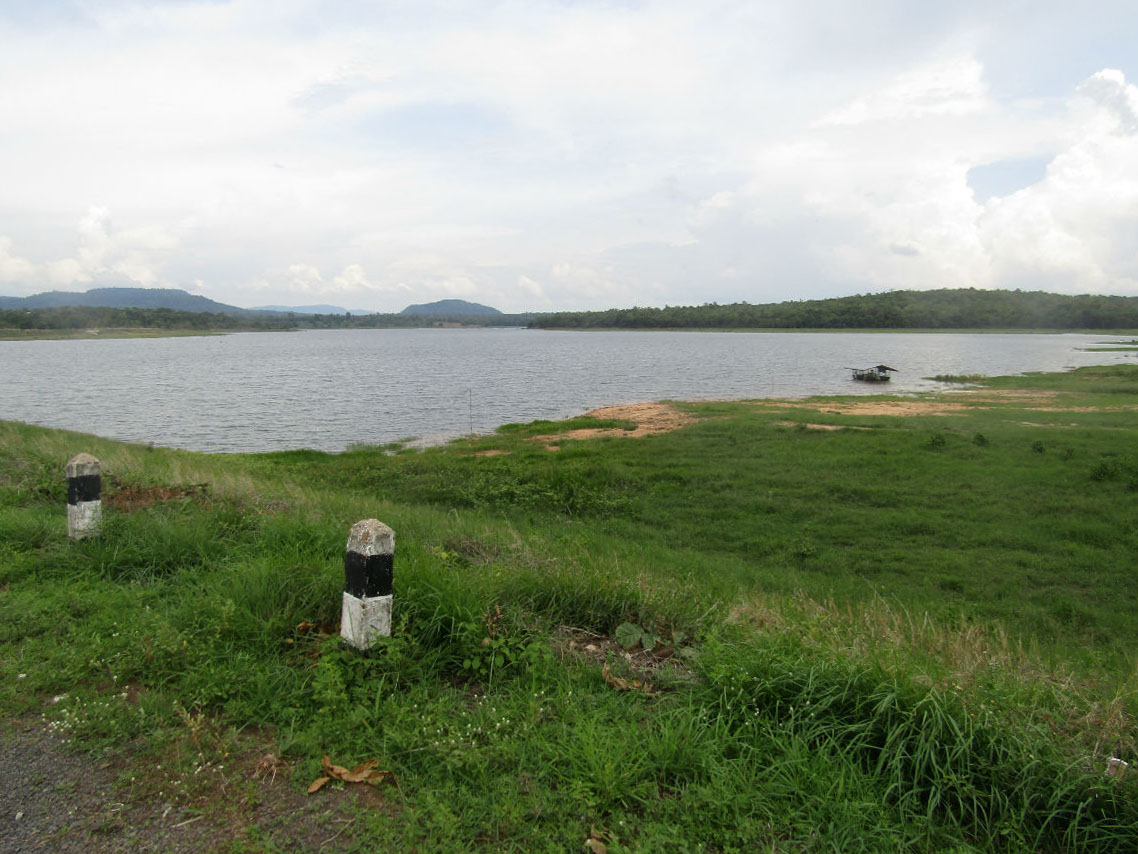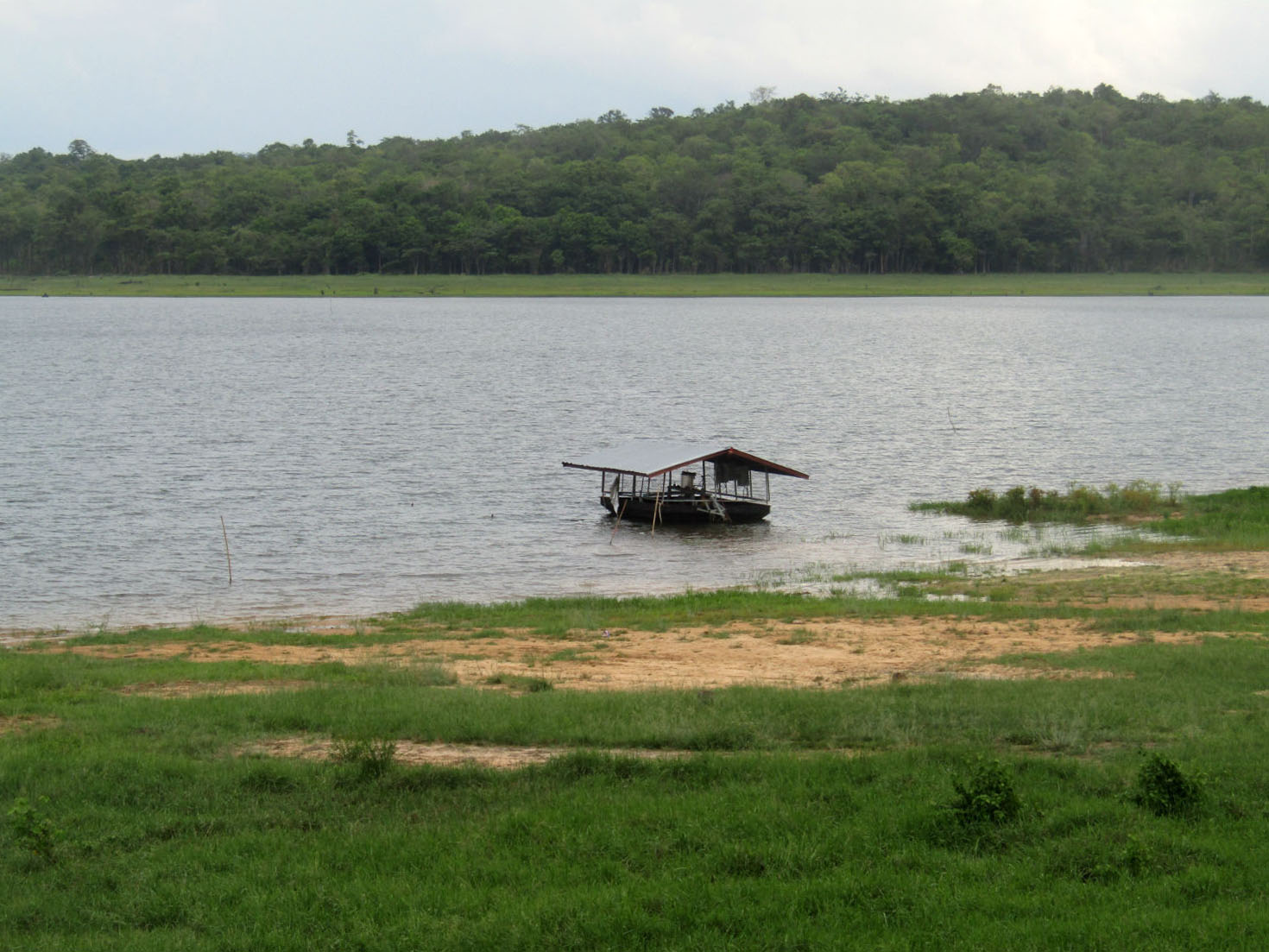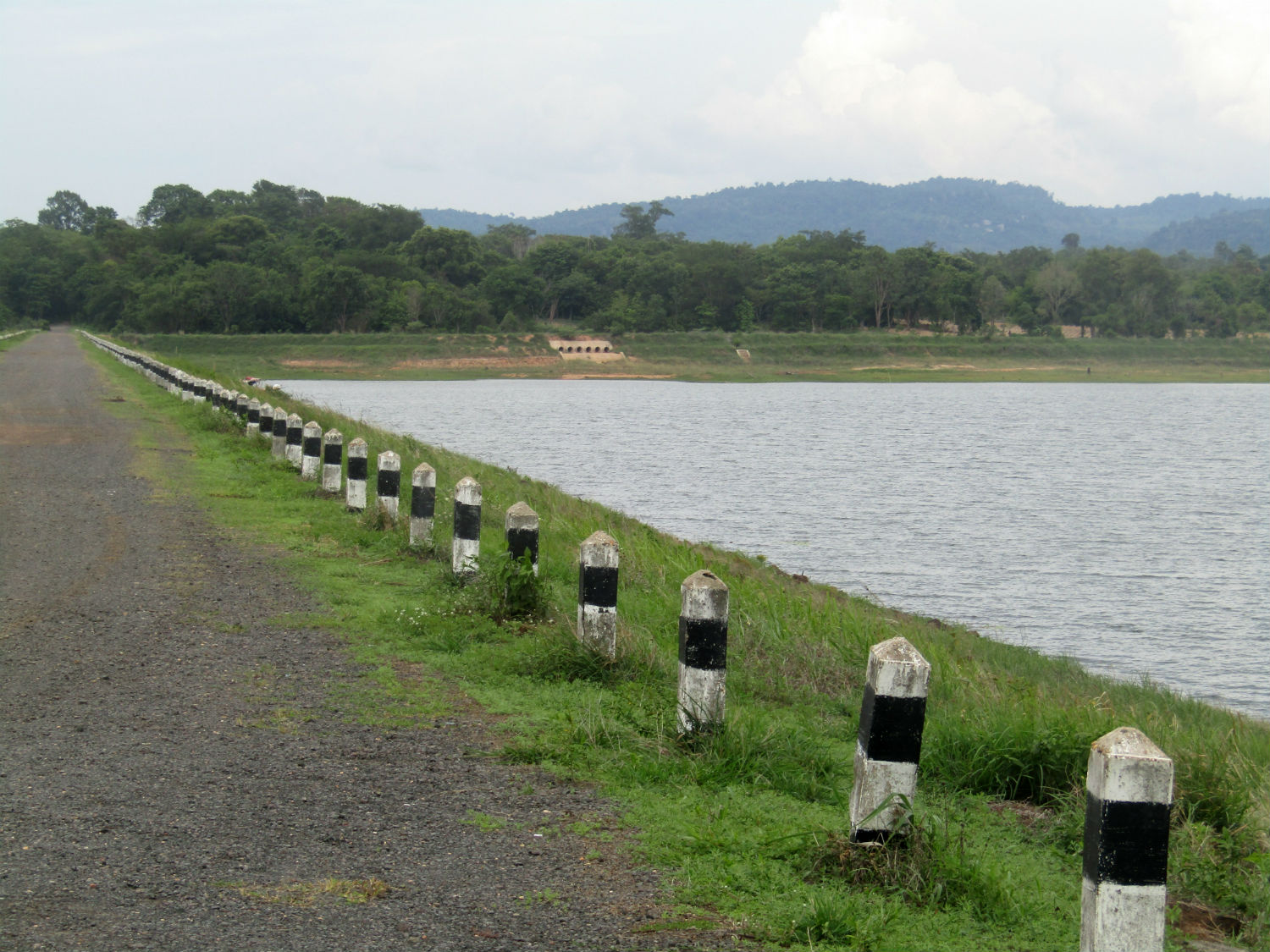 Huai Kanun, Kantharalak District, Si Sa Ket Province


Aan Mah Border…….. The next location is well inside Ubon Ratchathani province. This location is included on my list as a viewpoint but is in fact a border check point for local people only. I don't need the border crossing but I won't get an opportunity to reach the border either. At a checkpoint we're refused permission to travel the last 9 kilometres. Although still early afternoon, the military refuse access after 2.00pm. It's disappointing but there is nothing I can do.
Kaeng Lamduan…….. The next location is half hour away further east. Arriving at Kaeng Lamduan again I'm disappointed. 'Kaeng', in Thai translates as 'rapids', but in the dry season, there is not much more than a trickle enough to fill a bath. Yet the potholes formed in the rocks that form the base for the rapids confirm that water has been forced through this gorge for millions of years. It still does but apparently I'm 3 months too early.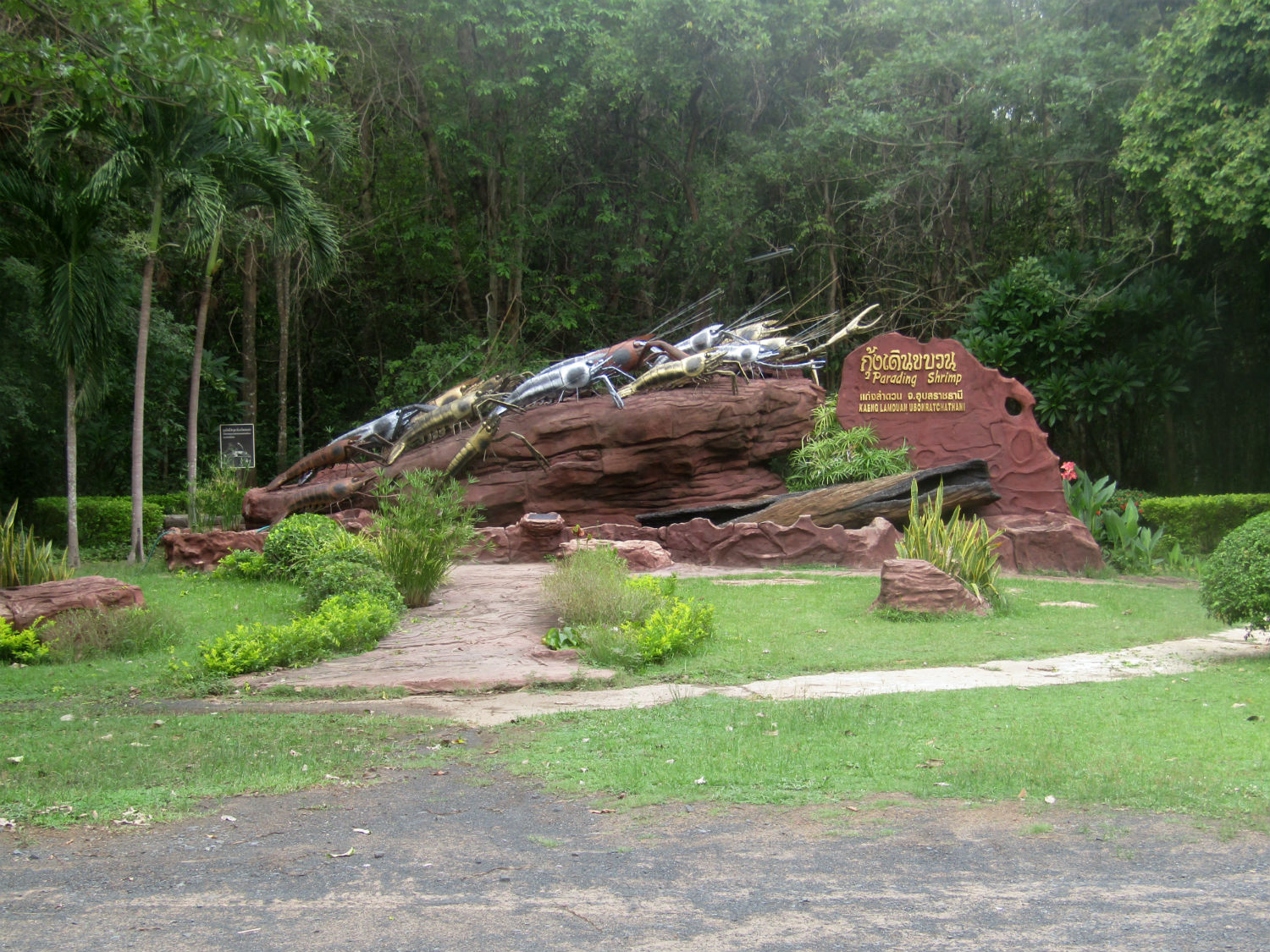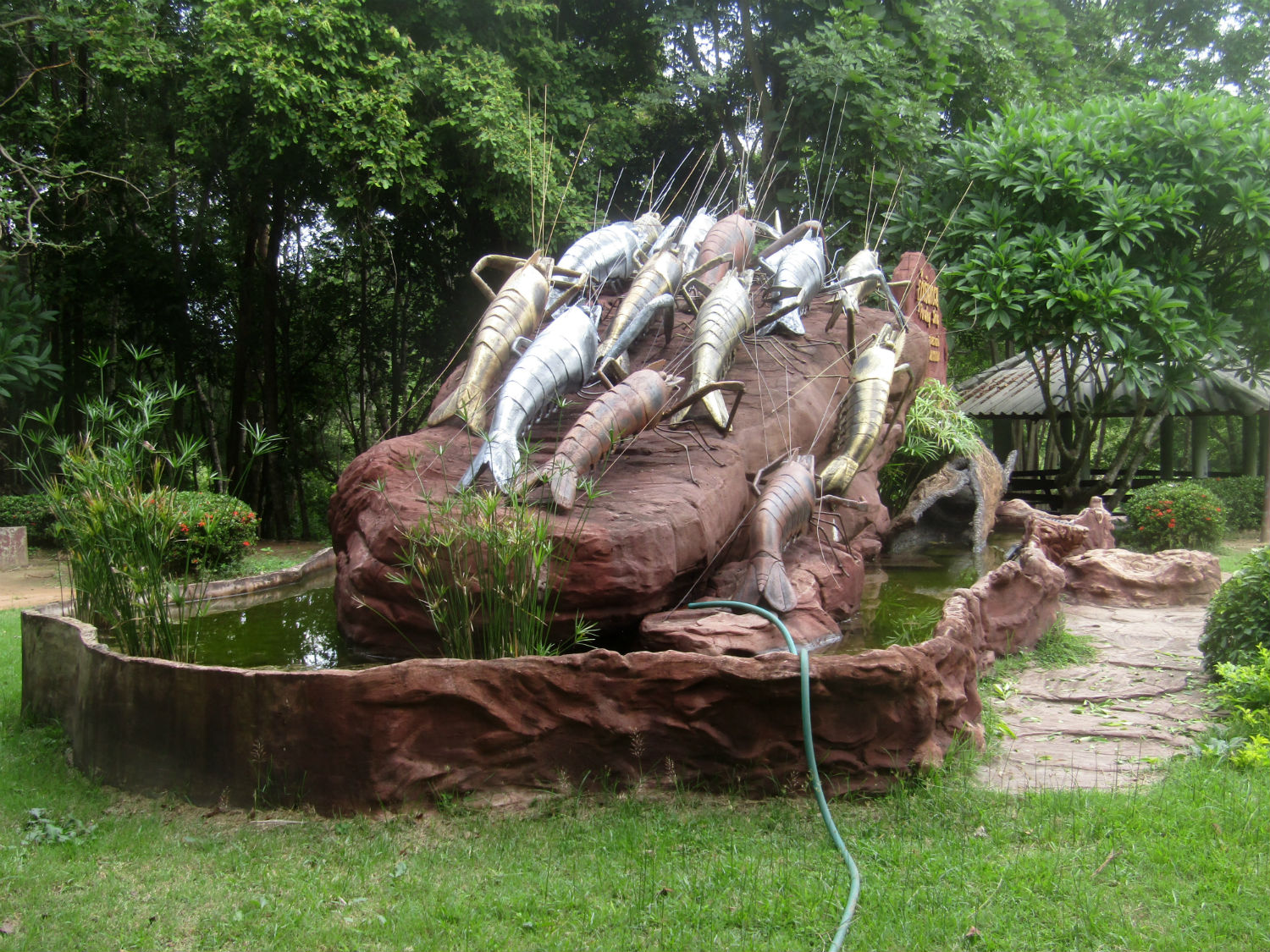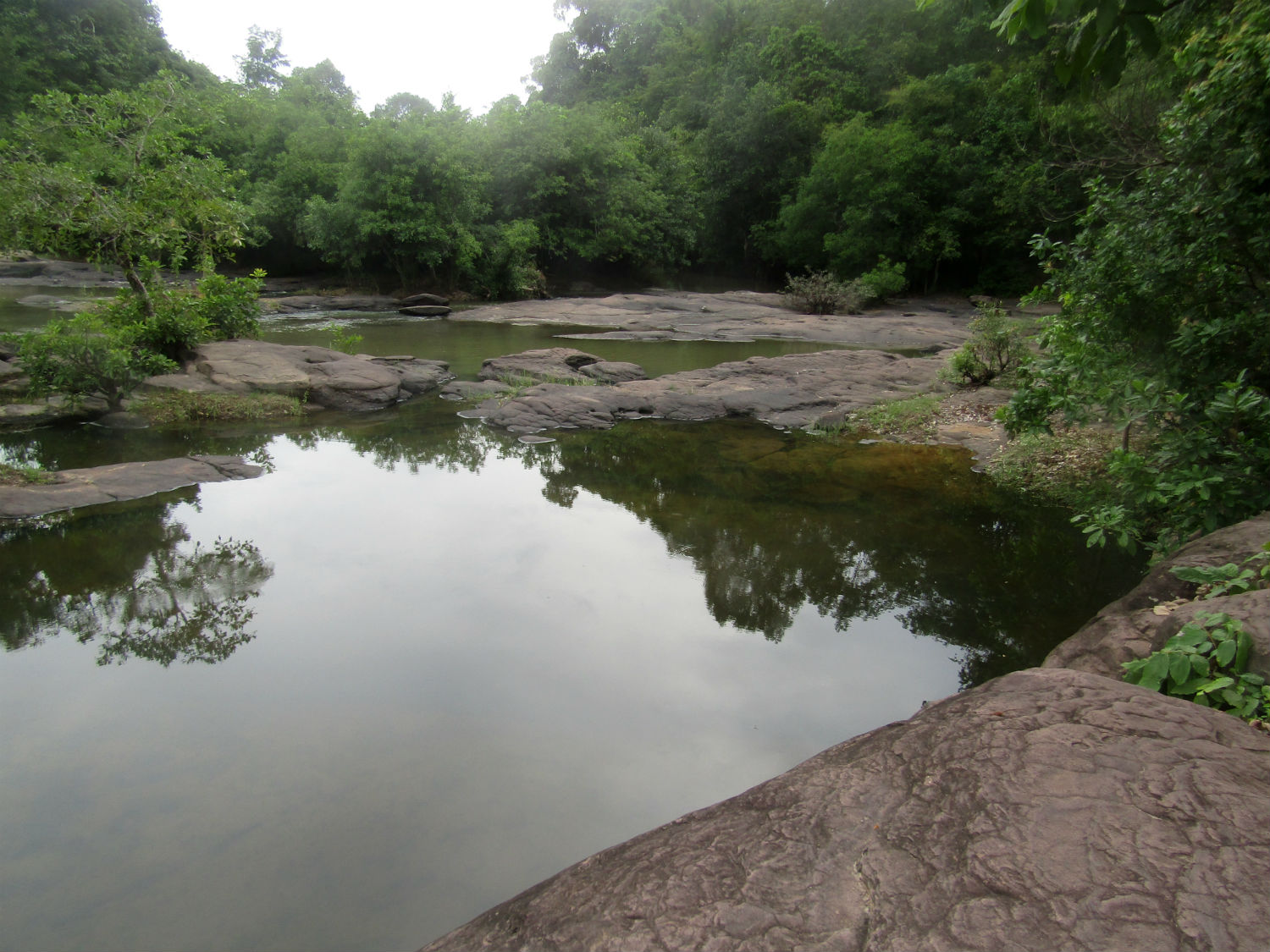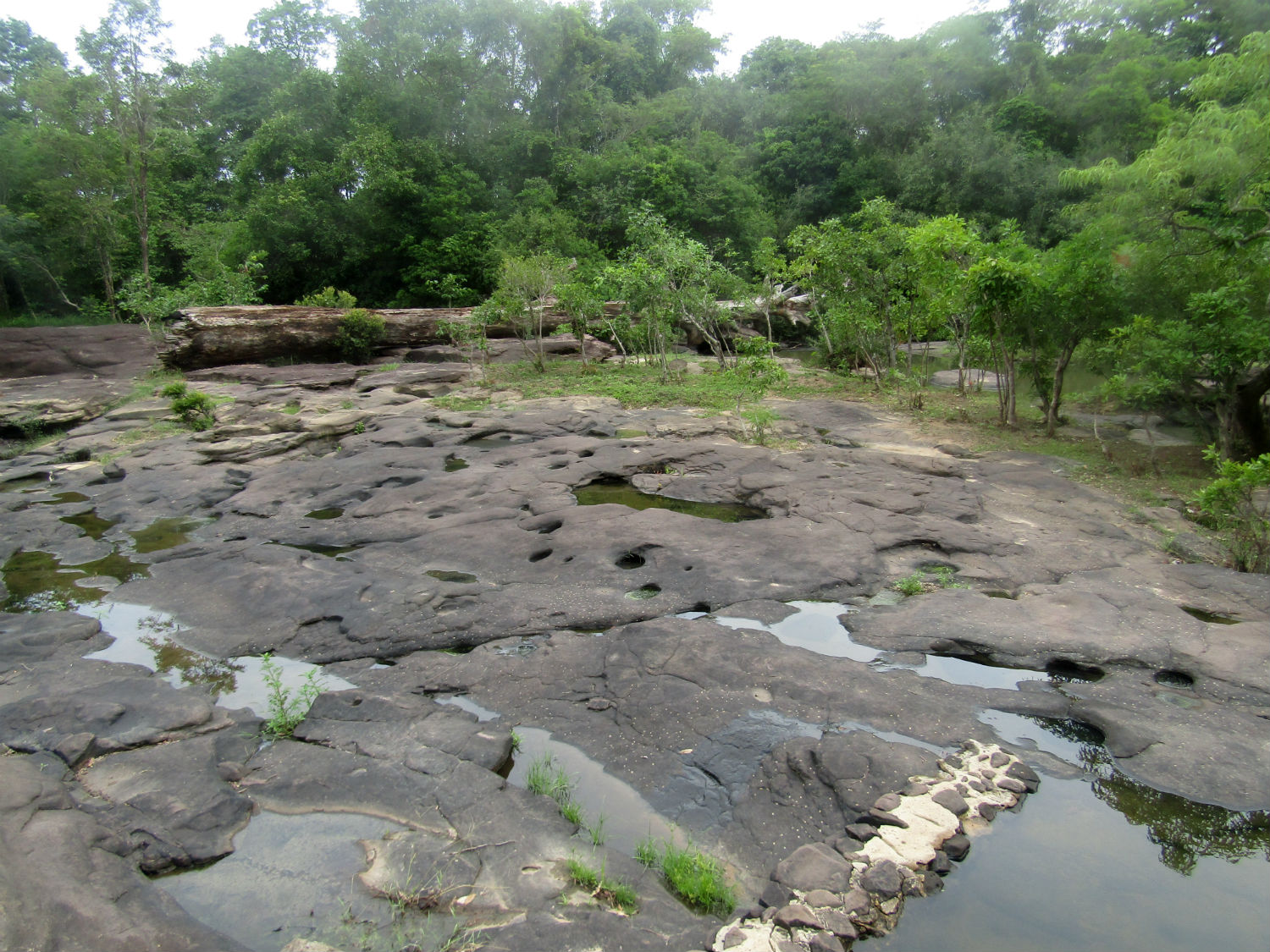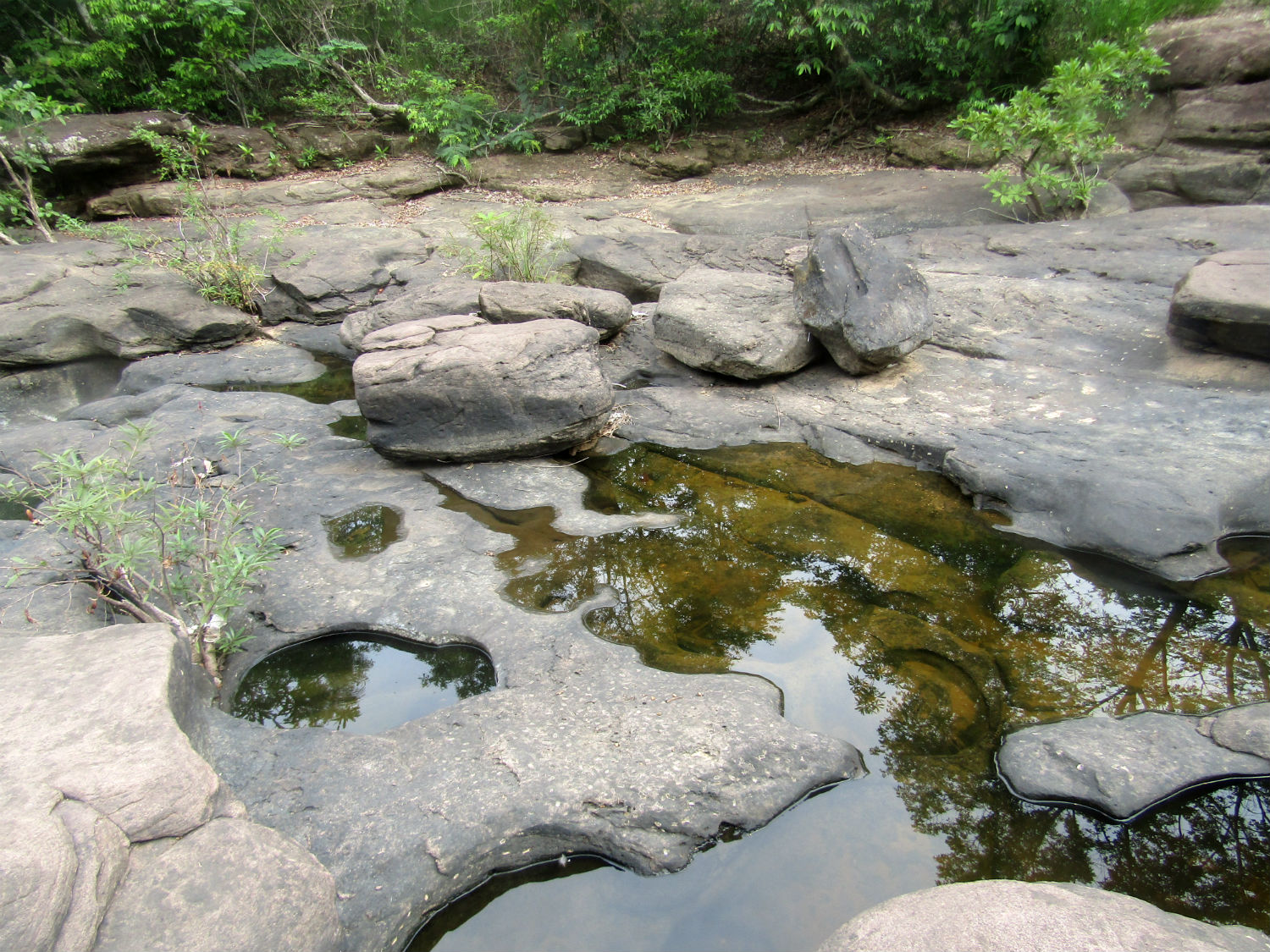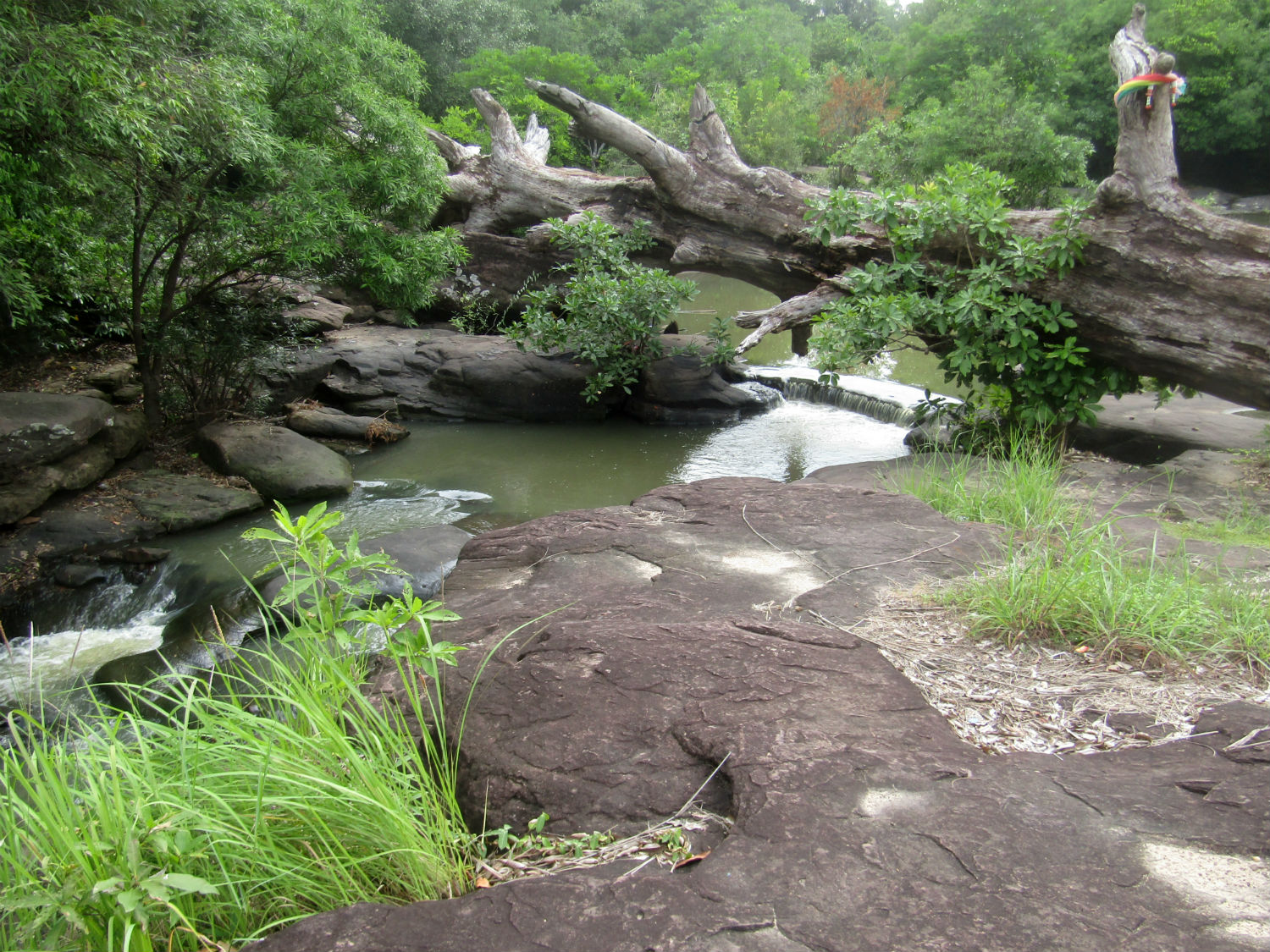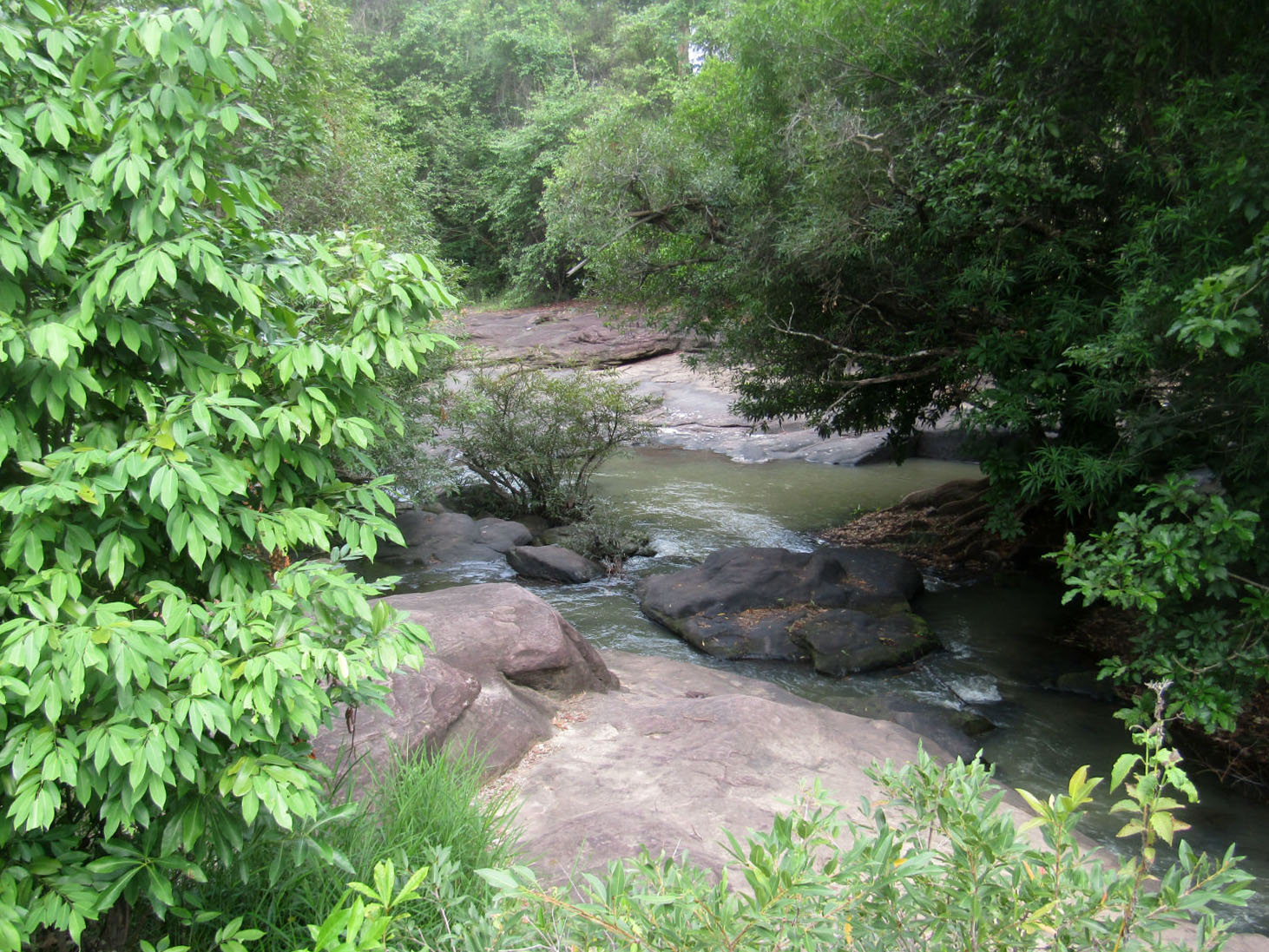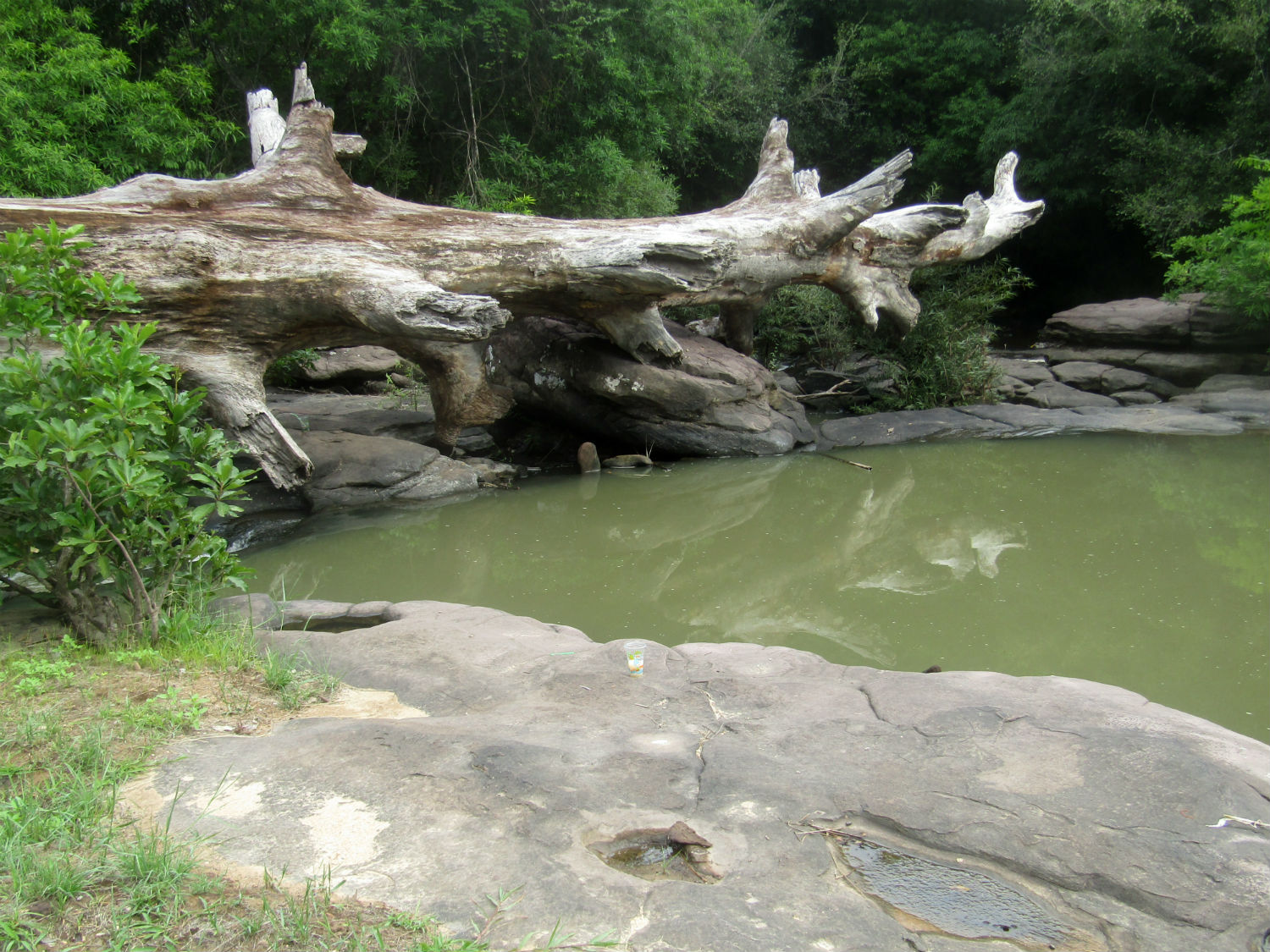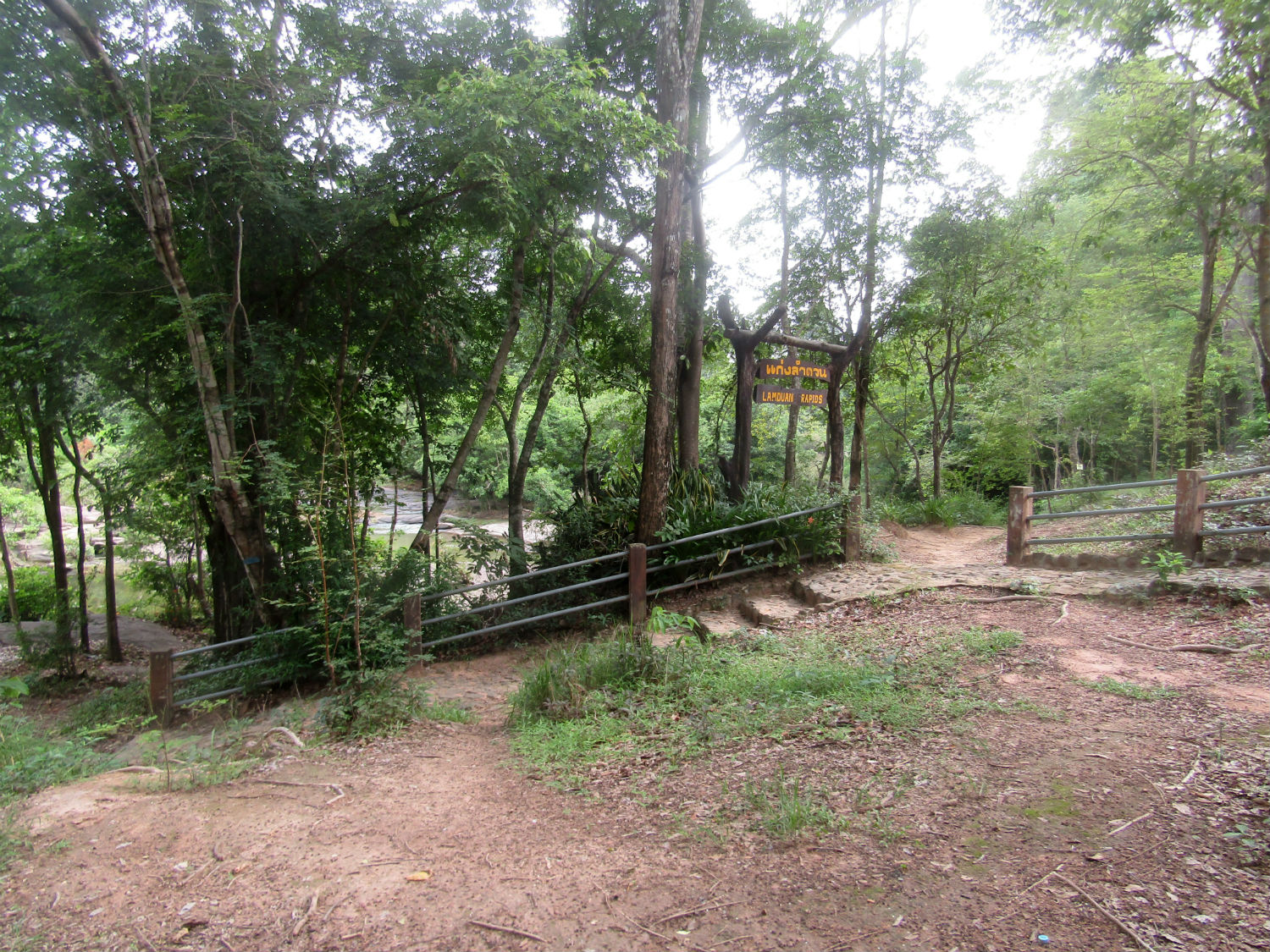 Kaeng Lamduan, Nam Yuen District, Ubon Ratchathani Province


Praset Ban Ben…….. The next location, the best part of an hour away, takes us northwest into the district of Thung Si Udon still in Ubon Ratchathani province. Here, I'm pleased to say, is a more substantial Khmer sanctuary of a type I noticed in Roi-Et province last year.
Prasat Ban Ben is a Khmer religious complex reflecting Hundu beliefs built between the 9th and 11th centuries. This walled complex consists of three brick monuments built on the same laterite base aligned along a north-south axis facing east. Outside the walls to the east is a building with four niches with a similar architectural style to Ku Kasing, Ku Noi Ban Yang Noi in Roi-Et province and Prasat Thong Lang (see below). The three brick buildings are in a square plan with receded corners and with false doors and walls. The main building, the largest, has an entrance gate on each side with sandstone door frames. Excavation at the temple complex has revealed a stone lintel depicting Indra riding an elephant and a base for a linga, evidence of Hindu beliefs and practices. Prasat Ban Ben was gazetted by the Fine Art Department as a national ancient monument in 1936 while the surrounding area amounting to 1.11 acres, was gazetted in 1981.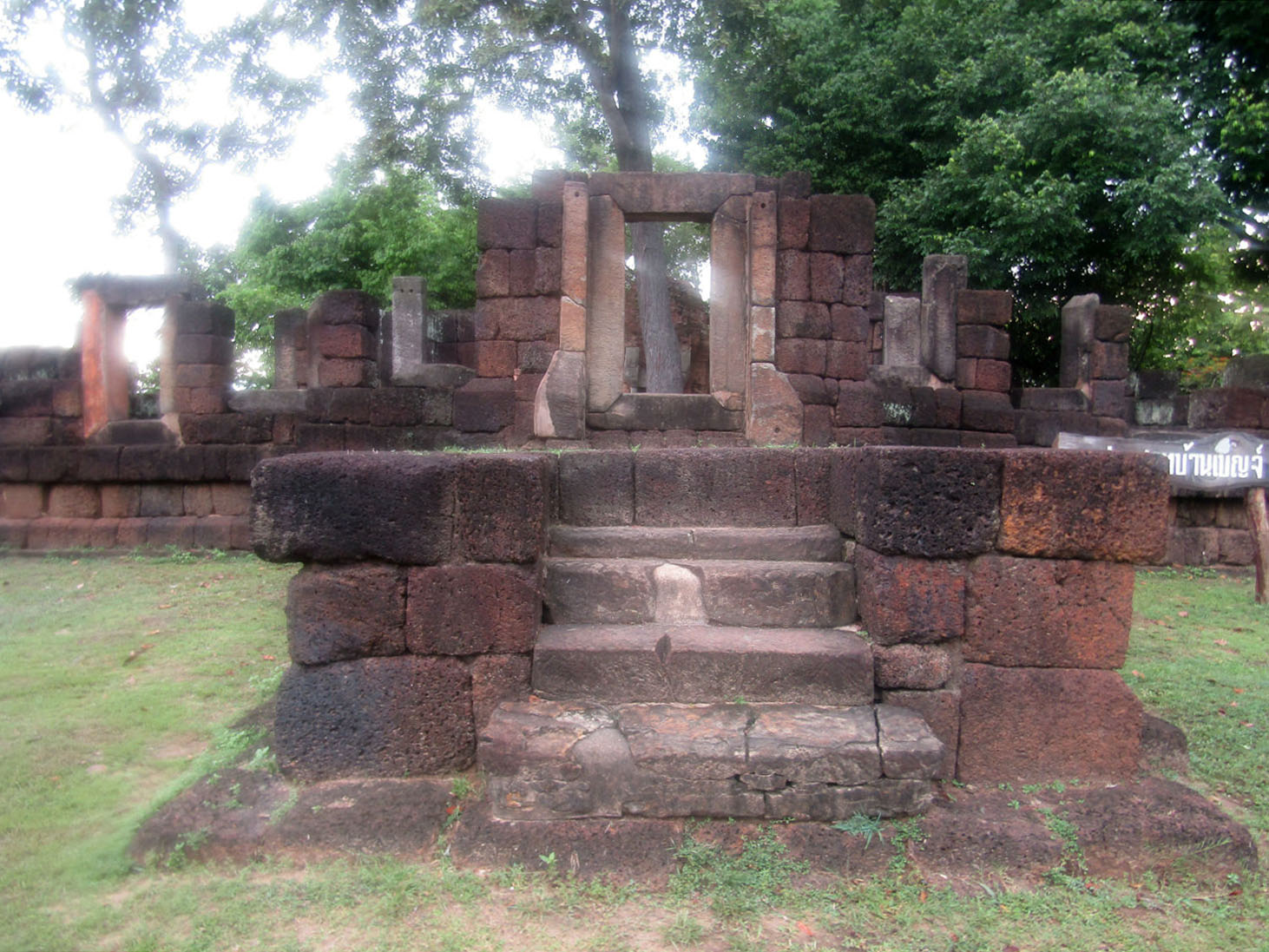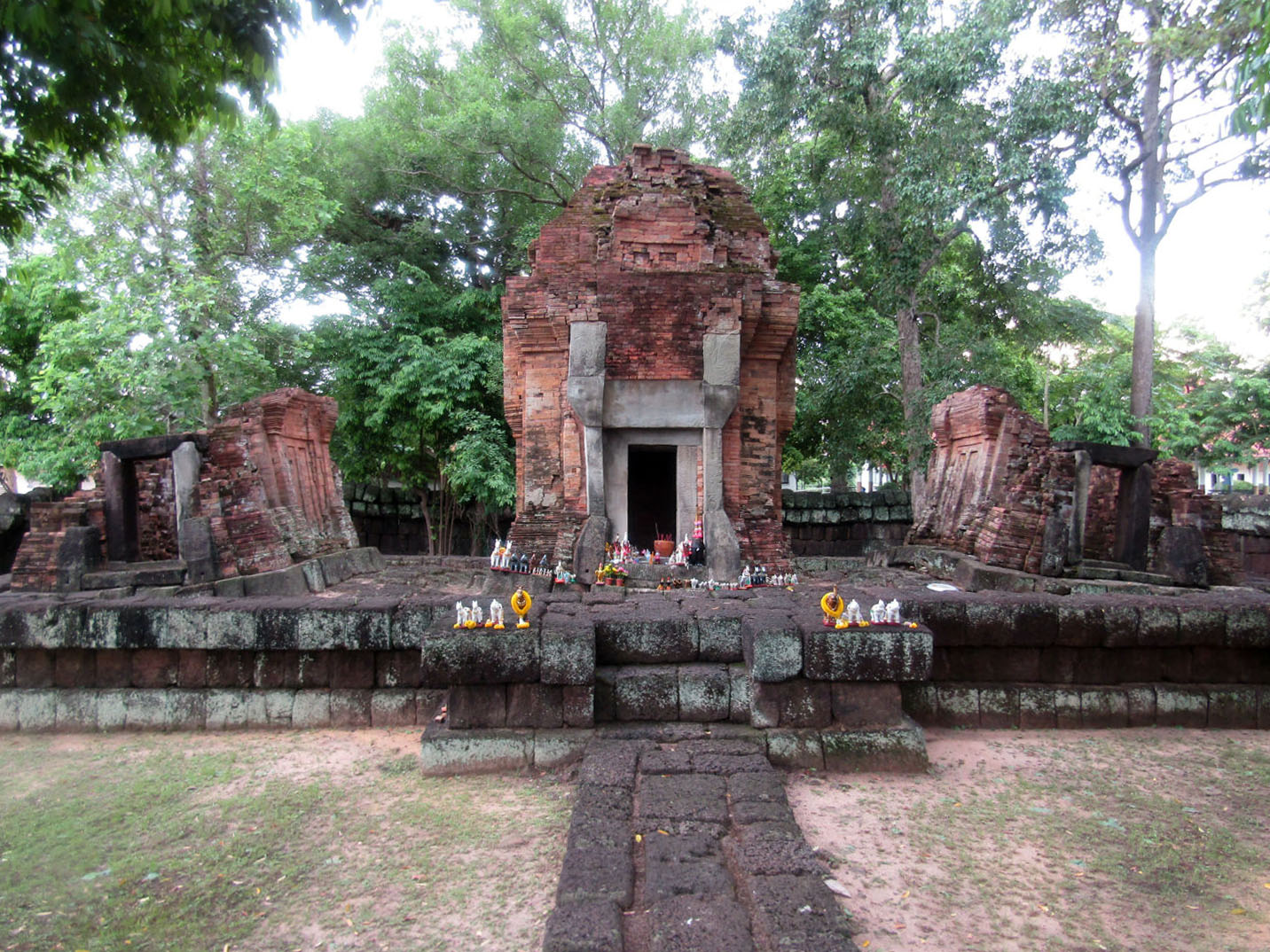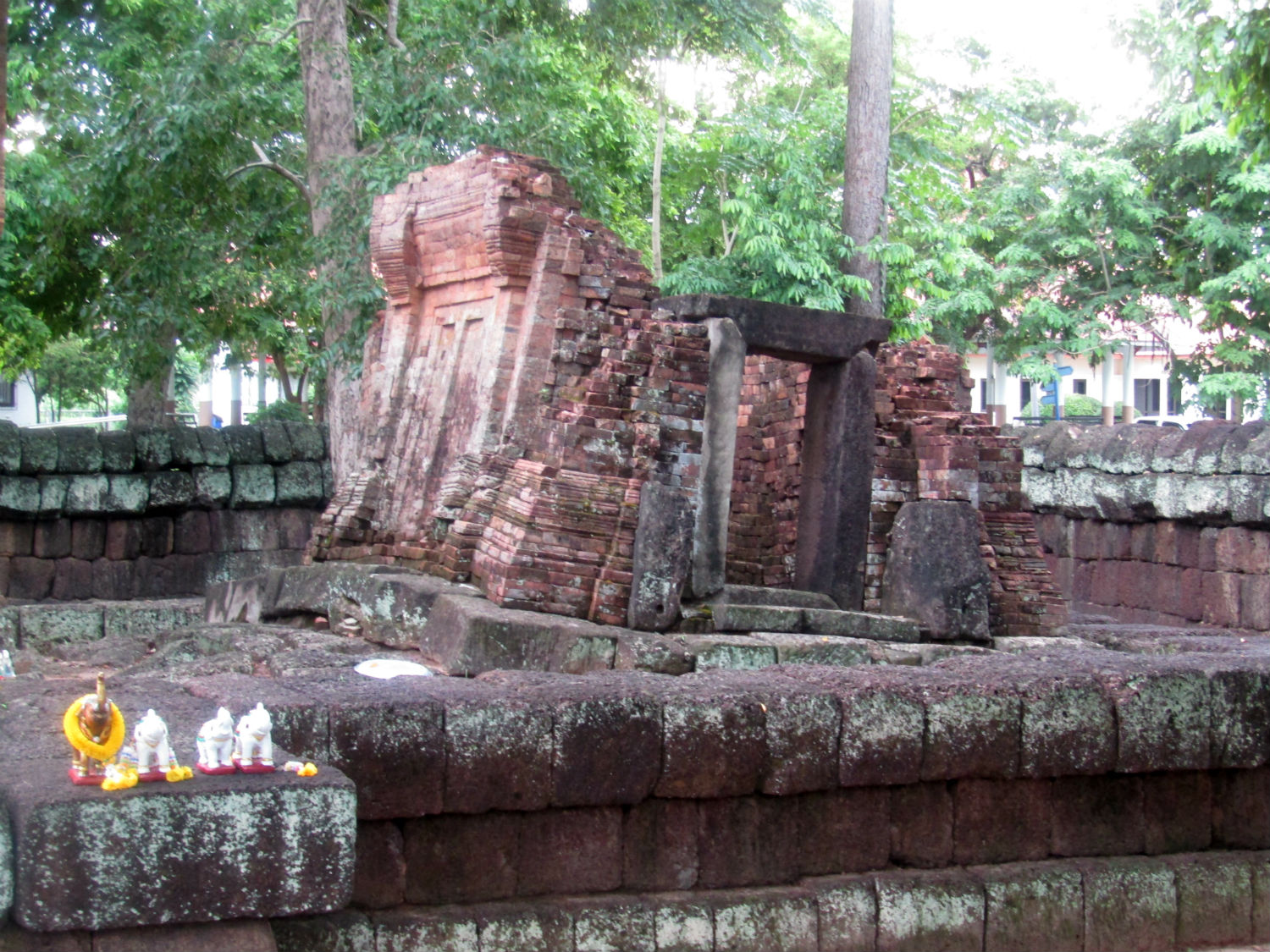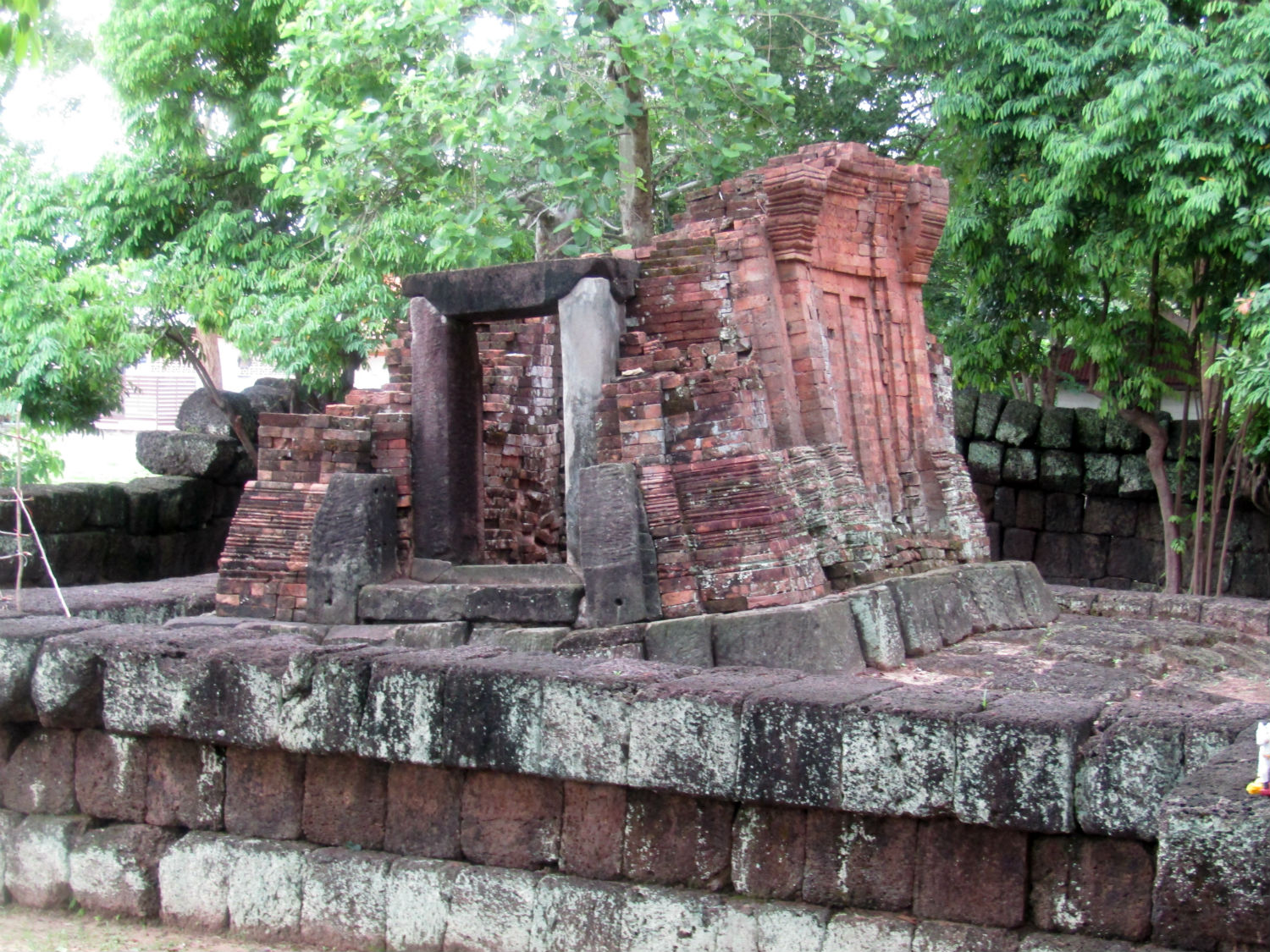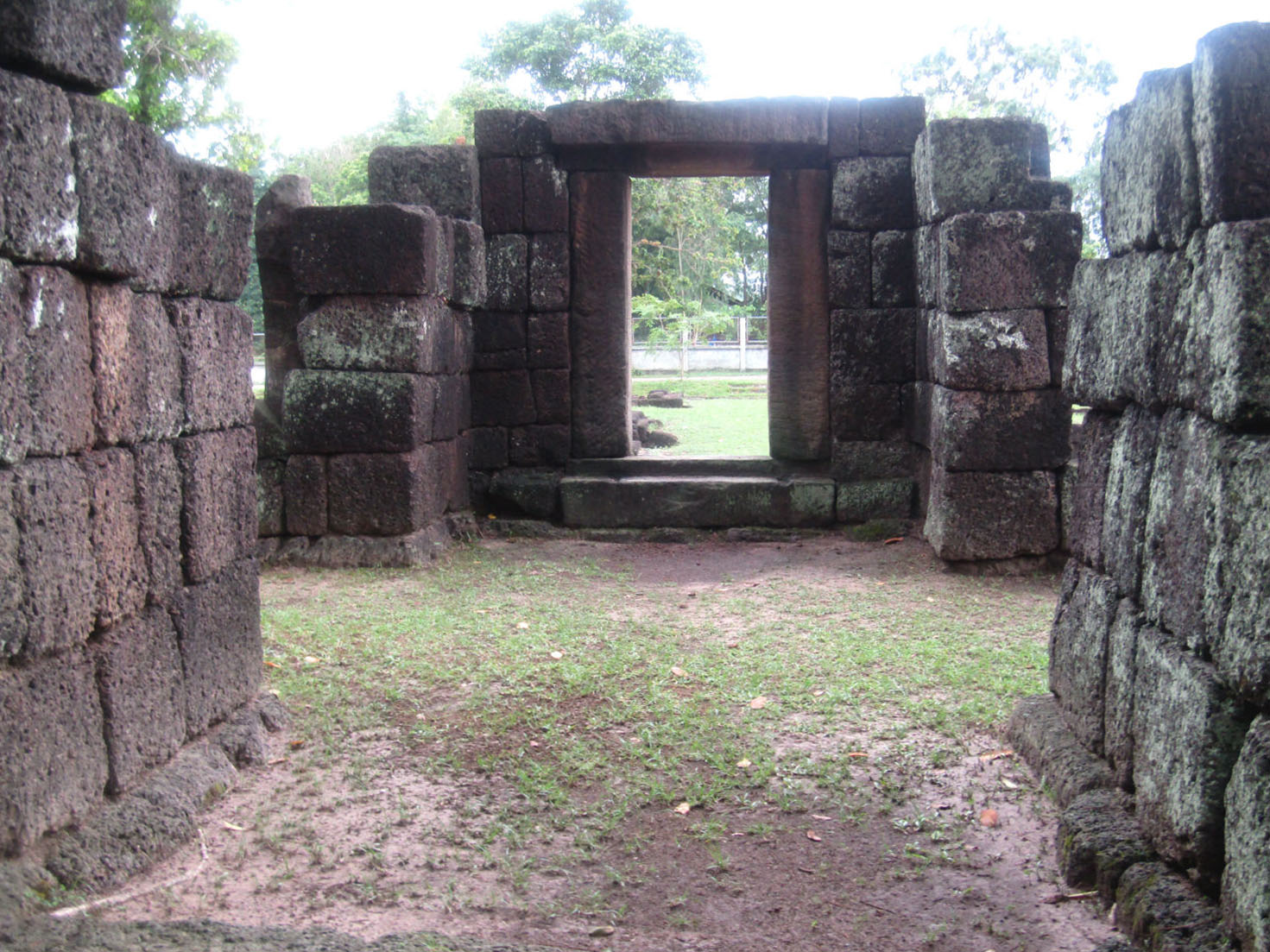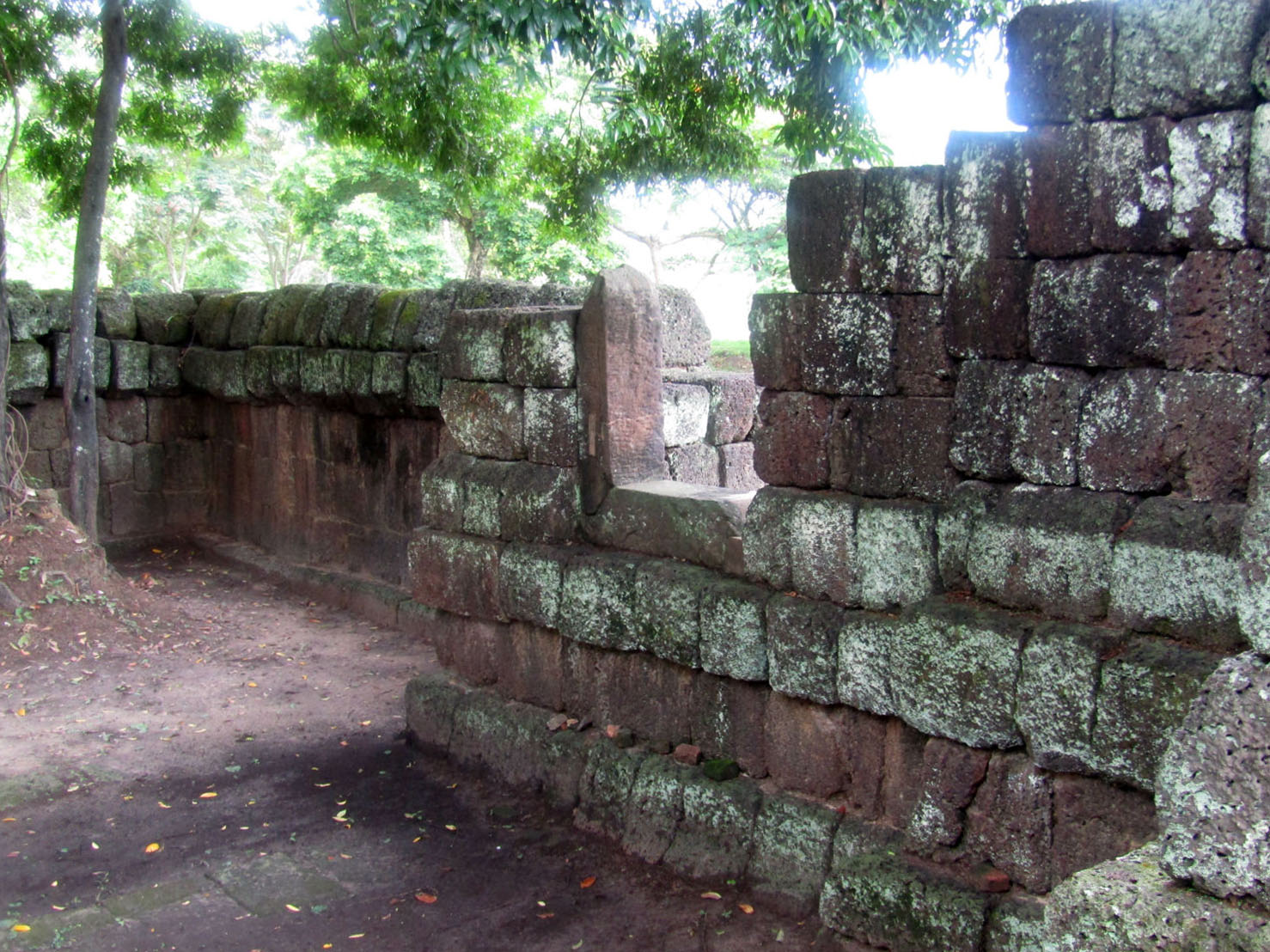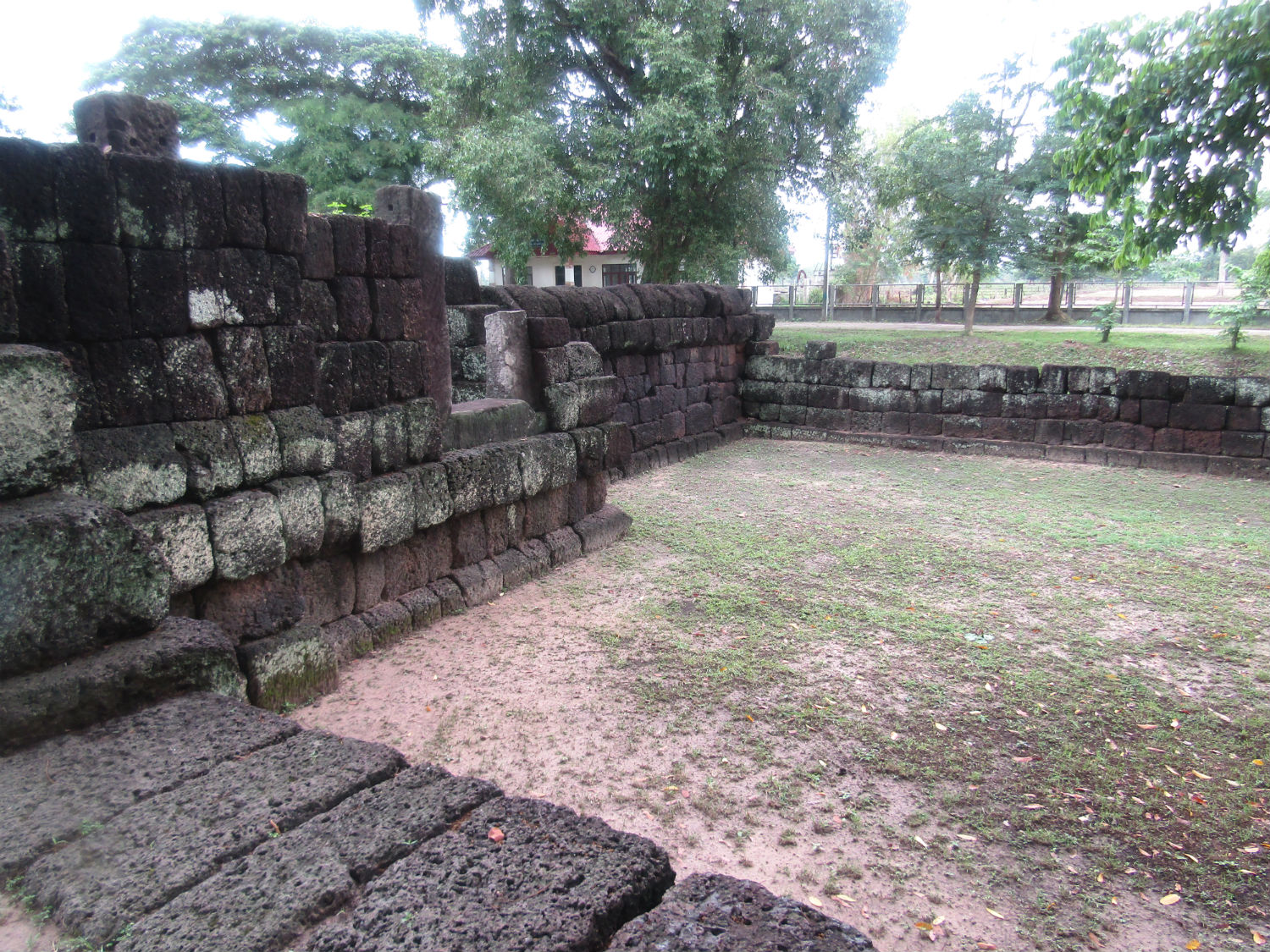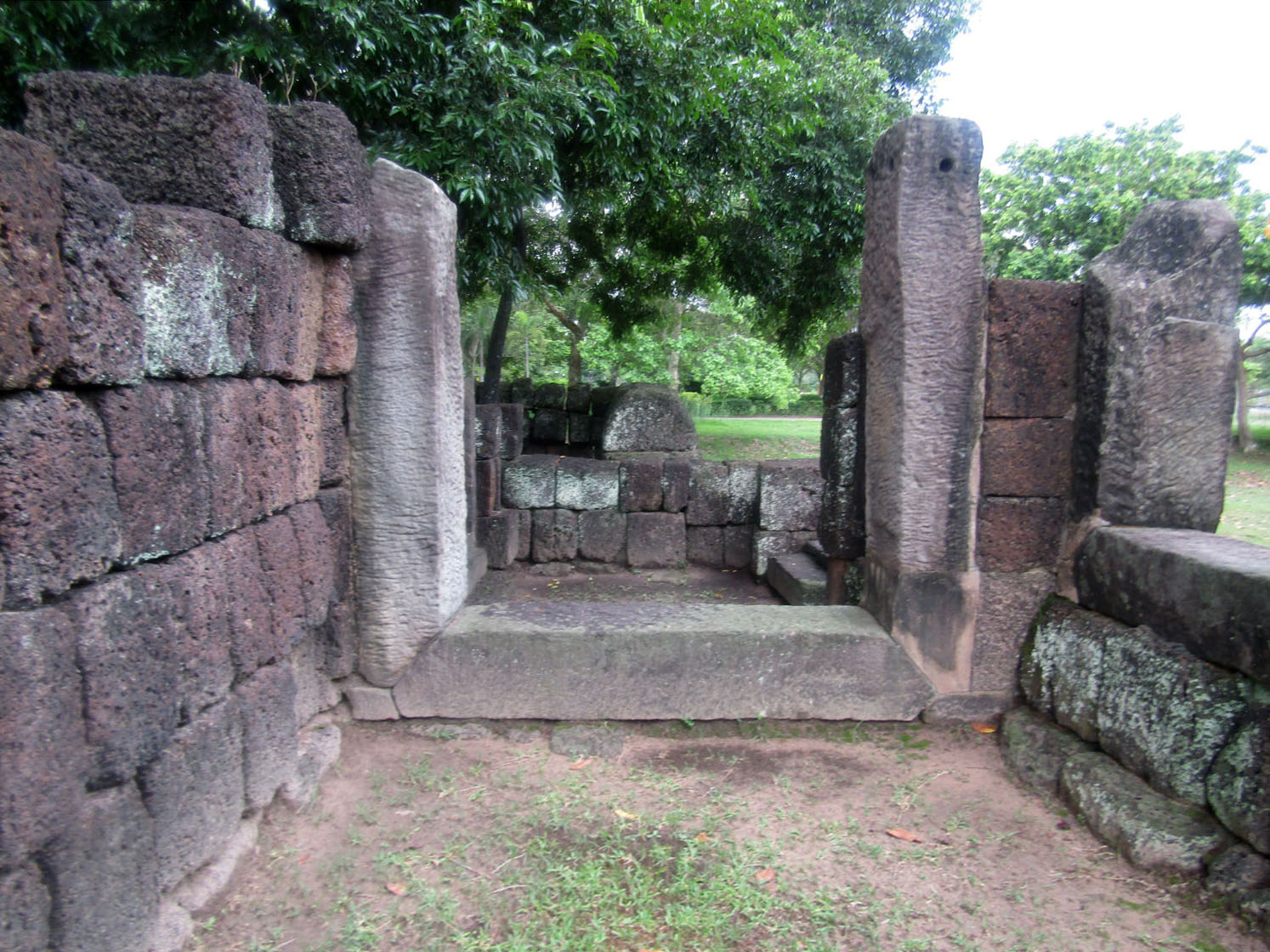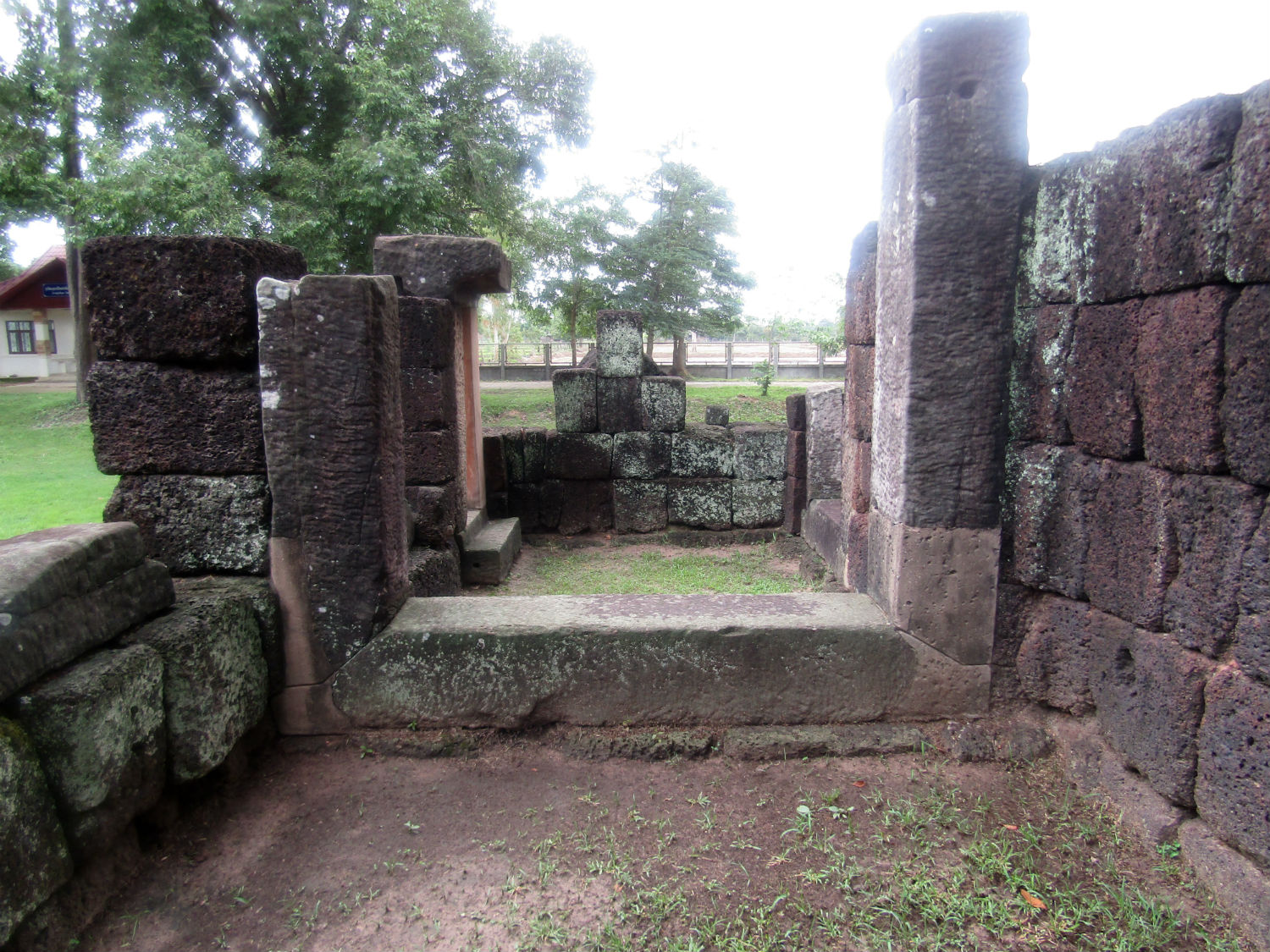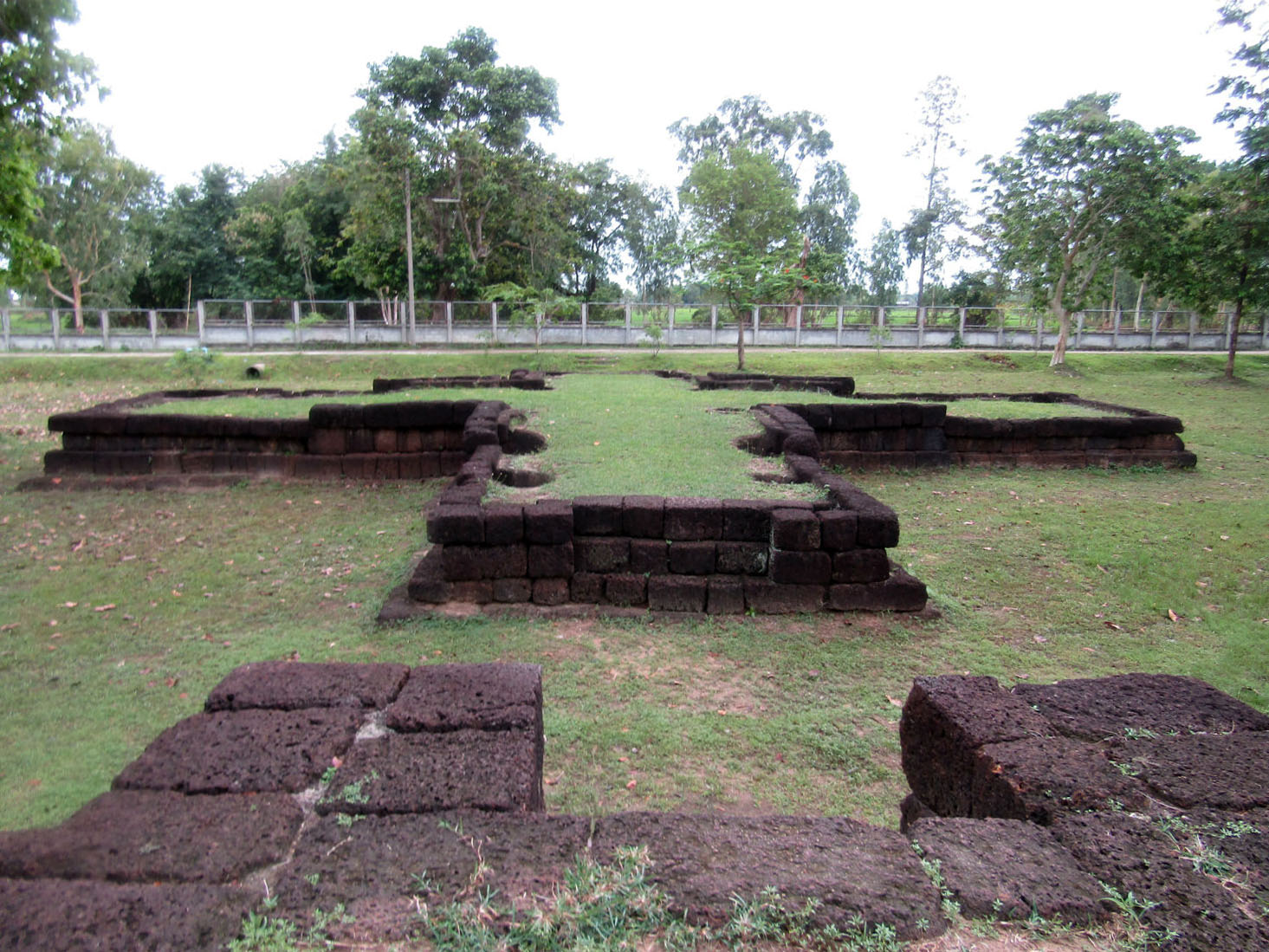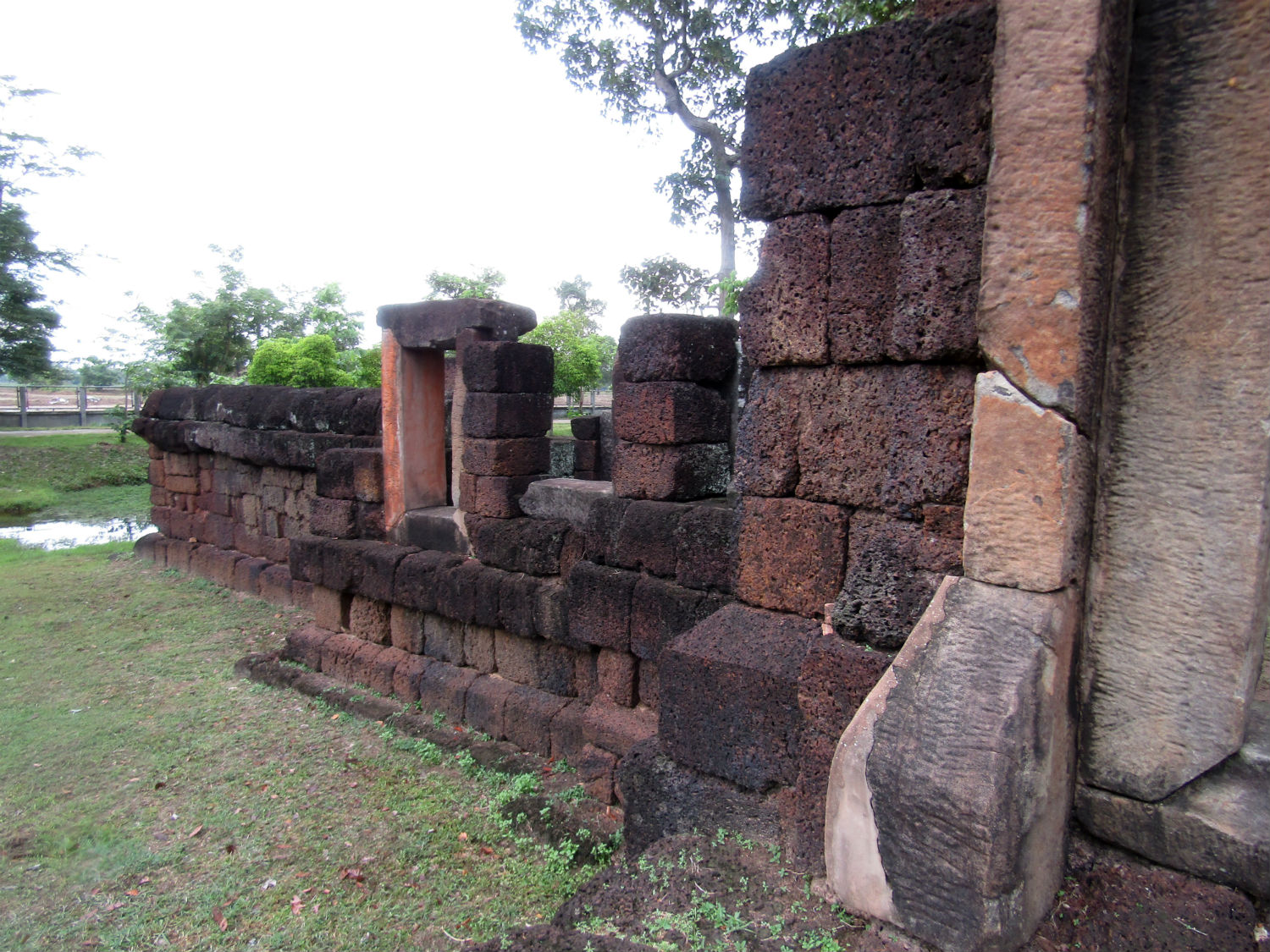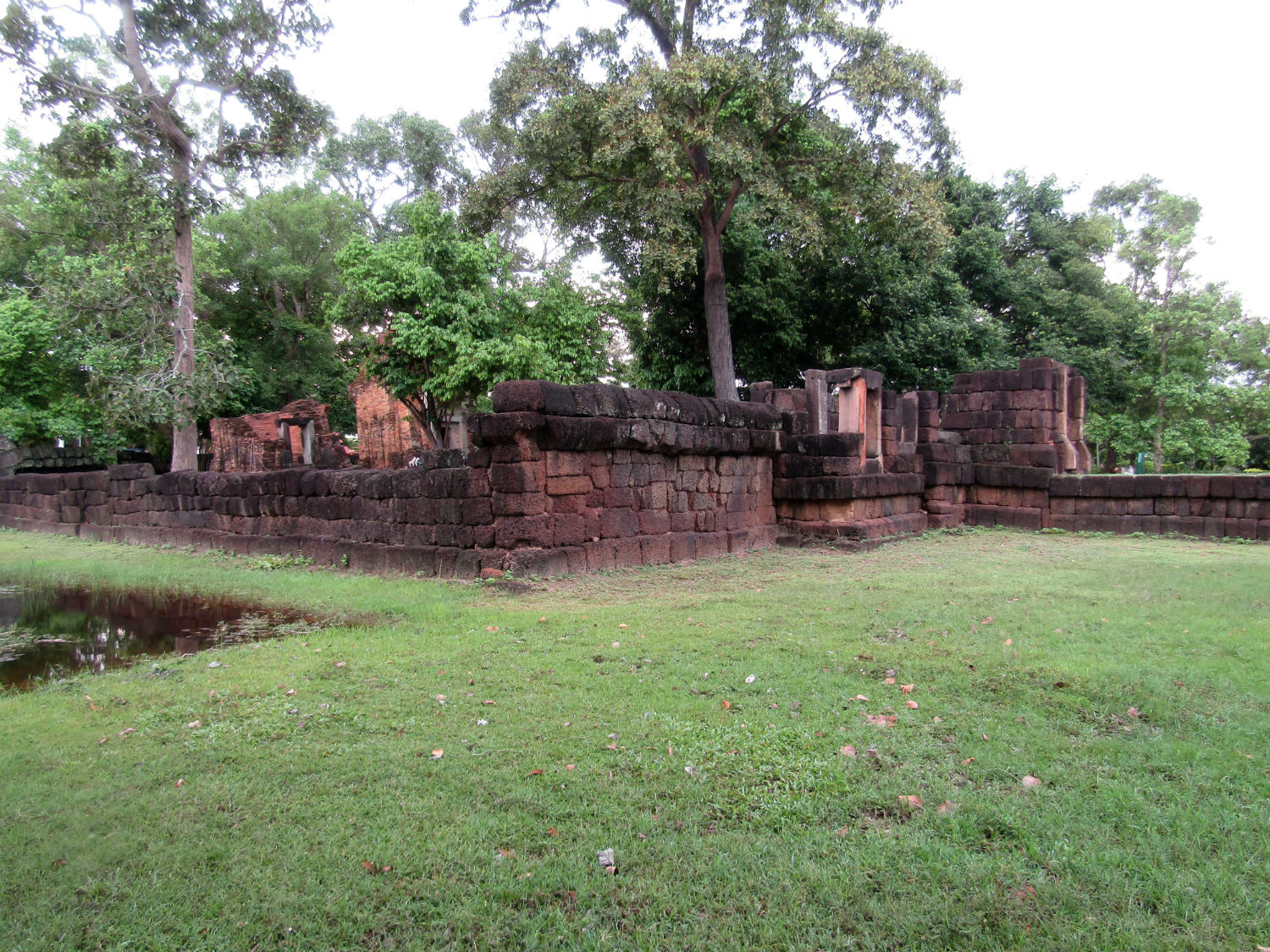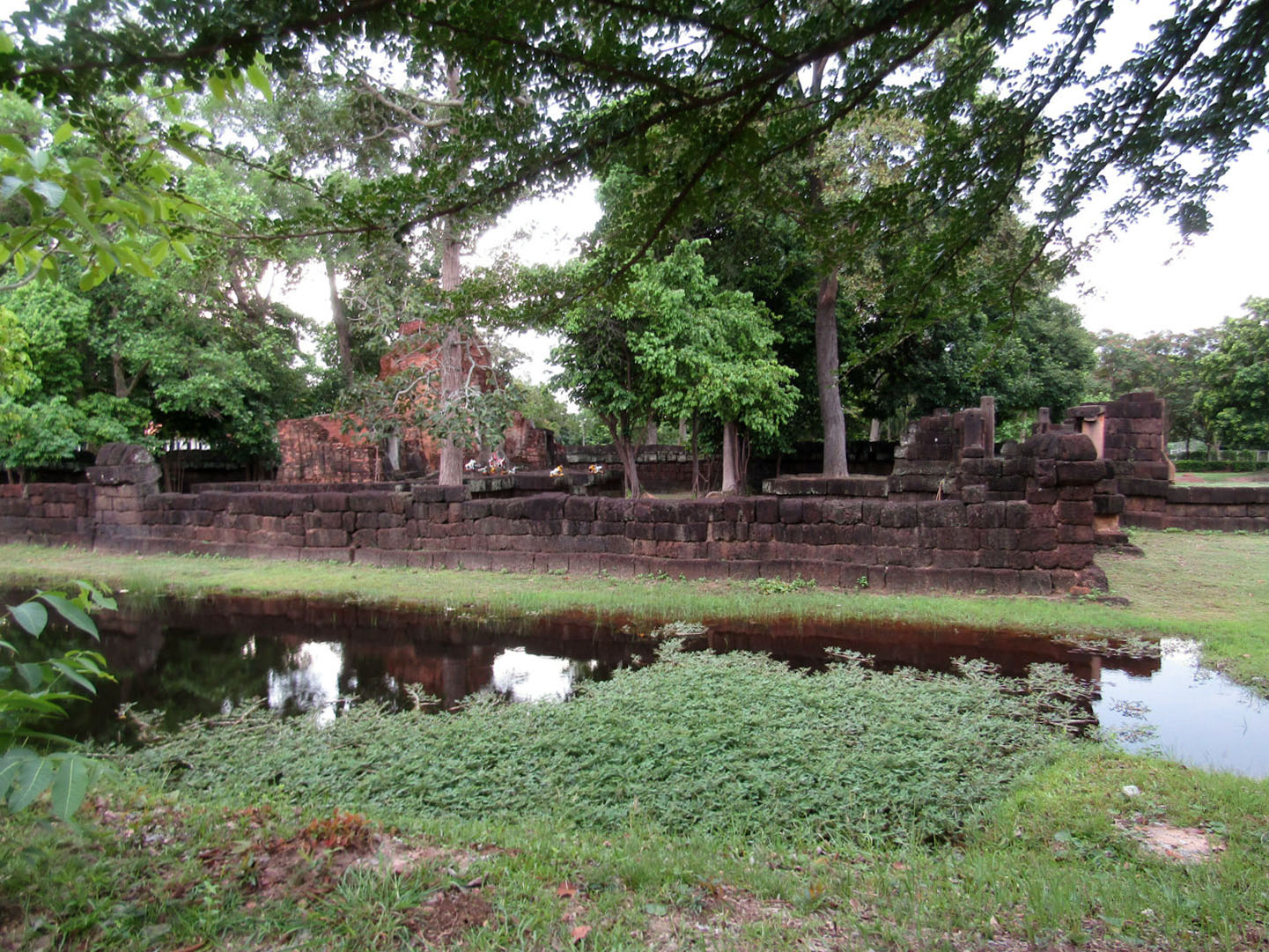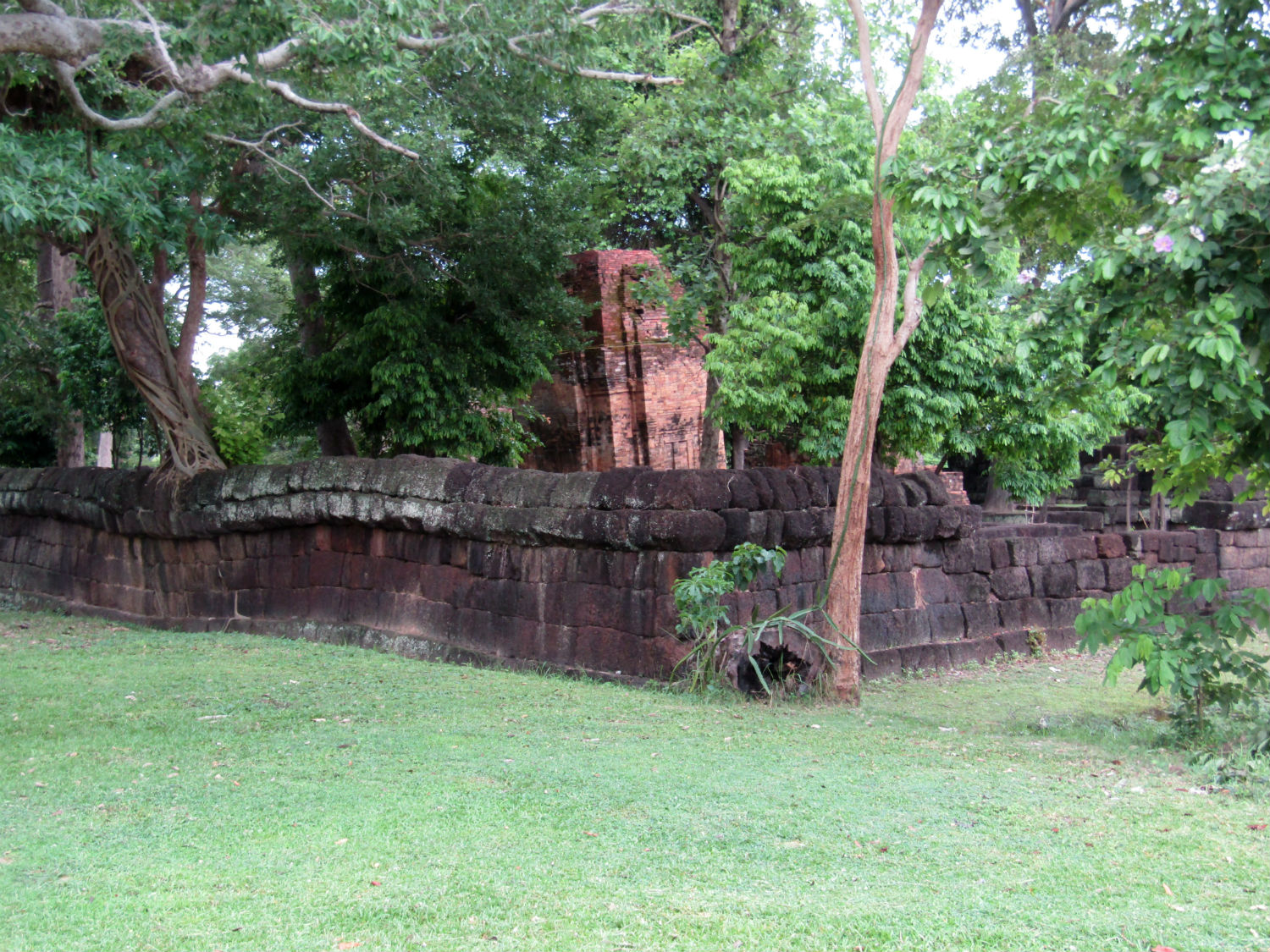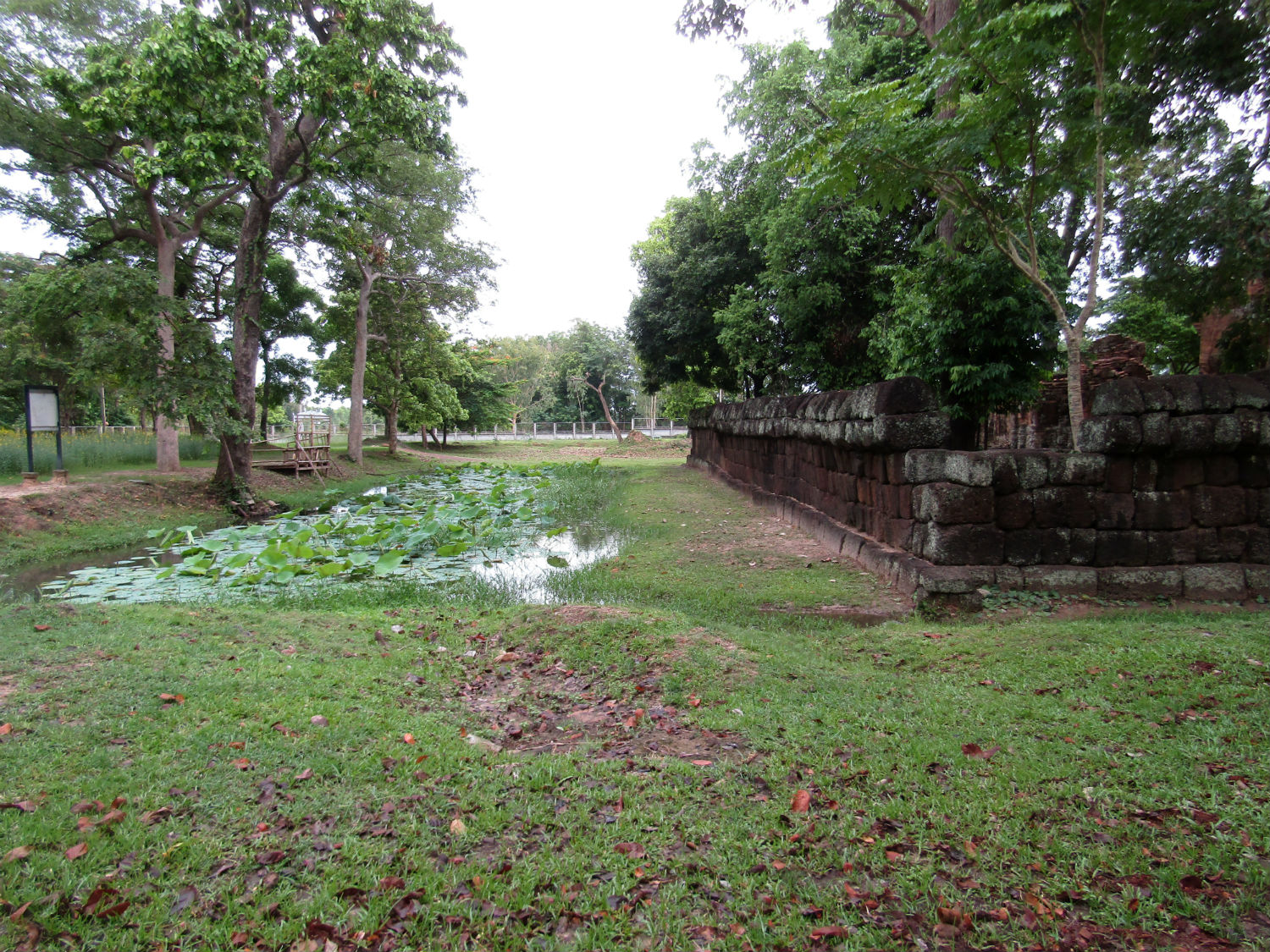 Praset Ban Ben, Thung Si Udon District, Ubon Ratchathani Province


This location provides no reason for complaint but we're told of another sanctuary about 15 kilometres away but unfortunately it's not in our direction of travel, requiring a 30 minute detour.
Prasat Thong Lang…….. Prasat Thong Lang is a Khmer religious complex built between the 10th and 12th centuries with a wall and moat. It consists of three tower-shaped brick buildings on the same laterite base aligned on a north-south axis facing east. There is a large artificial pond located 20 metres to the east of the sanctuary. The three brick buildings are in a square plan with receded corners with false doors and walls. The main building, the largest, has an entrance gate on the east side and a gable carved with five lotus petals. Prasat Thong Lang was gazetted by the Fine Art Department as a national ancient monument in 1936 while the surrounding area amounting to 2.75 acres, was gazetted in 1982.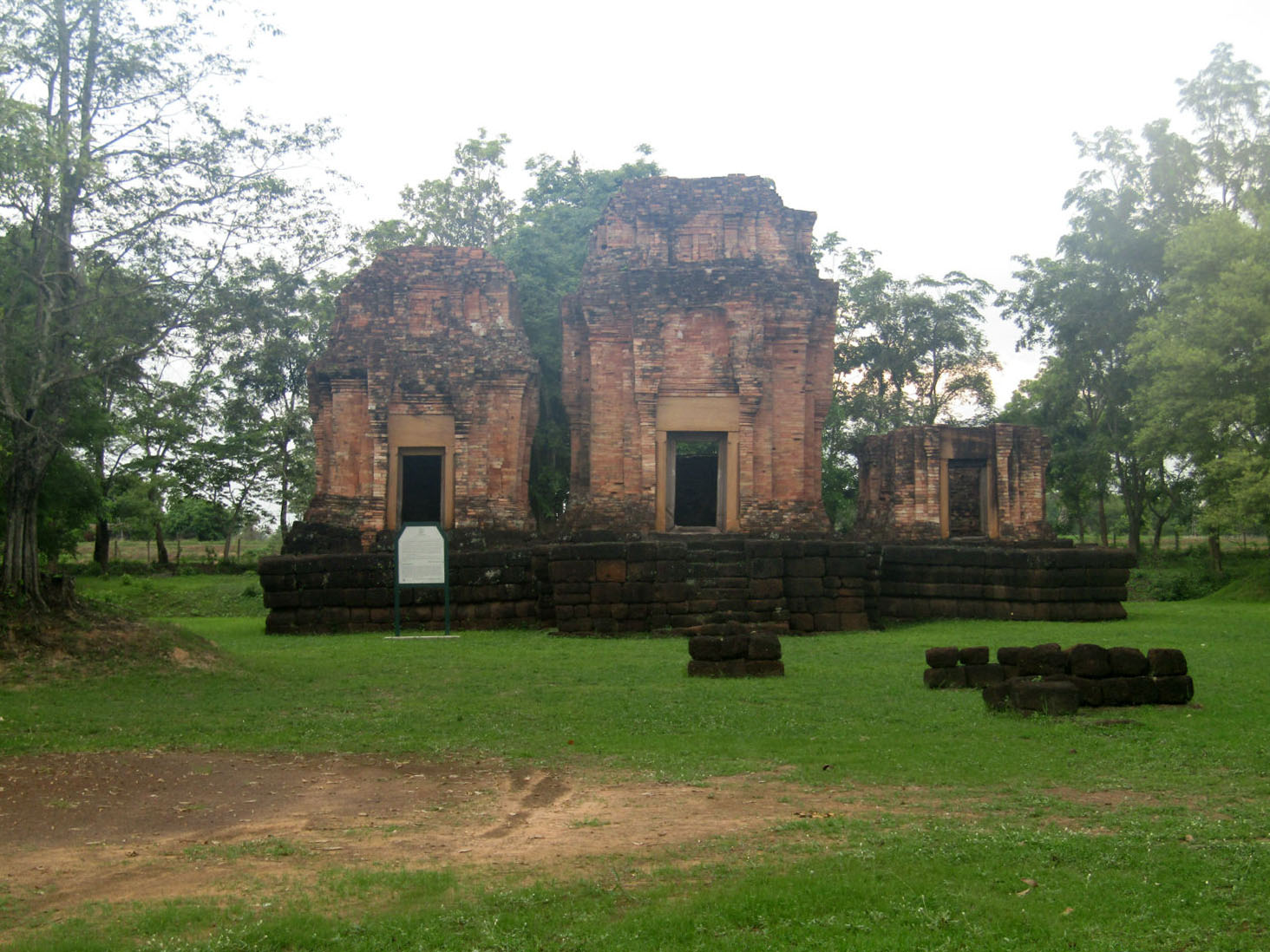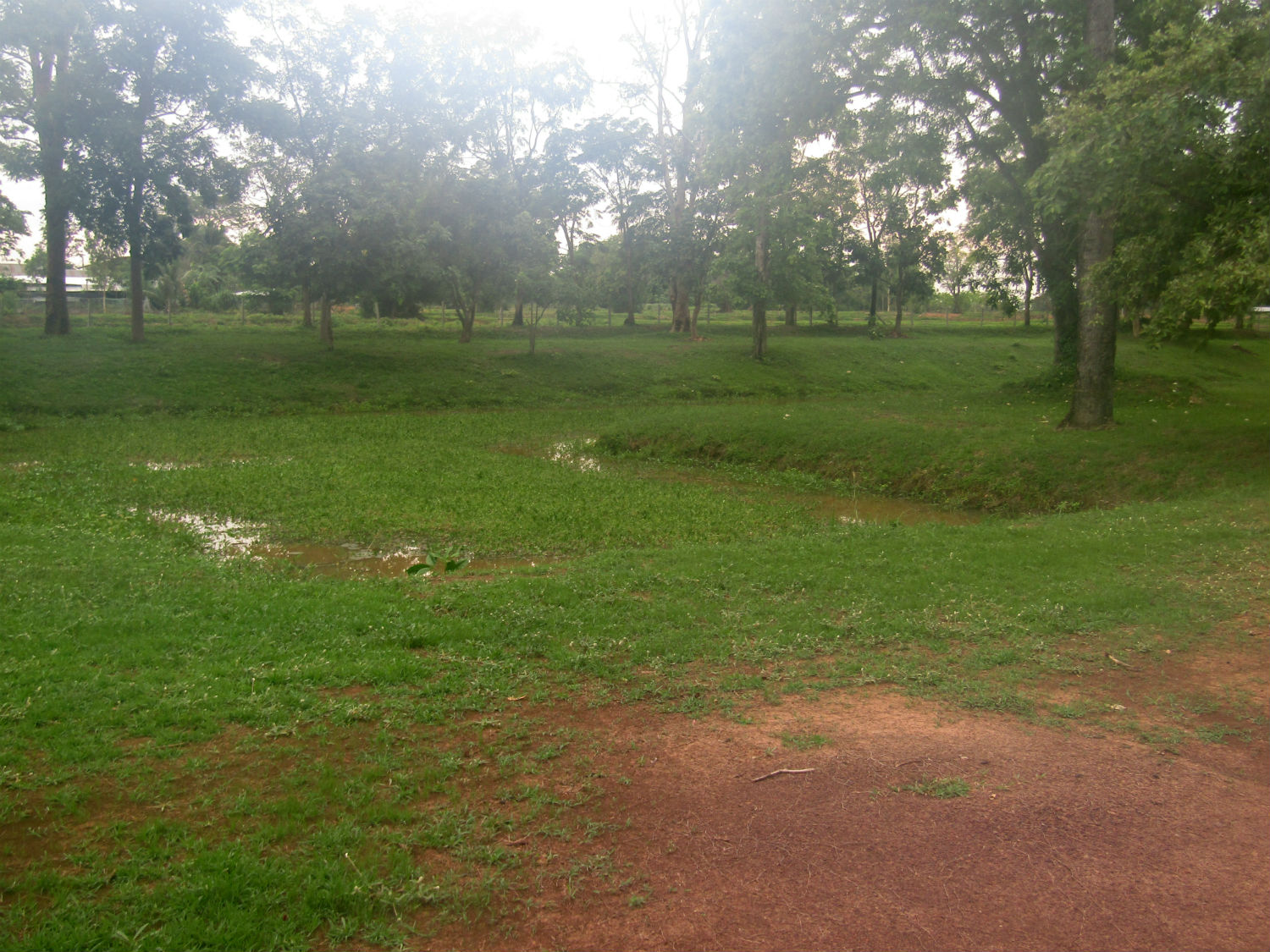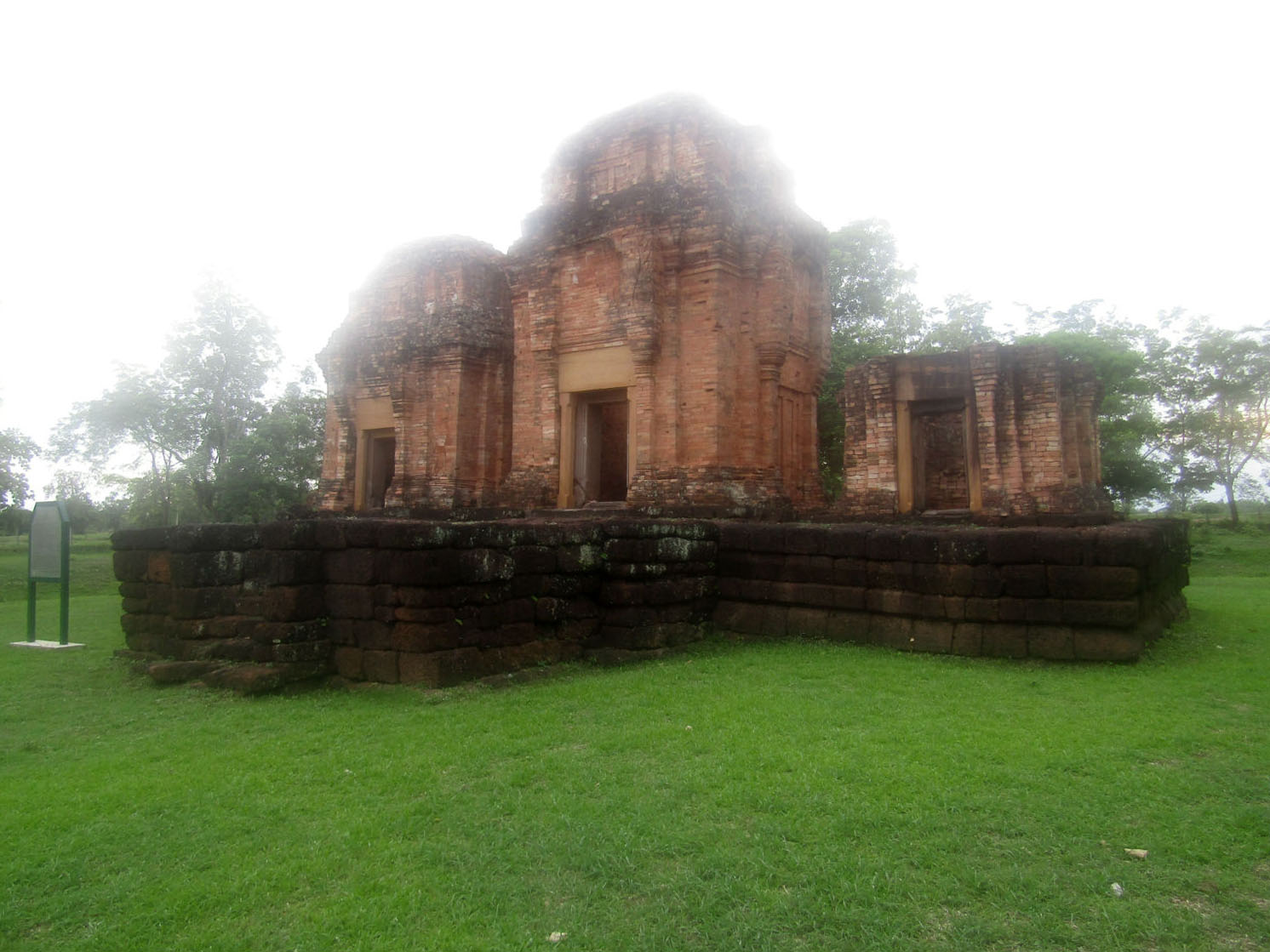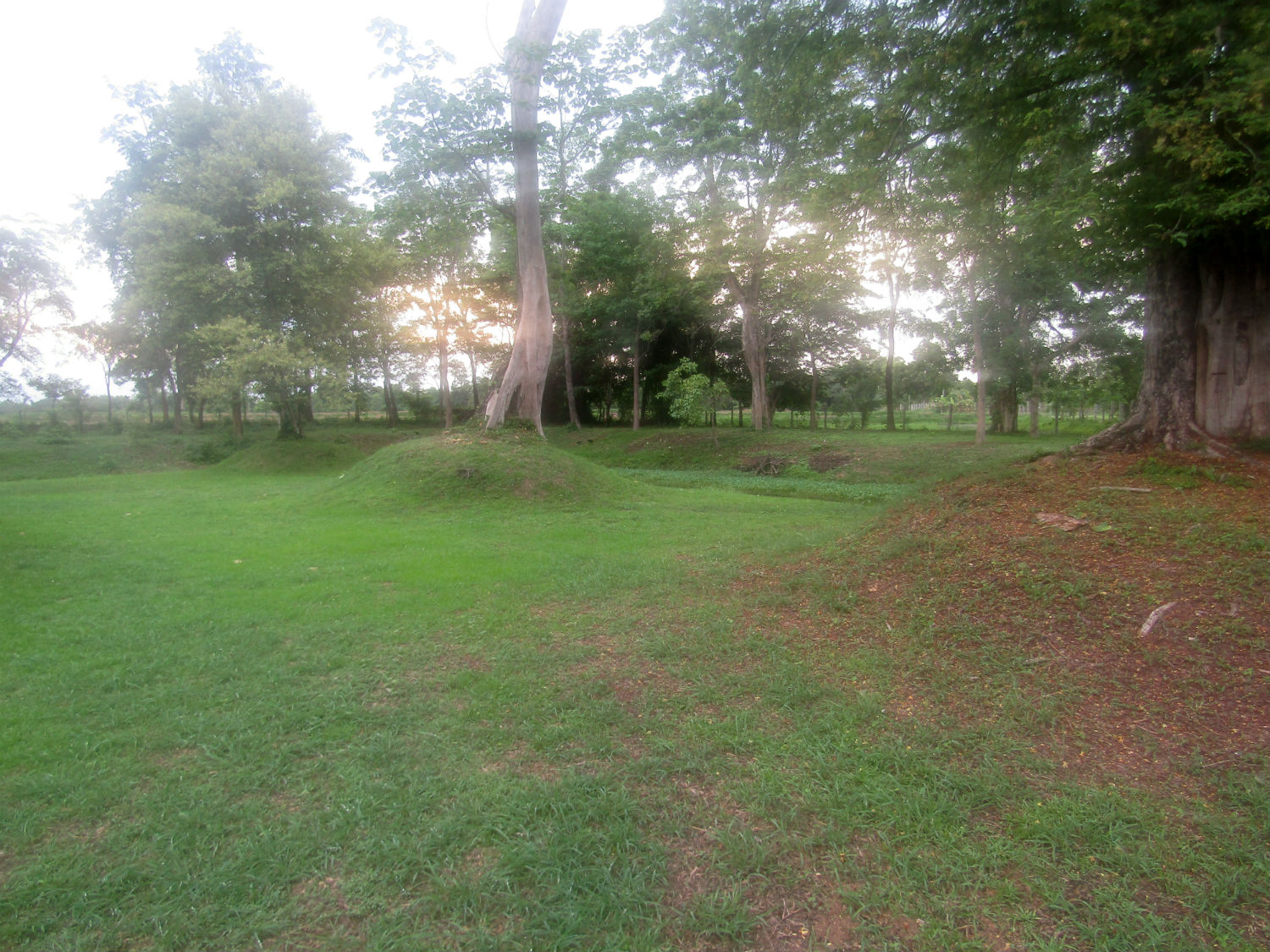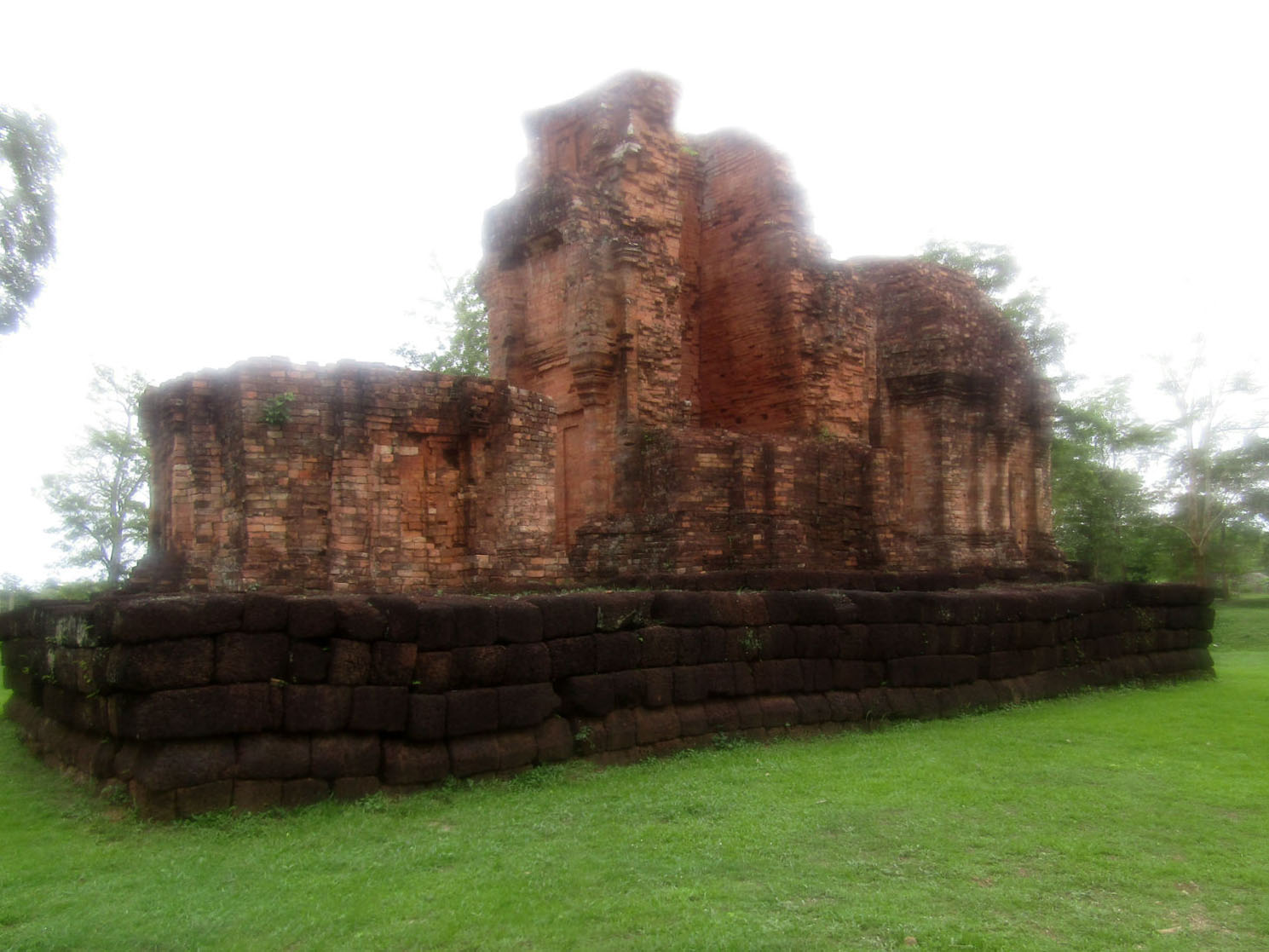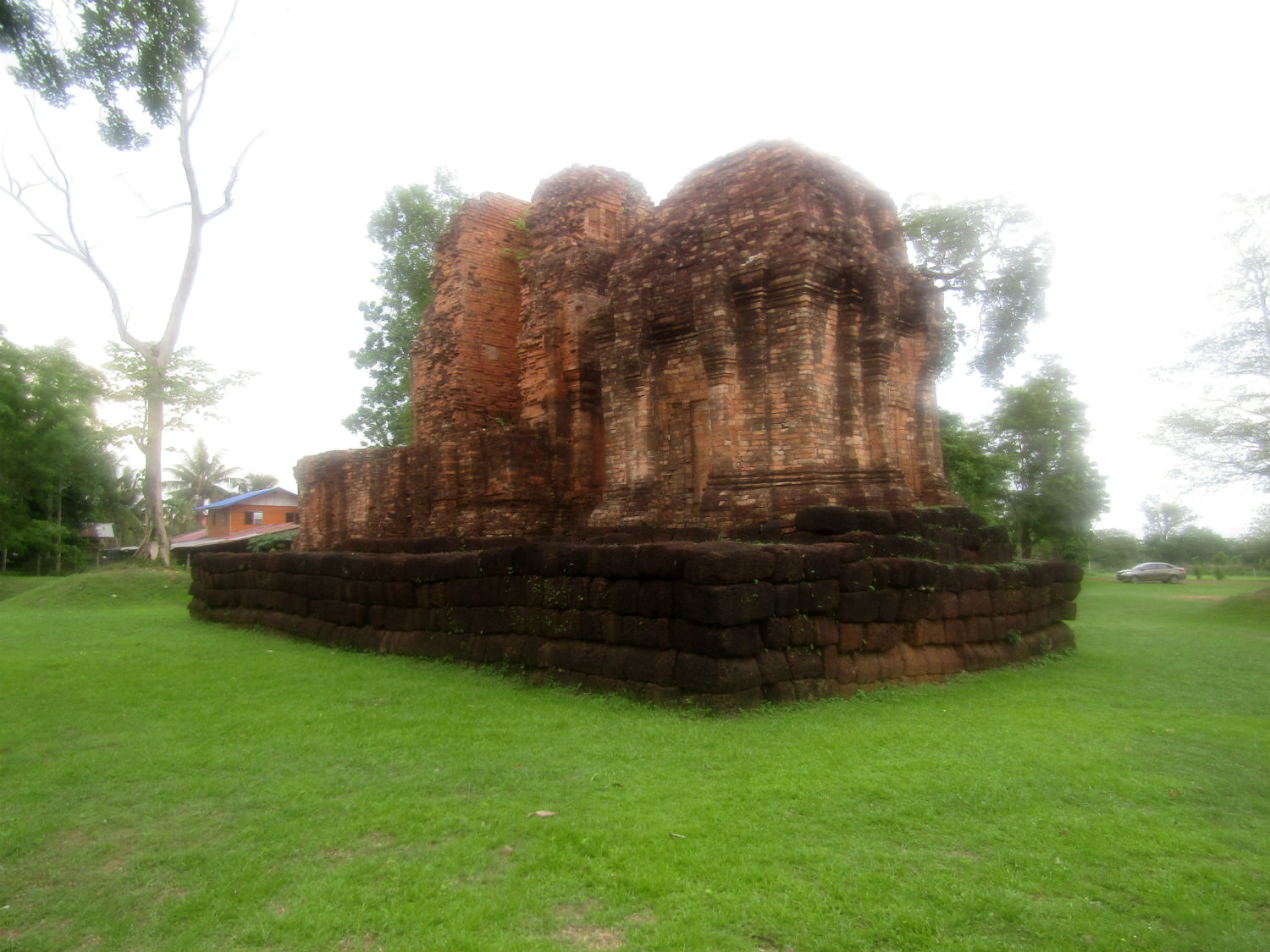 Prasat Thong Lang, Det Udom District, Ubon Ratchathani Province


With this excursion into Ubon Ratchathani province taking most of the afternoon, we really need to head back into Si Sa Ket province at least back to our starting point. However, despite upgrades to highway 24, with light traffic we make it beyond Kantharalak into the next district of Khun Han. Here I select accommodation but this time Katoon rejects it despite it having good reviews. She would rather a bungalow type and soon locates one.
Ruenmaisak……..
Ruenmaisak consists of some discrete accommodation but also some bungalows that meet with Katoon's approval but not really with mine. There is not sufficient worktop space for my computer, not enough power sockets and despite assurances, no internet. That doesn't happen too often but I can get a limited connection by tethering to my phone. For dinner, at least we are close to the market square and shops including 7-eleven. A good variety of street food is taken back to the room and with a beer completes an interesting day. Nothing gets done on my blog however, so in the morning I'm bound to struggle.
Next Page.