Day 3, Thursday 30 May

Restricted…….. As I wake up at 6am, I get straight onto my blog for yesterday, restricted as I am using my mobile phone to connect to the internet. I determine that I will sacrifice completion of my blog to get a reasonable start today to ensure that I arrive at my next rest stop in good time, certainly not much after 5pm. It's not too much to ask is it? Well Katoon conspires to put a stop to that idea and for the first time that I can remember, orders breakfast in the room despite the cramped conditions. It's then a lady's prerogative to further delay by washing and drying hair and seemingly everything else she can think of to delay a start. At 10.30am we finally make a start. I only hope now that my planned site visits are not as ambitious as yesterday.
Wat Pa Maha Chedi Kaew (Wat Lan Khuat)…….. If ever a good start was sorely needed, it's now, and thankfully the first location is just minutes away. Wat Pa Maha Chedi Kaew has a nickname Wat Lan Khuat. It's not until I arrive at this temple do I discover why. The Thai name 'khuat' is a bottle. So this is a bottle temple right? Absolutely! Millions of them. Adorning the concrete and steel fabric are bottles of all shapes, sizes and colours, all donated by the public. All types of bottles are included with no exception. For once I'm mighty impressed if it's the case that most of these bottles would have ended up bring discarded. On the other hand, was the righteousness of the donors accelerated by the need to empty the bottles of their contents. Yes, a lot of these bottles I recognise as beer bottles and by the colour of the glass know the makers as well. Now, that is what I call a project.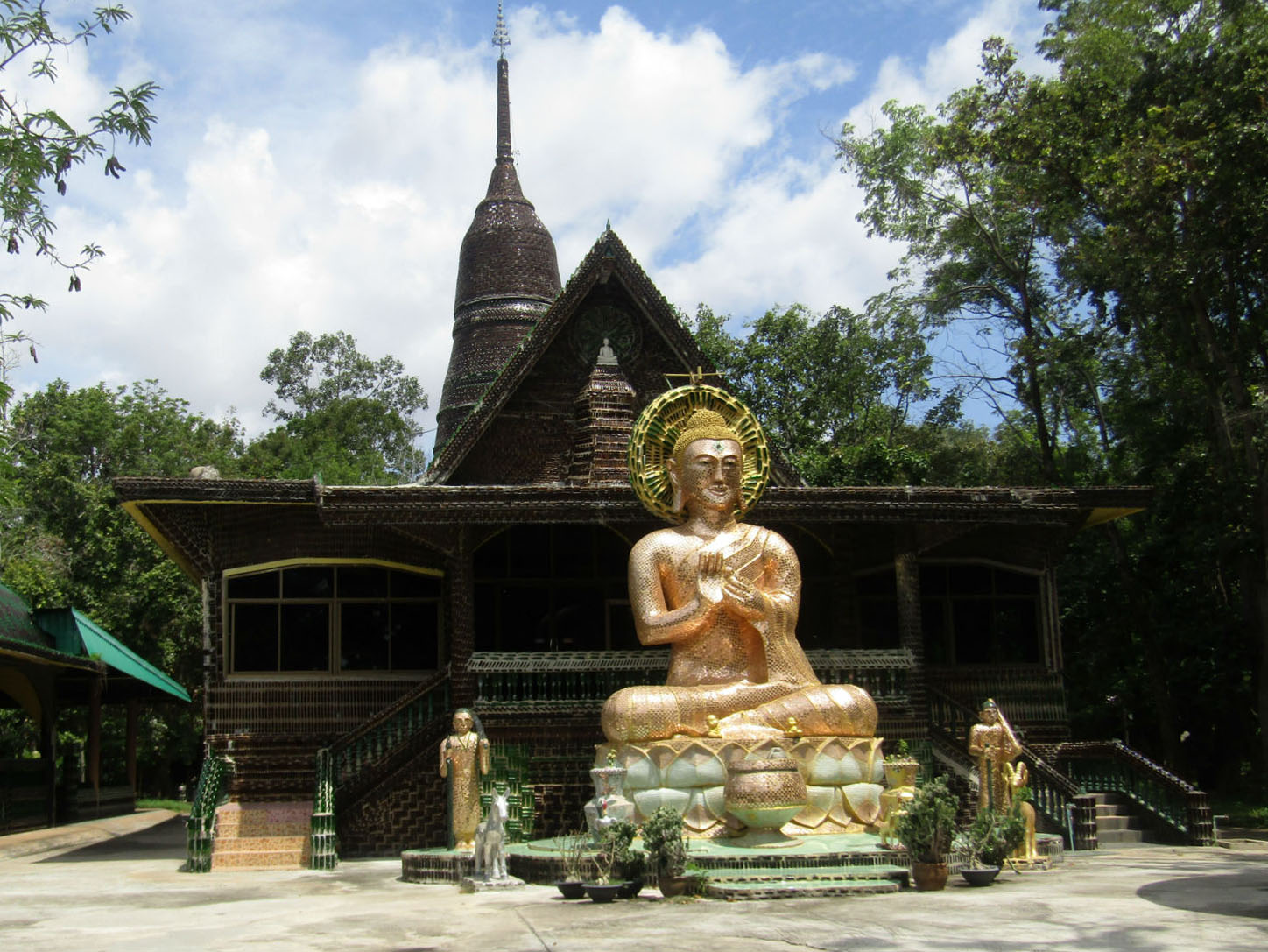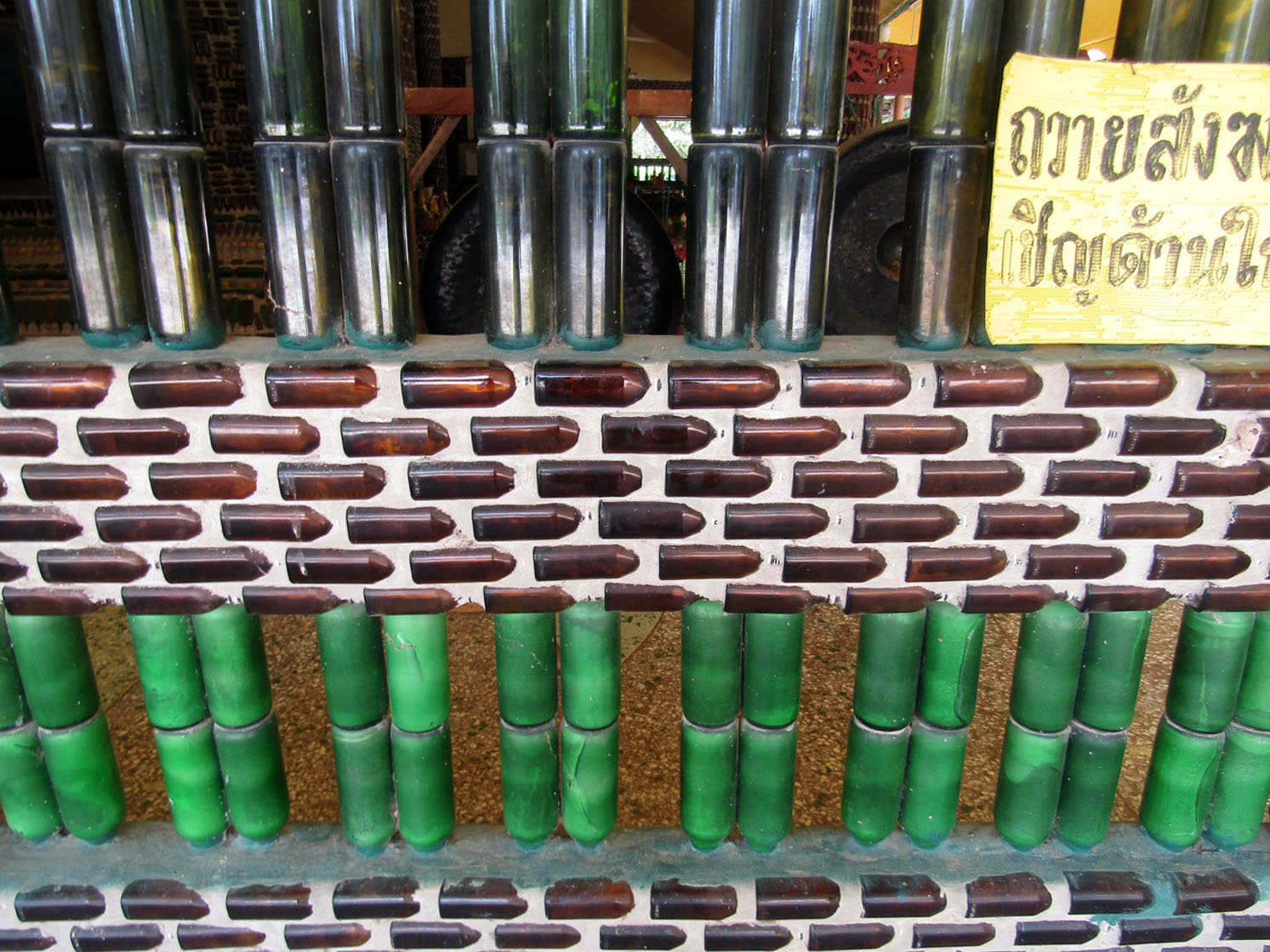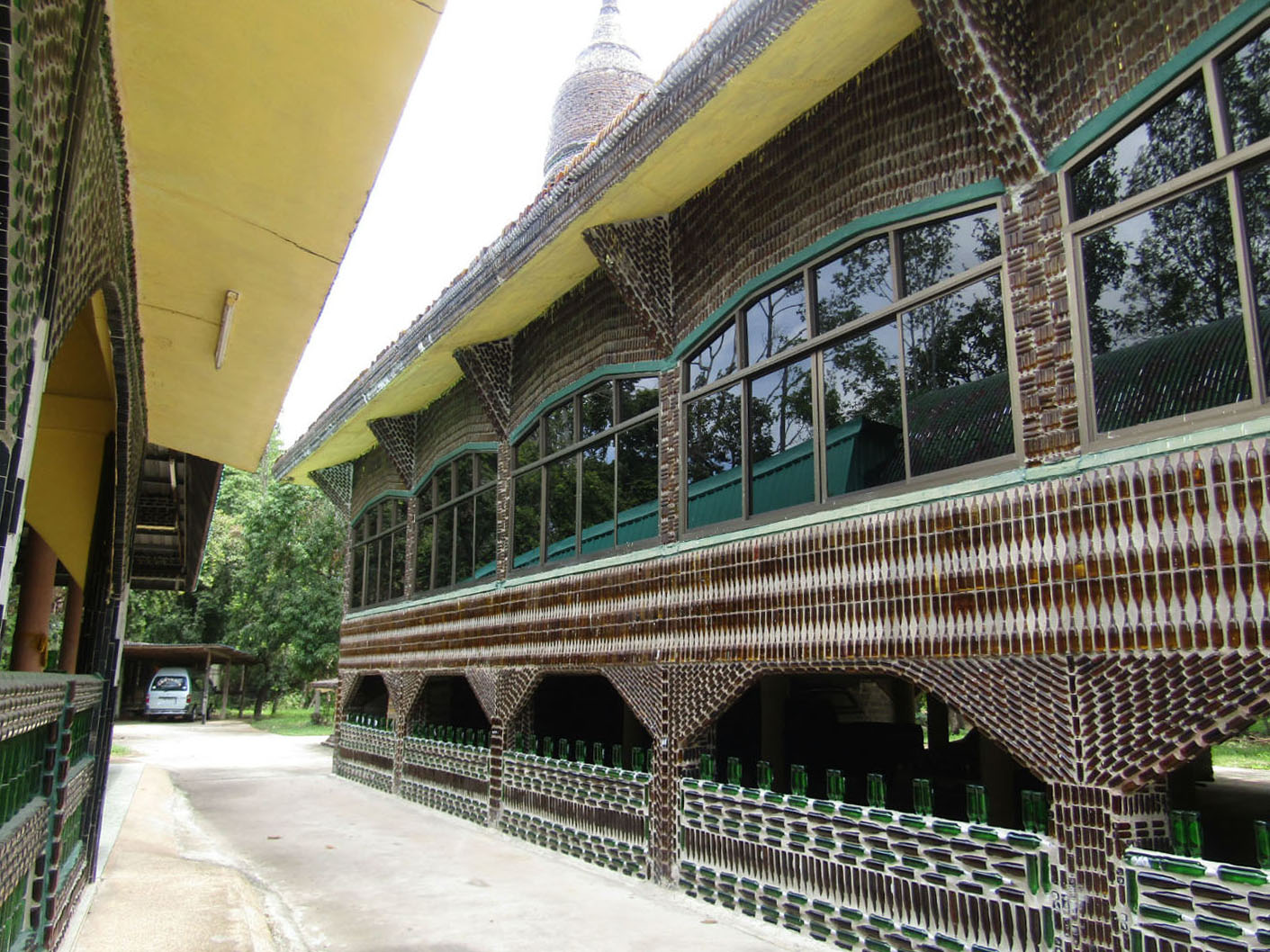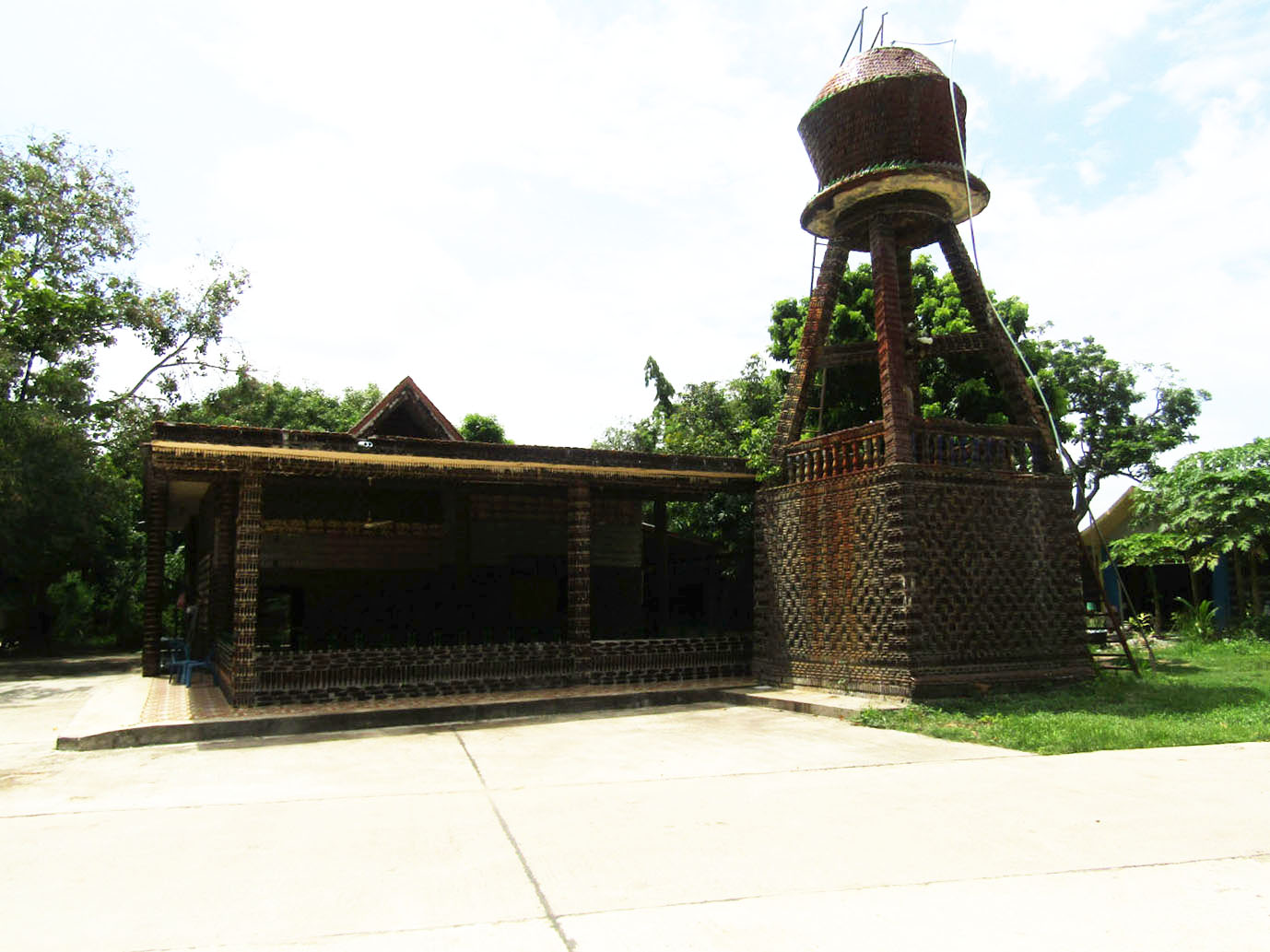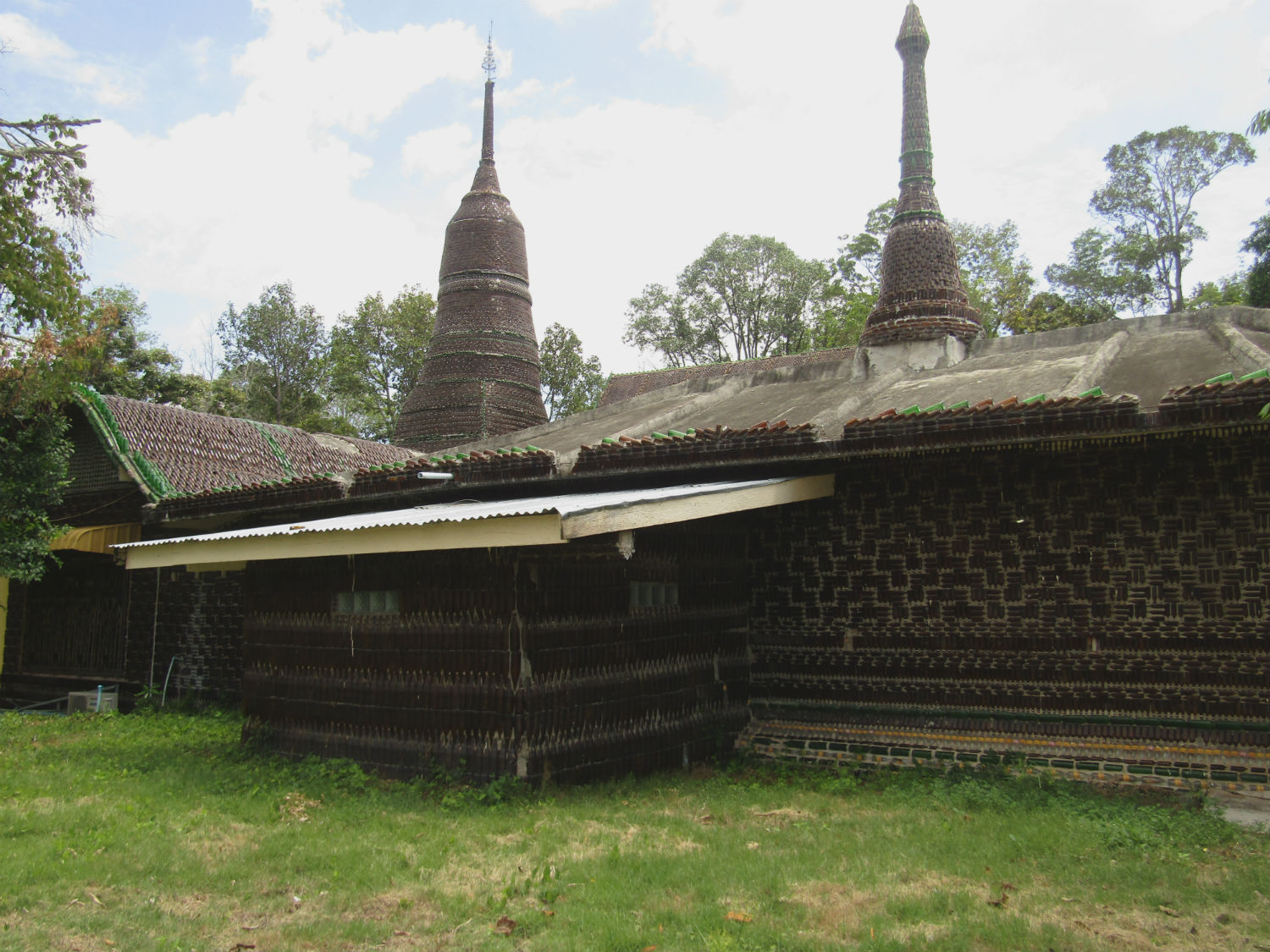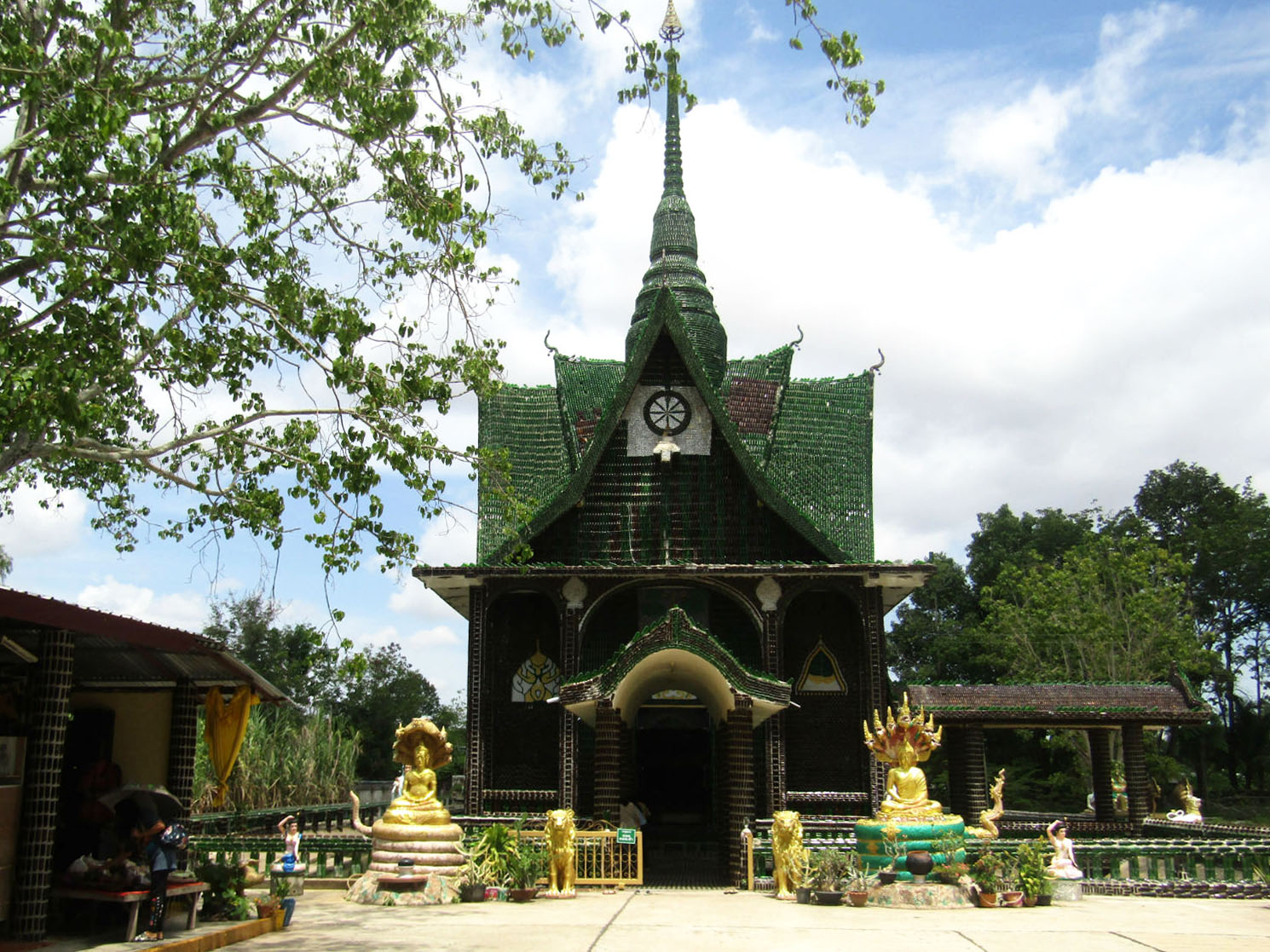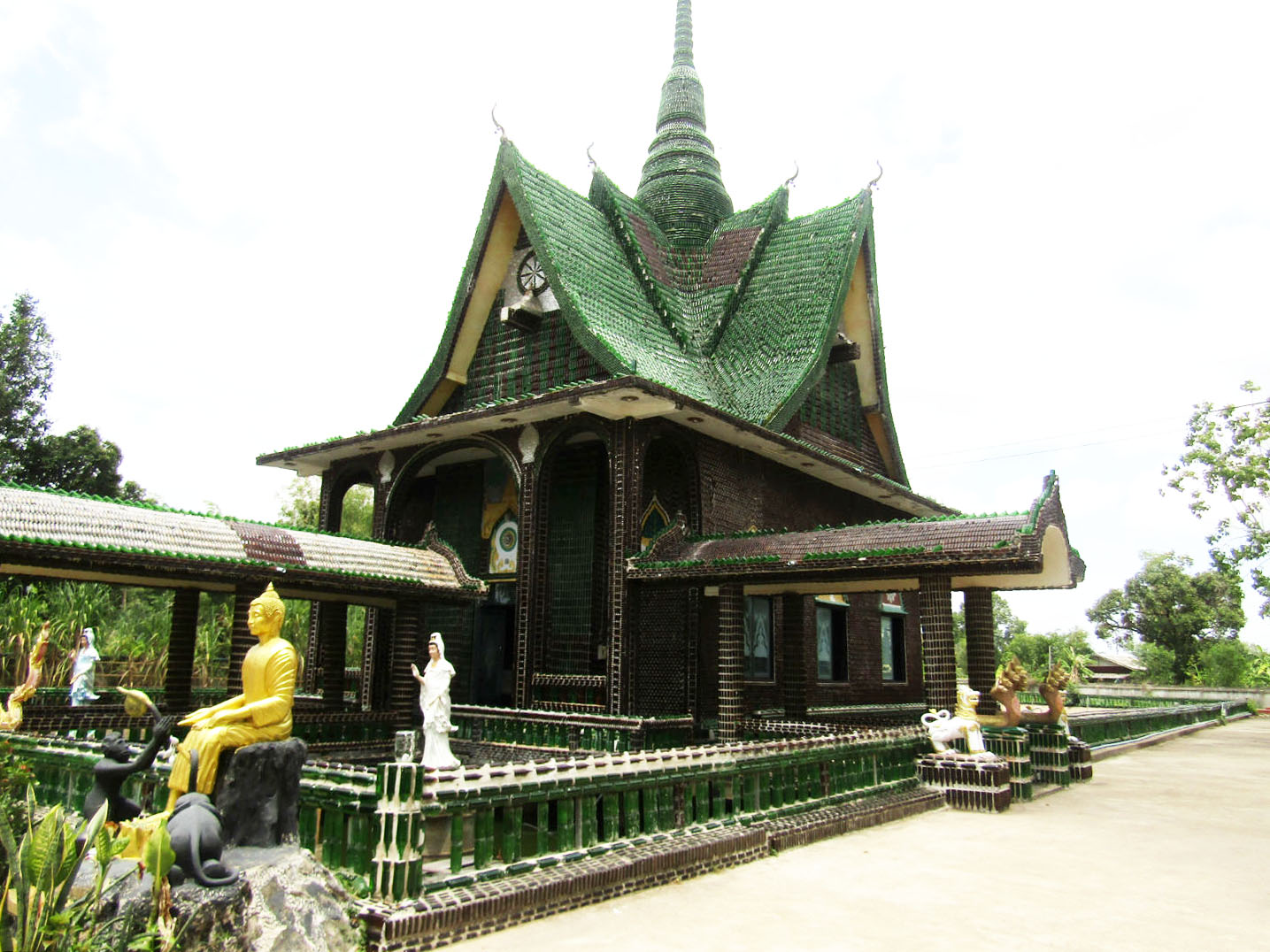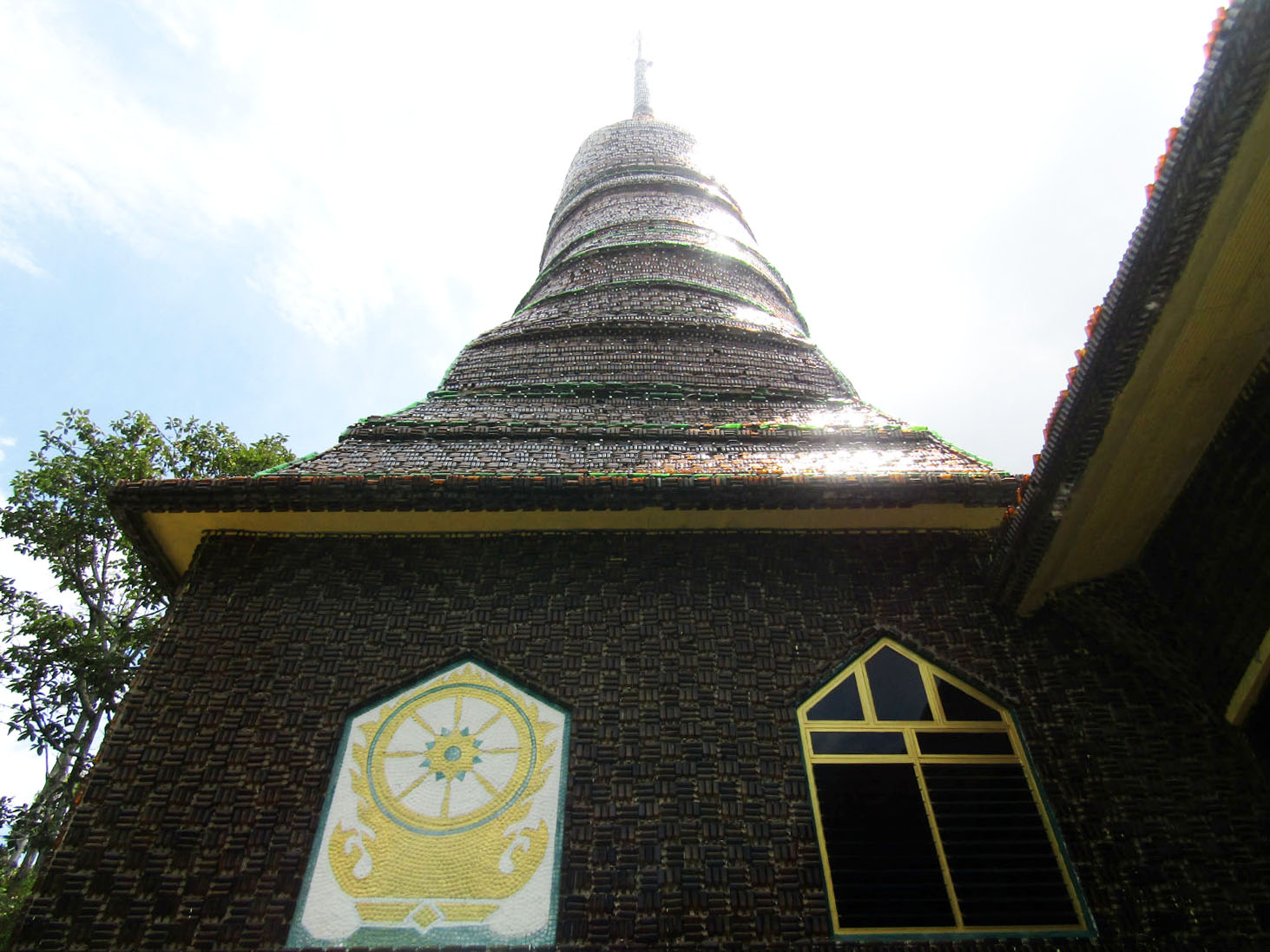 Wat Pa Maha Chedi Kaew (Wat Lan Khuat), Khun Han District, Si Sa Ket Province


Ang Kep Nam Ta Chu (Ta Chu reservoir and dam)…….. From Khun Han I take a chance to go waterfall hunting despite the usual plea that there will not be much water. Well before we reach the waterfall, Katoon picks up a sign to the Samrong Kiat reservoir so we are already considering detours. The Ta Chu dam is an earth a rock dam containing the reservoir fed by the Ta Chu river. It's just one of the lakes that have been created in the foothills of the Phanom Dongrek mountain range. Here both Katoon and the Google Map ap conspire to delay us. What an amazing partnership!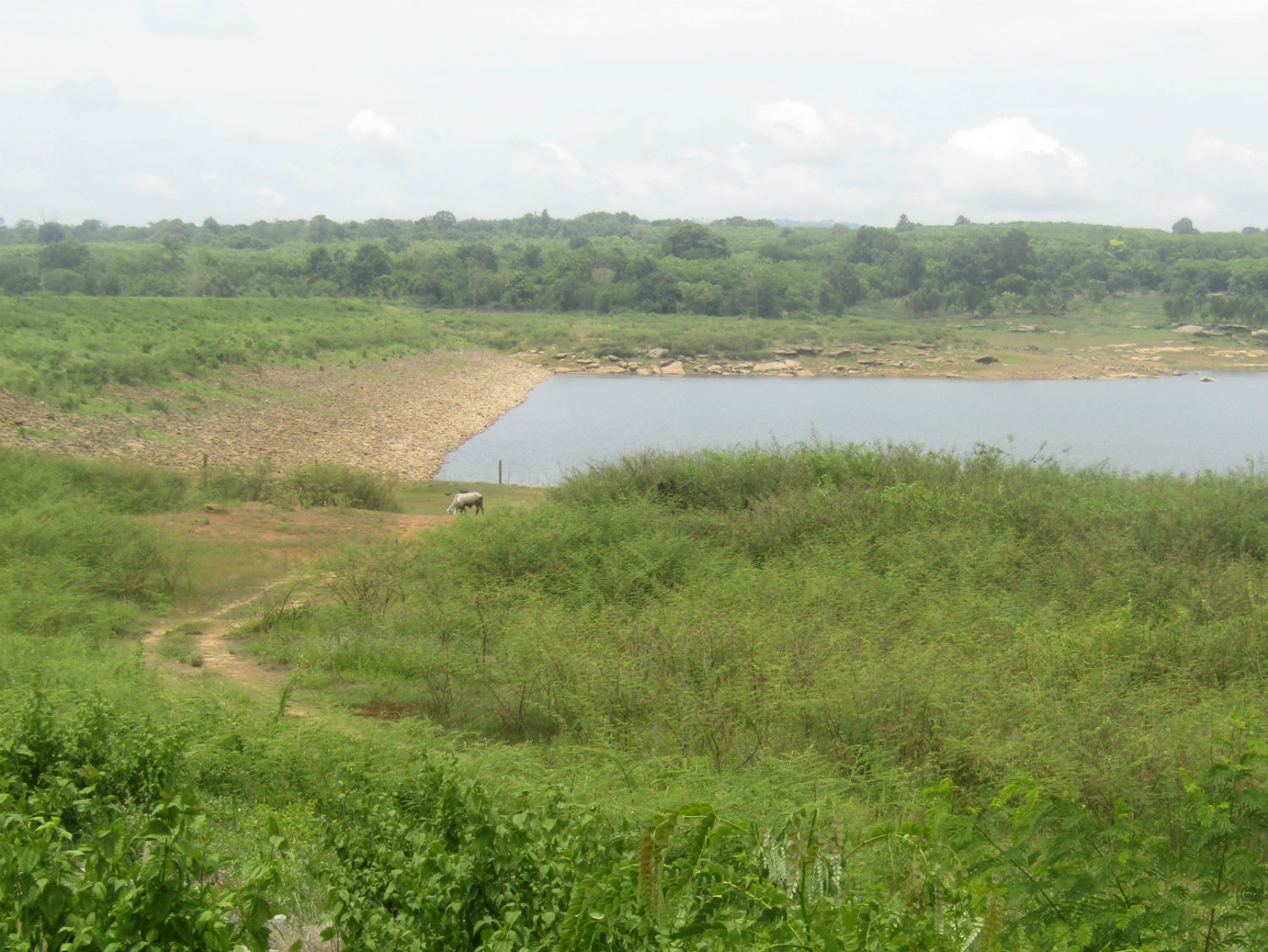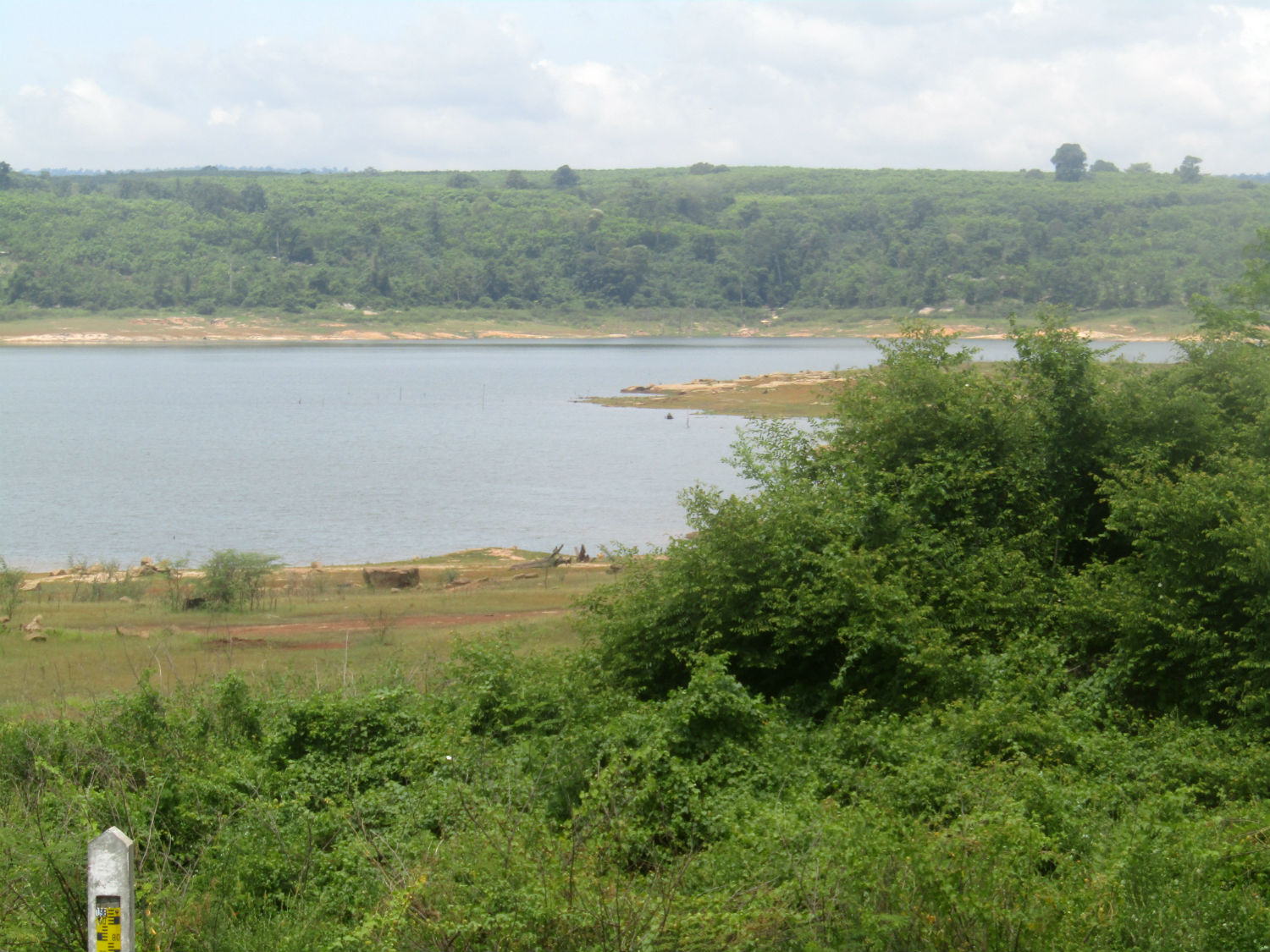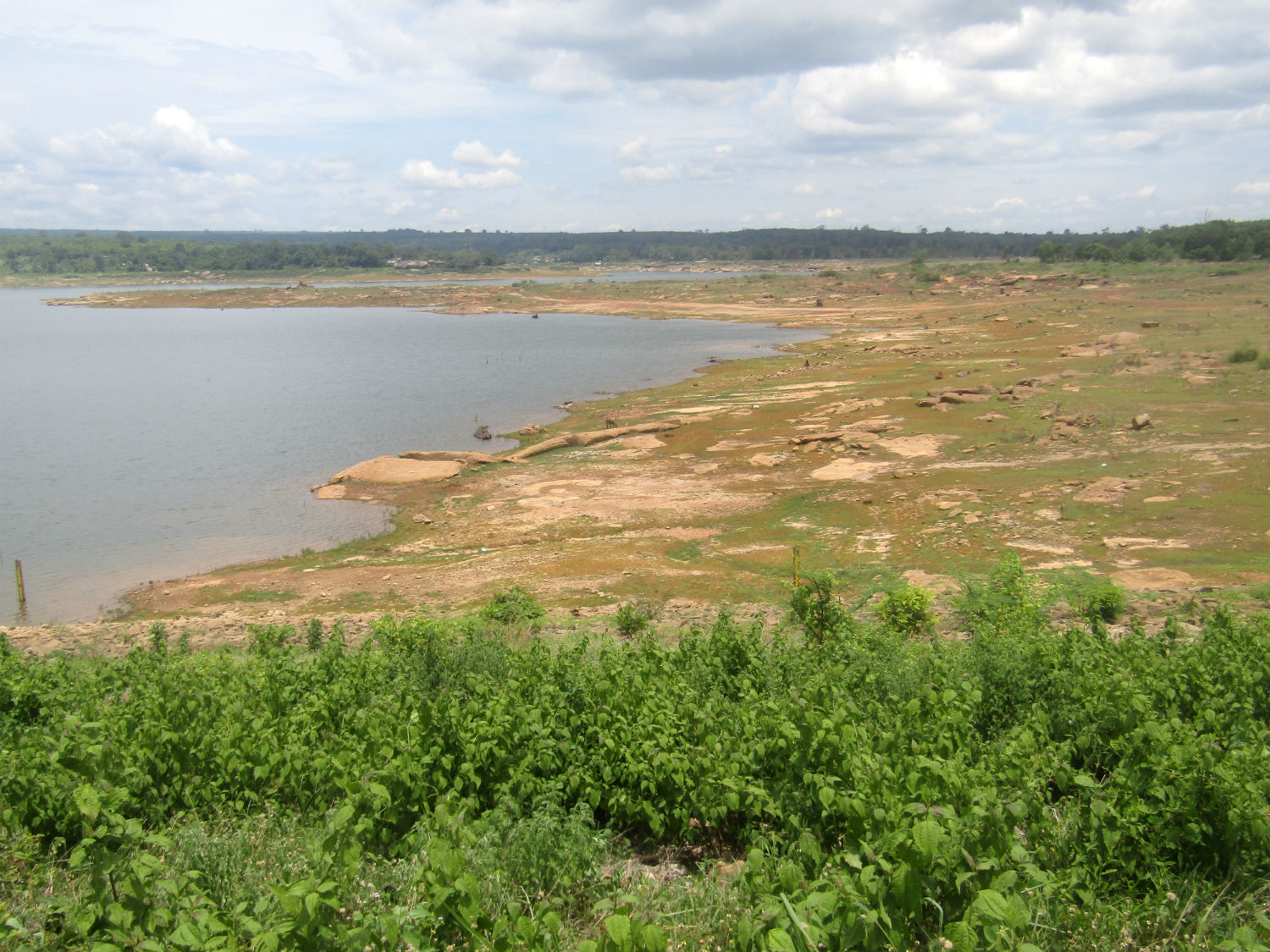 Ang Kep Nam Samrong Kiat (Samrong Kiat reservoir and dam), Khun Han District, Si Sa Ket Province


Prasat Tam Nak Sai…….. It's just a short distance from here to the waterfall but passing through the village Ban Tam Nak Sai is another prasat. Tamnak Sai Khmer Sanctuary consists of a single stupa on a laterite base. The brick stupa has a rectangular shape with the doorway facing east while there are false doorways on the other three sides. Two carved guardian lions are watching the gate. The front door frame is made of sandstone. Over the door was a carved lintel depicting the God Narai lying on naga, with Laksami sitting at his feet, and Brahma rising from his navel. On both sides of Brahma are a hermit and a figure. The Narai Banthom Sin lintel from this sanctuary is now kept in Phimai National Museum.
It's been recorded that this sanctuary was built in Bayon style by Jayavaram VII (12th/13th century). However, there is little resemblance here of the features or construction material used in his construction of the 102 'Arokaya Salas' (community hospitals that he ordered built during his reign). I believe this sanctuary is earlier, possibly 10th century.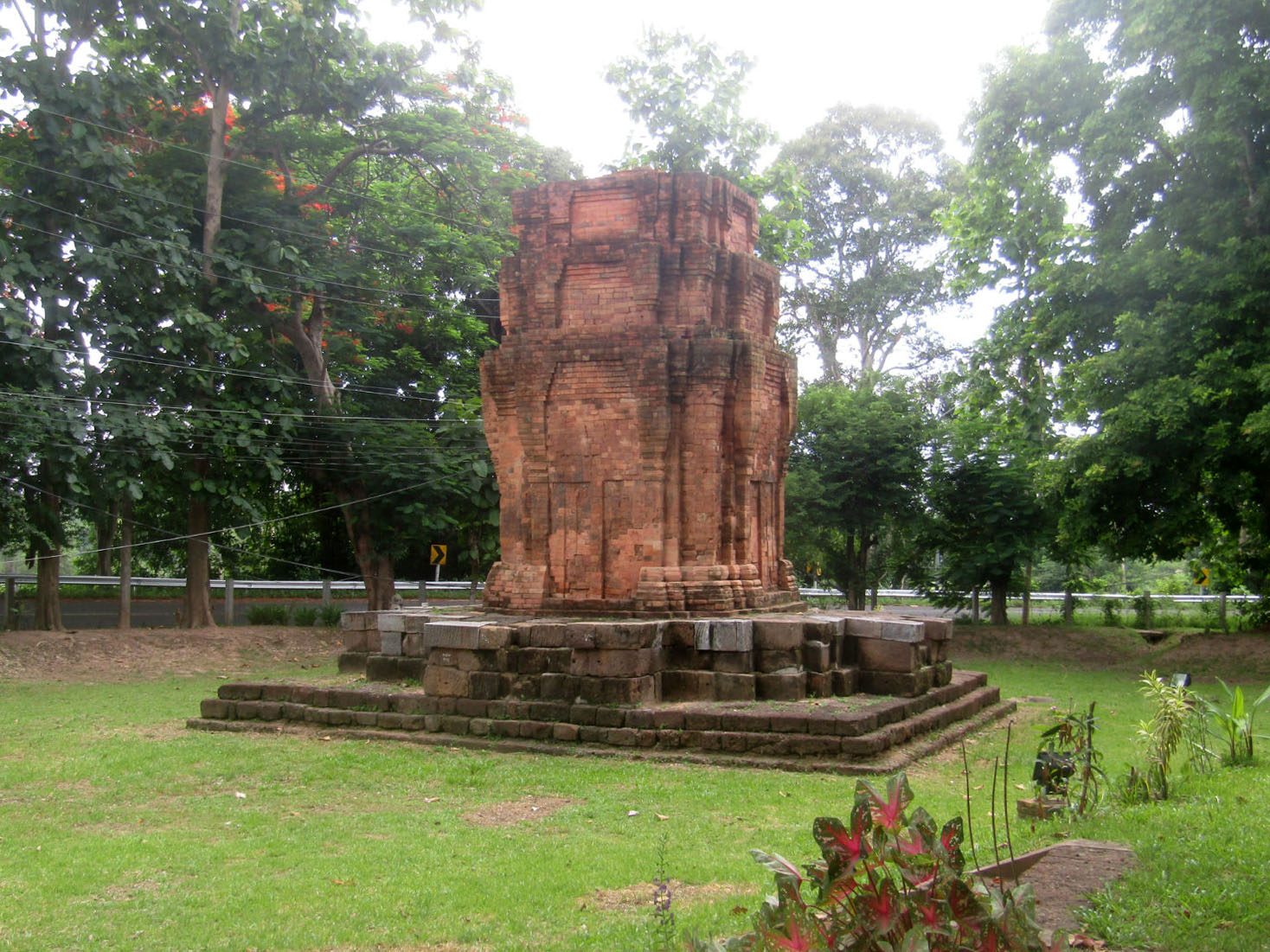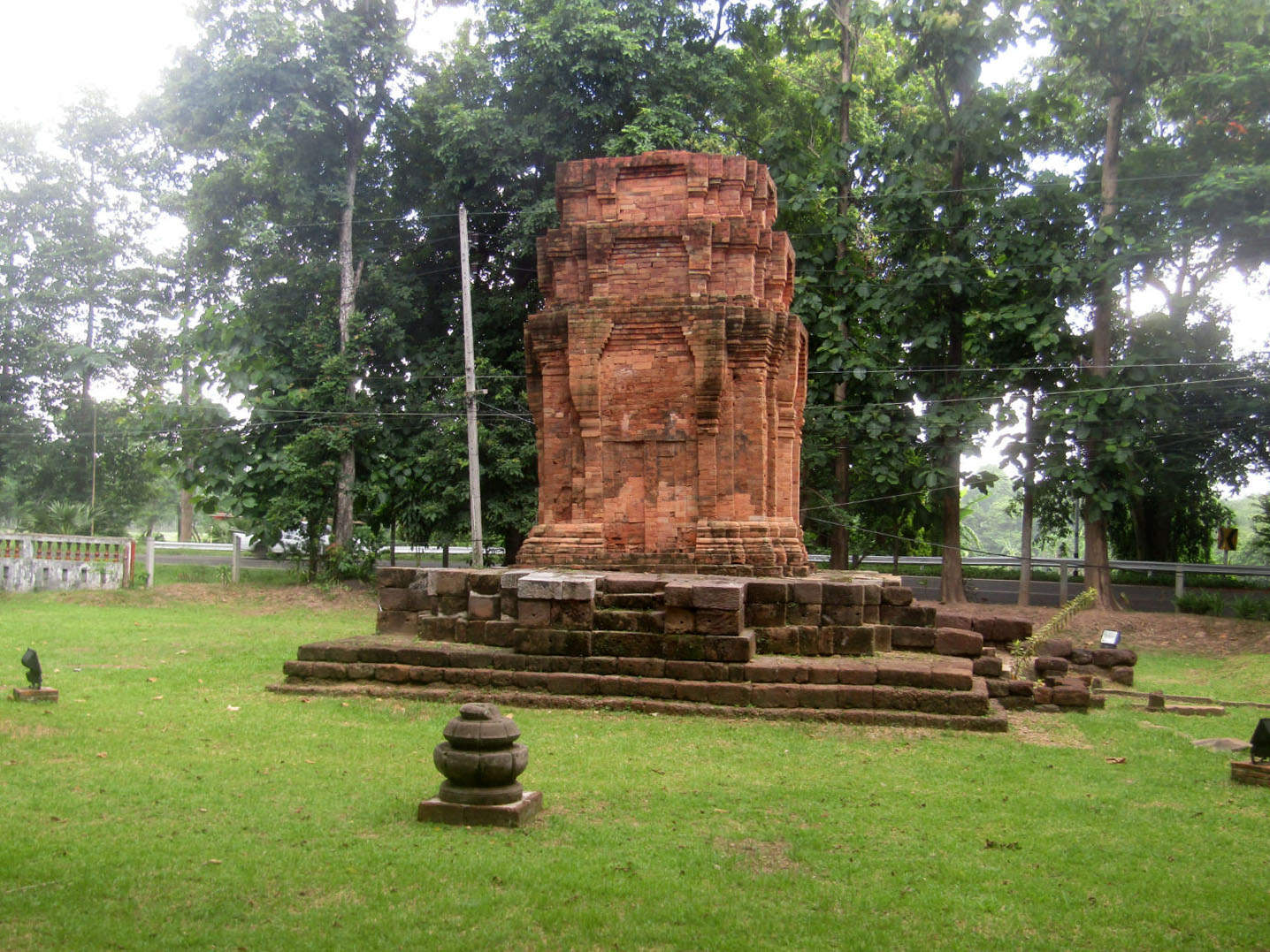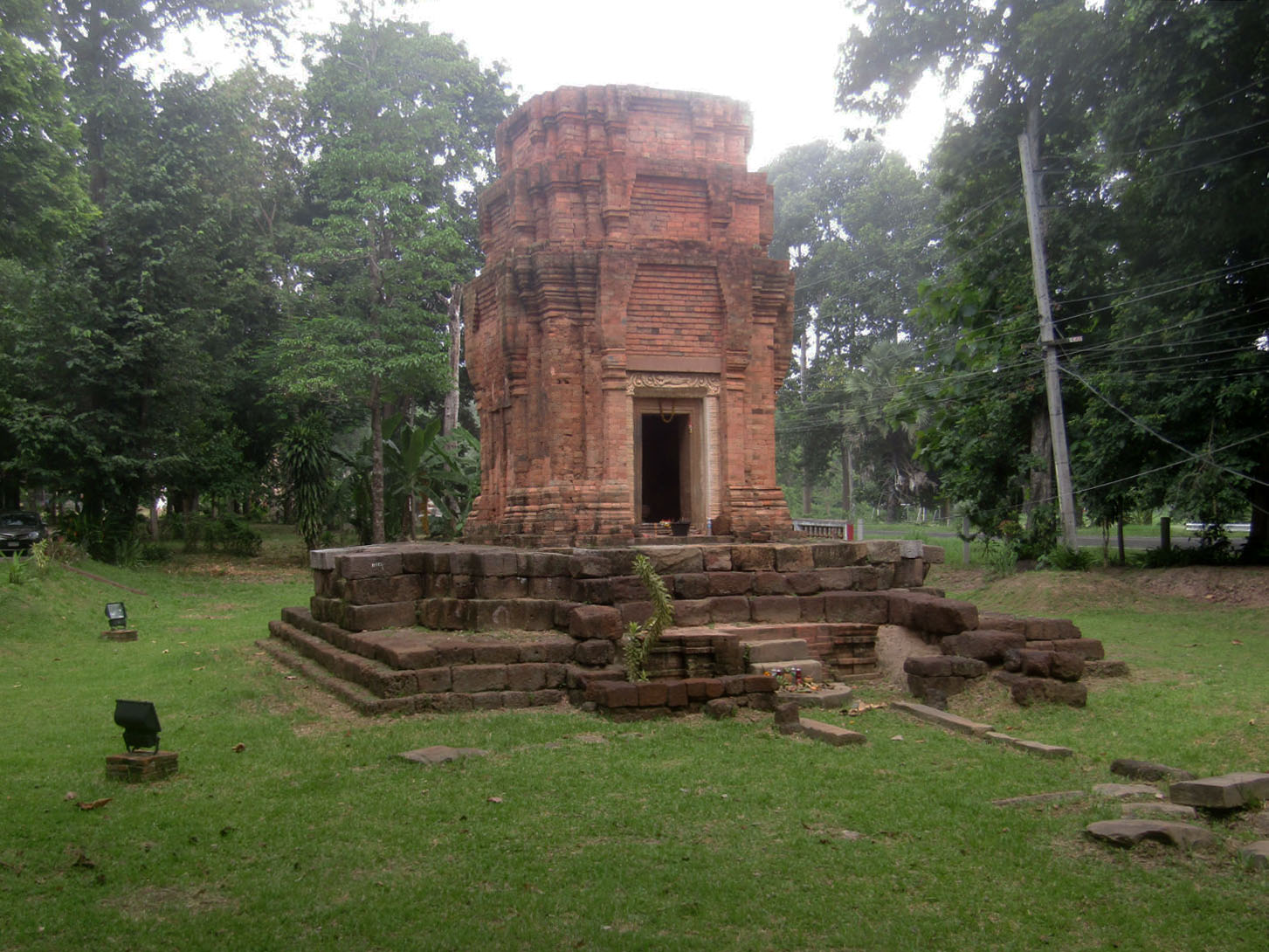 Prasat Tam Nak Sai, Khun Han District, Si Sa Ket Province


Samrongkiat Waterfall…….. The Samrongkiat Waterfall is one of the attractions on my list but there's always that proviso that now in the dry season there may not be much water flowing over this waterfall. However, reaching it is easy enough and there's very little walking to do. From the car park where there is a shop and toilet, there is access to the waterfall and the arboretum. Short walks are available to fully explore both. Entry is apparently free. One curious feature is a cluster of bees nests high up in a tree. You are warned about this potential threat. At least at the moment there is little reason to spend more than 15 minutes here; the waterfall otherwise small and unspectacular. This is the last site visit in Khun Han district. It's time to move on to the next.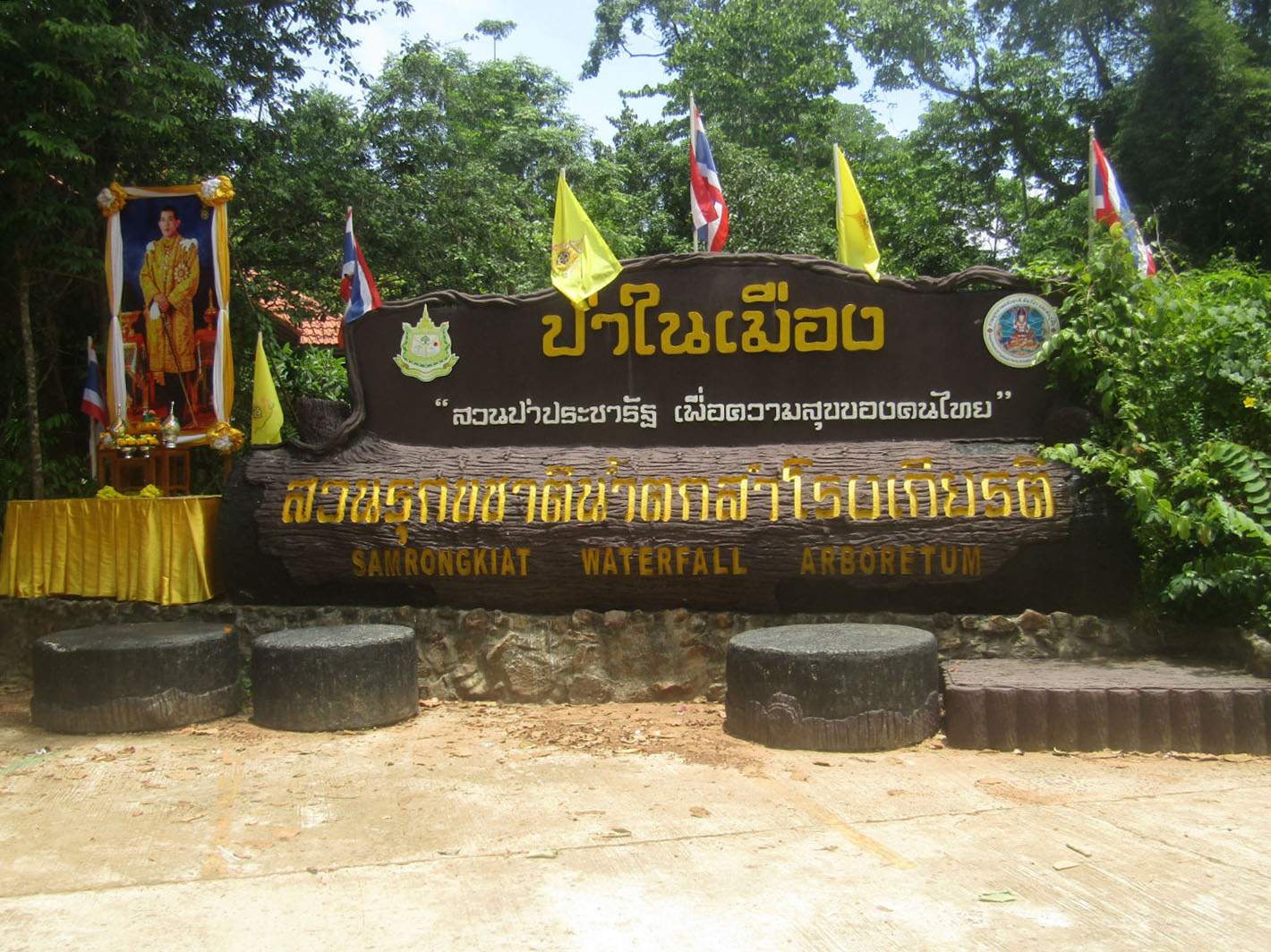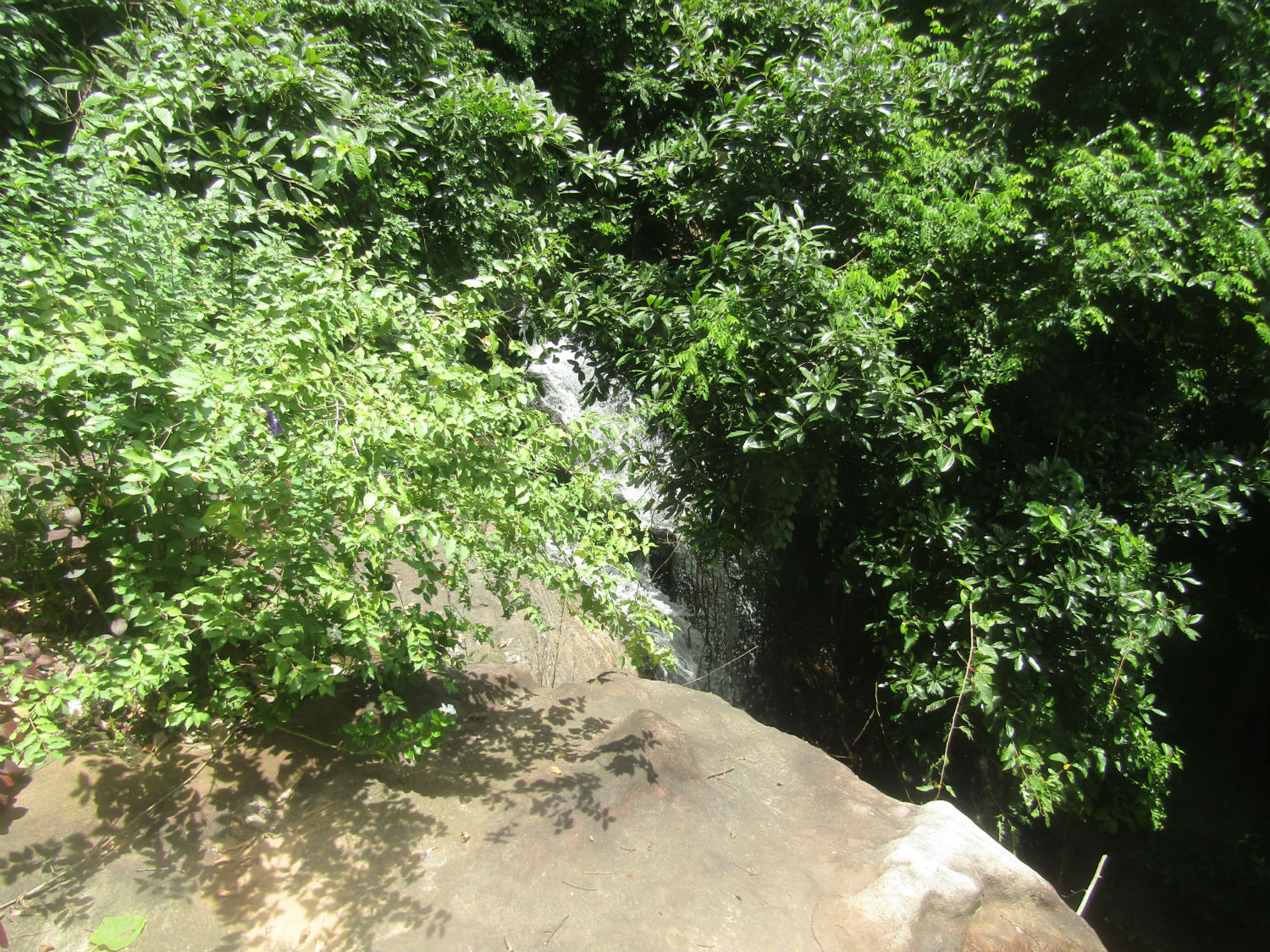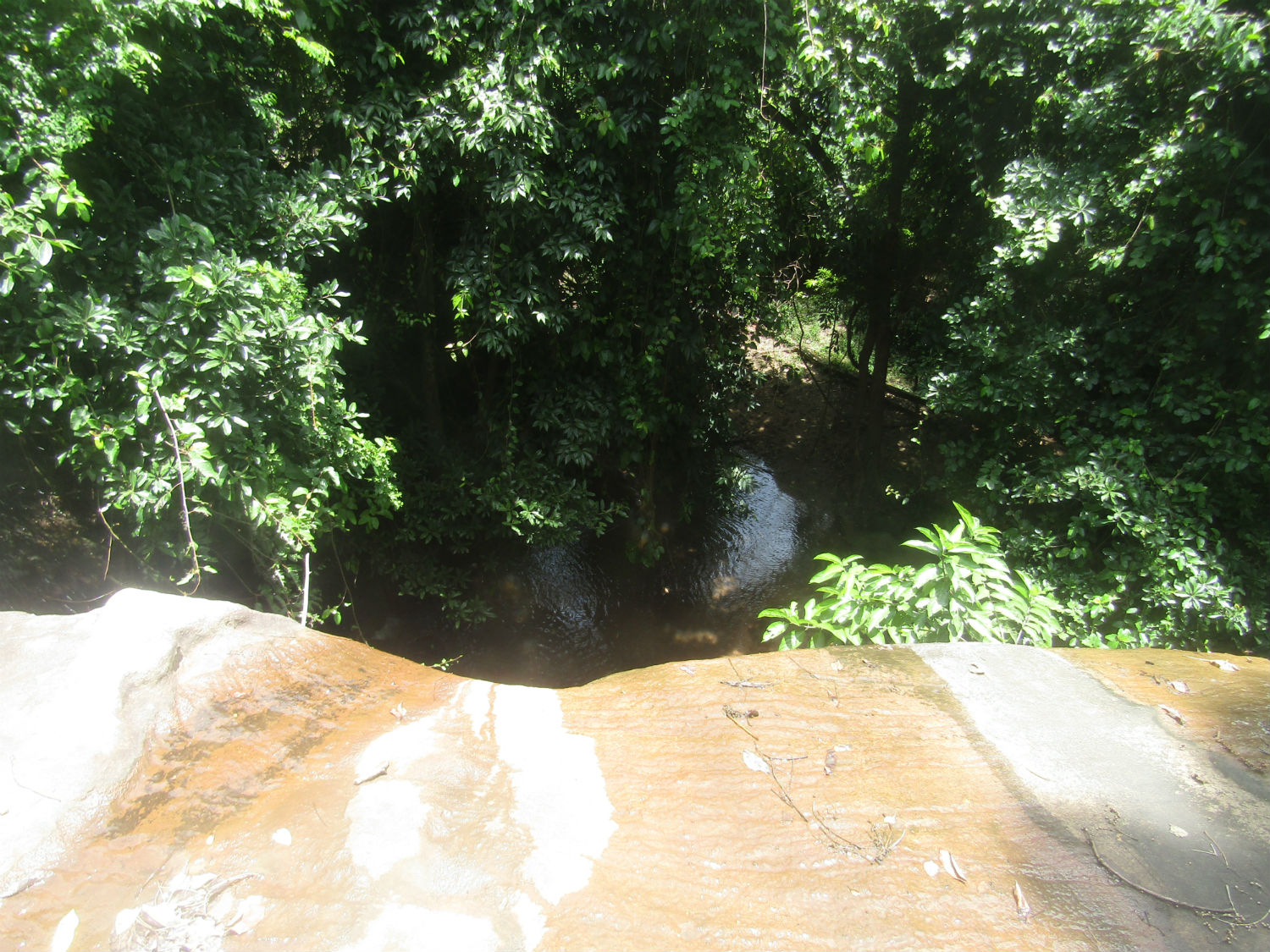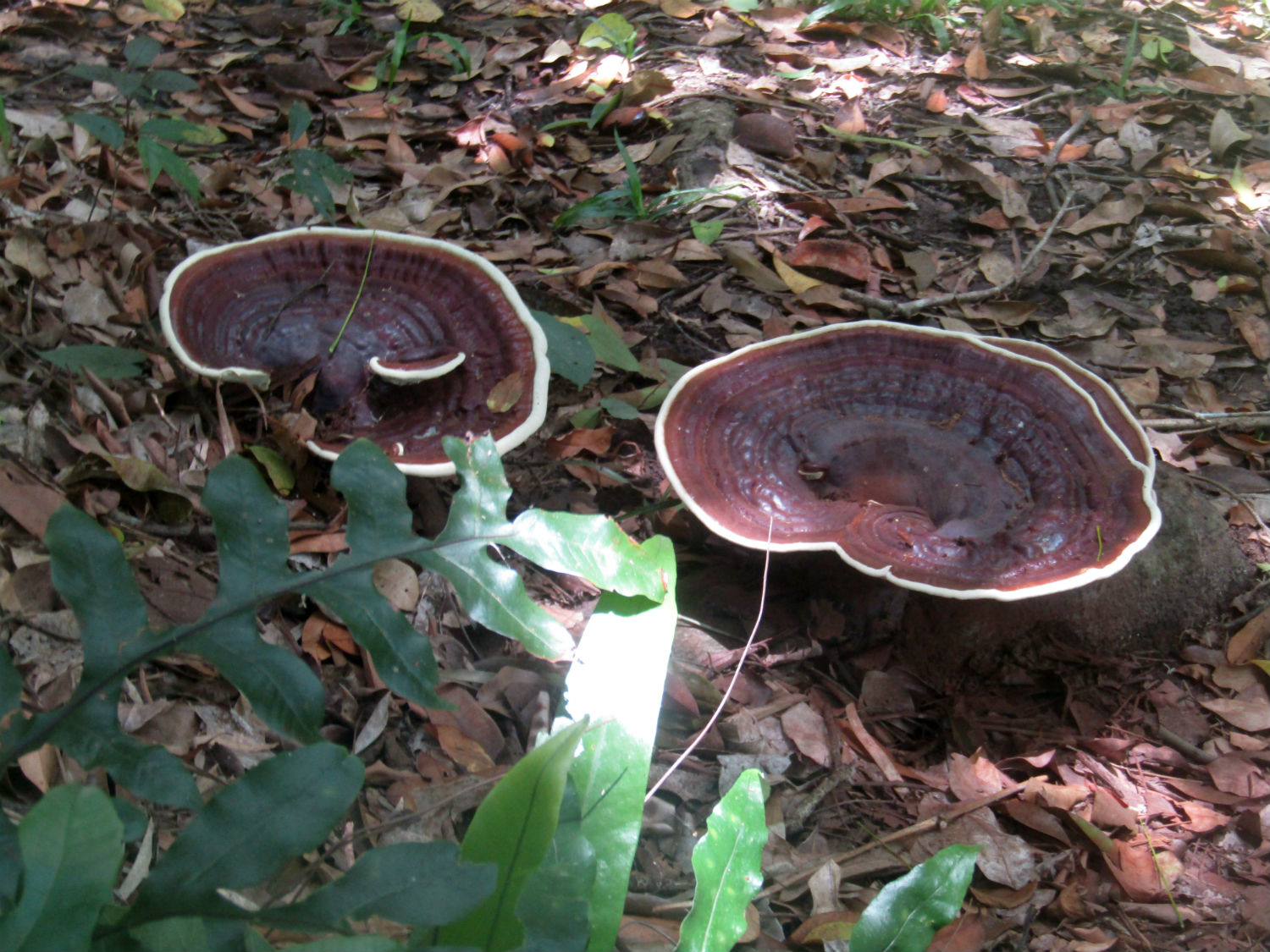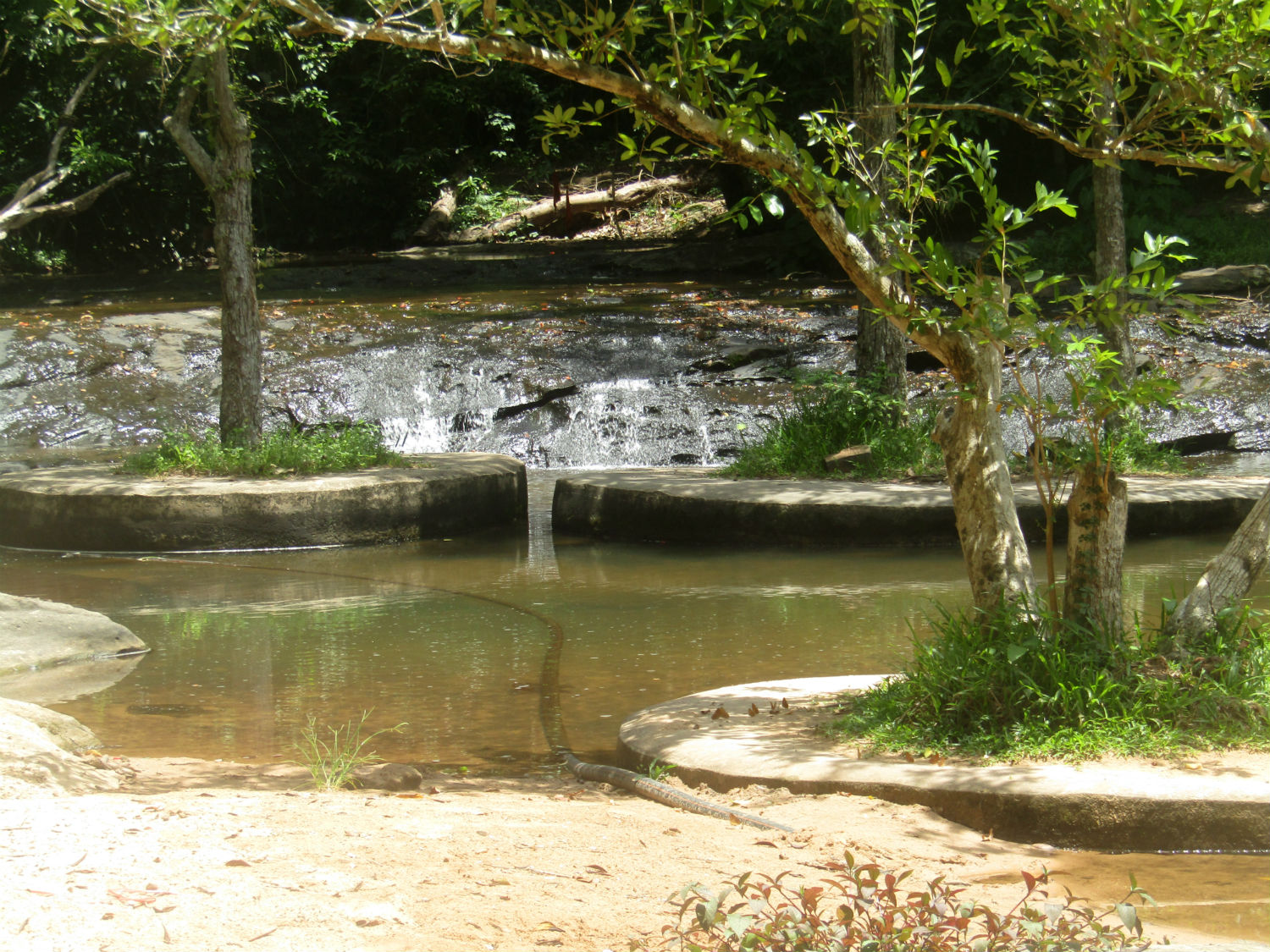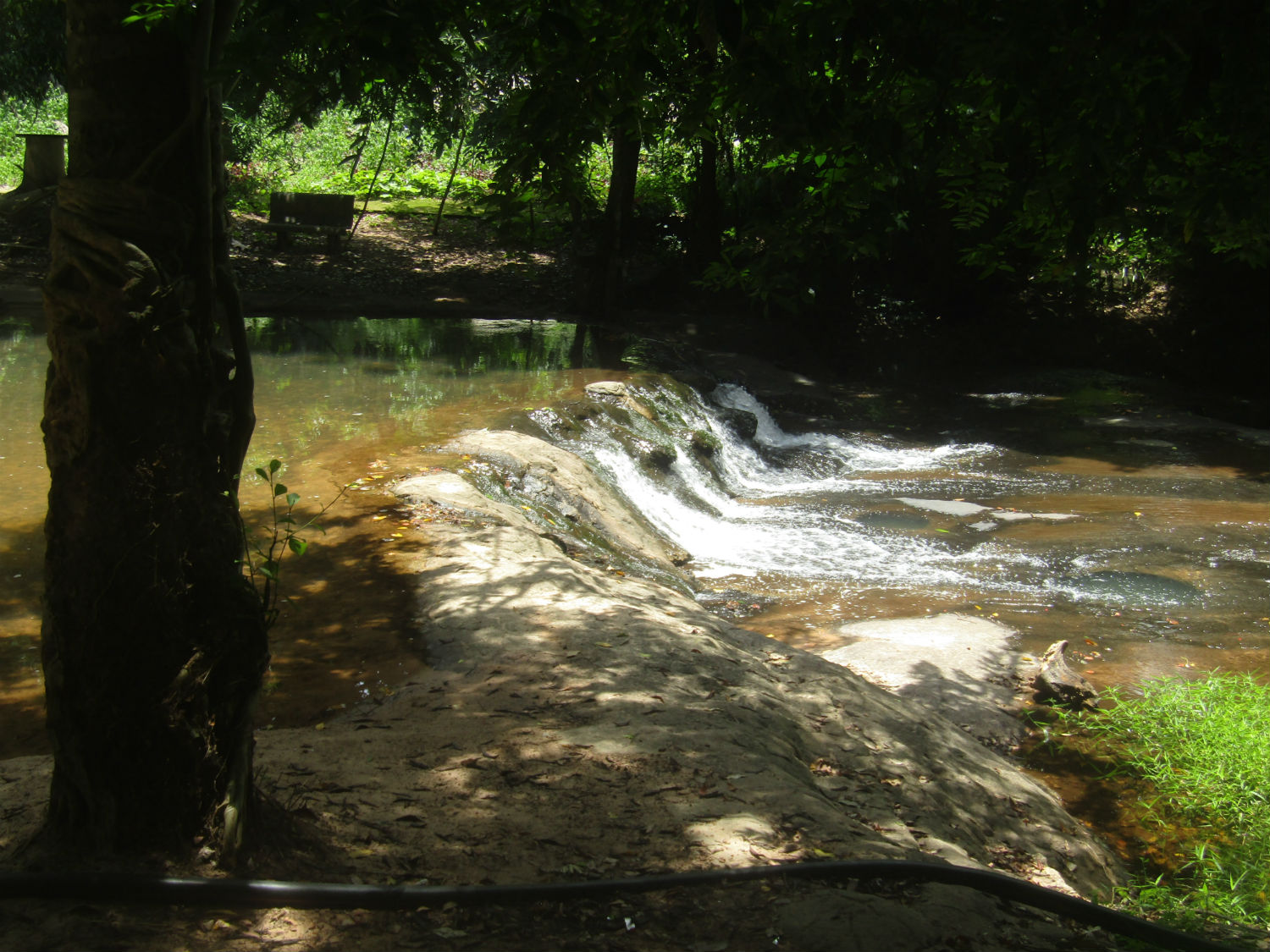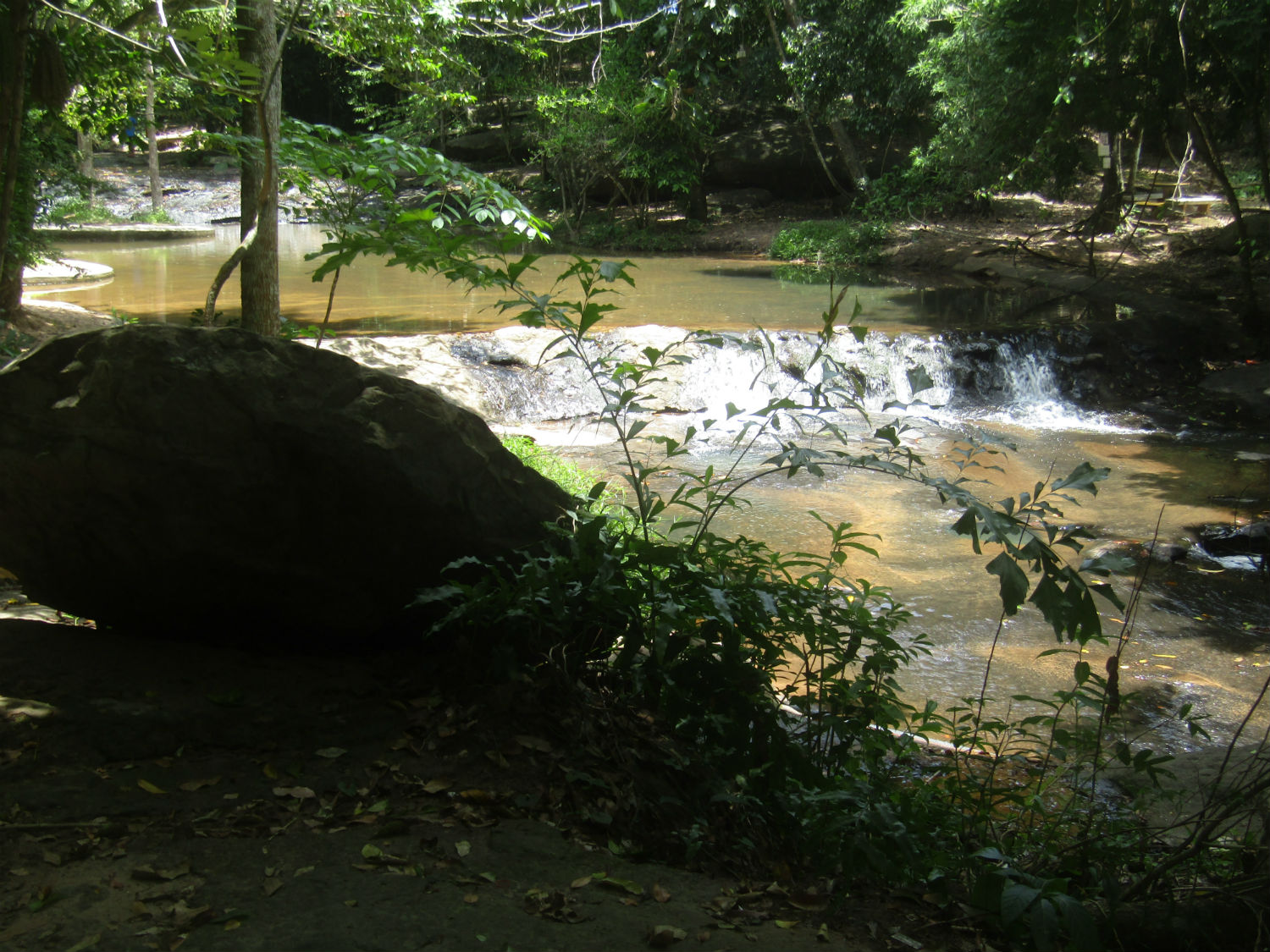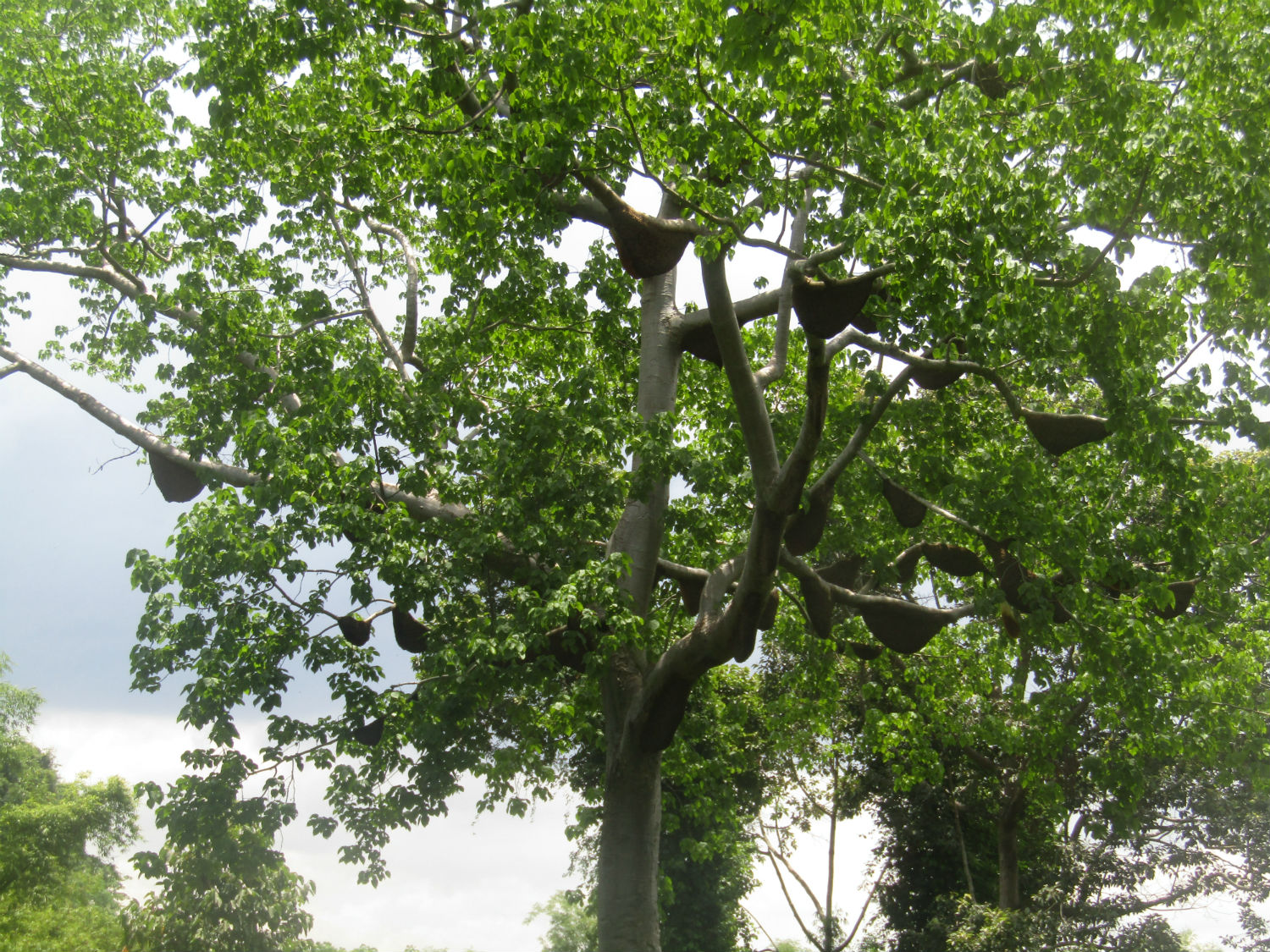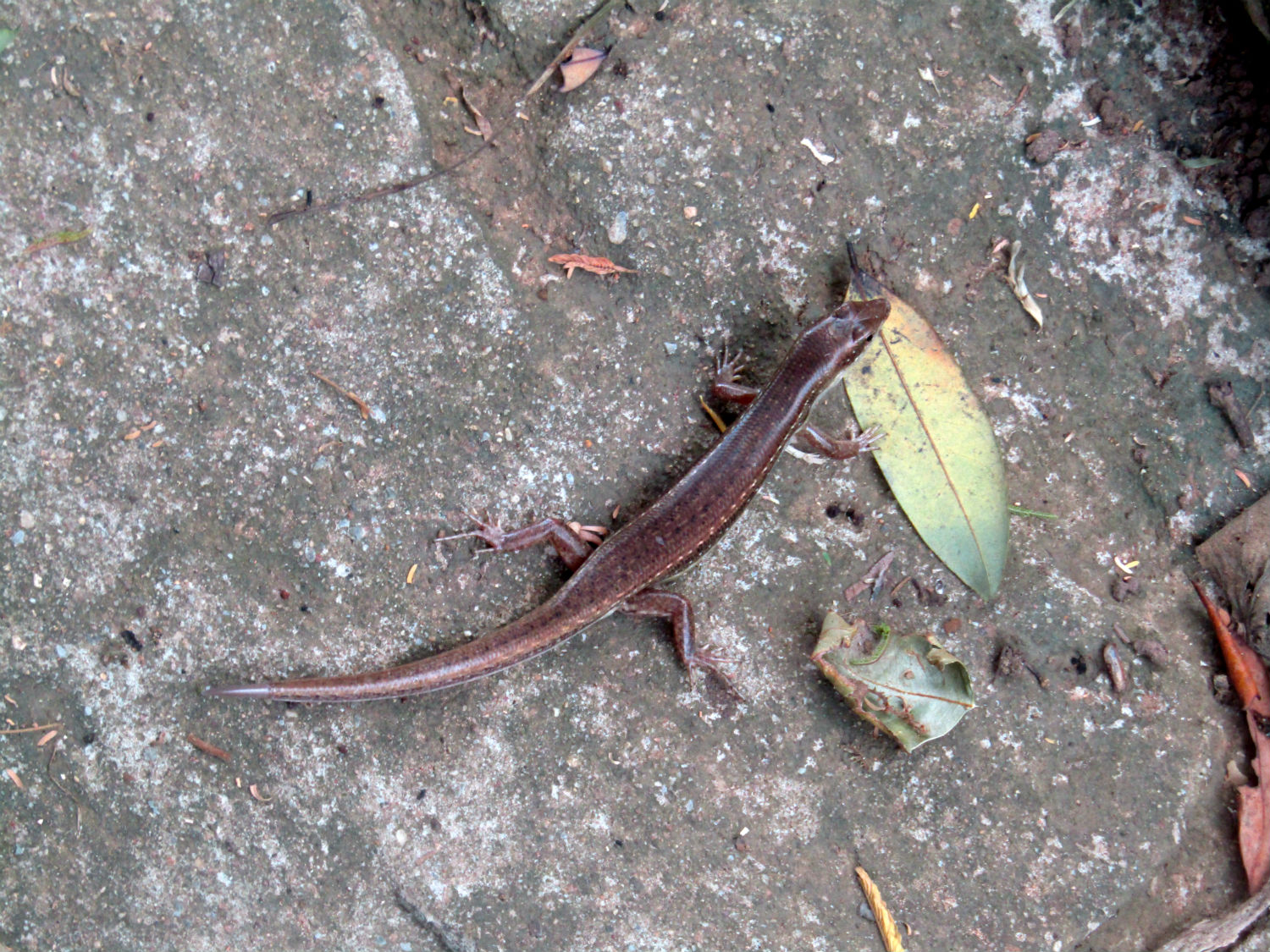 Samrongkiat Waterfall, Khun Han District, Si Sa Ket Province


Phu Sing District…….. Phu Sing district has a border with Cambodia to the south and also with Thailand's province of Surin in the west. A debate as to whether this should have been the first night's stopover ensues and I confess there's some logic to that. It's already clear we're coving big distances on this tour and extra thought in route planning would help a lot. The next location is a case in point where I get my setting mixed up losing more time. It's not exactly a short hop from Khun Han district. The options are to head back along highway 24 or take a more scenic route around the reservoirs at the foot of the Dongrak mountain range.
Wat Phra Putthabat Phu Sing…….. Wat Phra Putthabat Phu Sing is located on a hill near to one of those reservoirs, Huai Sala. The location offers an attractive view of the valley below but on the hillside is a pagoda enshrining a holy Buddha footprint. The information about this temple suggests that there was religious activity here as far back as the 9th century when there was likely to have been a Hindu shrine here. The rest of the complex is unremarkable and rather run-down.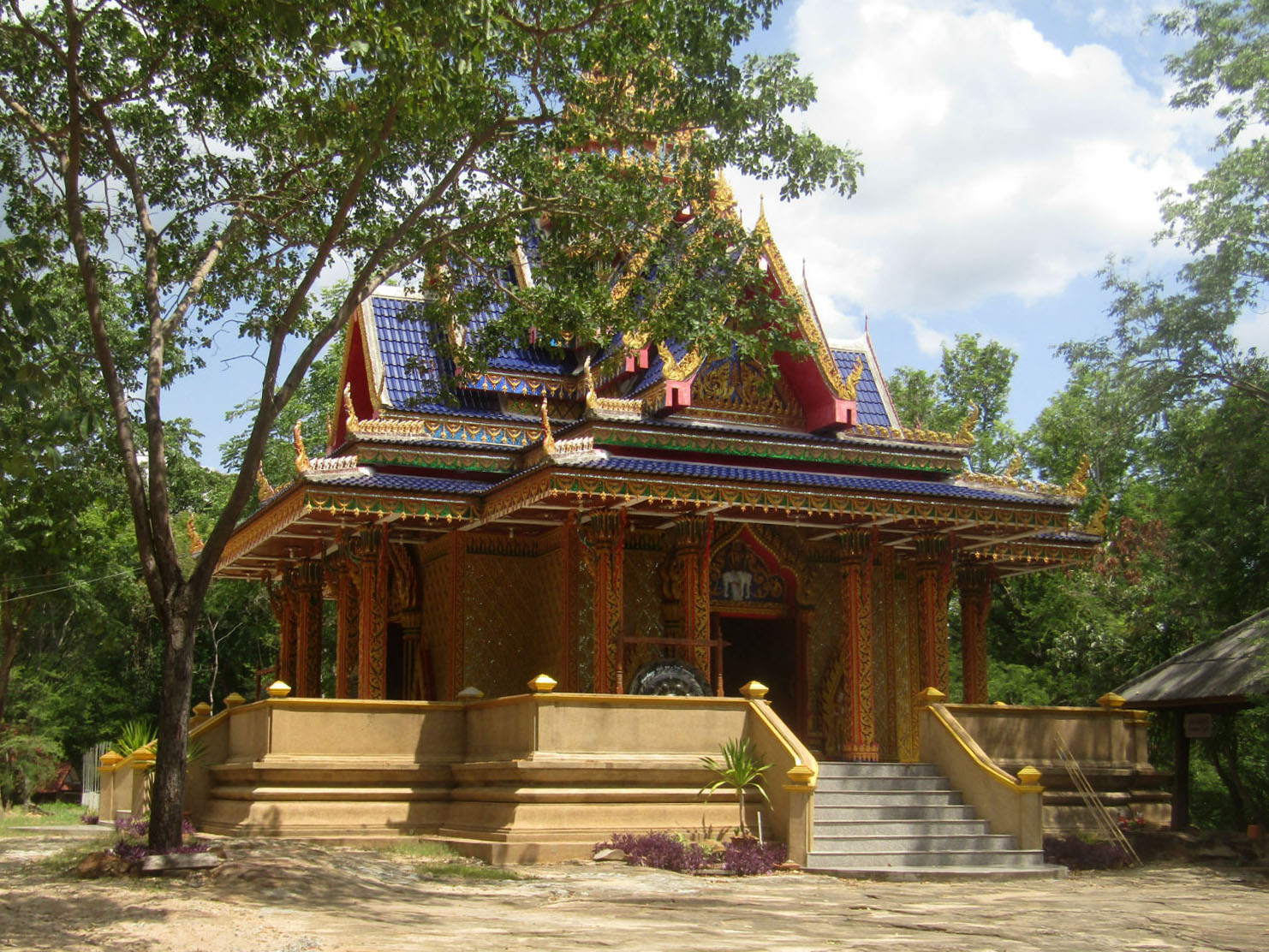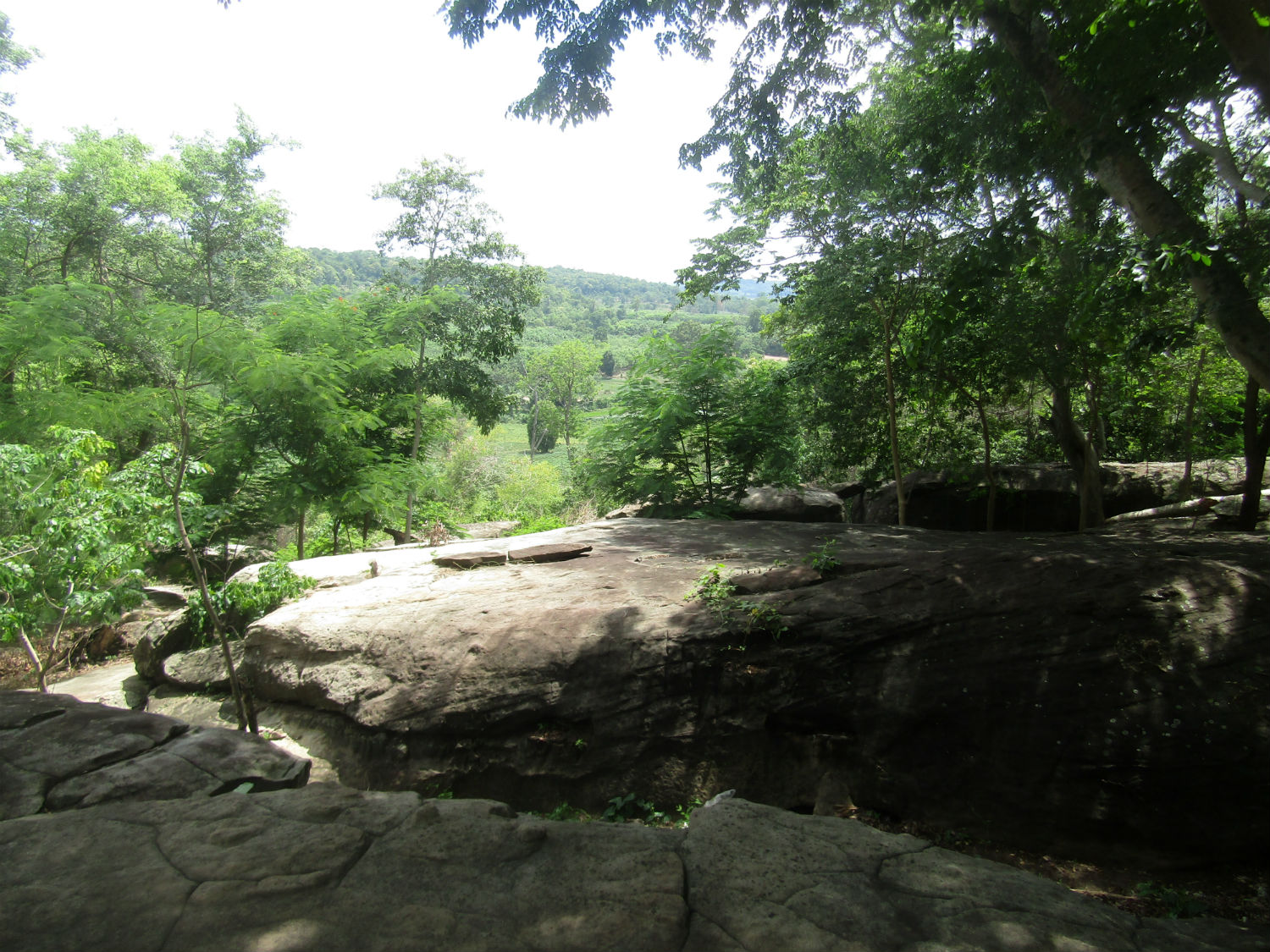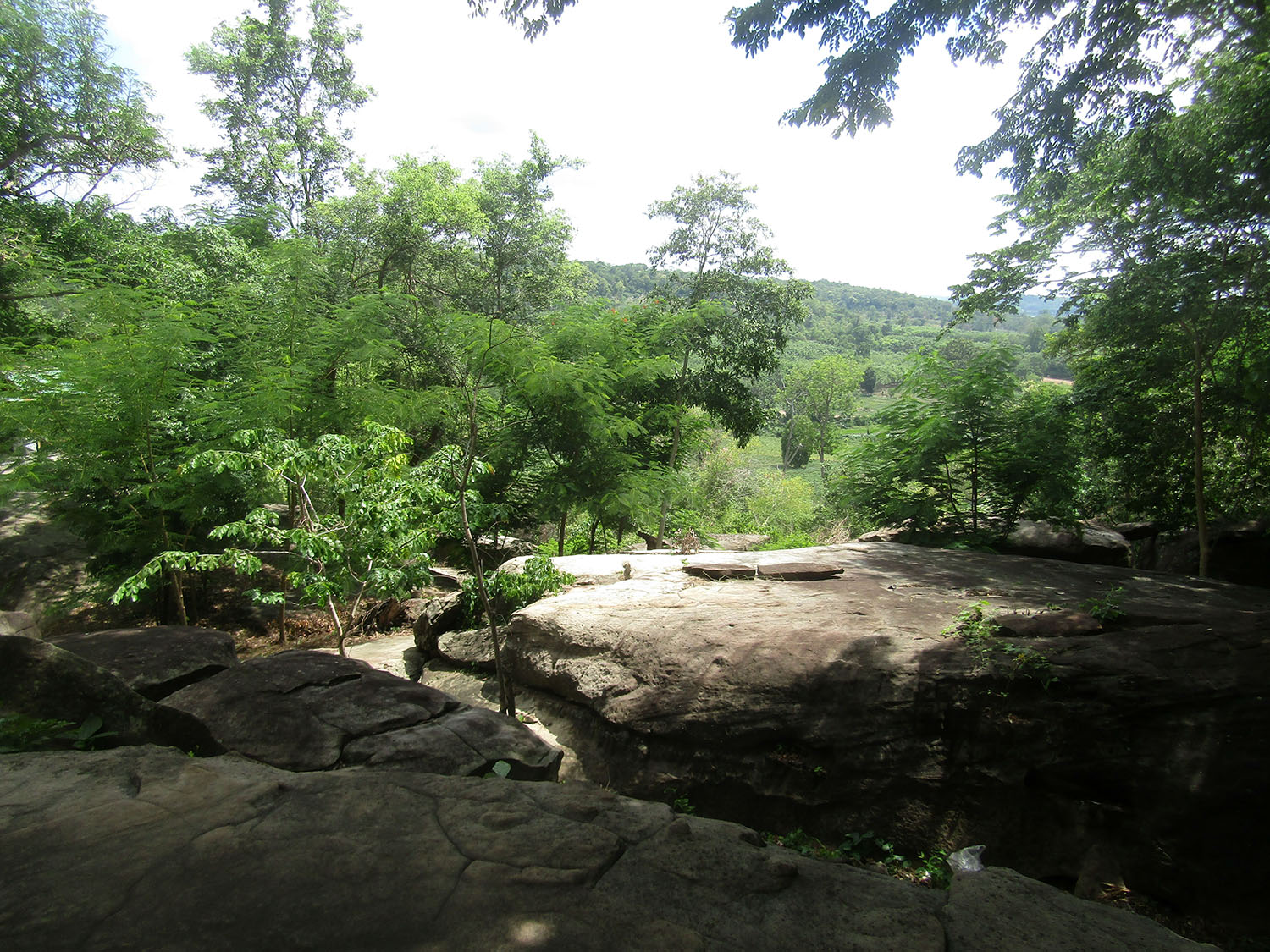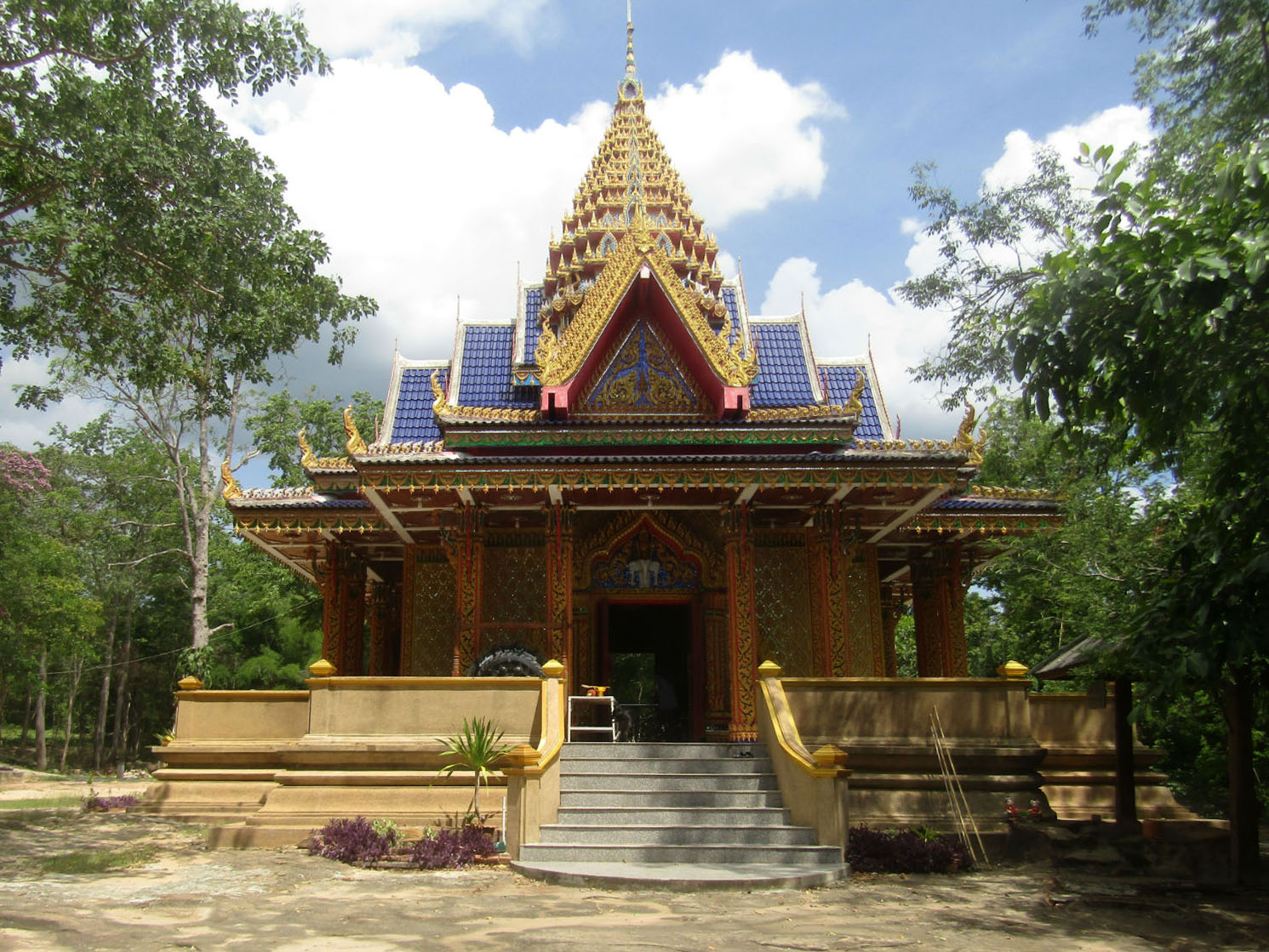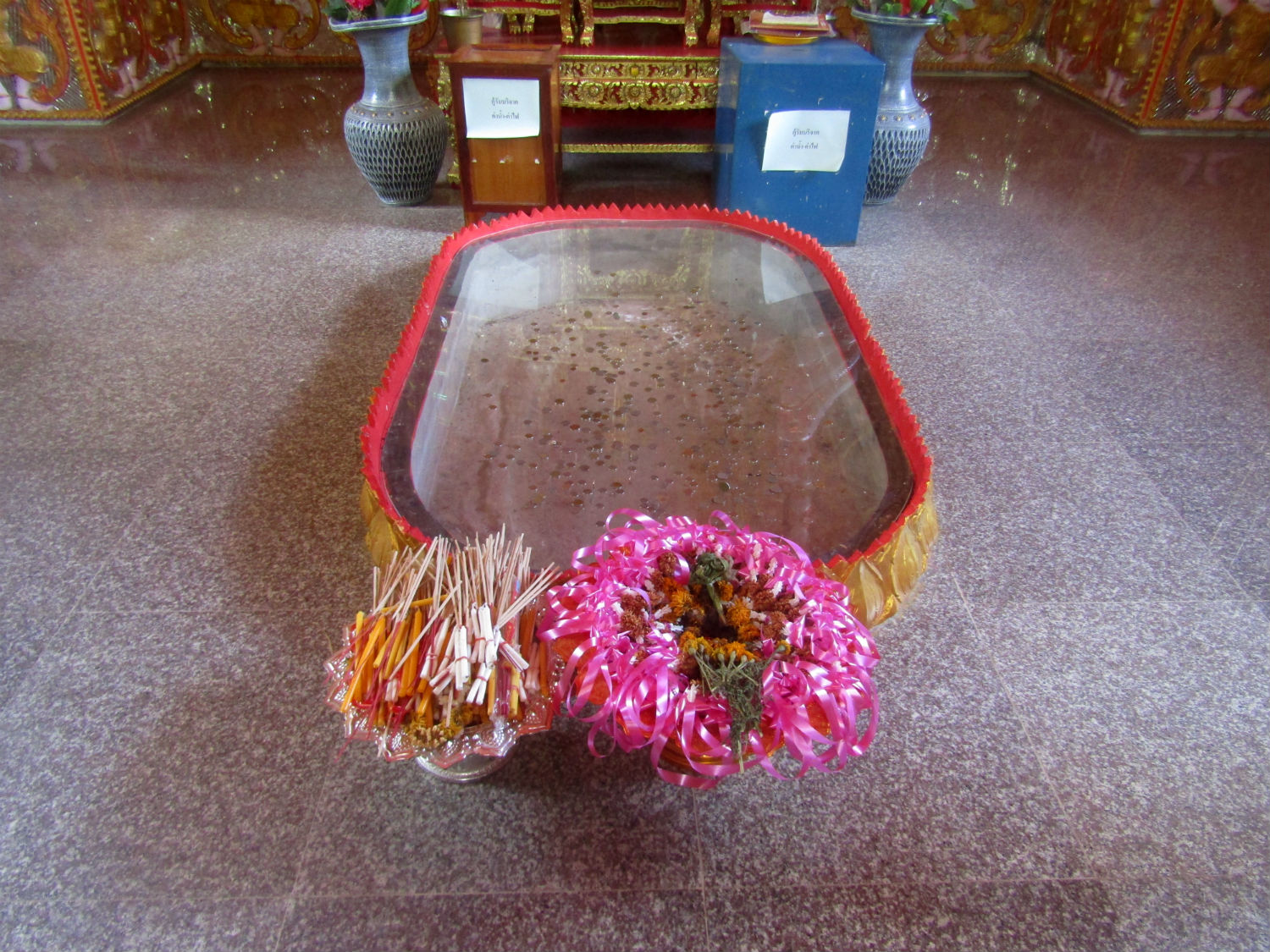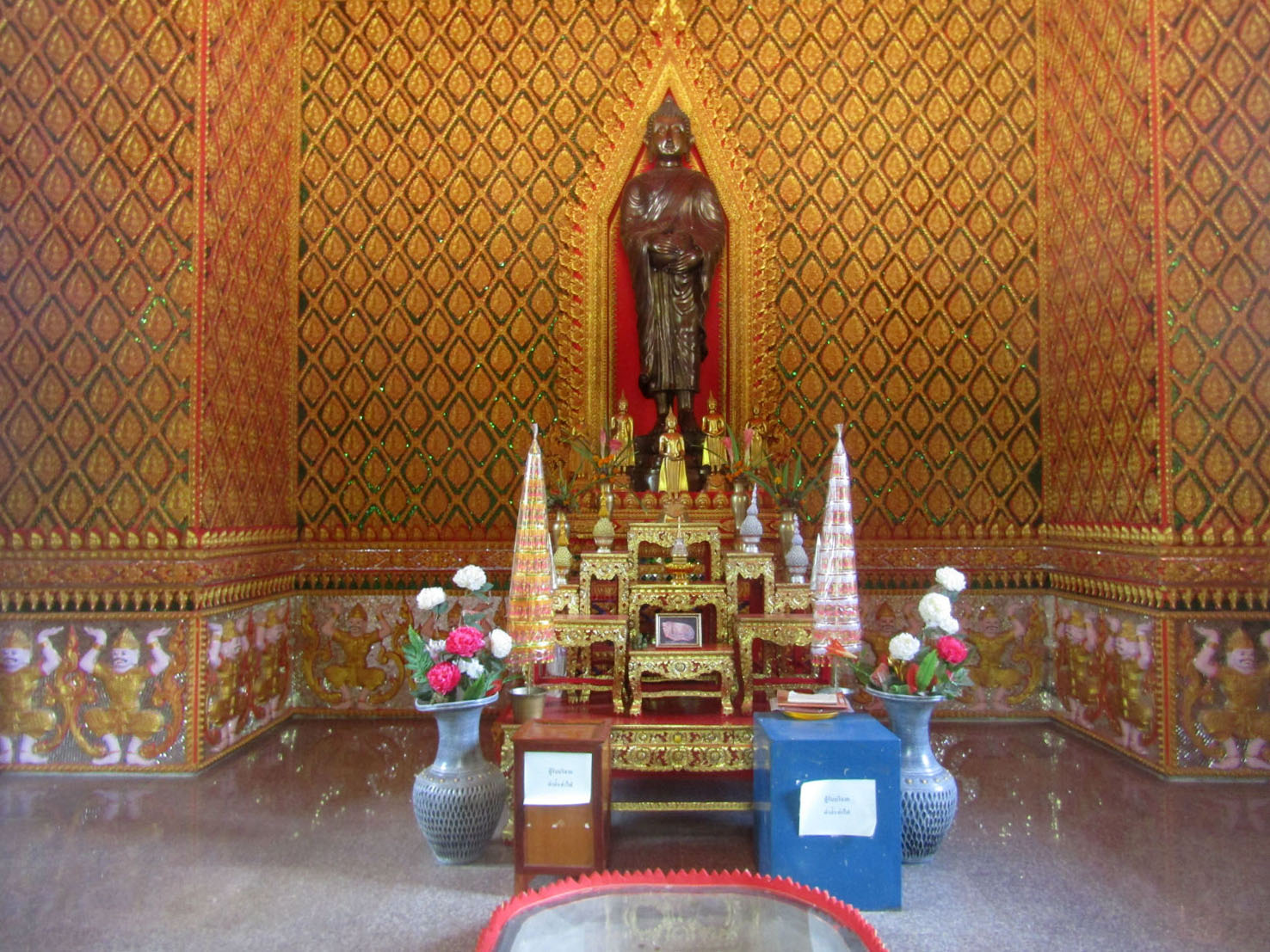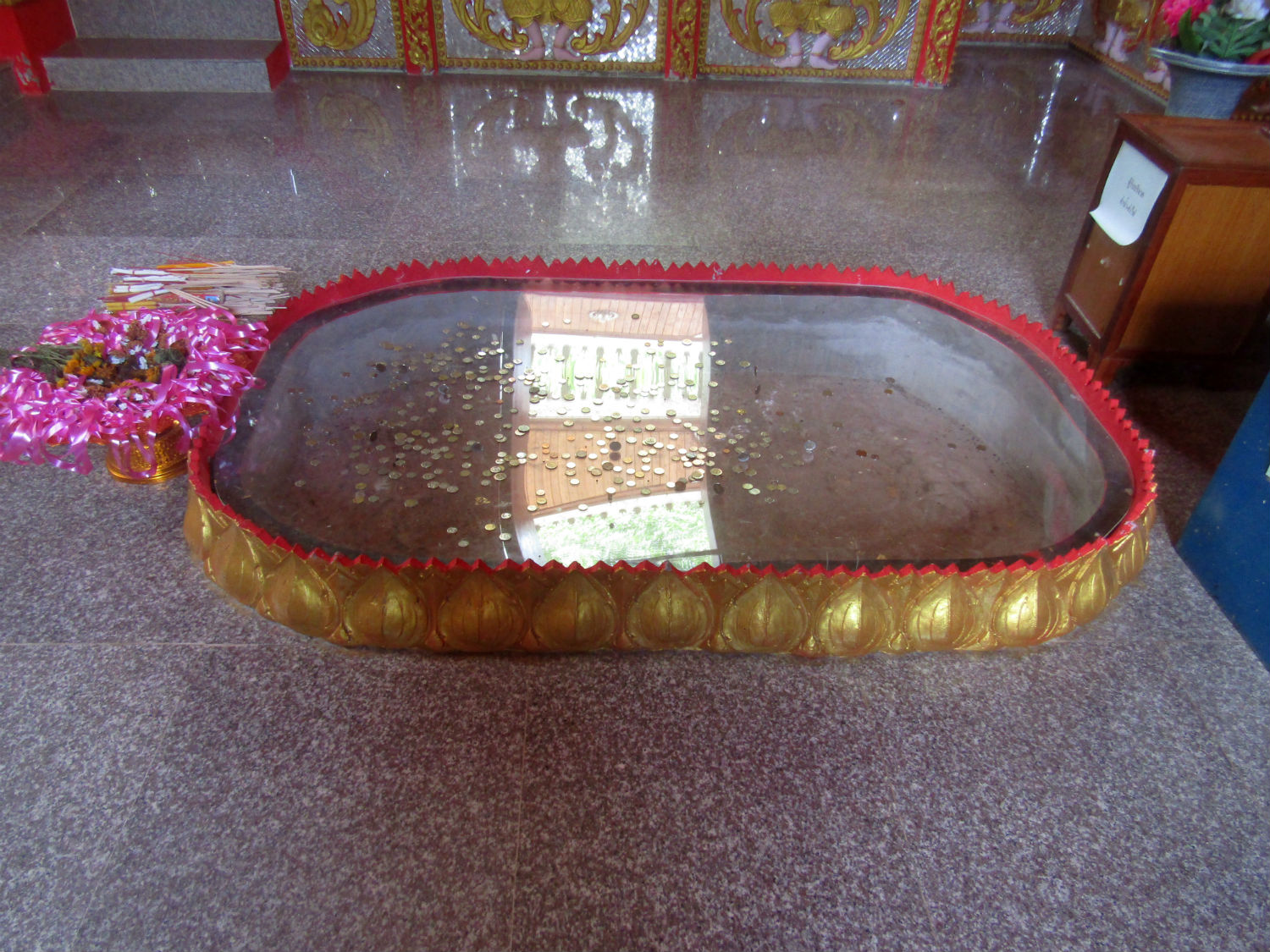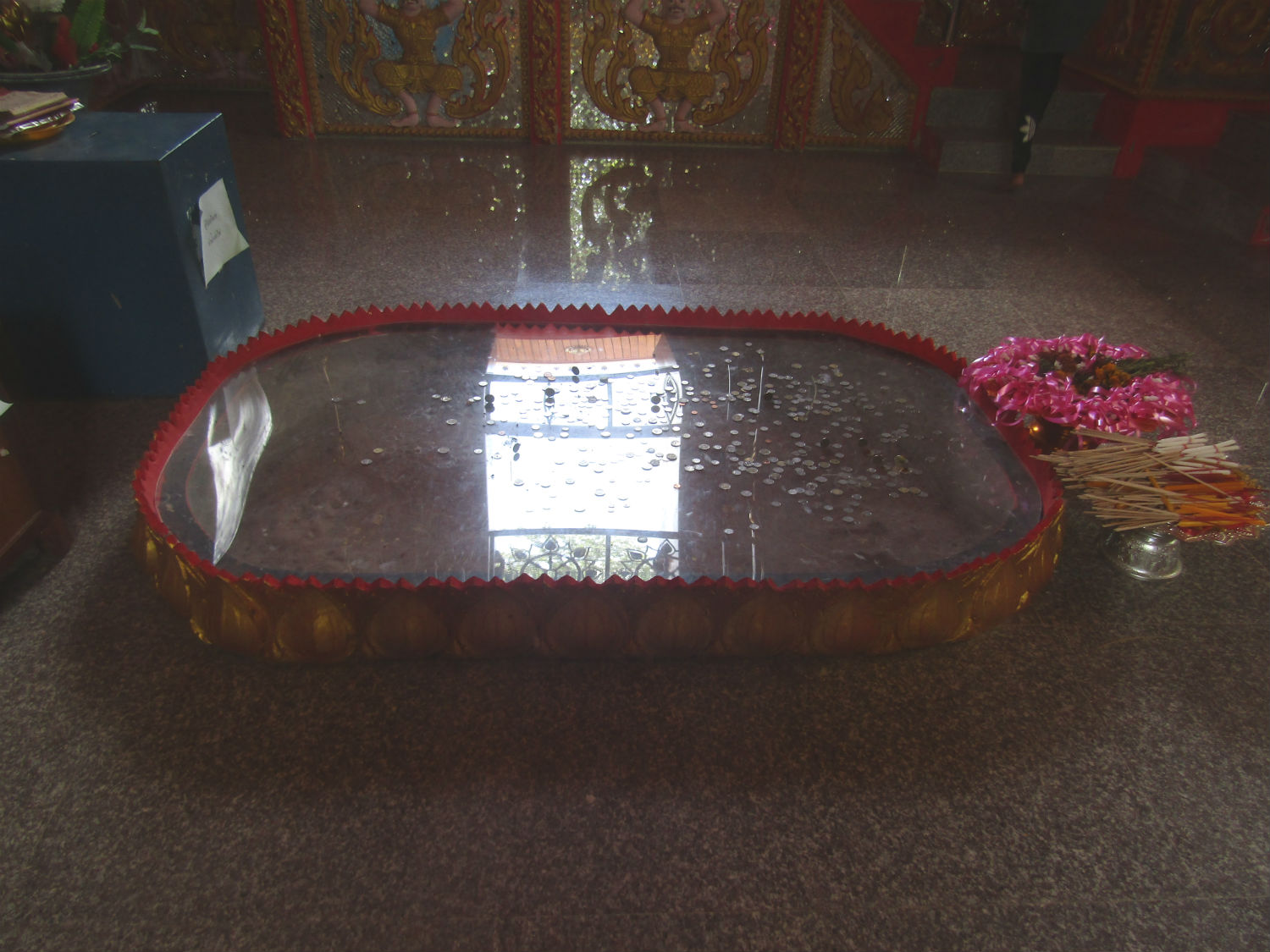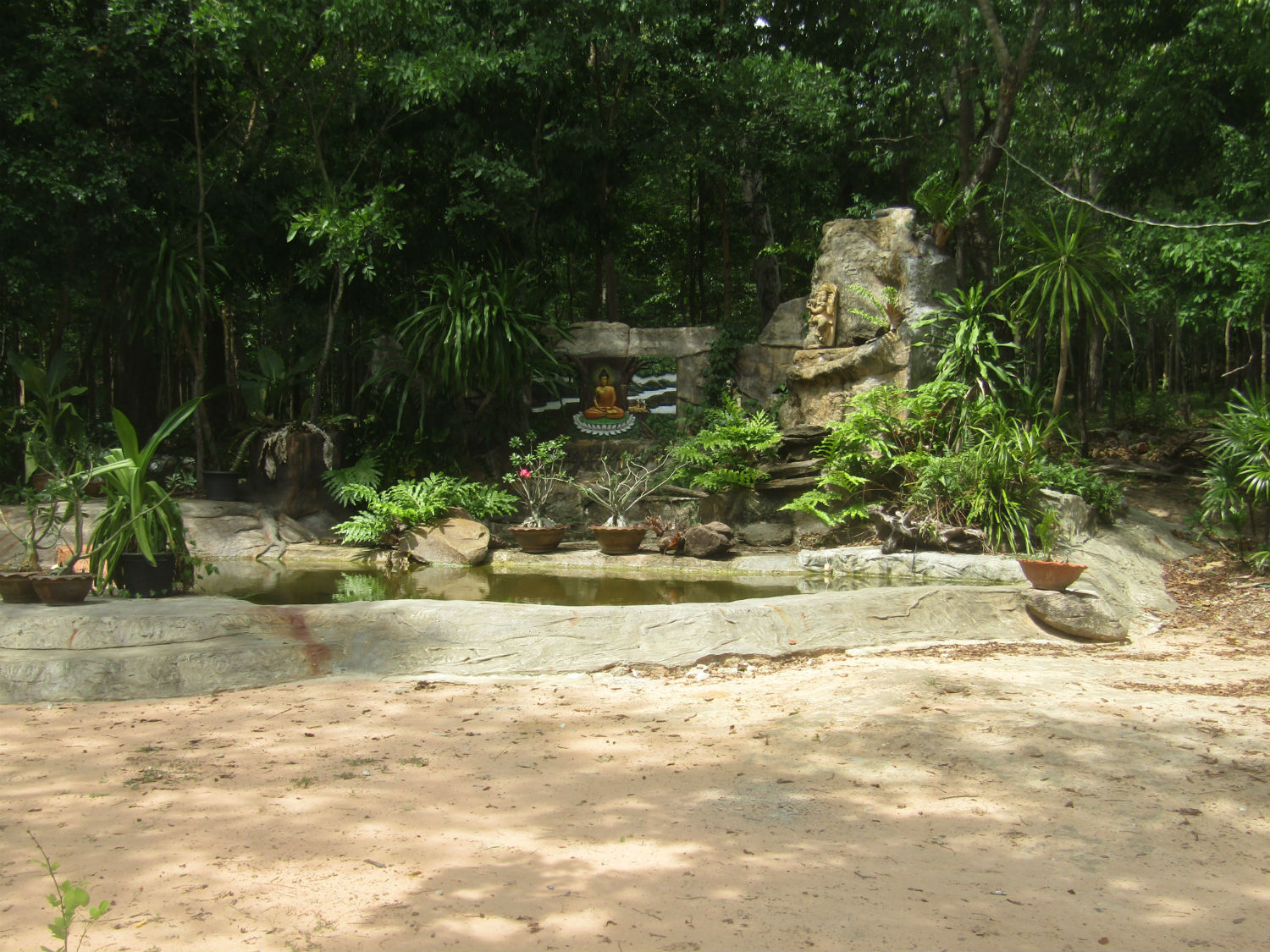 Wat Phra Putthabat Phu Sing, Phu Sing District, Si Sa Ket Province


Wat Phrai Phatthana…….. Wat Phrai Phatthana is the primary location in Phu Sing district but requires a detour through the forest. This temple contains a reconstructed Khmer Sanctuary for the remains of the "uncommon" Guru Monk Luang Phu Suang who was believed by many to be over 500 years old at the time of his death (Sept. 8, 2000). His body rests in a glass container inside the sanctuary. The 'no expense spared' view employed in the construction of the sanctuary and other prayer hall in the complex is another example of the influence that individual monks can have on Thai society. Thais strongly believe that offerings can have a big effect on their lives. However there seems to be a Royal connection here which may also account for the extravagance.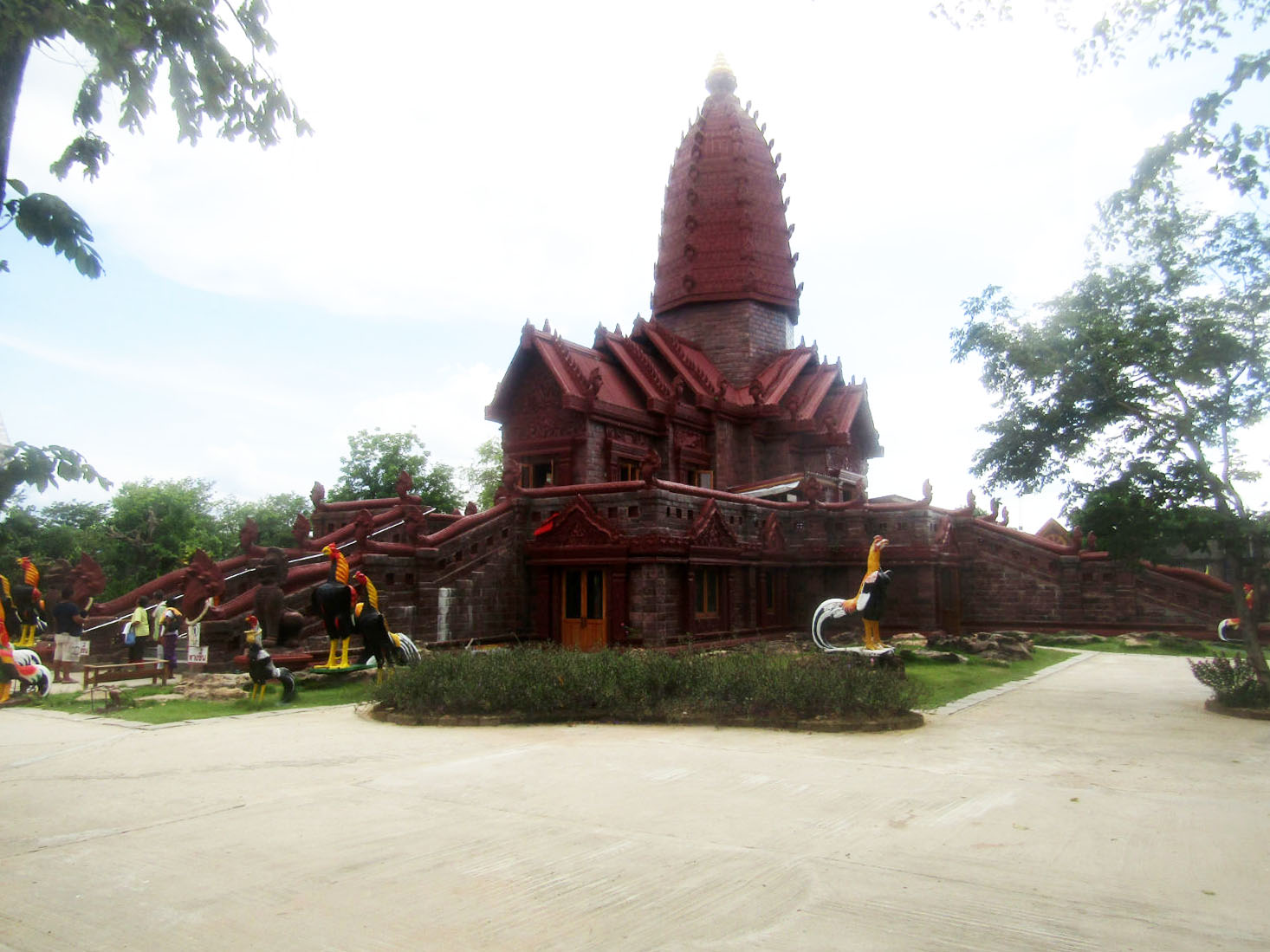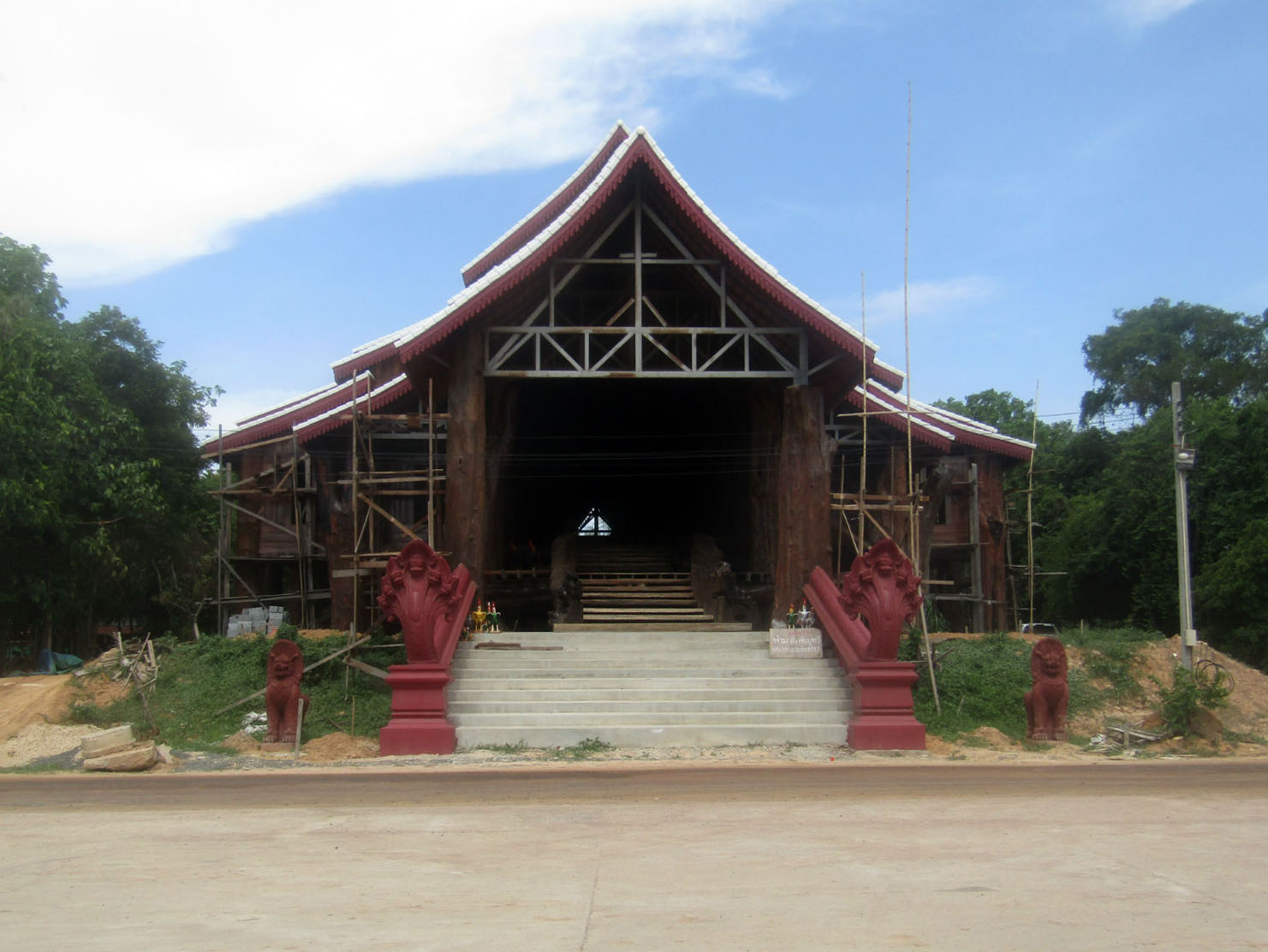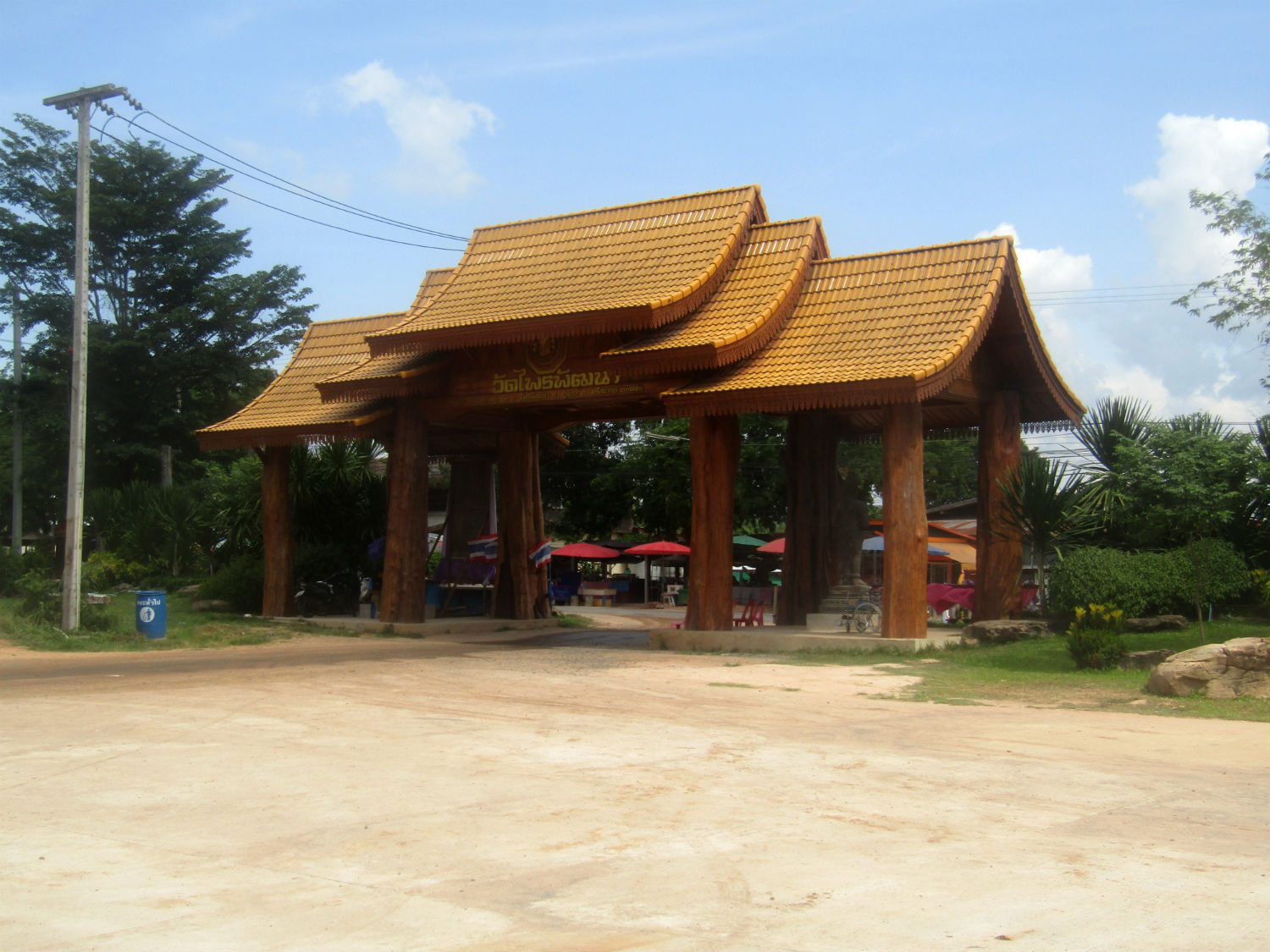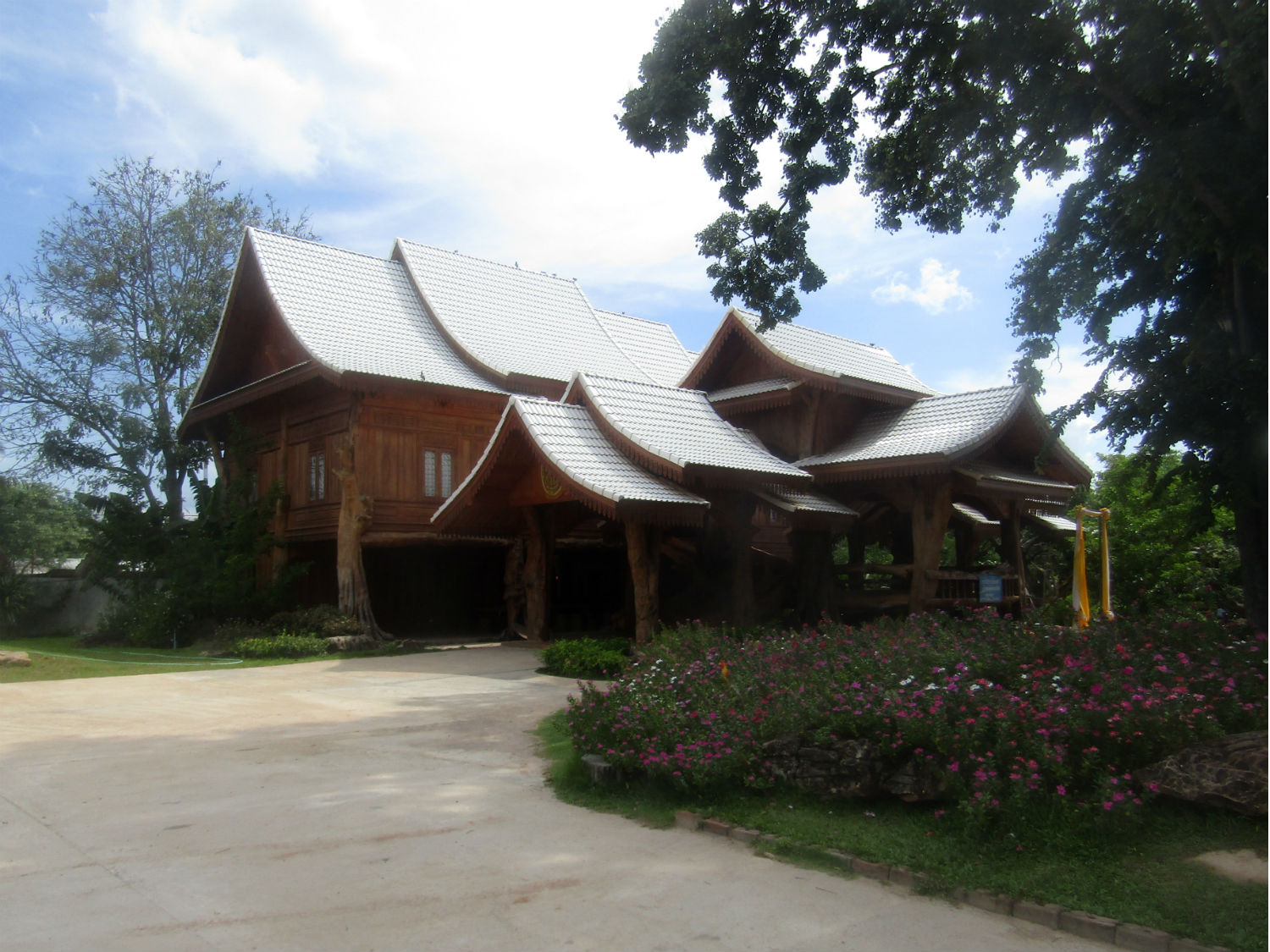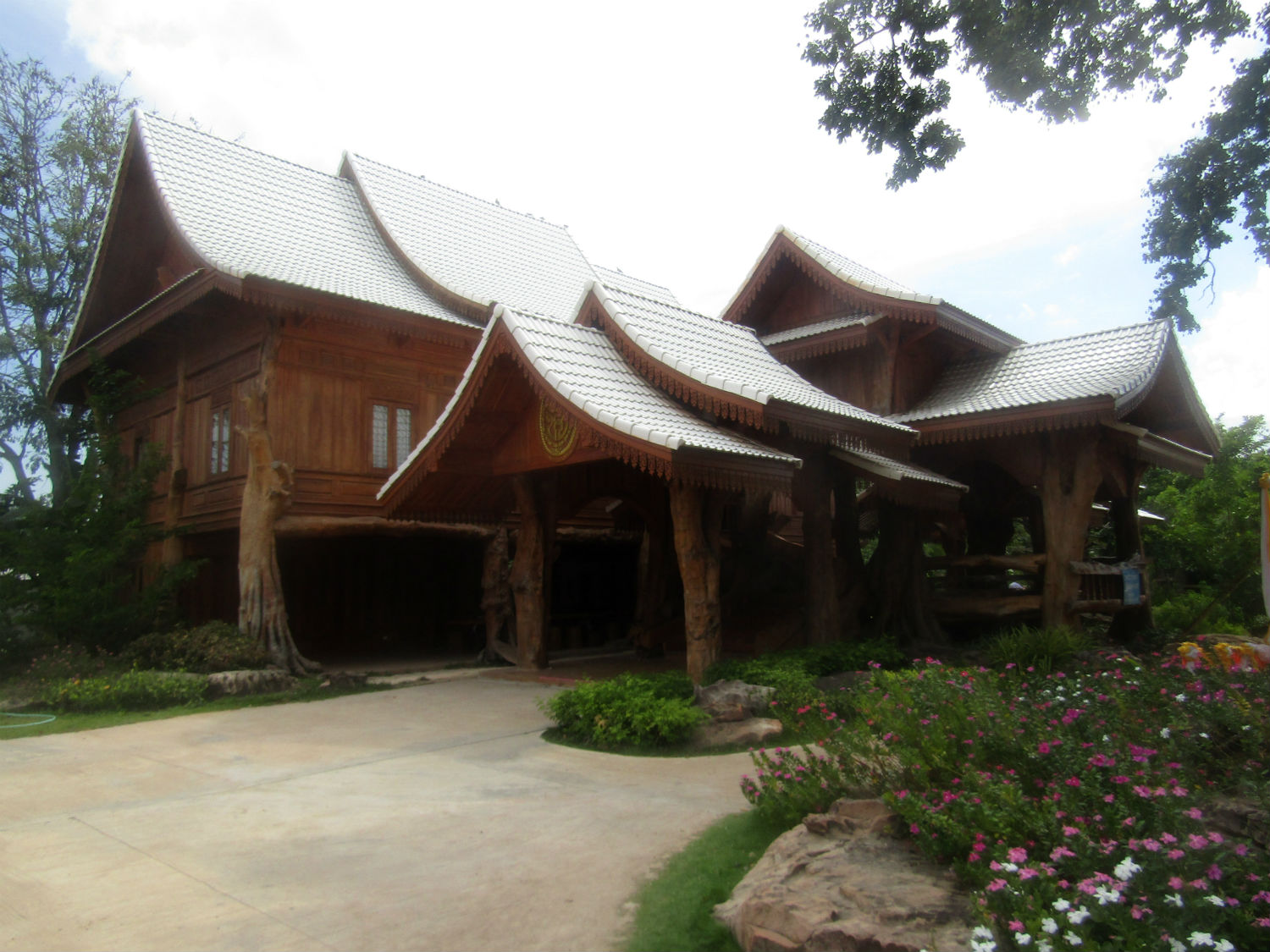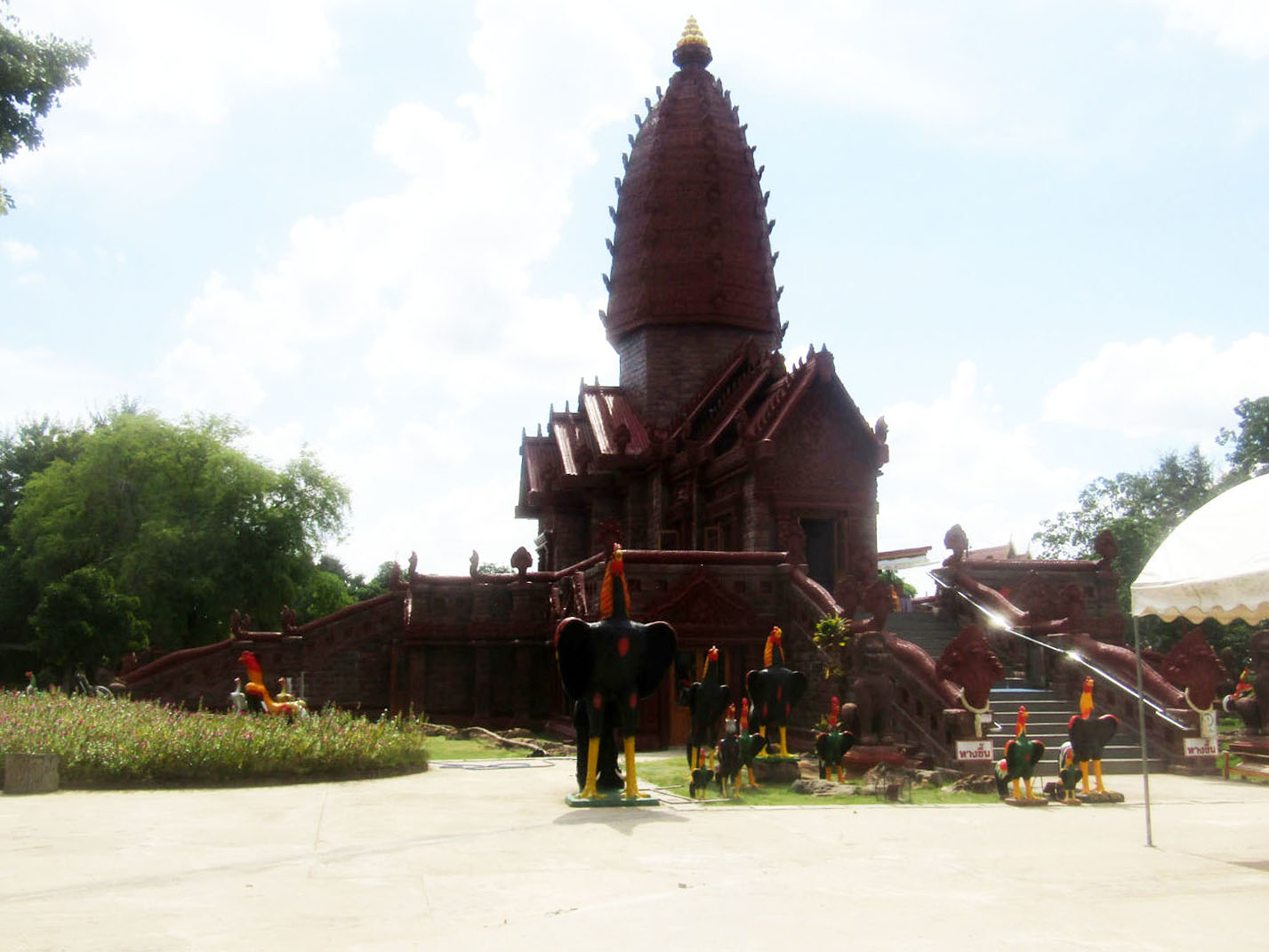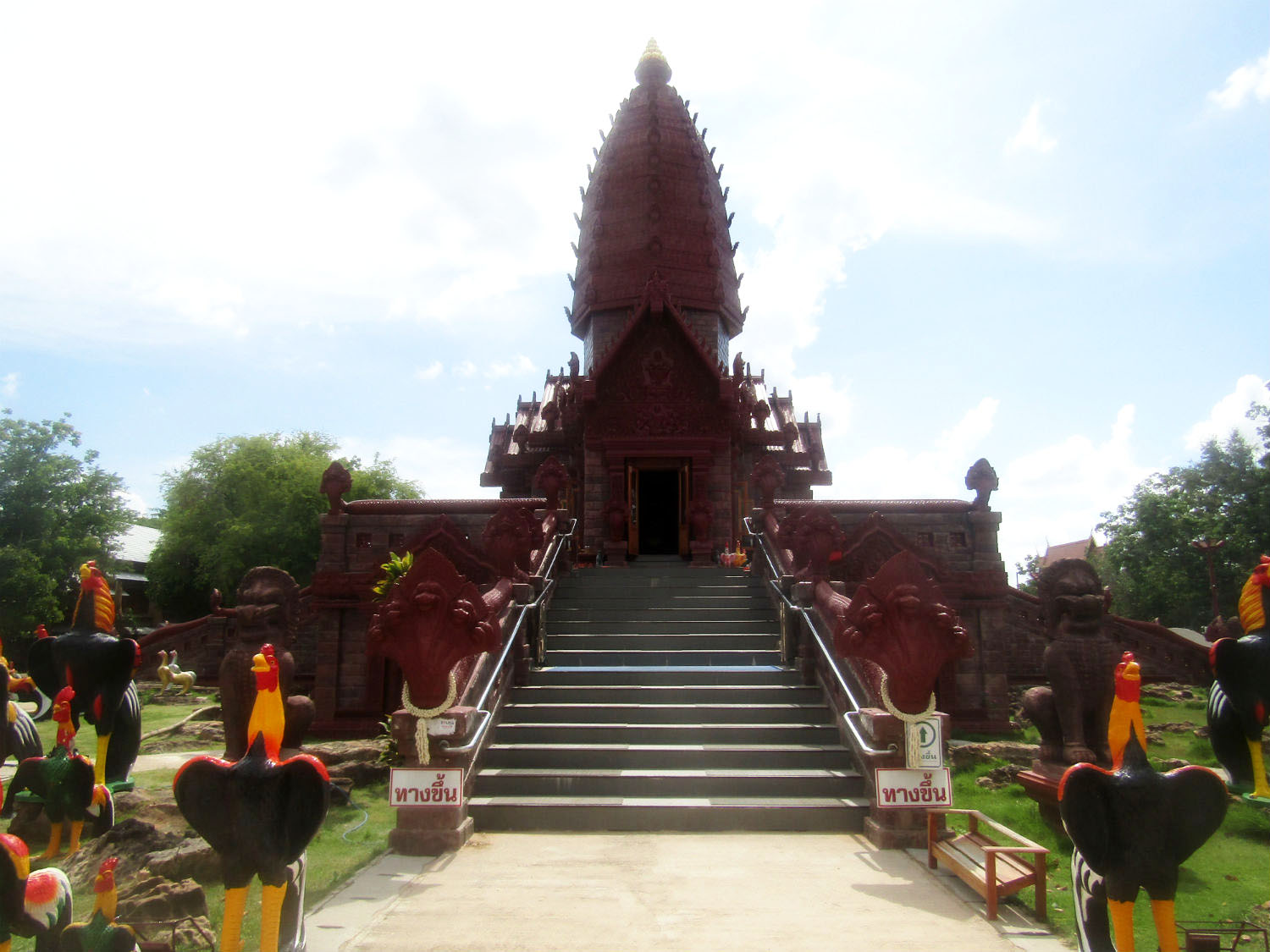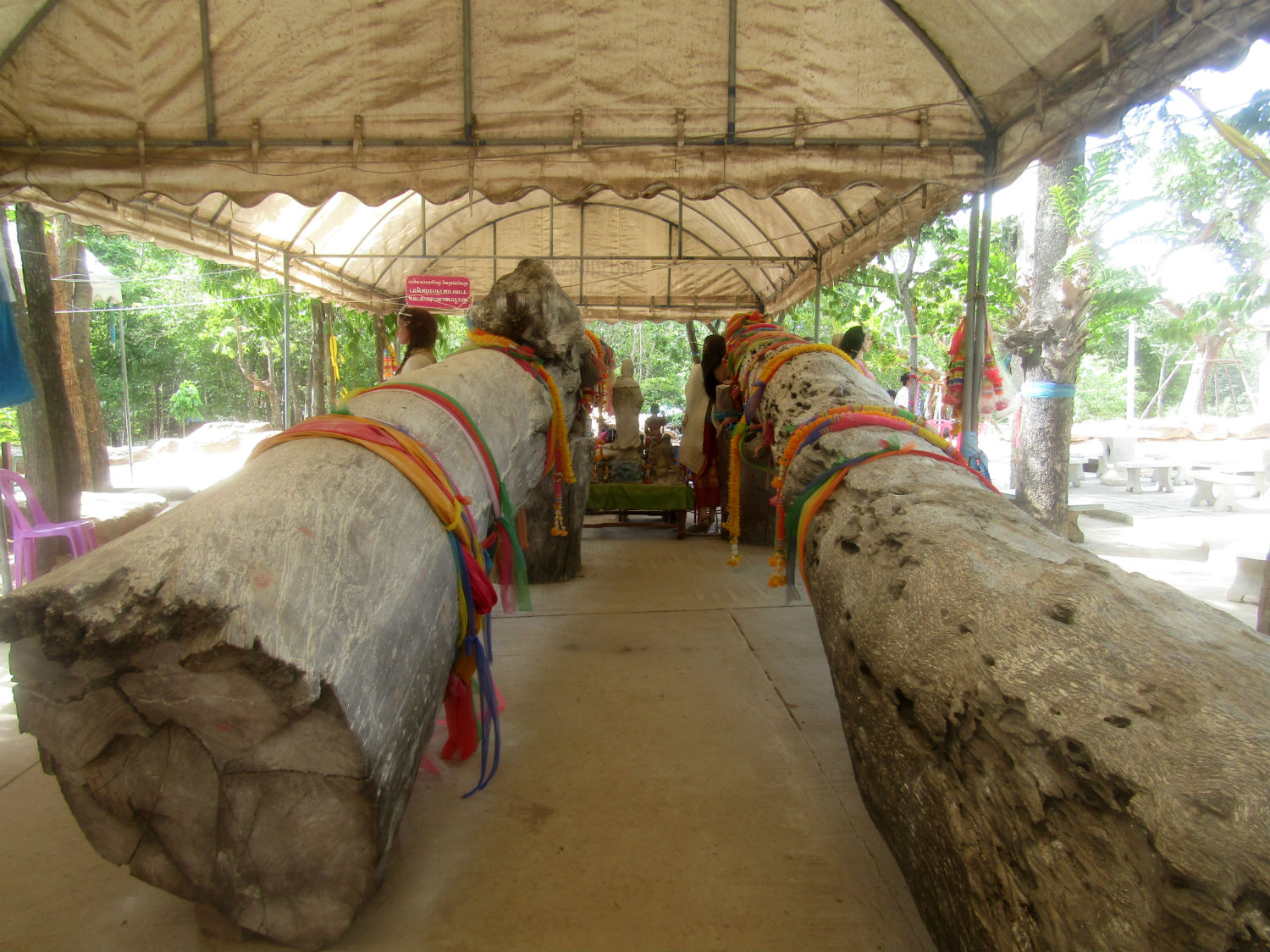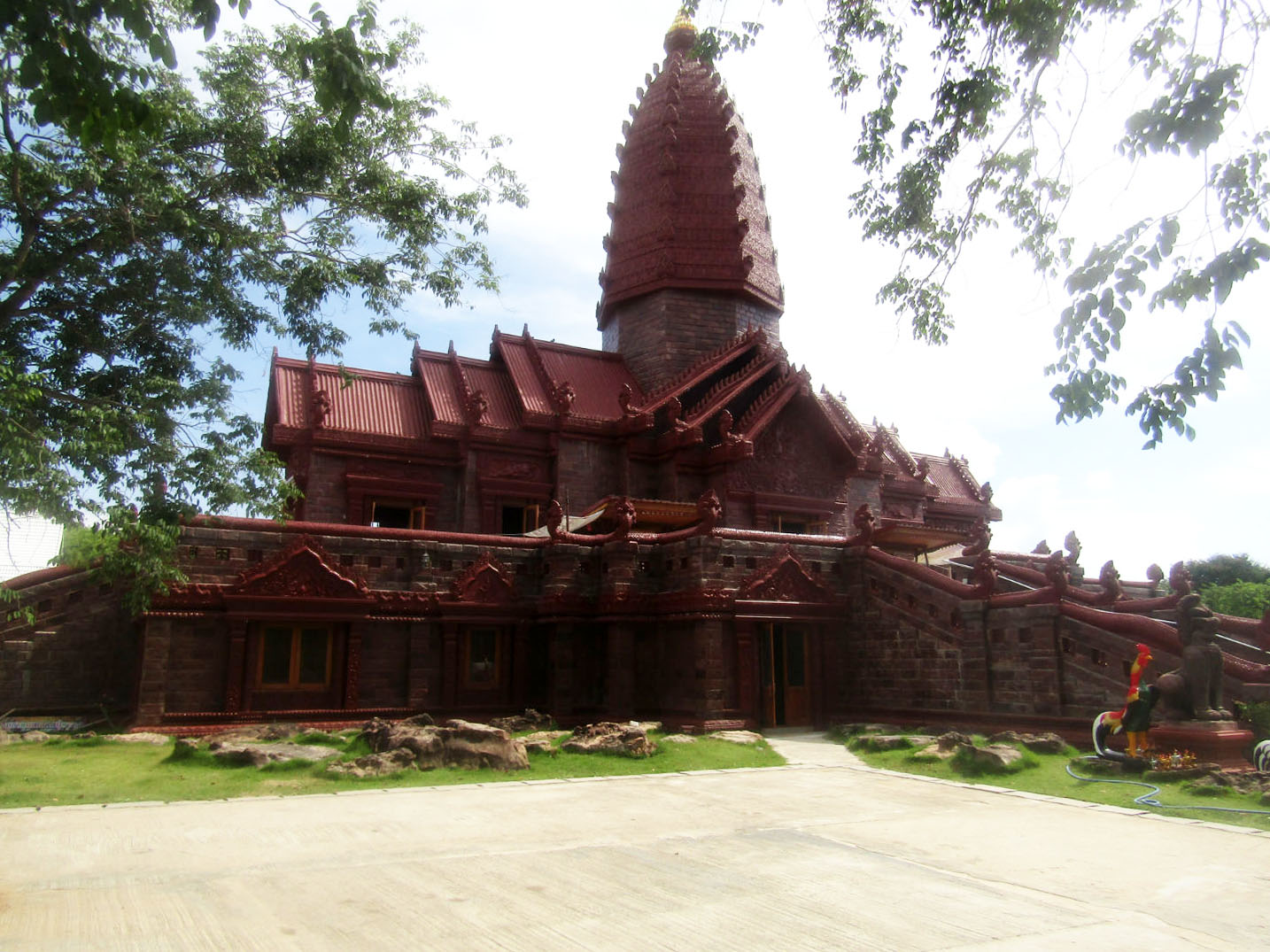 Wat Phrai Phatthana, Phu Sing District, Si Sa Ket Province


Unusually, parking is not permitted inside the complex nor on the roadway outside. You will need to use a parking lot opposite and walk or take a tram. This, and a lot of site construction work just adds to the mystery as to why this monk was able to achieve so much power.
Due to the parking issue here Katoon drops me off inside the complex but soon disappears. For nearly half an hour we miss each other causing more unnecessary delay by which time Katoon has found someone to talk to and that means another unscheduled stop.
Sa-ngam Customs Border…….. From Wat Phrai Phatthana the journey to the border takes about 20 minutes. Arriving at the Sa-ngam Customs Border we note there is a continuous flow of minibuses taking gamblers to the border casino at Choem. You can get an ordinary visa at the border for $20 or 1000 baht but there will be restricted stay in Thailand on your return. There are buses and many Cambodian taxis waiting at the border for trips to Siem Reap.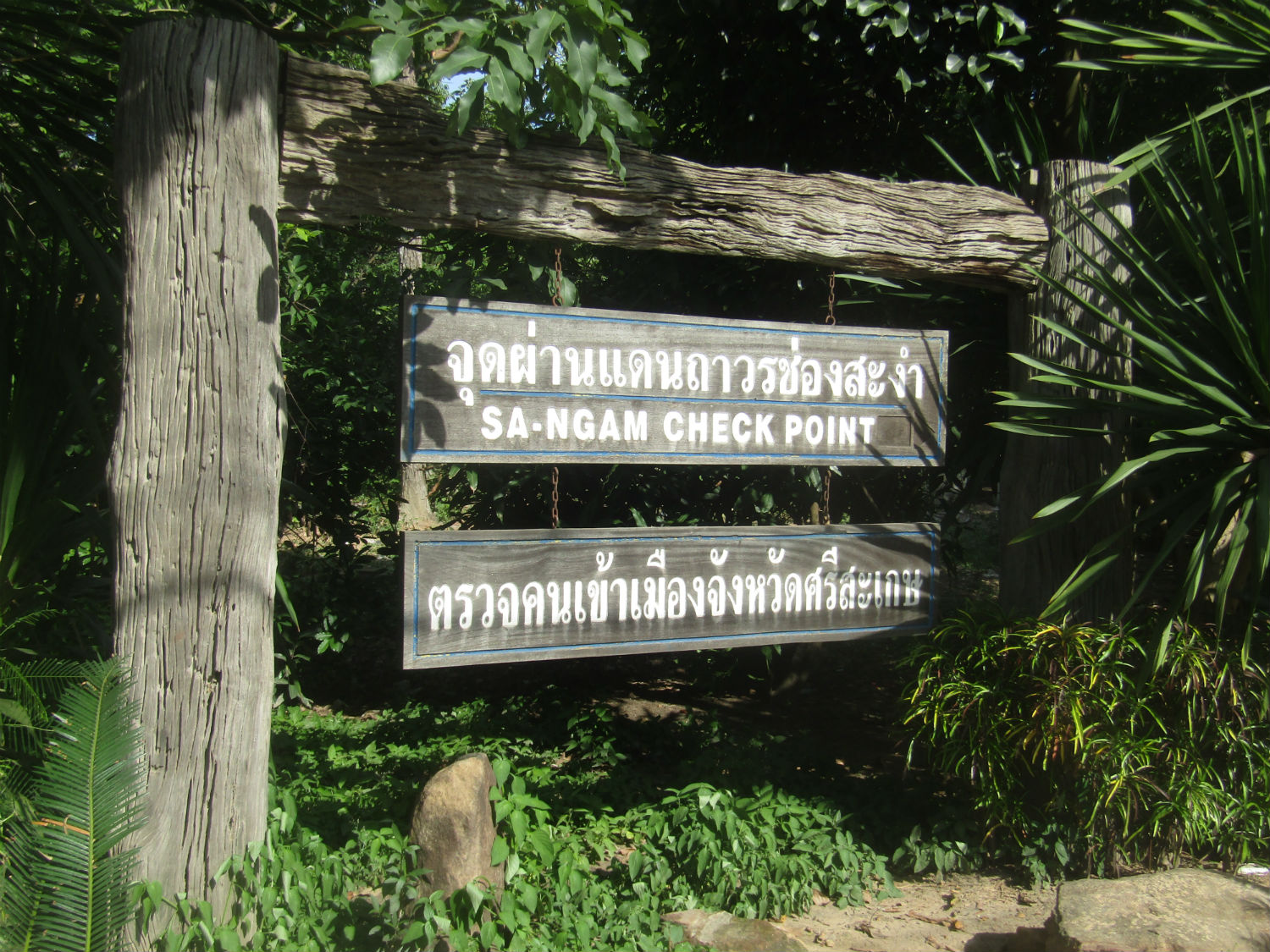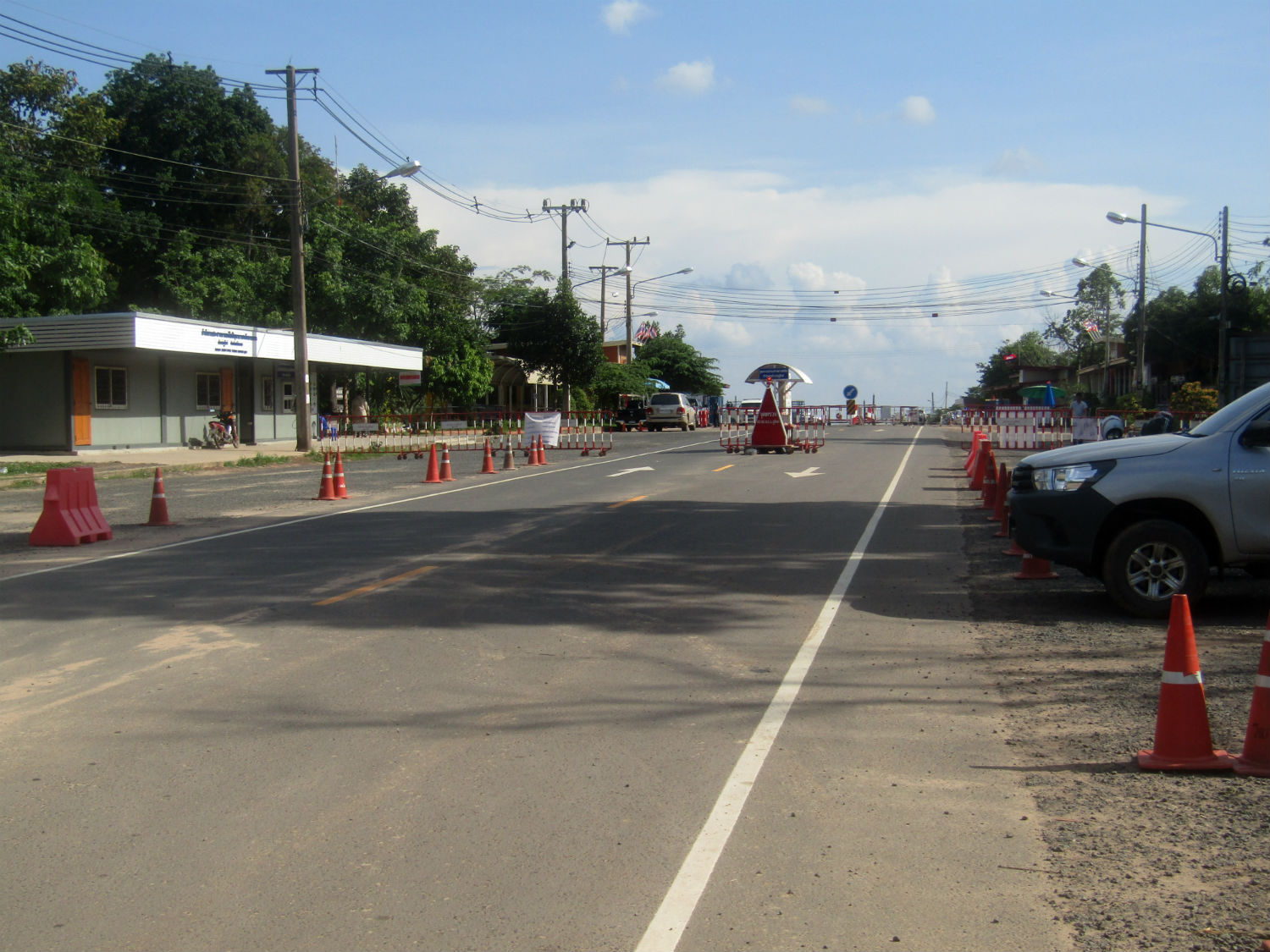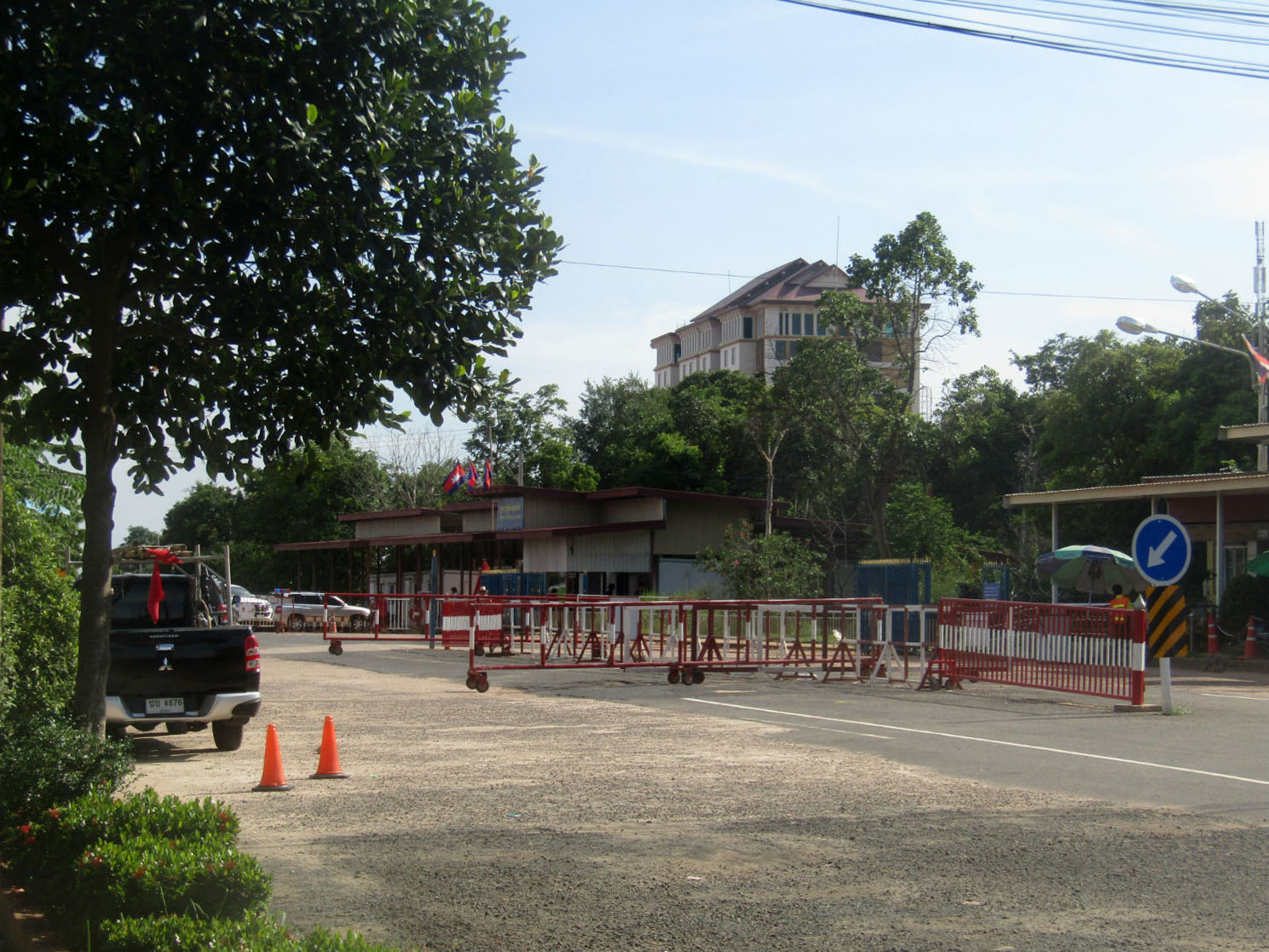 Sa-ngam Customs Border, Buachet District, Surin Province


Phaya Goobpree Viewpoint…….. Returning from the border, Phaya Goobpree (a type of buffalo) is a viewpoint with gorgeous views across Huai Samran that forms the border with Surin province. It's a worthwhile stop if only to take a few photos.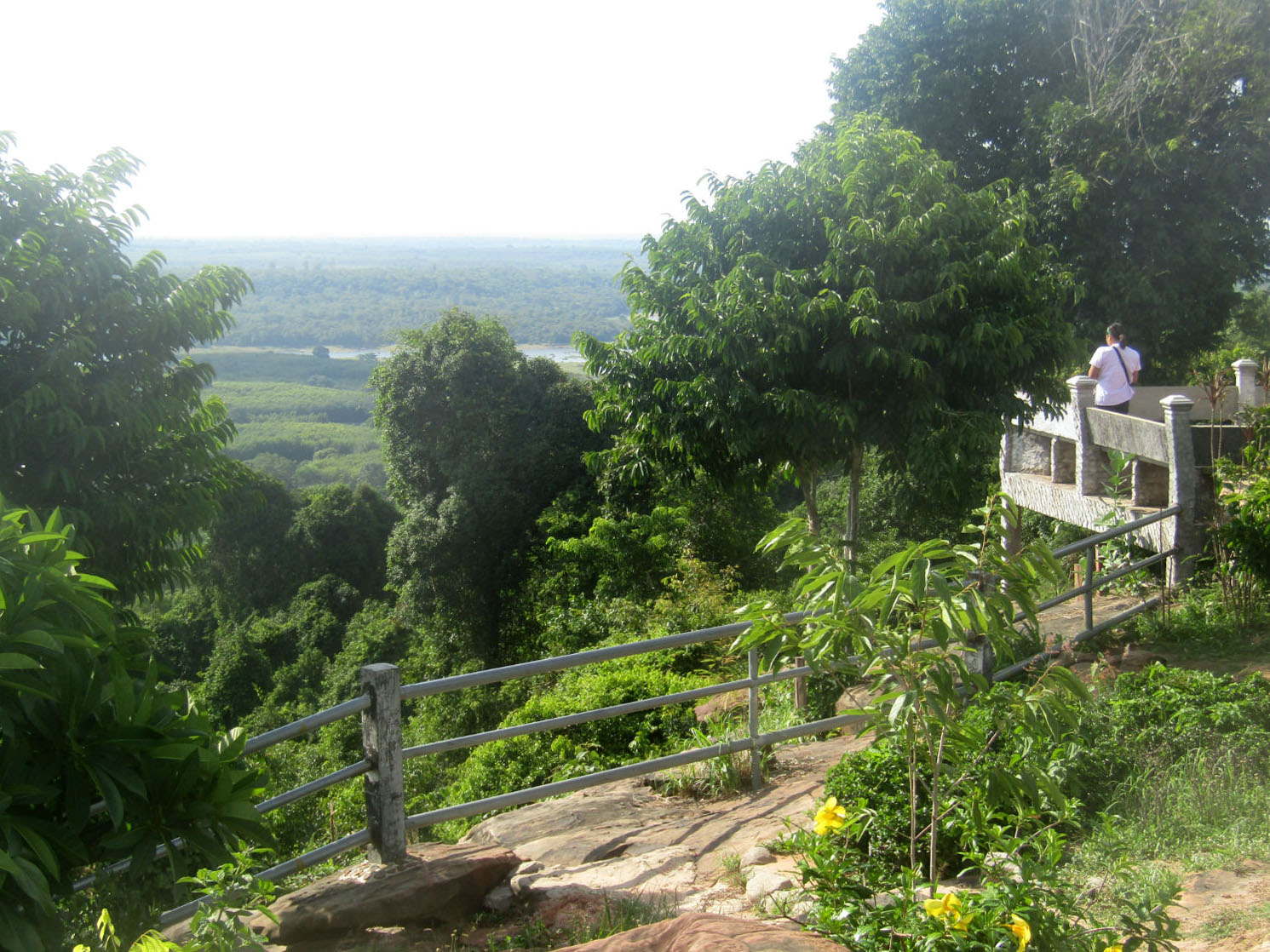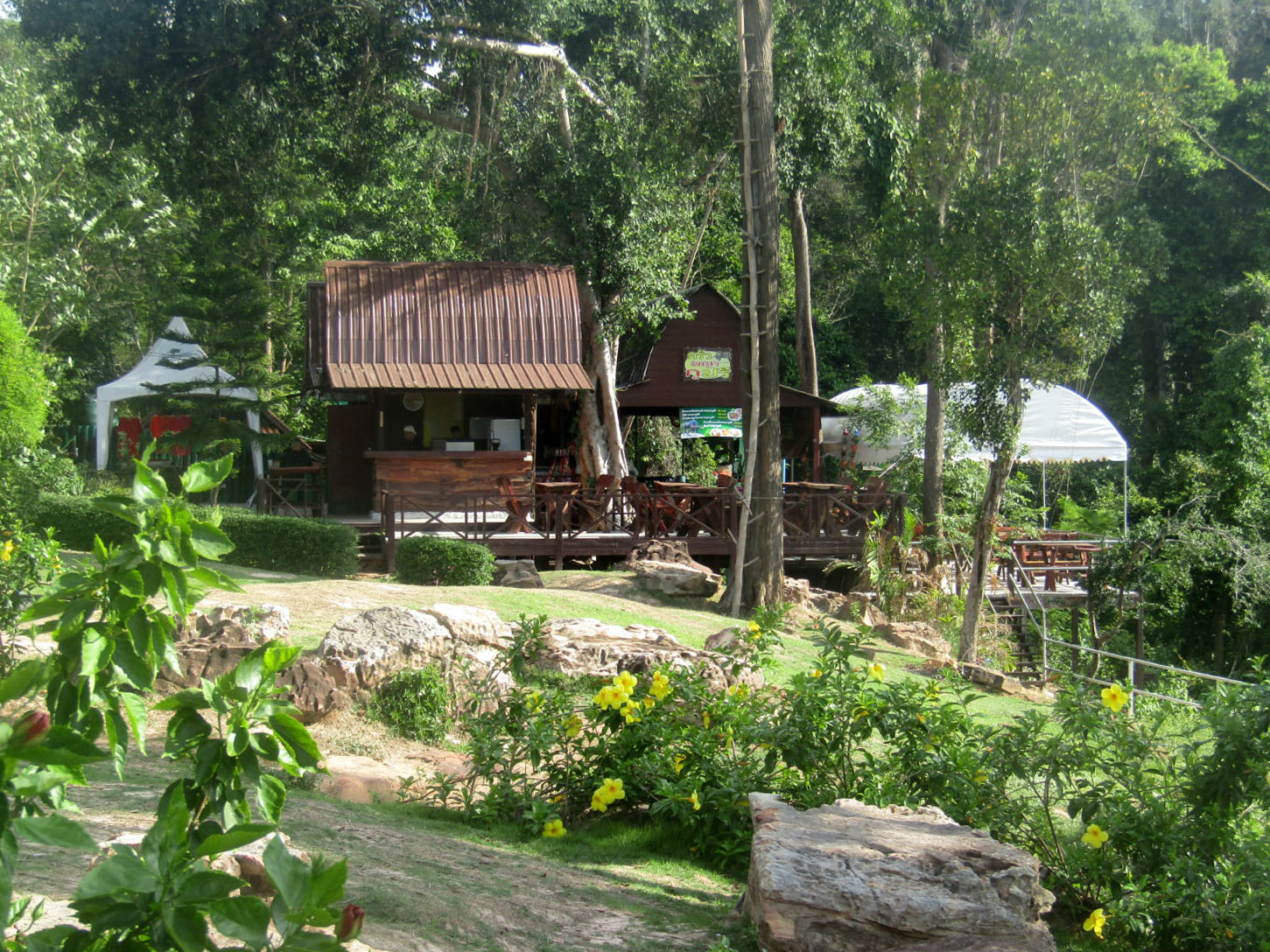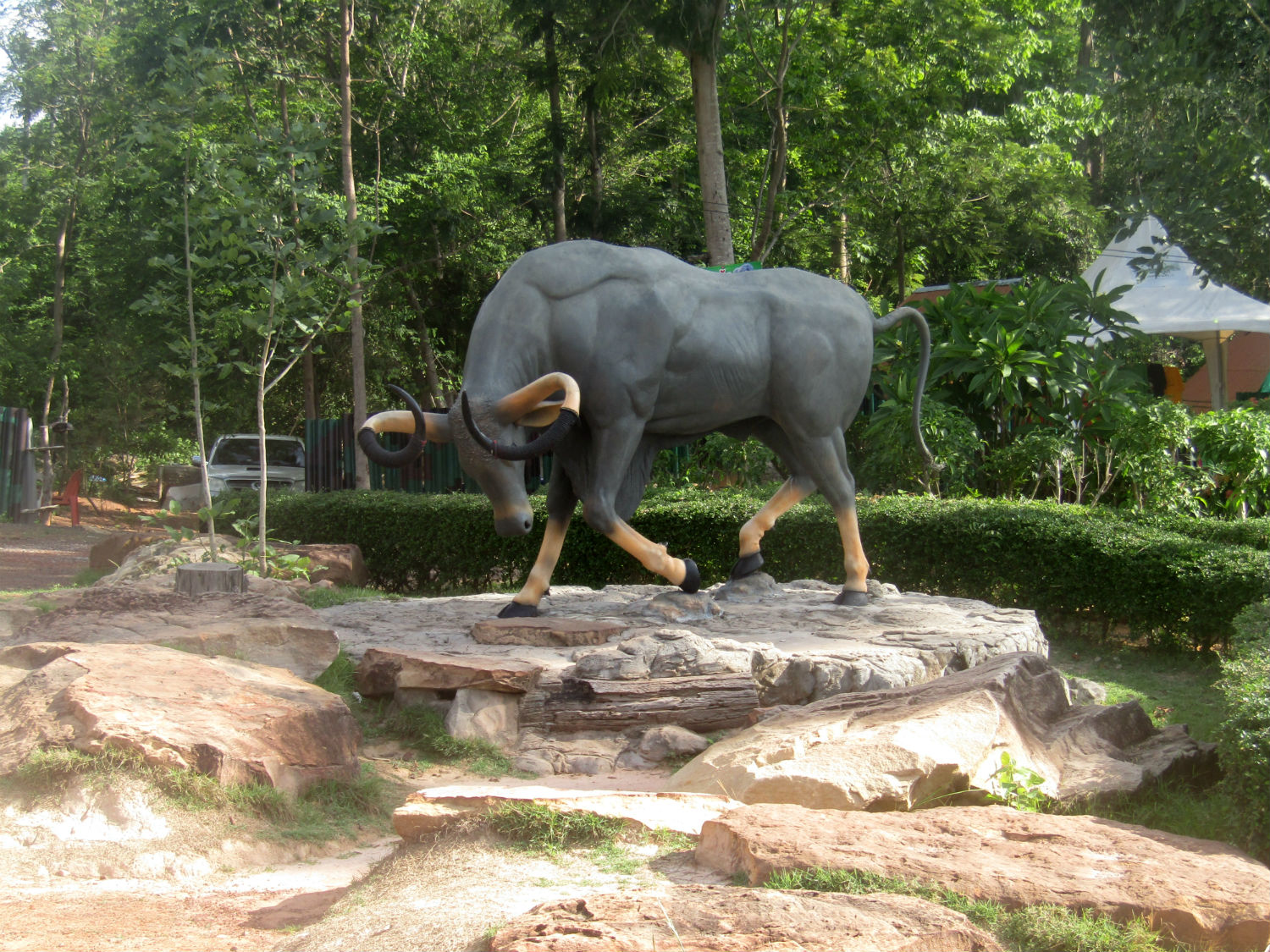 Phaya Goobpree Viewpoint, Phu Sing District, Si Sa Ket Province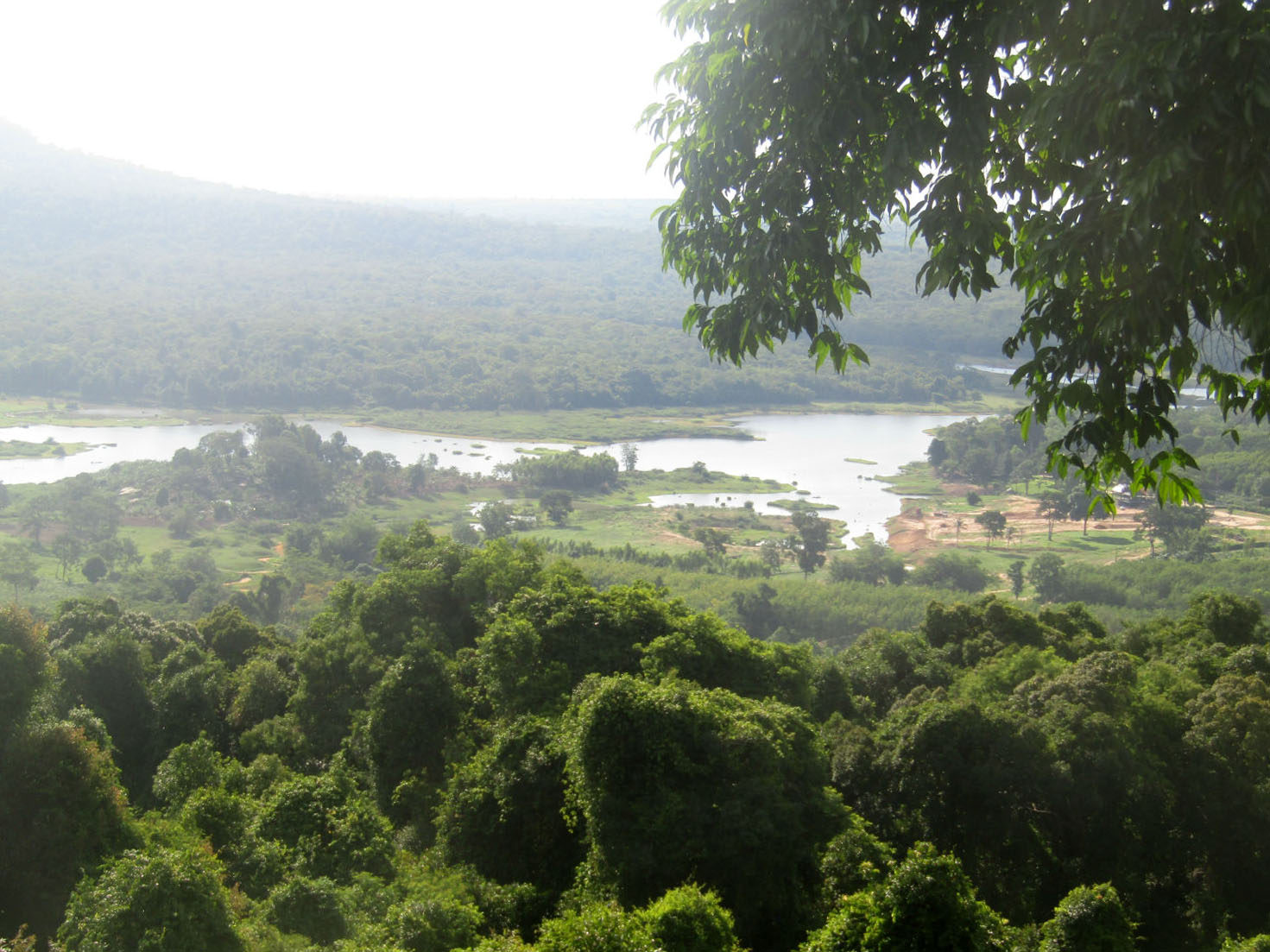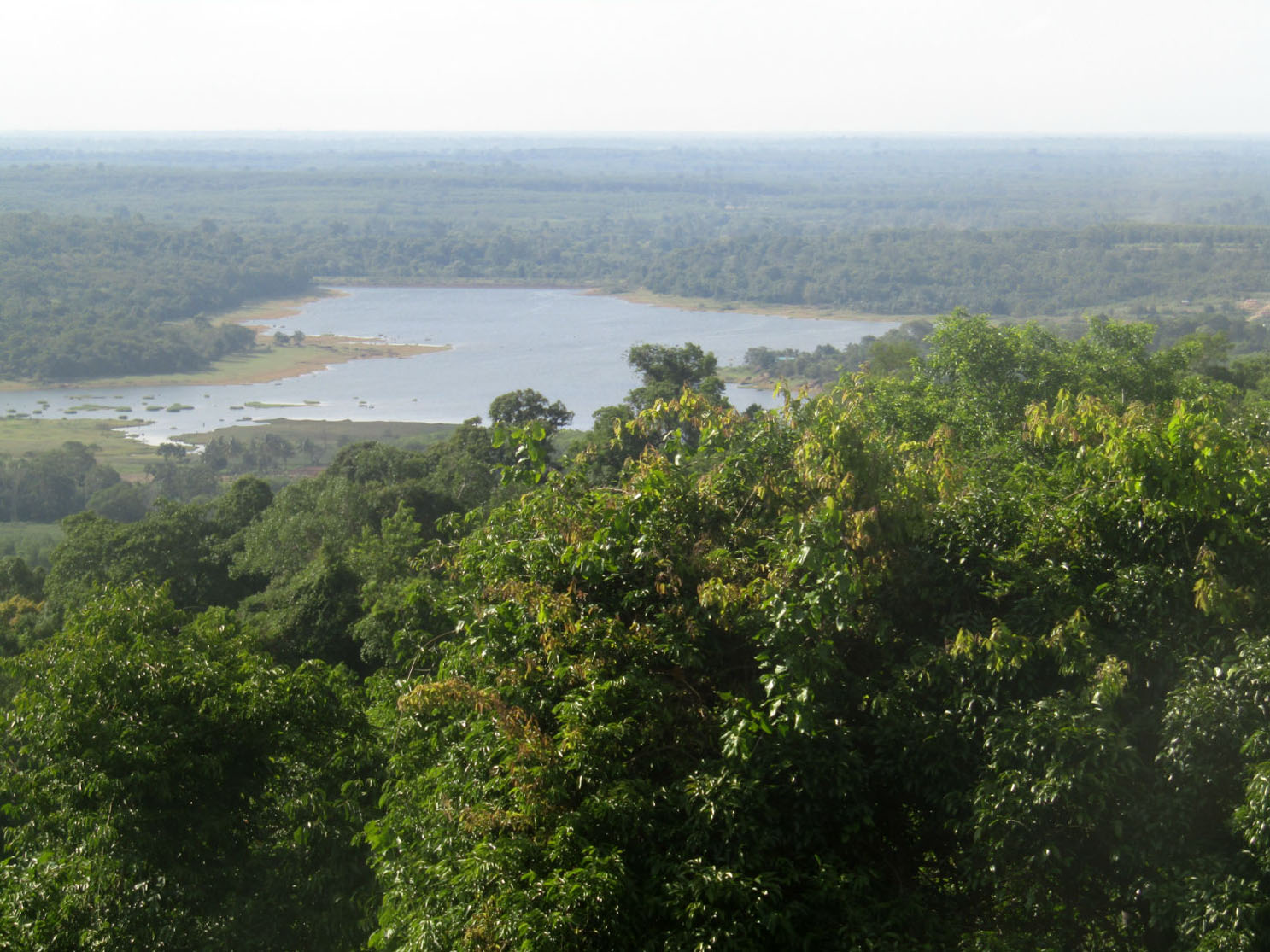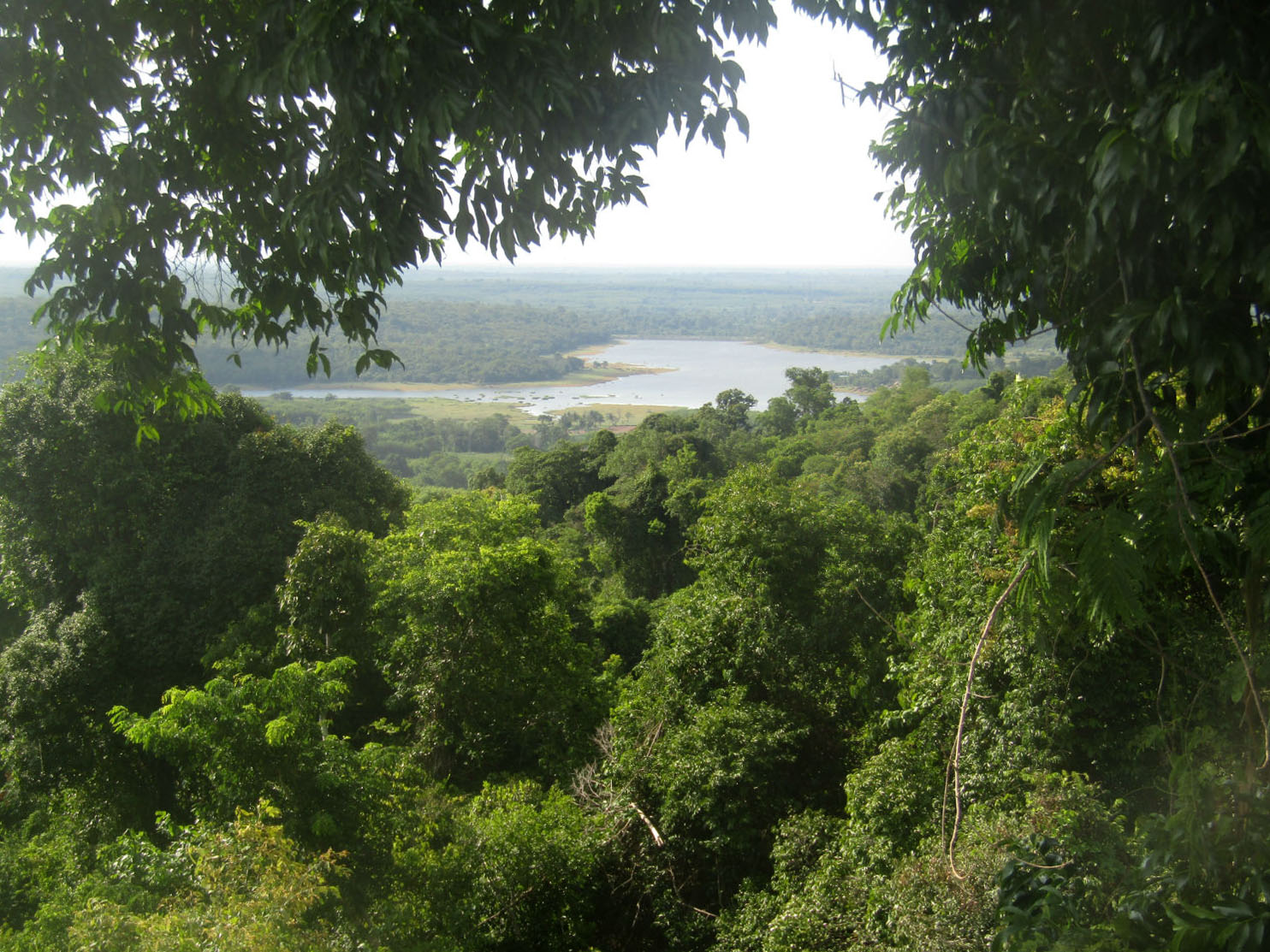 Huai Samran, Phu Sing District, Si Sa Ket Province


It's now late afternoon and time I had hoped to be settling in for the night but we're nowhere near my intended destination but I've no option but to head for another district north of here, Prang Ku district. Here I hope to find accommodation.
Prasat Tam Chan (Prasat Ban Samo)…….. Arriving in Prang Ku district I'm determined under the circumstances to head straight for it's main attraction yet even that gets put on hold as we locate another Khmer sanctuary.
Prasat Tam Chan, built entirely of laterite, was built by order of Jayavarman VII in the 12th century as an 'Arokaya Sala' or community hospital. It's one of 102 he had constructed throughout his lands. The main sanctum is in the centre with the doorway facing east while the Bannalay (library) is located on the south side. The rectangular wall in laterite has a Gopura (gate) in the centre of the eastern side and outside to wall in the northeast corner is a small Baray (pond). Prasat Tam Chan is a protected monument and was gazetted by the Fine Arts Department in 1935 while the surrounding area of 1.58 acres was gazetted in 1982. Since then the monument has been restored and during excavations between 2009 and 2012 a number of stone inscriptions and other important artifacts were discovered.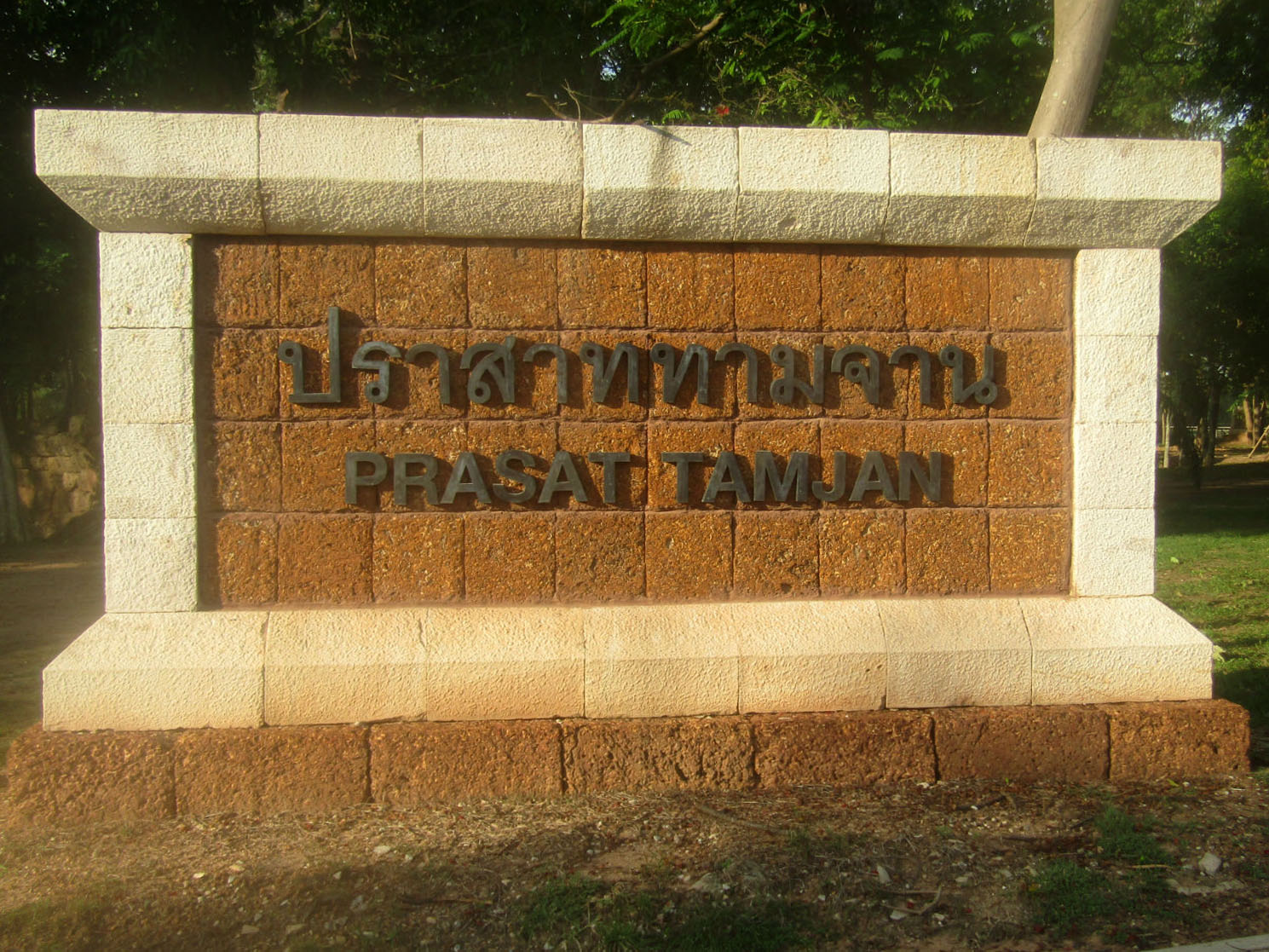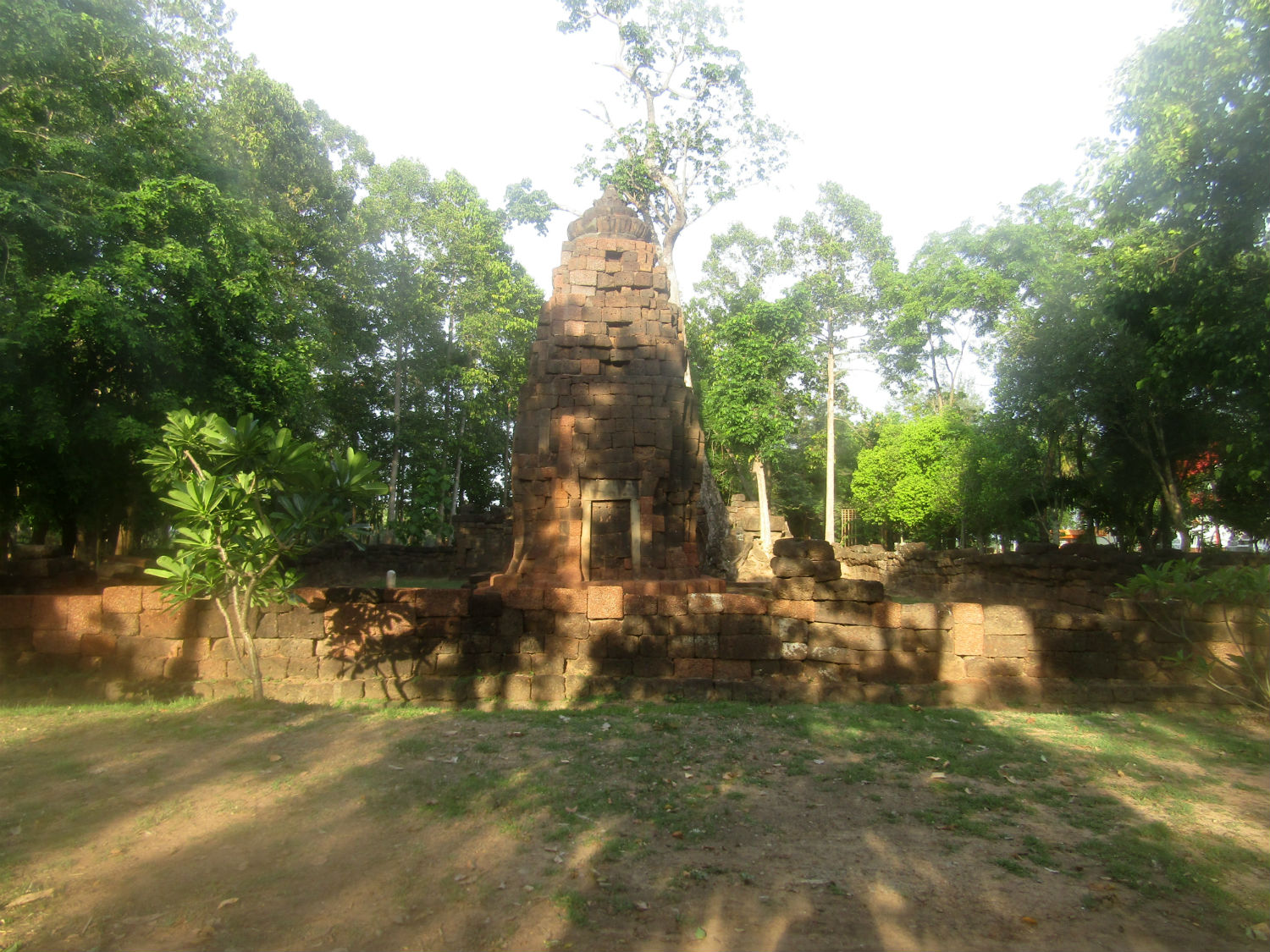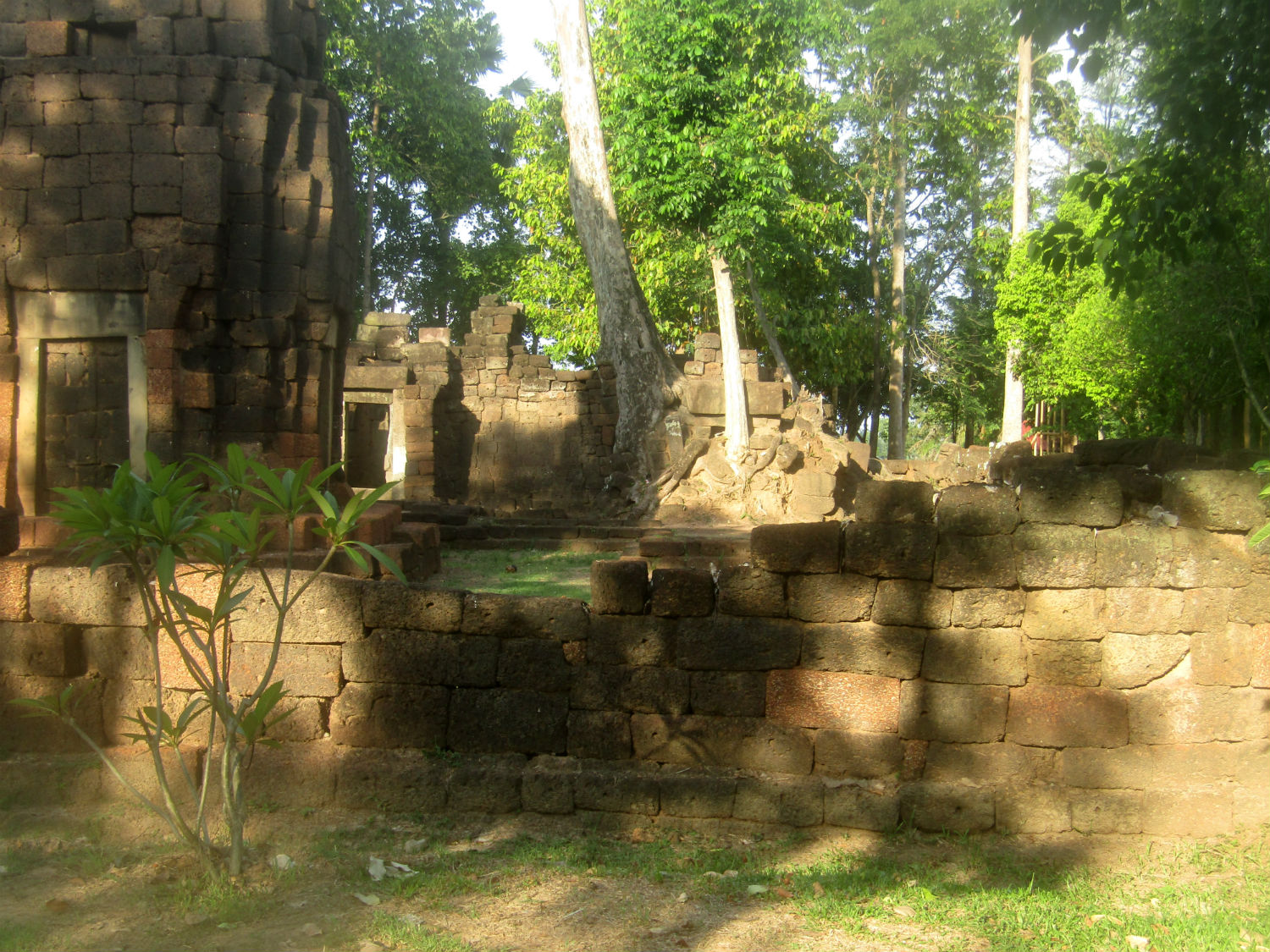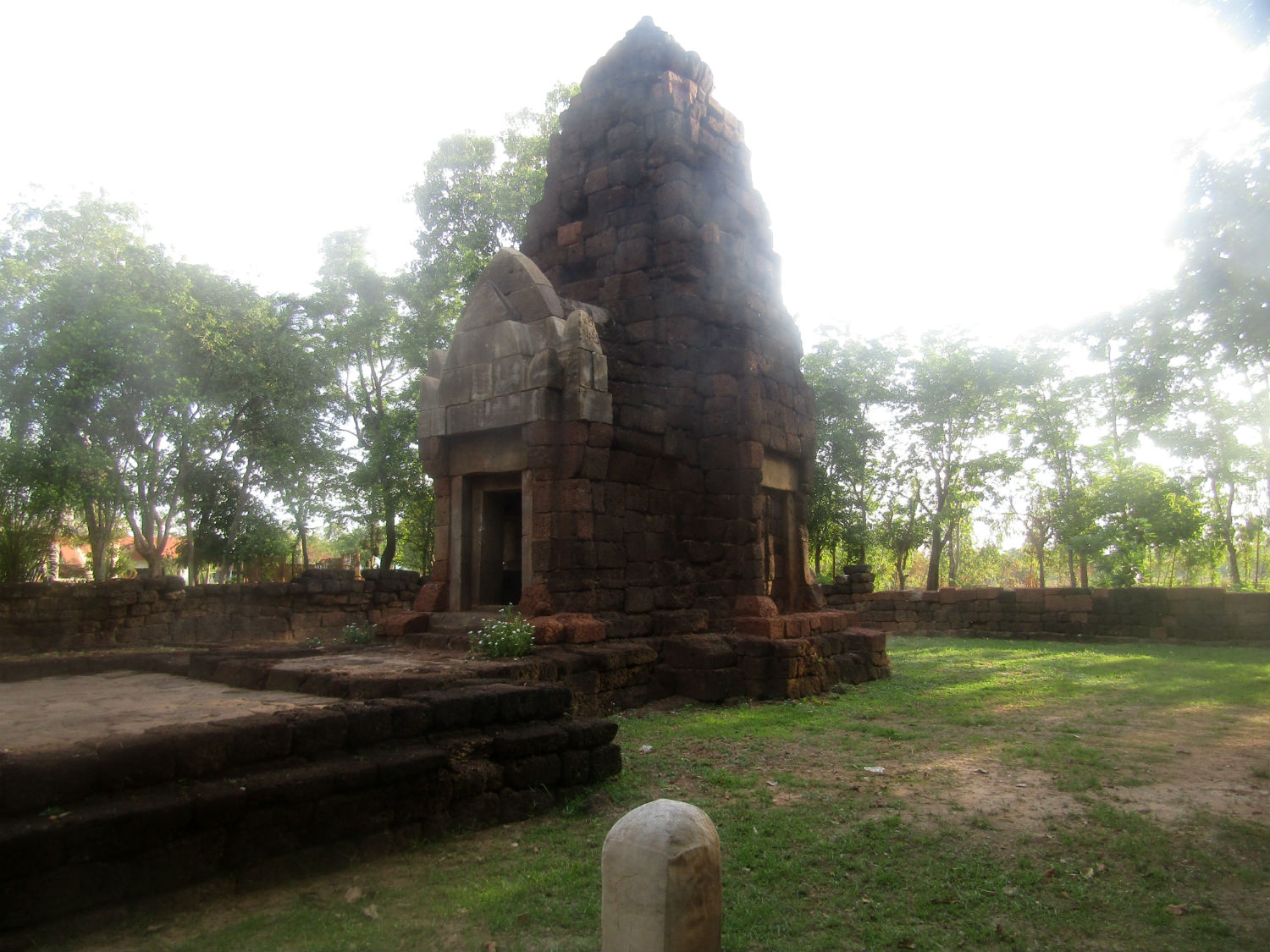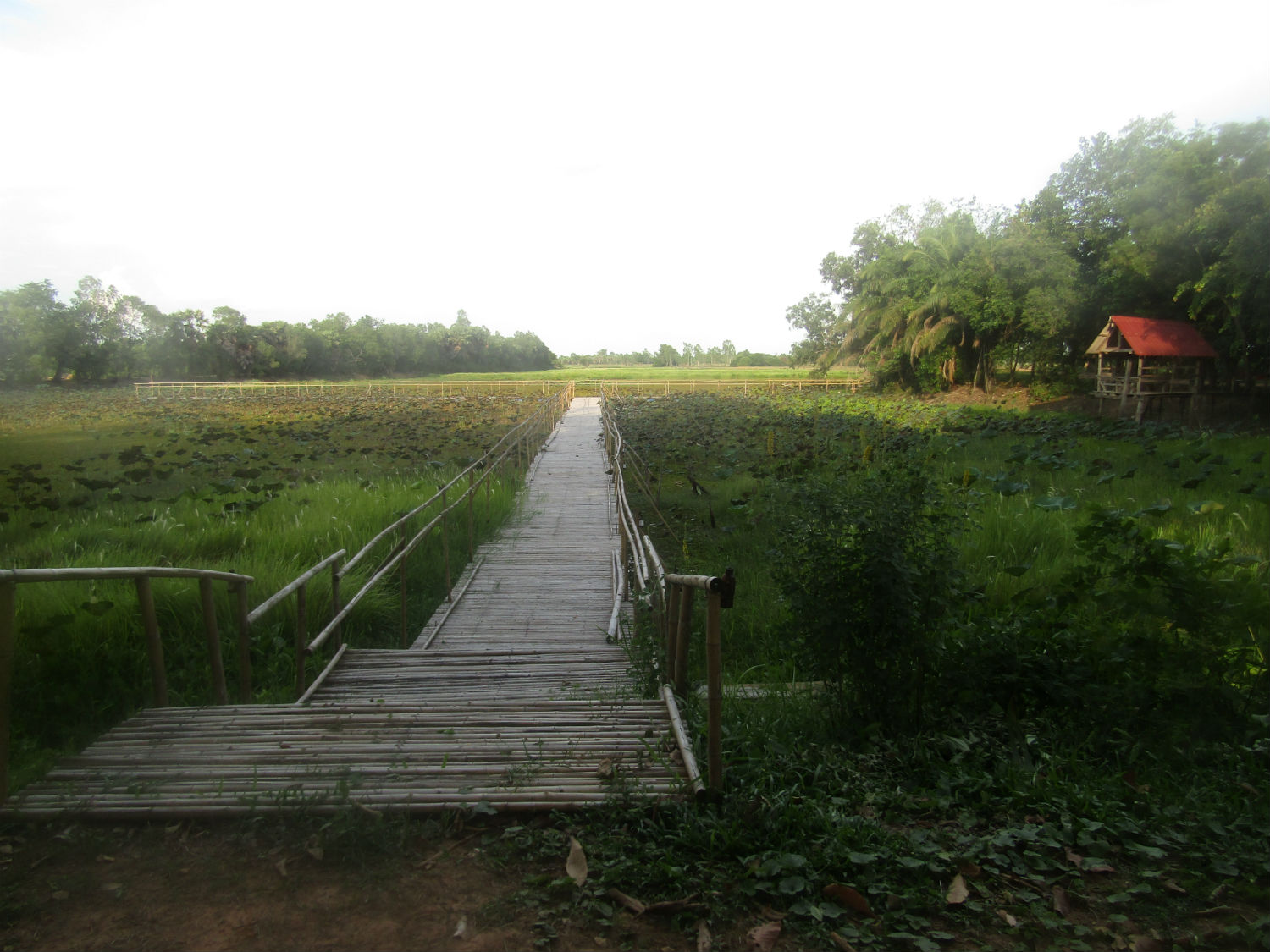 Prasat Tam Chan (Prasat Ban Samo)


Prasat Prang Ku…….. Now it's really getting late. Prasat Prang Ku is another 15 minutes away and we arrive around 5.45pm with the sun playing tricks on the triple prasat complex creating amazing colours of red amber and gold.
Prang Ku in Prang Ku district, consists of three sanctuaries built on the same base out of brick with lintels and doorways constructed in sandstone. There was only one entrance on the eastern side. The sanctuaries were surrounded by a moat. The style of this sanctuary is 12th century about the same time that Angkor Wat was built.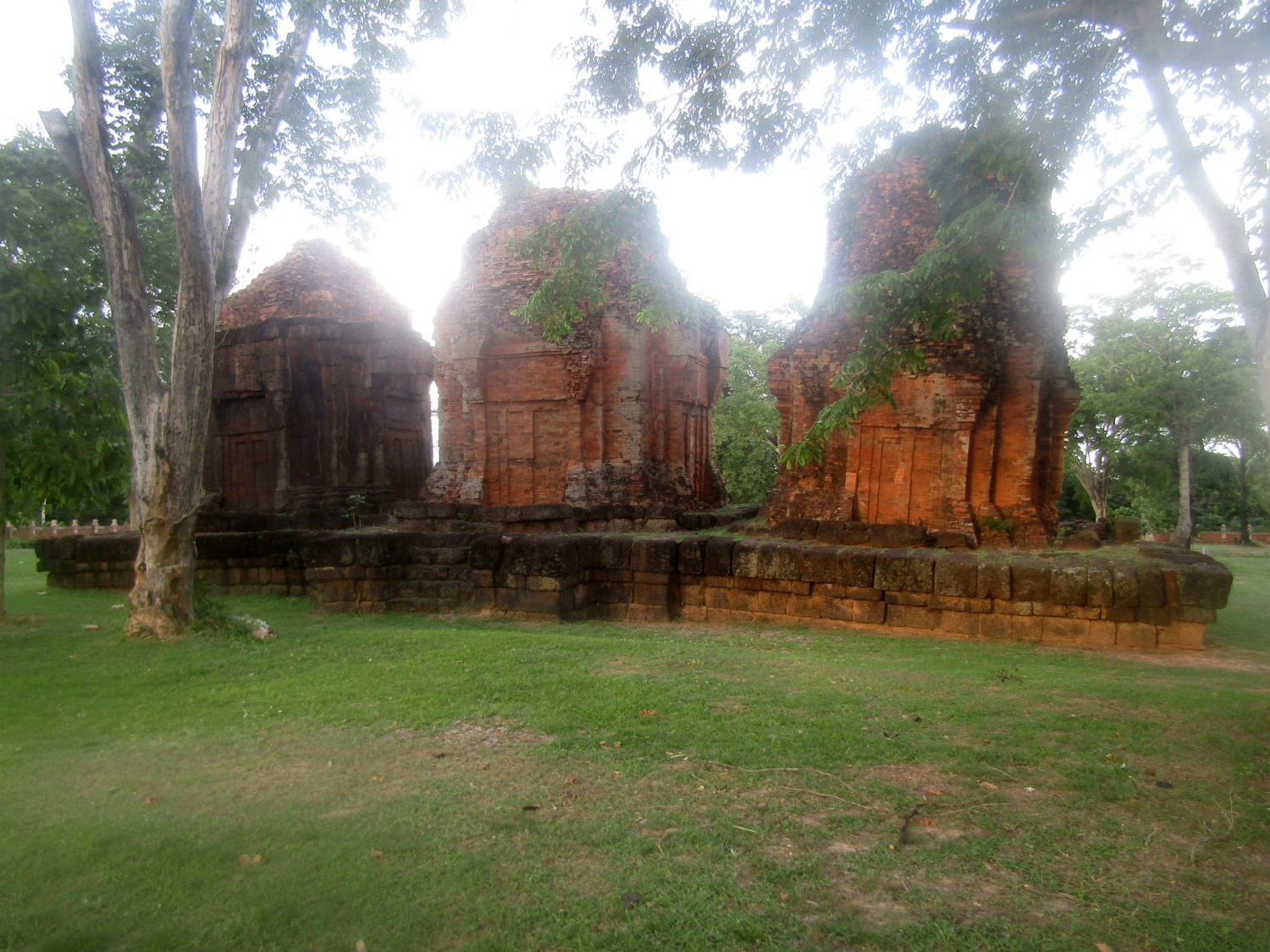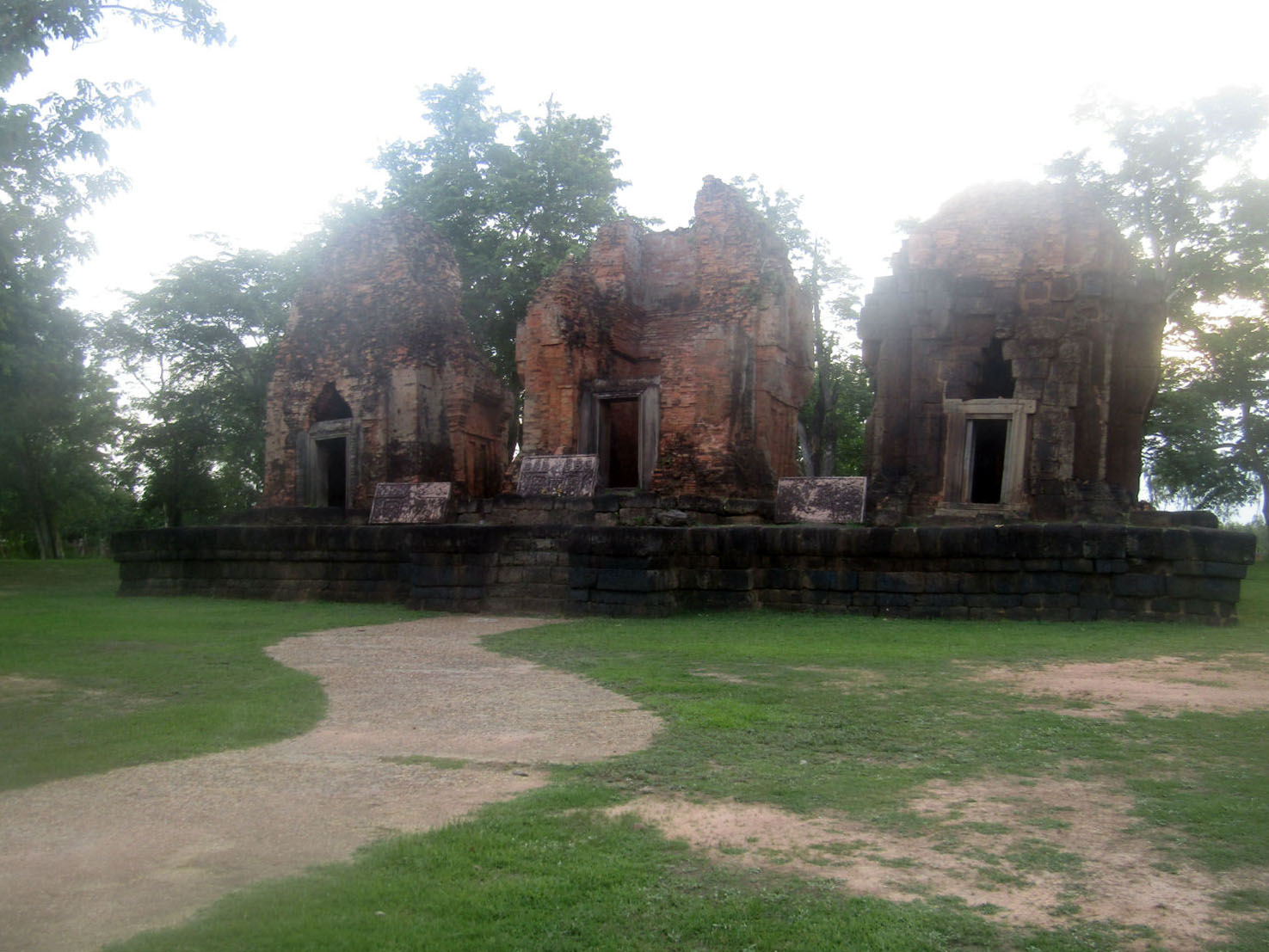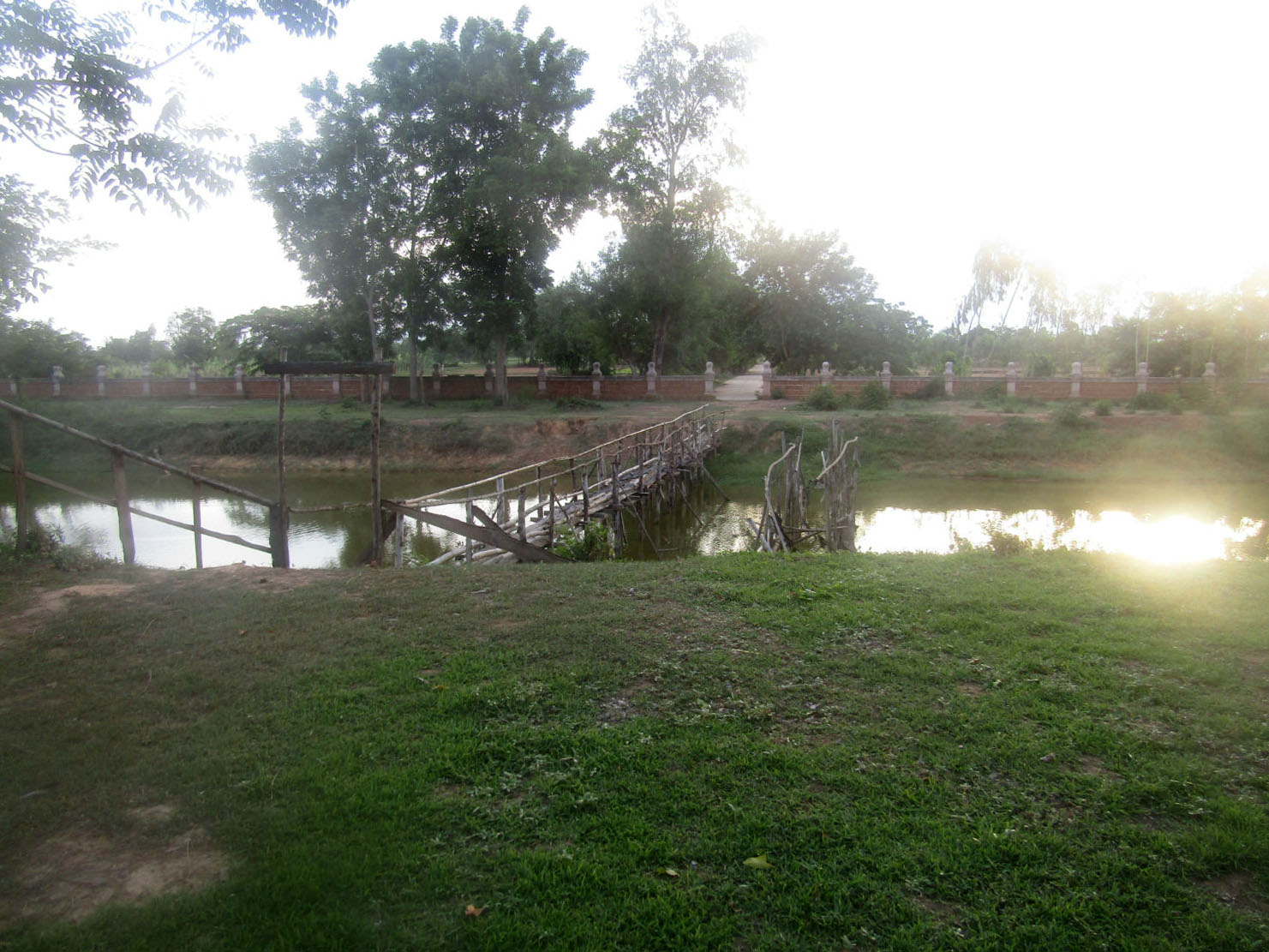 Prasat Prang Ku, Prang Ku District, Si Sa Ket Province


Firing off my last shots of the day, accommodation hunting is now an urgent undertaking but the district of Pang Ku just doesn't seem to be that accommodating and we start to consider pressing on to Si Sa Ket even though once again it will be dark when we arrive. The positive is that this was my aiming point all along for today but I'd practically given up hope of making it. The negative is that for the third day running it will be an evening arrival; not at all ideal.
Prompiman Hotel……..
I initially set the locator for and out of town bungalow resort. That's what Katoon said she's prefer. At 6.45pm we finally locate it but Katoon just isn't happy. She has already asked about accommodation which seems to be in the city itself but I just can't find it on the map. What follows is a repeat of the situation we found ourselves in in Nakhon Ratchasima last year. We get clogged up in city traffic, milling around after dark getting nowhere. Finally Katoon stops the car and asks again. Setting off again we find ourselves opposite the railway station. That's not necessarily a plus under the circumstance but here is Prompiman Hotel, a larger 7 story complex looking quite smart from the outside. Concerned about the price, Katoon check and it's 700 baht including breakfast. Well that's a bit on the high side comparatively but not too much to warrant further delay. By the time we settle in it's 8pm, the only consolation is we've brought some food a short while ago at a filling station. That is filling and uses up little extra time. I make a start on my blog but nowhere near enough gets done and that, to repeat, is going to cause issues in the morning. It's just a pity I forgot my boxing gloves! But quite honestly it shouldn't be like this. Have I so totally underestimated things in this district? In the 20 days on our first tour, we nearly always found accommodation in good time.
Next Page.