Preparations……..After an unusually hot summer in the UK, I'm back in Thailand for a pre-Christmas tour of not more than 3 weeks. It's clear from the list of tours that I've already covered that Thailand has an amazing variety of attractions which I've classified as natural, historic, religious and other, prompting me to cover even more. On this visit, I plan to cover a few provinces that fly well under the radar with few sources available to deal with them adequately. Hopefully I can turn up something interesting; It won't be for the want of trying. The tour kicks off with a family visit to the gateway to Isan.
Preparations begin on Thursday 16th November with the standard dive into the city to Linda Exchange to collect my Thai baht. For a number of reasons, I don't need to go into here, there is pressure on by budget, not helped by a poor exchange rate. In fact, in the last 24 hours the UK pound has spiraled downwards again as more resignations in the UK Government hamper the Brexit process. But it is as it is and I can't compromise on preparations. My PC desperately needs a repair and an upgrade while I also need to install a local SIM card in my mobile. However, blighted by similar problems with my digital camera on my previous trip, thankfully I will be using a new Canon Power Shot for this tour. Other than hardware issues there is little change to my approach to this tour with perhaps just one exception. In retrospect, finding it difficult in some situations to identify locations on google map, I am resolved to log the GPS co-ordinates as I go along in some cases.
As mentioned, I have an initial aiming point but thereafter there is flexibility, centred around a site list produced for this tour. As I write the weather is cloudy and not excessively hot. If it remains this way I shan't complain.

Day 1, Sunday 18 November

National Car Hire……..To get this tour underway, we need to collect our hire car. As with recent tours this means returning to Suvarnabhumi Airport and to check in at the National check-in desk. The collection time is 8am but something tells me that time is optimistic. It was set to allow time for us to reach our initial destination today around lunch time. I should mention that we have a visitor staying at the residence, a good friend of Katoon and that results in an offer to take us to the airport. With not too much packing done last night, Katoon calls the check-in desk to revise the check-in time. Things are fairly relaxed as we depart and we finally checking in 90 minutes late. The check in process goes smoothly enough but I'm surprised to find that the Toyota Vios I ordered has turned into a Honda Jazz of similar spec. but a more compact vehicle with less luggage space. With his vehicle parked right behind the desk I've little time to build up any emotion regarding the change but then all seems well when I realise the Honda is brand new, never been hired out before. Katoon jumps in and we return to the residence to collect our luggage.
Departure……..With limited space in the boot, it doesn't take long to fill it and with the back seat pressed into use it seems we are in for the long haul. By the time we are ready, it's late morning and the idea of taking lunch at our destination is rapidly fading. As I start the driving I'm acutely aware that Katoon is nervous about my driving in Thailand and that I'm nervous about her complaining. My stint doesn't last long. As things turn out Katoon has an errand to do before we reach our destination. That will take us north of Saraburi in the direction of Lopburi. I do accept that Katoon is a better driver in Thailand than me so I'm better employed as the navigator. I soon locate our first stop via GPS and we lose little time. Things are working much better as we make the drop-off and renew an acquaintance. Our next stop is Kaeng Khoi.
Kaeng Khoi……..At Kaeng Khoi we can rejoin the Mittraphap Highway and proceed east but within the lunch window we resolve to take lunch here; and what better place for me than to head for the train station. Kaeng Khoi railway station has featured more times on this site than I can remember but it still attracts me. Unfortunately, it's the wrong time of the day to witness activity although one GE locomotive is stationery in the sidings. This will be the first use on the Canon bridge camera on tour. It's now time for lunch beside the railway.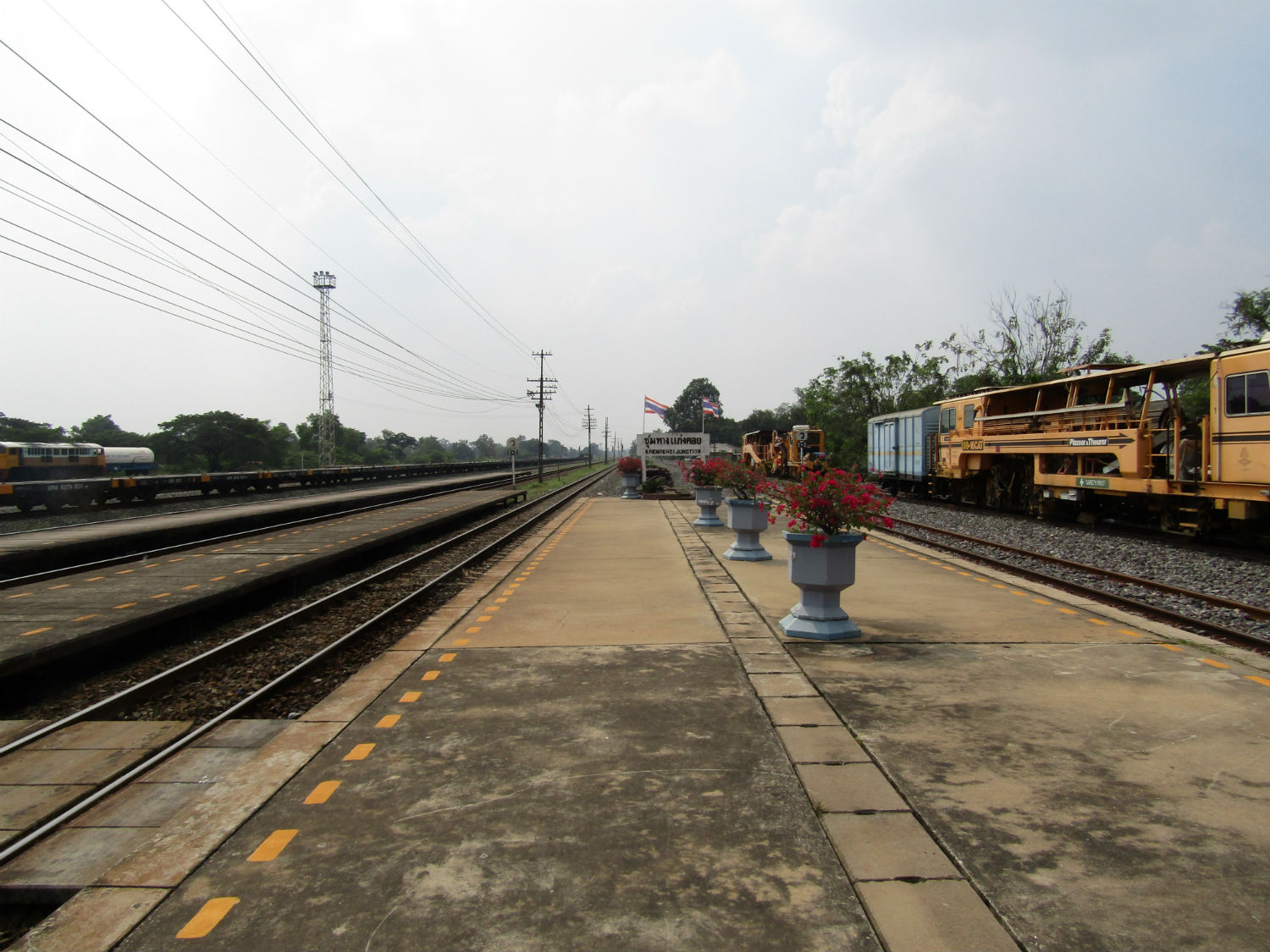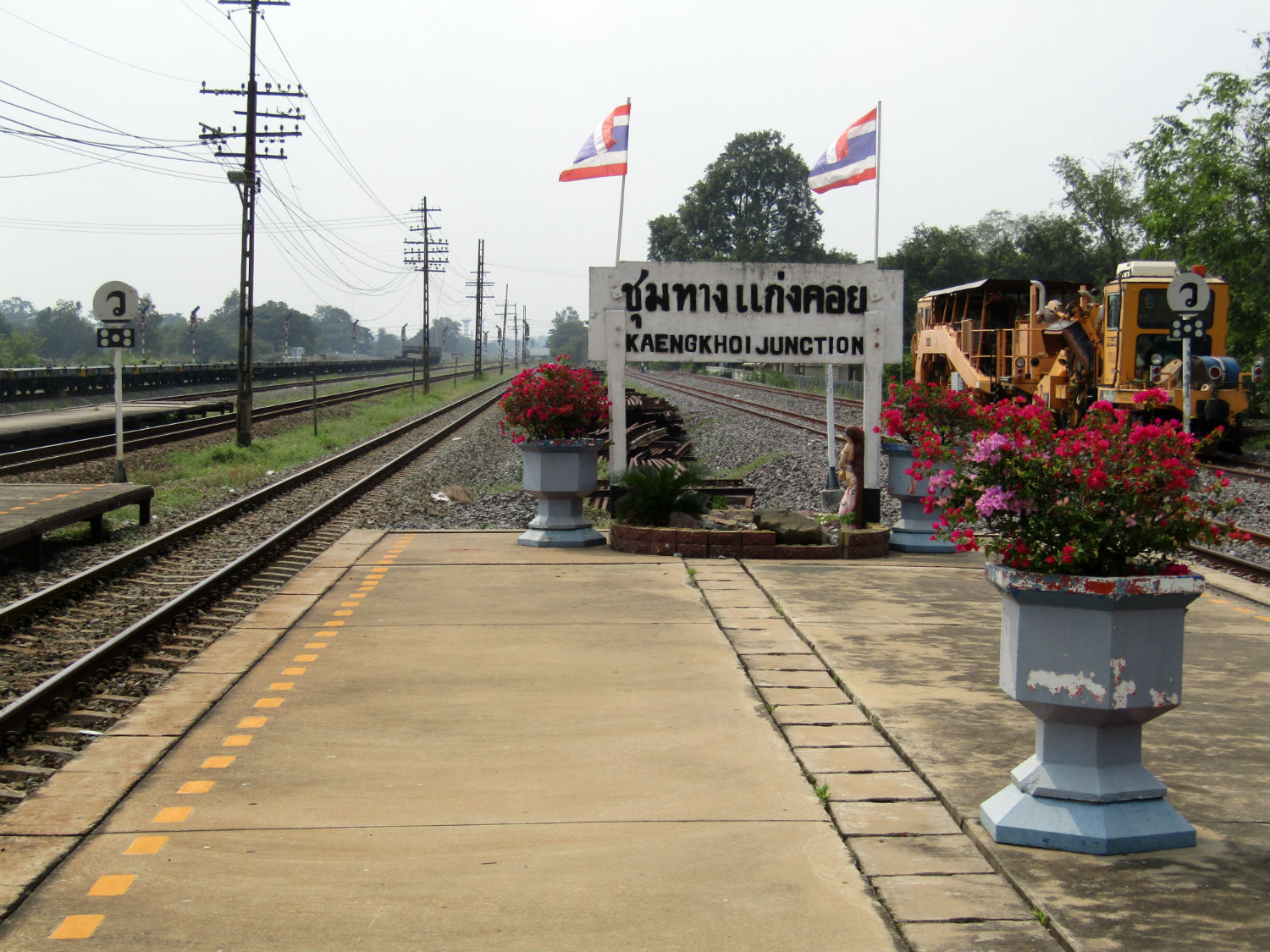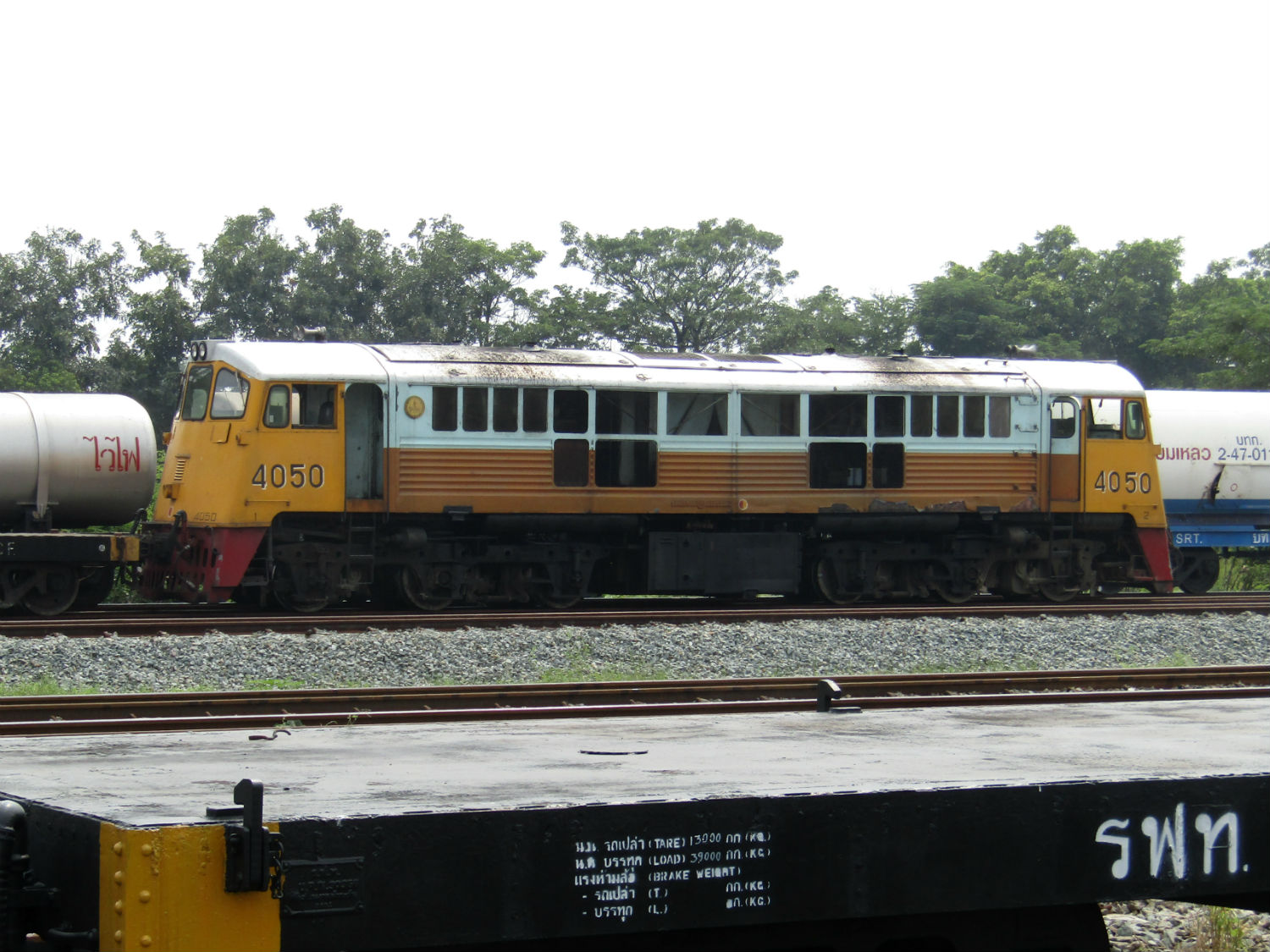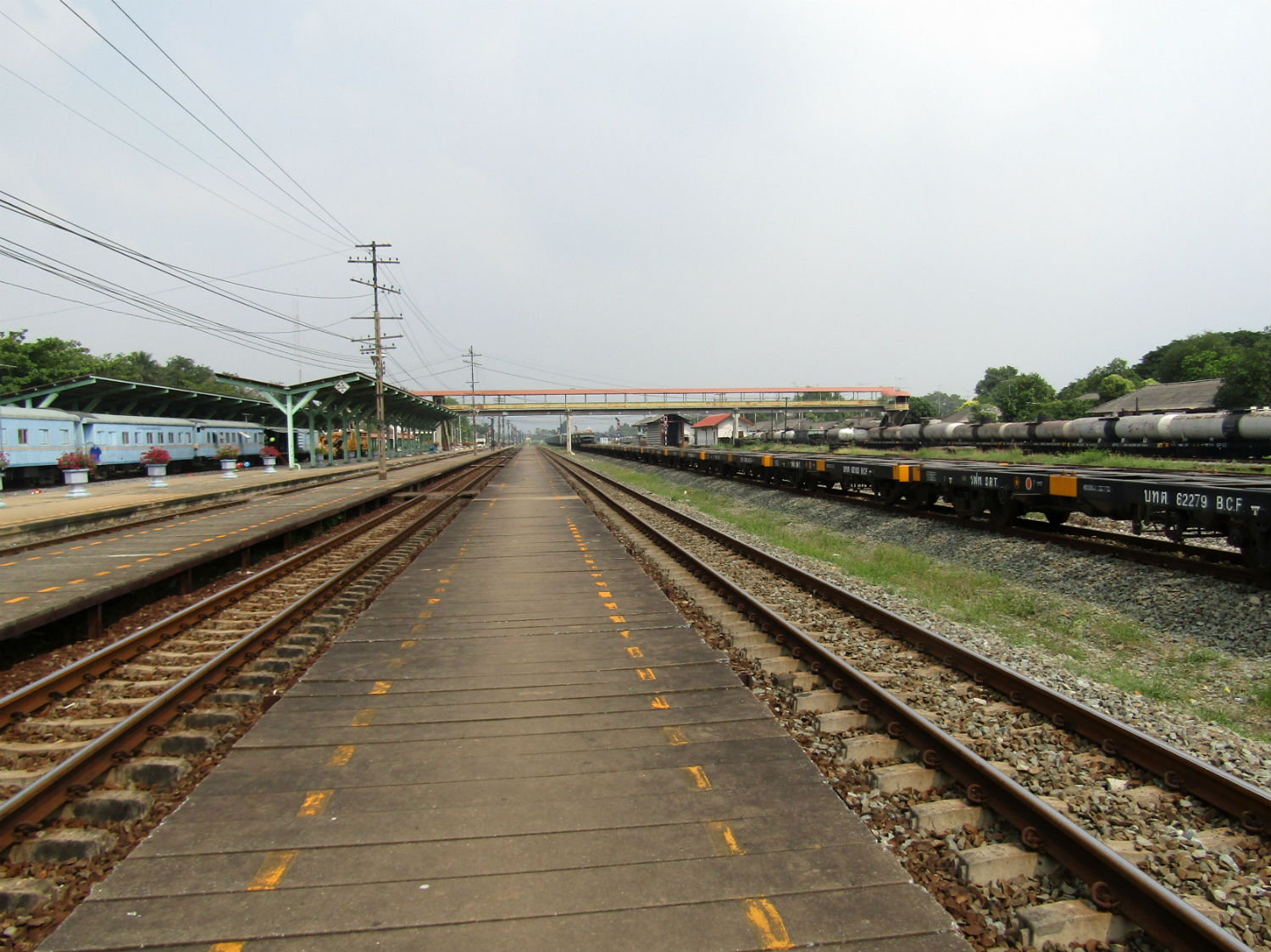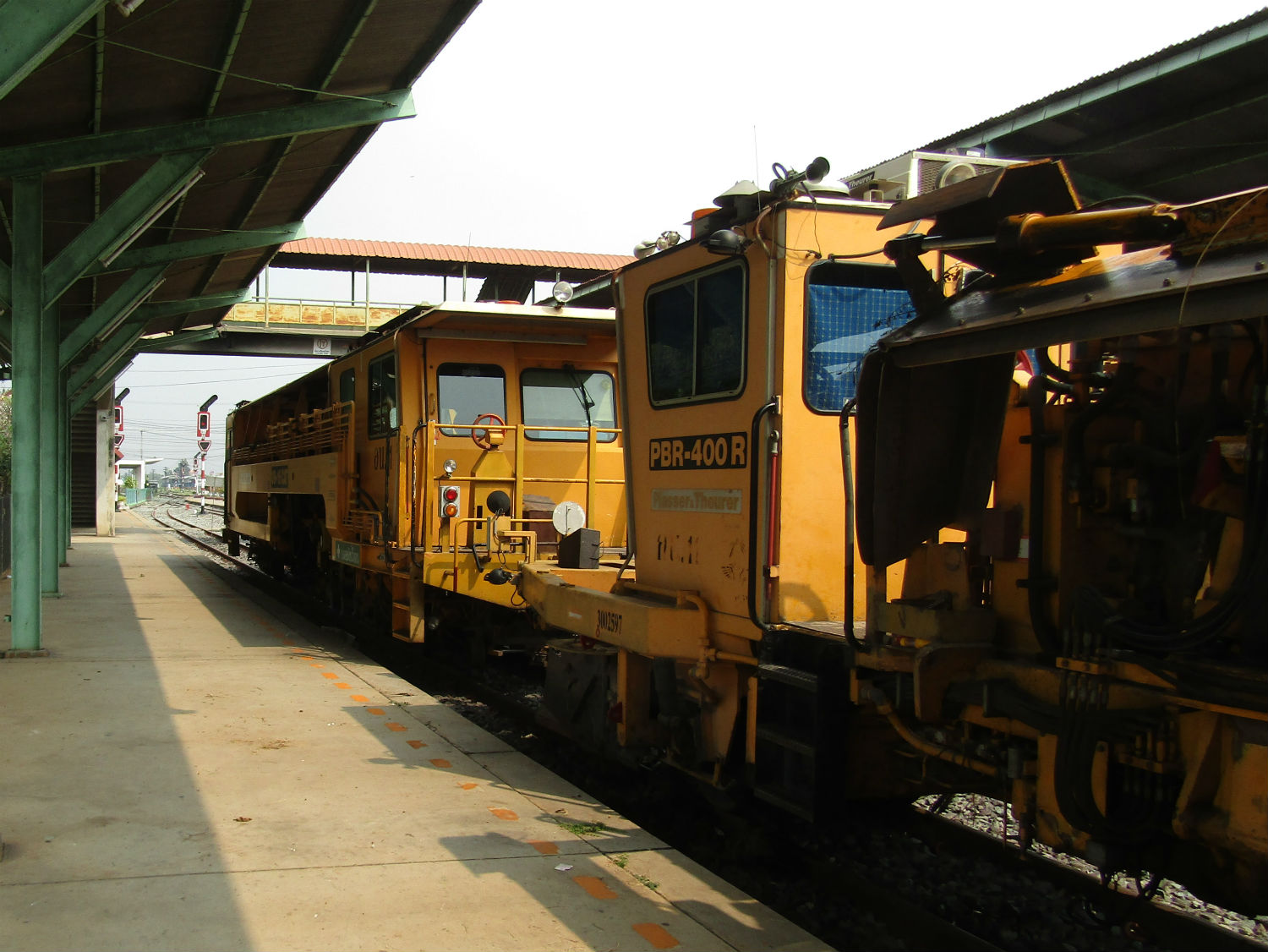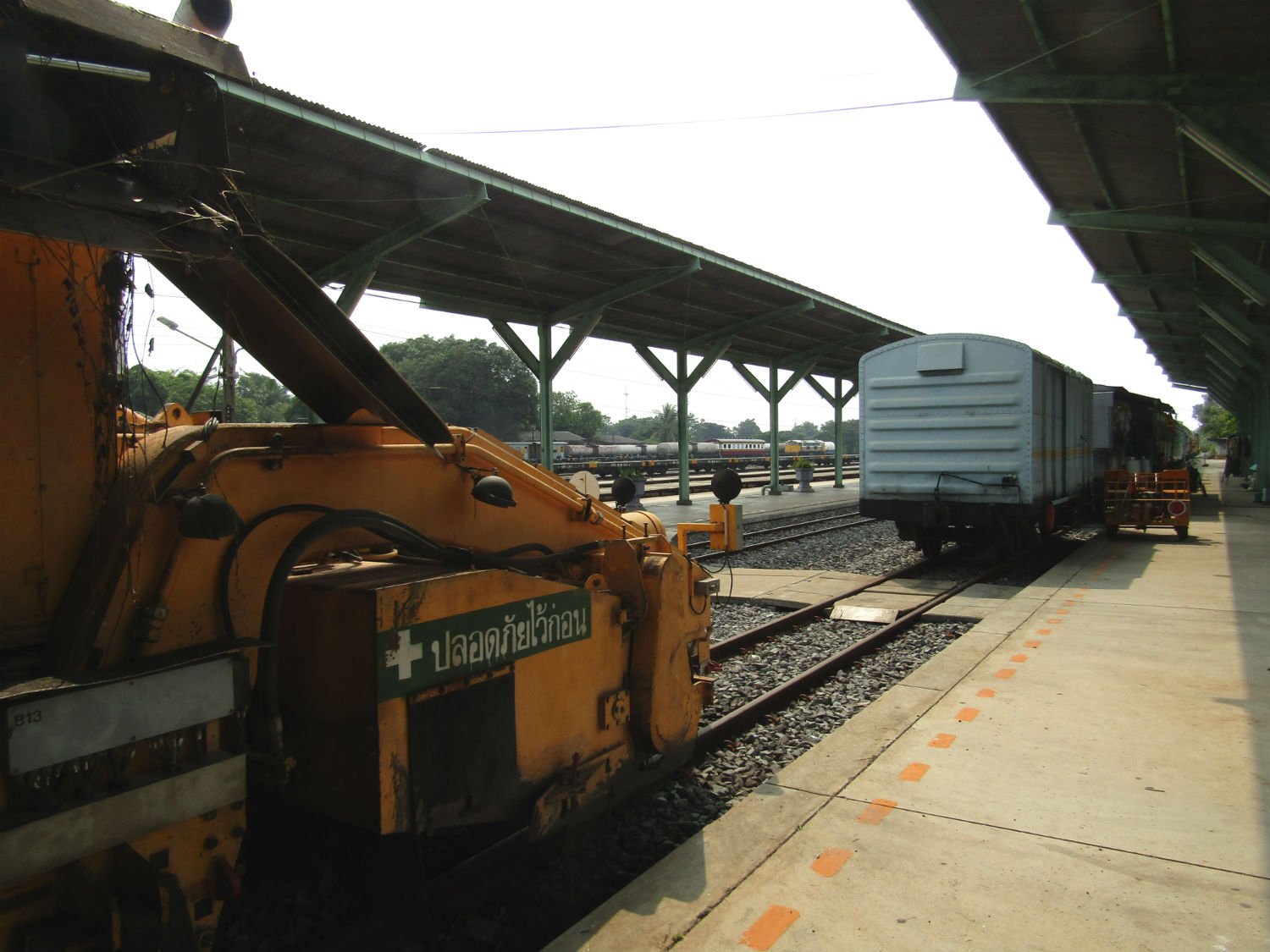 Kaeng Khoi Railway Station, Kaeng Khoi, Saraburi Province


Wat Kaeng Khoi…….Wat Kaeng Khoi is located on a natural bend in the Pasak River close to the centre of town. As with the train station, a visit here is opportunistic. I'm not aware that this temple has much age, probably 19th century, but it is an attractive site next to the river. Beside the viharn is a white painted bell shaped chedi and a building housing the Phra Non (relining Buddha). In a compound nearby is a memorial that has some military significance. It appears that during WWII bombs were dropped on the town. This makes sense when you consider that Kaeng Khoi is a railway junction.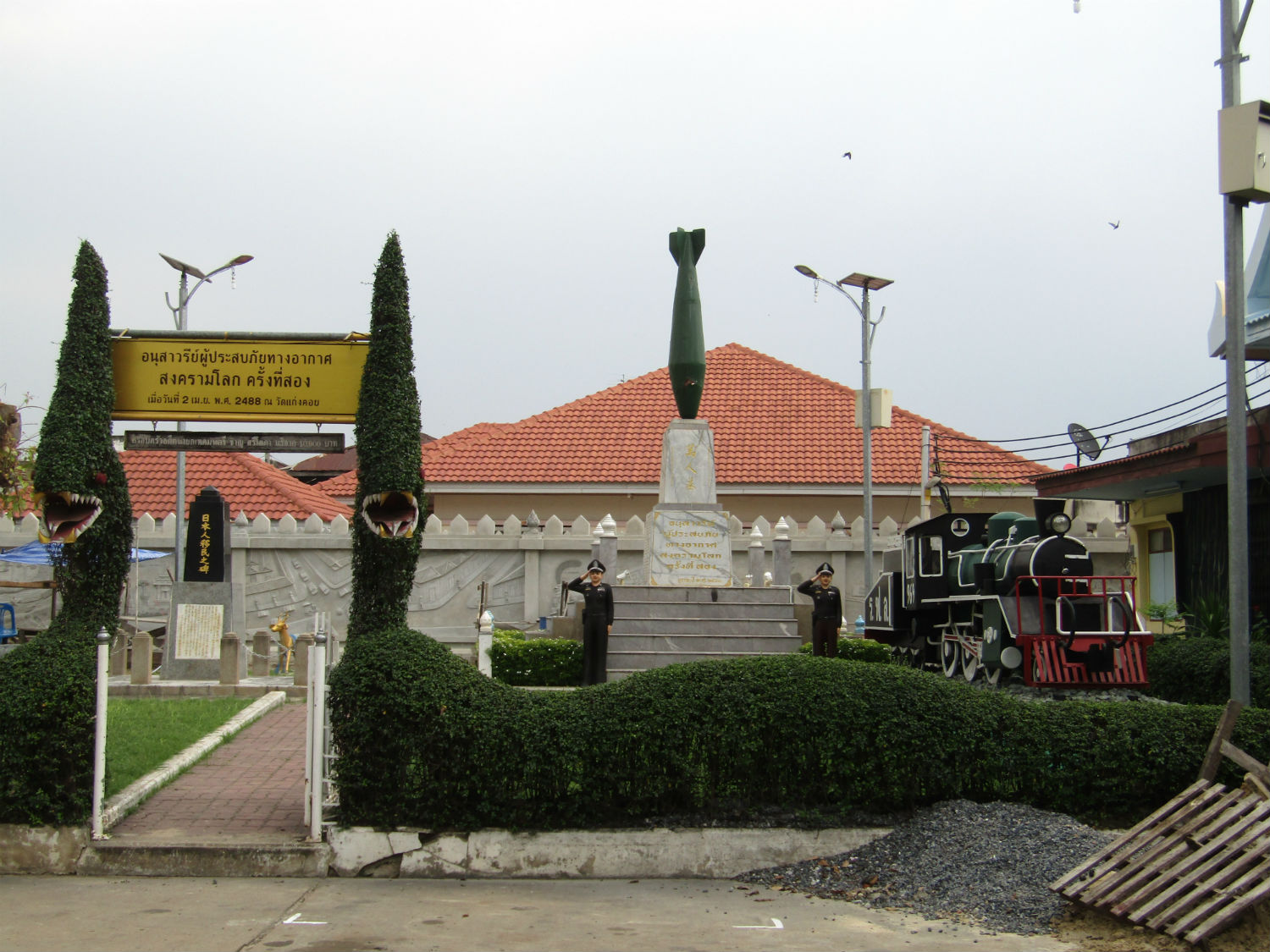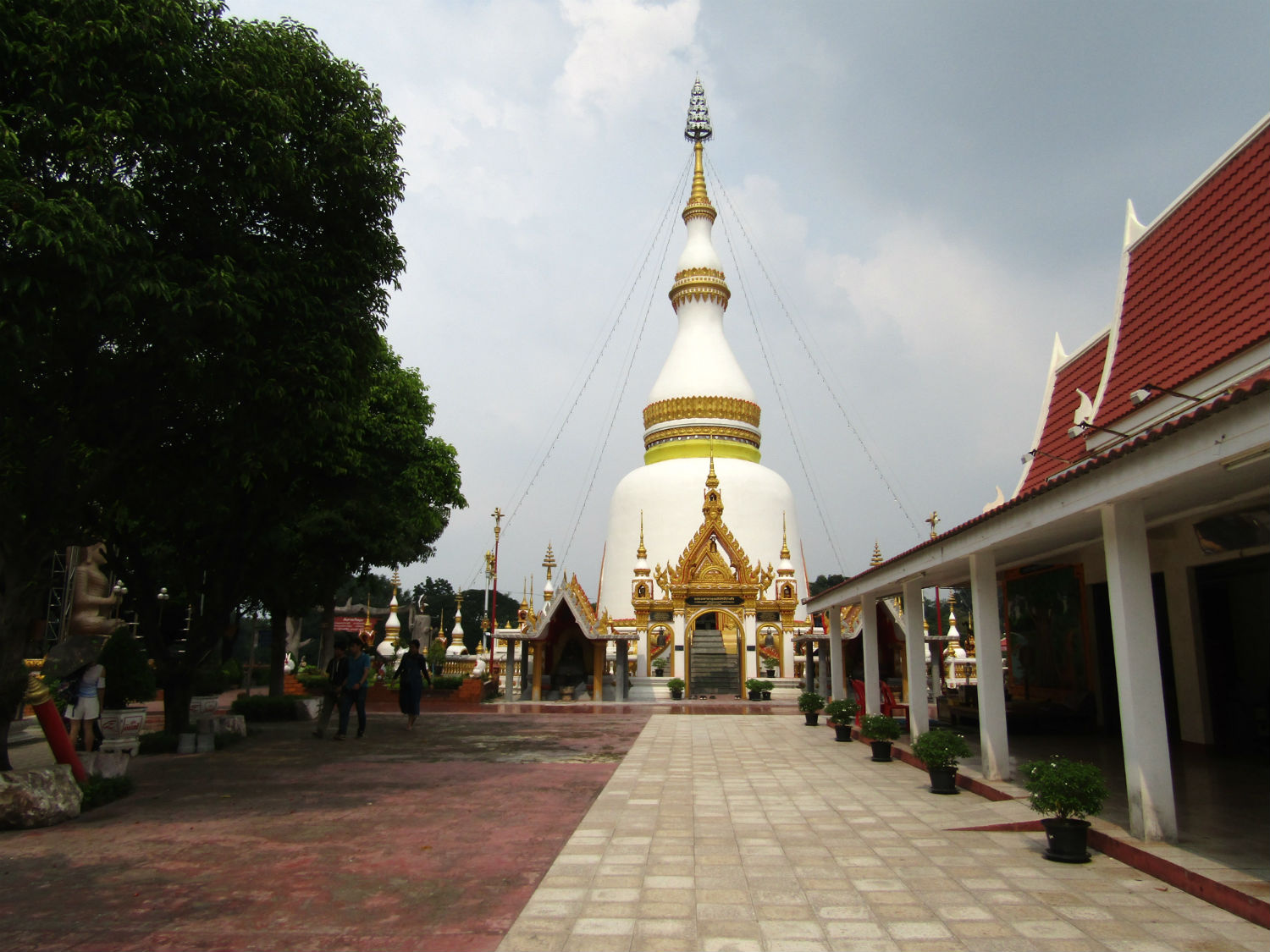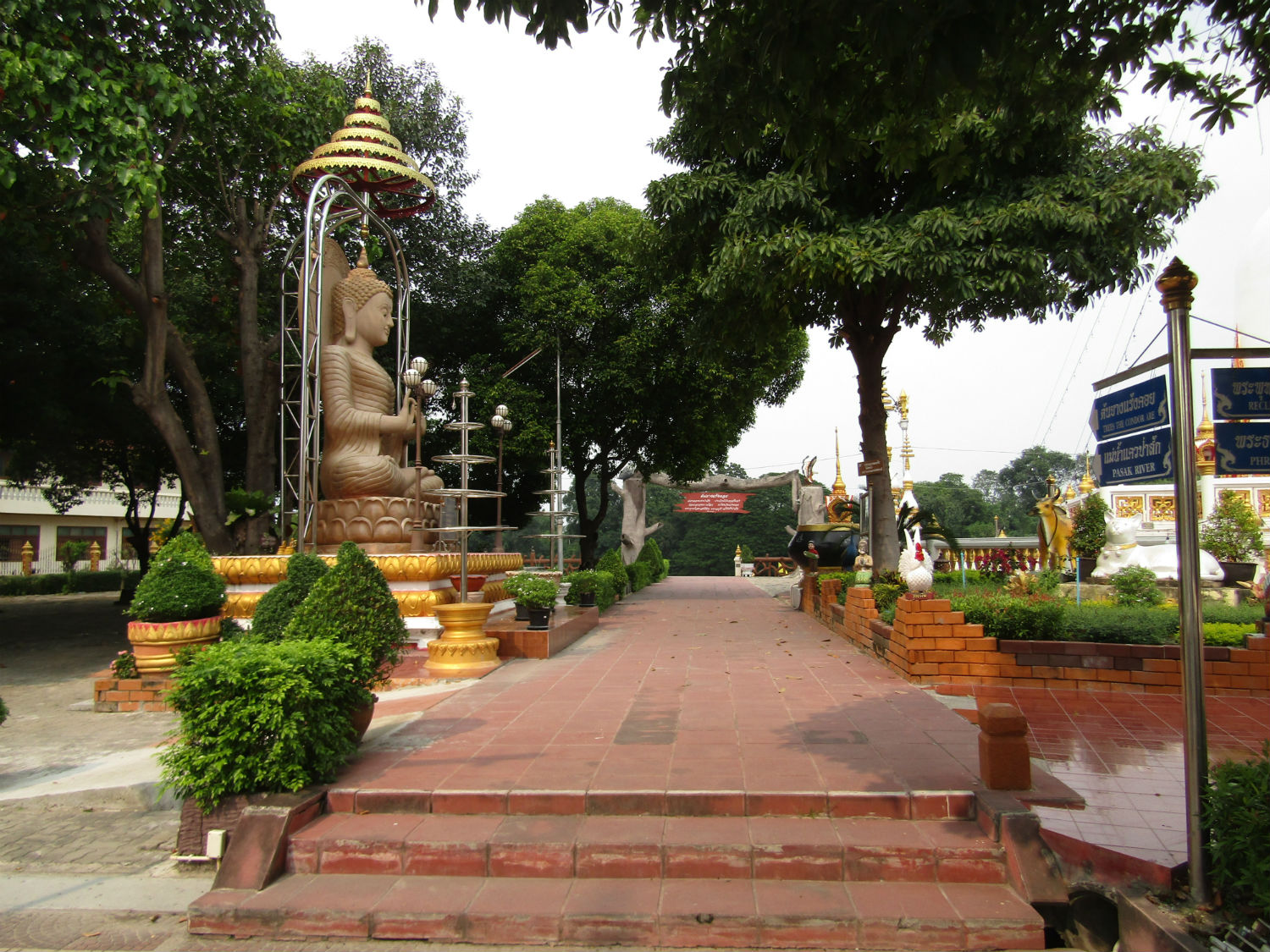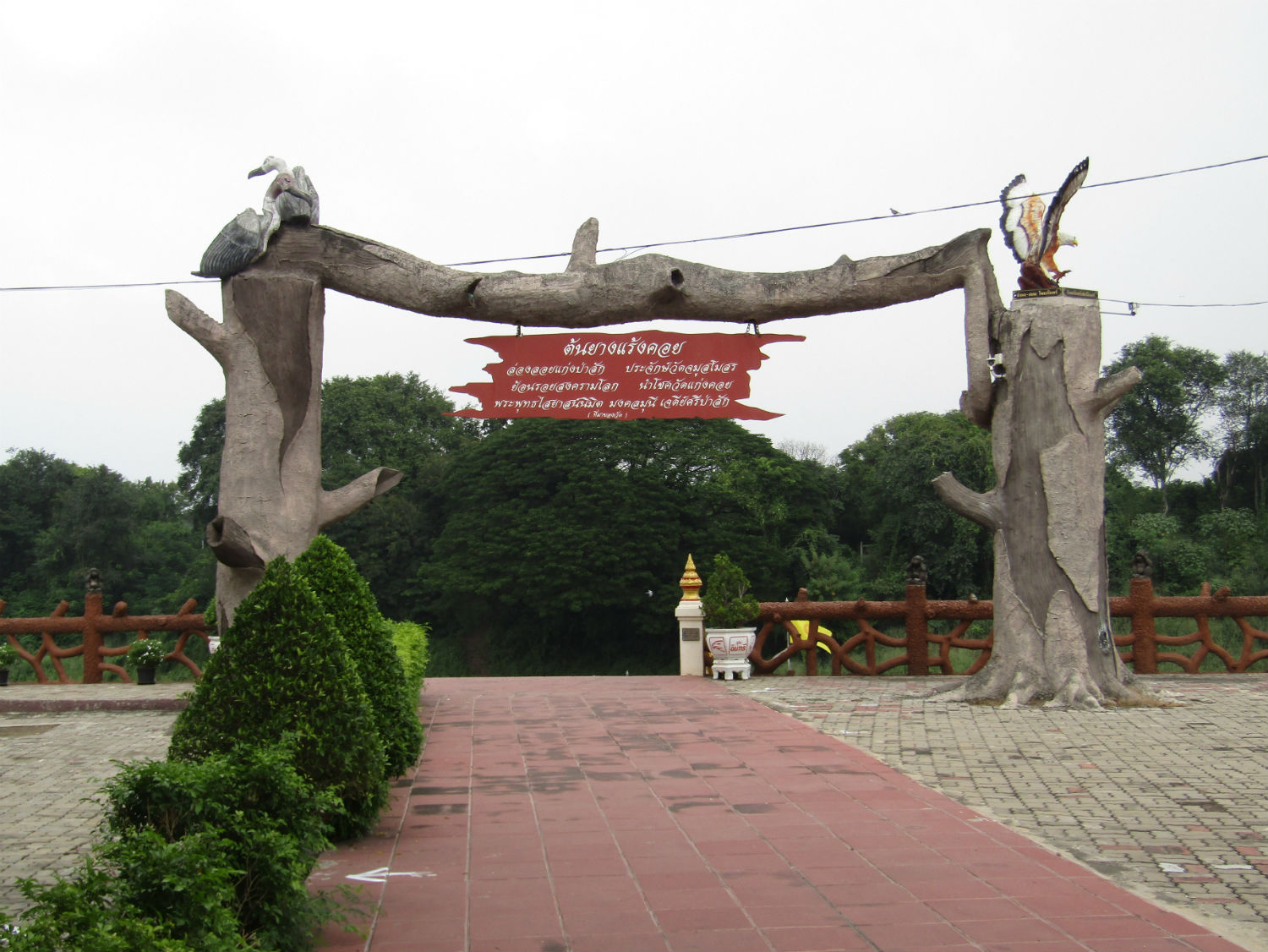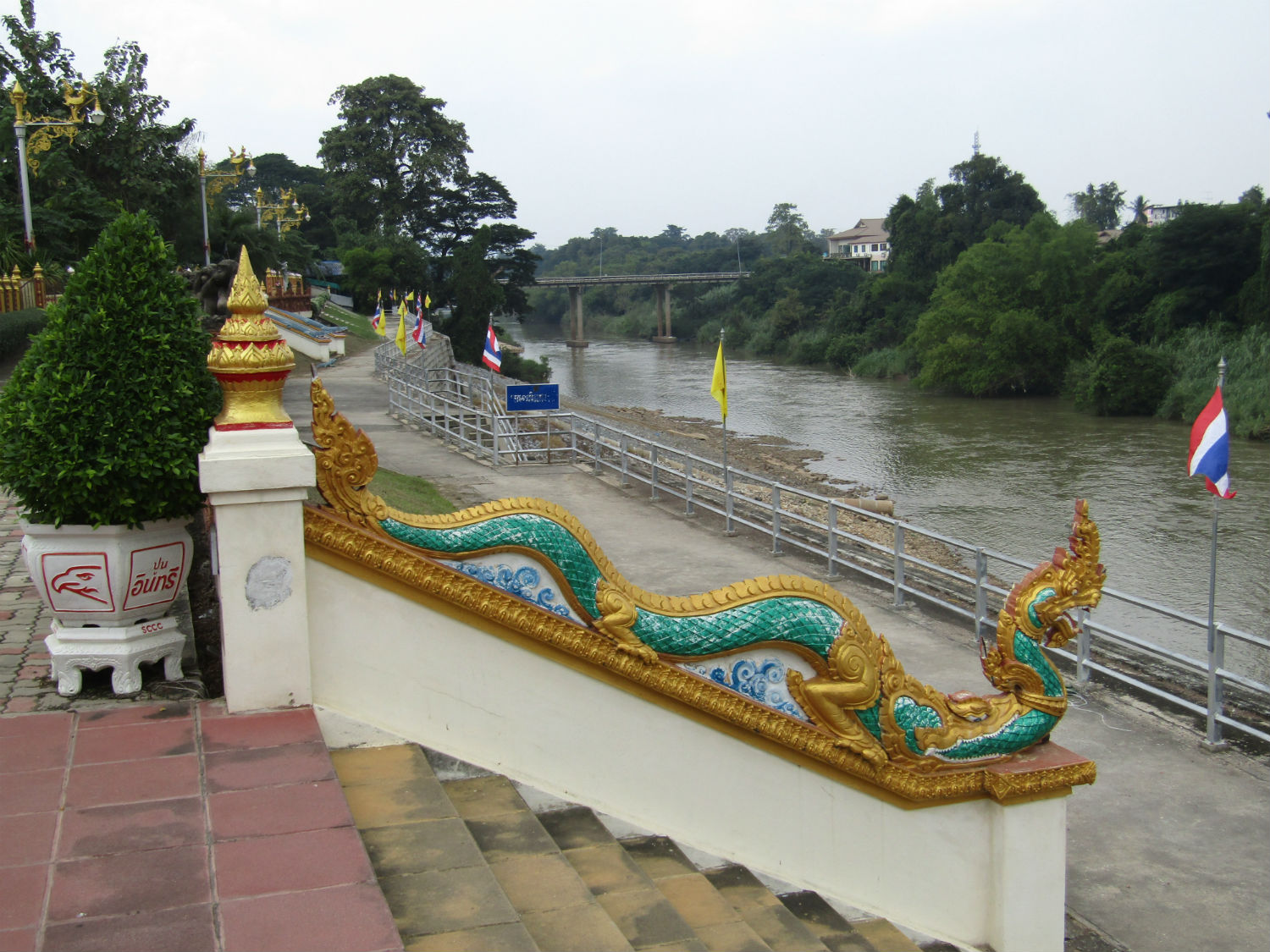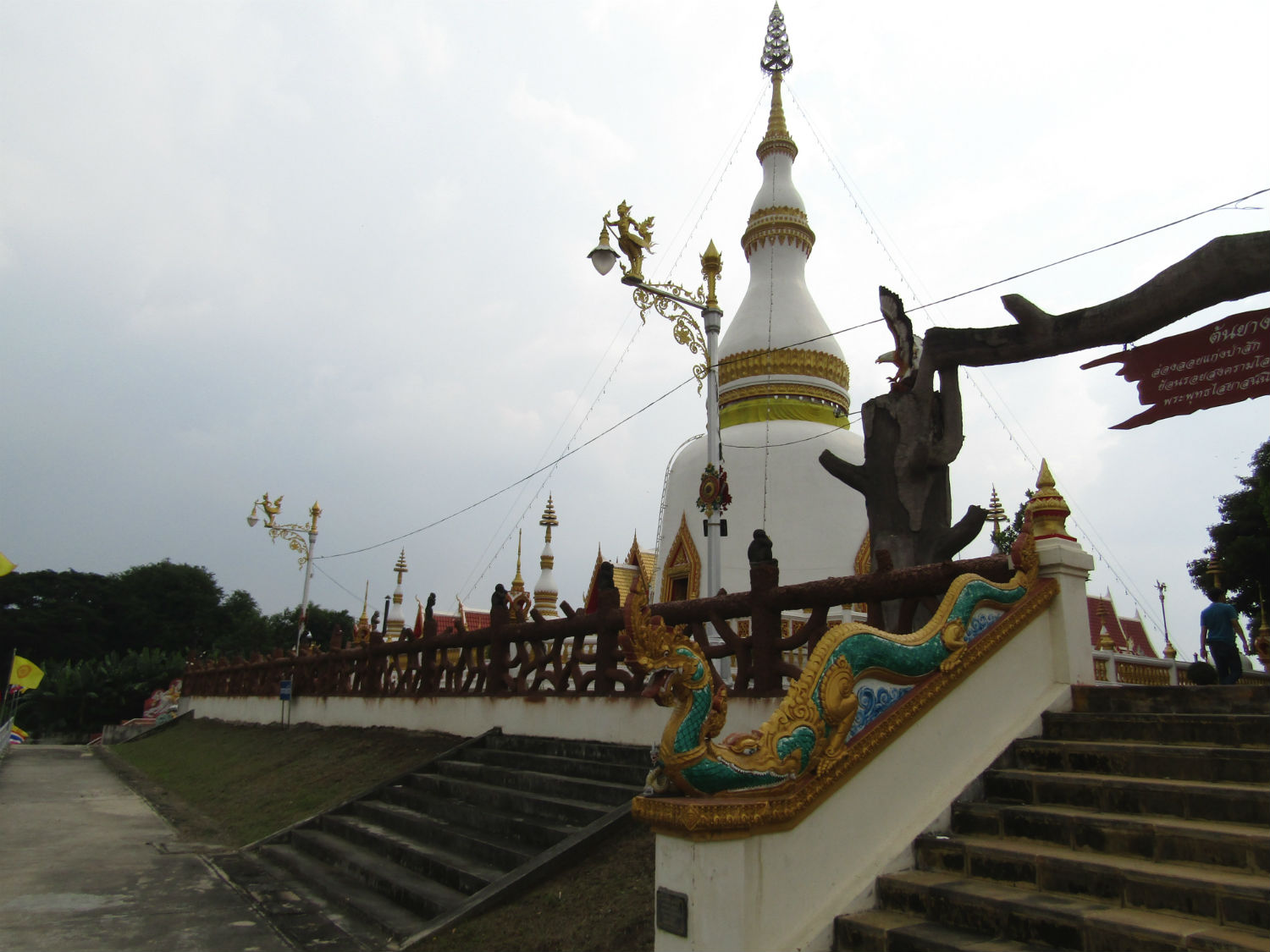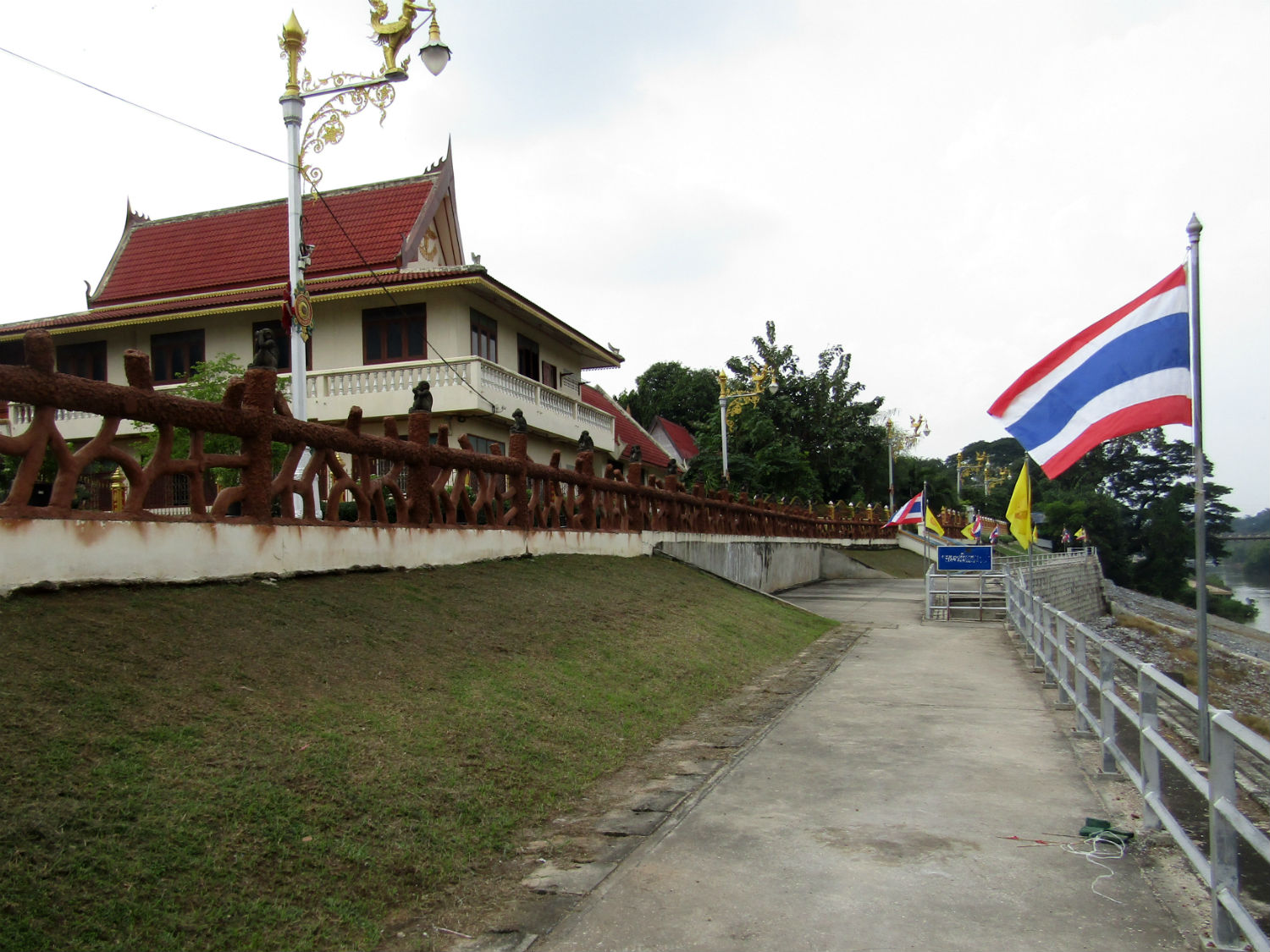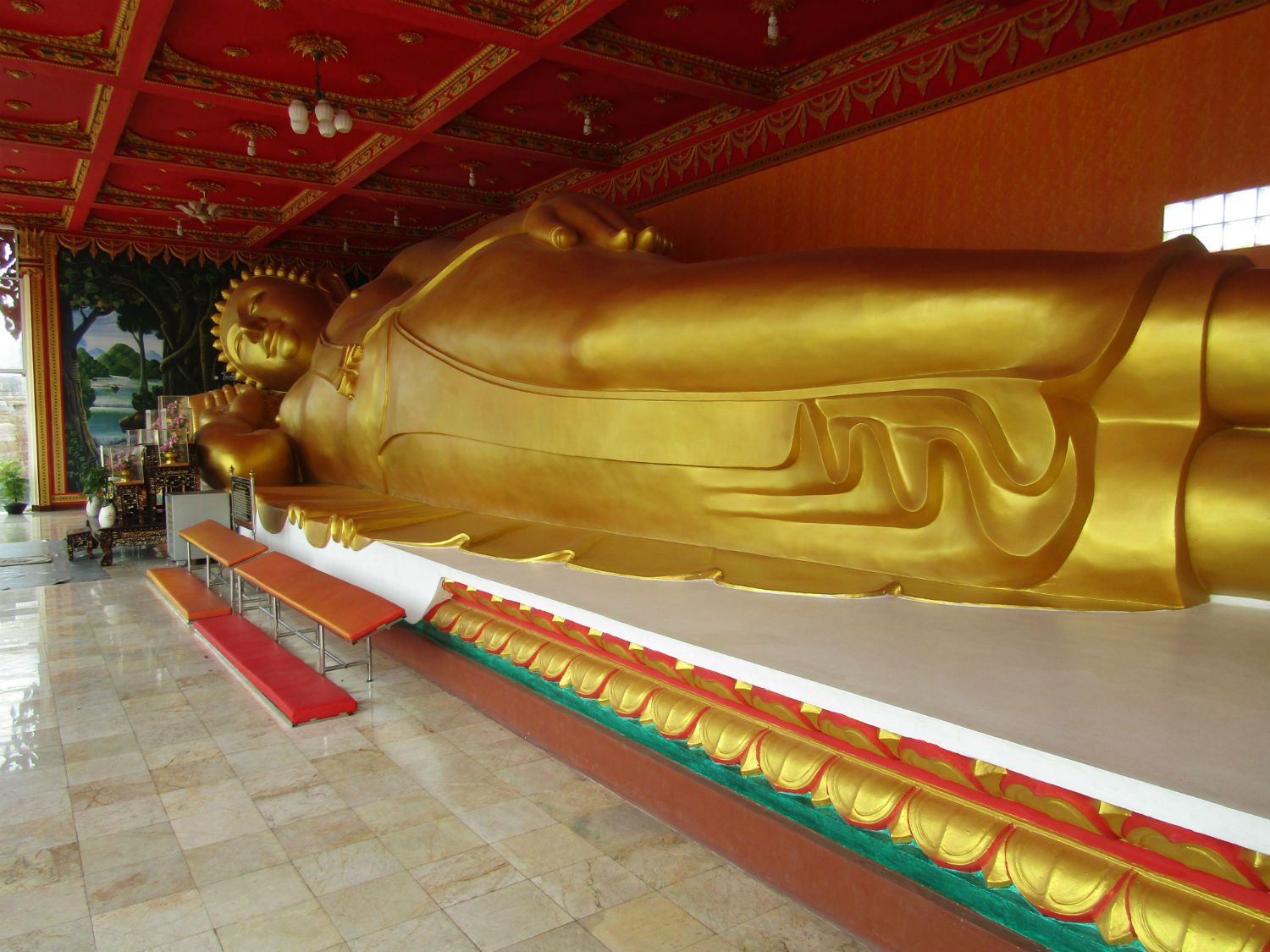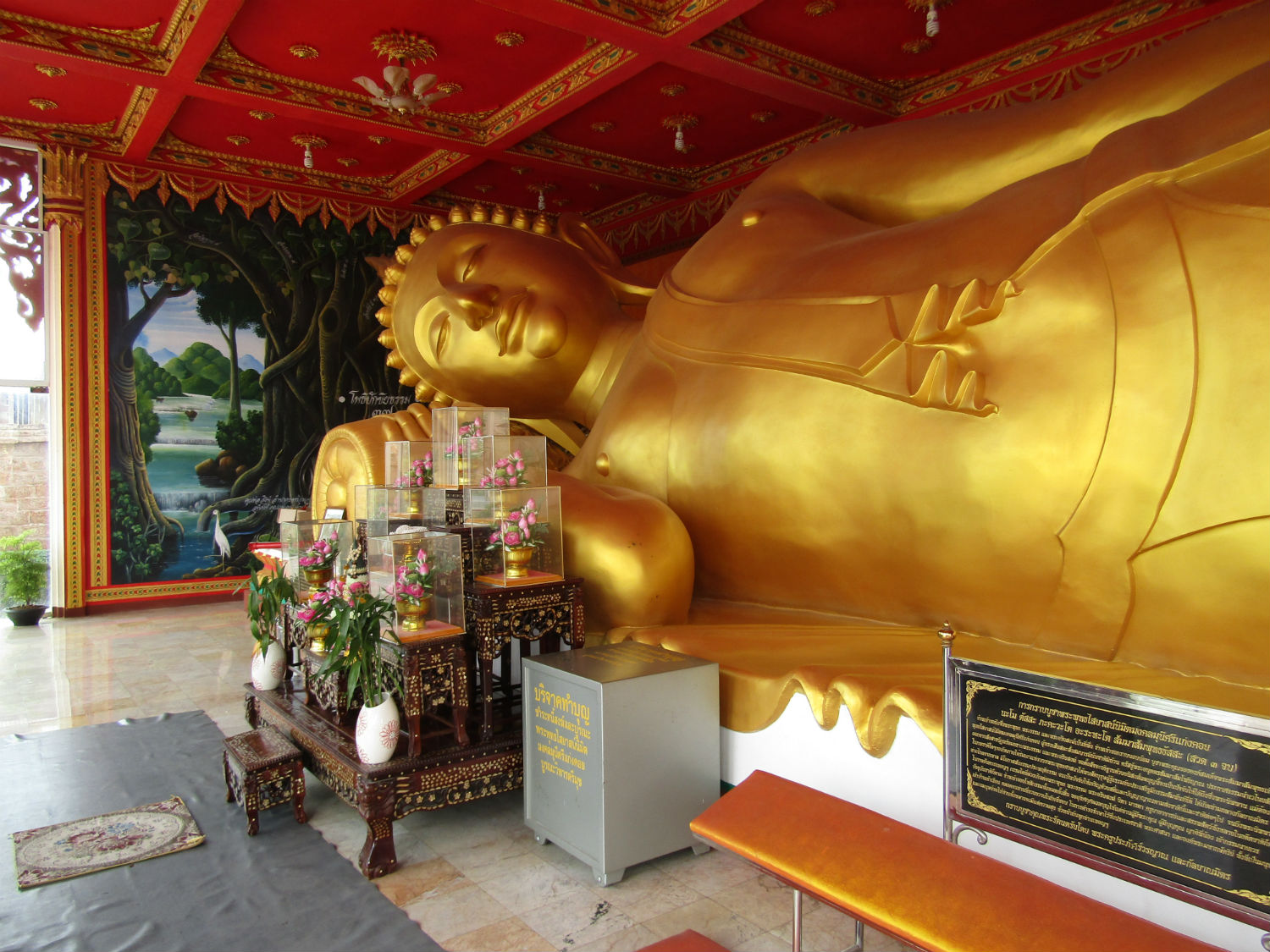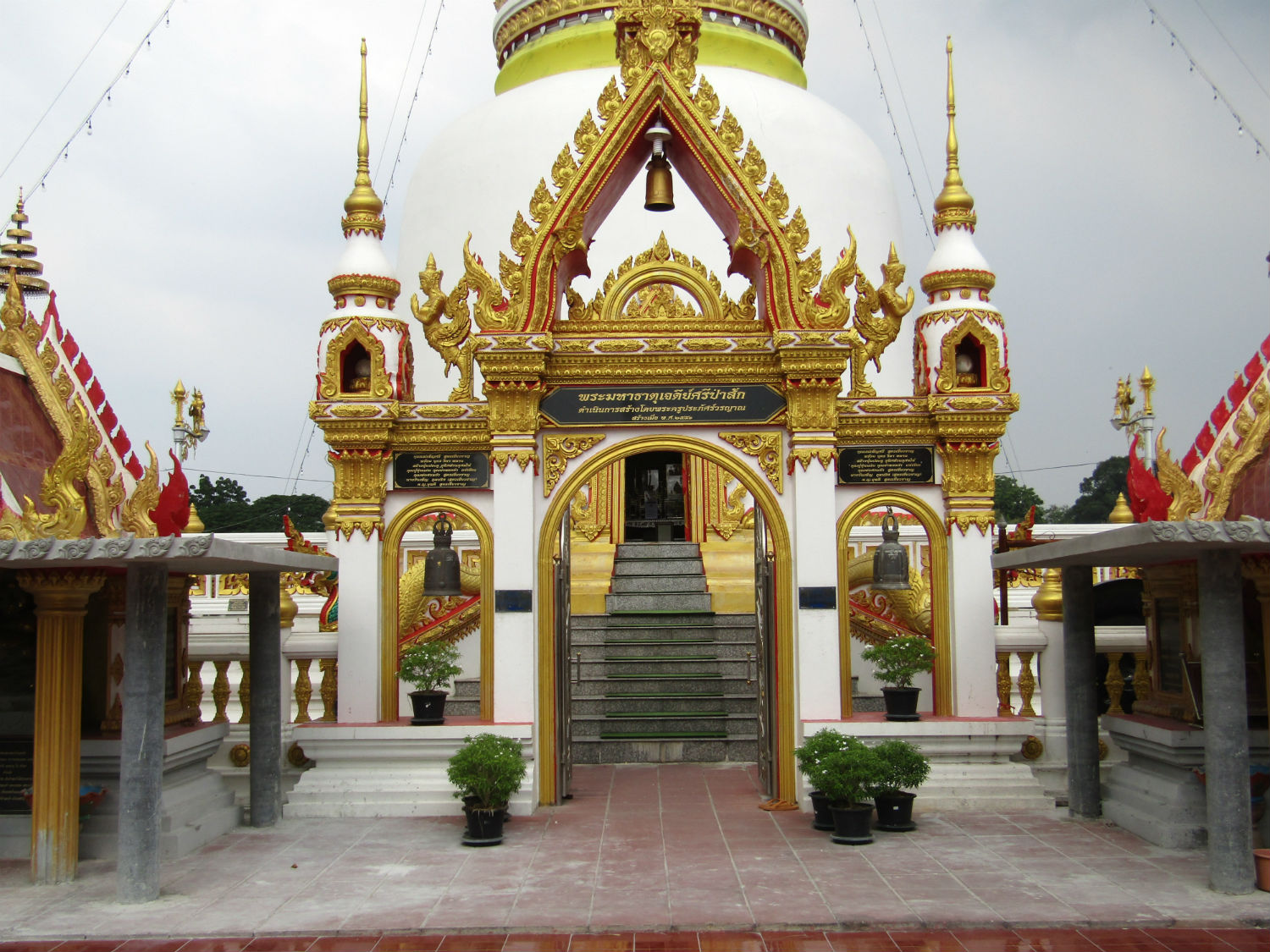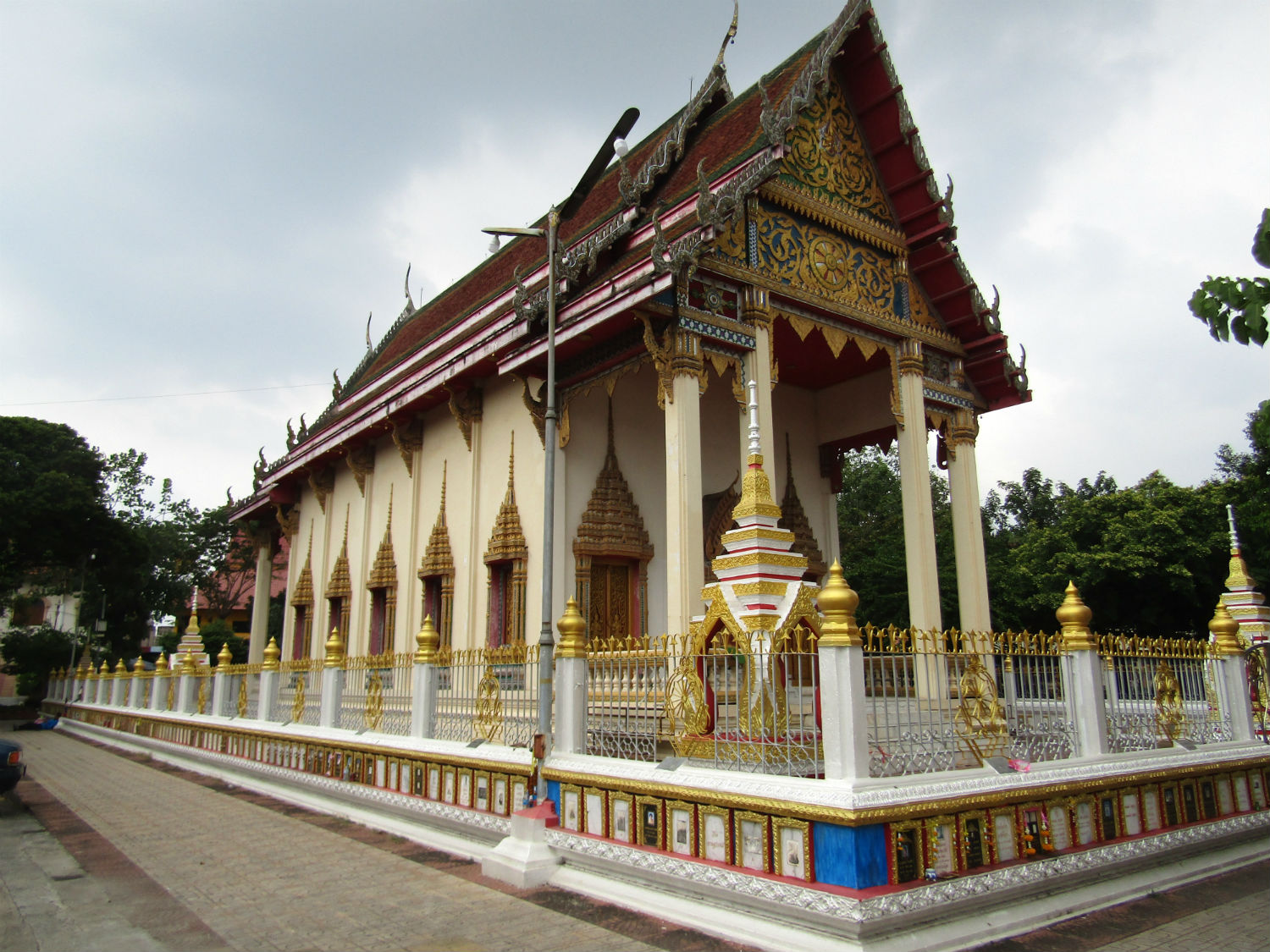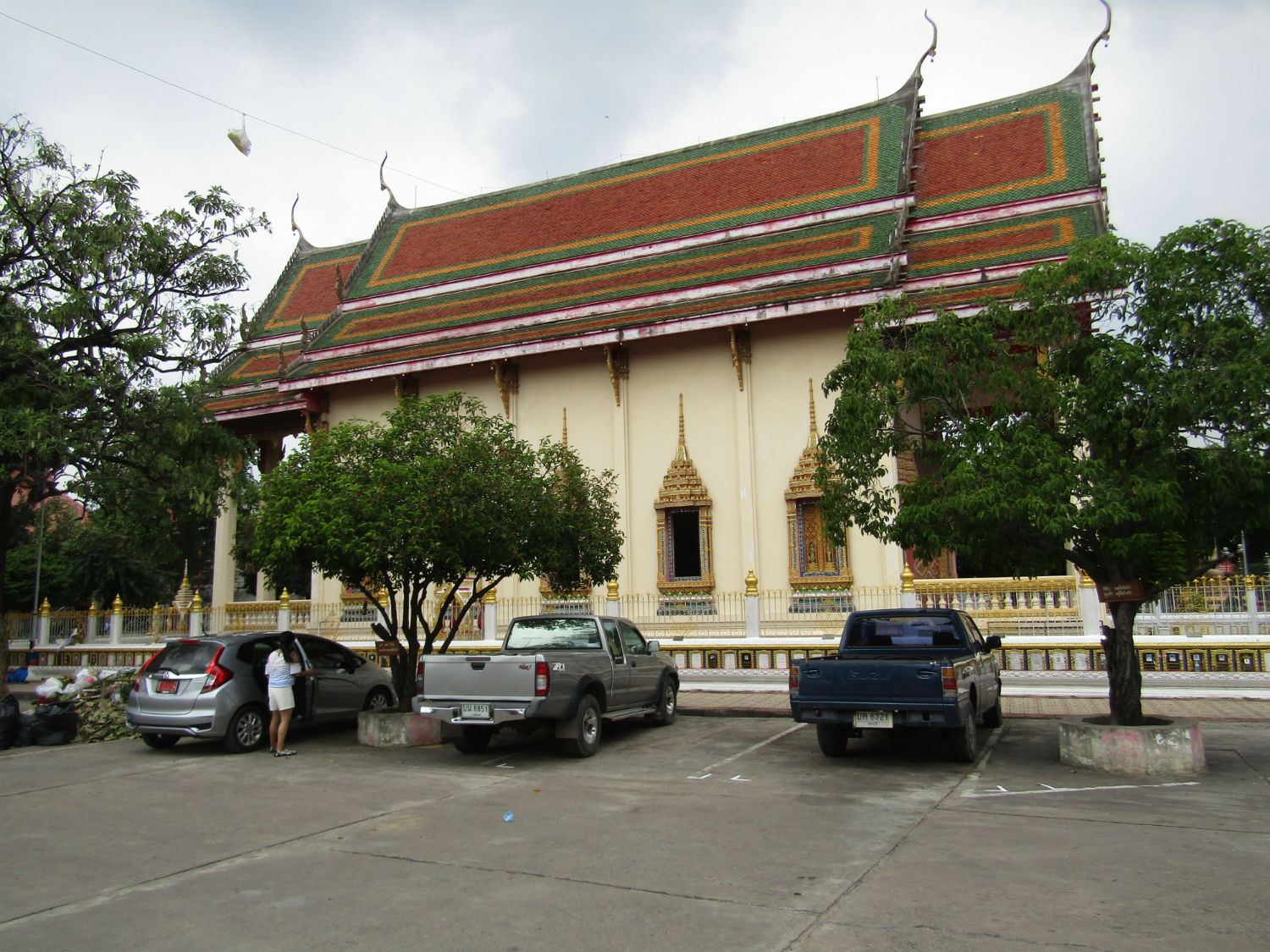 Wat Kaeng Khoi, Kaeng Khoi, Saraburi Province


Back on track……..As we make our way on towards to Mittraphap Road, I just can't resist making another stop, this time on the opposite side of the railway junction obscured from the station itself. It's another repeat stop at the workshops here and I'm not disappointed. Two locomotives are in the workshop but difficult to photograph from the road. Then WOW! I'm invited to look around the workshop and that's a first. Almost unheard of these days in the UK, I can only assume that the discretion is due to inactivity as it's a Sunday. Well those two engines soon become four as I venture further along the sidings and that has made my day.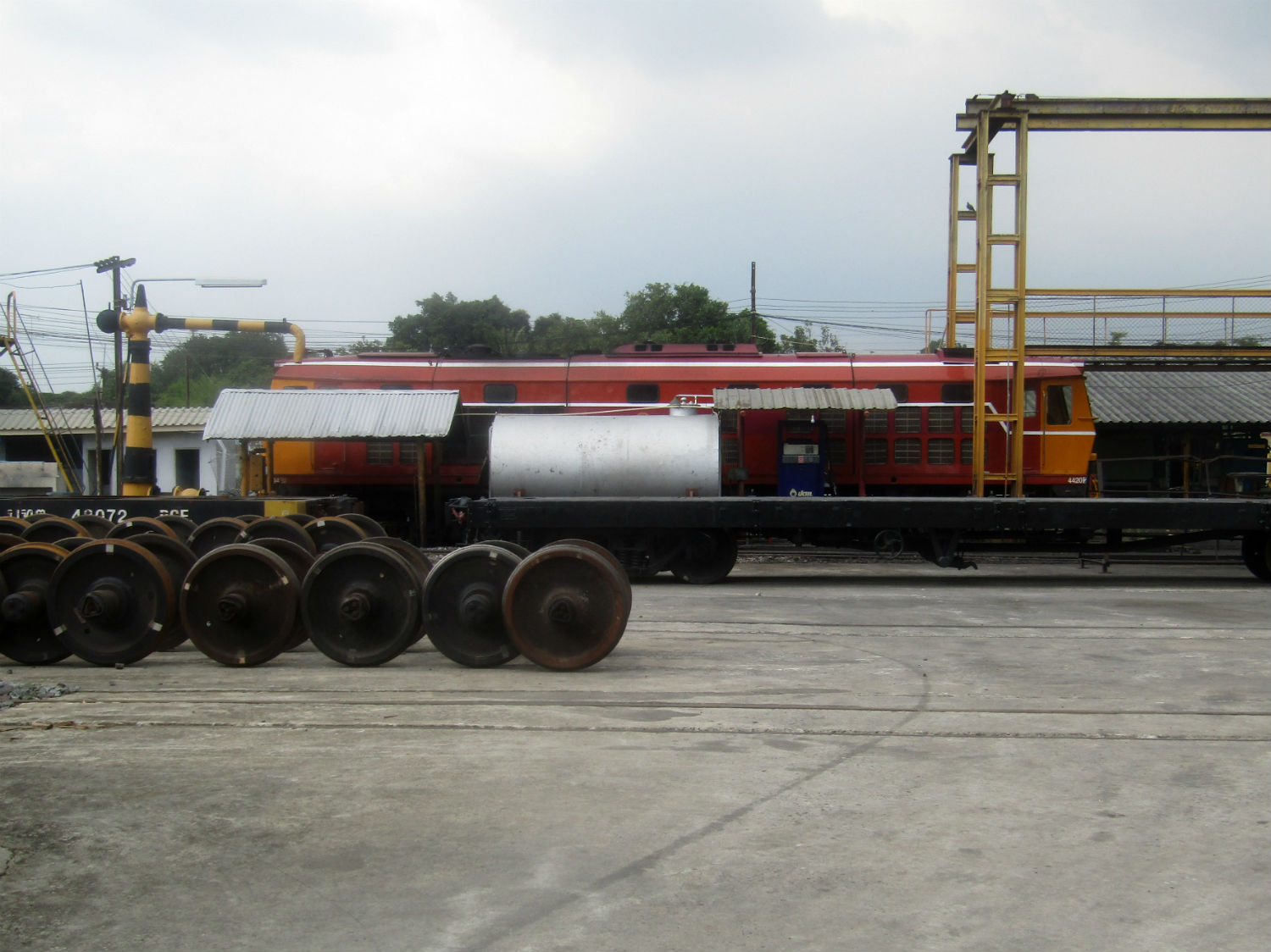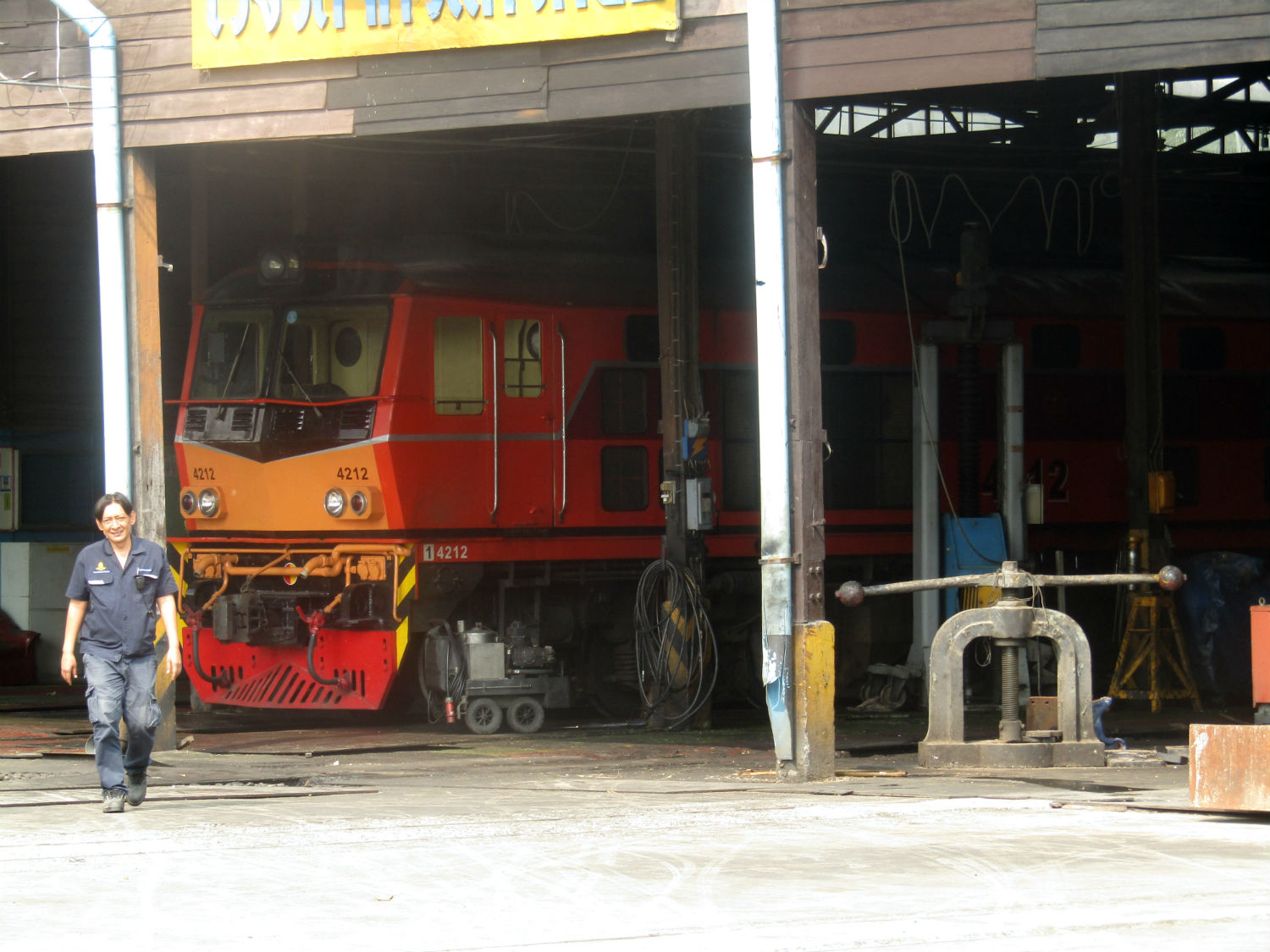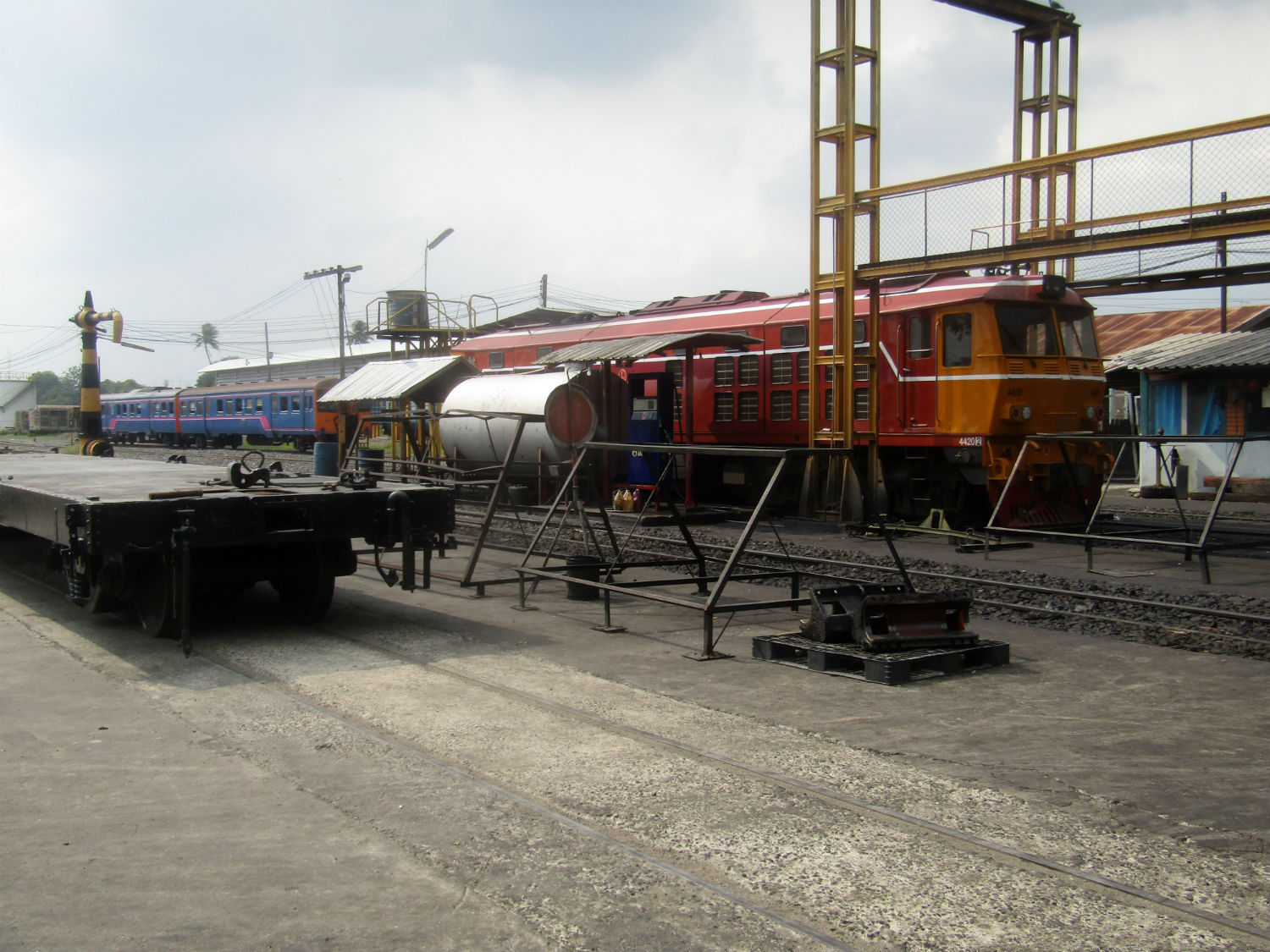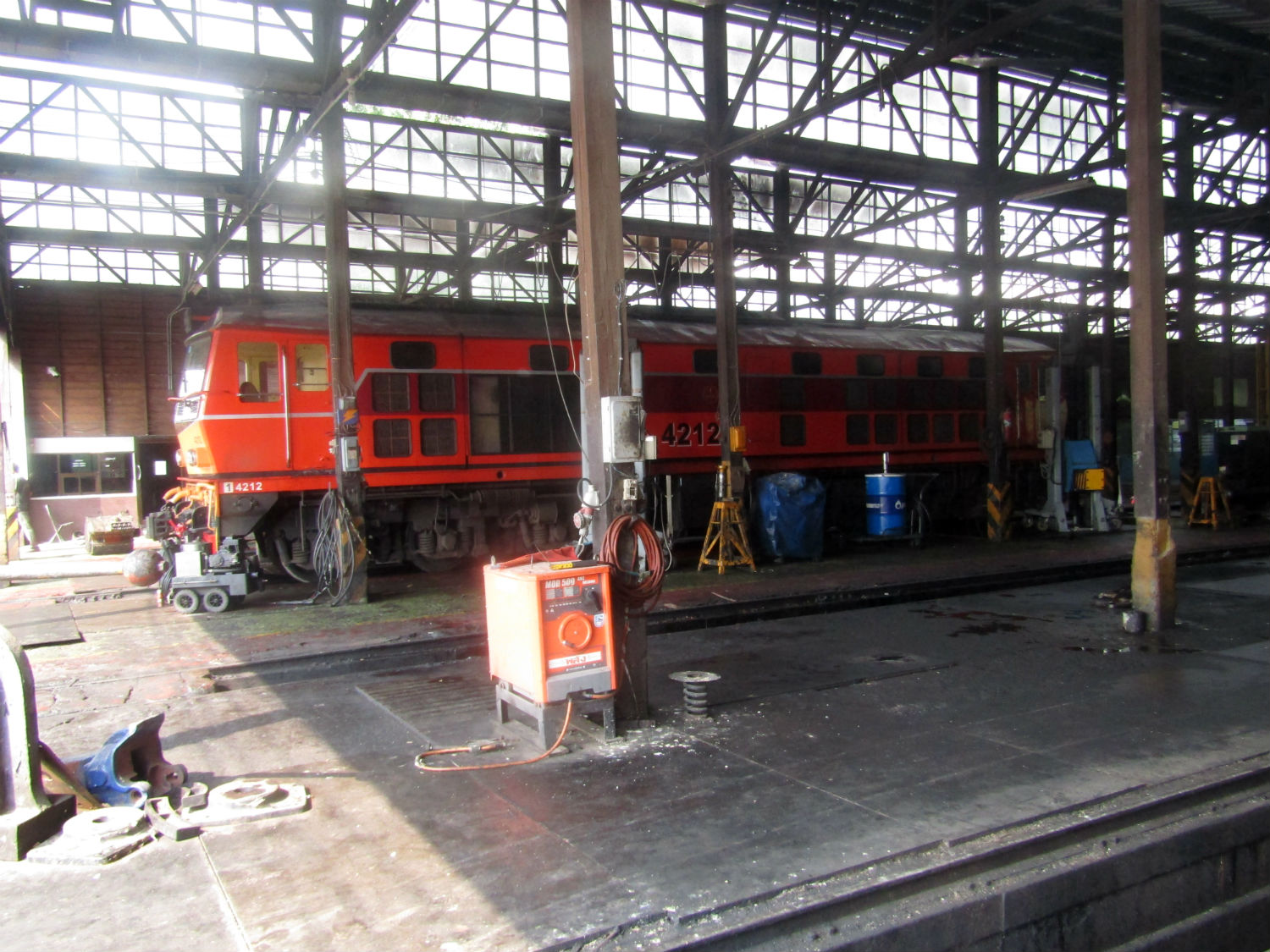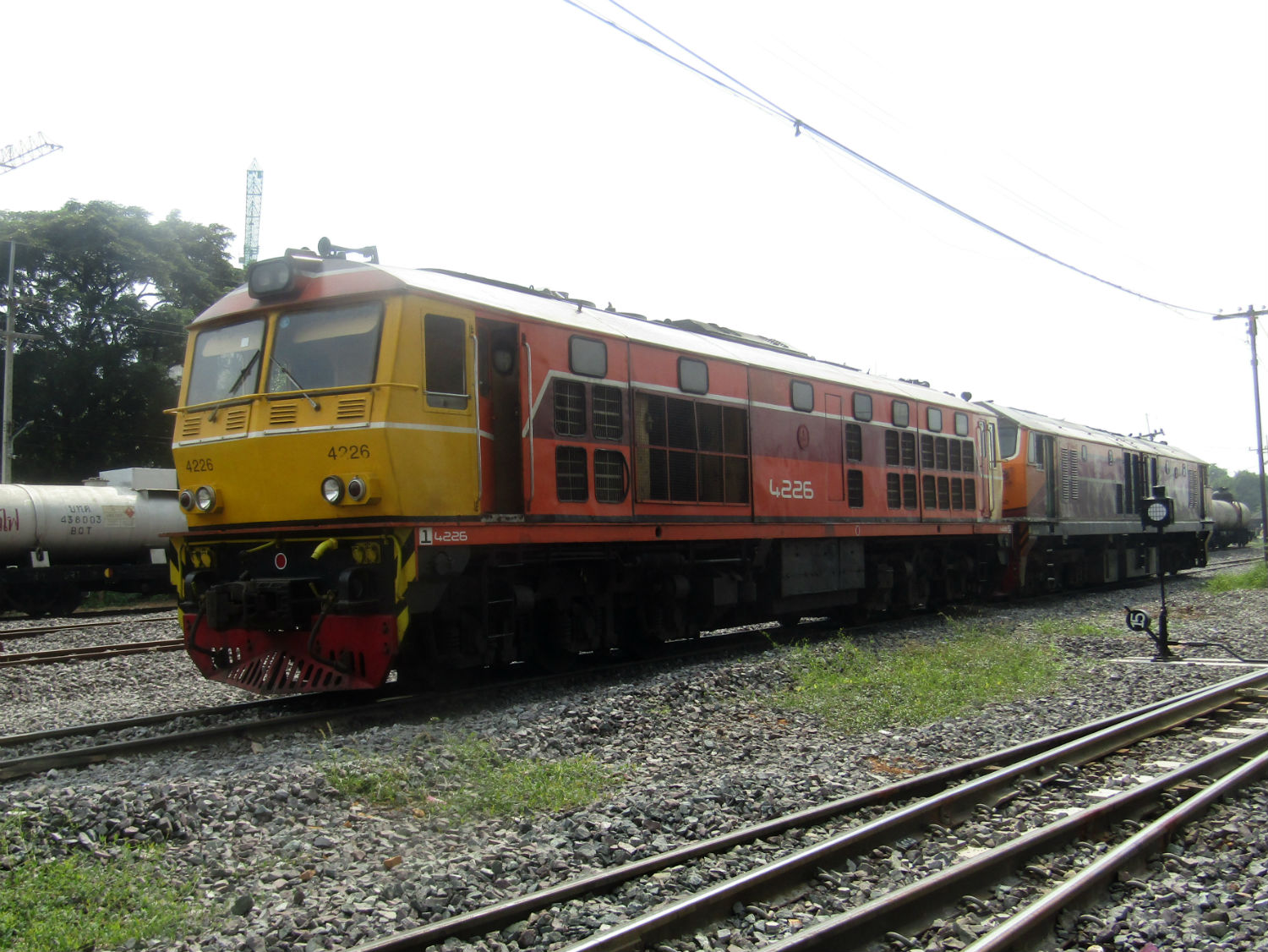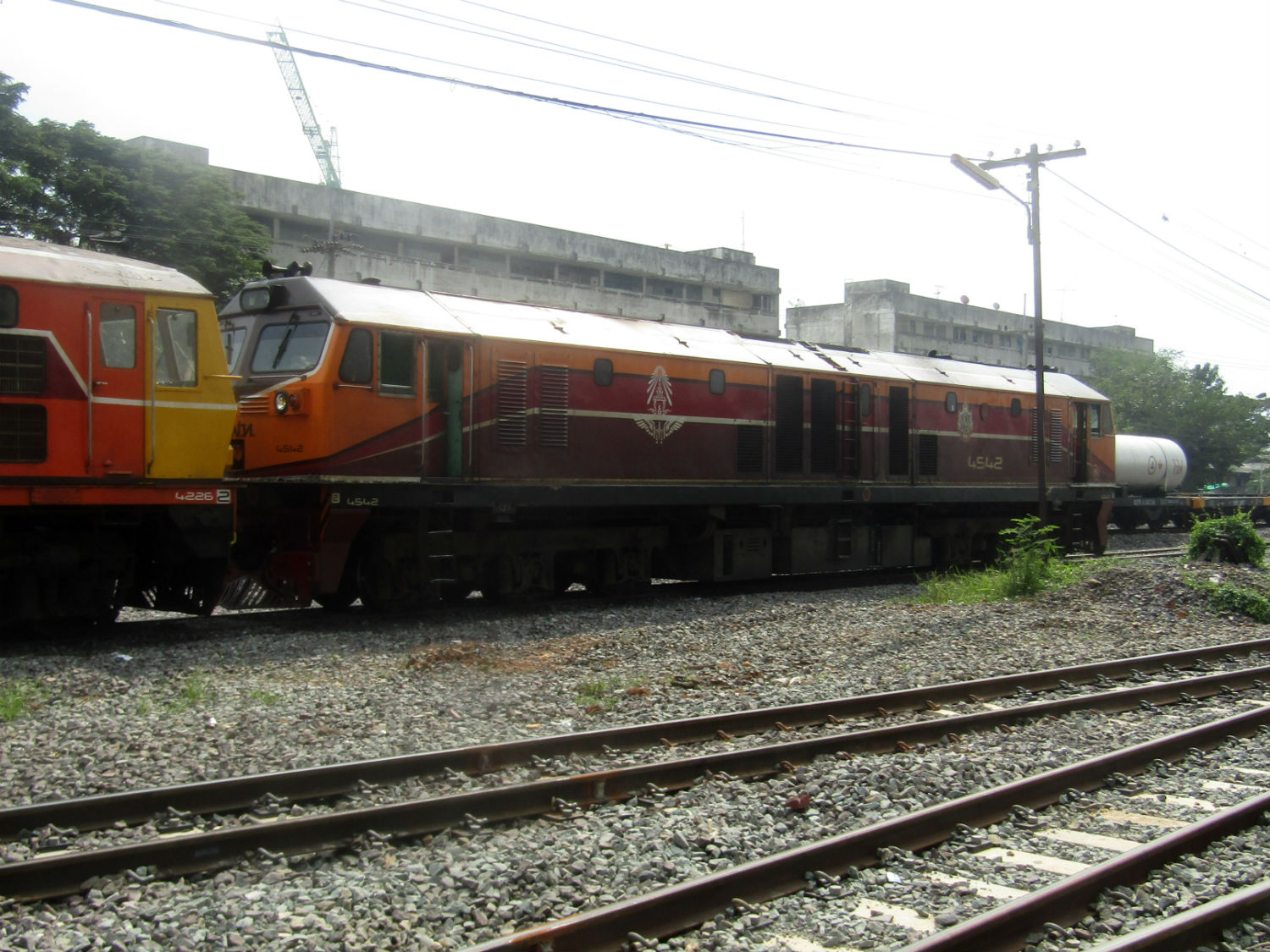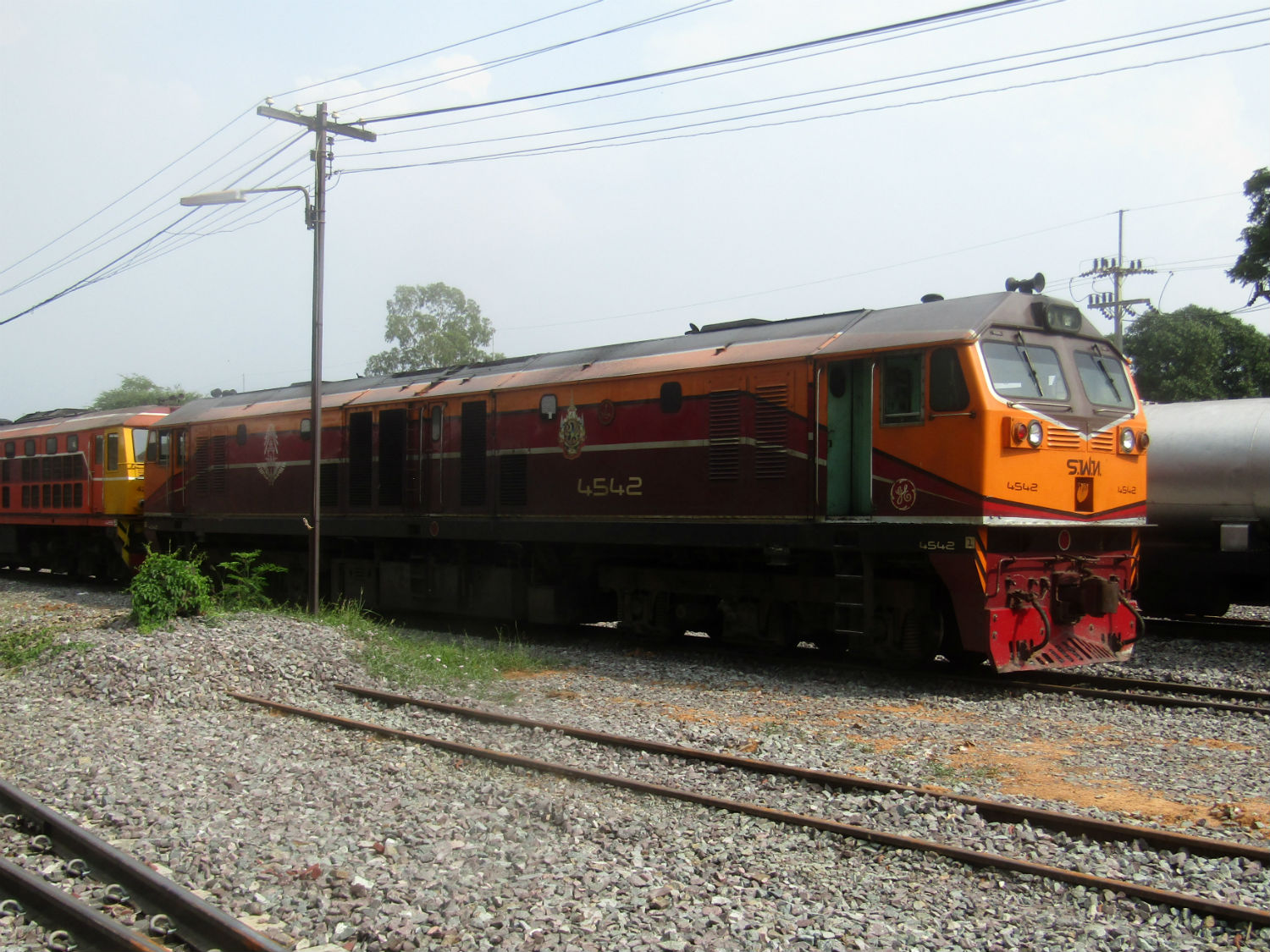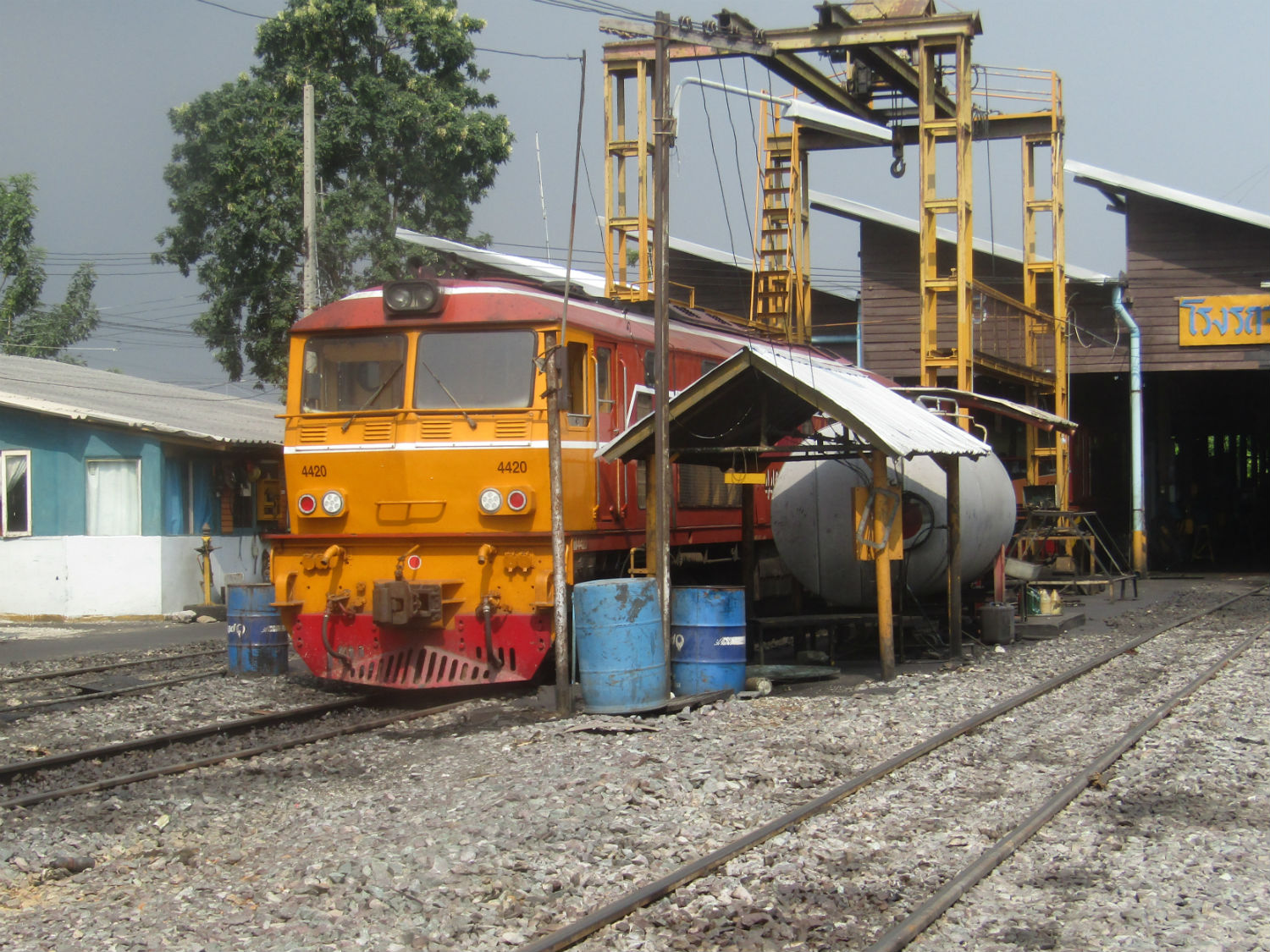 Kaeng Khoi Junction Railway Depot, Kaeng Khoi, Saraburi Province


Baptism……..
As I make my way back to the car, a massive thunderclap crashes down as I peer up at an angry sky. I hardly reach the car before the clouds open. We will be travelling the rest of the way in a storm. Tropical storms are nothing new although this one seems a bit late in the season. As we rejoin the highway heading east the rain certainly seems persistent. With the force increasing the traffic slows and warning lights begin to flash. Very soon the visibility is down to 50 metres and I advise Katoon to move left and keep a slow pace. Unfortunately, before that advice takes effect we hit a river of water crossing the road. Katoon hasn't spotted it in the gloom and ploughs straight into it; nothing too serious though you would have thought but the Honda Jazz is hardly an all-terrain vehicle and suddenly there is a weird noise sounding like something dragging on the floor. It's now necessary to stop the car. Luckily amid slow moving traffic we are able to move left and drive straight into a filling station. With it still raining I manage to get out and have a look underneath. Part of the plastic undertray has become detached. It has to be fixed. Katoon searches for help and her prayers are soon answered. Waiting at a pump is a customer who has some tools and clearly some practical skills. All that it takes is a hammer and a flashlight and the undertray is back in place, Phew! That was lucky and while not a baptism of fire, it is a baptism with water for a car that has hardly turned a wheel before now.
Pak Chong……..
It was never going to be a difficult days travel today; three hours at most, but we certainly make a meal of it. With rain still lashing down, it's pointless to proceed and we wait in the minimart with a coffee until it abates. It really is a short hop to Pak Chong from here and the rest of the trip is uneventful. Accommodation is pre-booked and we arrive as the storm blows itself out. Banchomkhao is located along a street to the right of the main road into Pak Chong.
Reunion……..
It's interesting that Pak Chong was the first place I visited after meeting Katoon nearly eight years ago now and the reason is the same; her sister and family live and work here. Shortly after booking in at Banchomkhao we're off to the hospital where there is staff residences. By 6pm we return and I can start on my blog. Inevitably it lacks substance on the first day and merely introduces the reader to this popular town close to Khao Yai National Park. The reunion continues around 8pm when we go out for lunch. I've no idea what to expect but we reach an open-air restaurant that seems pleasant enough. The order begins with a hot pot; various meats and seafood cooked with fresh vegetables in a stock. Several other dishes arrive; cooked meats and squid with fresh vegetables. These are eaten with rice and sauces mostly with garlic and chili and lemon juice. This meal is uninterrupted although it seems to last no longer than is necessary. The fact is that the doctor is on call. He could get a phone call at any time. Stories of dinner cut short are the cause of amusement. As I close I would hope to take in some visitor attractions tomorrow but I fear there are limitations while I am here.
Blemishes……..
Apart from the issue with the car, while using my mobile device in GPS mode, I noticed a small crack in the screne. That clearly happened when it fell off the table onto the tiled foor at the residence prompting me to conclude that it doesn't bounce very well on such a surface! Soon after that I realise I'd forgotten my plug adaptor which I most certainly need to recharge the battery in my Canon. Fortunately I'm able to borrow one. They say problems come in threes. Lets hope its no more than that!
Next Page.