Preparations…….. Arriving back in Bangkok late from our previous tour, there's just two full days to prepare for the next, thankfully much shorter that the one just ended. Preparations start almost immediately with confirmation of a flight. Katoon decides to do a load of washing even though its nearly evening. It can hang out to dry overnight. The next day another load gets done and by evening things are up to date leaving the last day free and it's just as well she did.
At the residence there's no air-conditioning and temperatures in the room soar in the afternoon. I stick it out as long as I can trying to get my notes tidied up from the last trip but my organs begin to overheat and strange sounds appear! Feeling feverish I head upstairs to the only room with air-conditioning consuming huge amounts of cold water in the process.
If I don't take precautions now, I might not be able to travel, baring in mind my 30 days concession will expire in a few days. After 24 hours virtually locked up in the room, the symptoms ease and I begin to eat normally again. That was a worry! I now have to get things ready for a very early start tomorrow. That shouldn't take long.

Day 1, Monday 20 May

Congestion…….. 3am is not ideal to have to set the alarm and I've had very little sleep but a taxi is ordered for the trip to Don Muang International Airport for 4am. A second tour is about to start but will last only a quarter of the duration of the previous one. Reaching the airport in early morning is quite effortless but at Terminal 1 at Don Muang International Airport things are certainly not quiet and of course we must drop off luggage and get a boarding pass. I'm a little concerned we didn't pay the extra to reserve seats. Despite the fact that we have booked the flight together, it suits the finance director of AirAsia for the computer to select random seats knowing that many would like to change seats and pay the extra. However we are in luck as the check-in clerk puts us in adjacent seats against normal policy. So far so good. In the departure hall 1-6 which services aircraft out on the tarmac, it's incredibly busy with maybe 1 in 2 passengers having to stand in a lounge with little air-conditioning. However the system does seem to work. We're soon aboard the aircraft ready to take off at around 7.30am.
As regards the flight FD 251 there is not much to report and I just enjoy the view of the forest regions of Western Thailand, some of which I recently visited.
Yangon International Airport…….. Even recent reports I've read about Yangon International Airport suggests facilities are basic. However, I'm surprised to find a more friendly extending corridor for passengers leaving the aircraft rather than being bussed from the tarmac. Inside the terminal, although small, there are modern facilities including clean toilets, air conditioned immigration and customs halls and a revolving baggage claim. The immigration process is simple with no forms to complete once you have your visa. Your photograph will be taken but the process is rather slow if there is a queue.
Red and White…….. As soon as you pass through customs, there are the obvious taxi touts. They will offer to take you to the city for $10 but will accept $8 explaining that there is traffic to contend with.. This is not overly expensive, the rate in local currency being 10,000 kyat. Aware of another option, I change a few dollar bills and get a bus ride for 500 kyat per person (less than $1) to the city. These busses park across the access road to the left of the terminal exit. The only problem with this is where do you stop? If you have roaming or have purchased a local SIM card, you can follow the route and get of the bus a the nearest point to your hotel and take a taxi. Even without these aids, we managed to get off the bus not far from the Shwedagon Pagoda although due to Katoon's impatience, perhaps a couple of stops too early. Nevertheless a taxi from here to our hotel is just 1,500 kyat ($1).
Crystal Palace Hotel…….. As a Chelsea supporter I'm prone to forget this name and constantly have to refer to my booking form. In a few minutes we're outside the hotel and greeted as VIPs, something I'm not used to anywhere. Service and reception staff are available in force. At reception, I'm smarting from the fact that I can't remember my PIN number for my credit card and have to use the dollars I brought with me but it's then a double whammy since the receptionist is extremely fussy about the condition of some of the bills and I soon realize my budget could be short of $40. This immediately puts me into austerity mode until I can find a money changer to convert dollars or perhaps some Thai baht.
We're then taken to the 6th floor, then by stairs up to what appears to be an additional floor built on top of the main building. I nickname it the 'pigeon loft'. The room is smart enough and would probably justify the higher price I've paid here compared with the equivalent in Thailand but for the moment I'll reserve judgement.
Burmese lunch…….. As we head out for the first time, I cannot focus on my surroundings. It begins to dawn on me why the capital was moved some years ago. The old city here is crumbling and the government has not chosen to remain here and give the city it's support. Unfortunately I've found myself in 'slum city'. Crystal Palace Hotel is one of very few buildings in the area than meet modern standards. Otherwise there are decaying buildings, scruffy shops and dirty streets, the result of decades of neglect during Burmese isolationism. It's going to be hard in this district known as Bahan, to find a restaurant where Katoon will feel comfortable and I just sense that she'd rather go hungry. After wandering around for far too long we settle at a restaurant/food court where at least they have a menu in English but even then the fried fish curry I order is the strangest looking dish, or should I say combination of dishes, I've ever seen. Katoon though, seems happy with her fried noodles. On the way back to the hotel, I manage to change more dollars at a bank but fear I get a worse rate than at the airport.
An issue in the 'pigeon loft'…….. Back at the hotel there is a problem. The air-conditioning in the 'pigeon loft' isn't working properly or overworked due to its position on the hot roof of the building. In addition, the fridge is hardly working also. The problem is reported to reception who seem reluctant at first to take the necessary action but further complaint leads to a change of room. Success! Now that wasn't too hard was it and finally I can get a little sleep?
By Hand…….. It's worth mentioning at this stage that I decided not to bring my laptop with me and resort to writing up my notes by hand. Katoon, however does have roaming so we can find our way around. We really need that help since Myanmar still doesn't have enough tourists to set up enough tour agencies at least in this district. Neither does the hotel provide such service as it does in other countries i.e. Vietnam. At 5pm, Katoon isn't for being cooped up a room, 'pigeon loft' or not. I'm not so sure I want to leave the comfort of our new room though.
Shwedagon Pagoda…….. While I consider the options, I have to make up for the unexpected shortfall of available currency, I would rather be conservative but Katoon drags me kicking and screaming to the Shwedagon Pagoda. Clearly the most iconic attraction on this tour, this pagoda is just 15 minutes walk away but quite why we need to pay a visit this early in the tour is unclear. Perhaps the reason will become clear soon. Arriving in the evening has definite advantages. Sore feet on hot tiles in the middle of the day is not pleasant, while the changing conditions moving from day to night are just remarkable. The entrance fee for each of us as foreigners is 10,000 kyat (nearly $7). This is equivalent to fees for foreigners entering national parks in Thailand but there, Katoon only pays a nominal fee. The fee will be about 40% of our daily budget but I'm hoping that this will turn out to be the most expensive attraction this tour. As we head up to the the pogada, one thing is painfully obvious. The relative filth and squalor and general chaos all around the pagoda must be how things used to be, not just here but at other religious sites including those biblical cities, for thousands of years. No attempt at traffic management in what is essentially a street market as in most areas of Thailand, is considered here. So essential is it to scrape a living that a cart fully loaded with produce squeezes through an impossible gap and runs over my foot. Yet with a couple of hundred metres there is enough gold and jewels the feed the whole city for the foreseeable future.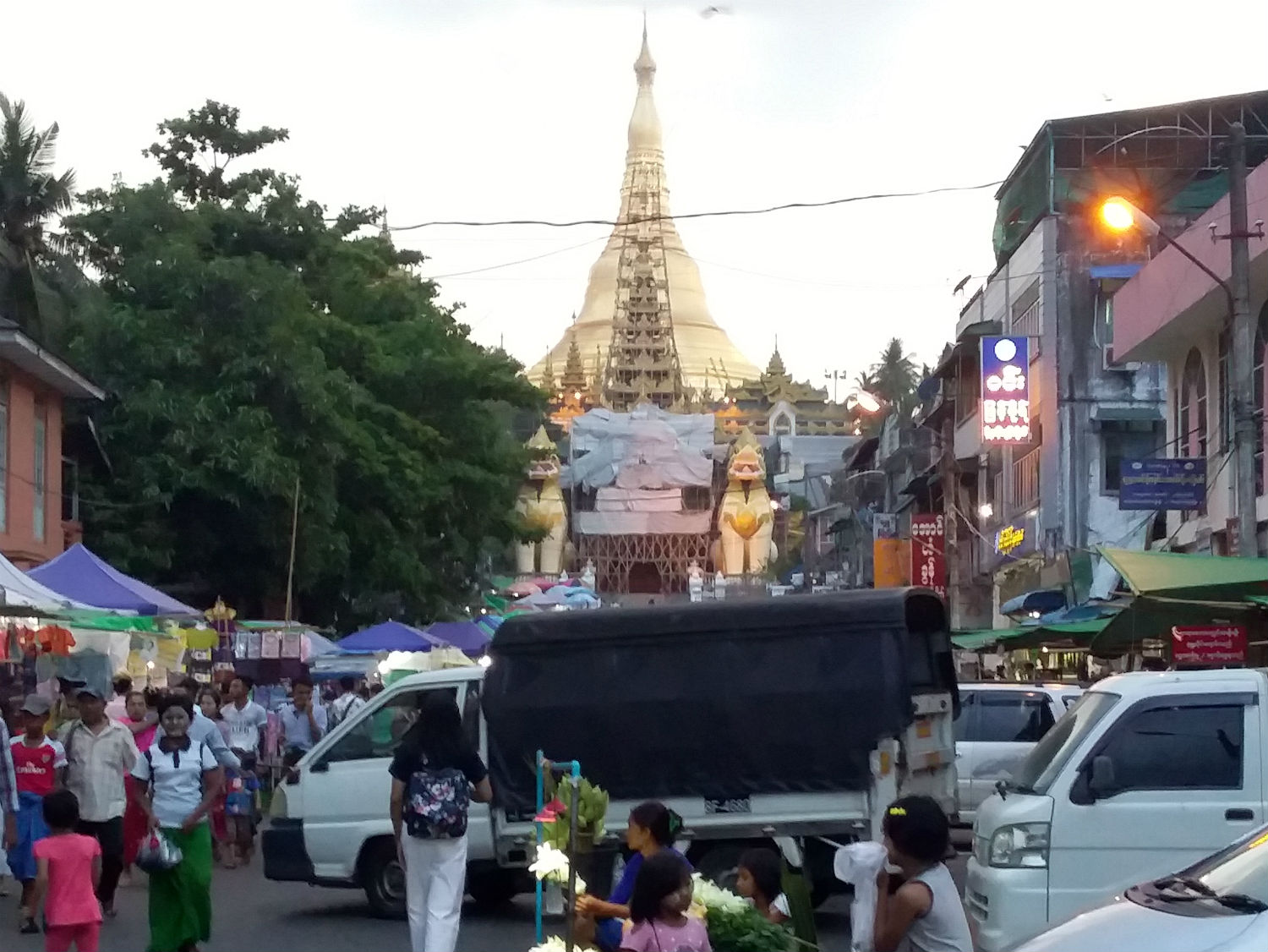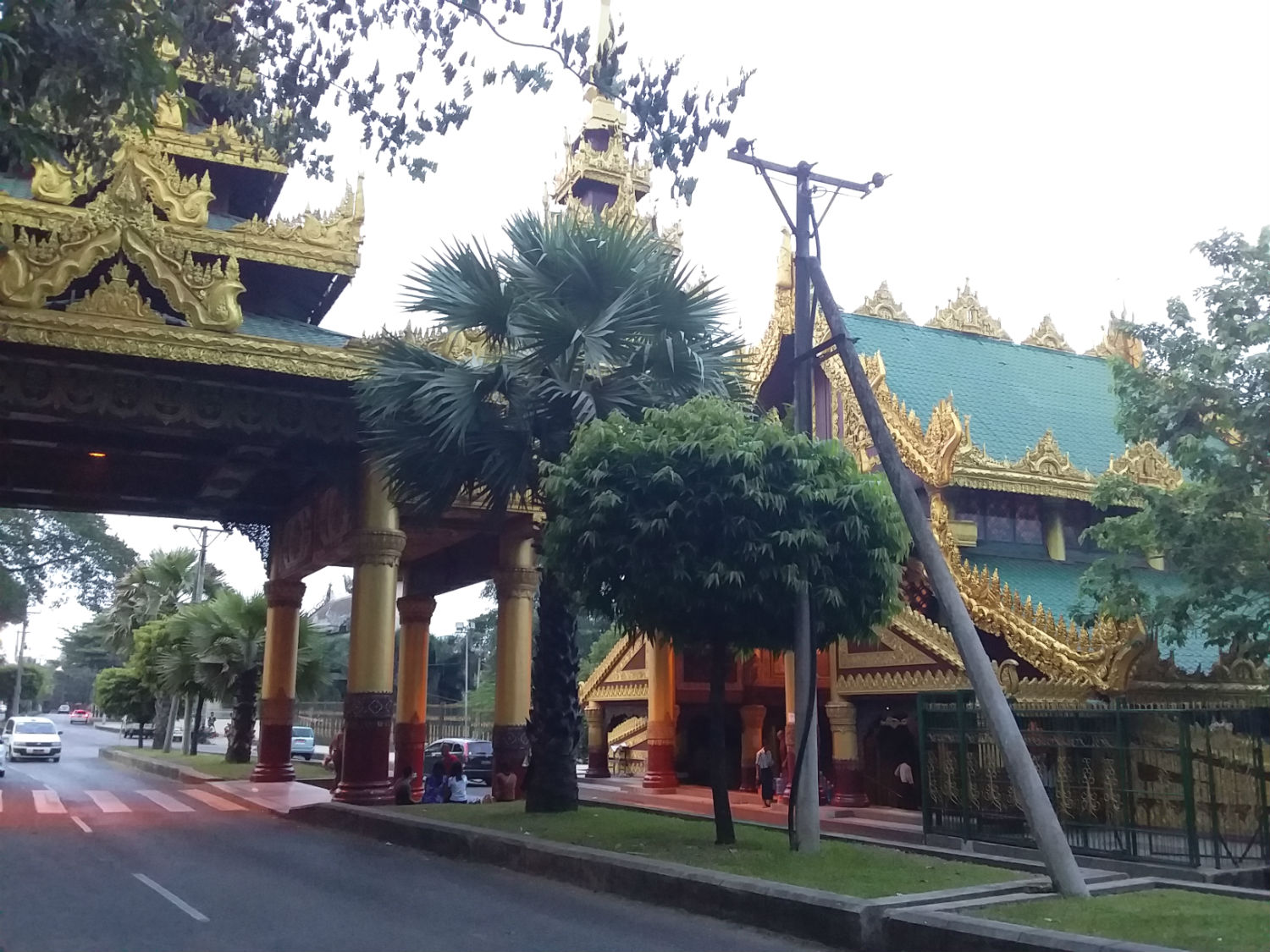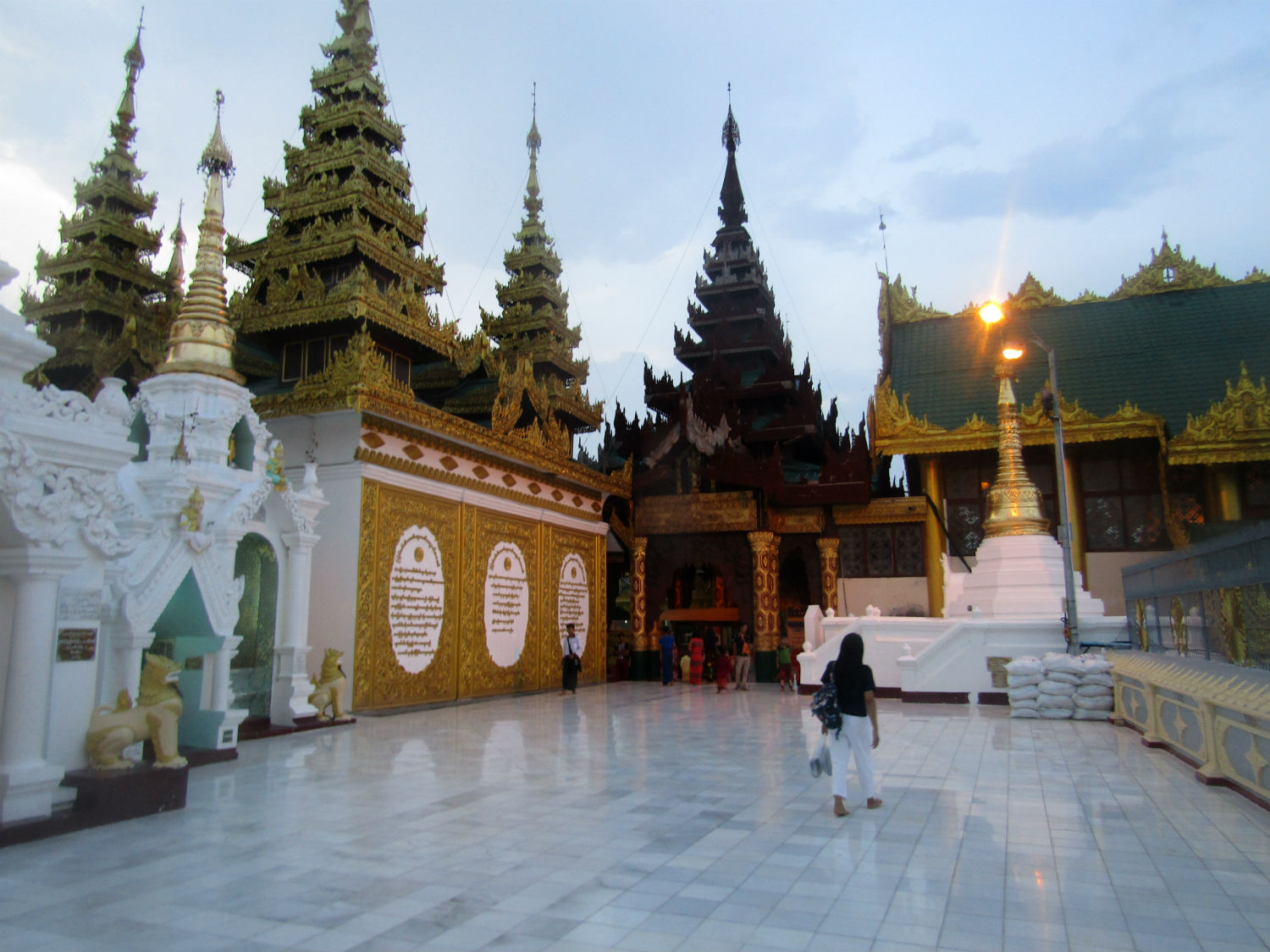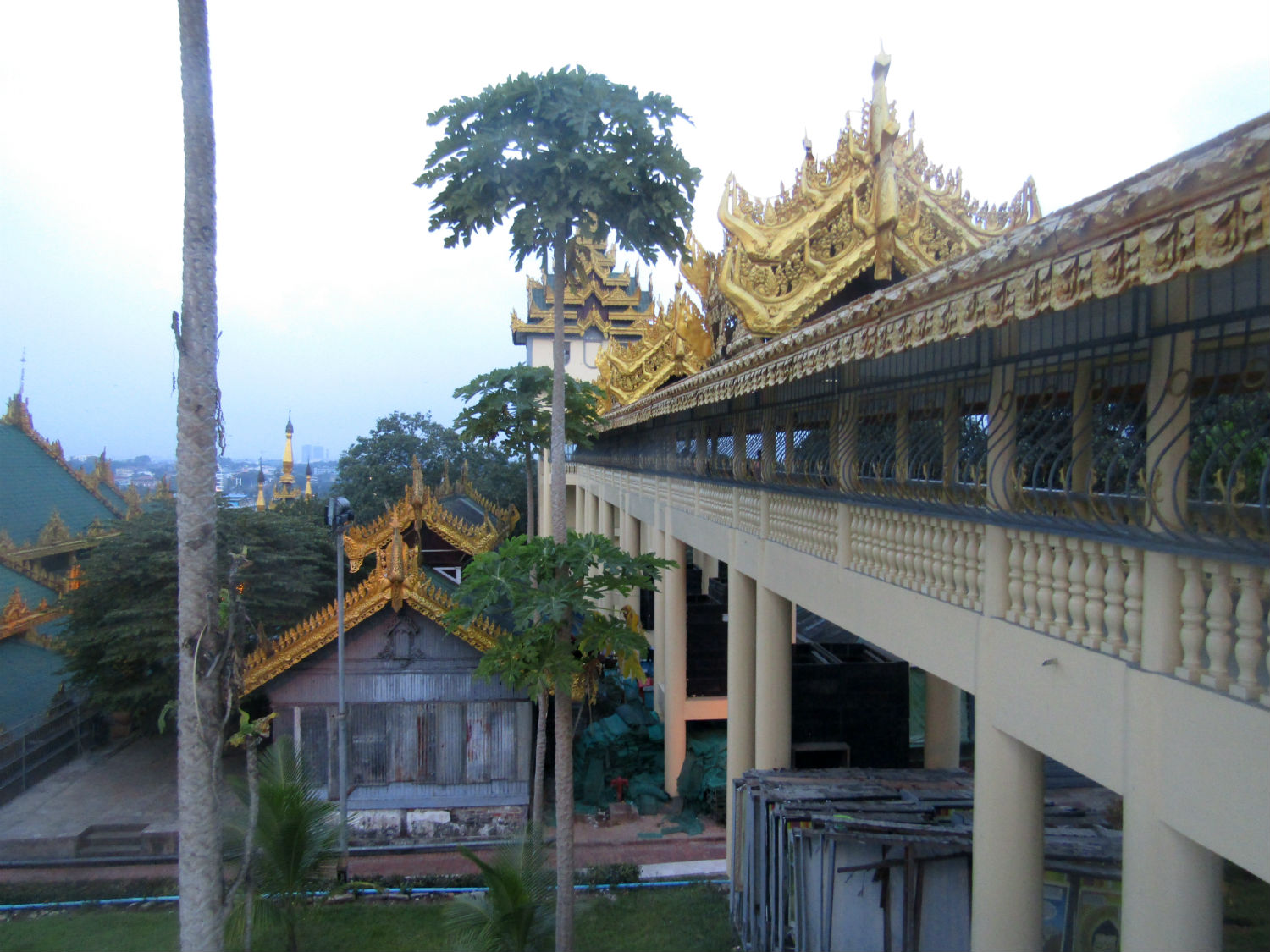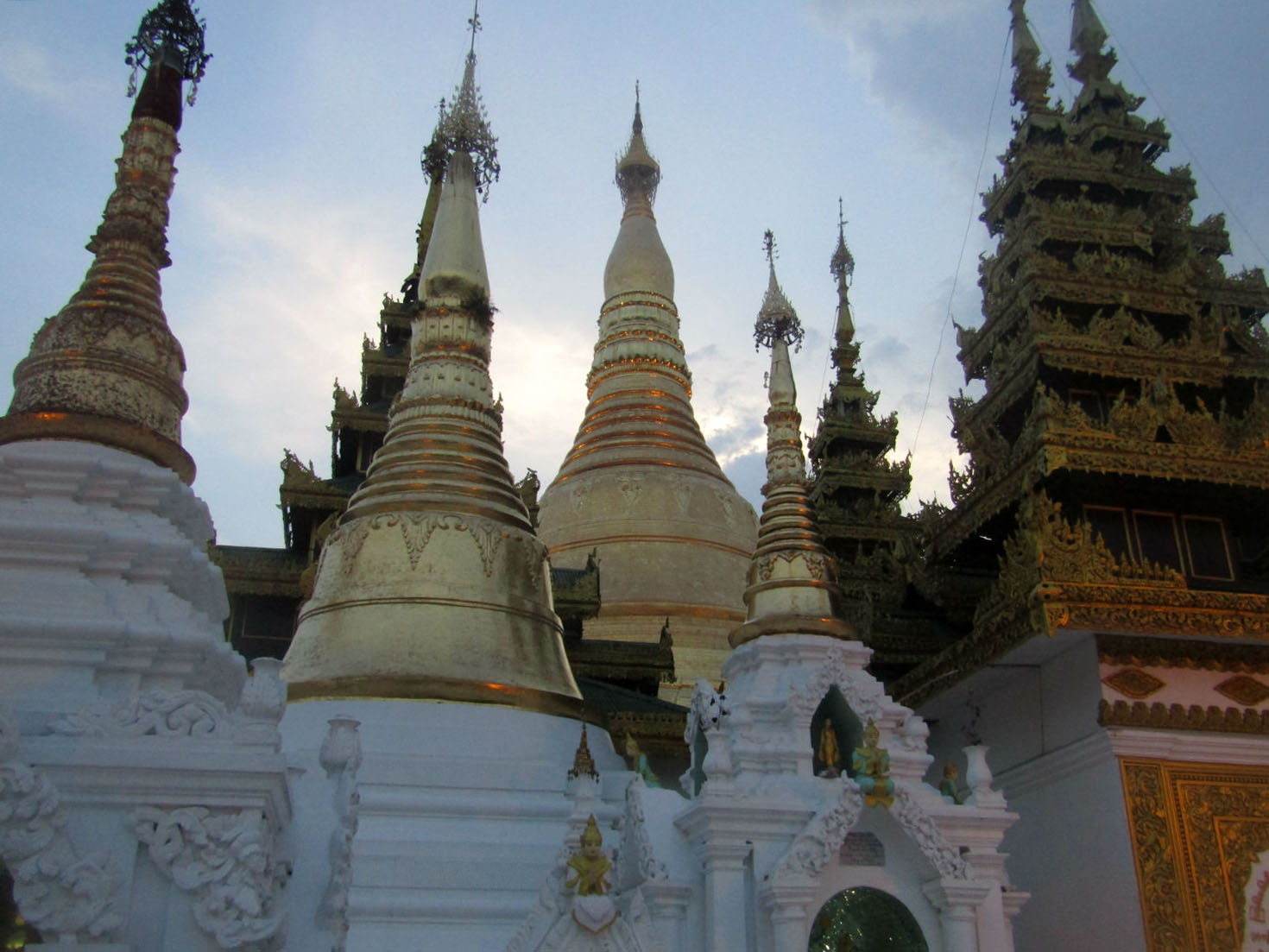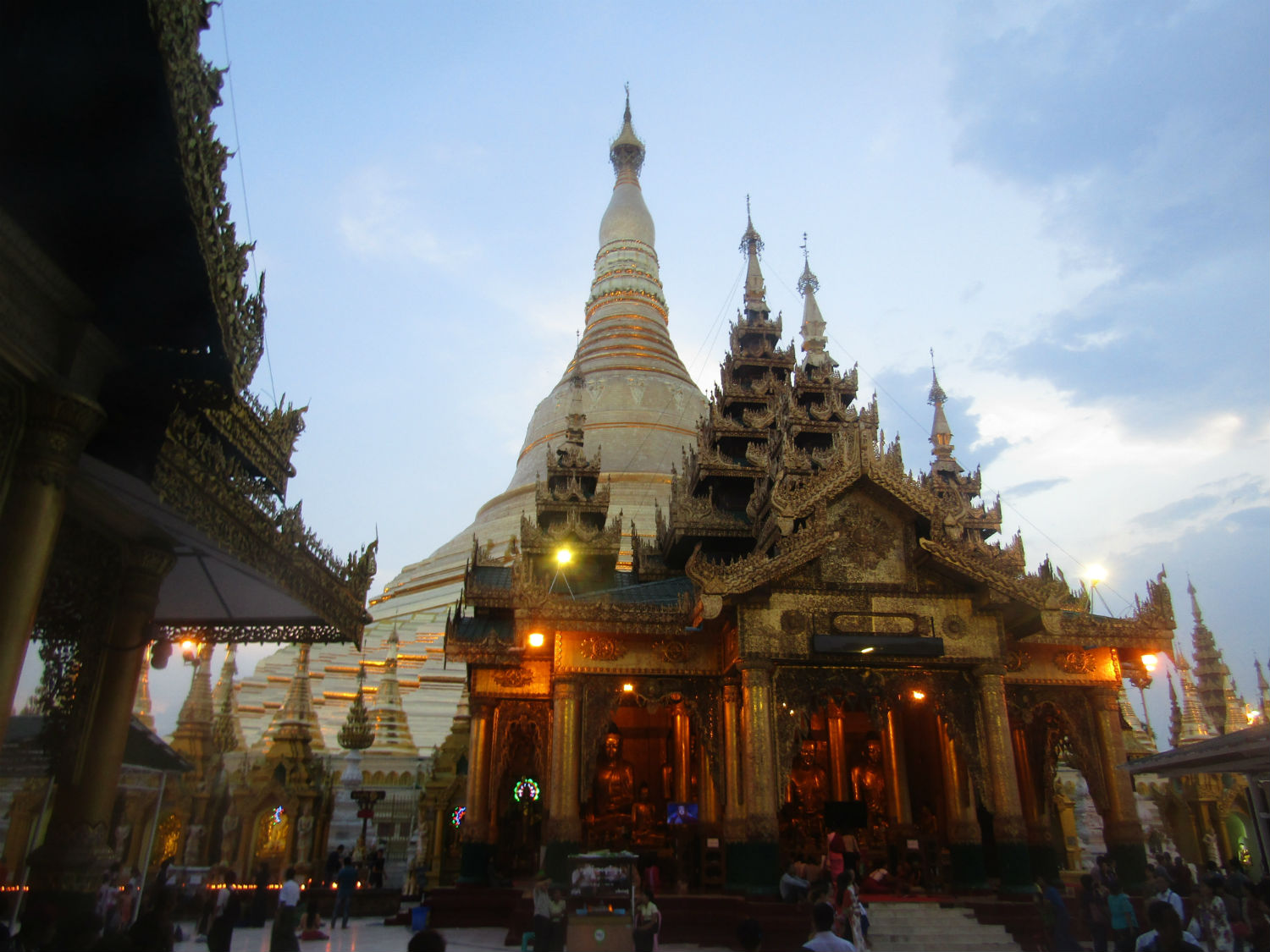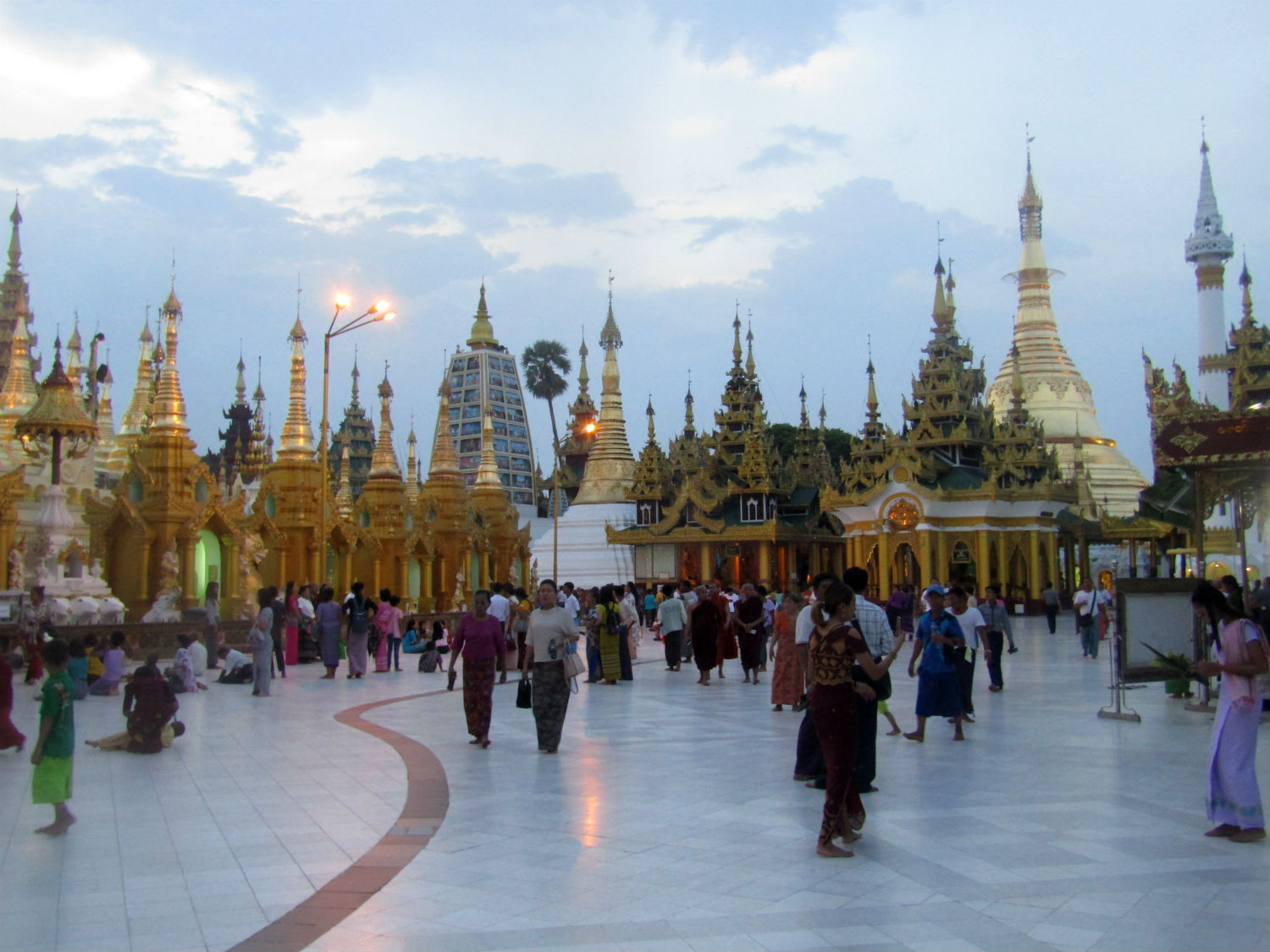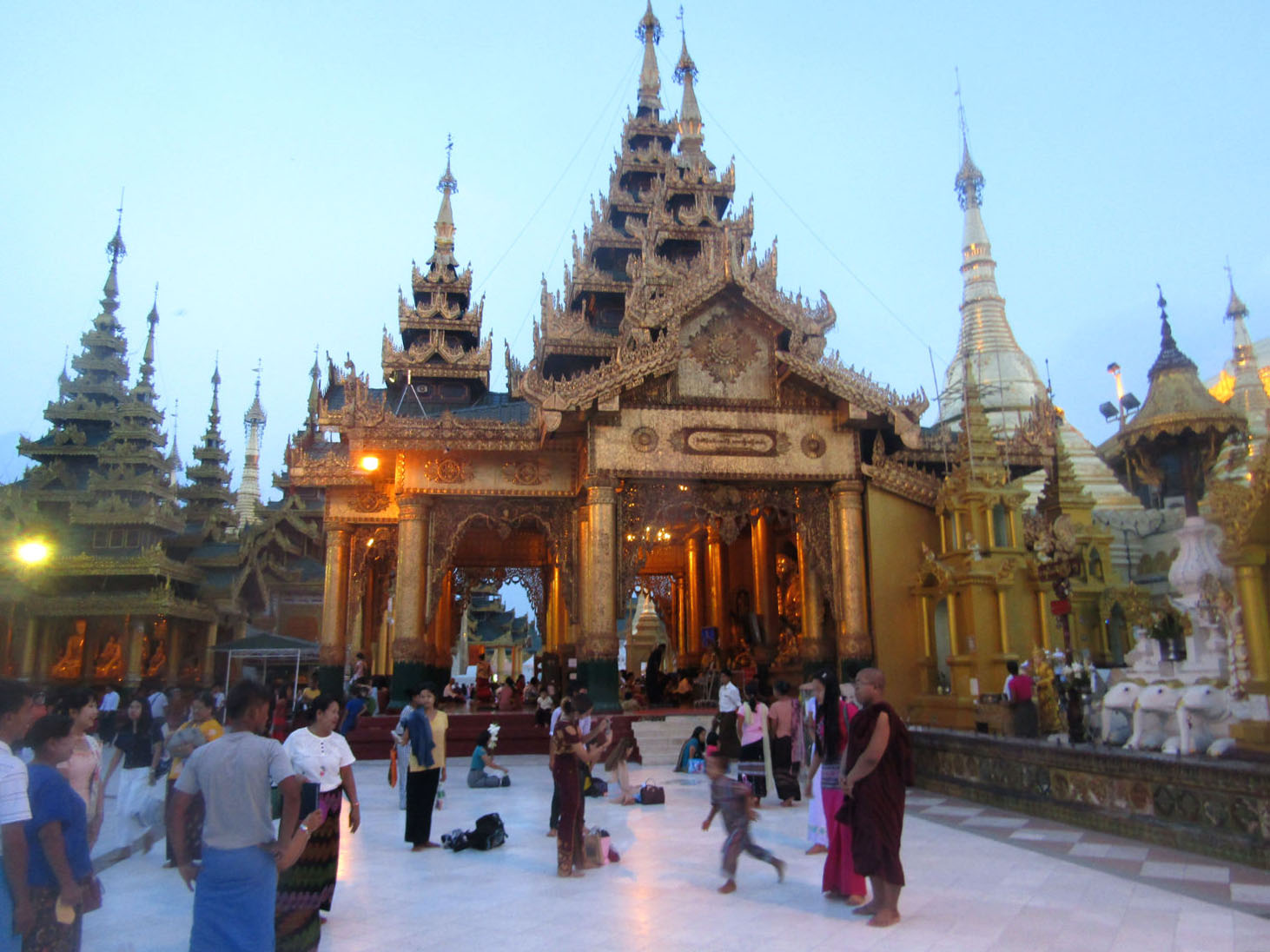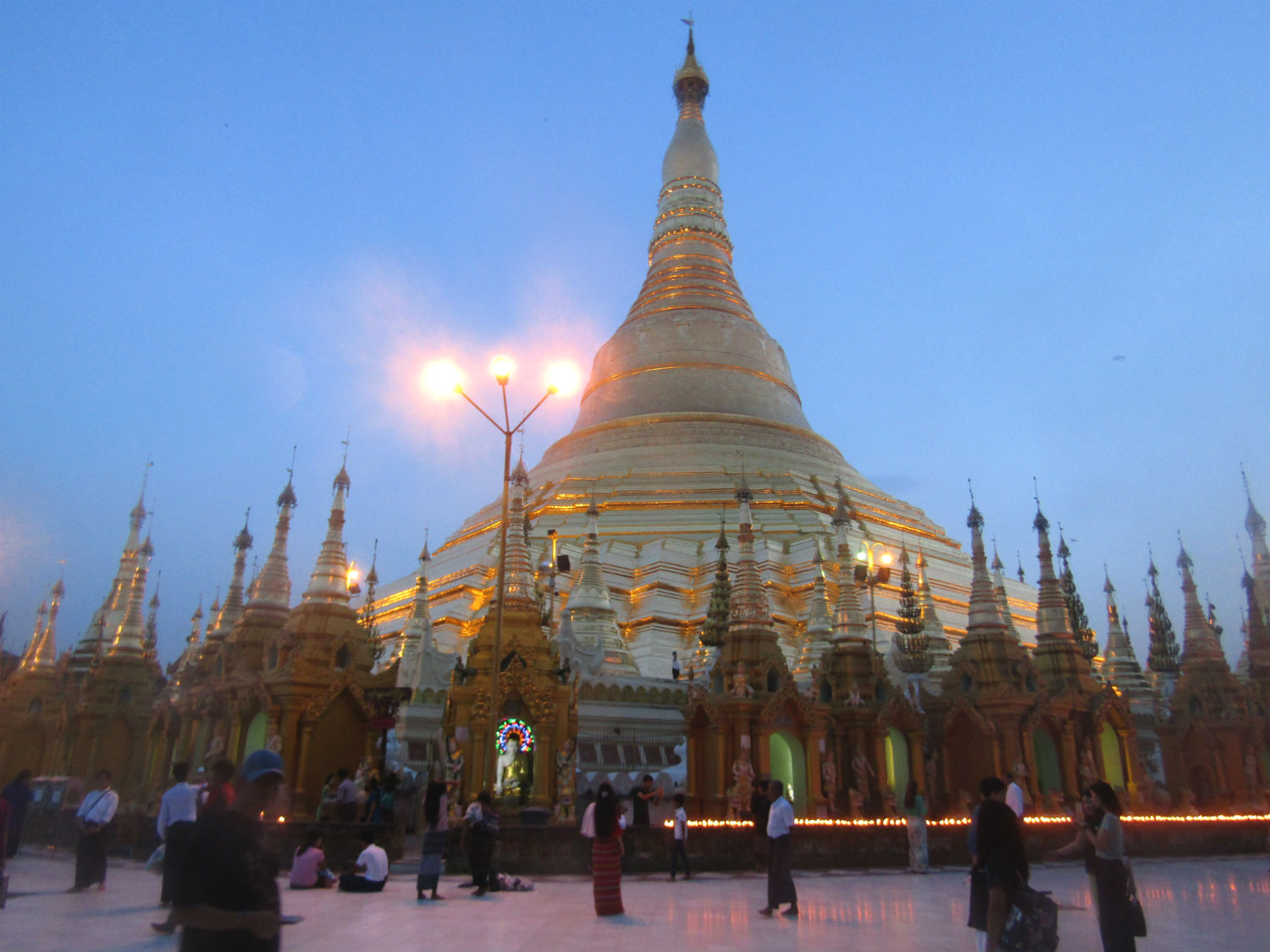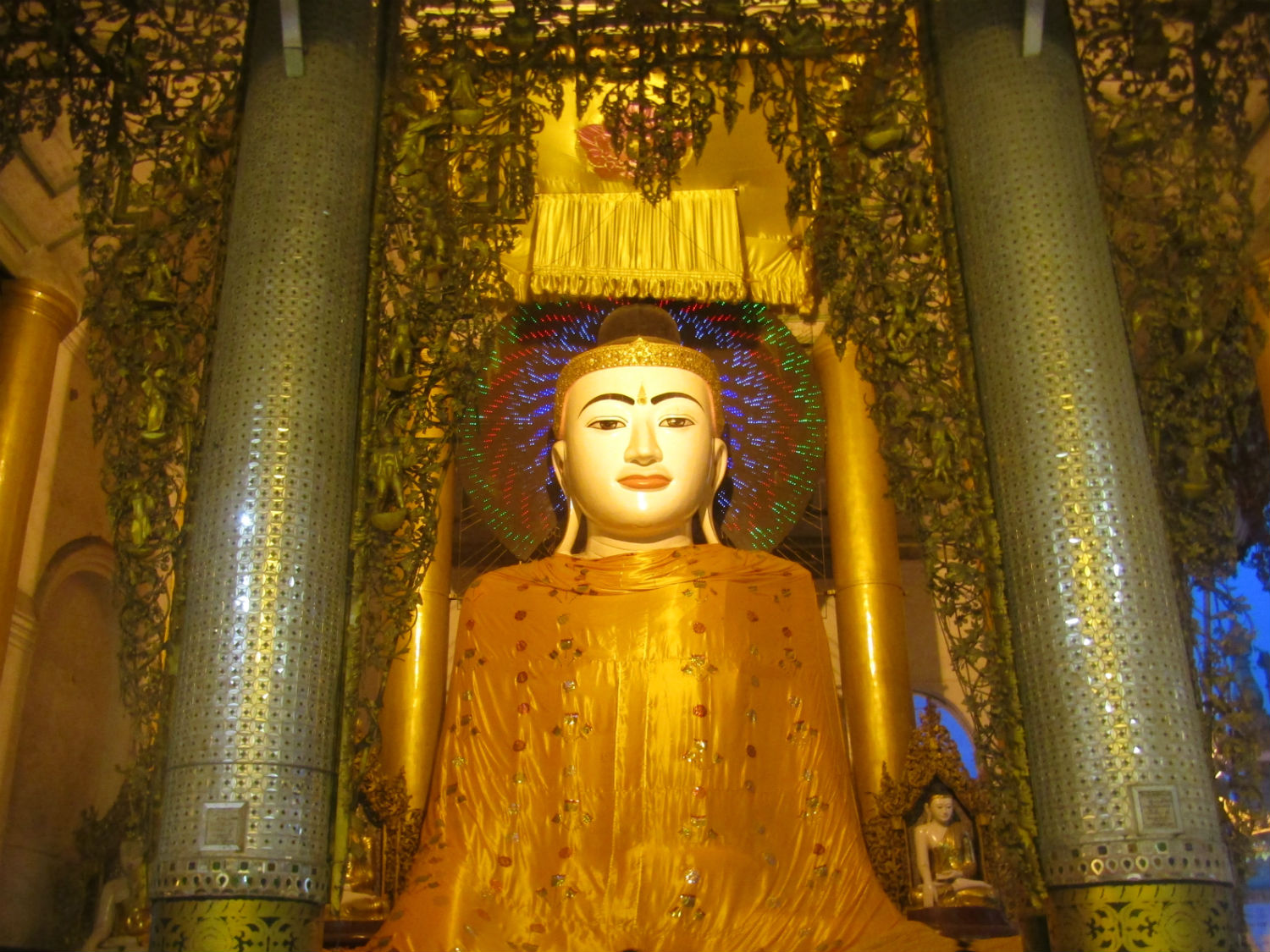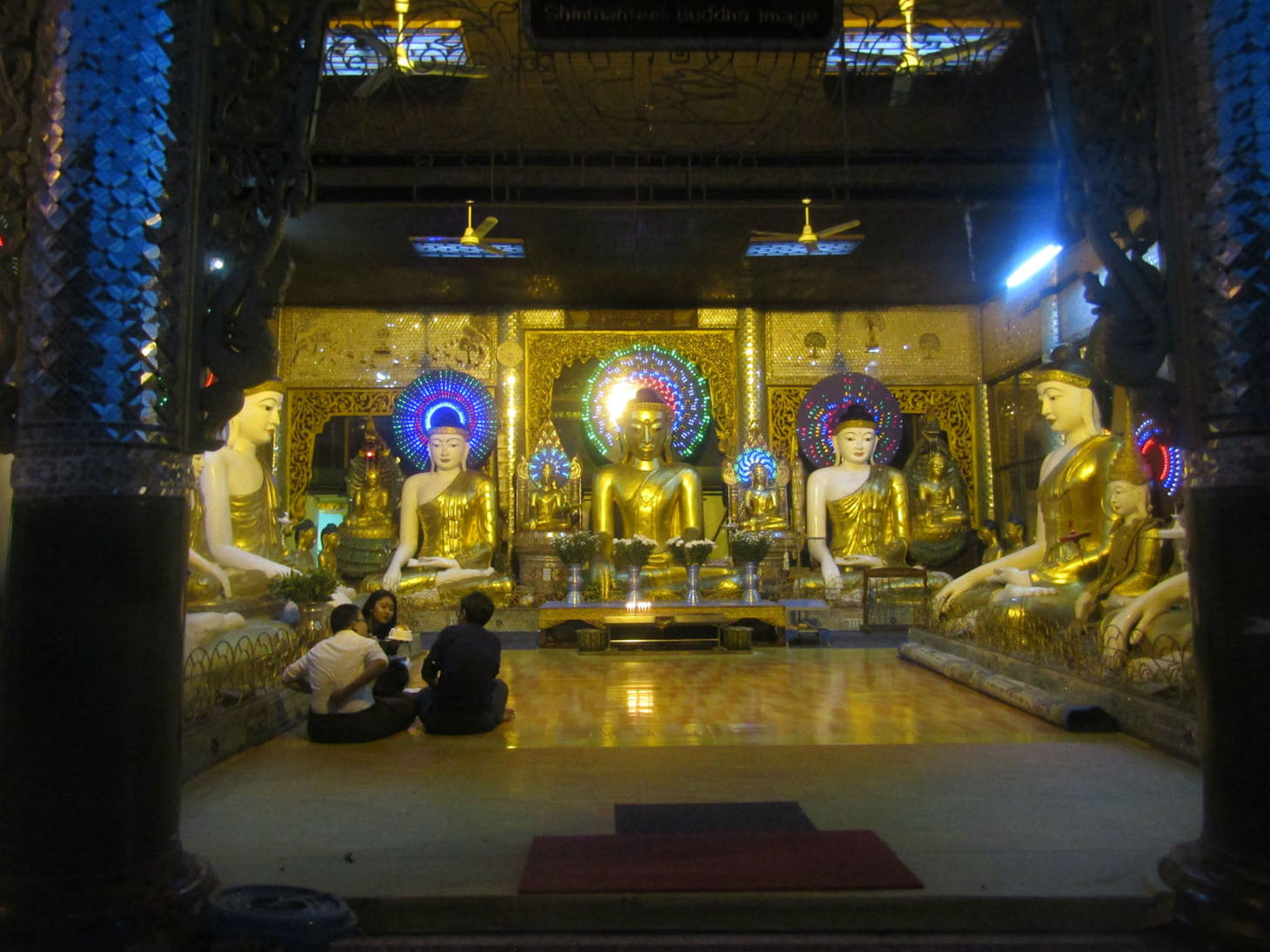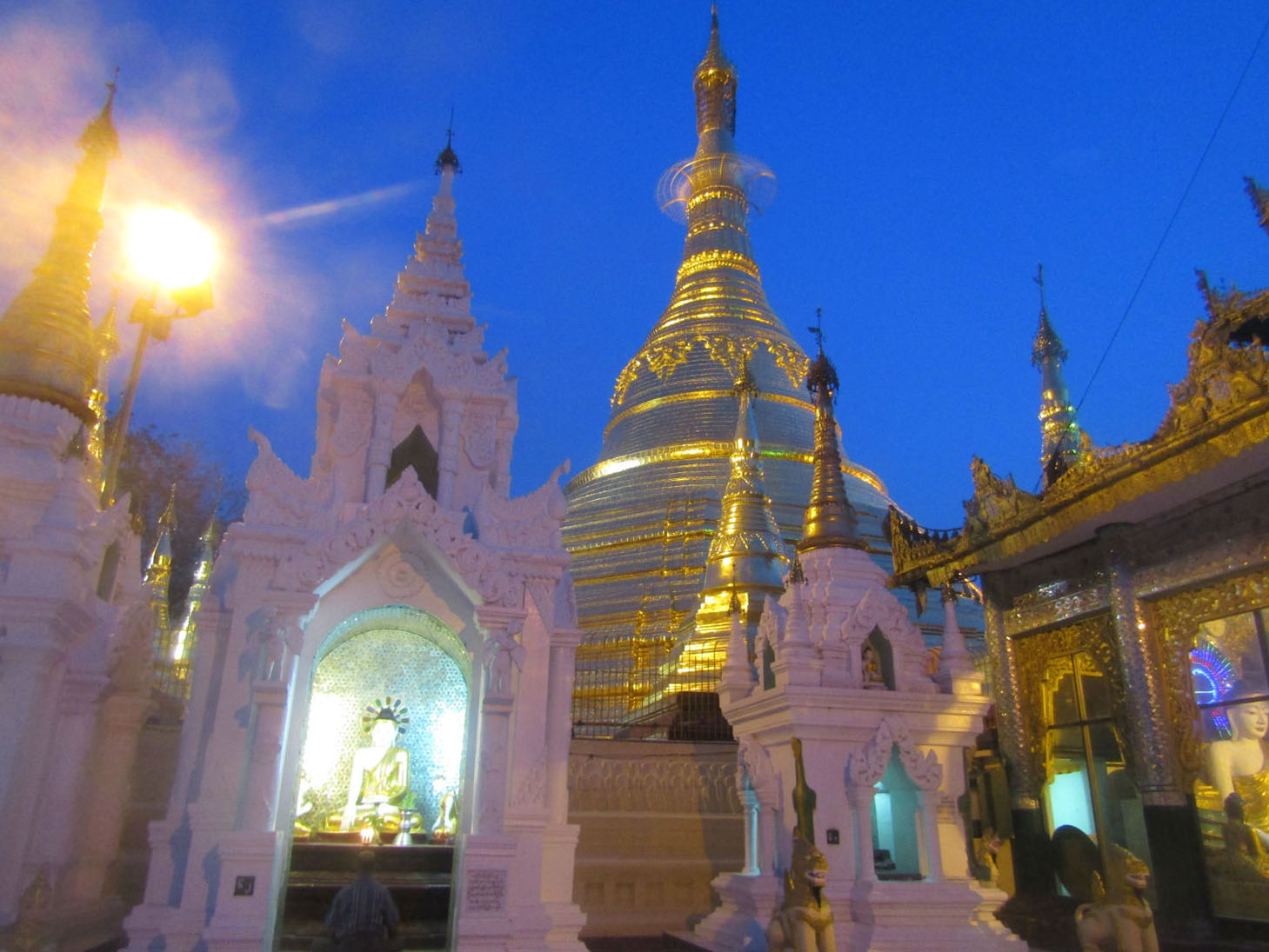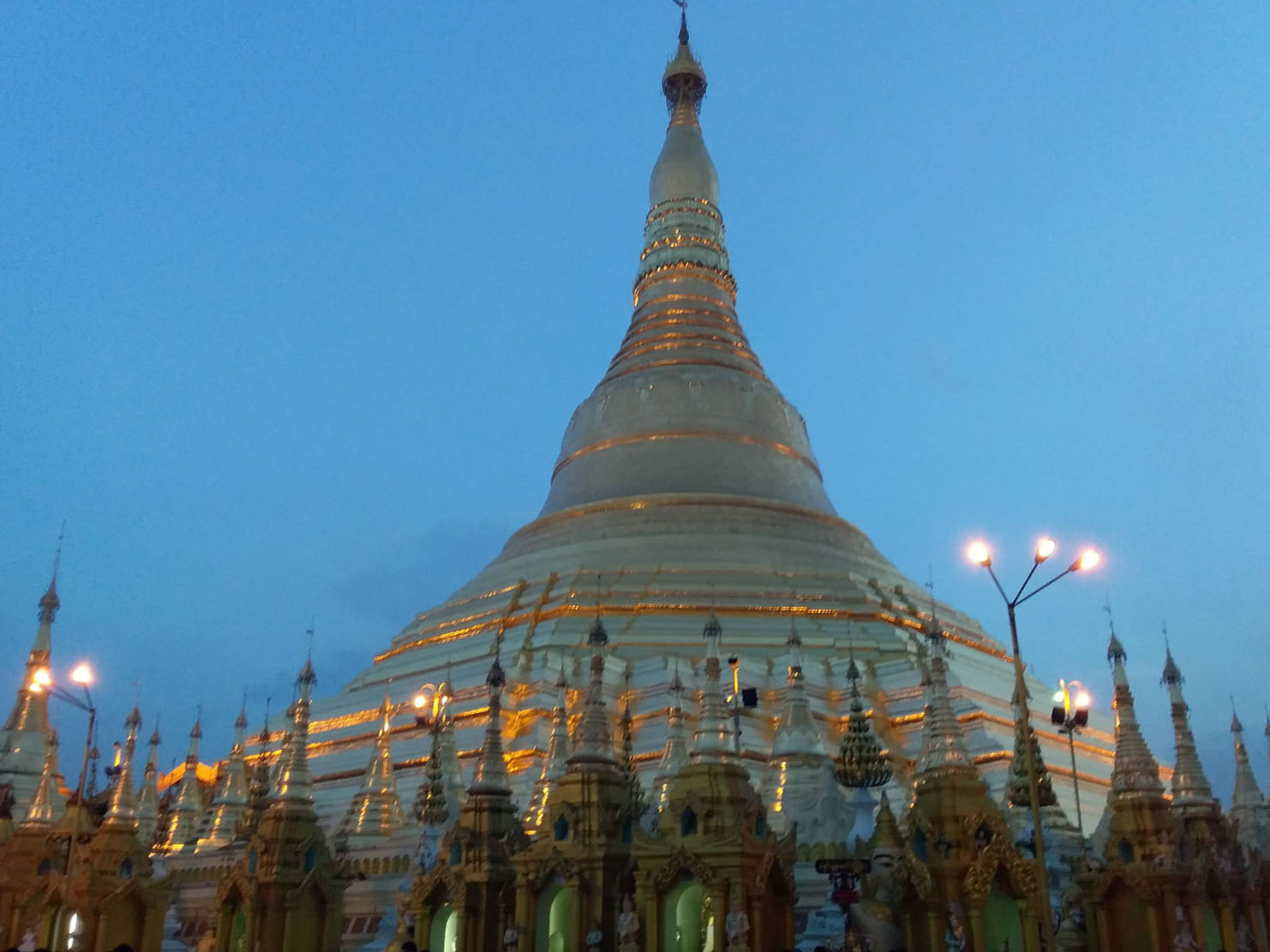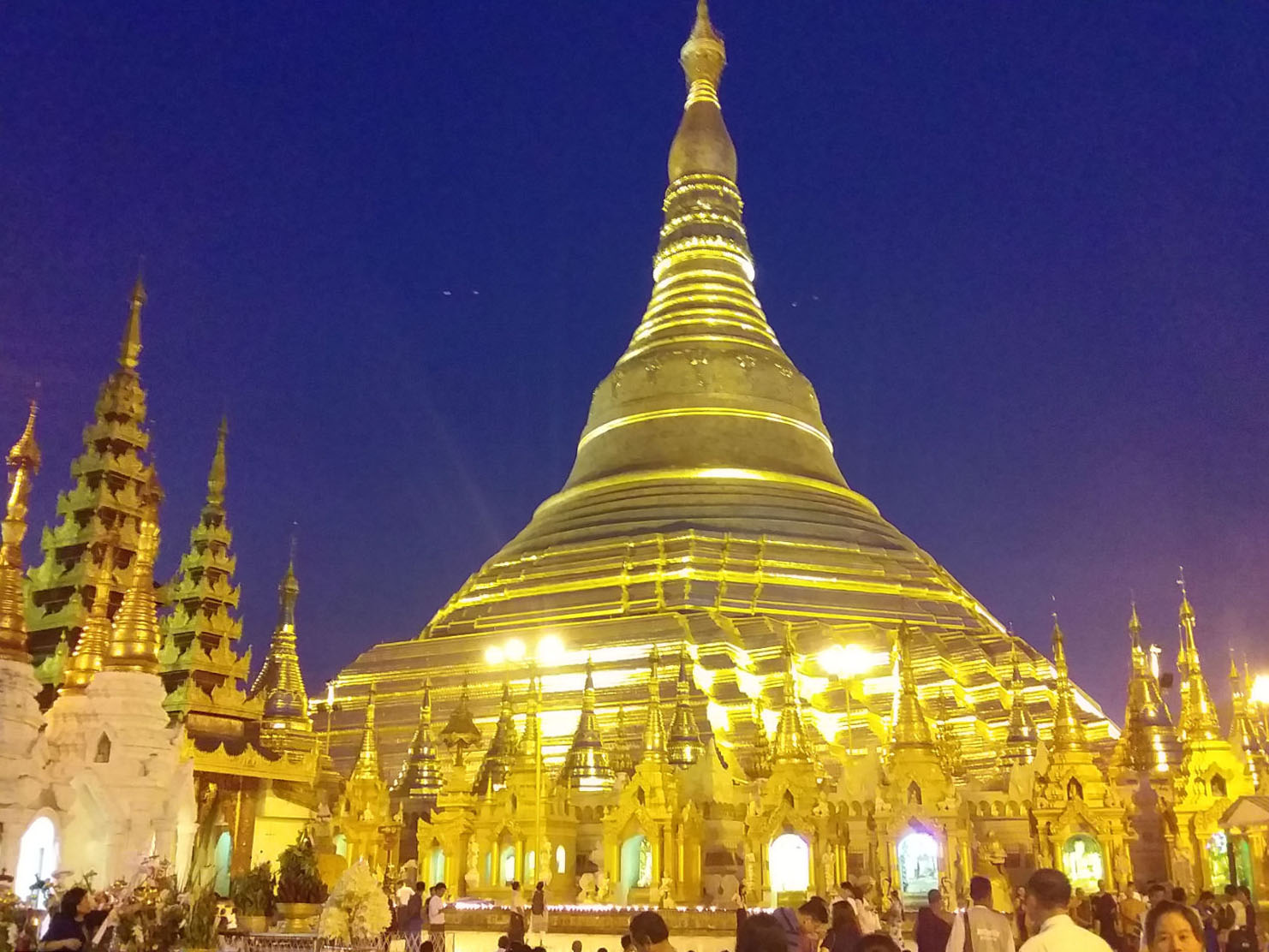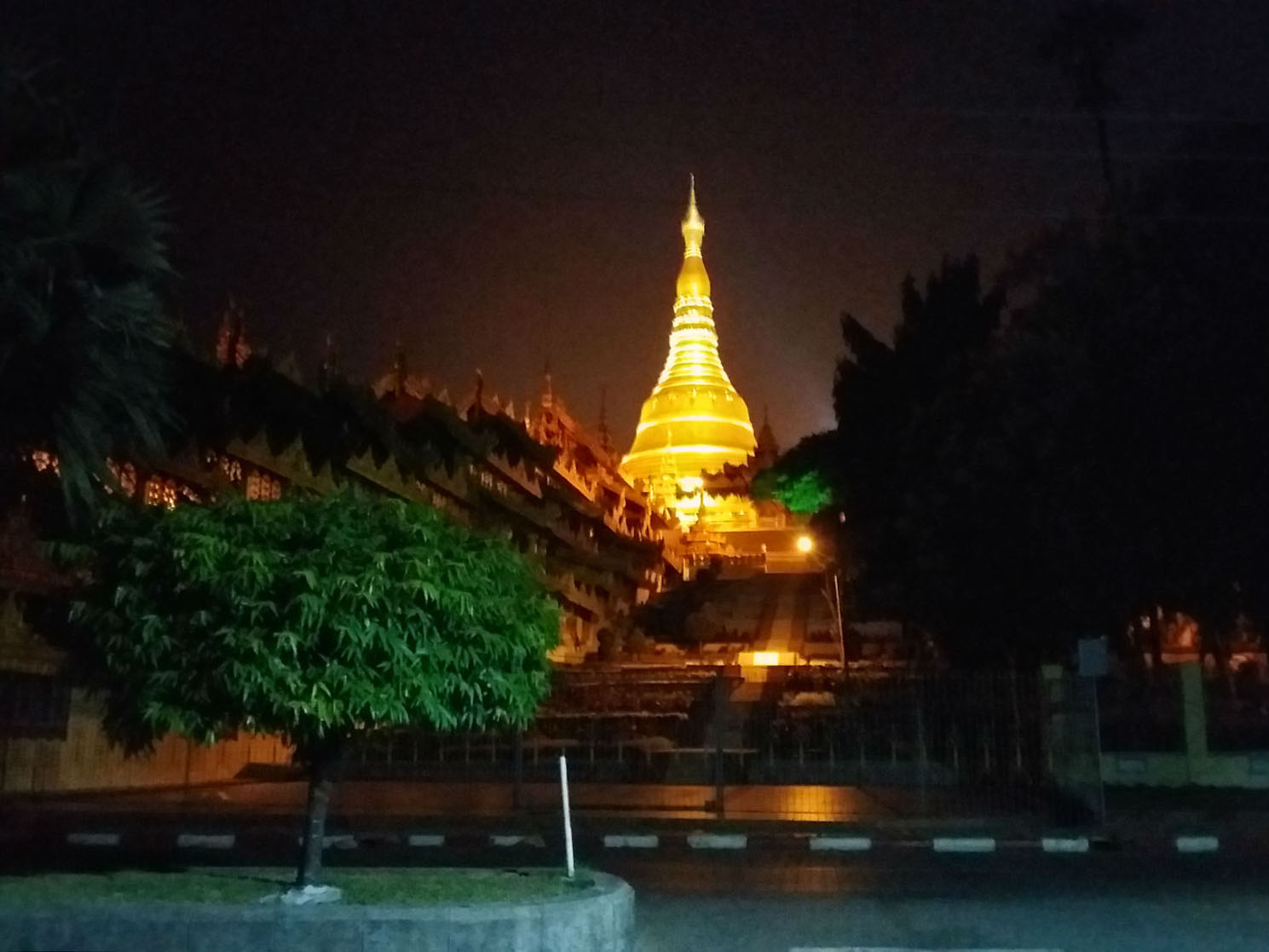 Shwedagon Pagoda, Yangon


The Shwedagon Pagoda is located on a small hill in Dagon district. Evidently in the past, it could be accessed by long staircases which still exist but these days there is an elevator at the south, north and eastern entrances, while to the west is an escalator. At around 6pm we reach the pagoda via the eastern elevator and spend a good hour at this remarkable national treasure, the most holy Buddhist site in Myanmar. Much of the time is spent just wandering around in awe taking spectacular photographs as natural light fades and artificial light takes over creating remarkable contrasting colours on the pagoda and other buildings in the complex. It's surely not to be missed.
At the time of my visit, all is peaceful and traditional Buddhist practices, e.g, removal of footwear is strictly observed as in other Buddhist nations. This was not always the case, e.g. the British showing complete disrespect for centuries of tradition while the military regime that succeeded it, banned public assembly; even for monks who were often arrested.
The Shwedagon Pagoda, officially named Shwedagon Zedi Daw and also known as the Great Dagon Pagoda and the Golden Pagoda, is a gilded stupa located in Yangon, Myanmar. The 326-foot-tall (99 m) pagoda is situated on Singuttara Hill, to the west of Kandawgyi Lake, and dominates the Yangon skyline.
Shwedagon Pagoda is believed to contain relics of the four previous Buddhas of the present kalpa. These relics include the staff of Kakusandha, the water filter of Koṇāgamana, a piece of the robe of Kassapa, and eight strands of hair from the head of Gautama.
Historians and archaeologists maintain that the pagoda was built by the Mon people between the 6th and 10th centuries AD. However, according to legend, the Shwedagon Pagoda was constructed more than 2,600 years ago, which would make it the oldest Buddhist stupa in the world.
The stupa fell into disrepair until the 14th century, when King Binnya U (1323–1384) rebuilt it to a height of 18 m (59 ft). A century later, Queen Binnya Thau (1453–1472) raised its height to 40 m (131 ft). She terraced the hill on which it stands, paved the top terrace with flagstones, and assigned land and hereditary slaves for its maintenance.
A series of earthquakes during the following centuries caused damage. The worst damage was caused by a 1768 earthquake that brought down the top of the stupa, but King Hsinbyushin later raised it to its current height of 99 m (325 ft). A new crown umbrella was donated by King Mindon Min in 1871 after the annexation of Lower Burma by the British. An earthquake of moderate intensity in October 1970 put the shaft of the crown umbrella visibly out of alignment. A scaffold was erected and extensive repairs were made.
From 22 February 2012 to 7 March 2012, devotees celebrated the annual Shwedagon Pagoda Festival for the first time since 1988, when it was banned by the governing State Law and Order Restoration Council.
The stupa's plinth is made of bricks covered with gold plates. Above the base are terraces that only monks and other males can access. Next is the bell-shaped part of the stupa. Above that is the turban, then the inverted alms bowl, inverted and upright lotus petals, the banana bud and then the umbrella crown. The crown is tipped with 5,448 diamonds and 2,317 rubies. Immediately before the diamond bud is a flag-shaped vane. The very top of the diamond bud is tipped with a 76 carat (15 g) diamond.
Connected……..
This excursion has allowed me to purchase a local SIM card for my phone, my internet access sorely missed at the moment. The intention then is to find something to eat. The options exclude the street food which is produced under unhygienic conditions but there are some restaurant we could try. Passing them by I just know that if the meals don't look like Thai food or taste like Thai food then Katoon won't touch it.
Soon we're back near the hotel where just opposite is a burger restaurant that seems to be a substitute for McDonalds. Before we reach that, I'm really anxious to settle my nerves. After a topsy turvy day, I head into a local shop. Then bliss! Here is a selection of local and international beers that have eluded me all day. The 8.8% stout looks really inviting and it's about to be tucked away in the fridge at Crystal Palace. So now, I presume, it's off to the burger restaurant but no! Katoon produces life saving rations she brought from Thailand. Well I really don't care as I reach for a beer and at least in these comfortable conditions, it's a little piece of heaven.
Next Page.