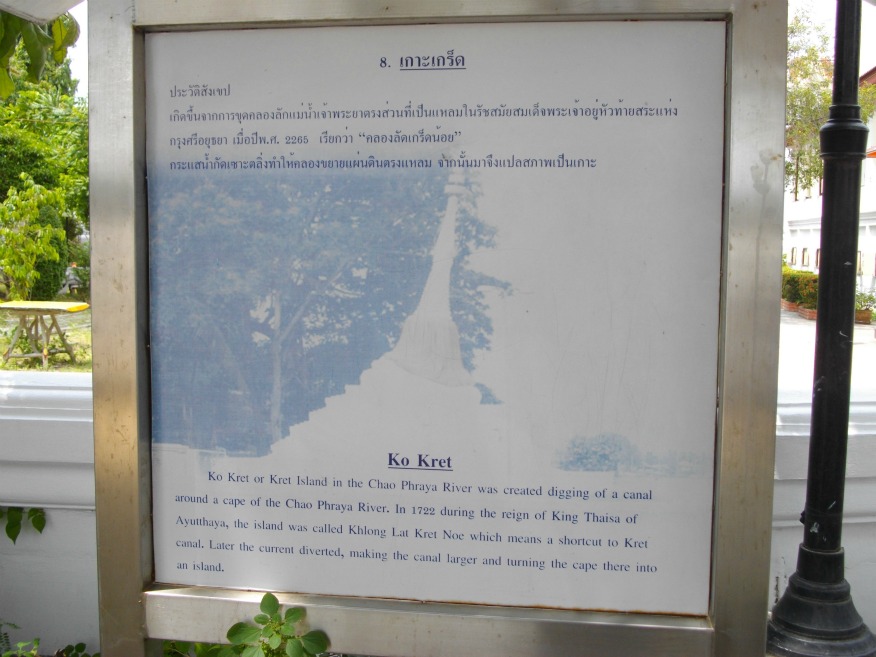 Koh Kret

Introduction……..Koh Kret (Kret Island) is located in Nonthaburi Province about 20 km north of Bangkok. It dates from 1722, when a canal was constructed as a shortcut to bypass a bend in the Om Kret branch of the Chao Phraya River. After the canal was widened several times, the section cut off eventually became a separate island. The island continues to serve as a refuge to the Mon tribes who dominated central Thailand between the 6th and 10th centuries and have retained a distinct identity in their flavor of Buddhism and, particularly at Koh Kret, their pottery.
Access……..My day started with a minivan service from northern Bangkok providing easy access to Pak Kret in Nonthaburi province, located on the eastern bank of the Chao Phraya River, with a frequent boat service to the island. However access from downtown Bangkok is not so straightforward. There are a number ways to get there depending on whether you plan ahead or just wish to visit ad hoc. Organised tours run from BTS Sapan Taksin Pier. Alternatively if you're happy with an early start the Chao Phraya "green flag" express boat offers a direct service from this pier to Pak Kret (pier N33) at peak times only and not on a Sunday. You can take a bus No 166 from Victory Monument to Pak Kret but be warned that without the language you could well struggle to locate it. There is however an information point for bus routes. Outside peak times an option is to take the ferry as far as Nonthaburi Pier (N30) and take a chance with the buses, minivans, songtheaws and taxis to Pak Kret. From Ko San Road there is a conveniently located pier N12 Phra Pin Klao Bridge. In most instances you will arrive at Pak Kret market as I did. From there it's 500 metres to the pier. A point of reference for your return is Tesco Lotus (known in Thailand just as Lotus). You can ask for directions to Ta Rua (boat) Ko Kret. Add krap/ka (please) for an instant smile. If you spot a samlor (pedal style) you could sponsor a dying tradition in Thailand and save yourself a walk to the pier. Go on spoil yourself!
Do……..Once on the island you realize in stark contrast to its surroundings the peace from the hustle and bustle of suburban life in Bangkok. It offers a refuge and freedom to walk around away from traffic and trappings of daily life. For this reason particularly at weekends it is a popular destination for local people who are enticed also by street vending of food, souvenirs and handicrafts, particularly Mon style pottery. You may also witness Mon traditional dance. I didn't wander too far from the pier but given time this is the perfect venue to explore the ancient temples, traditional wooden buildings and brick kilns and not forgetting to sample the local sweetmeats and deserts. On reflection I certainly underestimated this place. That is the lesson learnt for today as I make my way back to Pak Kret and relative chaos.