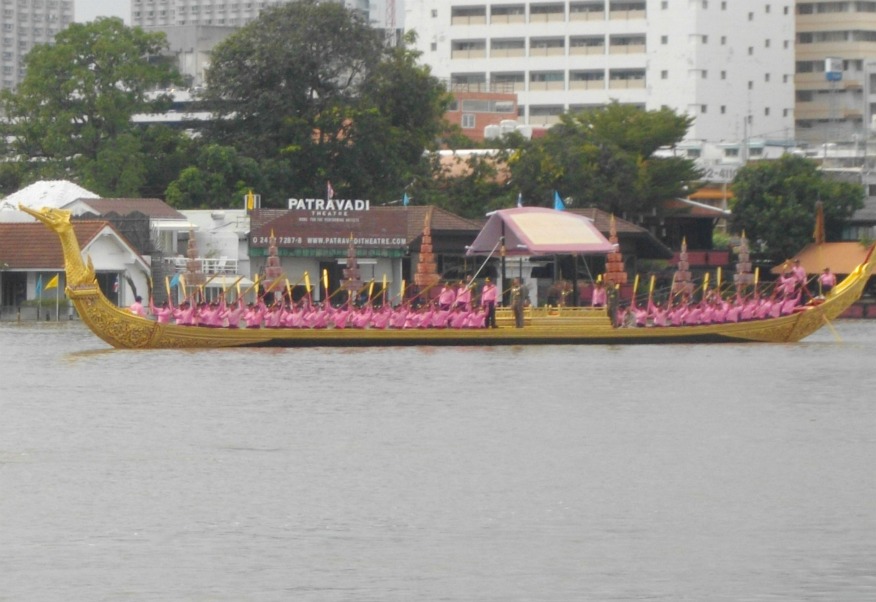 Royal Barge Procession (rehearsal)

Suphannahongsa.........As mentioned in the Hua Hin Tour section this excursion was added on the return to Bangkok. This meant a bus journey from Victory Monument to Sanam Luang and then a walk to the riverside. This was the first time I had seen the Chao Phraya in flood to this extent; there seemed only a matter of inches to the top of the flood defenses. The procession on this day was a rehearsal for the main event taking place on 22nd but it offered a unique opportunity to view Suphannahongsa (the King's Royal Barge) and associated flotilla.
The Royal Barge Procession is a ceremony of both religious and royal significance which has been taking place for nearly 700 years. During the reign of King Bhumibol Adulyadej, spanning over 60 years, the Procession has only occurred 16 times. This year the occasion is the Royal Kathin Ceremony at Wat Arun, 22 October 2011 (King's 7th cycle, 84 years old). The last ceremony was in November 2007 at the same venue to mark the King's 80th birthday.
From the riverside local bus 44 made its way through the traffic to Bang Kapi and from there bus 150 headed for Ramintra Road.