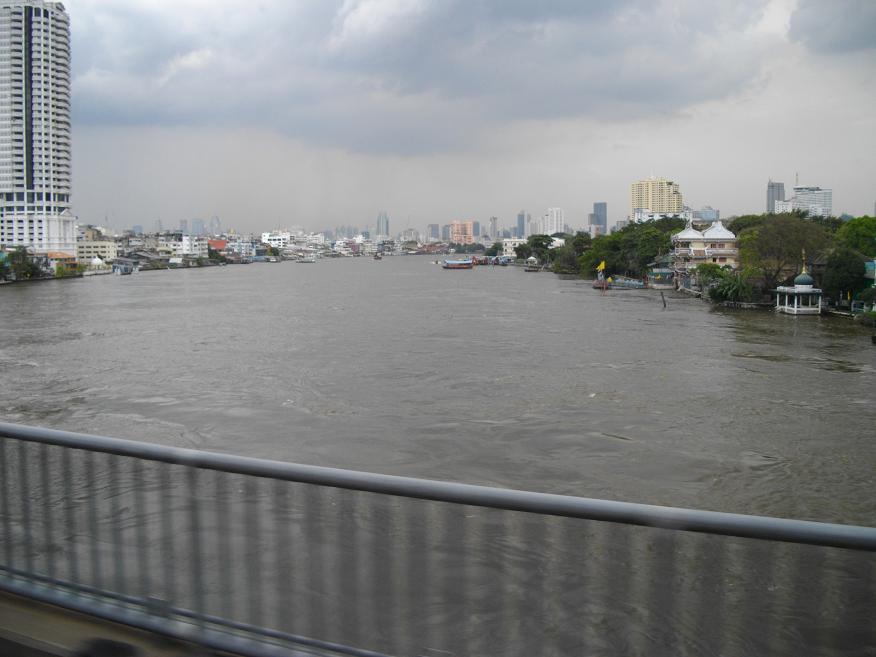 Bangkok to Mahachai (Samut Sakhon)

Across town anyway will do!.......From Bang Khen I made my way to Morchit Mai (New Morchit) Bus Terminal. This was to order a ticket for Ubon Ratchathani on 19th. I use a roht too (minivan) from Ramintra Road (30 baht). Now I needed to get to Klong San across the Chao Phraya River. Despite quicker options I jumped on city bus 3. Itís just about the basic form of transport here but itís FREE; sightseeing is thrown in as well!!
Free ticket to ride!.......A long 1 hour later I arrived at Wong Wian Yai in Klong San for a train to Mahachai. This is an independent service run by the State Railway of Thailand (SRT). The journey takes an hour. Curiously, as a foreigner, I paid 10 baht; for local people itís FREE. I failed in my endeavor to find out why SRT needed a ticket inspector as I appeared to be the only foreigner on board. Indeed why was there a ticket office issuing tickets for 0 baht? Someday I may find out. The service terminates at Mahachai Station. You simply arrive near the mouth of the Prachin River. A ferry is available for the crossing: apparently this is 2 baht for foot passenger and 3 baht for a motorbike. OK when you arrive at the other side there is another train station with a service as far as Samut Songkram.
Fish, Squid, Crabs and Shellfish........I imagine that the railway was originally built to transport seafood to Bangkok. Mahachai is a key fishing port and has a large fish market. Arrive early morning to observe landing and processing of seafood of all kinds. The adjacent streets house the market and of course seafood fresh and preserved is most evident. Find many kinds of fish, crab, shellfish and squid that will appear on your seafood restaurant menu in Bangkok at greatly inflated prices.
Seafood diner........It was a pleasant late afternoon for a stroll along the river bank and followed by, yes, a seafood dinnerÖor suan (made with hoy nang lom...oysters), boo phat pong galee (made with boo mahÖ.estuary crab in yellow curry), bpla grapong tod (local fried fish) and beer of course!
It never rains but it pours........I returned back my local bus 68, arriving in the usual deluge from above, at Lotus, Rama II. From here it was on to Victory Monument by minibus then back to Bang Khen by similar transport. One thing that was plainly obvious was how little money one could travel for in Bangkok given time. Outward was a mere 46 baht, back more than double that but in less than half the time.