Thursday 3 May 2018

Introduction........The epic 19 day tour of Thailand's north and central provinces that's just finished is almost certainly the longest in any 30 day period I've spent in the Far East with the addition of yet another tour. After just two days rest I'm about to start a new tour which cannot realistically exceed 4 days. Obviously with the hire car available until my flight home next week, I'm trying to make the most of it.
Departure........At 10.30am we're ready to depart but need to check fuel and tire pressures. As I take over the driving I'm aware that on this trip, I'm on the wrong side of the metropolis. There is a ring road but it forms a wide arc around the city. When I check what the GPS says, I'm a bit surprised it advises using the city's toll ways which can get really congested. With Katoon agreeing I'm committed to making the northeast to southwest transit. As I enter the toll way system one big advantage is the excellent road signage. In a situation where I need maximum concentration, I can drop the GPS advice for now. Thankfully, except for one stretch near the port, I make good progress heading out of the city on Highway 35. In Samut Sakhon Province, Katoon takes over the driving. We think we can get close to our final destination for a lunch break.
Phetchaburi Province........The selection of Phetchaburi province for this short tour is due to a combination of factors. Firstly it's quite easy to get to, less than 3 hours for us. Katoon, of course will always find a temple that's important, while for me it's an attempt to make up for my past ignorance having been based in Cha-Am in the past. The fact is, not many tourists travel beyond 25 km of Cha-Am Beach and travelling by public transport along Highway 4 offers few options. The city itself is a working town with little in the way of tourist infrastructure and most people, including myself, drive straight through it on the way south. When I finally researched the area for this tour I was very surprised how much history it had. It's not going to be a whirlwind tour by any means.
To understand Phetchburi province better we should divide it into two halves. The eastern part is low lying consisting of salt marsh and mangrove forests as it meets the Gulf of Thailand. It's only in the south of the province that there are beaches. To the west the terrain is mountainous along the border with Myanmar. Apart from the beach areas, the rest of the province remains undisturbed.
Salt Marsh........As we approach the province from the east along Highway 35, we deviate from the normal route connecting with Highway 4 and take the coastal road. This road stretches from the junction in Samut Somkhram province all the way to Cha-Am and Hua-Hin and I've never used it. Before long I realise what I've missing. Here still in the Chao Phraya Delta is a curious mix of the Dutch Polder Region and the Camargue in France. The vast expanse of salt marsh is far from the featureless landscape I imagined and a far cry from the mountainous terrain of my last tour. As we skirt around the coastline, salt farms are everywhere each with its own barn for storing and packing the salt and equipment for collecting it.
Bang Tabun, Ban Laem District........The first district we reach in Phetchaburi Province is Ban Laem. As we drive through the never ending salt farms we come across khlongs (canals) with their picturesque bridges. Some the size of small rivers has colourful fishing boats moored along its banks. At one of the larger ones at Bang Tabun we stop for lunch at the Boat Restaurant. It's taken a phone call to home in on it as you'd never find it in passing especially as there's temple construction going on nearby. Just on the south side of the bridge we need to park up and walk along concrete platforms through the mangrove. There I get my first view of the open sea on this visit to Thailand or do I?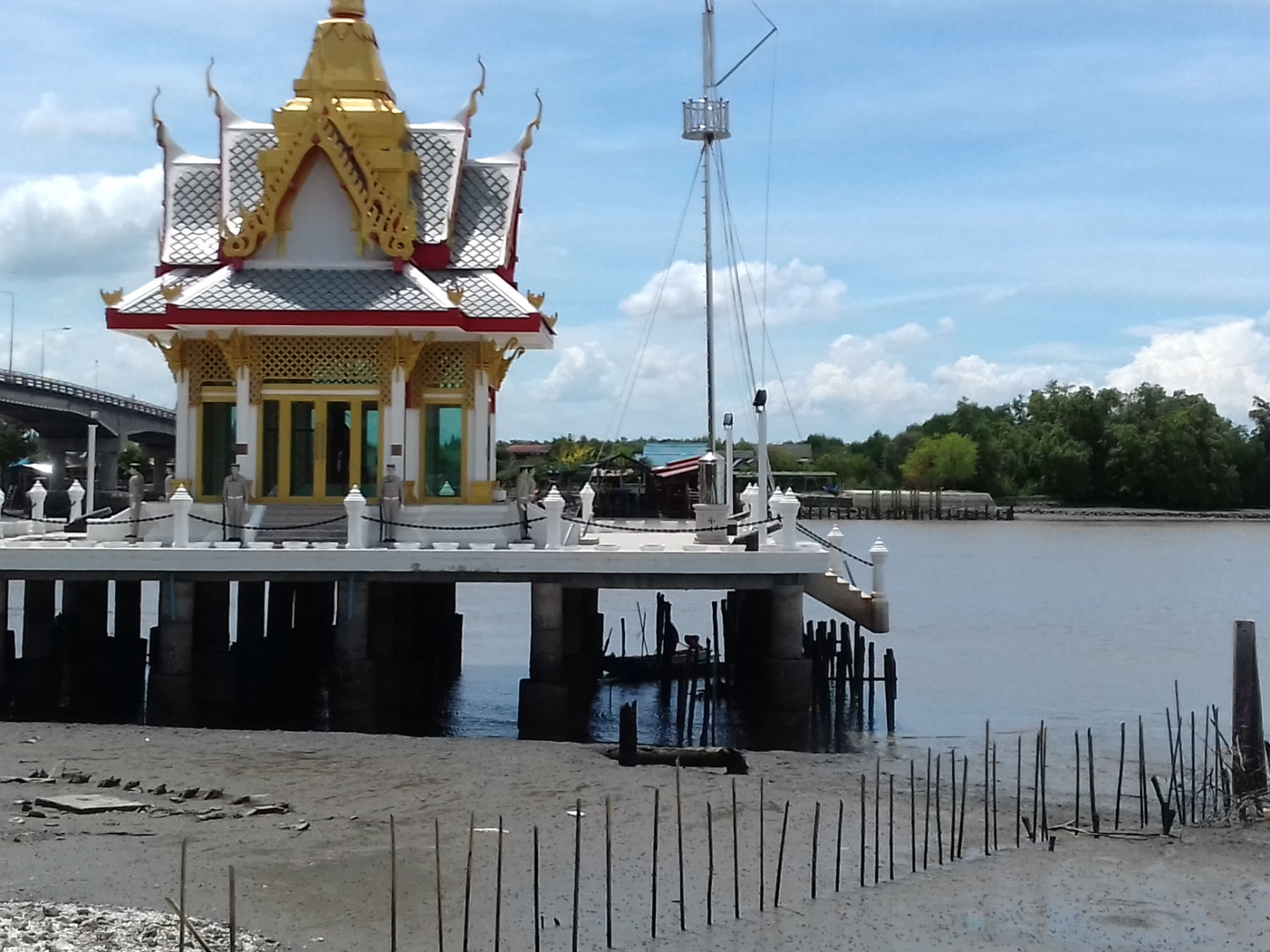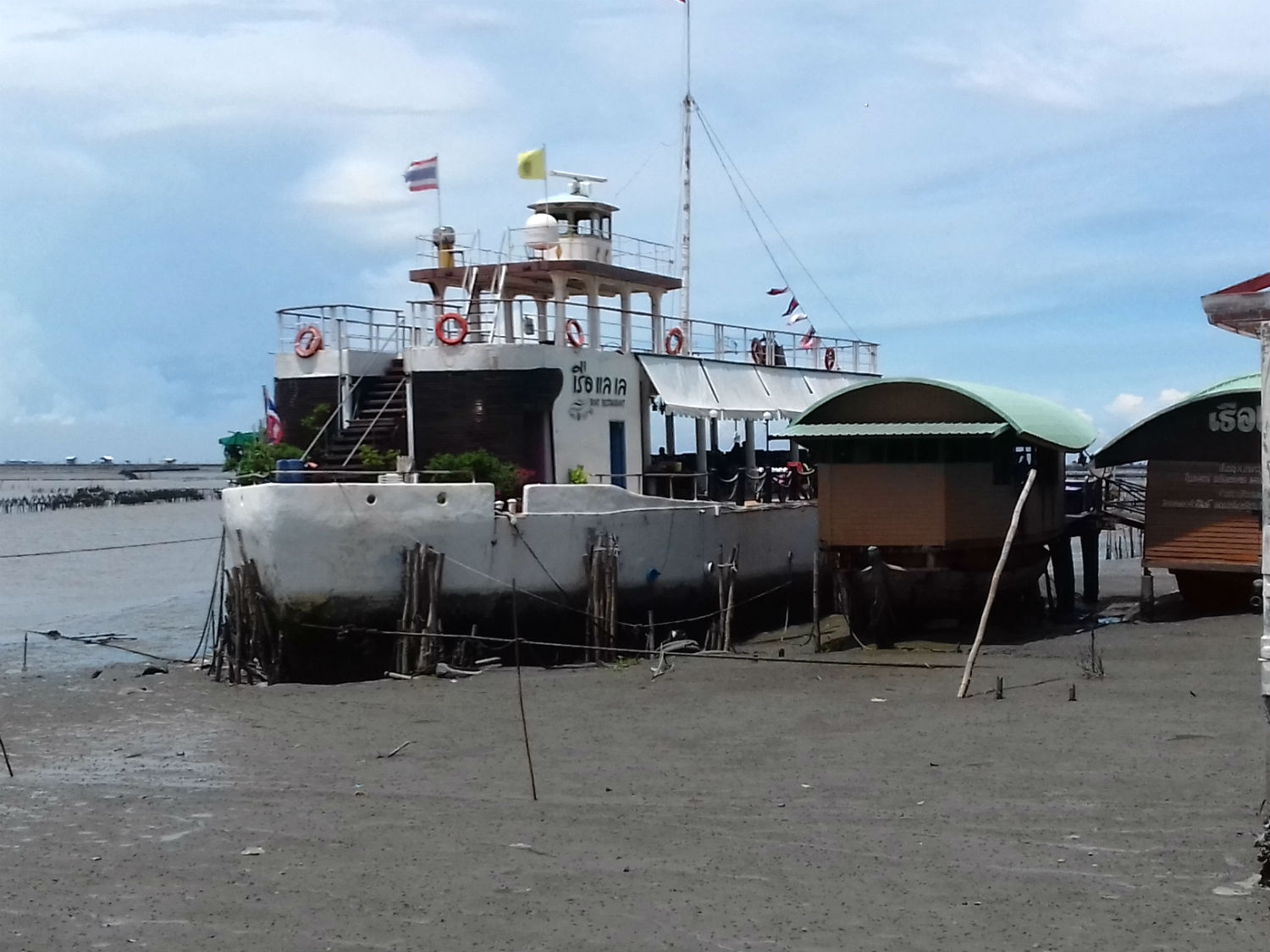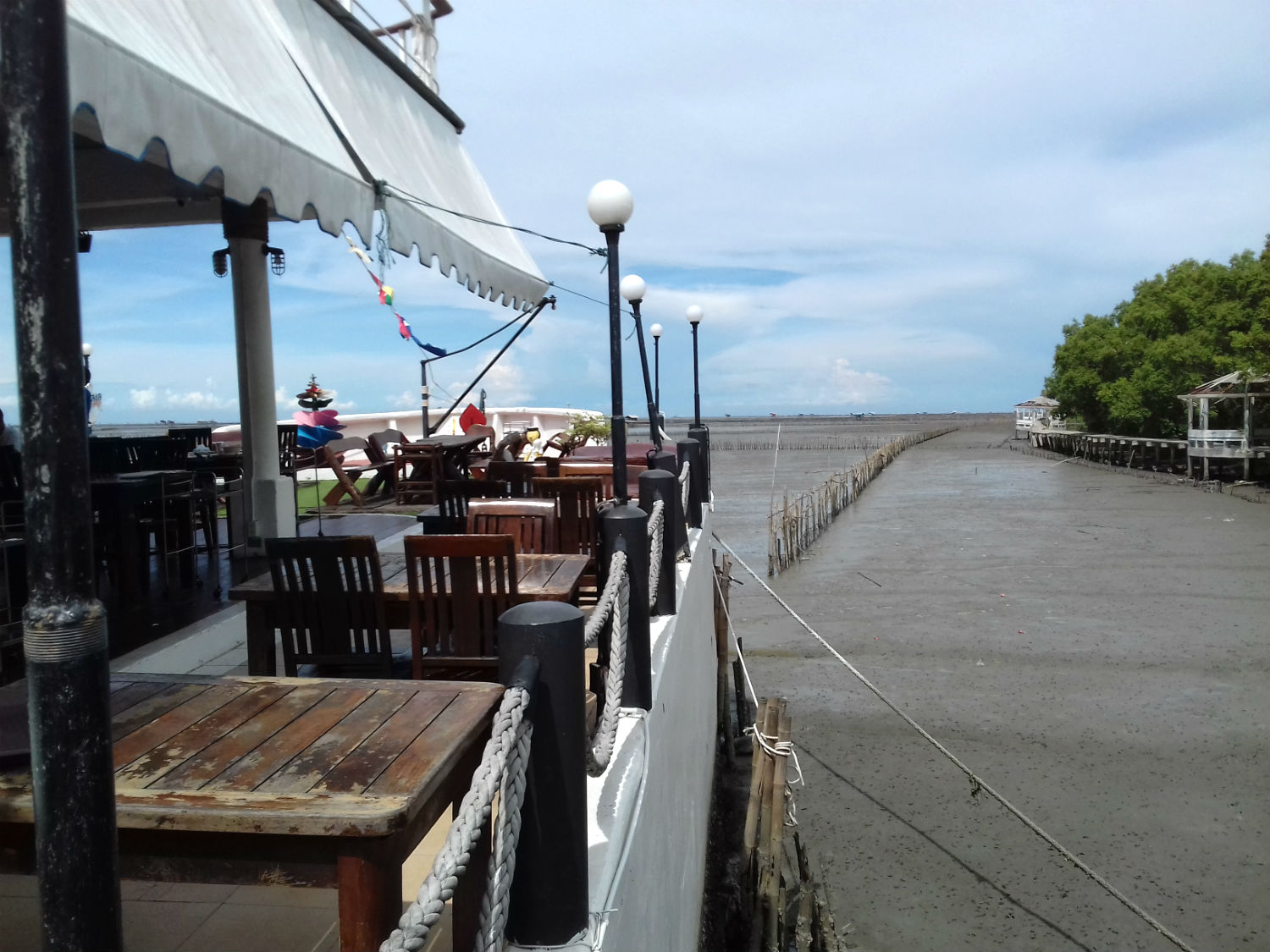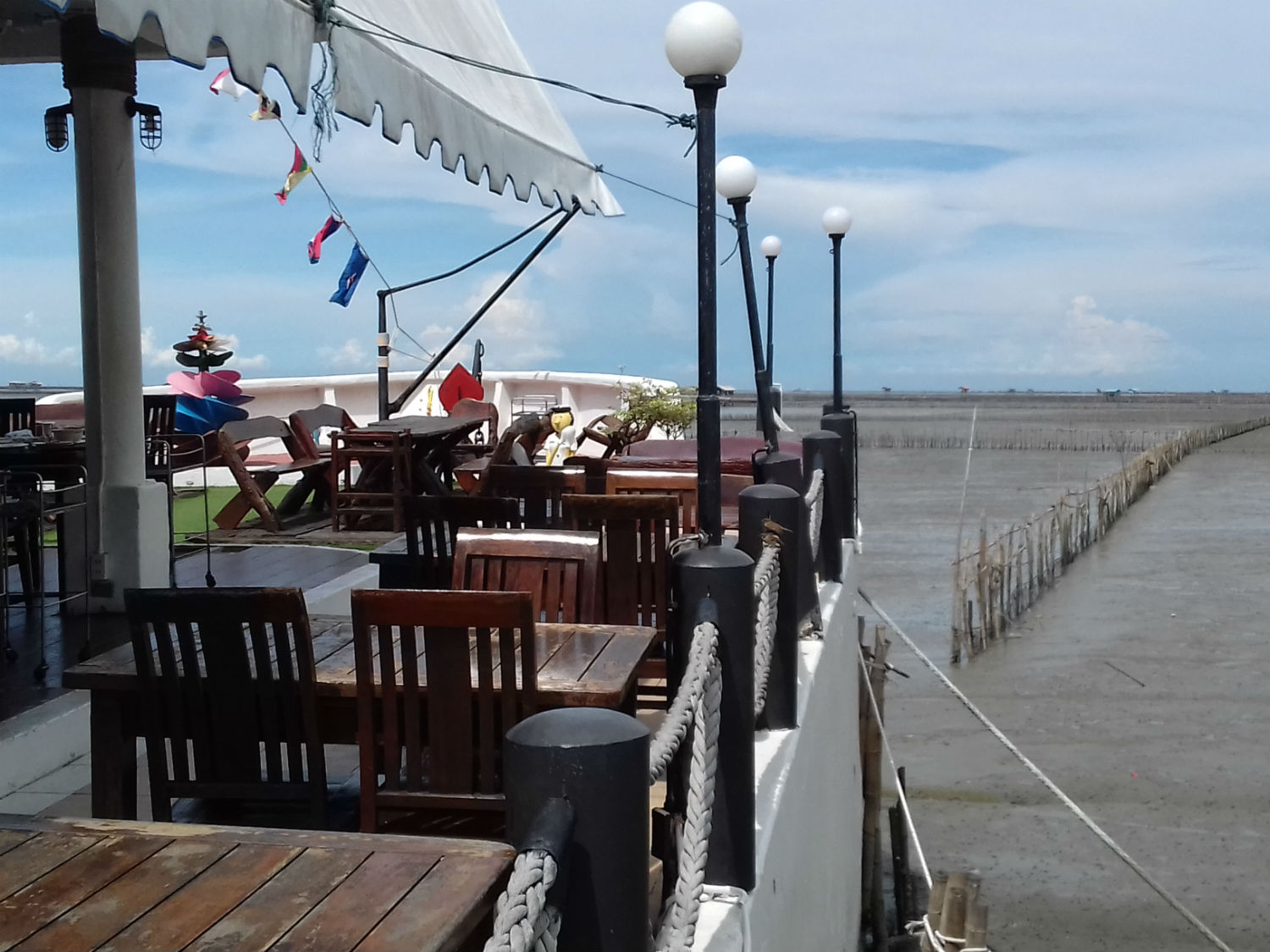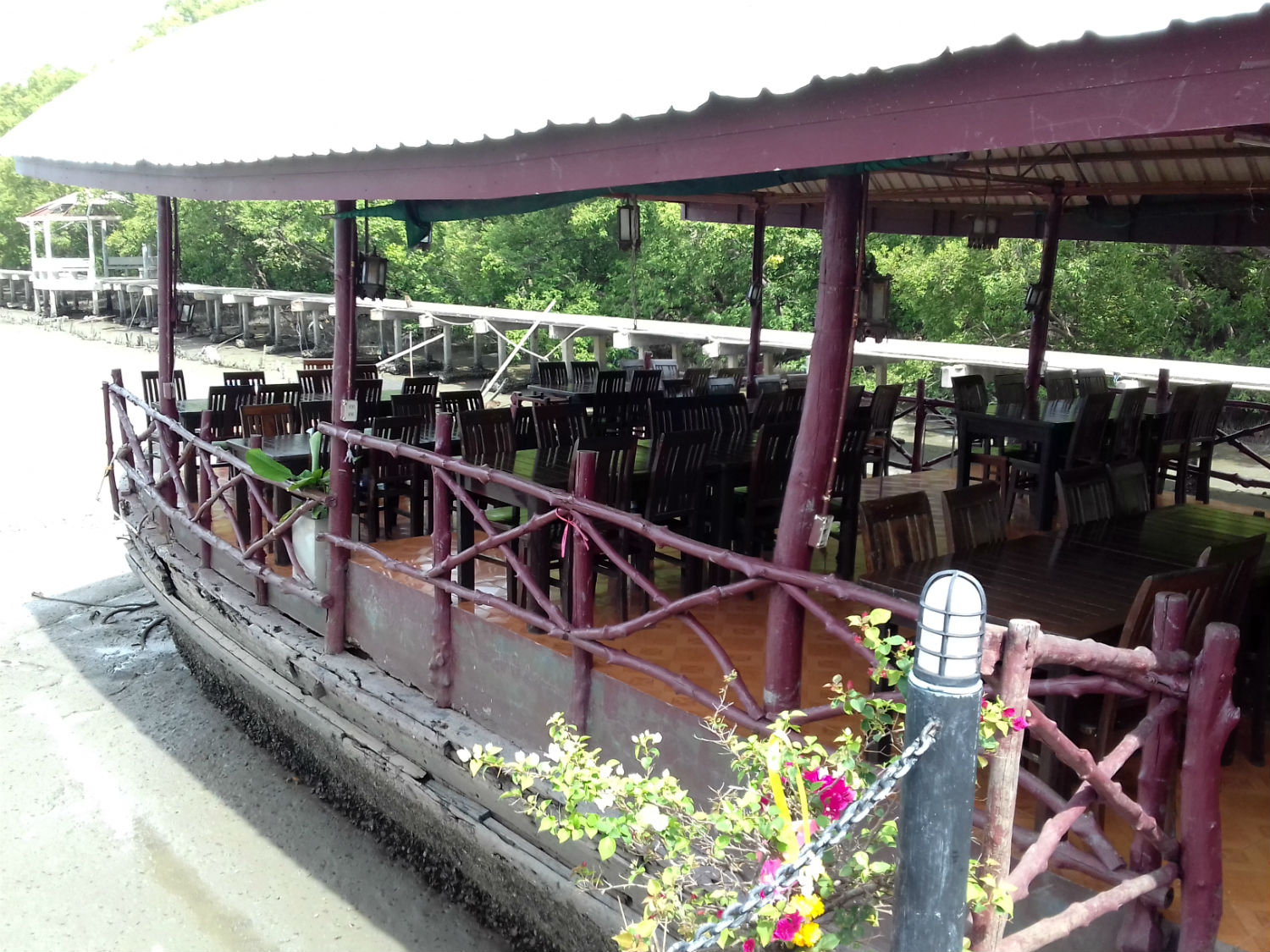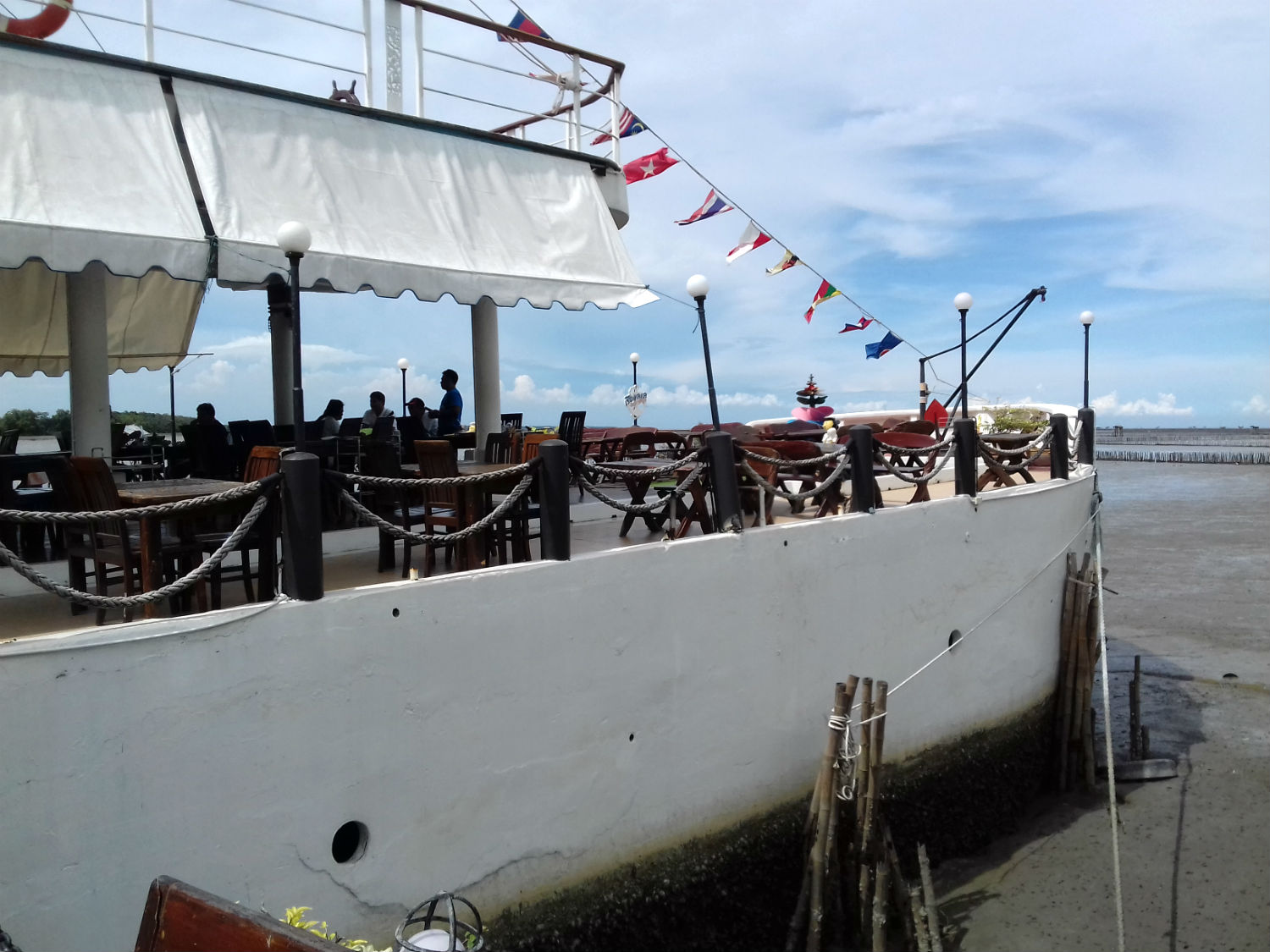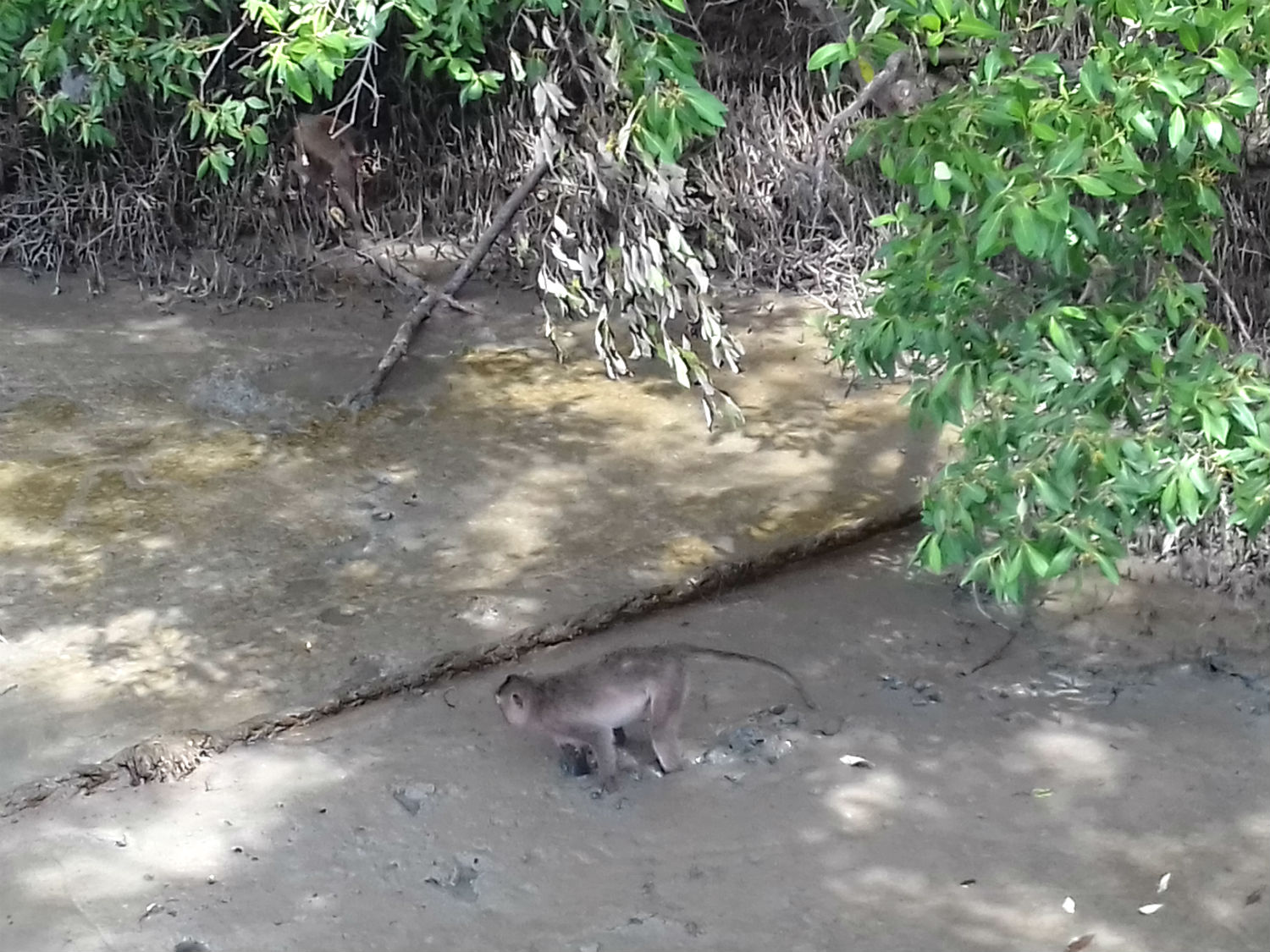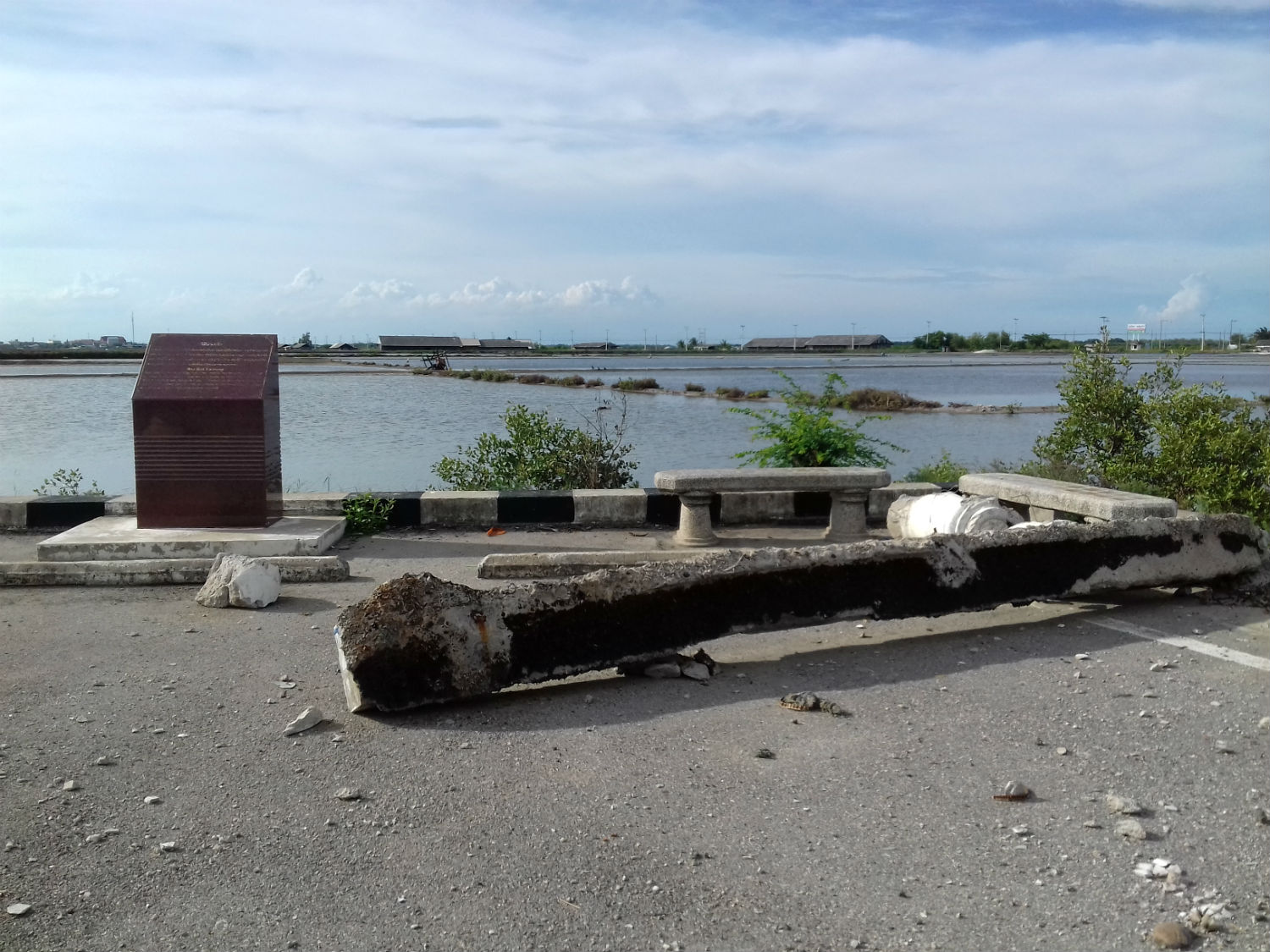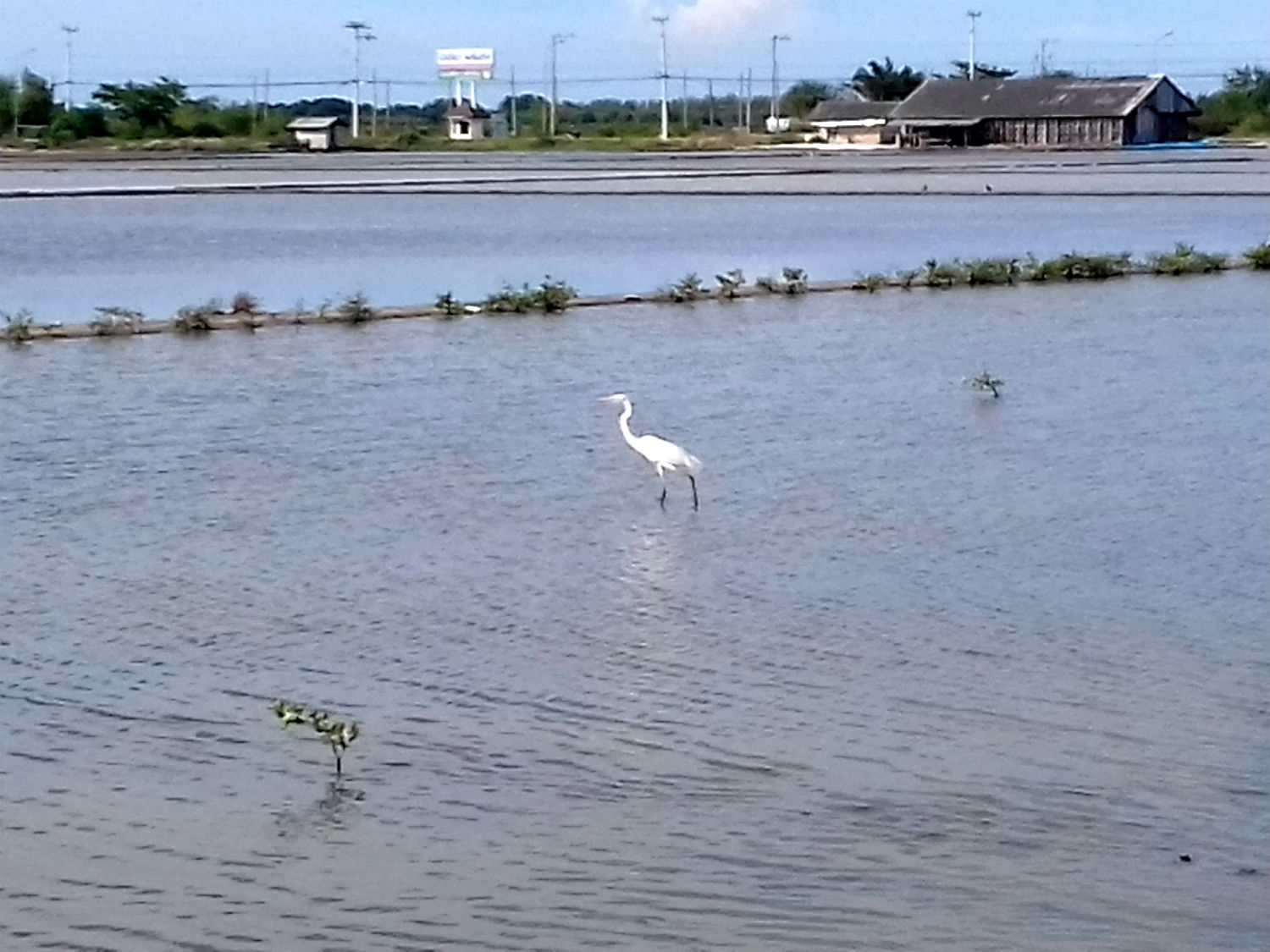 Rua Laelay Restaurant (ship), Bang Tabun Ok, Ban Laem District, Petchaburi Province


So vast are the mud flats that all you can see in the distance are stilt houses performing what function I'm not sure. Then dead ahead are the rusting and decaying hulks of three ships. I soon realise they have been put to good use as restaurants. The nearest one looks like a Chinese junk while the outer one was probably a ferry. In the middle, the smallest vessel is used as the kitchen. OK I just know what the deal is here. It's a restaurant for seafood junkies but works well with romantics also. Katoon can't resist this sort of thing and goes overboard (wishful thinking) prepared to pay silly money when I'm not really hungry. Having said all that it's a little gem that I will gladly add to my Facebook page later.
Wat Khao Takrao........Stuffed to the gills, the last thing I want now is a hard afternoon clambering around temples but true to form Katoon sniffs one out. On practically the only hill for miles around is the temple Wat Khao Takrao.
The only English signboard onsite is faded and hardly legible but the local website says that the temple, which is located at Ban Laem District, 12 kilometers from Phetchaburi City, houses a highly respected sitting Buddha image locally known as "Luang Pho Khao Takhrao". The image was found at the mouth of Maenam Mae Klong in Samut Songkhram Province by Ban Laem villagers, who migrated from Ban Laem to Samut Songkhram during the fall of Ayutthaya in order to move away from the route of the Burmese troops.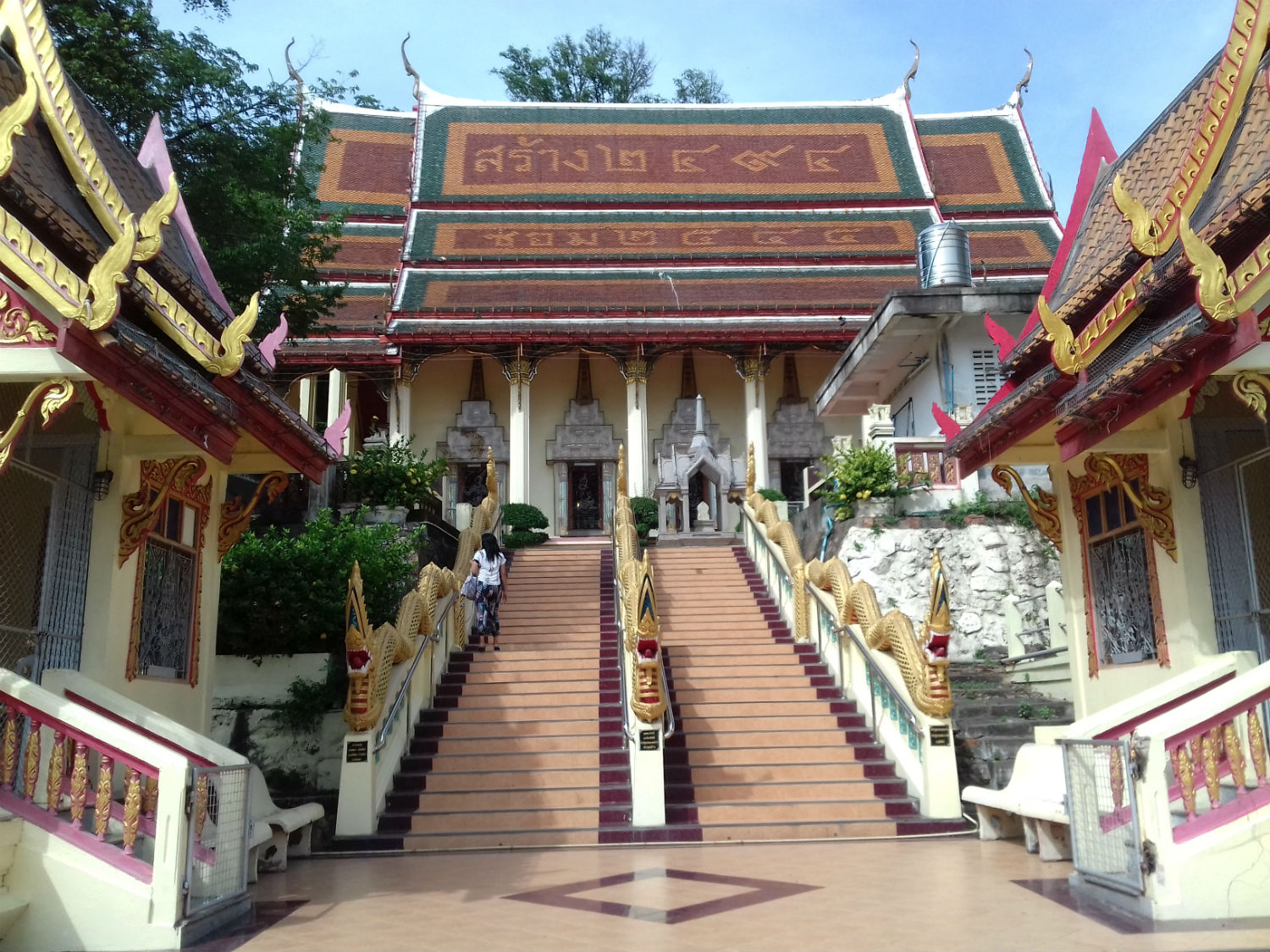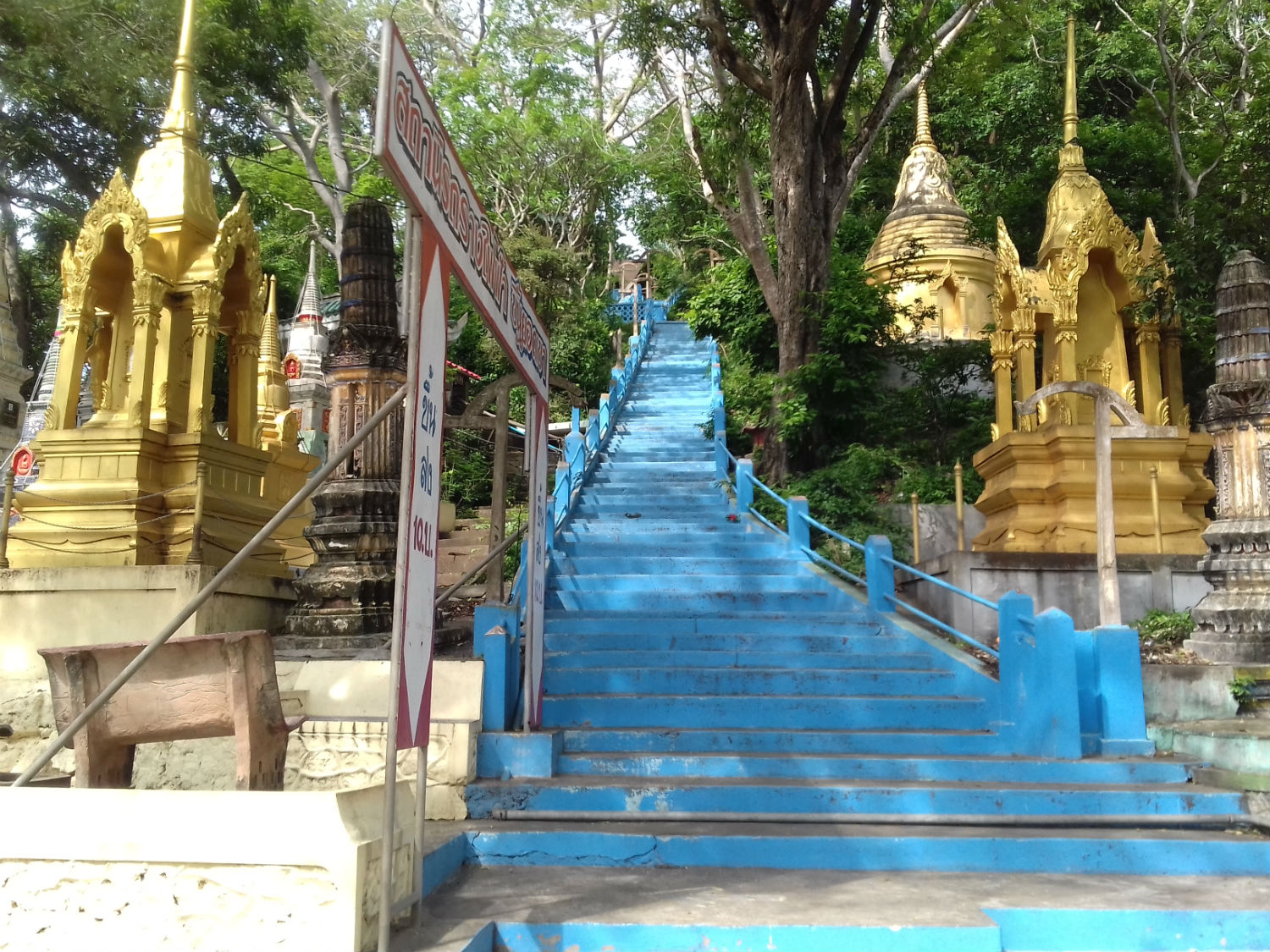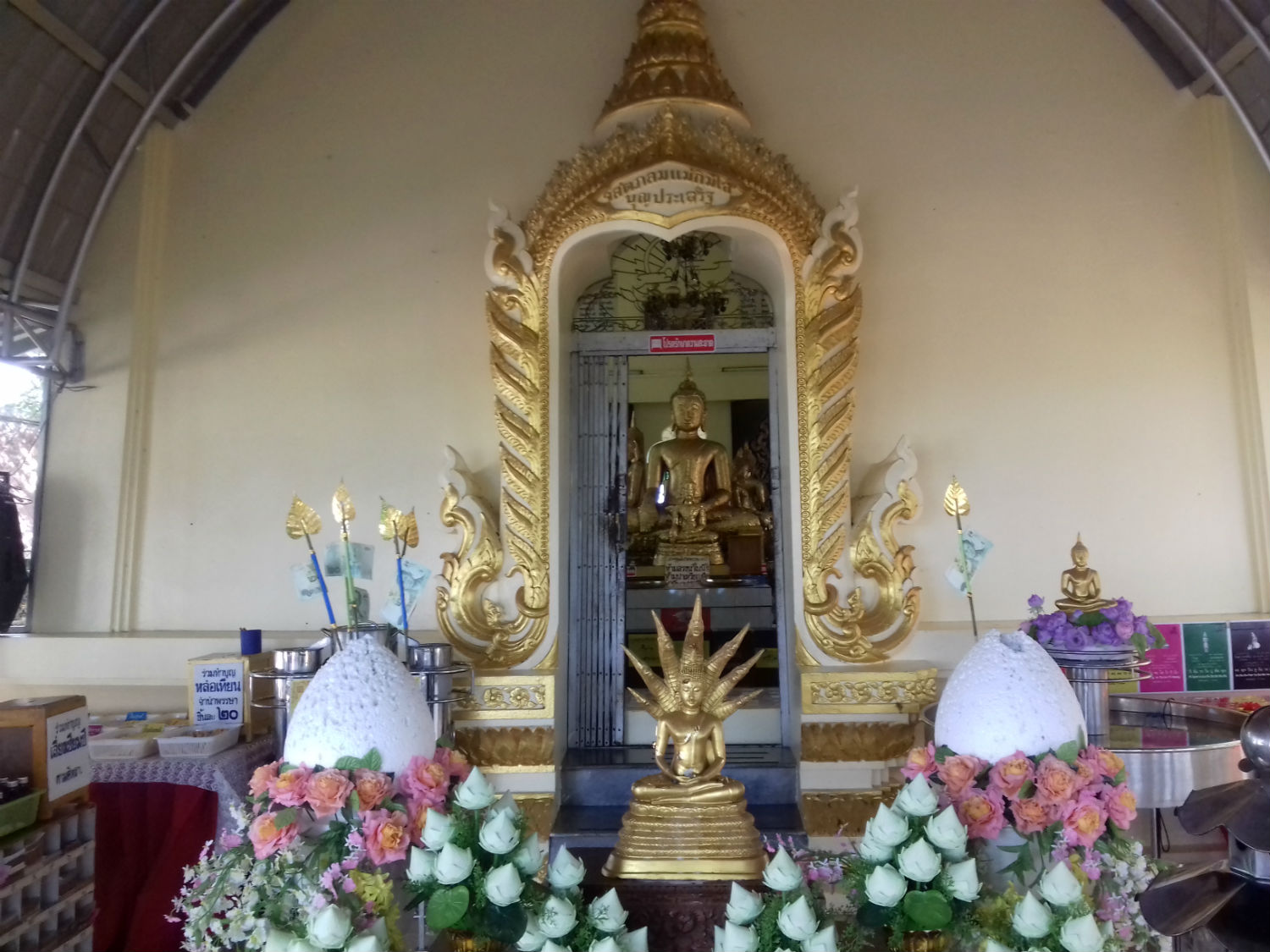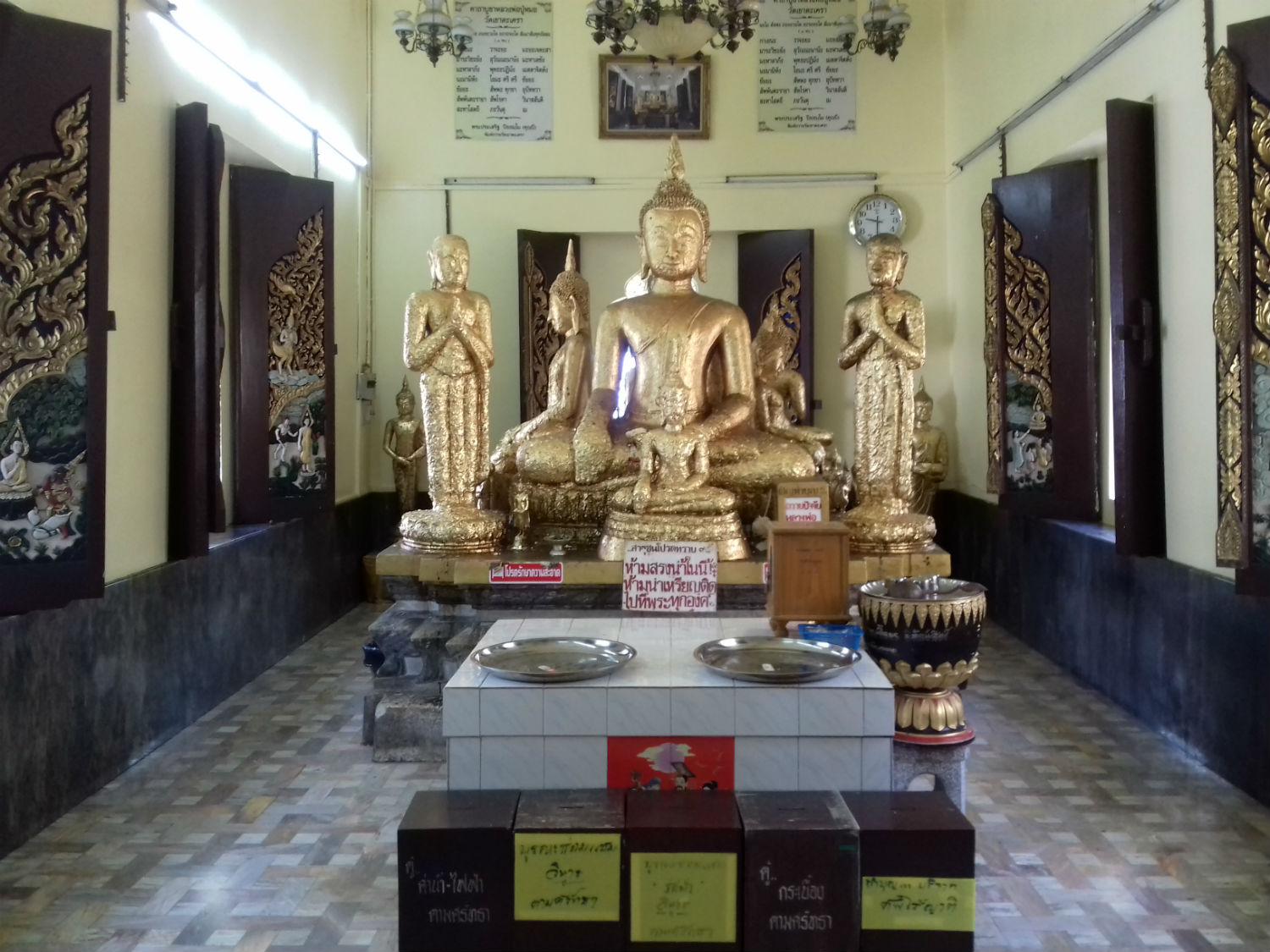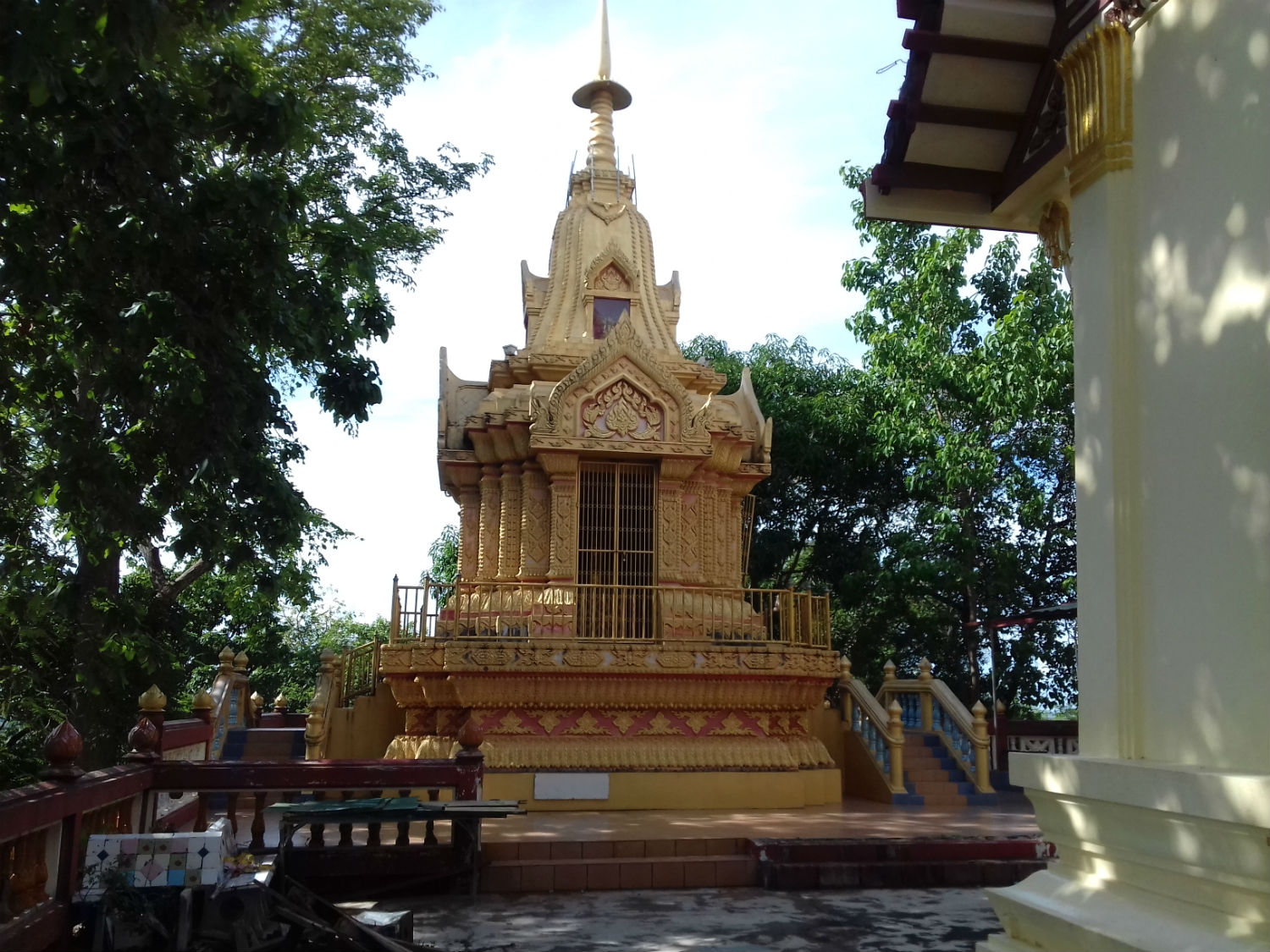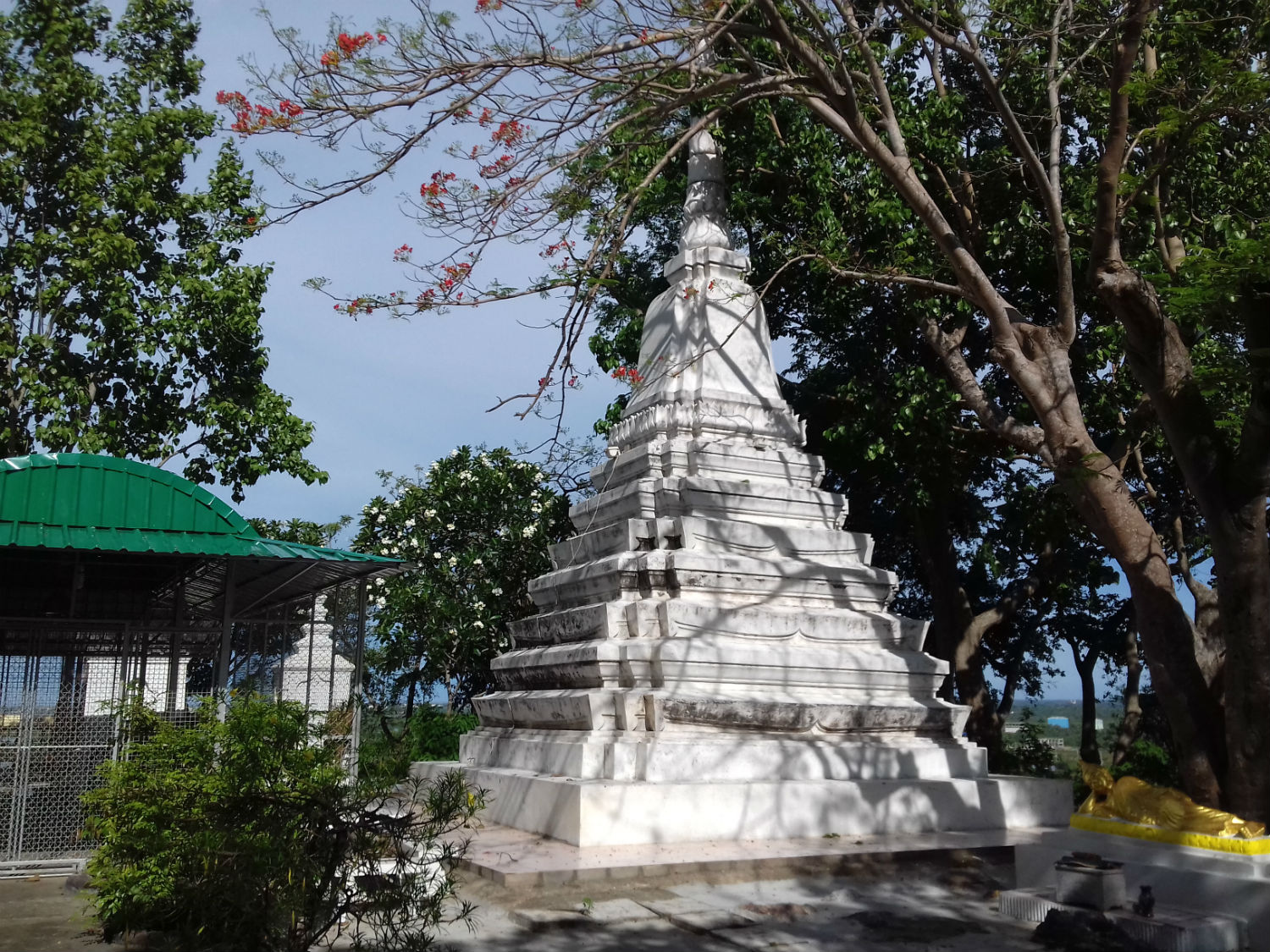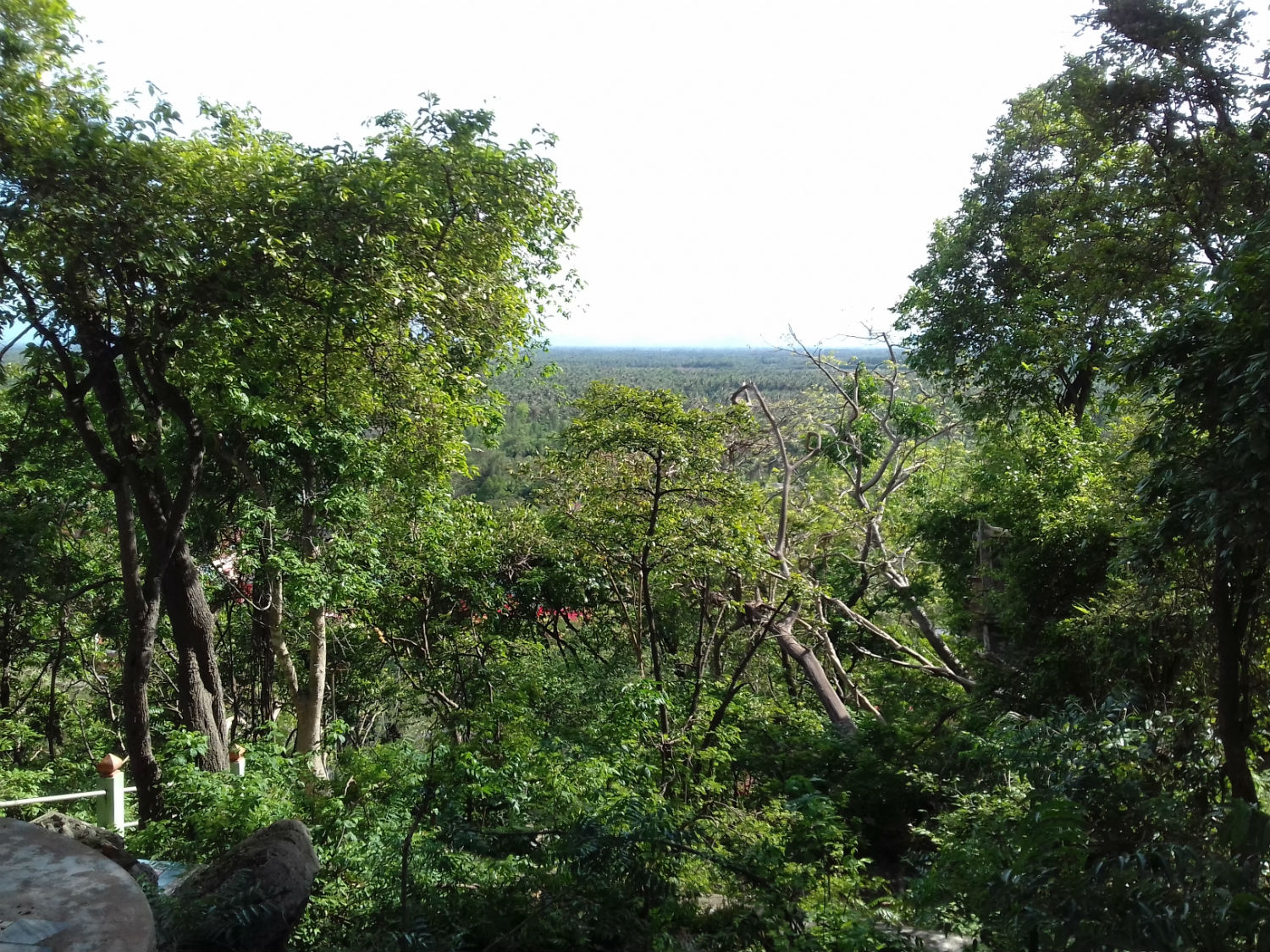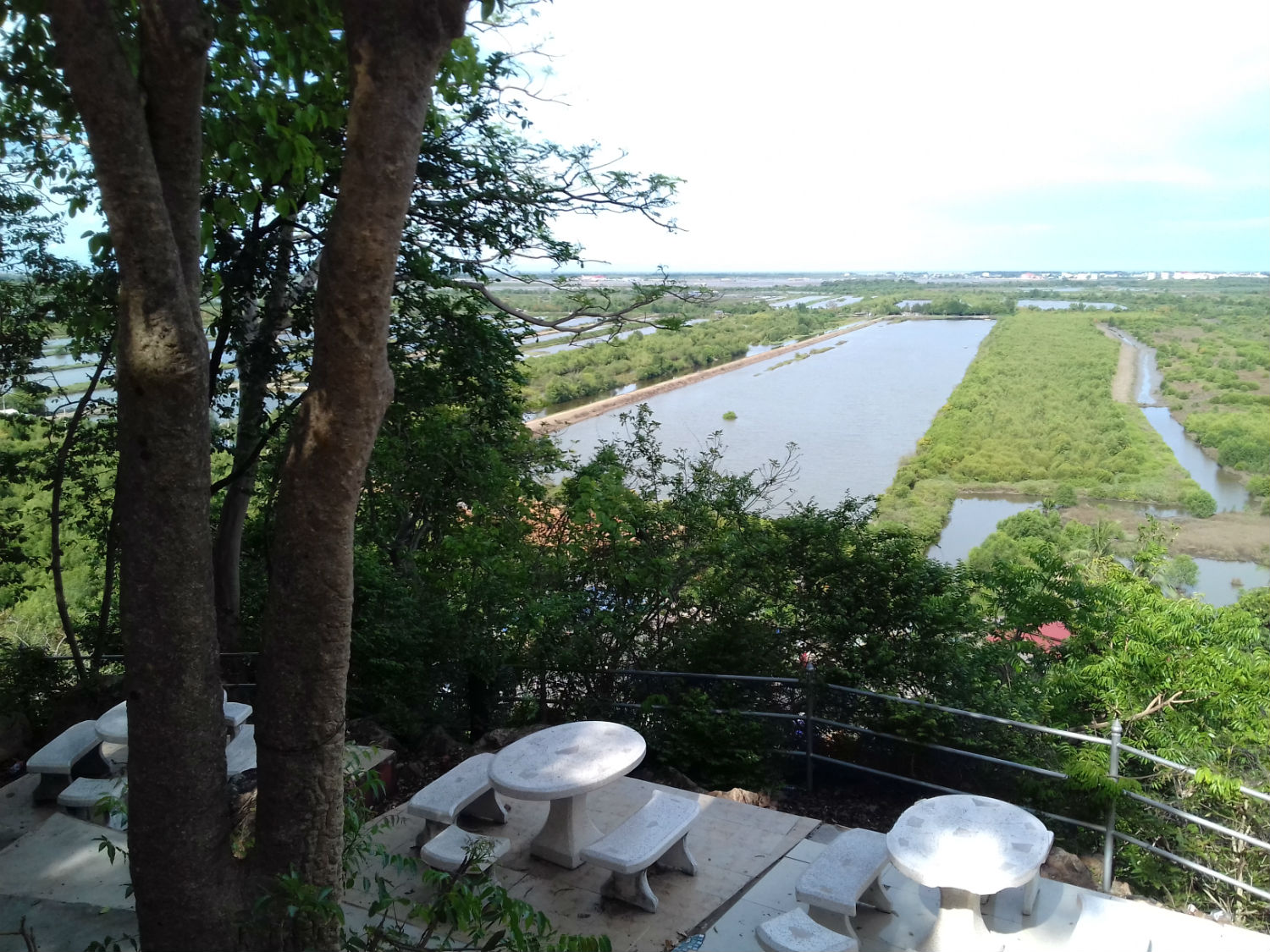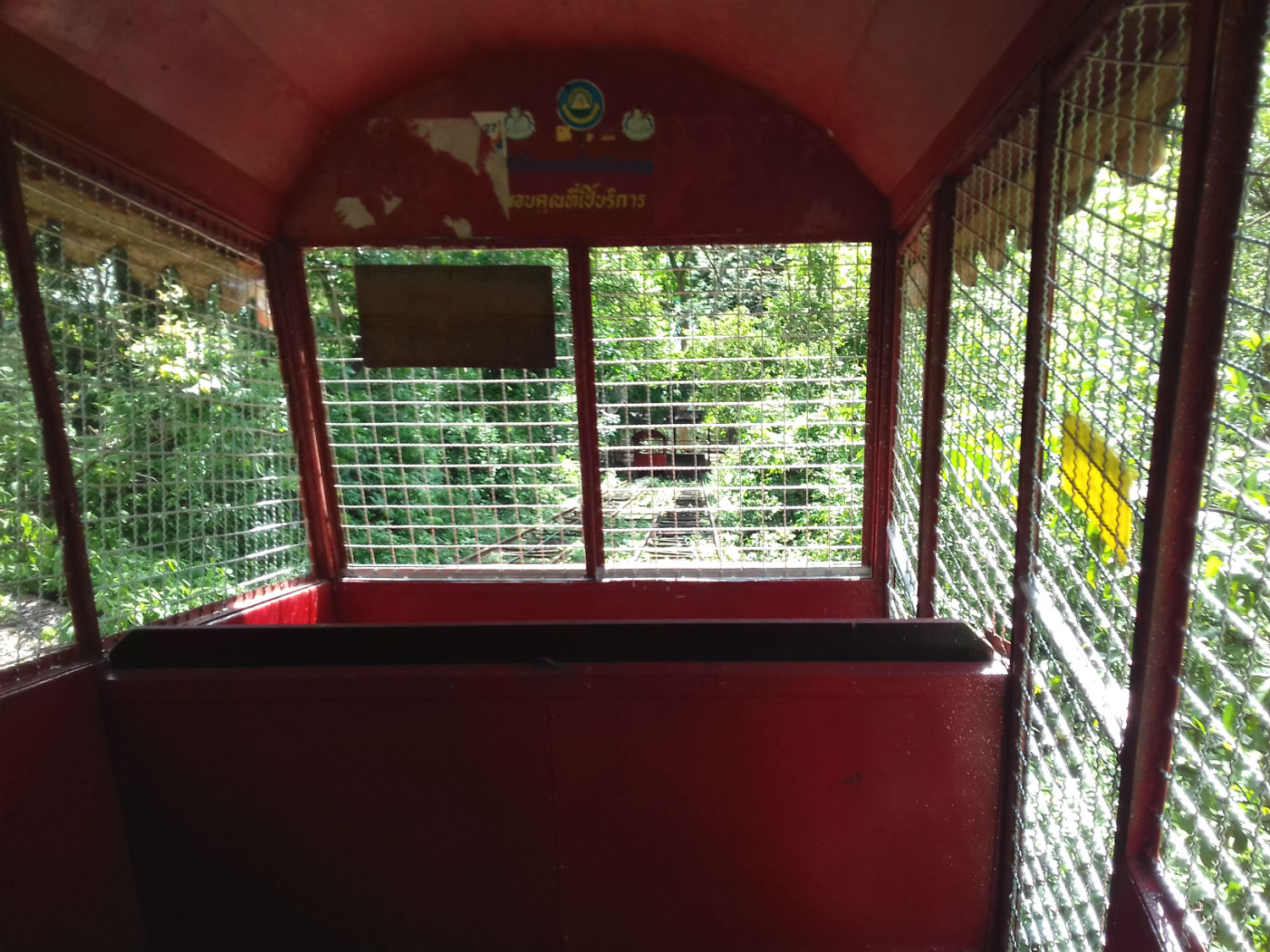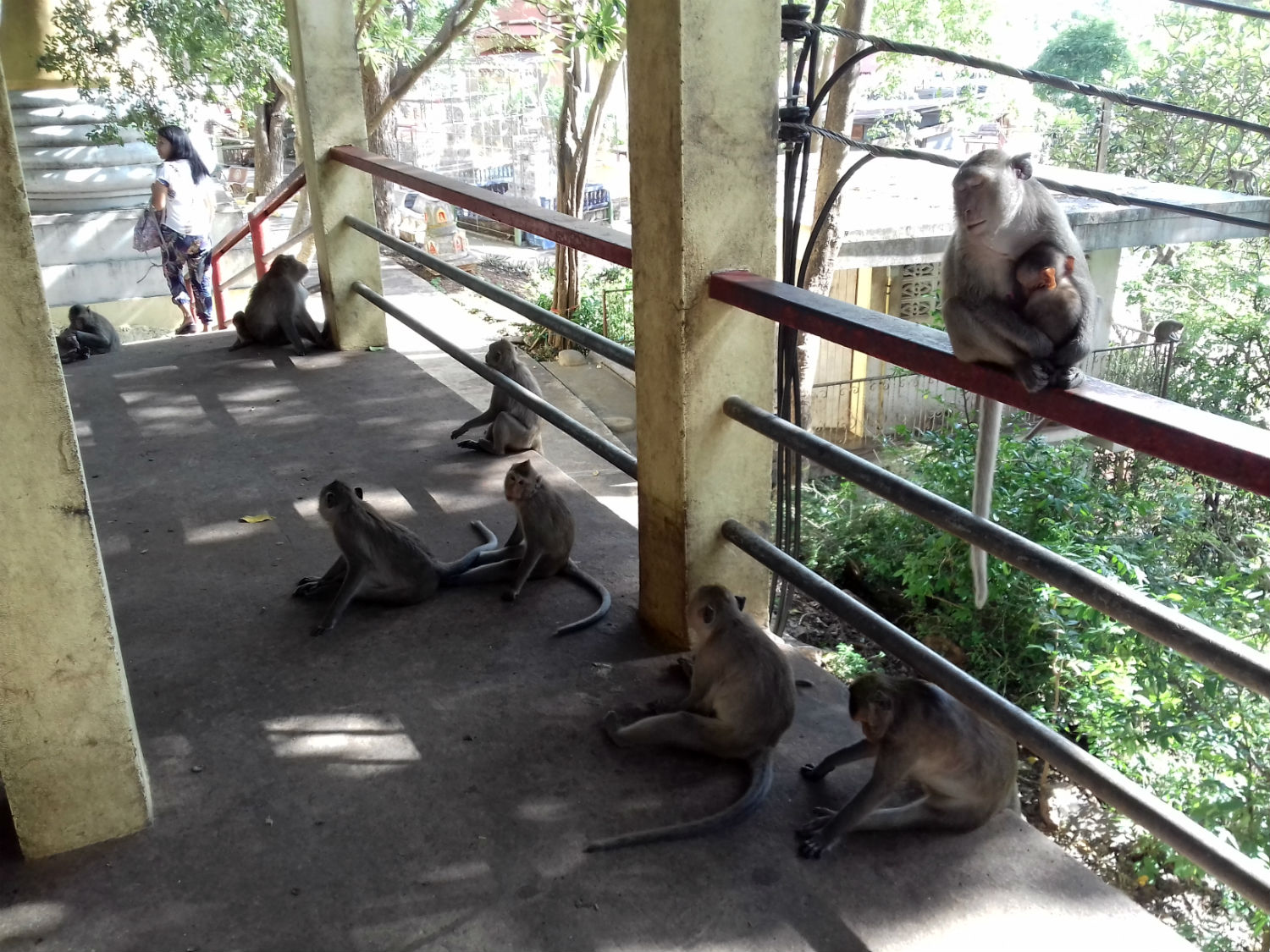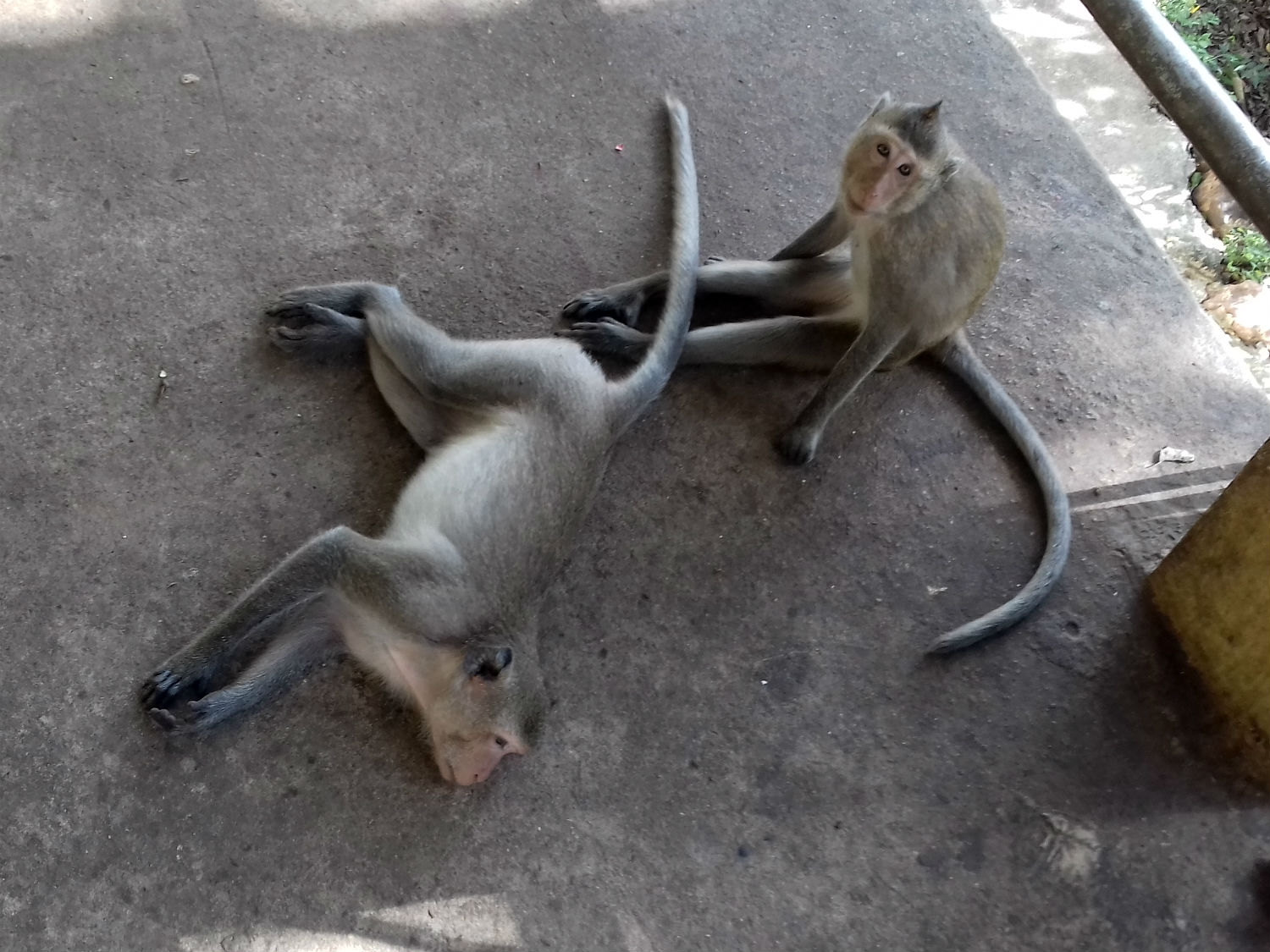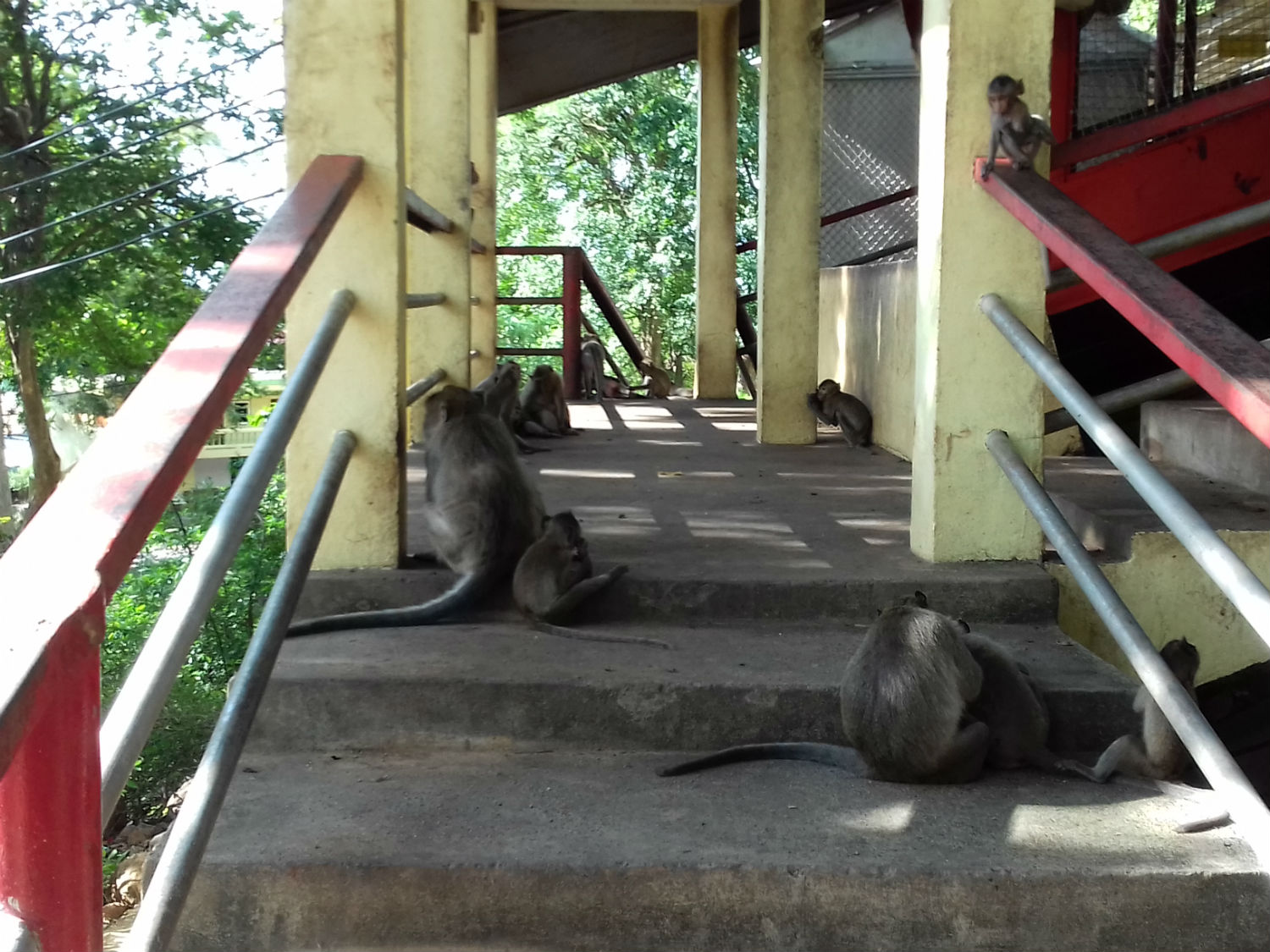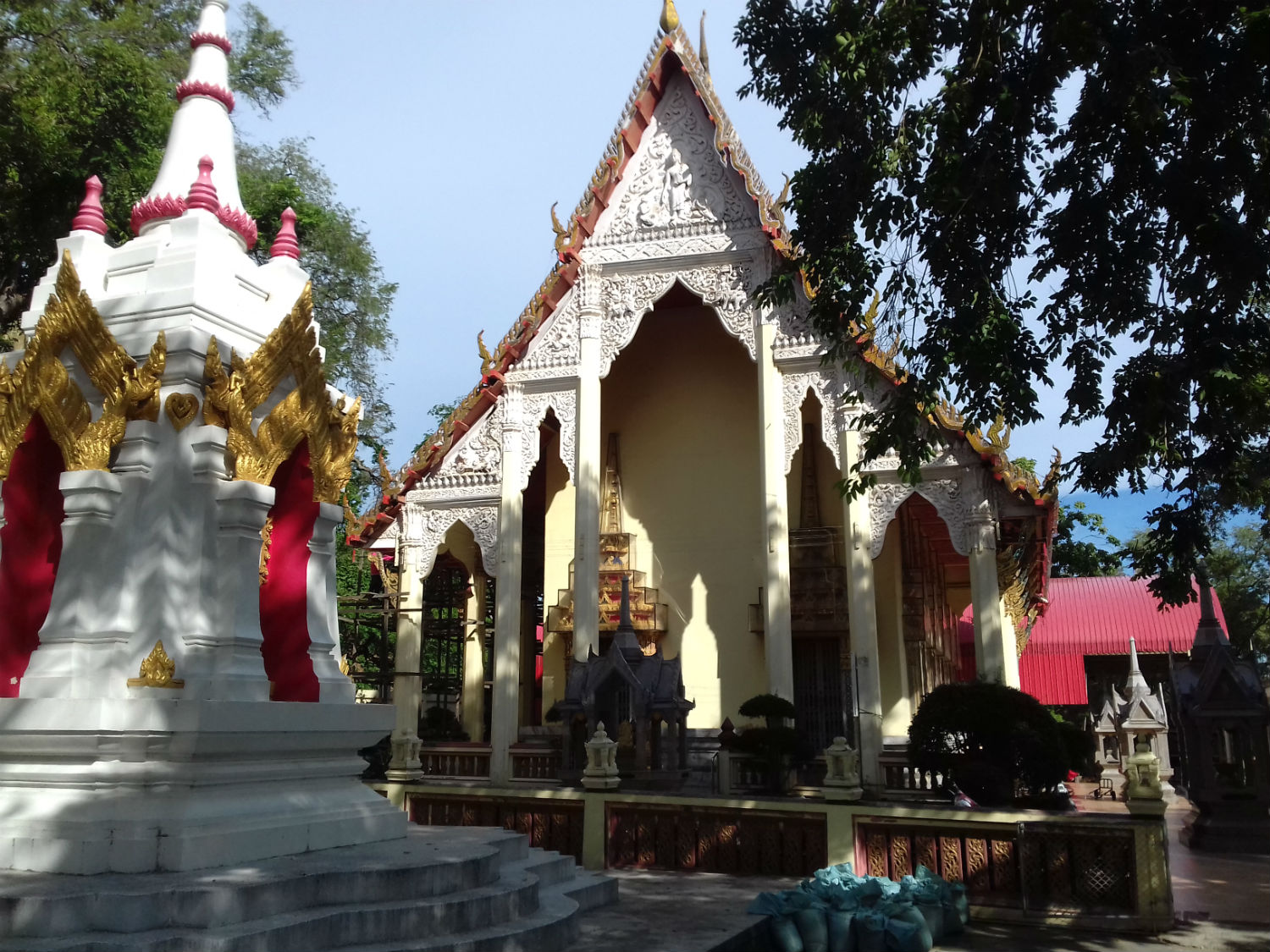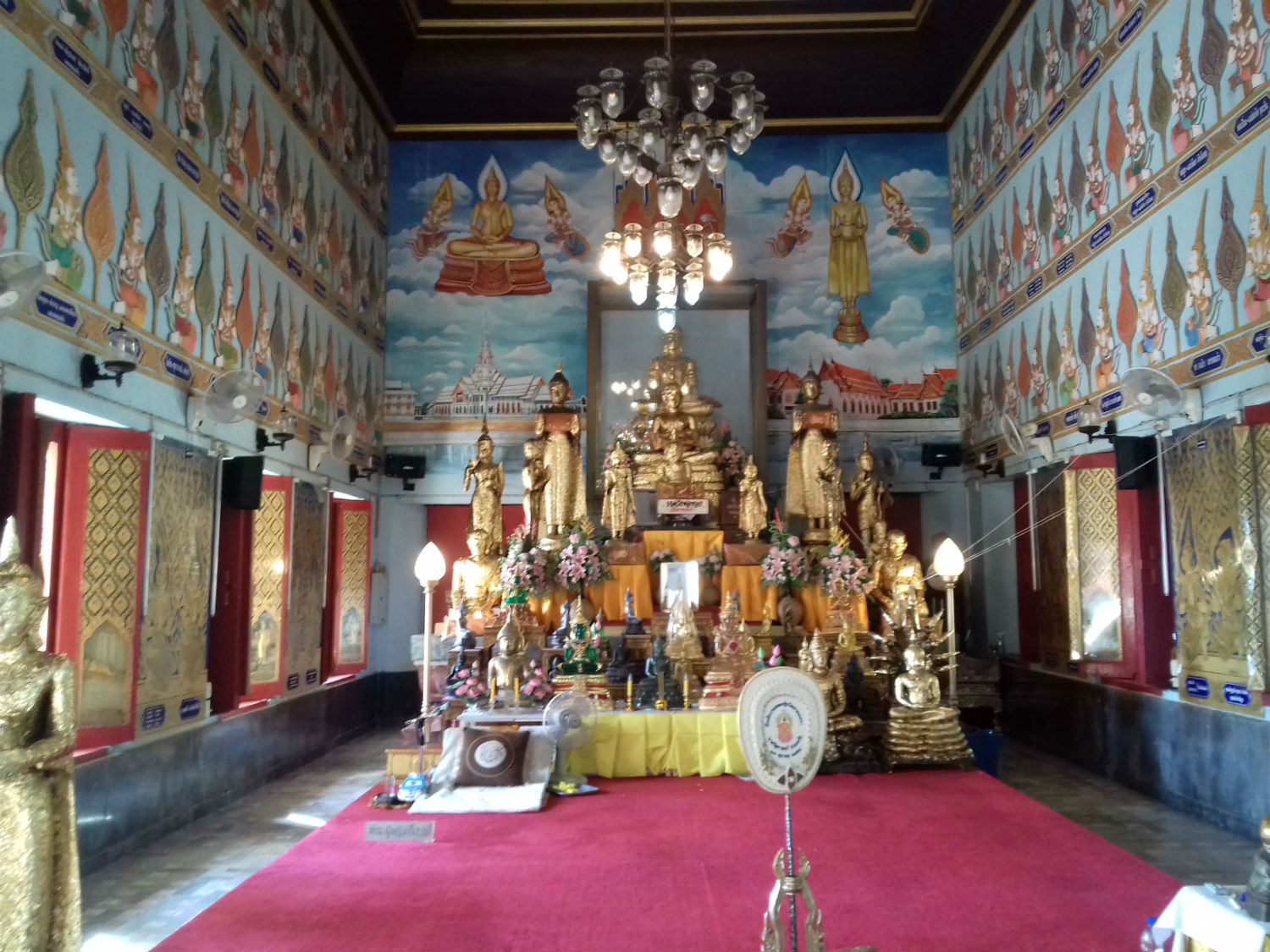 Wat Khao Takrao, Ban Laem District, Petchaburi Province


Thankfully that gives me something to work with but Katoon carries on with her merit making with more than usual diligence. There are a couple of unusual features about this temple. Sure enough there is a chedi and viharn on the top of the hill but it is reached by a cable car that has seen better days. It is run by temple followers who charge 20 baht which is the basic donation for merit making; no worries about that in my case. The other feature is the presence of a large monkey troop which is deterred by staff with catapults. Every temple door and window in covered with metal grills to prevent their entry.
Wat Nok Pak Ta Le........As we continue south along the coastal road there is another temple I should mention. At Wat Nok Pak Ta Le there are some wonderful old teakwood buildings but the viharn is in a style that has to be unique. Build like a ship; it has all the features of a galleon with masts and forecastle. They've even added an anchor and marine life moldings including a jellyfish.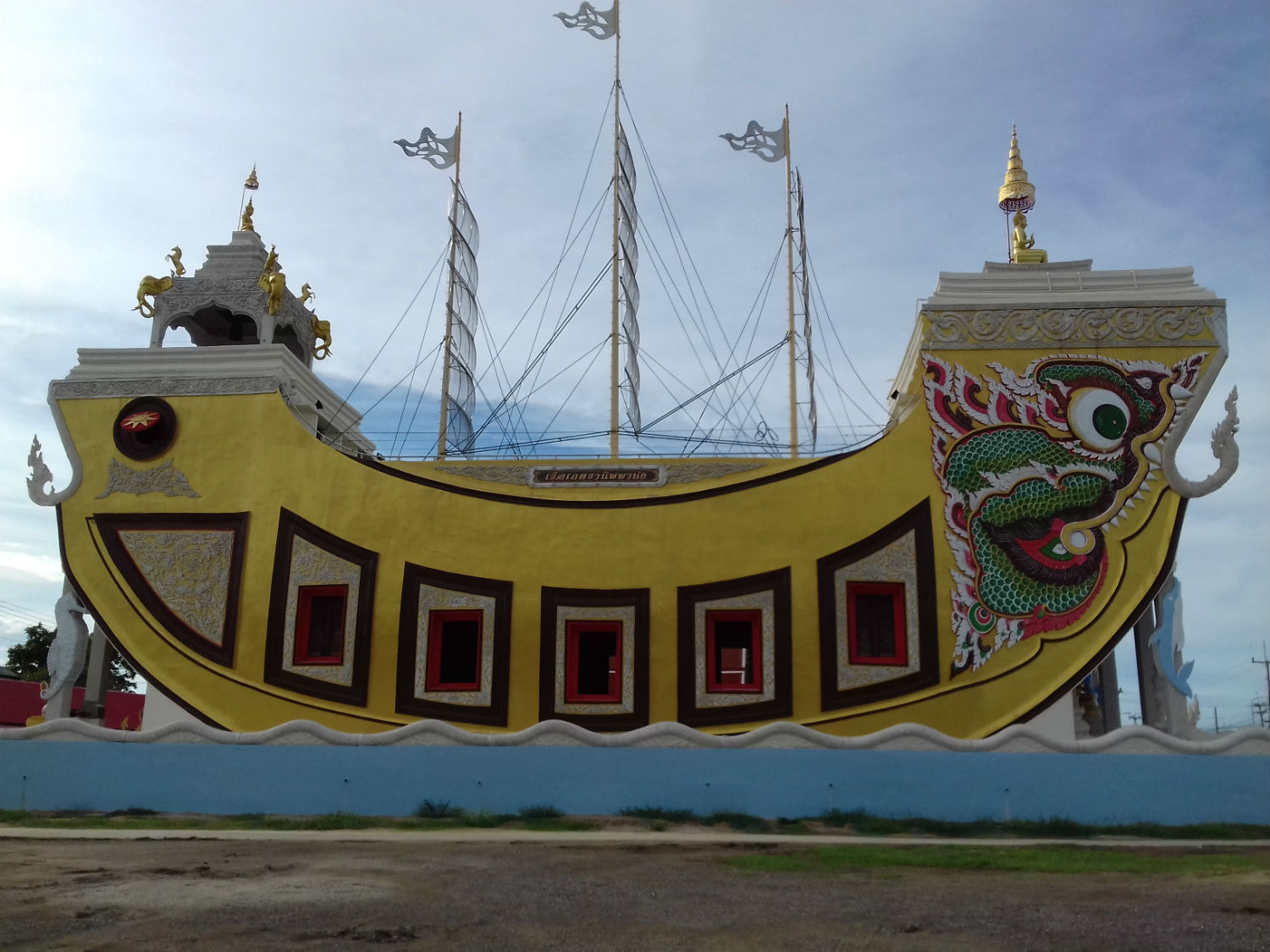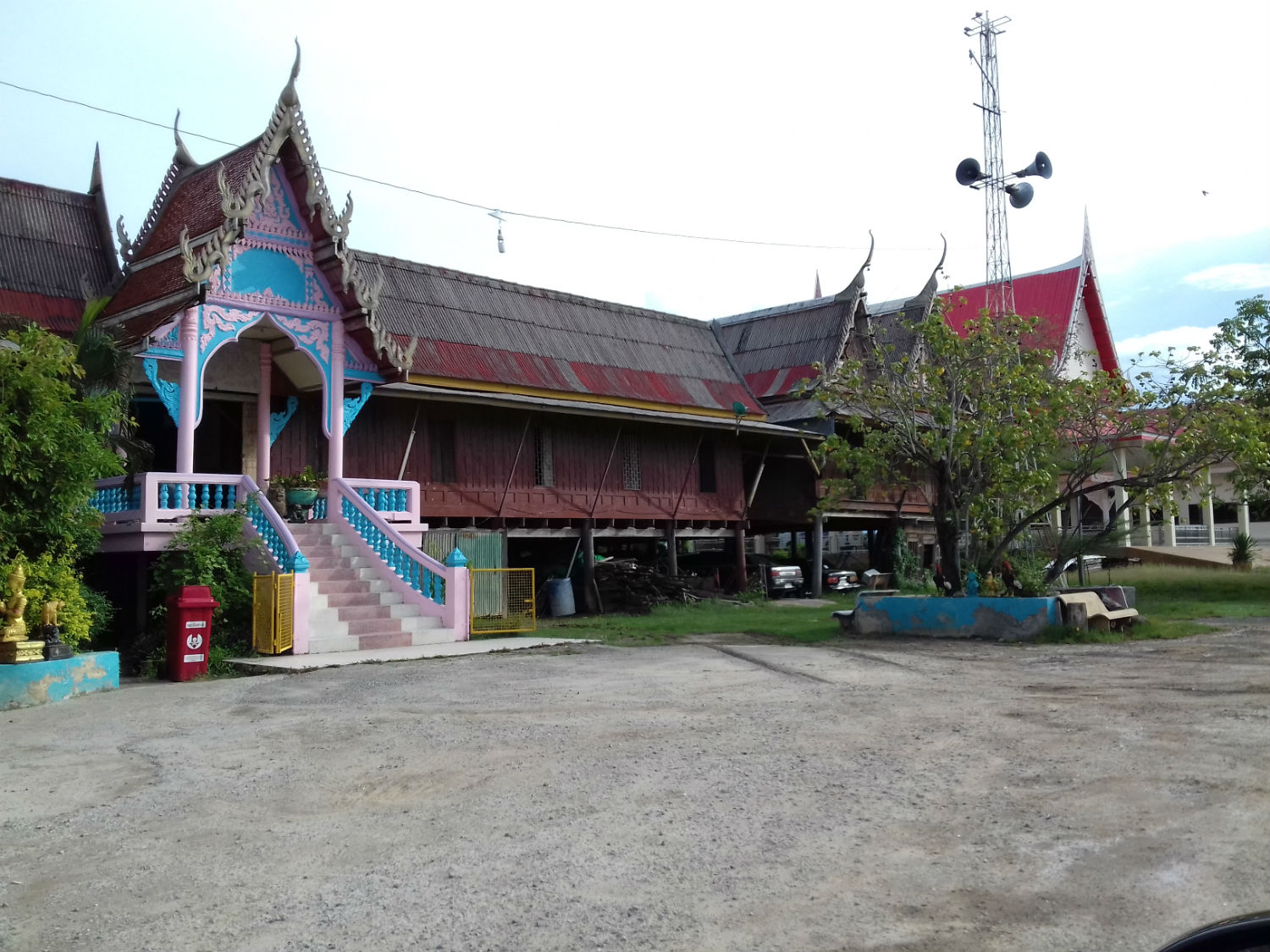 Wat Nok Pak Ta Le, Ban Laem District, Phetchaburi Province


Searching........
Now moving into late afternoon it's time to consider accommodation and it becomes clear that Katoon has slipped back into her old way, seemingly not interested in calling ahead. While we move further around the coast there are other attractions that would certainly deserve some attention if pre-booked accommodation was in place. As it is, its down to enquiries at location. As we approach the first beach Had Chao Samran we find the going rate 1,000 baht up. Although there seems plenty of choice I guess being so close to Bangkok means their nearly always full. A beach holiday would be nice but it's not what I'm here for. I just need a soft pillow. So it becomes a chore again searching on Google Map. The best option seems to be to head into the city only 15 minutes away and that works better.
Palm View Resort........
photo.
Palm View Resort is conveniently located about 5 km south of Phetchaburi just off the main highway (4). Its location, not far from a major shopping area and quite central to our travelling needs, seems ideal with a modest price but oh dear! What have they done to the rooms? Spacious yes, but what's the idea of laying a mattress on a concrete base that fills 80% on the room. It'll be a nightmare waking up in the night as I often do clambering along the base and down an 18 inch step. Add to that there's a shortage of electrical sockets right where I need to work it's not ideal by any means but I'll have to cope for now. At least we can buy all we need nearby.
Next Page.