Wednesday 4 January 2017

Preparations........It's the eve of another tour and this time it's a big one. I'm leaving Bangkok in the morning for Singapore for two weeks which will also include three centres in Malaysia. In truth my head is still not clear after the last tour as I tried frantically to complete my blog. Editing the vast number of photographs has left me practically deskbound and the week between major tours on this occasion is not enough and working on a previous blog while on another tour isn't an option. I just have to put it at the back of my mind. Today is now all about preparing for departure tomorrow. The priority is to go downtown and change some money while Katoon's priority is to go shopping.
In terms of expectations, I'm not expecting this tour to be so intense and will probably end up being dictated to by the speed of public transport. Accordingly I have pre-booked most of the accommodation and the flight, of course, which was booked months ago. Just maybe the lack of convenience of having a car parked outside may slow me down.

Day 1 - Thursday 5 January 2017

Departure........With an 11.05 flight to Singapore it shouldn't be too tiresome to get ready but I've set the alarm just in case. But despite an early night, the alarm proves necessary and fires off at 6am. With some packing done last night, there's not too much to worry about except to manage it, leaving out essentials. After a quick breakfast, all is ready.
A taxi is ordered and we depart at about 8.15am. There are a number of ways to reach Don Muang Airport from Kubon and this driver does his best to avoid morning traffic but succeeds only in adding to the cost by choice of route and driving with no urgency whatsoever. Check-in at Don Muang is straightforward and as planned we have combined our luggage to just 20 kgs avoiding extra charges. At immigration I have kept to my allowance of 30 days without a visa. That would have expired tomorrow.
Flight FD 357........The flight to Singapore which is practically full gets delayed 15 minutes and will now arrive at 2.50am local time. The flight time is 2 hrs 30 mins allowing for a 1 hour time difference. The flight itself is uneventful although there are amazing views of Singapore as the Airbus 320-200 flies east of the Johor River, past the airport reaching the Batam Islands, then does a U-turn back towards Changi Airport. While here in the Straights are so many cargo ships they would be impossible to count. Check-in is smooth and airport facilities first class as you would expect. Now it's time to head into town.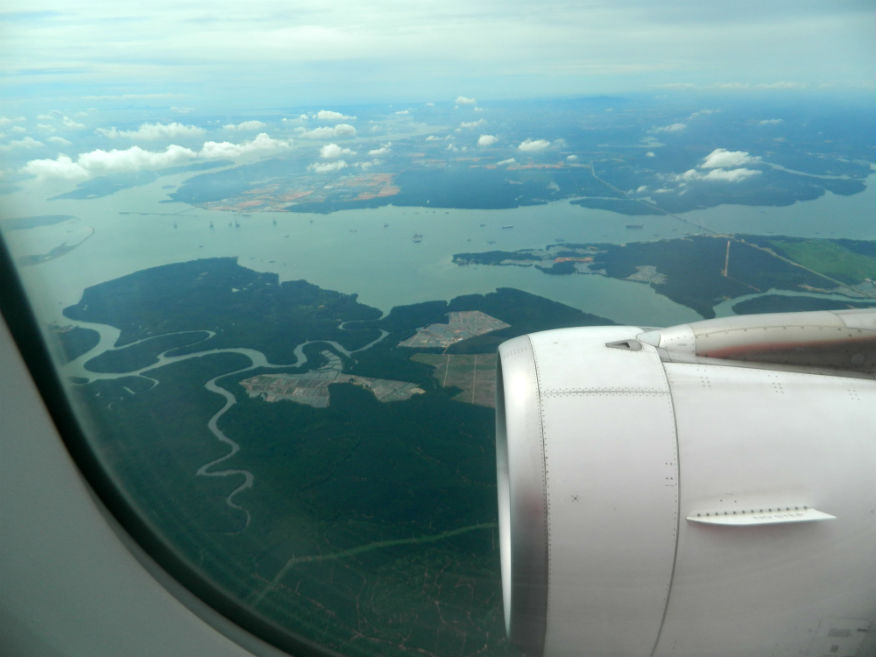 City bound........While the commentary so far has provided little useful information, that's about to change. For some reason I decide to use the MRT (metro) figuring that my hotel tonight is not far from a metro station but I think with hindsight I should have used the shuttle bus service which would have dropped us off near the hotel. 15 minutes walk with luggage was really asking a lot. Nevertheless it was useful knowledge gained. To start with I realised that the metro doesn't run from Terminal 1 where we landed. You need to take the rail link to either terminal 2 or 3 to connect with the city but it is a free service. I also learnt to have some small notes ready as standard tickets are only available in ticket machines: Back in Bangkok they were out of the smaller notes, 2$ or 5$. Ok finally we get onto the metro and make our way to EW9, Ajunied. As we pass through the eastern residential area I try to recall my one and only visit to Singapore some 30 years ago which left only a vague impessions of a place so modern and clean in complete contrast to many S.E. Asian countries. Well nothing has changed there. Arriving at Ajunied, as mentioned, there is then an awkward walk to Gayling Lorong 18 but easy enough to find in the end.
Missgivings........Certainly today I have missed the local transport, songtheaws and motor cycle taxis. Perhaps the most obvious difference is that, as in the West, things are well orginised in Singapore but if you're disorganised like me it doesn't help a lot. In other parts of Asia you can get away with it which suites me better. Not here! Personal service, is at a huge premium. Finally reaching Fragrance there's an issue that needs to be resolved but as it's something that will have to wait till tomorrow I can concentrate on finding something to eat. By now it's late enough to call it dinner. Gaylang has no shortage of places to eat and I was actually looking forward to eating in one of the famous food halls but tonight I'll just grab what I can. Not in the mood for shopping around, I pop into a small food hall on the street corner and that sets the tone for the rest of the evening; food not particularly appetising, certainly over priced and not at all to Katoon's taste. Perhaps some shopping in Geylang Road will help. Well no! I knew Singapore would be expensive but I hadn't expected to be placing myself on a crash diet so soon. I begin to realise that almost everything in Singapore is imported recalling all those ships in the Straights creating more obstacles than on a pinball machine. It's obviously going to take some getting used to. Back in the room the bottles of water are that small, sufficient only to fill a tea cup. Bottled water is really expensive here; a larger bottle the price of a pint of beer in the UK.

Day 2 - Friday 6 January 2017

Fragrance Hotel........I can't say I've slept too badly and at least I can make a coffee in the room but there's no breakfast except what we picked up last night. As regards the hotel itself the rooms I've paid for are a bit small but probably typical of what's available in Singapore for the class and I probably had the best deal when I booked several months ago. But that has given me a problem. A friend of Katoon wanted to come on this trip and I booked two rooms. Unfortunately the hotel policy is to receive payment in advance with no options for cancellation. The booking was for two nights but ideally we wanted to stay for three. When Katoon's friend cancelled and I entered into negations with the hotel about an option to amend the booking, it seemed I was talking with Martians. I therefore thought it best to try to sort it when I arrived at the hotel: No joy. They simply referred me back to head office. The long and the short of it is that I lost the second room. The good news was that I managed to get my money back from the friend who cancelled but leaving it this late now I've no booking for the third night. The whole process has left me thinking that Singapore has invested heavily in technology and physical infrastructure but customer service hasn't changed since Victorian times.
Change of plans........With the hotel fully booked tomorrow night I need to make arrangements. Given that I'm feeling out of my comfort zone in Singapore, I decide to leave prematurely. I manage to get a decent room in Johor Bahru just across the Johor Causeway for tomorrow night. That means I can still have the best part of two days in Singapore by crossing into Malaysia in early evening tomorrow. On the negative side all this is wasting time at the moment but it's likely I will end up saving money on accommodation and food. Feeling, if anything, more relieved I must now concentrate on the sightseeing I came here for.
Tourist Pass........There are a number of ways to enjoy the sights in Singapore but hotels don't get involved in tour operations as they do in other S.E. Asian countries. Basically you're on your own. Not used to booking city tours at least not in advance I opt to get a tourist pass which gives one, two or three days unlimited travel on buses and the MRT but even this turns out to be a hassle. When I make my way back to Adjuied MRT station I'm told that only certain stations issue tourist passes. I need to travel downtown to Bugis MRT station to get one. That's more time wasted as it's now heading towards midday. Fortunately we're now pretty close to some of the city sights but it still leaves us a few bus stops away as we find ourselves next to Suntec City shopping complex. For once I don't mind venturing inside a shopping centre as respite from the heat. That opens up the opportunity for lunch after we locate the food hall which is at basement level. I select a meat and two veg Chinese dish which is a big improvement on yesterday evening.
Marina Bay........Despite having the tourist pass it's almost impossible to locate bus stops in the high-rise, densely built-up area and it proves more effective to walk to Marina Bay from Suntec City. Marina Bay is actually the harbour which played an important part in Singapore's history. Settlers from around the globe came here in the 19th century, eager to take advantage of free trade or avoid persecution or poverty. Many would depart from here in some of Singapore's darker days in WWII. But today with the advent of container ships, the port here is too small and has been converted into a retail and leisure complex of some grandeur surpassed by few. Here you get glorious views of the Singapore flyer, the Merlion, Marina Bay Sands, the Float and the high-rise business core with Fullerton Hotel looking rather out of place in front. This is the downtown area that everybody talks about.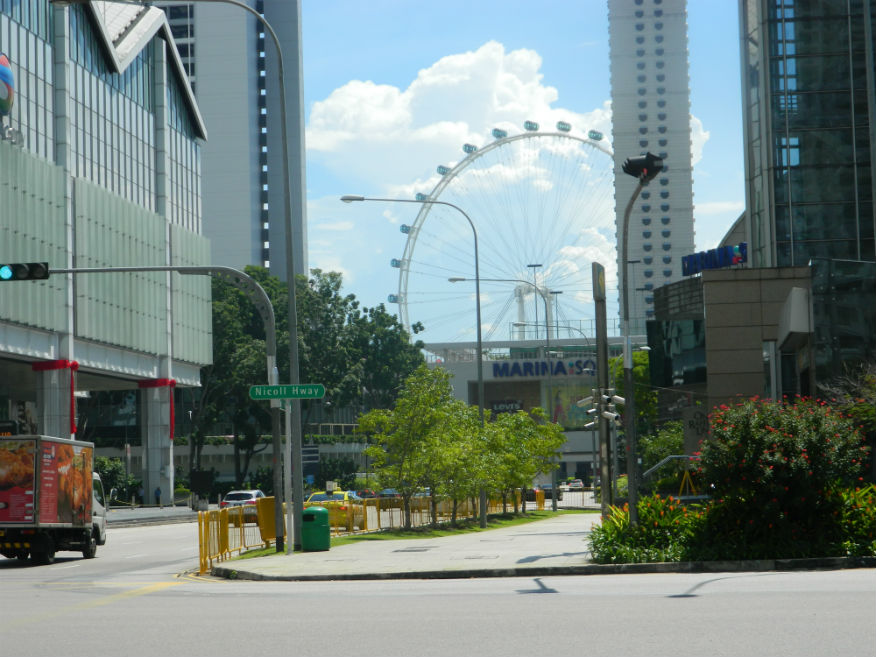 Clarke Quay........From Raffles Place we take the MRT requiring a change but just a few stops for Clarke Quay. This is an area along the banks of the Singapore River, well known for its international restaurants and bars. The area takes advantage of the restoration of old colonial buildings which works as a curiosity in the city with so many modern buildings. A soon realise I could part with a lot of my money very quickly here but for some it's a 'must do' in Singapore.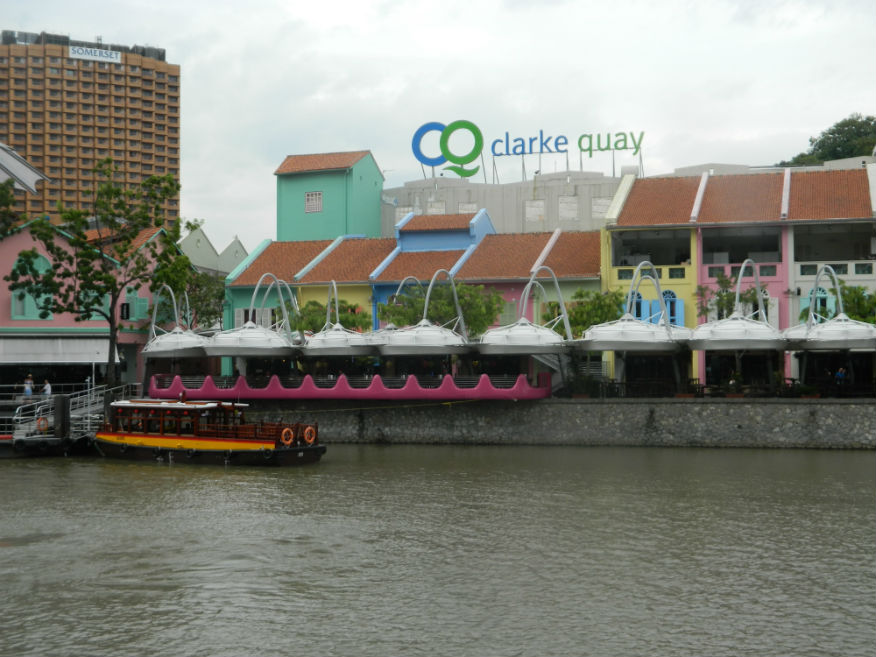 Chinatown........Just one stop away is Chinatown. This is part of the old city now hidden among Singapore's multi-story buildings but which retains the character and charm of colonial days. There has been little regeneration here. Now in early January, the predominantly Chinese population is preparing for Chinese New Year. The streets are lined with stalls selling fast food and souvenirs in a blaze of colour. Katoon wants to visit a couple of the old temples but they are not Thai. Dating back to the early settlement period, they represent ethnic diversity which is at the core of Singapore society today. Sri Mariamman temple is a Hindu temple dating back to 1827, while the Buddha Tooth Relic temple and museum, not far away is of Chinese origin. It's now after 5pm and it makes sense to take dinner now before returning to Fragrance Crystal. We locate a food hall on an upper floor. Peking duck is the choice and while still relatively expensive it's not rationed and will do nicely. We make it back to the hotel by 7pm for a peaceful evening.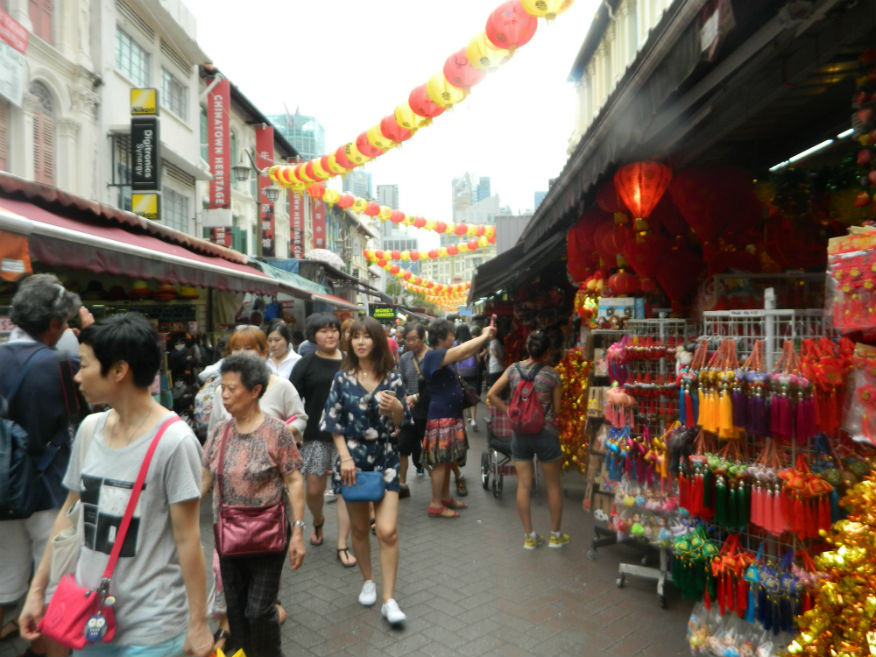 Day 3 - Saturday 7 January 2017

Check out........Today is departure day and I think I've said enough for now about my feelings about that. A post mortem can wait. Yet there is unfinished business in Singapore. We muddle through another breakfast on rations and get ready to check out of Fragrance Crystal. After leaving luggage behind for the time being, we head off to make the most of our remaining time in Singapore.
Different agendas........Both Katoon and I have a burning desire to travel having time and resources to do so but by no means do we have identical agendas. When we visit a particular location it's usually for different reasons. Katoon enjoys visiting tourist sites as most people do just to get a selfie to share with friends. Obviously at Buddhist temples she concentrates on her religion. My interest at any site normally concentrates on historical significance. Our trip to Singapore has amplified these differences. Yesterday I gave her the opportunity to take those selfies but today is my day.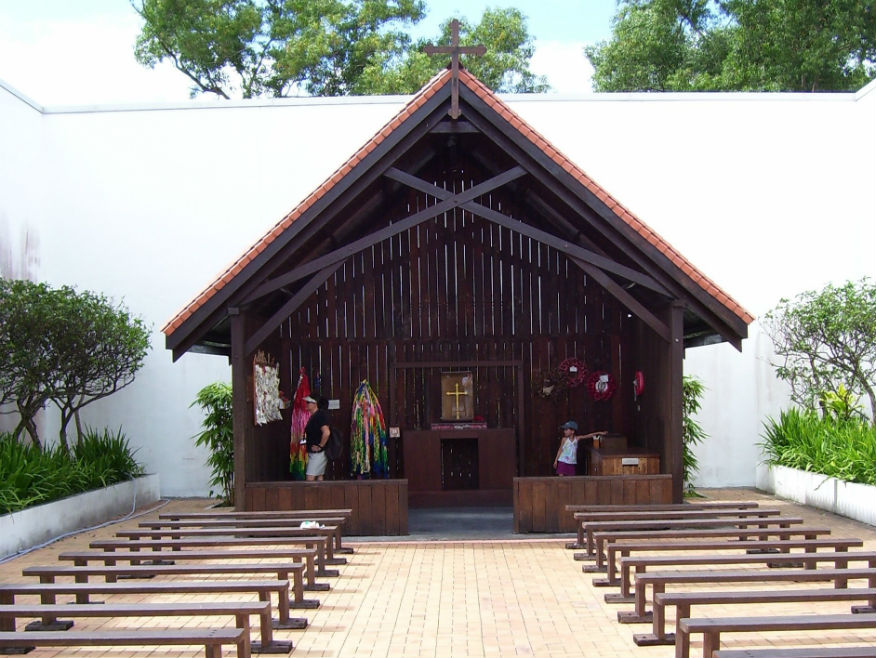 Causeway Link........Returning on bus No. 2, we try to make up some time by changing to the MRT at the next opportunity. This service will bring us to Bugis hopefully where I need to enquire about the causeway link bus service to Johor Bahru. When I arrive at the Queen Street terminal there is a long queue and there is no advance ticket sale which I was hoping for. Not wanting to wait in the midday sun, I will return later with my luggage. In the meantime we need lunch which is long overdue. Typically the first opportunity for that is in a food centre but it is crowded with hardly a spare seat to be found. Most reluctantly we find ourselves eating with others at a table filthy with waste and dishes. Did I say Singapore was a clean country?
Fort Canning........For the afternoon there is another site I'd like to visit of military importance and that's Fort Canning, located on a hill we noted yesterday. It's walkable from a number of locations but we choose Dhoby Gaunt MRT station which has the most direct route up to the Battlebox (the old command centre) via staircases. Reaching the summit I head for the visitor centre but I already know there is an entry fee for this site. Well actually it's a guided tour. You simply can't get to the Battlebox alone. There is one tour slot we could try but it would mean departure from Singapore wouldn't be until at least 7pm. I can't risk it but it's free to travel around the grounds. Well I have saved myself $18 and with Katoon not interested it wouldn't be fare to leave her waiting for an hour and a half. Crossing the hill means we will not be returning to the MRT station but instead decend coming out not far from Clarke Quay. Katoon insists on using the bus but it's a nightmare for me working out which bus goes where.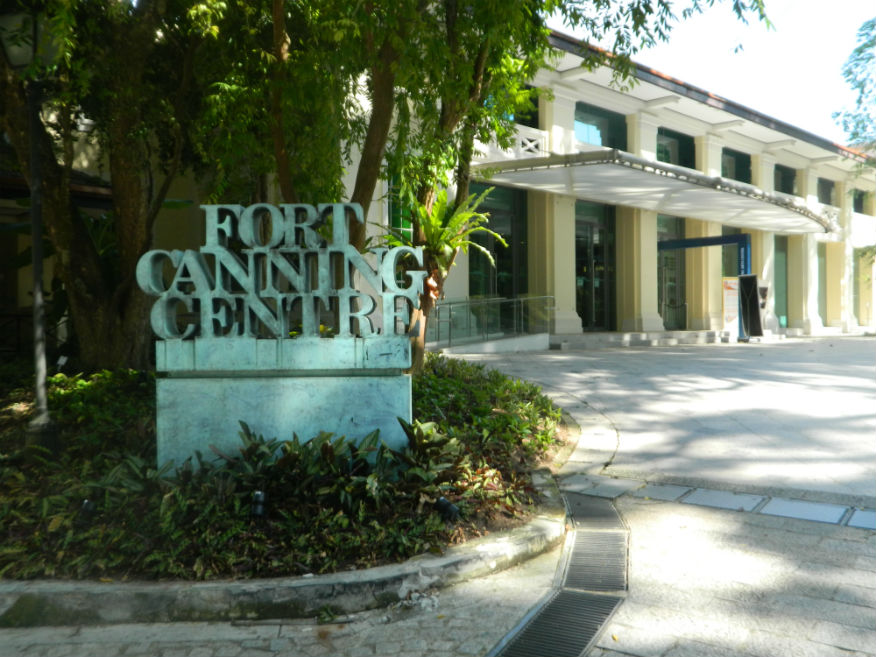 Don't assume........Making assumptions can lead to problems as I found out this morning. There is a bus stop nearby and I work out there is a bus that runs east. However will it go as far as Geylang? Well no; this bus 32 turns south before that. It's another delay while we work out how to get back. When we ask a student which bus to take he has an answer within 30 seconds though an ap on his phone which really sums up Singapore. It's brilliant for locals, but rubbish for tourists without data roaming.
Causeway crossing........Finally we collect our bags and make it back to Bugis where I need to get my deposit back for the tourist passes; another delay. Crossing to Queen Street terminal however we get lucky. The queue has disappeared and we board a bus immediately as it's about to depart. Surely now the nightmare is over. Well no! This word 'assume', crops up yet again. This time it's Katoon who makes the error. Having left the bus and passed Singapore immigration she doesn't pause to check where the pick up point is but goes through an exit gate into no mans land. We're stuck. The only way back is back though immigration where we explain the situation. Thank God they speak English and immigration officers escort us back to the bus collection point. I admit there are signed walkways for each bus company but they direct you backwards under the building but it's still safe not to assume what seems illogical is not logical right? Now that's wasted the best part of an hour and it getting dark. We're still not through Malaysian immigration yet. At this point I close my blog for Singapore as we head for the immigration building. The tour continues to South Malay Peninsular.