Day 3 - Saturday 7 January 2017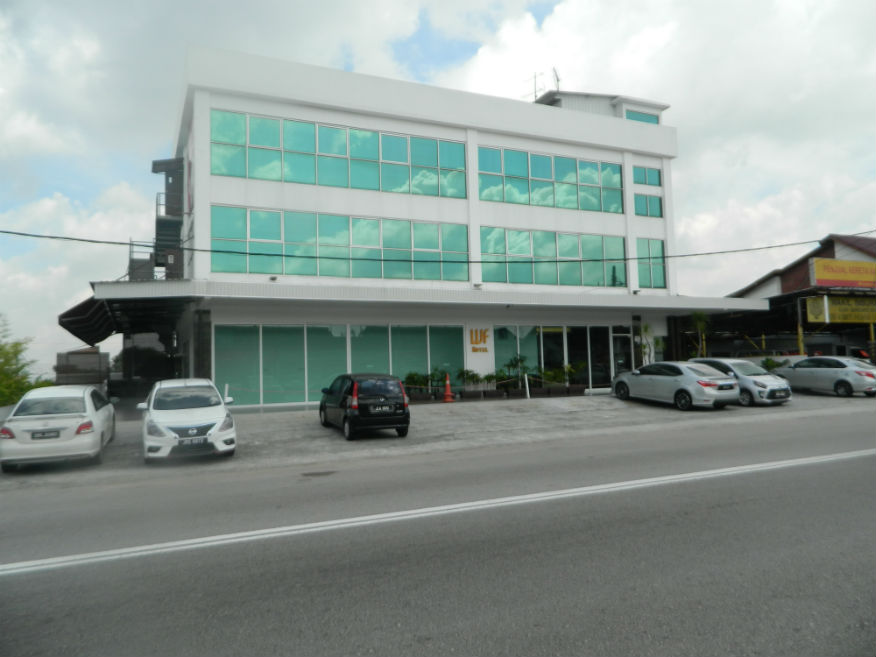 Day 5 - Monday 9 January 2017

Booking.hell........The purpose of staying in Mersing for one night is to make sure I catch the ferry to Tioman Island today but I needn't have worried. Arriving in Mersing mid afternoon left plenty of time to get to the jetty for the 5pm service. When I arrived at Mersing Hotel yesterday they mentioned that the departure times varied due to the tides. It was only confirmed to me at the jetty about the 7am morning service being the only departure so I must get it right. But I don't. My clock was still set at +7 hours GMT instead of the +8 here. That crazy word again; I assumed I had changed the setting. So that's it; no departure today. Two things need to be done now. One is to contact them on Tioman and the other is to find another room here. When I do call the chalet I am advised to contact Booking.com but I know it's too late to amend the booking though them. All I can hope for is a bit of understanding at the chalet. However, given the mess I got into in Singapore I'm not at all hopeful that I won't be charged for the missed booking. At the point of writing I've lost faith with the online booking system and it's only because I'm in a strange country, I decided to use it. Well we'll just have to see how this story ends. It's time for some breakfast. That consists of coffee and dumplings.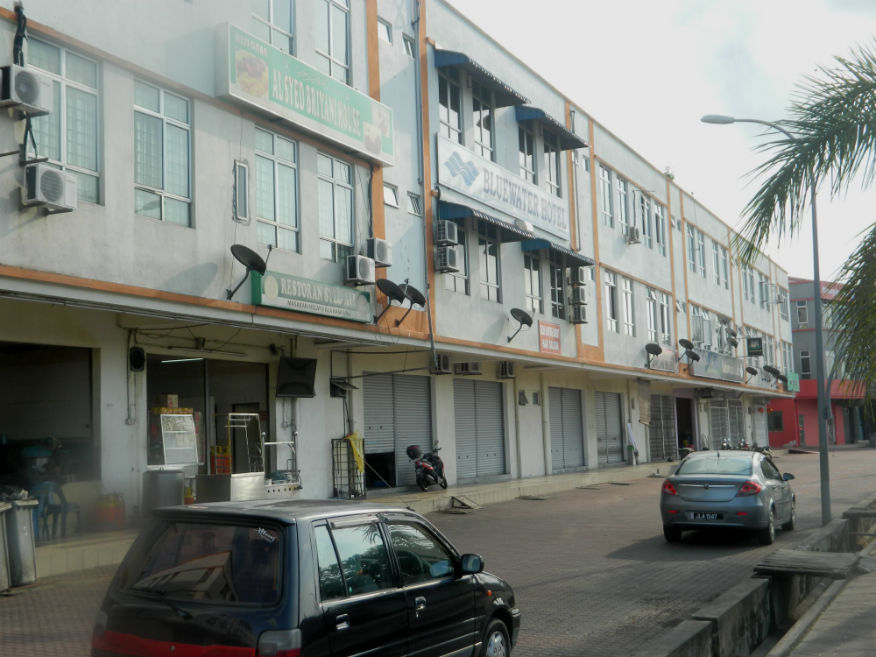 Cat food........It's still only midday and time for an early lunch but with so much appetising food available Katoon finds some reason to reject it either through smell, colour, taste or freshness. When all she finds is soup at a Chinese noodle kitchen it's the final straw and I decide to eat alone from now on. I wouldn't give it to the cats that exist here in abundance. However I get more sustenance at a bakery where I order pastry and green tea. The afternoon is spent in the room out of the heat of the day and mighty relieved I am too.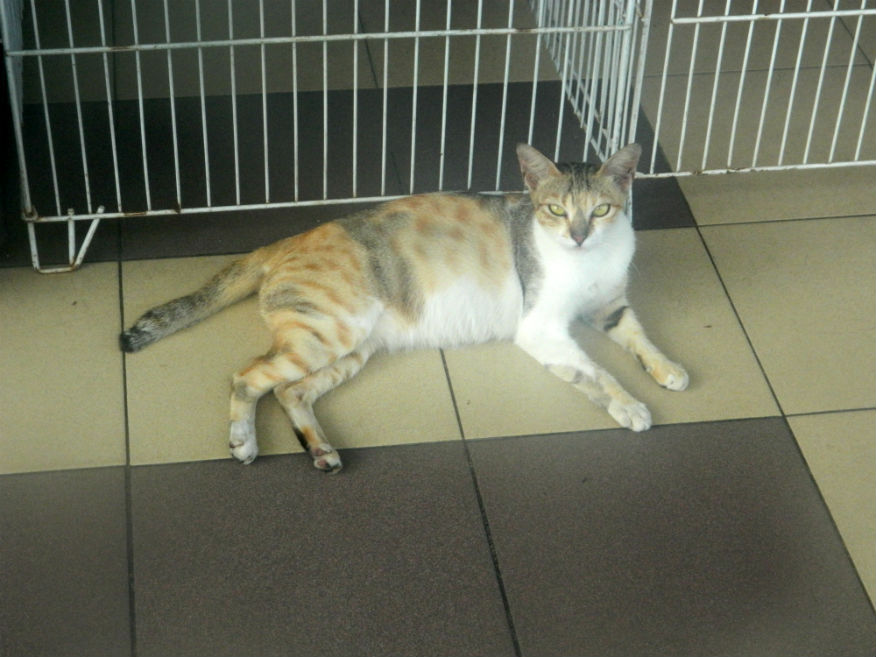 Mersing beach........Around 5pm we decide to go for a stroll. Mersing has a beach which is popular in the cooler evenings. At 6pm I order fish and rice near the jetty which isn't too bad but Katoon won't eat anything pre-cooked. Along the beach tables have been set up to sell snack food and Katoon finally finds something she can eat. On the way back we do a little shopping to take to the island tomorrow. Back at the room it's getting dark and they've laid tables out along the riverfront. With the river bridge lit up in the background it sure looks inviting but I think I'll turn in early. Something I read on an office door at the jetty sticks in my mind. It reads 'The morning is great after yesterday's failure', to which I can add, 'it provides an opportunity not to make the same mistakes again'. Let's hope so.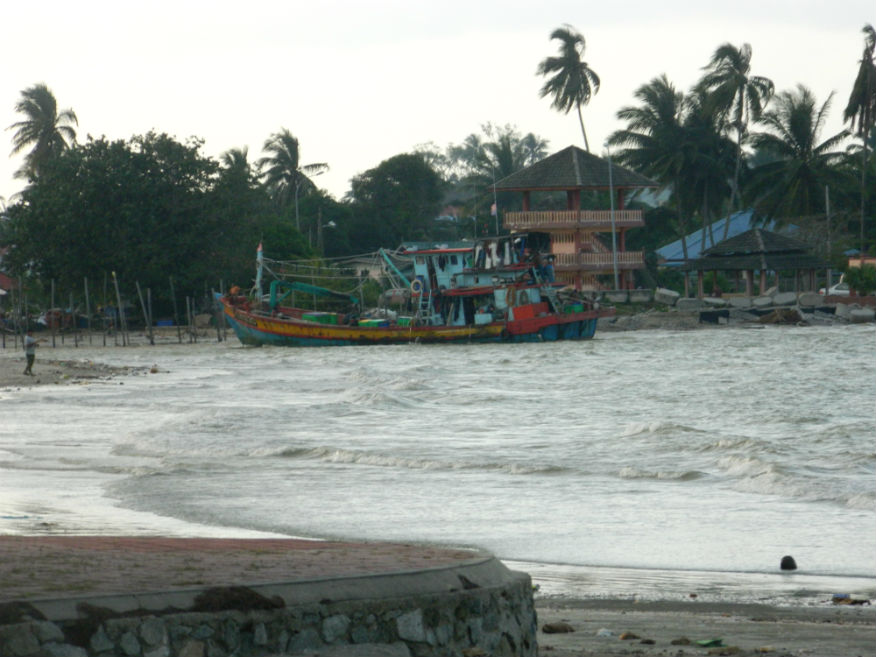 Day 6 - Tuesday 10 January 2017

Departure........I wake at 4am and just doze after that, determined not to miss the ferry this time. By 6am I'm on my way to the jetty just 10 minutes walk away. The procedure at the ferry terminal is to get your tickets validated at counter 8, then queue to register for departure. I was expecting to pay the national park free of 20 ringgits here but nobody asked for it as we waited in the departure hall. The ferry soon arrived and passengers boarded as the first rays of daylight filtered through then departed into the South China Sea. After some early cloud the sun breaks on the horizon but I'm soon asleep. After that I remember little as the ferry reaches the first stop on Tioman.
Tioman Island........The ferry calls at five stops and mine will be the third. The stops are in rotation, KG. Genting, KG Paya, Tekek, KG. Air Batang and KG. Salang. The most obvious point of note is that the island is completely mountainous. There is no possibility to reach each village except by boat. Arriving at Tekek, I know that my booked accommodation is within walking distance of the jetty so I just need to turn right and continue for 5 minutes. The Tionam Peladang Chalet is there on the left opposite the Duty Free Shop.
Tionam Peladang Chalet........Of course my immediate concern is whether they will charge me for last night having missed the boat yesterday. To my relief they don't and I just pay for the other two nights, I booked. Now it's just a question of whether the accommodation lives up to expectations baring in mind this will be the most expensive room so far on this Malaysian tour. Tioman Island is 51 kilometres from Mersing and has missed out on the rush to develop tourism along the coast of the Malay Peninsula compared with Thailand especially. Part of that is due to lack of infrastructure on this deeply forested mountainous island. The chalets at Paladang are old, certainly 50 years or more going by the wiring and plumbing. But the question is does the tropical location compensate for that? Well no! There's just a small beach at Tekek, not that inviting due to accumulation of litter.
Topography........In order to justify the effort in coming here you need a beautiful beach and sea view. All I have at the moment is a view of the marina with mountains to the back. The first foray out is to find something to eat as Katoon is hungry. We soon realise that we have to pay more at restaurants as we eat near the jetty. After that we stroll out to the airport which is just a small strip for light aircraft only. There we find a place to hire motorbikes but really they are expensive and there is nowhere to go. Well actually there is, but the vendor is reluctant to suggest we go there as it's a difficult ride. There is a dirt and rock road through the jungle started by the Japanese. It leads to the eastern coast of Tioman at Juara Village where there are beaches. At this time of year no ferries stop there. The most practical way to get there is by off road vehicle but the cost will be 70 ringgit one way or 120 both ways which is quite a lot. At the point of writing I am considering the option to spend two nights there which will complete my stay on Tioman before I need to return.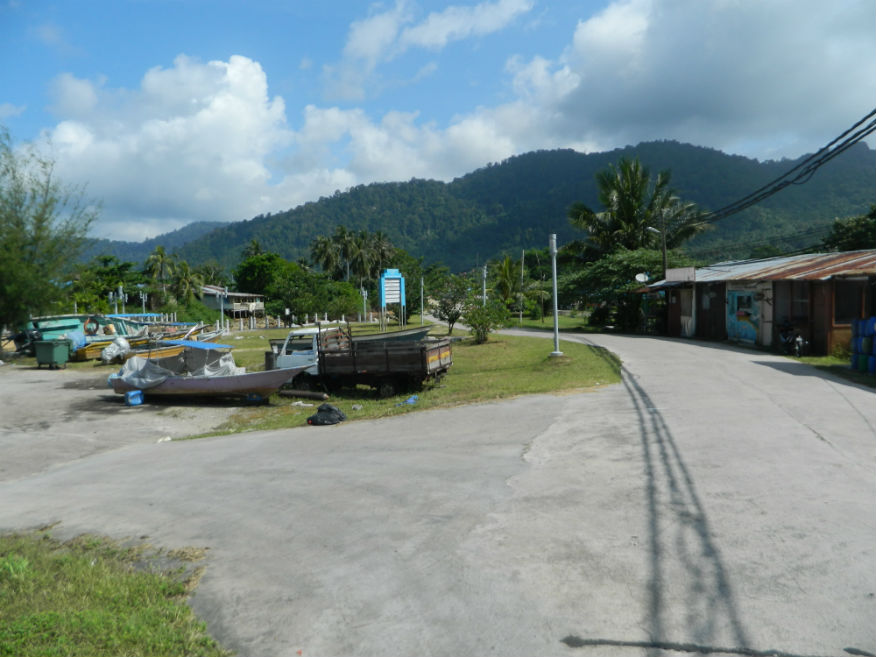 Alleluia!........Realising that I've probably missed out again by using Booking.com I'm not in such good spirits as I ought to be. On the way back to the chalet, I realise that I'm practically opposite a Duty Free shop. Can it possibly be the same as on Langkawi? Yes it can! I can now return with spirits after being almost tea-total so far this tour. With that I return to the chalet where it's time to get out of the fierce heat, take a tipple and flake out!
Signs of life........There's no point in venturing out in the heat; there's nothing to do but at 5pm we stroll down to the jetty but it's deserted. Even the shops and restaurants are closed. The only signs of life are near the chalet. Amazingly one small shop is making burgers and that will do for a start. Nearby Katoon gets her bowl of noodles and altogether there's better value here than in the morning. I can live with that for sure. Others options are shops and a bakery nearby very reasonably priced. I'm getting the hang of things now. That should be the end of it for today but not quite. The power goes off at 9.45pm but it's only temporary then the electric shower doesn't work. Can't solve that one now but a hose pipe is there connected to a tap. Guess what that is for? Luckily the water is not cold. Then for good measure there's a problem with mosquitos.

Day 7 - Wednesday 11 January 2017

Awaiting compensation........I get a peaceful night interrupted only my mosquitoes buzzing around my ears but miraculously I don't get bitten. But on my mind at the moment is the fact that this tour, now approaching the halfway point, has yet to compensate me for the effort I've put in. A point is approaching were I start to consider options to return to the mainland prematurely. I really need a spark to set this tour alight. But let's not jump the gun and take it step by step. I have a kettle so I can make coffee and a shop is just next door. It's a start.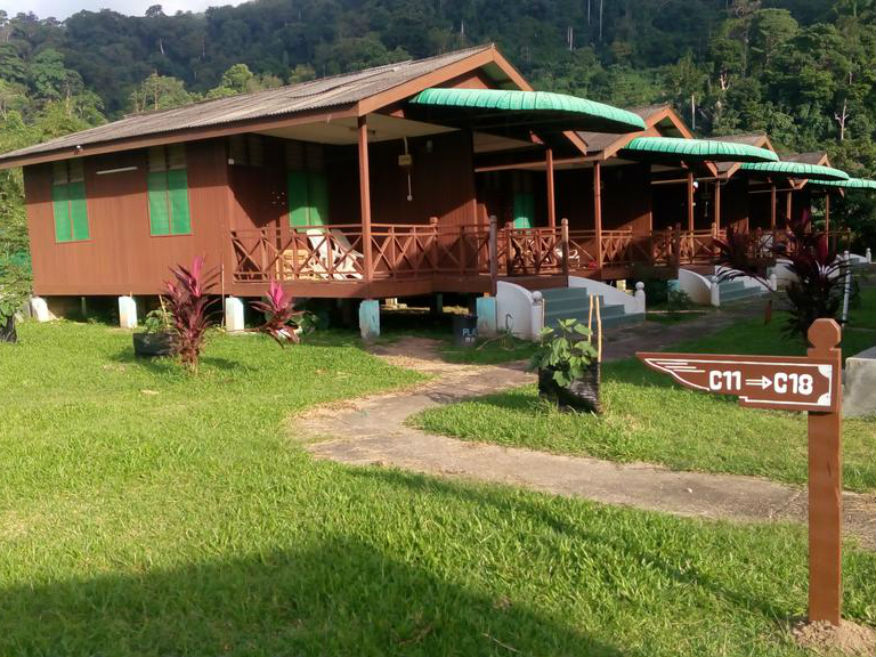 Aware that a ferry boat is due we wander down to the jetty perhaps looking for inspiration. There at the terminal is the guy we spoke to yesterday. He's collecting passengers but is happy to discuss travel arrangements with us. At this point I go along with the suggestion that we move in the morning to the opposite side of the island at Juara even though it will be expensive by car. But it least that fixes things for another day at least. We also consider a trip this afternoon to Air Batang. Where I'm told I can snorkel.
Updated schedule........I can now complete the schedule which will allow me to stay on Tioman for three more nights. The last night will be back at Tekek due to the early ferry departure but the tomorrow night is still up for grabs at Juara. When I locate accommodation not far from Pelandang Chalet, the schedule is complete. I shall be leaving in the morning at 9am. For this afternoon, transport is arranged at 2pm.
Considering the terrain on Tioman, I'm surprised to see so many cars when I wasn't expecting any. Tekek is the largest village on the island yet there's barely 5 kms of road. Most of cars are old Japanese 4 x 4's. Only the more expensive resorts have anything modern, being pickups. One therefore has to question how it is that it costs 30 ringgit to cover perhaps 3 kms. Presumably it's the cost of fuel but there are only 2 cheaper alternatives: Walking or cycling. Both are feasible.
Air Batang........Air Batang is at the north end of the bay where the road terminates. But there is a walkway to get a better view of Air Batang Bay which also has resorts. As with much of Tekek there are just a few buildings along the coastal strip here. One of these buildings is the marine conservation centre.
Amazing........After one of the shortest taxi rides I've ever been on we arrive at the pier. Apart from the few buildings there is only the pier of which there are many on the island, equivalent to bus stops on the mainland. At first I'm confused as to where I can go snorkeling but I'm told I must keep within the line between the end of the pier and the headland, not a large area really. It's not what I expected recalling my boat trips in Thailand. I'm given a life preserver and snorkeling gear and the rest is up to me. We walk along the pier where Katoon can wait. In the cordoned off area is a raft made from square plastic containers, enough to support a couple of dozen people but there's only me. As I gaze down at the crystal blue-green water I see fish, lots of fish. It was recommended I bring bread for them and I soon see the reason for this. You can attracts fish of amazing beauty, size and variety. It soon registers that there are more species here than I've seen on all the other snorkeling trips put together. It's a real life tropical aquarium in the corner of the bay. All I have to do is walk down the beach. At waste level the fish are all around you. I tie the bread sack to the straps of the preserver then pierce the bag. Then all hell breaks loose as fish of all sizes and colours swarm around me nipping and tugging. The experience is surreal. I never expected this. I don't know how long I spend in the water but it must have been an hour. It's hard to understand why there are so many fish here. To start with, this is a protected area and clearly the level of habitation and tourism has not reached a level to affect the marine life. Also there are attempts to regenerate corals by the marine department.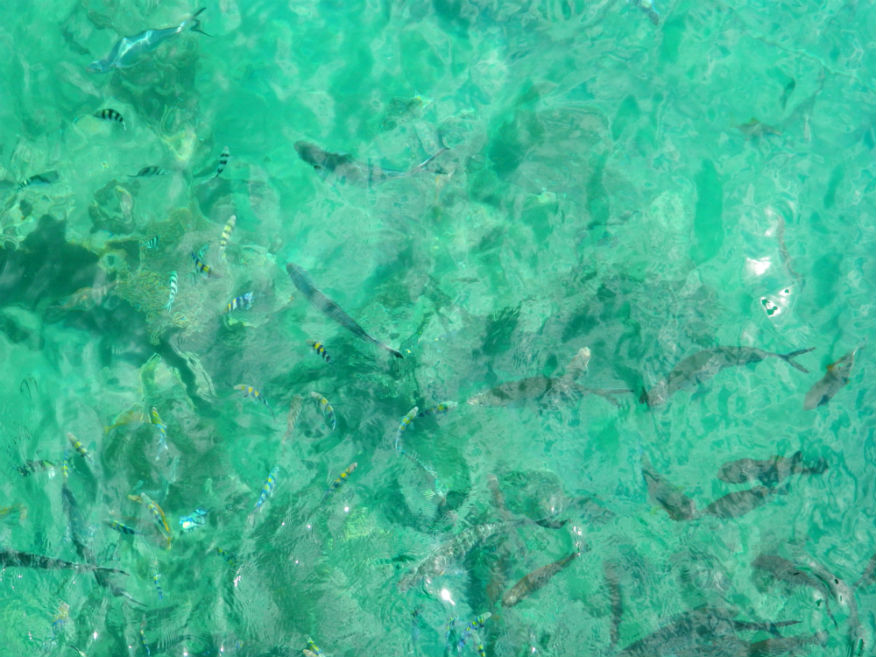 Rating........If my approval rating for this combined tour was recorded on a swingometre then at the start of the day it would be well down in negative territory but somehow a day that had little promise has pushed that needle well back towards neutral. At the chalet the shower is working and Katoon, finally is feeling confidant to try the local food which has kept expenses under control. For the second day running it's a beef burger for dinner and chips with that. I hope after tomorrow I can push that needle even further. One thing which will help is to get a good internet connection as there is a backlog developing for uploading my blog.

Day 8 - Thursday 12 January 2017

Tekek departure........It seems the norm in Malaysia to provide a kettle in the room to make tea or coffee but so far breakfast is not included and we make do with what we find in shops. Today is no different as we make ready to travel to Juara. The car is waiting as agreed at 9am and we set of for the east of the island not really knowing what to expect. Is it just another dead end in the maize that this tour has become? At the south end of the beach road it turns into the forest rising steeply. I'm surprised to see it's a concrete road but it is narrow, uneven, twisting and steep. You definitely need something strong here. As the forest closes in, it greets you with a monkey troop but apart from the view ahead you get no sense of altitude; the forest is too thick. 30 minutes later we arrive in Juara.
Juara........Juara has just a single road following the bay around to the south. Our driver has agreed to help us find accommodation. There are a few options but the first is too expensive. Just a bit further on is Juara Mutiara Chalets. The price per night is 120 ringgit more or less what I expected to pay. After misfiring badly with accommodation so far this trip I'm keen to have a look at the room. Can it trump Pelandang for less? As we slip between the chalets I get the first real look at Juara Bay and WOW! Have I just found paradise? But wait. I need to check the room: And it's good, it's very good, it's fantastic!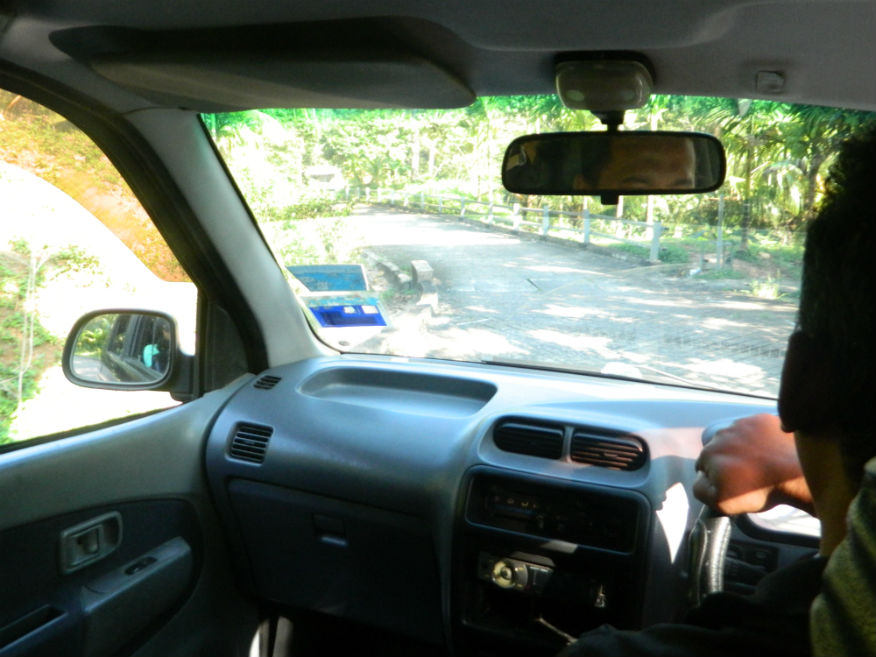 Paradise........I've been travelling long enough now to believe that paradise doesn't exist but there are occasions when it just seems like it does and I can dream a while. As I gaze at Juara Bay, I have to admit I'm struggling to recollect a bay so stunningly beautiful. To the left is the jetty currently not in use. It's just not worth paying the boat fee due to road access. Otherwise the beach is practically deserted with no debris at all on the sun-bleached sand except for broken shell and coral. At the shoreline there are tall coconut palms, a number with resident fruit bats clinging to the palm fronds. Groups of chalets line up behind these. One can only imagine that many resorts we are familiar with today, started this way but as Tioman Island is now a national marine park, I hope it will remain as it is.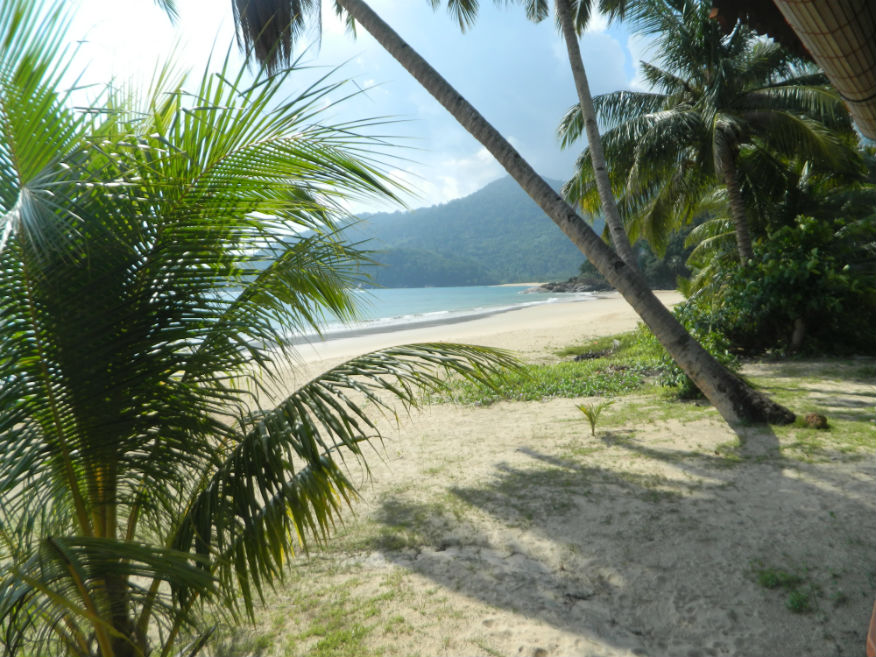 Winding down........Since arriving at Mersing I had hoped to unwind significantly; a break from city life. My principal regret is that I could have been here three days ago. As it is, I am only here for one night having arranged to return to Tekek tomorrow afternoon. I'm governed now by forward plans I've committed to and that's the story of this tour. For now I just have to make the most of it today and just laze around. When I go for a swim in the bay there's an even fall ideal for that, with no rocks or other dangers; totally safe yet almost deserted and that only adds to the wonder of this place. There are a number of restaurants mainly servicing the chalets but more expensive than at Tekek but with little else to spend money on this of little consequence. Strangely Juara Mutara is fully booked. It seems I was lucky to find the room. So where is everybody? If you are a city lover you won't like it here.
After a burger and chips yet again, I take another swim in the bay before dark. I already know that Juara M is fully booked tomorrow but is there another option? I need to be back at the jetty at Tekek at 6am the morning after but I know I can get transport that early if I need it. While taking a stroll just before dark I enquire at another chalet. They may have a room tomorrow night but I would have to wait till morning. Dare I stretch my stay here? Tomorrow we will find out.

Day 9 - Friday 13 January 2017

Mosquito Island........People love tropical islands where there are beaches with bleached coral sands fringed with coconut palms, where there are seas teaming with fish and rich dense forests containing wonderful creatures and where there are mosquitos and midges ready to devour you. This is paradise and I'am reluctant to leave here but I've been bitten from head to toe. Even Katoon is suffering.
Meditation........At Juara Mutiara I'm still amazed at the comfort and décor of the room. I would take the room wherever it was let alone right alongside a beautiful sandy beach. I awoke a 6am but realising there's nothing I need to wake up for, I roll over and sleep for another hour and a half. If I had any intentions of witnessing a glorious sunrise then I've missed it but at the moment it's cloudy anyway. The pace of life has slowed to level I only dreamed about a couple of days ago as I make a coffee and sit out on the verandah with a cappuccino just gazing out at the ocean for a good hour as if in meditation.
Bushman Chalet........Around 10am I decide to walk over to Bushman Chalet where I enquired yesterday. A room is ready and I return to gather my things. Bushman Chalet lies at the furthest point south before a headland which divides the bay in two. There are just eight chalets again right on the beach front. Obviously I'm not expecting the same luxury as at Mutiara but I'm still happy with it for just 80 ringgit and far superior to Pelandang at Tekek. It also has a fridge but I've given up by now in getting an internet connection. I'll deal with the backlog when I get back to the mainland.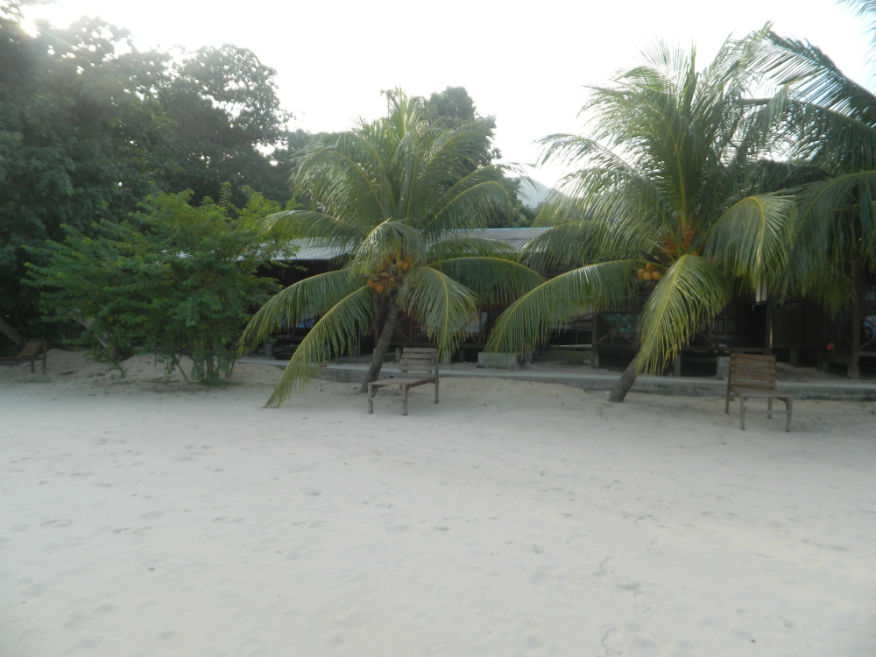 Surfing festival........It's moving towards midday and we decide to walk around the headland to the next bay. The narrow concrete road continues through the forest coming out to reveal more chalets; clearly Juara is bigger than I thought. What causes me to walk here is a signboard to the sea turtle research centre. There are other signboards up indicating something completely different. It's a surfing festival and it's happening right now. As we walk further along the beach road we see that it's here. People have gathered with cars and equipment. There is a judge's stand and food stalls and not a little commotion going on in the water. It's not until we reach the spot we see that compared to the rest of the bay, this corner has braking waves, just enough to support surfing. Interesting as it is to some, I'm more interested in surfing the net and seeing some turtles.