Monday 18 November 2017
Early start........
I haven't slept particularly well and when the alarm was set 1 hour early I feel there will be times today I'm not the most attentive. But maybe I don't need to be. By 6am I'm ready to depart. We've factored in a walk to Soi 27 (about 1 kilometre) and pick up transport from there. However Katoon has a hunch and when we reach the main street in the village, her boss arrives as if by magic on his way to work. We secure free transport to Khubon Road. With traffic light at this time in the morning taking a taxi is a wise option and we're soon on our way along Ramintra Road heading west. After 20 minutes the taxi driver is instructed to drop us near the junction at the footbridge that crosses the Vibhavadi Rangsit Road as opposite is Lak Si Railway Station. Yes we will be catching a train that originates at the main station in Bangkok at Hua Lamphong...
photo.
Crossing a red line........
The station at Lak Si is on the main line out of Bangkok serving the northern and northeastern provinces. This section of line first opened in 1896 but was converted to metre gauge in the 1920's. What is significant to the visitor now is the appearance of huge concrete structures now familiar in the area as part of the new Dark Red Line. This line is just one part of the planned development of commuter rail systems in Bangkok. This section is due to open in 2019. I can afford to gaze at this remarkable piece of engineering as we have arrived at Lak Si in plenty of time. It's still only 6.30am and the train we intend to catch won't even leave the central station until 7.10am. Such is the sprawling nature of Bangkok Metropolis; I don't expect it to arrive for at least 45 minutes after that. However my interest in Thailand's railways does allow me to observe the early morning traffic passing through the station.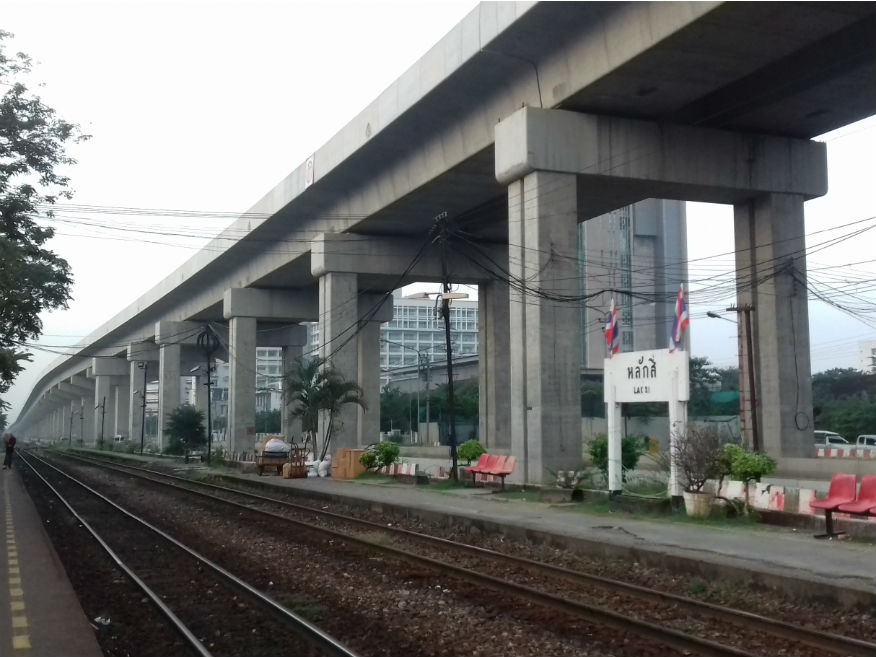 Service 921........ Using Thailand's railways is not too frequent an experience for me. For the experience of seeing this country in the raw, I can think of no better way to travel but for a commute it's usually a nightmare. But today is special. For the first time I am joining a rail tour, the planning of which started weeks ago when we ordered tickets. As the tour was fully booked some time ago it shows the popularity of these tours. Finally the 921 arrives at about 8.10am. Headed by a General Electric 2500hp diesel locomotive this service has an amazing 15 cars. My maths indicates that some 1,000 people will be heading to Lopburi province today on this service.
Pa Sak Jolisid Dam Rail Tour........ The Pa Sak Jolisid Dam Rail Tour is just one of a number of tours run by the State Railway of Thailand (SRT) which include the popular Kanchanaburi (River Kwai), Ayutthaya and Hua Hin. They all must be booked in advance as they are invariably full. The Pa Sak Jolisid Rail Tour attracts folk from Bangkok eager to sample more natural surroundings. The dam itself was opened in 1999 and has developed into a tourist attraction in its own right. The tour allows travelers some three and a half hours at the dam to enjoy the amenities but most come to appreciate the sheer spectacle of crossing the reservoir along a purpose built concrete rail bridge that stretches for miles. A 30 minute stop on the line is actually arranged for sightseers to take photos.
Exiting Bangkok, the train travels through Prathum Thani and Ayutthaya provinces before turning east towards Saraburi, passing the important junction at Ban Pachi. Eastward of Saraburi is another important junction and servicing centre at Kheang Khoi. From this junction the line continues east into Nakhon Ratchasima province but this tour uses the northern route into Lopburi province where is encounters the formidable obstacle of the Pa Sak reservoir.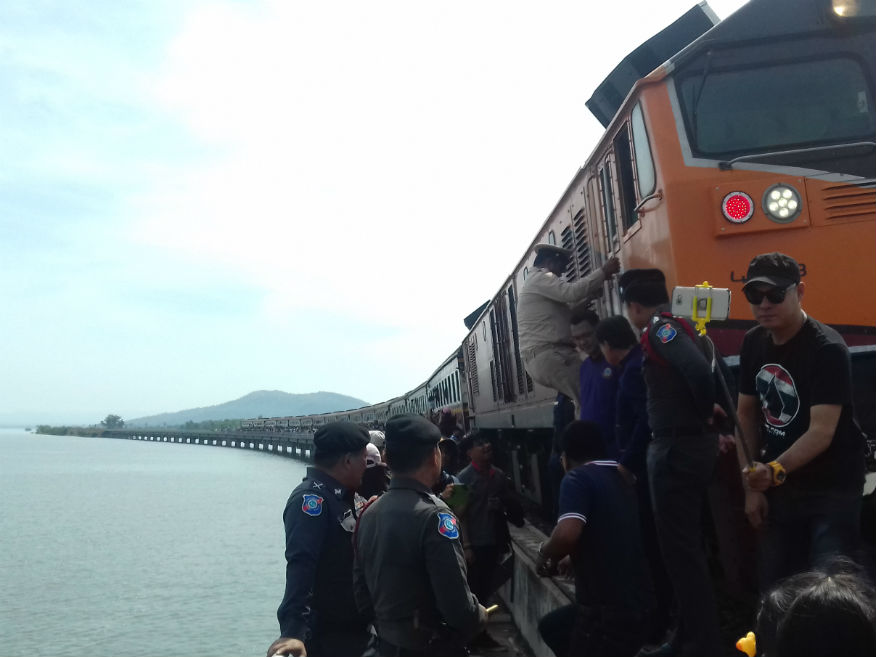 Visit #3........ For my own experience, this tour as mentioned is a first but that's not true of the destination. Trips to the dam were made in 2012 and 2014 so in a sense I need not elaborate here; just refer you to those trips (see links below in conclusion). The feature of both those trips was that they did not involve any organized tour. We simple arrived under our own steam. However to say that that was straightforward is a massive understatement and those attempting it should refer to those tours as a guide to how it can be done. Basically relying on rail travel alone will not work for a day trip except on the tour. My advice is simply for those who can't get on the tour for whatever reason. Using the tour has given me the chance of the stop on the line which cannot be achieved in any other way.
Pa Sak Jolisid Dam........ As mentioned the area around the dam is a recreational area. For some history about the dam I refer you to my previous visits. For my third visit the obvious change is the sheer number of visitors who are well catered for with refreshments and supporting attractions including an aquarium, museum and mini farm park. When I arrived before, things were completely different. Included in my photo set today is one of the station at Kok Salung at the head of the reservoir. One is struggling to count the heads. On my first visit the station was deserted as the line was closed for upgrades. I must admit the three and a half hours are going quickly. After the ride across the dam and lunch there isn't a lot of time for a visit to the aquarium, and other attractions are missed. The aquarium which hasn't been covered on previous trips I can recommend if only to get some respite from the heat. The major plus is that it's free but as aquariums go it's small and covers only freshwater species. I would allocate about 15 minutes for this attraction.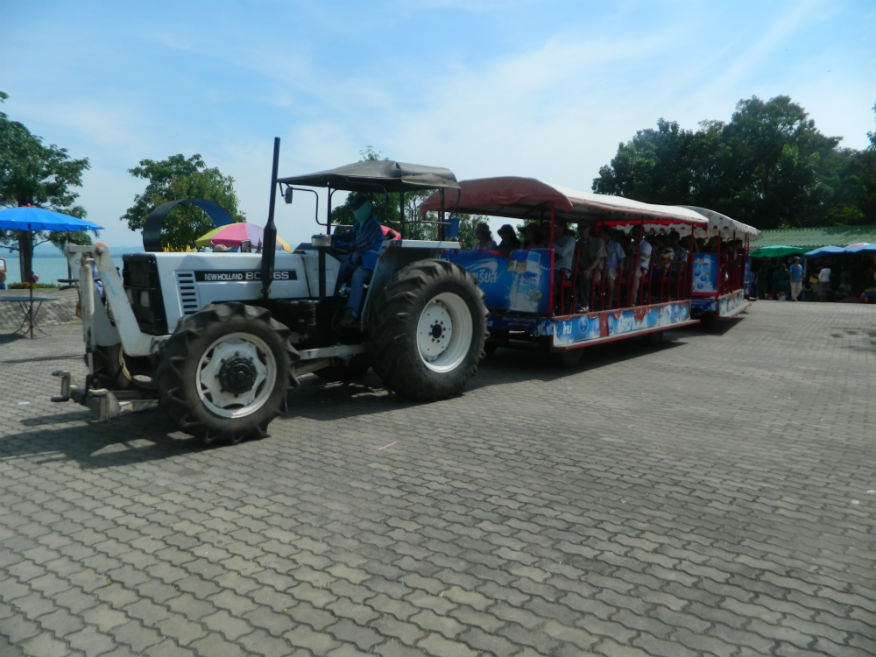 Return to Bangkok........ We are recalled back to the train for a 3.30pm departure and I guess the return trip is a bit of an anti-climax as I seem to miss some of it. As with the outbound service we don't need to go all the way into the city but instead of using Lak Si station we get off at Don Meuang one station before. It's just as easy from here to catch a bus 554 heading east for Suvarnabhumi Airport. By the time we find something for dinner it's 7.30pm before we get back, more than 13 hours after departure. I hope to stay awake for commentary of Hereford FC v Hitchin but tomorrow is a dot day working on my blog.
Review and Conclusion
This tour is excellent for a casual traveler to Bangkok but requires advanced booking. This can be done online at www.railway.co.th or through the call centre (1690 from Bangkok). However that will need you to be available to collect tickets from one of SRT's train stations. Otherwise you would need to book through an agency. I should mention that the carriages are not air-conditioned. You have to rely on agaht tamachat (fresh air) from open windows. It is worth mentioning that the weather is invariably hot so suitable precautions should be taken but not a problem for the fit and healthy.
From a personal standpoint now having experienced a number of options there are pros and cons for all. The tours are relatively cheap and every effort is made to be accommodating. Personally I find the crowds somewhat overwhelming but it's not really an issue for most. Perhaps the most annoying part is the queues for food, drink and toilets. A potential problem turned up just before the engine stopped on the rail bridge. The Nikon I use is starting to become unresponsive. The zoom feature seems to be failing and the shutter doesn't always open. Neither does the video function. At present I trust that it will last for a final tour this year but I'm presently considering options should it fail completely. It has after all had a lot of use over the last few years.
I have rated this tour an 'A' as any inconvenience for me has been purely personal. Finally a piece of coincidence. It was exactly 3 years ago to the day that I took a trip by train across the reservoir. Useful links:


For 2012 tour

For 2014 tour
For Wikipedia