Since the spring of 2011 development of this website has been ongoing, essentially recording interesting and often obscure locations in Southeast Asia. Obliged to use public transport for the most part, exposure to the State Railway system is inevitable. Although cheap it is also unreliable and slow; neither issue of great significance to me. In Thailand there are almost always alternatives to fall back onto. Amid the wealth of photographs that I accumulated were those of mainline locomotives which grew to create a separate folder which has now been added to the website under a separate heading.
The state of Thailand's national rail network is a prime example of lack of investment and reluctance to accept new technologies and practices. This does not mean that SRT staff are unhelpful. On the contrary it's hard to find a service so accommodating within its confines. However this does not balance the books so the dilemma persists.
Today the network does not run any steam locomotives but the engines widely in use include those that immediately replaced them spanning at least three generations. This oddity, strangely enough, was sufficient to attract my attention. Previously I had not been interested in locomotives since I was a lad when those smelly, dirty, coal burning monstrosities were still operation in the UK. Now, it seems, I am on a quest to record as much as I can for posterity. Surely these engines cannot survive much longer!
While the State Railway of Thailand seems bent on clinging to the past it is nevertheless affected by a transport policy with a bold master plan to completely revamp Bangkok's transport links. Huge projects are presently underway or in the planning stage to expand the underground (MRT) and skytrain (BTS) transport network into an efficient service within the Bangkok metropolis and adjacent districts. The MRT has an incredible 8 lines in the construction or planning stage to add to its existing Blue Line. The BTS is adding to its 2 lines in all directions while SRT has two projects under development centred on the important rail hub at Bang Sue. As I travel around to all points of the compass, I cannot avoid the sight of works in progress in all sectors creating an ever expanding web. These projects fascinate me and I would like to be able to add something about these on this website. The current mixture of old and new is what makes Thailand so interesting; a curious cocktail which yields surprises at every turn.


Looking back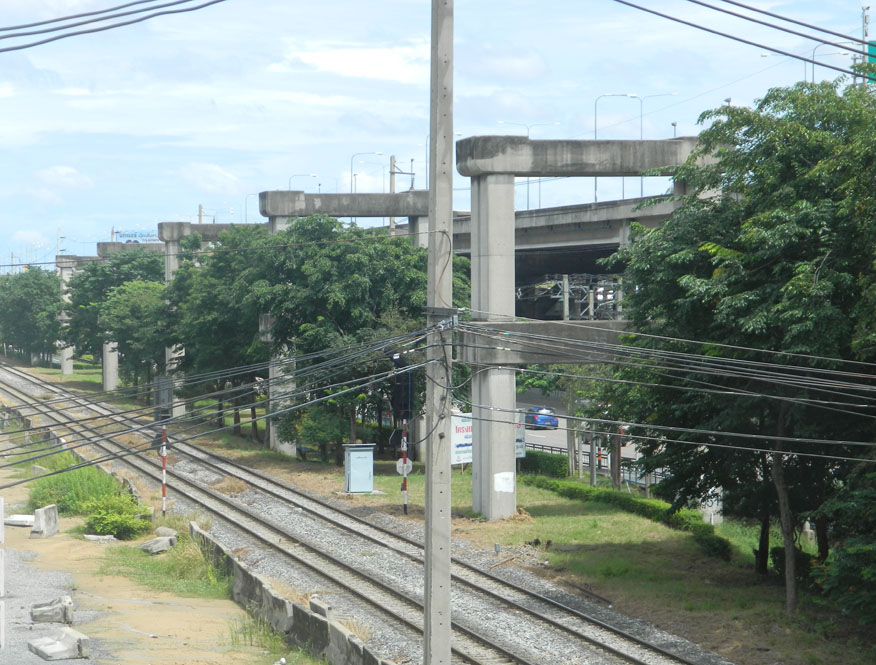 Until almost the turn of the century Bangkok had no commuter rail network other than that existing along the SRT routes out of the city, by now overcrowded and pitifully slow. The overcrowding on city roads was becoming unbearable and something needed to be done. Unfortunately successive administrations failed to come up with a co-ordinated transport policy to address the problem. A possible solution came in the early 1990's with the Bangkok Elevated Road and Train System (BERTS) but this was cancelled in 1998 when only 10% complete. Known as the Hopewell Project it left a legacy of huge concrete supports (right), an eye sore, as far out as Don Meuang Airport where the system was to terminate.

The Master Plan BTS……….

About the same time, as a separate development, a plan to build an elevated railway across the Chao Phraya River was taking shape but although supports had been constructed for this, a permanent structure was still many years away. Before this the line would open with two lines, the Silom Line connecting with the Sukhumvit Line in December 1999. It would be nearly 10 years before the Silom Line extension across the Chao Phraya River from the Taksin Bridge would open. Further extensions were added in August 2011 and January 2013 with further extensions planned.

MRT……….

Bangkok's first underground railway project was started in November 1996 and followed a proposed route for the BTS skytrain. It took 8 years to complete a section of line between Hua Lamphong mainline station and Bang Sue railway junction mainly due to the economic crisis of 1997 and the technical difficulty of constructing underground works in Bangkok's waterlogged soil. However its success has enabled a 'master plan' for Bangkok's transport policy to attract support and a bold plan to extend the MRT system with eight extra lines over the next 16 years is now in place.

SRT……….

As mentioned the SRT has not been left out. Two lines with a hub at Bang Sue will follow existing lines out of the city, eventually replacing them. The line used for southern trains is now well advanced opening in 2014 while the line used by northern/northeastern trains is only now being prepared. As it follows the route of the failed Hopewell project it's good to see some of these gigantic concrete supports disappear at last.





Transport News


Thursday 26 December 2013
Trains benefit from congested roads..........During the last two months of anti-government protests in Bangkok, the city's skytrain and subway has seen a significant increase in traffic at the expense of road transport. On a typical weekday passenger volumes have increased by 10%. On Sunday 22 December, 760,000 commuters traveled by skytrain according to BTS Group Holdings compared to a more typical 400,000. The company also reported increased traffic on the Silom Line extension between Wong Wian Yai and Bang Wa which opened earlier in the month.

Sunday 12 December 2013
GMS countries sign rail deal..........At a meeting of four Greater Mekong Subregion (GMS) countries a memorandum of understanding (MoU) was signed to increase railway connectivity to increase trade within the region. Cambodia, Laos, Myanmar and China have now signed the MoU for the Greater Mekong Railway Association (GMRA) with Thailand and Vietnam expected to follow.

Sunday 3 November 2013
Japan to build train system in Bangkok..........A Japanese consortium will build an urban rail system in Bangkok. The consortium including the electronics giant Toshiba, has struck a deal worth 12.5 billion baht. The system will include 23 kilometres of track together with 63 railcars, a power grid, signals and rail yards. The package which will deliver a service in 2016 also involves a maintenance contract for 10 years. There are no further details on this service at present.