Tuesday 17 November 2015

And now for something really different........With two major tours completed this autumn there's still time to complete one more tour before I return to the UK and it promises to be the longest and the best. I'm off down south again for an islands and lakes tour. While there are some obvious pitfalls I must try to avoid, I can see no reason not to make this a grand finale. My initial destination is Chumphon and Koh Tao and I'm aware that Koh Tao will be well on the tourist trail but I've never visited the island before. To compensate, for the rest of the tour, I hope to described as wilderness.
The start date for this tour has been brought forward three days. It was originally planned for this Saturday. However it is expected to be busy next week for the annual Loy Krathong Festival 24th to 26th. I would rather be settled with little travelling to do at that time. It also gives me more options if I was able to extend the tour and still give me a clear window to prepare for my return to the UK. By evening I am hardly ready for this tour. All I've done today is buy a road map. I'll pack in the morning and aim to be away by 10am. Neither have I produced a travel plan with tour sites as I did with the Suphanburi and Chainat Tour. I'm going back to my old way of keeping things in my head. There is good reason for a wait and see approach as the province I'm heading for is the largest in Southern Thailand. I can't possibly cover it entirely this trip. Then there's the reason why tourists like to travel to the south and that's islands, golden beaches and stunning scenery. Why should I spend my time writing about it when I should be just enjoying it?

Day 1 - Wednesday 18 November 2015

Heading south……..Having introduced this tour it's time to get going. I'm awake at 6.30am so there's a good window to work with but I'd rather not leave it till mid morning. All the same little was prepared yesterday. By the time I've had breakfast its 9.30am before I depart. The car is filled with fuel and checked over as I head off across the city. From the residence that will take a good hour, even by using the tollways. Eventually we immerge on Highway 35 heading west. Oddly the international Highway AH2 (National Highway 4) starting in Thonburi, west of the Chao Phraya River, is the official route to the west and south of the metropolis. It passes through Nakhon Pathom and Ratchaburi Provinces. Now, however, after a big investment in recent years, Highway 35, also known as Rama II Road, is the quickest route running further south through Samut Sakhon and Samut Songkhram Provinces. As I clear the outer ring the traffic becomes lighter. Highway 35 then joins Highway 4 heading south in Pak Tho District, Ratchaburi Province. The rest of the journey today is a repeat of the one in my Nakhon Si Thammarat Tour. At midday I'm near Petchaburi, at 3pm near Prachuap Kiri Khan and at 5pm near Chumphon. By this time I've covered nearly 500 kms. Most of this journey is conducted with light traffic along dual carriageways at least, although the roads are still bad in places. That's been the case for many years, particularly in Prachuap Kiri Khan Province but even here there is resurfacing work. The work on a number of stretches doesn't hold me up too much and it would be nice to think that they could get on top of this task considering it's an international highway. On the other hand there's a lot to cover. I've only covered half of it today.
Pak Nam Chumphon…….. Pak Nam Chumphon is my destination for today. It lies to the southeast of Chumphon City. Its here I plan to take the ferry boat tomorrow from Koh Tao Pier. On this occasion my navigation is effective and as I arrive at the Tha Taphap River I park up to get my bearings. Concerned that it will soon be dark my worries are eliminated at a stroke. On the left is a hotel and on the right a seafood restaurant.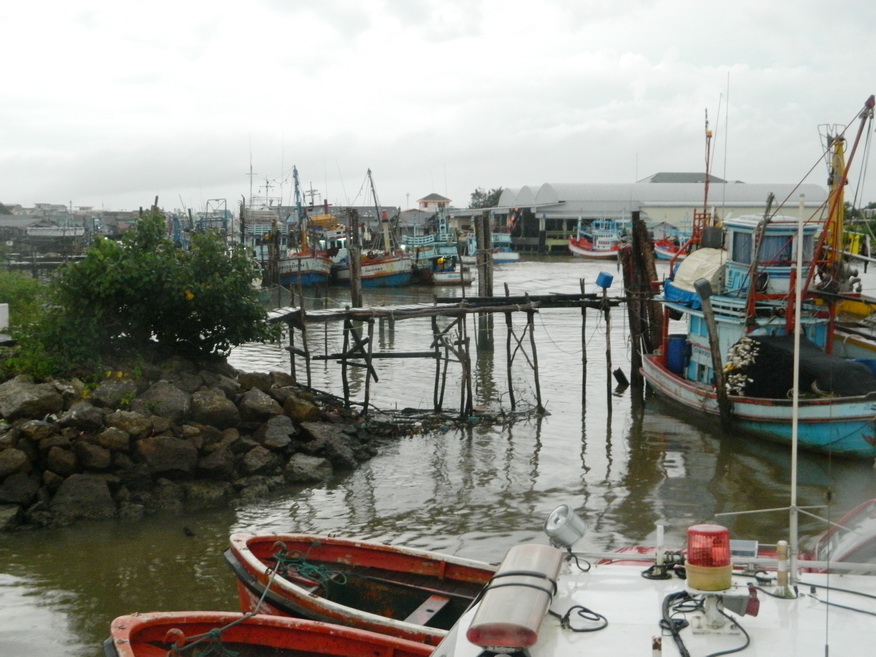 Sea Za Hotel/Tour…….. Sea Za Hotel is just a row of link bungalows but quite suitable for my needs tonight. It's located near the junction with local roads 4001 and 4119. To further simplify matters, the owner is able to supply ferry tickets for tomorrow. I wasn't expecting it to be that easy. Fresh off the Vietnam Tour it's even more of a relief.
More seafood……..There's still the matter of dinner and with a restaurant opposite and that seems to be it; no need to work hard after a long days driving. But the location overlooking the peaceful Tha Taphap River proves it is a specialist restaurant and that means seafood. I wasn't expecting to row the boat out this early on the tour but it seems Katoon is attracted to it to the point of offering to pay. That's it I'll leave her to the menu. When the food arrives there are three seafood dishes: tom kha talay, a coconut soup with seafood (normally just prawns and squid but this dish has fish and clams also), fried crab with fresh green pepper and a salted fish with vegetables in a rich sauce. How she knows what to order is beyond me since these dishes are not generally available in many other parts of Thailand. Maybe there is method in apparent madness. These dishes are bound to be expensive on Koh Tao: So far so good. Quite happy the way things have gone today.

Day 2 - Thursday 19 November 2015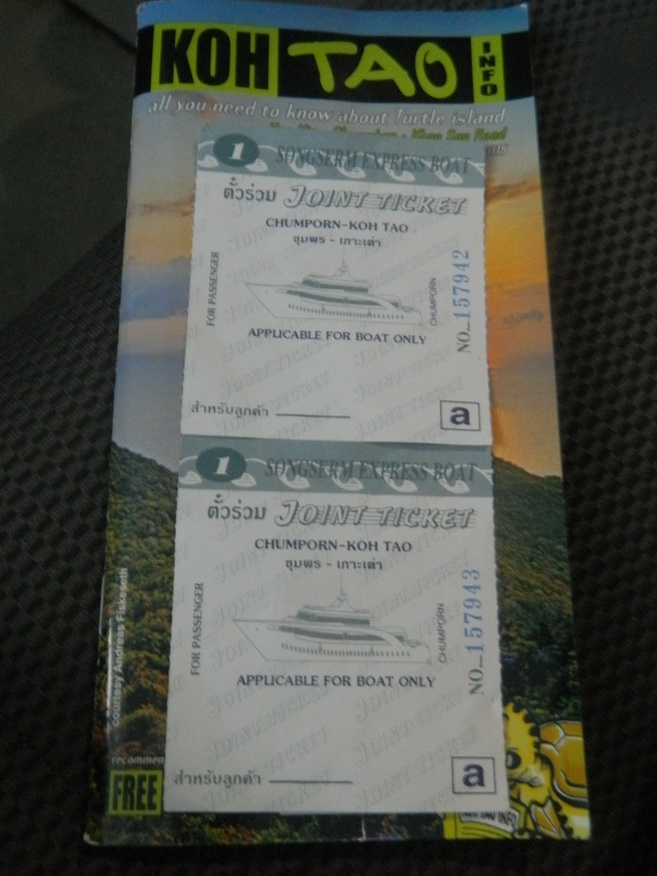 Koh Tao first impressions……..Well my first thought, as I step onto the island for the first time, is the privilege of just being here. I had the chance on an earlier tour but perhaps then my budget didn't allow it. What is clear is that I can't say that this visit will reveal anything to travelers that they don't already know. Koh Tao has been in the news recently for the wrong reasons but its popularity among foreigners is well established. There are no high rise hotels on Koh Tao and those comfortable rooms I normally use are double the price here. What roads there are on the island are not really suitable for cars and trucks but these are used by locals as taxis and for moving heavier goods. Foreigners can use the taxis but these are expensive so renting a motorbike is more popular. I'm reluctant to do that at present as the roads are flooded in places.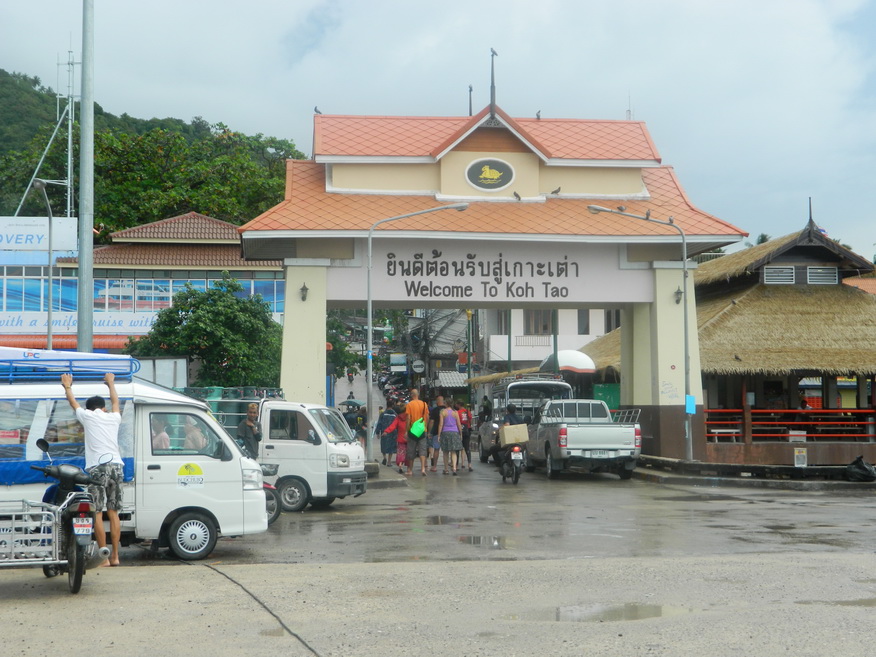 Utopia Guesthouse……..As regards accommodation, I haven't booked anything. I rarely do in Thailand now but Koh Tao is different and anything reasonable is snapped up quickly. However I overheard a guide talking to a client on the boat and he was explaining that it is still not high season and there was plenty of choice. Unfortunately as my guide book tells me there are two types of accommodation on the island; basic fan rooms or huts from 400 baht per night or air conditioned rooms with all usual services starting from 1,200 baht. Why there's nothing in between I'm not sure. From the jetty I don't want to wander too far and go to unnecessary expense. I check out a couple of fan rooms first. If I do without the air conditioning and a fridge I can make a big saving. A room with hot shower and internet connection is just 100 yards away. It's still cloudy and not that hot to really need aircon. I consider whether to stay two or three nights on the islands but when I'm offered a better price for three nights my mind is made up. One thing is for sure there's everything I need within walking distance. I soon wander out and take an early lunch.
Island Tour……..One thing Koh Tao has no shortage of and that's travel agencies. There is one just on the corner. With accommodation fixed I can plan a little ahead. A full day island tour including lunch is 750 baht which the agent discounts to 700 baht. That's quite reasonable. My budget is helped by my choice of accommodation. If the tours goes anything like as advertised this could be the highlight of this tour at least. That's fixed but it starting to rain again. It's time to disappear back to the room for a siesta. With the awkward period well and truly over I'm soon well asleep again.
Koh Tao second impression........At 4pm I have time to write up my blog and now the rain has stopped I can wander out again. Around Mae Haad Pier is where much of the activity is on the island is found but continuing north you reach Siree Beach. It's a two kilometer walk from the pier and basically consists of a single street no more than 6 feet wide. It reminds me a lot of 'walking street' on Koh Lipe. The street is lined with restaurants, cafes, bars, travel agencies, guest houses, some shops and of course what Koh Tao is famous for, dive centres. Most businesses are multi-purpose. It's obvious I would make it to Siree Beach at some point but to walk here just for dinner is not my idea when there are plenty of options for that at Mae Haad. However I do get to walk along the beach. There's not much of it at the moment; I guess its high tide. Separating the two beaches is a rocky outcrop. It's around here that tragedy struck the island in September 2014 when two British backpackers were murdered. There's little evidence of it now but if I remember it, how can it be erased from the memory of those involved? The location is in a quieter spot but hardly remote from the tourist strip. One thing I have noticed is that things go relatively quiet after 7pm as tourists retreat to the respective accommodation where they can party if they want. I can't help feeling that this incident could have been avoided with common sense but sometimes people need to be reminded of that. OK that's a distraction that nobody needs.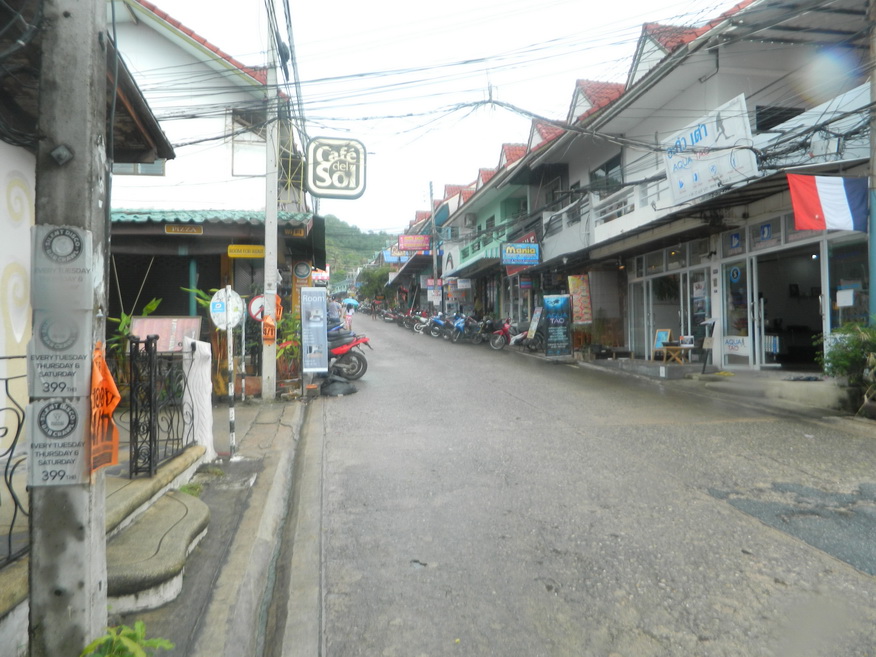 As I wander back to Mae Haad I contemplate the cost of living on the island. Practically everything has to be brought in. Even seafood is farmed these days. There is a 7Eleven at Mae Haad but we can start there with a markup of about 30% but more typically the cost of dining is at least 50% more than on the mainland. Strangely the junk food is the cheapest no doubt because of tourist demand. I'm about to turn in for an early night with no celebration.

Day 3 - Friday 20 November 2015

Koh Tao full day trip……..I can't say I've had a bad night's sleep but I'm awake early. After a session updating my blog I try to get other hours slept before I need to get ready for the day's activity but eventually as breakfast is not included at Utopia Guesthouse, I trudge off to 7Eleven to find something. That done, I turn to the day's planned activity which is a round the island tour. I'm told to report to the booking office at 8.30am but then they tell me I will be collected at 9am. Why didn't I stay in bed? Then at 9am I'm collected in a pickup truck and I'm curious where it's headed. When they deposit me at the main pier it's hard for me to contain myself. What is 2 kms by road is 400 metres on foot: Just Crazy. What is the actual departure time I wonder? At the pier we're greeted by the guide, a foreigner most likely from the USA. He's clearly been here a long time as his Thai is quite good. We're soon on the boat, a converted trawler, I believe and there is further delay while they wait for more passengers. Really this is one of the most idyllic locations in Thailand yet we can't get started. Perhaps the only consolation is that coffee, tea and water are free. Just help yourself. OK let get going!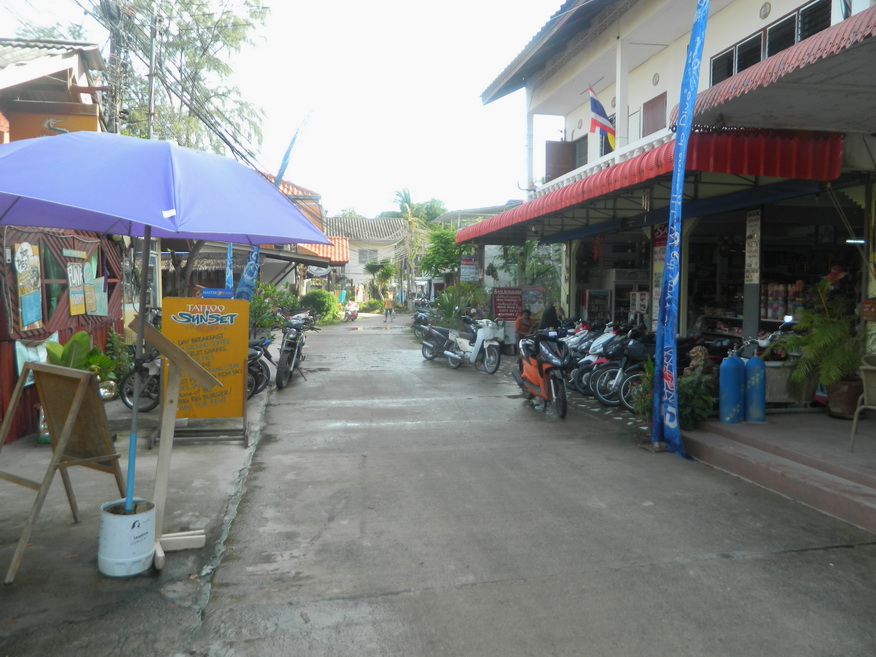 Shark Bay……..According to the itinerary there will be five stops around the island, culminating at the iconic Koh Nangyuan. All of the stops offer snorkeling as an option and almost without exception, the complement is eager for this. It's what tourists do here. The boat heads out around the south of the island offering stunning views of the rocky coastline. Unlike yesterday there is sunshine with well broken cloud. This should be some trip. The boat rocks in a slight swell that adds taste for adventure. Koh Tao has hardly any flat land and here resorts and residences cling precariously to the rock face. Some are accessed by road climbing steeply over the mountain. Others can only be reached by boat. At Shark Bay: We're told there are sharks but they don't bite, the boat stops and we get the first taste of snorkeling. But to be honest this is a bit disappointing as much of the coral is dead. Is this going to be the pattern? Nevertheless it gives me chance to practice: I haven't done this for a few years. Back on the boat we head for location number two.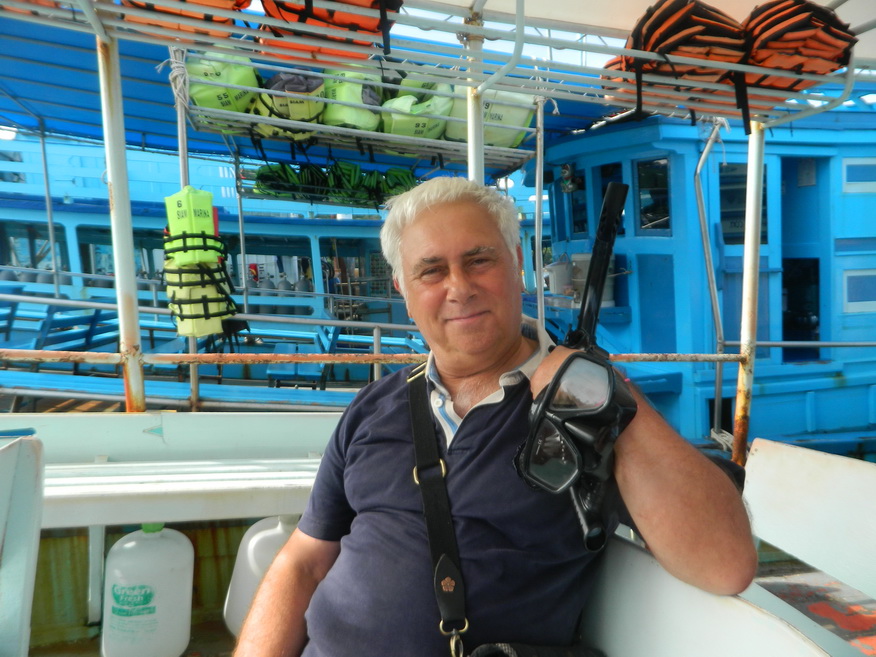 Aow Leuk……..Ao Leuk translates as 'deep bay'. Some of the passengers who prefer to be on the roof are told it's safe to jump. I'll use the ladder. Directed to rocks on the shoreline, at last I see fish in abundance. It's like being in a large marine fish tank: Just wonderful. We get more time here but it's always over far too soon. I can't believe it's lunchtime already, as most are aboard eating rice from plastic containers. I know what I feel about the meal but more to the point it's a good chance to feed the fish. On to the next bay.
Aow Hin Rong……..Aow Hin Rong is a horseshoe bay on the eastern coastline. The compliment is asked whether they want to snorkel here or head straight on to Koh Nangyuan. Now I'm confused. This is stop three and Koh Nangyan is the last. What about number four? After some confusion most jump into the water once more. Certainly where the boat parks there is the same coral not looking too healthy. We're recalled after fifteen minutes.
No mangoes……..Heading off the boat now reaches the northern tip of Koh Tao. Here is Mango Bay but it seems that number four goes missing. When somebody mentions Mango they're told there's no mangos only pineapples. Ever get the feeling you're being ripped off by sharks?
Koh Nangyuan……..The guide is now anxious to reach Koh Nangyuan. I must admit this is not a name I'm familiar with but those who know Koh Tao will readily explain that this is the most iconic location it has to offer. Basically Koh Nangyuan is an island cut off from Koh Tao by a stretch of water a couple of kilometers across. It is famous for its diving spots and its great snorkelling beach. It is actually more like two islands which are connected by a sand bar. Normally you can walk between the two in shallow water. It's this impressive beach that attracts perhaps 1,000 people per day. They all arrive by boat at a pier. There is now an element of protection of the reef and foreigners are charged 100 baht for entry. Arriving at around 1pm there are three hours allocated for this stop. The boat cannot wait at the pier similar to Halong Bay in Vietnam: It's just that busy. You can take what you need off the boat but no plastic bottles or cans. This means if you need a drink you will pay vastly inflated prices much as you do at airports. For me there are only two activities I can manage. Snorkelling of course but also I'm able to climb to the top of the hill on the smaller island where there are easily some of the best views in Thailand: Well worth the effort despite the heat. But to stay cool the only place to be is in the water, preferably for snorkling. At 4pm everybody queues up to get on board the boat. It's now just fifteen minutes back to jetty at Mae Haad.

Street food........We're in no hurry to get back to the guesthouse but there is transport waiting. I see little point in using it as I look around for something to eat. Here at the port there are a few street food vendors: I doubt if there are any elsewhere on the island. This will help with the budget as things today didn't go exactly as planned.
A wake up call........Despite everything, today should have been perfect. The tour of Koh Tao ticks all the boxes, a must for everybody arriving here and one of those days that will stick in the memory a long time. Just one stupid mistake I made has caused me to finish the day in a rather subdued mood. At Aow Leuk, while swimming back to the boat my mask and goggles wrapped around my head became detached. By the time I realised it, it was too late. The guide did go out to look for it but to no avail. So rather than my blog today being of no use to anyone but me, there is a lesson for all. Don't lose your equipment. The fine is 1,500 baht. Apart from that my upper arms are red: I normally cover up and stay out of the sun. It's another early night and I'll take that beer to ease the pain.

Day 4 - Saturday 21 November 2015

Options........My second full day on Koh Tao is unscheduled. It's a place you need to stay a while to get used to it. There are options for today. Take an ATV up into the mountains (2,000 baht), go fishing (1,650 baht per person), take a taxi boat for snorkeling, rent a motorbike (200 baht), yet there is one more option. Do nothing! After yesterday's misfortune I need to rein back my budget but in doing so there's no need for tears. After all I'm 50 metres from the beach. Let's just sit back and laze around for today. After three days travel why not? It's gone 11am before I make any attempt to go out.
Koh Tao third impression……..My first job for today is to secure ferry tickets for the return to Chumphon tomorrow. Surprisingly I get them for 450 baht instead of the normal 500. Now instead of taking the beach paths, I head up to the main road which I've hardly explored. After lunch there I wander along the road and suddenly I understand that staying near the pier wasn't necessarily the best option. A recently build apartment block catches my eye. It's not expensive, then, as I wander into a supermarket. I realize things are much cheaper than down at the beach. To rub salt into the wound, I see a better quality glass mask with snorkel for 750 baht. OK I've learnt something valuable today but there is a downside. You still need to go to the main road and that's a stiff climb. That now explains why renting a motorbike is a good idea. Back at the room it's siesta time.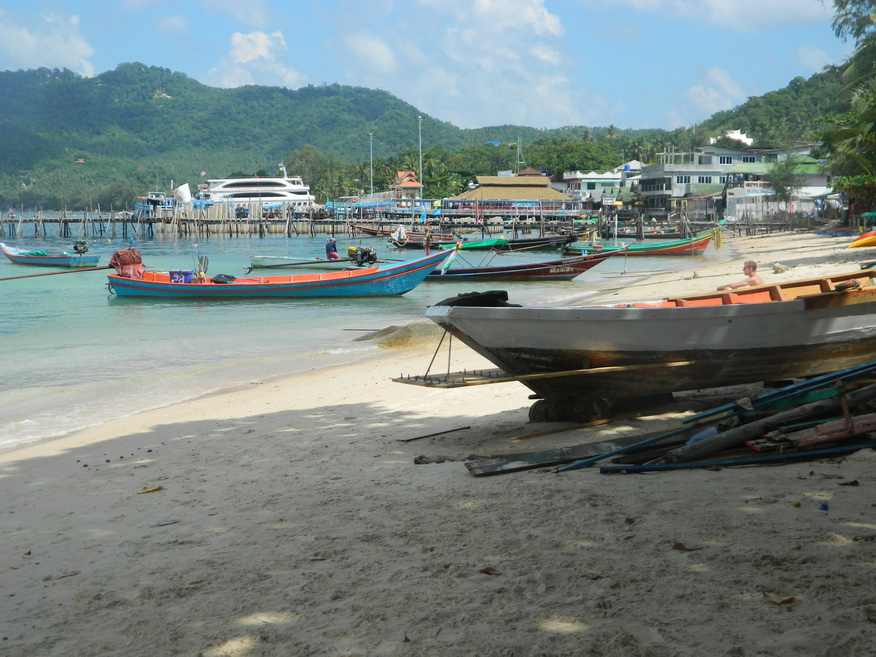 Living to eat!.......By 4pm I take up the option to borrow a mask and snorkel from the guesthouse and head to Mae Haad beach. Here the water is not so clear and there are very few fish but its great all the same just being in the water and watching the comings and goings in the harbour with its brightly painted ferries, tour boats and smaller craft. I stay to watch the sunset then head back to clean up. Katoon wants to go out for dinner but I'm still in austerity mode and I don't need anything special but she does. There is a phrase in Thai, 'yoo per gin'. Literally translated it means stay for eat but it's real meaning is live to eat as opposed to 'gin per yoo' which means eat to live. On this occasion if she wants her spicy salads and soups which she just picks at anyway, she can pay for it herself. 300 baht is daylight robbery but I'm happy. I've made some inroads into recovering some of that overspend yesterday. In contrast to the last two nights I force myself to stay awake for the FA Vase game, Hereford F.C. v Haughmond. It's a struggle as I make it till half time but with the score 2 : 0, I figure the game is won and wrap things up for the day.