Wednesday 14 December 2016

In the spirit of Christmas!........It's 14th December and for the last 65 years I've been in my home town either preparing for or benefitting from Christmas. Not this year. Instead I'm preparing for a tour as if Christmas doesn't exist. In truth I've already put in place the spirit of Christmas before I left home. All that's different is my absence.
The tour that's about to start is expected to be for 2 weeks. That means I will be on tour Christmas Day but I'm not expecting anything special. It's not even a public holiday in Thailand and only the larger shops will take the trouble to erect a Christmas tree principally for commercial reasons of course. The absence of a traditional Christmas is of little consequence to me personally but I get a huge benefit from being in Thailand throughout the cool season. One period that is certainly celebrated in a big way here is New Year. I plan to be back in Bangkok by then as to say the least it is bound to be chaotic on the roads, the most dangerous time of the year. As regards my destination, I'm heading north; to the extreme north of Thailand in fact. The current temperature is 15 degrees Celsius but I'm not expecting to be building a snowman anytime soon but whatever is in store it will be a first for me. So let's get started and the first thing is to arrange transport.
Feeling comfortable........Securing transport for the forthcoming tour creates another first. I'm most grateful yet again to secure a vehicle from a friend of Katoon. Unfortunately though they cannot deliver it to the residence on this occasion at the time we require it because they are too busy but neither should I expect them to go out of their way. We need to make our way to Samut Prakan the province to the southeast of Bangkok. While there is a perfectly good expressway, part of the eastern ring, no public transport is available. Instead by using passenger trucks, a van and taxi we finally arrive in Bang Pu via Minburi and Bang Phli after a late morning departure. When we arrive the contact has only just arrived back from up-country and has been busy preparing the vehicle but it's not the one I expected. The old Toyota Hilux is parked outside the business premises but we're offered the newer 3-4 year old Mitsubishi Triton Plus automatic. Again it's a pickup but without the rear cab. After the usual greetings we waste no time returning north along the Kanchanapisek Highway in far more comfort than I was expecting. All is set now for departure tomorrow.

Day 1 - Thursday 15 December 2016

Bangkok departure........The morning seems normal but packing gets underway without delay. There is no urgency however. If we depart at around 10am that will be fine. We are heading north but our final destination will not be reached today. In fact I have something else in mind before we arrive in Chiang Rai. This final destination is 789 kilometres from Bangkok and I intend to half the distance today. We're all ready just after 10am having loaded everything apart from the kitchen sink it seems. There's some final shopping and we're on our way logged at 10.30am. With the main outer ring road within 15 minutes from the residence I'm expecting a straightforward departure as I take the Triton out for the first time.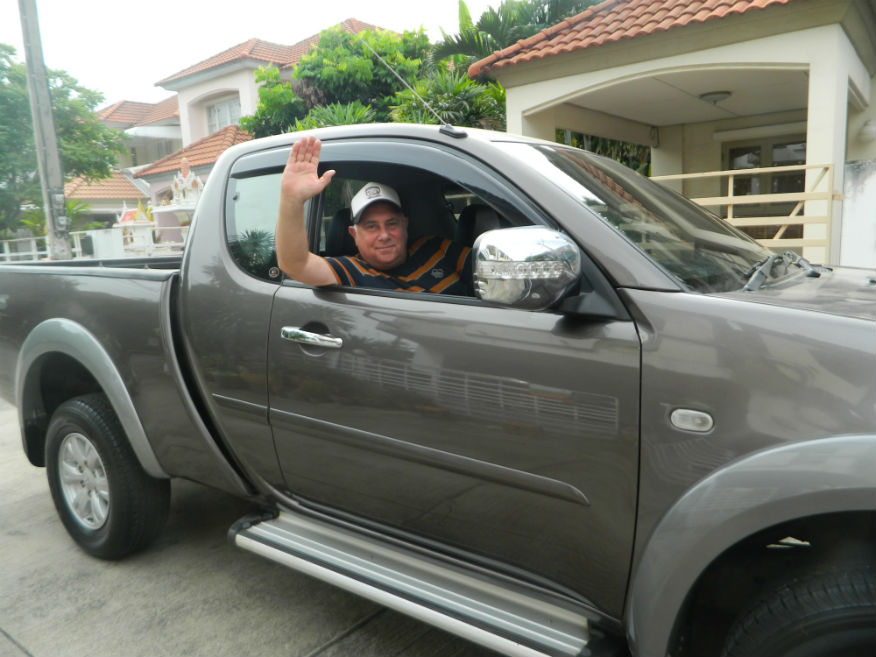 The journey north - Part 1........The Kanchanapisek outer ring road in the northern direction heads towards a major intersection at Bang Pa In but the motorway is congested most of the way. However I've seen enough to know that once on the open road this 2.5l turbocharged diesel has plenty of grunt. I guess there won't be much hanging about! Heading out on Highway 35 the traffic thins as expected and speed picks up to the legal limit of 120km/hour. At this speed our initial destination should be reached around 4pm. Our initial aiming point is Nakhon Sawan which takes us through Nakhon Si Ayutthaya Province and the minor provinces of An Thong, Singburi, Chainat and Uthai Thani. When a lunch break is taken in Singburi Province it's clear that central Thailand is experiencing cooler conditions as air from China permeates down through the delta, an area notable for searing heat in summer. Nevertheless I'm up for a break as I put my head down. I'm awake as we near Nakhon Sawan, a major transport intersection where we head along Higway 117 towards Pitsanulok at 2pm. When I checked the fuel gauge earlier I thought we might make our initial destination without refueling but before Pitsanulok we fill the tank completely. I'm soon in shock. It seems I've been spoilt on recent trip with the cost of fuel. The tank is full consuming 1730 baht of diesel. I can't remember filling a tank recently for much more than 1000. Time will tell how consumption from the Triton motor will pan out but I certainly need to keep an eye on it. I take over the driving again and waste no time in clearing Pitsanulok heading for Sukhothai. We're on the outskirts well before 4pm.
Chuanchom Resort........Despite my efforts to locate accommodation through the usual booking sites, I'm overruled as Katoon decides to do the job the old fashioned way. I can't complain as it usually works. However we end up near the old town when most of the resorts lie along Highway 12 on the way to the World Heritage Site. With that corrected we have no trouble in locating suitable accommodation. Chuanchom Resort appears on the left a few kilometers from the city. It doesn't quite tick all the boxes as we dither about available rooms. Finally I decide on the basic room that doesn't have a fridge for just 400 baht when I'm offered use of a fridge in reception. I book for two nights. The reason for that soon becomes clear but for the moment Katoon is keen to visit the night market in the city. What could be the attraction? Well dinner of course! It appears that there are dishes here unique to the area with particular emphasis on a fried noodle dish known as Phat Siu. However my attention turns to a fish dish with a sauce that is more Japanese or Korean.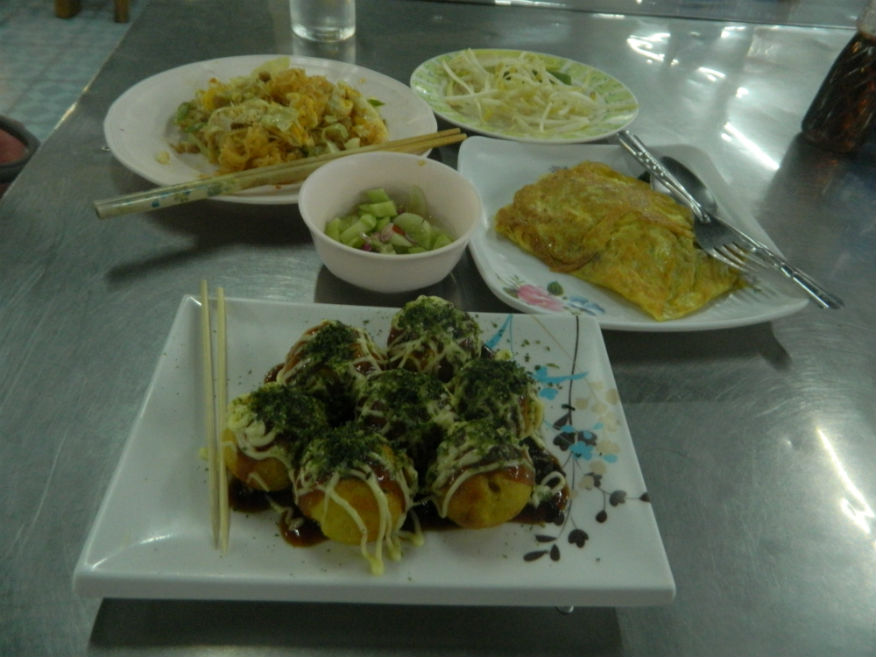 Ancient monument........Clearly it's obvious now I never intended to use Sukhothai just as a stopover. The meer presence of the Sukhothai Historical Park nearby means I have to record it for this site even though I've been here before in the distant past. It seems now that it will occupy a full day tomorrow but today has not ended and I'm in for a big surprise. Katoon mentions a temple she wishes to visit insisting that it's best viewed after dark when it will be lit up. I'm not enthusiastic but it's not far away. Well there are times when despite a lot of communication in Thai and English something slips through the net. When we head back past the resort I pick up signs to the historical park but the penny still hasn't dropped. The temple she refers to is only the magnificent ancient monuments of the park itself. I hadn't figured on visiting it quite so early and under such conditions of grandeur. I really hadn't prepared myself for it. The lighting of the monument is in recognition of the 25th anniversary of the granting of UNESCO status and lasts for 3 months. I dropped in at precisely the right time and moreover entry fees have been waived for the celebrations. Clearly this sets up perfectly my visit tomorrow.

Day 2 - Friday 16 December 2016

Flexibility and stratergy........After not the best night's sleep I've ever had, I'm awake at 7am and start by editing and updating my blog from yesterday followed by planning my site visits for today. All the sites today will be connected with the Sukhothai Historical Park but when I actually add up the number I've found I quickly realise that unless I edit the list pretty soon, I'll be in the park for more than the day I've planned. Fortunately flexibility on these tours is the watchword and I'm prepared to add time to coverage of this important site rather than leave it open-ended. The list currently stands at 2 dozen sites, all making a valued contribution to my tour notes. What I really need now is a site map so I can devise my strategy. But first some breakfast even though I know it's just rice soup and coffee. The time is only 9am so time is on our side.
Tall order........A couple of dozen sites with still no idea of a starting point is not the best way to proceed as we head back to the Historical Park. Fortunately a significant reference point is right near the park entrance, the Ramkhamhaeng National Museum. However we jump the gun and visit Wat Tra Phang Thong first which lies directly before the museum. Entry to the museum is currently free until 31st January as a mark of respect to the late King Bhumipol but with a normal fee of 150 baht it's still a must for anyone starting a tour of the park.

The Sukhothai Historical Park
The Sukhothai Historical Park (Thai: อุทยานประวัติศาสตร์สุโขทัย) covers the ruins of Sukhothai, literally "Dawn of Happiness", the capital of the Sukhothai Kingdom in the 13th and 14th centuries, in what is now Northern Thailand. It is located to the west of the modern city of Sukhothai, capital of the province with the same name.


----------------------------------------------------------------------------------------------------------------------
"For a new building, the honour belongs only to the builder. For an ancient site, however, the prestige belongs to the entire nation. Even one old brick has its value. We should help preserve ancient ruins. If we don't have Sukhothai, Ayutthaya and Bangkok, there is nothing left for Thailand."

The King's speech inaugurating the Chao Samphraya National Museum in Ayutthaya in 1961





Inevitably visiting the museum takes time with a recommendation of at least an hour. When we move into the park proper we head for its most iconic site, Wat Mahathat which we visited last evening. This temple complex also requires time to make a decent photographic record and the time moves inexorably towards midday. The only consolation at this stage is that the hardest sites to record have been dealt with first. It's important to produce a record of the sites within the park proper before moving to the outer monuments. The day's site list as it develops is provided in sequence of visits.

The Inner Monuments
Wat Trapang Thong........Wat Trapang Thong is an important temple in the Sukhothai Historical Park located on an island in the middle of a pond or swamp. All that remains today is a ruined laterite Singhalese-style round-shaped chedi. In front is a small square structure built of brick with the Lord Buddhas footprint on a slab removed from Phra Bat Yai Hill.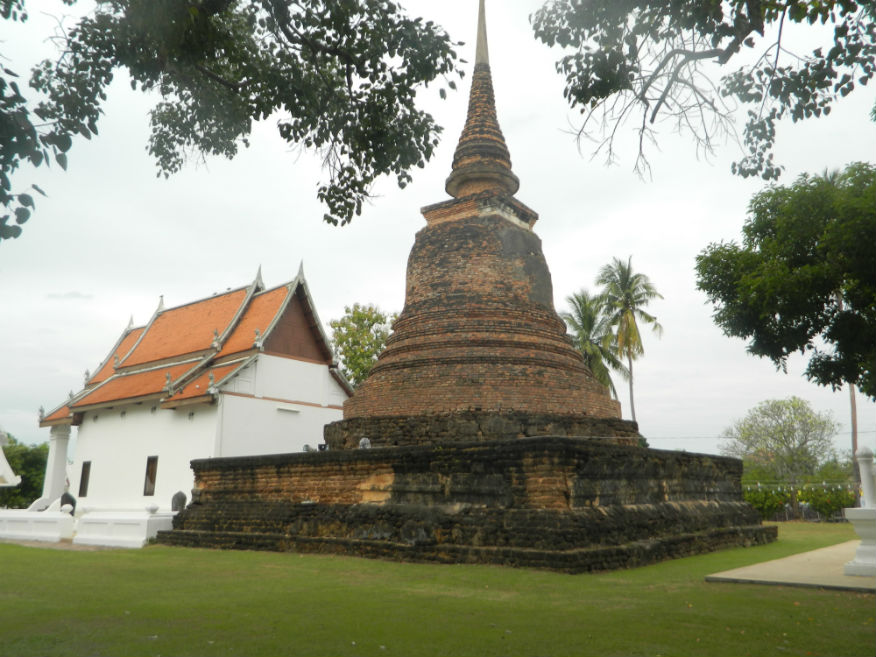 Ramkhamhaeng National Museum........The Ramkhamhaeng National Museum is a branch of the National Museum of Thailand in the Sukhothai Historical Park opened in 1964 by Thailand's King Bhumibol Adulyadej and Queen Sirikit. More than 2,000 artifacts were donated from Phra Ratchaprasitthikhun, the abbot of Ratchathani Temple. Locals also contributed to the collection by donating many historical objects. Most of the objects on display in the main museum building, come from Sukhothai, others were found in Si Satchanalai, Kamphaeng Phet, Phichit and Phetchabun. The collection includes prehistoric objects, Buddha images and Hindu god sculptures from Wat Phra Phai Luang and Wat Mahathat, sculptures from the pre-Sukhothai period (about 13th century), Sukhothai artifacts from the 14th and 15th centuries, early Ayutthaya artifacts from about 1351 to 1488, porcelain from the Yuan, Ming and Qing dynasties all found during the excavations in Sukhothai and Si Satchanalai.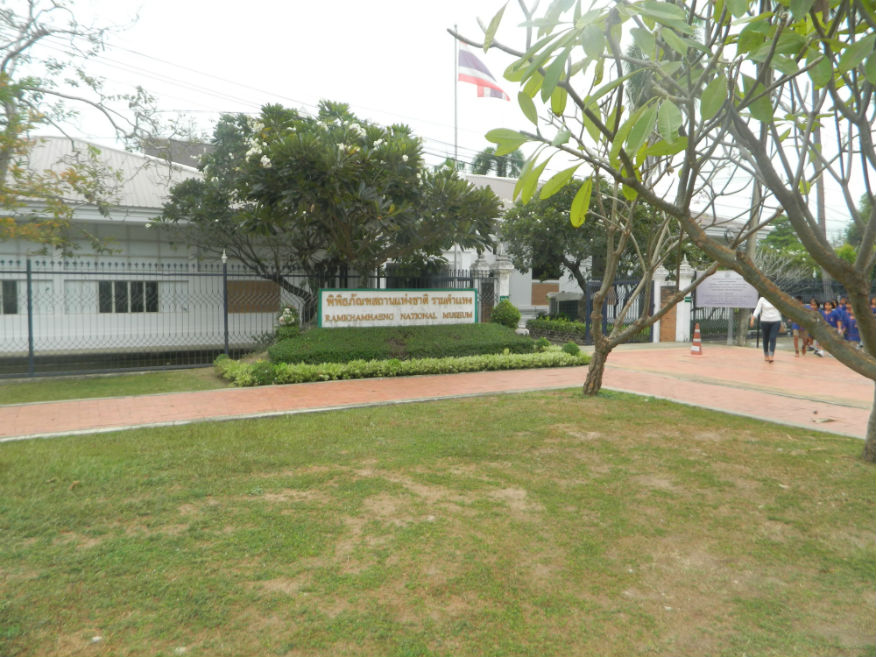 Wat Kamphaeng Laeng........Wat Kamphaeng Laeng is a small temple with a brick foundation for a viharn (hall) with twenty bases of aligned stupas in different shapes. The base of the walls are in laterite. Many Sangalok lion's heads, a decorative feature of the eastern side, were found in excavations in 1968.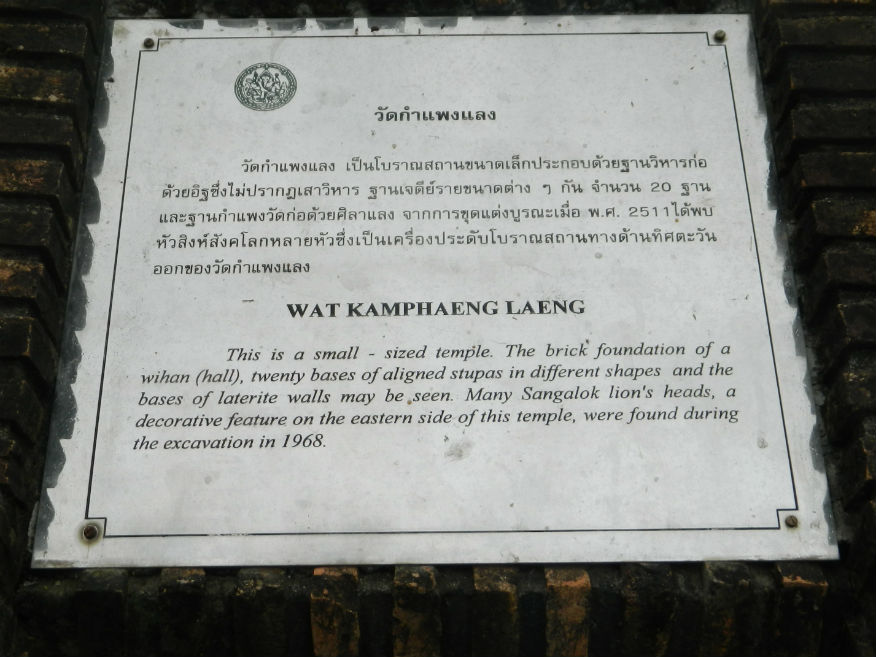 Wat Mahathat........Situated in the heart of the city, Wat Mahathat (Royal temple) is the most important and principal temple in Sukhothai. The temple comprises the main chedi (stupa), assembly halls (viharn), ordination hall, (ubosot) and 200 subordinate chedis.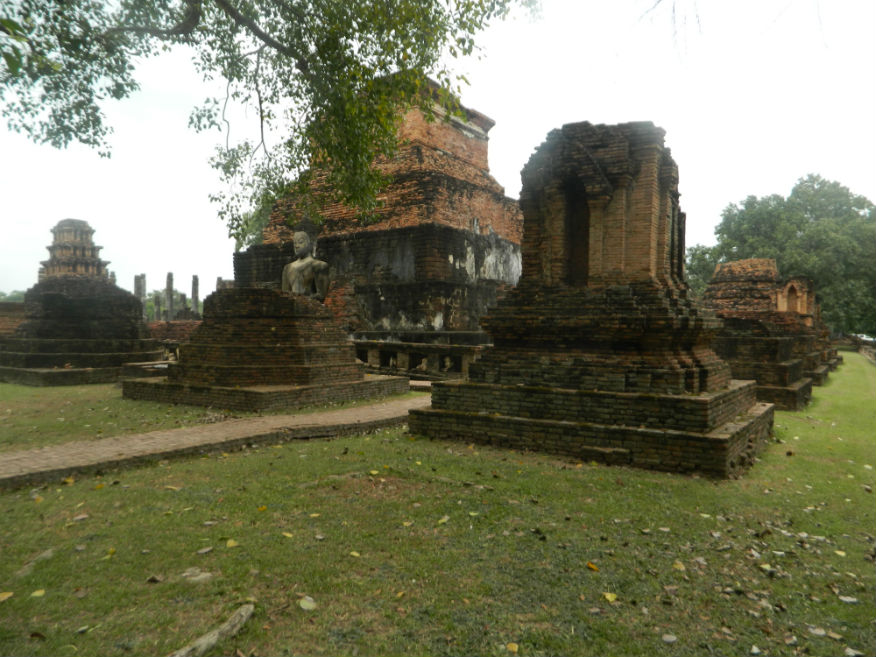 Wat Noen Prasat........Wat Noen Prasat lies to the east and adjacent to Wat Mahathat. It consists of a base 27.5 m. wide x 51.5 m. long and 2.5 m. high adorned with overturned and upturned lotus moulding. It has both front and back stairs. In 1833 during a visit by King Rama IV he found the stone inscritpion No. 1 which is inscribed with the story of Sukhothai.
Wat Chang Songkhram........Wat Chang Songkhram situated to the north of Wat Mahathat and near the city pillar shrine has a vast imposing bell-shaped chedi. To the east is an assembly hall (viharn) and subordinate chedis surrounding the main chedi. It is believed that this chedi is of later design from the Ayutthaya period.
King Ramkhamhaeng Monument........The King Ramkhamhaeng Monument was built to honour and commemorate King Ramkhamhaeng, the great king of the Sukhothai period, who created the Thai alphabet. The planning of the structure was directed by the Fine Arts Department, led by General Thanom Kittikhajon, the prime minister who was the chairman of the opening ceremony on 26th November 1969.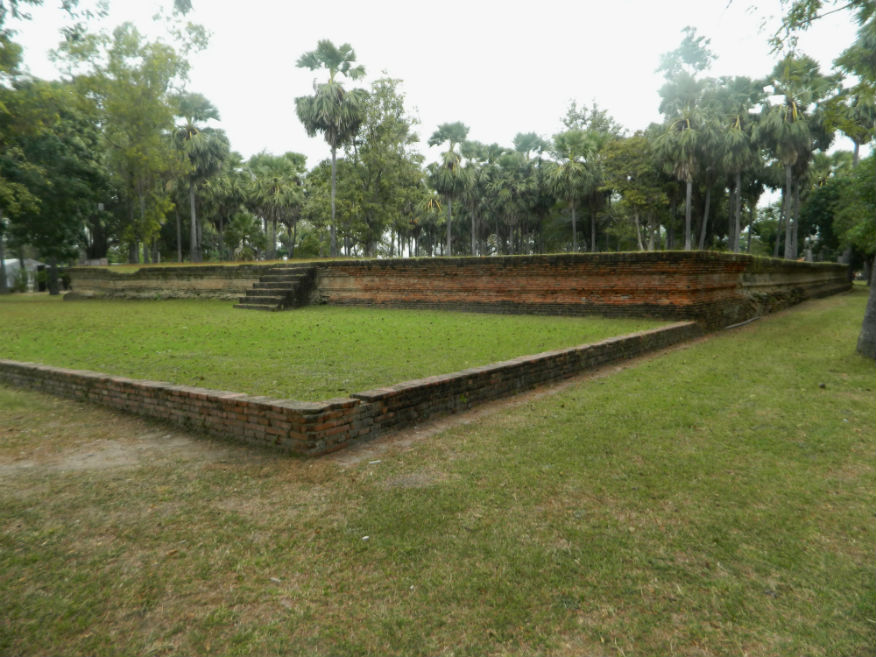 Wat Mai........Wat Mai is located to the northeast of Wat Mahathat. There is a huge assemply hall (viharn) with a two-tiered base. The decorative items found on the base show Ayutthaya influence. Around the viharn are five small chedis while 100 metres to the north there is a chedi with a base of nine spires. The main chedi is in the middle surrounded by eight subordinate chedis.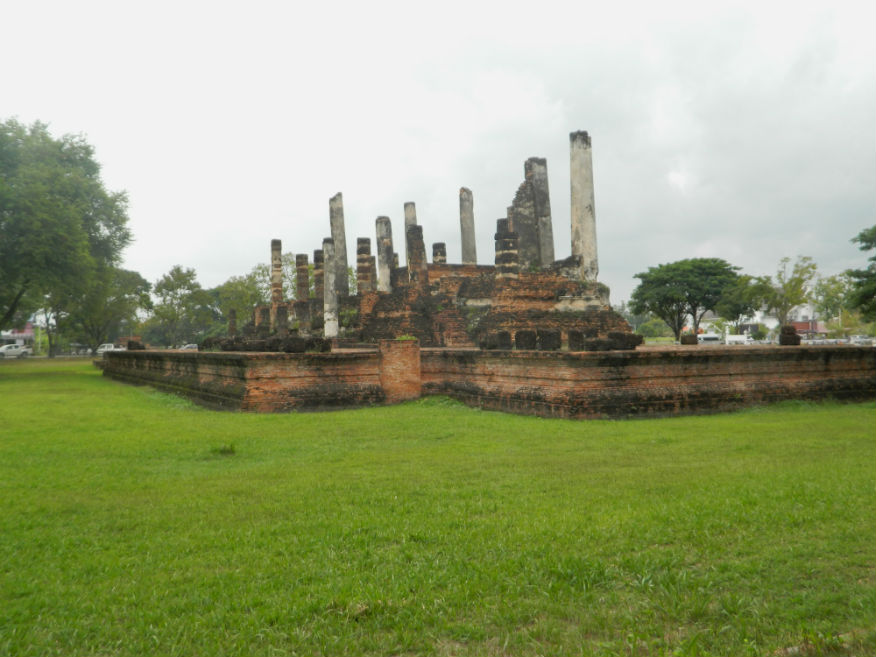 Wat Sra Si........Wat Sra Si, located northwest of Wat Mahathat, is a beautiful ancient momument in the middle of a large reservior know as Traphang Trakuan. Its important buildings include a round bell-shaped chedi, an assembly hall (viharn) and an ordination hall (ubosot). The round stupa serves as historical evidence of the prevalence of Senghalese Buddhism in Sukhothai.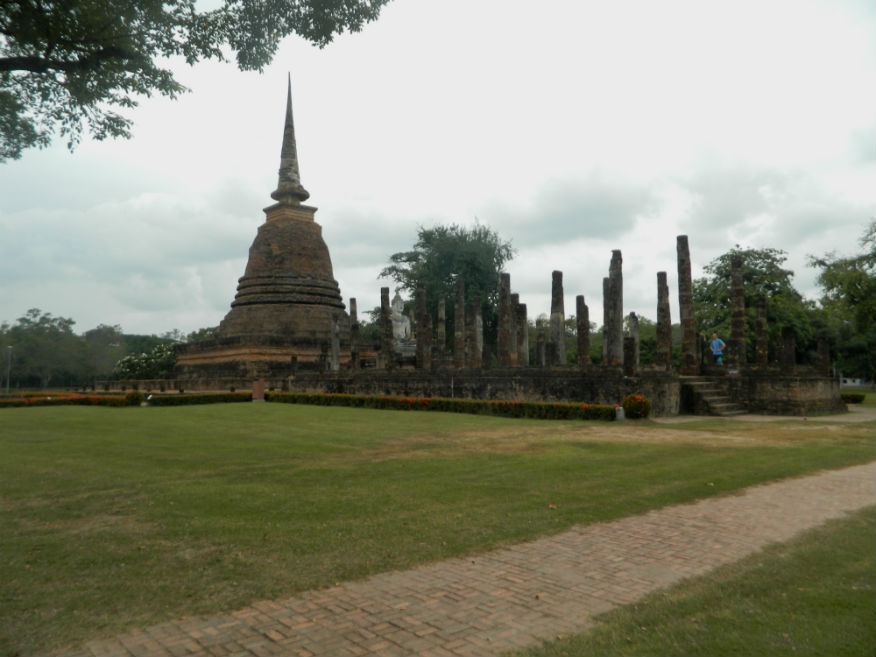 Wat Trapang Ngoen........Located 300 m. west of Wat Mahathat, Wat Trapang Ngoen is an ancient temple without a boundary wall. It is composed of the main chedi, an assemby hall (viharn) and an ordination hall (ubosot) in the middle of the reservior. The main chedi was built in the shape of a lotus bud with four niches to enshrine standing and walking Buddha images.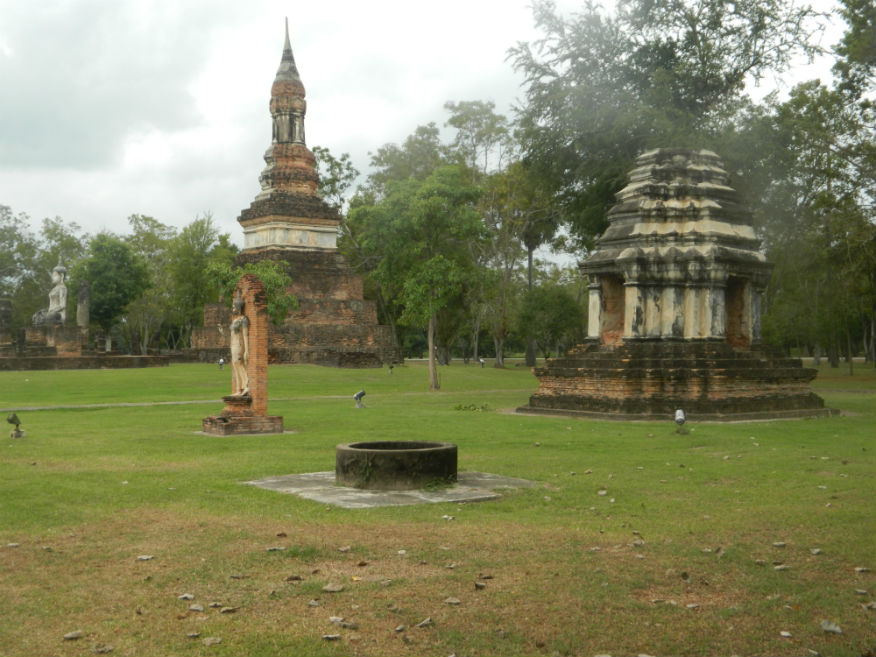 Wat Si Sawai........Wat Si Sawai is located to the south of Wat Mahathat. Its three prangs (imitating Hindu Shikhara Vimanas) are regarded as ancient monuments of considerable significance. Demarcated by a wall the three prangs were build in Lopburi style with evidence of Hindu images including the god Vishnu reclining on a naga seat. Decorated stuccos have also been found of type found on Chinese wares.

Wat Tra Kuan........Wat Tra Kuan (right) has been known by this name since 1907. Its name was mentioned in the stone inscription of Wat Sorasak in the early 15th century. It is said that the Venerable Mahathera Dharmatrailok from Dao Kho came to see his nephew, a ruler of Sukhothai, and resided at Wat Tra Kuan during his visit.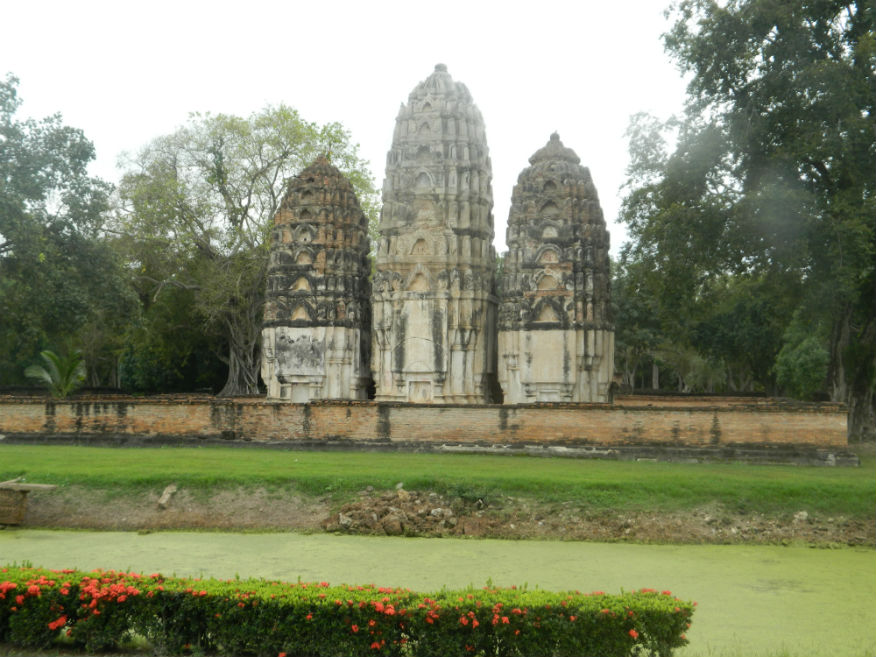 The Outer Monuments
Wat Saphan Hin........Wat Saphan Hin is located a couple of kilometres west of the city wall situated on a mound, 200 metres high, an ascent for 300 metres from the foot of the mound along a stone walkway (saphan hin means stone bridge). Along the paved way is a small lotus bud chedi. This temple is well-know for its standing Buddha image mentioned in stone inscription No. 1.
Wat Chang Rop........Wat Chang Rop is situated outside the city wall to the west in the Aranyik forest temple area, near Wat Aranyik and Wat Khao Phra Bat Noi. This temple has a main bell-shaped chedi on a square base decorated with 24 scultures of elephants, an ordination hall (ubosot) in front of the chedia and five subordinate chedis around the perimeter.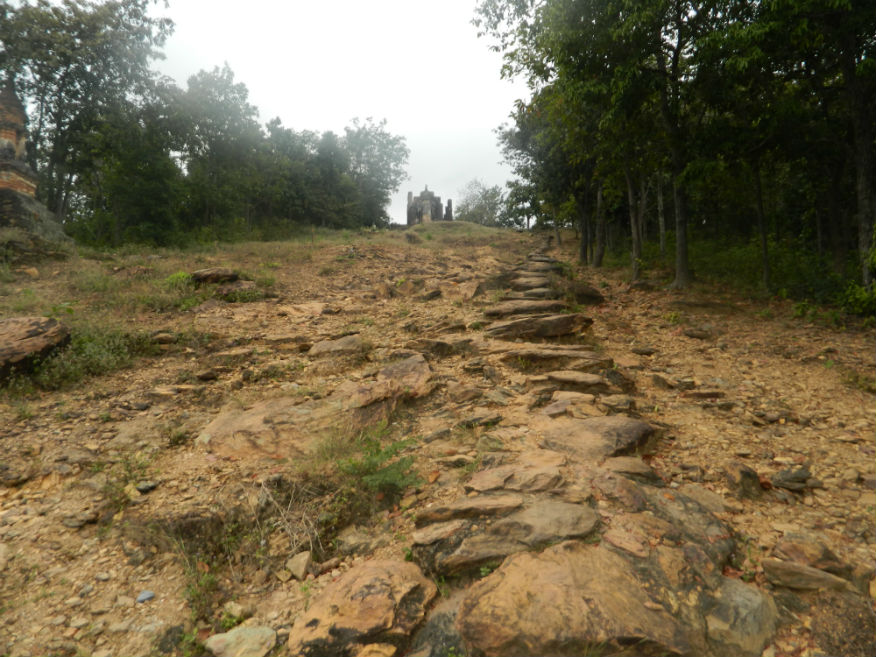 Wat Aranyik........Wat Aranyik is situated outside the city wall some 2.3 kilometres west of the Or (western) Gate at the foot of a hill in the Aranyik forest temple area. On this site is a rectangular well made from laterite that supplied water all year round. The temple has bases for small buildings including the assembly hall (viharn) and ordination hall (ubosot) with paved walkways connecting them.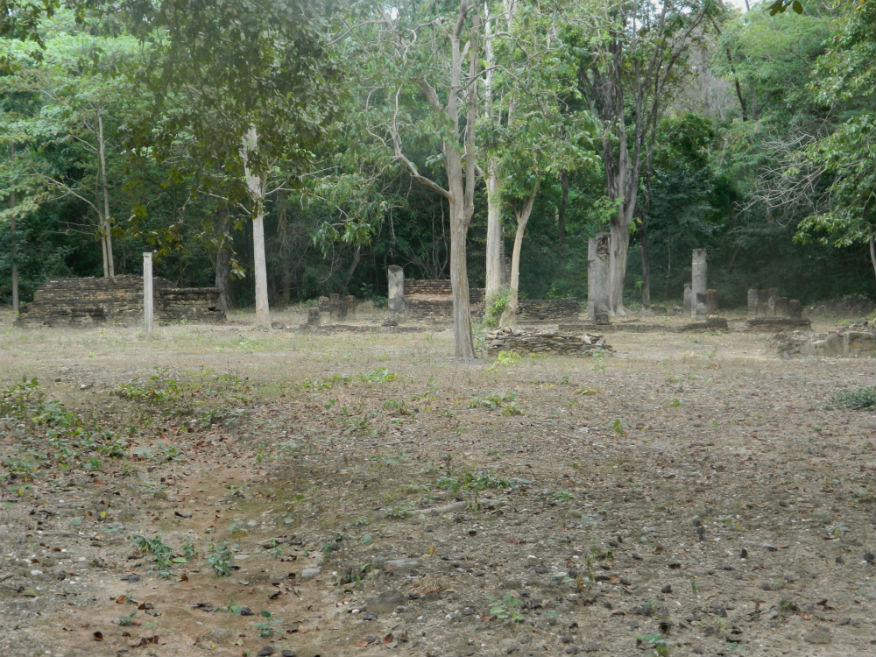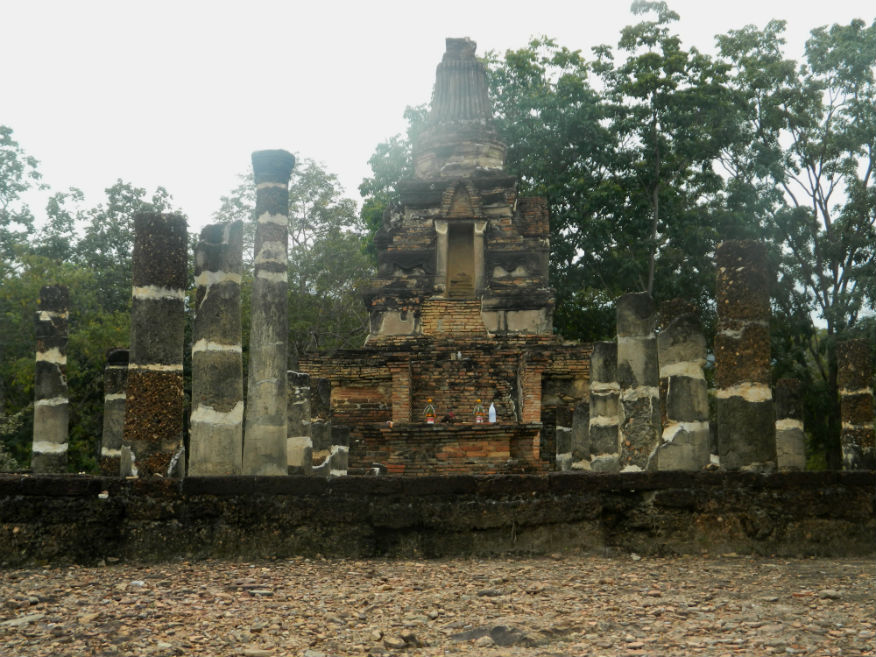 Thuriang Kilns........Thuriang Kilns refer to a group of kilns found to the north of the city wall especially around the ramparts of Wat Phra Phai Luang. Sangkhalok is a type of earthenware and stoneware made in both Si Sanchanalai and Sukhothai during the Sukhothai period. The pottery was glazed in colours such as pale blue or brown with a tranparant coating over decorative designs. Sangkhalok was exported far and wide to places such as Ayutthaya, the Malay peninsular, the Philippines, India, Japan, etc.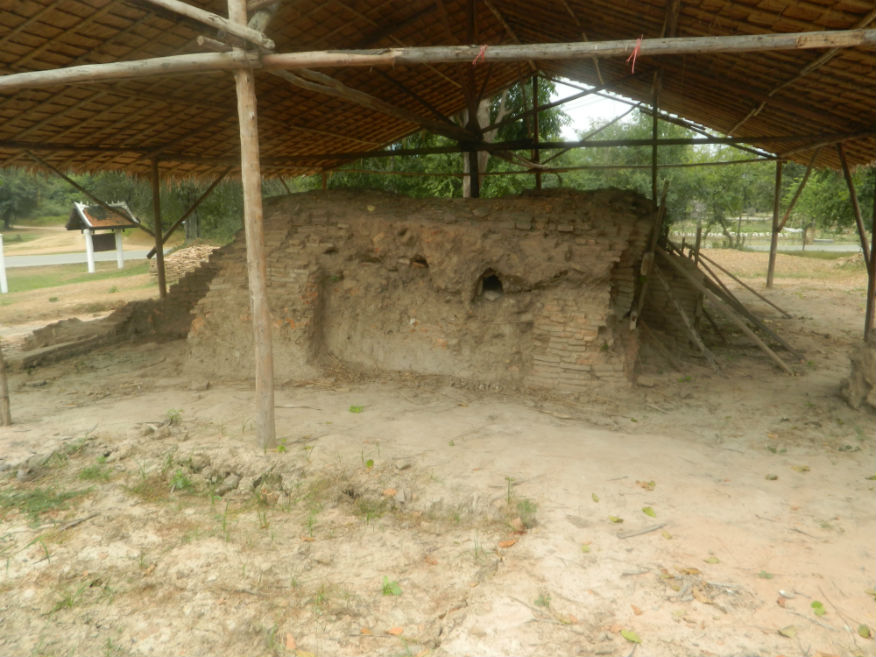 Wat Phra Phai Luang........Wat Phra Phai Luang is located in the area of the Sangkhalok kilns. The temple is presumed to have been built after the production of glazed earthenware in the area came to an end. This ancient temple surrounded by a lake consists of an assembly hall (viharn) and three small chedis. It was excavated and restored in 1965. Originally there were stucco reliefs of the Lord Buddha in a posture of subduing Mara surrounded by a group of gods. Today these reliefs are in ruins.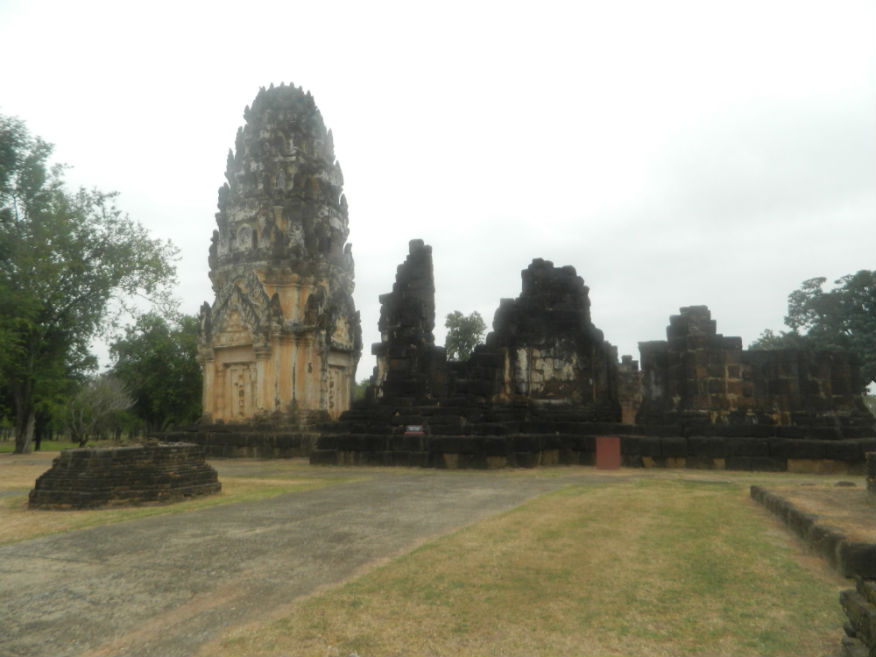 Winding down........To excuse the pun as the time turns towards late afternoon I've made a monumental effort to record such an impressive list as appears above. Clearly I don't intend at this stage to provide here anything more than a brief description but it will be work-in-progress to provide photographs and reviews at a later stage. During a brief respite we change rooms to one with a fridge paying an extra 100 baht before heading out for dinner at 6pm back into the city noting that the resort has parking issues delaying departure. We end up eating street food on the pavement: Cheap and filling. As I write up some notes in late evening I'm aware that despite such an impressive list of site visits today there's still a lot to do tomorrow but the plan at present is to move north to another district sometime in the afternoon tomorrow.