Friday 27 January 2017

Decisions........Today is going to be another dot day but a day of decisions. With just over two weeks to go before I return to the UK, I had intended to be on my third and final major tour of the winter by now but that would be an achievement in itself. The delay is caused by a vehicle not being available. It has to be remembered that a friend of Katoon has generously offered to help over the last few years but if a vehicle is not available due to business or family reasons then I'm not in a position to demand one given that it's cost me a just fraction of the commercial rate to hire a car. While there are options in the future to address the problem of independent travel, right now I have to make a decision.
Alternative plan........If I assume for the moment that I cannot get use of a car then there is the option of using public transport. After all that's what I just did in Singapore and Malaysia but for those who followed that tour you will know that is was a struggle but it normally gives a good margin of flexibility. As the day progresses, we consider the logistics and determine that a single holiday location is the best option and to keep in tune with what I originally planned, that means islands or at least coastlines. One of the options, which is not much more than four hours from Bangkok is Trat, or actually the islands off Trat. With Koh Chang already covered on this site that means the lesser islands of Koh Mak and Koh Krood. We set to work on finding suitable accommodation online but the experience of Booking.yuk on my last tour has left me cautious to say the least. When Katoon adds her own specifications my task is even more difficult. On Trat's islands it is still high season and obviously leaving things to the last minute isn't going to help. After what seems hours, we are no further forward and start considering resorts on the mainland. Forced to follow well-trodden ground, there is a hefty premium on accommodation. There is nothing cheap on Thailand's exotic islands and beaches anymore. By late afternoon things are no clearer and I need to take a break. Perhaps tomorrow I will find some inspiration but just then the phone rings: I can pick up a car and that changes everything. At 5pm we drop everything and head for Bang Phli by motorbike taxi and passenger van. There the owner is waiting with the older Nissan Hilux but it will do fine. He still needs to return home by taxi and that proves he continues to go out of his way to be accommodating. It's just a question now of returning along the Kanchanapisek Motorway and pick up something for dinner.
Cautious........With a car now available, I can return to my original plan but that has been in doubt for another reason. Intending to head south for the beaches I mentioned, some of the provinces have grabbed the headlines due to vicious storms and flooding. I noticed that as I returned from Kuala Lumpur which was mainly dry, the area in north Malaysia and south Thailand had a weather system right up to cruising altitude (38,000 feet) but higher up the gulf it was clear. As the present time transport links have been restored and all but the deep southern provinces still affected. As I don't intend to go that far I happy to proceed as planned while still putting some distance from Bangkok and hopefully find a track that isn't trodden on to much which will lead to something more sensibly priced.

Day 1 - Saturday 28 January 2017

Bangkok departure........This morning I'm not awake that early as if I'm still stunned by having a car available for travel. Even by 9am there's no indication that I will be leaving on another tour except that a packed lunch is being prepared at the same time as breakfast but packing takes little more than an hour. Amazingly we're on the road about 10.30am and quite relaxed about the day's travelling. However there is something that could easily upset the apple cart today. To start with it's a Saturday which means accommodation could be harder to find but on top of that it's Chinese New Year and traditionally a busy day on the roads. First evidence of that happens immediately as we make a U-turn and exit the village via the back door. However we're soon on the Kanchanaphisek motorway heading south.
Heading south........From the motorway northeast of Bangkok we need to stay on the outer ring road running clockwise to exit southwest. It's a long way and despite no traffic holdups, it's an hour before we cross the impressive Kanchanaphisek Bridge heading west. We then need to connect with Rama II Road, Highway 35 but this absorbs a lot of traffic from other routes leaving Bangkok. It's always busy but today there no let up in nose to tail traffic until 40 kilometres west of its source. Finally gaps appear and I manage to get up to an acceptable speed but after three hours I'm still well short of Petchaburi and hand the driving over to Katoon. That works well as her style of driving is not as conservative as mine. In two and a half hours more we're in Prachuap Kiri Khan which puts us in a good position to complete our journey tomorrow.
Stopover........While we could have carried on another hour, we are near the ocean with a good choice of resorts nearby. Perhaps just for a change we should try out luck here instead of staying in the town. Prachuap Kiri Khan has a number of bays, the most famous being Ao Manao (Lime Bay) but as I direct her in we overshoot the turning and end up at Khlong Wan Beach instead. When we stop to get our bearings we meet a tourist who has just arrived here having tried to find accommodation on Ao Manao Beach. Everywhere he checked is full. As we look around a resort right on the shoreline it's not unappealing. Sure there is not much of a sandy beach here, it's more of a harbour with breakwaters offshore but with a glorious view of cliffs on a headland to the north, it still manages to attract visitors in good numbers.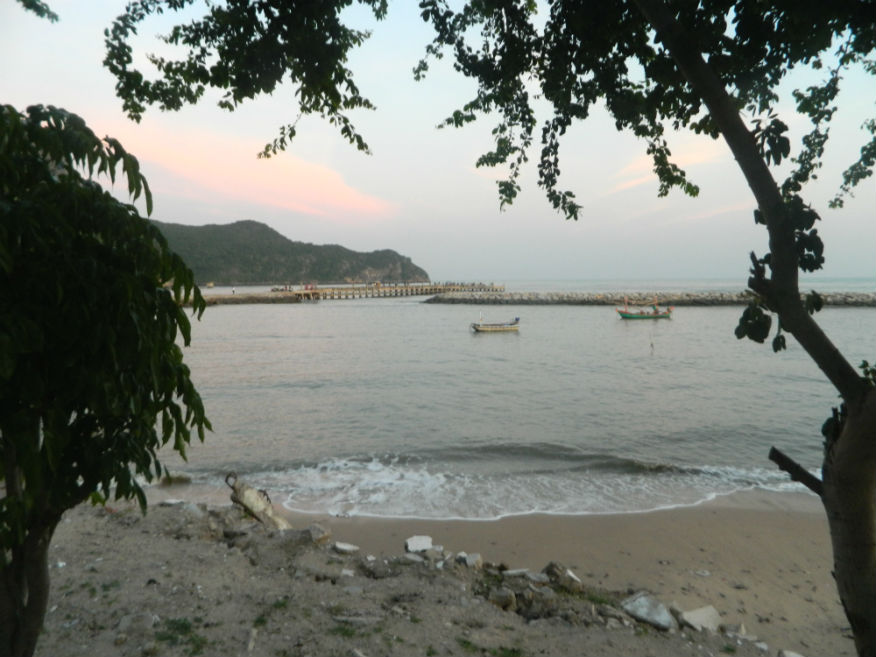 Ice Tale (Talay) Resort........The rooms at Ice Tale are 800 baht, more than I wanted to pay for a stopover but with all conveniences within walking distance, I decide to take it. The standard room is a bit small but the mosquitoes that have draughted in seem happy enough and while there's no table for my computer, right outside there is plenty of communal seats and tables. On the positive side there is a 7Eleven where I can get a cold beer and Katoon can order street food which looks delicious. As we have brought plates and cutlery we can sit out and dine with an ocean view. I don't remember that happening many times before. It certainly helps with the budget and more than offsets the bit more I paid for the room.
Help yourself........What I don't see here are foreign tourists. There is perhaps little here to attract them but the accommodation here is perfect for Thais who tend to bring equipment with them to cook or at least picnic and why not. It's a massive advantage to have independent transport sometimes. This is precisely why I don't like resorts that use Booking.yuk. It simply drives costs up. To end the day, I tune in to Radio Hereford FC to follow a real tussle between the Bulls and Tiverton. Thankfully we edge it 2 : 1. A remaining question is how I will fare with those mosquitoes for company and also the return of a head cold after being dry for the last few days

Day 2 - Sunday 29 January 2017

Tour or holiday........Throughout my travels in S. E. Asia over the last six years I have always referred to my travels as tours not holidays as that is what they are. However I do acknowledge that often there's correlation between the two. I regard tours as travelling independently from place to place recording information that I can use later while holidays are packages that tour operators provide. Of course these operators provide tours too and on my independent tours I can take a holiday but it's all about emphasis. While I'm sure to many I seem to be on permanent holiday I can assure them that rarely am I lazing around on a beach? Well not until now!
Ao Manao........As explained yesterday, I find myself surrounded by resorts and beaches and as my previous tours this winter have covered a lot of ground this current tour is hopefully much more about sea and sand. So that being the case why am I planning a move today? At the very least I need to visit Ao Manao but as I'm packed and ready by 10am then changing rooms is also on the agenda but indecision is also, as we head back to Manao Bay. Ao Manao is an important attraction for Prachuap Kiri Khan yet has been missed off all my previous visits here. As I noted yesterday the important thing to know about this bay, is that it's controlled by the military; The Royal Thai Air force (RTAF) 5 Wing to be precise. What they have here is really special; one of the most beautiful bays in Thailand. Accordingly the RTAF is happy to welcome visitors providing security isn't compromised. As I get my first glimpse of the bay I truly understand that if it wasn't for the military this bay would be ruined by now. There are no high rise buildings but instead there are restaurants and some accommodation that feeds the hoards of day trippers who congregate on deckchairs along the half mile strip of sea pine trees. Those daytrippers include many foreigners who presumably are staying in the town of Prachuap Kiri Khan.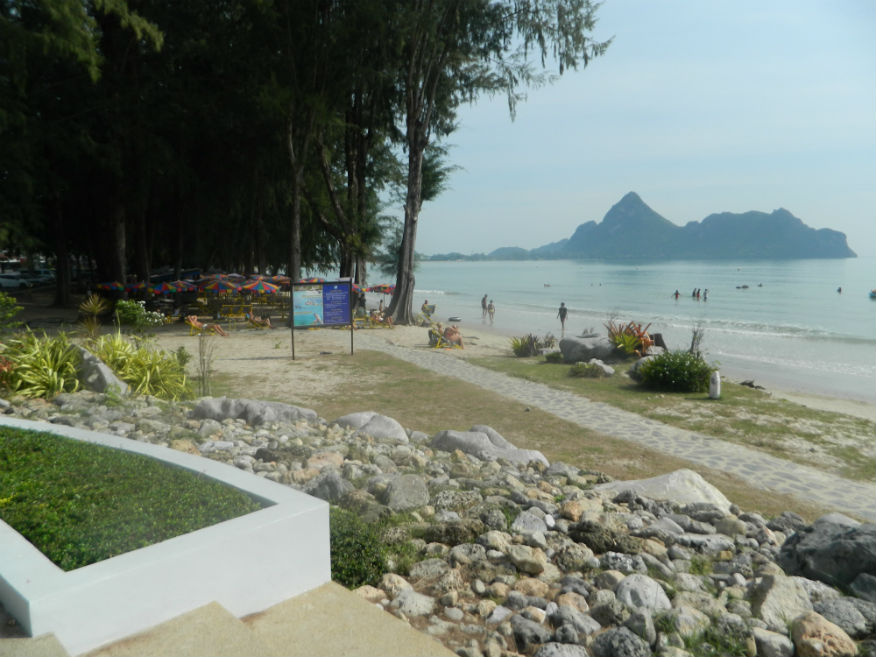 Lom Muak........I feel like joining them but it's still early. Katoon wants to carry on around the bay as she's spotted something interesting. At the north end of the bay is a headland, a substantial rocky outcrop. It divides this bay from Prachuap Bay to the north. It's from this point, heading inland, the military airstrip runs. If you wish to enter this area you can, by giving up your passport or ID card. The headland known as Lom Muak (circular hat) is more the shape of a hammerhead. The shaft is a causeway just a few hundred metres wide with spectacular views of both bays. There is no official commercial activity allowed here so what is the attraction? The signboard reads, 'historic park', but is it anything I'm familiar with? Well yes.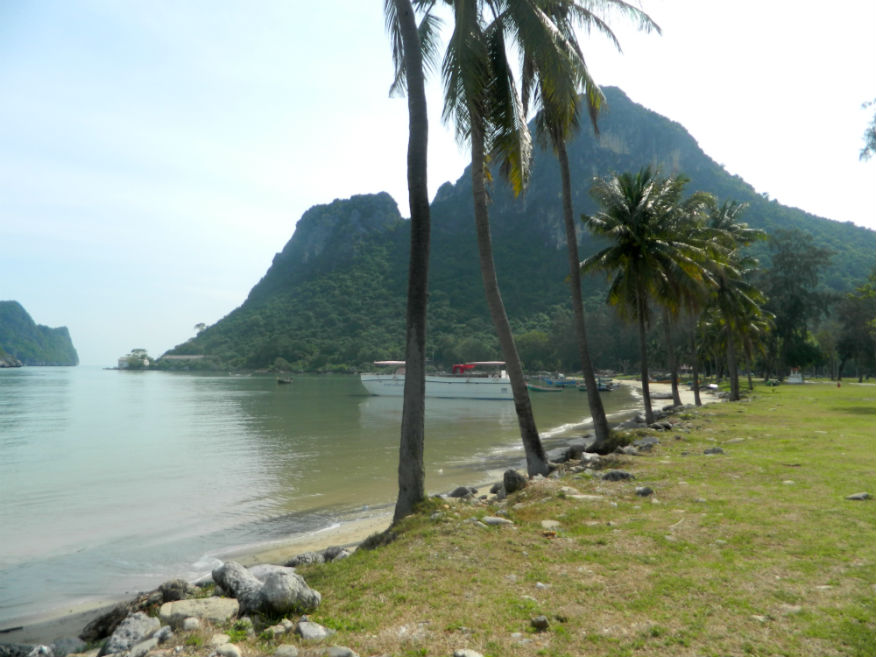 Japanese landings........At precisely the same time as the Japanese attack on Pearl Harbour, the Japanese came ashore all down the east coast of the Malay Peninsula on 7th December 1941. In Thailand there were six locations. I already knew about one in Chumphon but was not sure where the landings were in Prachuap. Now I know it was here and why wouldn't it be where 5 Wing was located then, as it is today? The historic park is the location where a small defense force confronted a superior Japanese force during 7/8th December before ordered to lay down arms. At this point I discover there is a museum here. It consists of a collection of wooden buildings and is dedicated to those who lost their lives here in 1941. Over time the memorial has been expanded and now contains the relics of those who died near to the place where they fell. Understandably they are all national heroes but in the grand scheme of things, this would be historically insignificant but for one thing. It was the start of events that would lead to capitulation for the British in Malaya and Singapore.
RTAF Museum........For foreigners there is a fee of 80 baht for the museum and as there is so little in the way of exhibits and narrative in English, I cannot recommend it unless you are with an English speaking guide. However the staff is really keen to introduce you to the story of the heroics of 5 Wing and you may consider it a good cause but as it is of historic importance to Thailand, where are the Thai people? On one of the busiest holiday periods of the year, you will find them sitting on the beach eating and drinking or praying at the temple. Here it's quiet. They opened the buildings especially for us.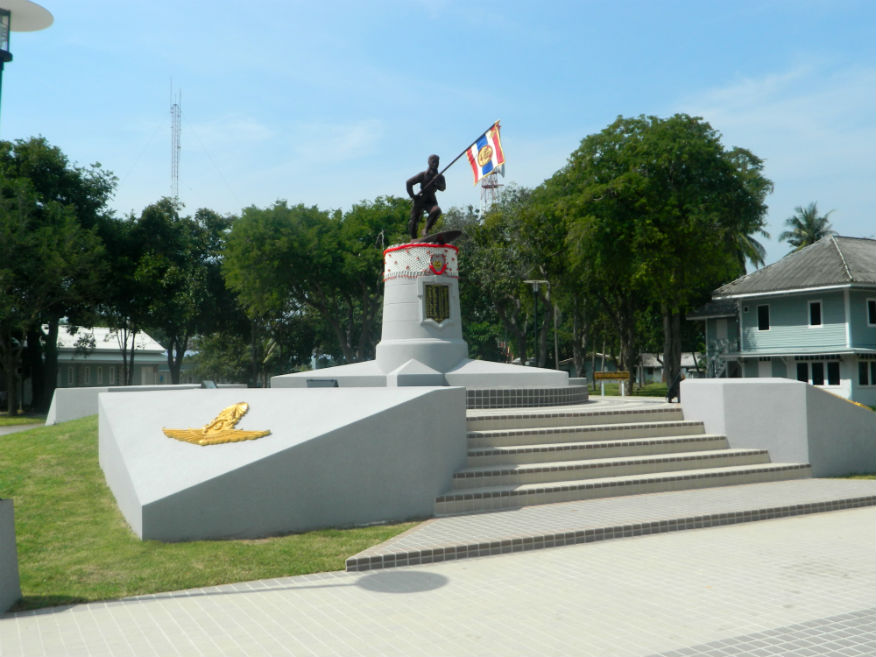 Langurs........There is one more attraction on the causeway that would appeal to a few more people and it's at the base of the hill, Lom Muak. The signboards read 'beware of the langurs' and sure enough there is a troop of them here and to cater for their needs and keep them interested someone is selling snacks. Well let's see if this works out! Having established the fact that primates do bite, I'm initially quite cautious but these seem friendly enough, if a little boisterous and I just love the way their little fingers pick up the nuts so precisely from my hand but it's now time to feed myself as we head back to Ao Manao. Here today's tour ends and a holiday begins.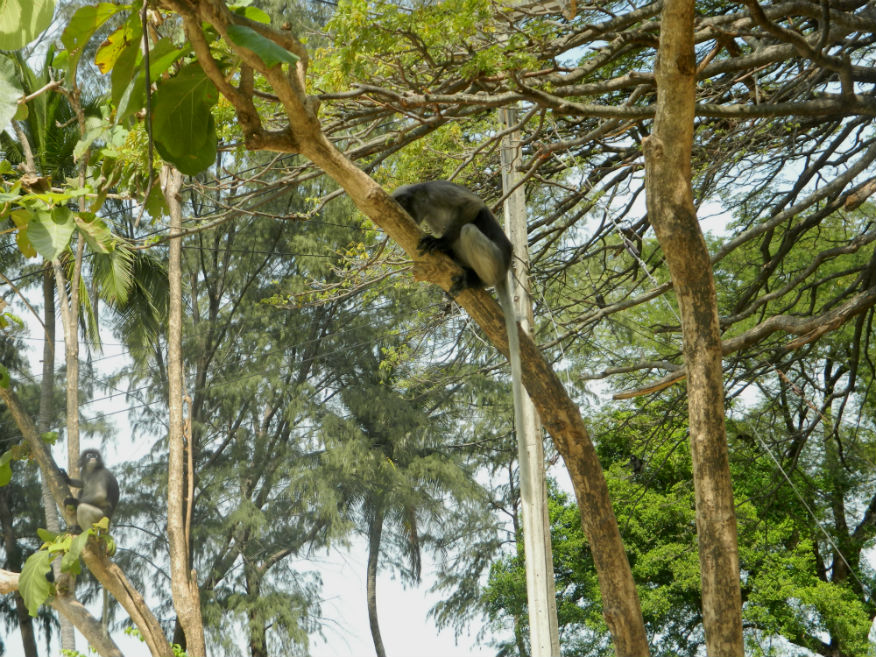 Sea, sand and food........We eat seafood on the beach sitting on deckchairs and at least I can say Thai curries in the south are the best in Thailand. For just lazing around and swimming in the bay, Ao Manao is just about right, not too remote as on Tioman for example but certainly not a Pattaya, Phuket or Cha-Am. But a number of activities are allowed including, banana boats, tubing and ATVs. There is also a mini zoo. Now approaching 4pm it's clear we're not going to venture very far today and return to Klong Wan where there are many choices for accommodation.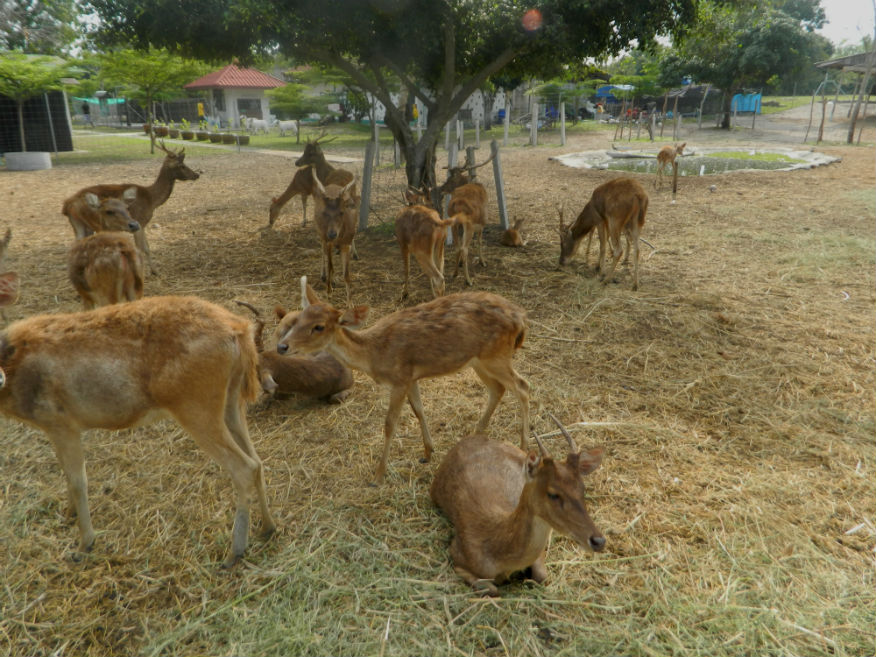 All quiet on the Western Front........We check out a number of resorts but the price everywhere is 800 baht as its high season. When we do find a better room, its spacious, right on the small beach here but oh dear! We're now well over walking distance from the shops and I cannot get an internet signal. There won't be another night in Klong Wan after this. Needing the car we then get some street food and beer, more or less a repeat of yesterday evening except that weekenders have returned home and all is quiet now on this front.

Day 3 - Monday 30 January 2017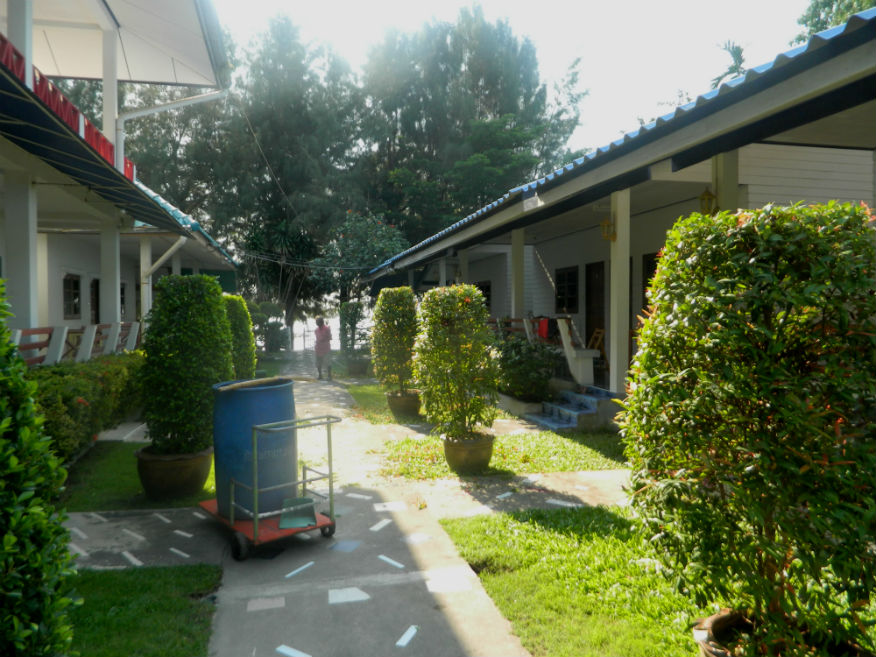 King Rama IX Science Park........The visit to the aquarium should mean we have to be on our way now but you never know quite what will turn up next and in King Rama IX Science Park there is as the name suggests, a lot more than just an aquarium. The next building is a planetarium and when Katoon wants to take a look inside, I just know my plans for today will be scuppered. A planetarium has never before featured in my tours and the question is should I keep an open mind and introduce yet another category into my tour base?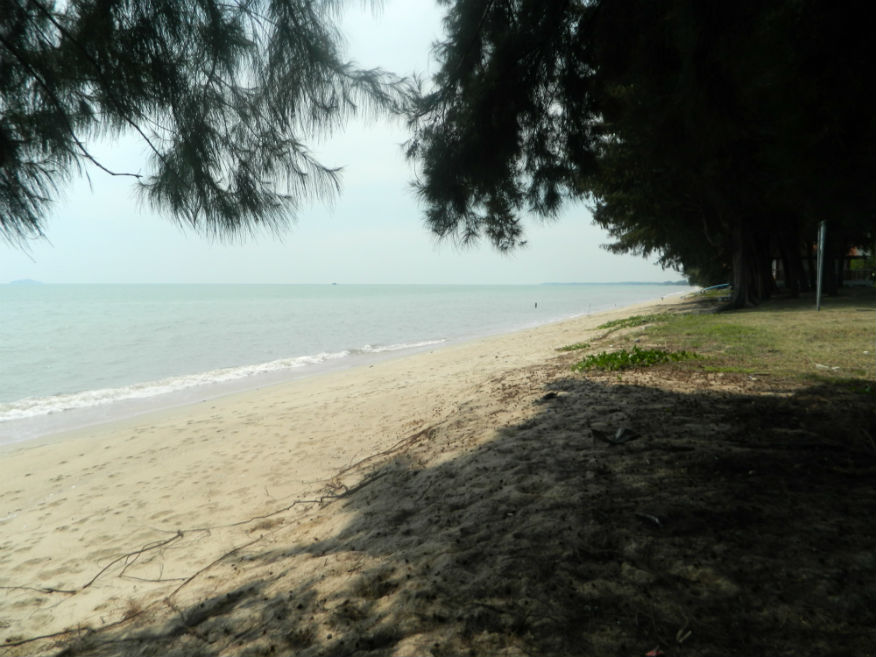 Planitarium........The entry to the planetarium is free; there is no ticket office I can see. On entry there is a wide spiral staircase leading around the inside of the observation tower. Lining the walls is the history of astronomy from the Egyptians to the present day with the pioneers who have added significantly to our knowledge over the years. This is absorbing but after this there are two more buildings with two stories, each housing more galleries. There is everything here from studies of the solar system, distant galaxies, comets etc, through to modern space exploration. A good section of the planetarium is devoted to the work of King Rama IV (King Mongkut) who was a keen astronomer. The fact that this building is here is down to him. The area around here was in fact a camp for receiving dignitaries arriving for cosmic events. Examples of his work and contributions from subsequent Royal personages are also here.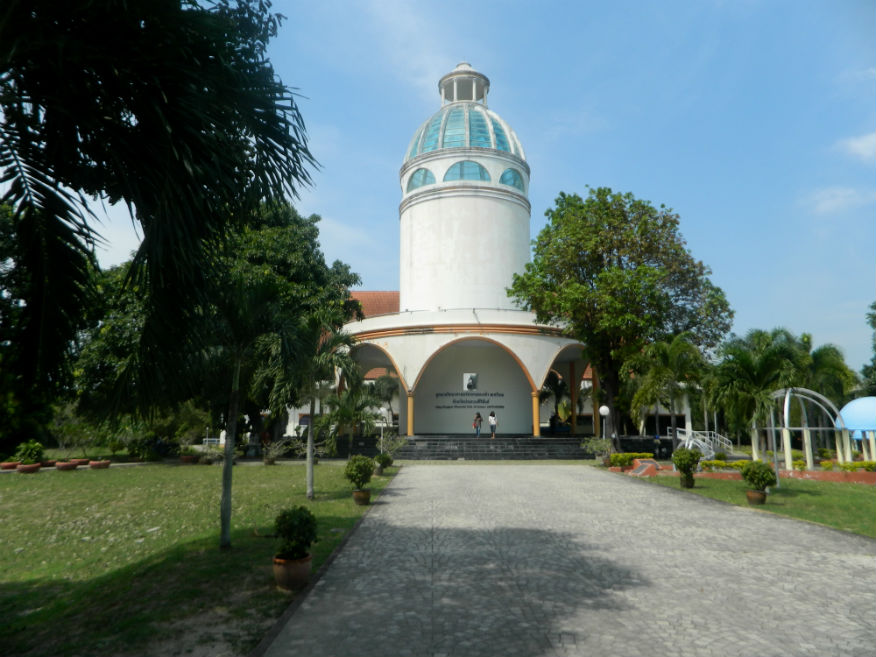 Out of the window........Well that wasn't expected and the fact that there are other sites in the park with an aviary and butterfly park has well has truly thrown plans for today out of the window. It's gone 3pm and we haven't even had lunch. Finally we make it to the Petkasem Road and take on food and fuel. With time moving onto late afternoon there's not too much distance we can add now, With Prachuap Khiri Khan having such a long coastline we'll still be in the province this evening for sure.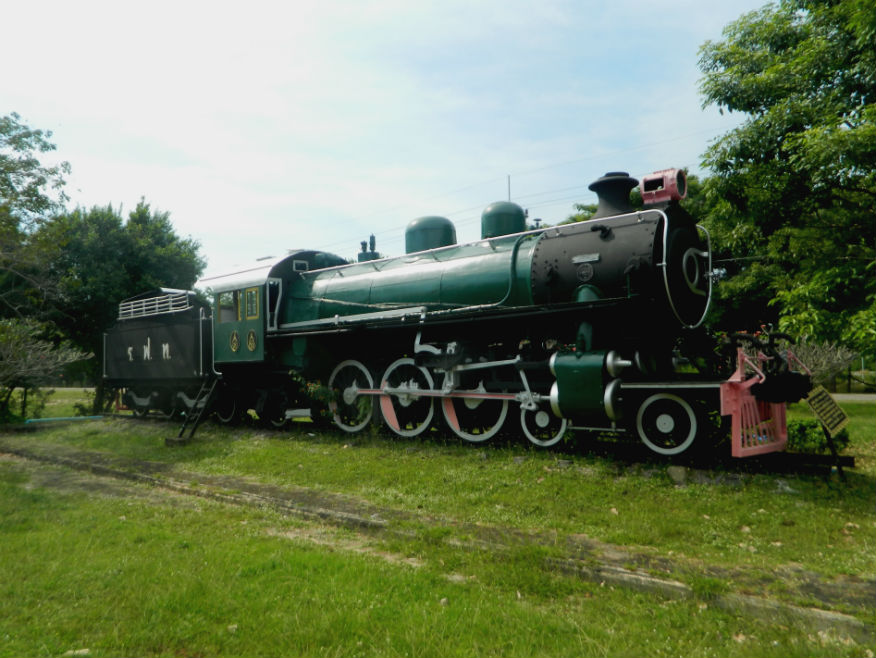 Huai Yang........At the first opportunity we head back to the coast at Huai Yang. This is still part of the coastline I'm unfamiliar with and soon realise there are many roads leading to the beach with some interconnecting roads but nothing to call a beach road. Then something most curious: I see foreigners, lots of foreigners, many of them on motorbikes converted with sidecars. We use up a lot of time driving along narrow roads leading to resorts that are out of my price range. I'm still at a loss to explain why there are so many foreigners. It is a huge community but where are the Thais? I head back to the main road and carry on until I see signs for Thap Sakae. Surely from here I will find somewhere to stay as I'm now in familiar territory as I stayed in the area once before in December 2012. Really was it that long ago?
Sea Duck Resort........Passing through Thap Sakae and the familiar railway station I head down to the beach road. The first resort is magic right on the beach but the room is 1000 baht. I'm not sure about it especially as we're 10 minutes drive from the town but there is a restaurant and a small shop nearby. I decide to take the room as it's otherwise been a day light on the pocket. It's not until I settle up that I realise there is no fridge in the room. For the price that should be standard. For dinner we could get away with pot noodles but I'll see what they have at the restaurant. It's obviously mid-range but erring on the side of caution we still get a really tasty meal and just about manage to get through it. After that I'm struggling with my blog and abandon it till morning. I haven't uploaded anything so far and part of that is that I still don't have a title for this tour. This will be the third night in the province which was only supposed to be a stopover. It looks like I'm going to have to divide the tour again. It's time to call it a day and an early night.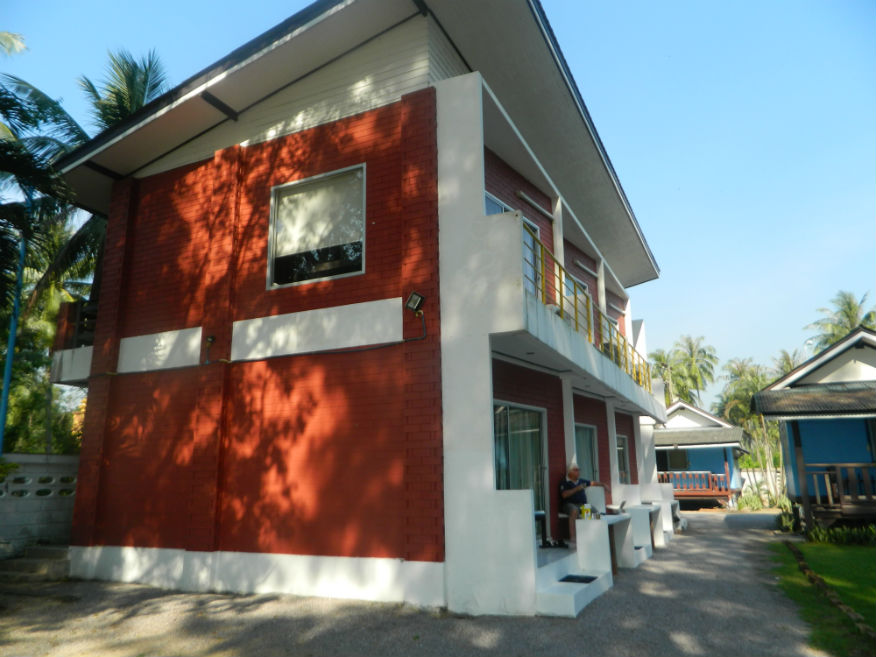 Footnote........As a result of talking with local people I understand that Huai Yang is a community of mainly Scandinavian retirees and after all why wouldn't you want to see sea and sun as opposed to living in their mid-winter homeland. It's not the first time I've encountered such a community but never on this scale. They clearly are prepared to marry Thai nationals in order to obtain land for their homes but it's not for me. If I wished to build a house in Thailand, I would not need to belong to a community such as this. I'd feel more comfortable living among local people.

Day 4 - Tuesday 31 January 2017

Mini tour........Having declared that Prachuap Khiri Khan is a mini-tour I may as well make the most of it. For the third day running I awake with the ocean on my doorstep but at three different locations less than 50 kilometres apart. Yet it's not been about how I've spent the nights that have caused me stay longer than expected in the area but how I've spent the days. This morning we find ourselves pretty well on our own but have managed without the nearby conveniences we often have but the situation is always the same. You don't move on because things are not perfect because you know wherever you move to won't be perfect too. You move because things will be different. At 11am we're ready for that.
Ban Krut Beach........Knowing something about this coastline I know the coastal road runs along the beach in places but often moves inland to cross rivers or other natural barriers. Sometimes the barriers are manmade. For the best part of an hour we move south, still in Prachuap Khiri Khan Province. On the way I'm keen to travel along Ban Krut beach road where I stayed on my last visit here. This location has been wedged in my mind ever since as a place I would like to return to. The force that makes me always go for something different has prevented my return when it would have been so easy to do. As I pass Proudthai Resort, nothing has changed so why must I change? Unless something spectacular happens at my next location I promise myself I will stay here on my way back to Bangkok. Hmmmm! As I leave the beach road it's as if time has stood still here except that this area must have suffered in the recent floods. Structural repairs are underway where streams have burst their banks and damaged property.
Prachuap Khiri Khan exit........It's still not quite lunchtime but we stopover in Bang Saphan before heading back to the Petkasem Road. The road between Prachuap and Chumphon is just about the worst stretch of national highway in Thailand. I know it's 180 kilometres long but it's been this way for many years. There are still diversions in place where it's quicker to use coastal roads. By now Katoon has taken the driving and I get some sleep. When I wake up we're finally out of Prachuap Khiri Khan Province and not far from a major intersection near Chumphon. At this point this section of my blog ends so put the kettle on and I'll see you the other side of the break.