Saturday 14 November 2015

And now for something completely different........I've now had two days sitting behind my computer since I returned from Vietnam on Wednesday. While I enjoy writing my blog I cannot be a slave to it but neither does my budget stretch to touring ever day. Fortunately I still have use of the Toyota Hilux so is there a realistic compromise? There is one option for a trip today which is on my wish list but it's not in Bangkok. When I pencil in a route it seems relatively easy to reach but all the same I would rather Katoon do the driving. I can get going after breakfast. If I use the car however, there is something I need to attend to first. I prefer to think that the vehicle is borrowed rather than rented as the lender is an old friend of Katoon. Considering the time it's been at the residence I've only paid the equivalent of 5 days normal rental. However I feel under an obligation to return the vehicle in the same condition I had it. I've already put a crack in the rear bumper which I intend to fix but there is a more urgent problem. The front left wheel has a puncture. I need to get that fixed before I can travel. When I find a tyre shop it's easily rectified but it's taken out a chunk of the morning. OK now we can get started and head south on the Kanchanaphisek Motorway 9 Bang Pha In to Bang Na. It's a straight run to the Bang Na Trat Expressway where we turn west towards the Chao Phraya River. While the expressway turns north towards Bangkok, we need to carry straight on along Sanphawut Road to the pier at Wat Bang Na Nok.
The Lung of Bangkok……..From Wat Bang Na Nok Pier a ferry boat crosses the Chao Phraya River to the pier at Bang Nam Phueng Nok. The Chao Phraya River here is a busy shipping lane as container vessels head for Bangkok Port and barges plough up and down. The ferry takes foot passenger and motorcycles. Once in Bang Nam Phueng Nok life is much more sedate, in fact it is curious to see the port industry on the other bank when here there's none. It's now important to understand the geography of this area. Firstly we are no longer in Bangkok but in the province of Samut Prakan in a district known as Phra Pradang. Secondly this district is almost an island with road access only possible along a small corridor to the west. Motorcyclists can use the ferry while foot passengers can also take a long-tailed boat from other locations including Klong Toey in the port area. By contrast to Bangkok there are few cars, and motorcycles and bicycles own the roads here. In fact there are a good number of elevated concrete pathways that are only suitable for bicycles. Having left the car at Wat Bang Na Nok we intend to use this more basic form of transport. Renting a bicycle cost just 80 baht for the whole day. Just before lunch things are all set for this tour and very soon it becomes clear why this area is called the Lung of Bangkok. With verdant forest all around it's hard to imagine you're so close to the metropolis just a few kilometers away. But now it's time for lunch and where better to stop than in an isolated restaurant in the forest.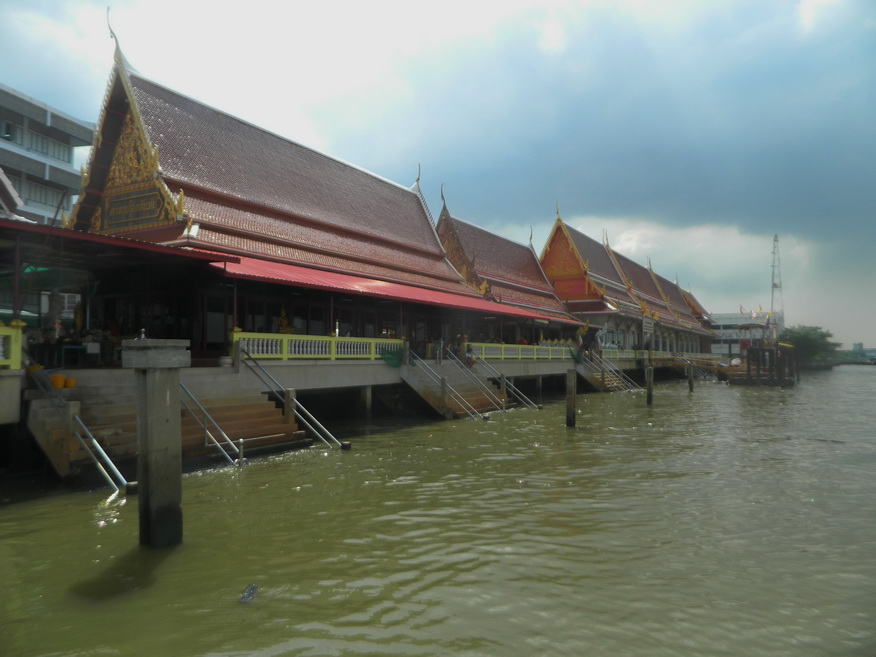 Up for a fight……..The forest canopy offers protection from the sun and a cool breeze blows through the trees but soon it has clouded over and black clouds form. Fortunately while thunder can be heard in the distance, it does not rain. With an area map supplied we head for one of the attraction in Phra Pradang. It's a small park supporting a visitor centre for Siamese fighting fish. The display is a bit of a disappointment but there's no deigning the trouble taken to provide information in English about this native species. This is not Vietnam and the display is free although donations are accepted to feed the fish.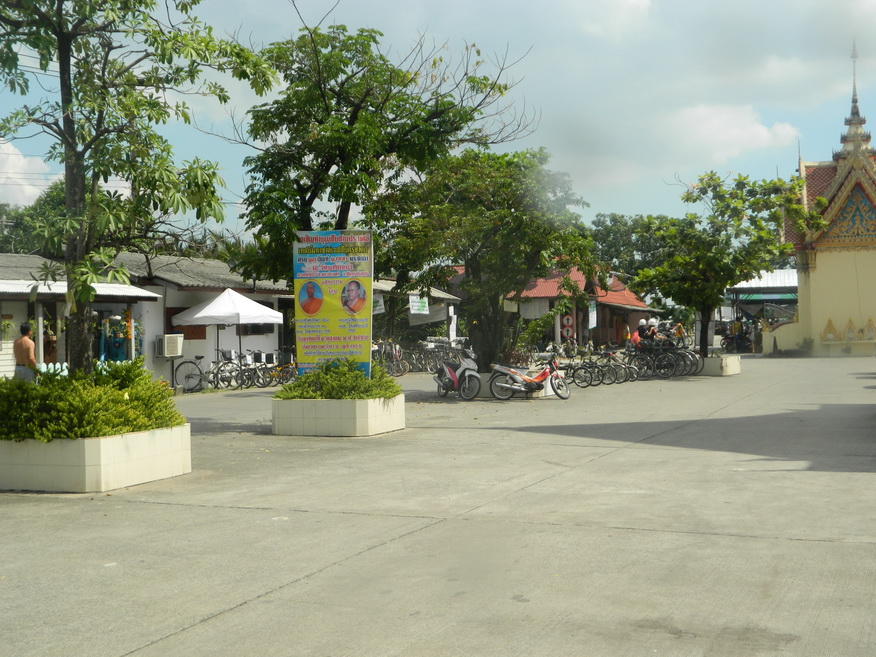 Sri Nakhon Khuen Khan Park……..By now we've travelled several kilometers and find our way to Sri Nakhon Khuen Khan Park and it soon becomes clear this is no ordinary park. The name Bangkrachao now refers to this area of forested land. As it's reserved only for bicycles it explains why there are so many for rent at the piers and you certainly do need a bicycle here to really appreciate the beauty of this natural habit. It soon becomes clear how rich and varied this ecosystem is, adapted to mixture of both saline and fresh water. Importantly the local authorities are taking step to not only preserve these forests but where possible to expand them. Several kilometers of cycle paths lead through the park and at every turn, information boards refer you to the flora and fauna that can be found in the area and how each species has a role to play in maintaining the biodiversity of the forest. This is a real education available so close to a major city. Without realising it we've spent nearly two hours in the park. At least double that would not be too much. At 3pm it's time to move on.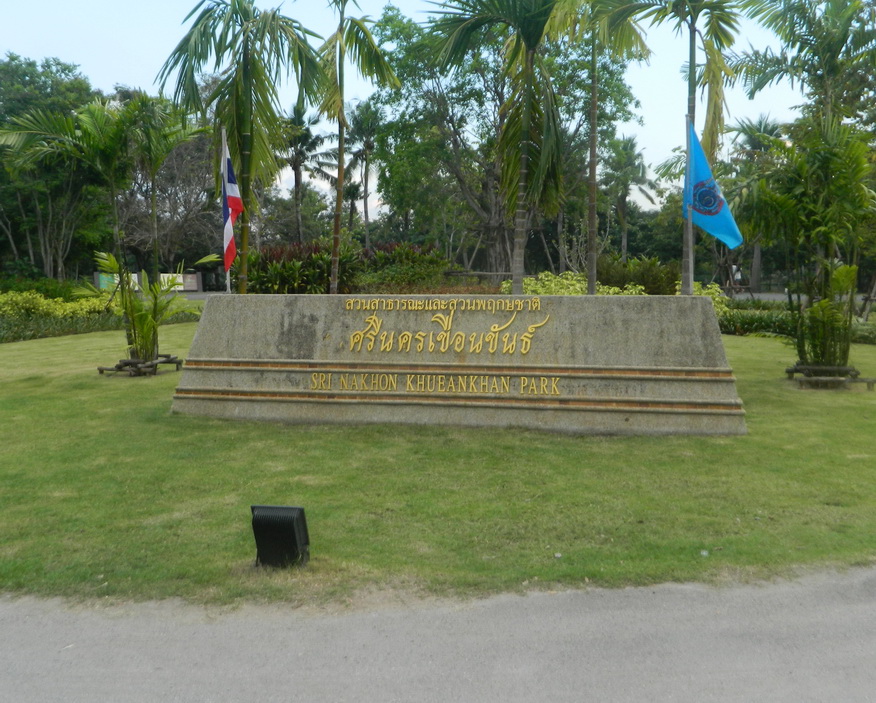 Bang Nam Phueng Nok Floating Market……..Bang Nam Phueng Nok Floating Market is located just a couple of kilometers from the pier we arrived at. I understand it is only open at weekends, which is why I decided to come here today. When I arrive some of the shops have already closed but enough remain open to appreciate its function. These days the market is hardly floating but plenty of evidence exists that the klongs were in constant use at one time. While it's tempting to just sit back and eat along the side of the klong, I feel I must head back to the pier.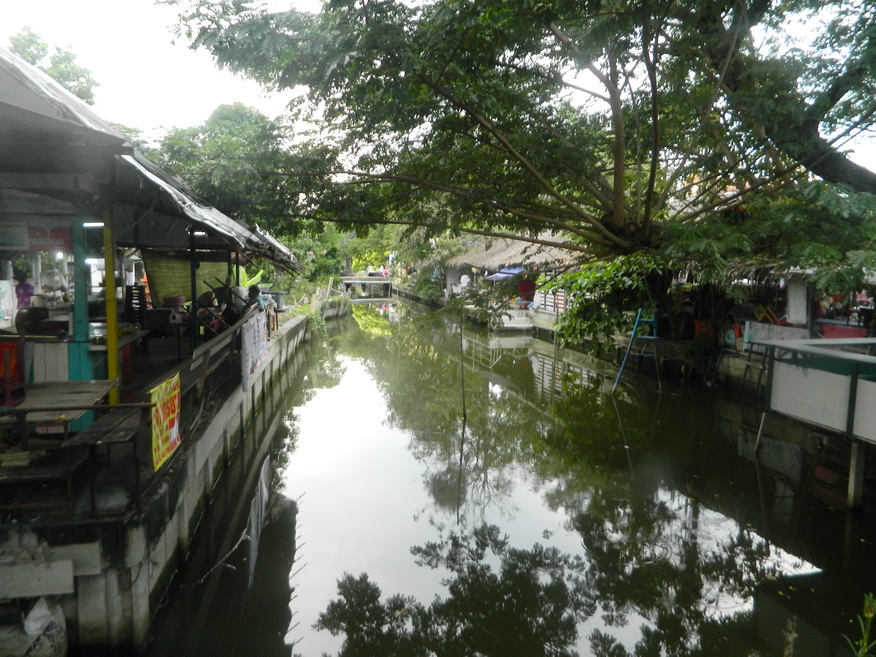 Neglected……..Not too far from the pier is evidence that Bangkrachao is lost in time. Two temple buildings dating back some two hundred and fifty years are in poor condition. Evidence of early settlement in the area by Mon people can be seen in the structure of the viharn at Wat Bang Nam Phueng Nok. A decide to make a donation to help with the restoration of these important buildings. Not so neglected along a concrete path overlooking the Chao Phraya River is the Bangkok Tree House, a favorite place to dine. It's time to hand back the bicycles and wait for the ferry but instead of looking forward at the container ships heading for Bangkok Port, I prefer to look back. It's hard to imagine that before modern Bangkok was founded in 1782, the whole area that Bangkok now occupies would have been virgin swamp and mangrove forest.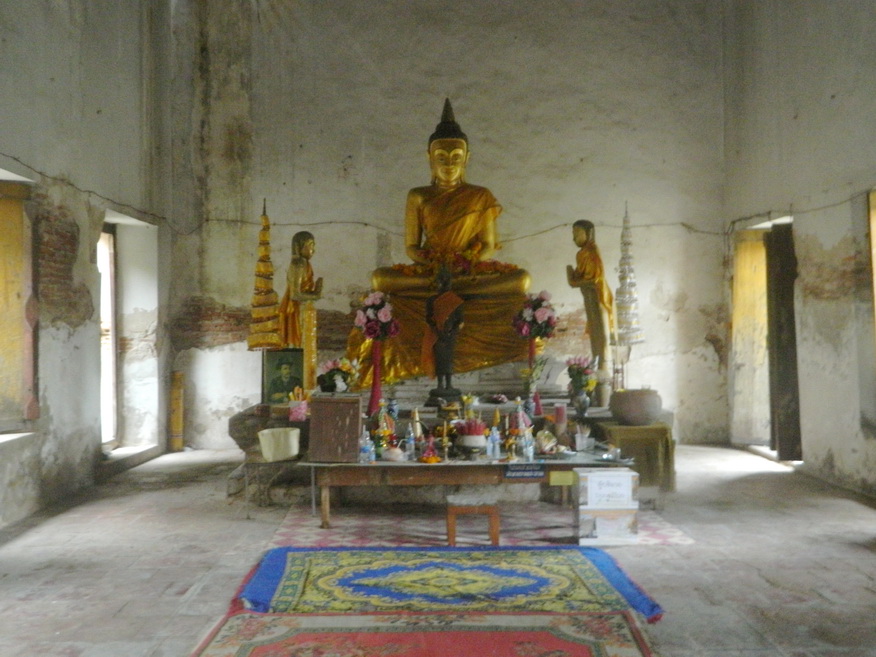 End game……..When I reflect on the day's events I cannot say that Bangkrachao will win every catagory of the sites included on my website but in terms of value for money, I would be hard pressed to find a rival. I've calculated that I've covered as much at 20 km on a bicycle today, just what the doctor ordered. Then as I check the map again there's still an awful lot I didn't get to see in Bangkrachao. Does that mean another trip? Hope so!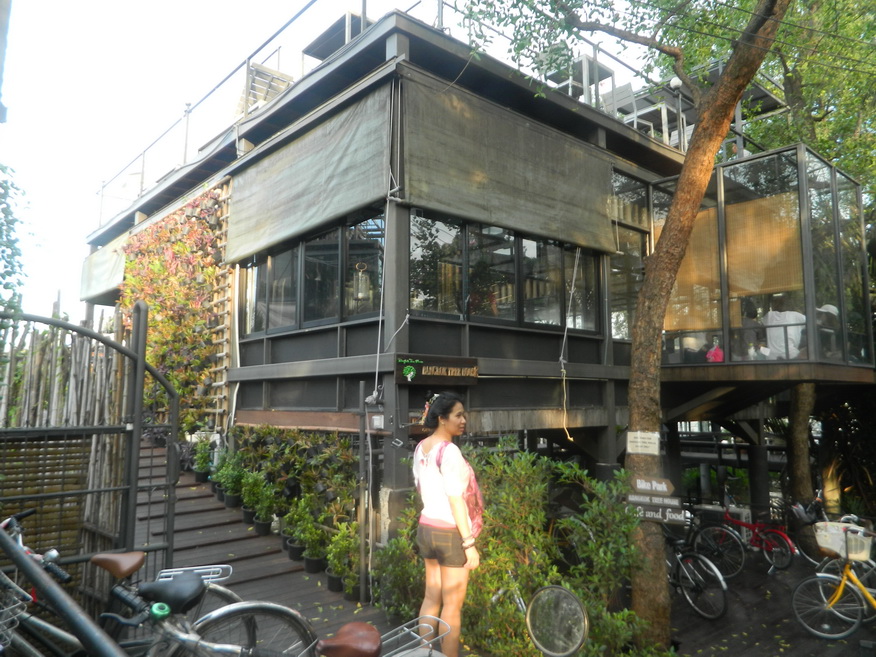 As I pick up the car from Wat Bang Na Nok the light is already fading. It will be dark when I reach Kubon but there I can stop for dinner and retire to the residence to prepare for commentary of the MFL game between Bardon Hill and Hereford FC. It's starts at 10pm local time but I will force myself to stay awake. It is worth it.