Wednesday 25 November 2015

Takua Pa........Heading west across the border with Surat Thani Province at about 4.30pm the route not unexpectedly heads down the mountain. It's only about 35 km to Takua Pa near the coast. I'll use this as a stopover at least. Approaching the outskirts of Takua Pa it starts to rain again, this time with some force. The roads get flooded in places and it promises to be a real nightmare if I can't find accommodation quickly before dark. Well it certainly isn't easy, Takua Pa is a larger town, we double back and find accommodation called Friends Home. I'm not for being too fussy at this point but this business supports karaoke and has a restaurant but the room is clean and ticks all the usual boxes. When I realise the food here is a bit on the expensive side, I decide to walk out onto the main road and find a restaurant opposite. The food here is reasonable and really more than I need to eat. OK that's it for my first evening in Phang Nga Province. For some reason I've been feeling tired today and a little downbeat this evening. There are times when it goes like this on tour. Your body or should I say my body can only take so much!

Day 1 - Thursday 26 November 2015

New tour beginning........Having reached Takua Pa it's only a short hop to the Andaman Sea. I've no need to bother reception as I'm accustomed now to bringing in snacks in the evening if I feel it's going to be a bother in the morning. But I'm away late because I failed to do any work last night on my blog. Nevertheless there's nothing demanding at present as I feel my way around this province. To start with I don't want to wander far as there are already a few sites to cover here so let's get started.
The Little Amazon Takua Pa.......The Takua Pa River flows through Takua Pa District and empties into the Andaman Sea creating along its banks a mangrove forest habitat. Curious about some photographs I've seen I head off to investigate. Just a couple of kilometres from the main road I come across 'Little Amazon'. At a pier on a klong (canal) there are motor boats for hire and rubber dinghies. I wasn't quite expecting another boat ride quite so soon but if I'm careful I won't overshoot my budget by much if I take the dinghy into the 'Amazon'. The deal done we set off and if it sounds like the Amazon it feels like the Amazon, a waterway through dense and tangled vegetation. Oh by the way, apart from a feel there is realism too: Snakes, lots of snakes curled up in the overhang of branches. These wait for nightfall to go hunting for crabs and small mammals. The choice of a canoe is good because of the silence except for the swish of a paddle. It's the natural option. The trip lasts an hour and at 500 baht is not too expensive. I wasn't expecting this. It's a good start to the day. Next I stop near the main junction in Takua Pa where there is a memorial park to the victims of the Tsunami of December 2004.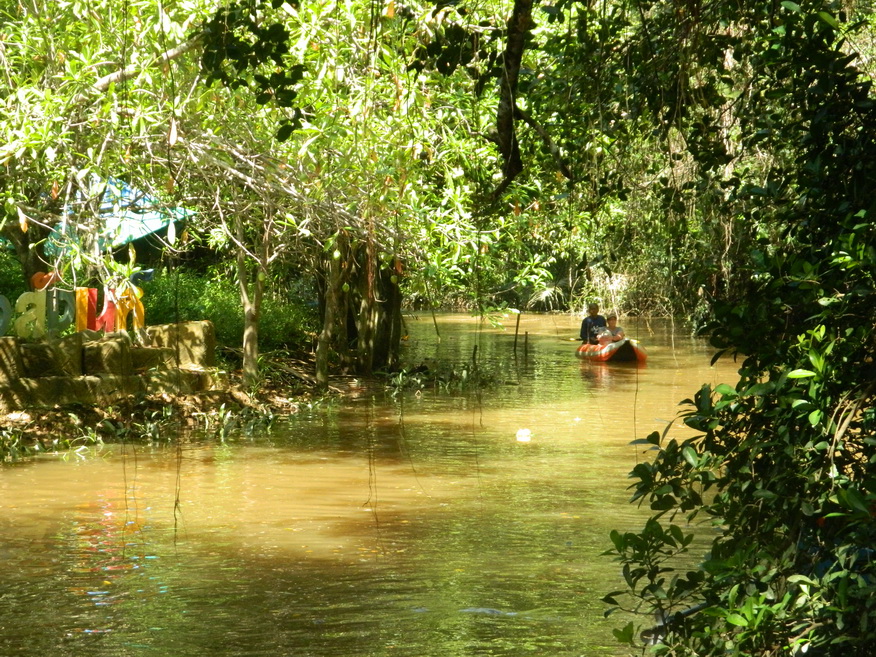 Saphan Lek Khok Khanoon (Old tin mine and bridge)........The old tin mine and bridge are located on the left hand side of the road to the old town of Bang Sai Takua Pa. The iron bridge was used to bring tin ore to the road for transport to the port. Extraction of tin in the area is still an important source of income.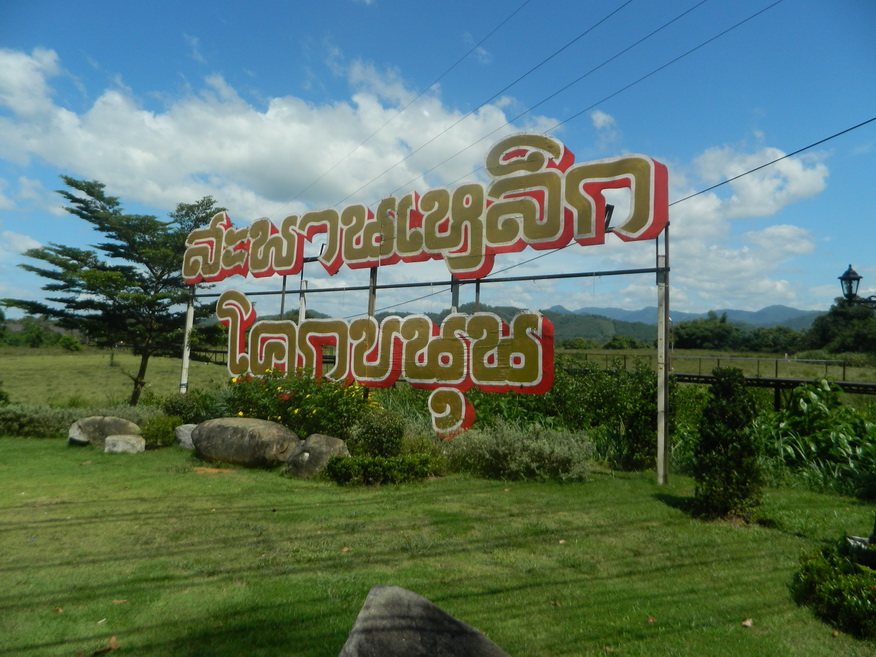 Old Portuguese Settlement........The Old Portuguese Town at Bang Sai Takua Pa lies near the Takua Pa River about 10 kms south of Takua Pa. This was the administrative centre of the district until it was relocated in 1901. The old town is dominated by Portuguese settlement buildings, most in decay but offer good photo opportunities. There are a couple of interesting sites in the town. It appears to have a long history going back at least 2,000 years when it was a trading post on the silk route. Chinese gangs occupied the area competing for the extraction of tin. Also of note are the remains of the 19th century governor's residence which was fortified. It seems he wasn't that popular but some form of military base was here long before his time.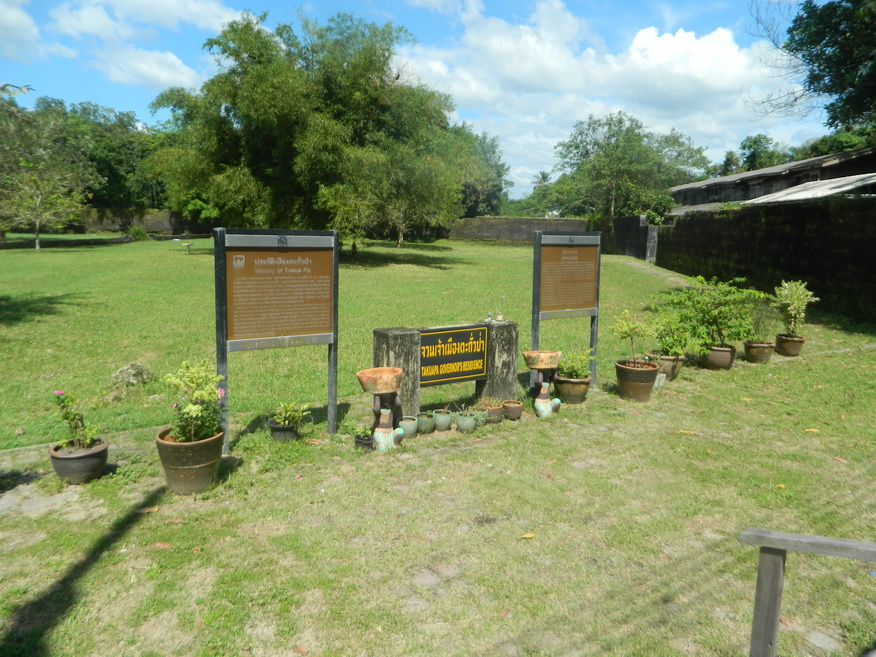 Wat Senanuchrangson........ Wat Senanuchrangson is located on a rise above the old town. Its ubosot is plain but old. In the temple grounds they have build Wat Senanuchrangson Takua Pa Community Museum but its yet to open.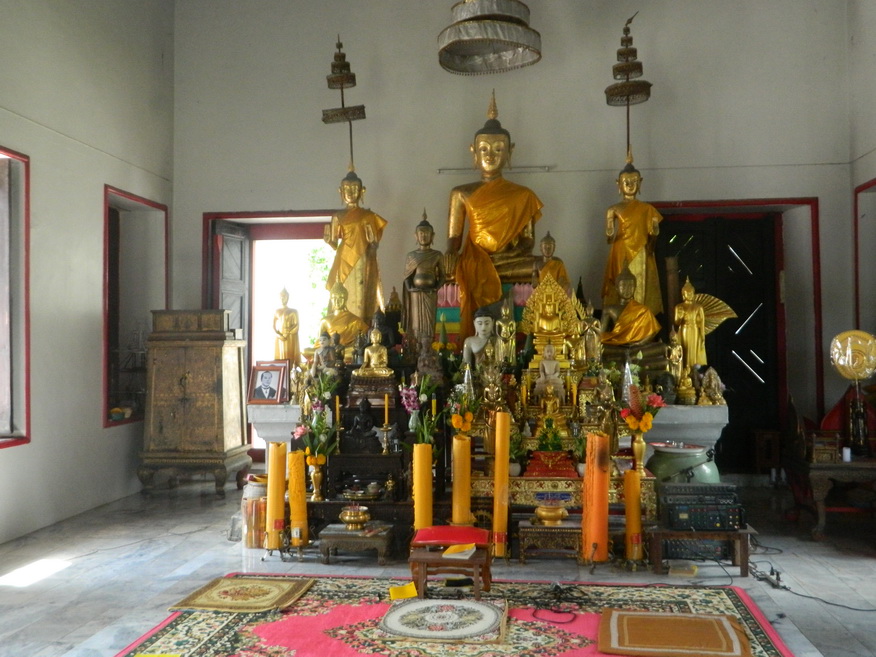 Tsunami Memorial at Ban Nam Khem........The Tsunami Memorial is located 2 kilometres from the main highway 4, Takua Pa to Phang Nga just fifteen minutes from town. This is a peaceful place on a headland overlooking the Takua Pa Estuary and the island of Kho Khao. The prominent feature of this park is the memorial wall inscribed with some of the names of those who perished. Many were foreigners. Looking out at a calm sea it's so very hard to believe that a surge of water came in here up to 5 metres deep. Takua Pa has no reef to protect it and was one of the most vulnerable places on Thailand's Andaman coastline.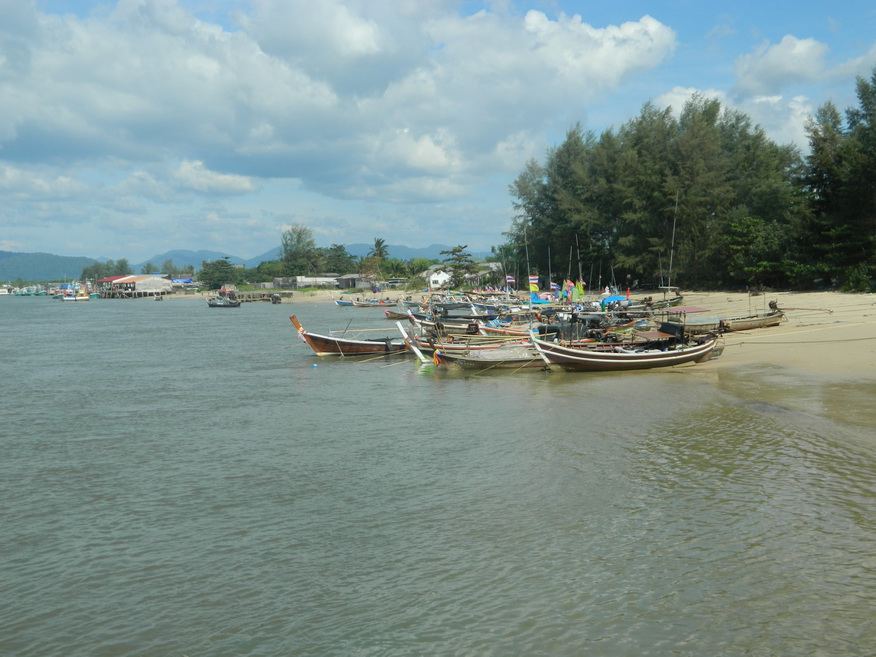 Ban Nam Khem Ferry Port........The ferry port, near the mouth of the Takua Pa River serves the island of Kho Khao just a few kilometres away. There is a small community on the island and a number of resorts. There is a vehicle ferry to the island for 150 baht. Foot passengers can take the car ferry or a small boat for 20 baht. The island is quite important historically as it was in use before city states developed in the South due to its importance on the silk route dating back over 2,000 years. Some valuable items including beads have been recovered but much of the island's wealth has been looted over time. This period warrants further study. Although it's not that late, I need to move on down the coast and take in other locations that has been inserted into this tour.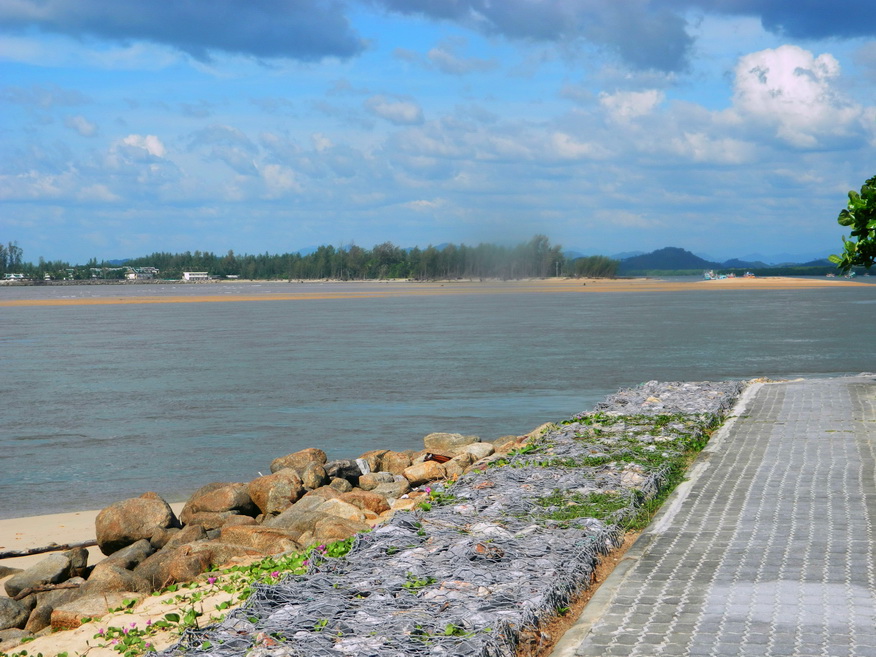 Khao Lak........Khao Lak is is a series of villages, now tourist-oriented, mainly in the Takua Pa District and partly in the Thai Mueang District of Phang Nga Province. Tourists come here eager to find an alternative to Krabi or Phuket. Ideally I don't want to stay in Khao Lak as I'm told it's quite busy now so I start looking around for suitable accommodation as I head down the coast. After I couple of enquiries I turn towards the beach in Khuekkhak Sub District. Here there are a number of resort options and I am expecting to pay more for accommodation.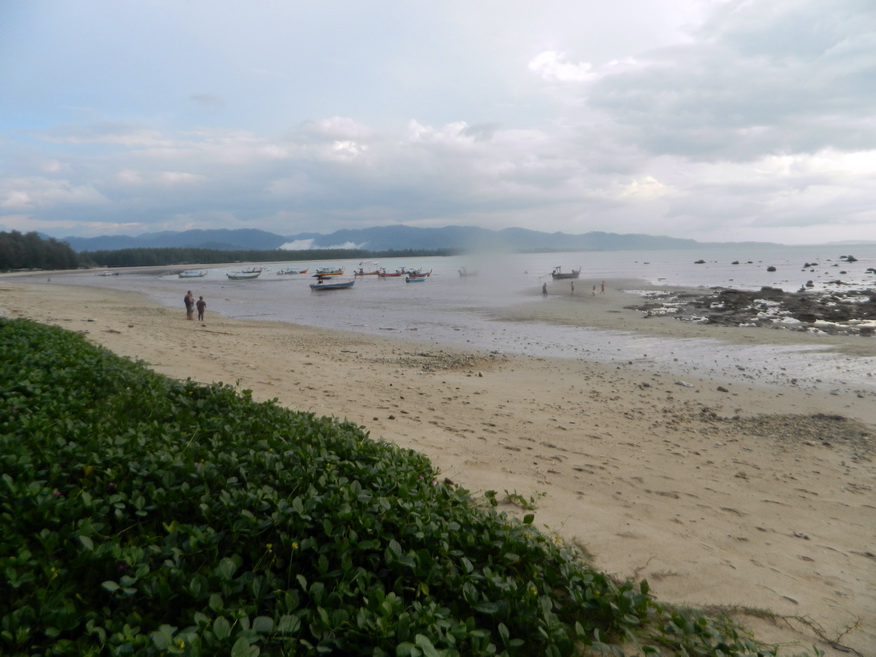 Siesta........Not surprisingly back at the room I'm dead to the world. It's well after 4pm before I wake up. I mentioned the new resort which has just opened. I'm welcome to use its bigger pool. I may even be the first paying customer to use it. Like the rest of the resort it's beautifully laid out. I just can't resist it and hang around till dark.
Tarn Restaurant........I rarely if ever manage to name a restaurant I use but I was so happy with lunch that I return to Tarn Restaurant for dinner. It's really good value again. You have to appreciate that touring as I do means I get to eat at some odd places sometimes but here it's as near as you're likely to get for good value with a wide range of foods for tourists and definitely foreigner friendly. Back at the resort I complete my blog before 9pm. Well really, there wasn't too much to write about and you know sometimes the simple things give you a better sense of well being than some of the complex touring I often do!

Day 3 - Saturday 28 November 2015

Turning up the wick........Yesterday I turned the wick down so low the light nearly went out. Today I need to turn it up a bit but I don't want to set the house on fire. There seems to be enough in the larder to get by this morning and there's coffee in the room. At 10.30am I'd better have a look around the area. This is Khao Lak right? Wrong! If you check any map you will not find a town or even a village named Khao Lak. Khao Lak is a mountain which gives its name to the national park nearby. So where am I? Well, the 20 km of sandy beach north of the national park consists of three villages which nowadays all seem to merge into one along highway 4 to form Khuek Khak sub district of Takua Pa district. The highway runs inland, two to three kilometres from the coast except where the road crosses the headland near the national park office. There is no coastal road and no high rise hotels. After the Asian Tsunami of 2004, the authorities realised that far more destruction and loss of life could have occured if it were not for the forest. Now discrete but expensive resorts dominate the shoreline particularly at the southern end of the strip. Further north they are less evident and the beaches quiet. Armed with more knowledge of the area I can set about locating some sites of interest.
Police Patrol Boat 813........As a stark reminder of the force a tsunami can exert, Thai navy boat 813 (Tor 813) lies beached almost 2 kilometers inland from Bang Niang Beach. It was on patrol, serving as a guard to a grandson of the king, Bhumi Jensen while he was jet skiing in front of La Flora Resort. Despite rescue efforts, he could not be saved from the power of the waves. His mother (Princess Ubolratana) and sister survived by fleeing to an upper storey of La Flora. Boat 813 was carried inland and came to rest opposite Bang Niang's marketplace. The area in which it sits is now being renovated to include a museum dedicated to the events of Boxing Day 2004.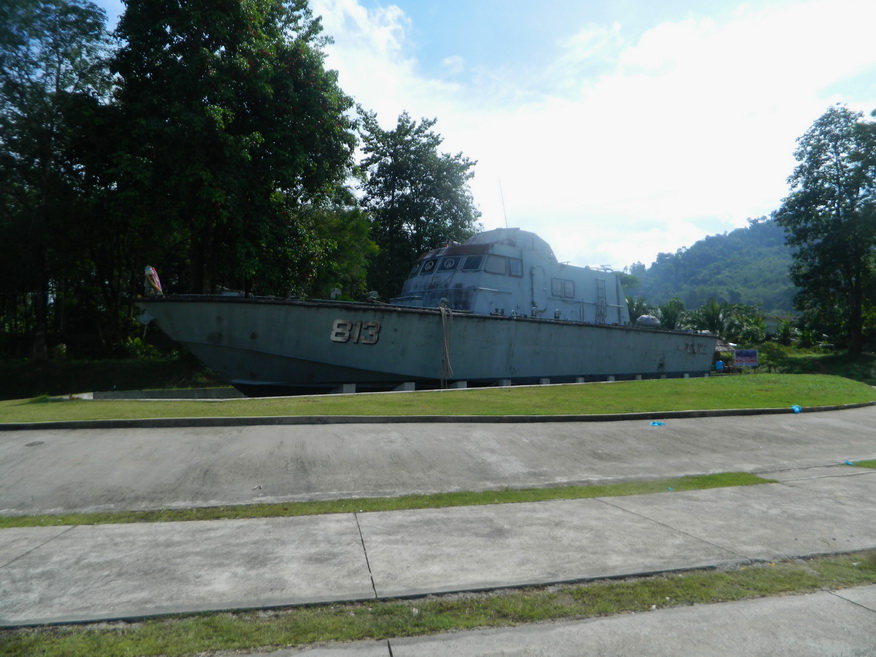 Khao Lak National Park........Khao Lak Lamru National Park is the dominant national park along this stretch of coastline with its headquarters on a headland overlooking Khao Lak Beach to the south. There is an entry fee for the park of 200 baht but I get a break. While I was walking around police boat 813, I wasn't happy. I needed the 'happy room'. Could I use the toilet in the police station nearby I wonder as Katoon can charm the birds out of the treetops? Sure I can. But we also get good advice. Don't pay at the park. Just go to the park entrance and tell them you've just come to eat at the restaurant. WOW! That works. It's not quite lunchtime and we will take lunch overlooking the ocean with stunning views but while we're here, may as well go down to the sandy cove below. That's another piece of advice as otherwise in the area are select resorts where they get fussy who they let onto their beach. OK I don't need to test it, the bay here is secluded but at high tide there's not too much sand: Enough however for me to take a dip. I'm not inclined to do much more than that as the waves are quite strong. I don't want to leave anytime soon but it's time to eat.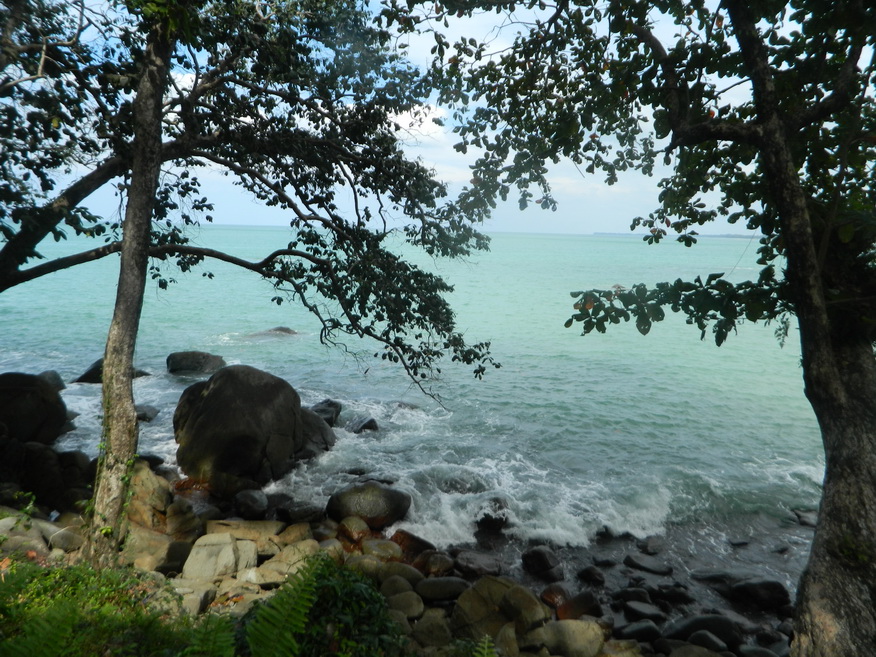 Sairung (rainbow) Waterfall........For Sairung Waterfall I need to double back past the resort. This waterfall is off a turning opposite Bang Sak Beach, north of the Pakarang Headland. After 1 km turn right. It's easily reached 2.8 km from the main road. The waterfall is almost a sheer drop of about 15 metres into a small rock pool. When I arrive there are just local children playing in the water but other foreigners soon arrive and it gets a bit too crowded for me but the kids provide good entertainment. It's nearly 3pm.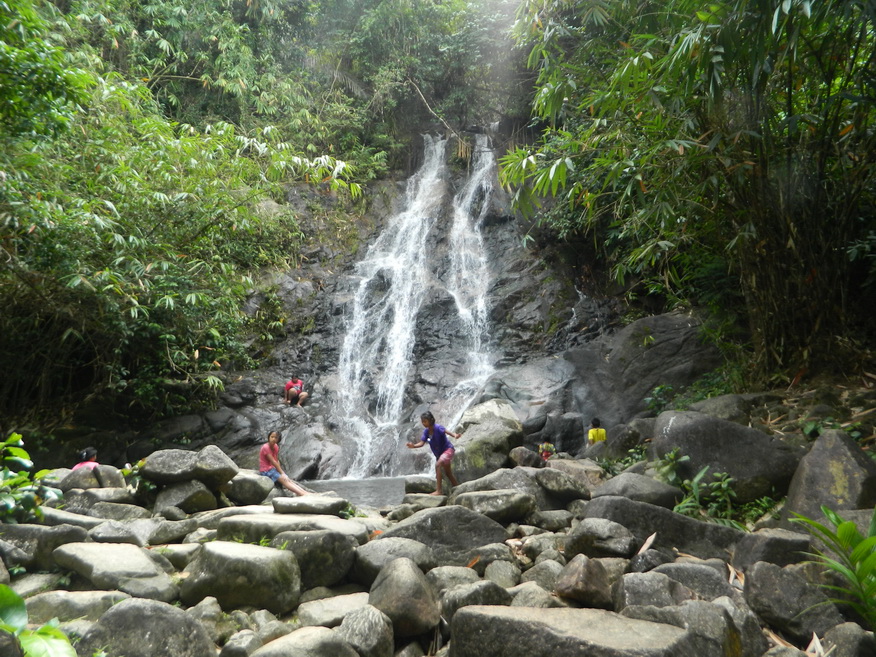 Bang Sak Beach........I could easily go back to the resort and sleep now but we're in the same area as Prarang Villa which I used on my first night here. A sign to White Sands Beach catches my eye and I head for it. I mentioned earlier that there are some high rated resorts in the area but this seems to be the main one on Bang Sak Beach. When I arrive there, all I can do is look around and take some photos. This is way above what I'm used to, straight out of a holiday brochure. Now it time to head back yet there is another road marked 'boat yard'. OK when I arrive I see no boat yard but a restaurant called the Boat Yard. The Staff tell me this is Coconut Beach. You only have to look up to see why. OK I'm going to get into the mood for a fresh young coconut drink because I can't resist taking another dip in the sea. So that's blown my siesta but back at Sangsawan Resort, I try to get an hour's rest before dark. As we head back out to Tarn Restaurant I'm somewhat off seafood. If I eat anymore I'll turn into a whale and eat Jonah so I just take a burger and chips for a change. I have to say I can't really fault this day for anything but just maybe by now I'm getting a bit travel weary. Something that won't help that, is a late night due to the MFL fixture between Coleshill and Hereford. I just about get a signal in my room but not enough for the radio commentary. Thank goodness for Twitter! All ends well with Hereford winning 4 : 1.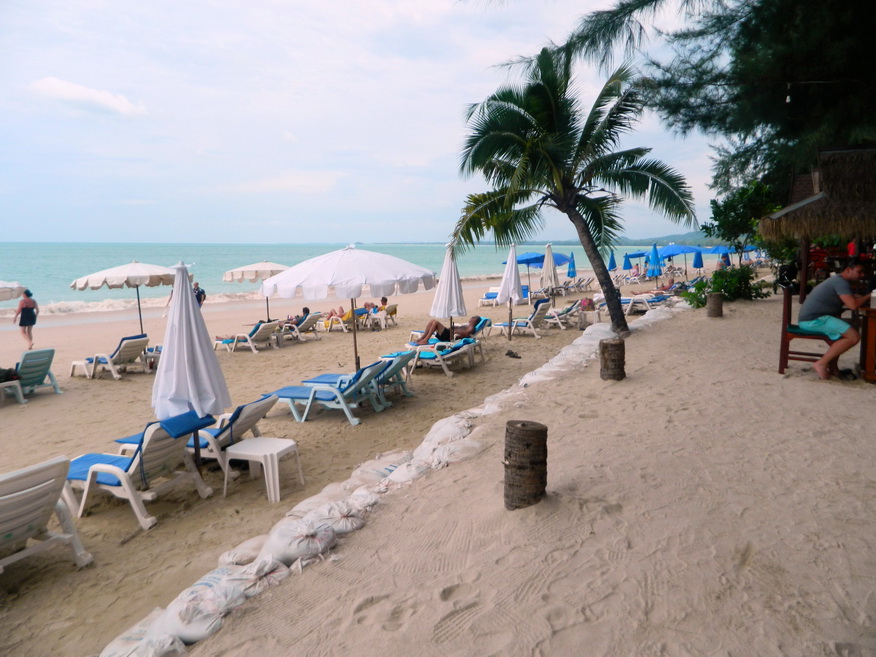 Day 4 - Sunday 29 November 2015

Khao Lak exit……..When I drew up my original plan for this southern Thailand tour, my stay in Phang Nga province was expected to be brief but it's already day 4 here and my main destination has yet to be reached. The last couple of days have justified my change of plan. It's been a pleasure staying in Takua Pa district. With little mileage covered my budget it looking much healthier now I've stopped using boats. It's even healthier when I walk up to the market to get something for breakfast. Waking quite late I'm just about ready to depart at 11am. I'm heading further south past Khao Lak National Park towards the furthest point on this tour but that's not far away.
Detour……..After twenty minutes I head away from the coast along highways 4240 and 4090. It's a straightforward run-in to Phang Nga City from here. But having taken the shorter route rejoining Highway 4, I have a rush of blood to the head and head away from the city.
Three temples tour……..While I was in Khao Lak I noticed several tour agencies offering a Three Temples Tour. To visit all three temples from Khao Lak takes all day. Not surprisingly it works out quite expensive per person. Obviously as long as I don't need a boat it will be cheap for me. The question is; do I need to visit more temples? When I identify the three temples and locate them on the map, it's clear they are all in the general area I'm heading. In addition all are historically important, high profile and unique. I've already made a plan to visit each in turn; once I reach Phang Nga so why is it when a see a sign to one of them do I break the plan before I've even got started? When I see a sign to Wat Bang Riang Temple I figure it's not too far even though I will pass it on my way back north at the end of this tour and save time. But time doesn't seem a priority at the moment as I've already decided to stay in Phang Nga tonight. It soon becomes clear that I should have confirmed the distance first before I took the detour.
Mountain pass……..Highway 4 soon begins its climb out of the coastal strip and there are no signs to tell me how far Wat Bang Riang is but when I reach the summit of the pass, I stop to get my bearings. I'm still on route 4 but it will be another 15 minutes before I reach the turning to the temple. I realise I've come too far to turn back as there is another route back to Phang Nga. The road now falls away towards Thap Put.
Wat Kiriwong……..On the way down the pass another temple, shown on my map, appears but it's not one of the three. Wat Kiriwong lies between the main road and a limestone rock cliff. A small troop of monkeys occupy the rock face while a small nature park can be reached through a cave under the mountain. Reaching Thap Put the route 4311 heads towards Phang Nga but it is also the junction for the 4118 which I will use on my way back home. Interestingly from here it's only a few kilometres to the provincial border with Krabi. As Wat Bang Riang is just 8 km along the 4118, it's seems best to carry on to it now.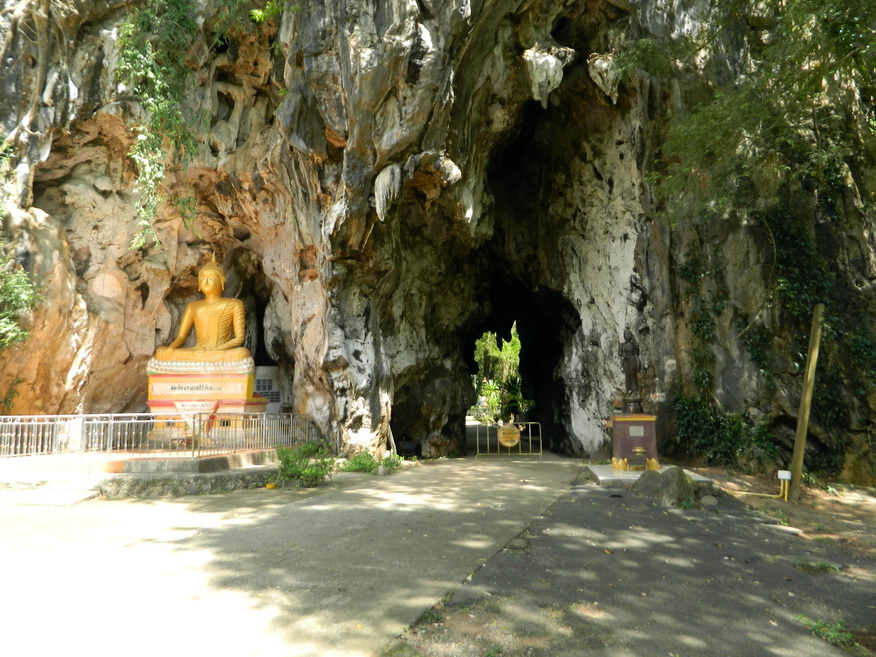 Wat Bang Riang……..On reaching Wat Bang Riang, we stop for lunch, now around 1.30pm. The actual Wat Bang Riang, also known as Wat Rat Upatham, lies at the base of Khao Lan Mountain but it's the temple on the mountain top which is the attraction. By royal decree this temple now has the name, Phra Mahathat Chedi Puttham Ban Lue. There is vehicle access to a car park near the top but it's very steep. From the car park, steps edged with the Naga head and body, lead up to the chedi. It's clearly a most sacred place. Inside the chedi a monk is conducting a service with a sermon and prayers and Katoon wants to join in. This is always the hard bit for me when I haven't a clue what's going on. Instead I go through the motions which culminate in a new robe or band being wrapped around the inner shrine which the monk explains contain a Buddha tooth relic brought from India over 700 years ago. Ok I'm just reporting what I'm told. The service goes on for ages and I'm nearly asleep. Finally I get to see the views of the valley below. From the car park there is a really steep road to two other important sites, a seated golden Buddha image and a large statue of Kwam Im, the Chinese Goddess of Mercy in fine Thai temple architecture. These two temples are well visible from the chedi in all their glory. All but the most righteous will be happy with the view. Incredibly it's 4pm and yes you guessed it. It starts to rain and not just a shower. It looks like it's in for the rest of the day. Already what promised to be an easy day is far from it but given the time it's taken here I would probably be compromised anyway on the way back to Bangkok.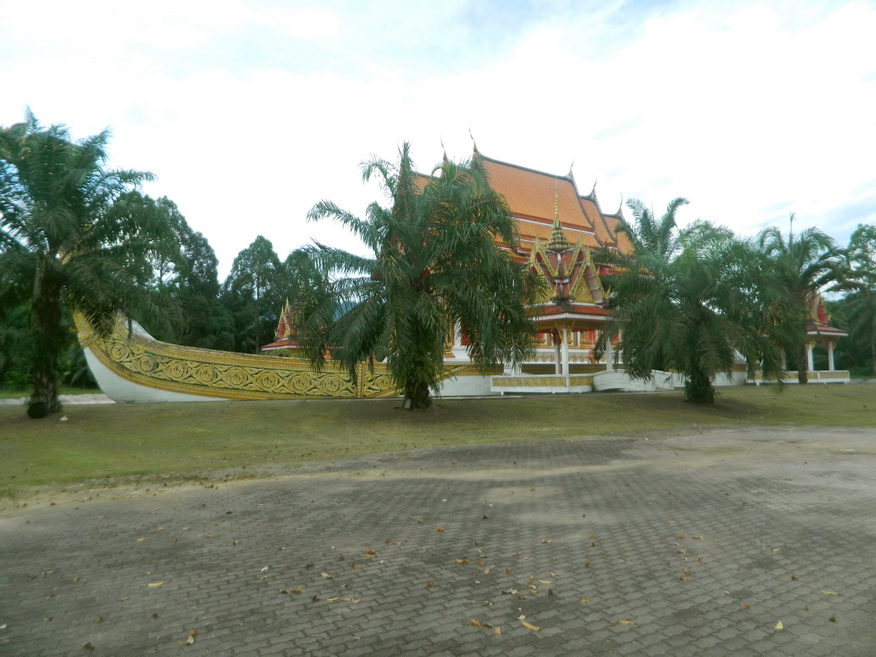 Phang Nga........Finally we reach Phang Nga around 4.30 but it's still raining. It's not a major problem right now but I soon discover that Phang Nga City is not really tourist friendly despite whatever else there is in the province. It is truly the poor relation of Phuket not that far away. In fact it's clear that few people stay here, preferring to travel from there. It becomes a struggle to find anything modern. Most accommodation is old but I don't want to travel far now as my final destination is so near. I settle for Phu-nga Hotel on the road to Phuket.