Day 6 - Tuesday 20 December 2016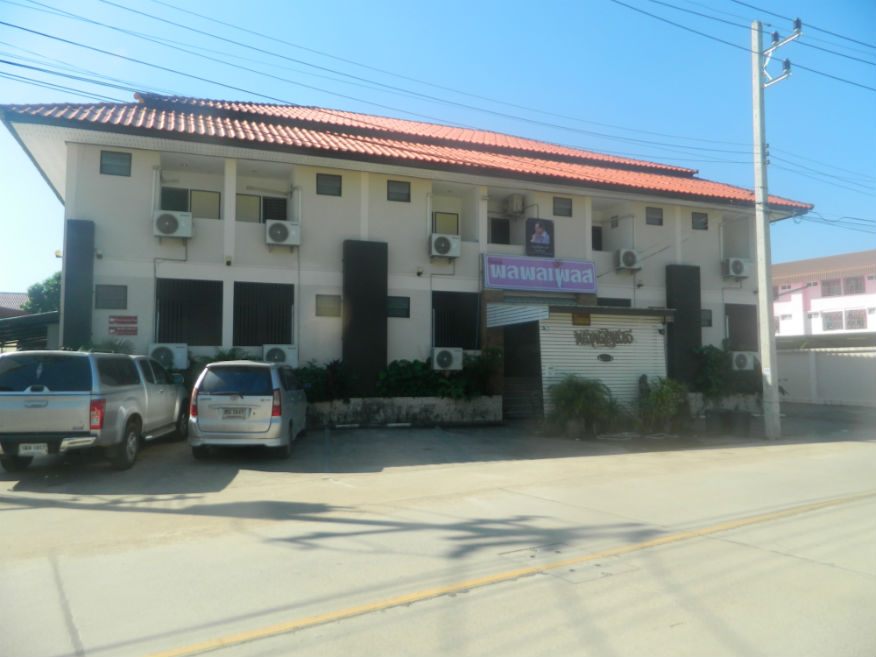 Phayao........ We continue north on Highway 101 then turn left onto Highway 103. This takes us into the northern part of Lampang Province. Here we pick up National Highway No. 1 from Lampang heading north towards Phayao. Phayao will be a rest stop. One of the features of this city is the huge lake nearby known as Kwan Phayao. It seems appropriate that we take lunch overlooking the lake in perfect conditions. But apart from this, I've no intention on recording anything in Phayao Province. We must press on.
Chiang Rai........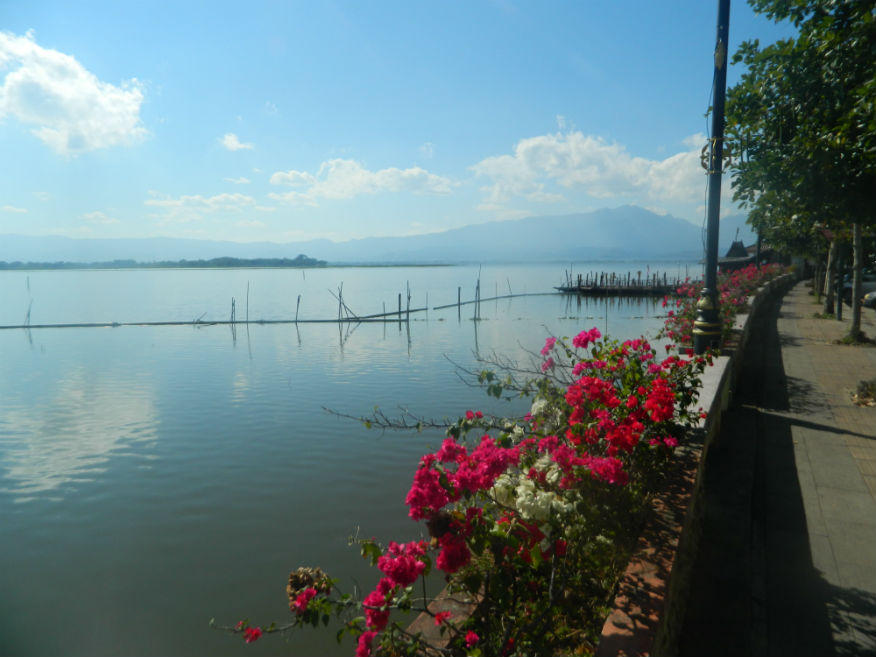 Phayao........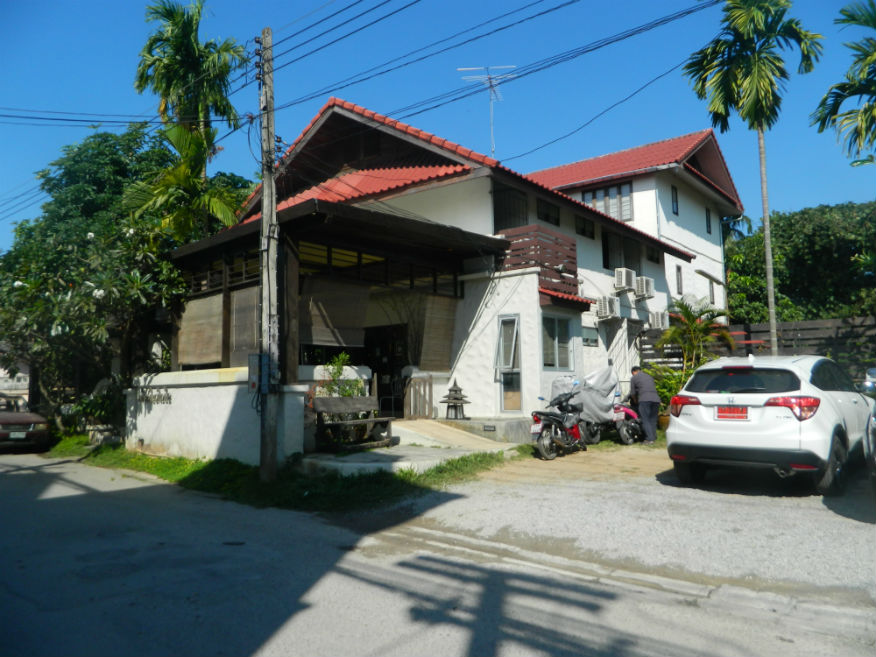 Wat Phra Kaew Wat Phra Kaew........Wat Phra Kaew Wat Phra Kaew, adjacent to Trairat Road, is the most revered temple in Chiang Rai on account of its history. Today it's known as the Temple of the Emerald Buddha although its original name was Wat Pa Yeh (Bamboo Forest Temple). In 1434 the chedi was struck by lightning and split in two revealing the magnificent emerald Buddha. However the image didn't remain in Chaing Rai. It was moved several times and now sits at the more famous Wat Phra Kaew in Bangkok where is has remained since the reign of Rama I. The present emerald Buddha, Phra Yok was made from jade imported from Canada while the image most sacred for local people is named Phra Chao Lanthong. The temple also contains a useful museum with important artifacts housed on two floors.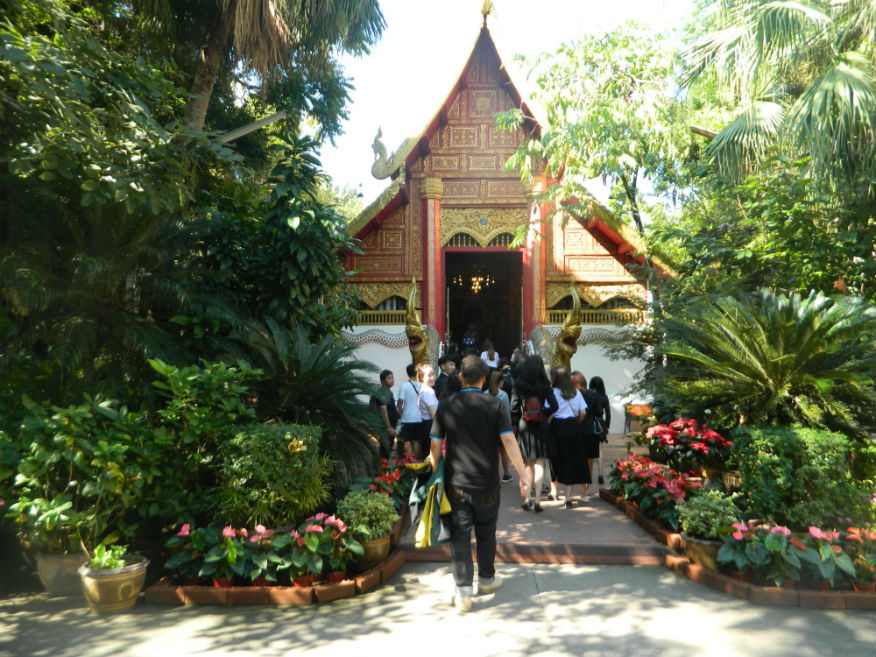 Wat Phra Sing........Wat Phra Sing is located near the townhall used to house a major Buddha statue, the Phra Buddha Sihing, which is now enshrined in Chiang Mai. Like Wat Phra Kaeo nearby, the temple now houses a replica instead. A special feature is the Lanna-style Ubosot and the wooden door panels carved by Chiang Rai contemporary craftsmen.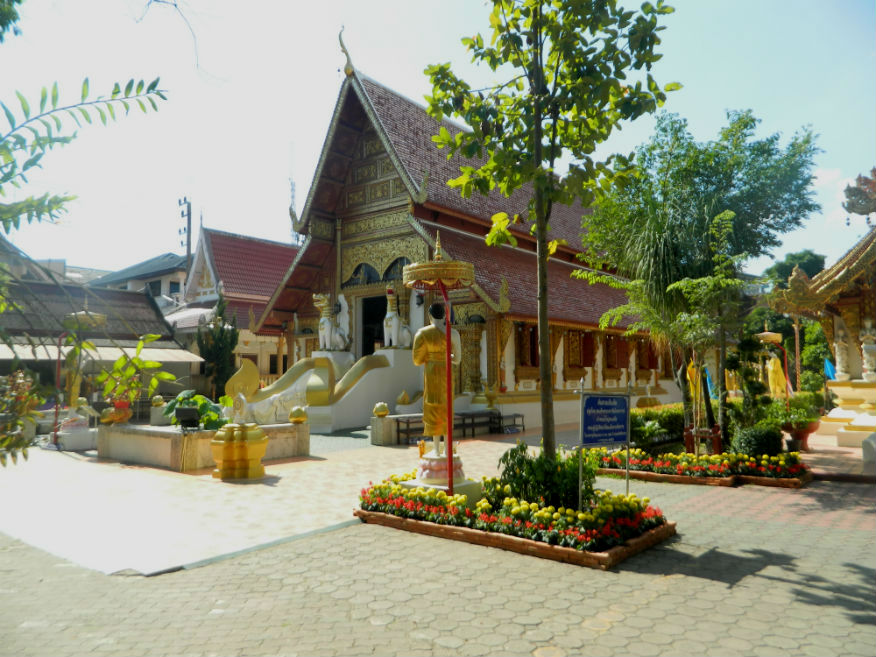 Wat Klong Wiang........Wat Klong Wiang, dating back to 1432, is an excellent but little-visited temple displaying Lanna-style at its best. It lies in the centre of the city as it then was. Noteworthy are the colourful guardian statues offering protection to the city according to Lana belief with elephants in the back and the "No Killing Area" warning at the entrance. The temple consists of an assembly hall, a contemporary Chedi and a scripture hall.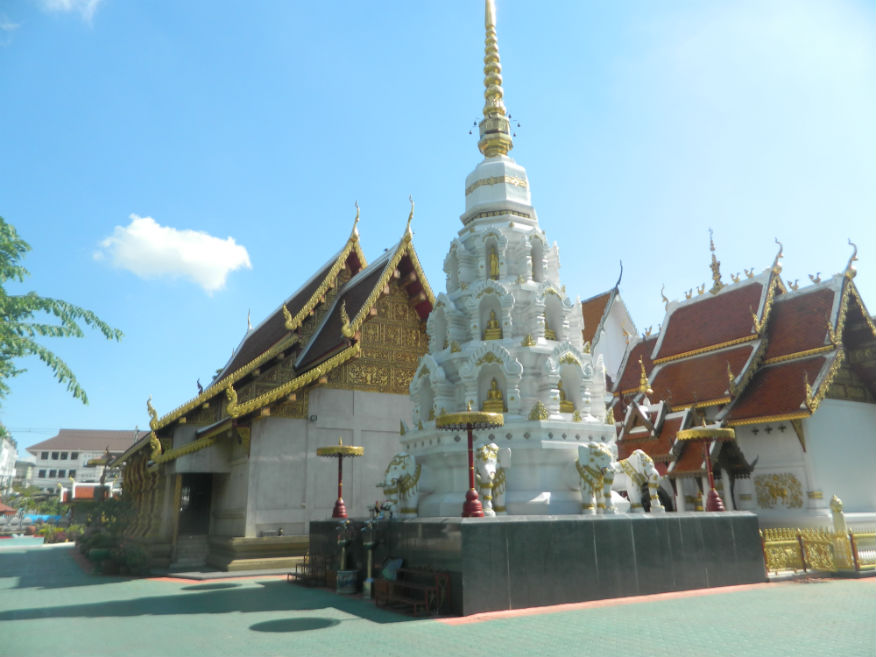 Wat Ming Meuang........Wat Ming Meuang lies at the intersection of Banphaprakan and Trairat Roads. This is a small temple housing the spirit of the city (ming meuang) in an exquisitely carved and decorated Lanna-style, almost Laotian viharn. This temple dates from 1262, built during the reign of King Mengrai the Great (1239-1311).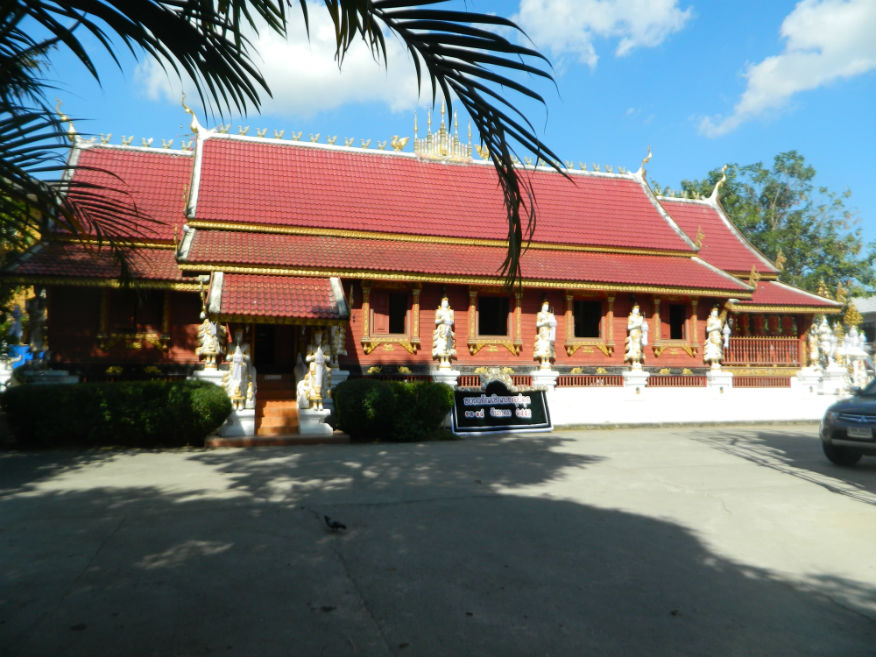 Wat Mung Muang........Wat Mung Muang is located near the Ngam Muang Fresh Market. It has an impressive Lanna-style assembly hall while outside sits a large pot-bellied Buddha image. It is assumed that a temple had existed here since before the foundation of the city. There is a remarkable story that during WWII, bombs were dropped on the city. Of the ones that fell on the temple, none exploded.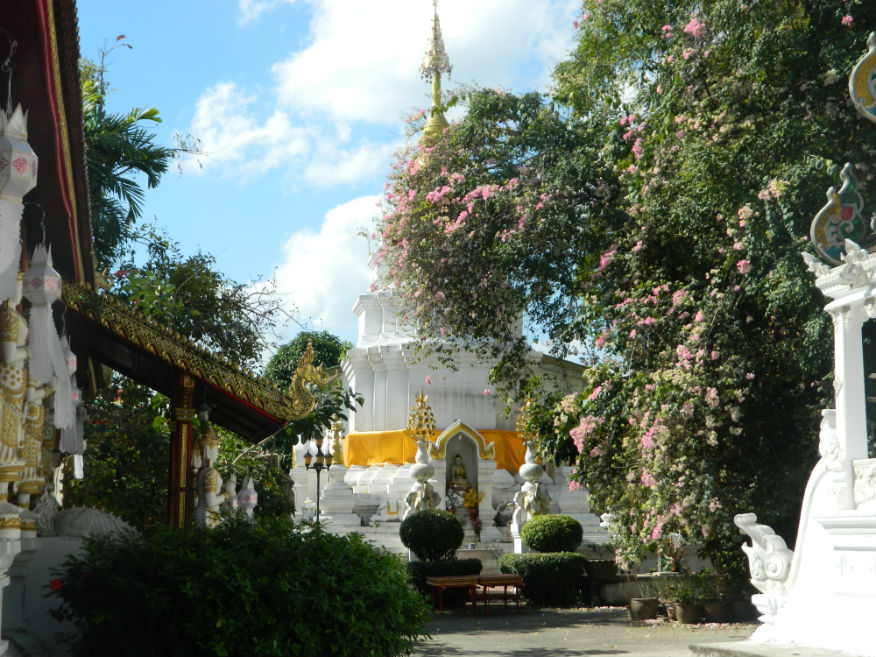 Royal Footprint........At this point Katoon is anxious to visit another site but not a working temple. It's hard to find but she is persistent. All I know is that it's something to do with the army. When she does locate it I find myself in an army training ground. Access to a military establishment like this would be unheard of in the UK. After several enquiries we find ourselves at a shrine where there is a molding of the feet of the late King Bhumibol Adulyadej. The molding was taken during an inspection visit to the North by the King. Nearby is a memorial to soldiers who died fighting neat Thoen during the communist uprising in the 60's. It's now mid afternoon and two important sites I'd like to have visited by now lie outside the city as we head southwest on Highway 1211. Singha Park is an Agro-tourism destination about 15 minutes drive out of town, owned by the Boon Rawd Brewery, brewers of the Singha brand. Unfortunately when we arrive there it's too late to arrange a tour so we mark it down for a visit in the morning.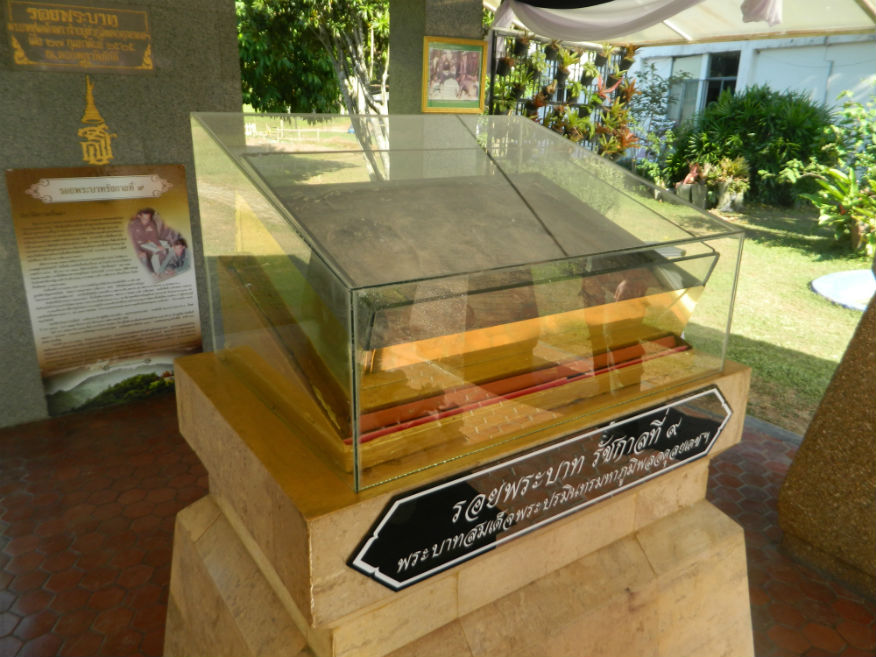 Wat Rong Khun (White Temple)........The White Temple (Wat Rong Khun) is located at Ban Rong Khun, Tambon Pa O Don Chai, along Phahonyothin roadside at Km816 (Highway 1211) approximately 13 km from the city. This unique modern temple was designed and built by artist Chaloemchai Khositphiphat starting in 1998. A beautiful white ordination hall—Phra Ubosot—is decorated with silver glittering pieces of mirrors. There are large mural paintings of the Lord Buddha in different gestures. A gable is decorated with a gable apex, a leaf-shaped gable-edging in the shapes of Phya Naga, dragon and mythical creatures, which are entirely made of white stucco. There are viharn, small halls for recitation surrounding the ordination hall, museum, and reception pavilion. The gallery exhibits paintings of Chaloemchai Khositphiphat. Work on the temple continues, and it is not expected to be completed for the next few decades. It opens daily at 08:00-17:00. Entry is 50 baht for non-Thais.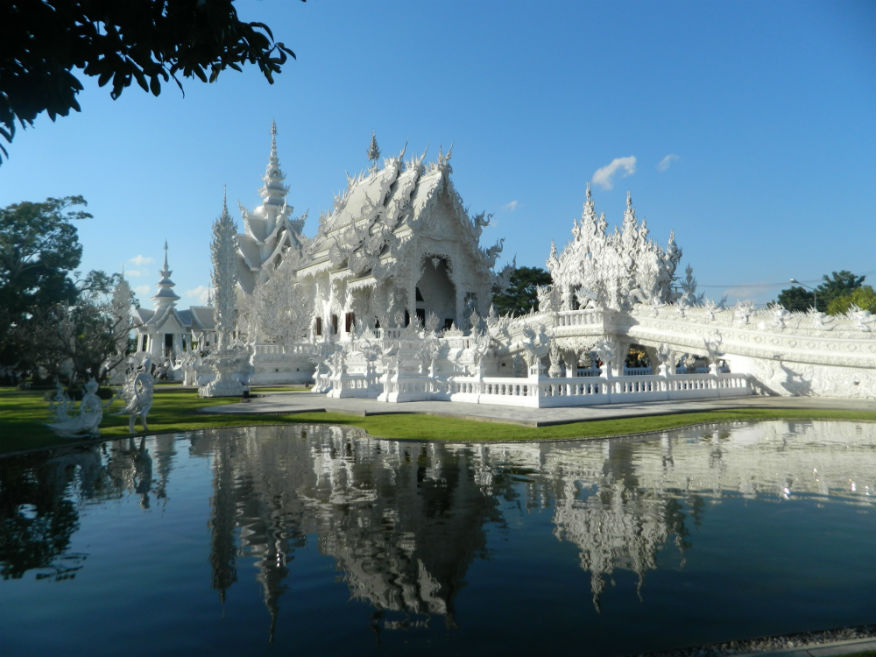 With the White Temple easily the most impressive sight so far in Chiang Rai, it's time to head back to the city.
Night Bazaar........I really don't have enough time to go out again: I'm really behind with my notes but then again we must eat and this is the last night in Chiang Mai. After a meal 'Thai Food Easy Style' we head to the night bazaar again. The area is busy but perhaps less than the previous night as foreigners head home for Christmas. In the square is the Night Bazaar Restaurant, a focal point where visitors can enjoy local cultural dance. All around are souvenir shops including a good number selling handicrafts of hill-tribe origin. Back at the room I continue to struggle with my blog not helped by an unstable internet connection.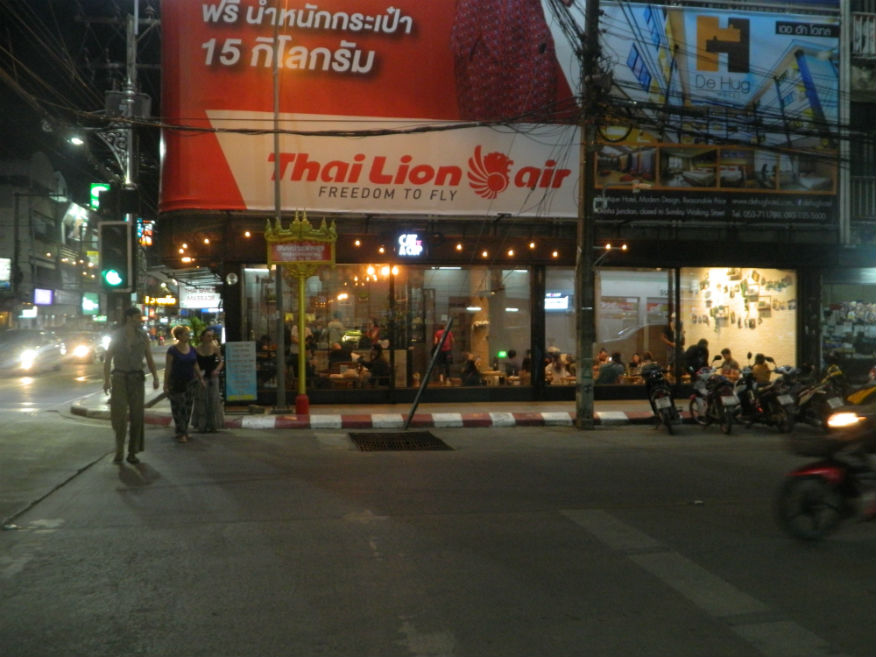 Day 8 - Thursday 22 December 2016

Satisfied........In terms of covering the main sites in and around Chiang Rai yesterday, I'm quite satisfied but there are still a number of interesting sites I'd like to cover. The plan is to complete them in reasonable time today then head onto the next district but I'm not on the road that soon. My blog though is more up to date. I had intended to add more detail for the ancient sites in Si Satchanalai Historical Park but there were so many of them that it looks like I'll have to wait till I return to Bangkok. Breakfast is similar to yesterday and it's quite pleasant sitting out on the patio in the shade of a warming sun. 10.30am is not exactly ideal for a start but there are some sites still on my list in the city not far away.
Hilltribe Museum and Education Centre........The Hilltribe Museum is located in a multi-story building off Wisetwiang Road. The centre is housed on the 3rd floor and relates to the various ethnic groups found in Northern Thailand. Each has its own customs, dialect and dress and some their own written language. The museum, although small give a good insight into their daily lives and how these have been moulded into a Thai social structure over time. The centre advises on protocol for those visiting hilltribe villages and exhibits some of the tools and home ware used in a tradition of hunting, fishing and farming and in the production of costume. It also deals with problem of opium production.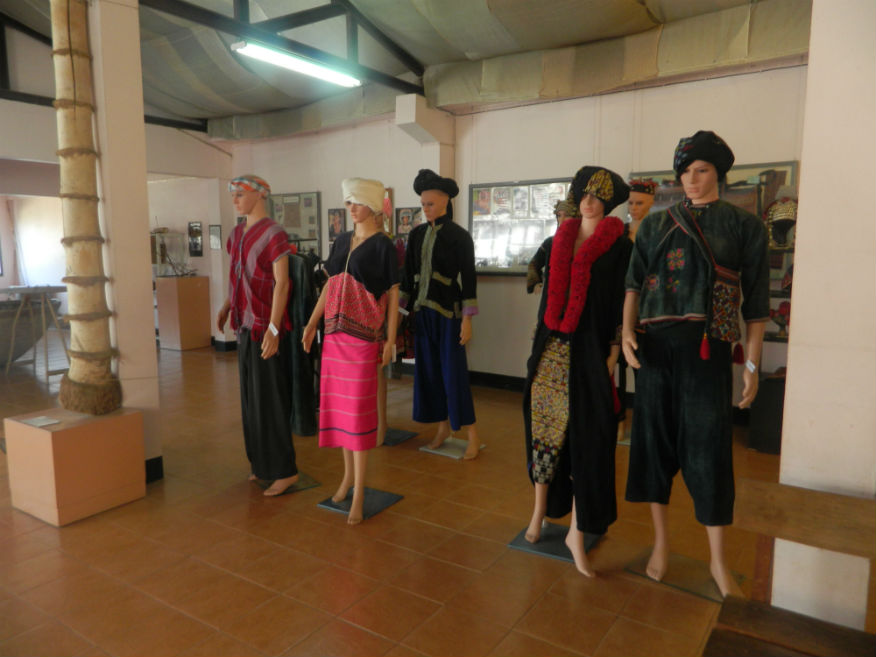 Wat Phra That Doi Chom Thong........The next site is a temple located to the west of the town on a low hill. Wat Phra That Doi Chom Thong, located on Doi Chom Thong Hill on the banks of the Kok River within the town area, contains what is believed to be the oldest holy relic, even before King Mengrai founded Chiang Rai. The chedi containing the holy relic was probably renovated at the same time the town was being built. It is a major religious site in Chiang Rai. It was from here that King Mengrai spotted the strategic location on which to establish the town.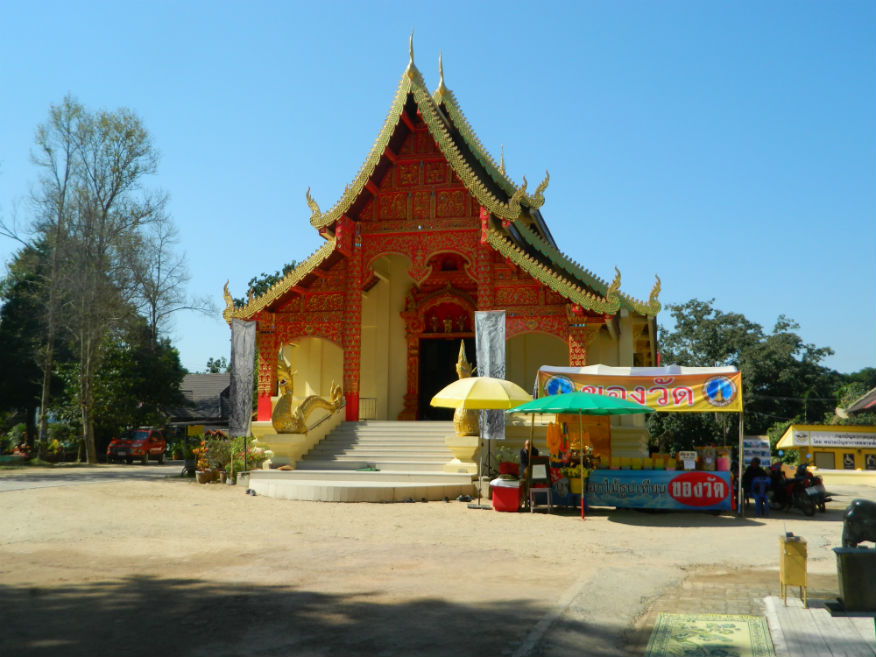 City Navel Pillar........The City Navel Pillar lies on a hill near Wat Phra That Doi Chom and performs a similar function to the pillar shrines of other towns but in this case the pillar isn't enshrined but open and has provenance going back to the 13th Century. When King Mang Rai founded the city in 1263 declaring independence he chose this hill as the centre of his known universe and constructed his founding pillar upon it.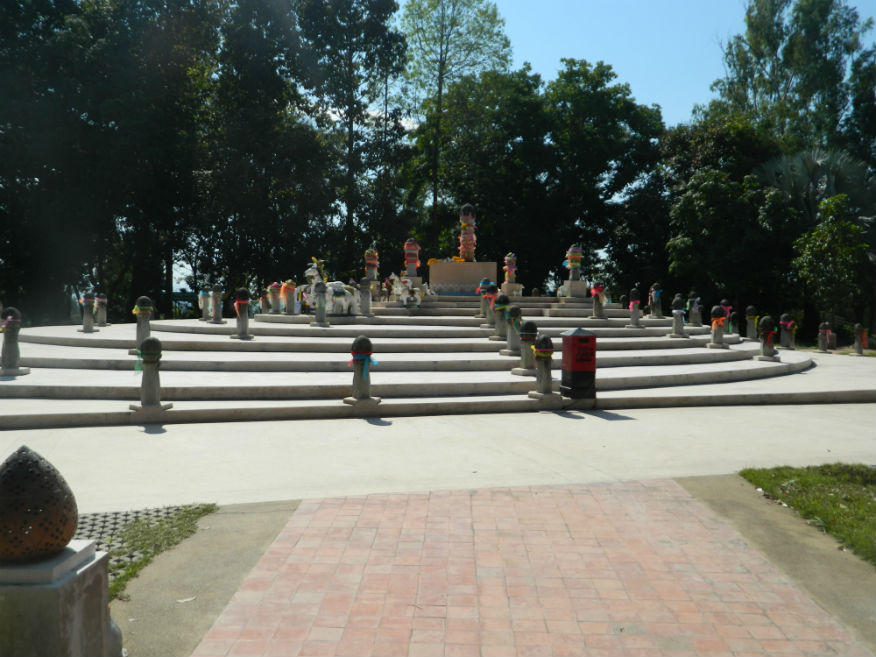 Shortcomings........Now, well into day 2 in Chiang Rai, I check on progress scanning the list I have produced of tour sites. As I intend to move further north later in the day I wonder if I've managed to cover the city sites reasonably well, accepting that I cannot visit them all. It soon becomes clear that a number of museums and cultural sites have not been included. Unfortunately Chaing Rai does not have a national museum which is a pity but instead a good number of small museums dealing with culture, history, art and religion of this region. Apart from the hilltribe museum and the religious sites, I'm aware that I have not covered the subject well and may have to correct that later. In an attempt to redress the imbalance we now head back down Highway 1211. I'm looking for Mae Fah Luang Art & Cultural Park. Locating it on a turning to the right, I'm disappointed to find an entry fee of 200 baht which of course is the rate for non-Thais. While this is not a great deal of money, there is no shortage of sites to visit for free or certainly less than 200 baht and I pass it by. After a pleasant lunch of kow soi, a northern curry, we return to the highway and head for the site we missed yesterday.
Singha Park........Singha Park was on my list for a morning visit but it's now early afternoon. When we arrive the tours around the park are fully booked till late afternoon which threatens the visit for a second time but there is the option of hiring q bicycle. The problem is the day is quite hot again and the terrain a bit hilly but then we notice private vehicles entering the park so why can't we? With this problem solved we find our way around this beautifully landscaped park owned by the Boon Rawd Brewery Company. While there are a few attractions including a zip wire and a small zoo, the main attraction for us is the tea plantation laid out on a terraced hillside overlooking a large lake with stunning views of the mountains beyond, all this for free. It's another site ticked off and a memorable one at that. It's time to head back to Chiang Rai, cross the Kok River and deal with some of the northern sites but before we cross the river there's an important site on the main intersection.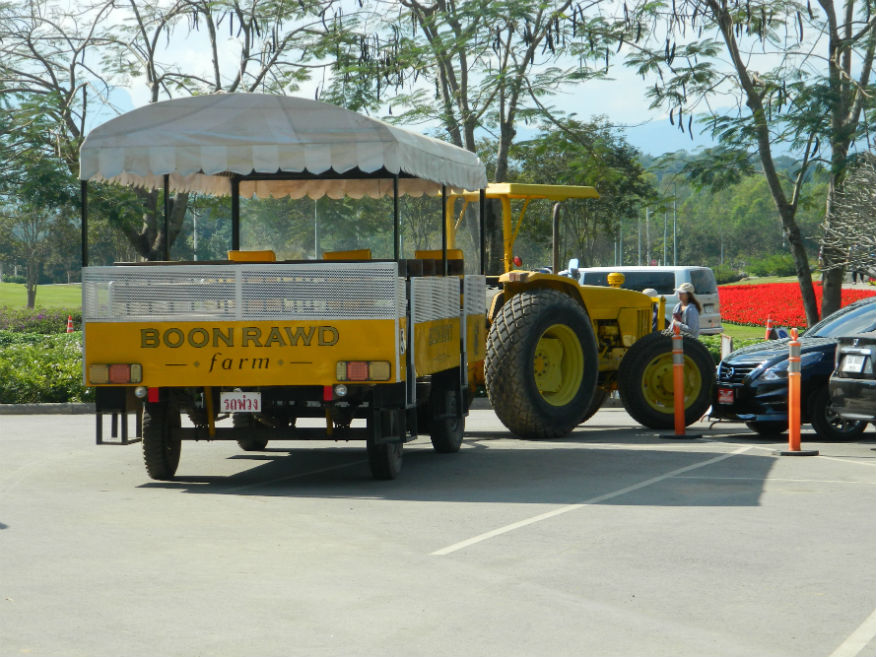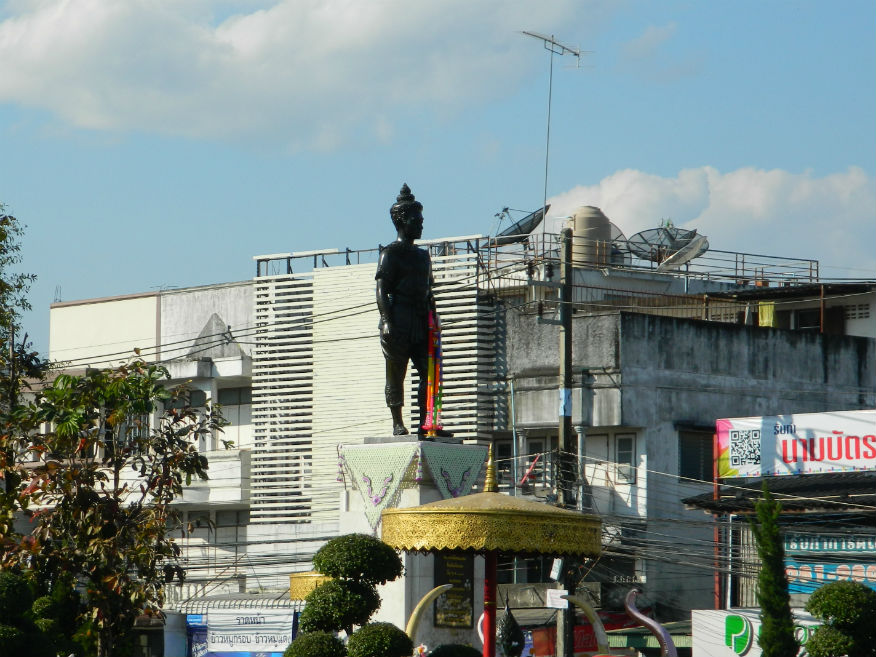 Wat Rong Suea Ten........At this point Katoon wants to visit another temple but I fail to identify it. When I finally locate it, it's back toward the city which has wasted time. Not only that, Google map has set the wrong GPS code and there's further delay. Finally we locate Wat Rong Suea Ten. This temple gets it's name, (suea=tiger), from the beasts that roamed here when the area was a wilderness. The monastery was established in 2005 in 6 acres of land. The temple is adorned with exquisite blue and gold. The sky blue colour represents Dharma, the Lord Buddha virtuous codes of morality. While tigers are a strong feature of the decor there are some vivid mural paintings on the internal wall of the viharn and the Singha principal image in white. At the rear of the hall is a chedi with spires, again decorated with blue and gold.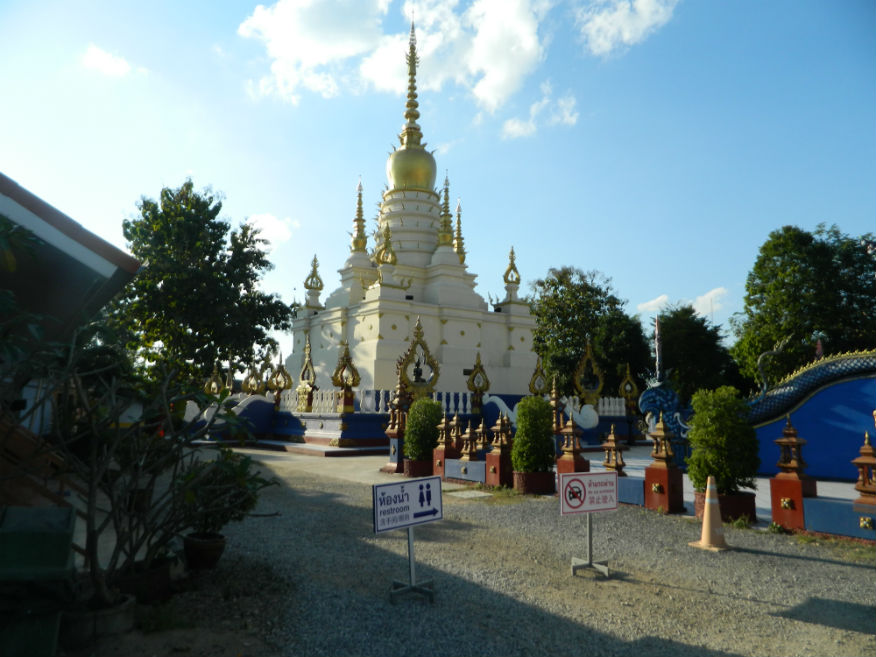 Mae Chan........Finally it's time to move north and we head towards Mae Chan district. After an initial enquiry about accommodation we settle for a resort with rooms of traditional construction more like cabins. It is located south of the town on the right-hand side. Here again Google map has failed to help as do other online sources. Perhaps the town is just too small but on this occasion simple observation has been sufficient. Getting to the town itself requires a 5 minute drive. When we arrive at the open night market I'm expecting something wholesome and cheap but end up with fish soup and fried vegetables for a ridiculous price. Back at the room I make a rather half-hearted attempt at my blog. That means more work in the morning.