Thursday 23 June 2016

Plans, what plans?........At the time of writing, the polls are open in the UK to decide the outcome of the EU referendum and in France the group stages for Euro 2016 have just finished but while both these stories are big international news, I'm nowhere near the action. I arrived in Bangkok 9 days ago and there's little action to report here either but something I have been working on could have a dramatic effect on tours for the rest of this year. That's having another crack at satisfying the regulations of UK Visas and Immigration but at the present time I could start a tour. Well at least that was the intention. Two days ago I took delivery of the same Toyota Hilux I've used on recent trips but the first time it was used for any purpose was to visit the now familiar hospital at Noppharat near Minburi. Yes, the allergy I've been affected by on a number of trips has returned in the form of cellulites but is not serious enough to warrant anything more than a course of antibiotics. However I have to be careful if I want to go travelling. One consolation is that I hadn't planned to do anything adventurous in any case. In Thailand now it is well into the monsoon season and I can well live with parking myself on the verandah of a beach bungalow somewhere but the fact is if I decide to travel tomorrow then I've only a vague idea of where I might end up. By this time tomorrow that could well be a more exciting prospect than the EU Referendum or Euro 2016.

Day 1 - Friday 24 June 2016

Decision........Today the important decision as to whether or not I depart on tour has to be taken. Things don't start well as I've had another restless night for no apparent reason. The cellulites is unchanged but there's not pain, no fever and my blood pressure is fine for the moment as I head down for coffee. I quick peek out of the window shows it had stopped raining. Storm clouds came in yesterday evening and continued well into the night. I wonder whether I'm actually looking for an excuse to delay a tour and then I find one. I rather nervously switch on the PC and open streaming of UK TV channels. At 7pm local time this is precisely the time to tune in just 3 hours after the polls closed in the UK for the EU referendum. I've made a decision that if the polls start showing #Remain then I'm packing my bags and heading out of town to sulk. The rest is now history as I get sucked in till 11am (5am UK). With the action all but over I get on with my packing. By 12.30pm I'm on the road east.
Strange route........I head east out towards Minburi and then on to Chachoengsao. This route avoids tolls but that was not the reason for choosing it as it will take longer in time. Ever curious I want to revisit Chachoengsao Juntion Railway Station and take lunch at the same time but on arrival I draw a blank. There is but a solitary DMU in the station waiting to depart from Bangkok when often it is packed with freight locomotives. The line is on the route from the deep water port to the terminal at Lat Krabang east of Bangkok. Oh Well! It's time for lunch just outside the town. Still on provincial roads I head across the provincial border into Chonburi Province then east along the 344 to its junction with Highway 3, Sukhumvit Road, now in Rayong Province. By 4.30 we cross into Chantanaburi Province looking for signs to the coast. They soon appear thick and fast as we turn south of the highway. Familiar names shout out every which way; Kung Wiman Beach, Ao Khung Kraben, Chao Lao Beach along the scenic Chaloem Burapha Chonlathit coastal road. Without any particular place in mind we more or less stumble on Chao Lao Beach and that will do just fine for today.
Namsai Loft.......Having set a budget for this trip with some margin for error and even Brexit, I'm surprised to see bungalows offered for just 200 baht. Really? I'm happy to be in a position I can choose by appearance and Namsai Loft looks modern enough. It's just the second enquiry and functional throughout. 700 baht per night is still within my budget but that price is for today and tomorrow, dropping to 500 baht for weekdays. I book for 3 nights, a total of 1,900 baht. It's now 6pm. Venturing out I have to say it is peaceful here but of course its low season with many shops closed. There's just enough activity about to prevent it being a ghost town. We decide to walk along the strip which here runs parallel to the shoreline with a block in between. It's pleasant enough as we walk back to the market area and settle on a seafood restaurant and just in time. Today there have been frequent but brief showers and driving down I've hardly noticed them but a thunderstorm hits just as we've selected a table and are forced to move. The meal of fish soup, clam omelet and Thai spicy crab salad goes down well with a beer. But what a day it's been overall. It's like the cork just shot out of the bottle. The fallout will continue for days and days.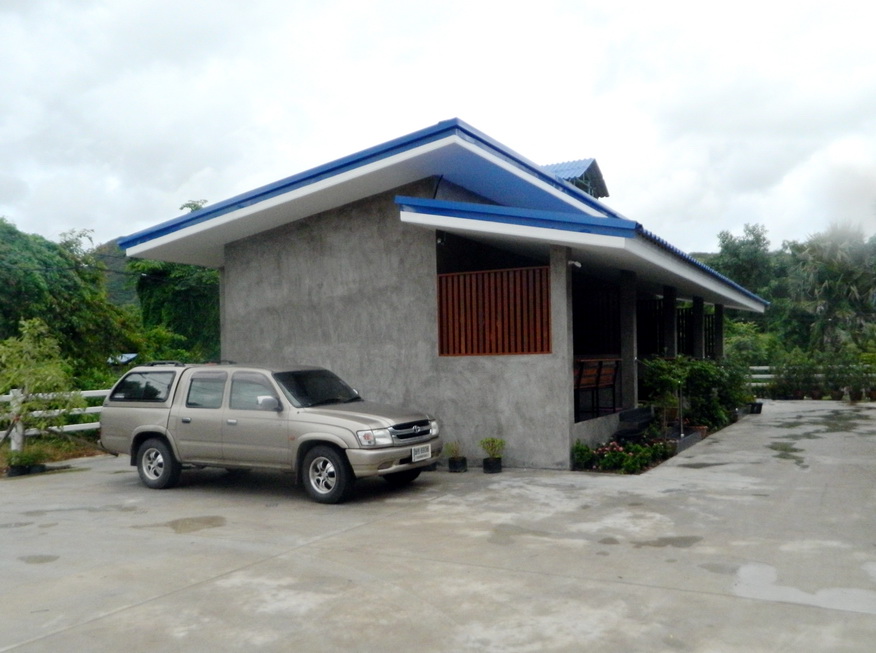 Day 2 - Saturday 25 June 2016

Cold Water........I seemed to have slept better in the night except that there was an interruption about 4.30am by heavy rain. By daybreak it showed no signs of stopping anytime soon. That delayed my journey over to the office to get some coffee but it was still raining so we improvised for breakfast by asking the shop next door to fry some eggs. Katoon then informs me that she had brought a kettle and 3-in-1 coffee anyway. I'm amazed we managed to get organised with so little notice of departure. But still it rained though sitting out on the veranda eating breakfast with the rain lashing above is not exactly an uncomfortable experience. However something else is! The shower heater doesn't work but a plumber has been called but it proves to be several hours before he arrives. It matters little now since the morning is a write off. Then at just about midday the rain eases and the cloud lifts but in the heat the roads will soon dry. When the plumber arrives it's not long before he's figured out the problem. The fitter has connected the pipes the wrong way round, connecting the rose to the inlet valve and the main supply to the outlet; works better if the water goes through the heater right? It suggests we are the first occupants unless somebody is happy with a cold shower. By 1am we are ready to get out but with the matter of lunch to arrange first. This is a quite simple affair but the restaurant is busy and the clock is ticking. There won't be enough time now for anything too adventurous.
Orientation........Along the coast east and west there is a wealth of natural features associated with Chanthaburi's magnificent coastline. It is along this coastline we will be spending much of the time we are in this area. There is a scenic route which runs along the coast. I've mentioned it already, Chaloem Burapha Chonlathit. The road through Chao Lao is part of it. Over lunch I consider the options. Based on the fact that there are fewer and more accessible attractions to the west it's better to head in this direction first. Chao Lao is to second of a number of sandy beaches that occupy the coastline from west to east. To the west of Chao Lao Beach is a large rather elongated oval horseshoe bay known as Ao Krung Kraben. Beyond that is the first of the beaches known as Kung Wiman Beach. At the tips of the horseshoe are prominent features. At the western tip is headland known as Noan Nang Phraya while a rather blunter tip at the eastern end of the bay is known as Leam Sadet.
The tour begins, Lap Lae Beach........As far as 2016 is concerned this excursion will register its first tour location. I am heading back along Chao Lao Beach as far as the busy intersection. Straight ahead is Leam Sadet but I turn inland the way I came, skirting around the edge of Ao Krung Kraben. The Chaloem Burapha Chonlathit now becomes part of the 3399 connection Sukhumvit Highway 3 to the coast. I turn left towards the later and soon face the Gulf of Thailand, the first time I've been on a shoreline this year. Turning to the left there is a sign to Noen Nang Phraya Viewpoint but I am travelling along Lap Lae Beach where there is the start of new development but otherwise just a collection of houses and restaurants on the landward side of the road. This weekend its activity is enhanced by the arrival of tourist, many arriving by tour bus. Street vendors and restaurant owners appear to be doing brisk business. It is certainly worth stopping here a while if only to walk along the picturesque beach.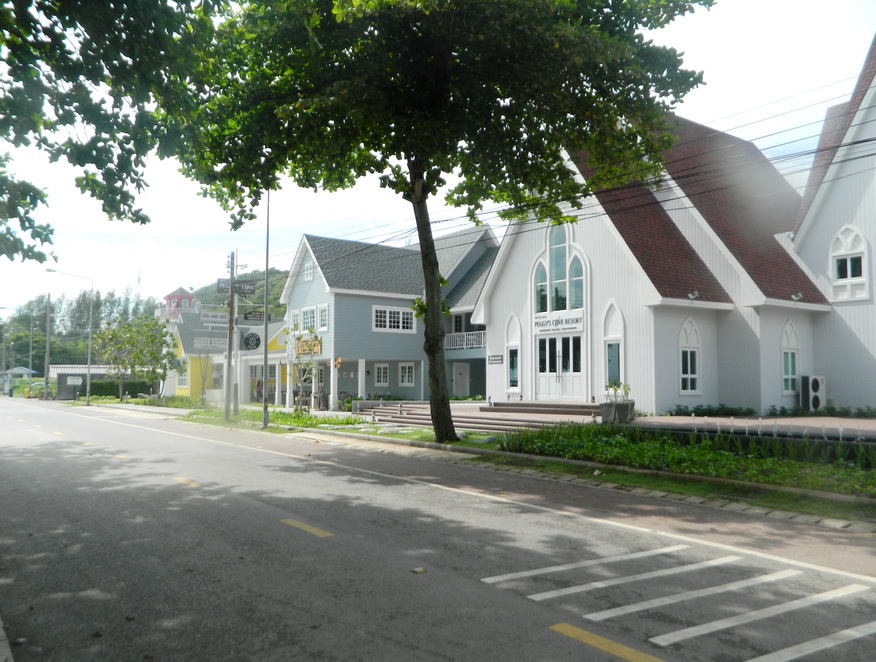 Noan Nang Phraya........From Lap Lae Beach the road climbs over the headland offering a number of viewpoints but the one everyone stops at is Noan Nang Phraya and for good reason. It is arguably the most picturesque in the region. A feature of this viewpoint is the large quantity of love padlocks on the rails surrounding it although not quite as many as were on the Paris bridges. Apart from the viewpoint a number of street vendors line the road but the residents of the area occupy the fishing village further on. It is not necessary to return the way you came as the road doubles back along the opposite side of the headland eventually returning to Lap Lae Beach. In the meantime there is one more viewpoint to take in. That is Phra Yeun Viewpoint with its standing Buddha image.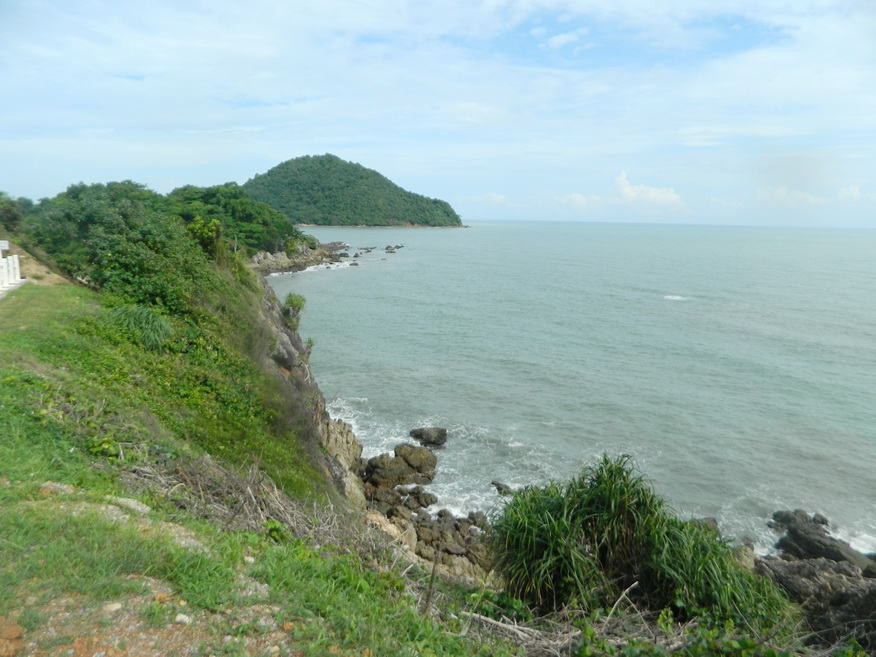 Haad Krung Wiman........Heading back I carry on past the intersection signposted Haad Krung Wiman. There is nothing here but a parking area and a few street vendors. However this is the perfect place for a picnic around a rocky outcrop. It's time to head back the way we came.
There's still some time left and there are a few sites on Leam Sadat but when we arrive the aquarium had just closed. There is a mangrove trail but we decide to defer on this figuring it would take up too much time. Working back to that busy intersection, it's time to take in provisions. There proves to be enough choice to take back to the room to eat on the veranda instead of eating out. That will do nicely for today as I write up the notes during a Euro 2016 game.

Day 3 - Sunday 26 June 2016

Leam Sadet Aquarium........Fortunately on waking today I see no sign of rain but there's no urgency to get out and about. Everything we need for breakfast was brought in yesterday. I can spend some time activating my blog online but even with that delay I'm at my first attraction of the day at 10.30am picking up where I left off yesterday.
Leam Sadet Aquarium is not one of the biggest but there is a good selection of marine life on view including a main tank for larger fish with the usual visitor tunnel under. The rest of the marine life resides in individual tanks representing life from the tropical regions of S. E. Asia. It's worth a visit as it's easy to get to and free. You should be able to punch a big hole in an hour here unless you're a complete codfish.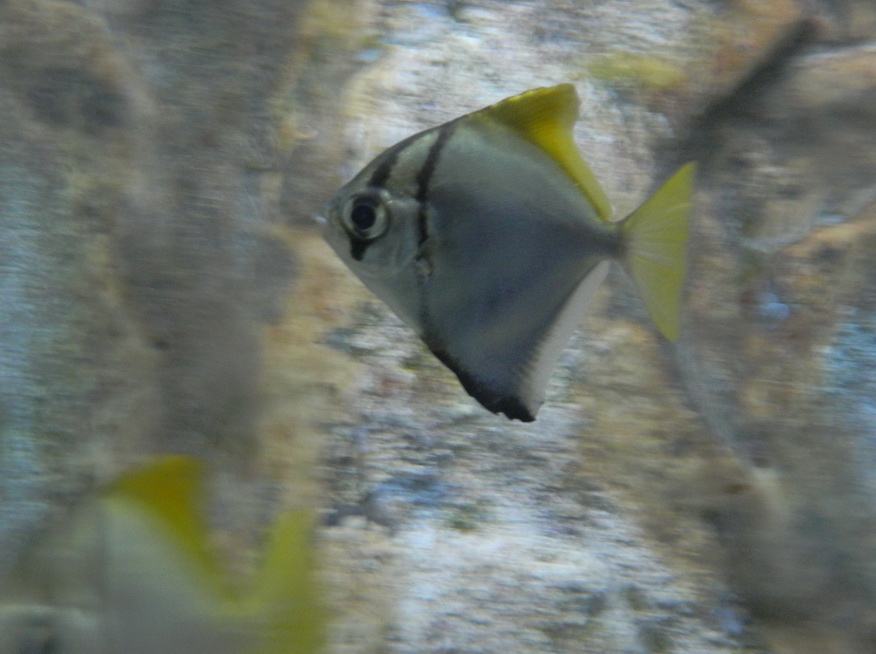 Ao Krung Kraben Mangrove Trial........Another location that didn't make the list yesterday, this mangrove trail justified my decision to leave it off; it's one of the larger ones. A well maintained plank walkway takes you deep into the swamp through natural vegetation and through areas of regeneration planned as community projects. For example there is an area for collecting and cultivating the mangrove spears and other plant species. However the area is not confined to flourishing flora. Crustaceans are an important part of the eco system which helps sustain the local community. There are fireflies and a number of bird species but one of the world's more curious creatures also lives in Ao Krung Kraben; the dugong.
A complete circuit of the trail takes nearly an hour and a half if you include a trip up to the observation tower and to the shore of Ao Krung Kraben. I welcome a walk along this trail as it's a great way to observe this notable natural habitat and get some exercise at the same time.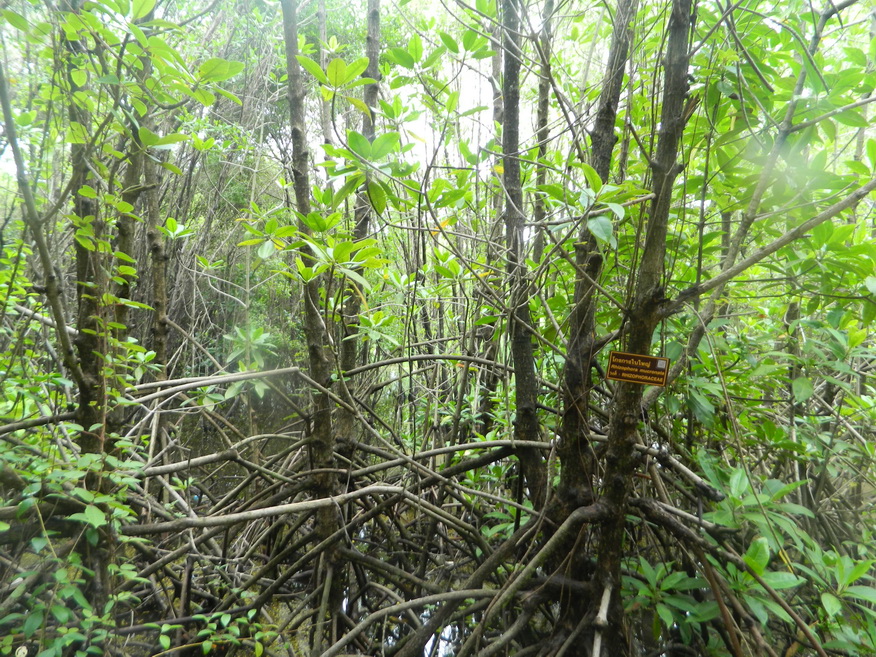 Chanthaburi Cathedral........With Leam Sadet seemingly now covered, it's time for something less natural as we head for Chanthaburi City. Chanthaburi can rightly be classified this way on account of its splendid Catholic cathedral which received its status in 1944. From Chao Lao we have headed east and made a bee line for the Cathedral of Mary Immaculate Conception on the east bank of the Chanthaburi River. We've begun employing Google Map as a route finder and we soon reach the car park. My first impression of this gothic style structure is one of pleasant surprise. I've haven't seen such a magnificent catholic church yet alone a cathedral so far in Thailand. Its presence here is the result of a commitment by a relatively small number of Catholics who for generations have lived in the area after they fled from persecution in Vietnam around 1700 AD. It certainly makes a statement and well deserves its status.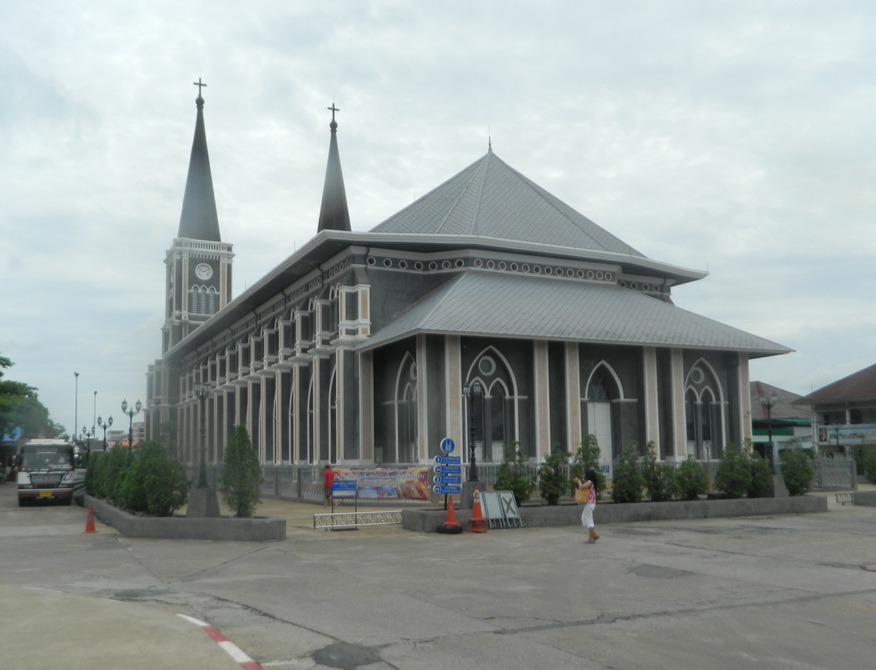 Old City and Jewellery Quarter........Sukhaphiban Rd in the old city lies along the west bank of the Chanthaburi River. Its narrow street typifies most of what this area was like several hundred years ago at the time of Portuguese traders who likely helped support the Christian refugees. Some of the original Portuguese houses still stand along the waterfront.
We arrive here simply by crossing a footbridge over the Chanthaburi River from the cathedral on the opposite bank. Without too much deliberation we take lunch overlooking the river in the most peaceful presence of the twin towers of the cathedral opposite. These are magical if not wholly spiritual moments but it's time to move on although not far. We find Trok Kachang, a narrow side road leading away from the river. Here is the Jewellery Quarter, a cluster of small Jewellery shops now famous throughout Thailand at least. A popular gem from the area is Siamese ruby but gems from most worldwide locations can be found. Also popular are sapphires in various colours and quality. It's time to head back to the car.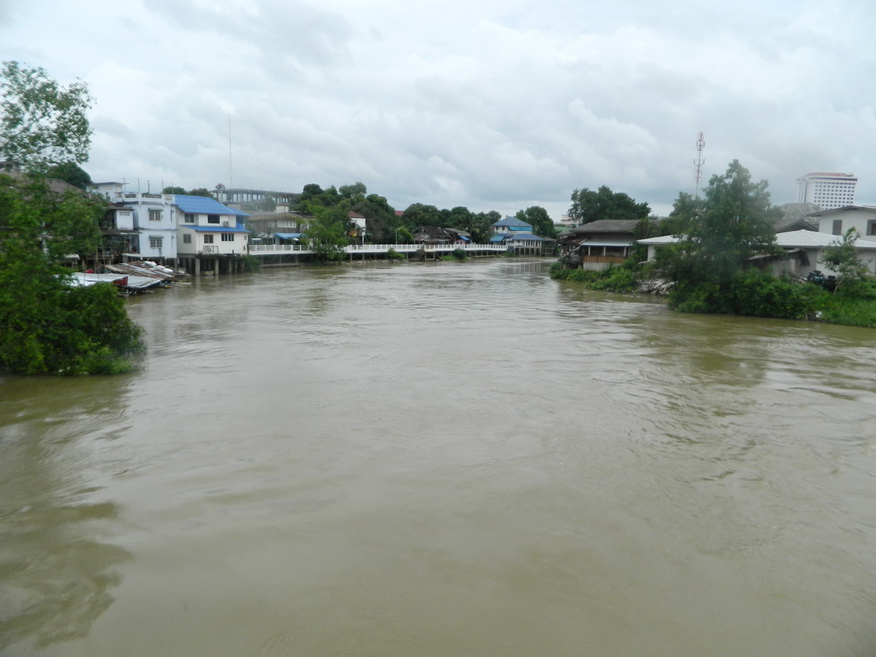 City Pillar Shrine and Shrine of King Taksin the Great........We next head back along Thaluang Road. The City Pillar Shrine or Shrine of the City Guardian Spirit is situated 500 meters west of the river near the Shrine of King Taksin the Great. It is believed to have been built in 1767 AD by the King after his conquest over the Burmese. The shrine to King Taksin is a small, nine-sided structure topped by a roof designed to look like the pointed and round brimmed hat that Taksin was known for wearing while riding into battle. Inside a small statue of the king sits surrounded by flowers, candles and statuettes of fighting cocks, considered symbols of strength. Despite its historic significance there is not a lot to see but it is a welcome addition to my tour and uses up little time.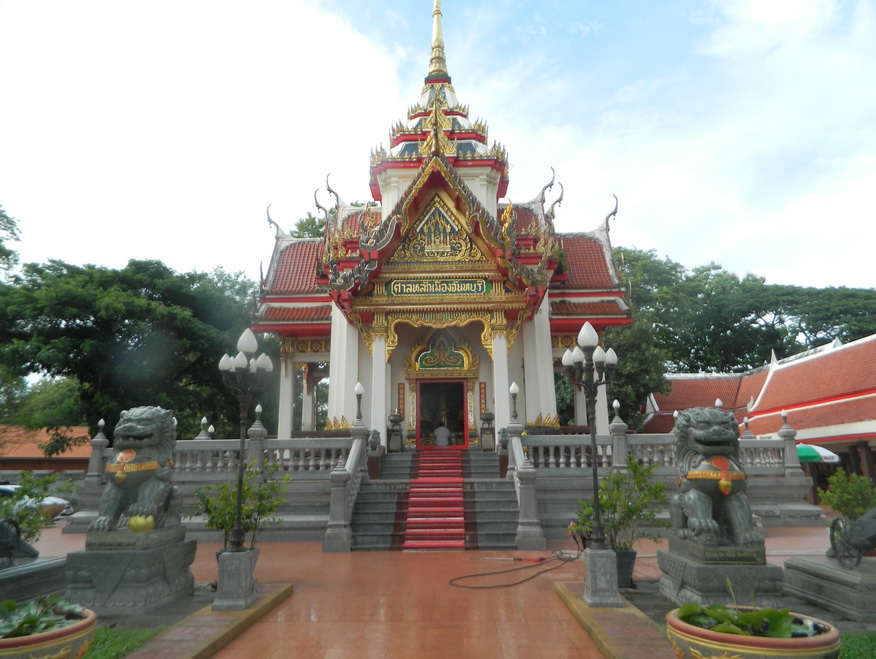 Chanthaburi Gems and Jewellery Centre........It's now after 4pm and not much left in the locker, yet we head south along Leab Noen Road, passing the Taksin Park. We follow a sign to the Chanthaburi Gems and Jewellery Centre, a purpose built structure for the trade. We manage to get inside the trading centre but it's about to close, now near 4.30pm. Nevertheless we talk to some of the traders as if our bags were full of notes. It's another first for this website.
Noen Wong Fortress........My research for the Chanthaburi City visit was not particularly studious. In fact I filed what I read in my head. Now it's been well used it seems to have a few holes in it. Katoon comes to the rescue knowing I'm interested in military matters. I've seen a sign to the Maritime Museum which looks quite interesting but this late in the day it's bound to be closed now. Nevertheless I'm directed towards it. Travelling out of the city to the southwest I pick up signs but when I locate it, I'm in for a surprise. I see the entrance is though an archway but it's no ordinary archway. It's just wide enough for a car but no wonder it's narrow, it's the entrance to the old Noen Wong Fortress, built in 1834 by King Rama III during hostilities with the Vietnamese. The brick walls surrounded by a moat support 39 cannon still in situ. The Fine Arts Department discovered inscriptions giving dates for the cannon from 1789. This is a wonderful discovery for me and delightful end to this touring day. For the record before it leaks through the holes, the Maritime Museum is open from 9am to 4pm Wednesday to Friday. Monday and Tuesday it's closed.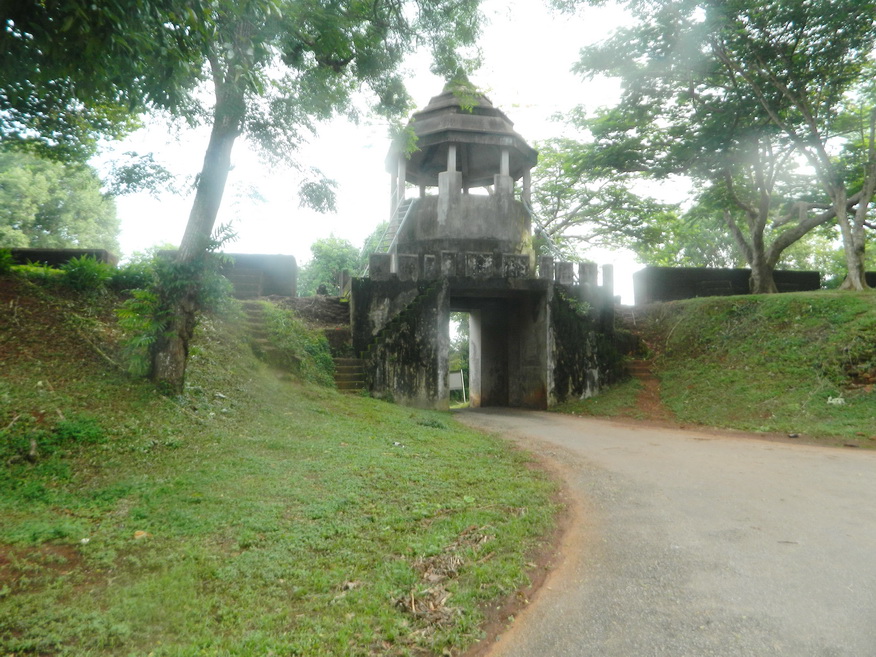 Long Day........It's a straightforward run now back to Chao Lao Beach but Katoon has the final word and wants to have dinner at the restaurant we ate at yesterday lunchtime. I'm not so keen. This has been a really tiring day for me and I'd just like to head back to the room for a beer and put my feet up but Katoon over orders with plates of seafood. It's ridiculously cheap really but if I eat any more seafood I can swim back to the UK! As I get back to write these notes I see France have just beaten the Irish Republic. It's after 10pm now and probably my last day in Chao Lao. Better make the best of it.