Wednesday 25 January 2017

Inactive........After five days inactivity and I stress that since I've hardly been outside the house except to get some fresh air. At least that's free and so is the cold I've had now since my return to Bangkok last week. However I must make an effort to get out today to change the last of my currency and make plans for one more major tour before I return to the UK. But I've also come up with a plan for today which will turn it into a one-day trip as I try to get an early start.
Downtown........We manage to get away by 9.30am and take the well trodden route to Pradipat Road, this time taking motorbike taxis to Ramintra Road and then by passenger van and bus. So far so good and there seems to be shed loads of time as we head right into the heart of Bangkok but once again Katoon has trumped my plans. Taking bus No 3 we end up at Bang Khun Prom which is a palace complex constructed in the Rattanakosin era, not far from the iconic Rama XIII Bridge. The affect this has is for me to lose my orientation and convince me that in the future I need a data package on my phone to access Google map. Stopping at this complex would have wasted time but it's not open to the public today and is undergoing renovation. We stop nearby for lunch and for once, I'm really happy with it; a fried fish dish with spicy sweet and sour sauce. Now with better co-ordination I could have simply jumped back on the No. 3 bus heading for Sanam Luang but I have it in my head to head to the river.
Chao Phraya River........Built into my original plan for today was a trip by river boat, just one of the ways to reach Sanam Luang and one of the methods of transportation not welcomed by Katoon. But it's a fantastic way to see the Bangkok skyline. Unfortunately a number of factors put a heavy strain on the time. Finding the Thewet Pier we hop on a boat but it's absolutely packed. We get off at the popular Maharaj Pier but I've failed to judge the distance and overshoot my intended stop. Maharaj Pier is the stop for the Royal Palace where, of course, the late King Rama IX's body still lays. Now more than 100 days after his death there are still huge crowds collecting in the area. With such distractions and photo opportunities time is slipping by and it's quite a walk now to my intended destination.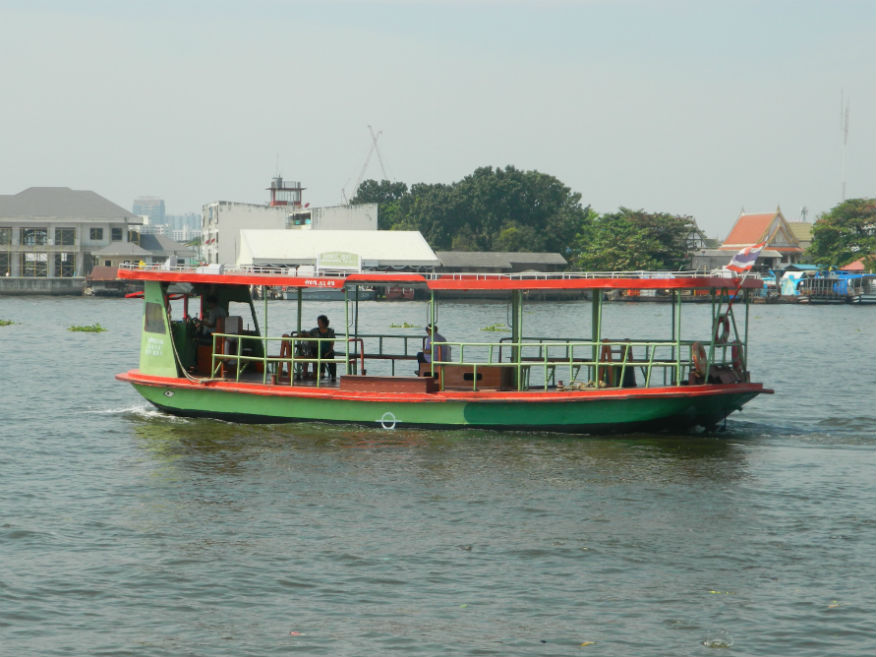 National Museum........The National Museum lies at the northwestern edge of Sanam Luang (Yellow Park). At least we are travelling away from the crowds but its 2pm before we arrive. As expected the entrance fee has been waived in line with other national museums and parks in Thailand. This waiver is expected to expire at the end of the month. If this museum lives up to anything worthy of a national museum then the two hours I have before closing is but the blink of an eye and nowhere near sufficient. Oddly though, part of the complex is closed and I wonder how much this will detract from the overall visit here. A quick look at the museum plan reveals 14 buildings, halls, pavilions and shrines. The main building, Issara Winichai Hall and Phra Wiman is closed today removing 15 galleries. Two other halls containing a further 15 galleries are thankfully, open. These buildings, Maha Surasinghanat and Prapat Phiphitthaphan are later extensions of the main museum but contain the core of artwork from the various historic periods in Thailand's history. It's this area that fascinates me most. But I start in the Siwamokkhaphiman Audience Hall which is the gallery of Thai History and what a hall it is! In just this one hall there are amazing exhibits from each of the historical periods and I get the impression that while it's just a flavor of what is to come, it's reserved for some of the most important exhibits from all over Thailand. As someone who has visited a good number of provincial museums I get the feeling that somehow these treasures don't belong here in a city whose history only covers one era but nevertheless to see such exhibits from all eras and historic locations in one place is quite remarkable.
From the audience hall we move onto the magnificent Buddhaisawan Chapel but I have to move quickly to the other two buildings. The Maha Surasinghanat Building contains 9 galleries dealing with the period from pre-history to the Lopburi Period while the Prapat Phiphitthaphan Building continues with the Sukhothai Period to the present. In each of the galleries there are more magnificent examples of mainly religious art. The fact that so much of it survives can be explained by the devotion of the artisans who created it and the communities that supported it in preference to other art forms. It was certainly built to last.
To skip around these galleries is the best I can do with the time available: the only other building I manage rather morbidly, the Royal Funeral Chariots Building. At 4pm the lights get switched off and it's time to leave.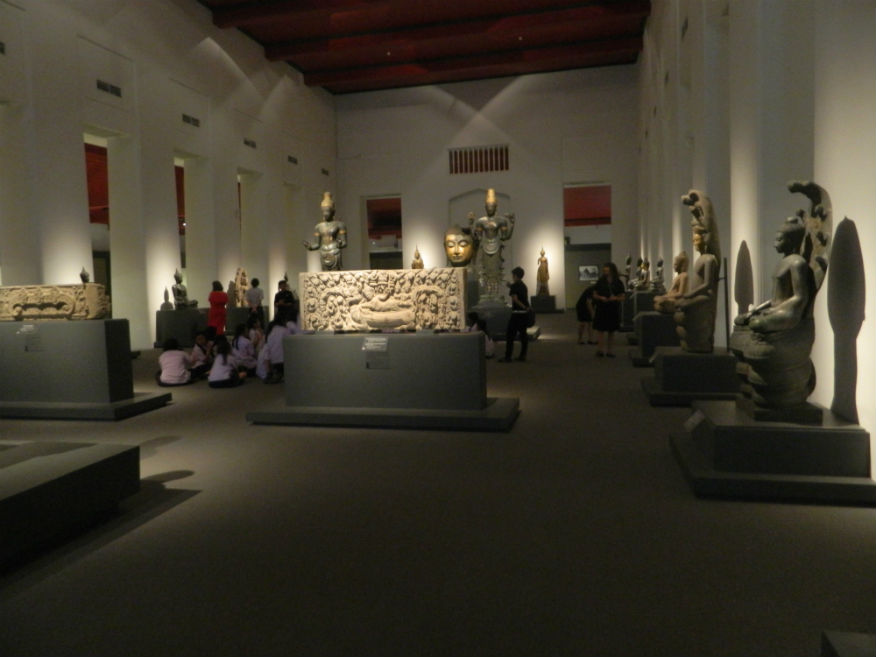 Boat service........Whenever I find myself so deep into the city I try to visit Hua Lamphong Railway Station which is still a curiosity to me. From Sanam Luang, it's another difficult journey through the narrow city streets and Katoon has her work cut out to figure out which bus to use but on this occasion there is an alternative for part of the way. Arriving at Krung Kasem Road there is a a boat pier with a boat service, the Phradung Kung Kasem which runs as far as Hua Lamphong Railway Station. This is news to me and probably everyone else that doesn't use the area regularly. It isn't an official service but one run on a concessional basis by the Royal Thai Navy and it's free. Wondering whether it actually saves time, the small boat driven by an outboard motor arrives at the station some 30 minutes later.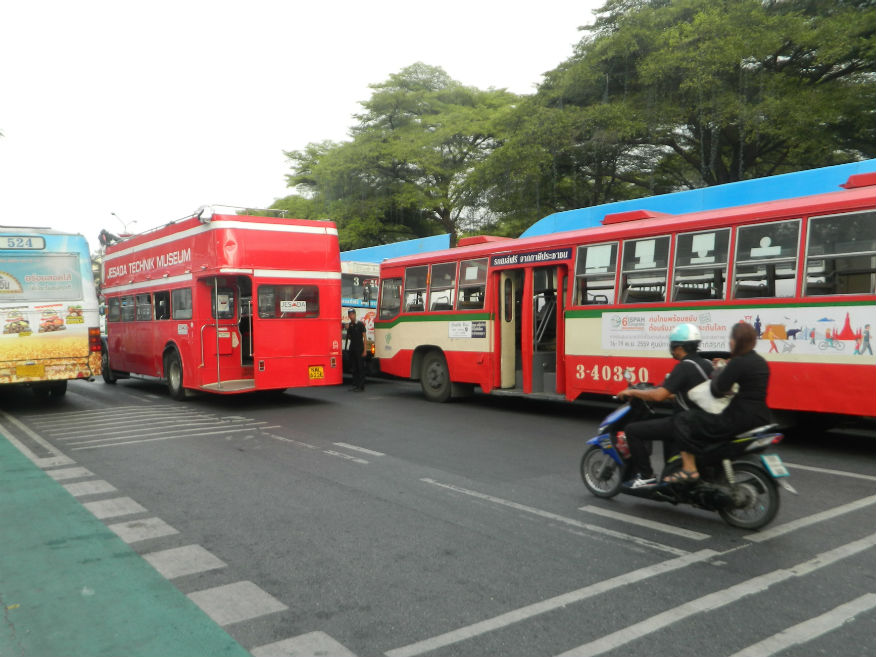 Hua Lamphong Railway Station........Common sense would dictate that I should spend a while here, about an hour would make it worthwhile, but arriving here makes it no easier to get out of the city. The modern transport links are yet to penetrate here. The simplest route back now is to locate transport back to Victory Monument but this time in the evening the route is bound to be clogged up. I decide instead to leave on the railway as far as Don Mueang but that leaves me little time on the station reducing the effectiveness of the visit. I'm also aware that the train is likely to be packed and it would probably take even longer to get back to Khubon. The thinking is that this would give me a good opportunity to see the construction work progressing on SRT's Red Line. This work will eventually lead to Hua Lamphong Railway Station being redundant as the main station transfers to Bang Sue.
Don Mueang........The Lopburi train pulls out of the station at 17.45, 10 minutes late and already there are no seat left. As it calls at other stations heading for the suburbs the situation only gets worse until passengers are packed in like sardines. For most people the value in the service is that it's free. The value for me is that it proves conclusively that I am actually mad. The cost of the ticket for me wouldn't even cover the wrapping on a cheeseburger but the price to pay is almost suffocation and standing up in this position gives me little chance to view the engineering work. By the time we reach Don Meuang, Katoon isn't impressed with me but at least I get a good view of the massive concrete pillars that will support the new railway line. By now all the remaining structures of the failed Hopewell Project, an eyesore for many years, have at last been removed. With the construction of the new supports now well advanced, the work is starting on the elevated sections that will support the new track. However for now the people will continue to suffer as I just did until the fruits of all the effort and not just here develop into a streamlined transport network which is long overdue. From Don Mueang, for the second time in a week, I find myself waiting for the 554 bus outside the airport but as I cross the bridge one passes underneath. So that will be it for another half hour. By the time we reach Khubon some 9 hours have passed since leaving. It just proves how chronically inadequate the transportation options are in Bangkok. No wonder I keep my visits to a minimum. Rather than sit down and eat something in Khubon Road we buy something to take back and in my case it's a cold beer and for just a minute or so I'm can lose myself in heaven. It's been a hard day but that's how it usually is here, all or nothing!